Pages 150-156
A History of the County of Oxford: Volume 13, Bampton Hundred (Part One). Originally published by Victoria County History, London, 1996.
This free content was digitised by double rekeying. All rights reserved.
NORTHMOOR
NORTHMOOR, a secluded rural parish between the rivers Thames and Windrush, lies 6 miles (9.75 km.) south-west of Oxford and 6¾ miles (10.8 km.) east of Bampton. (fn. 1) In the nth century part of it formed an outlier to an estate at Taynton in Chadlington hundred, and the parish remained a detached part of that hundred. (fn. 2) The ancient parish, compact in shape, included the hamlet of Moreton, and in 1877 comprised 2,048 a.; 1 a. was transferred from Stanton Harcourt under the Divided Parishes Act in 1886, and 3 a. were transferred to Standlake in 1932, creating a civil parish of 2,046 a. (828 ha.). (fn. 3)
The eastern and southern boundaries mostly followed the river Thames, and the western boundary the river Windrush, small deviations presumably representing the rivers' earlier courses. Most of Achim or Eacham mead west of the Windrush, and Gaingey mead south of the Thames, were included from an early date. The sinuous northern boundary followed small streams between Northmoor's and Stanton Harcourt's open fields, and in the extreme north-east followed the perimeter of inclosed meadow. (fn. 4) Sections of those boundaries were ancient: in 1059 the bounds of the estate attached to Taynton ran down the Windrush to meet the Thames at 'beafolces ears' (i.e. arse), probably ¼ mile west of Newbridge where traces survive of a relict river channel roughly on the line of the modern parish boundary. They then followed the Thames eastwards, turning up a stream or ditch to wilstede, and continuing to cattle (rythera) ford and wireneges thorn, apparently near the Windrush in the north-western part of the later parish. (fn. 5) The points between the Thames and wireneges thorn are unidentified, but it is likely that that estate represented only the south-western part of the later parish, corresponding with a part of Northmoor then included in Bampton's parochia: in 1318 deponents claimed, probably anachronistically, that Bampton's eastern boundary still ran down a stream called Wirlak' or Wytherlak', which flowed south or south-eastwards into the Thames apparently from the Linch hill area of Stanton Harcourt, and which may have been the boundary ditch of 1059. (fn. 6) The later parish's north-eastern part may have belonged in the 11th century to Stanton Harcourt, which claimed parochial rights until the mid 12th century and pasture rights much later. By the later 12th century Northmoor formed a single estate with its own church, (fn. 7) and, notwithstanding Bampton's persistent claims, its later boundaries were probably already established: in 1318 another deponent asserted that the parochial division was partly by fee, and that all land belonging to the prior of Deerhurst as lord of Northmoor lay within Northmoor parish. (fn. 8)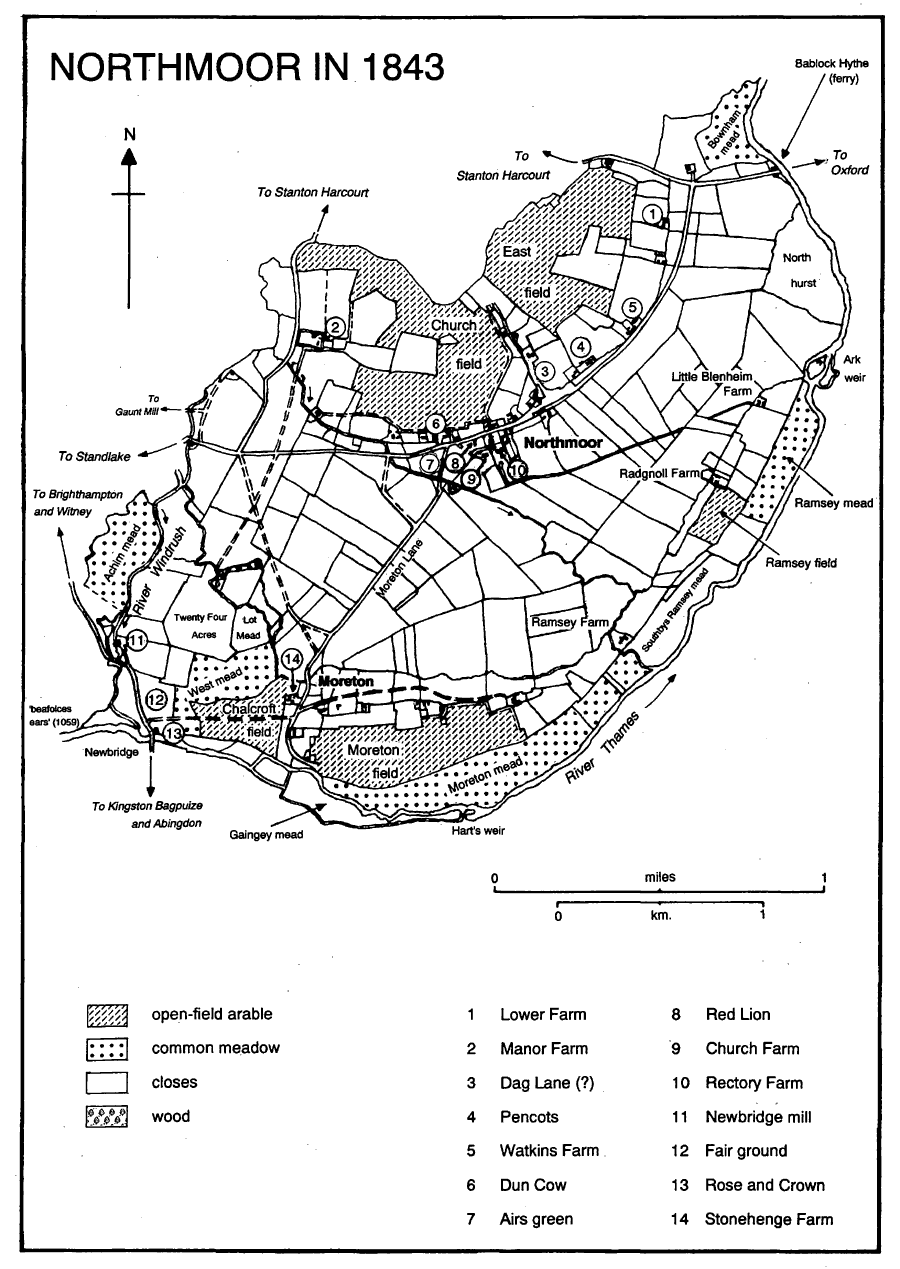 The parish lies chiefly on river gravels of the First Flood Plain terrace, fringed by a wide band of alluvium in the east and south which includes the site of Moreton. (fn. 9) It is notably flat and lowlying, c. 62 m. in the north-east, c. 64 m. near Northmoor village, and c. 65 m. in the extreme north-west. Flooding occurred frequently and although there was good-quality meadow there was much inferior pasture. (fn. 10) The name More or Moor, meaning marsh, was recorded from the 11th century; the prefix North, distinguishing it from Southmoor then in Berkshire, was added intermittently from the late 13th century. (fn. 11)
The main Gloucester-London road, crossing the Thames at Newbridge, cut across the parish's south-west corner. (fn. 12) It was partly rerouted in 1782, prompting disputes over liability for repairs. (fn. 13) Cropmarks indicate an early but undated east-west trackway south of Manor Farm, which curved south-westwards towards the river Windrush, and which also branched northwards towards Manor Farm itself; (fn. 14) further south, the existing east-west road along which Northmoor village stands, called Oxford way in 1666, (fn. 15) formed part of an early route from Standlake to Oxford via the Thames crossing at Bablock Hythe, where a ferry operated by 1212. (fn. 16) Then and later the ferry was held freely of Northmoor manor for rent, suit, and the service of ferrying the prior of Deerhurst or his servants; (fn. 17) a causeway to the ferry was mentioned from 1320, when it was said to be frequently damaged by floods and was repaired from alms. (fn. 18) A 'great boat' to ferry carts and coaches was mentioned in 1693. (fn. 19) A private attempt in 1855 to build a road bridge under Act of Parliament failed following opposition from, among others, the earl of Abingdon, who feared losing tolls at Swinford bridge in Eynsham, (fn. 20) and a bridge rebuilt in 1883 was evidently only part of the causeway across a small stream. (fn. 21) In the early 20th century no ferry ran at night or during the frequent high floods, and harness horses were sometimes drowned, but despite repeated local appeals for a bridge the ferry continued until the 1960s, when the crossing was abandoned. (fn. 22) Thereafter the nearest crossings were at Newbridge and Swinford. A ferry attached apparently to Fyfield manor (then Berks.) in the 15th century (fn. 23) was perhaps that at Hart's weir south-east of Moreton, recorded from the 17th century when access was across Moreton meadow; the ferry was not mentioned in the 19th century, and a footbridge was built in 1879. (fn. 24) A ferry across the Thames was attached to a Northmoor freehold in 1279, (fn. 25) and the 'ferry place' west of Newbridge was mentioned in the mid 16th century. (fn. 26)
The road southwards from Stanton Harcourt past Manor Farm may have formed part of an ancient pattern, (fn. 27) and was perhaps that called the Broadway in the 14th century. (fn. 28) The modern name Cow Lane may have derived from its use as a droveway to Stanton Harcourt's West moor, where Northmoor's inhabitants had grazing rights. (fn. 29) Dag Lane, apparently a track running north-westwards from Northmoor's main street, (fn. 30) was mentioned from the 15th century, (fn. 31) and a predecessor of Chapel Lane, beginning opposite the church and running closely parallel to Dag Lane at its northern end, seems to have existed by the mid 18th. (fn. 32) Moreton Lane, running southwards across the common, was recorded from the 17th century and was presumably medieval, and field tracks and bridges or fords crossing small streams were, mentioned frequently in the 16th century and the 17th. (fn. 33) At inclosure c. 1844 most of the chief roads were confirmed, though Dag Lane was superseded by the later Chapel Lane, which became a 25-foot carriage road and was extended to the parish's northern boundary. A new 30- foot road running westwards from Moreton to Newbridge replaced an earlier track, (fn. 34) and in the 1860s new brick bridges were built over some watercourses. (fn. 35) In 1870 Northmoor was said to have been 'almost unapproachable' in winter before improved drainage in the 1860s, (fn. 36) and incumbents throughout the 19th century commented on the poor roads. (fn. 37) A wharf at Newbridge, later a coal wharf, was mentioned from the late 17th century, (fn. 38) but in 1871 trade was thought to have declined since the opening in 1861 of the Witney railway; (fn. 39) the wharf closed in the early 20th century. (fn. 40) Northmoor lock, in the east on the river Thames between the former Hart's and Ark weirs, was opened in 1896 and remained in 1995. (fn. 41)
Numerous cropmarks indicating prehistoric activity survive south, south-west, and northwest of Northmoor village, and earthworks noted south-east of the village may have been remains of Bronze-Age round barrows. (fn. 42) A Middle Iron-Age enclosed settlement near Watkins Farm, occupied c. 250 B.C.-c. 50 B.C., had a predominantly pastoral economy perhaps with an emphasis on horse-breeding, (fn. 43) and there was probably Iron-Age settlement near Stonehenge Farm further south. (fn. 44) An Iron-Age sword was dredged from the Thames at Newbridge. (fn. 45) The Iron-Age settlements were re-used in the Roman period, that at Watkins Farm apparently after a brief abandonment, (fn. 46) and there is evidence of further Romano-British settlement west and south-west of Northmoor village; (fn. 47) a Roman altar was found in the Thames at Bablock Hythe, (fn. 48) and Roman coins on the floodplain south of the village and at Northmoor lock. (fn. 49) Occupation near Watkins Farm seems to have ended by the 3rd century, perhaps because of wetter conditions, though farming presumably from another site continued until the 4th century. (fn. 50) No evidence has been found of early or middle Anglo-Saxon occupation, (fn. 51) and in 1059 the estate at Northmoor granted with Taynton was described as marsh or moor. (fn. 52) Pottery probably of the 11th or 12th century found near Watkins Farm nevertheless suggests nearby settlement by that date, (fn. 53) and a few of the 51 tenants noted on Taynton manor in 1086 (fn. 54) may have lived at Northmoor.
In 1279 there were 22 recorded tenants at Northmoor, but several other inhabitants and landholders were mentioned in contemporary sources, (fn. 55) and in all there may have been 30 or more households. At least 55 taxpayers were listed in 1306, 44 in 1316, and 43 in 1327, not all of them resident, (fn. 56) and in 1377 poll tax was paid by 140 people over 14, (fn. 57) implying that the impact of plague had been limited. The population may have fallen by the 16th century when only 11-20 taxpayers were noted, (fn. 58) but was probably considerably higher than the 63 people claimed in 1548: (fn. 59) in the mid 17th century there were at least 120-30 adults, (fn. 60) and 43 houses were taxed in 1662. (fn. 61) From the mid 17th century and particularly from c. 1700 baptisms usually outnumbered burials, (fn. 62) and most 18th-century curates estimated c. 50 houses; (fn. 63) in 1801 there were 53 houses occupied by 334 people. The population rose, with intermissions, until 1851, when it was 375, of whom c. 74 lived in Moreton; thereafter it fell to 212 by 1901, rising gradually to 292 in 1961 and to 363 in 1991. (fn. 64)
Northmoor village lies loosely scattered chiefly along the north side of the Standlake-Bablock Hythe road, on the south side of which stands the church, founded in the mid 12th century. (fn. 65) Thirteenth- and 14th-century references to houses with fields on the north, the moor on the south, and adjoining tenements to east and west (fn. 66) suggest a similar but perhaps slightly denser medieval pattern. Most older houses stand well back from the modern road behind drainage ditches, with a wide belt of former common in front, (fn. 67) perhaps the green plot or place (viridis placee) lying by one house's gate in 1393. (fn. 68) The rectory house, mentioned from the 14th century, (fn. 69) stands immediately south of the church jutting into the former common; traces survive of a wide access road running alongside the churchyard's southern edge, which connected with the main road north of the church, and, apparently, with Moreton Lane. (fn. 70) Two houses immediately west of the rectory house, presumably on or near the site of Church Farm, were mentioned in 1381, (fn. 71) and perhaps fronted a small triangular green bounded by Moreton Lane, the main road, and a watercourse running south-eastwards; the name Airs green survived in the 19th century. (fn. 72) A predecessor of the moated Manor Farm, on the parish's western edge, existed probably in the 13th century and certainly by the 14th; (fn. 73) a cottage on Dag Lane was mentioned in 1432, and others there from the 17th century. (fn. 74)
Moreton (i.e. tUn in swampy ground) was mentioned from the early 13th century, and in the 18th comprised a straggling line of houses along the southern edge of the large central common. (fn. 75) There may formerly have been a small green with houses on its west and south sides at the southern end of Moreton Lane, though by 1721 the site seems to have been closes held with adjoining tenements. (fn. 76) The hamlet's size altered little between the late 18th century and the late 19th, when there were c. 16 dwellings, some dilapidated, and most occupied by labourers. (fn. 77) Moreton Farm at the hamlet's eastern end included only farm buildings in the 1920s, and by the later 20th century the only houses were Stonehenge Farm and a few nearby cottages, some of them modern. (fn. 78)
Ramsey (O.E. hramsa-Ieg, probably meaning island with ramsons), by the Thames on the east, was mentioned in the earlier 13th century, and gave its name to a local family mentioned until the early 14th. (fn. 79) Ramsey field and meadow stretched from the later Ramsey Farm on the south to Ark weir on the north, but the settlement was probably never more than a short-lived farmstead or small group of farmsteads, and there were no buildings in the 18th century. (fn. 80) Ramsey Farm, built by 1830, was demolished c. 1900, and associated farm buildings by the 1950s; (fn. 81) Radgnoll and Little Blenheim Farms, near Ramsey mead further north, were apparently also built in the early 19th century and were demolished in the later 20th. (fn. 82) Other outlying sites were Newbridge mill, recorded from the 13th century, and the Rose Revived public house and its wharf at Newbridge, recorded from the 17th; (fn. 83) in the north, some houses attached to West End in Stanton Harcourt parish lay south of the parish boundary in Northmoor. (fn. 84)
Most older buildings are of limestone rubble with stone-slated roofs, but a few retain timber framing, in most cases now rendered, and in the 19th century several farmhouses were 'halftimbered' and thatched. (fn. 85) Brick was used occasionally in the 19th century. The most significant domestic buildings, described below, are Manor and Rectory Farms, respectively the houses for a substantial medieval freehold and for the rectory estate, (fn. 86) and there are a few moderately sized yeoman houses of the 17th and 18th centuries. Lower Farm at Northmoor's northern end, owned in the 16th and 17th centuries by the prominent Fairbeards, (fn. 87) incorporates on the south a substantial part of a two-storeyed, timber-framed house of the early 17th century; in 1798 it comprised 8 bays and was said to be of stone and thatch, (fn. 88) implying that it had already been rendered and was longer than the surviving building. A wing west of the central stack had apparently been demolished by the later 18th century, and in the 20th the house was extended northwards. Pencots, further south, named from 17th- and 18th-century tenants of Northmoor manor, (fn. 89) incorporates at its northeast end an early 17th-century stone-walled house of one storey and attics, with three rooms arranged on an L-plan, and has original four- centred stone fireplaces. A two-roomed addition, perhaps a separate dwelling, was added on the south-west probably in the 18th century, and in the 19th the whole was divided into cottages. (fn. 90) In Moreton, Stonehenge Farm, so named from the early 20th century (fn. 91) and owned from the 16th to the earlier 18th by the Harrises, (fn. 92) probably incorporates part of a large 17th-century house in its central part, the gabled east front of which is of ashlar with stone hoodmoulds. On either side are nearly symmetrical 18th-century additions each of one room with attics, and there is a short, 19th-century kitchen wing at the rear. Smaller houses include Willow Tree Cottage on Northmoor's main street, a 16th-century timberframed house of one storey with attics whose eastern bay, mostly occupied by a large stack, retains smoke-blackened roof timbers indicating an open hall; both the stack and the upper floor in the central bay were inserted apparently in the 17th century.
Church Farm near the rectory house, of coursed limestone rubble, retains the outer walls and roof of an 18th-century house with an almost square main block, which was remodelled in the later 19th century; perhaps then the central stack was reconstructed with a passage between the formerly back-to-back fireplaces. A short kitchen wing at the rear, perhaps part of an earlier house, retains a possibly re-used fireplace beam with the date 1679 and the initials probably of Thomas and Katherine Martin, implying that this was the chief house of the Martins' large freehold before its sale to the Harcourts in 1719. (fn. 93) Other houses attached to larger freeholds in the 17th and 18th centuries (fn. 94) included Moreton House or Farm, which stood c. 270 yd. east of Stonehenge Farm and in 1671, when part of the chief manor, was two-storeyed with a symmetrical three-bayed front, projecting gables, and three ridge stacks. It was demolished before 1844. (fn. 95) Notable agricultural buildings, besides a late medieval cruck-framed barn at Rectory Farm, (fn. 96) include 18th-century timber-framed barns in Northmoor village (fn. 97) and at Lower Farm.
The later Red Lion was rebuilt c. 1741 (fn. 98) and the single-storeyed Dun Cow c. 1800, the latter retaining a 17th-century stack and, on the east, a late 18th-century timber-framed annexe of two storeys. Parish cottages (later Greystones) between Dag and Chapel Lane were rebuilt in 1797 (fn. 99) by the prominent farmer John Nalder, who may also have built a terrace of one-roomand-attic cottages, with timber-framed walls infilled with red brick, north of the Red Lion. (fn. 100) Another cottage row was built near Willow Tree Cottage before 1844, (fn. 101) and a pair of brick-built cottages at the southern end of Chapel Lane bear the inscription RE 1873, probably for the prominent farmer Richard Eagle. (fn. 102) Most farmhouses on Northmoor manor were in reasonable repair in 1816 and 1871, (fn. 103) and inclosure in 1844 prompted little if any new building, though Watkins Farm was substantially rebuilt in the later 19th century. A Primitive Methodist chapel (later demolished) was built in 1843, and a National school c. 1873. (fn. 104) Houses in the village were reportedly damp and unhealthy, but in 1870 Northmoor's appearance was said to have completely changed following recent drainage works, (fn. 105) and dilapidated wattle-and-daub cottages north of the church and at Moreton were demolished in the later 19th century. (fn. 106)
About 1930 Northmoor was said to have been 'slowly decaying for generations', (fn. 107) and during the 20th century there was little new building, though a few council houses were erected at Chapel Lane's southern end and private houses were built by the Standlake road and north of the main street in Windrush Place. (fn. 108) A small, timber-built village hall, erected north of the church before 1970, was replaced in 1995 by a more substantial building on the same site. (fn. 109) Park Farm, a large complex adjoining the Standlake road near the parish's western edge, was begun in 1955 by Oxford university for breeding and maintaining laboratory animals, (fn. 110) and in 1995 there was a large park for mobile homes near Bablock Hythe. Electricity was introduced before 1939, (fn. 111) mains water after 1945, (fn. 112) and main drainage in the 1970s. (fn. 113) A postal service through Witney existed by the 1850s, (fn. 114) and a post office near the church was opened c. 1880 and closed in the 1960s. (fn. 115)
There were four inns or alehouses by the later 18th century. (fn. 116) The Rose Revived (formerly the Rose or the Rose and Crown) at Newbridge was an alehouse by the later 17th century; (fn. 117) the Dun Cow in Northmoor village, perhaps briefly licensed c. 1677-89 when it was owned by a local victualler, opened under its later name c. 1793, (fn. 118) but probably never provided accommodation. The Chequers alehouse at Bablock Hythe existed by the 1750s, was 'much frequented by the lower class' in the 1850s, and in the 1930s was rebuilt as an hotel, (fn. 119) later renamed the Ferryman. The Red Lion in Northmoor, formerly a church house and evidently not the house of that name mentioned in 1715, was opened probably in the 1770s. (fn. 120) Three of those public houses remained in 1995, the Dun Cow having closed c. 1990. (fn. 121)
The village stocks stood near the later Red Lion in the mid 18th century. (fn. 122) A custom of throwing apples into the churchyard on Easter Sunday, followed by a procession to the rectory house where bread, cheese, and beer were provided, was noted reportedly in the early 19th century, and was revived in modified form in the 1970s; (fn. 123) presumably it was associated with an annual payment of 40s. by the lay rector for entertainment of the parish at Easter, recorded in 1648 but discontinued by the lessee before 1830. (fn. 124) Northmoor steeplechases, held near Bablock Hythe, were mentioned in 1870, (fn. 125) and a cricket club existed until 1922 when it merged with Standlake's. (fn. 126)
In the earlier 15th century William, Lord Lovel (d. 1455) allegedly came from Minster Lovell with 'great power and might' during a dispute over Newbridge mill and forced its partial demolition. (fn. 127) During a further dispute over the mill c. 1651 the sheriff met armed resistance. (fn. 128) During the Civil War Newbridge was strategically important, and was forcibly crossed by the parliamentarians in 1644. (fn. 129) Sir Edmund Warcupp, lord from 1671, was a nephew of William Lenthall and was a former parliamentary captain. (fn. 130)