Pages 197-203
A History of the County of Oxford: Volume 13, Bampton Hundred (Part One). Originally published by Victoria County History, London, 1996.
This free content was digitised by double rekeying. All rights reserved.
CHURCH
In the late Anglo-Saxon period Standlake and Brighthampton formed part of an extensive parochia centred on Bampton minster. (fn. 1) A church or chapel was established presumably by the lords of Standlake before the late 12th century, the date of the earliest surviving fabric; (fn. 2) a priest and clerk of Standlake who witnessed a grant by the lord before 1192, and a chaplain who witnessed another before 1196, may have served it. (fn. 3) Eve de Grey presented to the church in 1227 or 1228, (fn. 4) and thereafter the living was treated usually as a rectory with its own advowson. (fn. 5) The church had baptismal rights probably from the 12th century, the date of the former font, (fn. 6) but conflicts with Bampton over burial rights, tithes, and boundaries persisted into the later Middle Ages. Between 1317 and c. 1319 several tenants of Hardwick and Brighthampton manor, regarded as Bampton parishioners, attended Standlake church and paid their tithes and offerings there in league with the rector, James de Boys, who illegally buried some Brighthampton people in his churchyard; judgement was given against Standlake, and the manor's tenants in Brighthampton remained fully subject to Bampton until the 19th century and attended Shifford chapel. (fn. 7) In 1338 the rector of Standlake enlarged his churchyard, allegedly to accommodate burial of large numbers of parishioners and 'others choosing burial there'. (fn. 8) By the 15th century burial was explicitly allowed in return for an annual pension, (fn. 9) converted by the 17th century into a 'pension tithe' to the vicars of Bampton, and payable in the 19th as a modus of £2 2s. 6d. (fn. 10) In 1976 the benefice was absorbed with Yelford, Stanton Harcourt, and Northmoor into the united benefice of Lower Windrush, part of a group ministry with the benefice of Bampton with Clanfield, and in 1993 it was served from Stanton Harcourt. (fn. 11)
The advowson descended with Standlake manor, after whose partition c. 1246 each of the four lords presented in turn, (fn. 12) prompting disputes in 1284 and 1309. (fn. 13) From c. 1367 the Greys' right was held, though not exercised, with the Giffards' quarter, with which it briefly passed to New College, Oxford, (fn. 14) but by 1423 the Greys had recovered it. (fn. 15) In the late 15th century and the early 16th both the Greys' and the Corbets' rights passed with their respective shares of the manor to Magdalen College, Oxford; (fn. 16) the Mauduit and Giffard rights were included in sales c. 1555 to Francis Fettiplace, who sold them to Magdalen in 1557, (fn. 17) though in 1602 the college repurchased the Mauduit share of the advowson from Fettiplace's daughter Cecily and her husband Edward East, presumably following disputes over title. (fn. 18) Thereafter the college retained the patronage until 1953 when it was vested in the Diocesan Board of Patronage, joint patron of the united benefice in 1993. (fn. 19) Nicholas Sifrewast presented in the right of Osbert Giffard in 1284, (fn. 20) and the king during the minority of Eleanor, daughter of William Moleyns (d. 1429), in 1431. (fn. 21) Wadham College presented by agreement in 1635 and Charles II in 1660. (fn. 22)
The rectory, of middling value, was estimated in 1254 at £13 6s. 8d., in 1291 at £15 6s. 8d., and in the early 16th century at c. £16 gross. (fn. 23) Roughly a third of the total was attributed to glebe and to hay and small tithes in 1341. (fn. 24) Pasture for 6 oxen and 2 cows and pannage for 20 swine, granted by Eve de Grey in the early 13th century, was not mentioned after the early 14th, (fn. 25) but in the 17th century and presumably earlier there was a yardland (29 a.) of glebe with appurtenant meadow and commons, (fn. 26) and from the later 18th c. 50 a. were held of Magdalen College under a beneficial lease. (fn. 27) About 1520 STANDLAKE RECTORY HOUSE the estate was held by a layman, (fn. 28) and from the 17th century all or part, including tithes, oblations, and, in 1635, rooms in the house, was let frequently to local farmers. (fn. 29) Moduses for hay, sheep, and milk tithes were established by 1685, (fn. 30) and in the early 19th century 13s. 4d. was paid for Cokethorpe Park and 1¾d. an acre for some meadows. Other tithes may have been collected in kind until commutation in 1842-4, when the rector was awarded c. £460 a year for tithes and 5s. for each acre of glebe not in hand. (fn. 31) Total income in 1851 was estimated at c. £594, including £50 for glebe, £70 for the land held under Magdalen, and £8 for fees and offerings; at inclosure in 1853 c. 25 a. were awarded for glebe and c. 62 a. for the Magdalen land, all of it sublet. (fn. 32)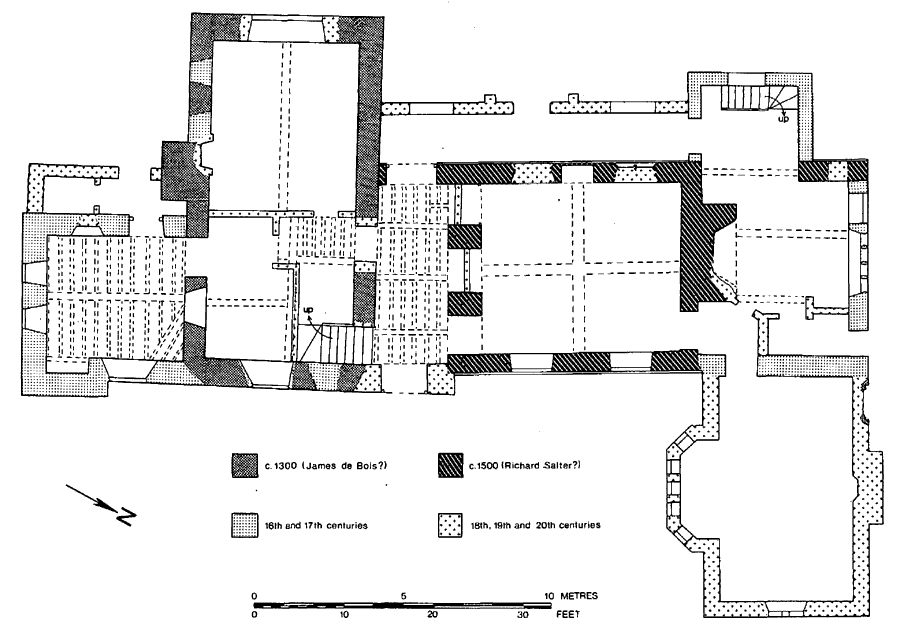 The rectory house, on its site south-east of the church by 1246, (fn. 33) is of notable size and quality. It is rubble-built, and incorporates a central hall range with north and south wings projecting in opposite directions. (fn. 34) Though subdivided in the 1950s, it remained the rectory house for Standlake until 1976 and for the united benefice until sold in 1980. (fn. 35) The two-storeyed south wing retains a tall lancet window of c. 1300 in its east gable, a possibly original stack near the centre of its south wall, and an original roof constructed with exceptionally small rafters. A cross passage separates the wing from the later 15th-century hall range built possibly for Richard Salter, rector 1473-1509, (fn. 36) which seems to have been two-storeyed from the outset and which includes remains of an original stack against the cross passage. The hall range's roof incorporates unusual curved scissor trusses similar to those at Standlake Manor. The northern cross wing, altered and extended at various times, may also be 15th-century in origin, and a two-storeyed porch or stair tower, whose roof incorporates re-used cusped timbers, was built against its west end perhaps in the 17th century. Rooms in 1626 included chambers over the parlour and 'dark entry' (presumably the cross passage), middle and outer chambers perhaps over the hall, and a closet chamber with another chamber above, perhaps at the house's north or south end. Detached outbuildings, presumably to the north, west, and south as in the 19th century, included a kitchen and brewhouse which apparently survived in 1685, butteries, a malthouse, a woodhouse, and stabling. (fn. 37) Two 'new', presumably refitted, chambers over the hall were mentioned in 1635. (fn. 38) A new block was added against the south wing in the later 17th century perhaps by John Dale, rector 1660-84, who carried out renovations at his own expense (fn. 39) and whose initials, with the date 1661, survive on a chimney stack at the hall's north end. Further alterations were carried out c. 1745 and c. 1803, (fn. 40) perhaps the date of an early 19th-century remodelling of the south wing. In the mid 19th century the north wing's eastern end was reconstructed, and an outshot, linking the north and south wings and incorporating a central main entrance, was added. (fn. 41) Dilapidated outbuildings, including a large tithe barn and granary south of the house, were demolished c. 1868. (fn. 42) Wall paintings, probably of the early 17th century, were uncovered c. 1981 in a room over the hall; (fn. 43) panelling in the study on the south wing's ground floor was reportedly brought from Magdalen College's ante-chapel c. 1833 (fn. 44) but seems to be in situ.
A chapel founded in honour of the Virgin, St. John the Evangelist, and other saints was mentioned c. 1235, but may have been only a side chapel in one of the transepts of the church. (fn. 45) The medieval hermitage, mentioned from the 15th century, is not known to have fulfilled any pastoral functions despite the 17th-century practice of reading a gospel on the site on Holy Thursday. (fn. 46) Simon of Evesham, rector 1320-61, founded a chantry in the church in 1354 at the altar of the Holy Cross, St. John the Evangelist, St. Thomas the martyr, St. Nicholas, and St. Catherine for the benefit of relatives, the lords of Standlake, and the king and queen. (fn. 47) Successive rectors presented chantry priests until the 16th century: at least one was a graduate, and Thomas Gaunt (1484-1502) was of a prominent local family. (fn. 48) The endowment comprised rents and tenements in Standlake and Brighthampton and small rents in Worcestershire, valued in all at c. 80s., and in the 16th century gross income was reportedly £5 6s. 8d. or more. (fn. 49) A priest's house stood probably south of the churchyard on the site of Church Farm, called the 'chantry house' in the earlier 19th century and evidently one of the tenements given to the chantry at its foundation; (fn. 50) in 1473 a rector left half a year's rectorial income for the priest to build a dovecot. (fn. 51) At the suppression of chantries ornaments worth 6s. 8d. were recorded, but no jewels or plate. A tenement worth 4s. a year, given at an unknown date for an obit, was evidently unconnected. (fn. 52)
Thirteenth-century rectors may have resided, (fn. 53) as did James de Boys (1309-20), a university graduate and a dominant figure in local life, who probably rebuilt the rectory house. (fn. 54) From the early 14th century most medieval rectors were graduates and several were pluralists, administrators, and academics who presumably had little direct influence on the parish; (fn. 55) others may have resided occasionally, among them the royal clerk Simon of Evesham (rector 1320-61), whose house was robbed in 1350, (fn. 56) the episcopal official and proctor at Rome William Symond (1431-43), who bequeathed furnishings at Standlake and was involved in local land transactions, (fn. 57) and the civil lawyer Richard Salter (1473-1509), precentor of Lichfield, who repaired the chancel and possibly remodelled the rectory house. (fn. 58) Unbeneficed chaplains, of whom several were recorded in the 14th and 15th centuries, (fn. 59) presumably served the parish on a daily basis, and from 1379 to 1431 three successive rectors, none of them known to have been graduates, (fn. 60) perhaps served it themselves. In the 16th century some non-resident pluralists employed resident curates, the fee in 1526 being £6 a year, (fn. 61) though other rectors, notably William Pettifer (1562-81) and Roger Inkforbye (1581-1626), both former fellows of Magdalen College, were closely involved in local life and probably resided. (fn. 62) Long-serving curates included a former chantry chaplain, and Thomas Napkyn (1616-39), who from 1626 served the cure alone under non-resident pluralists. (fn. 63) All later 16th-century rectors and curates conformed. (fn. 64)
Accepted Frewen, rector from 1635, president of Magdalen College, and later archbishop of York, was a prominent High Church royalist who presumably had little contact with Standlake. (fn. 65) Following his deprivation c. 1646 his curate Nicholas Shorter, a Witney man and graduate of Balliol College, was presented under the Great Seal; (fn. 66) he resided, but had been deprived by 1660 when Frewen resigned the rectory, (fn. 67) and c. 1662 he apparently left the parish for a benefice elsewhere. (fn. 68) John Dale, rector 1660-84, allegedly 'kept pace with the ... presbyterians and independents' during the Interregnum, but at the Restoration won immediate royal approval and conformed thereafter. (fn. 69)
From the Restoration to the early 19th century all rectors seem to have resided, all were former fellows of Magdalen, and all remained for life, some serving long incumbencies. (fn. 70) Dale, a licensed pluralist, repaired the chancel and rectory house; (fn. 71) his successor John Chambers (rector 1685-1721) endowed a school and probably donated church plate, and like Dale left a large library in his house at Standlake. (fn. 72) Matthew Horbery (rector 1756-73), noted as a fine preacher and theologian, at first lived partly at Lichfield where he was a canon, but by 1768 seems usually to have resided and to have served the parish alone. (fn. 73) There were two. Sunday services with one sermon throughout the 18th century, and the sacrament was administered four times a year usually to 20-40 communicants. 'Too many' neglected services in favour of fishing, idleness, or the alehouse, but none were habitually absent and by 1805 parishioners were said to be 'constant' in their devotions. Attempts at weekly catechizing c. 1738 met with apathy, and in 1759 Horbery catechized at Lent. (fn. 74)
From 1806 until 1868 rectors lived elsewhere and the parish was served by curates occupying the rectory house, notably James Stopes (1808- 37) and Frank Burges (1837-55). The stipend, £50 in 1808, was £75 by 1814 and £100 by 1838. (fn. 75) Parishioners in 1807 were 'perfectly satisfied', (fn. 76) but in 1841 Burges was said so to displease them that 'he will soon have empty pews to preach to', (fn. 77) and his hunting and 'unclerical conduct' prompted episcopal censure and complaints from local churchmen and landowners. In other respects he seems, however, to have been conscientious, (fn. 78) and by 1854 there were two Sunday sermons and a monthly sacrament administered to some 60 communicants. (fn. 79) Average attendance, c. 230 in 1851 and c. 280 in 1866, rose slightly in relation to the population, though the curate claimed that many attended the morning service only to receive charity loaves, distribution of which fuelled resentment. (fn. 80)
Joseph West (rector 1868-76), though resident and formerly a noted preacher and evangelical, was remembered as 'an elderly rector who could do little'. (fn. 81) Lewis Tuckwell (1876-1907), like West a former chaplain of Magdalen College, (fn. 82) resided and served the cure alone. Under him church attendance increased and the building was restored, musical life, including a church choir, was cultivated, and a churchmen's union, bellringers' club, and other societies were formed. (fn. 83) Conflict over tithe and other issues during the 1880s, culminating in a tithe reapportionment in 1887, was promoted chiefly by the querulous farmer John Perry, whose produce was distrained and who apparently enjoyed little support. (fn. 84)
In the earlier 20th century only Thomas Lovett (rector 1908-32), who in 1911 completed the church restoration, served the living for a long period, and three rectors stayed for under five years. From 1912 all served Yelford also. (fn. 85) Church attendance reportedly increased after the First World War but declined in the 1930s; (fn. 86) Standlake was at that time a centre of anti-tithe agitation, and though farmers remained 'personally fairly friendly' most 'held aloof' from the Church. (fn. 87) George Dauglish (rector 1936-47), though deeply involved in village life, was at 'continual loggerheads' with some prominent parishioners notably over confirmation, and in 1945 appealed to the bishop for support. (fn. 88)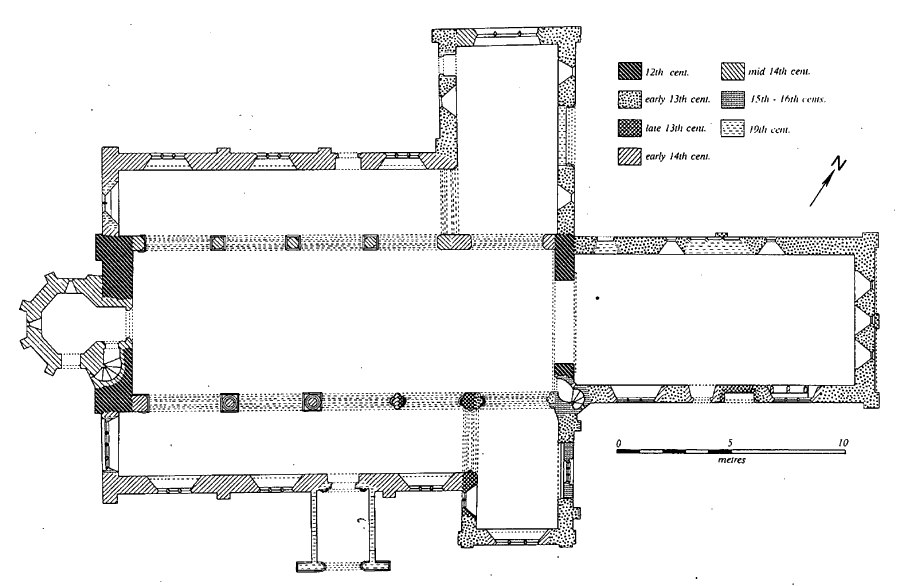 The church of ST. GILES, so called probably by 1230 and certainly by 1439, (fn. 89) comprises chancel, north and south transepts each formerly with an east chapel, aisled nave with south porch, and octagonal west tower with spire. (fn. 90) The chancel arch and the thick west wall of the nave, which has flat external buttresses, are of the late 12th century, and there may formerly have been a large west tower within the area of the later nave, which is of notable length. In the earlier 13th century the chancel was rebuilt on a large scale, with a triplet of lancets at its east end and a round-headed doorway in its north wall. The asymmetrical transepts, with east chapels or apses, were added about the same time, perhaps c. 1235 when indulgences were granted to those visiting a 'chapel' founded and built in Standlake; (fn. 91) the entrance to a rood loft survives high up in the south transept's north-east corner, and the outline of a piscina immediately south of the north transept's former east chapel. A small chapel was built soon after into the angle between the nave and the south transept, indicating that there was then no south aisle; since the north transept is longer than the south there may, however, have been a north aisle. Both aisles were either newly built or remodelled in the early 14th century, the date of their windows and of the surviving south arcade, and about the same time a window with a cusped rere-arch was inserted into the south transept's south wall. Similarities to the pier and tracery forms of Bampton church, remodelled c. 1317, (fn. 92) suggest that the same masons were employed. In the mid 14th century the north arcade was rebuilt, and the unusual, three-staged octagonal tower and spire, reminiscent of the tower at Cogges, were added; also in the mid 14th century, windows with flowing tracery were inserted into the north walls of the chancel and of the north transept, the latter window perhaps associated with Simon of Evesham's chantry. (fn. 93) The south porch, rebuilt in the 19th century, was probably of similar date.
Indulgences were granted c. 1439 to those giving alms towards the church's conservation. (fn. 94) Perhaps at that time the chancel's east windows were blocked and replaced with external canopied niches, (fn. 95) implying that there was a substantial reredos. A nave clerestory was added c. 1500 and the roof pitch lowered, though the steeper gables at the nave's east end and against the tower were retained. About the same time two four-light, square-headed windows were inserted into the south wall of the chancel and the west end of the south aisle, the cill of the former being dropped to form double sedilia with arm rests. The work may have been instigated by the rector Richard Salter, who inserted or repaired one of the chancel windows in 1503. (fn. 96)
The chapels east of the transepts were demolished and their opening arches blocked presumably after the suppression of chantries; the former opening in the south transept includes a two-light window presumably of 16th-century date. The church was 'in decay' in the early 17th century when disputes arose over church rates levied for repairs, (fn. 97) and in the early 1660s the rector John Dale went to 'great expense' in restoring and wainscotting the chancel. (fn. 98) The nave roof was repaired c. 1787, reportedly re-using 16th-century timbers, and general repairs were undertaken from c. 1803. (fn. 99) Then or later the chancel was reroofed in 'meagre' fashion, (fn. 100) and before 1871 the blocked east windows were restored. (fn. 101)
In 1831 the church was said to be in good repair, but in 1854 the spire was 'ruinous'. (fn. 102) By the 1870s the roof leaked, the walls bulged and were disfigured by moss, and the floors were so rotten that in the chancel they had fallen through, exposing tombs beneath. (fn. 103) Restoration by the architect C. Clapton Rolfe was carried out in four stages between 1880 and 1891, financed chiefly from local fund-raising and private donations. The walls were repointed and in places rebuilt, the south doorway was replaced by one in 13th-century style, and the church was entirely reroofed, the new nave and chancel roofs incorporating carved figures of angels. The porch was rebuilt in its former style re-using original stonework. Rediscovered lancets in the chancel's north wall and in the north transept and a late 13th-century two-light window in the north aisle's west end were reopened, and the mid 14th- and 15th-century windows in the chancel were blocked. A western gallery was removed, and the church was repewed and refurnished throughout, the south transept being refitted as a baptistry and the north as a choir vestry. (fn. 104) The tower was restored in 1911. (fn. 105) Substantial repairs to the nave roof were required c. 1950, a consequence partly of wartime bomb damage and partly of structural defects, (fn. 106) and general repairs were carried out in 1970-1. (fn. 107) A major restoration in the early 1990s included reroofing, and repair of stonework, timber, and glass. (fn. 108) Heating was by stove in 1880, and electric heating was introduced c. 1959; electric lighting replaced oil lamps c. 1949. (fn. 109)
New furnishings introduced between 1880 and 1891 included carved woodwork by Harry Hems of Exeter, notably an oak pulpit and lectern, oak pews with bench ends featuring representations of saints, an oak screen shutting off the north transept vestry, choir stalls with representations of the apostles, and an oak altar with a central figure of Christ, modelled on the altarpiece of Magdalen College chapel. (fn. 110) A carved oak cupboard was made from the 17th-century pulpit by a local craftsman. (fn. 111) The Norman font, then in the north aisle but behind the communion rail in the earlier 19th century, (fn. 112) was replaced in 1883 by a new one in the south transept, with an elaborately carved cover by Hems. (fn. 113) A pipe organ installed in the north transept in 1967 following local controversy was replaced by an electronic organ before 1978. (fn. 114)
Remains of red colouring survive on the south transept's blocked eastern arch, and remains of a red consecration cross on the lintel of an original cupboard behind the main altar. Fragments of medieval stained glass in the south transept's west window, of various dates between the 14th century and the 16th, include part of an inscription of 1503 to the rector Richard Salter, formerly in the chancel. A representation of St. Giles survived in one of the chancel's south windows in the 18th century. (fn. 115) Modern stained glass in the chancel, installed in 1892 and 1894, commemorates members of the Strickland and Cottrell-Dormer families of Cokethorpe House, some or all of it by Burlison and Grylls of London. (fn. 116) A window in the south transept commemorates James Florey (d. 1882) of Brighthampton.
A small, 13th-century tomb recess survives in the chancel's external south wall. Headless statues of St. Thomas and St. John the Evangelist, discovered in the north aisle c. 1888, (fn. 117) are probably 14th-century, and were perhaps associated with Simon of Evesham's chantry; they were reset in the south transept in 1994. Later monuments include memorials to members of the Strickland and Western families of Cokethorpe House and to several rectors; lost monuments include a brass to Joan (d. 1465/6), wife of John Gaunt of Gaunt House. (fn. 118)
The plate includes an 'Elizabethan' chalice and paten cover, and a silver paten cover of 1697 inscribed I:C, presumably for John Chambers, rector 1684-1721. (fn. 119) Robert Radborne (d. 1557) bequeathed a 'large bell' to the church, (fn. 120) and from the 18th century there was a ring of five by Henry Bagley III, dated 1709, 1710, and 1730. The tenor, split by 1837, was replaced in 1843 by a bell by William Taylor, and in 1887 the bells were rehung and a treble by Mears Stainbank added as a Jubilee offering, making a ring of six. The present fourth was recast in 1931, when a cast iron frame replaced the wooden one. The saunce, by Thomas Rudhall of Gloucester, is dated 1781. (fn. 121) The registers begin c. 1559. (fn. 122)
The churchyard was extended westwards in 1899 after plans for a separate cemetery were abandoned; it was further enlarged in 1953. (fn. 123)