Pages 48-57
A History of the County of Oxford: Volume 13, Bampton Hundred (Part One). Originally published by Victoria County History, London, 1996.
This free content was digitised by double rekeying. All rights reserved.
CHURCHES.
Bampton was the site of a late Anglo-Saxon minster whose extensive parochia seems to have included Clanfield, Alvescot, Black Bourton, Ducklington, Cokethorpe, Standlake, and Yelford. The churches of all those places were claimed as chapels in 1318, and most still buried at Bampton 'by ancient custom' in 1405 and in some cases until after the Reformation. (fn. 1) Despite gradual erosion of the church's jurisdiction the parish remained unusually large for Oxfordshire, with chapels at Shifford and, in the Middle Ages, at Lew, possibly at Lower Haddon and Chimney, and in Bampton itself. (fn. 2) Churches were built at Aston and at Lew in 1839 and 1841 respectively, and in 1857, under Order in Council of 1845, the parish was divided to form Bampton Proper, Bampton Lew, and Bampton Aston, the last including Chimney and Shifford. (fn. 3) Bampton Proper and Bampton Lew were united c. 1917, (fn. 4) and in 1976 both were merged with Bampton Aston and Clanfield to form a new benefice of Bampton-with-Clanfield, part of a group ministry with Lower Windrush. (fn. 5)
The parish church, parts of which are 11th- century or earlier, may have been preceded as a religious focus by a site east of the later town at the Beam. Burials near the medieval chapel of St. Andrew on the site of Beam Cottage are known only from the 11th century to the 13th, but the chapel's dedication, its location near an area of early .settlement, and the name 'Beam' (which predates 'Bampton' and implies an important local landmark, possibly a cross) suggest an early religious site, perhaps with a large, early medieval cemetery. (fn. 6) If so, a shift to the site of the later parish church occurred presumably with the establishment of the royal tun between the 7th century and the mid 10th, by which time there was a small, endowed religious community apparently guarding the relics of St. Beornwald. (fn. 7) A pension of 13s. 4d. to Eynsham abbey, recorded from 1291 and paid after the Dissolution to the vicar of Eynsham, arose possibly from an agreement over tithes in Aston or Shifford, but may reflect early dependence on Eynsham minster: in the 17th century and still in the 19th it was associated with a sermon delivered in Bampton church by the vicar of Eynsham on the feast of the Assumption (15 August), presumably continuing a medieval practice. (fn. 8)
As at other significant minster sites there may formerly have been two adjacent churches, of which one dwindled to subsidiary status. The 'chapel of the Blessed Virgin' in which Roger d'Oilly and Exeter cathedral sealed an agreement in 1235 was perhaps the 'chapel or chantry' in Bampton churchyard controlled in 1395 by the owners of Bampton Doilly manor, a physical arrangement possibly reflected in the double dedication to St. Mary and St. John the Baptist recorded in 1317, though if the chapel originally belonged to the minster it is unclear how the d'Oillys obtained control of it. (fn. 9) Other early chapels in Bampton itself, forming part of an evidently planned ecclesiastical layout, included that west of the parish church in the Deanery, in origin perhaps an 11th-century double chapel, and a chantry chapel on Catte (later Queen) Street mentioned in 1402, the former and probably the latter on an east-west alignment with St. Andrew's chapel, the parish church, and the 'Lady well' west of the Deanery. Since freestanding purpose-built chantry chapels were rare, that on Catte Street, whose exact site is unknown, may have occupied an earlier, undocumented chapel. (fn. 10) Window glass in St. Andrew's chapel was mentioned in 1325, and extensive repairs in 1329 included work on the bells and bell-frame, repainting of an image (or statue) of St. Andrew, and rebuilding of a wall. (fn. 11) Repairs were carried out in 1421-2, (fn. 12) but no oblations were recorded later and the chapel had been secularized by 1575, when 'the hermitage of Beane' was among lands granted to London speculators. (fn. 13)
The minster had lost its autonomy by the mid 11th century, (fn. 14) and in 1153 Bampton church was confirmed to Exeter cathedral chapter as two prebends; 60s. were to be added to the common fund if the church came 'into a better state', an allusion presumably to damage sustained during the siege of 1142. (fn. 15) Before the 1180s there seems to have been some reorganization, with the glebe, the house, and some tithes and offerings forming a 'prebend' or farm which became the later rectory manor. Two chaplaincies, portions, or prebends mentioned from c. 1190, and evidently in the gift of the farmer of the first 'prebend', presumably comprised the remaining tithes and offerings. The evidence suggests a small, embryonic secular college, but in 1220 the bishop of Lincoln confirmed the chapter's appropriation of the portion at their disposal and arranged for conversion of the two chaplaincies into three perpetual vicarages, together owing a pension of 15 marks (£10) to the chapter. (fn. 16) The arrangement took full effect in 1260-1, after which three portionary vicars were presented in the usual way. (fn. 17) Despite a claim by the king in 1286 (fn. 18) the advowson remained with the dean and chapter of Exeter except during the Interregnum, when it was briefly acquired with the parsonage estate by Col. John Fielder, who seems not to have exercised it, (fn. 19) and in 1990 the dean and chapter retained joint patronage of the united benefice of Bampton-with-Clanfield. (fn. 20) A papal provision was made against the chapter's wishes in 1313, and the Crown unsuccessfully attempted to influence presentations in the late 15th century and in 1644. (fn. 21) Turns in the late 16th century and the 17th were granted to, among others, the bishop of Exeter, the earl of Clarendon, and gentry from Exeter or the Bampton area, (fn. 22) and in 1662 Charles II presented by lapse. (fn. 23)
The vicarage ordination did not specify the vicars' income, which later comprised a share of great and small tithes throughout the ancient parish and in Clanfield, and apparently half the oblations from the parish church and St. Andrew's chapel. (fn. 24) In the late 15th century the vicars also held at farm some appropriated tithes. (fn. 25) Tithes in Black Bourton were exchanged with Osney abbey in 1433 for tithes in Bampton, subject to a 15s. pension still payable to the abbey at the Dissolution, and vicars also paid the pension to Eynsham abbey. (fn. 26) The pension to Exeter cathedral, frequently in arrears in the later Middle Ages, was by the 17th century charged to lessees of the rectory manor. (fn. 27) A 'pension tithe' from lands in Standlake, worth 30s. a year in 1685 and presumably associated with a pension for burial rights owed in 1405, (fn. 28) was commuted to a fixed charge of £2 2s. 6d. before 1838, when it was irregularly received; (fn. 29) pensions from the vicar of Alvescot (13s. 4d.) and rector of Yelford (variously 5s. or 10s.), presumably also for parochial rights, had apparently lapsed by the early 19th century. (fn. 30) The vicarages were of equal value, and in the 17th century and probably earlier the vicars took the tithes of the various townships in rota; (fn. 31) by then some moduses had been established and tithes were sometimes leased, though others seem to have been collected in kind until the 19th century. (fn. 32) From the mid 13th century to the Dissolution the 3 portions together were valued at usually between c. £30 and £43 clear, placing all 3 vicars among the best-endowed in the county, wealthier than many rectors. (fn. 33) Total tithe income by 1615 was estimated at c. £240, and c. 1680 each portion was said to be worth £140, (fn. 34) though in 1677 a vicar's widow claimed that her husband had never received more than £50 a year net. (fn. 35) By 1799 the gross annual value of each portion averaged £324, and by 1845 over £515. (fn. 36)
At the inclosure of Bampton, Weald, and Lew the vicars each received c. 200 a. for tithes, and equal shares in an £85 corn rent from Lower Haddon to be re-assessed every 14 years. Vicarial tithe rents awarded from lands in Aston and Cote, Shifford, Chimney, Brighthampton, and Clanfield between 1839 and 1849 totalled over £1,000. (fn. 37) In 1857 the vicar of the new benefice of Bampton Proper received the glebe of the first and second (north and south) portions, tithe rent from Chimney, and much of the Haddon corn rent, yielding in all by 1866 a gross income of c. £600; (fn. 38) the corn rent was converted to a fixed rent charge of £91 in 1922, and the £10 pension to Exeter cathedral, charged solely to the vicar of Bampton Proper and latterly paid to the Ecclesiastical Commissioners, was commuted in 1931. (fn. 39)
No houses were provided under the vicarage ordination, suggesting that early 13th-century clergy may have lived in the Deanery, but by the late 13th century two and probably all three vicars had acquired houses respectively north, east, and south of the churchyard, rented from the cathedral chapter. (fn. 40) In 1288-9 William of Coleshill, vicar, agreed to pay the farmer 20s. a year for 'houses' opposite the farmer's (i.e. the Deanery) gate, evidently on or near the site of Cobb House north of the churchyard; the holding was later described as a 'court' or 'manse' built on the site of two earlier cottages, and during the 15th century or later the curtilage was extended eastwards by piecemeal incorporation of 4 adjoining tenements. (fn. 41) Rent for the house itself was paid in the early 15th century but not, apparently, by the 17th. (fn. 42) About 1500 there was a dovecot, presumably that later belonging to Wood House, in the newly-appropriated curtilage on the east, (fn. 43) and in 1685 the house included 6 ground-floor and 4 upper rooms, a study, and 2 lofts, with attached outhouses, rickyards, and commons. (fn. 44) In 1781 it needed substantial repairs, (fn. 45) and in 1799 it was mostly rebuilt by the vicar George Richards to designs by Daniel Harris of Oxford. (fn. 46) On the north-west a projecting, rubble-built wing with vaulted cellars is earlier, possibly the remains of a 17th-century kitchen. (fn. 47) After 1857 the house was assigned to Bampton Proper, and was sold after a new vicarage house was built to the north in 1958; that, too, was sold after 1976, the vicar of the united benefice living in Clanfield and later in a house off Broad Street. (fn. 48)
A house east of the churchyard, (fn. 49) on the site of later Kilmore House, was acquired in 1297 when the chapter's farmer let a plot to the vicar Richard de Beeston for 18d. a year. By the earlier 15th century the rent had been increased by 6d. but was frequently in arrears, and it was apparently no longer paid by the 17th. (fn. 50) The house's curtilage was extended northwards or southwards presumably, like the north vicarage's, by incorporation of derelict cottages: a tenement adjoining the churchyard and the (east) vicar's house was mentioned in 1436, and in the 19th century quitrent was owed for land which had earlier belonged to an adjoining tenement. (fn. 51) From 1857 it briefly became the vicarage house for St. James's, Aston, (fn. 52) and was sold in 1866. (fn. 53) Descriptions of the house as placea or cottagium suggest that it was humbler than the north vicarage, though by 1685 it included 8 groundfloor and 5 upper rooms, a study, a closet, and 2 lofts, with outhouses including a barn, a granary with an annexed chamber, 2 stables and woodhouses, and a pigeon house. (fn. 54) The surviving, L-shaped house, remodelled in the 19th century probably after it ceased to be a vicarage, contains few datable features in situ, though the relative thinness of its walls suggests that it is post-medieval and possibly 17th-century. A reset, early 14th-century doorway in the porch and a 15th-century one in a garden wall are 19th-century insertions possibly from a different site. (fn. 55)
The south vicarage, later Churchgate House, was not recorded in medieval bailiffs' accounts, perhaps because it was held rent-free. In 1437 the dung heap of an incumbent of the south vicarage was allegedly fouling the gutter of a rectory manor tenement, suggesting that he lived near the churchyard, and in 1500 another south vicar left to his successors extensive household furnishings including hangings in the hall, and kitchen and brewhouse utensils. (fn. 56) South vicars occupied a forerunner of Churchgate House certainly by the early 16th century: a horn-andscallop badge associated with Thomas Hoye, vicar 1500-23, was recorded there in the 17th century, (fn. 57) as were inscriptions to the vicars John and Henry Dotyn, (fn. 58) that to John Dotyn surviving reset in a garden wall. In 1685 the house was the largest of the three, containing 10 lower and 5 upper rooms besides a study, 3 closets, and 2 lofts; it seems to have been mostly rebuilt in the late 18th or early 19th century, though the west (rear) wing may be mid 16th-century and was perhaps rebuilt by one of the Dotyns. (fn. 59) A line of outbuildings on the north, remains of which formed the boundary with the churchyard in 1991, was ruinous by 1848. (fn. 60) From 1857 the house was assigned to the vicar of Lew, and was sold c. 1917. (fn. 61)
Though some medieval vicars (fn. 62) were minor clergy from Exeter cathedral many were highstatus academics mostly of West Country origin, attracted presumably by the proximity of Oxford, by the value of the benefices, and perhaps by Bampton's collegiate pretensions. Twentysix (42 per cent) out of 62 vicars recorded between c. 1250 and 1550 were university graduates, and many from the 1390s were recruited from Oxford posts, among them three fellows of Exeter College, three fellows of Oriel, and a fellow of Balliol. Most resigned their fellowships on being presented to Bampton, and though some maintained links with Oxford, vicars seem usually to have resided and to have been closely involved in local society, many remaining at Bampton for life. At least four owned private houses there besides their vicarages, some were godfathers or wards to neighbours' children, and several made bequests to local gentry or farmers or to the poor. (fn. 63) Presumably they employed assistants: unbeneficed clergy were recorded frequently in Bampton throughout the Middle Ages, and in 1530 there were two curates of whom one had served for several years, though neither fulfilled his duties adequately. In 1516 a vicar made bequests to 3 parish clerks. (fn. 64)
Relations with the cathedral chapter were often strained, and between 1320 and 1322 the chapter had to recover by litigation huge debts incurred during a tithe dispute with Standlake. A late 15th-century farmer of the rectory manor described the vicars as litigious and 'not good payers'. About 1330 the vicars refused to accept responsibility for repair of the chancel and for provision of books and ornaments, the parishioners, according to the chapter, being customarily free from any obligation. (fn. 65) The distance from Exeter, a 5-day journey each way in 1306, (fn. 66) exacerbated such problems, and probably contributed to the vicars' tendency to view themselves in an independent, quasi-collegiate light: brasses of two 15th-century vicars show them wearing the almuce, a vestment reserved for canons and higher dignitaries, while the arrangement of stalls in the chancel seems to have been modelled on that of cathedral and other collegiate churches. The area around the church, surrounded by the vicarage houses, rectory manor house, and rectory-manor cottages, itself suggested a miniature cathedral close. (fn. 67)
A notable aspect of such pretensions was the continuing devotion to St. Beornwald, (fn. 68) perhaps a head of the Anglo-Saxon minster, whose relics were preserved at Bampton and whose cult survived until the Reformation and possibly beyond. His feast day (21 December) (fn. 69) was kept evidently in the early 12th century and still in the early 16th, and in 1406 the reliquary of the saint's head was repaired, partly at Exeter cathedral chapter's expense. Probably about that time a brass showing a vested ecclesiastic holding a crozier was made to embellish his shrine, remains of which survive in the north transept. An invocation to the saint in the 16th-century will of one vicar, and another's description of himself in 1521 as vicar of the parish church of St. Beornwald, suggest their participation, though the cult also had a popular basis: jurors in 1370-1 all claimed to have been present in Bampton church on Beornwald's feast day in 1349 to make offerings and to hear divine service in his honour, while a repentant Lollard reported men and women going barefoot c. 1481 to offer wax images and money at St. Beornwald's relics. Oblations from St. Beornwald's box were mentioned in 1497-8 and 1531-2, when they totalled £4 13s. 4d. It has been suggested that the burial in 1593 of one 'Barnold' may refer to the saint's relics, which had perhaps continued to be venerated by local Catholic sympathizers, and possibly at that time the brass was reset in the floor before the former shrine. (fn. 70)
Richard Crispin (south vicar 1523-c. 1530) was imprisoned for Catholic sympathies in 1547, (fn. 71) but outwardly most Bampton vicars seem to have accepted the Reformation. Two in the mid 16th century were married, one bought former chantry land in Lew, and in 1559 all three vicars subscribed to the Elizabethan settlement, (fn. 72) while the pluralist John Underhill, east vicar 1581-5 and later bishop of Oxford, was a protégé of the protestant earl of Leicester and of Sir Francis Walsingham. (fn. 73) Assertions that the Roman Catholic William Tresham (d. 1569) was vicar in Mary's reign were presumably mistaken, since all three vicarages are accounted for during that period. (fn. 74) Some 16th-century vicars may nevertheless have harboured Catholic sympathies: John Dyer (east vicar 1529-47), John Whyte (south vicar 1535-43), and Henry Dotyn (south vicar 1559-95) witnessed wills or acted as executors for the recusant More family of Lower Haddon, John Dotyn (south vicar 1543-59) made small bequests to a former nun of Syon (Mdx.), and the possible survival of the cult of St. Beornwald suggests their connivance. (fn. 75) John Howson (north vicar 1598-?1628), bishop of Oxford from 1619 and of Durham from 1628, who married a local woman in 1601, was noted 'to be very popish', (fn. 76) while John Prideaux (east vicar 1614-34), later bishop of Worcester, was theologically conservative. (fn. 77) During the Interregnum all three vicars were deprived, though two, including Prideaux's son-in-law William Hodges, were restored after the Act of Uniformity; their replacements included the Presbyterians John Osborne (east vicar 1648-62) and Samuel Birch (south vicar 1658-62), who remained active in Bampton until 1664 and in private complained of perceived laxity or pastoral neglect by his colleagues. Rous Clapton or Clopton, north vicar from 1647 and outlawed for debt in 1655, reportedly attempted to make the vicarage over to the rector of Witney to raise £120 for dilapidations, but was himself deprived c. 1654. (fn. 78)
Many 17th- and 18th-century vicars served long incumbencies, nearly half and possibly more had West Country origins, and all were university graduates, a quarter of them from Exeter College. Several held college fellowships, often resigning them before their presentation. (fn. 79) Their similar backgrounds were sometimes reflected in close family ties: a vicar in 1634 and another in 1668 resigned in favour of their respective sons-in-law (fn. 80) and between 1670 and 1715 the east vicarage twice passed from father to son, suggesting that as in the late Middle Ages vicars may sometimes have informally nominated their successors. (fn. 81) Not all resided permanently, some, like Prideaux, being noted pluralists, (fn. 82) at least two in the later 17th century residing chiefly at Exeter, (fn. 83) and two others residing at the Oxford colleges of which they were head, (fn. 84) but despite a withering attack by Bishop Fell on one vicar's accumulation of benefices (fn. 85) there is no evidence of neglect, and presumably their duties were undertaken by curates or by the other vicars. Several were buried at Bampton, (fn. 86) one in the early 17th century transcribed the parish registers, (fn. 87) and another in 1617 left books worth £4 in his house there. (fn. 88) Thomas Cooke, south vicar 1663-8 and archdeacon of Salop, entertained the antiquary Anthony Wood at Bampton in 1664. (fn. 89)
From the late 17th century several vicars held two Bampton portions simultaneously, but throughout the 18th century Bampton was never without the personal attention of at least one vicar. Most seem to have been conscientious and involved in local life, frequently signing vestry minutes and seeking leave of absence only through ill health, (fn. 90) and in 1747 one married a coheir of the lessee of Bampton Deanery manor. (fn. 91) The young John Conybeare, later bishop of Bristol, preached at Bampton in 1719 and 1721, (fn. 92) and in 1738 and later there were two Sunday services with two sermons (reduced in winter to one sermon for much of the 18th century), and prayers on Wednesdays, Fridays, Saturdays and specified feast days; children were catechized in Lent, and bishops of Oxford confirmed at Bampton frequently. (fn. 93) A choir was established by 1794. (fn. 94) Communicants at the monthly sacrament numbered 30-50 into the 19th century, rising to 60-80 at great festivals, and though the 'lower class' were said to be slack in attendance, by 1831 the average congregation was c. 700 (c. 30 per cent of the population). (fn. 95) Until the 1750s the vicars divided their duties by 3-monthly stints, but during the later 18th century served every third week; c. 1800 they again resolved to serve for quarters, though discord arose in 1817 when a vicar insisted on conducting the service out of turn. (fn. 96)
Curates, employed as required, were often highly qualified and sometimes served for long periods, (fn. 97) though relations were occasionally strained. Charles Hawtrey (d. 1796), east vicar for nearly forty years and a double portionist for ten, was publicly attacked for his puritanical policies by his colleagues' curate Thomas Middleton, the non-resident vicar of Clanfield, prompting a vestry resolution in Middleton's favour signed by 33 inhabitants, (fn. 98) and in the 1780s a curate of Hawtrey's neglected his duties and was briefly imprisoned for assault. (fn. 99) Samuel Johnson, north vicar 1780-84, whose 'wild ... and unbecoming' manner, of reading caused hilarity and fuelled fears that Dissent would prosper, seems to have resided despite parish- ioners' demands that he substitute a curate. (fn. 100) Hugh Owen (east vicar 1797-1828), a well known antiquary, resided chiefly at Shrewsbury but took an active interest in Bampton's affairs, his portion being served by successive curates accommodated in the vicarage house. (fn. 101)
Owen's contemporary George Richards (north vicar 1796-1824), a former fellow of Oriel College, later vicar of St. Martin-in-the-Fields, London, and a minor poet, resided from c. 1798, and briefly served Owen's cure also. (fn. 102) 'Universally beloved and respected', (fn. 103) he rebuilt the north vicarage house and was instrumental in establishment of a National school, repairs to the church, (fn. 104) and provision of an organ, reportedly intending to introduce monthly sung services 'as in cathedrals'. The last innovation prompted controversy c. 1814 and was opposed by Richards's colleague Thomas Burrow (south vicar 1799-1837), who allegedly abandoned the afternoon sermon in retaliation and rescheduled weekly prayers to accommodate his field sports. (fn. 105) The organ prompted further controversy in 1850, when its resiting and other changes led to anonymous charges of Puseyism. (fn. 106) Burrow's successor Dacres Adams (d. 1871), who became first vicar of Bampton Proper and 'bequeathed ... a rich legacy of good feeling towards the church', also resided, as did J. R. Winstanley (east vicar 1828-43), but other vicars lived elsewhere. (fn. 107) From 1846 the north vicar's curate was J. A. Giles, author, editor, translator, and historian of the parish, who though 'richly cultivated' and well meaning was judged eccentric and 'quite unfit for his office'. In 1854 he was forced by the bishop to withdraw a book on the New Testament published at his private printing press at the vicarage house, (fn. 108) and in 1855 he was briefly imprisoned for concealing a clandestine marriage by falsifying the parish register. (fn. 109)
In 1854 division of duties between the three vicars was said to unsettle parishioners and was partly blamed for low attendance, (fn. 110) but from 1857, when the parish was divided, there was evidently improvement. Church attendance during the later 19th century, 'very good' in 1875, was said repeatedly to be steady or increasing, though in 1872 only 50 out of c. 300 adults habitually absent were thought to be dissenters, and in 1866 the vicar complained of indifference. Many inhabitants in the 1870s and 1880s worshipped interchangeably at church, chapel, or not at all, and 'would probably be at a loss how to describe themselves'. 'Working men' boycotted the church during the strikes of the early 1870s, but by 1875 they were returning, and provision of adequate free sittings for the poor boosted attendance particularly in the evenings, though rented pews continued to cause friction in 1896. (fn. 111) All the 19th- and early 20th-century vicars of Bampton Proper resided, some, like their predecessors, moving from West Country benefices and most staying for incumbencies of 10 or 20 years, though none in the earlier 20th century stayed for life. (fn. 112)
The church of ST. MARY THE VIRGIN, so called by 1742, (fn. 113) was said in 1292 to be dedicated to St. John the Baptist, in 1317 to St. Mary and St. John the Baptist, in 1335 to St. John the Baptist and St. Beornwald, and in 1370 and 1521 to St. Beornwald. (fn. 114) It is chiefly of limestone rubble with stone-slated roofs, and is of notable size and quality, comprising chancel with north vestry and south porch, central tower with stone spire, north and south transepts with eastern chapels, a chapel on the west side of the south transept, and a four-bay aisled nave with west and south porches. (fn. 115) Remains of an earlier church or chapel may underlie the north transept, (fn. 116) but the oldest standing fabric is the eastern end of an early nave built of coursed rubble laid partly in herringbone courses, later incorporated into the base of the tower; contemporary with or later than that work is the late 11th- or early 12th-century chancel arch, with chip-carved decoration. A tower 'built in olden times of wondrous form and with extraordinary skill and ingenuity' was mentioned in the 12th century, and excavations against the external west wall of the present nave revealed the footing of a structure with a projecting stair-base, probably remains of an early Norman west tower. (fn. 117)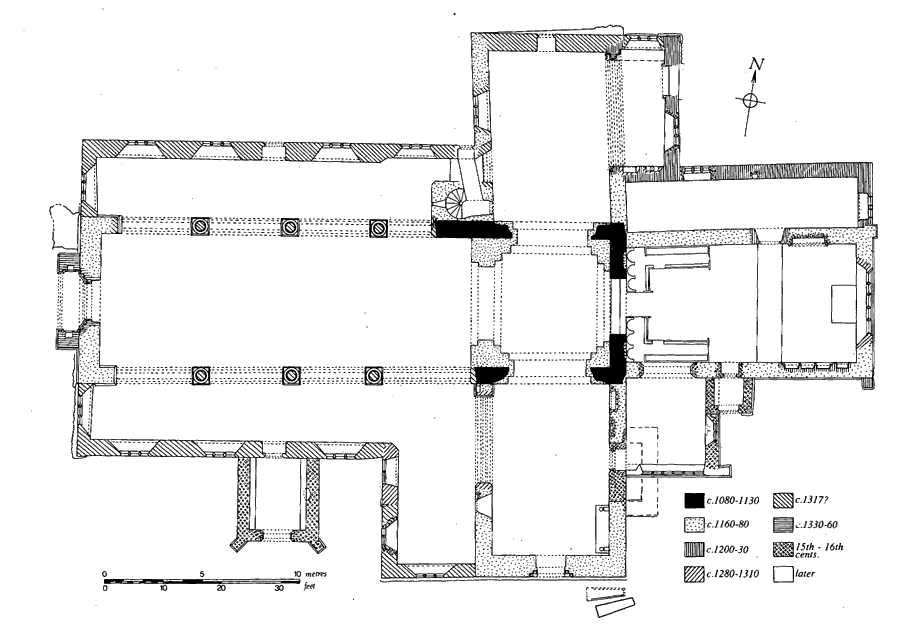 In the late 12th century the church was made cruciform by the addition of transepts, a central tower, and a new chancel; its size was then exceptional by normal parochial standards, reflecting its quasi-collegiate status. The north transept is misaligned in relation to the rest of the church, and excavations against the external east wall of its eastern chapel revealed a footing likely to predate the late 12th-century work; the chapel, which contained St. Beornwald's shrine, may therefore perpetuate some earlier structure whose alignment is respected by that of the transept. (fn. 118) The south transept has on its east side a large, round-headed arch, now blocked, which formerly opened into a shallow, rectangular altar-recess identified by excavation; (fn. 119) the transept's south doorway has elaborate Romanesque decoration, and in the early 19th century retained its door with original ironwork. (fn. 120) The tower, supported on four pointed arches of plain square orders, contains an internal blind arcade (later concealed by the ringing-chamber floor) of paired round-headed recesses with scalloped capitals; on the north side one of the recesses pierces the wall to overlook the north transept, and is entered from the stair-turret by a passage in the thickness of the wall, an arrangement which suggests a gallery overlooking St. Beornwald's shrine. The position of the stair-turret within the body of the church precludes a 12thcentury north aisle, but a south aisle of that date is suggested both by the west respond of the existing arcade, and by the many fragments of chevron-moulded voussoirs re-used in the wall above it.
The long, narrow vestry, added c. 1200, retains an original doorway, still with its door and ironwork, into the chancel, and an original east window. In the early 13th century the north transept's east chapel was remodelled with a broad arch towards the transept, and a gabled recess, probably to be identified as St. Beornwald's shrine, in its east wall; (fn. 121) the piscina and sedilia in the chancel are of similar date. In the mid 13th century the tower was heightened and the spire added. At the base of the spire are corner shafts bearing standing figures, identified as St. Andrew on the north-west, St. John the Baptist on the south-west, perhaps St. Beornwald on the north-east, and St. Peter on the south-east, an apparently unique feature which may reflect the figure-sculpture of Wells cathedral; the figure of St. Andrew was renewed in the late 19th century (fn. 122) and that of St. John the Baptist in 1991.
Between c. 1290 and 1320 the whole church apart from the chancel, vestry, and crossing was remodelled, beginning with the addition of the south-western chapel, and including the total rebuilding of the nave. Work of that period is characterized by triplets of cusped lancet windows with cusped rere-arches, a distinctive feature which occurs (perhaps under Bampton's influence) in several local churches, and derives ultimately from the Somerset area; an indulgence granted in 1317 to all who contributed to the 'construction and repair' of Bampton church presumably refers to that rebuilding. (fn. 123) Then or soon afterwards the north transept chapel was again remodelled, and the shrine-niche provided with a richly decorated canopy. (fn. 124) The west porch was added in the mid to late 14th century, and a set of image-niches in the south transept, later concealed by the organ, in the 15th. (fn. 125)
The chancel was remodelled in 1497-9, all or part of the work to designs of the mason Thomas Martyn and the carpenter David Owretayn. (fn. 126) New work included square-headed Perpendicular windows and a low-pitched timber roof, since destroyed. The chancel south porch, probably contemporary, mostly survives, as does a tall and elaborate Easter sepulchre on the north side of the altar. A clerestory was added to the nave and transepts about the same time. (fn. 127)
The south porch of the nave was added probably in the earlier 16th century. At a similar date the altar-recess east of the south transept was replaced by a much larger mortuary chapel built probably by the More family of Lower Haddon, entered from the transept through a door in the blocking of the Romanesque arch, and with a large opening to the chancel on the north. John More (d. 1542) instructed his executors to provide window glass and altar furnishings, and bequeathed a cow to the churchwardens towards the chapel's upkeep. (fn. 128) In 1669, as the Haddon aisle, the chapel was sold by the non-resident lord of Haddon to Thomas Horde (d. 1715), who remodelled it c. 1702, probably reducing it in size, and provided for repair of its glass and maintenance of family tombs. (fn. 129) Its east window was blocked for a monument c. 1671.
Women's and men's doors were mentioned in the 17th century. (fn. 130) Private box- and other pews in the north aisle and elsewhere by the later 17th century were the occasion of a fracas in the church in 1674, (fn. 131) and by the early 18th century there were private galleries in the north and probably south aisles, and a public one at the west end; in the 19th century the galleries provided 260 sittings but effectively cut off the transepts, and services were conducted within the nave only. (fn. 132) In 1792 the vestry was refitted, (fn. 133) and in 1841 an additional north doorway was inserted. (fn. 134)
Between 1867 and 1870 the architect Ewan Christian supervised a major restoration financed by mortgage and subscription. (fn. 135) The chancel and nave walls were lowered and new roofs of steeper pitch provided, destroying the nave clerestory; 15th-century fenestration in the south side of the chancel was replaced, and the east window enlarged; the archway between the Horde chapel and the chancel was rebuilt in different form on the old jambs, and the sedilia were remodelled; the roofs of the vestry and chancel south porch were renewed and the new north door blocked; and flooring was renewed and a new ceiling provided under the ringers' chamber. Pews were replaced over several years by open benches and the galleries were removed, (fn. 136) and then or c. 1859 (fn. 137) the south-west chapel was reroofed, new windows inserted into the north and south ends of the transepts, and a new window and door into the north side of the vestry. The top of the spire was rebuilt in 1872 following lightning damage. (fn. 138) The Horde chapel, 'ruinous' in 1786 and used as a store by the 19th century, was converted into a new vestry in 1894, and the north transept chapel was refitted for daily services in 1908 by relatives of Philip Southby of Bampton House. (fn. 139) Heating was installed under the vestry by 1894 and in 1891 money was being raised towards lighting the church apparently with oil lamps; electric lighting was installed in 1934. (fn. 140)
Early 16th-century stalls with misericord seats along the west wall of the chancel, and benches along the north and south walls, all much restored, perhaps replaced those said to be 'defective' c. 1520. (fn. 141) Six stalls survived in 1858 but only four in 1867. (fn. 142) Carved on one benchend and on one of the misericords is a hunting horn hanging from a scallop shell between the initials TH, and on another misericord the monogram JS: probably they refer to the vicars Thomas Hoye (1500-23) and John Southwode (1506-24), suggesting that one of the lost stalls bore the initials of their colleague. (fn. 143) The other bench-end bears the arms of the see of Exeter. The font base is 14th-century, with blind tracery panels; the 19th-century bowl, 'new' in 1847, replaced a square, 12th-century bowl with round-headed blind arcading. (fn. 144) Though briefly moved to the south-west chapel c. 1813 the font was returned to the nave before 1867, (fn. 145) and in 1992 stood in the south aisle. A late 14th- or early 15th-century stone reredos showing Christ between the apostles, against the east wall of the north transept by the early 19th century, was placed in the chancel under the east window c. 1875. (fn. 146) The pulpit, lectern, and reading desk, against the central north column of the nave for much of the 19th century, were renewed c. 1870 and moved to the east end; the large stone and marble pulpit then introduced was replaced in 1959 by one of oak, given in memory of Col. A. M. Colvile (d. 1952) of Weald Manor. (fn. 147) The organ, by John Gray of London and paid for by subscription, was installed in a gallery at the east end of the nave, displacing the pulpit, in 1812, after plans to replace instrumentalists with a barrel organ were abandoned; (fn. 148) it was moved to the south transept's west chapel in 1850 (when it may have acquired its present neo-Gothic case), and to the east wall of the transept probably c. 1870, when it was rebuilt and enlarged. (fn. 149) It was restored in 1992. (fn. 150) A pair of mid 18th- century mahogany chairs in Gothic style, of unknown provenance, were sold in 1981. (fn. 151)
Heraldic glass recorded in the earlier 18th century included arms of the More family, perhaps in the Horde chapel, and of Exeter College. Surviving stained glass is 19th- and early 20th- century, and includes windows given in memory of Edward Whitaker (d. 1825), Dacres Adams (d. 1871), and members of the Southby family, who donated the great east window c. 1872. (fn. 152)
A weathered, early 14th-century effigy of a woman, formerly in the churchyard, (fn. 153) and a late 14th-century effigy of a knight with a helm under his head bearing the Talbot crest, lie loose in the south and north transepts respectively; also in the south transept are a medieval stone coffin and two cross-slabs. In the north transept's east chapel, before the shrine-niche (where it was found buried c. 1960), is the indent of an early 15th-century brass showing an ecclesiastic holding a crozier, perhaps a representation of St. Beornwald which may have adorned his shrine. (fn. 154) Memorials to several vicars include wall monuments to Thomas Cooke (d. 1669) and Stephen Philips (d. 1684) in the Horde chapel, and in the chancel marble slabs to Thomas Snell the elder and younger (d. 1717 and 1758), and floor brasses to Thomas Plymyswode (d. 1417) and Robert Holcot (d. 1500), not in situ. (fn. 155) Also in the Horde chapel are the 17th and early 18th-century grave slabs, placed vertically against the wall in 1894, (fn. 156) of several of the Horde family, and an elaborate wall monument to Barbara Horde (d. 1671) and Thomas (d. 1715); a brass to Frances Horde (d. 1633) is in the chancel. A large monument to George Thompson (d. 1603), comprising tomb chest, effigy, and pedimented canopy, lies against the south transept's east wall. Lost monuments include an inscribed marble grave slab probably to the vicar Thomas Hoye (d. 1532); (fn. 157) no sign remains of a family vault in the north transept for which Richard Coxeter (d. 1740) obtained permission in 1721. (fn. 158)
A 'new' clock and chimes were installed in 1733-4 by John Reynolds of Hagbourne (Berks.), presumably replacing an earlier mechanism. A new hand and dial were fitted in 1752, and repairs were carried out by Hunt (probably Thomas Hunt) of Burford in 1785. (fn. 159) In 1848 the chimes played an 'ancient carol' at certain hours, but the clock was by then notoriously unreliable. (fn. 160) The carillon was replaced by Gillett and Johnston of Croydon in 1907 and was reconstructed in 1962 by John Smith and sons of Derby, who also replaced the clock mechanism. (fn. 161)
The Lady bell of Bampton was evidently of some repute in the mid 16th century, (fn. 162) and in 1629 the bells appear to have been recast and their number increased to six. Five bells of that date survive, of which three are attributed to Nathaniel Bolter. A replacement bell by Mears and Stainbank was hung in 1865 and two more were added in 1906, making a ring of eight; a new frame was installed in 1903, replacing one of 1608 perhaps by Matthew Chancelor of Berkshire. The saunce is of 1626, by James Keene of Woodstock. (fn. 163) The plate includes a silver chalice of 1595, a pair of silver patens of 1618, a silver tankard flagon of 1720, bought partly with money bequeathed by Mary Croft (d. 1719), and a silver table-spoon of 1765; 20th-century plate includes a chalice and paten given in memory of E. G. Hunt, vicar 1872-95. (fn. 164) The registers begin in 1538. (fn. 165)
The churchyard was closed for burials in 1889. A new cemetery for Witney union was consecrated the following year, on former glebe north of Landells Lane bought by the Witney board of guardians as rural sanitary authority. It was extended in 1947. (fn. 166)