Pages 62-66
A History of the County of Oxford: Volume 13, Bampton Hundred (Part One). Originally published by Victoria County History, London, 1996.
This free content was digitised by double rekeying. All rights reserved.
ASTON AND COTE
ASTON AND COTE township (2,997 a.) adjoined the parish boundary on the north and south. (fn. 1) Parts of its eastern and south-eastern boundaries were described in 10th- and 11th-century grants of adjacent estates at Ducklington, Shifford, and Chimney; its western boundary with Bampton and Weald, discussed above, was established probably after the mid 10th century, and followed furlongs and divisions of common pasture and meadow. (fn. 2)
Abingdon Lane, an ancient route running southeastwards through Yelford and Brighthampton to the Thames crossing at Newbridge, cut across the township's northern tip. (fn. 3) A branch leading southwards towards the Thames crossing at Shifford ran down the eastern boundary from an early date: its northern stretch, which branched eastwards into Shifford and continued to Brighthampton, was suppressed in 1629 because of flooding, (fn. 4) and the southern stretch, called 'the way' in a description of Shifford's boundaries in 1005, was abandoned apparently between 1625 and 1767. (fn. 5) Cote Lane presumably also originated as a route to the river crossings at Shifford or Duxford, and in the 18th and 19th centuries continued through Shifford to Newbridge. (fn. 6) Kingsway Lane north-west of Aston village, part of the pre-inclosure road from Ducklington and Claywell to Bampton, may have been important in the early Middle Ages, and it has been suggested that its western end formed part of an inferred minor Roman road through Bampton from a crossing of the river Windrush at Gill Mill; an intersecting track running southwards to Aston village through Stone Bridge furlong may have been part of a 'way' which ran south or south-westwards across a stone bridge in the 10th century. (fn. 7)
The Brighthampton road, formerly a bridleway, was confirmed as the principal route eastwards in the early 17th century, (fn. 8) and by the late 18th roads or lanes linking Aston with Bampton, Brighthampton, and Chimney largely followed their later courses. (fn. 9) The earlier tracks north of the village were suppressed at inclosure c. 1853, when a new 30-ft. road from Aston to Ducklington and Witney was laid out across the former common and open fields; the Aston section of Abingdon Lane was confirmed, and Cote Lane was extended northwards to meet it. The road towards Chimney was confirmed as a 20-ft. carriageway, with a tow path leading westwards to Isle of Wight and Tadpole bridges alongside the newly straightened Great brook. (fn. 10)
An Aston man was transporting wood and fuel to Oxford by boat in the early 17th century, (fn. 11) and in 1808 coal for domestic use was transported by river from Cassington wharf. (fn. 12) There were carriers from Aston and Cote to Oxford and Witney in the 1840s, when both hamlets received letters through Bampton. Aston's post office, by 1841 probably already on its later site on the south side of the square, became a money order and telegraph office before 1915, (fn. 13) and remained open in 1992.
Cropmarks suggesting prehistoric settlement have been noted south of Aston, east of Cote Lane, and in the south-east near the Shifford boundary. (fn. 14) An irregular enclosure on the Thames floodplain south of Great brook may be a Neolithic causewayed camp, (fn. 15) and there have been isolated Neolithic and Bronze-Age finds north of Aston High Street and near the north end of Cote Lane. Iron-Age pottery and a brooch were found south of Cote House. (fn. 16) A probable settlement site straddling the modern Brighthampton road east of Cote may have been reorganized in the Roman period, and it has been suggested that a large, double-ditched enclosure on the township's eastern edge south of Brighthampton road may be a Roman fort, though it does not lie on any known Roman roads. (fn. 17) Two coins of Trajan and Hadrian were discovered in Cote in the 19th century. (fn. 18) South of Great brook two square enclosures contained within Bronze-Age ring ditches are probably of Roman or post-Roman date. (fn. 19)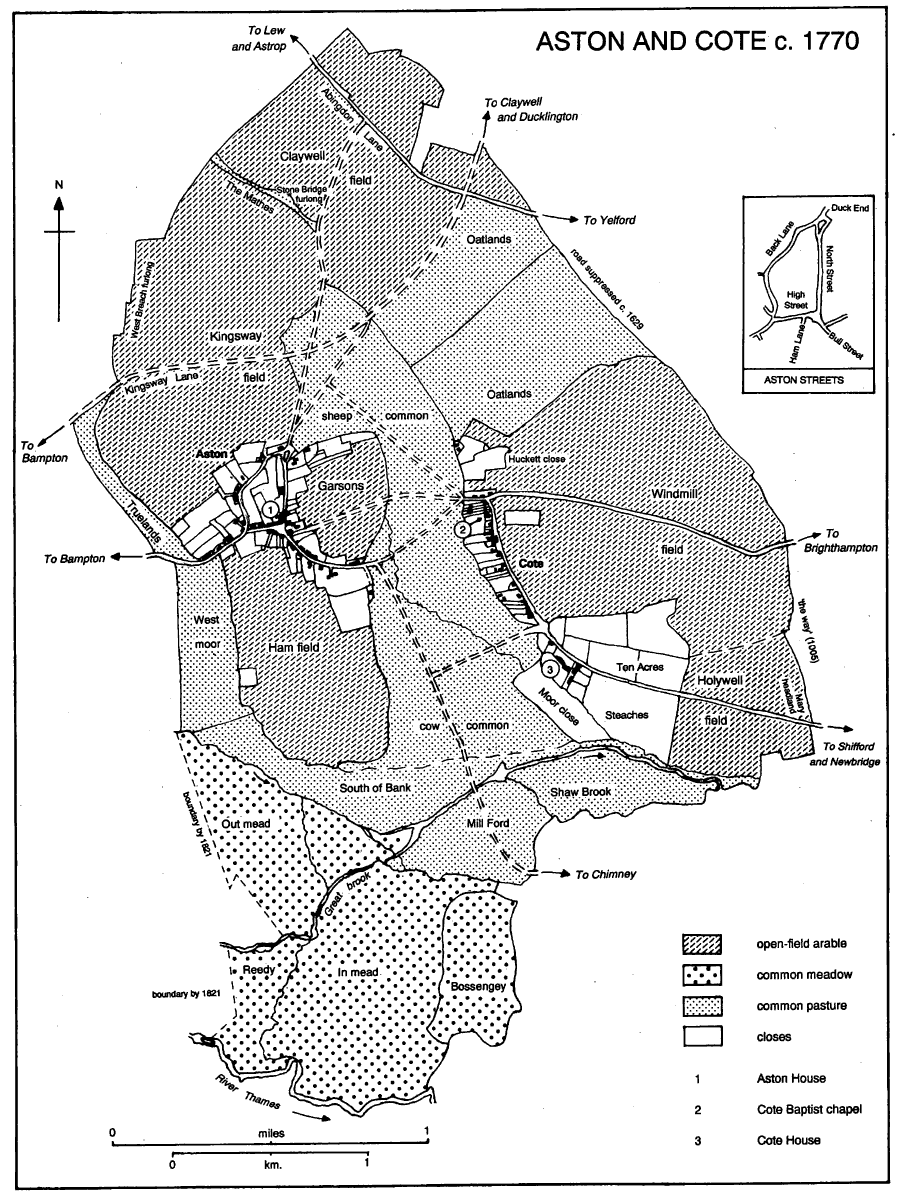 Cropmarks suggesting Anglo-Saxon sunken huts have been noted on the gravel terraces east of Cote, near areas of probable earlier settlement. (fn. 20) All lie within the later open fields, perhaps supporting indications that the medieval fields and township boundaries were established after the mid 10th century. (fn. 21) Aston (i.e. Bampton's east tun), on a gravel terrace south of Kingsway Lane, existed in some form by 958 when the 'boundary of the people of Aston' was mentioned, (fn. 22) and in 984 King Aethelred granted 2 cassati there to his 'minister' Aelfwine. (fn. 23) Cote, a straggling line of cottages and farmsteads along Cote Lane, was recorded by name only from 1203 (fn. 24) but probably existed much earlier; in the mid 13th century manorial organization and land tenure there were no different from elsewhere in the township. (fn. 25)
Neither Aston nor Cote was separately entered in Domesday Book. In 1279 c. 59 of the tenants listed probably resided (fn. 26) and at least another 11 seem to have been omitted, (fn. 27) implying over 70 households of which 15 or more were in Cote. (fn. 28) That some holdings had apparently been recently divided (fn. 29) may indicate rising population, and Aston and Cote remained by far the most populous, though not the wealthiest, of Bampton's outlying townships. Over 63 inhabitants were taxed in 1306, 76 in 1316, and 78 in 1327, and in 1377 poll tax was paid by 156 inhabitants over 14, suggesting that 14th-century depopulation had been less marked than in some Oxfordshire parishes. (fn. 30) As elsewhere in the parish there may have been contraction during the 15th century, (fn. 31) but 113 male inhabitants were listed in 1642, (fn. 32) implying an adult population of c. 226; 68 houses were assessed for hearth tax in 1662, possibly an underassessment. (fn. 33) Between a fifth and a third of the population probably then lived at Cote, where 75 adults were noted in 1676. (fn. 34) Several holdings had been divided between two or more tenants by c. 1668, and in 1657 a poor Aston man obtained permission to build a cottage on the waste, though in the late 17th century and early 18th the death rate seems temporarily to have exceeded the birth rate: (fn. 35) periods of unusually high mortality were 1693-4, caused perhaps by an outbreak of 'contagious disease', (fn. 36) 1700, 1711, and 1728, in which year there was smallpox in Bampton, (fn. 37) and the 1760s. From the mid 18th century baptisms usually outnumbered burials, and by 1801 the population was 628 accommodated in 115 houses; in 1841 it was 727, of whom 204 lived at Cote. After reaching a peak of 908 in 1871 it declined, with intermissions, to 531 in 1931. By 1951 it had risen to 678, partly because of boundary changes, and from the 1960s it rose steadily to 1,221 in 1991. (fn. 38)
Aston's topography may in part have been conditioned by a rectilinear arrangement of fields and roads also discernible around Bampton, and possibly of Roman or earlier origin. (fn. 39) Though High Street runs from east to west several roads and lanes are aligned north-west to south-east or north-east to south-west, among them the road towards Bampton, Cote road, a small lane branching north-west from the intersection of High Street and Back Lane, and Bull Street, (fn. 40) so called by 1841 from the public house near its southern end. (fn. 41) North Street (formerly Duckend) Farm, north of the gravel terrace, (fn. 42) originated perhaps as part of a separate 'end', and is connected with the main village by North Street and by the sinuous Back Lane, which together embrace an area of pasture closes. Aston cross, where High Street, North Street, and Bull Street converge in an open triangular space later called the square, was mentioned in the 16th century as a meeting place of the Sixteens, elected officers responsible for agricultural regulation. (fn. 43) Only the base seems to have survived in 1848, (fn. 44) but a cross was marked on the Ordnance Survey map of 1876 and a new war memorial cross was erected on the site shortly after the First World War. (fn. 45)
In the 18th century houses extended along the full length of High and Bull Streets, and there were isolated cottages and farmsteads along North Street and Back Lane. Since a tenement recorded from the Middle Ages lay at Bull Street's extreme south-east end, presumably the lane had been settled from an early date. (fn. 46) The surname 'at well', recorded in the 13th century and referring possibly to a medieval holy well near the township's eastern edge, suggests that medieval settlement in Cote extended at least as far as the site of Cote House and possibly to the Shifford boundary, (fn. 47) though by the 18th century Cote House marked the southernmost limit of expansion. (fn. 48) Cottages south of Bull Street and near North Street Farm, and a farmhouse west of later Cote Lodge Farm, all on the edge of the common, were established by the mid 18th century, (fn. 49) but there were no other outlying farmsteads before inclosure.
Thatched Cottage on North Street incorporates in its central bay a late 16th- or early 17th-century one-roomed cottage whose walls may originally have been timber-framed, suggesting that, as in Bampton, timber construction may have been common in the medieval period. The cottage, which included attics and a gable chimney stack, had been rewalled in stone by the time a two-storeyed addition was made on the south perhaps in the 18th century. Most surviving buildings are of limestone rubble with stone-slated roofs, though thatch may formerly have been common, (fn. 50) and some houses in the later 19th century, among them Newhouse Farm, were built of local Aston brick. (fn. 51) Several 17th- or early 18th-century farmhouses survive in both hamlets, among them Cote Farmhouse and Cote Cottage and, in Aston, North Street Farm, Westerleigh, West End Cottage, the Elms (facing Aston square), and cottages on Back Lane; West End Farm, on a site near the southern end of Back Lane occupied probably from the Middle Ages, incorporates a late 16th- or early 17th-century house of one storey with attics and a cross passage, whose southern end was truncated when two west-facing houses were built onto a side lane before 1773. (fn. 52) The most notable building in Aston, besides the church, is Aston House at the south end of North Street, erected for the Baptist minister on the site of an earlier cottage c. 1744. (fn. 53) The symmetrical main block incorporates a 5-bayed front of two storeys and attics, faced with red brick and with ashlar dressings and a segmental pediment over the central doorway; the interior retains some original panelling and other fittings. A service wing at the rear was extended in the 19th century. On Cote Lane Milton Lodge was rebuilt c. 1720 probably by members of the prosperous Williams family (fn. 54) and has a symmetrical 5-bayed entrance front with a shell hood; fittings include panelled dados and an original staircase with turned balusters. (fn. 55) Cote House and the 18th- century Baptist chapel at the northern end of Cote Lane are described below. (fn. 56) In 1848 Aston was judged 'humble and primeval-looking' and its architecture mediocre, (fn. 57) though inclosure, delayed until c. 1853, was said in 1856 to be improving its appearance, with new houses being built and others altered. (fn. 58) Newhouse and Cote Lodge Farms, the latter on the newly established road leading north from Cote hamlet, were built before 1876, and labourers' cottages on Cote road during the same period, (fn. 59) though in 1890 the vicar commented on the poor condition of the township's cottages. (fn. 60) Also rebuilt in the 19th century were the post office and nearby Red Lion public house on Aston square, and farmsteads on Back Lane, North Street, and in Cote. New institutional buildings in Aston included the church (1838) and adjacent National school (1856) on Cote road, the laterdemolished vicarage house (c. 1858) south of High Street, and the Baptist chapel and British school (1845) on North Street. Westfield House, on Aston's western edge, was built as a private school c. 1913, and a Baptist Hall was built on Cote road in 1929 and was replaced in 1980 by a larger Fellowship Centre. (fn. 61)
New drains were being laid in 1856, which it was hoped would transform the 'damp and dirty street towards Cote' into a 'clean and healthy locality'. (fn. 62) Contaminated wells in Cote may have caused a diphtheria epidemic in 1893, (fn. 63) but despite the establishment c. 1907 of the Bampton, Aston and District Gas and Water Co. the water supply was chiefly from wells until the Second World War, (fn. 64) and in 1938 the parish council voted against being supplied with water and electricity by the Rural District Council. (fn. 65) Electricity was introduced before 1949, (fn. 66) gas before 1939, (fn. 67) and mains drainage c. 1967. (fn. 68)
There was little expansion of either hamlet until the 1960s, when large numbers of houses were built along Cote road, off Bull Street, and, following the demolition of the vicarage house, south of High Street. In 1965 a total of 57 new houses was expected within two years, (fn. 69) and limited expansion continued in the 1970s and 1980s. Old people's accommodation was built north of the Baptist Hall on Cote road in 1975, (fn. 70) and a new village hall, replacing an ex-army hut acquired originally by the British Legion, c. 1985. (fn. 71) In Cote there was some infilling from the 1960s, but most of the eastern side of Cote Lane remained unbuilt in 1995.
A disorderly alehouse in Aston was suppressed at the inhabitants' request in 1700. (fn. 72) In the mid 18th century there were 3 or 4 licensed alehouses, among them the Red Lion, probably then, as later, on the south side of Aston square, and the Ball or Bull, not necessarily the later Bull on Bull Street. (fn. 73) From 1784 until the early 19th century the Red Lion only was recorded in Aston, and the Star, opened c. 1802 at the junction of High Street and Ham Lane, closed c. 1860 after the vicar acquired the site. (fn. 74) The later Bull existed by 1841, was rebuilt in 1865 probably by James Gibbons of Eynsham Brewery, (fn. 75) and closed c. 1992; the Red Lion remained open in 1995. In Cote the unidentified Black Horse was licensed from 1779 to 1801, (fn. 76) and a beerhouse recorded from 1869 closed after 1939. (fn. 77)
An Aston coal club established in 1859 was funded by subscription and from the township's share of the Bampton charities, and in the 1870s had over 100 members. (fn. 78) A Bampton-Aston blanket club established in 1850 continued in 1872, and was probably also financed wholly or partly from charitable income. (fn. 79) A library and reading room opened in 1860 (fn. 80) was not mentioned later. A cricket club existed by 1869, (fn. 81) and in the 1870s and the early 20th century a 3-day annual fete in Aston included a pleasure fair in the square. (fn. 82)
Holywell field, on the south-eastern edge of the township, was so called by 1432. The 13th- century surname 'at well', and a 15th-century reference to open-field land lying 'towards the holy well' (versus le holywelle), (fn. 83) suggest that the spring from which it was named continued as a religious site throughout the later Middle Ages. If, like Bampton's Lady well, it was associated with the Virgin, (fn. 84) it may have lain near the later Mary headland on the Aston-Shifford boundary, close to the intersection of 'the way' mentioned in 1005 and of the modern Cote-Shifford road; (fn. 85) alternatively it may have been further north near Cote House, where Lady close (so called from the 17th century) was taken possibly from Holywell field c. 1662. (fn. 86) No later references have been found, and the well's site had been lost perhaps by the 17th century.
In the 16th century inhabitants laying out a meadow in Aston were entitled to bread and a gallon of ale from those with rights there, and complex meadow customs persisted until inclosure. (fn. 87)