Pages 90-93
A History of the County of Oxford: Volume 13, Bampton Hundred (Part One). Originally published by Victoria County History, London, 1996.
This free content was digitised by double rekeying. All rights reserved.
LEW
LEW (1,642 a.) adjoined the parish boundary on the west, north, and north-east, Aston's fields in the south-east, Bampton's fields in the south, and Highmoor brook in the south-west. All those boundaries, mostly established before the later 18th century, are discussed above. (fn. 1)
Abingdon Lane, an ancient route leading south-eastwards towards Thames crossings at Shifford and Newbridge, ran along the township's northern edge, and until inclosure c. 1821 continued across Lew heath into Aston; (fn. 2) probably it was the 'old way' mentioned in 969. (fn. 3) A stone causeway excavated on Elm Bank ditch north of Hill View, evidently the stone 'bridge' or 'ford' mentioned in 10th-century charters, suggests an east-west route perhaps from Ducklington to Lew and thence to Bampton, which presumably intersected Abingdon Lane, (fn. 4) and a 'highway' running north-eastwards from Abingdon Lane into Ducklington, probably south of Barley Park wood, was mentioned in 1318. (fn. 5) Another 10th-century 'way' ran probably northeastwards along Lew's south-western boundary, and continued presumably across the later open fields, connecting perhaps with the surviving back lane on which Manor Farm stands, or with a roughly parallel green lane which survived until inclosure. (fn. 6) The Witney-Bampton road through Lew village, presumably also ancient, formerly met the Brize Norton road just north of Bampton; it was superseded as the chief route in 1771 by a turnpike running west of Lew barrow from a tollgate on Lew's northern boundary, which met the Brize Norton road near another tollgate at Venn bridge. (fn. 7) That road was abandoned at inclosure, when the turnpike was rerouted through Lew village and a new section to the Brize Norton road was built across former open fields; the road was disturnpiked in 1874. (fn. 8) Also at inclosure Abingdon Lane was replaced by a new road to Yelford which left the Witney road just north of Lew village, and a road southwards to Bampton was established across former open fields via later Mount Owen Farm. (fn. 9) No carriers are known, but there was a receiving office by the 1850s, at first in Church (formerly Post Office) Farmhouse, and by 1921 in later Post Office Cottage north of the church. It closed between 1939 and 1971. (fn. 10)
Cropmarks, including Bronze-Age ringditches, have been noted chiefly in the south-west of the township near the Bampton boundary. (fn. 11) A prominent round-barrow west of the later hamlet is undated but probably early Anglo-Saxon, (fn. 12) and a settlement named from it existed presumably in 984 when Aethelred granted land 'at the barrow' (aet Hlaewe) to his 'minister' Aelfwine. (fn. 13) Three villani and 3 bordarii were recorded on two small estates in Lew in 1086, but much of the later township was included in the royal manor of Bampton and was not separately described. (fn. 14)
Up to 33 of the tenants and freeholders listed in 1279 may have resided, and since others may have been omitted (fn. 15) there were probably between 30 and 40 households. At least 27 inhabitants were taxed in 1306, 30 in 1316, and 38 in 1327, but in 1377 poll tax was paid by only 25 inhabitants over 14, (fn. 16) suggesting that the effects of 14th-century plague had been catastrophic. The township may have suffered further from the 15th-century depopulation evident elsewhere in the parish, (fn. 17) and no more than 14 inhabitants contributed to 16th-century subsidies; (fn. 18) only 34 male inhabitants were listed in 1642, and 22 houses were assessed for hearth tax in 1662, half of them on only one or two hearths. (fn. 19) High numbers of burials were recorded in 1728-30, during the 1760s, and in 1790, but from the 1750s baptisms usually outnumbered burials (fn. 20) and by 1801 there were 222 inhabitants and 36 houses. The population rose to 266, accommodated in 46 houses, by 1821, but fell steadily thereafter to only 92 in 1901, when 6 out of 34 surviving houses were vacant. Despite a slight increase to 116 in 1921 it continued to fall during the 20th century, and in 1991 was 59. (fn. 21)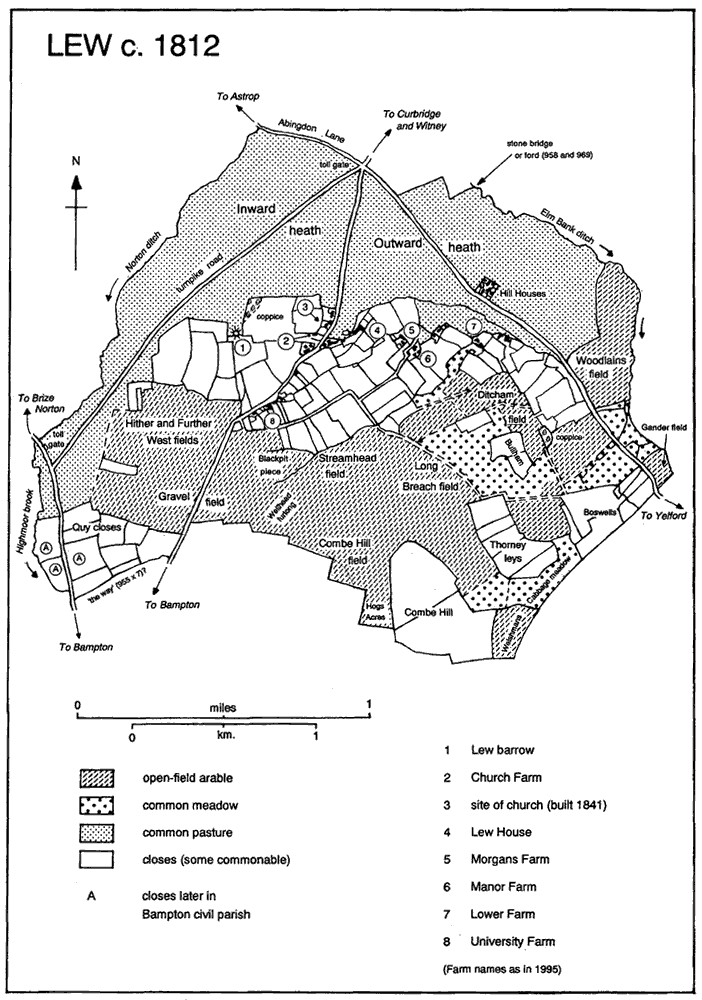 The base and part of the shaft of an apparently late medieval cross survive east of the Witney-Bampton road near the modern church, (fn. 22) on the edge of what may formerly have been a small, triangular green: (fn. 23) the surname 'at green' was recorded in the 13th and 14th centuries, (fn. 24) and cottages set back from the road still line its probable eastern edge along what is now an approach to Lew House. Early settlement may not have been clearly nucleated, however. Freehold tenements c. ½ km. south of the hamlet on the modern Bampton road, including University Farm and neighbouring cottages, were established by the 17th century and possibly much earlier, (fn. 25) and the medieval surname 'at well' may indicate settlement south of University Farm along the putative loth-century route across the later open fields, though known cropmarks are not medieval. (fn. 26) The site of Manor Farm was occupied by the late 16th century and possibly from the Middle Ages, (fn. 27) and by the 18th century there were farmhouses along the southern edge of the heath, some attached to the chief Bampton manor and presumably long established. (fn. 28) Of those, Lower Farm includes a datestone inscribed RIM 1675, perhaps for Robert Jeeves (or Geeves) (d. 1703) and his wife Margery, (fn. 29) and a neighbouring farmhouse formerly attached to the same manor was demolished in the late 19th century. (fn. 30) Cottages built 'on the waste' before 1700, perhaps including two said to have no common rights in 1609, were presumably those on Lew heath at Hill View or Hill Houses, shown on a map of 1767, (fn. 31) and in the 19th century the site seems to have included up to 8 or 9 separate labourers' dwellings. (fn. 32) Those remaining were cleared in the 20th century, and the existing house was newly built. (fn. 33)
A few farmhouses and cottages of 17th- and 18th-century origin, some of them fairly substantial, reflect Lew's status as a small agricultural community with some moderately prosperous yeoman farmers. (fn. 34) Most are of limestone rubble with stone-slated roofs, though Thatched Cottage near University Farm retains its thatch; both thatch (for agricultural buildings) and slate were mentioned in the 18th century. (fn. 35) The most notable building is Lew House, so called by 1909, (fn. 36) on the east side of the putative green, a large L-shaped building of several periods owned in the late 18th century and earlier 19th by the Arnatts, then the chief farming family in the township; (fn. 37) it passed later to a succession of farmers and landowners, among them H. B. Arnaud, who sublet it, and from the 1930S the Radclyffe family. (fn. 38) Two ranges of 17th-century origin survive at the house's north-east corner, of which one, formerly the main range, contains late 17th-century panelling. The other, a cross wing which incorporates the present main entrance, has been much altered but was probably at the parlour end. No trace survives of an early service wing. In 1786 an additional block with a dressed stone gable, perhaps housing a kitchen, was built alongside the cross wing probably by Jonathan Arnatt (d. 1799) and his wife Elizabeth, (fn. 39) and in 1909 the house was extensively remodelled by the architect John Belcher: (fn. 40) a porch was added to the entrance front, and some fenestration and interior decoration were renewed, possibly including some panelling in the 17th-century range. The long, irregular service wing, incorporating former outbuildings, has an attached range of thatched kennels.
In the 19th and 20th centuries Lew, with its falling population, experienced little new building, and the only additions of note were the church, built in 1841, and the Congregational chapel (later a school) near University Farm, built c. 1840. (fn. 41) Mount Owen Farm, just within the township boundary in the southeast and named reportedly after a vicar of Bampton, was built in the 1830s after inclosure. (fn. 42) A single pair of council houses was built opposite University Farm before 1960, and isolated houses were built on the more easterly Bampton road, but otherwise 20th-century development was confined to restoration and extension of some older houses. (fn. 43) Water was supplied by Witney R.D.C. by 1939, and electricity was available by the late 1950s. (fn. 44)
A fire in 1714 destroyed several houses, causing losses valued at over £160. (fn. 45) A public house licensed by 1754 was presumably the later Chequers, so called by 1773 and sold in 1800 with an associated blacksmith's shop, (fn. 46) but not mentioned later.
The surname 'at well' was recorded in the 13th and 14th centuries, (fn. 47) but no medieval holy wells are known. Wellhead furlong, recorded in 1746, adjoined the township's southern boundary south of University Farm, and a spring nearby was noted in 1884; (fn. 48) both lay close to the putative early medieval route across the later open fields. (fn. 49)