Pages 130-144
A History of the County of Oxford: Volume 14, Bampton Hundred (Part Two). Originally published by Victoria County History, London, 2004.
This free content was digitised by double rekeying. All rights reserved.
PARISH CHURCH AND CHURCH LIFE
Origins and Status
Though the existence of a church within the 10th- and 11th-century estate seems likely, the earliest unequivocal evidence is the survival of blocked, single-splayed windows of late 11th- or early 12th-century type high up in the nave of the existing building. Possibly that work was broadly contemporary with the first phases of the stone-built manor house to the east, and almost certainly it long predated the borough's foundation. (fn. 1) The ecclesiastical parish, conterminous with the late Anglo-Saxon estate, was large for Oxfordshire, covering 7,182 a. and including, besides the medieval borough, the townships of Crawley, Curbridge, and Hailey. There is, however, no evidence of a minster at Witney, and before the estate was assembled in possibly the mid 10th century the area may have been divided between different late Anglo-Saxon parochiae, with territories north of the river Windrush dependent on a probable minster at Minster Lovell, and those south of the river dependent possibly on Bampton. (fn. 2) The church was dedicated to St Mary the Virgin by 1485 and possibly by the 1270s, when some borough rents belonged to the mass of the Blessed Virgin. (fn. 3)
Suggestions by 19th-century antiquaries that there was an earlier church on Corn Street are unsubstantiated, (fn. 4) and an isolated medieval reference to a church at Curbridge was probably an error, arising possibly from the parish church's location just outside the borough boundary within Curbridge township. (fn. 5) Chapels of ease were built at Hailey in 1761, at Curbridge and at Crawley in 1836 and 1837, and at Woodgreen in 1849, but the parish remained undivided until 1854 when Hailey and Crawley became a separate ecclesiastical parish; they were reunited with Witney in 1982. (fn. 6)
The living, a rectory, was among the wealthiest in the bishop of Winchester's gift, attracting influential non-residents whose prolonged absences led by the mid 13th century to ordination of a vicarage. (fn. 7) Rectors appointed vicars until 1633 when the two livings were consolidated, (fn. 8) and apart from in the 1660s when a vicar was briefly reinstated (fn. 9) later incumbents were styled both rector and vicar, the only such in the archdeaconry. A team ministry was established in 1982 after Hailey and Crawley were reunited with the parish, the rector being supported by a team vicar with responsibility for Hailey and Woodgreen. In 1988 the latter was redesignated vicar of East Witney, and a second team vicar was placed in charge of West Witney; reorganisation in 1993 combined responsibility for new housing estates in west Witney with that for Hailey and Crawley. (fn. 10)
Advowson
Witney church was first recorded in 1162, when Henry of Blois, bishop of Winchester, granted it to the hospital of St Cross in Winchester. (fn. 11) St Cross's ownership was confirmed in 1189, but by 1211 it belonged to Hugh of Gayhurst, chancellor of the diocese of Salisbury, (fn. 12) St Cross having perhaps lost it during a long and confused dispute between the Knights Hospitallers and the bishop of Winchester. (fn. 13) Peter des Roches, bishop of Winchester and confidant of King John, regained the church probably around 1212 when the bishopric of Salisbury was taken into the king's hands, and he and his successors exercised the patronage thereafter. (fn. 14) Crown presentations in 1243, 1261, 1317, 1366, and 1632 were made during vacancies of the see; (fn. 15) in 1310 a clerk to the count of Savoy was presented by papal provision at the request of the count and of Bishop Woodlock, (fn. 16) and in 1447 William Waynflete, shortly before his appointment to the bishopric, presented by grant of the Crown, as presumably did the dean of Winchester in 1555–6. (fn. 17) The Parliamentary Speaker William Lenthall, briefly lord of the manor during the Interregnum, presented in 1655, his candidate Ralph Brideoake being re-presented by Charles II in 1660. (fn. 18) In the 1670s the king contested the patronage against Bishop Morley, presenting in 1671 and 1675; (fn. 19) some confusion remained in the early 18th century when it was thought that king and bishop should present by turns, (fn. 20) but the bishops retained the patronage until 1869 when, under an agreement of 1852, it was transferred to the bishop of Oxford, whose successors presented thereafter. (fn. 21)
Endowment and Vicarage
The medieval rectory, valued usually at around £40 a year and in the late 13th century at 100 marks (£66), was the wealthiest in Oxfordshire except for the prebend of Thame. The vicar, by contrast, received only around £4 a year, and in 1254 as little as 5 marks (£3 6s. 8d.). (fn. 22) Whether the vicarage then included tithes is not clear: in the 16th century the rector was said to be entitled to all tithes except those from Witney park, for which a modus of 10s. was received, while the vicar's endowment comprised a house and unspecified lands, (fn. 23) though in the early 17th century the vicarage was said to include small tithes worth £36 a year. (fn. 24) By 1526 the rectory was worth £47 gross, but owed a rent charge of £4 6s. 8d. to Merton College, Oxford, granted in 1518 in return for college premises conveyed to Stephen Fox, bishop of Winchester, for his new college of Corpus Christi. The vicar's income had been temporarily increased to £18, attracting an absentee incumbent who paid £7 13s. 4d. to his curate. (fn. 25) In 1535 the rectory was valued at over £52 gross, around £47 net after payment of procurations, synodals, and the Merton College rent charge, though the vicar's income had fallen to £9 12s. 4d. (just over £10 gross). (fn. 26)
The tithes, leased for an unspecified amount in the late 16th and mid 17th century, yielded £500 by the early 18th, (fn. 27) and in 1710 the living was said to be worth £700 in all. (fn. 28) In 1794 the tithes were valued at nearly £1,000, though they had fetched only £800 when leased two years earlier. By then the glebe comprised the rectory house and 3 a. of grounds worth £50 a year, Vicarage close (2½ a.) by Church Green, worth £2 10s., and a farm of 80 a. of arable and 42 a. of meadow in Curbridge, leased for £76. (fn. 29) The tithes of the whole parish were commuted in 1841 for a rent charge of £1,745, and at Curbridge's inclosure in 1845 the rector was awarded 118 a. on Curbridge heath, including some 40 a. of old inclosed glebe there. (fn. 30) The glebe farm, leased for £80 a year in the late 19th century, was sold in 1919. The value of tithe-rent charges declined sharply, but still produced £1,058 in 1899. (fn. 31)
Rectory House
The medieval rectory house, which stood just north of its 18th-century successor west of the church, seems to have included a 13th-century two-storeyed chamber block at its north end, aligned east-west and measuring 61 ft. by 23 ft. A sketch made before its demolition in 1834 showed single lancet windows on the north and east, and possibly a former hall range running south. (fn. 32) In the early 17th century the house was 'strongly built with stone', and contained a large hall and a parlour; outbuildings included three large barns, a stable, and a dovecot, presumably in the two 'outyards', and there was a garden and orchard and a 1-a. walled ground to the west. (fn. 33)
In 1718 Robert Freind, rector 1711–39, obtained permission to build a new rectory house, which was completed in 1723, and 'rebuilt' (presumably remodelled or repaired) by Freind's son and successor William in 1754. (fn. 34) The house (Fig. 50), one of the largest in the town, is a square two-storeyed ashlar building of double-depth plan, with a central entrance leading to a stair hall; it has five bays to each elevation, and a hipped roof with attics behind a high parapet. Above the front door are the arms of Jonathan Trelawney (d. 1721), bishop of Winchester. The interior retains some panelled rooms, a fine oak staircase with yew inlay, and an original first-floor chimneypiece on the south-west. Part of the earlier house was retained on the north, and in the 1830s included a kitchen abutting the main house's back stairs; those buildings were replaced by new services in 1834, re-using some materials and possibly retaining some walling. (fn. 35) The 19th-century buildings were demolished in 1936. (fn. 36)
By the 1960s the house required expensive repairs, and a new house in Station Lane was acquired to serve as the rectory. The old house remained empty and semi-derelict until bought in 1969 by the county council, which repaired and restored it as part of the adjoining Henry Box Comprehensive School. (fn. 37)
Vicarage House
A vicarage house on the east side of Church Green, in Vicarage close on the site of the later National school, was mentioned from the 1480s, (fn. 38) and in 1535 was held for 6s. 8d. rent to the bishop of Winchester. (fn. 39) Possibly it was acquired during the later 15th century, since deeds for adjoining premises imply that before then it was privately owned: in the 1470s the vicar may have occupied a house further south on the sites of Nos. 21–5, which he bought privately in 1471 but which was sold in 1485. (fn. 40) Though no longer needed after the late 17th century, the vicarage house was still so called in 1743 when, its walls 'decayed and bulging', it was taken down. (fn. 41) The vacant site remained part of the glebe until given as the site for the school in 1856. (fn. 42)
Pastoral Care and Religious Life
The Middle Ages to the Reformation Twenty-one out of twenty-five recorded rectors between c. 1200 and 1500 were graduates, or men about whom enough is known to assume a higher education. (fn. 43) Many were already well advanced in preferment when presented to Witney, and at least ten were linked by service or kinship to the bishop of Winchester or the king. The earliest known incumbent, Humphrey de Millers, who resigned Witney in 1220, was a royal servant who later became master of St Cross hospital; (fn. 44) William son of Humphrey, who renounced his claim in 1228, may have been his son, if so an unexpectedly late instance of an hereditary claim. (fn. 45) A dynasty of a sort was established by a succession of Savoyards who, profiting from royal and papal favour, held the rectory from 1243 to 1318: Ralph Grossi (rector 1243–?1258), provost of Aosta and later archbishop of Tarentaise; Peter de Chambéry (rector? 1258–61), papal chaplain and canon of St Martin-le-Grand, London; William Wachi de Chambéry (rector 1261–1310); and William's nephew, also William Wachi (1310–16). (fn. 46) Grossi seems to have visited Witney once or twice, notably for what may have been a reconsecration ceremony in 1243, (fn. 47) and William Wachi the elder probably appeared no more often during the longest incumbency on record. (fn. 48) From 1316 the living was held by well-connected English clerics, mostly non-resident pluralists. John Orleton (rector 1337–40), brother of Adam, bishop of Winchester, was succeeded by his nephew John de Trelleck, later bishop of Hereford, who resigned the living within months. (fn. 49) The distinguished career of Robert de Wikeford, rector 1359–62, culminated in the archbishopric of Dublin and chancellorship of Ireland. (fn. 50) His predecessor Roger Foliot (rector 1340–59) and successor John de Blewbury (1362–8) may, unusually, have resided at least part of the time. (fn. 51) Nicholas Wykeham (rector 1378–1414), nephew of Bishop William Wykeham, was his uncle's first warden at New College, Oxford, (fn. 52) and Lionel Woodville (1475–9), brother-in-law of Edward IV, became chancellor of Oxford university in 1479 and bishop of Salisbury in 1482. (fn. 53)
Parochial care devolved upon the vicars, about whom much less is known. Some were local men, among them William of Witney (appointed in 1262), Richard the chaplain (fl. 1279), possibly the same as Richard Lambert who resigned in 1306, and Richard Dormer (fl. 1330s); of those, Lambert belonged to a prominent family of Witney burgesses. (fn. 54) A priest and three clerks recorded in 1279 and a chaplain recorded in 1368 may have been employed at the church, (fn. 55) and endowed chantry priests, too, may sometimes have assisted. (fn. 56) The only medieval vicar known to have been a graduate was Christopher Chaters, a former fellow of Magdalen College, Oxford, licensed in 1487 to hold the living in plurality; (fn. 57) thereafter the temporary increase in the vicar's income attracted several senior Oxford academics, notably, in the 1520s, John Roper, vicar of the university church of St Mary the Virgin, and Lady Margaret professor of divinity. (fn. 58) Roper did not reside, (fn. 59) though his successors, apparently all recruited from the university, seem mostly to have done so. (fn. 60)
In 1520 the churchwardens reported that the rector and vicar were absent, the chancel ruinous, and the churchyard fouled, (fn. 61) though such neglect, typical of the early 16th century, did not necessarily characterize the earlier period. Resident clergy in 1526 comprised a vicar's curate, a stipendiary assistant paid £5 a year, and two chantry priests, (fn. 62) and in 1533 a wealthy parishioner made small bequests to a curate, four assistant priests, and two clerks. (fn. 63) Presumably it was they or their predecessors who performed the annual 'Popish maumetrie' of a puppet show dramatizing the Resurrection story, which until the Reformation attracted large crowds into Witney. (fn. 64) In 1538 a fellow of Corpus Christi College, Oxford, was investigated for delivering sermons at Witney extolling 'the old time', and it may be that the college's house on Church Green was for a time a focus of religious conservatism. (fn. 65) Certainly there was still a rood light in the church in 1545, to which a parishioner left a bequest. (fn. 66) In 1548 the resident clergy may have comprised only a curate and a chantry priest; the former needed assistance and the latter, though 'a man of good behaviour and well-learned', had given up teaching, so that the town had no schoolmaster. (fn. 67) From the 1570s vicars regularly attended churchwardens' meetings, and by then most were probably resident, (fn. 68) all of them recruited apparently from Oxford university. (fn. 69) Both the vicar and his curate subscribed to the Elizabethan Settlement in 1559, (fn. 70) and so far as is known their successors conformed to the orthodoxy of the day. (fn. 71)
Medieval Chantries
The building of several side chapels in the church in the 14th century (fn. 72) and the apparently large number of medieval altars imply several chantries, though few are documented. Those that are were established by individual burgesses rather than by guilds, although in 1309 the 'community of the town' sponsored several candidates for ordination, (fn. 73) perhaps for service in an unrecorded chantry or guild chapel. If so, it may have been dedicated to St John the Baptist, whose symbols formed the basis of the borough seal and who was frequently associated with medieval cloth or textile guilds. (fn. 74) A 14th-century crypt and chapel in the north transept were erected presumably by the unidentified couple whose effigies survive in the north wall, and the north-west chapel, later adopted by the Wenmans, was founded perhaps by the unidentified ecclesiastic commemorated there; (fn. 75) a chantry priest receiving £10 6s. 8d. a year in the 1520s (fn. 76) may have been associated with one of those chapels, but evidence is lacking. An endowment comprising 19s. 1d. rent from 22 houses and a plot of arable, given before the 1270s to support the mass of the Blessed Virgin, seems to have been distinct from a later chantry dedicated to the Virgin, and no donor is known. (fn. 77)
The only documented 14th-century chantry was established by Richard of Standlake, one of a leading Witney family, who in 1331 was licensed to endow a chapelwarden and two chaplains to celebrate daily mass for the souls of his ancestors. (fn. 78) The chantry was presumably established before 1348 when Richard's property, seized following his conviction for murder, included a 'priest's house'. (fn. 79) William of Edington, bishop of Winchester, refounded the chantry in favour of the king, himself, and their families, and either he or Richard built a chantry chapel east of the south transept; the chapel was dedicated to the Virgin before 1361, when Edington altered the endowment to provide for a single chaplain only. (fn. 80) The first chaplain served for at least forty years, living in a house in Corn Street formerly owned by the Standlake family. (fn. 81) In 1535 the endowment was valued at £4 6s. 8d., from which a quitrent of £1 14s. 3d. was payable to the bishop, though when suppressed in 1548 it was valued at over £7 clear and was endowed with 8 oz of plate. (fn. 82) Another chantry, endowed with lands worth £6 13s. 4d. in the early 16th century, was established probably in the remodelled south transept aisle by the woolman Thomas Ricards or Fermor in 1485, and was suppressed in 1548, when there was no chantry priest and no plate; a second Fermor chantry, endowed with 13s. 4d. a year, was also vacant at its suppression in 1548. (fn. 83)
The Reformation to the Early 19th Century
The rectory attracted eminent churchmen long after the Middle Ages. Five bishops received commendams permitting them to retain the rectory with other preferments: Nicholas Robinson, rector 1564–85, was bishop of Bangor, (fn. 84) while John Underhill (rector 1585–92), (fn. 85) Walter Blandford (1665–71), (fn. 86) Nathaniel Crew (1671–4), (fn. 87) and Henry Compton (1674–5) were all bishops of Oxford. (fn. 88) Three rectors subsequently became bishops: Nicholas West (1502–15) bishop of Ely, (fn. 89) Ralph Brideoake (1655–65) bishop of Chichester, (fn. 90) and Edward Legge (1795–7) bishop of Oxford. (fn. 91)
Other rectors, slightly less eminent, were assiduous in collecting preferments. Richard Sydnor, rector 1520–9 and fellow of Magdalen College, Oxford, was a royal chaplain and treasurer to Princess Mary. (fn. 92) John Higdon (1529–33), protégé of Cardinal Wolsey, was president of Magdalen College and first dean of Cardinal College, later Christ Church, (fn. 93) while the distinguished theologian Thomas Jackson (rector 1632–40) was president of Corpus Christi College, Oxford, and a royal chaplain, besides holding numerous other preferments. (fn. 94) Richard Duke (1708–11), poet and wit 'turned parson', was a pluralist on a more modest scale than his successor Robert Freind (rector 1711–39), a frequenter of the leading aristocratic and literary circles who acquired several canonries, a prebend at Westminster, and the headmastership of Westminster School. Freind's request that Witney might pass to his son William drew from Bishop Hoadly the laconic response 'if Dr Freind can ask it, I can grant it', (fn. 95) and William (rector 1739–66) succeeded effortlessly to several of his father's positions, besides adding some of his own. (fn. 96) His successors John Mulso (1767–71) and Phipps Weston (1771–94) were in much the same mould, the latter holding with Witney four prebends, a rectory, and a vicarage. (fn. 97) Witney's busy and acquisitive rectors did not, however, neglect the parish entirely. Some resided at least part of the time, while others, especially if based at Oxford, probably visited regularly and are known to have displayed an informed interest in more than the glebe and tithes. (fn. 98)
During the 17th century growing Puritan sympathies seem to have created tensions in the town. (fn. 99) In the early 17th century Sunday afternoon sermons were regularly given by fellows of Oxford colleges invited 'to preach a lecture', their popularity and Puritan theology prompting conflict with the incumbent: in 1623 Humphrey Aylworth, rector 1614–32, tried to subvert the noted Puritan divine Edmund Staunton by prolonging prayers interminably, before ostentatiously departing with his clerk to pass sarcastic comments at the church door on those arriving for the sermon. (fn. 100) John Rowe (d. 1677), lecturer in Witney in the 1650s, made much of the collapse of an upper floor at the White Hart Inn in 1653, during performance of a play which, he claimed, contained blasphemous passages and 'a bitter taunt against all Godly persons under the name of Puritans', though his assertion that up to 400 people were present suggests that not all townspeople shared his views. (fn. 101) The appointment as rector of William Lenthall's chaplain Ralph Brideoake in 1655 prompted disquiet among more radical parishioners, since Brideoake had previously been chaplain to the executed royalist James Stanley, earl of Derby, and was regarded as a 'cavalier and a dull preacher' whose sermons were 'little less than Popery'. (fn. 102) Brideoake nevertheless settled in Witney, preaching twice on Sundays, catechizing at the rectory house, and allegedly 'out-vying in labour and vigilancy any of the godly brethren in those parts'; (fn. 103) he adjusted equally smoothly to the Restoration, (fn. 104) which saw the end of the 'Witney lecture' in 1662 when the last lecturer was ejected. (fn. 105)
From the later 17th century relations with Witney's increasingly influential Nonconformist congregations were often tolerant and tactful, exemplified in the 1680s by the undermining of the bishop's attempts to harass Quakers in the town. (fn. 106) Robert Freind observed in 1738 that since most Nonconformists paid tithes and attended church occasionally he was disinclined to pursue them over other matters. (fn. 107) He and his son William have been castigated as typifying the lax standards of their age, (fn. 108) yet Robert reckoned to spend five months a year in Witney, employing a long-serving resident curate at £40 a year to serve Witney only, and William, though evading episcopal inquiries about residence, clearly spent much time in the parish. (fn. 109) In 1711 Robert set up at his own expense a school for twelve boys, many of whom were found apprenticeships. In 1738 there were two Sunday services and midweek prayers; communion was administered seven times a year, usually to around 100 communicants and to around 250 at Easter. (fn. 110) William was among the first in the diocese to introduce monthly communion services, attended in 1759 by between 30 and 60 people, besides instigating weekly catechizing for children and, in 1761, establishing a chapel of ease at Hailey. Like his father, he employed a long-serving curate, Charles Hoskins, who, although also serving Cogges, resided at Witney. (fn. 111)
In the later 18th century and earlier 19th the commendable level of church services was maintained, whether by the permanently resident John Mulso (1767–71), or by curates working for absentees such as Robert Barnard (rector 1797–1834). (fn. 112) There are, however, indications that the almost constant absenteeism of later rectors was damaging to morale. Barnard, who 'preached but twice' during an incumbency of 37 years, employed as his curate John Hyde, a man who, though resident and deeply involved in town life, was himself a considerable pluralist, being rector of St Martin's, Oxford, vicar of Hallidon (Northants.), and perpetual curate of Hailey, where he also farmed. Hyde was, moreover, the most active magistrate on the local Bench. (fn. 113)
The 19th and 20th Centuries
Charles Jerram (rector 1834–53), assiduous and staunchly evangelical, was shocked to find on his arrival that services displayed a 'sad want of decorum', and that congregations, stuck at their 18th-century level, were a quarter the size of those attending Nonconformist chapels. Jerram reinvigorated church life. A popular preacher, he introduced weekly lectures, with other lectures on Fridays preceding monthly communion services. He moved quickly to restore relations with Nonconformists, glacial under Hyde, to 'mutual Christian affection'. Home visits, successful campaigns against intemperance and Sunday trading, the establishment of an infants' school, and the division of the parish into twenty districts, each with a welfare visitor, were notable features of his ministry. Cottage prayer meetings at Curbridge and Crawley led to the building of chapels there in 1836 and 1837 respectively, and in 1849 the new chapel of Holy Trinity at Woodgreen was consecrated. (fn. 114) In 1841 Jerram persuaded a reluctant vestry to approve urgent repairs to St Mary's church roof by himself contributing £500 and offering to pay the church rate for all the parish's poor. (fn. 115)
Jerram feared that his achievements had been short-lived, Witney people settling back into their 'customary lethargy' after an initial burst of enthusiasm. (fn. 116) In terms of church attendance he was unduly pessimistic, for at the end of his ministry the combined congregations at St Mary's and at Holy Trinity (up to 900 in all) at last approached those at the various Nonconformist chapels. (fn. 117) Attendances would have been higher but for the excessive number of appropriated pews and galleries in the church: from the mid 17th century Witney was plagued by pew disputes and by illegal selling and renting of seats, (fn. 118) and for those obliged to sit in unappropriated seats, often in distant parts of the building in unlit, left-over spaces beneath galleries, church services could be a dispiriting, even disorderly, experience. (fn. 119)
Jerram's Witney career left the antipathetic Bishop Wilberforce torn between admiration at the rector's enterprise and distaste for his easy relations with Dissenters, which Wilberforce blamed for the difficulties of Jerram's successor Richard Sankey (rector 1853–63). The aloof Sankey did not take to Witney, nor it to him. Although reputedly an excellent preacher, he was 'very unpopular', suspected of being a Tractarian by his parishioners, whom he was given to comparing unfavourably with those in his previous living at Farnham (Surrey). By 1855 he was 'utterly depressed', a state not eased by tension between his curates William Mills, low-church and popular, and William Hamson, distrusted as too high. (fn. 120)
The rectorship of Francis Cunningham (rector 1864–79) followed a similar pattern to Jerram's: at first energetic and effective, but finally dispirited by what he perceived to be irreducible resistance and apathy. (fn. 121) His most notable achievement was the restoration of St Mary's church in 1866–7, (fn. 122) a prerequisite for the vigorous church life which he determined to promote. His campaign to modify unruly behaviour in the town began close to home when, after a brief struggle, he reduced the previously ungovernable choristers and bellringers to order. He gave the church a higher profile in town life by taking a lead in welfare and social matters, reorganizing district visiting and thrift clubs, and arranging parish outings and festivities; (fn. 123) John Horsley, the noted social reformer, was his curate from 1870 to 1875. (fn. 124) One by-product was a degree of Nonconformist resentment, manifested in 1865 when he held open-air hymn services for the cottage dwellers of Lowell's Yard, and in 1877 when Church of England and Wesleyan Bands of Hope set up in opposition. (fn. 125) Nevertheless, relations were usually good. By 1866 Cunningham had introduced a third Sunday service, and congregations at the newly restored St Mary's had risen to around 700, with a further 350 at Woodgreen; attendance was considered satisfactory 'considering the low ebb at which church feeling has hitherto stood'. An average of only 65 communicants was perhaps due to building work at the parish church. (fn. 126) By 1878 there were daily services, those on Sundays attracting 400 communicants, a remarkable increase even though Woodgreen and Curbridge were included in the total, (fn. 127) and presumably indicative of genuine religious revival.
William Foxley Norris (rector 1879–1904), a Tractarian sympathiser and ritualist who introduced vestments at communion services, (fn. 128) was not obviously a man to Witney's taste. Yet many of his achievements, modelled on Cunningham's, won widespread respect. The church employed a trained nurse for sick-visiting into the early 20th century, and ran an employment register for church members. A Church of England Working Men's Society and a Workman's Club were set up in 1888, and Norris was instrumental in enforcing Sunday closing of public houses in 1889. What gave greatest satisfaction was the abolition of private pews, which in 1889 were finally freed from appropriation.
Towards the end of his incumbency Norris noted without bitterness that, despite his considerable efforts, Nonconformity remained dominant and apathy widespread. (fn. 129) As late as 1942 the rector R. F. Bale (1942–59) expressed surprise that whereas in Buckingham, his previous parish, 'the church took the lead in everything', Witney was a place 'where Nonconformity was so strong and where the church counted for so little'. Bale set about improving 'deplorable' relations with other denominations, initiating in 1943 a United Christian Council. (fn. 130) In 1961 the need to provide for a rapidly expanding population led to the opening of St Luke's hall-church (serving also as a child clinic and social centre) on the Windrush Valley housing estate; (fn. 131) St Luke's was managed by the Church Army from 1963 to 1968, after which disagreements between its management committee and the parish clergy, financial difficulties, and a declining congregation led to its closure in 1983. (fn. 132) The closure, and that of St Peter's, Crawley, in the same year, formed part of a major reorganisation initiated by the new rector, R. E. Meredith, who was also responsible for the establishment of the team ministry in the parish. (fn. 133)
Church Architecture
The 12th and 13th Centuries
The large, cruciform church of St Mary the Virgin, (fn. 134) long admired for its elegant central tower and spire, (fn. 135) is built mostly of coursed limestone rubble; it includes clerestoryed transepts with chapels and west aisles, and an aisled and clerestoryed nave with north-west chapel and two-storeyed north porch (Fig. 51). (fn. 136) The late 11thor early 12th-century church probably comprised an aisleless nave and chancel, and blocked single-splay windows survive high in the nave walls; (fn. 137) evidence for an early central tower is tenuous, (fn. 138) and it seems more likely that the thick west wall, now ostensibly 13th-century, is the remains of an early west tower similar to that excavated at Bampton, perhaps with a gallery. If so, the nave presumably retains its 12th-century dimensions. (fn. 139) The four-bay north aisle and porch were added in the late 12th century; the latter has an outer doorway flanked by jamb-shafts with stiff-leaved capitals, and a roundheaded arch of plain chamfered orders, perhaps partly rebuilt. (fn. 140) Numerous re-used fragments of 12th-century masonry, including a piece of chevron moulding and a beakhead voussoir, were found in the south wall of the chancel during restoration in 1866, (fn. 141) and a 12th-century piscina or stoup, now partly covered by the raised floor, remains in the south doorway of the chancel.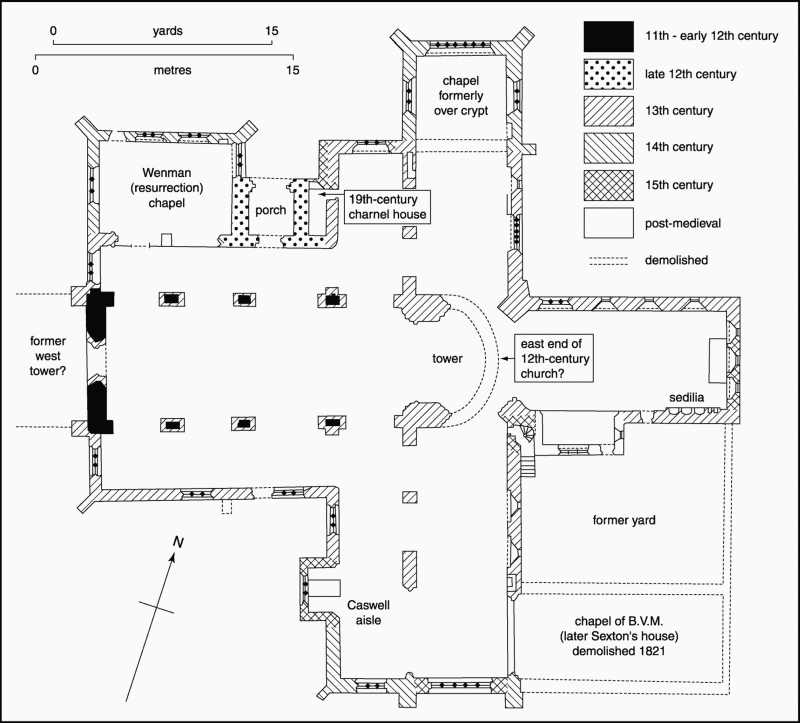 Two-bay north and south transepts were added in the early 13th century, unusually with western aisles. Both transepts retain 13th-century windows in their east walls, those in the north transept having moulded rear arches with detached shafts carried down to form altar recesses. In 1867 traces of white and of red or brown colouring were discovered on the splays of the northern window, overpainted with a baptism of Christ. (fn. 142) Other 13th-century work included the rebuilding of the chancel, the addition of a south nave aisle, the remodelling of the north arcade in similar style, and the construction of the tower, whose design is related to that at St Frideswide's priory, Oxford. The tower has triplets of lancet windows at the belfry stage, and its stone broach spire, rising between lofty corner pinnacles, has on each cardinal face a gabled lucarne of twin cusped lights and a quatrefoil head; the bell-ringers' chamber is entered from an internal triforium-like intramural passage which runs around three sides of the tower, and is pierced on its inner face by triangular-headed openings. Some of the 13th-century work was carried out perhaps around 1243, when the Savoyard rector Ralph Grossi visited for what may have been a reconsecration ceremony. (fn. 143)
The 14th and 15th Centuries
In the 14th century the church was further extended with north-west and south-east chapels, and with single-bay extensions to the transepts and south aisle; the style and excellence of the work has parallels at Cogges and Ducklington, where the same masons may have been employed. The north-west chapel, called the Resurrection chapel in the early 16th century, (fn. 144) has two-storeyed canopied niches on the buttresses, a north-west doorway with ogee head and finial, curvilinear tracery in the east and west windows, and ballflower ornament along the cornice; it is separated from the north aisle by an arcade of two arches and a 15th-century wooden parclose screen which retains traces of paint. (fn. 145) An ogee-headed tomb recess at the east end of the chapel's north wall houses the effigy of an ecclesiastic. The north transept extension provided a chapel built over a crypt which had an octagonal vault supported by a central pier; (fn. 146) that chapel, too, has double image-niches on its buttresses, and a seven-light north window with flamboyant tracery. Beneath the window are two square recesses containing the recumbent effigies of an unknown man and woman beneath elaborate ogee canopies, embellished with delicate tracery which springs from two half-figure corbels, also male and female; the whole is decorated with ballflower ornament. Before the 1640s the crypt was removed and the chapel floor lowered to the same level as that of the transept, leaving the recesses high up in the wall. (fn. 147) There was presumably internal access to the crypt from the chapel; external access was by a west doorway, the hood of which survives. The north transept aisle has a reticulated three-light window similar to those on the east and west sides of the chapel, and on the aisle's east wall is an unusual reredos comprising two tall niches flanking a shorter rectangular niche; a small niche above contains a modern statue of St George slaying the dragon, probably installed during restoration of the aisle in 1956. (fn. 148)
A large blocked arch at the south-east end of the south transept gave access to the chantry chapel of St Mary the Virgin, built by Richard of Standlake or Bishop Edington in the mid 14th century and demolished in 1821. (fn. 149) The chapel, as long as the chancel but lower and narrower, was stone-built, with a high-pitched roof and a large east window, later blocked. Drawings also show what appear to be 15th-century windows on the south side, a square-headed window of three lights towards the west, and a tall, centrally placed, low-level window of three lights with a traceried head and a transom. (fn. 150)
Fourteenth-century alterations to the chancel seem to have been limited to the insertion, at its west end, of two opposed windows of three reticulated lights, and the addition of a piscina and triple sedilia on the south. (fn. 151) A 14th-century niche with cusped head and vermillion colouring survives on the north face of the south arcade's easternmost pier, and the south-west pier of the crossing has remains of a large, possibly 15th-century niche on its west face. A stair turret in the angle of the south transept and chancel may be a 15th-century insertion, since 13th-century stonework at the transept's north-east end is disturbed, but not the clerestory or 15th-century string-courses. Further remodelling of the church in the 15th century and early 16th included lower-pitched roofs throughout, clerestorys for the nave and transepts, new windows including a large five-light east window, and a new west window and door. (fn. 152) Work on the roofs may date from 1497–8 when there was a crane at Witney, (fn. 153) likely, if used at the church, to have been employed in lifting heavy roof timbers. The north transept clerestory comprises four fairly large, plain, two-light windows within rectangular openings, and that in the south transept has ten small square windows with quatrefoil lights; the nave clerestory has ten handsome three-light windows with tracery in their heads. The nave's late 15th-century west window has moulded mullions and lavish tracery, and the panelled west doorway incorporates image niches in its hollow moulding. The nearby west window of the north aisle has a drip-mould decorated with three angels bearing shields.
In the north transept the larger 13th-century window on the east was replaced by one whose three lights are subdivided beneath a low transom into six small cusped lights; incorporated below the window is a reredos uncovered and restored in 1867, comprising three cusped niches over a band of quatrefoiled panels. Parts of smashed images found built into the wall nearby (fn. 154) were subsequently destroyed. The south transept was also given a large five-light south window with elaborate tracery and a single transom, and the linked 13th-century windows on the east were cut across by two tall square-headed shallow recesses, presumably for altars. Rectangular aumbries of uncertain date survive in the west wall of the north transept and the east wall of the south transept. A chamber built over the porch, together with its gabled parapet, was placed off-centre to accommodate the east wall of the north-west chapel; the chamber, lit by two square-headed windows flanking a traceried niche with a small vault in its head, has a fireplace, and was probably used as a priest's room or schoolroom.
The south transept aisle, perhaps already associated with owners of Caswell House in Curbridge, was remodelled about 1485, when the wealthy woolman Thomas Fermor or Ricards, of Caswell, left £20 towards 'the building of the aisle of St Mary Magdalen . . . called [the] Carsewell Ile'. (fn. 155) New windows were inserted, and probably then the alcove which projects westwards from the aisle to accommodate a tomb was added. The Caswell estate passed in the early 16th century to Fermor's relatives the Wenmans, (fn. 156) but the aisle continued to be used by the Fermors, from whom it was later named, and was presumably associated with Fermor's chantry dissolved in 1548. (fn. 157) In the 1590s it retained heraldic glass displaying the Fermor arms, while brasses at its north end, later lost, commemorated Thomas Fermor and his wives Alice and Emmot (d. 1501). A brass to Emmot's daughter-in-law Christian (d. 1501), first wife of Richard Wenman, depicted a figure in a winding sheet. (fn. 158)
The 16th Century
A new door mentioned in 1514 (fn. 159) has not been identified and, since in 1520 the chancel was ruinous and its windows broken, (fn. 160) any work carried out then was presumably limited. A rood mentioned in 1501, apparently beneath the west side of the tower, was probably the 'red rood' before which a parishioner asked to be buried in 1514; (fn. 161) it was apparently still in place in 1545, when a parishioner left bequests to the rood light and torch light, (fn. 162) but was presumably removed soon after. The chantry chapel of St Mary the Virgin, sold to the London grocer William Box in 1548 after the chantry's dissolution, (fn. 163) was later converted to domestic use, acquiring chimneys against its east and north walls, domestic-style windows, and a battlemented wall linking its east end with the chancel to create a courtyard (Fig. 52). (fn. 164) By the late 18th century it was occupied by the sexton, until, in the early 19th century, the rector evicted him and demolished the chapel. (fn. 165)
The north-west or Resurrection chapel was appropriated by the Wenman family apparently in the early 16th century: a brass to William Wenman (d. 1521) survived there until the 1830s, and both Richard Wenman (d. 1534) and his widow Anne (d. c. 1538) requested burial there. (fn. 166) Two large three-light windows with square heads under decorative hoods were inserted into the north wall around that time (Fig. 52), perhaps as part of a general refurbishment. The chapel continued as a private mortuary chapel throughout the 16th and 17th centuries, becoming known as the Wenman aisle; (fn. 167) a Wenman tomb-chest, moved from the chapel to the south transept aisle in 1867 and to the nave's north aisle in 1987, (fn. 168) has brasses to Richard (d. 1534), his wives Christian (d. 1501) and Anne (d. c. 1538), and their children, (fn. 169) while later family memorials included the large black marble tomb, surrounded by a low iron and gilt railing, of Sir Francis Wenman (d. 1640), said to have 're-edified' the chapel in the late 1630s. Family banners and armour in the chapel survived Civil War mutilation but were removed by workmen around 1840, together with most of the brasses. (fn. 170)
The 17th and 18th Centuries
Repairs were carried out around 1609, when timber partly for the spire was stored in the church, and lime in the Resurrection or Wenman chapel. (fn. 171) A storm in 1636 blew the top of the spire into the church; the churchwardens specified that it should be rebuilt 'in a substantial height and near its former proportion', and withheld payment from the mason, Humphrey Smith of Abingdon (then Berks.), because it was 'not raised to its former altitude'. (fn. 172) About 1700 the church was re-pewed, the old seats being condemned as 'very small'. (fn. 173) Numerous galleries erected in the late 17th and early 18th century included a singers' gallery across the nave's north arcade and, in 1735, a west gallery, extended in 1794 to take an organ and doubled in size in 1830 perhaps to accommodate the choir. (fn. 174) In 1797 the north and south aisles were pewed, and the pulpit and reading desk were moved from the north side of the nave to the north-east corner of the crossing, causing removal of a ringing loft installed in 1699. A gallery on the south side of the nave was also demolished, (fn. 175) and perhaps then a new bellringers' chamber was created at the level of the intramural passage just below the belfry. In 1778 the surgeon James Leverett (d. 1785) gave a large brass chandelier which was hung in the nave, (fn. 176) and in 1794 the church acquired, apparently from the Portuguese embassy in London, a Schnetzler organ and a wooden reredos 'in Italian taste', purportedly the work of Grinling Gibbons. (fn. 177) A family vault was constructed in the chancel in 1752 for the rector William Freind, but was closed during restoration work in 1866. (fn. 178) The 19th Century
During the 19th century the church interior was transformed by piecemeal alterations and repairs, culminating in a radical restoration in the 1860s. The former south-east chantry chapel, used without the rector's consent as a sexton's house, was demolished in 1821, having allegedly become 'a nuisance and disgrace by the practices carried out there'; by then it was already ruinous and 'filled with lumber and filth', the sexton having been evicted by the rector Robert Barnard following legal proceedings. (fn. 179) The north-west chapel or Wenman aisle, its roof near to collapse and its walls covered in slime, was repaired and converted into an infants' school about 1840 by the rector Charles Jerram, the Wenman family having denied responsibility; in the process workmen pilfered many of the monuments and brasses. (fn. 180) Restoration of the nave roof in 1841, following over-optimistic advice from the Oxford Society for Promoting the Study of Gothic Architecture, cost £3,000, (fn. 181) and a parapet was added to the chancel roof at the same time. (fn. 182)
In 1864 the new rector Francis Cunningham decided to 'gut the church from end to end', in stages lest the expense frighten his 'fickle and indifferent' parishioners; (fn. 183) the church, though in good repair externally, was in 'so scandalous a condition' within that the bishop refused to hold confirmations there. (fn. 184) The works, under the supervision of G. E. Street, were carried out in 1866–7 by Alfred Groves of Milton-under-Wychwood at a cost of some £4,500. (fn. 185) The chancel was given a steeply pitched roof and a new east window of three lights in 13th-century style, other chancel windows being unblocked; an organ chamber was added on the south-west, and the chancel floor was raised by some 4 ft. and tiled; the west gallery was dismantled and its organ removed to the new chamber; and pews were cleared from the nave and transepts, where they had been steeply raked to allow a view of the pulpit, an arrangement likened by the rector to tiered sheep pens. The church was refloored and plaster removed, and the Wenman aisle was converted into a vestry. (fn. 186) New west doors were said to have been 'faithfully copied' from the originals. (fn. 187) Removal of the pulpit and reading desk from within the chancel arch allowed an uninterrupted view of the altar from the nave, a new pulpit, given by the rector, being placed against the south-east pier of the tower. (fn. 188) The old pulpit's inlaid hexagonal sounding board was used to make a table which remained in the church in 2002. The font, which stood in the late 18th century towards the north-west end of the nave and in 1854 near the south door, was replaced by a new one in Romanesque style, placed in the centre of the nave towards its west end. (fn. 189)
A new west window, with glass by William Wailes of Newcastle, was given in 1869 by Rosa Raine of Woodstock, Woodstock's unrestored church being considered 'not fit . . . for such a gift'. (fn. 190) An organ by Walker's of London was installed in the new organ chamber in 1874, (fn. 191) and between 1880 and 1899 the church acquired some fifteen new windows by Clayton and Bell, notably in the chancel and transepts. (fn. 192) An imposing reredos of 1884, with an array of niches and statues, is also by Clayton and Bell, and incorporates the base of a reredos of 1866 by Street; the new work and the new east window were given by the Batt family, (fn. 193) prominent Witney surgeons. Wrought-iron gates at the north entrance of the churchyard, designed by Clapton Crabb Rolfe, were installed in 1894. (fn. 194)
The 20th Century
Repairs to the spire in 1901 included a new weathercock to replace that blown down the previous year; (fn. 195) the spire was further repaired in 1925–6, (fn. 196) and in 1928 a Philadelphia couple gave the medieval-style oak screen which separates the end bay of the south transept, in memory of the descendant of a 19th-century Witney emigrant. (fn. 197) Most north and some south windows were blown out in 1940 by a bomb which fell on Church Green, and in 1942 a crashing RAF aircraft removed the tip of the spire, masonry falling through the chancel roof. The chancel was reopened in 1943, the spire rebuilt in 1944, and the windows reglazed in 1948. (fn. 198) In 1956 the north transept aisle was fitted out as a chapel in memory of Walter Hewitt, (fn. 199) in 1963 the chancel was reroofed and the spire gablets were replaced, and the following year the north aisle and porch and the Wenman aisle were reroofed. The spire was further repaired in 1966. (fn. 200)
In 1968 the chancel was restored, inaugurating a series of repairs and alterations. In 1969 the vestry was transferred to the south aisle, the Wenman chapel was converted into a meeting room, the north transept was curtained off to make a larger meeting room, and oil-fired heating was installed. In 1970 the porch was fitted with an outside door, and in 1971–2 the room over it was restored. An appeal in 1974 funded repairs to roofs, retiling of the chancel, and partial reflooring, and the altar was moved forward to allow the celebrant to face the congregation. In 1977–8 the badly decayed clerestory windows and north transept south-east window were repaired. (fn. 201) Appeal funds raised in 1982 paid for gradual restoration of roof timbers and, in 1987, the fitting-out of a parish meeting-room in part of the south transept and the building of a south porch, the vestry returning to the Wenman aisle. Clerestory windows on the nave's south side were renewed in 1989, and in 1990 the nave aisles were limewashed and new lighting and heating installed. Work following an appeal in 1992 included renewal of the nave clerestory's north windows and limewashing of the nave walls. In 1993 a computerized organ was installed, pipes from the existing instrument being preserved as a decorative feature in the south transept. The same year the artist Andrew Logan, formerly of Witney, gave a small statue of the Virgin in coloured mirror-glass, displayed in the south transept. (fn. 202) Responsibility for the churchyard's maintenance was transferred in 1977 to the town council. (fn. 203)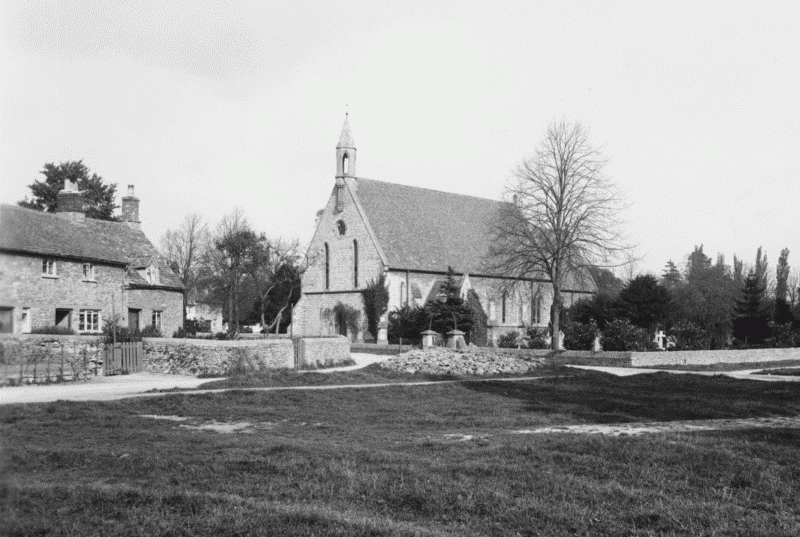 Monuments, Bells, Clock, and Plate
The most notable monuments, associated with the Fermor and Wenman aisles and with the north transept chapel, are discussed above. (fn. 204) A 'sumptuous' marble monument in the north transept aisle to Henry Box (d. 1662), founder of the Grammar School, was 'ruthlessly broken up' in 1867, (fn. 205) leaving only the inscription; other memorials were removed to the south transept aisle and to the south aisle of the nave, (fn. 206) where most remained in 2002. Other notable monuments include a brass to Richard Ashcombe (d. 1606) set in the chancel floor, and a large marble relief of the Good Samaritan on the south-west pier of the crossing, commemorating the surgeon Edward Augustine Batt (d. 1853).
Church bells were recorded from the early 16th century. (fn. 207) In the 1560s the churchwardens charged 12d. for ringing the great bell at funerals, and in 1573 they paid for recasting the great and third bells; since they faced 'great charges' over 'the rest of the bells' there was presumably a ring of five or six, and there seems also to have been a sanctus bell. (fn. 208) The second bell was recast in 1590, (fn. 209) and Richard Keene of Woodstock recast the fourth in 1660 and, possibly, the sanctus bell in 1669. (fn. 210) In 1732 there was a ring of five, of which three had been recently cast by Henry Bagley at Witney, and in 1738 there were said to be six bells. (fn. 211) The second and sixth were recast in 1755 by Abel Rudhall of Gloucester, the third in 1761, and the first and fifth in 1765 by Thomas Rudhall. By 1815, when Thomas Mears of Whitechapel cast the tenor, there were eight bells. The second was recast in 1885 by the Bond foundry at Burford, and in 1938 that, the treble, and third were recast at Loughborough and all the bells were rehung. (fn. 212)
A church clock was mentioned in 1588. (fn. 213) That, or more likely a successor, was replaced in 1827–8, and in 1850 the chimes were repaired after a silence of thirty years. (fn. 214) The clock was replaced in 1875–6, and a new carillon was given in memory of a Witney grocer. (fn. 215) A new clock and chimes were installed in 1950 at the expense of the urban district council, which had taken over responsibility in 1920. (fn. 216)
In 1571 the church owned a silver communion cup, and, by 1586, a cover. It acquired two flagons in 1605. The earliest surviving plate is probably a silver communion cup and cover given in 1610 by Thomas Webley, clothier, bearing his initials and mark but now apparently hall-marked 1767, when it may have been altered. (fn. 217) In 1634 the churchwardens bought a silver-gilt cup whose cover has since been lost, (fn. 218) and in 1753 the duke of Marlborough gave a large silver-gilt flagon made in 1744 and a silver almsdish of 1721. The church also retains three silver-gilt patens of 1728. (fn. 219) The parish registers begin in 1581, with some gaps during the 17th century. (fn. 220)
Holy Trinity, Woodgreen
The chapel of Holy Trinity was built in 1848–9, on land given by the bishop of Winchester and the duke of Marlborough; the cost was met chiefly from subscriptions, and a £500 gift from the rector Charles Jerram. The architect was Benjamin Ferrey. (fn. 221) The building (Fig. 53), of squared and coursed limestone with ashlar dressings and stone-slated roofs, is in plain 13th-century style, and comprises an aisleless nave and short chancel; the east end has a five-light window of gradated lancets, and the west end a plain gabled bellcot, replacing an earlier conical bellcot in French style. In 1851 there were 499 sittings. (fn. 222) An organ was acquired in 1860, and new choir stalls and altar rails were fitted in 1869; (fn. 223) in 1887 the vestry was enlarged to designs by Clapton Crabb Rolfe, and in 1895 an organ by Charles Martin of Oxford replaced the earlier one. A new pulpit was fitted in 1909 in memory of Samuel and Mary Shuffrey, memorial glass was fitted in the east window soon after 1918, and new choir stalls were fitted in 1968. (fn. 224) In 1899 the plate comprised a paten, a small electroplate basin, and a chalice of 1744 marked with the Marlborough crest, presumably transferred from Witney church at the chapel's opening. (fn. 225)