Pages 33-68
A History of the County of Oxford: Volume 14, Bampton Hundred (Part Two). Originally published by Victoria County History, London, 2004.
This free content was digitised by double rekeying. All rights reserved.
ARCHITECTURE AND BUILDINGS (fn. 1)
Building Materials
In the 1640s Witney was described as a stone-built town, (fn. 2) and the parish church and the excavated remains of the bishop of Winchester's manor house show that there was high-quality stone building from at least the 12th century. (fn. 3) Stone and lime from Witney quarries was mentioned from the 14th century, (fn. 4) and the name Crundell (later Corn) Street referred probably to quarries immediately west of the borough; manorial and (possibly) town quarries were recorded in 1479. (fn. 5) The master mason Thomas of Witney, who worked at Westminster in 1292–3 and at Exeter and Winchester a little later, was presumably a native of the town. (fn. 6)
Among surviving buildings, a few of the better 18th-century houses have ashlar dressings and a smaller number have façades wholly of ashlar, (fn. 7) almost certainly quarried elsewhere. Most buildings are of rubble, which in the 19th century and probably earlier was commonly covered with a lime-based render, coloured with a yellow-tinted lime-wash. (fn. 8) Several houses which have not had their façades scraped retain patches of a thin, probably ochre-tinted render, and the north face of a wing to the rear of No. 62 High Street is rendered in a thick, impasto-like coat. (fn. 9) The exposure of this rubble walling, together with timber lintel and tie-beam ends which were originally covered for their better protection, reflects 20th-century taste. Traditional roofs are covered in stone slates which may latterly have come from Stonesfield, though slates were being dug locally in 1248, and were probably worked long before that. (fn. 10)
The extent of timber-framed building in Witney in the Middle Ages is unknown, and only a few fragments of late-medieval date remain. No. 10–12 High Street (fn. 11) has a timber-framed gable to the street, perhaps of the late 15th or early 16th century. No. 49 Market Square is a timber-framed house on a prominent island site, formerly jettied on the principal façades; the structure is hidden beneath later external render, and the present hipped roof is probably early 18th-century, but originally it was probably gabled to the south. No. 5 Church Green (the Hermitage) retains part of a possibly 15th century rear wing which may have been timber-framed. Other possibly timber-framed buildings known from old views include the former corn returns office on the site of the surviving Corn Exchange, and a predecessor of the demolished Crown Hotel opposite the Butter Cross, both of which may have originated as substantial 16th-century houses. (fn. 12) The earliest roof structures known to survive in the town are associated with some of those buildings: Nos. 10–12 High Street, the rear wing of No. 5 Church Green, and Nos. 23–5 Church Green all have arch-braced roofs with curved windbraces.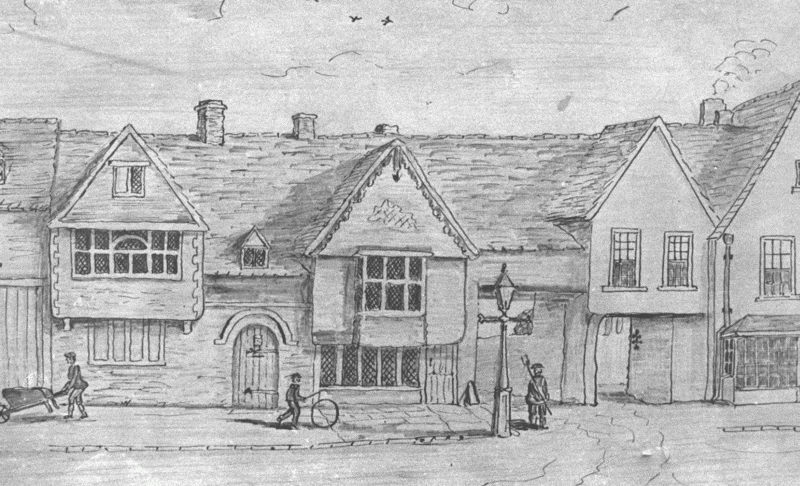 Brick was probably used for chimneys and flues from the late 16th century (the likely date of a polygonal stack at the Marlborough Arms Hotel), and occasionally for general building work from the early 18th century: No. 50 Market Square, at the northern end of the block containing the town hall, was probably the 'new built' house or tenement fronted with brick mentioned in 1739. (fn. 13) The building is now painted and no brick is visible, but a few examples of probably late 18th- or early 19th-century brickwork exist, as at No. 34 Corn Street; that is typical of the period, in Flemish bond with burnt headers. The ready availability of good stone would have made it uneconomical to import brick from far afield before the opening of the railway, although no local brickworks are known.
Houses 1550–1800
The Forms of Houses Little is known of the overall forms of Witney houses before 1550, though the more substantial seem to have been built parallel to the street. A house on High Street's east side, described in 1704, had a parlour, hall, entry, and buttery, with a 'little buttery' and other outbuildings in a court to the rear-a common layout for a substantial 16th-century house. (fn. 14) The plan of Riverside House on Bridge Street, evidently a large, late 16th-century house of three cells, seems to have been similar. At the north end is a parlour with moulded beams, and a stone, four-centred fireplace; a door off this leads to a small inner room (perhaps a study) beside the stack, while a larger unheated room to the rear may have been added soon after the house's first building. The hall lay south of the parlour at the centre of the building, with services further south again where a range of outbuildings, extending westwards, was remodelled early in the 20th century. The house was probably that south of the river Windrush and north of Mill Street sold to John and Maximilian Pettie in 1608, and formerly occupied by William Critchley, gentleman. (fn. 15) No. 90 Corn Street was a smaller two- or three-room house of probably similar date, which retains back-to-back fireplaces possibly for parlour and hall.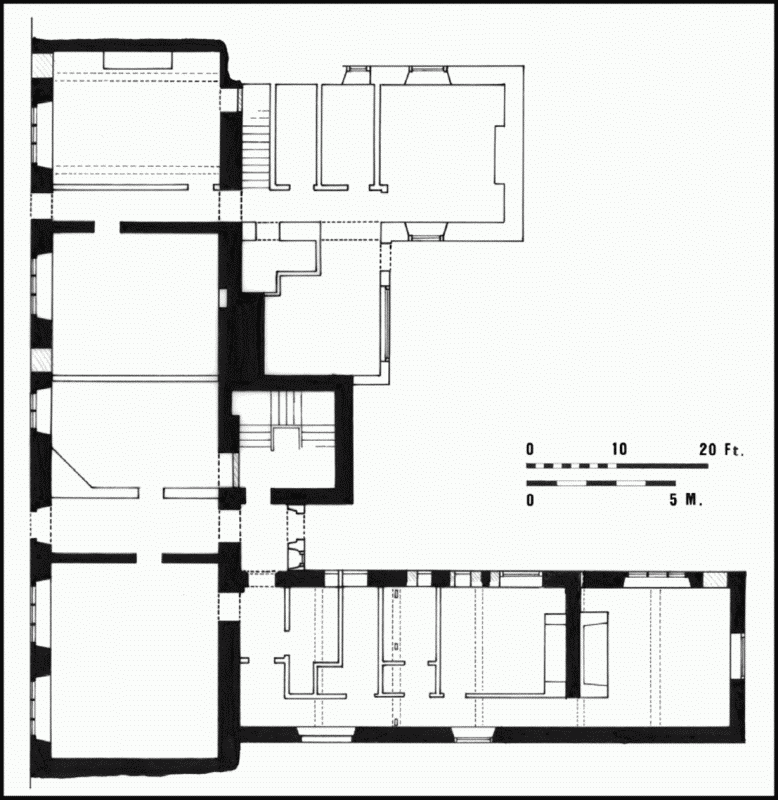 Much altered, but possibly built to the same plan on an unusually large scale and with strikingly up-to-date architectural detail, is No. 3–5 Church Green (The Hermitage). Carved brackets to the door-head bear the date 1564, the initials RC, and a merchant's mark. Windows to the front have 'tram-line' mullions and pediments. Now subdivided by an inserted wall across the centre of the hall, the house was of two storeys, with a deep high-end wing and a substantial well stair to the rear. The development of the building is not entirely clear; the high end seems to be indicated by the location of the stair, but the principal door appears to give into the high end of the house rather than the low end. It is possible that the stair is of c. 1600, and that the ends of the house have been reversed, perhaps following early subdivision. It is also possible that the door surround has been moved from an original low-end location.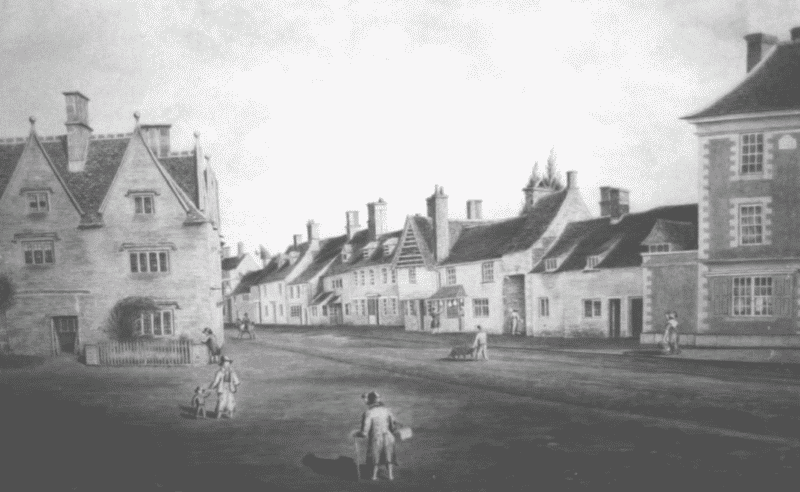 Several buildings in the town were reputed in the 19th century to have been plague retreats of Oxford colleges. (fn. 16) The only confirmed example is Nos. 23–5 Church Green, whose site was given to Corpus Christi College, Oxford, in 1525, and where £86 was spent in 1526–8 probably on new building works. (fn. 17) In the 19th century the building was described as built around three sides of a court, and included a hall and chapel; neither can be recognised in the present building, and they are likely to have lain behind the present frontage, which has lost the eastern side of the courtyard shown in the tithe map of 1840. (fn. 18) A ground-floor passage leads through to this courtyard from Church Green, and may have been aligned with the entrance to the hall.
The building now consists of a long front range divided into two (Nos. 23 and 25 Church Green) and a rear wing behind No. 23. The original layout of the front range is not clear, although it retains the original, arch-braced roof, whose arrangement implies that there were three large chambers on the first floor. The wing was largely re-arranged in the 19th century, but it, too, retains its roof and re-set windows, with cavetto surrounds and four-centred heads.
Another important 16th-century house may have been that on the east side of the market place, used in the early 19th century as a corn returns office and demolished in 1862 to make way for the surviving Corn Exchange (Fig. 17). (fn. 19) Possibly it formed part of a mansion house near there owned by the Yates, wealthy clothiers, (fn. 20) and by the 1640s it may have been part of the White Hart Inn, although both those buildings possibly lay a little further south. (fn. 21) In the 1850s it included a substantial two-storeyed timber-framed range parallel to the street, with gabled and jettied cross wings and a large carriage entry on the south; a datestone of 1593 was noted at its demolition. (fn. 22) A possibly contemporary house owned by the Wenmans was identified in the early 19th century with the nearby Crown Inn, which was said to retain heraldic glass and which may also have had a timberframed hall and cross wing; (fn. 23) the inn was rebuilt in the late 18th or early 19th century as the Crown Hotel, itself demolished in 1981. (fn. 24)
Other Witney houses generally followed national stylistic trends. A number of buildings remain with gabled front elevations, probably of the first half of the 17th century. The largest is Nos. 3–5 High Street, built probably around 1610–20 and occupying a prominent site at the north end of the market place. The house was probably owned by the Gunn family, (fn. 25) at the time among the richest in the town; Nicholas Gunn (d. 1602), clothier, had household goods valued at the very high figure of £50. (fn. 26) It is of 2½ storeys, with three gables to the High Street and (formerly) two to the south frontage. (fn. 27) No. 9 Church Green, probably built around 1610–30 and refronted in 1859, (fn. 28) was similarly tall and gabled. In Witney, as elsewhere, there is clear evidence of a change in the style and forms of larger houses in the late 17th and early 18th centuries. Hipped roofs probably first appeared in Witney with the grammar school of 1660. (fn. 29) No. 2 Market Square, on an extremely prominent site, was built probably in 1715 for Henry and Anne Werge, (fn. 30) whose family earlier included mercers and clothiers. (fn. 31) The house (now a shop), (fn. 32) which has lost its original ground floor, is three-storeyed with a hipped roof on three sides, and presents a marked contrast to the gables of Nos. 3–5 High Street opposite (Fig. 19). Among other 18th-century houses, the largest is the former rectory house (Fig. 50) at the south-west corner of Church Green, built in 1721–3 for the rector Robert Freind, and described below. (fn. 33) Batt House (No. 16 Market Square), described in 1815 as 'fit for the reception of a genteel family', with a spacious hall and handsome staircase, (fn. 34) was built possibly for one of the Jordan family of Burford and Witney in the 1720s or early 1730s, and from c. 1800 to 1926 was occupied by the Batt family, prominent Witney surgeons. (fn. 35) It retains some 18th-century fittings, including a ground-floor chimney piece, and with its three-storeyed, five-bay front is the only 18th-century house to rival the rectory house in scale. The more characteristic Witney house of the 18th century-of which there are numerous examples, particularly in Corn Street and West End -has a pitched roof, a two-bay frontage to the street with a central front door leading to a stair hall, and sometimes a low service wing behind the kitchen.
Broad entries from the street to premises behind the frontages and, east of High Street, to land extending down to the river, are also characteristic of the town. Many 17th-century inventories recorded rooms over gateways or in gatehouses, and wills, too, refer to properties in two parts: thus in 1772 a property on the north side of Corn Street was divided into two parts by a passage. (fn. 36) Some of those entries were almost certainly of medieval origin, but others were formed at a later date.
In 1738 the site of the later Wesleyan chapel comprised two recently divided houses separated by a gateway which led, typically, to a yard with kitchen, stable, and a range of workshops, and to gardens and a building by the river. (fn. 37) An early 19th-century drawing (Fig. 55) shows the predecessor of the present chapel occupying the yard, with houses on either side of the entry. A similar alteration was made at Nos. 92–4 High Street, where a broad entry was cut through the centre of a latemedieval house which retains the ceiling and screen of the original cross-passage in the hall. In the 19th century the house was rebuilt as two three-storey dwellings flanking the entry, which at that date provided access to tan pits close to the river. (fn. 38) Such broad street-entries were often associated with industrial use of rear premises, and, particularly in the early 19th century, with building of cottage yards. (fn. 39)
Crowding, and by implication demand for cottage accommodation, was noted as early as 1693, (fn. 40) and subdivision was recorded frequently. On Corn Street a cottage was divided around its central chimney stack in 1681, (fn. 41) and a ruinous house was repaired as two tenements (Nos. 92 and 94) before 1743. (fn. 42) Town almshouses at Church Green, converted from three to four cottages before 1761, were rebuilt as a row of six in 1795. (fn. 43) Sometimes division followed from bequests to children, as when William Pope, gardener, left his house to his daughter Mary in 1760, stipulating that when she died 'the house on the east side' should go to his son, and 'the house on the west side with the kitchen in the yard' to his grandson. (fn. 44) Conversely, divided house plots were sometimes re-united and others amalgamated or otherwise regrouped. Nos. 8–10 Bridge Street appear to be two 17th-century houses with an entry between, rebuilt and united in the 18th century with the entry converted into an entrance hall (which has an unusually elaborate leaded fanlight over the door). In 1703–4 the Star Inn was built on parts of the sites of a 5-bay building and of an adjacent house, (fn. 45) while Batt House occupies the site of two tenements apparently united around 1711. (fn. 46) A new parish workhouse was built on the site of three cottages in Corn Street in 1744. (fn. 47)
On many houses the removal of external render shows where windows have been altered, probably sometimes following division or unification of properties, but also by way of modernization, typically by replacing earlier, mullioned windows with sashes of different proportions. Occasionally such alterations are documented, as when an inhabitant was presented at the manor court in 1769 for building two bow windows which obstructed the footway. (fn. 48)
Fixed Decoration and Other Internal Improvements Some fragmentary survivals indicate a substantial rebuilding of Witney in the 16th century. The Three Horseshoes Inn in Corn Street has a fine moulded timber ceiling of mid-century date; No. 51 Market Square, adjoining the town hall, (fn. 49) has a wind-braced roof of the late 16th or early 17th century, and the general impression is confirmed by wills and inventories. Notable are references to glass and wainscot. Although there were glazed windows in the bishop's manor house from an early date, (fn. 50) and the windows of Nos. 3–5 and 23–25 Church Green were certainly glazed from the first, glass was probably rare in Witney before the late 16th century. Among the largest houses in the town in 1583 was that of Thomas Taylor, yeoman, whose assets totalled £408. He had window-glass in his hall and the chamber over it, in old and new parlours and the chamber over the latter, in chambers over the entry, in the old and new buttery, and in the gallery, study and stairs. (The hall had window curtains also, an unusual amenity for the date.) The 'guest chamber' and most of the offices were unglazed. The total value of his glass and casements was over £6, more than the value of most townsmen's entire household goods. (fn. 51) Glass and wainscot were separately itemised in the Brices' lease of the house in Witney park in 1585. (fn. 52)
By the end of the century glass was also recorded in the houses of poorer men. Nicholas Hill, baker, with possessions valued at £33 in 1590, seems to have had glass only in his parlour window; (fn. 53) a widow in 1595 had 20 feet of glass valued at 5s., insufficient to glaze more than a few windows, (fn. 54) while in 1596 a weaver had glass worth 1s. 1d. in his hall, even though his total assets were worth under £5 and he had only a life interest in his house. (fn. 55) Thereafter glazing was generally regarded as a fixture, although Nicholas Gunn (d. 1602) expressly required his widow to maintain the window-glass around his house; his inventory included 'one loose joined window', possibly remaining from some scheme of improvement or awaiting installation. (fn. 56) No. 64 Corn Street retains timber windows to front and rear with ovolo frames, probably of similar date, while the oeil-de-beuf upper parts to the windows of the grammar school of 1660, and the elaborate glazing to the upper windows of No. 34 Corn Street, can be seen as the exploitation of a relatively new decorative resource. (fn. 57) No. 70 West End, which has a variety of 18th and 19th-century windows, retains the outlines of blocked windows similar in proportion to those at No. 64 Corn Street, and many other houses preserve comparable evidence of earlier openings in the street frontages.
Wainscot and other fixed internal woodwork similarly appear as a distinct and novel feature in inventories of the period, at a time when other forms of decoration were declining. No Witney house has revealed evidence of wall paintings, though some houses must have had them, and an inventory of 1595 mentioned 'painted cloths in the hall'. (fn. 58) Thomas Taylor had 'seelinges of wainscottes' (i.e. wall panelling) in his hall and two parlours, that in the new parlour valued at £8. Nicholas Hill in 1590 had his buttery divided from his hall by two joined partitions, 'the overpart of each of them latticed' presumably to admit light and air, and valued with buttery shelves and settles. (fn. 59) In 1612 another Nicholas Gunn had a 'wall cupboard' in his hall, which implies wainscot. (fn. 60) Separate listing of 'seeling' ceased about the same time as that of window glass, suggesting that from the early 17th century both were regarded as fixtures; by then glass windows were probably universal in all but the poorest houses, although wainscot panelling probably remained confined to the best rooms in the houses of the better-off. Very little 17th-century panelling survives in Witney houses, (fn. 61) fittings in old-fashioned styles having presumably been swept away when houses were modernised later.
In better houses there was probably also a slow improvement in the size and convenience of staircases. Though not spacious, the well stair of No. 5 Church Green is advanced for the mid 16th century, and by the end of the 17th inventories occasionally mentioned articles 'on the stair', implying a landing large enough to place furniture.
Domestic Amenities The capital investment that made clothiers appear rich on paper was not necessarily reflected in the contents of their houses. Richard Budd (d. 1623), with assets worth £104, owned two looms, wool, yarn, and finished blankets, but had household goods valued at only £7. (fn. 62) In 1743 Thomas Smith, with £142 in finished and unfinished goods, similarly left household goods worth only £69s. 6d., a low sum for an active tradesman. (fn. 63) Trading on borrowed capital might mean that men who appeared prosperous were at times living close to ruin: when John Medhopp died in 1645 leaving three looms and goods valued at £121 (including wool and cloth worth £95), his net assets after payment of debts came to only £1 13s. 4d., and he appears to have rented rather than owned his house and shop. (fn. 64) His household goods were appraised at £6 16s., similar to those of many of his contemporaries dealing at a comparable level, which suggests that people may have been wary of spending money on domestic comforts when the capital demands of their business were so great.
There were, however, men described as clothiers whose possessions included no stock-in-trade or raw materials; significantly, such men often had household goods valued more highly than those in active business, suggesting that they had been able to give up trade and in effect retire. Andrew Hodson, called a broadweaver at his death in 1622, owned two looms but no capital stock, though his household goods in hall, buttery and two chambers were valued at £12 16s.; he was clearly in comfortable circumstances. (fn. 65) Richard Johnson (d. 1680) had household goods worth £16 10s. out of a total of £21 19s., and though only two rooms (hall and hall chamber) were named, the latter was well furnished with two 'high' beds, a truckle bed (perhaps for a servant), a little cabinet, a hanging press, and a desk. (fn. 66) Such men must have had other income, probably from houses or land: both sources were excluded from probate valuations, but it was already common for better-off townspeople to own more than one property, and rents would have provided an income in old age. The cordwainer Henry Dorne (d. 1785), besides his own house, owned the Red Lion and at least thirteen dwellings mostly along Corn Street and Meeting House Lane, one of them (bought in 1764) divided into three tenements, (fn. 67) and in this it seems unlikely that he was unusual.
Halls and Kitchens The most consistent element of any house was a room for living and in many cases for cooking, which in the 17th century, among townsmen across much of the social scale, was generally the hall. Edward Plowman (d. 1686), a cordwainer with assets worth £112, was among the economic élite, and had a well-furnished hall containing items worth £5 14s., where he cooked and lived. (fn. 68) By contrast the contents of a broadweaver's hall, where he too lived and cooked, were valued in 1670 at £1 15s. 6d. out of a total estate of only £3 14s. (fn. 69) Cooking in the kitchen was less usual, though Margaret Carter was doing so in 1595, as was Anne Pettie, one of the richest women in the town, in 1622. (fn. 70) It is not clear why appraisers might describe one living room as a kitchen and another as a hall; possibly it reflected the room's location in the house, though since both Carter and Pettie were widows they may have been occupying only part of a larger building. In the 17th century the kitchen often seems to have been used for brewing and for other wet work, one in 1679 containing a 'furnace', brewing vessels, and a malt mill. (fn. 71) Some kitchens were detached, as with the 'piece of land on which is built a kitchen or shop' mentioned about 1583. (fn. 72)
By the 18th century the kitchen rather than the hall seems to have become the room for cooking and daily living. A broadweaver's house in 1699 had no hall, but the kitchen, evidently the house's main living room, contained a looking glass, as did that of another broadweaver in 1719. (fn. 73) In 1700 a butcher's comfortably furnished living room (the contents valued at nearly £6) was called his 'dwelling room or kitchen'. (fn. 74) In several houses of the period no hall was mentioned, (fn. 75) though a house in 1721 had a 'dwelling room' where the owner lived and cooked, containing a clock and 'paper pictures' -presumably prints hanging on the walls. (fn. 76)
Tables and tressels were often listed separately in the 16th century, among them 'tables and bottoms' in a weaver's hall in 1596. (fn. 77) Tables with fixed legs seem to have spread down the social scale during the 17th century, and forms, benches, and settles were gradually supplemented by chairs. Cooking pots were universal, and spits, pot-hooks, and frying pans common. Pewter and brass, generally listed separately, included pots, pans, and plates of various sizes; wooden platters were seldom listed, though a householder in 1634 had two wooden dishes, two wooden platters, and two dozen trenchers. (fn. 78)
Parlours Few inventories before the late 17th century mentioned parlours, though Riverside House on Bridge Street (described above) seems to have had two. In the 16th and early 17th century the term described a well-furnished ground-floor living room containing a bed, such rooms appearing only in richer townspeople's houses such as those of Emmot Fermor (1501), (fn. 79) William Elmer, woollen draper (1591), Nicholas Gunn (1602, with goods totalling £196), and Anthony Yate, clothier (1630). (fn. 80) Such parlours served as superior entertaining rooms and probably as guest chambers. The use of the term for a ground-floor sleeping room is confirmed by an inventory of 1675, describing a house which comprised a hall, a parlour with a bed, and a chamber with none, (fn. 81) though the usage disappeared by c. 1700 together with the practice of sleeping on the ground floor. Some uncertainty about which word to use is implied in the reference to a 'great parlour or room' (containing a bed) where a householder died in 1663, (fn. 82) and in 1684 a blanket-maker's ground-floor room with two beds was described not as a parlour but as the 'lodging room below stairs'. (fn. 83)
Parlours without beds appeared first in the houses of the élite. As early as 1622 Anne Pettie's comfortably furnished hall had neither bed nor cooking equipment, and seems to have been the equivalent of a later parlour; it would probably have been so called a generation later. (fn. 84) John Rankell, one of the few Witney inhabitants in the 17th century to be called 'gent', had a parlour with no beds in 1642, and Charles Werge, connected by marriage with some of the town's leading families, had a 'great parlour' without beds in 1674 but apparently no hall. (fn. 85) In this Witney's townsmen were following practices already established at a higher social level, and thereafter parlours without beds became common, as in a farmer's house in 1678, those of a saddler and a clothier in 1680, and that of a husbandman in 1687. (fn. 86) In 1685 John Holloway, lessee of Nos. 23–5 Church Green, was given permission to make malt in the hall and in the parlour at the south end, provided he made 'a handsome decent and convenient parlour' in the middle room: by then, an up-to-date parlour was evidently more valued than an old hall. (fn. 87)
As parlours became more general, so they became better furnished. A saddler in 1680 had a 'smoking table' in his parlour, at which he and his friends presumably sat with their pipes. (fn. 88) Parlours also appeared in the houses of lesser men, among them that of a pin-maker with goods valued in 1702 at only £5 3s.: he had a parlour with no bed, a kitchen in which he cooked and lived, and two upstairs chambers, (fn. 89) an arrangement anticipating the two-down, two-up artisan housing of much later times. The house of the richer John Hiatt (d. 1725), fellmonger, was similar but larger, with no hall, a well-furnished parlour, and a comfortably furnished kitchen with curtained windows, in which he evidently cooked and lived. (fn. 90)
Chambers Except for the (probably few) houses with beds in parlours, it was usual for beds to be placed in upper-floor chambers. There is seldom evidence of heating in bedchambers, though the absence of fireirons need not mean there was no fireplace. Occasional references to truckle beds may imply a servant sleeping in the same room. In the 17th century the principal furnishings of bedchambers, beside the bed itself, seem to have been chests and coffers, used for storage of clothes and valuables including documents: in 1633 papers were taken from a trunk in John Box's chamber in the house of his father-in-law Robert Bowman, (fn. 91) while in 1675 Lancelot Grainger, one of the richest men in the town, kept his will in a box in his study. (fn. 92) In 1587 a broadweaver bequeathed a coffer 'which stands under my chamber window.' (fn. 93)
Inventories show progressive improvement in chamber furnishings. Chests of drawers were mentioned in 1686 and 1690, and thereafter rapidly superseded chests and coffers. (fn. 94) A clothier had a 'hanging press' in his hall chamber in 1680, presumably a wardrobe in which clothes could be hung rather than folded. (fn. 95) Looking glasses, hitherto exceptional, seem to have become common from the later 17th century, and the contents of Leonard Bowman's buttery chamber in 1712, with a clock, six cane chairs, a looking glass and a chest of drawers (besides the bed), were probably typical of the chambers of better-off townsmen by that time. (fn. 96)
Tools and stock-in-trade were also kept in chambers. A fuller in 1676 had fuller's earth in his high chamber and two quarters of wheat in the hall chamber, while a mercer's hall-chamber in 1617 had tubs, onions, cheese, and 'other lumber'. (fn. 97) Thomas Dutton had 57 pairs of blankets in his hall chamber in 1694, and Leonard Bowman twelve pairs of blankets in the kitchen chamber. (fn. 98) For those dealing in such bulky objects warehousing must always have been a problem, although with children gone (as is often implied by there being so few beds) there may simply have been more space than was needed for daily living.
Other Contents In the earlier part of the period several houses contained arms, Nicholas Gunn's hall in 1602 containing two black bills, a halberd, a headpiece (or simple helmet), a sword and belt, and a sheaf of arrows. (fn. 99) Such arms were costly and were recorded only in the richest inhabitants' houses, often in terms which suggest that they were old and out of repair; probably they were status-objects rather than items to be used. They and other status-items were gradually replaced in Witney inventories by furnishings of the type described above, which implied status but which were primarily for comfort. In the early 17th century many richer townspeople owned a silver cup, bowl, or a set of spoons, probably displayed on special occasions and commonly the subject of specific bequests, (fn. 100) but although such items continued to be recorded intermittently they came to represent a smaller proportion of total household wealth. Cushions also became less common. William Rankell's in 1605 were valued at 15s., and in 1622 Anne Pettie owned a dozen, together with plate (a silver bowl, initialled spoons and other items) valued at over £6. (fn. 101) Thereafter cushions were rare, perhaps because increasing use of chairs reduced the need to improve the comfort of benches and forms, or perhaps reflecting a more general decline in the use of hangings and other fabrics as status-objects. Carpets also appeared in early inventories, almost certainly for spreading not on floors but on tables and cupboards. (fn. 102)
Those engaged in the woollen industry needed to store and process raw materials and finished goods. (fn. 103) John Medhopp had a shop, warping chamber, and wool house in 1645, and Francis Bedford had the same in 1686. (fn. 104) Those were typical of the premises of larger clothiers, and the room names recurred in many other inventories, along with wool chamber and yarn chamber: clearly raw material was generally stored above the ground floor. Others stored wool and yarn apparently in parts of the dwelling houses, including domestic chambers. (fn. 105)
Besides clothiers' stock-in-trade and cloth workers' tools (including tuckers' shears and grindstones, fuller's earth, and spinners' wheels), other tradesmen's tools and stock were listed. In 1669 a blacksmith's tools included anvil, vice, bellows, sledge- and handhammers, grindstone, and beak-iron (small anvil); stock-in-trade included horseshoes, frying pans, ploughshares, grubbing axes, spades, pitchforks, and other iron items, besides unspecified tinware worth £2. (fn. 106)
More commonly tools were itemised together: a Hailey carpenter's unspecified tools were valued in 1612 at just over £3, while a barber's inventory in 1690 included 'instruments belonging to trimming'. (fn. 107)
Houses 1800–1950
Cottage Yards and Rows From the late 18th century concentration of woollen production into fewer hands, at a relatively small number of specialized sites, prompted an increase in housing built in small groups, both in yards and rows and on sites of low value on the edges of the town. By 1840 there were several such developments, notably in terraces off the western end of Corn Street and at right angles to High Street, while smaller groups were built in the rear yards which remained characteristic of the town, and many others on the edge of the town along Oxford Road in Newland. (fn. 108)
Some cottages may have been built by woollen merchants and manufacturers for their workers: in 1840 William Marriott owned a row of fourteen (with detached gardens) fronting Mill Street, although by then the Marriotts were principally dyers, coal merchants, and farmers rather than blanket makers. (fn. 109) Other developments were apparently undertaken by small speculators as a capital investment. In 1840, out of some 660 dwellings in the town's central area (excluding Newland, Woodgreen, and West End), only 89 were held by owner-occupiers, and although property ownership was not highly concentrated around 30 owners, some of them absentees, each owned four or more houses. Thus several cottages and yards on Corn Street were part-owned by Elizabeth Turner, wife of a Cheapside linen draper, who had inherited them from her father William Collier in 1802. (fn. 110)
The location of such housing was largely determined by existing topography, in particular the availability of empty frontages and accessible yards and closes. A close off the west end of Corn Street, owned in 1815 by the blanket-maker John Brookes and not yet built up, had by 1840 been divided among several proprietors and developed as Lowell Place - the largest surviving group of working-class houses of the period. (fn. 111) Buswells Row, a terrace of 14 houses dated 1826, was built on the only undeveloped frontage on Corn Street's south side. (fn. 112) Parallel to the street but set back on its south side, Swingburn Place comprised a row of 16 cottages divided into two sections, the larger owned by Richard Swinburne and the shorter by John Pritchard, owner of an adjacent foundry and quarries. (fn. 113) East of High Street, a long narrow close leading to the river was partly built up with a row of 16 cottages before c. 1816, when it was owned by the fellmonger Bartholomew Fisher; before 1840 it passed to William Luckett, probably related to the Earlys, who owned a similar row of 14 cottages further north at right angles to High Street. (fn. 114) At Newland part of the road's south side west of the Cogges turn was built up by 1814, (fn. 115) and several short, early 19th-century cottage rows survive.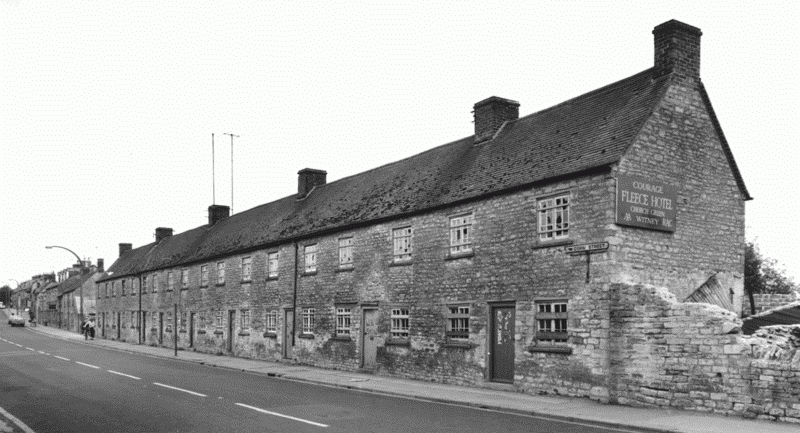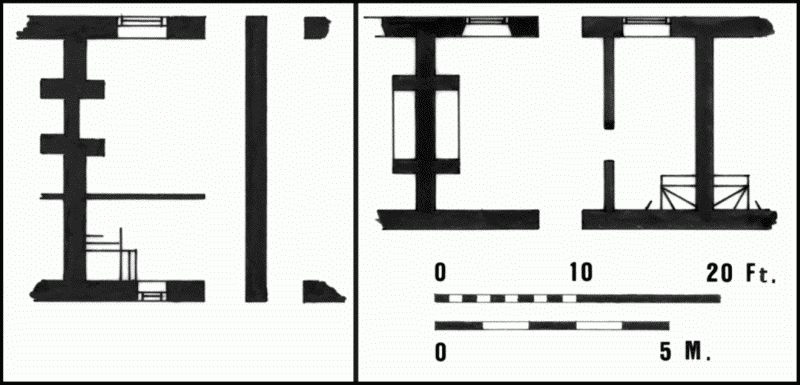 Many other cottages were built in smaller groups, some of those in older parts of the town apparently erected by speculators in the yards behind their own houses. In 1840 William Bennett, shoemaker and churchwarden, owned seven cottages in a yard behind his premises on the west side of High Street, (fn. 116) and a similar development a little further north was owned by another shoemaker. (fn. 117) Thomas Dix, owner of a close south of Corn Street and probably son of the landlord of the Bell Inn, owned several groups off Corn Street, (fn. 118) and in 1822 rented six cottages in Duck Alley which he sublet 'to poor persons'. (fn. 119) His town property in 1840 included three public houses, and although called yeoman in 1819 he was later styled gentleman, the customary description of a man with no income from trade. (fn. 120)
The houses in Buswells Row contained a ground-floor living room and a larder (which included the staircase), with two first-floor bedrooms (Figs. 20 and 21b). (fn. 121) One of Dix's groups, old and in poor condition in 1910 (when they were numbered 93A-D Corn Street), provided similar accommodation. (fn. 122) A few of the Lowell Place cottages had a single bedroom, though most had two, over a living room and scullery (Fig. 21a). (fn. 123) Another group in 1910 (then Nos. 144–8 and 148A–B Corn Street) comprised three cottages fronting the street, and two in a yard behind; those to the street each contained a ground-floor living room and kitchen, but only a single bedroom and attic room, with shared use of a well. Those in the yard had only a single room to each floor. (fn. 124)
Many cottages in the 19th century were of still poorer quality. In 1874 the inspector for Witney Urban Sanitary District reported a block of 'wretched' cottages on Woodgreen, with a shared well and privy (itself not unusual), no back windows, and drainage into an open gutter in the street, while another cottage yard in the town had a double privy for the whole group. The inspection of the Woodgreen cottages was prompted by deaths from typhoid, and in 1894 there was a further outbreak, in Corn Street. (fn. 125) In 1889 the UDC surveyor reported a man and his wife with six children, aged between fifteen years and six months, living in a two-room cottage in Corn Street (one room to a floor), with roof, floors, and windows in poor repair and no drainage. (fn. 126)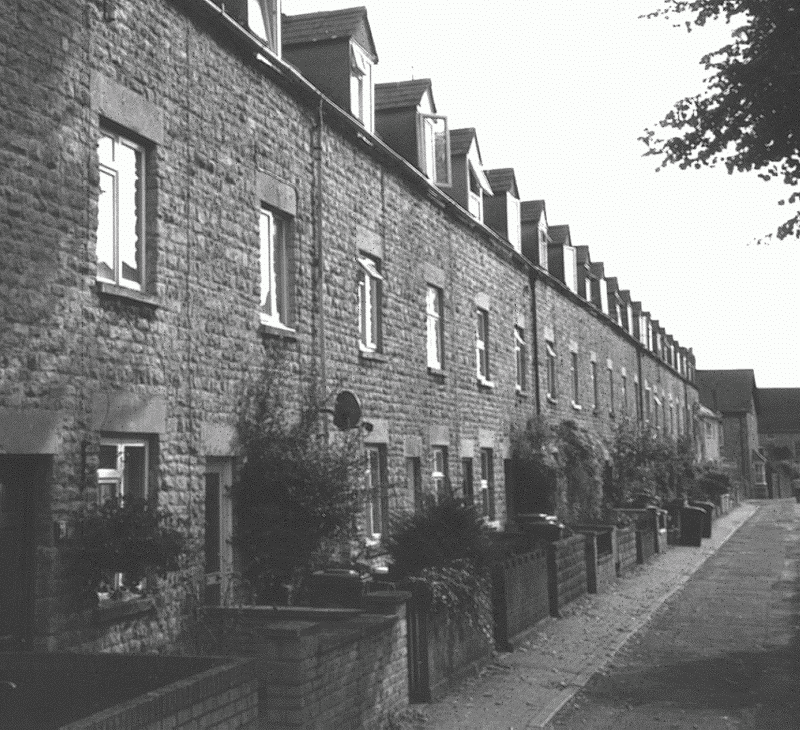 The occupants of such one- and two-bedroom houses were for the most part the semi-skilled and the unskilled. In 1851 occupants of Lowell Place - which at that date comprised some of the superior working-class tenements -included eleven labourers, nine cloth-workers, four masons, a variety of other workers, and three paupers. In 1901, when those houses were older, heads of households comprised 20 labourers, 11 clothworkers, three building workers, and others including a cow-keeper and a traction-engine driver. Occupants of Buswells Row had similar jobs, and in 1901 there seems to have been serious overcrowding there: each two-bedroom cottage held an average of 5.6 people, with one house containing nine. (fn. 127) Lowell Place was less crowded in 1910, though the medical officer of health reported overcrowding in 1922. (fn. 128) Rents for these working-class houses are not known before the late 19th century, though in 1833 William Luckett bought three (probably small) cottages from Bartholomew Fisher for £210, which yielded perhaps 1s. 9d. a week each. (fn. 129) The two-room cottages in Corn Street described above (Nos. 148A–B) were rented for that amount in 1910, and the larger ones (Nos. 144–8) for 3s.; the Lowell Place cottages (Fig. 21a) were rented for 1s. 9d. a week in 1894. (fn. 130)
Cape Terrace in Gloucester Place (off High Street), a row of 22 2½-storey cottages, was built probably around 1865, to an improved standard; possibly that resulted from new by-laws adopted in 1863, and certainly thereafter the local board inspected all new building plans. (fn. 131) Each had a sitting room and kitchen/living room on the ground floor, and a scullery in a small back extension; possibly the builders were Bartletts, who owned yards nearby and built houses south of Gloucester Place in 1921. (fn. 132) In 1901 occupants were of a higher class than those of Buswells Row or Lowell Place, including, besides blanket weavers, such skilled workers as two power-loom tuners, a metal turner, a tailor, a fellmonger's manager, and an engineer's storekeeper; (fn. 133) rents in 1910 were 4s. 6d. a week. (fn. 134) Cape Terrace was the only substantial housing development of the mid 19th century, but with its rear sculleries it established a form which continued until 1914.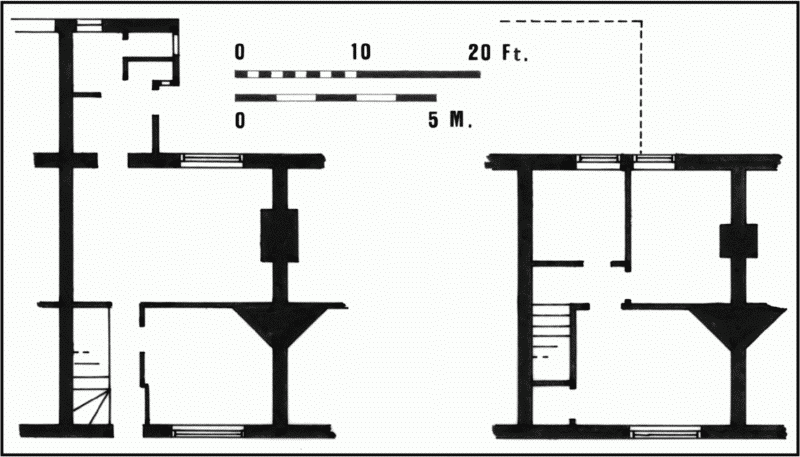 Later Terraces Towards the end of the century there was a renewal of building in the town, notably the beginning of suburban growth beyond Woodgreen, and at the Crofts between Corn Street and Church Green. (fn. 135) Initial development along Crofts Lane seems to have been undertaken by several small proprietors, perhaps on building leases for rent: a few small blocks of two, three, and four cottages were built between 1887 and 1893 by a Mr Paintin, (fn. 136) and Nos. 38–78 (even) and 45–51 (odd) at the Crofts, built by 1899, belonged in 1910 to ten separate owners. (fn. 137) The principal developer of the Crofts in the early 20th century was John Clarke, owner of an ironmongery business in Bridge Street begun by his father in 1839: the eleven northern houses of Spring Terrace, built by 1899, were owned by Clarke in 1910, when he also owned nine houses of Burwell Terrace further south, and Leys Villas, four pairs of larger semi-detached houses built probably in 1901. (fn. 138) The late 19th- and early 20th-century terraced housing at the Crofts is a development of the rows built earlier in the town, with two ground-floor rooms, a rear extension combining scullery and wash-house, and two or three bedrooms. Rents in 1910 varied from £10 to £16 a year, and building costs (where known) were around £200–£250 per house; very few houses were owneroccupied, usually by residents who owned and let an adjoining house also.
More interesting architecturally are Nos. 1–12 Mill Street, a row in three groups sharing distinctive, simple, arts-and-crafts detail. Those cottages, whose architect is not known, were erected in 1909–10 by Charles Early's daughter Sarah Vanner Chubb, who also owned Riverside House opposite, where she rebuilt the service range. The Mill Street cottages, with slight differences between their plans, each provided two rooms with a scullery in a back extension, and three bedrooms above; rents were between £14 6s. and £18 11s. a week. In 1970 No. 3 (Fig. 23) had a bath in the scullery extension, possibly an original feature, and all the Mill Street cottages had gas from the outset, part of a steady but by no means universal improvement in domestic amenities (gas, water supply, electricity, and sanitation) during the earlier 20th century. (fn. 139) The larger and later of the Crofts houses also had bathrooms, made possible by recent provision of mains water, and in 1910 some had gas geysers. (fn. 140)
Larger Houses The cottages discussed were for the town's working population. Tradesmen and shopkeepers in the 19th century seem to have occupied the older, larger houses along the town's main streets, and frequently lived above or adjacent to their places of business, a tradition which continued until 1914 and later. Newland House on Oxford Road, built for the blanket manufacturer John Early around 1830, is a relatively modest house with a large garden to the rear, close both to the office which the Earlys used from the early 19th century and to large warehouses built in 1881–1900; it remained the family home until the late 20th century. (fn. 141) Others of the Early family lived at Woodgreen, not far from Witney Mills, while in 1910 the mill house at Bridge Street Mills possessed 'lawns, pleasure and kitchen gardens, with green house and summer house intermixed with mill buildings'. (fn. 142) J. F. Marriott, owner of Mount Mills, lived at Mount House between the factory and Church Green, a largely 18th-century house which he acquired and rebuilt around 1905. (fn. 143) No. 26 Church Green was rebuilt in 'Jacobethan' style about 1900 for T. W. Foreshew, a director of nearby Clinch's brewery, while No. 13 Church Green was rebuilt about 1909, in a style reminiscent of the architect Ernest Newton's, for Lemuel Druce of Saltmarsh & Druce, wine and provision merchants in Market Square. (fn. 144) An earlier house of note is Rock House, a substantial early 19th-century villa residence built by the woolstapler Henry Salmon in a former quarry in the angle of Mill Street and Puck Lane, with a stuccoed symmetrical front and pillared portico. (fn. 145) Improved shopfronts were mentioned in the 1880s, (fn. 146) good surviving examples including the cast-iron front of Leighs' ironmongers at Market Square (Fig. 42), and No. 35 Bridge Street.
Many of the larger houses built in the town between c. 1850 and 1910 were designed probably by one of three closely related architects with local origins: William Wilkinson (1819–1901), his brother-in-law Clapton Crabb Rolfe (1811–93), and his nephew and partner from 1881, Harry Wilkinson Moore (1850–1915). (fn. 147) Wilkinson, born in Witney, moved to Oxford around 1856, while Rolfe was son of the perpetual curate of Hailey. Probably more than one of those architects is represented in Nos. 2–14 Church Green and Nos. 37–41 High Street, while Woodlands at Woodgreen was certainly designed by Wilkinson for Richard Early in 1859, (fn. 148) and No. 24 Church Green by Moore in 1893; (fn. 149) Moore may also have designed Mount House near the church and Springfield at Woodgreen, both in a free style with front porches carried on columns. Those buildings share elements with most of the better houses built in Witney between c. 1880 and the early 20th century, featuring hammer-dressed coursed rubble walling, ashlar dressings, and free 16th- or 17th-century detail.
In Witney, as elsewhere, the First World War checked all private house-building. Housing shortages were reported in 1919, and in 1922 the surveyor was asked to report on overcrowding. Though no council housing had been built before the war under the limited powers then available, thereafter the UDC embarked on several schemes, initially to designs by the council's retained architect Thomas Rayson: those included houses at Highworth Place in the Crofts, and at Hill Close on Oxford Road. (fn. 150) Private building did not wholly cease, however, with Bartletts Brothers building bungalows in the Crofts and eight semi-detached houses on the south side of Gloucester Place. (fn. 151) Rayson also designed houses in 1928 for the Witney Mills Housing Society, each containing three bedrooms and a small ground-floor bathroom. (fn. 152) After 1918 there was a slow expansion of middle-class, detached housing on the edges of the town, particularly south of the Burford road, and on and beyond Woodgreen - an essentially suburban growth which followed national trends. (fn. 153)
The Buildings of the Blanket Industry (fn. 154)
Early Buildings Before blanket production became concentrated in a few hands during the early 19th century, the premises of the many clothiers were distributed throughout the town. Both inventories and sales particulars frequently linked dwelling houses with industrial premises to the rear: thus in 1786 sales advertisements included a dwelling house, weaving shops and large garden on the High Street, a five-bedroomed house 'in the spacious part of the town' with wool warehouses and two weaving shops, and a dwelling house, weaving shops and wool warehouse in West End. (fn. 155)
Buildings commonly named were shop or weaving shop, wool house, warping chamber, and yarn house. Those operations needed little in terms of specialised space, and a number of such buildings remain, generally entered from the yards behind street frontages. They are plain stone structures providing simple open space on two floors, the upper storey often containing doors for loading raw wool and other unfinished products. Weaving seems usually to have taken place on the ground floor, where it would be easier to erect looms and remove the rolls of cloth for further processing; internal light levels were presumably adequate for the repetitive and relatively coarse work involved in blanket and tilt-cloth weaving, and ground floors do not seem to have been provided with unusually large windows. The weight of broad looms also favoured their placing at ground level.
The largest and most complete surviving complex of traditional buildings for cloth-working lies to the rear of Nos. 55–56 West End, owned in 1840 by Edward Early, (fn. 156) and comprising an accretive group of various dates from the late 17th century to the early 19th. They are of stone, with roofs of stone or of Welsh slates; some minor structures are of brick, with roofs of corrugated iron. The buildings were never equipped with power, and in 1910 were used as shown in Fig. 24. (fn. 157) Most were altered as offices and business units in the 1990s, but an unconverted building at the rear of No. 56 West End (D on Fig. 24) has a lucarne to the yard with mountings for a crane, an internal hoist (both probably of the early 19th century), and simple internal stairs in one corner of the building. It retains two early windows, one with unmoulded, pegged, vertical mullions, probably originally unglazed, and the other an iron casement with small rectangular panes of pot glass. Used in 1910 as a weaving shed, it is said to have been last used for mop-making, but such buildings could easily change their use, and their adaptability has led to their fairly widespread survival.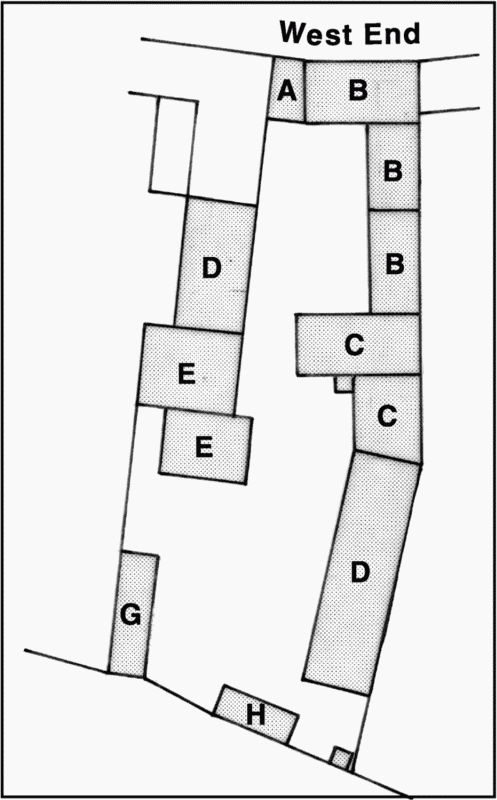 In the first half of the 19th century several small factories were built in the town, increasingly concentrating production although without a source of power: John Early's Newland factory, built or extended in 1825, (fn. 158) accommodated 52 hand-loom weavers in 1838. (fn. 159) A factory immediately west of No. 34 Corn Street (in 1840 the house of its owner, Horatio Collier) comprised a stone, three-storeyed weaving shop and store measuring 120 ft. by 18 ft., and a dye- and bleaching house, and around 1850 John George established a horse-powered spinning factory there or nearby. (fn. 160) In 1873 the Corn Street factory housed 13 spring-looms and three ordinary looms; it closed about 1880, and the principal building was demolished after fires in 1937 and 1993. (fn. 161) Two surviving early-to-mid 19th-century factories at West End and Woodgreen, both later converted for residential use, were built probably to house hand-looms, with storage and warehousing on upper floors. The Woodgreen factory is of three storeys, with uniform rows of arch-headed windows and loading doors on each floor, and was built probably around 1830. A 19th-century engraving (Fig. 37) shows that it had chimneys, but it is unlikely that any source of power was provided. The factory at the rear of Nos. 55–56 West End, with brick window heads but similar in overall character, is probably later in construction.
Fulling mills were established on the river Windrush from the Middle Ages, (fn. 162) but probably only with the mechanization of spinning from the early 19th century were mill premises gradually extended to take in other processes. The older buildings of Crawley Mill (Fig. 64), substantially of the 18th century when the mill was already adapted for fulling, are still largely domestic in scale and character, of two storeys and with stone-slated roofs and wooden lintels to windows. A fire at New Mill in 1818 destroyed buildings already adapted (or rebuilt) for spinning; the surviving buildings have been much altered, but the principal range, running north-south at right angles to the mill pond, probably incorporates masonry from the post-1818 building. In 1830 it was of 2½ storeys, with a continuous dormer in the roof (Fig. 74) - a feature unknown in other local mills, and which provided light for the hand-mules located on the top floor when the mills were again burnt in 1883. The surviving rubble building has brick arches to window and door heads, similar to those of its predecessor, and incorporates some of the earlier masonry. Nothing is known of the internal structure, which was probably (as now) wholly of timber. (fn. 163)
Farm and Witney (or Woodford) Mills Other surviving large early mill buildings are the four-storeyed Woodford Mill (at Witney Mills), and three-storeyed Farm Mill. The latter was already a fulling mill when rebuilt after a fire in 1837; Woodford Mill, held as a fulling mill by the Colliers from the 17th century, may have been rebuilt about the same time as Farm Mill, which in its details it closely resembles. (fn. 164) Both have façades of stone, gable ends partially of brick, and Welsh slate roofs; windows have flat or shallow arched heads with radiating freestone voussoirs. Internal structures were of timber, though Woodford Mill has had later cast-iron stanchions inserted to reinforce floor loadings. Windows at Woodford Mill were of cast iron, with many small lights. The former central building of Witney Mill, which spanned the mill race at right angles to Woodford Mill, may have been similar; apparently rebuilt after a fire of 1834, (fn. 165) it was remodelled in 1896 as a three-storey block again burnt in 1905, and only partly rebuilt. (fn. 166)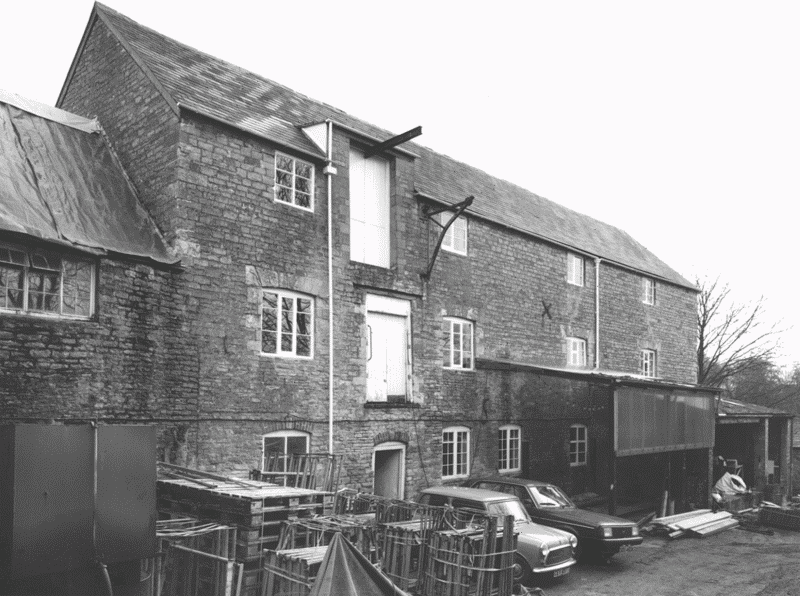 From the mid 19th century there was substantial expansion at Witney and Woodford Mills (Fig. 26a-c), (fn. 167) an extensive site which had included several mills from the Middle Ages, and which from the 1820s was acquired piecemeal by the Earlys. (fn. 168) John Early acquired a portable steam engine in 1854 and may have introduced steam-powered looms in 1858, (fn. 169) presumably in anticipation of the railway; a power-loom shed was built south of the mill pond in 1865, (fn. 170) and was rebuilt or extended before 1898 as single-storeyed ranges with ridge-andfurrow roofs. A new engine house and boiler were installed in 1864. (fn. 171) In 1888–9, following Charles Early's purchase of the freehold, new ranges abutting Woodford Mill on the east and west were built by the Witney builder William Cantwell, necessitating demolition of an earlier flour mill. (fn. 172) Those buildings are of two and three storeys, of rubble with arched window heads in white brick; internal floors and roof are of timber, carried on cast-iron stanchions which also provided mounts for drive shafts. Other processes were housed in new buildings on the east of the site, erected by Cantwell in 1896 and 1903 and extended along Mill Street after the fire of 1905. A new steam engine, boilers and circular chimney were installed in 1896 by the local firm of Daniel Young, replacing the earlier installation and square chimney. (fn. 173) Piecemeal additions in the following decades included further extension of the weaving sheds, the building of drying sheds to supplement and finally to replace tentering racks, and modernization of dye houses and other processes. Power was increasingly supplemented by water turbines, gas engines, and electric motors, necessitating hundreds of feet of transmission ropes and belts; the system was rationalized in the early 1930s when a new generator house was built and a turboalternator installed, replacing other forms of power. (fn. 174)
The narrow site between the road and the river, with low-lying land beyond liable to flood, meant that any substantial additions had to be located elsewhere. Large new storage and blending sheds with ridge-and-furrow roofs were built in two phases in 1928 and 1933, south of the existing mill across Mill Street. (fn. 175) In the 1960s the inconvenience of carrying stock to the Newland warehouses (described below), together with problems arising from the character of the buildings themselves, led to the building in 1962–6 of new warehousing, finishing sheds, and up-to-date offices on a site to the west of the old mills, to the designs of the Oxford Architects' Partnership. (fn. 176) Other 19th-and 20th-Century Mills Bridge Street Mills (Fig. 44), like Witney Mills, are an accretive range of structures of different periods, but the less constricted site and the absence of water power encouraged a closer physical integration of the factory buildings. The earliest structure is probably a two-storeyed block at right angles to the street, apparently of the earlier 19th century, which probably housed looms and may have resembled the demolished loom shop of the Corn Street Mills (above). From the 1870s the mill belonged to the blanket manufacturer William Smith, who expanded it and introduced steam power; Smith had already installed the first steam-powered machinery in Witney at premises on High Street, driven by an eight-horse-power engine acquired about 1851. (fn. 177) In 2003, before its conversion into flats, the mill had a nine-bay façade to Bridge Street with shaped gables, built probably by Cantwell in 1899. (fn. 178) This formed a screen to the street, behind which were the earlier range described above, a small office of c. 1900, the base of a former, square, chimney stack, (fn. 179) and a former boiler house. Behind those 19th-century buildings was a range of simple, single-storeyed industrial buildings of c. 1890 and later, in stone and brick and with roofs of timber or steel. Increased production following mechanization meant that more warehouse space was needed, and a large 3-storeyed block was built by Cantwell for Charles Early at Newland in 1881–2. It was extended by a 3½-storey block in 1899–1900. (fn. 180) Both were of coursed rubble, with cast-iron stanchions supporting timber floors. The warehouses were demolished following a fire in 1975, (fn. 181) having been largely superseded by new warehousing at Witney Mills in 1966 (above).
In contrast to the earlier, accretive blanket mills, Mount Mills, built for James Marriott (d. 1904) on a 14-a. site in 1899–1900 to designs by J. Kirk & Sons of Dewsbury, were from the outset a fully integrated factory of modern type, combining all stages of production within a single building (Fig. 27). The factory's location next to the railway goods station provided for ready transport of raw and finished materials. Construction was principally of brick and steel; the main weaving shops were single-storeyed and covered by ridge-andfurrow roofs, and there was an engine house and milling room, a long, two-storeyed warehouse, and an office of stone. (fn. 182) The mill was little altered thereafter, though repairs were needed after a fire in 1953 which seriously damaged the carding and spinning shops in the mill's northern part. The mill was vacated in 1985, sold in 1989, and demolished. (fn. 183)
A similar structure was built at Crofts Mill in 1931–3 for James Walker & Sons of Mirfield (Yorks.), though the factory was smaller because yarns were not spun there, but brought in from Walkers' Yorkshire works. The mill was demolished in 1983. (fn. 184)
Public Buildings
Almshouses (fn. 185) Holloway's almshouses, east of the church, were founded by John Holloway, clothier (d. 1724). Early views show a range running north-south, with gabled ends. (fn. 186) In 1868 they were rebuilt in gothic style to designs by William Wilkinson (Fig. 59), each providing a living room and scullery on the ground floor and one bedroom above, with shared external privies to the rear. (fn. 187)
Townsend's almshouses, on the north side of the Oxford Road, are a row of six cottages built in Tudor style in 1827 (fn. 188) at the expense of William Townsend (d. 1832), to house six poor women. They provided a single upstairs room with a living room and scullery on the ground floor and outside privies. The buildings were modernized in 1956–7 by Pennison and Cornelius, architects, with the scullery remodelled to provide a kitchen with a bath and an inside WC. (fn. 189)
Blanket Hall (Fig. 29) Before the completion of a purpose-built hall on the east side of High Street in 1721, the Blanket Weavers' Company (founded 1711) met in a barn on the opposite side of the street, destroyed by fire in 1879. (fn. 190) The hall (No. 100 High Street), built at a cost of around £460, (fn. 191) is of two storeys, constructed in a simple baroque manner, with a broad, central entry and segmental-headed windows. Probably the ground floor was used for the viewing, weighing, measuring, and marking of blankets, while the upper floor, which retains two fireplace openings, contained the 'Great Room' and Assistants' room-presumably a room for the formal meetings of the guild, and an office. Kitchens and other outbuildings were to the rear.
Following the Blanket Company's disbandment in 1847 the hall housed a brewery and various businesses, (fn. 192) and in the late 20th century became a private house. The building has been extensively altered internally, and only the outer walls and principal floor survive of the original structure.
Corn Exchange (Fig. 30) The Corn Exchange, on the east side of the market place, was built by the private Corn Exchange Company in 1863–4, replacing a probably 16th-century building used in the 1850s as a corn returns office. (fn. 193) The architect was J. Collier of Putney and the contractor Malachi Bartlett (d. 1875), by then probably Witney's leading builder. The Exchange is a stone building in an Italianate manner, which as first built contained a principal ground-floor dealing room measuring 70 ft. by 35 ft., a reading room 21 ft. by 15 ft., and a lecture and museum room 39 ft. by 21 ft., together with two smaller offices. (fn. 194) From the outset it was used for social events and meetings as well as corn-dealing, and housed several clubs and societies; varied use continued after the urban district council bought it in 1911, occupying part as offices until 1936 and letting other parts until the 1960s. Corn-dealing continued until the 1930s. (fn. 195)
By 1974 the building was in a 'deplorable state' and, following improvements to Langdale Hall (below), it appeared redundant. The recently established town council acquired it in 1976 after considerable controversy, and the building was refurbished and re-opened in 1979 with rooms for hire. It was remodelled internally in 1992 when folding seating was installed in the principal, ground floor room. (fn. 196)
County Court In the early 1850s county magistrates held courts in the town hall or Staple Hall Inn. (fn. 197) A purpose-built County Court, on the east side of Bridge Street, was built in 1858–9 by the local builder James Long, to designs by the London architect Charles Reeves. Built of stone in an Italianate style, with the royal arms over the door, it comprised a court room, a judge's retiring room, offices for the registrar and clerks, and waiting rooms. (fn. 198)
Grammar School (Henry Box School) The original building of the former grammar school, founded in 1660, (fn. 199) comprises a U-shaped block facing east towards Church Green down an avenue of pollard limes (replacing elms). (fn. 200) The building (Fig. 57), of two storeys and attic beneath a hipped roof, is of rendered stone rubble with freestone dressings and stone tile roof. As built, there was a schoolroom on the ground floor, heated at either end by fireplaces with four-centred openings; attics may originally have housed a dormitory for boarders, and the cellars may have included a kitchen. The wings contained houses for the master (north) and usher (south), with two rooms on each floor; each house has a well stair, with heavy, turned balusters save for the lower flight of the master's stair, which was modernized around 1800. Schoolroom windows have stone mullions and transoms with oeil-de-beuf openings above.
The schoolroom was renovated by the Revd Benjamin Gutteridge (master 1748–67). (fn. 201) That work, which remains, comprised the building of a gallery at the south end to contain the library, wainscotting of the room, and the provision of seats for master and usher flanking the end-fireplaces. The gallery is reached by a narrow stair within the wall thickness.
New buildings were added in 1908–9 on the south side of the forecourt, in an arts-and-crafts style with external render and dressings sympathetic to the earlier building. Like the original block they are built to a U-plan, with a central circulation area and classrooms in each wing. A long range of buildings in a simple, classical style was built on the north side of the forecourt in 1956. (fn. 202)
Langdale Hall Built in 1926 as a territorial drill hall for the Oxfordshire and Buckinghamshire Light Infantry, the hall was converted into a social hall in 1979, following its acquisition c. 1968 by the urban district (later town) council. It includes a stage, ballroom, gallery, bar, and committee rooms. (fn. 203)
Market House (Butter Cross) In 1560 the clothier Walter Jones left £20 towards building a market house if the work was undertaken within fourteen months, but nothing seems to have been done: an open 'tolsey' mentioned in 1571 may have been the town hall (below) rather than a separate structure. (fn. 204) The existing market-house, from the early 18th century often called the Butter Cross, (fn. 205) was erected soon after 1606 with a bequest from Richard Ashcombe of Curbridge, who that year left £50 to the town bailiffs for building a 'house over and about the cross of Witney', (fn. 206) presumably a pre-existing stone cross. (fn. 207) The main structure (Figs. 8 and 10) is a 'rustic pavilion' (fn. 208) with a cross-gabled, stone-slated roof supported on thirteen round limestone-ashlar piers, the central pier standing on a stepped base which was perhaps that of the former cross. A central clock tower with cupola and sundial was added in 1683 by the wool merchant William Blake (d. 1695) of Cogges, who left a 30s. rent-charge towards its upkeep. (fn. 209)
The building, 'much out of repair' in 1810, was renovated the following year largely at the duke of Marlborough's expense, (fn. 210) and was restored by public subscription in 1868, when timber decoration was added to the cross-gables. (fn. 211) The clock-face was illuminated from 1869 at first by gas, and was replaced by subscription in 1889. (fn. 212) The clock mechanism was replaced in 1962, and the ornamental timber-work was removed and the gables rendered in 1973, when the clock bell was removed and saved from destruction by a local clockmaker; it was re-hung in 1999 to mark the Millennium. (fn. 213)
Police Station A two-storeyed lock-up and house, now No. 33 Market Square, was built in 1855 to designs by J. C. Buckler, (fn. 214) replacing a single cell probably at the town hall. (fn. 215) It is of stone and slate with a symmetrical front and central doorway, and originally contained two cells and a court room together with kitchen, scullery, outhouses, and four bedrooms. It was superseded in 1860 by a new and larger police station at the south-west corner of Church Green, and was sold as a private house in 1862, when it was suggested that the cells might serve as pantry and beer cellar. (fn. 216)
The new police station, designed in a gothic style by William Wilkinson, was built in 1859–60 by Malachi Bartlett of Witney; the final cost (after dispute) of £1,865 was partly offset by sale of the recently built lock-up for £310. The contract specified local stone, and Delabole or other approved green slates for the roof. The building provided a court room, office, and houses for a sergeant and an inspector, either side of a central entrance leading to a yard, in which was a block containing four cells with brick vaulted ceilings and fireproof doors, and with three bedrooms over for duty police. (fn. 217) After a new divisional police headquarters was built on Welch Way in the 1960s the building became a local authority teachers' centre, and later part of Henry Box School. (fn. 218)
Town Hall A guild hall or town hall, on the site of the existing town hall in the market place, was mentioned frequently from the 16th century: 5s. towards its building or rebuilding was left in 1514, (fn. 219) borough courts met there regularly by the 1550s, and by the 17th century it was used for other official business and perhaps for social functions. (fn. 220) Like its successor it followed the long-familiar pattern of an open market area on the ground floor, and a first-floor council chamber above; part of the ground floor was enclosed by 1683, when a lessee agreed to erect new wattle-andplaster partitions and insert or replace window-glass, but in the 18th century the town hall still stood 'over pillars', and the open area was used as a corn market. In 1772 there was a fire engine in a 'new erected' engine house, presumably also under the chamber. (fn. 221) Though the hall was probably originally free-standing there was an 'annexe' by 1615, (fn. 222) perhaps the 'town house' (No. 51 Market Square) abutting on the north, which thereafter belonged to the town bailiffs (fn. 223) and whose roof appears to be 16th-century. From the later 17th century the town hall chamber was usually leased with or without the bailiffs' house, reserving the right to ring the bell and to hold courts and meetings there, (fn. 224) and by the 18th century there was a small lock-up either under the chamber or nearby. (fn. 225)
The town hall was rebuilt in 1785–6, in part using stone from the duke of Marlborough's quarries at Black Bourton: possibly the duke defrayed all or part of the cost. (fn. 226) The ground floor is an arcaded space of three bays by two, with Tuscan columns and rusticated quoins, and there is a single meeting room on the first floor (Figs. 8 and 10). The architect may have been Sir William Chambers, who worked at Blenheim Palace, was responsible for Woodstock town hall, and was a friend of the Witney rector Phipps Weston, (fn. 227) though by the 1780s Chambers was semi-retired and the building does not quite look like his. The builders were apparently two Bath masons, James Gulliver and William Harris. (fn. 228) Vestry and other public meetings were held in the town hall from the late 18th century and borough courts until 1925, and until the building of the Corn Exchange in 1863 it remained the principal venue for lectures and meetings of local societies. (fn. 229) It was 'dilapidated' by 1871 and repaired in 1876, when there were suggestions for filling in the open area to lease as a shop, (fn. 230) an alteration similar to that carried out at Woodstock a little later. Renovation by the borough architect Thomas Rayson in 1930–1 including creation of new entrance stairs and insertion of public lavatories at ground level, blocking one of the arches, and in 1976 the whole building, then long neglected, was restored and refitted for use by the newly established town council at a cost of £15,000, the lavatories being removed, and part of the former bailiffs' house to the north being converted into offices. (fn. 231)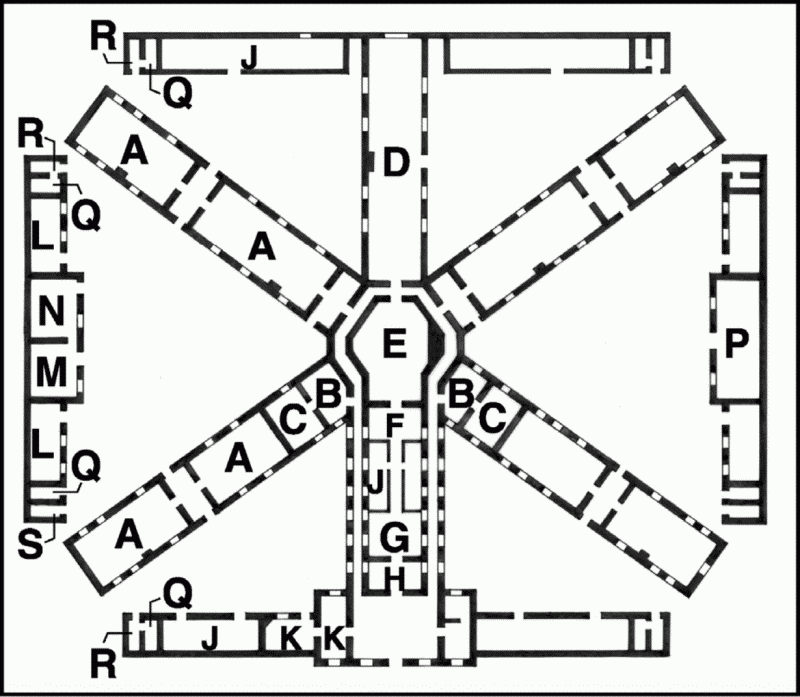 Workhouses Three cottages on the site of No. 45 Corn Street, rented from the town feoffees by the overseers, were rebuilt as a parish workhouse in 1744; a stone tablet recording its erection survived in 1838. The existing façade seems to preserve at least some of the 18th-century work, and an alleged rebuilding in 1815 was probably only the workhouse's enlargement to the south. On completion of the new union workhouse the old building became 'entirely useless' and reverted to the town feoffees. (fn. 232)
The union workhouse, with accommodation for 450 inmates, was built in 1835–6 on a 14-acre site west of the town, alongside Razor (later Tower) Hill; a nearby quarry provided building stone and work for male inmates. The building (Fig. 28), designed by George Wilkinson of Witney, followed closely but not exactly the panopticon layout suggested in the first published report of the Poor Law Commissioners. A two-storeyed entrance block contained a reception hall and porter's lodge on the ground floor, with the board room above. From there a single-storeyed range led to a central three-storeyed block, with a ground-floor kitchen and the master's house on the upper floors; four threestoreyed ranges radiated outwards, with day rooms on the ground floor and sleeping rooms above. A single-storeyed range contained the dining hall, which until 1861 served also as a chapel. The spaces between the wings formed exercise yards; single-storeyed ranges against their outer walls served as store rooms, work rooms, bakehouse, and laundry. The plan allowed for segregation of men and women as stipulated by the Commissioners. (fn. 233) In 1861 a new chapel, designed in a simplified Early English style by William Wilkinson, was built to the west of the entrance block by Bartlett of Witney, (fn. 234) and at an unknown date a separate sanatorium was built to the east.
During the First World War the workhouse was commandeered by the government for prisoners of war, but the main building had been little altered when sold in 1922. After falling into disrepair, from 1940 it was occupied by the engineering firm Crawford Collets Ltd, which demolished it in 1976–7 except for part of an entrance block and the nearby chapel; (fn. 235) the latter was semi-derelict in 2003.
Ecclesiastical Buildings
Anglican Churches The medieval parish church of St Mary the Virgin, of notable size and quality, is discussed below, together with the small chapel of Holy Trinity built at Woodgreen in 1849. (fn. 236)
Wesleyan Methodist Chapels and Schools Several Nonconformist chapels reflect the longstanding importance in Witney of Dissent, which is discussed below. (fn. 237) The largest is the surviving Wesleyan chapel on the east side of High Street, evidently the site of a meeting house opened in 1769 in the rear courtyard of houses fronting High Street. (fn. 238) John Wesley gave detailed advice on the fitting up of the earlier chapel, which was to be 'light and airy' with a paved or boarded floor, large sash-windows opening downwards to protect against draughts, a pulpit at its far end, and a rail dividing the men's and women's benches. (fn. 239) In 1796 the chapel was to be 'pulled down, rebuilt and enlarged', and it may have been further altered about 1831; (fn. 240) by the 1840s it was a large, handsome building approached through wrought-iron gates, with a gabled front towards the street, sash windows, and probably galleries (Fig. 55).
The existing chapel (Fig. 56), designed in decorated gothic style by James Wilson of Bath, was built in 1849–50 by James Long of Witney. As first built it had an eastern altar table, a pulpit and choir gallery in a short eastern bay, and a west gallery; it was lit by gas, and had seating for 496 on the ground floor and 66 in the gallery, besides 142 children's seats. (fn. 241) Before the end of the 19th century the gallery was extended along the north and south sides, possibly the 'enlargement' mentioned in 1874. (fn. 242) A new organ was installed in memory of Charles Early (d. 1912) in 1919. (fn. 243) In 1994–5 existing fittings were removed, the interior re-arranged, and an entrance made from new community rooms to the south. The chapel contains a memorial window to W. H. Tarrant (d. 1897), and tablets to the Witney minister Revd Arthur Martin (d. 1908) and to Charles Early JP (d. 1912).
To the rear are buildings of the former Wesleyan School. The principal block, designed by Edward Early Hollis of London, is of 1884–5, built on three floors in a perpendicular gothic manner, to accommodate 450 pupils; it included a hall, three galleried classrooms, and an infant room, with Sunday-school rooms above. (fn. 244) Behind it is a former science block of 1896–7, two-storeyed and of brick, built by Bartletts. (fn. 245)
Congregationalist Chapels A plain, rubble, meeting house on Marlborough (formerly Meeting House) Lane, built about 1712, was superseded in 1828 by a new chapel on the west side of High Street. The earlier building became a Congregationalist Sunday school and, in 1961, a scout hut; (fn. 246) it retains a broad doorway in the south gable, and formerly had a central pulpit against the east wall.
The new Congregationalist chapel (Fig. 54), demolished in 1970, was built at the expense of William Townsend of London, at a cost (including the site) of £2,000, and had over 400 sittings. (fn. 247) Its eastern entrance front, towards the street, had gothic windows in a free decorated style, flanking a central round window - an unusual arrangement for such a chapel at that date. (fn. 248) A plaque on the gable, similar to that on the Townsend almshouses at Newland, gave the date of building, and the street frontage was closed by imposing iron railings. Internally, there was a central pulpit and communion table against the west wall; a small organ was added in 1850, and in 1871 the pews were re-arranged, the pulpit lowered, a communion rail constructed, and walls and ceiling decorated with wainscot and paint. Gas jets for lighting were replaced with central lights. (fn. 249) The chapel was renovated in 1909, and stained-glass windows, replacing the original plain ones, were installed in 1934, all paid for by private donations; a former coach house was converted into a hall in 1957, partly with materials supplied from the United States airbase at Brize Norton. (fn. 250) Memorial tablets were transferred from the Marlborough Lane chapel at its sale in 1961. (fn. 251)
Primitive Methodist Chapel A Primitive Methodist chapel on Corn Street, in simple gothic style, was built in 1869 on the site of the minister's house, replacing a smaller chapel of 1845 at the rear, which became a schoolroom and vestry. The designer was the Witney mason William Biles, and the builder Elijah French. (fn. 252) The chapel was renovated in 1907, when stained glass and a new organ were installed. (fn. 253) After its closure in 1957 it became part of the Swan Laundry, until damaged by fire in 1993; (fn. 254) the shell, its interior stripped out, remained in 2003, when it housed a pair of shops.
Friends' Meeting House The former Quaker meeting house at Woodgreen, now a private house, is a simple, rubble and stone-slate building probably erected c. 1676. It retains mid 18th-century sash windows with segmental heads, and in the late 18th century was enlarged to the north-east. In 1970 it retained a narrow, heated gallery at the north-east end, and a panelled dado behind the former stand at the south-west. (fn. 255)
Roman Catholic Church The Roman Catholic church of Our Lady and St Hugh, at the foot of Tower Hill, was built in 1975 to designs by Radford Harper Associates of Birmingham, replacing a church in a former Anglican schoolroom at West End. It is of brick with concrete roof tiles. Furnishings include a pipe organ, fourteen stained-glass and illuminated Stations of the Cross by Donald Brooke of Long Compton, and a crucifix on loan from St Aloysius church in Oxford. (fn. 256)
Social and Political Life
The Middle Ages to the Reformation
Medieval bishops of Winchester were wealthy and politically influential landowners who created Witney borough for profit, and during its first decades they continued to dominate many aspects of its life. Like Adderbury, Witney manor formed an outlier to their main estates, which were concentrated in Hampshire, Wiltshire, and Somerset; (fn. 257) the manor's attractions, however, included good hunting on the edge of Wychwood Forest, and more importantly its proximity to Oxford and to the royal palace and hunting lodge at Woodstock. The bishops' moated and stone-built manor house near the church almost certainly predated the planned town, and during the earlier 13th century bishops visited frequently, often entertaining powerful churchmen, politicians, and royalty. (fn. 258) King John and Henry III stayed several times during the episcopate of Peter des Roches (1205–38), who had particularly close relations with the royal family: visits were often preceded by repairs or new building at the manor house, and the presence of the king's hunting dogs at Witney in 1208–9 and 1210 suggests that he came for pleasure as well as business. (fn. 259) Wine was imported from Southampton in 1208, (fn. 260) and archaeological finds confirm the high-status aristocratic lifestyle at the manor house during the period: ceramic vessels included imports from outside the region, while bones reflect a varied diet including freshwater fish, deer, and hare, probably all available from the bishop's fishponds and park. (fn. 261) The creation of the park, the procurement of hunting rights in Chase woods, and the upkeep of manorial buildings, no less than the creation of the borough and administration of the demesne farm, reflect the bishops' continued interest in their Witney estate, which in their absence was run by bailiffs or stewards and by a sizeable contingent of domestic and estate personnel. (fn. 262) The borough's early development must certainly have been stimulated by the bishop's presence, and repairs and building-work at the manor house presumably provided work for local craftsmen, (fn. 263) though from the 14th century visits became fewer, and increasingly land was leased. (fn. 264)
Though the bishops remained influential, by the late 13th century the town included both a broad range of craftsmen and tradesmen drawn from a wide area, and an emerging élite of prosperous merchants and landowners with connections far beyond Witney, who were presumably eager to promote the town's independence. Among the latter were families such as the Herings, Lamberts, Abingdons, and Standlakes, established in the town for some time, and from whom jurors, town bailiffs, and members of parliament were usually drawn. (fn. 265) How far such townsmen forged a strong, independent urban community during the medieval period is not clear. Witney remained a seignorial borough with no formal charter and no corporation, the bishop retaining nominal control over its chief communal forum (the borough portmoot), and receiving the profits arising from its jurisdiction. Nevertheless in the early 13th century a group of leading townsmen procured a charter (though not necessarily a borough charter) from the bishop, (fn. 266) and the borough had its own common seal, used presumably by the town reeves or bailiffs, by probably the late 13th century. (fn. 267) The existence of a religious guild, perhaps associated with the textile trades, is unproven but seems likely. The town seal included symbols associated with St John the Baptist, patron saint of numerous cloth and textile guilds, and in 1309 the 'community of the town of Witney' sponsored several candidates for ordination, presumably for service in the church and perhaps in an unrecorded chantry or guild chapel. (fn. 268)
Collective action may sometimes have been directed against the bishop, although despite the town's limited rights of self-government there is little evidence of serious conflict or underlying tension. In the 1280s the bishop complained of unnamed 'malefactors' who had infringed his liberties at Witney, (fn. 269) while in 1319 a group of apparently non-local men assaulted his servants who were administering the market, seized his goods, and collected the tolls. (fn. 270) In the late 15th century the town bailiffs, claiming falling trade, repeatedly refused to pay the established rent for market tolls, forcing the bishop eventually to write off accumulated arrears of over £90. (fn. 271) The rebuilding and strengthening of Witney manor house's north curtain wall in the late 14th century may have been partly intended as a display of strength to the town, though the primary reason was probably routine repair. (fn. 272) Following the bishops' withdrawal from demesne farming in the mid 15th century, and the subsequent leasing of both the demesne and the manor house to the local Brice family, (fn. 273) the borough seems to have achieved fuller autonomy. By the 16th century, despite later legal wrangles over jurisdiction, the town was effectively run by leading townsmen through the borough court and the emerging vestry, with little external interference, while the limited rights and economic privileges secured over the previous few centuries were jealously guarded against both Crown and lord. (fn. 274)
External conflicts and wars affected the town sporadically during the earlier Middle Ages. Though the civil wars of Stephen's reign almost certainly predated the borough's foundation, west Oxfordshire played a crucial strategic role, with fortifications erected at Woodstock, Radcot, and Bampton. It has been suggested that alterations at Witney manor house, including creation of a moat, enlargement of the curtain wall, and insertion of a central pier in the solar tower, may have been associated with fortification of the site in the 1140s, though Witney appeared neither in a list of sites fortified by Bishop Henry of Blois in 1138, nor in contemporary chronicles, and a more likely chronology dates the alterations rather later. (fn. 275) During the early 13th century the town was affected by the Welsh wars: the bishop accounted for expenses of knights going to and from Wales in 1211–12, (fn. 276) and rent lost from a freehold held by villeins 'in time of war' (fn. 277) suggests dislocation either then or during the civil wars of John's reign. Further disruptions occurred during peace time. Royal servants seized goods from the bishop's manor house in 1300–1 and 1385–6, causing considerable damage, (fn. 278) while the earl of Pembroke complained of raids on his property at Witney and elsewhere in 1320. (fn. 279) Royal interference in the running of the demesne or market, particularly during the late 13th century and the 14th, prompted further economic dislocation, straining relations between king and bishop and possibly between burgesses and royal officials. (fn. 280) More routine were the isolated incidents of affray and violence common to most towns, and regular presentments to the court for nuisance or unfair trading. (fn. 281)
The only serious example of political disaffection was the involvement of Witney men in an abortive west Oxfordshire uprising in 1398, when up to 200 people from several towns and villages, mostly small craftsmen, congregated at Bampton on Palm Sunday, allegedly threatening to kill the king and overthrow the magnates.
The revolt, which seems to have progressed no further, was one of several sporadic outbreaks in the aftermath of the Peasants' Revolt, and seems not to have reflected any specifically local grievances. (fn. 282) Possibly some of those involved had Wycliffite sympathies: a Witney man arrested in Herefordshire in 1419 was associated with the Lollard rebel Sir John Oldcastle (executed 1417), for whom he had counterfeited coinage, (fn. 283) and certainly by the early 16th century there appears to have been a strong undercurrent of Lollard sympathy among some prominent Witney and west Oxfordshire trading families, several of whom were connected with the cloth industry and had London trade links. (fn. 284)
Evidence of medieval popular culture is lacking, save for a 16th-century account of a popular annual dramatization of the Resurrection story using puppets, known locally (from one of its chief characters) as 'Jack Snacker'. The purpose, besides religious instruction, was unashamedly to attract 'some concourse of people that might spend their money in the town', which on such occasions presumably thronged with visitors. (fn. 285) A 'streamer of blue silk' with a golden lion, still owned by the town in 1570 but sold in 1581, suggests religious or civic processions, and civic events such as the town bailiffs' annual feast in the town hall, recorded from the 1580s, may also reflect late medieval practice. (fn. 286) No references to perambulations, maypole-dancing, or other popular rituals have been found, though it seems unlikely that Witney people did not participate in such activities.
Town and Society 1550–1800
Witney's economic fortunes during the later Middle Ages varied, and though the town's late-medieval decline should not be exaggerated its emergence as a major manufacturing and commercial town, with an economy based primarily but not exclusively on its cloth and blanket industry, dates from the 16th and 17th centuries. (fn. 287) Thereafter the town's economic and social structure remained broadly unchanged until mechanization in the early 19th century, dominated by a small group of up to 80 master weavers and clothiers, and by a variety of craftsmen, tradesmen, and retailers. A larger body of semi-independent broadweavers, clothworkers, and artisans shaded through to wage-earners, apprentices, and domestic servants. From the late 17th or early 18th century there was also a small but socially important group of professionals including apothecaries, surgeons, and lawyers, all of them active in town affairs: the lawyer James Gray (d. 1791), who in the 1750s rebuilt the former manor house, served as manorial steward for the duke of Marlborough and as clerk to the Blanket Company, while several generations of the Batt family were surgeons and doctors from the 1740s to the early 20th century. Throughout the period such leading manufacturers, craftsmen, and professionals ran the town, at first through the borough court, and from the 17th century increasingly through the parish vestry. (fn. 288)
From the mid 17th century many of the leading craftsmen, manufacturers, and retailers were Dissenters, a dominant characteristic of the town which had its origins possibly in late medieval Lollardy, and which continued in the 19th and 20th centuries. The chief exceptions were professionals such as lawyers and doctors, and, in the 19th century, families such as the Clinches, bankers and brewers. (fn. 289) Dissent seems to have had a major impact on the town's general tone, both reflecting and reinforcing the spirit of thrifty, sober-minded industriousness which so appealed to John Wesley: in 1764 Wesley contrasted the inhabitants' 'quiet spirit', 'remarkable diligence in business', and 'calm, civil behaviour' with the 'wild, staring congregation' he found at Henley, and he repeatedly praised the Witney Methodists as a 'pattern to all England'. (fn. 290) Presumably because of the strength of Dissent and the local standing of its leading adherents, relations with Witney's Anglican community seem generally to have remained good, more often characterized by mutual tolerance and co-operation than by occasional disputes over education or church rates. Certainly by the early 19th century religious affiliation seems to have been no bar to participation in town government, in contrast to places such as Oxford. (fn. 291)
The regard of leading inhabitants for their town and community was manifested from the 16th century in varied and numerous charitable gifts, supporting not only the indigent poor, but also public institutions and buildings, struggling tradesmen, and servants, apprentices, and employees. (fn. 292) The leading clothier Walter Jones (d. 1560), typically, left money towards a new market house, for repair of the school and the market cross, and towards the upkeep of Newbridge, as well as bequests to his 'poor spinners and weavers' in Witney and elsewhere, to servants and apprentices, and to the Merchant Adventurers to help young English merchants. (fn. 293) Similar bequests helped build or rebuild the town hall and Butter Cross, established the grammar and Bluecoat schools, and in the 18th and 19th centuries set up two new almshouses to supplement that already owned by the town at Church Green, besides establishing over thirty bread, clothing, and lending charities. (fn. 294)
The problem of poor relief was one with which the town grappled throughout the period, in the 16th century through the poor box and borough court, and later, increasingly, through parish rates raised and administered by the vestry. (fn. 295) Witney's Quakers, prominent particularly in the 17th and early 18th century, independently raised additional money for their own poor and sick, as was customary in other Quaker meetings. (fn. 296) The extent of poverty in the town varied greatly. In the early and mid 16th century, a period of expansion and immigration, there seem to have been proportionately fewer indigent poor than in many larger towns, though by the 1590s the number was apparently increasing as a result of recession in the cloth industry, successive harvest failures, and, possibly, plague. (fn. 297) In 1596 a Witney weaver reported that there were 'a great sort of good fellows in Witney that lacked work', and attempted to recruit fellow inhabitants into an abortive Oxfordshire uprising against local gentry, boasting to his fellow plotters that a hundred or more were potentially willing to rise. In the end no Witney people seem to have taken part, but the attempt suggests genuine discontent, perhaps accentuated, as elsewhere, by resentment against piecemeal inclosure. (fn. 298) During renewed recession in the late 17th century the town was again 'overburthened with poor', and from the late 18th century trade fluctuations and rising bread-prices made poor relief the vestry's most pressing concern. Such problems contributed to significantly increased social tensions within the town, marked by recurrent bread riots and by steady worsening of relations between masters and journeymen, particularly in the 1790s. (fn. 299)
Such periods of conflict notwithstanding, Witney between the 16th and 18th centuries remained an ordered society, with clear social ranking and precedence based largely on commercial wealth and prestige. At a vestry in 1663 the vicar and churchwardens were asked to rectify the 'great disorder' of seating in the church by ensuring that parishioners were placed 'according to their quality', (fn. 300) while during town celebrations in 1763 to mark the end of the Seven Years War the Master and leading members of the Blanket Company, part of the town's most prosperous élite, processed around the town on horseback, preceded by a procession of tuckers on foot and by a disparate band of musicians and drummers. The town bailiffs, representing the town authorities, wore their 'white bands', the procession being completed by 'a Marshal to preserve order', and by 'two furious old warriors armed with hand grenades'. (fn. 301) By then the Blanket Company, established in 1711, had become a social forum for some of the town's wealthiest manufacturers, who 'sat around a large room at the Blanket Hall with their large wigs and walking sticks . . . with as much dignity as a House of Commons'. The Mastership was much sought after, the day of his appointment being one 'of much ceremony and oftentimes [of] anger', while the Company's annual feast, attended by up to 300 of the 'principle ladies and gentlemen of the neighbourhood,' was renowned for its consumption of venison, fowls, beef, and tobacco. (fn. 302) Other prominent master tradesmen or professionals lacked a similar corporate presence within the town, though their influence as employers and, through the vestry, as town officers presumably enhanced their local status and authority. (fn. 303) Within the Anglican community possession of private pews was another means of displaying wealth and status, and trading in pews remained widespread and controversial until the rector abolished the practice in the mid 19th century. (fn. 304) Witney during the Civil War The presence of the king's headquarters at Oxford from 1642 to 1646, (fn. 305) combined with the strategic importance of the Witney area as a gateway to Gloucestershire and the west, inevitably affected the town during the Civil War. Prince Rupert quartered there with 700 soldiers in February 1643 while returning from Cirencester to Oxford, bringing with him several hundred Parliamentarian prisoners who were kept overnight in Witney church 'in pitiful manner'. (fn. 306) Presumably they were responsible for damage to church monuments reported later, including to the Wenman family tomb. (fn. 307) The following year the Parliamentary general Sir William Waller quartered in Witney on 6 June, (fn. 308) followed twelve days later by the king, who lodged three nights at the White Hart Inn while gathering an army of some 5,000 foot and 4,000 horse, augmented with artillery from Oxford, before moving to Bletchingdon and Buckingham. (fn. 309) The Royalist army was back in November, but by December had withdrawn from the area, (fn. 310) and although the following April Cromwell was involved in skirmishes nearby, (fn. 311) the town seems to have escaped further occupation.
The disruption is reflected in the diary of the rector of nearby Ducklington, who in June 1644 reported that foot-soldiers, 'pitifully ragged and lowsy', were stealing cattle and sheep. (fn. 312) A few years later a litigant claimed, perhaps disingenuously, to have been defrauded of land in Witney, having not dared to go there 'by reason of the late king's army being quartered in those parts'. (fn. 313) Even when unoccupied the town was subject to demands for stock and ammunition. Powder and guns were delivered to Oxford in 1643, and planks, boards, and spokes for artillery trains early in 1644. (fn. 314) In June corn was being requisitioned from Witney and the surrounding area, (fn. 315) and a Witney flax-dresser later accused of supplying the Oxford garrison's match-house was pardoned by Parliament after he was certified to have acted under duress. (fn. 316) Perhaps only marginally less welcome was the presence of soldiers from the Oxford garrison at festivities such as Witney feast, when 'divers courtiers and officers . . . sung and drank themselves out of all their senses' from early morning. (fn. 317) Further uncertainty may have followed the confiscation of the bishop of Winchester's Witney property and the manor's sale to Speaker Lenthall of Burford: at a court of survey in 1647, a few years before Lenthall's purchase, the customs of the manor were presented for confirmation by prominent tenants from the townships, perhaps reflecting local concerns about tenants' and townsmen's rights. (fn. 318) Part of the manor house seems to have been demolished in the mid 17th century, perhaps by Lenthall, but there is no evidence that demolition was directly connected with the Civil War. (fn. 319)
The town seems to have been divided in its sympathies. The popularity in the 1620s of Puritan lecturers from Oxford, the presence in the 1650s of the Puritan divine John Rowe (d. 1677), and parishioners' complaints against the moderate rector Ralph Brideoake, combined with the subsequent strength of Dissent, all point to a significant Puritan element within the town, which was probably reinforced by close trade links with London. (fn. 320) The bailiffs' refusal in 1653 to allow performance of an allegedly profane and anti-Puritan play in the town hall (fn. 321) probably indicates the Puritan leanings of the town authorities, which at times may have translated into political support for Parliament: in 1643 the king was so offended with Witney inhabitants for being 'over kind to the Cirencester prisoners' that he demanded a cloth for his soldiers from every clothier, singling out for his displeasure one 'Mr Piesley', possibly the clothier Richard Peisley (fl. 1640). (fn. 322) The town as a whole was neither staunchly Puritan nor staunchly anti-Royalist, however. Stephen Brice of Witney park, son of Stephen (d. 1643), was a Royalist captain, (fn. 323) and in April 1643 Witney was said to have responded more than many local places to a call to enlist for the king. (fn. 324) In 1648 ten Witney men were reported for having lent money for the king's service at Oxford, a far higher number than from Abingdon, Burford, or Wallingford, although how many had done so willingly is not clear. (fn. 325) Certainly not all Witney's inhabitants subscribed to Puritan attitudes: festivities at Witney feast in the 1640s included dancing, singing, and much drinking, while the large numbers who attended the banned play at the White Hart in 1653, causing the floor to collapse, clearly did not share Rowe's jaundiced view of the proceedings. (fn. 326) Apart from a few partisans on both sides, many inhabitants may have adapted to changing conditions as easily as did their intruded rector Ralph Brideaoke, a former chaplain to the Royalist earl of Derby, who was appointed to Witney by Lenthall and subsequently retained his ministry throughout the Interregnum and at the Restoration. (fn. 327) Lenthall himself, who lived at Burford, seems to have had a minimal influence on Witney, and although from the 1650s town bailiffs were appointed at his annual lawday rather than at the borough court, the change probably reflected the borough court's decline rather than any political motivation. (fn. 328)
Town Politics from the Later 17th Century Despite the emergence of strong Dissent and occasional persecution, the Civil War seems to have left no lasting divisions within the town, which by the early 18th century was marked by relative religious toleration. (fn. 329) In 1669 Francis Gregory, first master of the newly established grammar school and an ardent Royalist, was involved in angry confrontations with local Dissenters at Cogges church, but seems nevertheless to have won the respect of Witney Nonconformists for his educational achievements. (fn. 330) His unpopular successor John Goole (master 1709–48) had more extreme High Church and possibly Jacobite sympathies, (fn. 331) but in that was untypical of a town which seems to have been predominantly Low-Church and Whig. In 1745 the Blanket Company agreed to raise 30 men to help suppress the Jacobite rebellion, while the Presbyterian minister John Ward urged enlistment and reportedly took up arms. (fn. 332) In the controversial Oxfordshire election of 1754, although those voting for the Old Interest included representatives of a few prominent commercial families such as the Colliers, Earlys, and Marriotts, Witney as a whole voted overwhelmingly for the Whig or New Interest candidates, the vote presumably swollen by the duke of Marlborough's position as lessee of Witney manor. (fn. 333) In 1753 Marlborough's New Interest ally Lord Harcourt treated 100 local freeholders at Witney, (fn. 334) and in 1754 Marlborough himself, probably not coincidentally, agreed to serve as High Steward of the Blanket Company, entertaining the membership at Blenheim Palace. (fn. 335) The town's radicalism was further demonstrated in 1768 and 1770, when fireworks, bonfires, and public rejoicing greeted John Wilkes's election as MP for Middlesex and his subsequent release from prison. (fn. 336)
Lords of Witney manor seem to have exercised little direct influence on the town. During a serious trade recession around 1670 an unsuccessful appeal was made to Lord Clarendon (d. 1709) for economic improvements, and in 1711 Clarendon's successor helped the Blanket Company to acquire its charter. (fn. 337) Relations with Lord Cornbury (d. 1753) may have been strained by legal action in the 1730s and 1740s, when the town bailiffs claimed independent authority over the annual court or portmoot, though in 1748 they abandoned their claim. (fn. 338)
More significant in the later 18th century was mounting social tension within the town as a result of economic fluctuation and rising bread-prices. From the 1750s rumours of threatened grain riots became increasingly common, (fn. 339) and though anger was directed primarily against local farmers who refused to lower prices, leading townsmen were sometimes targeted. In 1767 the dyer and town bailiff John Shorter received an anonymous letter accusing 'fat gutted rogues' of deliberately starving the poor so that 'they may follow hunting, horse racing &c., and . . . maintain their families in pride and extravagance', and violence was threatened against the bailiffs and their property if they failed to act. In response the bailiffs offered a reward for information leading to a conviction. (fn. 340) In 1795, a period of acute recession and unemployment in the town, Witney mobs seized and sold grain at low prices and allegedly threatened local farmers and mealmen, (fn. 341) while in 1800 riots were dispersed only after troops intervened with the support of local JPs and of the duke of Marlborough. (fn. 342) Blanket weavers and other cloth workers were involved in some of the disturbances, and relations between masters and journeymen were clearly deteriorating by the 1790s, when the Blanket Company's hostility to a planned combination to raise wages prompted anonymous death threats. (fn. 343) The overall impression is of mounting crisis, narrowly resolved by the town's economic recovery in the early 19th century, but leaving a lasting memory: as late as 1863 the blanketmanufacturer Edward Early contrasted the 'deadly feud' of 50 or 60 years earlier between weavers and farmers with current warm relations. (fn. 344)
Festivities and Social Life Despite evidence of Puritan sympathies in the town, (fn. 345) popular festivities continued throughout the 17th and 18th centuries. Revelries at Witney feast or wake, held on the Sunday following 8 September probably from the Middle Ages, (fn. 346) were said in the 1640s to include much drinking, singing, and dancing, with performances by Morris-men, fiddlers, and a bagpiper, though the musicians seem to have been from surrounding villages and may have been hired by revellers from the Oxford garrison. (fn. 347) By the mid 18th century the feast was held over two days and included races on Curbridge Downs, with the prize of a 'handsome superb cup'; (fn. 348) in the early 19th century the races 'generally ended in a donkey race from the church door to the Staple Hall [inn] and back', with 'every rider . . . placed on his opponent's donkey, and the last in . . . declared the winner'. (fn. 349) Growing numbers of annual fairs at Witney during the late 17th century and the 18th, though primarily for sale of produce, probably also involved festivities or entertainments, at least one including an open-air ox-roast by the early 19th century. (fn. 350)
A Whitsuntide hunt in the Chase woods and Wychwood Forest, joined by inhabitants of Witney, Crawley, Hailey, and other places on the fringes of the Forest, was established probably by the late 16th century as at Burford, (fn. 351) associated presumably with common grazing rights. In the 19th century the hunt was announced several weeks in advance by 'a motley procession' of fifty or more people parading through the town, blowing horns made from withy poles; on Whit Monday the hornblowers led a pack of harriers and 'almost everyone in the town' to Chase Green in Crawley, where the horns were ritually broken, before continuing into the Forest for the hunt. By the 1830s a beer cart followed the procession. Of three deer killed the first was traditionally taken to Hailey, the second to Crawley, and the third to Witney, where it was skinned, cooked, and distributed among the hunters and revellers over several days. Festivities in participating villages, and presumably in Witney itself, included Morris dancing and a 'Youth Ale', with rivalry for the antlers, head, and pieces of deerskin (worn as trophies) frequently leading to fighting among rival groups. (fn. 352) A separate Forest fair on the Wednesday following Witney feast, when large crowds gathered in the Forest for picnics, was reportedly established in the late 18th century by local Methodists, who hoped to provide more respectable entertainment; within a few years, however, speculators were providing 'refreshments', and by 1830 the fair had attained some notoriety. (fn. 353)
Much of the town's daily social life focused presumably on its numerous inns and alehouses. (fn. 354) The White Hart had a shuffle-board room in 1653, (fn. 355) and leading clothiers evidently frequented the Staple Hall Inn in the 1690s when one of them, who happened to be constable, overheard a drunken Wiltshire upholsterer expressing Jacobite sympathies in the parlour. (fn. 356) Plays and entertainments were occasionally performed by visiting troupes: the comic play at the White Hart in 1653 was staged by players from Stanton Harcourt, who had already performed it in several local villages, (fn. 357) and professional touring companies visited Witney in the later 18th century, performing at the unidentified Playhouse, Little Theatre, and New Theatre. (fn. 358) A concert at the Blanket Hall was advertised in 1774, and a backsword contest in 1762. (fn. 359) Rowdier games were presumably played on the greens as in the early 19th century, when large numbers congregated at Woodgreen on Sundays to play cricket, football, and hockey, despite occasional admonitions from more sober residents. Woodgreen was favoured partly because the parish beadle rarely patrolled so far: if he did the game was briefly suspended and 'resumed after his departure'. (fn. 360)
By the 18th century there were a few societies and celebrations reserved primarily for wealthier inhabitants. The Witney Society of Gentleman Ringers was mentioned in 1757, and performed both in Witney and elsewhere. (fn. 361) The Blanket Company's annual November feast, celebrated 'with the utmost magnificence', continued until 1798, when it was abandoned against a backdrop of war, recession, and local unrest. An accompanying journeymen's feast was ended slightly earlier, prompting long-term harassment of the Master deemed responsible, who had his garden robbed and 'was insulted in every possible way'. Tuckers' feasts in May and November seem to have been more popular affairs, the May feast being accompanied by cricket and skittles; associated drinking continued for several days according to the possibly unreliable recollections of the teetotal John Early (d. 1877). (fn. 362) The annual bailiffs' feast, recorded from the 16th century, continued until the early 20th, held at first in the town hall and latterly at the Marlborough Arms in September or October, though by the early 19th century it was viewed largely as a financial burden. (fn. 363) Dinners for those attending Witney manor court, mostly copyholders from the rural townships, were provided by the duke of Marlborough's steward twice a year in the early 19th century and presumably in the 18th, though in the 1840s they were thought too expensive and were reduced to one a year, held at the Fleece or the Marlborough Arms. (fn. 364)
Special celebrations marked the arrival in 1711 of the Blanket Company's charter, brought into town amid general rejoicing by a procession of tuckers and mounted master weavers headed by a musical band. (fn. 365) At the similar procession to mark the end of the Seven Years War in 1763 a 'numerous calvacade' of 'people of all ages, decorated with cockades', was swelled by those attending the market and fair, the festivities ending with money and bread being thrown from the market house. (fn. 366) Presumably even more memorable were occasional royal visits, reflecting the town's growing importance. Henry VIII visited at an unknown date, and Elizabeth I during a royal progress in September 1592, prompting anonymous celebratory verses exhorting townspeople to 'dance about the bonfires'. (fn. 367) James II visited in 1687, when the town presented him with a pair of gold-fringed blankets, (fn. 368) and in 1788 the Blanket Company presented George III and his family with a pair of blankets at Nuneham Courtenay following a visit to Oxford. (fn. 369)
The Industrialized Town, 1800–1900
Mechanization transformed the town's social structure, creating by the 1840s a sizeable population of wage-earning factory workers reliant on dominant blanket-manufacturers such as the Earlys, Colliers, and (later) the Smiths and Marriotts. Outside the blanket industry a broad range of shopkeepers, innkeepers, craftsmen, and farmers, typical of a prosperous manufacturing and marketing town, continued to employ significant numbers, though none employed nearly as many as the principal blanket-manufacturers, of whom some had over a hundred workers by the 1850s. The transition to mechanization and factory wage-labour, beginning during a period of social conflict and of prolonged crisis in the blanket industry, was not achieved painlessly: introduction of the spring-loom and of mechanized factory-spinning met at first with suspicion or hostility and caused widespread distress among rural spinners, while many weavers in the 1830s still had difficulty adapting to the rigid requirements of the factory system. By then the radical changes of the past few decades seem nevertheless to have been broadly accepted, the effects mitigated partly by the blanket industry's recovery and expansion and partly by apparently genuine paternalistic concern for their workers among leading masters. (fn. 370)
The town's social and political life was increasingly dominated by the principal blanket-makers, by prosperous tradesmen and retailers such as the Bartletts, Leas, and Tarrants, and by a few prominent doctors, lawyers, and bankers such as the Batts, Ravenors, and Clinches. (fn. 371) As earlier, many of the most influential townsmen were Wesleyan Methodists, but relations with the Anglican community usually remained good, and rectors such as Charles Jerram (1834–53) and Francis Cunningham (1864–79) reinvigorated the Church's role in the town, promoting social and educational initiatives often in partnership with Dissenters. (fn. 372)
Leading townsmen were united in their desire, typical of the period, to improve the town's amenities and increase its prosperity, and to raise the moral tone of the populace. As early as the 1780s the 'clergy and principal inhabitants' established Sunday schools for the 'reformation and conversion of the lower classes', (fn. 373) and in the 19th century Nonconformist factory-owners such as the Earlys paid much attention to the moral condition of their workers, promoting education and religious instruction, encouraging thrift, and in particular discouraging drunkenness, in contrast to their Gloucestershire counterparts who were alleged not to care 'how drunk a man is if the work is done'. The blanket-maker John Early (d. 1877) admitted threatening drunken workers with dismissal, but offered positive encouragement by advancing money to teetotal employees; he also pressed for creation of allotments, which, he believed, increased family income, encouraged 'industry and a respectful feeling of independence', and which was one of the best ways of 'emptying the beer shops'. The masters' influence was increased by direct contact with their workers, again in contrast to Gloucestershire, where weavers reported that going before a master was 'as bad as . . . going before a judge', and where the foreman was 'a snake at his master's side'. In Witney, where foremen were not used and where firms in the 1840s were small enough for a master to know most of his men, such contact seems to have fostered a genuine mutual regard: some migrant Gloucestershire workers in the 1830s preferred to stay in Witney even though wages there were lower, the masters being 'so very different . . . with regard to kindness'. (fn. 374) Influences sometimes worked both ways: John Early (d. 1877) was converted to teetotalism by one of his spinners, (fn. 375) while the career of the blanket-manufacturer William Smith (d. 1874), who began as an errand boy for one of the Earlys, demonstrates that social mobility was possible, although clearly Smith was exceptional. (fn. 376)
The somewhat idealized account of master-worker relations given to government commissioners in the 1830s, though in part substantiated by employees, (fn. 377) was balanced by uncertain employment, long hours, rigorous factory discipline, and the cramped insanitary conditions in which many of the poorest inhabitants lived until the early 20th century, (fn. 378) while in 1837 several masters, among them three of the Earlys, were reported for contravening the Factory Act by failing to certify that employees under 13 years of age had received two hours' daily schooling. (fn. 379) Nevertheless, by the 1840s the moral agenda of employers, Dissenters, and churchmen was apparently yielding results. In 1838 the chief constable reported that inhabitants were 'more quiet and orderly' than a few years earlier, when fighting and disorder had been commonplace; churches and chapels were better attended, weavers and their children were respectably turned out and well behaved on Sundays, and for two years there had been no need of a night watchman. John Early was more emphatic, alleging that from being 'a drunken, loose, profligate place' Witney had become 'a little paradise'. The shift was ascribed primarily to 'close Sabbath instruction', the attention given to education, and the 'example and precept' of the masters, not least in discouraging drinking, and throughout the century leading townsmen continued to promote educational and social facilities for the working population, while discouraging rowdier elements of popular culture such as the Whitsuntide hunt. (fn. 380)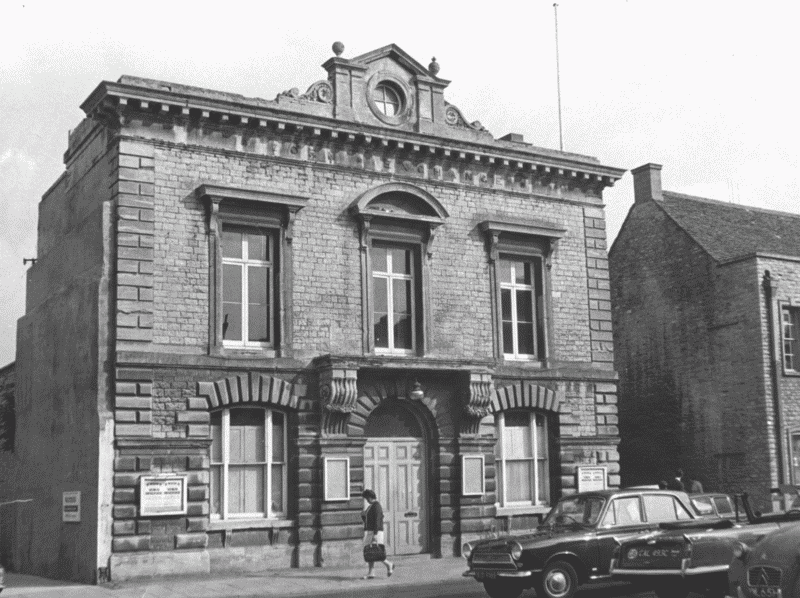 In other respects, too, the 19th century saw gradual improvements in the town's amenities, reflecting both economic success and growing civic pride. A town newspaper, the Witney Express, was established by the local stationer James Shayler in 1861, followed in 1866 by the Witney Telegraph and in 1882 by the Witney Gazette. (fn. 381) The Corn Exchange (Fig. 30), built in 1863 by a private company whose directors included James Clinch and Edward Early, not only provided a modern market house and social centre to replace the derelict town hall, but was seen as 'a necessity of the age' and a visible sign of Witney's determination to keep up. (fn. 382) The longdelayed opening of the railway two years earlier was similarly marked by widespread public celebrations throughout the town. (fn. 383)
Clubs, Societies, and Social Life The moral preoccupations of employers and clergy were manifested throughout the 19th century in the promotion of clubs, societies, and amenities aimed at 'improving' the working population. Chief among them was the Temperance Society, jointly supported by leading employers, Dissenters, and Anglican clergy, and established by the 1830s or 1840s. (fn. 384) The society met regularly, at first in the former blanket hall and later, amongst other places, in the Corn Exchange and in the former Independent chapel on Marlborough Lane. Monthly musical evenings were mentioned in the 1860s, and in the early 1880s, when the Methodist blanketmanufacturer Charles Early and his son James were respectively president and treasurer, there were large open-air events: on August bank holiday 1883 up to 1,400 people processed from Church Leys to the Earlys' field at Newland for games and sports, and a Blue Ribbon mission in the Corn Exchange a few months later secured 279 new pledges. (fn. 385) A related initiative was the establishment in 1880, by the rector W. F. Norris, Charles Early, and other prominent townsmen, of the Witney Coffee Tavern Company, to provide a teetotal refreshment house. Shares were fixed at a level affordable to workmen, and the Company subsequently bought the New Inn at No. 2 Market Square, which continued as a coffee tavern and as the Temperance commercial hotel in the early 20th century. (fn. 386) A crowded public meeting in the Corn Exchange in 1889 voted unanimously for closure of public houses on Sundays. (fn. 387)
A mechanics' institute, established in 1838 with 160 members, was given free use of the town hall and blanket hall for lectures, the Blanket Company also supplying a reading room. The rector lectured to the institute that year, but it was not mentioned later and presumably foundered. (fn. 388) A reading society formed in 1853, again with the involvement of Charles Early, seems to have been chiefly a Methodist group, and was evidently distinct from the Witney Working Men's Reading Room and Library opened by the Temperance Committee in 1869. (fn. 389) Pressure for a public library was unsuccessfully exerted by the energetic station master Edward Smitheman (d. 1886), who, driven by a desire to 'elevate the tastes . .. and improve the condition' of his fellows, started several clubs and societies during his 17 years at Witney. (fn. 390)
Other working men's clubs were founded by religious groups. A Wesleyan branch of the YMCA founded in 1850 had nearly forty members, and a branch of the Church of England Working Men's Society founded in 1888 had over thirty; an apparently separate Church workman's club established the same year, also open to Dissenters, acquired 150 members. (fn. 391) A Boys' Brigade associated with the Wesleyan chapel was founded in 1902. (fn. 392) A 'church house' opened about 1899 in rented premises at No. 5 Church Green, with a young men's social club downstairs, proved highly successful, perhaps because the rector recommended giving members as much control as possible. In the early 20th century it included billiards, reading, and smoking rooms, with a large hall above for parish business and for meetings of the Windrush Lodge of Freemasons; a new purposebuilt church house near the rectory house was built about 1911 and continued in the 1930s, but was sold in 1968. (fn. 393) A non-denominational working men's institute at No. 52 High Street, rented from James Vanner Early, was opened in 1901, and also included smoking, reading, and games rooms. (fn. 394) Educational provision was extended throughout the 19th century both by reforming Anglican rectors and by Dissenters, and in the 1890s the headmaster of the Wesleyan school was instrumental in promoting adult education in technical and science subjects. (fn. 395)
Friendly and benefit societies were recorded from the late 18th century, and were often supported by leading townsmen and religious groups. The Witney Provident Society, based at the Staple Hall Inn, had 140 members paying 5d. a quarter in 1788, when its treasurer was the surgeon Edward Batt. (fn. 396) Friendly societies at the Cross Keys, the Royal Oak, and the Kings Arms were established in the 1780s and 1790s, and in 1802–3 there were four societies with 335 members. (fn. 397) Later societies, based at various inns and in one case at the blanket hall, included a lodge of the Oddfellows, of which William Early was chairman in the 1840s, while the Christian Mutual Aid Society, founded in 1882, was based at the Wesleyan chapel and school. (fn. 398) Besides benefits to members most societies provided annual social gatherings: in 1856 the annual meeting of the Union Benefit Society at the Holly Bush Inn included a 'convivial' dinner provided by the landlord, with songs and recitations by members and friends, while in 1897 the Oddfellows held an ox-roast at Church Green. (fn. 399) More sombre was the Witney Benevolent Society, founded in 1819 by Witney Methodists to raise money for distribution to the poor; recipients received compulsory spiritual instruction, the society's literature anticipating 'the pleasure of witnessing . . . the tear of contrition steal down the cheek'. (fn. 400) A medical club for those on weekly incomes of 20s. or less existed about 1880, (fn. 401) and an association providing nursing care for the poor was established by the rector and a ladies' committee in 1888. (fn. 402)
Leading townsmen also established more polite societies. The Witney Athenaeum, founded in 1851, hosted lectures, concerts, and social events such as a picnic in Cokethorpe Park in 1873, when 67 members each paid a guinea subscription; from 1863 the society had a reading room in the newly built Corn Exchange, stocked with national and local newspapers. The Witney Natural History and Literary Society, founded in 1858, similarly staged public lectures, and had a museum exhibiting fossils, birds' eggs, stuffed animals, and archaeological finds, also in the Corn Exchange. Both societies were run by leading manufacturers, tradesmen, and professionals including members of the Early, Batt, Dutton, and Clinch families, and enjoyed patronage from local gentry such as Walter Strickland of Cokethorpe Park, James Mason of Eynsham Hall, and the duke of Marlborough. (fn. 403) A choral society was formed in 1875 and re-established about 1895, when it had 124 chorus members, 25 orchestral players, and 16 honorary members, performing large-scale works by Haydn and Handel; the society proved popular, though summer attendance was undermined by the growing popularity of recreational cycling. (fn. 404) A thriving chess club existed by 1879, (fn. 405) and a horticultural society was started in 1868, partly to encourage cottagers in the cultivation of their gardens. (fn. 406)
Organized sports were also promoted by employers and churchmen, perhaps partly in the hope of ending the rowdy and anarchic games popular at Woodgreen and elsewhere in the early 19th century. (fn. 407) A cricket club existed by 1853, a recently formed tennis club was mentioned in 1879, and in 1885 the blanketmanufacturer William Smith and his sons were instrumental, with the Marriott family, in founding Witney Town Football Club, which played at Marriott's Close west of High Street. (fn. 408) Smith, a great sportsman, also organized a Witney feast cricket-week, sometimes inviting distinguished players such as W. G. Grace and Gilbert Jessop. (fn. 409) In 1892 the rector W. F. Norris bought the Leys as a recreation ground 'to encourage manly games for the people', expressing the hope that his successors would promote cricket and football. (fn. 410) A golf club was founded in 1898, with a course outside the town by Oxford Road; when refounded in 1906 it had around 70 members, and acquired a larger course at Cogges Hill. (fn. 411) Public bathing, too, became regulated: in 1865 the town's local board recommended providing changing facilities to prevent the 'indecencies constantly . . . seen' at Langel common, and in 1870 it banned daytime swimming between Witney bridge and Farm Mill, instituting fines for 'persons exposing themselves in a state of nudity' within a hundred yards of the river. (fn. 412)
Several brass bands existed during the 19th century, often promoted by employers and religious groups. 'Mr William Early's band', presumably a mills band, existed by the 1840s, and about 1850 the Temperance Society set up a uniformed brass band which played regularly both at town festivities and at Temperance events around the country; it acquired a national reputation, achieving second place (above the well known Black Dyke Mills band) in a competition at Crystal Palace in London in 1861. (fn. 413) Though disbanded in the 1870s it was succeeded around 1880 by the Bridge Street Mills band, promoted by the blanket-manufacturers William and Harry Smith, whose father William (d. 1874) had been prominent in the Temperance band. (fn. 414) A town band was mentioned in 1881, and continued throughout the 20th century. (fn. 415)
Major town celebrations marked such events as the marriage of the Prince of Wales or the opening of the Witney railway. To celebrate the end of the Crimean War in 1856 a committee was formed 'of a greater part of the tradesmen of the town', each of whom subscribed two guineas; tents and a bandstand were erected at Church Green, and after a procession of town and workhouse children carrying flags and banners 'the whole of the poor' were treated to a dinner of roast beef, plum pudding, and beer, followed by toasts, addresses by the rector and the Wesleyan minister, and distribution of tobacco, snuff, and ale. Though recalled as 'the most interesting holiday for Witney in . . . memory' the day was a genteel affair, the blanket-maker William Smith noting with satisfaction that 'not a single case of intoxication was seen the whole day'. (fn. 416) After the opening of the railway, excursions became common: from the 1870s Smith began regular trips for his workers, at first to Brighton and later further afield, while in 1902 Early's employees enjoyed an excursion to Weymouth. Annual summer trips were organized in the later 19th century by the station master, and in the early 20th by the prominent retailer W. H. Tarrant. (fn. 417)
Traditional festivities still included Witney feast, transformed by the later 19th century into a large pleasure fair held on Church Green over two or three days, and attended both by locals and by outsiders brought in on special trains. (fn. 418) Some festivities were suppressed, however. In the early 1850s the Witney solicitor Daniel Westell, acting as the duke of Marlborough's steward, tried unsuccessfully to end the 'objectionable Whit Monday hunt' while negotiating Crawley's inclosure, and though the right was thought still to exist in 1858 it had not been exercised for some years and was evidently discouraged. Any residual claims were presumably ended by Wychwood's disafforestation and the Chase wood's clearance soon after, which similarly ended the September Forest fair. (fn. 419) Regular fights on 5 November between youths from the 'upper' and 'lower' town, claimed to have been 'in full swing' at the start of the 19th century, seem also to have died out. (fn. 420)
Town Politics The prevalence of Dissent presumably contributed to the continuation of Witney's broadly liberal politics: in the county elections of 1831 only 23 per cent of electors voted for the Tory candidate Lord Norreys, compared with 53 per cent in Bampton hundred as a whole, while in 1862 under 20 per cent voted for the Conservative J. W. Fane. (fn. 421) In 1837 the Whig candidate Thomas Stonor, as a Roman Catholic, was warned to expect 'bigoted cries of no popery' in Witney as elsewhere, but nevertheless secured over half the votes cast, winning support from leading Nonconformists such as John and Edward Early. (fn. 422) The Earlys' Liberal sympathies continued into the 20th century when James Harold Early stood unsuccessfully as a Liberal candidate in North Oxfordshire, while his grandfather Charles (d. 1912), a dominant figure in the town, was remembered both as a philanthropist and leading businessman and as a 'lover of civil and religious freedom'. (fn. 423) Conservative voters in the 1860s nevertheless included such prominent figures as the blanket-maker Horatio Collier, the schoolmaster Henry Gregory, and the surgeon Edward Hyde, and in 1882 the Witney and Bampton Conservative Association held its inaugural banquet at the Corn Exchange. (fn. 424)
Internal politics generally revolved around local issues rather than party allegiance, among them the pressing problem (until 1834) of poor relief, sporadic but untypical disputes between Dissenters and Anglicans over church rates or education, and in the later 19th century controversy over inadequate and unsanitary drainage and sewerage. (fn. 425) That last issue prompted strong criticism of the local board in the early 1870s, and in 1897 a chairman of the urban district council resigned, calling Witney 'a town divided against itself' and claiming that those 'clamouring against the council' and frustrating its plans would be to blame if the town incurred huge expense. (fn. 426) Elections to the board and later to the urban district council, though usually involving candidates from the same close-knit group prominent in other aspects of town life, were sometimes acrimonious. During elections in 1871 the blanket-manufacturer William Smith was anonymously accused of making 'a fever nest for the town' by 'cheap conversion of rotten old stables into dwellings for his factory hands', charges which he strongly denied, claiming that poorer voters were his chief supporters. Attempts to install the defeated candidates Augustine Batt and W. H. Tarrant because they were high ratepayers prompted further controversy: Smith called the attempt 'an invidious distinction between rich and poor', stating that while he had 'no desire to see democracy rule' he nevertheless hoped that 'the voice of the poor might be heard'. Other prominent ratepayers objected to the calling of public meetings to settle the issue, believing that the board should fill its own vacancies. (fn. 427) Despite such disputes the town continued to be run by the traditional town élite. An unusual challenge by a 'labour candidate' in 1910, standing on the slogan of 'Witney work for Witney men', was defeated after councillors cited their success in completing drainage and water schemes, while simultaneously reducing annual rates. (fn. 428)
Industrial relations, after the difficulties associated with mechanization in the early 19th century, seem generally to have remained good, thanks in part to close relations between master and worker: in the 1830s it was claimed that they shared a feeling of common interest, the masters attempting to minimize unemployment during times of depression, and the latter taking what work was available 'thankfully and quietly', while both avoided undercutting over wages. (fn. 429) The Witney curate and JP John Hyde, with other Witney 'gentlemen', helped suppress local riots against the New Poor Law in May 1835, during which mobs gathered outside the Crown Inn in Market Square where some of the rioters were temporarily held. Most ringleaders seem to have been from surrounding villages, however, and the disturbances had no lasting impact on the town. (fn. 430)
The Earlier 20th Century
Until the Second World War Witney remained a small town dominated by established employers and particularly by the blanket companies, (fn. 431) of which most remained family businesses with a marked paternalistic ethos. During the 1920s and 1930s the Earlys introduced profit-sharing, savings, and health-care schemes, promoted housing development through the Witney Mills Housing Society, and developed leisure facilities for their workers; the Witney Mills Cricket Club was started in the 1920s, and a company football club and social club in the 1950s, with a club house built largely by members. (fn. 432) Works outings were revived in the 1930s, when 500 mill workers went to Brighton. (fn. 433) Leading townsmen continued to participate in local life: justices of the peace included the grocer Ernest Tarrant, the blanket-manufacturers William and Harry Smith, and several of the Earlys, while James Vanner Early became Witney's first county councillor. Many of the same people served as school governors, or on the urban district council. (fn. 434) The Earlys' continuing adherence to strict Methodist principles undoubtedly influenced their personal conduct and occasionally their relations with employees, but there is no evidence that employment was ever directly dependent on religious affiliation. (fn. 435)
A Witney branch of the Workers' Union was formed in 1913, when a meeting in the recently opened cinema at Market Square was addressed by speakers from the Lancashire Workers' Union and Ruskin College, Oxford; the branch had its own band, and seems to have included numerous women members. Despite pressure for a minimum wage the union insisted that it existed 'to raise the standard of the working classes, not to create any ill-feeling', and relations with employers seem generally to have remained good. A strike at New Mill in 1919, noted as 'a bad day' by C. W. Early, arose chiefly from rivalry between the Witney branch of the Workers' Union and the Textile Workers' Union rather than from industrial conflict, and was soon resolved, (fn. 436) though in 1936 most of the 400 workers at Smith and Philips' Bridge Street and Crawley mills went on strike following dismissal of a foreman and union activist, prompting large numbers to join the Transport and General Workers' Union. (fn. 437)
Provision of social amenities fell increasingly on the urban district council, (fn. 438) which from 1904 rented the Leys recreation ground and in 1920 bought it outright, providing a bowling green, tennis courts, football, rugby, cricket, and hockey pitches, and deckchairs. A new pavilion was built in 1939, and a second recreation ground at Newland opened in 1935. An open-air swimming baths in the river Windrush was also run by the UDC, and by the 1930s a small public library was run in partnership with the county council, staffed by volunteers, and housed at first in the old fire station on High Street and later in the Corn Exchange. (fn. 439) Witney's first cinema, the Electric Theatre (Fig. 32), was opened at No. 31 Market Square about 1913 as a private enterprise, with seating for 400 and separate entrances for 'different classes of patrons'; in its early days a trio of musicians accompanied the films, and played at dances in the town hall. (fn. 440) Before 1921 it was renamed the People's Palace, and was rebuilt and enlarged in 1933. (fn. 441) A second cinema at the west end of Corn Street, housed in a large corrugated-iron building, was opened about 1920, but seems to have closed by the early 1930s. (fn. 442) Other amenities were developed at Witney airfield following its abandonment by the RAF in 1919. An indoor tennis court was opened in a former hangar in 1922, and in the 1920s horse racing and motorcycle racing was held there. Air displays were staged in the 1930s following its reopening as an aerodrome, and a new mess building for the Witney and Oxford Aero Club, founded in 1934, was completed in 1937. (fn. 443)
Other clubs and societies in the 1930s, besides various sports clubs, included a strong Women's Institute, a British Legion, a Young Men's Social Club based at Church Green, and a Red Triangle Club with clubrooms on High Street, which held whist drives, concerts and lectures. The town band gave open-air summer concerts, and a Witney and District Music Festival, which originated as a fund-raising event about 1923, continued until the Second World War, run at first by the choir master of the Methodist chapel with the involvement of Witney grammar school and Oxford colleges. (fn. 444) An annual July carnival, sponsored at first by the British Legion, was started in 1928, and Witney feast continued as a September pleasure fair, transferred to the Leys from Church Green around 1904 or 1905. (fn. 445) Other festivities included May Day processions, when schoolchildren at West End and presumably elsewhere paraded carrying poles decorated with spring flowers. (fn. 446)
Witney in Wartime Except for the stimulus given to the blanket industry by large government orders, (fn. 447) the First World War affected Witney little differently from many other small towns. Members of all social classes enlisted, of whom 157 were killed. From 1914 the Witney Volunteer Corps drilled at the Corn Exchange, and regular troops were intermittently stationed in the area for much of the war, some of them billeted in the town. Belgian refugees were also accommodated, and in 1917 children evacuated from London were blamed for disruption at the National school. German prisoners of war were billeted for a time at the Fleece Hotel, and others at the former workhouse on Tower Hill, which was requisitioned by the government. (fn. 448) Of more lasting impact was the building of Witney aerodrome, constructed between 1916 and 1918 mostly by German prisoners and Portuguese labourers accommodated at the workhouse. The airfield had only a short operational life, hosting training squadrons from March 1918, but the British, American, and Canadian servicemen stationed there fraternized freely with townspeople: joint social events included a sports meeting at Marriotts Close, baseball on Church Green, whist drives at the Corn Exchange, and dances at the town hall, for which RAF servicemen secured an American jazz band from Didcot. (fn. 449)
As elsewhere, peace was marked by public festivities and parades. A captured German aircraft was displayed in Market Square in March 1918 in aid of War Bonds Week, and in 1919 a captured German field gun given to the town as a war trophy was placed under the town hall until a permanent site could be found. (fn. 450) A war-memorial cross was erected on Church Green in 1920, and the same year the urban district council used a public war-memorial fund to purchase the Leys, still occupied by the military, as a recreation ground. (fn. 451)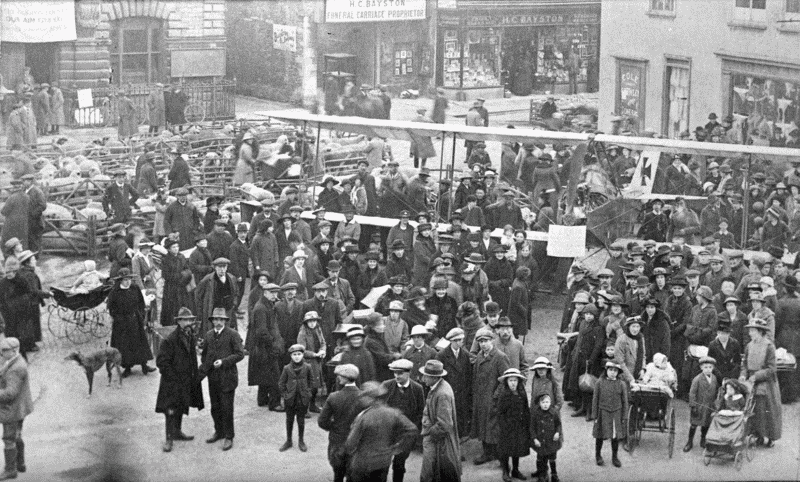 The long-term impact of the Second World War, which brought to the town new engineering firms relocated to escape the Blitz, was far greater, helping to create the infrastructure for Witney's post-war development: in particular the aircraft company De Havilland developed a major repair factory at the aerodrome site, while some other manufacturing firms were requisitioned and temporarily converted to other uses. (fn. 452) In addition, Witney again suffered the disruption experienced by most towns. Some 400 evacuees were billeted in the area by September 1939, for whom Christmas parties were staged at the Corn Exchange and Drill Hall, and during 1940–1 Witney grammar school shared its premises with the pupils and staff of Ashford grammar school in Kent. A concrete air-raid shelter was constructed at Church Green and a Civil Defence headquarters was established at Woodgreen, the military requisitioning parts of the grammar school grounds, Marriotts Close, the Mount House, and the Corn Exchange, where a social centre was set up in 1941 chiefly to entertain soldiers. Despite the presence of the De Havilland factory Witney escaped attack, though two stray bombs fell at Church Green in November 1940 causing damage to houses and to Clinch's brewery, and in 1942 a crashing RAF aeroplane struck the church spire. Less seriously, a civil defence exercise involving the Home Guard caused some 'discomfiture' to inhabitants when tear gas was released in Mill Street. Thirty-five Witney inhabitants killed on active service were subsequently commemorated on the war memorial. (fn. 453)
The Modern Town: Witney from 1945
From the Second World War the growth of new industry, combined with planning decisions, transformed Witney from a small industrial and market town primarily reliant on blanket-manufacture into a larger commercial centre with a diverse and fast-growing population. (fn. 454) As early as 1962 the new Windrush Valley housing estate, built for workers at Smiths' engineering works on the former aerodrome site, was said to be a 'town within a town . . . psychologically light years distant from the old Witney', populated chiefly by incomers with little experience of small-town life, and with its own shops, public house, and church; contact between the new and old communities was allegedly minimal, leading to a decline in social activities and apathy in local elections. (fn. 455) Since some housing-estate residents were former De Havilland employees the claim may have been exaggerated, (fn. 456) but in succeeding decades intensive house-building, the disappearance of oldestablished family firms, and greater economic diversity effectively destroyed the relatively small, cohesive community which had persisted in the interwar years. The process was compounded by the dissolution of the urban district council in 1974, transferring most aspects of town government to outside bodies. (fn. 457)
The town's rapid growth necessitated provision of extensive new amenities, which from the 1960s increasingly raised controversial planning issues. (fn. 458) New buildings on Welch Way, erected by the county council in the mid 1960s, included the town's first official branch library, which at its opening was evidently expected to serve also as a day-centre for the elderly. (fn. 459) A new health centre nearby was completed soon after, (fn. 460) and a swimming pool east of High Street, opened in 1973, was incorporated into more extensive sports and leisure complexes a few years later, after planning disputes were resolved. (fn. 461) A Territorial Army drill hall east of Market Square, built in 1926 for the Oxfordshire and Buckinghamshire Light Infantry, was bought by the urban district council about 1968 for use as a social centre, and was extensively remodelled in 1979 as Langdale Hall, with a ballroom capable of holding 200 people; the Corn Exchange, renovated about the same time after many years lying semi-derelict, accommodated smaller meetings as well as arts and social groups, and in 1992 a cinema was opened there following conversion of the nearby Palace Cinema into a night-club. (fn. 462) New halls, schools, churches, and recreation grounds for expanding suburban areas were constructed throughout the period, and by 2000 Witney had a range of clubs, societies, and activities appropriate to a town of over 20,000 people. (fn. 463) Long-standing clubs included Witney Town Football Club, which moved to a new stadium off Downs Road in 1992 after its original ground, at Marriott's Close, was sold for development; though disbanded in 2001 the club was refounded as Witney United the same year. (fn. 464) Cricket continued to flourish, particularly at the Witney Mills club, which became prominent in local league cricket and hosted Oxfordshire County matches, while an annual knockout competition on the Leys attracted numerous spectators. A history and archaeology society was founded in 1977, stimulated partly by concern over recent demolition of the workhouse, and in 1996 it opened a small museum off High Street. (fn. 465) The town band continued in 2000, as did traditional festivities such as Witney feast. An annual Arts week was launched in 1988. (fn. 466) Tourism in and around Witney was being promoted by the 1930s, and formed part of planning briefs in the 1980s and 1990s. (fn. 467)
Town politics were dominated in the 1970s and 1980s by often acrimonious disputes over planning and redevelopment of the town centre, (fn. 468) and in the 1990s there was prolonged controversy when West Oxfordshire District Council blocked the sale of houses on the Windrush Valley estate to tenants, since it contained a third of social rented houses in Witney; the tenants were supported by the local Conservative MP and government minister Douglas Hurd. (fn. 469) Conservatives were consistently returned in parliamentary elections as earlier, though that did not necessarily reflect views within the town, since the constituency included large rural areas within West Oxfordshire district. (fn. 470) In county council elections the town returned both Labour and Conservative representatives in the 1990s. (fn. 471)