Pages 77-88
A History of the County of Oxford: Volume 14, Bampton Hundred (Part Two). Originally published by Victoria County History, London, 2004.
This free content was digitised by double rekeying. All rights reserved.
ECONOMIC LIFE 1500 TO 1800
From the 16th century Witney's economy was dominated by its expanding cloth industry, already unrivalled within the county and marked, from the early 17th century, by increasing specialization in blankets and other broadcloths. (fn. 1) Thenceforth until the 20th century its economic fortunes were closely linked to those of the woollen and cloth industries nationally, although it retained the range of occupations typical of a small, prosperous market and industrial town. Throughout the period some 35–40 per cent of recorded trades in the borough were associated with the cloth industry, with small artisans, retailers, and building trades accounting for some 25–30 per cent, butchers, bakers, and victuallers for 15–20 per cent, and agricultural occupations for around 10 per cent. (fn. 2)
In the early 16th century Witney was a small but expanding town of probably under 1,000 inhabitants, with at least as many again living in its rural townships. (fn. 3) Its taxable wealth in 1524 placed it behind only Oxford among local market towns, though of just over £55 paid by 62 Witney taxpayers, some four-fifths came from the prominent woolstapler and merchant Richard Wenman (d. 1534), emphasizing the concentration of wealth in a few hands. In terms of the number of taxpayers Witney ranked much lower, behind Chipping Norton and Eynsham as well as more obvious rivals such as Burford, Bicester, or Abingdon (then Berks.). Even by the 1540s and 1550s, when wealth within the town was more evenly spread, it still lagged slightly behind Burford both in numbers of taxpayers and total assessed wealth, although average wealth per person in Witney was by then slightly higher. (fn. 4)
Buoyed by the presence of wealthy wool merchants and by a growing manufacturing industry the town was nevertheless emerging as an important regional and market centre. In the mid 16th century it was described as a 'great market town . . . replenished with much people', (fn. 5) and despite temporary setbacks caused by plague in the 1590s and by occasional downturns in the cloth industry, by the 1660s it had outstripped its immediate rivals to become the chief market and population centre for west Oxfordshire: within the county only Oxford, Banbury, and Henley had larger populations. (fn. 6) The number of surviving 17th-century trade tokens from Witney, biased towards the cloth and blanket industry but also representing bakers, innkeepers, chandlers, and drapers, implies economic vitality, (fn. 7) while average individual wealth, though low compared with some counties, was fairly typical for Oxfordshire towns, lower than in Bicester but substantially higher than Banbury. (fn. 8) New building, much of it cottages for weavers and other small craftsmen, suggests an expanding economy and population, (fn. 9) and immigration during the 16th and early 17th century, particularly from Wales and the west, is suggested by new surnames and by occasional references in wills, as when a Witney weaver left bequests to his 'natural mother' in Feckenham (Worcs.) in 1550. (fn. 10) Apprenticeship indentures nevertheless imply that long-distance immigration was probably limited, with most apprentices in the 16th century and later drawn from the town or immediate area. (fn. 11)
From the 17th century Witney maintained its dominant regional position, notwithstanding fluctuations both in its cloth and blanket industry and in local trade generally. Around 1670 trade recession prompted inhabitants to petition the earl of Clarendon, then lessee of the manor, to alleviate the 'low condition of this poor town', citing the need for more markets and fairs, for improved navigability of the river Windrush as far as the Thames, and for more 'settled government' to exclude outsiders and regulate trade. (fn. 12) In the 1690s ratepayers again alleged that trade was dead, provisions dear, smallpox rampant, and the cost of maintaining the poor too great, with an 'abundance' of poor labourers needing employment. (fn. 13) By the early 18th century the blanket industry had evidently recovered, though from mid century rising food prices, and in the 1790s the impact of the French wars, prompted further crises, marked by severe unemployment, sharply rising poor rates, and bread riots. Conditions improved only with the blanket industry's recovery in the early 19th century, as piecemeal mechanization transformed the town's industrial organization. (fn. 14)
The Cloth and Blanket Industry to 1711 (fn. 15)
By the early 16th century, following an apparent acceleration in local cloth manufacture from the 1460s, (fn. 16) Witney was attracting wool merchants of whom some, in wealth and size of operation, were broadly comparable with the well known entrepreneurial clothiers of Suffolk, Wiltshire, and Berkshire. (fn. 17) Thomas Fermor's widow Emmot, previously married to the local woolman Henry Wenman, (fn. 18) evidently continued trading in wool and cloth, and died extremely wealthy in 1501: (fn. 19) debts owed her, worth over £1,000, point to dealings both with prominent London traders and mercers, (fn. 20) and with Italian merchants such as the Bonvisi family of Lucca, (fn. 21) while wool stocks in her 'wool houses' at Witney and in Northleach (Glos.) were together valued at over £500. A 'store' left to Emmot by Thomas Fermor may also have been a wool store, perhaps implying a continuation of the bishop's policy of using Witney as a centre for collecting wool, while Emmot's possession of six 'unwrought' broad cloths points to trading in unfinished cloth and perhaps involvement in manufacture. (fn. 22) Emmot's eldest son Richard Wenman (d. 1534), a Merchant of the Staple, was equally wealthy, leaving lands at Witney, Caswell, Cogges, and Lew: in 1524 he was taxed on goods worth over £860, a sum unrivalled within the county and comprising some 78 per cent of Witney's total assessment. (fn. 23) From the later 16th century wool merchants on this scale largely disappeared from Witney, to be replaced by smaller but still wealthy clothiers and master weavers more directly involved in local manufacture. (fn. 24) Probably the last prominent Stapler was Edward Wilmot (d. 1558), an incomer associated with the Wenmans, who was Witney's wealthiest taxpayer in 1544 when he was assessed on goods worth £60. Besides interests in Southampton and lands in Gloucestershire he had dealings with Calais Staplers such as the Johnson brothers, to whom he lent £1,000 in 1544. (fn. 25)
The Witney industry's chief product in the 16th century appears to have been the undyed broadcloth which then dominated the country's export trade, although narrow cloths and linen were apparently also made. (fn. 26) Cloth production may have been affected by the loss of the market at Antwerp in 1563, but demand was presumably still expanding in the 1580s when Thomas Box built a new fulling mill in Hailey. (fn. 27) Other leading fullers or clothiers acquired mills in surrounding villages: the clothier Peter Rankell owned Underdown (otherwise Beard or Berry) Mill in Standlake in 1595, and in 1600 the Bishops owned Cassington Mill, both of which were possibly adapted for fulling. (fn. 28) In the 1590s the town nevertheless suffered temporary setbacks through plague and poor harvests, reflected, perhaps, in the alleged involvement of Witney inhabitants in a failed west Oxfordshire uprising against the gentry in 1596. (fn. 29) National difficulties in the cloth industry in the early 17th century presumably also affected the town: successful debt recoveries in the borough court declined in the early 1600s, and the court's failure to combat such difficulties has been suggested as one possible cause of its demise. (fn. 30)
Specialization in the blankets with which Witney became identified does not appear to have occurred until the early 17th century, and was probably a response to such difficulties: as such it formed part of a broader national trend following the disruption and collapse of the export market in undyed English broadcloth in the early 17th century, and the subsequent growth in 'new draperies'. (fn. 31) Blankets, a specialized form of broadcloth made from coarse fell wool, were listed earlier amongst items of bedding in the inventories of Witney townspeople, (fn. 32) and in 1584 one of the Colliers of Witney, perhaps the clothier John Collier (fl. 1565–94), sold 30 blankets to the earl of Leicester, then lessee of Witney manor. (fn. 33) From the 1620s and 1630s prominent Witney clothiers increasingly owned large quantities of blankets and blanket-yarn, (fn. 34) and in 1641 Witney manufacturers petitioned the House of Lords specifically as blanket-weavers, (fn. 35) though not until the 1680s did they begin routinely to call themselves blanket-makers. (fn. 36) Witney's previous concentration on broadcloth may have provided expertise, created the necessary loom-capacity, and helped clothiers to identify potential markets, but there is no other obvious reason why Witney should have become so closely associated with blanket manufacture. Robert Plot, describing the industry in 1677, mentioned only the Windrush's supposed suitability for scouring, a 'peculiar loose way of spinning' on which he failed to elaborate, and recent improvements in dye-fixing, allegedly invented by an 'ingenious' Witney inhabitant; by then the town was already 'the most eminent in England' for blanket-making, producing not only 'famously white' blankets, but also other specialized heavy broadcloths including dyed duffields, cuts for hammocks, wednel for horse-collars, and tilt-cloths for barges. (fn. 37) Rugs were also mentioned, (fn. 38) and in 1716 unscoured Witney cloths used for waterproof coverings or clothing were mentioned in a poem by John Gay, implying that they were widely known. (fn. 39)
In large part the industry's continuing success was due to securing new markets. Besides the international trade represented by merchants such as the Fermors, Wenmans, and Wilmots, (fn. 40) London connections were important throughout the 16th century, and so remained. Witney clothiers selling cloth at Blackwell Hall in London in the 1560s included members of the Collier, Bishop, Jones, Rankell, and Yate families, (fn. 41) and several 17th- and 18th-century successors had cloth or blankets warehoused there. (fn. 42) In the 1670s weekly carts brought raw wool from the capital and returned with Witney duffields and blankets, some of them for sale on the domestic market; (fn. 43) by then, however, Witney manufacturers had also established markets in Africa and North America, presumably exporting primarily through London. Red- and blue-dyed blankets and duffields were traded for beaver-skins with the native Americans of Virginia and New England, who wore them as loose coats, and the establishment in 1670 of the Hudson Bay Company increased export opportunities: the Company ordered 45 pairs of Oxfordshire (presumably Witney) blankets in 1681, although Witney manufacturers seem not to have forged strong links with the Company before the 1730s. (fn. 44) Trade with Africa is implied in a petition by Witney clothiers in 1694 on behalf of the Royal African Company, complaining that threats to the Company's monopoly were damaging local industry. (fn. 45)
Since ships usually set sail in spring such markets may, as in the 18th century, have provided valuable winter employment, complementing the more usual summer work geared to the domestic market. (fn. 46) Even so, the Witney industry seems to have experienced varied fortunes during the later 17th century. Plot implied temporary disruption to the North American trade caused by problems with native Indians, (fn. 47) and local recession and unemployment in the 1670s and 1690s presumably reflected difficulties in the blanket industry as in other trades. (fn. 48) The recession had apparently been overcome by 1709 when the Witney blanket-weavers, seeking incorporation, claimed that production had increased by two-thirds within living memory, largely through the reputation of Witney blankets in foreign markets. (fn. 49) Some 10,000 people, including carders and spinners in surrounding villages, were then claimed to be dependent on the industry, and though the figure was presumably inflated the total may well have approached 5,000 allowing for part-time and seasonal work. (fn. 50)
The Organization of the Cloth and Blanket Industry
Less wealthy than the prominent merchants who dominated the town in the early 16th century (fn. 51) were townsmen chiefly concerned with manufacture: clothiers, weavers, and finishers including fullers, tuckers, shearers, and dyers. By the mid 16th century, and until the beginnings of mechanization in the early 19th, the various processes were largely organized by the clothiers and master-weavers, who bought raw wool and put it out to cottage spinners, placed woven cloth with fullers and finishers, and usually marketed the finished product. They remained, however, working craftsmen, usually operating at most four or five looms each with the help of apprentices, family members, and sometimes wage-labour: in this they resembled the small working clothiers of Yorkshire rather than their counterparts in Wiltshire and the west of England, who were primarily traders and large employers of labour. (fn. 52) Prominent 16th-century clothiers included members of the Yate, Temple, Gunn, Jones, and Rankell families, some of them long-established in the town, others relative newcomers. In wealth they were sometimes equalled by other tradesmen, but were nevertheless substantial townsmen who frequently served as town officers: Leonard Yate (d. 1554) and Robert Temple (d. 1568) were respectively taxed on £20 and £16 in 1524, placing them fourth and fifth out of 62 taxpayers, while in 1576–7 Peter Rankell, who served several times as bailiff, paid on £38, the highest assessment in the borough. (fn. 53) Walter Jones (d. 1560), a newcomer taxed on £16 in 1558-9, (fn. 54) was fairly typical of wealthier clothiers, at his death owning five looms in his house and in an adjoining workshop, a share in the lease of the recently established fulling mill at Crawley, and lands and houses in Witney and elsewhere; he also made bequests to several apprentices, and to his 'poor spinners and weavers' in Witney and surrounding villages. (fn. 55)
Seventeenth-century successors, among them the half dozen clothiers issuing trade tokens from the 1670s, (fn. 56) worked on a similar scale: in 1686 the moderately prosperous blanket-maker Francis Bedford had a loom in his weaving house, wool and yarn in his wool and warping houses, blankets 'in the tucker's hands', and debts owed him in London, (fn. 57) while the wealthier Joseph Selman (d. 1692) had at least two looms, with large quantities of yarn and wool in Witney and cloth in London. (fn. 58) The industry's organization remained unaltered: during the 16th century there were around 36–40 clothiers operating, and in the 1670s around 60 with an estimated 150 looms in all. (fn. 59) Not all producers were entirely dependent on cloth, however, the possession of looms, wool, and yarn by some 17th-century innholders implying occupational diversity, and illustrating the part-time nature of some of the manufacturing process. (fn. 60)
Distinct from the masters and clothiers were poorer broadweavers who worked at least partly for wages. Some had their own looms, among them a weaver with goods worth £8 in 1560 who had built his own, (fn. 61) but others apparently had no equipment and presumably worked for the masters in their homes or shops. Occasionally clothiers hired out looms, Henry Jones leasing one for four years with a shop in 1577. (fn. 62) Other middling weavers owned two or three looms and presumably had their own employees or apprentices, (fn. 63) but lacked the capital which allowed wealthier clothiers to store large quantities of yarn, wool, and finished cloth ready for sale. The wealthy Anthony Yate (d. 1630) had cloth, yarn, and coarse wool together worth £77, besides three looms and other equipment, while Richard Budd (d. 1641) had wool, cloth, and yarn worth £180. (fn. 64)
Fullers and others involved in finishing cloth formed a separate group in Witney, contracted by the clothiers and weavers. In the 1590s Thomas Box agreed to dress 10 cloths a week for the Rankells at his 'tuck mills' (probably New Mill), where he reckoned to earn £100 a year in dressing cloth, (fn. 65) while in 1686 the blanket-maker Francis Bedford had 38 pairs of blankets at the tucker's. (fn. 66) Like the weavers, fullers ranged from prominent and wealthy lessees of fulling mills such as the Boxes or Bishops (alias Martins) (fn. 67) through to working craftsmen, responsible for various aspects of the finishing process: equipment mentioned in 16th- and 17th-century fullers' wills included fuller's earth for scouring cloth, tentering racks (usually near the fulling mills) for stretching and drying it, and shears and shearboards for trimming the nap of fulled cloth, while other fullers presumably worked for wages at the water-powered mills. (fn. 68) Dyers formed another specialist group, and were sometimes wealthy: the dyer Richard Humfrey (d. 1570), apparently a sheep farmer, (fn. 69) was the town's second wealthiest taxpayer in 1544 and served several times as bailiff, (fn. 70) though another dyer in 1602, perhaps a small wage-earner, left goods worth only £9. (fn. 71) Specialization was not rigid, however. Several leading clothiers held fulling mills in Witney manor or elsewhere, (fn. 72) or were related (often through marriage) to local fullers, sheep farmers, or fellmongers. (fn. 73) In 1692 the wealthy blanket-maker Joseph Selman owned a weaving shop, shear shop, dye shop, and wool house, together with tenters at New Mill, an early example of semi-integrated production. (fn. 74)
By far the largest group involved in manufacture, however, were cottage spinners in Witney and surrounding villages, who by the late 18th century were reportedly spread over a 14-mile radius and extended certainly into Gloucestershire. (fn. 75) Several clothiers' inventories mentioned yarn 'with the spinners', (fn. 76) and in 1631 two Witney clothiers rented a poorhouse in Northleach (Glos.), where they undertook to employ the Northleach poor in weaving and spinning for the 'usual' Burford and Witney rates. (fn. 77) Several of the poorer Witney weavers owned cards and spinning wheels, (fn. 78) and in 1632 a female Witney orphan was apprenticed by the town to learn 'housewivery', spinning, and carding. (fn. 79) In 1677 Robert Plot estimated that the Witney industry employed at least 3,000 poor 'from 8 years old to decrepit old age', a figure which, given his assertion that they worked 100 packs of wool a week, (fn. 80) may not be greatly exaggerated: in the early 18th century it was reckoned that one pack (240 lbs.) would employ up to 35 women and girls a week in carding and spinning, with others employed in sorting, cleaning, and winding. (fn. 81) Wages fluctuated, (fn. 82) though not all such people were necessarily at subsistence level. A Witney widow in 1696, apparently a time of economic difficulty in the town, asserted that she was 'not so very poor, . . . her house well furnished, and commonly being able to earn by spinning and carding with her two daughters 8s. or 9s. a week', although her possession of a rent-free house and garden was unusual. (fn. 83)
Wool supplies came from local flocks and, certainly by the 17th century, from further afield. (fn. 84) In 1549 ten sheep farmers were taxed on over 2,200 sheep within Witney manor, (fn. 85) and in the 1540s Richard Bryan of Cogges contracted to sell all his wool annually to the Witney wool merchant Edward Wilmot. A Kelmscott farmer was owed payment from a Witney broadweaver for wool in 1600. (fn. 86) Presumably wool came also from the Cotswolds, and by the late 17th century fell wool was reportedly brought from as far as Canterbury, Colchester, Norwich, and Leicester, collected in London and carted to Witney once a week. (fn. 87) In the mid 18th century the finest wools were said to come from Herefordshire and Worcestershire, and the coarsest, used for making coarse bearskins, from Lincolnshire. (fn. 88) Alongside the woolmen and clothiers Witney fellmongers and tanners played an important role in wool distribution. The fellmonger Richard Early, related to prominent blanket-makers, left £30-worth of coarse and fine wool in 1707, while a glover in 1690 left over £50-worth. (fn. 89)
Some early clothiers or their families were directly involved in sheep-farming, those taxed on flocks of 200 or more in Witney parish in the 1540s including members of the Wenman, Box, Humfrey, and Bishop families, all involved in cloth manufacture. (fn. 90) Prominent Witney clothiers continued to lease inclosed assart in Hailey in the 17th century, (fn. 91) and several held lands elsewhere, including leases of local rectory estates acquired perhaps in part for the wool tithe. (fn. 92) Even lesser craftsmen sometimes kept sheep, a narrow-weaver in 1621 (with possessions worth £31) having a flock of sixty-two. (fn. 93)
Regulation of the industry was largely local and informal before the mid 16th century. Cloth searchers and sealers, required under legislation of 1552, were appointed in the borough court from the 1560s, but apparently presented transgressions elsewhere, perhaps before the Quarter Sessions. (fn. 94) Apprenticeship was enforced by legislation of 1555 and 1563, though in Witney apprenticeships to clothiers were recorded earlier; most indentures recorded in the borough court book were for terms of between 4 and 11 years, with the usual conditions. (fn. 95) Occasionally weavers or fullers were indicted for practising without having served an apprenticeship, but informal apprenticeships between father and son probably continued. (fn. 96) Calls for greater regulation were made intermittently throughout the 17th century: in 1627 the clothier John Clarke left £6 13s. 4d. towards obtaining a corporation for the town, and in 1640 the Commissioners of Trade included Witney among 60 clothing towns where it was believed incorporation would help combat fraudulent craftsmanship, while around 1670 'settled government . . . for the better and more orderly preservation of trade' was included in a petition by townspeople to the earl of Clarendon. (fn. 97) By contrast, Witney blanket-weavers petitioned in 1641 against royal patentees who for 30 years had inspected and sealed blankets at increasingly exorbitant rates, (fn. 98) and a contemporary view that Bicester's economy had benefited from its lack of a corporation may well have been shared by some at Witney. (fn. 99) Certainly the absence of restrictive guild practices may have contributed to the industry's success during the 16th and 17th centuries.
The Blanket Weavers' Company
The case for stricter regulation was revived in 1709 when 80 leading blanket-makers, alleging that fraudulent practices were increasing and threatening foreign and domestic markets, petitioned for the right to form a corporation. (fn. 100) The Witney Blanket Weavers' Company was accordingly established by royal charter in 1711, an unusually late date for a body organized on traditional guild principles. (fn. 101) Its purpose was to regulate and control the numerous small independent manufacturers operating both within the town and within a 20-mile radius: a narrower jurisdiction, it was claimed, would merely 'depopulate the town', encouraging weavers to move 'up or down river, where they could work as deceitfully as before'. (fn. 102)
Officers, all of them leading blanket-weavers, comprised a Master and two Wardens, elected annually, and a body of Assistants (usually between eight and twenty) appointed for life. The honorific office of High Steward was held usually by lessees of Witney manor. Ordinary membership comprised the 'commonalty' of blanket weavers, who paid a quarterly fee. (fn. 103) From 1719 membership was compulsory, no non-members being allowed to practise as blanket-weavers within the Company's area of jurisdiction. (fn. 104) The Company's courts passed bylaws specifying the dimensions and weight of different types of blankets, issued rules for taking apprentices and employing journeymen, and exacted fines for non-compliance; all blankets manufactured within the Company's jurisdiction were to be presented at its premises for inspection and sealing, on payment of a compulsory 'hallage' fee. (fn. 105) The Company supported members in other ways, lending money at interest, offering rewards for apprehension of thieves who stole blankets from fulling racks, and occasionally paying fines imposed in London for contravention of trading regulations. (fn. 106) For much of the 18th century it also leased two London warehouses for members' use and appointed a salaried keeper, who was always a prominent Witney blanket-weaver and who acted as metropolitan agent for his fellows. (fn. 107) The Company had its own seal (Fig. 36), incorporating motifs long common in other textile guilds and used in earlier local trade tokens. (fn. 108)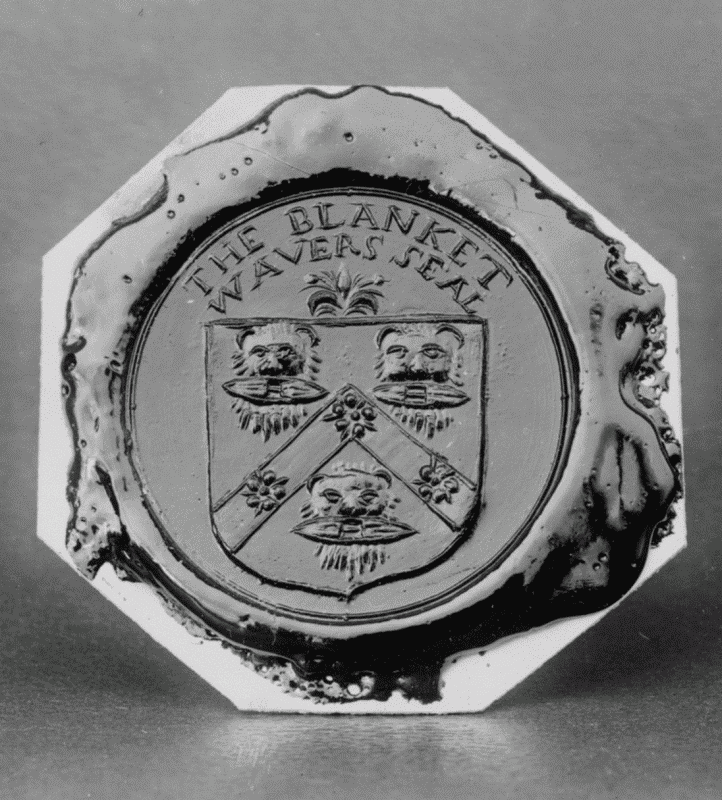 During its first few decades the Company proved popular: by 1712 membership comprised 56 master weavers and 48 journeymen, rising to 79 masters and 41 journeymen by 1719, and, despite a gradual decline from the mid 1720s, membership remained reasonably stable until the early 19th century. (fn. 109) The Mastership was often fiercely contested, though four Assistants refused to attend in 1729, perhaps because the office was becoming more onerous. (fn. 110) At first meetings were held in the Staple Hall Inn, and a barn on the west side of High Street was used as a blanket hall, (fn. 111) but by 1720 the Company was sufficiently prosperous to erect a purpose-built hall on High Street, completed by late 1721. (fn. 112) There was, however, occasional opposition to the Company's regulation. In 1729 a wealthy clothier insulted the Master in open court, and in 1739 a small group refused to cooperate, allegedly intending to 'break the charter of incorporation'. (fn. 113) The Company successfully vindicated its rights before the Oxford Assizes, though in the mid 18th century there were again accusations that 'great quantities of deceitful and insufficient blankets' were being taken from fulling mills to manufacturers' houses 'privately and clandestinely . . . in the night time' to avoid hallage fees. The Company imposed fines of £5 against offenders, half to go to anyone providing information within six months. (fn. 114)
The Cloth and Blanket Industry 1711–1800
In other respects the industry's organization, centred on around 60–80 master weavers, (fn. 115) remained essentially unaltered until the end of the 18th century. Of around 60 master weavers in 1788 some ran between five and eight looms each, and one had ten, but most still owned two or three, very similar to the pattern a century earlier. (fn. 116) Among larger manufacturers John Wiggins (d. 1719), a founder member of the Blanket Company, left goods worth over £700 including large quantities of yarn and wool, blankets in Witney and London, and two workshops, and at his death was owed over £400 in debts. (fn. 117) Thomas Dolley (d. 1763), town bailiff in 1732 and (like many prominent weavers) a town feoffee, made cash bequests of over £550, leaving 'all the looms' and a house and workshop near the bridge to two sons. (fn. 118) Like their 16th-century predecessors the prominent manufacturing families formed a tight-knit group, often intermarrying, (fn. 119) frequently maintaining their prosperity through several generations, (fn. 120) and sometimes, like the Earlys, Marriotts, or Colliers, founding long-lasting blanket-making dynasties. (fn. 121) Widows sometimes continued their husband's business, hiring apprentices and joining the Company: in 1724 Robert Collier left his wife a house in Burford and a loom in case she should 'wish to carry on the clothing trade', though the Company seems never to have included more than half a dozen women at any one time. (fn. 122)
The number of wage-earning journeymen and apprentices is uncertain. In 1768 Arthur Young reported a total of 500 weavers in Witney, which, assuming two weavers to a loom, may not have been much exaggerated but implies some unemployment. (fn. 123) The Blanket Company tried to limit the number of apprentices, both to maintain standards and to protect journeymen's employment prospects, but many masters seem to have continued to employ more than one apprentice alongside family members: thus in 1730 a master who worked one loom with two apprentices and another with his wife was fined for failing to hire an unemployed journeyman. Employment nevertheless varied with fluctuations in the blanket industry, and in 1763 the Blanket Company reduced its penalties for employing more than one apprentice in response to 'flourishing' trade. (fn. 124) Occasionally apprentices or journeymen were able to set up independently. Thomas Early (d. 1733), the first of the Early blanket-makers, was left the business of his childless former master, (fn. 125) and in the mid 18th century some journeymen were allegedly supported by local entrepreneurs who supplied equipment and materials and took a share in the business. The Blanket Company condemned the practice in 1759, claiming that since such financiers were not qualified weavers they contravened the Company's charter. (fn. 126)
Fullers, tuckers, and dyers continued to form a separate group contracted by master-weavers, and were not usually members of the Blanket Company. (fn. 127) As earlier, however, some masters were more closely involved in the finishing processes: thus the blanket- and carpetmaker Anthony Collins (d. 1779) had interests in fulling mills in Witney and at Signet (in Burford parish), owned wool houses and weaving shops on Corn Street (on the later Swan Laundry site), and employed spinners in Bampton. (fn. 128) Throughout the 18th century the Blanket Company contracted for racking or tentering of cloth on behalf of its members, giving it some control against fraudulent practices, though racking through the Company seems never to have been compulsory, and many masters presumably still made their own arrangements. (fn. 129) Yarn was still supplied by domestic spinners working for individual masters, (fn. 130) supplemented in the late 18th century by contracts with local poorhouses: in the 1770s and 1780s arrangements were made with parish officers in Oxford, Standlake, Bicester, and Burford, (fn. 131) and 'spinning houses' in Milton, Wootton, Combe, and Bampton where Witney blanket-makers had wool in 1744 and 1778 may similarly have been poorhouses or workhouses. (fn. 132) The Witney bridewell had spinning wheels and cards in 1766. (fn. 133)
Products and markets remained broadly similar to a century earlier: in 1768 Arthur Young reported largescale export of coarse blankets (kearseys and bearskins) to North America and Canada, with finer blankets exported to Spain and Portugal. (fn. 134) Exports through the Hudson Bay Company seem to have increased from the early 18th century, regular contractors including the blanket-weaver James Empson (d. 1769), succeeded by his widow and son. (fn. 135) Most manufactures, whether for export or the home market, still passed through London: in the early 18th century several Witney masters were fined there for selling direct to customers, and in the 1760s four or five waggons a week carried blankets from Witney to London. (fn. 136) Blankets may also have been exported from Bristol, since attendance at Bristol fair was one of the few reasons allowed for officers' absence from Blanket Company courts. (fn. 137) Trade listings in the 1780s suggest some specialization among blanketmakers, most concentrating on blankets and duffields, but some on 'coatings', tilts, 'coverlids', or saddleclothing. (fn. 138) Regulations for new products, such as the cabin-blankets introduced for use at sea in the early 18th century, were occasionally laid down by the Company. (fn. 139)
Overall production, as indicated by annual hallage fees, seems to have slowly increased from the 1760s, though there were pronounced short-term variations whose effects, from the mid 18th century, were exacerbated by rising prices and occasional grain shortages. (fn. 140) An insurrection threatened by Witney blanket-weavers in 1766 was averted only after farmers lowered corn prices, (fn. 141) and in 1784 a 'fracas' between the Blanket Company and its journeymen, presumably over wages, was ended through the mediation of a magistrate. (fn. 142) The French wars of the 1790s, like earlier conflicts, brought mixed fortunes: (fn. 143) in 1792 demand could hardly be met, but in 1793 an observer reported that 'the looms at Witney scarcely go' and that many were seeking work. (fn. 144) The following year the Blanket Company acted against an alleged combination to raise wages, prompting anonymous death threats to 'two or three in particular of the masters'. (fn. 145) Witney people were involved in grain riots in 1795 and again in 1800, when local JPs reported 'stagnation' and widespread unemployment which could 'only be obviated by government or other extensive orders for blankets'. (fn. 146) Despite such serious short-term difficulties, and an implied worsening of relations between master and journeyman, there is nevertheless no evidence of underlying problems in the industry, which within the next few decades was transformed and re-invigorated by mechanization.
Other Trades and Industries, 1500–1800
Witney retained the range of occupations typical of a prosperous market town. The largest group after cloth-workers, as might be expected in a town whose population by 1800 exceeded 2,500, (fn. 147) were suppliers of food and drink: victuallers, maltsters, butchers, bakers, and (later) grocers. Many other tradesmen were connected with wool supply or were dependent on cloth, in particular fellmongers and leather-workers (including tanners and shoemakers), and retailers such as drapers, tailors, and mercers. The only other sizable group between the 16th century and the late 18th were building workers (4–5 per cent), while less numerous crafts- and tradesmen included several chandlers, a few blacksmiths, coopers, and wheelwrights, and one or two ironmongers or metal-workers. (fn. 148) Nearly all such occupations produced a few wealthy and prominent inhabitants: bailiffs in the 16th century and still in the 18th included roughly proportionate numbers of fellmongers, tanners, chandlers, mercers, tailors, victuallers, and bakers, alongside the more numerous clothiers and blanket-makers. (fn. 149) 'Service' occupations such as those of barber, gardener, and carrier or carter were mentioned throughout, and particularly from the 18th century there was a small but prominent group of professionals including lawyers and surgeons or apothecaries, some of whom also served as bailiff. (fn. 150) A tenth of inhabitants over the period called themselves husbandmen or yeomen, and were presumably farmers working land outside the borough, (fn. 151) though some of the better-off also owned town property including, in one case, a public house. (fn. 152)
Food and Drink Butchers and bakers included some moderately prosperous townsmen, several of whom employed apprentices or servants, and owned and sublet town property. Two master bakers in 1544 were taxed on goods worth £10, placing them well above a broad range of craftsmen and labourers who were taxed on £2 or less, while in 1639 the butcher Stephen Collier's goods were worth £150 including livestock at Hailey. (fn. 153) In the 18th century successive members of the Druce family were prosperous butchers, renting pasture outside the borough, letting houses within it, and serving several times as bailiff and as town feoffees. (fn. 154) Comparable were prosperous bakers such as Walter Beechey (d. 1762) (fn. 155) or Richard Morris (d. 1787), who moved to Witney from Kidlington about 1741 and was bailiff ten years later. (fn. 156) By the late 18th century some bakers sold bread to surrounding villages as well as within the town; (fn. 157) regulation of both trades was effected through the borough and manor courts and through apprenticeship, two weavers in 1759 being prosecuted for practising as bakers without being indentured. (fn. 158) A few small retail grocers, some active in town affairs, were also recorded from the late 17th or early 18th century. (fn. 159) A grocery shop near the town hall was mentioned in 1772, (fn. 160) and by the 1790s the town had at least four grocers besides nine bakers and six butchers. (fn. 161) A few fishmongers were recorded in the 16th century but not later. (fn. 162)
Other purveyors of food and drink included innkeepers and victuallers, and, at a lower level, alehouse keepers and tipplers. The latter were regulated in the 16th century by the borough court, and were usually reliant primarily on another trade. (fn. 163) Larger innkeepers, besides providing food and lodgings, sometimes also practised additional trades or small-scale farming, or acted as agents and dealers, (fn. 164) and included some prosperous townsmen. Job Townsend (d. 1763) of the Staple Hall Inn left goods worth £450, mostly furnishings and foodstuffs, though hay and 28 a. of crops accounted for £100, and a house and workshop were let to a Witney dyer. (fn. 165) Several innkeepers were bailiffs, (fn. 166) and in the 1780s another was sheriff's officer. (fn. 167) Most inn- or alehouse keepers brewed on the premises, as did other tradesmen occasionally, (fn. 168) but wine was presumably imported from London or elsewhere: in the 1530s a London ironmonger supplied a Witney tavern-keeper with Gascon wine, (fn. 169) and a London wine merchant owned property in Witney in the 1760s. (fn. 170) By the later 18th century some Witney innkeepers and brewers sold ale elsewhere, one of the Bolton family, maltsters, brewers, and licensees, supplying up to sixteen Oxford colleges in the 1790s, chiefly by undercutting Oxford rivals. (fn. 171) By then there were up to 40 licensed victuallers in the borough, with at least another three at West End or Woodgreen, though by 1820 the number had fallen to little over twenty. (fn. 172)
Commercial malting was undertaken both by innkeepers and by farmers and other tradesmen. The White Hart Inn had a 'malting room' in the 1650s; (fn. 173) the tanner and wool dealer Thomas Taylor (d. 1583) sold malt, (fn. 174) and in 1744 the wealthy currier Walker Middleton had malt valued at over £320, far more than his leather goods. (fn. 175) From the 17th century there were also several specialized maltsters, many of them prosperous: Christopher Paxford's goods, including over £100-worth of malt, were worth £131 at his death in 1728, while a maltster ten years later made bequests of silver buckles and a silver snuff box. (fn. 176) By the 1740s and probably earlier Witney maltsters sold malt in London, transporting it down river by barge. (fn. 177) In 1759 twelve maltsters were prosecuted for evasion of excise duties, and around 1790 there were some seven maltsters and brewers in the town. (fn. 178)
Leather, Metal, and Crafts Among leather-workers the wealthiest were tanners and curriers, trades requiring high capital investment. In the 1540s the tanners Thomas Taylor (d. 1549) and William Gunn were each taxed on £20, roughly equivalent to leading clothiers, and in 1583 Taylor's son Thomas left goods worth over £400. (fn. 179) In 1744 the currier Walker Middleton's assets were reckoned, exceptionally, at over £1,000, although his wealth, like Taylor's, derived largely from other activities; in particular he was owed debts of over £800 by numerous creditors in Witney and the surrounding area, many of them probably unconnected with his leather trade. (fn. 180) Numerous fellmongers, closely involved with wool supply, (fn. 181) included a few moderately prosperous townsmen such as Edward Ashfield (d. 1662), (fn. 182) with goods worth £127, John Palmer (d. 1712), who issued a trade token and later called himself gentleman, (fn. 183) and Thomas Smith (d. 1757), who owned land and several houses and made bequests of over £400. (fn. 184) Most fellmongers were much poorer, one in 1695 leaving goods worth only £13 including skins, leather, and wool; (fn. 185) as such, he was closer to leather-craftsmen such as shoemakers, breeches-makers, and a few glovers, who in the 17th century rarely left goods worth more than £20-£25. (fn. 186) Wealthier leather-workers usually owned property or were involved in fellmongering or other trades, like the wealthy cordwainer Henry Dorne (d. 1785), bailiff in 1772, who owned houses, workshops, and an inn in Witney, and a farm at Westcott Barton. (fn. 187) Several leather-workers nevertheless had apprentices, and several served as bailiff. (fn. 188)
A few other small craftsmen practised semi-rural trades, notably those of blacksmith, cooper, and wheelwright, while a few metal-workers included pinmakers and a tinplate-maker. (fn. 189) Examples were recorded intermittently from the 16th century to the 18th, but none were wealthy. More prosperous were tallow-chandlers, recorded fairly frequently, of whom two issued trade tokens in the later 17th century. (fn. 190) Like many other craftsmen they often practised more than one trade: Thomas Ring (d. 1558), taxed on £20 in 1544, had land in Hailey and Crawley, while Thomas Poole (d. 1616), with goods worth £147, was also a maltster, and John Young (d. 1700) was also an innkeeper. (fn. 191) Two chandlers recorded in the 1790s were also soap-boilers. (fn. 192) Lowinterest loans to Witney tradesmen for fixed terms, from charitable bequests left for that purpose, benefited many such crafts- and tradesmen throughout the period. Recipients of one such bequest in the early 17th century included a blacksmith, chandler, mason, labourer, hempdresser, and barber, as well as weavers and a clothier. (fn. 193)
The bell founder Henry Bagley seems to have had a forge at Witney between around 1710 and 1741, though the firm's main foundry was at Chacombe (Northants.), with a few temporary furnaces elsewhere. A bell made by Bagley for Witney church in 1732 was presumably forged in the town. (fn. 194)
Retail Trades Generally wealthier than Witney's small craftsmen were its retailers, in particular those associated with the cloth industry such as mercers, haberdashers, and drapers. In the late 16th and early 17th century mercers and haberdashers such as Richard and William Clempson (d. 1602 and 1608) or Walter Dalton were taxed on as much as or more than leading clothiers, reflecting an apparent expansion in retailing since the early or mid 16th century; (fn. 195) William Clempson occupied a 'mansion house', made bequests exceeding £400, and had trade links with London and surrounding villages, while Richard had interests in both Witney and Abingdon. (fn. 196) Several mercers, drapers, or tailors issued trade tokens in the mid 17th century, (fn. 197) while the mercer Michael Bishop or Martin (d. 1668), from a family of fullers and clothiers, left goods worth over £100, including merchandise worth £33, agricultural produce, and property in Corn Street and West End. (fn. 198) Prominent 18th-century mercers included Edward Witts (d. 1754), twice bailiff, who had a shop and warehouse adjoining the town hall, rented Farm Mills, and was a general dealer, chapman, and wool-dealer. (fn. 199) In contrast to such people were poorer working tailors, of whom one in 1616 left goods worth less than £5, though some had apprentices. (fn. 200) The inventory of Thomas Young (d. 1742) suggests the sort of wares sold by a prosperous 18th-century draper and dealer: haberdashery included quantities of cambric, dowlas, damask, silk, cheesecloth, and other fabrics, with cotton and velvet caps, gloves and women's mittens (including women's kid gloves), ribbons, stockings, handkerchiefs, tablecloths, shoe-linings, and buttons. Goods in the house, possibly for sale, included wax, tapers and candles, thread, paper, pens and pencils, gunpowder, sugar, and weavers' brushes, and a tobacco house contained tobacco worth £17. (fn. 201)
Several clockmakers, watchmakers, and jewellers were recorded from the 18th century. A watchmaker opened a shop near the Crown Inn in 1764, while in 1770 a travelling Jewish pedlar trading in jewellery and silks set up as a jeweller and watch-mender at both Witney and Woodstock. (fn. 202) Other retailers included ironmongers, of whom some sold a range of goods: one in 1784 was an ironmonger, grocer, cheesemonger, and bacon-dealer. (fn. 203) Also recorded from the 16th century were one or two barbers, of whom one had a small shop near the town hall in the early 17th century. (fn. 204)
Building Trades The largest service trade was building, employing mostly masons and carpenters with a few plasterers, glaziers, and slaters. (fn. 205) None were especially wealthy, though a few, particularly carpenters, owned property: in the late 16th century the carpenter Roger Wheeler (d. 1602) bought and sublet houses at West End, High Street, and Corn Street, (fn. 206) while others in the early 18th century sublet houses on Corn Street and near the market place. (fn. 207) The carpenter Thomas Carter was also a timber merchant, who in 1720 sold boards and trees worth £110 and who was owed money in London, (fn. 208) while a carpenter in 1784 was also an auctioneer. (fn. 209)
Small-scale quarrying continued around Corn Street and in Curbridge and Hailey, (fn. 210) though no quarryworkers were explicitly noted within the town. Some masons and slaters had dealings with quarries further afield, a Shilton quarrier suing a Witney slater for debt in 1579. (fn. 211)
Gentry, Professionals, and Servants Up to 5 per cent of inhabitants during the period called themselves gentlemen, some of them owning substantial town property, (fn. 212) although most were in fact successful and possibly retired traders, manufacturers, farmers, or professionals. (fn. 213) Thus the clothiers Thomas Collier (d. 1685), Thomas Dolley (d. 1763), and John Collins (d. 1796) were all called gentlemen, as were the fellmonger John Palmer (d. 1712) and the farmer John Harris (d. 1737). (fn. 214) There was also a small but important professional group comprising surgeons or apothecaries and (slightly later) lawyers, catering for the more prosperous inhabitants. Surgeons were mentioned from the 1680s, (fn. 215) and throughout the 18th century there were usually three or four at any given time, among them successive members of the Collier, Trimnell, Leverett, and (from the 1740s) Batt families. All were substantial figures, often owning town property and playing an active role in town affairs. (fn. 216) A counsellor-at-law was mentioned in 1639, (fn. 217) while the lawyer James Gray (d. 1791) served as manorial steward for the duke of Marlborough and as clerk to the Blanket Company from the mid 18th century, besides practising privately. (fn. 218) By the 1780s and 1790s the town had three resident lawyers in all. (fn. 219) By then the chief manufacturers and tradesmen were beginning to use banks in London and Oxford, and in the 1790s the Witney Bank was established by members of the Batt family and others; the bank issued its own notes, featuring an engraving of a sheep. (fn. 220)
Domestic servants, as in the 19th century, presumably comprised a significant proportion of the population throughout the period, but are poorly documented. (fn. 221) Many of the servants mentioned in the 16th century and later were apprentices, though both male and female domestic servants were mentioned frequently in the wills of more prosperous inhabitants: the clothier Nicholas Ifield (d. 1587) had at least one man-servant and two maids, (fn. 222) while a chandler's house in 1616 contained a maids' and a boys' chamber. (fn. 223)