Pages 1-7
A History of the County of Oxford: Volume 15, Bampton Hundred (Part Three). Originally published by Victoria County History, London, 2006.
This free content was digitised by double rekeying. All rights reserved.
CARTERTON, MINSTER LOVELL, AND ENVIRONS
THE EIGHT predominantly rural parishes covered in this volume (fn. 1) lie in west Oxfordshire between the market towns of Burford and Witney. Southwards they border on the upper Thames valley; northwards they extend to the Windrush valley and to the southern fringes of the former Wychwood Forest, cleared in the 1850s. The only urban centre is the 20th-century town of Carterton, which was founded as a colony of smallholders around 1900 and which, after the Second World War, developed into one of the largest towns in Oxfordshire, chiefly through its connection with the neighbouring military airbase at Brize Norton. Another smallholding colony, Charterville, was founded in Minster Lovell parish by the Chartist Feargus O'Connor a few decades earlier, but remained a rural settlement. The area as a whole is predominantly one of nucleated villages set, until the 18th or 19th centuries, within large open fields and commons, of which most were inclosed by Acts of Parliament between 1767 and 1839. (fn. 2) Parishes in the north, bordering Wychwood, retained extensive woodland until the mid 19th century and were in part shaped by medieval assarting, though in other respects they, too, fitted the general pattern, remaining focused on long-established nucleated settlements with their own open fields.
The landscape, bounded north and south by the two river valleys, is for the most part flat or gently undulating, rising from around 68 m. by the Thames to around 120 m. near the Thames-Windrush watershed. The Windrush valley itself is in places deeply incised, dropping sharply to the valley floor at around 90 m., and on its north side climbing to nearly 140 m. at the furthermost edges of Asthall and Minster Lovell parishes. The only watercourses apart from the rivers are minor brooks and streams, among them Shill, Highmoor, and Black Bourton brooks, Little Clanfield brook, and an unnamed stream flowing south through Fordwells in Asthall parish. Some, notably Shill brook, were powerful enough to drive corn mills, and several formed stretches of ancient parish boundary. (fn. 3) The underlying geology is complex, comprising chiefly river gravels (with a few patches of Oxford Clay) in the south around Clanfield and Black Bourton, bands of cornbrash around Kencot, Carterton, and Brize Norton, and Forest Marble and White Limestone further north around the Windrush. Alluvium marks the courses of the river valleys and of the larger streams, though only the river valleys provided plentiful meadow, prompting allocation of shares in Thames-side meadows among several local parishes probably before the Norman Conquest. (fn. 4) The area as a whole (except for Minster Lovell) lay by 1086 within Bampton hundred, whose origins and institutional history are discussed elsewhere. (fn. 5)
Settlement
Both the Windrush and the Thames valleys were intensively settled from an early date. (fn. 6) Neolithic and Bronze-Age artefacts have been found across the area, and possible barrows, ring-ditches, or henges have been identified (many from cropmarks) in Asthall, Alvescot, Black Bourton, and Clanfield. In Asthall some Neolithic finds came from areas which were later wooded, until their clearance in the 19th century. From the mid 1st century the Roman Akeman Street cut across the area's northern edge, crossing the river Windrush in Asthall parish; a major unwalled settlement, functioning probably as a local market centre and as a staging post between Alchester and Cirencester, grew up nearby and continued until the 4th century, while a 2nd-century building a small distance away near Worsham mill, possibly a bath house, was apparently converted into a small villa. A parallel road further south (now running through Carterton) is probably also of Roman or pre-Roman origin, but the main focus of the Roman villa economy lay north of the Windrush in the Cotswolds, and no other villas or major settlements are known within the area discussed here. (fn. 7)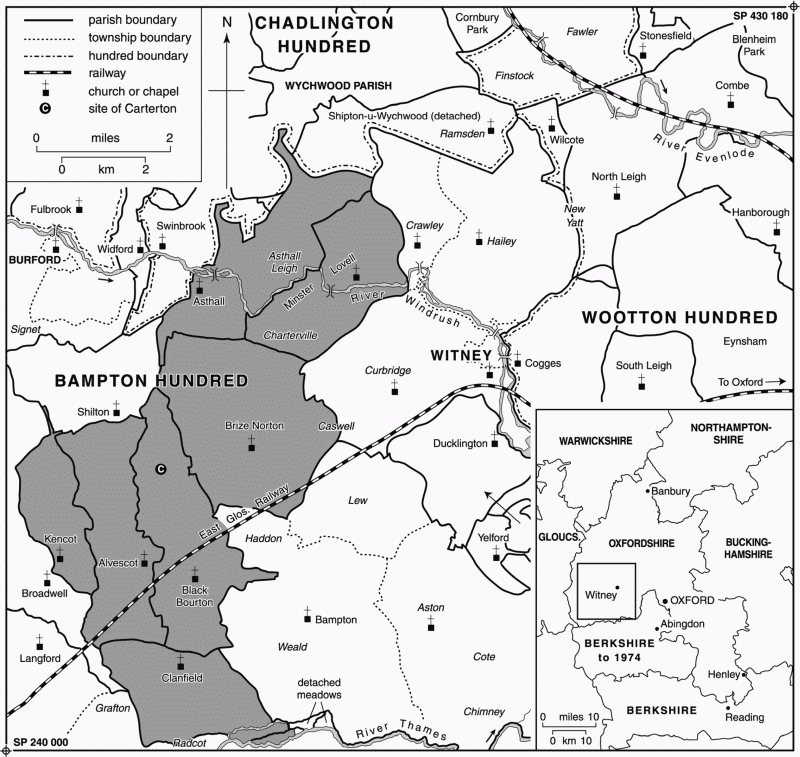 The most striking indication of early Saxon activity is also in Asthall, where a prominent round-barrow marks the site of a rich early 7th-century cremation burial, probably of a high-status local chieftain. (fn. 8) By the 8th or 9th centuries, important royal vills may have been emerging at Bampton (just east of the area discussed here) and at Minster Lovell: in the 10th and 11th century Bampton was the centre of a considerable royal demesne and the site of a small minster church, and circumstantial evidence suggests that Minster Lovell, too, may have been a Mercian royal vill with a large dependent territory and parochia, extending across the area between the neighbouring minster dependencies of Shipton-underWychwood, Eynsham, and Bampton. Of the parishes covered in this volume most (Brize Norton, Alvescot, Black Bourton, Clanfield, and possibly part of Kencot) belonged to the Bampton complex, the outer fringes of which seem to have been alienated piecemeal during the 10th and 11th centuries, forming the basis of the later manorial and parish structure. Asthall belonged probably to Minster Lovell, though evidence is scanty: both places seem to have been associated with a more northerly group of parishes in and around the Windrush valley, and Minster Lovell remained a detached part of Chadlington hundred until the 19th century. (fn. 9)
Almost certainly the development of mid and late Saxon settlement in the area was conditioned by the requirements and internal organization of these large multiple estates. Like Aston further east, Brize Norton and possibly Black Bourton were satellite settlements named in relation to the royal centre at Bampton, while a striking concentration of cot place names further west (Alvescot, Kencot, and the now-deserted Bromscott and Pemscott) suggests a line of subsidiary, low-status settlements on the fringes of the royal demesne. The ancient 'Salter's Way', which ran southwards through Asthall and Brize Norton, presumably reflected Bampton's possession of salt rights in Droitwich (Worcs.), a further indication of its early importance. (fn. 10)
The later parochial structure across much of the area resulted apparently from the break-up of the Bampton complex, probably as part of a regulated process. Kencot, Alvescot, and Black Bourton form long 'strip' parishes which formerly cut across different types of farmland, with downland in the north, arable in the middle, and pasture in the south (Fig. 2); presumably the arrangement reflected the planned creation of viable estate-units hived off from the royal demesne, and allocation of detached Thames-side meadows to Brize Norton, Kencot, Alvescot, Black Bourton, and Clanfield was probably part of the same process. All of those new estates had churches by the mid 12th century and in some instances possibly by the 1070s, though Alvescot, Black Bourton, and Clanfield wrested burial rights from Bampton only in the 16th century. Comparable evidence for territories formerly dependent on Minster Lovell is mostly lacking, though the shape of both Minster and Asthall parishes, straddling the Windrush valley and including woodland, riverside meadow, and arable, may similarly reflect the planned creation of small local estates in the 10th or 11th centuries. The medieval tenurial structure of the area was also influenced by the break-up of the royal demesne. Brize Norton was granted before 1066 to 14 thegns settled apparently on hides of land, while Clanfield, though by then separated from Bampton, was still said in 1086 to be 'of the king's first fee'. Several other local manors were either granted to royal servants, or were held for serjeanties almost certainly derived from pre-Conquest services on the royal estate, among them that of guarding the king's treasury. (fn. 11)
By the 13th century the area was primarily one of villages set among open fields on the classic Midland pattern, though contraction of settlement to single village sites was a protracted process associated with late medieval depopulation and desertion. Sizable settlements at Alwoldsbury, Puttes, Bromscott, and Pemscott (all in Alvescot parish) and at Astrop, Marsh Haddon, and Caswell (in Brize Norton) were abandoned or reduced to single farms only in the 14th or 15th centuries, while the outlying settlement of Benney (in Clanfield) apparently survived in shrunken form as Little Clanfield. Conversely, woodland assarting in Asthall created two new outlying settlements, Asthall Leigh (recorded from the 12th century but possibly extant by the 11th), and Field Assarts (recorded from the 16th and 17th centuries, but probably of medieval origin). Thereafter settlement changed little until parliamentary inclosure in the 18th and early 19th centuries, which produced a few new outlying farmhouses. More significant was the planned creation of three new settlements from the 1840s: Charterville, laid out in Minster Lovell parish soon after 1842 to set up urban factory workers on self-sufficient smallholdings; Fordwells, laid out on newly inclosed land in Asthall and Wychwood parishes in the early 1860s; and Carterton, established as a colony of smallholders by the speculator William Carter about 1900, on agricultural land in the north of Black Bourton parish. Carterton enjoyed early success as a market-gardening centre, though its development into a major town began only after the Second World War, with the expansion of the military airbase at Brize Norton (opened in 1937). By the late 20th century it was one of the largest towns in Oxfordshire, still intimately associated with what was by then the largest RAF station in the country.
Society and Economy
Until the 20th century all the settlements covered in this volume were small agricultural communities typical of the area, characterized in the Middle Ages by peasant producers and by a few larger freeholders and demesne farmers, from the 16th century by prosperous yeomen, whose freeholds, often extending into several parishes, were in many cases increased by the piecemeal break-up of manorial estates, and from the 18th or 19th centuries by larger commercial farmers, who by then often dominated parish affairs. In addition, most parishes had at various times a small but socially important number of resident gentry, whether manorial lords, or lessees of manor- or other gentry houses. Among the higheststatus were the Lovels, powerful nobility for whom Minster Lovell Hall was rebuilt in the 15th century; lesser gentry included such families as the Hungerfords of Black Bourton (in the 16th century), or the Joneses at Asthall in the 17th. Such families' level of social involvement (for example through charitable bequests) varied considerably, with some parishes benefiting more from prosperous yeomen and farmers, or from non-resident landowners; a few ran home farms, though most leased out the land attached to their houses. An extreme instance is the small parish of Kencot, where by the 18th century a striking number of smart houses were occupied by resident gentry and professionals while the land was increasingly worked from outside, though even there prominent resident yeomen such as the Turners remained important for much of the 17th century. Among the more famous aristocracy to live in the area were Lord Redesdale's family (the Mitfords), including the writer Nancy Mitford and her sisters and brother, who as children lived at Asthall Manor from 1919 to 1926. The novelist Maria Edgeworth, granddaughter of a lord of Black Bourton, was born in a now-demolished manor house at Black Bourton in 1768.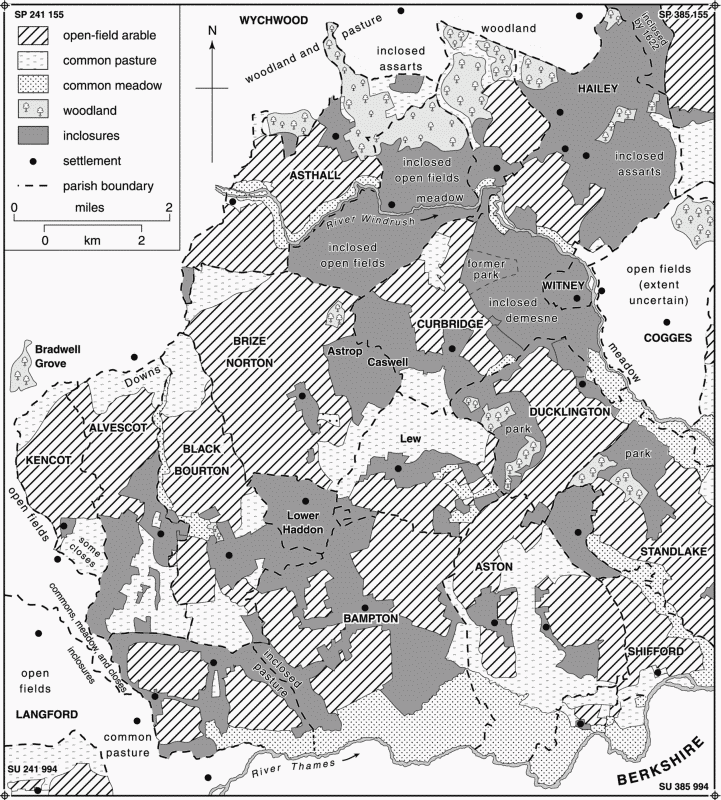 Agriculture was characterized throughout by the arable-based mixed farming typical of the region, the chief markets including Witney, Burford, and probably Great Faringdon (formerly Berks.). Sheep were important from the Middle Ages: at Black Bourton, Osney abbey specialized in wool production in the 14th and 15th centuries, and some early inclosures (e.g. at Caswell) may have been undertaken partly for sheep farming, particularly as the Witney cloth industry expanded from the late 15th century. (fn. 12) Nineteenth-century farmers still included some noted sheep breeders, and as elsewhere in west Oxfordshire there was also widespread dairying. The chief crops were barley, wheat, and a variety of pulses, with a bias towards barley particularly in the more northerly parishes. Potato cultivation became important at Charterville in the mid 19th century, and market gardening was established both there and, from the early 20th century, at Carterton; by the 1920s Carterton was thriving, though both settlements suffered from inadequate communications, and the co-operative ideals which had inspired their creation enjoyed only limited success. In their early stages both places attracted incomers from a wide area, as well as from a wide variety of backgrounds.
A few weavers and fullers were recorded from the Middle Ages, associated presumably with the Witney cloth industry, and there was a fulling mill at Minster Lovell in the early 13th century and again from the late 18th to the early 19th. Most non-agricultural activity before the 19th century, however, comprised the usual rural trades and crafts: smiths, coopers, wheelwrights, carpenters, and masons were recorded fairly frequently, together with butchers and (by the 17th century) bakers, while malting became widespread from the late 17th or 18th century, particularly at Brize Norton where it was on a clearly commercial scale. From the 17th or 18th centuries there were also a few artisans or retailers who probably served a wider area than their immediate communities, among them shoemakers, tailors, and one or two bodice-makers and mercers. Retailing (particularly of foodstuffs) became more widespread by the mid 19th century, when most villages had at least one grocer as well as bakers, butchers, and publicans; some also had more specialist shops including confectioners, tea dealers, and drapers, Brize Norton and Kencot sometimes having up to three of four shops each at any one time. The opening of the railway brought coal dealers to several parishes along with a few railway workers, while other new tradesmen in the later 19th century included a few machinists or agricultural implement makers.
The most widespread non-agricultural activity throughout was quarrying, recorded in every parish discussed below except for Clanfield (by the river Thames). The best-quality stone came probably from Brize Norton, which provided building stone from the Middle Ages and which had nine quarries in 1880; equally long-lived were quarries in neighbouring Asthall, where two (at Worsham and Stonelands) continued in 2004. Several other parishes produced building stone or high-quality stone slate at various dates, though quarrying overall remained small-scale and employed small numbers, the main sources of high-quality building stone lying further afield at Burford and especially Taynton. (fn. 13)
From the 19th century some former corn mills were adapted for industrial purposes. Worsham Mill (in Asthall parish) was rebuilt as a blanket and mop factory about 1830 by the Witney blanket-manufacturer Robert Collier; it became an important source of local employment and remained an industrial site in the early 21st century, manufacturing injection-moulded plastic products. Little Clanfield Mill became a straw-rope factory in 1925 and continued until the 1970s. Other significant rural businesses included the Knapp family's ironworks at Clanfield (established in the late 19th century), a coal merchant at Alvescot station, and Timms builders merchants at Brize Norton (developed from 1953).
The greatest shift in the local economy, however, came after the Second World War, with the expansion of Brize Norton aerodrome and Carterton's associated development into a sizable town. Employment remained at first heavily dependent on the airbase, but from the 1970s local initiatives succeeded in attracting a range of new industries to expanding industrial estates at Carterton, as at nearby Witney. By then the populations of surrounding villages included increasing numbers of commuters, retired people, and second-home owners, though the area as a whole remained predominantly agricultural, with large farms often spanning several parishes. As elsewhere traditional crops were increasingly accompanied by new ones such as oil-seed rape, and on some farms set-aside schemes prompted diversification into (for example) game-bird rearing. (fn. 14) Wheat and barley were still grown in the early 21st century, however, and livestock still included beef- and dairy cattle and sheep.
Religious Life
Religious life in the area until the 19th century was mostly dominated by the established Church, though a small Quaker group (associated with Witney) thrived at Alvescot in the later 17th century. Roman Catholicism was perpetuated in several parishes in the 17th and 18th centuries by resident recusant gentry, among them the Hungerfords at Black Bourton, the Yates at Kencot, and the Kenyons and one of the Joneses at Asthall; only at Brize Norton does a sizable group seem to have developed, however, which in the later 18th century worshipped at a chapel in the Greenwood family's manor house, and attracted adherents from neighbouring parishes. By the early 19th century that group, too, had disappeared.
From the early 19th century most parishes saw an upsurge in Primitive Methodism and other forms of Dissent, particularly (though not exclusively) among agricultural labourers, small tradesmen, and poorer inhabitants. (fn. 15) Charterville was claimed in the 1850s to be almost a 'separate parish' dominated by 'bigoted Dissenters', and about the same time Primitive Methodism became established in Asthall's outlying hamlets of Asthall Leigh and Fordwells, though many other Dissenting chapels were established in village centres. Despite the increase in Dissent, the Church of England also saw some resurgence in most parishes during the 19th century, chiefly through the efforts of energetic resident ministers; as elsewhere, however, attendance at both church and chapel declined fairly universally during the later 20th century.
Buildings
Though isolated examples of timber-framing survive, notably the 16th-century cross wing of the Swan Inn in Minster Lovell, most early vernacular buildings are constructed of the local limestone rubble characteristic of the area. (fn. 16) In 2004 the majority had stone-slated roofs, though thatch was formerly also common. Brick was occasionally used for dressings or façades from the 19th century, for example at Worsham Mill and on cottages in Alvescot, Fordwells, and Asthall Leigh, while a Nonconformist chapel at Black Bourton is of local Aston brick.
Surviving smaller houses are mostly 17th-century and later. Most are two-storeyed with attics, most commonly on a three-unit (and sometimes L-shaped) plan, though many have been subsequently enlarged. Some have integral end-stacks and others central stacks, both types being associated with winder stairs. Among larger houses, the majority are farmhouses and small gentry houses dating from the late 16th or early 17th century and later. Some, like the Plough Inn and Tudor House at Clanfield or Red Rose Cottages at Kencot, feature the attic gables and hollow-chamfered mullioned windows typical of many Cotswolds houses. Others, such as the 18th-century Kencot House with its regular segmentalheaded windows, were more fashionably classical or baroque, and many older houses were improved or updated by addition of external stair turrets, creation of more spacious entrance halls, or application of classical detailing or door hoods. The building of up-to-date and sometimes quite sophisticated houses for wealthy gentleman farmers continued in the 19th century, as at High House in Clanfield (built in 1856), or Manor Farm in Black Bourton (extended in 1861–3); a few houses retain traces of their 18th- and 19th-century farmyard layouts, (fn. 17) though many agricultural buildings have since been converted to other uses. In some villages new farmhouses were accompanied by model labourers' cottages, (fn. 18) while at Charterville model cottages for smallholders were provided from the outset, to a standard design incorporating three ground-floor domestic rooms, with service and agricultural buildings at the rear. Cottage terraces in some other parishes were more meagre, (fn. 19) and in many villages labourers' accommodation was provided by subdivision of older buildings. (fn. 20)
By far the largest and most important domestic building is the now-ruined manor house at Minster Lovell, rebuilt in the 15th century for the powerful Lovel family as their principal seat, to a quadrangular courtyard plan on a site adjoining the river Windrush. The house was largely demolished in 1747. Other larger manor houses include Asthall Manor, rebuilt on a medieval site by the Jones family in the early 17th century, and Brize Norton Manor House, which contains a mid 16th-century core. Medieval fragments also survive at Chestlion Farm in Clanfield (another medieval manor house), and more extensively at Manor Farm in Black Bourton, whose north range includes remains of a late 15th- or early 16th-century open hall. Friars Court in Clanfield, though post-medieval, occupies a moated medieval site, and Grange Farm in Brize Norton incorporates re-used medieval fragments brought probably from Bampton castle.
The area's parish churches are relatively small and not of especially outstanding quality, though Asthall church contains remains of an elaborate 14th-century archand-gable tomb associated with a local chantry, and Black Bourton has a notable cycle of 13th-century wall paintings, while Minster Lovell church, rebuilt on a highly unusual cruciform plan in the 15th century, retains some late medieval pews and an alabaster monument (with effigy) to one of the Lovels. Clanfield and Brize Norton churches, like several others in the area, contain details clearly influenced by Bampton church. Other ecclesiastical remains include the 12th-century chapel of St Cecilia adjoining Minster Lovell churchyard, remodelled as Manor Farm at the Reformation, and possibly the walling of St Leonard's chapel in Clanfield, incorporated into Friars Court Cottages.
New 20th-century building in the villages was smallscale, limited by a general decrease in the number of working farms, from mid century by statutory Listing, and from the 1980s by local planning policies. (fn. 21) Larger new houses included the Arts-and-Crafts-style Alvescot Lodge (extended in 1926) on the edge of Alvescot village, but most new building was confined to smallscale council housing, private developments, and conversion of agricultural buildings. Much (if not all) of the new building was in appropriate traditional materials, though the sensitivity of the numerous barn conversions undertaken from the 1970s varied considerably. By far the greatest focus of new building was Carterton, where in the early 20th century settlers built bungalows and houses in a wide variety of forms and with equally varied materials, ranging from corrugated iron to timber, stone, and brick. Carterton's rapid development from the Second World War was often at the expense of architectural style or quality, dominated increasingly by drab concrete developments of uniform prefabricated type, though from the 1980s, as new planning initiatives took effect, there was marked improvement. A new housing development on its north-eastern edge, within Brize Norton parish, was influenced in the early 21st century by planning principles established at Poundbury in Dorset.