Pages 8-17
A History of the County of Oxford: Volume 15, Bampton Hundred (Part Three). Originally published by Victoria County History, London, 2006.
This free content was digitised by double rekeying. All rights reserved.
ALVESCOT
The small stone-built village of Alvescot lies 6 miles (9.7 km) south-west of Witney and 15 miles (24 km) west of Oxford, on gently rising ground some 3 miles (5 km) north of the river Thames. (fn. 1) Its ancient parish included the medieval settlements of Bromscott, Pemscott, Alwoldsbury, and Puttes, which were all deserted during the later Middle Ages, and which are treated in the following account. In 1881 the parish covered 2,119 a., including 38 a. of detached meadow by the Thames; (fn. 2) the meadow was transferred to Clanfield in 1886, reducing Alvescot to 2,081 a. (fn. 3) Sixteen acres were transferred from Black Bourton in 1954, and 200 a. (81 ha.) were removed in 1985, leaving Alvescot with 1,897 a. (768 ha.) in 1991. (fn. 4)
Parish Boundaries
Like the neighbouring parishes of Black Bourton and Kencot, Alvescot's ancient parish was long and narrow, running from north to south across varied soils (Figs 2 and 10). Possibly those boundaries reflected a planned partition, during the 10th or early 11th century, of part of the large royal manor of Bampton, to which Alvescot almost certainly belonged until the late Anglo-Saxon period. (fn. 5) Allocation of small detached meadows by the river Thames may have been part of the same process.
The parish's 18th-century boundaries (Fig. 10), essentially unaltered at inclosure in 1796–7, were probably those of the medieval parish, save for a few minor adjustments. On much of the east they followed Shill brook, on the south a probably ancient route called Calcroft Lane, and on much of the west Langhat ditch and another stream; elsewhere they mostly followed field and furlong boundaries. Short straight sections in the south-east may reflect partition of common pasture between Alvescot and neighbouring Black Bourton at an unknown date. (fn. 6) Puttes or Pitlands closes, south of Alvescot village, and Bazeland or Batesland closes, adjoining the southern boundary, belonged from the Middle Ages to two Clanfield manors, and until the 18th century paid tithe to Clanfield, though by the earlier 17th century they were counted for civil purposes as part of Alvescot parish, and were included within its perambulated boundaries. (fn. 7) In the early 13th century a Clanfield manor also included demesne in an area called Ruxhill, later in Alvescot's south-western corner; possibly the boundary there and at Batesland was adjusted later in the Middle Ages, perhaps following early inclosure. (fn. 8) Alvescot's southern boundary followed its modern course certainly by the 17th century, when it abutted closes in Clanfield, (fn. 9) though in the 1830s there was uncertainty as to whether Calcroft Lane itself lay in Clanfield or Alvescot. (fn. 10)
Parts of the western boundary were described in 1318, when local deponents outlined the boundaries of Bampton minster's decaying parochia, to which Alvescot had formerly belonged. (fn. 11) From a 'green way' in Clanfield, the Bampton boundary was said to run northwards to Alvescot Marsh in the south-eastern part of Alvescot parish; from there it followed a path 'north' (presumably north-westwards) to Kencot green in Kencot parish, and thence a high road to 'Shilton way'. The boundary described seems thus to have excluded Alvescot's south-western corner, though as the deponents often cited the nearest major road rather than tracing the boundary in detail, the western bounds of the parochia and of Alvescot parish may nevertheless have coincided. (fn. 12)
Alvescot's detached Thames-side meadow, in an area called Burroway, belonged to Alvescot manor by the late 12th century, and in the 19th century part of Burroway and much of the adjoining Sharney meadow remained tithable to Alvescot, suggesting that the connection was ancient. (fn. 13) The meadows were inclosed and their boundaries redefined in 1851, part of Sharney meadow, north of Burroway brook, becoming a detached part of Alvescot parish until 1886. (fn. 14) A detached meadow between Black Bourton and Bampton belonged to Alvescot manor and perhaps to Alvescot parish until the late 12th century, when it was exchanged. (fn. 15)

Geology and Landscape
Much of Alvescot village, including the church, lies on Kellaways Sand and Clay, though its southern end, including the rectory house, lies on a small island of river gravels of Wolvercote Terrace deposits. The parish's southern part, chiefly common pasture and meadow until inclosure, lies mostly on river gravels and Oxford Clay, and its northern part, chiefly pasture and open-field arable, on Cornbrash and Forest Marble. There are tongues of alluvium along Shill brook and its tributaries. The land rises gently from c. 73 m. in the south to 111 m. in the north; the church stands at c. 91 m., on a slightly sharper rise overlooking the modern village. (fn. 16)
Communications
The Black Bourton-Kencot road, along which much of the modern village stands, was in the 18th century part of the route from Bampton to Lechlade (Glos.). A section near the village was called Port Lane in 1796, perhaps recalling a medieval allusion to Bampton's market. The road was confirmed at inclosure that year, along with existing branch roads running northwards to Shilton and Burford, and north-eastwards to Brize Norton and Witney. (fn. 17) The latter road, part of an ancient, possibly Roman road from Witney to Lechlade, (fn. 18) crossed Shill brook at Shill ford, where a bridge existed by 1774 and was replaced in 1855. (fn. 19) A road or track running south-westwards from the Shilton road towards Kencot seems to have been suppressed at inclosure. Numerous lanes and access ways included Dunsbrook Lane, leading southwards towards Batesland closes and the former furze ground, whence it continued as a bridle path to Little Clanfield and Grafton (in Langford). (fn. 20) Lost roads include the path running north-westwards from Alvescot Marsh to Kencot green in 1318, (fn. 21) and an 'ancient' path called Church Lane running from Pemscott closes and Pitlands to Alvescot Marsh, long disused by 1631 when it was conjectured to have been part of a route from Pemscott to Bampton. (fn. 22)
A carrier to Faringdon (then Berks.), Cirencester (Glos.), and Witney was noted in 1864, and one to Witney in 1883. (fn. 23) A post office existed by 1847, run at first from the Plough Inn, later from a cottage nearby, and in the late 20th century from the village shop near the Red Lion inn. It became a money order and telegraph office before 1907 and closed after 1972. (fn. 24) Part of the East Gloucestershire Railway from Witney to Fairford (Glos.) was built across Alvescot parish in 1873, with a station (called Alvescot Station) just east of the boundary in Black Bourton. It became part of the GWR in 1890 and closed in 1962. (fn. 25) In 1907 trains were met from the Plough, which was a posting house and from which traps and carriages could be hired. Daily buses ran to Oxford, Witney, and Lechlade (Glos.) by 1939. (fn. 26)
Settlement and Population
Early Settlement
Undated cropmarks, perhaps prehistoric, have been noted in the south-west near Blagraves and Pemscott closes, in the extreme south near Calcroft Lane, and south-east of Alvescot village. Neolithic, Bronze-Age, and Romano-British pottery has been found in Blagraves close, (fn. 27) and more Romano-British pottery, suggesting settlement, east of the church around Gillens close. (fn. 28) A cropmark in the south-west has been suggested as a possible ploughed-out long barrow, (fn. 29) though the medieval surname 'of the barrow' was borne by freeholders who may not have been resident. (fn. 30) Little archaeological evidence of Anglo-Saxon settlement has been found, (fn. 31) but by the late 11th century there were small, scattered settlements at Alwoldsbury, Alvescot, Bromscott, Pemscott, and perhaps Puttes, all on the fringe of the large royal manor of Bampton, and in origin probably closely connected with it: the concentration of 'cot' place-names in the area generally is striking, and may well have denoted a particular type of low-status satellite settlement associated with the royal estate. (fn. 32)
Population from 1086
A total of 28 tenants was noted at Alvescot, Alwoldsbury, Bromscott, and Pemscott in 1086. (fn. 33) In 1279 there were 35 villeins and cottagers at Alvescot, Alwoldsbury, and Puttes, and 27 freeholders of whom most apparently resided; (fn. 34) in all there were probably over 50 households. Over 38 landholders from the whole parish were taxed in 1306, 42 in 1316, and 35 in 1327, (fn. 35) but in the mid 14th century 7 out of 13 villeins on Alvescot manor died presumably of plague, and their lands remained vacant in 1351. (fn. 36) Tofts mentioned in the late 14th century suggest continuing desertion: only 56 inhabitants over 14 paid poll tax in 1377, (fn. 37) and thereafter settlement was concentrated apparently in Alvescot village.
The population evidently remained well below 13th-century levels in the 16th century. Only 14 landholders were taxed in 1524 and 25 in 1542, (fn. 38) and 57 men swore the protestation in 1642, implying an adult population of 114;24 houses were assessed for hearth tax in 1662, and 111 inhabitants were noted in 1676. (fn. 39) Unusually high mortality was recorded in 1684 during a smallpox outbreak, in 1707 when 12 inhabitants died of 'pestilential fever', and in 1728 when there was smallpox in Bampton, but from the mid 17th century baptisms generally outnumbered burials. (fn. 40) Rectors or curates in the later 18th century reported around 40 houses, and in 1778 there were said to be 38 houses divided into 50 tenements. (fn. 41) By 1801 there were 50 houses inhabited by 59 families, a total population of 339. Though pauper emigration was encouraged in the 1830s (fn. 42) the population rose slowly to 407 in 1861, when there were 89 houses; thereafter until the 1920s it fluctuated from around 300 to 390, falling to 278 by 1931. From the 1950s it rose to 333 in 1971, and in 1991 it was 325. (fn. 43)
Alwoldsbury
Alwoldsbury (Aethelwald's burh?) (fn. 44) was the largest recorded settlement in 1086, with 13 tenants compared with Alvescot's six. Twenty tenants were noted there in 1279, though by then Alvescot was evidently larger. (fn. 45) In 1192 Alwoldsbury was a 'vill', and in the 13th century it seems to have had its own fields; (fn. 46) a document was dated there in 1315, (fn. 47) and several Alwoldsbury tenants were taxed in 1327, (fn. 48) but though Alwoldsbury remained an independent manor until the mid 14th century (fn. 49) no later references to a settlement have been found, suggesting abandonment following 14th-century plague. Its site is unknown, and perhaps lay close to Alvescot, into which its remains seem to have been absorbed: a house in 'Oldesbury' (apparently in Alvescot village) was mentioned in 1563, (fn. 50) and in the 17th century some inhabitants still belonged to a distinct tithing of Alwoldsbury. (fn. 51) The burh, presumably a fortified enclosure, (fn. 52) is unidentified.
Puttes
Puttes (meaning pits), (fn. 53) attached to Clanfield manor, lay apparently south of Alvescot village in or near Puttes, Pitts, or Pitlands closes (Fig. 10), where inhabitants reported house foundations and abandoned paths in 1631. Bumpy ground south of Alvescot rectory house may mark part of the site, but more likely resulted from gravel extraction, Pitlands itself lying further south. (fn. 54) The hamlet was not mentioned in Domesday Book, but since Pitlands remained tithable to Clanfield (fn. 55) it was established presumably at an early date, before parochial rights hardened, and some tenants listed under Clanfield manor in 1086 may thus have lived there. (fn. 56) Seven villeins and a freeholder were noted in 1279, and up to seven Puttes landholders were taxed with Alvescot's inhabitants in the early 14th century. (fn. 57) No later references to the hamlet have been found, (fn. 58) and by the mid 16th century the estate or 'manor' of Puttes was a partially inclosed farm of 2½ yardlands, apparently without buildings. (fn. 59) A derelict pauper's cottage on Pitlands in the late 16th or early 17th century was presumably post-medieval. (fn. 60)
Bromscott and Pemscott
Bromscott and Pemscott, which like Alvescot originated probably as small, low-status settlements associated with the pre-Conquest estate of Bampton, (fn. 61) lay presumably near Bromscott and Pemscott closes in the south-west, close to the site of prehistoric and Roman pottery finds. (fn. 62) Undated rectilinear cropmarks near Pemscott may indicate medieval tofts, with trackways running north-west to south-east. (fn. 63) Nine tenant households were recorded in the two settlements in 1086, and the surname 'of Pemscott' was recorded in 1227. (fn. 64) Neither place was mentioned in 1279, though half a yardland then listed under Alvescot was said later to lie 'in Bromscott'. (fn. 65) That and other 14th-century references may nevertheless have denoted only an area of land, and though small estates at Bromscott or Pemscott were recorded until the 16th century, one of them in 1566 including a toft, (fn. 66) no other explicit references to a settlement have been found.
Alvescot Village
Alvescot (Aelfheah's cot) (fn. 67) had the smallest population among the various settlements recorded in 1086, and its later pre-eminence followed perhaps from the establishment of a church on Alvescot manor in the early 12th century. (fn. 68) All or part of the early settlement lay probably some 300 m. east of the church in and around Gillens close (Fig. 4), where pottery of medieval and possibly late Anglo-Saxon date has been found together with extensive stone-scatters. A notable boundary ditch, over 2 m. deep and with late Saxon infill, has been excavated in the north-east corner of Gillens close, running roughly south-west to north-east, and was overlain by one end of a substantial medieval stone-built house. (fn. 69) From Gillens close, a hollow way leads northwards towards Alvescot mill. Settlement in the area continued apparently until the 14th century or later, (fn. 70) though following the building of the church on what was probably rough pasture there may have been a shift westwards: a straight, possibly planned hollow way runs towards the church from Gillens close, and shallow ridge-and-furrow between the church and the mill may overlie earlier settlement. An enclosed manorial complex to the north is probably the site of Alvescot manor house, (fn. 71) though pottery finds seem not to confirm its existence before the late 12th or early 13th century, (fn. 72) and possibly it was preceded by an earlier house nearer the church. The manor house was abandoned probably by the later 14th century, and settlement around the church may similarly have been abandoned following 14th-century depopulation. (fn. 73)
Medieval pottery has also been found north of the former post office near the Kencot-Black Bourton road, (fn. 74) and later settlement was concentrated both along that road and around the edges of a large central green or common, which stretched from the church down to the parish's southern boundary (Figs 5 and 10). In the 18th century the common's eastern edge was marked by the lane to Park Farm and Lower End (later renamed West View), and its western edge by closes taken probably from earlier pasture. (fn. 75) Some early houses along the main road, set well back and not fully aligned on it, may represent encroachments on the common's northern edge, though later buildings were aligned along the roadside. The surname 'at green' was recorded in 1351, (fn. 76) and the name 'at hill', recorded in 1327, (fn. 77) referred perhaps to the prominent slope on which stand the church and the probable area of early settlement.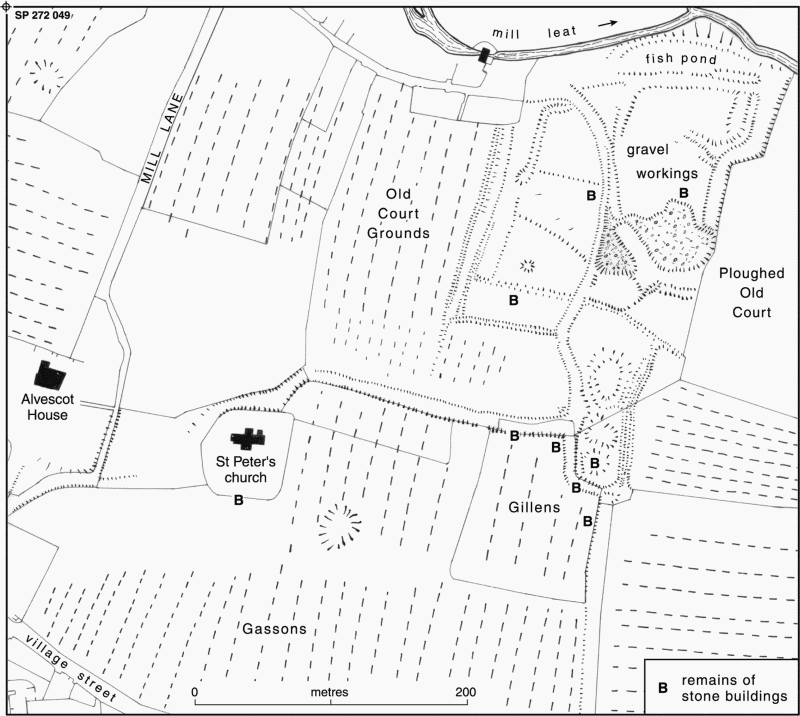 From the later Middle Ages until inclosure the only outlying houses were Alvescot mill, established by the late 13th century, Shield Farm, built in the mid 17th century for a small inclosed estate north of Alvescot village, and Upper Ruxhill or Rookshill Farm, built probably c. 1659 for another inclosed estate in the south-west. (fn. 78) A pauper's cottage newly built on Alvescot Marsh or common in the late 16th century or early 17th (fn. 79) was perhaps that east of the lane towards Pitlands, which was demolished in the mid 20th century. (fn. 80)
Domestic Buildings and Village Development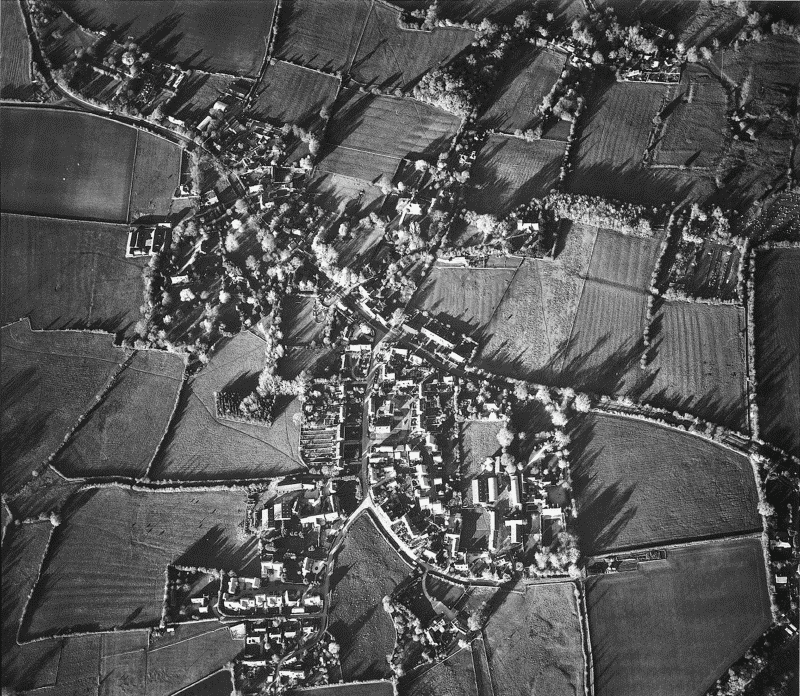 The 16th to Early 18th Century
Most older houses in Alvescot (fn. 81) are of coursed or uncoursed limestone rubble with stone-slated roofs, some of the stone slate coming probably from quarries on Alvescot Downs, which were mentioned from the mid 17th century. (fn. 82) Thatch, other than for agricultural buildings, may have been uncommon by the 19th century, (fn. 83) and no houses were thatched in the late 20th. The earliest surviving house is probably Manor Farm, north of the Kencot—Black Bourton road: by the 16th century it was the house for the former demesne farm, but though later sold with manorial rights it seems never to have been more than a tenanted farmhouse, and it acquired its name only in the 19th century. (fn. 84) The L-shaped building has a two-bay, two-storeyed east wing which seems to have belonged to a fairly substantial mid 16th-century house; the wing's east chimney stack, originally external, has on the ground floor a fireplace bearing the date 1563, with the initials TB and AB for Thomas (d. c. 1557) and Alice Bond (d. c. 1578). (fn. 85) The roof has a central truss with a slightly moulded arched brace, originally exposed to the upper floor, which has one surviving timber-mullioned window. There was formerly a winder staircase in a shaped stone well on the north wall. The south bay of the three-bay north-west range may also be of 16th-century origin, but the rest of the house, including a one-bay former dairy and cheese room at the east end, (fn. 86) was built probably in the late 17th or early 18th century. A barn was attached on the north in the 18th century, as was the north-east cartshed. New windows were inserted in the 19th century (fn. 87) and again in the late 20th, when the house, dairy, and cartshed were extensively remodelled as one dwelling, and the barn and detached stables to the north as others. The entrance to the road was blocked at that time. (fn. 88)
Most houses in the 1660s were taxed on between 2 and 4 hearths, (fn. 89) and several 17th and 18th-century buildings are relatively spacious, of 2 storeys with attics, and originally of 2 or 3 bays. Examples are Stoneycroft north of the Kencot—Black Bourton road, which retains stone-mullioned windows with hoodmoulds, and Rectory Cottage at Lower End. The single-storeyed Stone Cottage at Lower End, held of Alvescot manor on a lifehold lease in 1796, has attic windows set in fully gabled dormers with ball finials. (fn. 90) Rectory or Godwins Farm, south of the former rectory house, originated as a mid 17th-century two-roomed house with a gabled north porch or stair projection; the south-east room was refitted perhaps about 1708 when the house was 'newly erected', (fn. 91) and in the 19th century the Godwins, resident farmers, (fn. 92) remodelled the south front, later adding lean-to north extensions. Upper Ruxhill Farm, demolished during the later 20th century, (fn. 93) seems to have been of similar size, having a symmetrical front with dormers and end-stacks. (fn. 94)
The 18th to Early 19th Century
Some average-sized houses were enlarged by wealthier farmers or gentry during the 18th and earlier 19th centuries. (fn. 95) Shill House (formerly Home Farm) by the Kencot—Black Bourton road, owned and occupied from the later 18th century to the early 20th by the Nalders, a prominent farming family, (fn. 96) incorporates a small 17th-century house, from which a mullioned stair window survives against the north stack. The house was refronted in the 18th century, and in the early 19th century was doubled in size: a corridor, containing an oval stair and main north entrance, was added along the east side, together with a south-east kitchen which perhaps incorporated outbuildings, and a small south extension with a cellar was added. Later in the 19th century a dining room was built to fill the north-east angle. Former agricultural buildings, partly derelict in 1980 and later converted into houses, (fn. 97) include a large, possibly 17th-century stone barn, to which a dovecot was added over the porch in 1794; nearby are 18th-century stables, formerly surmounted by a clock turret, and an 18th or 19th-century timber-framed granary raised on staddle stones.
Comparable is Alvescot House (Fig. 7) near the church, which on the north has a 17th-century core embedded within later additions. A blocked timbermullioned window related to part of a 17th-century roof survives, and fragments of stone-mullioned windows have been re-used in the later west front. The house was extended west and north probably by the Hughes family in the mid 18th century, and in the early 19th the lawyer John Kenn (d. 1830) (fn. 98) added a plain, ashlar-faced range containing south-facing reception rooms, and an east—west corridor linking old and new parts. The house remained a private dwelling and hunting box, and about 1881 briefly became a private boarding school. (fn. 99) The grounds were extended about 1844 when the road to the church and mill, formerly abutting the house's east side, was diverted eastwards, (fn. 100) and in 1892 there were extensive outbuildings, flower and kitchen gardens, and a tennis lawn. (fn. 101)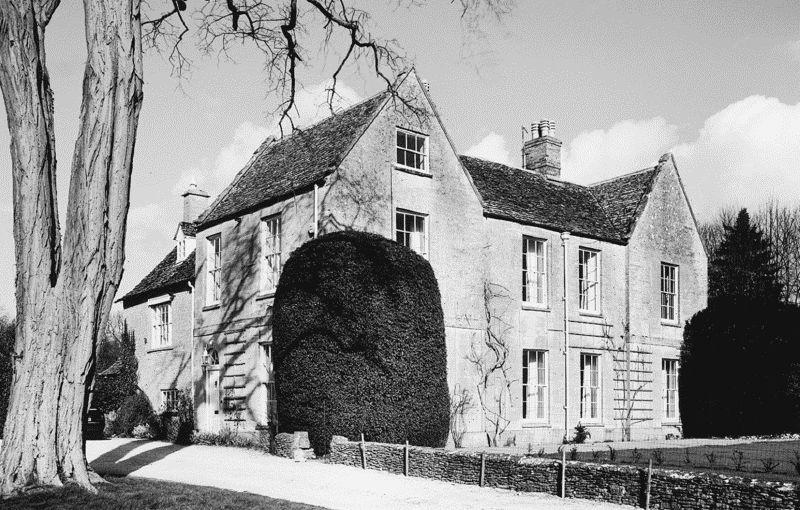 The 19th Century
Inclosure in 1796 brought little immediate expansion, though the outlying Field, Downs, Lower Ruxhill, and Bazeland Farms were built before 1828, (fn. 102) and between 1801 and 1901 the number of dwellings rose from 50 to over 90, partly through subdivision. (fn. 103) New cottages were built during the earlier 19th century on the west side of West View on the edge of the former green, and there was new building adjoining the Kencot-Black Bourton road, notably east of Church Lane. (fn. 104) The later village shop, east of the former Red Lion, is dated 1812, (fn. 105) though the Red Lion itself apparently incorporates earlier cottages. (fn. 106) The later Royal George public house was built on the Shilton road before 1824 by the local mason Alexander Oakey, (fn. 107) and the nearby Poplar Brewery, later the Poplars, probably soon after. (fn. 108)
Houses replacing earlier buildings included nos. 1–2 West View, and at Lower End nos. 1–3 and Rose Cottage, rebuilt for agricultural labourers and split successively into first two and later three dwellings; (fn. 109) of those, no. 2 West View has brick quoining and window surrounds. Elm Cottage, a small brick house south of the Black Bourton road, was built for the station master about 1880. (fn. 110) New institutional buildings were the Particular Baptist and Primitive Methodist chapels, built on the former green south of the Kencot—Black Bourton road c. 1833 and 1850–1, and the National school, built at the bottom of Church Lane in 1869 on the site of earlier cottages; a Quaker chapel built near Park Farm in 1708 was demolished about 1811. (fn. 111) Such new building was evidently felt to have improved the overall tone of the village, which in 1872 was 'proverbially clean and picturesque'. (fn. 112)
The 20th Century
The only later building of note is Alvescot (formerly Cedar) Lodge on the village's western edge, in origin a late 19th-century farmhouse in neo-Tudor style replacing an earlier building. (fn. 113) It became detached from its farmland in the 1890s, and in 1926 was extended northwards in an Arts-and-Crafts Cotswold style by Mrs A.L.F. Neville, incorporating a probably 18th-century dovecot and cow shelter. A single-storeyed projection on the east was added in 1938. (fn. 114) Freestanding classrooms were added after 1968 when the house became a private sixth-form college and, later, a training centre for the National Communications Union. (fn. 115)
Council houses were built on Gassons close north of the Black Bourton road in the 1940s and 1950s, (fn. 116) and isolated houses south of the Black Bourton road and on the lane leading south from Park Farm. New building around West End continued in the 1990s, but expansion remained relatively limited, and Alvescot retained much of its rural character, notwithstanding the loss of traditional crafts and an influx of newcomers working else where. (fn. 117) A village hall was built south of the Black Bourton road in 1959, (fn. 118) and several agricultural buildings were converted into houses in the 1980s and 1990s. Electricity was available from 1933. (fn. 119)
A notable loss in the 20th century was the removal before 1960 of the 'stocks elm', a large and allegedly ancient tree south of the Black Bourton road on the edge of the former green, which formerly stood near the village stocks. (fn. 120) Presumably that was the 'town tree' mentioned in the 17th century, which stood on a path across the green leading from Butlers Court to the church. (fn. 121) The stocks, mentioned in 1796, survived in the late 19th century, and Southview cottage on the Black Bourton road, reputedly the former lock-up, retains at the rear a studded prison door with iron gratings. (fn. 122)
Social Life
Social Activities and Inns
A friendly society established in 1847 had 22 members at its dissolution in 1878, (fn. 123) while the Victoria Club, founded in 1860, continued in the 1870s, meeting at the Plough inn. (fn. 124) A reading room was opened in the former Primitive Methodist chapel south of the village street in 1885 and continued in 1939, but by 1960 the building was a Scout hut; it was in poor repair in 1966, and was demolished about 1996. (fn. 125) Alvescot band was mentioned in the 1850s and 1860s, (fn. 126) cricket and football teams existed in 1931 and presumably earlier, (fn. 127) and parish perambulations were mentioned in the early 17th century. (fn. 128)
No innkeepers were licensed in Alvescot in the late 18th century or early 19th. (fn. 129) The Red Lion opened before 1832, (fn. 130) the Plough before 1841, and the Royal George in the 1840s, (fn. 131) all three possibly offering accommodation. The Royal George and Red Lion were acquired in the late 19th century by Clinch and Co. of Witney, (fn. 132) and closed in the later 20th century; (fn. 133) the Plough remained in the late 1990s.
Poor Relief and Charities
The parish presumably raised poor rates by the early 17th century, when it rebuilt a poor woman's house on Alvescot Marsh. (fn. 134) From the late 17th and early 18th century it also administered the parish's few eleemsosynary charities, given mostly by local landowners. (fn. 135) A charity founded by Charles Trinder of Holwell (d. 1657), who charged two closes with 15s. a year for distribution in bread, lapsed before 1738, probably following sale of the land, (fn. 136) but 20s. charged on a Gloucestershire estate under the will of Jane Bray (d. 1716), owner of Alvescot manor, continued to provide annual gifts of clothing for two poor women of the parish. (fn. 137) Goddard Carter (d. 1725) established a parish school and, by his will, charged £5 a year on his Alvescot estate for apprenticing poor boys to be chosen by the estate owner, (fn. 138) though in the late 18th century and early 19th there were sometimes no applicants. A £20 bequest by Thomasine Mills (d. 1767), the interest to be distributed in bread, was combined in 1795 with lifetime gifts of Walter Kirby (£10) and Margaret Kirby (£4 3s. 9d.), the interest providing annual bread doles throughout the 19th century. (fn. 139)
Such doles, largely seasonal, benefited only a few, and as elsewhere the rising cost of poor relief from the later 18th century was met increasingly through parish rates. Parish expenditure on poor relief in 1775–6 was marginally over £51, including £2 10s. rent for a workhouse with accommodation for 8 people. (fn. 140) The workhouse remained in 1784, when the parish sought a keeper to employ, clothe, and maintain the poor, but no sums were spent on setting the poor to work from 1783 to 1785, when average net expenditure on poor relief was £88. (fn. 141) The workhouse had closed by 1803 when expenditure was £327, over 19s. per head of population; by then 30 adults and 46 children, 22 per cent of the population, were receiving permanent out relief, and 10 others occasional relief. (fn. 142) Cottages rented by the overseers in 1812 and later were presumably pauper accommodation, (fn. 143) and income from 10 a. allotted to the poor at inclosure in 1796 was distributed annually in fuel. (fn. 144) Parish expenditure per head of population remained relatively high following the Napoleonic wars, reaching 21s. in 1814 and 22s. in 1819; over the next few years it fell by half, but in the later 1820s rose again, and by 1832 was almost 20s. (fn. 145) The parish was again renting a poor house or workhouse in 1827, and still in 1832. (fn. 146)
From 1834 responsibility for the poor passed to the newly established Witney poor-law union with its own union workhouse, (fn. 147) though the parish continued to oversee rating, to appoint rate-assessors, and to manage the poor allotments. Friendly societies existed from the mid 19th century, (fn. 148) but the only further charitable gift was that of Catherine Winkworth (d. 1876), who left £100 to be invested for maintaining her tomb, with any surplus to be distributed among poor widows and widowers. (fn. 149) The charity continued in 1979, when it yielded under £3 a year. Carter's charity was still used for apprenticing in the 1920s, and before 1979 all the parish charities but Winkworth's were merged with some of Holwell's, forming a combined eleemosynary charity with 10 a. of land and income of £96 a year. (fn. 150)
Education
No schools are known before 1725, when Goddard Carter left £5 a year from his Alvescot estate to teach poor children reading, writing, and arithmetic. (fn. 151) In 1796 the teacher was the parish clerk. (fn. 152) Six boys and six girls were taught in 1815, though not, following the 'general wish of the people', in accordance with National Society methods; (fn. 153) by 1835 there were 18 pupils, though not all were taught free. (fn. 154) Short-lived dame schools, supported entirely from fees, were mentioned in 1815 and 1835, when two of them taught 28 children in all. (fn. 155)
The endowed school joined the National Society in 1840, when a cottage, apparently on the site of the later school at the bottom of Church Lane, was acquired for a nominal sum, probably from the lord John Gwynne. (fn. 156) Before then the school was housed possibly in the church. (fn. 157) In 1843 those unable to afford pence were taught free, (fn. 158) and in 1866 there were 28 boys and 32 girls aged from 4 to 11. (fn. 159) A 'better' school was then a priority, and in 1869 a new, stone-built school (Fig. 3) was erected by the local builder Samuel Oakey, with accommodation for 74 children. (fn. 160) By 1876 there was accommodation for 92, though average attendance was only 43, (fn. 161) and a second school room was added about 1895. (fn. 162) Income in 1876 included a government grant of around £30, voluntary contributions of £28, and the £5 endowment. (fn. 163)
In 1932 the school became a junior school, and before 1956 an infant school. The roll was 19 in 1962 and 26 in 1971, when the school was one of only two singleteacher infant schools in Oxfordshire; by 1978 it was voluntary-aided, and the roll in 1996 was again 26. (fn. 164) Extensions and alterations in 1983 were funded from the sale of the former parish reading room. (fn. 165)
A short-lived boarding school in Alvescot House was mentioned in 1881, (fn. 166) though a 'schoolroom' in Shill House (formerly Home Farm), mentioned in 1909, was probably for domestic use. (fn. 167) Alvescot College, a private residential and day school combining British sixth-form education with American junior college education, was established about 1968 in Alvescot Lodge and the Old Rectory. It closed about 1978, and Alvescot Lodge became an educational and training centre for the National Communications Union. (fn. 168)