Pages 18-23
A History of the County of Oxford: Volume 15, Bampton Hundred (Part Three). Originally published by Victoria County History, London, 2006.
This free content was digitised by double rekeying. All rights reserved.
MANORS AND OTHER ESTATES
In the late Anglo-Saxon period all or part of Alvescot belonged probably to the large royal manor of Bampton, which was gradually broken up. (fn. 1) By the mid 11th century most of the later parish was divided among three manors of between 2 and 4 hides each, which became merged into a single Alvescot manor by the mid 14th century. From the 1360s to the Dissolution it was owned by Edington monastery in Wiltshire, passing thereafter to a number of mostly non-resident owners; from the 17th century it was gradually diminished by sales and enfranchisement of holdings, resulting in the creation of some sizeable freeholds owned by minor local gentry, and by the mid 19th century, when still held with manorial rights, it comprised under 300 acres. The only other significant early estates were the so-called manor of Puttes, owned in the Middle Ages by Cirencester abbey, and a small glebe of under 30 a. belonging to the rector. (fn. 2) The following account traces the main manors and estates, and the houses on which they were centred.
Alvescot Manor
The manor of Alvescot, which included the site of the church, was held in 1066 by Goda, and in 1086, as 2 hides, by the English thegn Saeric, with whose other lands it passed before the early 12th century to Richard de la Mare (fl. 1108 X 1123). (fn. 3) In the late 12th century it was held by another Richard de la Mare, succeeded before 1198 by his son Henry. (fn. 4) A relative, Odo de la Mare, may have claimed some right in the early 13th century, when part of a yardland was allegedly held of his gift. (fn. 5) Then and presumably earlier the manor, with Saeric's lands in Oxfordshire, Wiltshire, and Gloucestershire, was held in chief by serjeanty of acting as usher for the king's hall, or in 1242 of providing a knight to guard the king's treasury, (fn. 6) one of several similar serjeanties in the Bampton area which presumably originated as services on the royal demesne before the Conquest. (fn. 7) The service was still recorded c. 1300, but the manor was held in chief in 1351 as ¼ knight's fee, and in 1401–2 (when greatly enlarged) as ½ fee. (fn. 8)
From Henry (d. 1236 X 1239) (fn. 9) the manor passed to his sister Gunnore and her husband Geoffrey son of William, alias Geoffrey of Alvescot or of Alwoldsbury (d. c. 1242). (fn. 10) Henry's widow Cecily seems to have claimed a third as dower. (fn. 11) Gunnore died c. 1249, leaving as heir either a son of Henry de la Mare, or the son of her uncle Henry de Tracy; (fn. 12) both were minors, and the Crown may briefly have granted the manor to Guy de Rochfort, apparently lord in 1251 and 1253. (fn. 13) The lord about 1260 was Henry de la Mare, perhaps the elder Henry's son; he was a notorious brigand who in the mid 1260s plundered several churches, including that at Alvescot, and was subsequently killed escaping from Bampton prison. The manor consequently escheated to the Crown, which in 1267 granted it successively to William de Valence, earl of Pembroke, to Robert Waleraund, and to Thomas de Clare. (fn. 14) In 1276 Thomas exchanged his lands with Robert Mucegros (d. 1280), who soon after granted Alvescot to his mother Cecily as dower. (fn. 15)
Cecily was owner in 1285 (fn. 16) but died before c. 1300, when the manor was held by Robert's daughter Hawise, wife of John de Ferrers. Before 1316 she married Sir John de Bures of Boddington (Glos.), and in 1330 they settled the manor on themselves for their lives with remainder to Richard of Monmouth and Parnel de Ferrers. (fn. 17) Claims by the Pusey family, who alleged descent from Henry de la Mare, were defeated, (fn. 18) and in 1343 Richard son of Thomas of Monmouth quitclaimed the reversion to Robert de la Beche and Simon Asshe, who succeeded on John de Bures's death in 1350. (fn. 19) In 1352 they granted the manor to Edmund de la Beche, archdeacon of Berkshire, who the same year granted it to William of Edington, bishop of Winchester; in 1360 he granted it with other lands in Alvescot to the newly founded monastery of Edington (Wilts.), (fn. 20) which made further acquisitions in the 1360s and retained the enlarged estate until the Dissolution. (fn. 21)
In 1540 Alvescot was granted to Sir Anthony Hungerford (d. 1559) of Down Ampney (Glos.), and passed apparently through the male line to Sir John (d. 1582), Sir Anthony (d. 1589), and Sir John (d. 1634). (fn. 22) He, with his son Anthony, his brother Sir Anthony (d. 1627), and others, sold it in 1619 to Sir William Ashcombe, who in 1611 had acquired the residue of a 99-year lease to Bartholomew Peisley of Bampton. (fn. 23) Ashcombe died in 1627, leaving as coheirs six infant daughters: Hester, who married Sir Edward Alston; Ann, who married Sir Thomas Longueville; Katherine, who married Robert Hales; Mary, who married John Lenthall, son of the Speaker; Frances, who married Sir Edmund Bray; and Margaret, who married Robert Ashton. On Mary's and her infant son's death in or before 1649 reversion of her sixth was divided among the other coheirs, but in 1652–3, following various conveyances, all the portions were sold to William Rainton (d. c. 1652) of Shilton (then Berks.) and his father-in-law Charles Trinder of Holwell, who also acquired reversion of lands held for life by Ashcombe's widow Katherine and her second husband Thomas Hales, Robert's father. (fn. 24)
Trinder greatly reduced the manor through sales and conversion to freehold (fn. 25) and died in 1657, when the remaining estate passed subject to various trusts to his granddaughter Jane Rainton, who married Reginald Bray (d. 1688) of Great Barrington (Glos.). (fn. 26) It passed presumably to Reginald's son Edmund (d. 1725) and to Edmund's son Reginald Morgan Bray, the lord in 1735, (fn. 27) who in 1740 was succeeded by his sisters and coheirs Mary, wife of John Blewitt of Salford, and Frances, wife of Thomas Bushell of Cleeve Prior (Worcs.). The Blewitts seem to have sold or surrendered their right to Bushell, who took the surname Fettiplace; he died in 1767, leaving his lands in trust for his eldest son Robert Fettiplace (d. 1799), with reversion to his younger son Charles (d. 1805) and daughter Frances. Her son Richard Gorges (later Gorges Fettiplace) succeeded in 1805. (fn. 28)
Richard died in 1806 leaving his estates to five sisters: Elizabeth, wife of Charles Henry Sheldon; Meliora, who married Deliverance Dacre; Mary (d. c. 1807), who married Thynne Howe Gwynne; Diana; and Arabella. Alvescot seems to have been settled in 1810 on Arabella, who in 1813 married John Gwynne of Crickhowell (Brecon), and died in 1839, leaving Alvescot and other lands charged with payments to her husband, who had a life interest. John established his right before 1847 following a Chancery suit, and died in 1852, when trustees under Arabella's will sold most of the estate, then only 230 a., in lots. Manor farm (73 a.) was separately sold in 1853, with manorial rights and quitrents, to trustees of the former rector Thomas Neate (d. 1856) and his son Arthur (d. 1870), the current rector, who in 1855 added Godwins (later Rectory) farm (c. 74 a.). (fn. 29) On Arthur's death the estate was left in trust for his children Thomas Arthur, Charles Burnaby, Revd Walter (rector of Alvescot 1878–1917), and Eleanor, with provision for his widow Eleanor (d. 1906), but by 1907 Charles Burnaby Neate, a naval commander, had evidently acquired full control. (fn. 30) His son Major A.C. Burnaby Neate sold Godwins farm in 1920 but retained the lordship, (fn. 31) which in the 1980s was excepted from the sale of Manor Farm by the Neates' descendant Mrs F. Hall. (fn. 32)
Manor Houses and Residence
The Medieval Manor House The de la Mares and possibly Cecily de Mucegros seem to have lived in Alvescot, (fn. 33) and in 1251 and 1253 Guy de Rochfort was granted 20 cartloads of fencing wood (clausture) for enclosing his 'court' there. (fn. 34) The 13th-century manor house lay probably in Old Court ground north-east of the church, where earthworks define a large rectangular enclosure adjoining earlier settlement remains (Figs 4 and 5): (fn. 35) the site's proximity to the church and mill suggests association with Alvescot rather than Alwoldsbury manor, (fn. 36) though as no 11th or early 12th-century pottery has been found there may have been an earlier house nearer the church. (fn. 37) The curtilage is bounded on the north and east by a hollow way running towards the mill, and on the west by a massive double ditch, part of which seems to extend southwards beyond the curtilage. Banks north-east of the enclosure near Shill brook, and a circular platform within it, may be remains of fishponds and of a circular dovecot, and a long narrow strip down the curtilage's western edge was perhaps the garden mentioned in the 14th century. In 1351–2 the house and garden were worth nothing, (fn. 38) and ruinous demesne farm buildings mentioned in 1439 (fn. 39) may have occupied a different site. By the 16th century the demesne was worked from Manor Farm near the Kencot—Black Bourton road, (fn. 40) and in 1653 Old Court ground was a vacant close. (fn. 41)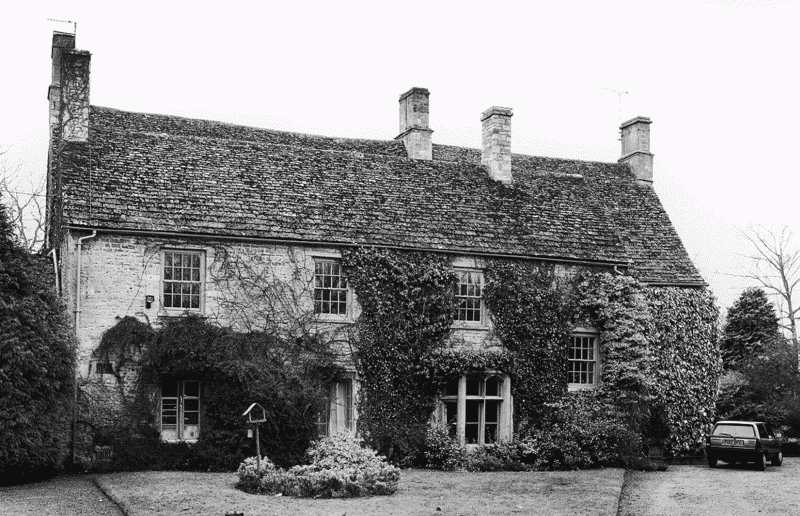 Butlers Court A new manor house, evidently that now called Butlers Court, west of the green, (fn. 42) was adopted presumably in the early 17th century by the resident Ashcombes. (fn. 43) Sir William's widow Katherine was apparently resident in 1643–4: as one of an ardent royalist family she entertained Charles I on 17 September 1643, presumably at Butlers Court, during his march from Gloucester to Newbury (Berks.), and in 1644 she supplied grain for the Oxford garrison. (fn. 44) By 1652 the manor house was leased, (fn. 45) and in 1659 Butlers Court and its land were sold to John Saunders of Alvescot. (fn. 46) Later owners included possibly Goddard Carter (d. 1725) and his son-in-law Samuel Adams (d. 1750), rector of Alvescot, (fn. 47) William Bolt, who from c. 1796 may have resided, (fn. 48) and in the 19th century the Butler family of Faringdon (then Berks.), one of whom lived there from the 1850s to 1870s. (fn. 49)
The main four-bay range of the existing house, of limestone rubble with a stone-slated roof, is of the earlier 17th-century, and was built probably for the Ashcombes. The four-light mullioned windows with individual hoodmoulds on the south front originally served three rooms, with a staircase against the east stack; the high assessment of 9 hearths in 1662 (fn. 50) perhaps included outbuildings or remains of an earlier house. In the 18th century a parallel north-east service wing was added, and in the early 19th century the house was heightened, and circulation was improved by insertion of an east—west corridor and a staircase on axis with a new south entrance. Later in the 19th century the west service room was made into a dining room with a Gothic bay-window, probably by Frederick Butler, and an east entrance was created. The approach to the house was changed to the north-west about 1924. (fn. 51) Two early 16th-century timber doorways, inserted in the main corridor, seem to have been brought from elsewhere.
Lords of Alvescot from the mid 17th century to the mid 19th were non-resident, (fn. 52) and Thomas, Arthur, and Walter Neate, as rectors, occupied the rectory house. (fn. 53) A member of the Neate family may have briefly lived in Manor Farm about 1920. (fn. 54)
Alwoldsbury Manor
Four hides in Alwoldsbury, held in 1066 by the Saxons Ealdwine, Saewold, and Eadwine, were granted before 1086 to Walter son of Ponz. (fn. 55) Overlordship descended with Walter's other lands to the Hastings, Blakenham, and St Philibert families, but seems effectively to have ended by the late 14th century. The manor formed part of a reputed barony, of which the Oxfordshire portion was held as 1½ knight's fees. (fn. 56)
In the late 12th century or early 13th William of Hastings granted or confirmed a knight's fee in Alwoldsbury and Stowell (Glos.) to William son of Geoffrey, presumably the William who, with his mother Cecily, alienated most of the Stowell land in 1192. Since William and Cecily claimed through primogeniture their family's lordship may have been long established. (fn. 57) Alwoldsbury, held as ½ fee and later as a whole fee, (fn. 58) passed to William's son Sir Bartholomew of Hethel (fl. 1250), before 1279 to Master William de la Mare, who perhaps held in custody or by lease, and to Bartholomew's daughters Emme (fl. 1285–1316), wife of John de la Penne, who received five sixths, and Alice, wife of William de la Penne, who received the rest. (fn. 59) The larger share passed before 1327 to Emme's son Adam de la Penne (d. by 1349), who acquired additional lands from his brother John, to Adam's widow Maud, and before 1356 to their son John, who that year granted the manor to William Golafre. Golafre granted it in 1357 to William of Edington, who in 1360 gave it to Edington monastery, (fn. 60) and the Alwoldsbury estate became absorbed into Alvescot manor. (fn. 61) Alice's sixth, not mentioned later, may have been among various de la Penne lands acquired by the monastery in the later 14th century; a freehold in Alwoldsbury and elsewhere, granted by Adam's brother Lawrence to Edmund de la Beche in 1351, passed also to the monastery, and presumably became part of the combined manor. (fn. 62)
Manor House
Thirteenth-century owners may have lived at Hethel (Norfolk), (fn. 63) but John de la Penne was 'of Alwoldsbury' in 1315 and 1336, and, since the family dated or witnessed several charters at Alwoldsbury or Alvescot, some presumably resided. (fn. 64) Adam de la Penne held a house with the demesne in 1333, but assuming that earthworks north-east of the church mark the site of Alvescot manor house no manorial site is known. (fn. 65)
Bromscott and Pemscott Manor
Two hides and a yardland at Bromscott and Pemscott were held in 1066 by the Saxons Aeluric and Aelwin, and in 1086, under Robert of Stafford, by the Norman Goisbert. (fn. 66) The estate's later descent is unclear: in the mid 13th century Gunnore de la Mare held one carucate in Bromscott and Pemscott of Vivian de Staunden for rent of 1 mark, (fn. 67) but though Robert de Staunden claimed the estate in 1280 it may by then have formed part of Alvescot manor, which in the early 14th century was once called the manor of Alvescot, Bromscott, and Pemscott. (fn. 68) Over 100 a. in Bromscott granted in 1351 by Laurence de la Penne to Edmund de la Beche passed probably to Edington monastery with Alwoldsbury manor, (fn. 69) and no significant estates at Bromscott or Pemscott were mentioned later. (fn. 70)
Puttes 'Manor'
An estate at Puttes, called in the mid 16th century the manor or farm of Puttes Alscotte (or Alvescot), (fn. 71) belonged until the 13th century to Clanfield manor. Probably before 1200 it was subinfeudated to William Baynel: in 1242–3 his heirs seem to have held ½ knight's fee in Puttes and Clanfield under the lord of Clanfield, who in turn held of the honor of St Valery. (fn. 72) Before 1279 the Puttes land, totalling 6½ yardlands and assessed at ¼ knight's fee, was given to Cirencester abbey (Glos.), which retained it until the Dissolution, administering it with lands in nearby Broadwell parish. (fn. 73) The lord of Clanfield's mesne lordship continued in the 14th century, and overlordship passed with the honor of St Valery and later with that of Ewelme until the 19th century. (fn. 74)
In 1542 the Crown granted the manor or farm of Puttes, then a small inclosed estate, to Sir Thomas Pope (d. 1559), with other Cirencester abbey lands. Thomas settled it on himself and his wife Elizabeth (d. 1593), on whose death it passed to his nephew Sir William Pope (d. 1631), later earl of Downe, and to William's grandson Thomas Pope (d. 1660), earl of Downe. (fn. 75) Before 1670 it was apparently sold with other lands to the lawyer Ambrose Holbech (d. 1662) or his son Ambrose (d. 1701), (fn. 76) and in 1671 Holbech and others sold the farm of Puttes, Pitts, or Pitlands, then 2½ yardlands, in two halves, (fn. 77) which passed by the mid 19th century to the Godwin and Nalder families. (fn. 78) No manorial rights are known.
Lesser Estates
Shield Farm Estate
An inclosed estate of some 136 a., chiefly former demesne north of Alvescot village, was sold by Charles Trinder in 1653 to Thomas Hales and his wife Katherine (Ashcombe), evidently reserving 8s. 6d. quitrent. Hales sold the estate in 1658 to John Wheeler of Minster Lovell, who before 1664 built for it a 'fair mansion house', later called Shield or Shill Farm. (fn. 79) In 1671 Wheeler settled both house and estate on his son John, who in 1673 sold them to William Blake of Cogges; Daniel Blake sold them in 1725, charged with charitable annuities, to Simon Harcourt, Viscount Harcourt, whose descendant the Revd William Vernon Harcourt sold them in 1867 to John Nalder of Alvescot. (fn. 80) Nalder's executors sold the estate, still charged with the Blake charity annuities, in 1909. (fn. 81)
Shield Farm, (fn. 82) demolished about 1937, (fn. 83) was a large stone-built house with a hipped, stone-slated roof, built on an L-plan. It had a symmetrical south-facing front of 3 bays, and was 2-storeyed with cellars and attics, the latter lit by dormer windows. Stone steps led to the central doorway, which opened into a hallway leading to the four principal downstairs rooms; service rooms were in the projecting north wing. In 1681 there were 16 rooms excluding closets, and the house was taxed on probably 15 hearths in 1662 and 13 in 1665, the highest assessment in the parish. (fn. 84) Three downstairs rooms, called the hall, dining room, and little parlour in 1681, were wainscotted. John Wheeler the elder may have briefly lived there around 1664 when he requested a pew in Alvescot church, (fn. 85) but the house and land were usually let to tenant farmers until the early 20th century. (fn. 86) By 1909 the house was 'dilapidated', and evidently remained so until its demolition. (fn. 87) A nearby farmhouse for a tenant, 'new built' in 1681, was mentioned in 1723 but not later. (fn. 88)
Park and Rectory Farms
Farms and estates acquired by various members of the Kirby family during the 17th and 18th centuries passed, in the late 18th century, to Walter Kirby (d. 1801), who at inclosure held four houses and 260 acres. (fn. 89) The larger part, including Rectory and Park farms, passed after his death to members of the Godwin family, who in 1855 sold Rectory farm to the Neates, then lords of Alvescot. (fn. 90)
Park Farm, on the edge of the former green near Lower End, was perhaps the house formerly called Crutchfields, which was detached from Alvescot manor in 1653, and acquired by Richard Kirby (d. 1696) in 1657 with a yardland, closes, and a parcel in a nearby common ground called the Park. (fn. 91) The existing L-shaped building (Fig. 9) includes remains of a gabled 17th-century house of two storeys and attics, with an original north stack, beams and roof timbers, and a west stair-projection. That house's south end was replaced by a classical, ashlar-faced, two-storeyed range of three bays with a central entrance hall and staircase, built at right angles probably in 1741 by Richard Kirby (d. 1756): his initials, with that date, were formerly on the east gable. (fn. 92) Perhaps at the same time the east front of the north-east range was refaced in ashlar, the house was reroofed, and a service outshut was added in the rear angle. The stone hood over the 17th-century east entrance, matching that on the main front, may be later, and panelling in the west room is imported. Resident owners, besides Richard Kirby, may have included his nephew James Kirby (d. 1793) and James's wife Margaret, (fn. 93) whose initials appear on an adjacent barn with the date 1770. (fn. 94) Walter Kirby subsequently let the house to a local farmer, and it remained a farmhouse until the late 20th century. (fn. 95) In the 19th century a rubble-built bakehouse and storeroom were added at the north end, which was remodelled in the 20th century with a conservatory on the west.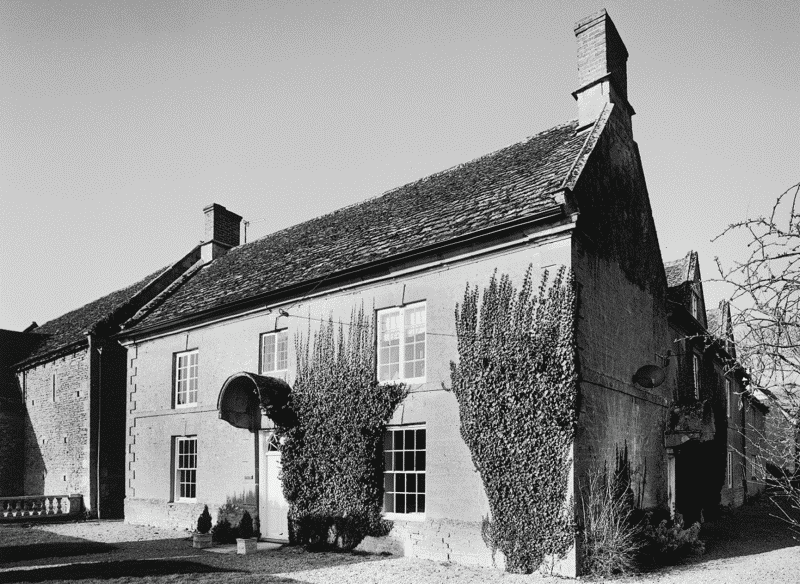 Outbuildings to the west of the house include the fine stone barn of 1770, with its original queen-strut roof. Others are a cattle shelter with cylindrical piers, and a former stable and hayloft which was converted into a house about 1992. Seventeenth-century mullioned windows, two of them timber, survived in the stable c. 1989, (fn. 96) and came presumably from the house.