Pages 23-30
A History of the County of Oxford: Volume 15, Bampton Hundred (Part Three). Originally published by Victoria County History, London, 2006.
This free content was digitised by double rekeying. All rights reserved.
ECONOMIC HISTORY
Agriculture
Open Fields and Commons
Alwoldsbury's field or fields were mentioned in 1246–7. (fn. 1) No later references have been found and, since a grant of arable and meadow in 1351 lay 'in Alwoldsbury and Alvescot', (fn. 2) the hamlets' fields may by then have been combined. Fourteenth-century grants of land 'in Bromscott' may indicate that Bromscott or Pemscott similarly once had independent fields, presumably in the south-west, but a grant in 1351 of 38 a. 'in either field in Bromscott or Alvescot' suggests a shared system by the 14th century. (fn. 3) Sixteenth- and 17th-century allusions to arable belonging to Pitlands or Puttes referred only to land in Alvescot's fields then held with Pitlands farm. (fn. 4)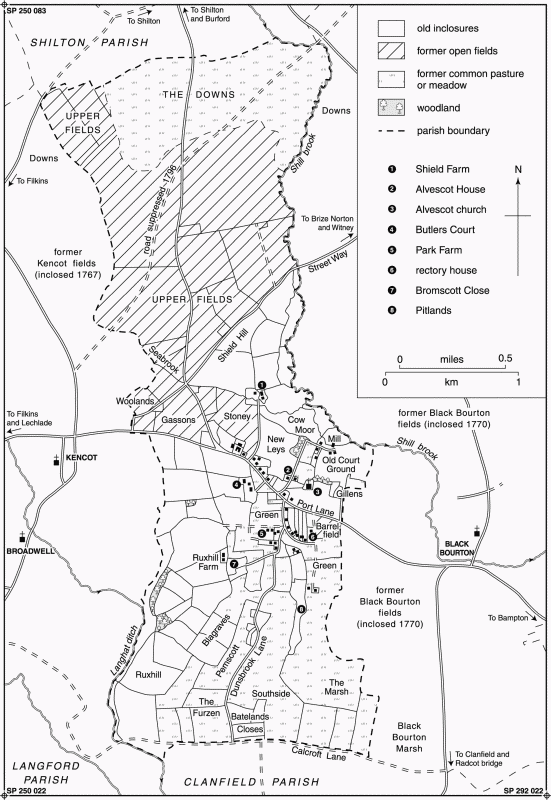 In the 18th century and probably earlier Alvescot's open fields lay chiefly north of the Kencot—Black Bourton road, covering much of the parish's central and north-western part (Fig. 10). (fn. 5) The largest were East and West fields, perhaps the two fields mentioned in 1351; from the 17th century they were often called the Upper fields. (fn. 6) Seabrook furlong, by the parish's western boundary, was included in both those fields in the 17th century, but in the 18th was sometimes counted a separate field. A Middle field was taken from East and West fields before 1796. Woolands, Gassons, and Stoney or Stonehey, all near the Kencot—Black Bourton road, perhaps also once belonged to East or West fields, but from the 17th century, although none exceeded 35 a., they were often listed separately, and in 1671 they were recorded with the 20-a. Barrel field, south of Alvescot village near the eastern boundary, as a single Lower field. (fn. 7) South field, mentioned intermittently from the 17th century, was presumably either an alternative name for Barrel or Lower field, or another small field adjoining pasture closes near Pemscott. (fn. 8) In the early 13th century there was also arable at Ruxhill in the south-west, where Clanfield manor had 25 a. of demesne, (fn. 9) and ridge and furrow indicate more open-field arable north and south of the church, some of it probably overlying early medieval settlement. (fn. 10) By the 17th century the area was pasture closes, however. (fn. 11)
Meadow totalling 53 a. was recorded at Alwoldsbury, Bromscott, and Pemscott in 1086, and some of the 100 a. then recorded under Clanfield may have belonged to Puttes. (fn. 12) Then as later much may have lain in the detached meadows of Burroway and Sharney (c. 113 a.) by the river Thames, where Alvescot inhabitants had rights by the late 12th century. (fn. 13) Meadow within Alvescot parish included Southside, around 96 a. at inclosure, which lay south of Alvescot village near Clanfield brook adjoining the probable site of Puttes hamlet. (fn. 14) 'Sebrokesmed', presumably near Seabrook on the west, was mentioned in 1441, (fn. 15) and Dunsbrook and Green mead from the 17th century, when there was also common meadow in East field adjoining Shill brook. (fn. 16) Dunsbrook remained lot meadow until 1796, and part of Sharney until 1851. (fn. 17) Inclosed meadow near Shield Farm, at Bazeland (or Batesland) closes in the south, and in the south-west, recorded from the 17th century, (fn. 18) perhaps included former common meadow.
Pasture 3 furlongs square was noted in 1086 at Bromscott and Pemscott and pasture 6 furlongs square at Alwoldsbury, with only 3 a. recorded, presumably in error, at Alvescot. (fn. 19) Alvescot Marsh, a common pasture of some 135 a. adjoining the south-eastern parish boundary, was mentioned from the early 14th century; (fn. 20) other commons mentioned from the 17th and 18th centuries were Murrel green at Alvescot village's southern end, the green or horse common south of the Kencot—Black Bourton road, and the Downs (over 300 a.) in the parish's north-east corner. Residual common rights were noted in Pitlands closes, site of the deserted hamlet of Puttes, (fn. 21) while Cow moor (c. 20 a.) near Shield Farm, inclosed by 1653, was presumably also former common pasture: late 17th-century tenants retained unspecified common rights both there and in some other small closes. (fn. 22) By the 17th century leys provided some additional grassland, (fn. 23) and inhabitants also had pasture rights in the furze common in the south-west; the furze itself was said to belong to Clanfield, though by 1796 poor Alvescot inhabitants could evidently take furze, bushes, and thorns, since they were compensated for the right at inclosure. (fn. 24) In the 16th century cattle were grazed in Alvescot Marsh from around 3 May, and the Marsh was closed usually around Lady day (25 March); (fn. 25) pasture allowances in Pitlands and presumably elsewhere in Alvescot were then fixed annually in May, (fn. 26) and in the 17th and 18th centuries seem to have been fairly generous, usually comprising at least 12 beasts, 4 horses, and 80 sheep per yardland. (fn. 27) Alvescot inhabitants had no pasture rights in the detached Thames-side meadows, where the aftermath was divided between Weald (in Bampton) and Clanfield. (fn. 28)
Early inclosures, comprising mostly former demesne and the sites of the deserted medieval settlements, covered up to 30 per cent of the parish by the later Middle Ages. (fn. 29) 'Besebrek', whose name implies assarting, was evidently the later Bazeland near the southern boundary, and may already have been inclosed when mentioned in 1380, perhaps following a general reorganization of the parish's southern part. (fn. 30) The sites of Bromscott, Pemscott, and Puttes were inclosed presumably by the later Middle Ages and certainly by the 16th or 17th century. (fn. 31) Demesne closes near the church and Shield Farm (some 200 a.), west of Butlers Court Farm (around 90 a.), and near Ruxhill Farm in the south-west (around 220 a.) were also recorded from the 17th century, and may be partly medieval in origin, (fn. 32) though no inclosures were mentioned in 14th-century inquisitions. (fn. 33) Shield and Butlers Court farms were later without common rights, presumably following agreements at their inclosure. (fn. 34) Subdivision of closes continued, (fn. 35) and a more comprehensive inclosure may have been considered in the mid 17th century. (fn. 36)
A spinney near the church, recorded about 1250, was perhaps that still adjoining the churchyard in the late 20th century. Larger coppices to the north and in the south-west, totalling some 5 a., existed by the late 18th century, (fn. 37) and 100 a. of woodland reported in 1586 was presumably scattered in small coppices and in hedgerows. (fn. 38) A 'considerable quantity' of timber was reported on Alvescot manor in 1906, much of it recently cut or blown down. (fn. 39)
A medieval yardland on Alwoldsbury manor may have contained 30 a. of arable, (fn. 40) and 17th-century yardlands seem to have contained around 35 acres. (fn. 41) The amount of common meadow per yardland varied, but was usually small: in 1351 Alvescot manor's demesne (2 ploughlands containing 160–80 a. of arable) included only 15 a. of meadow, and holdings of 40–50 a. in Bromscott and Pemscott included 2 a. or less. (fn. 42) The rectory estate, with 23 a. of arable in 1685, had 2¾ a. of meadow in Southside, 2 a. in Millen (near the mill), and 3 parcels of lot meadow in Sharney. (fn. 43) The inclosed Shield farm included 25 a. of meadow and over 100 a. of pasture in the mid 17th century, (fn. 44) but few small tenants had much inclosed land before parliamentary inclosure in 1796. (fn. 45)
Medieval Tenant Farming
In the late Anglo-Saxon period Alvescot was probably administered as part of the large royal estate of Bampton, but by the Conquest its inhabitants were tenants of three small independent manors. (fn. 46) Recorded tenants in 1086 totalled 8 villani and 11 lower-status bordars, with 9 slaves employed presumably on the local demesnes, though the balance on different manors varied: Alvescot manor had no recorded villani, while as many as 5 of the slaves were at Bromscott or Pemscott, perhaps reflecting their origins as small satellite settlements on the edge of the Bampton estate. The Alwoldsbury and Bromscott—Pemscott estates were reckoned to have land for 6 and 3 ploughteams respectively, but as only 4 and 2½ teams were recorded both may have been understocked. The value of all three estates had nevertheless risen since 1066, Alvescot from 20s. to 50s., Bromscott and Pemscott from 40s. to 50s., and Alwoldsbury from 60s. to 80s. (fn. 47) Puttes, if it then existed, was surveyed presumably with Clanfield. (fn. 48)
By 1279 (fn. 49) there were 10 half-yardlanders and 5 cottagers at Alvescot, perhaps including some at Bromscott and Pemscott, (fn. 50) and 13 half-yardlanders at Alwoldsbury. The close correspondence with the Domesday figures for each manor may indicate that the slaves and perhaps some Alwoldsbury bordars had been absorbed into the ranks of 13th-century villeins. At Puttes four yardlanders and a half-yardlander were recorded, along with two tenants sharing a divided yardland. At Alvescot and Alwoldsbury there were also some 26 free tenants, of whom many held no other land locally and were probably resident; at Alvescot, most had between ½ and 1½ yardlands. (fn. 51) Hugh Stone (de Petra), one of a prominent local family recorded until the early 14th century, (fn. 52) held 5 yardlands and sublet another 2½, and a few other holdings were similarly sublet. Villeins' rents and services were heaviest on Alvescot manor, where half-yardlanders paid 2s. 2½d. rent and owed services valued at 5s. 9½d.; half-yardlanders on Alwoldsbury manor owed 1s. 6d. and services valued at 4s. 10d., and at Puttes yardlanders owed 3s. rent and services worth 7s. 6½d. Most Alvescot cottagers held 6 a. each for 1s. 7d. rent and works worth 3s. 9d. Freeholders' rents per yardland varied from a few pence to 20s., and two rents included capons or wax. Two other tenants discharged the lord of Alwoldsbury's obligations at the hundred court, another held a house and 4 a. for 1d. and for keeping two lamps burning in Alvescot church, (fn. 53) and the single free tenant at Puttes owed scutage. Hugh Stone's estate owed 'foreign' service only, presumably light services outside the manor.
The parish was taxed in 1306 on movable goods worth around £85, in 1316 on £119, and in 1327 on £95, placing it among the middling rank of local rural communities. Average wealth per head was around 57s. in 1316 and 54s. in 1327, but there was considerable disparity between individuals. The largest payments in both those years came from the lord of Alvescot, taxed in 1316 on goods worth over £19, while members of the Penne family were together taxed on goods worth over £10. Some other sizable payments came from freeholders, but several of the wealthiest taxpayers were otherwise unrecorded, or came apparently from families holding in villeinage in 1279. Two taxpayers, one possibly a half-yardlander, were assessed on 8s. only. (fn. 54)
Nine villeins and 4 cottagers were recorded on Alvescot manor in the mid 14th century, slightly fewer than in 1279. Rents for both groups suggest that labour services had probably been commuted, though some land remained in demesne. Freehold rents seem to have fallen overall, though some in the late 14th century remained unaltered from 1279. (fn. 55) Over half the unfree tenants on Alvescot manor died presumably of plague before 1351, when their lands lay uncultivated, and in 1352 only 24s. rent was recorded from villeins (nativi) and 20s. from freeholders. The effects were presumably long lasting, since settlement seems thereafter to have been concentrated in the shrunken village of Alvescot. (fn. 56) Some accumulations of holdings apparently followed: one Alvescot tenant in 1368 held 4 houses, a vacant toft, over 140 a. of arable, and rents from 5 smallholdings, (fn. 57) and by the early 16th century some large, partially inclosed farms included Puttes or Pitlands, later 2½ yardlands, which by 1536 was let to a single tenant. (fn. 58) Several tenants in the 1430s and 1440s were fined for allowing buildings to decay, but customary yardlands were taken up at the same court sessions, (fn. 59) and there is no late-medieval evidence of vacant holdings.
Medieval Demesne Farming
Three ploughlands were in demesne on Alvescot manor in 1279, and two in 1351–2. (fn. 60) Though farming was clearly mixed, sheep may have been important by the 13th century when the lady of Alvescot gave 60 sheep commons to the church, (fn. 61) and stock sold from the demesne in 1421–2 included over £60-worth of wool. (fn. 62) By 1441, when one tenant illegally occupied 8 a. of demesne and others were fined for encroachments, (fn. 63) some or all of the demesne may have been leased: the whole was certainly let for £18 (later £17) from the late 15th century to the early 17th, (fn. 64) though in the 1620s and 1630s the resident Ashcombes, then lords of Alvescot, kept 6 yardlands in hand and employed a bailiff. (fn. 65) Two ploughlands in demesne on Alwoldsbury manor in 1279 and probably in 1333 were not mentioned later, and after the manors were united were presumably merged in the Alvescot demesne or let to tenants. (fn. 66)
The 16th Century to Parliamentary Inclosure
Fourteen landholders were taxed in 1524, 25 in 1542, and 5 in 1576. (fn. 67) The wealthiest, both resident, were Thomas Bond (d. c. 1557), taxed in 1542 on goods worth £35, and his son John, lessees of the demesne farm and of Black Bourton vicarage. (fn. 68) Other prominent families, many of which remained in the late 17th century, were the Hintons and Mays, lessees of Pitlands farm, (fn. 69) and the Turfreys, who occupied 3 freehold yardlands and who were recorded from the 13th century. (fn. 70) The social structure throughout the 17th century and early 18th remained similar to that of most local parishes, with moderately prosperous yeomen leaving goods worth £150–£250 or more, but many yeomen, husbandmen and labourers leaving much less. (fn. 71) Most householders in 1662 (71 per cent) paid on 2–4 hearths, with the former manor house (later Butlers Court) assessed on nine. (fn. 72) William Claridge, one of an averagely wealthy yeoman family, occupied an unidentified house with 15 hearths, perhaps Shield Farm, presumably as lessee. (fn. 73) Three inhabitants, each with one or two hearths, were exonerated through poverty in 1665. (fn. 74)
Farming was mixed, the chief crops in the 16th and 17th centuries being wheat and barley, with some peas and vetches. Some barley was malted. (fn. 75) Rarer crops were oats, hemp, and hops, (fn. 76) and on the inclosed Shield farm sainfoin was introduced before 1673 and clover in the 18th century. (fn. 77) A two-course rotation followed in 1352 (fn. 78) was presumably succeeded by three- or four-course rotations by the 17th or 18th centuries, but no details are known. Sheep continued to be important: a few flocks of 300–460 were noted from the late 15th century to the earlier 17th, Thomas Bond's in 1549 being one of the largest in the area, while several smaller flocks were also recorded. (fn. 79) Dairying and cheesemaking were also common, one wealthy farmer in 1699 leaving 600 cheeses worth £7 and over 30 cattle, with hay worth £15 and some wheat, barley, and malt. (fn. 80) Inclosed dairy farms were mentioned in the late 18th century, stock on Ruxhill farm in 1786 including hay and 18 cattle. (fn. 81) Many lesser inhabitants left pigs, bacon, and poultry, and some left bees. Markets included Burford and presumably Witney. (fn. 82)
In the 1650s Alvescot manor was reduced by piecemeal sales (fn. 83) and by conversion of copyholds to freehold, each owing 1s. quitrent. (fn. 84) By the late 18th century it comprised only three lifehold farms with between 4 a. and 45 a., all open-field arable, and a large leasehold of 295 a. centred on Manor Farm, much of it (170 a.) inclosed and presumably made up of former demesne. (fn. 85) Three other largely inclosed farms, each between 90 a. and 137 a., were let by non-resident owners apparently at rack rent. (fn. 86) A few prominent farmers who paid £20–£40 land tax combined tenancies of such farms with smaller leaseholds and freeholds: the only large owner-occupiers were the Kirbys of Park Farm, whose estate, made up of smaller farms acquired since the 17th century, was also let from around 1794. Up to a dozen cottagers in 1796 had no recorded land or commons, and a few other people, some possibly non-resident, had furze or common rights only. (fn. 87)
Parliamentary Inclosure to the 20th Century
Despite the existence of some large inclosed farms, around 70 per cent of the parish remained uninclosed in 1796, when an inclosure Act was obtained. The award was sealed in 1797. (fn. 88) The lord's trustee received 234 a., much of it consolidated in old inclosures, together with some 50 a. for land let on lifehold tenancies. Awards to Earl Harcourt (136 a. for Shield farm), John Lenthall (90 a. for Ruxhill farm), and William Bolt (97 a. for Butlers Court farm) also comprised chiefly old inclosures. Awards to some 37 other owners ranged from 1 a. or less for furze or common rights, to over 300 a. awarded to a non-resident proprietor (fn. 89) chiefly for 240 sheep commons. The Thames-side meadows were separately inclosed in 1851. (fn. 90)
The lifehold tenancies survived in 1813, when one cottager still owed heriot of £1 6s. 8d., (fn. 91) but thereafter all farms were let apparently at commercial rents. Production was said in the early 19th century to have trebled since inclosure, but farmers were 'not the best', and rent reductions for Manor farm in the late 1810s may reflect difficulties following the Napoleonic wars: poor relief expenditure during that period remained high. (fn. 92) In 1851 there were seven farms over 100 a., among them the outlying Bazeland and Downs farms, established since inclosure; Downs farm, at 365 a., was the largest by far, and the Nalders' freehold centred on Home Farm (later Shill House) in Alvescot village totalled 200 acres. Four other farms were between 40 a. and 100 acres. The eleven farms together employed some 50 labourers, of whom 70 were recorded in the parish, forming by far the largest occupational group; others involved in agriculture were a cattle dealer farming 12 a., and in 1861 three shepherds and a dairy maid. (fn. 93) By 1881 John Nalder farmed over 550 a. and employed over 20 labourers, (fn. 94) though the parish may by then have been suffering further agricultural depression: many labourers reportedly joined the Agricultural Labourers' Union following a meeting in 1872, while in 1881 four principal farms were vacant, and in 1887 the prominent farmer John Hill was bankrupted. (fn. 95) Rent remissions were mentioned in 1896. (fn. 96)
One 70-acre farm was 75 per cent arable in 1867, (fn. 97) but Manor farm (72 a.) was mostly grass, and mixed farming continued. (fn. 98) Dairying at Alvescot mill was noted in the 1860s and later. (fn. 99) In 1909 Nalder's combined Home and Shield farms (334 a.) were 58 per cent pasture and 42 per cent corn and sheep land; the arable, in 'one of the best recognized corn districts in the county', was compact and easily worked, but there was also rich meadow near the homesteads, and livestock included 75 shorthorn cattle, 44 Hampshire Down lambs, 12 Berkshire pigs, and 300 poultry. (fn. 100) Overall, the parish was then around 70 per cent arable, much of it probably on the northern Cornbrash and Forest Marble; numbers of livestock were similar to those in neighbouring parishes, though in 1914 there were fewer cattle than further south, and, as elsewhere, sheep farming was declining. The chief crops were barley and wheat, with some swedes and turnips and a few mangolds and potatoes. (fn. 101) Similar patterns continued in the mid 20th century, reflecting Alvescot's location between the mixed farming regions of the county's north-western part and the dairying regions of the south-west; oats were grown also, commercial pig and poultry farming accompanied dairying, and both Downs and Field farms retained flocks of over 100 in the 1940s, when there were five farms of 150–360 a., with five more of 30–85 a. (fn. 102)
Trades and Crafts
Occupational surnames in the late 13th century and early 14th included Tailor (Cissor), Smith (Faber), and Fuller (Foulare), though by the 14th century the first and probably all three names were hereditary. (fn. 103) The usual rural trades were recorded later: a butcher was mentioned in 1630, weavers in 1631 and 1697, (fn. 104) blacksmiths, carpenters, a tailor, and 2 or 3 bodice-makers in the late 17th century and the 18th, (fn. 105) and two masons in the mid 18th. (fn. 106) Descendants of a carpenter, dealer, and chapman bankrupted in 1780 continued as carpenters and later as wheelwrights until the later 19th century, (fn. 107) and a woman who in 1774 left a furnace to her son, later a shopkeeper, perhaps brewed commercially. (fn. 108) A quarry on Alvescot Downs, mentioned in 1653 as a source of stone slate, was perhaps that east of Field Farm, which reportedly continued in the early 20th century. (fn. 109) In the 19th century the town or parish quarry, established at inclosure, furnished stone for road repairs. (fn. 110)
By 1811 ten per cent of families were supported from trades or crafts, and in 1831 around 17 per cent. (fn. 111)
Throughout the 19th century there were several carpenters, shoemakers, bakers, and grocers, one or more blacksmiths, and usually a tailor and butcher. A sawyer, a slater and plasterer lodging at Alvescot mill, and a midwife were noted in 1851, a confectioner in 1861, and a hurdlemaker in 1881. Several members of the Oakey family were masons or builders until the early 20th century, and in the later 19th century another Oakey ran the Poplar Brewery near the Royal George public house, established before 1871. (fn. 112) Maltsters included prominent farmers, the Nalders running a malthouse at Vine Cottage (later Home Farm). (fn. 113) Some women worked as dressmakers or straw-hat makers, and several were employed as domestic servants in the homes of clergy or wealthier farmers. (fn. 114)
A station master and railway porter were resident in 1881, and the railway attracted coal, coke, and salt dealers. In the earlier 20th century there were several hauliers, one of them, Robert Oakey of the Plough Inn, also a sand, gravel, and stone merchant and general dealer. In 1907 there was a cycle shop. (fn. 115) Many trades and crafts survived until after the Second World War, but by the early 1950s there was no blacksmith, carpenter, or baker, and the last traditional craftsman, a hurdlemaker, died before 1960, when Alvescot was said to be a 'dormitory for the nearest town or factory'. A long-established haulage firm remained in 1960, (fn. 116) and a village shop in the 1990s, when it sold chiefly outdoor clothing.
Alvescot Mill
In 1279 a predecessor of Alvescot mill, on a tributary of Shill brook, was a freehold on Alvescot manor, occupied with a house and 6 a. for 18s. rent. (fn. 117) Quitrent of 17s. remained due in 1904. (fn. 118) In the early 17th century the mill was owned with around 11 a. and 5 cottages by the Tanner family, who retained it until 1904. Most were resident millers, though in the mid 18th century and the late 19th both mill and millhouse were let. (fn. 119) In the 17th century it was evidently a corn grist mill, and so remained; millers in the 18th century baked commercially, and a bakehouse was mentioned from 1757. (fn. 120) In the 1860s the mill was both water- and steam-powered, and included an attached cider mill and press. (fn. 121) From 1795 the premises were heavily mortgaged (fn. 122) and in 1904 the mortgagee, who had evidently acquired the freehold, sold to Alfred Akers. Thereafter the mill apparently ceased working. (fn. 123)
In 1662 the miller was taxed on 5 hearths probably including outbuildings, (fn. 124) and in 1670 the house and perhaps the adjoining mill were slated and presumably stone-built. (fn. 125) The existing house, two-storeyed with attic dormers, is of about that date, though the south front was rebuilt in the earlier 20th century, and in the later 20th the house was extended westwards to incorporate a former outbuilding, which became a cottage. The attached mill on the north, two-storeyed with a loft and built of limestone rubble, is of the mid or late 18th century; a northwards extension over the mill stream was partly rebuilt in 1845, (fn. 126) with a new arch and bakehouse chimney. In 1904 the mill had a single breast-shot wheel driving two pairs of stones. (fn. 127) The stones survived in 1997 along with hoppers, bins, and wooden scales, but the wheel had been removed by 1983. (fn. 128)
Fishing rights in part of Shill brook belonged to the mill in 1904 and presumably earlier. (fn. 129) In 1909 fishing in a 'trout stream' in the brook was sold with Shield farm. (fn. 130)