Pages 30-36
A History of the County of Oxford: Volume 15, Bampton Hundred (Part Three). Originally published by Victoria County History, London, 2006.
This free content was digitised by double rekeying. All rights reserved.
RELIGIOUS HISTORY
A chapel subject to the former minster at Bampton was built at Alvescot in the early 12th century; from the 13th century it was effectively an independent rectory, though Bampton retained burial rights until after the Reformation. The benefice was not well endowed, attracting few prominent careerists, and some medieval rectors were apparently local men who probably resided; certainly from the Reformation the church seems usually to have been adequately served, albeit sometimes by curates, and in the 19th and early 20th century three rectors were successive members of the resident Neate family, who from the 1850s were also lords of the manor. A sizable Quaker group in the late 17th century and early 18th was supported by the Kirbys of Park Farm, but declined, like the associated Witney group, in the later 18th century. Particular Baptist and Primitive Methodist chapels were opened in the 1830s and 1840s, winning adherents among labourers and small tradesmen despite the efforts of successive rectors; the Methodist chapel closed in the 1880s, but the Baptist one continued until the later 20th century.
The Parish Church
Origins and Status
In the late Anglo-Saxon period all or part of Alvescot lay within a large parochia centred on Bampton minster. A chapel subject to Bampton was founded by Richard de la Mare, lord of Alvescot manor, in or before the early 12th century, when it was the subject of an agreement over parochial rights: only Richard's tenants were to attend the chapel, and the clerk serving it was to attend Bampton on specified feast days and to pay 2 sesters of wheat a year to Bampton church. (fn. 1) Henry de la Mare presented to the 'chapel' in 1228–9, (fn. 2) but from the mid 13th century it was usually called a church and was treated as an independent rectory, (fn. 3) notwithstanding claims by Bampton in 1318 and later. (fn. 4) In the 13th century it was dedicated to St Nicholas, (fn. 5) but in the 18th and 19th centuries its dedication was uncertain, (fn. 6) and by 1881 it was dedicated to St Peter. (fn. 7)
The church had baptismal rights by the early 13th century, the date of the existing font, (fn. 8) but burial was at Bampton until the late 16th century. (fn. 9) Two bushels of wheat were still paid to Bampton in the early 15th century, (fn. 10) but by 1535 the rector apparently owed only an annual pension of 13s. 4d.; half that amount may originally have been for parochial rights granted by Bampton to Clanfield church, which paid 6s. 8d. to the rector of Alvescot from the 13th century or earlier. (fn. 11) Both pensions continued in 1685, and the payment to Bampton in the early 19th century. (fn. 12)
In 1963 the benefice was united with Shilton and part of Black Bourton, and in 1979 Holwell and Westwell were added to the united benefice. (fn. 13) In 1995 that benefice was merged with Broadwell, Broughton-Poggs-withFilkins, Kelmscott, Kencot, Langford, and Little Faringdon to form the benefice of Shill Valley and Broadshire. (fn. 14)
Advowson
Around 1267 the advowson escheated with Alvescot manor to the Crown, which retained it until 1540. (fn. 15) Cecily de Mucegros unsuccessfully claimed it as lady of the manor c. 1276. (fn. 16) It was reunited with the manor from 1540 to 1810, when Richard Gorges Fettiplace's coheirs sold it to Thomas Neate of Binfield (Berks.), who assigned it to his son Thomas, then rector of Alvescot. Thomas sold it in 1825 to the Revd Henry Elliott Graham, briefly curate of Alvescot, but recovered it in 1828, and it remained with the Neates, lords of Alvescot from 1853. (fn. 17) In 1996 patronage of the united benefice was shared by a descendant, O. N. Colvile. (fn. 18) Turns were granted in 1608 and 1701, and in the late 18th century and the 19th many presentations were by trustees. (fn. 19)
Endowment
No endowment was specified at the church's foundation. In the mid 13th century Gunnore de la Mare confirmed 2 a. granted by her brother Henry for wine and offerings, and gave another 2 a. with commons for 9 beasts and 60 sheep; possibly those were the 4 a. held by a tenant of Alvescot manor in 1279 for 1d. and the obligation of keeping two lamps burning in the church. (fn. 20) The rector in 1279 held two half-yardlands freely for 2d. rent, apparently in his own right. (fn. 21) In 1291 the rectory, evidently including the Clanfield pension, was valued at only £4 13s. 4d. a year, of which £2 4s. 4d. was said in 1341 to derive from glebe and from hay and small tithes. (fn. 22) In 1503 it was allegedly worth no more than £3 6s. 8d. a year, (fn. 23) though in 1535 it was valued at almost £9 clear. (fn. 24) The whole rectory estate, including tithes, was sometimes let in the 16th century and earlier 17th. (fn. 25)
By 1685 the glebe comprised 22½ a. of arable and 6 a. of meadow, with commons for 6 beasts, 2 horses, and 40 sheep; then and later the rector received tithes from some 40 a. of detached meadow by the Thames, and from most of the parish except for Pitlands or Puttes farm (2½ yardlands), which was tithable to Clanfield, and Bazeland closes, the tithes of which were shared between Clanfield and Alvescot. (fn. 26) Milk tithes were said in 1704 to have been taken up only twice in 50 years, and then only from May to Lammas (1 August). (fn. 27) At inclosure in 1796 the rector received 338 a. for glebe and tithes, together with a corn rent of around £50 to be reassessed every 14 years, charged on 274 a. of old inclosures not made tithe-free. (fn. 28) Tithes of the Thames-side meadows, compounded for in the early 19th century at the rate of 4s. 6d. an acre, were commuted for a further rent charge of £109s. in 1845. (fn. 29) In 1818 the benefice was worth £300 or more, net income in 1893 being around £275 and in 1896 around £184, chiefly from glebe. (fn. 30) Net income in 1916 was £267. (fn. 31) Part of the glebe was sold in 1944. (fn. 32)
Rectory House
A house let with the 4 a. in 1279 perhaps belonged to the rectory, (fn. 33) and there seems to have been a house in 1441, perhaps already on the later site near the village's southern edge. (fn. 34) The rectory house was there certainly by around 1600, (fn. 35) though its distance from the church suggests that it was not part of the original endowment. In the early 16th century it was seriously dilapidated, (fn. 36) and in 1662 and 1665 it was taxed on 4 hearths; (fn. 37) in 1685 there was a large hall, a parlour, a kitchen and milkhouse with two butteries, and 5 chambers with a garrett, and outbuildings included stabling and, in 1787, a barn. (fn. 38)
The existing L-shaped building, two-storeyed with attics and chiefly of limestone rubble, has been successively remodelled and extended, and externally appears Georgian; no evidence remains of the 17th-century house except, perhaps, for a lower ceiling in the southeasternmost room. (fn. 39) A part was rebuilt in 1703, (fn. 40) in 1787 there were extensive repairs and refurbishings, (fn. 41) and by 1796 the house had reached almost its present size. (fn. 42) In 1808 it was 'considerably enlarged and completely repaired', (fn. 43) and probably then the gabled south front was made more regular, with tripartite sash windows. A new entrance was made in the north-west service wing in the later 19th century. Later alterations followed the house's sale in 1963, after which incumbents of the united benefice lived at Shilton: (fn. 44) in 1968 the north-west service wing was truncated and altered internally, and in 1972 the north front was remodelled as the main approach and was made more symmetrical, with new sash and circular windows, and a porch with Roman Doric columns. The entrance hall and staircase were added at that time. (fn. 45)
Pastoral Care and Religious Life
William de la Mare, presented in 1228–9, and Hugh de la Penne, presented in 1295, were presumably relatives of the lords of Alvescot and Alwoldsbury respectively. (fn. 46) From the late 13th century to the earlier 16th all or most rectors were Crown presentees, though few, particularly in the 14th century, are known to have been university graduates or royal clerks, a reflection presumably of the benefice's comparative poverty. (fn. 47) Exceptions included Nicholas Bubwith (1381–7), later bishop of London, Salisbury, and Bath and Wells, (fn. 48) and some other rectors were perhaps related to minor royal officials. (fn. 49) Long incumbencies included those of Thomas Somenour (1362–?81), who probably resided, (fn. 50) and Henry Halle (1448–68), possibly a local man, (fn. 51) but in the 14th and 15th centuries there were frequent exchanges of benefices, and several rectors remained for only a year or two. (fn. 52) An acolyte mentioned in 1290 and a chaplain in 1396 were perhaps parochial assistants. (fn. 53) In 1503 the rector held Alvescot in plurality by papal dispensation, (fn. 54) and in the 1520s the rector was non-resident and had a curate who resided only occasionally. Since both the rectory house and the chancel were then in disrepair religious life, too, may have been neglected, (fn. 55) though curates who witnessed local wills in the mid 16th century were presumably resident. (fn. 56) Lay piety is suggested by small chantries suppressed at the Dissolution: land in Shilton given for obsequies in Alvescot church was sold to speculators in 1575, (fn. 57) and an enquiry into concealed chantry lands in 1581 mentioned property worth 13s. 4d. in Alvescot, Alwoldsbury, and Kelmscott, formerly belonging to Edington monastery. (fn. 58)
Late 16th-century rectors accepted the Elizabethan religious settlement, though Edmund Sharpe (rector 1558–77) was evidently related to a former Augustinian canon who was living in the parish in 1561. (fn. 59) All late 16th- and early 17th-century rectors seem to have resided at least occasionally and to have been involved in local life, though the rector in 1610 let the rectory estate and had a curate and 'vicar'. (fn. 60) Thomas Temple, instituted in 1627, was a brother of the lady (through marriage) of Alvescot manor, but lived mostly at Bourton-on-the-Water (Glos.). As an active royalist and chaplain to the Prince of Wales he was removed in 1646, and though he resisted the sequestration he voluntarily resigned the benefice at the Restoration. (fn. 61) His successor Walter Powell, who had served the church from c. 1652 or earlier, resided until his death in 1701, and was followed by another long-lived rector, Samuel Adams (d. 1750). (fn. 62) Local Quakers refusing the sacrament in the 1680s included members of the prominent Kirby family and their servants, but many of the group came from outside Alvescot, and by the early 18th century Dissent in the parish was not especially strong. (fn. 63)
Throughout the 18th century and earlier 19th there were usually two Sunday services with one sermon, and communion four times a year attended by up to 20 communicants. Children were catechized for part of the year. Most rectors resided, one (Samuel Adams) in a private house, though in the 1770s and 1780s both the rector and his curate lived elsewhere and allowed the rectory house to decay, prompting complaints from churchwardens. William Higginson (1792–5) evidently shared the cure with his son, who succeeded him, (fn. 64) establishing a pattern which continued in the 19th century. Successive rectors in the early 1790s were involved in a long-running dispute with parishioners over repair of mounds around the churchyard, which in 1793 was allegedly in 'great disorder' caused by a neighbouring farmer's cattle. (fn. 65)
Nineteenth-century rectors included successive members of the Neate family, who from the 1850s were also lords of Alvescot manor. Thomas Neate (rector 1808–29), though also vicar of Shilton and latterly non-resident through ill health, repaired the church and rectory house, and established a Sunday school at his own expense. (fn. 66) His son Arthur (rector 1829–70), judged 'clever' and 'active' by the bishop, increased communion to once a month, serving both Alvescot (where he resided) and Shilton without a curate. Average congregations were around 100, about a quarter of the population, (fn. 67) and a choir was mentioned in 1872. (fn. 68) W. M. H. Church (1870–6) restored the church, and in 1875 there was a small Deaconess house community of two sisters under his direction; one sister, a nurse, held cottage bible classes, while the other helped in the school, and both worked 'constantly' among the poor. (fn. 69) Arthur Neate's son Walter (rector 1878–1916) also resided, and in the 1880s blamed falling church attendance chiefly on Dissent: Baptists and Primitive Methodists had been active in the parish from the 1830s and 1840s, attracting mostly agricultural labourers. (fn. 70) There were some long incumbencies during the earlier 20th century, when Alvescot continued to be held with Shilton; Baptists continued in the parish throughout that period. (fn. 71)
Church Architecture
The church of St Peter, (fn. 72) built of coursed limestone rubble with stone-slated roofs, is cruciform and has a three-stage embattled tower with stair turret. (fn. 73) The plan of chancel and short aiseless nave with transeptal chapels seems to have been established by the early 13th century, to judge from the plinth round the chancel and east sides of the chapels; of that date are the arch into the north chapel and the chapel's east window, the blocked north doorway of the nave, a chancel window, and the square font with angle shafts. The existing south doorway is 14th-century, with a contemporary porch attached to the south wall of the south chapel, whose east wall has a 14th-century piscina. (fn. 74) During the 15th century the arch into the south chapel was rebuilt, apparently blocking an existing squint into the chancel, the chancel arch was rebuilt, and the nave was reroofed; 15th-century stone corbels indicate its original line. Traces of wall paintings survive on the south face of the south chapel arch, and in a 15th-century niche at the nave's east end. (fn. 75) The tower was added perhaps about 1499, when a parishioner left 100 sheep or 100s. towards its building. (fn. 76) New windows were also inserted in the nave (whose large south window is similar to one in the tower), and in the east walls of the chapels, though the chancel was in serious disrepair in the 1520s. (fn. 77)
The south end of the south chapel was rebuilt in the late 16th or early 17th century, with a plain three-light window and a high, moulded plinth, work possibly associated with repairs to lead, glass, windows, and walls financed by a church rate in 1631. (fn. 78) The porch may also have been rebuilt. The remains of a round-headed doorway in the west wall of the north transept may be associated with its use by the Turfrey family, who in the 1620s claimed it as virtually a private chapel, prompting disputes after pews were erected there for the lord's servants; the claim was apparently overturned after it was proven that all parishioners shared in its upkeep. (fn. 79) Family pews were noted also in the south transept, (fn. 80) and a west gallery mentioned in 1866 (fn. 81) was perhaps of 17th-century origin. Repairs to the chancel were mentioned c. 1728, and to the roof in 1807, (fn. 82) while a 'thorough repair' in 1811 (fn. 83) perhaps involved major alterations to the chancel, said in 1823 to have been 'rebuilt not many years since'. (fn. 84) In the mid 19th century the chancel had no east window and no visible medieval features, two segmental-headed sash windows in its south wall flanking a modern central doorway. (fn. 85)
Despite alterations to the tower entrance in 1861 and a collection towards the fabric in 1865, (fn. 86) in 1871 the church was 'dilapidated', and in 1871–2 a major restoration was carried out to designs by W. Slater and R. H. Carpenter of London, the cost met by mortgage, subscriptions, and grants from the Diocesan Church Building Society. (fn. 87) The builder was Robert Plaster of Bampton. The chancel was rebuilt using Taynton stone and old materials, with new windows in Decorated style, and new north windows were inserted in the north chapel. The chapel roofs were replaced and the nave roof was rebuilt, re-using 17th- or 18th-century tie-beams. Squints from chapels to chancel were reopened, necessitating the insertion of a narrow arch east of the south chapel arch. Ceilings and the west gallery were removed, and all the doors were replaced; the church was refloored and repewed, and heating was installed.
Discovered in the chancel during the restoration were two tiny niches, perhaps for sanctus bells, and a 13th-century window with a bookrest within its east jamb, both in the north wall. In the east wall was found a miscellany of stonework probably used for repairs, but mistakenly thought to have belonged to an Easter Sepulchre and a reredos; the fragments were assembled against the chancel's north wall, the structure incorporating part of a gravestone of 1804. A family vault on the chancel's north side, perhaps that in which Sir William Ashcombe was buried in 1627 (fn. 88) and which had caused the north wall to crack, was filled in. A medieval stone altar found beneath the north chapel was used in the chancel as a communion table, and piscina fragments were set in the chancel south wall. The triple-decker pulpit was replaced, and an hour-glass stand, probably 18th-century, was restored. New fittings installed in 1871–2 included choir stalls, the elaborate stone reredos on the east wall, and stained glass in the window above, made in Munich in memory of the rector Arthur Neate. Heraldic glass mentioned in the early 18th century (fn. 89) is lost.
A north vestry was added around 1883 in memory of Martha Ann Nalder (d. 1882), and a lean-to boiler house, later demolished, was built into the angle between it and the chancel about 1925. (fn. 90) Electric lighting was introduced in 1938 (fn. 91) and a derelict harmonium was replaced with an electric organ in 1962. (fn. 92) In 1955 the churchyard was extended eastwards. (fn. 93) Restoration in the 1980s included re-covering the roof with stone slates. (fn. 94)
Memorials include a brass in the south transept to Alice Malorye (d. 1579/80), and elaborate marble wall tablets to Goddard Carter (d. 1725), the rector Samuel Adams (d. 1750), and his wife Elizabeth (d. 1728). The plate, some of it stolen in 1973 and the rest in 1995, included a silver paten of 1694 given in 1702, a silver flagon of 1711, a silver almsplate of 1788 acquired in 1826, and an almsdish commemorating members of the Neate family, given in 1973. (fn. 95) A ring of four bells was recast as a ring of five by Abraham Rudhall II of Gloucester in 1727; the third was recast by R. and J. Wells of Aldbourne (Wilts.) in 1796, and the second by George Mears of the Whitechapel foundry in 1859, all five bells being rehung. (fn. 96) A new frame was installed in 1978–80, and a sixth (treble) bell was added in 1985. (fn. 97) The registers begin in 1663. (fn. 98)
Nonconformity
A former Augustinian canon lived in Alvescot in 1561, (fn. 99) and a few mid 16th-century wills contained Roman Catholic invocations, (fn. 100) but only Protestant Dissent was recorded later. John Saunders of Butlers Court was associated in the 1660s with the Presbyterian Samuel Birch, and may have been one of the 'friends' from Alvescot who attended a conventicle at Birch's vicarage house in Bampton in 1660. (fn. 101) No other Presbyterians were noted, but from the late 17th century to the mid 18th there was a sizable Quaker group, succeeded in the 19th century by Baptists and by Primitive Methodists drawn mostly from poorer inhabitants. A slight fall in church attendance around 1887 was attributed by the rector to the Salvation Army. (fn. 102)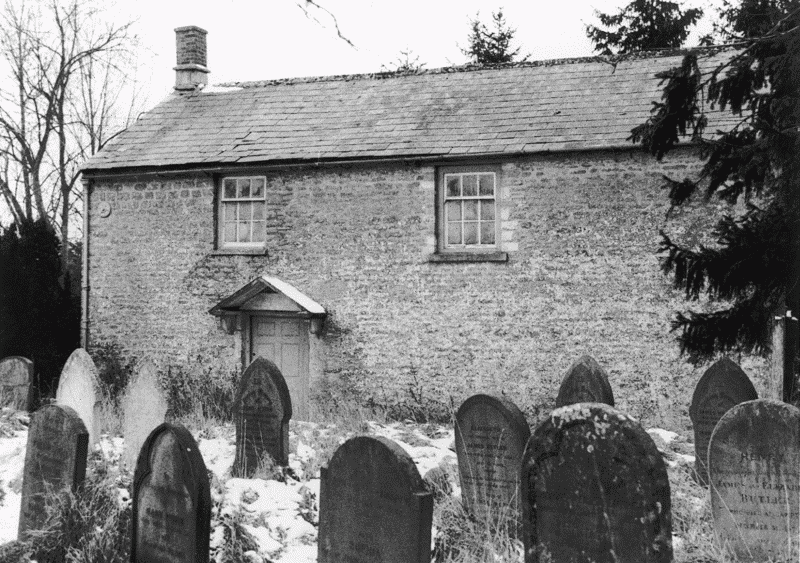 Society of Friends (Quakers)
A group of 30 or more Quakers met by the later 1660s in the house of an Alvescot bodice-maker, where local JPs broke up a meeting in 1675; some of the group were prosperous, though many came from outside Alvescot parish. (fn. 103) Eleven Nonconformists noted in 1676 and 24 inhabitants (including wives and servants) who refused the sacrament in 1685 were probably also Quakers, and included members of the prominent Kirby family, who seem to have hosted meetings probably at Park Farm. (fn. 104) In 1701 the meeting was temporarily moved to the house of the farmer Henry Briscoe (d. 1715), after doubts were raised about Richard Kirby's suitability; in 1708, however, a meeting house was built near Park Farm on land given by Walter Kirby (d. c. 1719), some £10 of the £50 cost being collected from within Alvescot. (fn. 105) Marriages were recorded from the late 17th century and burials from the early 18th, though in 1718 some gravestones were ordered to be removed. (fn. 106) Thereafter the group declined: in 1738 only one worshipper (a 'poor woman') came from within the parish, and from 1754 or earlier monthly meetings only were held. Repairs, paid for by the Witney meeting, were noted in 1762, but by 1759 there were no resident Quakers, and in 1771 all members were either 'dead or removed'. (fn. 107) Meetings were quarterly from 1773 and were discontinued in 1786, after which the chapel was 'seldom used'. About 1811 it was demolished, and in 1823 the graveyard was sold. (fn. 108)
Baptists
An Independent or Anabaptist at Alvescot was mentioned in 1738, and in 1774 an Alvescot Anabaptist attended a meeting house 'some way away', perhaps at Cote in Bampton parish. (fn. 109) Particular or Strict Baptists established a group in Alvescot in 1833, and the same year a rubble-and-slate chapel with 160 sittings (Fig. 11) was built south of the main road on land provided by E. H. Butler of Faringdon, the owner of Butlers Court. (fn. 110) Members included local farmers and agricultural labourers. (fn. 111) Average attendance in 1850–1 was said to be 120 for the morning service, though in 1854 the rector asserted that most were outsiders, and that within Alvescot there were no more than a dozen Dissenters; certainly the 1851 return was signed by a Clanfield grocer. (fn. 112) Dissent was nevertheless acknowledged to be more 'palatable' and 'intelligible' to the poor, and by the mid 1870s there were nearly 30 resident Dissenters, although many attended church services also. By 1881 there were 40 Dissenters including children, many of them newcomers to the parish; (fn. 113) most were probably Particular Baptists, (fn. 114) and in 1880 the reopening of the 'Calvinistic' (i.e. Particular Baptist) chapel, presumably after refurbishment, was attended by 200 from the surrounding area. (fn. 115) Large numbers reportedly attended the chapel in the late 19th century and early 20th, when converts were sometimes baptized in Shill brook near the mill, and the chapel remained open in 1972. (fn. 116) It was closed and became a private house about 1987. (fn. 117)
Primitive Methodists
A meeting house licence in 1842 (fn. 118) related perhaps to Primitive Methodists, who held meetings in Alvescot by 1843. The group, with 8 members in 1844, belonged to the Filkins mission, which from 1845 formed part of the Highfield circuit and from 1873 of the Faringdon circuit. (fn. 119) A chapel with 100 sittings was built south of the Kencot—Black Bourton road in 1850–1, on land reportedly given by E. H. Butler; (fn. 120) the building was sold to Frederick Butler in 1860, but was leased back and continued as a chapel. (fn. 121) Average attendance in 1850–1 was allegedly 100, but membership fell from 17 in 1862 to 7 ten years later, when 'interference' from the rector was blamed for the break-up of the Primitive Methodist Sunday school. (fn. 122) Declining attendance at the parish church was blamed in 1881 on opposition from the chapel's non-resident supporters, (fn. 123) but by 1885–6 the chapel had been unused for services for some years and was converted into a parish reading room. (fn. 124)