Pages 112-122
A History of the County of Oxford: Volume 15, Bampton Hundred (Part Three). Originally published by Victoria County History, London, 2006.
This free content was digitised by double rekeying. All rights reserved.
CLANFIELD
The village of Clanfield lies on flat, low-lying ground north of the river Thames, some 6 miles (9.6 km) south-west of Witney and 14 miles (22.4 km) west of Oxford. (fn. 1) Its ancient parish, compact and clearly defined from an early date, included both Clanfield village and the small hamlet of Little Clanfield, perhaps identical with the medieval hamlet of Benney; (fn. 2) after inclosure in 1839 it covered some 1,696 a., (fn. 3) excluding 12 a. of common meadow by the Thames which was tithable to Clanfield or attached to its rectory estate, but which lay intermixed with meadow of other parishes. (fn. 4) Incorporation of adjacent meadow in 1851 and c. 1886, some of it formerly extra-parochial, increased Clanfield's area first to 1,713 a., and later to 1,798 a. (728 ha.), which was unaltered in 1991. (fn. 5)
Parish Boundaries and Landscape
The boundaries confirmed in 1839 (Fig. 43) followed a probably ancient route called Calcroft Lane on the north, Black Bourton brook on the east, the Thames in the south-east, and streams on the south and west. (fn. 6) The southern and western boundary was described by local inhabitants in 1318, when it marked the perimeter of a large, pre-Conquest parochia formerly attached to Bampton minster: after following the Thames westwards to 'Garford's brook', presumably the stream forming Clanfield's later southern boundary, the 1318 boundary turned northwards up the brook to 'Cotmormylle', perhaps Little Clanfield mill, before following a green way (probably Asom way) northwards to Alvescot marsh. The boundary as described thus excluded the modern parish's north-western corner around Edgerly Farm, although as the deponents seem elsewhere to have described the nearest road rather than the boundary proper, the 14th- and 19th-century boundaries may nevertheless have been identical. (fn. 7) The parish's northern and north-eastern boundaries may have been adjusted after the early 13th century, when a Clanfield manor included land in Ruxhill (later in Alvescot), and part of Nippenham or Ippenham pasture (later in Black Bourton) was said sometimes to lie 'at Clanfield'; (fn. 8) the boundaries both there and on the east, adjoining Bampton, were certainly established by the 17th century, however, when pasture along Clanfield's eastern edge was inclosed. (fn. 9) Detached closes in Alvescot, belonging in the Middle Ages to two Clanfield manors, remained tithable to Clanfield in the 19th century, but for civil purposes were counted as part of Alvescot also by the 17th century. (fn. 10) The parish's south-eastern boundary, running through shared meadows by the river Thames, was confirmed or established in 1839, and was redrawn in 1851 and again in 1886. (fn. 11)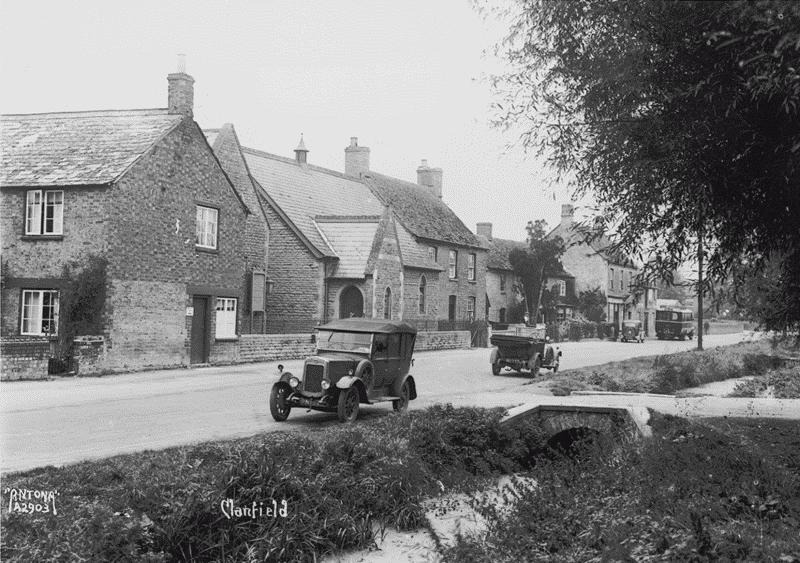 The parish lies chiefly on gravels of the Second (Summertown—Radley) Terrace and, further east, of the First (Flood Plain) Terrace. Small areas of Oxford Clay in the south-west and south-east were reflected in early furlong-names such as Claypits, and river alluvium in the south provided good meadow. (fn. 12) The land is flat and low-lying, rising from 68 m. in the south and east to 74 m. in the north-west; (fn. 13) numerous watercourses include Clanfield brook, which flows southwards through the village alongside the main street, and though the gravelly soils were generally well drained there were occasional floods until the 20th century, chiefly but not only of meadows. (fn. 14) Manorial courts repeatedly fined inhabitants for failure to scour ditches, (fn. 15) and in 1882 the vestry commissioned a scheme to prevent flooding of the village. (fn. 16)
The road from Burford to Faringdon (formerly Berks.), along which much of the village stands, was important from an early date, crossing the Thames at Radcot where there was a bridge by the 13th century. (fn. 18) It was called a highway in 1511, when part of it, near Friars Court, was evidently causewayed. (fn. 19) The road was turnpiked in 1771, and in 1779 the stretch southwards from Clanfield, long subject to floods and sometimes impassable, was raised above the flood plain. (fn. 20) The intersecting road from Bampton was turnpiked also in 1771 as part of a route from Witney. (fn. 21) A now minor road to Grafton and Lechlade (Glos.), called Langley Lane (from adjacent meadows) by the 17th century, (fn. 22) may also be ancient, and perhaps formerly connected with a putative Roman road running south-westwards towards Lechlade through Bampton: a path possibly on that alignment, between the north and south parts of Barrow field, survived around 1700. (fn. 23) Lesser ways mentioned from the 17th century included Asom or Asam way (probably extant in 1318), (fn. 24) a predecessor of Mill Lane running from Asom way to Clanfield, Marsh Lane, skirting pasture closes on the parish's eastern edge, and an 'old way' near Tarney field in the south-west. (fn. 25) An 'ancient' church-way from Little Clanfield to Pound Lane, mostly suppressed at inclosure in 1839, was presumably the church way which crossed West field in the 13th century. (fn. 26) All the chief roads were confirmed at inclosure, Mill Lane and part of Asom way being laid out as 20-foot public carriageways. (fn. 27) The Bampton and Faringdon roads were disturnpiked in 1874 and 1878 respectively. (fn. 28)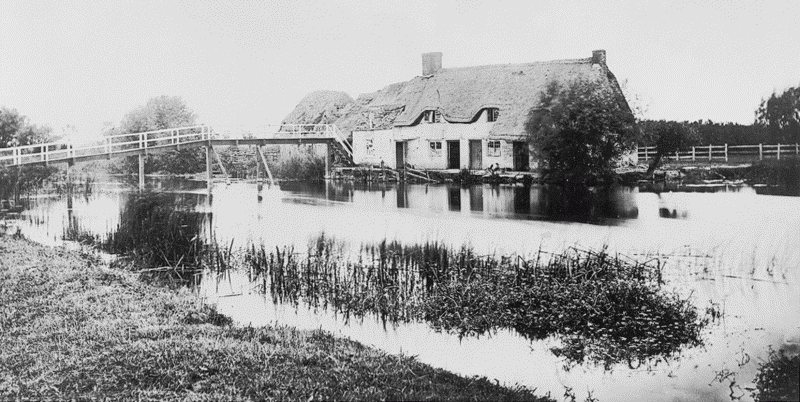 A bridge across Garford's brook was mentioned in 1395, (fn. 29) and bridges or fords across Burroway and Rye or Sharney brooks were mentioned frequently from the 17th century. (fn. 30) In 1767 there was a ferry across the Thames at Clark's or Harper's weir, where a foot crossing existed possibly from the Middle Ages. (fn. 31) Old Man's Bridge at the weir, 'much broken' in 1868 when it formed part of a footway 'to several towns', was replaced the same year and rebuilt in 1894. (fn. 32)
Carriers to Witney, Burford, Abingdon, and Faringdon were mentioned from the 1840s to 1860s, and in the early 20th century a Bampton to Faringdon carrier passed through Clanfield once a week. (fn. 33) A post office was noted from 1864, run for a time from a cottage near the Mason's Arms inn, in 1899 from near Knapps' ironworks on the main street, and for most of the 20th century from a house on the west side of the street. It became a money order and telegraph office in the late 1890s, (fn. 34) and remained open in the 1990s. The nearest station was at Black Bourton on the East Gloucestershire railway and later on the GWR, opened in 1873 and closed in 1962. (fn. 35) Buses ran to Swindon, Witney, and Oxford by the 1930s. (fn. 36)
Settlement and Population
Early Settlement
Numerous undated cropmarks have been noted across much of the parish, many of them suggesting early settlement. (fn. 37) A few Neolithic axe-heads of flint or polished stone have been found on various scattered sites, (fn. 38) and a circular cropmark straddling Asom way, on the west, presumably marks a henge; (fn. 39) the adjacent fieldname Badbury (OE Badanburh), recorded from the 17th century, suggests that it may have still been upstanding in the Anglo-Saxon period. (fn. 40) A double concentric ring-ditch south of Mill Lane may be a Bronze-Age round barrow, (fn. 41) and isolated Bronze-Age finds have been made near the village and south of Langley Lane. (fn. 42) Roman material, including pottery and tiles, lead weights, and 3rd- and 4th-century coins, has been found west of Windmill Farm in former open fields, north of Langley Lane near extensive linear cropmarks, and east of Friars Court near Marsh Lane. (fn. 43) In the south-east a barrow of unknown date, from which Barrow field was named, was mentioned in the 13th century and evidently remained visible in 1830, though by 1968 it had been completely ploughed out. (fn. 44)
The name Clanfield, 'clean' field in the sense of free from weeds or scrub, suggests that much of the parish was open field or pasture by the mid Anglo-Saxon period, in contrast with neighbouring woodland reflected in the placename Weald (in Bampton). (fn. 45) Possible Grubenhauser have been noted in the south near Langley Lane, (fn. 46) and evidence has been reported of both Iron-Age and early Anglo-Saxon settlement north of Bampton Road around Grants Hay, adjoining the modern village. (fn. 47) The furlong-name Killingworth, in the north-west, may indicate an isolated farmstead predating the open fields. (fn. 48)
Population from 1086
A total of 27 tenant households and 4 slaves was recorded on Clanfield manor in 1086, while some other inhabitants, possibly up to 10 or 20 households, were counted presumably under Bampton, to which royal manor part of the future parish of Clanfield still belonged. (fn. 49) By 1279 the population had risen markedly: 42 customary tenants were noted along with 27 freeholders, of whom around 20 or more probably resided. Allowing for omissions there may have been approaching 70 households, a few of them in the hamlet of Benney. (fn. 50) Twenty-two landholders paid tax in 1316, and 48 in 1327. (fn. 51) Poll tax in 1377 was paid by 109 adults over 14, (fn. 52) suggesting that depopulation during the Black Death was relatively limited, though vacant holdings were reported in the earlier 15th century when there may have been economic difficulties. (fn. 53)
Thirty taxpayers, presumably leading householders, were noted in 1544, (fn. 54) and in the later 17th century, when population was probably slowly rising again, (fn. 55) there were 190–200 adults living in 40 or more houses. (fn. 56) Two soldiers killed in a Civil War skirmish between Radcot and Clanfield were buried at Clanfield on 2 July 1645, but there is no evidence that the Civil War seriously affected Clanfield; reports in 1861 that 300–400 skeletons of men and horses, assumed at first to be Civil War casualties, had been discovered in a field near Little Clanfield appear to have been exaggerated. (fn. 57) Unusually large numbers of burials in 1729–30 presumably reflected a local epidemic, but thereafter annual baptisms usually outnumbered burials, (fn. 58) and the estimated number of houses rose to around 60 by 1771, and to 80 or more by the 1790s. (fn. 59) By 1801 there were 84 houses, four of them unoccupied, and a population of 455, most of them smallholders, cottagers, and labourers, with a few large farmers. (fn. 60) Despite some emigration in the 1840s and 1850s, assisted by the vestry, (fn. 61) the population rose from 458 in 1811 to 602 by 1871, when there were 145 houses. During the agricultural depression of the 1870s and 1880s it fell sharply to 429, but from 1901 again rose steadily, reaching 607 by 1971. New building during the 1970s increased it to 821, and in 1991 it was 808, a total of 297 households. (fn. 62)
Clanfield Village
Medieval settlement around the church and the neighbouring Chestlion Farm was extensive. Pottery ranging in date from the 11th century to the 14th has been found in the area south of Pound Lane, while 11th- and 12th-century ditches were excavated immediately east of the church, and extensive earthworks and probable house platforms survive to its west and south-west. (fn. 63) Chestlion Farm itself, a manorial site possibly in the 11th century and certainly by the 13th, seems to have formed the nucleus of an early curial centre, from which the rectory estate was carved at the church's foundation in the 12th century or earlier. (fn. 64) Further east Northcourt Farm, south of the Bampton road, was the post-medieval manor house for Southwick manor, which was created in the 13th century: settlement in that area may thus also be medieval. (fn. 65)
Much of the modern village lies further south, along both sides of a long, narrow green which largely survived inclosure, and through which run the Faringdon road and, alongside it, Clanfield brook (Figs 38 and 43). At its southern end the green forms a wide funnel which perhaps formerly opened into common pasture, with houses on its east side set well back from the modern road. (fn. 66) Friars Court, a moated site a little way south of the village, stands probably on the site of a Hospitallers' cell established before the 1170s or 1180s, when the last of the sisters there was transferred to Buckland (Som.), and which was subsequently re-established as a preceptory. Friars Court Cottages, a little further north, mark the site of the medieval chapel of St Leonard, founded probably by the sisters as a hospice. (fn. 67) A land grant in the early 13th century mentioned 'those dwelling' at the then derelict chapel, implying adjacent houses, and from the 14th century or earlier there was a copyhold cottage there, (fn. 68) while pottery of the 12th century to the 17th and a 13th-century coin have been found just north of Friars Court. (fn. 69) Nevertheless such institutions lay usually on the fringes of settlements, and in the 12th century as later the main focus of population lay probably a small distance away, perhaps on the site of the modern village. 'Wommane waysshe', mentioned in the 13th century, lay near Fore meadow further south, and was perhaps the women's washing place. (fn. 70) Clanfield cross, recorded from the 18th century, may have referred only to the intersection of the Bampton and Faringdon roads: certainly there was no cross there in the late 19th century, before a war memorial cross was erected in 1920. (fn. 71)
Benney and Little Clanfield
The medieval hamlet of Benney lay on the western side of the parish, its name, probably meaning 'Benna's island', referring presumably to a gravel outcrop above the alluvium of the boundary stream. (fn. 72) Like Edgerly (Ecgheard's island) to the north, the name seems to have denoted an area rather than merely a settlement: land in Green, Corn, and Over Benney was mentioned in the 13th century, and about 1241 a strip of open-field arable lay 'in Benney'. (fn. 73) A settlement existed in the 1240s and probably much earlier; (fn. 74) 19 customary tenants were listed in 1279 (some probably in error), (fn. 75) and both the Hospitallers and Osney abbey owned other houses there, (fn. 76) though the hamlet was never large. A cottage was mentioned in 1376, (fn. 77) the 'vill' in 1405, (fn. 78) and a house and land in 1521, (fn. 79) but occasional references to tofts nevertheless imply partial desertion from the later 14th century. (fn. 80)
Possibly the hamlet is to be identified with Little Clanfield on the parish's western edge, which was recorded under that name from the later 17th century, and which adjoined the eastern edge of Grafton green. In the early 19th century Little Clanfield still included up to 10 scattered cottages set among small closes and tofts, adjoining some larger old inclosures; (fn. 81) a copyhold cottage there owned by Christ Church, Oxford, perhaps a successor of one of Osney abbey's medieval holdings in Benney, (fn. 82) lay a little way south of Little Clanfield mill, which was itself recorded from the 13th century. (fn. 83) Several cottages were demolished before the 1880s and others in the earlier 20th century, leaving the 19th-century former mill house, the 17th-century Manor Farm, and one or two other cottages. (fn. 84) Green Benney to the north-east, though suggested as the deserted village site, may already have been inclosed pasture in the 13th century, and no settlement remains were found there during drainlaying in the 1960s. (fn. 85)
A weir on the Thames in the south-east of the parish, recorded from the Middle Ages, had a house by the 1750s and probably much earlier; (fn. 86) no other outlying sites were recorded before the later 18th century, when Edgerly Farm was built in the north-west on a group of old inclosures. (fn. 87)
Domestic Buildings and Village Development
The 16th to 18th Centuries
Most older buildings in Clanfield are of coursed or uncoursed limestone rubble with stone-slated roofs, (fn. 88) though several were formerly thatched. (fn. 89) A few incorporate decorative ironwork porches produced presumably at Knapp's ironworks in the village during the late 19th century or early 20th. (fn. 90) The earliest domestic remains are the medieval parts of Chestlion Farm, described below, (fn. 91) and Friars Court Cottages at the village's southern end, which incorporate the possibly medieval walls of a small rectangular building probably to be identified with St Leonard's chapel, or with an adjacent chaplain's house. (fn. 92) A substantial but unidentified house of eight bays was burned down in 1552. (fn. 93)
The front range of Tudor House on Bampton road (fn. 94) is late 16th- or early 17th-century: though of only oneand-a-half storeys and three bays it is of high quality, with a symmetrical façade, and large windows of five lights on the ground floor and three lights in the gables. Its raised-cruck roof, of elm and with collars and trenched purlins, is also unusual in Clanfield, and was probably thatched. Later in the 17th century a short north-east wing was added; its north window (later moved to the east wall) was blocked by a new service range in the 18th century. The whole house was converted into cottages in the late 18th century or early 19th but was returned to single occupancy around 1987, and in 1997 was extended north-westwards. (fn. 95) The main entrance was formerly on the north, but except for the west stack, which retains evidence of a winder staircase, the original internal arrangement has been destroyed.
Several newly-built houses were mentioned during the 17th century, (fn. 96) and most surviving buildings are of that period or later. Some are fairly substantial, built presumably by prominent yeomen. (fn. 97) The largest, opposite Bampton road, became in the 19th century the Plough Inn (Fig. 39); (fn. 98) three-bayed and of two storeys, with tall gabled attics and integral end stacks, it was built in the mid 17th century perhaps for one of the Yeatmans, who owned it in 1839. (fn. 99) The symmetrical main front has chamfered mullioned windows under individual hoodmoulds, four-light in the outer bays, and two-light in the attic and above the central, fourcentre-headed doorway. A west range of one storey and attic, formerly services and stabling, existed by the early 19th century but was slightly remodelled after 1886, and until the road was widened in the late 19th century there was a low, gabled east range. (fn. 100) The house was extended northwards in the 20th century, when the ground floor was converted from two rooms into one.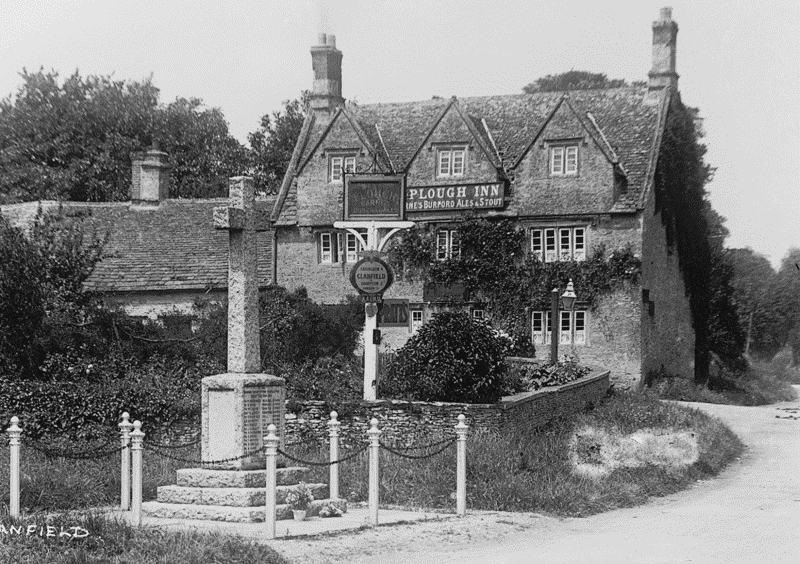 Houses incorporating smaller 17th- or 18th-century dwellings include the Golden Ball on the parish's northern edge, on Bampton road Northcourt Cottage, Pond House, Forge House, South View, (fn. 101) and the former Mason's Arms inn, and on the Faringdon road Windmill House (formerly Farm), Poplar and Bakery Cottages, Prospect House, and Willow Farm. The Firs, also on the Faringdon road, was perhaps built about 1792, the date on an adjoining barn. (fn. 102) Most such houses are two-storeyed with attics, and are of three bays; some have integral end-stacks and others central stacks, both types being associated with winder stairs. Original roofs are mostly of elm, with collar trusses, through and butt purlins, and a small saddle supporting the ridge piece, and though now stone-slated many show signs of having been thatched. Many have been greatly enlarged: Manor Farm at Little Clanfield, held in 1839 with only 18 a., (fn. 103) was made L-plan by addition of a service wing probably in the 18th century, and has almost doubled in size since 1960.
The 19th and 20th Centuries
Inclosure in 1839 seems to have prompted little new building, with most inclosed farms run from earlier homesteads, (fn. 104) although some houses were evidently subdivided to provide additional labourers' accommodation. (fn. 105) An exception is High House (formerly Gothic or Widford House) on the west side of the Faringdon road, a tall former farmhouse of five bays and twoand-a-half storeys built in 1856 for the prominent farmer Henry Newman (d. 1862), (fn. 106) to a naive design which combined fashionable Ruskinian Gothic features with conservative symmetry and proportions. As originally built it was single-pile, with a single-storeyed dairy at the north end, and a south wing adapted from ancillary parts of an earlier house. A parallel two-storeyed range containing bedrooms and services, gabled and rendered, was added on the west in the early 20th century, and in 1998 the south wing formed a separate cottage. South Lawn, a two-storeyed house of mid 18th-century origin south of Bampton road, (fn. 107) was altered in the earlier 19th century, when its south front was given full-height canted bays of timber. A north range was added between 1876 and 1899, (fn. 108) creating a new street front with an unidentified coat of arms, and gables with carved bargeboards.
Other houses rebuilt during the 19th century included Bushey Farm on Faringdon road (after 1876), (fn. 109) a red brick cottage (1863) south of the Methodist chapel, (fn. 110) and buildings adjoining a former grocery shop further north (1888). (fn. 111) Coronation Cottages, a brick terrace south of Mill Lane, replaced earlier labourers' housing in 1902, (fn. 112) and derelict cottages south of the vicarage house were demolished about 1906. (fn. 113) New institutional buildings were the vicarage house (c. 1819) at the village's north end, a Primitive Methodist chapel on Bampton road (1844), and a new Wesleyan chapel (1860) and school (c. 1872) on the Faringdon road. (fn. 114) In 1872 Clanfield was dubbed 'pretty', (fn. 115) though in 1910 it was allegedly 'untidy', the stream through the village choked with refuse, and in 1928 the greens were reportedly 'a dumping ground'. (fn. 116)
Early 20th-century buildings included the Carter Institute, built on the green in 1906 as a reading room, and Westfield House, built in grounds south of Pound Lane before 1911 for L. R. Knapp of Knapp's ironworks. The latter is a large two-storeyed building of partly roughcast stone, with tall brick chimney stacks; the former is described below. (fn. 117) Some council houses were built before the Second World War, and during the 1960s and 1970s many new houses, some of them council houses, were built off Mill Lane west of the main street, south of Pound Lane on Busby's Close, and east of the Black Bourton road near the church. (fn. 118) Small-scale housing development continued in the 1990s, (fn. 119) and a large detached house in 17th-century style was built between older buildings south of Bampton road. In the 1980s Willow Farm and Tudor House were both returned from multiple to single occupation, and from 1960 Lower Farm on Faringdon road, in origin a pair of 18th-century cottages, was transformed in 17th-century style by the farmer and local historian E. A. Pocock. (fn. 120) Electricity was available from 1933, and piped water from around 1956, and mains sewerage was connected in 1968. (fn. 121) A war memorial cross, near the Plough Inn opposite the Bampton road, was erected in 1920. (fn. 122)
Social Life
Customs, Clubs, and Inns
In the 18th century and presumably earlier, rogation-week circuiting of Bampton's boundaries included a procession to Clanfield, where the lessee of Bampton's tithes provided breakfast; the custom continued until Bampton's inclosure in 1812. (fn. 123) Little else is known of popular activities in Clanfield before the 19th century, when there were several clubs. A friendly society established at the Mason's Arms before 1863 was apparently succeeded in 1869 by the Prince of Wales court of the Ancient Order of Foresters, (fn. 124) and in 1875 another Prince of Wales friendly society was established also at the Mason's Arms. (fn. 125) The Prince of Wales Club, established at the Plough in 1868, transferred to the Mason's Arms in 1878 and continued in 1913, when it had 64 members. The Clanfield Provident Society, established at the school in 1881, was dissolved in 1900. (fn. 126)
A football club said to have been founded in 1890 played at first on a field near Chestlion Farm, and in the mid 20th century acquired a pitch south of the village by the Faringdon road, with a club house and covered stand. (fn. 127) Cricket was played in the 1870s and still in the 1930s, when there was also a fishing club. (fn. 128) A Women's Institute founded around 1915 continued in the 1970s, when there was a youth club, an old people's club, and an historical society, and several local hunts met at Clanfield. (fn. 129) The Thames Valley Ironworks Band, associated with L. R. Knapp's foundry, played regularly on the village green and at Club feasts in the early 20th century. (fn. 130)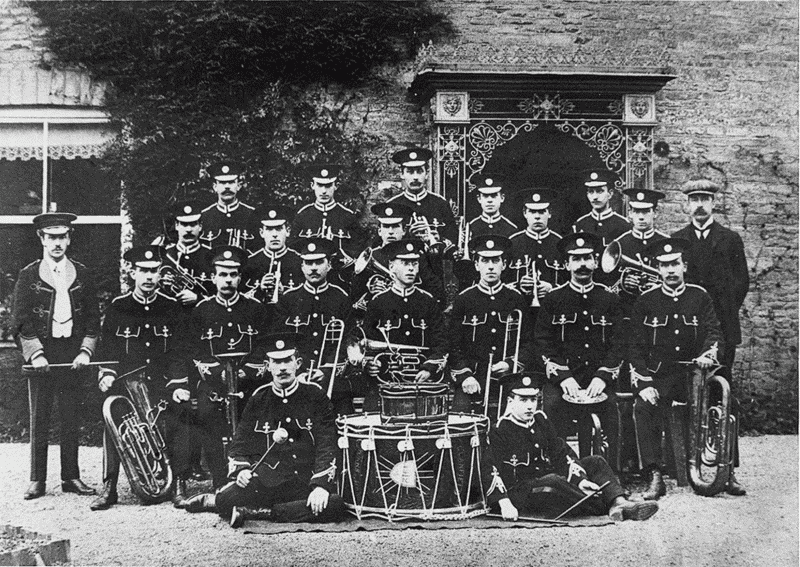 Clanfield had five inns or alehouses in 1753, among them the Ball or Golden Ball on the parish's northern edge, which closed probably in the 1780s, the Lamb, which closed soon after, (fn. 131) and the Fox and Hounds at Clark's or Harper's weir (Fig. 37), which continued to the 1860s. (fn. 132) In 1772 the Ball's licensee claimed that the alehouse had lost trade following suppression of a road across Black Bourton common. (fn. 133) The Red Lion, in Willow Farm by the Faringdon road, opened probably in the 1760s and closed in the 1860s, (fn. 134) and an unidentified inn called the Crown was mentioned in the 1840s and 1850s. (fn. 135) The Mason's Arms at the west end of Bampton road, opened by a local mason around 1793, was in the 19th century the venue for vestry meetings, occasional manor courts, and numerous auctions, and continued as the Clanfield Tavern in the 1990s. (fn. 136) The Plough Inn, on the opposite side of the Faringdon road, opened in the 1840s, and in the later 20th century became an hotel and restaurant. (fn. 137) It too remained open in the 1990s.
The Carter Institute. The Carter Institute, on the green east of the Faringdon road, was built in 1906 as a reading room, library, and games room, with a £500 bequest from Mrs Amelia Carter (d. 1905), native of Kencot and benefactress of several local parishes. It is a detached Free-style building of two storeys, the lower part of stone and the upper half-timbered, and was designed by A. Mardon Mowbray of Oxford; the builder was Joseph Bowley of Lechlade (Glos.). (fn. 138) The upper part was rendered probably in the 1960s when alterations and repairs were made. The original men-only rule was abandoned before the later 20th century, and the Institute continued for parish and similar meetings in 2004. (fn. 139)
Poor Relief and Charities
Until the 19th century Clanfield had only two endowed charities: that of Leonard Wilmot of Chestlion manor, who by deed dated 1608 imposed an annual £3 rent charge on Chestlion farm to benefit poor inhabitants not on parish relief, (fn. 140) and that of Mary Rogers, who by will proved 1622 perpetuated a lifetime payment to the poor of £2 a year. (fn. 141) Capital for the second charity passed to Mary's great-grandson John Gunn the younger (d. 1705), who by his will charged the payment on the rectory estate. (fn. 142) Both charities were still properly administered in the 19th century, (fn. 143) but since they yielded only £5 a year the mounting cost of poor relief came almost entirely from parish rates. In 1775–6 the parish spent £81 on the poor, which, in line with national trends, rose to £113 by 1785 and to over £220 by 1803, almost 10s. per head of population. (fn. 144) By 1813 expenditure was 21s. a head and in 1819 30s., a total outlay of £626, though from the early 1820s, as agriculture recovered, it rarely exceeded 15s. a head. (fn. 145) High poor-rates were remarked on in 1809 and again in 1830, although the rate of 4s. in the pound reported in 1803 was not unusual for the area. (fn. 146)
By 1776 the parish rented a workhouse (presumably a farmhouse or outbuilding) with accommodation for 24, which in 1803 housed 10 inmates. A further 37 inhabitants including children, some 8 per cent of the population, were then receiving permanent out-relief, and another 25 occasional relief. The workhouse had closed by 1813 when 51 adults, around 11 per cent of the population, received permanent out-relief, (fn. 147) and until 1819 the number presumably increased with overall expenditure. By then administrators of Wilmot's charity were failing to target those not on poor relief, around 55 poor households receiving some 13d. each every Good Friday. (fn. 148)
From 1834 formal responsibility for Clanfield's poor passed to the new Witney poor-law union, though Clanfield vestry continued to appoint rating officers and an assistant overseer, and there were several friendly societies. (fn. 149) James Clark (d. 1860) left stock to benefit agricultural labourers in the parish, producing £2 17s. a year by 1871, (fn. 150) and Amelia Carter, besides establishing the Carter Institute, left £15 for a coal charity; (fn. 151) a Scheme of 1911 allowed any residue from the Institute charity to be also used for the poor. The Wilmot and Clark charities were merged in 1914, and in 1939 produced some £6 a year; around £22 was distributed among 97 recipients in the mid 1960s, and in 1969 there was £27 in hand. The coal charity, for a time given to the Carter Institute, was united with the Clark and Wilmot charities in 1971, forming the Clanfield Welfare Fund with an annual income of around £20. (fn. 152) A charity left by Henry Collett (d. 1859) may never have been received, (fn. 153) and Mary Rogers's charity was not recorded after the late 19th century.
Education
In 1674 the vicar taught boys in Clanfield church, (fn. 154) but there was no school from the 1730s or earlier until 1784, when a Sunday school was established; in 1796 it had nearly 60 pupils. (fn. 155) Two or more dame schools existed intermittently from the early 19th century, teaching a total of 66 pupils in 1815, and 36 in 1835. (fn. 156) Before 1838 the parish built a small schoolhouse doubling as a vestry room south of Bampton road, on the edge of the green; 30–40 pupils attended in 1854, and around 50 (including infants) by 1869, but the school continued to be privately run and was financed from pence and voluntary contributions. (fn. 157) Two other private schools, one a small 'commercial' school, were mentioned in the early 1850s. (fn. 158)
Following the Education Act of 1870 the vestry decided to build a new National school and master's house funded by a voluntary rate. (fn. 159) The building, on land east of the village street provided by the farmer William Newman, was completed in 1872 and opened in 1873, with accommodation for 110; the architect was William Wilkinson. (fn. 160) Much of the cost was raised through sale of parish property, apparently including the old school, (fn. 161) which before 1899 was demolished. (fn. 162) Average attendance, only 42 in the mid 1870s, rose to 70 by 1890 and to 83 by 1906. (fn. 163) Reports were generally satisfactory, and in 1929 the school became a junior school, older children attending schools in Bampton. In 1948 it was reorganized as a two-class primary school, and by 1953 it had controlled status. (fn. 164) The roll, 43 in 1954 and 54 in 1970, rose in the mid 1970s to 113, but by 1993 was again under 60. (fn. 165) The school buildings were extended in 1910, around 1961, and around 1975. (fn. 166)
A private school teaching around 22 children in 1871 closed soon after. (fn. 167) The vicar ran a twice-weekly night school in the earlier 1870s, (fn. 168) and a successor in the early 1880s briefly ran a small boarding and day school at the vicarage house. (fn. 169) Evening classes were being held in the National school in 1903. (fn. 170)