Pages 122-130
A History of the County of Oxford: Volume 15, Bampton Hundred (Part Three). Originally published by Victoria County History, London, 2006.
This free content was digitised by double rekeying. All rights reserved.
MANORS AND OTHER ESTATES
In the late Anglo-Saxon period all or part of Clanfield belonged probably to the large royal manor of Bampton, which retained a sizable estate in Clanfield in the 13th century and a smaller one until the 19th. (fn. 1) The rest of the parish was detached from Bampton before 1086, when a separate Clanfield manor was assessed at 6¾ hides. During the 12th and 13th centuries that estate seems to have been partially divided, producing three Clanfield manors by the late 13th century; of those, two were under ecclesiastical ownership until the Dissolution, the third (and later all three) being held by a succession of resident and non-resident minor landowners. Though much reduced by piecemeal sales the manors survived until the 19th century, when each comprised a single farm centred on the former manor house. By then their fragmentation had produced a large number of individual landholders, and from the late 19th century Christ Church, Oxford, built up a sizable estate centred on Chestlion Farm, which it retained in the 1990s. (fn. 2)
The 11th- and 12th-Century Manor
A manor of 6 hides and 3 yardlands was granted before 1086 to Pain, who held it of Roger d'Ivri (d. c. 1095). (fn. 3) The estate was said to be 'of the king's first fee', perhaps indicating recent separation from the royal demesne of Bampton, (fn. 4) though as its value in 1066 was noted, its separation presumably pre-dated the Conquest. Before 1146 the overlordship passed with Roger d'Ivri's other lands to the St Valery family, descending with the honors of St Valery and of Wallingford, and from 1540 with that of Ewelme. (fn. 5) It was separated from the honor in 1817, when William Ward of Faringdon (then Berks.) bought it with specified rights and payments, and lapsed apparently in the later 19th century. (fn. 6)
Pain's tenancy may have lapsed by 1195, when Clanfield briefly escheated to the Crown with other St Valery lands. (fn. 7) Before 1198, however, all or part of the manor was subinfeudated to the Westbury family of Westbury (Bucks.), passing from Walter of Westbury (d. c. 1198?) to his son William, who in 1200 granted Westbury and Clanfield manors as 3 knight's fees to Ralph Hareng for 10 marks a year. (fn. 8) The rent was reduced in 1225–6, (fn. 9) and the Westburys' interest was not mentioned later, the manor being held directly of the honor of St Valery. (fn. 10) Hareng was succeeded before 1230 by his son Ralph, of whom the manor was held in parcels in 1242 by his relative James le Savage (¼ fee), Alice Chesney (¼ fee), Philippa de Kranefeld (of Clanfield?) (probably ⅓ fee), and heirs of William Baynel (probably ½ fee including Puttes in Alvescot). (fn. 11) Savage died probably by 1269, and the manor was partly reunited before 1279 when his heir Richard Chastillon held ½ knight's fee, (fn. 12) thereafter called Chastillons or Chestlion. That reduced manor was still assessed at ½ fee in 1428, (fn. 13) but in 1481 was held of the honor of Wallingford reportedly for service of 2s. and suit of court. (fn. 14)
Chastillons (Chestlion) Manor
From Richard Chastillon (d. 1279) the reduced manor descended to his son Hugh, who in 1295 leased it for life to Master Thomas de Sodyngton. (fn. 15) Henry Chastillon was mentioned as lord in 1300, (fn. 16) perhaps in error, and apparently before 1316 the manor reverted to Hugh's son Richard (d. after 1346), passing to Richard's son Hugh (fl. 1356–79) and grandson Richard, and to that Richard's daughter Elizabeth, who married William Gernon (fl. 1396–1428). (fn. 17) In 1433 William and Elizabeth quitclaimed it to William Child and his wife Alice in return for a life interest, and in 1442 the Childs granted the manor to Thomas Seend, clerk, for 15 years, with reversion to William and Elizabeth's grandson William Gernon. (fn. 18) He died in possession in 1479 leaving a widow, Margery, and a son William, a minor. (fn. 19) That William died presumably before 1494 when the manor was settled for life on Sir Thomas Hill's widow Elizabeth, evidently a Gernon heiress. (fn. 20) Her son Robert Hill, a merchant of the Staple, sold to Ralph Lathum, a London goldsmith, in 1504. (fn. 21)
Lathum sold the manor in 1505 to the Witney wool merchant Richard Wenman (d. 1534), (fn. 22) who in 1520 settled it on his son Thomas (later Sir Thomas, d. 1557) and his wife Ursula (d. 1558). It passed to their son Sir Richard Wenman (d. 1572) and to his son Thomas (d. 1577), who seems to have defeated longstanding claims by his uncle Thomas Wenman under an alleged settlement of 1550. (fn. 23) Thomas's son Richard sold in 1595, soon after coming of age, to Humphrey Fitzherbert; he evidently sold the estate piecemeal, the lordship, manor house, and demesne being bought in 1596 by Leonard Wilmot (d. 1608), who acquired a further 63 a. from John Wenman. (fn. 24) Wilmot settled the reduced manor on himself and his wife Katherine (d. 1615), later Katherine Hyde, with remainder to his brother William Wilmot of Henley; William died in possession before 1627, (fn. 25) and the manor passed to his daughter Martha (d. 1637) and her husband Henry Smith, to their son Leonard (d. 1660) and grandson Thomas (d. 1668), and to John Smith (d. 1704), possibly Thomas's brother. (fn. 26)
John left the manor to his widow Katherine, with reversion to his daughters Katherine (d. 1729) and Mary, who married respectively William Dawes and Thomas Barnard. Mary and Thomas's son Thomas sold half in 1753 to Alexander Hogg, who in 1761 bought the other half from Dawes and in 1774 sold the whole to Thomas Bennett (d. 1807) of Gloucestershire. Manorial rights may by then have lapsed, and were not mentioned later. (fn. 27) In 1835 Bennett's nephew Thomas Bennett sold the house and estate, then a farm of 260 a., to William Aldworth of Frilford (Berks.), succeeded in 1846 by his nephew William Aldworth (d. 1874). His son William sold it in 1875 to Christ Church, Oxford, (fn. 28) which already had some 90 a. in the parish partly through recent purchases. (fn. 29) Christ Church made further additions, and in 1998 retained an estate of some 1,000 acres. (fn. 30)
Manor House (Chestlion Farm)
The manor house from the Middle Ages was Chestlion Farm, on a small rise next to the church. (fn. 31) Its location suggests an early manorial centre, (fn. 32) and though some medieval owners may have lived elsewhere (fn. 33) there was a house presumably in 1279, when Richard Chastillon held land in demesne, and in 1327 when his grandson was implicated in a local assault. (fn. 34) Later resident owners included possibly some of the Gernons, in the mid 16th century some of the Wenmans, (fn. 35) and in the 17th century Leonard and Katherine Wilmot and most of the Smiths. (fn. 36) The house was let in the later 16th century (fn. 37) and again in the 1670s and 1680s, when John Smith's relative Henry Alworth, chancellor of the diocese of Oxford, lived there. (fn. 38) From the mid 18th century or earlier it was leased to tenant farmers. (fn. 39)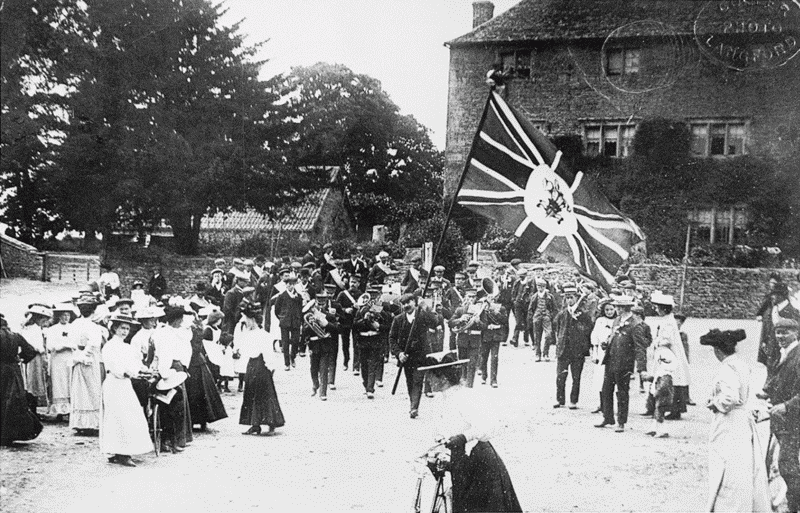 The existing, square-built house (Fig. 41) (fn. 40) is chiefly of the later 17th century with 18th and 19th-century additions, but incorporates at its north-east corner a square, two-storeyed, thick-walled projection which seems to be the remains of an early 14th-century entrance porch. The north wall of the projection contains a blocked trefoil-headed window, badly set but with wide internal splays, and the east (front) wall remains of a door opening. Inside is an arched doorway with hollow chamfers, apparently in situ but now opening west into an 18th- or 19th-century former dairy. The traceried head of a contemporary window, perhaps from the house, (fn. 41) has been built into a nearby barn. The first floor of the projection has a 17th-century window and an irregularly raised parapet.
The house itself, perhaps on the site of the medieval hall range, is of two-and-a-half storeys, of coursed limestone rubble with two- and three-light mullioned windows. It preserves its original plan of two pairs of rooms divided by a central passage, though in the 19th century the passage was widened when the lowest part of the staircase, beside the east stack, was straightened. Two original fireplaces survive, and a cellar under the southeast room appears contemporary. During the 18th century the three gables of the main front were raised to create a full attic storey with a hipped roof, and sometime later gables at the rear were truncated, reducing the back range to two storeys. A service wing and dairy were built on the north side of the house abutting the former porch in the late 18th century or early 19th, perhaps replacing the service end of the medieval house.
Manor Farm
Manor Farm, west of Clanfield's main street, passed with the overlordship from the early 19th century, but seems merely to have been a tenanted farmhouse, originating possibly as a copyhold on another manor. (fn. 42) The building, two-storeyed and of limestone rubble, was largely rebuilt in the 20th century.
Friars Court Manor
A manor belonging to the Knights Hospitallers' preceptory of Clanfield, called Friars Court manor from the mid 16th century, (fn. 43) was built up piecemeal from around 1200, and presumably included land formerly attached to the sisters' cell or preceptory dispersed about 1180. (fn. 44) William of Westbury and Ralph Hareng gave a yardland and 5 a. in 1211, William Frayn (de Fraxino) gave another yardland and 8 a. in 1227, (fn. 45) and before 1279 Philip Batayle gave a hide held of the honor of St Valery. (fn. 46) Another 3 yardlands were held of William de Valence's Bampton manor in 1279 for 5s. 3d. a year and tallage. (fn. 47) Before 1433 both the preceptory and its lands passed to Quenington preceptory (Glos.), which retained the manor until the Dissolution. (fn. 48) The manor was held in chief in 1428 as 'four parts' of a knight's fee, (fn. 49) and after the Dissolution as 1/20 fee owing a fee farm rent of 24s. 10d, which was redeemed around 1703. (fn. 50) Claims in 1582 that it was held of Bampton manor for fealty and for rent of £3 6s. 8d. related probably to attached land in Weald (in Bampton). (fn. 51)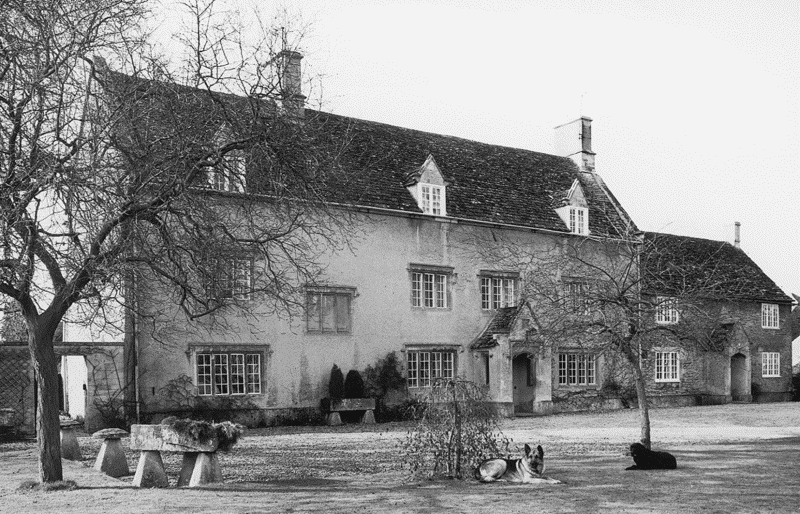 In 1543 the Crown granted the manor, including land in Weald, Grafton, and Black Bourton, to John Edmonds of Deddington. He settled it in 1548 on his son John (d. 1557) and daughter-in-law Agnes, (fn. 52) who later married Thomas Watson and Walter Savage. On Agnes's death in 1589 the manor passed in thirds to her and John Edmonds's daughters Mary (d. 1622) and Elizabeth, wives respectively of John Rogers (d. 1615) and Robert Chapman or Taylor (d. 1613), and to Francis More (d. 1592), husband of John and Agnes's daughter Agnes (d. 1584). (fn. 53) More's share passed to his son Francis (d. 1644 X 1651) and grandson John, (fn. 54) who before 1664 sold it to John Smith, later of Oare in Chieveley (Berks.). (fn. 55) Rogers's passed apparently to his daughter Ann, wife of John Warren, (fn. 56) whose son or grandson John Warren sold it to Smith's son John in 1682. (fn. 57) In 1703 Smith and his brother Richard sold the two thirds to Ferdinando White, (fn. 58) who in 1715 acquired the remaining third from Katherine Turfrey, sister of Robert Chapman's greatgrandson John Chapman (d. 1702). (fn. 59) Parts of the estate were separately sold during the 17th century. (fn. 60)
White (d. 1719) was succeeded by his widow Amy (d. 1743) and grandson Ferdinando Collins, who in 1749 sold the manor to Richard Frewin (d. 1761). He left it to trustees, of whom James Hawley (d. 1777) and John Frewin each bought a half in 1767. (fn. 61) Hawley's share passed through the male line to Sir Henry Hawley (d. 1826), a baronet from 1795, to Sir Henry Hawley (d. 1831), and to Sir Joseph Henry Hawley (d. 1875), Bts. The other share passed before 1785 to Nathan Wright, who had married John Frewin's widow Elizabeth, before 1803 to Elizabeth's son-in-law the Revd James Moore, and in 1816 to his son the Revd John Frewin Moore, who, with Hawley, sold in 1835 to William Newman (d. 1846) of Faringdon and later of Clanfield. (fn. 62) The estate, still called a manor in 1787, was in 1803 a farm of 123 a. held with manorial rights and quitrents, but Newman seems not to have acquired the manorial rights and none were mentioned later. (fn. 63) The farm passed to Newman's son William (d. 1869) and to his nephew Henry, like his predecessors a working farmer, who sold to mortgagees in 1886; R.N. Willmer, tenant from 1917, bought the farm with the house about 1920, and the Willmers retained it in 1998. (fn. 64)
Manor House (Friars Court)
The Hospitallers' house or preceptory mentioned in 1279, and the 12th-century cell which preceded it, (fn. 65) stood presumably on or near the site of Friars Court, a moated building south of the village which was the manor house certainly by the 16th century. (fn. 66) Fragments of 14th-. century tracery have been found north-east of the existing house within the area enclosed by the moat, and 'ancient foundations' were reported in the 19th century, (fn. 67) while traces of a second moated site, the ditches filled in about 1940, survive in a field immediately to the south-east. (fn. 68) In 1338 the house, with its garden, dovecot, and adjacent crofts, was worth 30s. a year, and accommodated the preceptor, a chaplain and steward, two servants, and perhaps three pensioners; (fn. 69) in the 1440s, when a lessee allowed the buildings to fall into serious disrepair, there was a stone-built hall with a 'great chamber' on the north, a separate kitchen with an adjoining building and latrines on the east, a nearby bakehouse, and an unroofed stone-built chapel with a walled garden to its north. Agricultural buildings included a sheephouse and 'garnerhouse', a pigsty and dovecot near the chapel, a recently demolished barn and carthouse, and a pighouse by the east gate, and several buildings were linked by stone or earthen walls. (fn. 70) All the buildings had presumably been repaired by the late 15th century, when they were let with the demesne for 66s. 8d. a year. (fn. 71)
From the 1560s to 1740s most owners except the Smiths lived at Clanfield, (fn. 72) and the existing house, of the mid 17th century and later, was built perhaps for one of the Mores or Warrens, named as former occupants in 1703. (fn. 73) During the 17th century the site seems to have been temporarily divided, however, and in 1696 there were still two houses by then in single occupancy, one of them perhaps a survival from the medieval buildings. A dovecot and a malt house were also mentioned. (fn. 74) From the 1740s the house was again let to tenant farmers until the Newmans moved there in the 1830s, to be succeeded by the Willmers from 1917. (fn. 75)
The surviving house (Fig. 42) (fn. 76) is of two storeys and attics, with gabled dormers, mullioned windows, and hoodmoulds, and is built of limestone rubble. As first built it comprised a range three rooms long, with a shallow, projecting south-west wing forming an L-plan; a dairy and bakehouse were added on the north in the late 18th century. (fn. 77) Original stacks and some 17th-century roof timbers survive. In the later 19th century, perhaps around 1880 when the house seems to have been re-roofed, (fn. 78) the staircase along the central stack was removed, a new staircase and partition wall were inserted in the central room to form a hall and morning room, and gabled porches were added to the main entrance and bakehouse, which was partly remodelled as a kitchen. During the 20th century the front and side walls were rendered, dormers were repaired and chimneys rebuilt, some mullioned windows were renewed, and part of the rear wing was rebuilt and incorporated into the entrance hall. A long, top-lit wing at right angles to the service range was added as a visitors' tea room in 1997. (fn. 79) Parts of the eastern and northern arms of the moat were filled in apparently during the 19th century. (fn. 80)
Southwick Fee Manor
The small manor of Southwick Fee originated in a grant of 1 hide by William of Westbury in the late 12th or early 13th century to Ralph Chesney, who gave it to his sister Alice (d. after 1245). She granted the estate piecemeal to Southwick priory (Hants), which acquired a further 40 a. from William Baynel, and which retained the manor, assessed at ¼ knight's fee, until the Dissolution. (fn. 81) The manor was said in 1242 to be held of Ralph Hareng, and in 1279 of the Chastillons' fee, but Westbury's grant mentioned no mesne lord but himself, and the manor was later held directly of the honor of Ewelme. (fn. 82) From the Dissolution it was held of the honor as 1/20 (later 1/40) knight's fee for a fee farm rent of 5s. 7d., still due in the 19th century. (fn. 83)
In 1540 the Crown granted the manor with other Southwick priory lands to Richard Ingram, Treasurer in the Court of Augmentations, who in 1542 sold it to William Reynolds. (fn. 84) Reynolds died in 1545 leaving an infant son Richard, who obtained possession in 1555 and sold c. 1556 to Adam Turner (d. 1591), succeeded in 1598 by his grandson Drew Turner (d. 1602). (fn. 85) Drew left it to his wife Ann with reversion to his son Thomas (d. 1636), who obtained possession in 1618, (fn. 86) and who in 1633 settled it on himself and his wife Amy, with reversion to Amy's relatives John and William Castle. (fn. 87) Amy married Richard Keene (d. 1653) and died about 1660, (fn. 88) when the Castles presumably obtained possession. (fn. 89) William Castle (d. 1685) was succeeded by his son John (d. 1720), grandson William (d. 1734), and greatgrandson John, who in 1750 sold the much reduced manor, comprising only the chief house and some 35 a., to Mary Bradshaw of Kelmscott. (fn. 90) She married John Howse, and died in 1779 leaving the manor in trust for her husband; on his death in 1795 it passed to William Clark (d. 1802), a resident tenant who had bought the reversion. William's son John conveyed the manor in 1817 to his daughter Priscilla Edmonds (d. 1826), whose children John and Ann sold it in 1843 to William Newman, the owner of Friars Court. (fn. 91) The house and farm were sold in 1872 to the White family, resident farmers, (fn. 92) but manorial rights were not mentioned and had lapsed certainly by 1891. (fn. 93)
Manor House (Northcourt Farm)
No manor house or demesne farm was mentioned in 1279, though in 1320 Southwick priory was granted free warren in Clanfield. (fn. 94) A manor house was reserved for William Reynolds's widow in 1545, however, (fn. 95) and most later owners until the late 17th century or early 18th seem to have resided, (fn. 96) probably in a predecessor of Northcourt Farm south of Bampton Road, which was the manor house certainly by the mid 18th century. (fn. 97) In 1602 Drew Turner's house included a hall and adjacent chamber, a parlour, an upper chamber with glazed windows, and a kitchen and buttery, (fn. 98) while five hearths on which William Castle was taxed in 1665 (fn. 99) probably formed part of the existing Northcourt Farm, (fn. 100) which has two parallel 17th-century ranges aligned along the street. The south range, gabled and two-storeyed, is slightly shorter and perhaps earlier than the front (north) one, and was originally of two rooms, the east of which survives almost intact; the gables have been built up to the height of the two-storey-and-attic north range, which was remodelled in the earlier 18th century when the house was apparently leased. (fn. 101) At that time the north range was given a five-bay façade of limestone ashlar with chamfered quoins, tall sashes with keystones, and a central hooded doorcase, which gave access to a new central corridor and a staircase rising dog-leg to attic level.
The house was occupied in the late 18th century and early 19th by working farmers, among them the Clarks, from the 1820s various tenants, and from the 1850s the Whites. (fn. 102) During the 19th century a two-storeyed kitchen and bedroom wing was built with singlestoreyed services projecting eastwards, the central corridor was extended to form a south-west porch, and the consequently reduced south-west room was refitted. A 17th-century square dovecot of limestone rubble, with a stone-slated roof and pyramidal-capped lantern, survives on the south.
Bampton Earls Estate
An estate nominally of 3 hides, comprising up to 16 freehold yardlands and 80 a. of customary land, remained part of William de Valence's Bampton Earls manor in 1279. (fn. 103) By 1609 only 3¼ yardlands let at will belonged to Bampton manor, together with quitrents totalling 3s. 1d., (fn. 104) although another 60 a. acquired by Leonard Wilmot from John Wenman before 1608 were reportedly held of it for suit of court. (fn. 105) From 1660 the quitrents descended with the Talbots' share of Bampton manor, and the 3¼ yardlands with the Coventrys' share, (fn. 106) the lessee receiving 90 a. at inclosure in 1838–9. (fn. 107) The farm remained part of Bampton manor in 1865 but was sold probably soon after. (fn. 108) The house for the estate in the 19th century was Blueberry House on the east side of Faringdon road, (fn. 109) a stone-built range of two storeys and attics perhaps of 18th-century origin. (fn. 110)
Lesser Estates
Three yardlands confirmed by William of Westbury to William Frayn and his wife Philippa in 1210, part of a hide claimed in Philippa's right, were held apparently as Ä knight's fee, and probably she was the Philippa de Kranefeld holding of Ralph Hareng in 1242. (fn. 111) The estate, which passed to Geoffrey of Bourton (fl. 1279) and possibly to Osney abbey, may have been the 'Abbot's fee' later held of the honor of Ewelme, which lay apparently in Clanfield and possibly in Black Bourton. (fn. 112) Tenants of the fee still owed suit at the honor court in the 18th century, (fn. 113) but its later ownership has not been traced.
A small estate separately built up by Osney abbey during the 13th century, comprising common rights and probably four small holdings in Benney and perhaps Clanfield, became attached to the abbey's Black Bourton manor, with which it passed to Christ Church, Oxford, in 1546. (fn. 114) The estate seems by then to have comprised only a copyhold house at Little Clanfield held with ¾ yardland, and another 40 a. (nominally 1¾ yardland) separately let. (fn. 115) At inclosure in 1838–9 the lessees received 62 a. in all, (fn. 116) which was absorbed into Christ Church's enlarged estate from the 1870s. (fn. 117) The surviving house at Little Clanfield fell derelict during the earlier 19th century and was demolished. (fn. 118)
A copyhold attached to Exeter cathedral's Bampton Deanery manor was associated with the medieval chapel of St Leonard on or near the site of Friars Court Cottages, towards whose upkeep a house, croft, and 4 a. were given in separate earlier 13th-century grants. (fn. 119) A house adjoining the chapel was held with the 4 a. throughout the Middle Ages. (fn. 120) Following the suppression of chantries the Crown granted the chapel, the vacant house site, and the land to various lessees, (fn. 121) but Exeter cathedral recovered the former chapel before 1650, when it was a copyhold cottage occupied in two halves with around 9 acres. (fn. 122) The cottages and land passed with Bampton Deanery manor to the Ecclesiastical Commissioners in 1862, and were sold soon after. (fn. 123) Tithes in Burroway meadow, attached to the holding by 1317, (fn. 124) were commuted for a rent charge of £5 7s. 6d. in 1845. (fn. 125)
Studley priory had rent from 2 houses and 8 a. in 1279, given by Philip Batayle presumably during the 13th century. The estate was not mentioned later and was perhaps absorbed into the Hospitallers' Friars Court manor, of which it seems to have been held. (fn. 126)
Land given by Robert d'Oilly to William Laundels in 1302 remained part of the Laundels family's large Bampton freehold in the 15th century, but has not been traced further. (fn. 127) A freehold of 3 yardlands or more, owned by the Fermors of Witney, included land given about 1485 to a chantry in Witney church, which land was granted to Robert White in 1548 but reverted to Fermor relatives about 1558. (fn. 128) In the earlier 17th century part of the estate, owing 3s. quitrent to Bampton manor, was absorbed into a freehold built up by James Saunders (fl. 1653) of Kencot, which was sold piecemeal in the later 17th century. (fn. 129)
Rectory Estate
The rectory estate was acquired in 1276 by Elstow abbey (Beds.), which retained it until the Dissolution. (fn. 130) In the 17th century and presumably earlier it comprised a yardland (some 35 a. including meadow), with great tithes from most of Clanfield and from Pitlands and Batesland in Alvescot. (fn. 131) A pension of 23s. to Minster Lovell priory, charged on the estate in 1276, (fn. 132) was seized by the Crown at the suppression of alien priories and granted to Eton College (Bucks.); lay rectors refused to pay it in the later 16th century, but it continued apparently in the 19th. (fn. 133) A pension of 6s. 8d. to the rector of Alvescot, also charged on the estate, was still paid in the late 17th century. (fn. 134)
In 1543 the Crown granted the estate to the former lessee John Edmonds with Friars Court manor, (fn. 135) with which it was divided in 1589, a third passing respectively to the More, Chapman or Taylor, and Rogers families, (fn. 136) subject to a 60-year lease from 1585 to Christopher Kempster. (fn. 137) The Mores' share was sold in 1604 to Sir Edward Yate (d. 1645) of Buckland (then Berks.), Bt, (fn. 138) from whom it passed to his son John (d. c. 1658), grandson Charles (d. c. 1680), and granddaughter Apollonia (d. after 1717). She sold it in 1694 to the Yates' heir Sir Robert Throckmorton, evidently retaining a life interest. (fn. 139) The Chapmans' third passed from John (d. 1634) to his widow Katherine, and to his son (d. c. 1658) and grandson (d. 1702), both called John; (fn. 140) the Rogers' third passed through marriage to John Gunn (fl. 1634), (fn. 141) to his son John (d. 1711), a JP, (fn. 142) and to that John's grandson or great-grandson Giles Nash (d. 1767) of Stonehouse (Glos.). (fn. 143)
Before the 1780s two thirds, including the Gunns' share, were acquired by John Elliott of Lincoln's Inn, (fn. 144) passing to Onesiphorus Elliott Elliott (fl. 1793–1808) of Binfield (Berks.), to G.H. Elliott (fl. 1819–45) and his son Captain G.H. Elliott (fl. 1845–77), and to G.H. Blois Elliott (d. by 1907), whose trustees retained them in 1919. (fn. 145) The other third was conveyed by George Greenwood and his wife in 1760 to John and Thomas Boucher, (fn. 146) passing before 1796, presumably by sale, to William Collett (d. 1833), to his son Henry (d. 1859), who rented the Elliott share also, (fn. 147) and to William Collett (fl. 1868–84), from whom it passed before 1917 to the Revd E.M. Thorpe. (fn. 148) Rectorial tithes in Alvescot were exchanged in 1796 for 31a. and for corn-rent charges totalling 20s. 7d., and the Clanfield tithes, still partly collected in kind, were commuted for rent charges of £300 at inclosure in 1838–9, when 44 a. were awarded for rectorial glebe. (fn. 149) Tithes from detached meadow by the river Thames were commuted for rent charges of around £2 in 1845. (fn. 150)
Tithes from 3 hides in Clanfield still attached to Bampton manor in the 13th century remained payable to Bampton church, and in the 17th century and later were charged on some 325 a., by then in various ownerships, scattered through the open fields and lying in old inclosures. (fn. 151) In 1838 the Bampton vicars received a rent charge of £100 for the tithes, just over a fifth of the total awarded. (fn. 152)
Rectory House (The Grange)
The grant to Elstow abbey evidently included a rectory house: the abbey's curia was mentioned in 1317, (fn. 153) and in 1499 a vicar of Bampton gave elms for the repair of Clanfield rectory. (fn. 154) Probably the buildings occupied the site of the Grange, immediately north of the vicarage house, which belonged to the rectory estate apparently by the 17th century (fn. 155) and which was called the Rectory in the 19th. (fn. 156) The existing house, (fn. 157) rubble-built and twostoreyed, forms a T-plan, the rear (west) range being apparently a fragment of a large late 16th-century house built possibly for Kempster, whose widow died at Clanfield about 1604. (fn. 158) The wing has one very large room on each floor, the lower one with chamfered ring and cross beams and the upper with two cross beams; the latter room may have been slightly heightened, the principal rafters of the three-bay double-purlin roof being reset on the wall tops. The remains of a massive chimney stack survive at the junction with the later, east range, which has the character of a typical late 17th- or early 18th-century three-bay farmhouse of two storeys plus attics: possibly that was built for John Gunn, who may have occupied the house about 1685. (fn. 159)
During the 18th century the house was presumably leased, and in the 19th century it was successively occupied by the vicar J.W. Huntley (resigned 1836), by various lessees, and in the 1870s by one of the Colletts. (fn. 160) Nineteenth- and 20th-century alterations included new windows (those in the west range with timber mullions and transoms), the addition of corridors between the ranges, and a castellated wall screen, much of the work being undertaken probably before the 1890s, when the house was first called the Grange and became a private residence. (fn. 161) A rubble wall in the garden, with crenellations and two 'gothick' arches, probably also dates from the house's upgrading in the late 19th century.