Pages 147-150
A History of the County of Oxford: Volume 15, Bampton Hundred (Part Three). Originally published by Victoria County History, London, 2006.
This free content was digitised by double rekeying. All rights reserved.
KENCOT
Kencot, (fn. 1) a small hamlet along the Burford—Langford road adjoining Broadwell village, lies 5 miles (8 km) south-east of Burford, 5 miles north-east of Lechlade (Glos.), and 7½ miles (12 km) south-west of Witney. (fn. 2) Like other villages in the area it is essentially stone-built, with mostly stone-slated roofs, of which some were formerly thatched; it contains, for its size, an unusually large number of impressive gentrified houses of the 18th and 19th centuries, and a plain medieval church widely known for its unusual 12th-century tympanum.
Parish Boundaries and Landscape
The parish comprised 1,099 a. in 1881 and probably from the Middle Ages, since no boundary changes were recorded at inclosure in 1767. (fn. 3) The acreage included a small detached area of 15½ a. in Burroway by the Thames, where Kencot inhabitants, like those of the neighbouring parishes of Alvescot, Clanfield, Black Bourton, and Brize Norton, had meadow rights in the 17th century and probably from the Middle Ages. (fn. 4) The meadow remained a detached part of Kencot after Burroway's inclosure in 1851, (fn. 5) but was removed under the Divided Parishes Act in 1886 when it was transferred to Clanfield, (fn. 6) leaving Kencot with 1,083 a. (438 ha.); that area remained unaltered in the late 20th century. (fn. 7)
The ancient boundaries followed small streams on parts of the east, south, and west, including at the village's south-west end where a small bridge leads into Broadwell; elsewhere they followed artificial fieldboundaries including, on part of the eastern boundary, the outline of former open-field furlongs (Fig. 51). (fn. 8) The northern boundary abutted old inclosures and former woodland in Bradwell Grove, which formed part of Broadwell parish by the 13th century. (fn. 9) The parish, including the settled area, lies mostly on cornbrash, with a clay subsoil; on the eastern side are some small areas of Kellaways Clay, and in the north, which was formerly downland and common pasture, is a small area of Forest Marble. (fn. 10) The ground rises gradually from around 80 m. by the southern boundary stream to around 106 m. in the north, where it abuts the Bradwell Grove estate; the village itself stands at around 86 m. (fn. 11)
Communications
Kencot village stands near the intersection of a northsouth road from Burford to Langford, which divides the parish down the middle, and a more important westeast road from Lechlade and Filkins to Bampton and Witney (Figs 48 and 51). Both roads pre-dated inclosure in 1767 (fn. 12) and are probably ancient: the east-west road connected both with a pre-Conquest and possibly Roman route through Brize Norton to Witney, and with a medieval or earlier route through Black Bourton to Bampton. (fn. 13) In 1688 the justices of the peace ordered the inhabitants of Kencot, Broadwell, and Filkins to repair the Langford—Burford road after it was flooded with water from the boundary stream, which was choked with earth and debris. (fn. 14)
At inclosure both roads were confirmed as 60-ft. public carriageways, together with intersecting roads running westwards past the later Kencot Hill Farm into Broadwell, and eastwards into Shilton. Smaller private roads and footpaths, one of them repaired in 1771, were also laid out. (fn. 15) The Langford-Burford road appears to have been closed from the early years of the Second World War, when the area around Kencot Hill Farm became part of Broadwell aerodrome; it was reopened between 1960 and 1976, following a slightly circuitous route to avoid the perimeter of the then disused airfield. (fn. 16)
Carriers linked Kencot with towns such as Bampton, Burford, Cirencester, and Witney in the second half of the 19th century, but by the early 20th there was only one, travelling to Witney and Burford. (fn. 17) The nearest railway station was that at Alvescot, opened in 1873 and closed in 1962, which connected with Fairford (Glos.), Witney, and Oxford. (fn. 18) In the early 21st century there was a daily bus service, though then, as earlier, no village post office. (fn. 19)
Settlement, Population, and Topography
Settlement to 1086
A flint axe and some remains of Roman pottery and building-stone have been found in the north of the parish, (fn. 20) as well as a Bronze-Age dagger, a Roman coin, and a few unidentified Anglo-Saxon objects on the site of Kencot Manor. (fn. 21) Nevertheless there is no unequivocal evidence of settlement in Kencot before 1086, when there was a sizeable 4-hide estate with at least 14 tenant households. (fn. 22) The parish's name, first recorded in 1086 and meaning Coena's cot (or cottage), suggests a small late-Anglo-Saxon settlement, possibly associated, like several surrounding villages incorporating the element cot, with large late Saxon estates centred on Broadwell or Bampton. The personal name Coena may be a diminutive of Coenhelm, associated also with the nearby settlement of Kelmscott. (fn. 23)
Population
Throughout the medieval period Kencot remained a relatively small settlement: up to 16 tenant households were recorded in 1279, (fn. 24) and between 23 and 28 landholders, each possibly representing a household, paid taxes in the early 14th century, (fn. 25) suggesting an expanding population of perhaps 70–125. In 1377, after the Black Death, only 28 inhabitants over the age of 14 paid poll tax, (fn. 26) which, even allowing for tax evasion, suggests serious population loss to below 13th-century levels. The population seems not to have recovered by the early 16th century when there were between 7 and 14 taxpayers, a total population of perhaps 60 assuming that each taxpayer represented a household: (fn. 27) 64 adult communicants were recorded in 1548. (fn. 28) From the mid 16th century baptisms always outnumbered burials (2–3 a year on average), but in some years the number of deaths was higher than usual: for example in 1610, 1641–2, 1653, 1685, and 1740–1, and especially during the smallpox epidemic of 1758, which affected 6 families. (fn. 29)
Throughout the 18th century the number of households was estimated at between 25 and 30, (fn. 30) and by 1801 the total population was 191, reaching 206 in 1831 when there were 46 houses inhabited by 48 families. Thereafter the population rose steadily to 244 (56 households) in 1871, when agricultural labourers were migrating to Kencot from further west; the increase occurred despite unusually high mortality-rates among children between 1844 and 1855 in particular. (fn. 31) The population fell subsequently, ranging between 144 and 151 until 1931, and remaining similar during the 1940s and 1950s: it was apparently little affected by the Second World War, possibly because many residents were elderly. (fn. 32) It continued to fall until 1981, when it was only 111, but rose slightly during the 1980s due to an influx of wealthy newcomers and commuters. (fn. 33)
During the 18th and 19th centuries households in Kencot seem to have averaged around five and sometimes up to seven people. In the 18th century the number of men and women seems to have been more or less equal, though by the later 19th century there were more women than men: 121 compared with 93 in 1861, and 117 compared with 85 in 1871. The preponderance continued until the 1950s, when the two again became more balanced. (fn. 34)
Village Topography and Development The modern village of Kencot (Fig. 48) stands mostly along the Langford—Burford road, just south of its intersection with the road from Filkins to Alvescot; its southern end abuts the adjoining village of Broadwell, just over the parish boundary. A back lane runs parallel to the main street on its east side, enclosing an area of former pasture closes. (fn. 35) The nucleus of the early medieval settlement was presumably the area around the church, which stands west of the road in the centre of the modern village, and which existed by the mid 12th century. Kencot Manor, to its south, may occupy the site of a medieval manor house mentioned in the 13th century and subsequently abandoned, although, apart from its location near the church and the house's later name, there is no clear evidence. (fn. 36) In front of the church is a small triangular village green, where the war memorial now stands.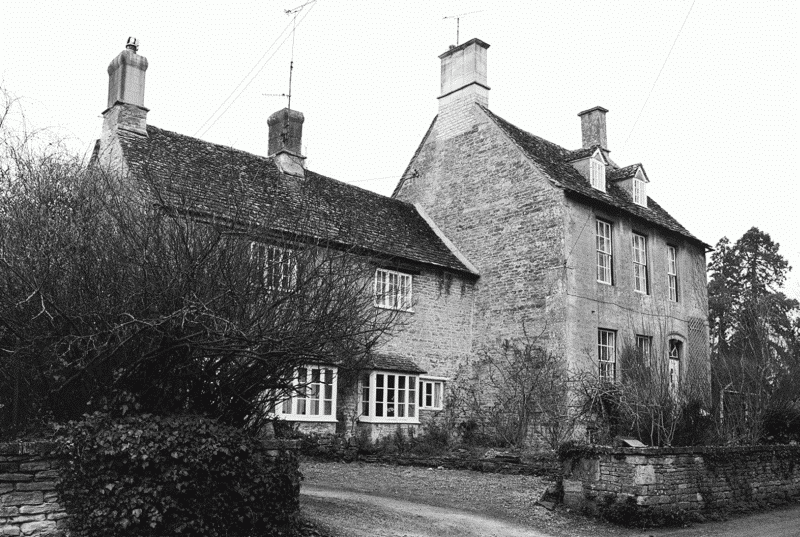 Expansion north of the Filkins road may not have occurred until the early 17th century, when a new rectory house was built on the road's north side, replacing a medieval rectory house which stood presumably on a more central site near the church. The new rectory house and the neighbouring Kencot House, of the mid 18th century, still mark the village's northernmost edge. Surviving houses adjoining Broadwell on the south are also of 16th- and 17th-century origin, and may similarly mark late expansion; so may Asthall Farm, built in the mid 18th century at the junction of the main village street and back lane. (fn. 37) There were no outlying houses in 1767, by which time the modern village pattern was clearly established, and inclosure that year brought little immediate change. (fn. 38)
Most building in the 19th century was confined to additions to existing cottages, the number of houses varying from 45 to 55 between 1831 and 1901. Throughout that period some cottages housed several families, while others were sometimes empty, most notably in 1891 when there were 39 occupied houses and 17 unoccupied ones, as population fell. (fn. 39) The only entirely new 19th-century building was the outlying Kencot Hill Farm, built possibly in the mid to late 1840s after the break-up of the main Kencot estate in 1839 and the acquisition of land in the north of the parish by William Hervey of Bradwell Grove. (fn. 40) During the 20th century some infilling took place throughout the village, and new houses were built on land adjoining the back lane: in 1960 the rural district council was seeking land for new housing in the village. (fn. 41) Basic utilities such as electricity, running water, and indoor sanitation arrived slowly, mostly after the Second World War; by then the village school was long closed, and the only public building was the Carter Institute, built in 1911–15 to provide teetotal recreation for working men, and subsequently used as a village hall. (fn. 42)
In the early stages of the Second World War a military airfield known as Broadwell aerodrome, with a concrete perimeter and runways, was established near Kencot Hill Farm; it served first as a training base, in 1944 as base for Dakotas and Horsa gliders involved in the Normandy and Arnhem landings, and from 1945 as a base for transport aircraft carrying troops and equipment to Europe and the Middle East. Twice bombed in 1941, it was still active in 1946, but was presumably abandoned soon after. Its outline remained visible in the late 20th century when the land was sold to an entrepreneur, who planned to turn it into a golf course; after financial difficulties he sold it to a developer, but the site remained vacant in 2003. (fn. 43)
Kencot remained a predominantly agricultural community until the 20th century, though from the 17th there was an unusual preponderance of resident gentry, many of them living in grander farmhouses whose land was increasingly farmed from outside the parish. A manor house on the site of Kencot Manor was probably rebuilt in the late 16th or early 17th century, and was leased to local gentry for much of the 17th, (fn. 44) when the village comprised a mixture of labourers' cottages and a few farmhouses belonging to rich yeomen; to those houses were added, from the 18th century, a number of gentlemen's residences such as Kencot House and Kencot Lodge. In the early 20th century most labourers' cottages were still tied, but by the 1930s they, too, were beginning to be sold to incomers as country residences. Only two farms were still functioning by 2003, the rest of Kencot having become an elegant retirement village. (fn. 45)