Pages 151-155
A History of the County of Oxford: Volume 15, Bampton Hundred (Part Three). Originally published by Victoria County History, London, 2006.
This free content was digitised by double rekeying. All rights reserved.
Manor and Estates
From the Norman Conquest until the 16th or 17th century most of Kencot belonged to Kencot manor, (fn. 1) which was divided between coheirs in the early 14th century, and subsequently passed in two halves to a succession of mostly non-resident owners. One half, owned in the 14th century by the Meaux family, seems to have been broken up in the early 17th, the land being absorbed into various freeholds. The other half, still including over a third of the land in the parish in the late 18th and early 19th centuries, passed to the Jordan and Stephens families, of whom some were resident. It was reduced by piecemeal sale in 1839 when part was acquired by the Larges, a family of local gentleman farmers who already had land in Kencot; the Larges' share continued as a sizeable manorial estate centred on Kencot Manor until 1897, when house, land, and lordship became separated. The residual estate was finally broken up in the 1920s, though the Larges remained nominally lords of Kencot in the early 1930s.
A few small freeholds were recorded in the Middle Ages, and some larger ones from the 16th and 17th centuries, among them a large glebe of 70–100 a. which seems to have resulted from post-medieval gifts or purchases. (fn. 2) After tithe commutation in 1767 the glebe comprised over 200 a., and owed a quarter of the parish's total land-tax assessment. Two or three other sizeable freeholds recorded in the 18th and 19th centuries, owned mostly by outsiders and leased to local farmers, presumably included lands formerly belonging to the Meaux family's manor. Several other significant estates originated in the manorial sale of 1839, in particular over 200 a. acquired piecemeal by the neighbouring Bradwell Grove estate: by 1910–12 W. H. Fox of Bradwell Grove owned nearly a third of Kencot (including Kencot Hill farm), and was the largest single landowner. Landowners in the mid 20th century included Fox's successor Cecil Heyworth-Savage, W. M. Goodenough of Filkins, both of whose estates were leased to local farmers, and the resident Foreshews of Malthouse Farm.
Kencot Manor
The Middle Ages to Early 18th Century
The 4-hide manor of Kencot was held of the king in 1086 by Robert d'Oilly (d. c. 1092), and under him by Roger, perhaps a relative from a minor branch of the family. Robert's overlordship descended with the barony of Hook Norton, owned by the d'Oillys until 1232, and later by their heirs the de Plessis family. (fn. 3) It had apparently lapsed by 1428, (fn. 4) and in 1477 the overlord was said to be George Talbot, 7th earl of Shrewsbury, apparently as lord of Bampton manor: a later earl of Shrewsbury was named as overlord in 1634, when Kencot was allegedly held as of Bampton manor. (fn. 5) There is no further record of the overlordship.
Roger's tenancy of the manor, later assessed at two knights' fees, passed to Roger d'Oilly, presumably a descendant, before 1142, and to his successors, nearly all called Roger, until the early 14th century. In 1268 or 1273 on the death of Adam Fettiplace, to whom Roger d'Oilly had leased the manor for life, Roger son of Roger (d. c. 1309) sued his nephew Roger (son of John and grandson of Roger) for the manor, which he claimed ought to have reverted to him since he had 'bought' it from his father; his rights were upheld. When Roger (d. c. 1309) died without male descendants the manor was divided between two coheiresses and their husbands, Richard of Goldsborough (Yorks. WR) and John de Meaux. (fn. 6)
The Goldsboroughs still owned half the manor in 1350, (fn. 7) but in 1357 their half was acquired by John Laundels, sheriff and escheator of Oxford. (fn. 8) In 1421–2 it was held by his heir Nicholas's widow and her second husband John Hill, (fn. 9) but in 1428 a Richard Goldsborough was said to hold what his namesake had held in 1346. (fn. 10) Before 1448 the half was acquired by William Lovel (d. 1455), Lord Lovel, (fn. 11) whose second son William, Lord Morley, held half the manor on his death in 1476; his son and heir Henry Lovel, Lord Morley, came of age in 1489 but died the same year, (fn. 12) to be succeeded by his sister Alice who, with her husband, presented to the church in 1505. (fn. 13) Alice's second husband was Sir Edward Howard, Admiral of England, after whose death in 1513 the half manor was granted by the Crown to his father Thomas, newly restored as duke of Norfolk, as part of the estates given to him as a reward for the victory at Flodden. (fn. 14) In 1540 Thomas's son sold it back to the Crown in exchange for property in Norfolk. (fn. 15) In 1545 the king granted the half manor to Sir Thomas Pope, (fn. 16) who ten years later gave it to his new foundation of Trinity (formerly Durham) College in Oxford; (fn. 17) the grant does not seem to have taken effect, however, since the manor was still listed among Pope's possessions on his death in 1559. (fn. 18) In 1599 Pope's nephew William Pope (d. 1631), later earl of Downe, sold the manor to Hugh Browker (d. 1608) of Southwark, whose son Thomas Browker, with his wife Mary, sold it in 1627 to Sir Edward Yate (d. 1645) of Buckland (then Berks.). (fn. 19) James Yate, presumably a descendant, sold it to John Jordan (d. 1736) of Burford in 1708, (fn. 20) perhaps as part of Jordan's settlement on his son on the occasion of his forthcoming marriage. (fn. 21)
Throughout the 16th century the manor was let to tenants, apparently sometimes with manorial rights. In 1518 Thomas, duke of Norfolk, leased it to John Tipper (or Tapper) for 13 years, together with land called 'Nayres' and a 'barkehouse' with ¾ a. belonging; the previous tenant was named as Thomas Polyn or Palleyn. (fn. 22) The lease to Tipper was probably re-assigned before it had run its course, for in 1524 John Edmonds of Deddington was the highest taxpayer in the parish, and in 1541 he was granted the lease of the manor and 'Nayres' by the Crown for 21 years. (fn. 23) Before 1544 the lease was granted to Bartholomew Platt of Sparsholt (Berks.), and in 1558 Sir Thomas Pope leased the manor to Platt's daughter Elizabeth and her husband Francis Yate (fl. 1559–77, d. by 1594), the lease to run for 21 years from 1561; (fn. 24) the Yates certainly held property in Kencot by 1559 and seem to have resided until the early 17th century, (fn. 25) although in 1595 the manor court was held in William Pope's name. (fn. 26) The lease was then held by Francis Yate's son John. (fn. 27) By the time the Yates acquired the freehold of the manor in 1627 they seem to have ceased to live at Kencot, leasing the manor house to various gentry throughout the 17th century, and its land to the Turners, a local yeoman family to whom they were related by marriage. (fn. 28)
The Meaux half of the manor passed on John de Meaux's death after 1331 to his heirs, who were probably still holding it in 1395. (fn. 29) In 1428 it was held by John Anthony, perhaps a lessee, but probably before 1439 it passed to the Spanby family of Spanby (Lincs.), relatives of Thomas de Meaux. (fn. 30) John Spanby presented to the church in 1502, (fn. 31) and in 1505 the manor passed to Arthur Spanby (d. 1509), (fn. 32) succeeded by Arthur's sister Joan and her husband James Saunders or Standish (d. 1557). (fn. 33) They seem to have conveyed it to the Haydock family, (fn. 34) and in 1595 William Haydock conveyed it to his relative Thomas Smallpage (d. 1597) of Gray's Inn, who left it to his nephew Percival Smallpage (d. 1661). (fn. 35) In 1624 Percival sold a house, close, and yardland to Thomas Hullett or Hewlett, a Kencot slater, (fn. 36) perhaps as part of a piecemeal sale of the whole estate, which seems to have been broken up about that time. Later allusions to Kencot manor referred apparently to the Goldsborough half acquired by the Jordans. (fn. 37)
The 18th to the 20th Century
From John Jordan (d. 1736) the manor passed to his son John, who mortgaged it together with much of his property in Burford. Though bankrupted by 1745 he or a later John seem to have retained rights in the manor until the early 1760s, when it was released to his relative through marriage, the attorney William Stephens (d. 1791): Stephens had been leasing part since 1736, apparently including the manor house. (fn. 38) The estate then included several houses and former demesne totalling some 360 acres; more land was added at inclosure in 1767, including over 23 a. of meadow obtained from an exchange with another landowner, Robert Yeatman. (fn. 39)
Stephens was succeeded by his widow Ann (d. 1808) and son John (d. 1831), who in 1820 settled it on two daughters and their husbands Humphrey Tuckwell and the Revd Henry Mears. (fn. 40) Heavily mortgaged from the 1820s, the estate was eventually broken up and sold between 1832 and 1839. (fn. 41) Up to 200 a., along with Kencot Manor, Manor Farm, a malthouse, and three cottages, was apparently sold to the farmer John Large, one of a local yeoman family who later styled himself gentleman. At first Large lived in Kencot Manor and farmed the estate himself, together with 130 a. leased from another owner, but between 1840 and 1852 he sold over half his land to his relative Charles Large, a major landowner in Broadwell, whose successors sold it in 1889. By 1852 Kencot Manor was let to John's relative William Large, and another house to the prominent Kencot farmer Thomas Wakefield, while Large's remaining land, around 92 a., was farmed by Thomas Tuckwell, presumably a relative of the previous owner. (fn. 42) After John Large's death in 1854 his younger son Charles Edward Large bought out his coheirs, and in 1892, when living at Leamington Priors (Warws.), conveyed the estate to a relative; he sold it piecemeal in 1897, Kencot Manor to Frederick Douglas Howe, and the land (with Manor Farm and some smaller houses) to William Paintin. (fn. 43) The Large family nevertheless retained the lordship, and were still recorded as lords in 1931. (fn. 44) Paintin bought a great deal of other land in Kencot, including the rectory farm and numerous cottages, and by 1910 was one of the main landowners in the parish, although he lived in Broadwell. (fn. 45) On his death in 1922 the estate passed to his brother Henry, who sold it in parts. (fn. 46)
Manor House and Residence
The d'Oillys had a demesne farm in Kencot in the late 13th century, with a house and buildings attached, but whether any of the family ever lived there is unknown: probably their main local residence was their manor house at Bampton. (fn. 47) Later medieval owners were probably all non-resident, (fn. 48) and the site was presumably abandoned.
The Yate family appear to have lived in Kencot while leasing the manor in the late 16th and early 17th century, (fn. 49) and presumably built or acquired a new manor house: in 1605 Francis Yates's son John (fl. 1580–1607) was accused of digging mortar pits in Filkins, perhaps in connection with building work. (fn. 50) Probably they occupied a predecessor of Kencot Manor, which was certainly regarded as the manor house later, and which, given its location near the church, may have stood on or near the medieval manorial site, although the surviving building is 18th-century and later. (fn. 51) John Yate was succeeded by another John (fl. 1621 X 1625), (fn. 52) but despite Sir Edward Yate's purchase of the manor in 1627 the family seems thereafter to have let the manor house, notably to members of the Hammersley family: Sir Hugh Hammersley (d. 1636), a former lord mayor of London, married the mother of the rector of Kencot as his second wife. (fn. 53)
After their purchase of the estate in 1708 the Jordans allegedly rebuilt part of Kencot Manor, (fn. 54) and though John Jordan (d. 1736) was apparently non-resident his son seems to have lived at Kencot in the 1740s and 1750s, where he or a later John were buried in 1770. (fn. 55) William Stephens, who resided constantly from the 1750s or earlier, (fn. 56) may have occupied the house briefly as lessee, but more likely occupied the newly built and rather grander Kencot House, which remained in the family until the 1880s; his brother Henry, with whom he ran a joint legal practice until 1779, perhaps lived with him or occupied one of the village's other grander houses, possibly Kencot Lodge, which was also owned by the family in the 19th century and which was extended in the 1730s. (fn. 57) William's widow Ann remained at Kencot until her death in 1808, though Tuckwell and Mears lived elsewhere, the former at Signet. (fn. 58)
Following Large's purchase in 1839 various members of the Large family inhabited Kencot Manor, which had perhaps earlier been leased, and which was for a time used partly as a grocer's and draper's shop. (fn. 59) At the estate's sale in 1897 the house was separated from the land and became a gentleman's residence: F.D. Howe, the purchaser in 1897, sold it with 3½ a. in 1923 to Captain Sidney Darvell, whose widow sold it to Major-General W.E.V. Abraham (d. 1980). Following Abraham's death the house was split into two parts, Kencot Manor and Manor Lodge, both owned in 2003 by professional people. (fn. 60)
Freehold Estates
Medieval Freeholds
In 1279 a 2-yardland farm in Kencot was owned by the Knights Hospitallers' preceptory of Quenington (Glos.); it was last mentioned as part of the grant of Kencot to Sir Thomas Pope in 1545, having presumably continued in the Hospitallers' possession until the Dissolution. (fn. 61) In 1279 it was let to a tenant for 24s. rent. Two other small freeholds in 1279 were held of Kencot manor, one of them a yardland and the other 4 yardlands. (fn. 62) No other early medieval freeholds were mentioned.
Kencot Farm
An estate described as 'Kencot farm in Kencot', including a house and 2½ yardlands, was recorded in the early 16th century, (fn. 63) when Thomas Wenman of Witney held it of Bampton manor in free socage. Wenman leased it for 40 years to Bartholomew Platt, gentleman, subsequently lessee of the Popes' Kencot manor; both leases passed to Platt's daughter Elizabeth and her husband Francis Yate, whose son John apparently held Kencot farm until the 1590s. The reversion of Platt's lease was sold by Richard Wenman in 1558 to Thomas Fryers (d. 1573) of Burford, gentleman, (fn. 64) whose grandson Edmund sold the farm and its house in 1613 to the vicar of Black Bourton, James Godman. (fn. 65) Godman died in 1638, the profits of the estate going to his widow, to his daughter Mary and her husband John Attwood, and to James Saunders, (fn. 66) a local gentleman still resident in Kencot in 1659. (fn. 67) The estate has not been traced further, and the house is unidentified; possible candidates, both 17th-century substantial yeoman's dwellings, are Red Rose Cottages or Kencott Cottages.
Glebe
The second largest estate in the parish from the 17th century was the church glebe, comprising some 70 a. in 1634 and 105 a. by 1685, besides the tithes. (fn. 68) From inclosure in 1767 it totalled 225 a., (fn. 69) a quarter of the parish. Though the property of the rector until sold to William Paintin in 1907, (fn. 70) the land was usually let to local tenants, including the Turners in the 17th century, and farmers such as Thomas Wakefield and Henry Oakey in the mid 19th. (fn. 71) After Paintin's death in 1922 it was bought by the Goodenoughs of Filkins who, probably in the later 1920s, added to it Asthall farm. The estate, known from around 1920 as Home farm, was sold in 1954 to the tenants, the Eustace family, who still owned it in 2003. (fn. 72) Asthall farm was sold in the mid 20th century to the Walkers, who still farmed it in 2003. (fn. 73)
Post-Inclosure Estates
Several other large estates can be traced from inclosure in 1767. Among them was that of Phillips Lyttleton of Studley (Warws.), eldest son of Phillips Lyttleton and his wife Dorothy; she was the granddaughter and heir of Goddard Carter (d. 1725) of Alvescot, who owned property in Kencot. (fn. 74) At inclosure Lyttleton was awarded 190 a., most of which passed to descendants; (fn. 75) it was later sold, a part being acquired by John Large before 1832, and part by William Hervey (d. 1863), to be incorporated into Hervey's Bradwell Grove estate. (fn. 76) The house for the Lyttleton estate may have been Red Rose Cottages. (fn. 77) John Stevens, one of a local family recorded from the 17th century (but unrelated to William Stephens the attorney), was awarded over 100 a. at inclosure. (fn. 78) That property, held by the Stevens family until 1813, was also eventually bought by John Large, and descended with his other lands. (fn. 79)
Charles Stephens (d. c. 1844), a younger son of William Stephens the owner of Kencot manor, retained property in Kencot and elsewhere following his mother's death in 1808. (fn. 80) Soon afterwards he adopted the surname Loder, presumably as part of a family settlement: the Loders had long had connections with both the Jordans and the Stephenses, as well as peripheral interests in Kencot. (fn. 81) Part of Charles's estate was apparently acquired from Francis Edmonds (d. 1797) of Kencot, gentleman, (fn. 82) possibly related to the wealthy Gloucestershire farming family of Edmonds. Other property included Kencot House and Kencot Lodge, (fn. 83) both of which may have been owned by the Stephenses in the 18th century: Kencot House (Fig. 50) was built possibly for Charles's father William, while the 17th-century Kencot Lodge was extended in the 1730s and again in the 1830s or 1840s, forming the modern Kencot Lodge and North Lodge (Fig. 49). (fn. 84) Charles's grandson William Stephens Loder moved away about 1851, when his 'mansion', evidently Kencot House, was offered for lease with 5 a.; (fn. 85) he finally sold it in 1888, while living at Bath. (fn. 86) Thereafter Kencot House was briefly occupied by farmers including Richard Eustace and Charles Cattell, and about 1899 was acquired by W.F. Pilkington, a doctor who still lived there in the late 1920s. After passing through various hands it was owned in 2003 by the Patrick family. (fn. 87)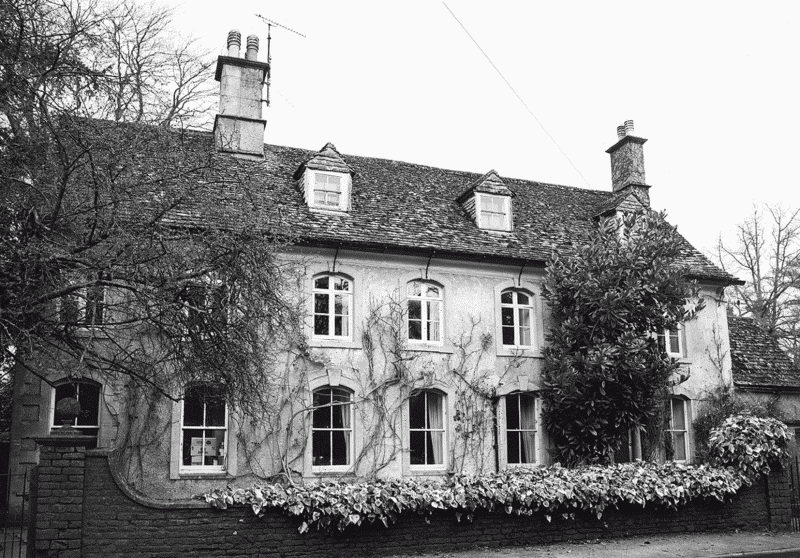 Estates Detached from Kencot Manor
Several new freeholds resulted possibly from the break-up of Kencot manor in the 1830s. Some 83 a. were bought in 1839 by William Hervey of Bradwell Grove, who in 1852 owned Kencot Hill farm (then 130 a.), another 23 a. let separately, and a 7-a. plantation attached to Woodside farm in Filkins but lying within Kencot parish. (fn. 88) The land was sold by Hervey's heirs with the rest of Bradwell Grove to W.H. Fox (d. 1920), and in 1921 was bought by Lt-Col. Cecil Heyworth-Savage (d. 1949), who retained it in 1940. It was let to tenants throughout, and finally sold by the family in the 1980s, some of its land being bought by the owners of Home farm, the Eustaces. (fn. 89) A house and 100 a. owned in 1840 by William Faulkner may also have been detached from the manor; in the 1850s and 1860s house and land were let separately, the former to gentry and the latter to local farmers. Possibly this was among lands subsequently acquired by W.H. Fox. (fn. 90) Apparently also part of the former manor was Malthouse farm, sold by John Large to William Green before 1852 with 89 a. of land. (fn. 91) The Foreshew family, who farmed it for most of the 20th century, sold it in 1996. (fn. 92)
The early ownership of Manor Farm, included in the property bought by William Paintin in 1897, is unknown, (fn. 93) though in the 17th century, when the Yates' manor house was apparently let to the Hammersleys and other gentry, it may have been occupied by the Turners as long-term tenants of the demesne farm: no other house of that date in the parish is of comparable status. (fn. 94) The house (Fig. 52) remained a tenanted working farmhouse in the late 19th century, leased from the 1870s to the prominent farmer Augustus Gillett, but before 1901 it became another gentleman's residence, occupied by James Samson Furley. (fn. 95) He bequeathed it to the National Trust in 1949 on condition that his relative, Commander R.H. Fyson, could occupy it for his lifetime; the Fyson family still lived there in 2003. (fn. 96)