Pages 205-218
A History of the County of Oxford: Volume 15, Bampton Hundred (Part Three). Originally published by Victoria County History, London, 2006.
This free content was digitised by double rekeying. All rights reserved.
BRIZE NORTON
The large, mainly rural parish of Brize Norton lies on the northern edge of the Thames valley, about 3 miles (4.5 km) north of Bampton. Witney and Burford are 4 miles (6.5 km) north-east and north-west respectively, both in the Windrush valley. (fn. 1) From the 1950s its name became widely known because of the growing prominence of a local airbase (opened in 1937), which was named after Brize Norton village although its main buildings were at Carterton (in Black Bourton parish). (fn. 2)
In 1881 Brize Norton civil parish comprised 3,276 a. (1,325 ha.), including 11 a. (4.8 ha.) of detached meadow by the Thames, which was incorporated in Bampton parish in 1886. (fn. 3) Brize Norton village, which included Manor and Grange Farms, occupied the parish's central area, and there were six outlying farmsteads, of which Astrop (east of the village) and Marsh Haddon (to the south) were successors of former hamlets; the others were Kilkenny, Glebe, Grove, and Caswell Farms. (fn. 4) Earlier in the 19th century a moated site on the parish's eastern border (the 'Black Moat') had been added to the adjacent parish of Witney, and the parish boundary north-west of the moat had been realigned. (fn. 5) In 1932, 49 a. north-west of the parish, including the hamlet of Stonelands, was transferred from Asthall parish, increasing the area to 3,314 acres. (fn. 6) In 1971, 180 a. was transferred from the western side of the parish (north-east of Carterton) to Black Bourton parish, (fn. 7) and in 1985 minor transfers were made with Carterton, amounting to a loss from Brize Norton of 47 acres. (fn. 8) Further transfers with Carterton in 2001 resulted in a net loss of 60 a., leaving Brize Norton with 3,025 a. (1,224 ha.). (fn. 9)
Parish Boundaries and Landscape
The western and southern boundaries of the ancient parish mostly followed field boundaries (Fig. 81). Sections of the western boundary were jagged or otherwise irregular, probably because they originally followed divisions between intersecting furlongs. (fn. 10) Before inclosure in 1776 the northern-western boundary traversed downland. (fn. 11) The northern boundary's eastern section ran along a 'freeboard or highway' within Minster Lovell parish, demarcating the southern edge of Minster's fields. (fn. 12) Most of the eastern boundary followed a brook which was known in 1318 as Marsh Haddon brook, and by the late 19th century as Norton ditch. (fn. 13)
The parish's southern half, including the village centre (around the church) and the eastern area towards the former Caswell Farm, lies between 75 and 85 m.; the village's northern parts are slightly higher at c. 85–90 m. (fn. 14) Grange and Astrop Farms lie at c. 90 m. North of the village the land rises steadily towards the ThamesWindrush watershed, reaching c. 120 m. in the north and north-west and c. 115 m. in the north-east. Foxbury Farm (formerly Glebe Farm) and Kilkenny Farm in the north-west lie at c. 100 and c. 105 m. respectively, while Grove Farm, near the north-east corner, is at c. 115 m.
The village's main street, from the church southwards, lies on a gravel patch (First Flood Plain terrace). (fn. 15) To the south-west and north-east (around Astrop Farm) are extensive areas of cornbrash, while in the south-east, roughly parallel to Norton ditch, are smaller areas of Oxford clay, Kellaways sand, and Kellaways clay. In the north Forest Marble clay predominates, sometimes mixed with limestone or interspersed with White limestone. Narrow bands of alluvium lie alongside the parish's brooks. The soil is mainly stone brash and clay. (fn. 16)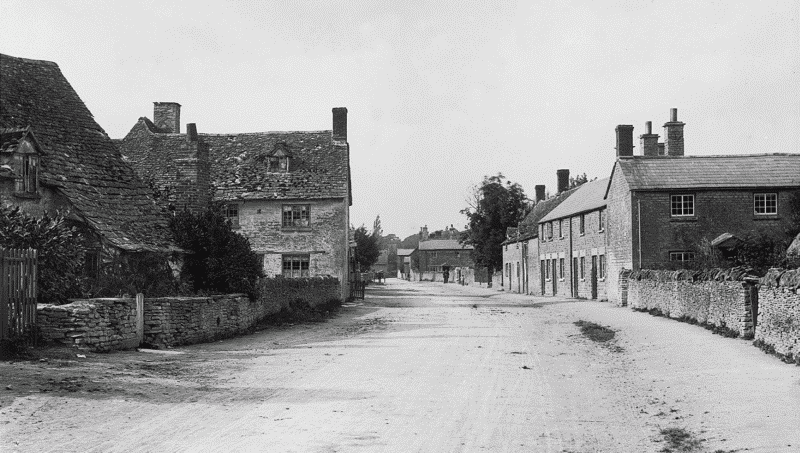 Communications
Early Roads
An ancient road, probably Roman, crossed the later parish from north-east to south-west, evidently as part of a long-distance route between Alchester (near Bicester) and Cirencester (Glos.). (fn. 17) Its central section in the parish was later diverted along a parallel route to the south-east, probably in the Anglo-Saxon period to communicate with the gravel area on which settlement became concentrated. (fn. 18) Later still the new route's central section was diverted slightly northwards, presumably when land was demarcated for a church, lordly centre, and parsonage (by the late 11th century). (fn. 19) In 1776 this section was called Poulton's Lane, (fn. 20) referring apparently to the parish's first vicar, John of Poulton (d. 1298). (fn. 21) The eastern section of the former Roman road, between Brize Norton village and Astrop, was replaced by a route north of Astrop Farm, probably after the decline of Astrop hamlet in the late Middle Ages. In the late 17th and 18th centuries it was called Abingdon Way, (fn. 22) indicating that it was primarily associated with a continuation south-eastwards to the Thames (fn. 23) rather than with the west-east route to Curbridge. A footpath along the previous route was confirmed or provided at inclosure (1776). (fn. 24) In the 16th–18th centuries the former Roman road's western section, between Brize Norton village and Black Bourton parish, was called Kencot Way. (fn. 25)
Probably by the early 8th century, when Bampton was a royal centre with a minster church, (fn. 26) a route was established across the parish area from north-west to southeast, as part of a north—south route from Shipton under Wychwood to Bampton (via Swinbrook). In the 17th and 18th centuries the section north-west of the village was called Sir Edward's Way, (fn. 27) referring possibly to Sir Edward Unton (c. 1534–82, knighted 1559) who had estates and other interests north and south of the parish. (fn. 28) In the late 17th century and later it was also called Burford Way, while the upper half beyond the junction was sometimes called Shilton Upper Way. (fn. 29)
Five other routeways probably date from the AngloSaxon period. A route in the north-west of the parish, which connected the 7th-century Asthall barrow and Sir Edward's Way, was recorded from the 15th to 18th centuries as Salter's Way, (fn. 30) and in the late Anglo-Saxon and post-Conquest periods it was presumably part of a saltway between Droitwich (Worcs.) and Bampton. (fn. 31) A second route ran from the north end of Brize Norton village to Worsham mill (in Asthall parish), which probably existed by 1086; (fn. 32) it was recorded as Worsham Mill Way in 1685, Miller's Way in 1737, and Mill Way in 1776, (fn. 33) and possibly also served as part of a droveway between Bampton and Stockley, north of Asthall parish, where woodland was associated with Bampton in the 11th century. (fn. 34) A spur from this road, possibly known as Minster Way, ran north-east to Minster Lovell, (fn. 35) which was a notable ecclesiastical centre probably by the 9th century. (fn. 36) In the parish's eastern area a road branched south-eastwards from the former Roman road by the mid 10th century; it led eventually to the Thames and was recorded from the 17th century as Abingdon Way, (fn. 37) forming part of a route from Burford. In the south-east a footpath confirmed at inclosure in 1776, connecting the village with the Anglo-Saxon Lew barrow may, also represent an Anglo-Saxon routeway. (fn. 38)
Two other pre-inclosure routes led to neighbouring villages: first, a road in the north-west from Sir Edward's Way to Shilton, which was known in the 17th and 18th centuries as Shilton Lower Way; (fn. 39) second, a road in the south-west between Kencot Way and Black Bourton, which was called Bourton Way in the 18th century. (fn. 40)
Post-Inclosure Roads
In 1776 the inclosure commissioners confirmed the roads from Brize Norton to Burford, Worsham mill, Minster Lovell, Witney (via Curbridge), Bampton, Black Bourton, Kencot, and Shilton (Lower Way) as 60-ft wide public highways. (fn. 41) Two short roads in the parish's north-west corner were confirmed at the same width, one running north roughly along the parish boundary from Black Bourton parish to Stonelands, the other running east from Stonelands to the Witney—Burford road. (fn. 42) The former Salter's Way was reduced to a 10ft-wide bridleway reserved for the occupiers of Asthall mill. The commissioners also designated five private carriageways and eight public footpaths, most for internal access. The eastern part of Abingdon Lane evidently fell outside the commissioners' consideration because it crossed an already inclosed area. In 1777 the Burford—Bampton road was turnpiked as part of the Asthall—Buckland turnpike, and was said by 1780 to be much improved. (fn. 43) It was disturnpiked in 1874. (fn. 44)
In 1827 the eastward road from Stonelands to the Witney—Burford road was closed and sold. (fn. 45) By 1880 three designated 60-ft roads were apparently only trackways (Mill Way, Shilton Lower Way, and the Black Bourton to Swinbrook road), as was the eastern section of Abingdon Lane. (fn. 46) In the 20th century the Black Bourton—Stonelands road declined into a pathway, but Shilton Lower Way was metalled. (fn. 47) The road from Brize Norton to Black Bourton was presumably closed when the airbase was established. (fn. 48) In 1955 the road junction by the church and road to the west (Carterton Road) were widened, (fn. 49) and in 2003 a roundabout and road were constructed north of the village to provide access to the new housing estate in the north-west of the parish. (fn. 50)
Bridges Ven bridge, which crosses Norton ditch in the parish's south-east corner, was first mentioned in 1771 as 'Fenbridge', (fn. 51) meaning 'marsh bridge'. It presumably referred to the marsh after which Marsh Haddon was named. (fn. 52) During the period of the Asthall—Buckland turnpike (1777–1874) it was the site of a toll gate and booth. (fn. 53) A bridge called 'Wash bridge', also mentioned in 1776, lay west of the village. (fn. 54)
Railway
The East Gloucestershire Railway, a single-track line from Witney to Fairford, was built across the parish's south-eastern corner and opened in 1873. (fn. 55) The track was laid under the Brize Norton to Bampton road by means of a shallow cutting and a road embankment and bridge. (fn. 56) A station was built which also served as a passing point for trains, with up and down lines and platforms (the only one on the line apart from Witney). There was also a siding. Two other, long sidings were added in 1936 for airfield-related traffic. The station was initially named after Bampton, but was renamed 'Brize Norton and Bampton' in 1940. (fn. 57) The line became part of the Great Western Railway in 1890 and was closed in 1962.
Carriers and Post
Carriers based at Brize Norton were mentioned in the first half of the 19th century. (fn. 58) In the 1850s and 1860s there were weekly services to Witney, Oxford, and Cirencester, (fn. 59) but only to Witney and Faringdon in 1877, (fn. 60) and only to Witney in the 1880s and early 1890s. (fn. 61) A service to Oxford operated again in the late 1890s and briefly thereafter. (fn. 62) In 1831 Brize Norton's post town was Witney, (fn. 63) but by 1847 letters were received via Bampton, an arrangement which continued until at least 1915. (fn. 64)
Settlement and Population
Early Settlement
Prehistoric agricultural activity is implied by items of likely Neolithic date found east of Astrop Farm, including scrapers, cores, blades, flakes, and an axe. (fn. 65) The only evidence for settlement is a rectangular enclosure in the parish's northern area, which was identified by aerial photography. (fn. 66) A few later items have been found, including a gold coin of the British ruler Epaticcus (AD 30s), (fn. 67) and Romano-British pottery sherds from the village area and west of Astrop Farm. (fn. 68) An enclosure of possibly Roman date is indicated by an earthwork called 'Spenchesters' in the 17th century, and recalled by the field name 'Frenchester' in the 19th century. (fn. 69) The field name Ringborough, recorded from 1624, similarly implies a circular earthwork, (fn. 70) though of unknown date; it stood perhaps in the parish's south-west corner, as the name was also used for the adjacent Ringborough ground in Lower Haddon township (in Bampton parish), (fn. 71) and in the late 19th century for a field south-west of Marsh Haddon Farm. (fn. 72) In 1881 a 7th- or early 8th-century inhumation burial was discovered near Astrop Farm, containing a skeleton with an iron knife. (fn. 73)
Population from 1086
In 1086 48 people belonged to Brize Norton and Astrop, of whom 30 tenants, 8 servi, and a knight were associated with the former. (fn. 74) In 1279 there were about 60 tenant households in the parish, of whom 44 held land associated with Brize Norton village and 1 held land there and elsewhere. (fn. 75) In 1306, 39 people paid tax in Brize Norton and Astrop, of whom 27 (excluding the abbot of Thame) were listed under Brize Norton; tax-payers at Marsh Haddon were included in a list of 13 names covering both Marsh and Lower Haddon (in Bampton parish). In 1316, 44 tax-payers were listed under Brize Norton and Astrop, of whom 33 were associated with the former, presumably including tax-payers in Marsh Haddon. Corresponding figures in 1327 were 38 and 31. (fn. 76) In 1377 106 men and women over 14 paid poll tax in Brize Norton, presumably including any resident at Astrop, and another 10 men and women were recorded separately for Marsh and Lower Haddon. (fn. 77)
By the early 16th century population had fallen considerably, and only 14 tax-payers were recorded for Brize Norton parish in 1523–4 and 26 in 1544. (fn. 78) In 1548 there were said to be 62 'housling people' (i.e. those old enough to receive communion). (fn. 79) In 1642 62 male householders took the Protestation oath, together with 13 householders' sons and 7 male servants; another 4 men were listed as recusants, including at least 1 householder. (fn. 80) In 1662 and 1665 respectively 46 and 43 householders were assessed for hearth tax. (fn. 81) Between 1738 and 1768 clergy estimated the number of houses at 70–89, (fn. 82) but at only 50 (excluding outlying farmhouses) in 1771 and 30 in 1774. (fn. 83) Baptisms per decade from 1670 to 1759 fluctuated between 91 and 104, rising to 174 in 1770–9 and to 181 in 1780–9 before falling back to 148 in 1790–9. Throughout that period baptisms per decade nevertheless outnumbered burials, though to varying degrees. Until 1769 the surplus ranged from 22 to 43, except in 1720–9 and 1750–9 when it was only 9. Between 1770 and 1799 it rose considerably: to 75 in 1770–9, 109 in 1780–9, and 69 in 1790–9. (fn. 84)
By 1801 there were 57 houses containing 56 families and a total population of 453. (fn. 85) Population rose to 528 in 1821 (102 families), 627 in 1831, and 720 in 1851. It then declined to 695 in 1871 and to 639 in 1881, before falling steeply from 610 in 1891 to 537 in 1901 and to 421 in 1921. Thereafter it expanded again, reaching 508 in 1931 and 575 in 1951, and rising to 984 by 1961, partly because of house-building but presumably also because of the airbase's development. (fn. 86) Between 1971 and 1981 population fell from 994 to 798, presumably mainly because of the 1971 boundary change; it declined further to 745 by 1991. (fn. 87) Brize Norton Village
Brize Norton was first recorded in the late 11th century as 'Norton', meaning 'north tūn' (or village). (fn. 88) The name indicated the settlement's geographical position north of the important royal and ecclesiastical centre at Bampton, within whose late Saxon estate and parochia it almost certainly lay; as with Aston (Bampton's east tūn), the name probably also implied secondary or dependent status. (fn. 89) The form 'Norton' continued in use until the early 14th century, (fn. 90) though from the 13th century it was sometimes distinguished from Chipping, Hook, and Over Norton. 'Suthnorton' (i.e. 'south north-tūn') was recorded in 1235, (fn. 91) and from at least the 1260s 'Norton Brun' was commonly used, (fn. 92) referring to the Brun (or Brown) family who were manorial lords in the 13th century. (fn. 93) That form persisted until the early 17th century, (fn. 94) and the related form 'Norton Broyne' was used in Church records until the early 19th century. (fn. 95) By 1297 the form 'Brunesnorton' also appeared, (fn. 96) which developed into 'Brimes Norton' (1303) and 'Brynesnorton' (1376), (fn. 97) and effectively reached the modern form by 1523 as 'Brysenorton'. (fn. 98) It was the normal name for both village and parish from the mid 17th century, written as one or two words. (fn. 99)
From the Anglo-Saxon period until the late 20th century most settlement took place alongside the Burford—Bampton road and was concentrated on the main gravel patch. The earliest nucleated settlement was formed probably near the site of the church, as this area occupies the gravel patch's north end and was the point to which the former Roman road was diverted. Astrop's name (meaning the east throp) also implies the existence of primary settlement at Brize Norton village by 1086, (fn. 100) which had presumably originated in the mid or late Anglo-Saxon period. The large population at 'Norton' in 1086 suggests that settlement then extended southwards along the gravel patch, probably on both sides of the Burford—Bampton road, (fn. 101) though early tenement plots cannot be discerned. In the late Anglo-Saxon period, and perhaps earlier, Brize Norton was probably within the jurisdiction of Bampton's minster church and under royal authority exercised from Bampton. A description of the alleged boundary of Bampton's parochia made in 1318 but probably relating to the pre-Conquest period includes much of the historical parish, running probably from Shilton Lower Way in the north-west to the Witney road or Abingdon Way on the eastern side. (fn. 102) In 1086 landholders in Brize Norton included two royal officers. (fn. 103)
A manorial centre was established at the settlement's north end possibly soon after the Norman Conquest, when Roger d'Ivri took over lands previously held by 14 thegns. (fn. 104) Its location, on the site of Church Farm, lay near the brook that flowed along the west side of the gravel. (fn. 105) A church and parsonage were also established, respectively east and west of the manorial centre, possibly by 1074. (fn. 106) From the late 12th or early 13th century there was probably a second manorial centre: it may have occupied the site of Brize Norton Manor House, north of the gravel patch, though the existing house is 16th-century and later, and no earlier evidence is known. (fn. 107) In the 12th century a monastic grange was established, (fn. 108) probably on the site of Grange Farm, north-west of the village on the north side of the Burford road. Its lands were distributed widely in the open fields, (fn. 109) of which the medieval village had two, one on each side of the Burford—Bampton road; villagers also used downland below the parish's north-western boundary, and a cow pasture to the south, near Marsh Haddon. (fn. 110) The parish's brooks appear to have been too weak to drive a watermill, and villagers presumably used Worsham or Asthall mill.
After the Middle Ages the main gravel patch continued to be the main settled area; in the early 17th century there were houses at its southern end, (fn. 111) though settlement density cannot be established. More buildings were also erected north of the principal area: by c. 1600 at least two farmhouses had probably been established on Sir Edward's Way, east of Grange Farm, namely 'Tempests' (later called Old Farm), (fn. 112) and the building opposite (called Rookery House from the late 19th century). (fn. 113) By the late 18th century there were also buildings west of Grange Farm, (fn. 114) including the building which later contained the Masons Arms and two malthouses further west. (fn. 115) At least one building had also been erected by the road junction north of the main village area. (fn. 116) More houses were built by the junction in the early 19th century, and by the late 19th century the Burford—Bampton road west of Grange Farm was lined with buildings on its north side, some presumably housing workers at nearby quarries. (fn. 117)
In the 19th century buildings were added to the north end of the main village area, around the junction by the church. Cottages such as 'South Terrace' were also built in the village. In 1884 the gravel patch contained two built-up areas separated by closes, one around and south of the church, the other on the southern part, (fn. 118) though it is unknown when this pattern emerged. After the area west of Grange Farm was built up in the 19th century, Brize Norton village effectively consisted of three parts, each including a public house (from south to north the Carpenters Arms, the Chequers, and the Masons Arms). (fn. 119) Around 1930 each section also had a principal shop. (fn. 120) Electricity and mains water were available by 1939, the latter supplied by Witney Urban District Council. (fn. 121)
From the 1950s small closes of housing were built in the main village area, most on the east side of the principal street (Station Road). Each contained between 12 and 24 houses or bungalows in a particular style, and was either a local-authority or private development. Rows of bungalows and small houses were also built on or parallel to Station Road. The additions joined the two sections of the main village area and created the impression that Brize Norton was a 'workaday' village of old and new housing.
Astrop
Astrop, the 'east throp' (i.e. east farm or hamlet), (fn. 122) presumably originated in the late Anglo-Saxon period, possibly as a single farm. In 1086 it comprised an estate with 4 servi and a settlement of 1 villanus and 4 bordarii. (fn. 123) It expanded into a substantial hamlet, with its own manorial government and possibly its own field system. (fn. 124) In 1279 over 3 ploughlands were associated with the settlement and there were 14 tenants, each with a house. (fn. 125) Twelve tax-payers were listed in 1306 and 11 in 1316, though only 7 in 1327. (fn. 126) Population presumably fell heavily in the later Middle Ages, and the hamlet ceased to exist; the time of desertion is unknown, though Astrop does not appear separately in tax records for 1377 or 1523. (fn. 127) In 1682 Astrop consisted of a manor house and associated lands (many let to tenants), (fn. 128) a situation which had presumably existed for a considerable time. In 1776 the building was regarded as a farm, and its lands amounted to c. 300 acres. (fn. 129) The extent remained similar during the 19th century and first half of the 20th, when it was worked as a unit. (fn. 130) From 1973 Astrop was the centre of a much larger farming business. (fn. 131) Earthworks from the former hamlet survived in two fields west of the farmhouse. (fn. 132)
Caswell
The eastern part of Brize Norton parish known as Caswell was first mentioned in 1165–6 as a 'purpresture' (encroachment on waste) associated with Norton. (fn. 133) The name, meaning 'cress-stream', (fn. 134) was derived either from the brook between Brize Norton parish and Curbridge township or from a tributary stream, and was also applied to the adjacent part of Curbridge (in Witney parish). (fn. 135) Caswell in Brize Norton formed a tithing with Astrop by 1296–7. (fn. 136) It probably consisted mainly of a freehold estate of Astrop manor, recorded in 1279 as a house and 3 yardlands, (fn. 137) in 1384 as a house with 100 a. of arable and 10 a. of meadow, (fn. 138) and in 1548 as Caswell farm; (fn. 139) apart from the chief house, there may never have been an actual settlement in the Brize Norton part of Caswell. (fn. 140) During the 19th and 20th centuries the farm was usually known as Caswell or Lower Astrop farm, (fn. 141) though sometimes as Lower Caswell, (fn. 142) and in 1824 it consisted of a house and c. 167 a. north of Abingdon Lane, inclosed probably by the later Middle Ages. (fn. 143) In 1910 there were 161 a., buildings, and two cottages. (fn. 144) The main house was probably demolished in the early 20th century. (fn. 145)
Marsh Haddon
Marsh Haddon in the southern part of Brize Norton parish was one of two hamlets which developed midway between Bampton and Brize Norton villages, the other being Lower (or Little) Haddon to the south. (fn. 146) Both were named partly from their location, as their common name means 'uncultivated hill slope'. (fn. 147) They were first recorded in 1279 as Haddon and Marsh Haddon, (fn. 148) the prefix 'Marsh' presumably referring to an area of common (later called Marsh Haddon common) alongside the Bampton road. (fn. 149) Marsh Haddon then comprised 4 freehold tenements (a total of 6 yardlands), 3 of which included a house. As the two Haddons were each tenurially distinct, and as most of Lower Haddon was associated with the main Bampton manor, (fn. 150) they were presumably already separated by the boundary recorded in the late 19th century. (fn. 151) Marsh Haddon nevertheless retained formal links with Bampton, namely the inclusion of a tenement within the main Bampton manor, (fn. 152) and payment of tithes to Bampton church from some lands. (fn. 153) The two Haddons were also taxed together in 1306 and 1377. (fn. 154)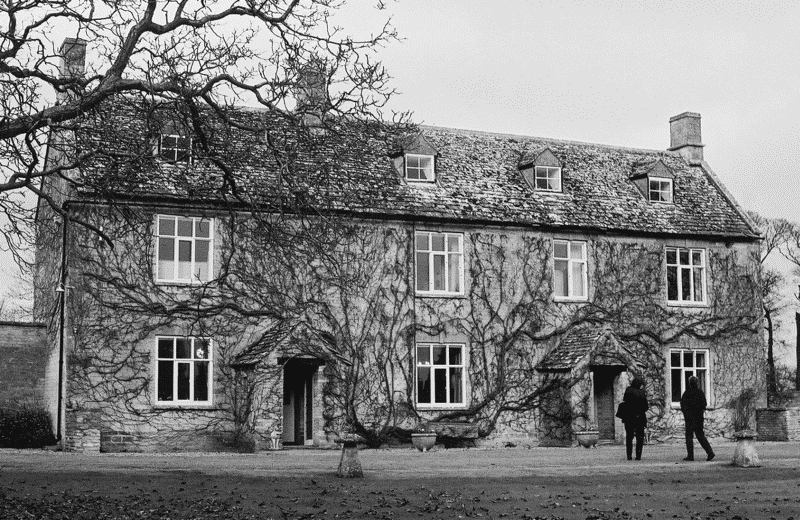 The tenements in Marsh Haddon recorded in 1279 were apparently in single ownership by 1356, and by the 16th century had been amalgamated into a single farm. (fn. 155) In 1910 there were also 5 cottages, (fn. 156) built perhaps during the 19th century. Much of the farm's land was acquired for the airbase in 1937, (fn. 157) and the house and cottages were demolished before December 1943; the farm buildings were demolished probably c. 1960. (fn. 158)
Expansion of Carterton
In the early 21st century almost 1,000 houses were built inside the western boundary of Brize Norton parish, effectively extending Carterton. (fn. 159) The development, planned by Ian Davidson, was designed to recreate the appearance of a settlement which had evolved over time, with architecture influenced by local vernacular forms and a dense mixture of different sizes of housing units, 15 per cent of which was built as social housing. It followed the principles established in the late 1980s by the duchy of Cornwall at Poundbury, a satellite village of Dorchester (Dorset): one phase was designed by the Percy Thomas Partnership, which had worked there.
Domestic Buildings
No house built in the village before 1900 was exceptional for the locality in either materials or form, (fn. 160) though most terraced cottages built in the 19th century were rather meagre. In the 20th century both private and council houses have conformed to standard national patterns.
Brize Norton's earliest, largest, and most sophisticated houses, the Manor House and Grange Farm, were built in the 16th century. During the first half of the 17th century they were improved in similar ways, most obviously by the addition of stair towers to serve new rooms in their attic storeys. Otherwise 16th- or early 17th-century work incorporated into the important houses seems to be confined to the core of Rookery House; the one and a half-storeyed west part of Church Farm House; and the north-west part of Astrop Farm. (fn. 161)
Several smaller houses were built throughout the village in the first half of the 18th century and the larger, older houses were significantly improved. About 1700 a west range was added or rebuilt to create an L-plan at Church Farm House, and Rookery House was developed into a two-storeyed, four-bayed house. From the midcentury houses were rebuilt or remodelled on a slightly grander scale, mostly with four or five bays, two full storeys of vertical proportions, and attics lit by dormers. At Astrop Farm the old house became the service wing (with north dairy) of an L-plan house when a five-bayed south range was added, together with a detached outbuilding for brewing and baking. Only the 16th- or 17th-century dovecote and 17th-century barn at Grange Farm seem to predate 1700, but several groups were built during the 18th century including those at Grange Farm and at Church Farm House.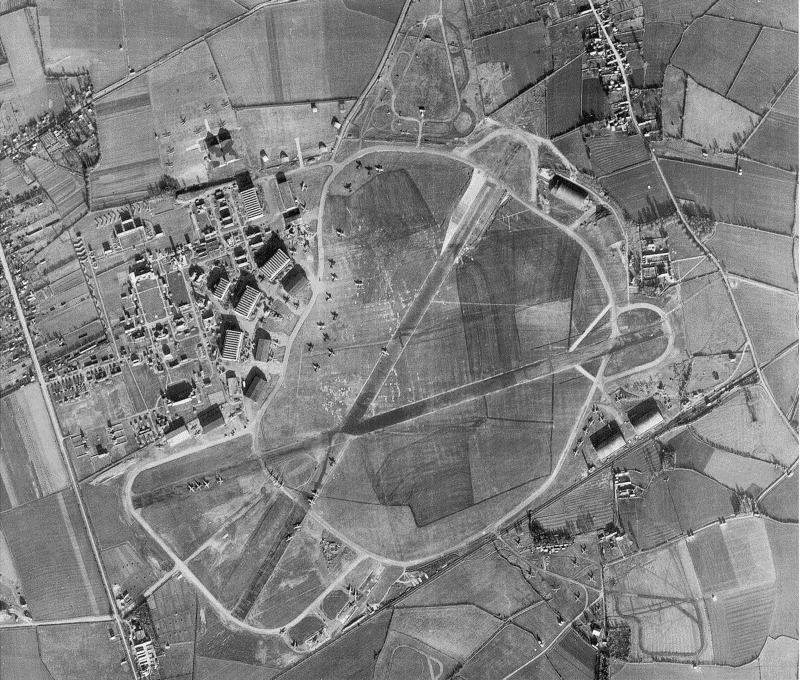 After inclosure in 1776 several farms, including Manor farm, were provided with new buildings and some houses were gentrified. At Grove Farm, a five-bay barn was built in the late 18th century and was extended, probably c. 1815, by three bays and a stable and granary; at about that time a two-bayed, two-storeyed house was built at the south-west corner of a very large farmyard. (fn. 162) The south front of Astrop Farm was given 16-pane sashes and cement render, Rookery House was refronted and a rear extension was built, and Marsh Haddon Farm (demolished) also seems to have been enlarged round an older core. A new farmstead was built when Kilkenny farm was created c. 1817, complete with a solid twostoreyed house of four bays and three main rooms served by a central and a west stack, and a barn, wagon house, and implement shed. (fn. 163) The house, which may have been built round an 18th-century core, was extended by an east bay soon afterwards. Later in the 19th century or in the early 20th it was divided into two cottages, each with a porch, staircase, rear extension, and new casements. Probably after 1870 Church Farm House was extended, mainly by a gabled south bay, and given a Victorian veneer with red clay tiles, a gabled porch, and dormers; one or two other houses in the village were given a similar treatment. Though buildings were added to the Manor farmyard, and at Grove Farm a coach house, cart shed, and long cattle shelter were built, Glebe (later Foxbury) Farm of 1879 was the only brand-new farmstead. (fn. 164)
Brize Norton Airbase
The planning of an airforce base in Brize Norton and Black Bourton parishes was started in 1935 as part of the RAF's pre-War expansion programme. (fn. 165) Its intended name was RAF Carterton, but this was changed to Brize Norton to avoid confusion with RAF Cardington (Beds.). Land was acquired in 1936–7. (fn. 166) When the airfield was opened on 13 August 1937 it consisted of a circular grass area, nine dispersed hangars of C- and later types, and other buildings including a neo-Georgian station headquarters and officers' mess, all to standard expansion-scheme designs. (fn. 167) The base initially housed a pilot training school; an aircraft maintenance unit was added in 1938, and from 1942 army personnel were trained to fly Horsa heavy gliders. In 1943 two concrete runways were created, one north-east to south-west, the other east—west between the Brize Norton to Bampton and Carterton to Black Bourton roads. On D-Day in 1944 the base contributed Horsas and parachutists to operations in Normandy. After the Second World War various RAF units used the base until in 1950–2 it was adapted for the United States Air Force, principally by extension of the east— west runway from 6,000 to 9,000 ft (1,830 to 2,740 m.). The USAF took possession in April 1951 and from 1952 (except for December 1955—September 1956) stationed large bombers at Brize Norton on short postings (e.g. 90 days) as part of its strategic nuclear-armed force based at inland UK locations. It laid out accommodation on a grid plan towards Carterton. In 1958–60 'Ban the Bomb' demonstrations were held outside the base, organized by the Campaign for Nuclear Disarmament group at Oxford University. (fn. 168) The base was visited in 1958 by US vice-president Richard Nixon. (fn. 169)
In 1965, as America introduced home-based intercontinental missiles, Brize Norton airbase was returned to the RAF, which designated it as a transport base for supplying British overseas bases, notably in the Persian Gulf and Asia. The officers' mess was doubled in size and new buildings were erected, including a passenger terminal, transit hotel, cargo-handling shed, married quarters (in Carterton), and 'Base Hangar', designed in 1965 by P. Haines, A. Chance, and H. Bruse of the Ministry of Public Buildings and Works to house Belfasts and VC10s. The hangar opened in 1967 and was then western Europe's largest cantilever construction hangar, clad in aluminium sheeting and with space for six aircraft. (fn. 170) Moveable tail docks were added later for longer aircraft. A small, barrel-vaulted chapel was also built in the 1960s.
By 1970 four squadrons operated from Brize Norton, their aircraft including a fleet of VC10 jet airliners. During the 1970s, as overseas bases were closed, operations contracted and aircraft numbers were reduced. From 1983 Brize Norton provided air-to-air refuelling for the RAF using VC10 tanker aircraft and later Tristars. The base contributed to the Falklands campaign in 1982, to the First Gulf War in 1990–1, to operations in Bosnia and Kosovo in the 1990s, and to the Second Gulf War in 2003. In 1987 the president of the USSR, Mikhail Gorbachev, visited Brize Norton for talks with the prime minister of the United Kingdom, Margaret Thatcher. (fn. 171) In 2004 Brize Norton was the largest RAF base in the UK.
Political and Social Life
Inhabitants of Brize Norton only became involved occasionally with major political movements and events. In January 1329 three Brize Norton men, John, Thomas, and Henry of Abingdon, were among rebels supporting Henry, earl of Lancaster, who were defeated at Bedford by Roger Mortimer, earl of March. (fn. 172) On Palm Sunday 1398 William Haney, a bailiff of Brize Norton, was a principal insurgent in a treasonable uprising in Bampton, for which he was indicted. (fn. 173) Royalist troops were quartered in Brize Norton in May 1643. (fn. 174) In 1648 the Royalist Thomas Woodd, son of Basil Woodd of Brize Norton, was killed at the battle of Preston. (fn. 175) William Hopton of Brize Norton was fined in 1649 for adhering to the Royalists. (fn. 176)
Inns and Public Houses
Four victuallers were licensed in 1753 and 3 annually between 1758 and 1782, with house names being noted from 1774. The Crown, which probably existed in 1772, was apparently a converted malthouse. It continued until 1782 (fn. 177) and stood at the village's north end. (fn. 178) The location of the Orange Tree, mentioned only in 1774, (fn. 179) is unidentified.
From 1787 to the late 19th century there were two public houses, then three until the late 20th century. (fn. 180) The Chequers Inn, also first mentioned in 1774, may have existed from 1758 (fn. 181) and stood on the southern edge of the village's central area. (fn. 182) In the early 19th century it was used for meetings of overseers of the poor and quarter sessions commissioners, (fn. 183) and for property auctions. (fn. 184) It was evidently rebuilt in the early 19th century. Around 1930 it had a more sedate atmosphere than the other pubs, and provided the Berkshire Hunt with pre-hunting drinks. (fn. 185) In the early 21st century its food menu included numerous dishes with aircraftrelated names. The Axe and Compass was first recorded in 1782 but by 1846 had been renamed the Carpenters Arms, (fn. 186) though villagers continued to call it the 'Axe'. (fn. 187) It stood in the southern part of the village. It was also used for auctions, (fn. 188) and in the 1840s–70s for friendly society meetings. (fn. 189) Around 1930 it was popular with old and young men, notably with cricketers and footballers. (fn. 190) It ceased to be a public house in 1991 and became a guesthouse. (fn. 191) By 1881 the Masons Arms had also been opened to the north-west of the village (north-west of Grange Farm), run by Thomas Akers who had been a beer retailer since c. 1864. (fn. 192) It and the Chequers remained in business in 2004.
Festivities and Clubs
Little is known about pre-modern social activities. In the late 16th and early 17th century a farmer provided a 'drinking' for parishioners at a place called the 'South Cross'. (fn. 193) In 1731 a maypole in Brize Norton was cut down by an outside carpenter. (fn. 194) In the 19th century, as presumably in preceding centuries, villagers were entitled to join Witney people on their annual Whit Monday deer hunt in Wychwood Forest. (fn. 195)
A friendly society based at the Carpenters Arms was founded for seven years in 1845, apparently in succession to another society, and was reconstituted with revised rules in 1846. A successor society, the Royal Albert Friendly Society, was established for the same period in 1853, though the maximum age for new members was reduced from 45 to 35 years. A successor society of the same name was recorded in 1870. (fn. 196) In 1850 a society is also reported to have met at the Chequers, (fn. 197) but confirmation is lacking.
By 1885 there was a parish room, and a reading room was mentioned in 1886–7 (possibly the same room). (fn. 198) In 1895 Oxfordshire County Council provided a course of woodwork lessons for young men. (fn. 199) An ex-army hut was erected in the village in 1921 for recreational use and was known as the Victory Hut. (fn. 200) In 1924 there were said to be many social clubs, including a Mothers' Union branch and society for young women. (fn. 201) A branch of the Women's Institute was founded soon afterwards and continued into the 21st century. (fn. 202) During the 1930s a Conservative Benefit Society operated in the parish. (fn. 203) In 1951 a recreation ground was opened. (fn. 204) It was provided with a new pavilion in 1970, donated by Arthur Timms. (fn. 205) A new hall, the Elder Bank Hall, replaced the Victory Hut in 1980. A Brize Norton Village Association was started c. 1997 to raise money for local groups and activities, and an 'Over 60s' club in 1998, (fn. 206) though the Mothers' Union was disbanded c. 1997.
Charities and Poor Relief
Before the later 18th century only two small charities were founded, both to assist widows. Ann Summers, reportedly by will dated 1631, left £10 to provide 10s. a year for poor widows not receiving relief. (fn. 207) It was distributed regularly in the 18th century, (fn. 208) and occasionally between 1799 and 1810 or 1812. Payment then ceased until at least 1824, probably because all poor widows were being relieved by the parish, though the principal and accumulated interest, amounting to £15, remained available for distribution. (fn. 209) Henry Fletcher, by will proved 1755, bequeathed a cow common to provide 5s. for the support of two poor widows who did not receive money from the village. (fn. 210) No provision for the charity was made when common rights were extinguished at inclosure in 1776, and payment was later said to have ceased at that time. (fn. 211)
The inclosure commissioners allocated 10 a. in the south-east of the parish, adjoining Lew heath, to the vicar and churchwardens for the raising of furze or other fuel for the poor. (fn. 212) By 1805 the land had been let and the rental income was distributed at Christmas. (fn. 213) In 1826 and 1835 the income from the so-called 'poor's plot' was £5. (fn. 214)
In 1775–6 the parish spent £123 on poor relief, but only an average of £78 per year in 1782–5. (fn. 215) By 1802–3, following the outbreak of the Napoleonic Wars, expenditure was £436, over 19s. per head of population; (fn. 216) it reached 26s. per head in 1814, but fell to 16s. per head in 1815. (fn. 217) After rising to 24s. in 1818 it declined, and from 1821 to 1834 varied from 12s. to 16s. (fn. 218) In 1802–3, 42 adults and 89 children (28 per cent of the population) were relieved regularly and 56 persons (12 per cent) occasionally. No one was relieved in a workhouse, though £27 was spent on materials for employing the poor. (fn. 219) In 1814–15, 93 adults received regular relief and 10 people occasional relief. (fn. 220) Weekly payments to individuals for illness and unemployment are recorded from 1825 to 1833. The overseers arranged the bringing of coal from Eynsham for sale to the poor, and made occasional payments for shoes and treatment at the Oxford infirmary. (fn. 221)
From 1834 Brize Norton belonged to the newly established Witney poor-law union. In 1885 the overseers distributed coal to people receiving parish relief and also to widows, widowers over 70, and labourers with 4 children too young to earn. Distribution was later reduced to widows. In 1899 coal worth £7 10s. was distributed to 100 people. (fn. 222)
In 1970 Brize Norton's charities were reorganized. A Charity Commissioners' scheme added the capital of Ann Summers' charity (£15 9s. 9d. of 2½ per cent consols vested in the Official Trustee for Charitable Funds, yielding 7s. 8d.) to the 10 a., (fn. 223) forming the 'Widow's Money — Fuel Allotment Charity'. It made grants and loans to the elderly. In 2003 its income was £353. (fn. 224)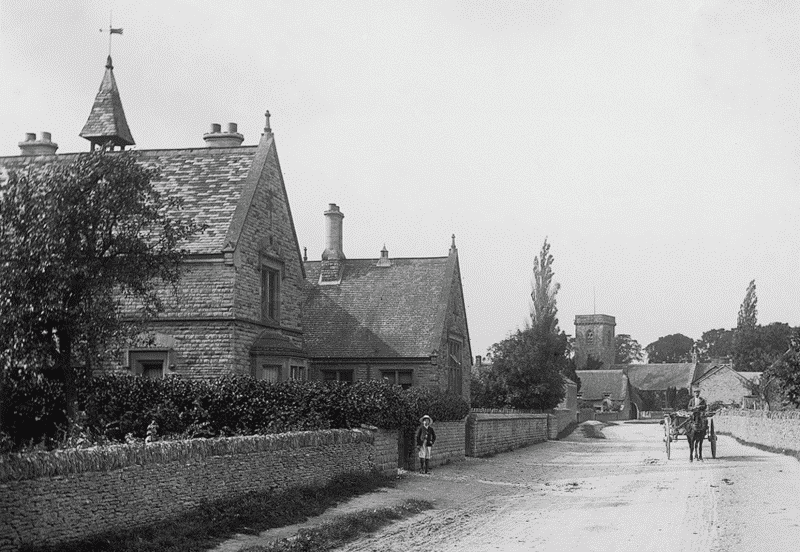 Education
Education to 1874 Goddard Carter of Alvescot, by will proved 1725, left a rent charge of £5 from lands in Brize Norton (Marsh Haddon farm) to pay someone to teach poor children living in the parish to read, write, and do some arithmetic. The persons responsible for paying the charge were to appoint both teacher and pupils. (fn. 225) By 1738 a 'free school' had been established which was supervised by two of Carter's sons-in-law as trustees. (fn. 226) By 1759 the governorship had passed to the vicar and churchwardens of Brize Norton. Ten boys or girls were now educated, (fn. 227) implying the practice recorded from 1793 whereby the governors chose eight children for admission and the schoolmaster two. (fn. 228)
By 1808 two private schools also existed, respectively teaching 20 children to read, write, and do arithmetic and 10 children only to read. (fn. 229) Both closed by 1815. There was then no Sunday school and the teacher at the endowed school was over 60 and unwilling to adopt the new National Plan. (fn. 230) By 1824 the schoolmistress no longer taught writing, though all children learnt to read and girls were also taught knitting and sewing. Children generally stayed at school until they were 10 or 12 years old. (fn. 231) In 1819 education for the poor of Brize Norton had been deemed insufficient, (fn. 232) but in 1831 most of the village children not at the endowed school were allegedly being educated at their parents' expense. (fn. 233) A Sunday school was started in 1833, which initially recruited 39 boys and 36 girls aged 6 or older who paid 1d. a week for books. The vicar also lent or gave to parishioners tracts produced by the Society for the Promotion of Christian Knowledge. In 1835 the endowed school additionally educated 20 fee-payers and another school had 22 pupils who all learnt reading and writing. (fn. 234) In 1860 three small schools, presumably including the endowed school, were reported but were judged by the vicar to be 'little better than dame schools. . . . affording very insufficient education'. (fn. 235) The endowed school continued after a board school opened in 1876, but in 1883 its former mistress was described as mistress of a dame school, which suggests that the endowed school had ceased. (fn. 236)
Attempts were made to found a Church school from 1856 when the curate, Joseph Halifax, approached Christ Church, Oxford, for assistance. In 1860 the new vicar, George Fereman, reported that Sir Edward PageTurner, a major landowner, had promised a site if building money could be raised. Fereman continued to seek funds and in 1870 obtained the offer of a site and financial contribution from Christ Church. (fn. 237) But his efforts to provide a school proved unsuccessful.
Brize Norton School from 1874 In 1874 a school board was formed, (fn. 238) and a school was built by Joseph Timms with stone from his family's quarry. (fn. 239) Designed in picturesque Tudor Gothic style, with rock-faced stone walls and a red clay-tiled roof, the school opened on 8 May 1876 and could accommodate 123 children. It was planned with a large schoolroom linked to the teacher's house by a smaller room. There was room for three classes in the schoolroom and infants could meet in the other room. (fn. 240) Attendance was initially low: in 1878 only an average of 15 attended who were taught by one master. It improved to 58 by 1880, (fn. 241) to 87 by 1883, (fn. 242) to 99 by 1903, and to 105 by 1907. (fn. 243) In 1891 the school received an annual government grant of £155, a fee grant of £83, and voluntary contributions of £53. (fn. 244) A scheme of that year converted Goddard Carter's endowment into a charity for providing prizes or rewards for poor scholars. (fn. 245) School leavers were later given 12s. 6d. each, which was often spent on clothes for agricultural work or domestic service. (fn. 246)
In 1926 a proposed reorganization as a junior school was rejected because the managers expected Nonconformist parents to oppose the transfer of older children to a Church school. (fn. 247) The headmaster c. 1930 was L. S. R. ('Boss') Jones, an enthusiast who created a prizewinning choir and also organized a recorder band, plays, and dancing. (fn. 248) From 1932 senior children attended Bampton School or Burford Council School, leaving Brize Norton to cater for infants and juniors. (fn. 249) Numbers fell and fluctuated between 36 in 1935, 40 in 1937, and 33 in 1940. (fn. 250) In 1939–40 the school was joined by 37 evacuees and 3 masters from East Ham (London). A school canteen was opened in 1943. (fn. 251)
After the Second World War, despite the emigration of agricultural workers, numbers rose as Brize Norton airbase was developed. (fn. 252) In 1949, 22 of 62 pupils came from Carterton and the infant department was overcrowded. Pressure was relieved later that year with the expansion of Carterton school. (fn. 253) In 1950, 27 juniors and 16 infants attended Brize Norton school, which was described as 'alive and forward-looking'. (fn. 254) In 1957–8 a large window was inserted in the south wall of the schoolroom, and toilets and a cloakroom were added to the back; old outside toilets were demolished. (fn. 255) Numbers increased to 45 by 1967 and 70 in 1970. (fn. 256) In 1971 a classroom for infants was built at the back, included with the toilets and cloakroom under a single flat roof. The teacher's house was incorporated into the school c. 1994, and a rendered, portable classroom was installed across the rear playground c. 1996. In 2002 a stone outbuilding associated with the house was converted into a room for design and technology, and music. (fn. 257) In 2001 there were 83 children on the school roll. (fn. 258)
Goddard Carter's rent charge was redeemed in the 1940s by the RAF and reinvested in c. £136 of 3½ per cent War Loan stock. The income of £4 15s. 4d. went undistributed for many years, generating a balance of c. £44 by 1966. (fn. 259) In 1976 funds from the Carter charity were used to provide each school-leaver with a Bible. (fn. 260) The charity was closed in 2003. (fn. 261)