Pages 218-227
A History of the County of Oxford: Volume 15, Bampton Hundred (Part Three). Originally published by Victoria County History, London, 2006.
This free content was digitised by double rekeying. All rights reserved.
MANORS AND OTHER ESTATES
In the late Anglo-Saxon period Brize Norton almost certainly belonged to the large royal estate of Bampton, which was gradually broken up. In 1066 most of the parish was held by 14 thegns, but by 1086 it contained two discrete manors, Brize Norton and Astrop, which were held by the same Norman tenant in chief. Brize Norton manor (including the village and most of its lands) was already held by a subtenant, and descended intact until the 1180s when it passed to three heiresses, possibly as three manors. From the 1220s it was divided into two manors, the Fritwell or Yates manor and the Brun or Rathbones manor, which were reunited in the 17th century by a member of the Greenwood family. From 1973 most of the manor's land (then owned by Christ Church, Oxford) was farmed from Astrop Farm. Astrop manor, granted to a subtenant by the 1180s, belonged from the 16th century until 1800 to the Wenman family of Caswell (in Witney parish), and to Christ Church from 1933.
Two other large estates were formed in the Middle Ages: the Grange (or Grange farm) and Marsh Haddon. The former consisted of lands accumulated by Thame abbey in the 12th and 13th centuries. After the Dissolution it passed to Osney cathedral (in 1542) and to Christ Church (in 1546). It remained a separate farm until 2002, when it was added to Astrop farm. The Marsh Haddon estate was created in the mid 14th century by amalgamation of freehold tenements. It was a reputed manor in the early 16th century and continued as a farm until 1937, when most was requisitioned for Brize Norton airbase. Other estates included two rectorial tithe estates, which were commuted for land at inclosure in 1776. In 2004 Christ Church remained the parish's principal landowner with 1,090 acres.
Brize Norton Manor
Overlordship
In 1086 Roger d'Ivri, as successor to 14 thegns, held 14 hides and 1½ yardlands in chief. (fn. 1) The overlordship of the subinfeudated manor probably passed successively to Roger's wife and daughter and then perhaps escheated to the Crown. It was presumably held next by members of the St Valery family, (fn. 2) during which period the sub-tenancy was divided and later rearranged. (fn. 3) In 1227 the overlordship was presumably granted to Richard, earl of Cornwall, with other lands forfeited by Robert de Dreux, a kinsman of the St Valerys. (fn. 4) Richard retained the overlordship in 1242–3, as part of the honor of St Valery, (fn. 5) and it descended with that honor and later with the honors of Wallingford and Ewelme. (fn. 6) The two subordinate manors were each rated as ¾ knight's fee in 1242–3 and 1279 (implying 1½ fees before division), (fn. 7) and as ½ fee each in the 14th century. (fn. 8) In the 15th century one of the manors (Brun manor), which then belonged to the Lovel family, was considered to be 1/5 or 1/10 of a fee. (fn. 9) In the mid 16th and early 17th century the other manor (Rathbones) was held from the honor of Ewelme for a rent of 10s. 6d. (fn. 10)
Descent to the 13th Century
In 1086 Roger d'Ivri's tenant was Fulk, (fn. 11) who also held lands from Roger elsewhere. By the early 12th century the manor was probably held by Fulk Hareng, Fulk's son or grandson, who married Helewise, daughter of Walkelin Wadard. (fn. 12) Their son Walkelin Hareng was lord of Brize Norton by 1173, (fn. 13) having succeeded perhaps in 1167 when the manor was restocked and apparently released from Crown custody. (fn. 14) Walkelin died by 1187, (fn. 15) and the estate was divided among three granddaughters, as heirs of his deceased two daughters. Matilda, sole heiress of one daughter and wife of Ralph FitzGeoffrey, probably received half, and the other half was probably divided between Isabel, wife of William le Brun, and Millicent, wife of Miles of Fritwell. (fn. 16) In 1196 Ralph, William, and Miles were described as Walkelin's heirs, presumably by right of their wives. (fn. 17) Millicent died probably by c. 1215, (fn. 18) and in 1221 Matilda FitzGeoffrey, Isabel Brun, and Millicent's son, Stephen of Fritwell, conceded lands outside the parish to Ralph Hareng, presumably a relative, in return for lands in Brize Norton, perhaps to secure their title against a challenge. (fn. 19) Matilda died without direct heir, probably by 1223, (fn. 20) and her lands were apparently divided between Isabel or her heir and Stephen of Fritwell. (fn. 21) The two parts then descended as separate manors until the 17th century.
Fritwell or Yates Manor
Stephen of Fritwell, the holder of one manor (sometimes known from the late 16th century onwards as Yates manor), died in 1230 or 1231. The manor passed to his son Stephen, a minor, (fn. 22) who received possession apparently by 1241. (fn. 23) It passed by 1279 (fn. 24) to Stephen's son Richard (d. 1308), and then to the latter's son Ralph, a minor aged 16 in 1308. (fn. 25) Two thirds of his lands and his marriage were granted that year to Hugh Despenser. (fn. 26) Ralph Fritwell presumably achieved his majority in 1312 or 1313 and is last recorded in 1370. (fn. 27) He was succeeded by his son Thomas, (fn. 28) who was last mentioned in 1388; (fn. 29) he presumably sold the manor to Sir John Lovel (d. 1408). (fn. 30) It then descended with Minster Lovell until 1485, when it reverted to the Crown following the attainder of Francis, Viscount Lovel. (fn. 31)
In 1486 Henry VII granted the manor to his uncle Jasper Tudor, duke of Bedford, (fn. 32) on whose death without legitimate heir in 1495 it presumably returned to the Crown. It was granted in 1515 by Act of Parliament to Thomas, duke of Norfolk (d. 1524), (fn. 33) who was succeeded by his son Thomas, earl of Surrey, who sold the manor to Henry VIII in 1540. (fn. 34) In 1557 the Crown sold the manor to John Yate of Buckland (formerly Berks.) for £325. (fn. 35) He granted it to trustees in 1574 (fn. 36) and died in 1579. Edward Yate (d. 1596), his son and successor, (fn. 37) apparently transferred it by 1586 to John Yate of Buckland, perhaps his brother, who retained it in 1606. (fn. 38)
By 1616 the manor had been acquired by Thomas Greenwood, (fn. 39) who died between 1642 and 1646. (fn. 40) It passed to his son Thomas (d. 1679), (fn. 41) from whom two thirds were sequestered for recusancy in 1646, (fn. 42) to Thomas's son John (d. 1683), (fn. 43) and to John's son John (d. 1712). (fn. 44) During the 17th century the Greenwoods also acquired Rathbones manor, and by 1694 had combined it with Yates manor: Thomas Greenwood the younger probably lived in the 1660s at the house associated with Rathbones manor, (fn. 45) which was certainly the family's main residence in the late 18th century. (fn. 46) The united manor descended from John Greenwood to his son Charles (d. 1721), (fn. 47) whose widow Anne afterwards held several tenements by jointure. (fn. 48) Charles's son and successor, also called Charles, was apparently born after his father's death (fn. 49) and died in 1772. (fn. 50) He was succeeded by his son Charles (d. 1818), who was a minor at inclosure in 1776. (fn. 51) Around 1814 he sold (probably) a farm to James Gillett and two farms to Lord Francis Spencer (created Lord Churchill of Whichwood in 1815, d. 1845), (fn. 52) and in 1817 sold the former Rathbones manor house and some land, and evidently the lordship, to William Worley of Brize Norton and John Clinch of Witney as tenants in common, owning half each. (fn. 53) The remainder of the estate, a large farm, was sold probably around the same time to Charles Gillett. (fn. 54) Worley, who held Clinch's half as tenant, (fn. 55) died in 1821, (fn. 56) followed by Clinch in 1828. Each devised his half to a son, respectively John Worley and John Williams Clinch. (fn. 57) The manor estate presumably consisted of most or all of the 265 a. farmed in 1851 by John Worley (d. 1858). (fn. 58) His son and successor, John, bought Clinch's half, (fn. 59) and also acquired the two farms sold to Lord Spencer c. 1814 (521 a.), (fn. 60) together with Wallis's farm (44 a.), probably part of the land sold in 1814 to James Gillett. (fn. 61) In 1877 John Worley sold his properties to Christ Church (fn. 62) and leased them back, together with Batsfords' farm (22 a.) (fn. 63) which had also been bought by the college. (fn. 64) By 1888 the estate was known as Manor farm and reckoned at 845 acres. (fn. 65) The main farm was reduced to 600 a. between 1915 and 1929, and to 531 a. between 1942 and 1951. (fn. 66) From 1973 it was farmed from Astrop, (fn. 67) and its associated house (Brize Norton Manor House) and farm buildings were sold in 1975. (fn. 68)
Manorial Site A reference in the early 13th century to a fishpond belonging to Matilda Hareng (senior heiress and successor of Walkelin Hareng) near the parson's curia suggests that the principal manorial curia was probably situated between the church and parsonage (later vicarage). (fn. 69) In 1228 Stephen of Fritwell possessed a pond, (fn. 70) which suggests that in the rearrangement of manorial assets after Matilda's death the curia was allocated to the Fritwells' manor. (The site still contained a pond in 1863, but it was removed by 1880.) (fn. 71) In 1308 the Fritwell manor included a chief house worth 6s. 8d. (fn. 72) Richard Fritwell was probably resident in 1306, Ralph in 1316 and 1327, (fn. 73) and Thomas in 1388. (fn. 74) In 1423 the manorial centre included a hall with two rooms, and a barn, stable, and sheephouse; it was reportedly valueless after maintenance. (fn. 75) In the mid 16th century the site, together with houses and buildings, was held on lease with the manor's demesne lands, (fn. 76) and was presumably the centre of the farm run by Thomas Greenwood in 1620. (fn. 77) It apparently became a subsidiary farmstead on the manor in the late 17th or 18th century, when the lord of the now-combined manor lived at the house associated with Rathbones manor. (fn. 78)
In 2003 the area between the church and (former) vicarage house contained two barns converted for domestic use, and Church Farm House. The core of the latter consists of two units of one and a half storeys, set at right angles to each other with significantly different floor levels: they date from the earlier 17th century and appear to represent a fragment of a larger building. A two-storeyed east range was added c. 1700, possibly replacing earlier work. It was built with two end stacks and has a timber partition, probably north of its original position, dividing two ground-floor rooms. The two barns were probably built at the same period as the east range; the initials and date 'LW 1739' have been scratched inside the south one.
Brun or Rathbones Manor
Isabel Hareng (or Brun), who inherited a quarter of Walkelin Hareng's manor in the late 12th century, was widowed between 1205 and 1214. (fn. 79) She died probably between 1221 and 1223, (fn. 80) around the same time as her cousin Matilda FitzGeoffrey, half of whose estate was added to the Brun manor. (fn. 81) Isabel was succeeded by her son John Brun, who lived until at least 1242–3. (fn. 82) In 1279 the manor belonged to John Brun, presumably the earlier John's successor, and was held from him by Nicholas of Kingston and Stephen of Abingdon. (fn. 83) By 1300 it passed to Sir Henry Spigurnel of Dagnall (Bucks.), (fn. 84) who held by right of his wife Sarah, John Brun's daughter. (fn. 85) The Spigurnels granted the manor in 1314 to their son Thomas (later Sir Thomas) and his wife Benedicta. (fn. 86) Sir Thomas died in probably 1339 or 1340 and in the latter year his son Henry sold the manor to James of Woodstock and his wife Joan. (fn. 87) James died later in 1340, leaving his brother Stephen of Curbridge as heir, though Joan presumably enjoyed dower rights. (fn. 88) In 1347 Thomas of Curbridge, presumably Stephen's successor, granted the manor to William and Isabel Golafre for their lives, reserving an annual payment after Joan of Woodstock's death. They bought the manor in 1348, (fn. 89) and in 1356 acquired 3 messuages and 1½ carucates in one transaction, apparently Marsh Haddon. (fn. 90) William died in 1358, (fn. 91) and in the later 14th century the manor belonged to William Golafre of Abingdon, (fn. 92) presumably a relative, who had been active locally since at least 1370. (fn. 93) In 1397 he and his wife Alice sold the manor and land in Marsh Haddon, subject to a rent for their lives, to Thomas Eode of Chipping Campden (Glos.), (fn. 94) who lived until at least 1438. (fn. 95) By 1464 the manor was in the possession of William Browning, (fn. 96) who possibly held by right of his wife Elizabeth. William died by 1470 when trustees settled the manor on Elizabeth and her new husband John Hals. (fn. 97) When he died in 1485, his heir was said to be unknown. (fn. 98) In 1501 the manor was settled for their lives on John Horne and his wife Elizabeth, (fn. 99) who may have been Hals's widow. In 1508 the manor was among properties settled on trustees for the use of John and his new wife Elizabeth, widow of Richard Blount of Iver (Bucks.) and of Mapledurham. John died in 1526 (fn. 100) and Elizabeth retained use of the manor until 1542 when she, her son Edmund, and his wife Elizabeth sold it to Henry Rathbone of Bletchingdon. (fn. 101)
Rathbone died in 1557 and was succeeded by his son Thomas, (fn. 102) who lived at Shipton-on-Cherwell and died in 1594. (fn. 103) Henry Rathbone, probably Thomas's eldest surviving son, (fn. 104) lived at Brize Norton by 1577 (fn. 105) and succeeded as lord on his father's death. Henry died in 1612 and was succeeded by his son Francis, (fn. 106) who moved elsewhere (probably Minster Lovell) by 1622. (fn. 107) Rathbones manor was probably among lands sold by Francis around this time. (fn. 108) In 1632 it belonged to George Greenwood and his son George, who sold it that year to Christopher Gale and Tompson Haukes, possibly in trust. (fn. 109) By 1694, and possibly much earlier, it had been re-acquired by the Greenwoods and recombined with Yates manor. (fn. 110)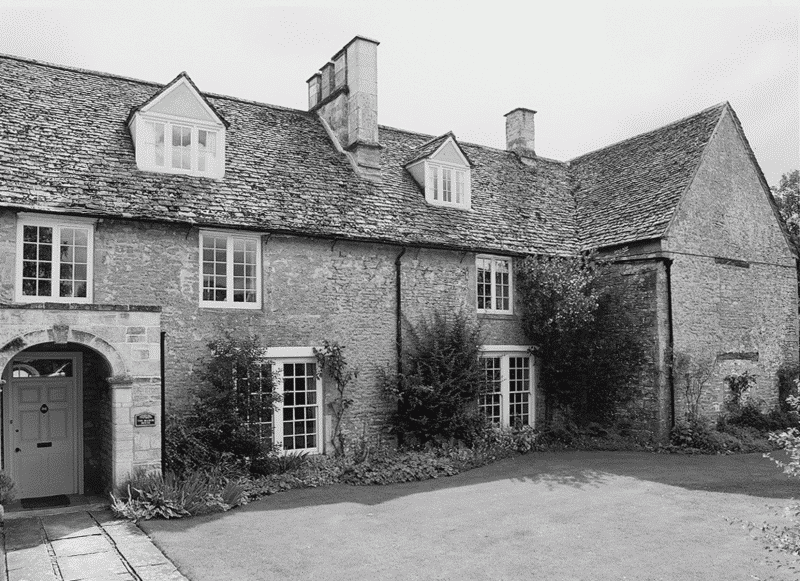 Manorial Buildings and Manor House The Brun manor may have included a chief house in the 13th century, though few lords resided before the later 16th century. Henry and Thomas Spigurnel, who paid tax in 1316 and 1327 respectively, may have been resident, (fn. 111) while the manor reportedly included a house in 1341. (fn. 112) Henry Rathbone lived in Brize Norton from c. 1577 until his death in 1612, and his son Francis remained there briefly afterwards. (fn. 113) They presumably resided in the house north of the village centre which was still called the Manor House in 2004. It was probably occupied in the 1660s by Thomas Greenwood the younger, (fn. 114) and lords of the combined manor are known to have lived there from 1767 onwards, as did lessees from 1877. (fn. 115) The house was sold by Christ Church in 1975. (fn. 116)
The main part of the Manor House (Fig. 79) forms an H and is aligned roughly west—east. Projecting south from the centre of the main range is a rectangular stair tower, its lower part encased in a later wing. Although the walls are largely built of stone, timber framing, which has been incorporated in the south wing, may have been more extensive. The core seems to be the main range, containing hall and parlour, and the west cross-wing of a substantial two-storeyed mid 16th-century house. Its first-floor rooms were open to roofs which have collar trusses with broad arched braces, moulded purlins, and windbraces. In the first half of the 17th century the upper part of the hall range east of the main chimneystack was rebuilt with three storeys and given new plaster ceilings on the first floor; and a winder stair which lay south of the main chimneystack was superseded by a three-storeyed stair tower. The first-floor rooms were refurbished in the late 17th and 18th centuries when hearths were added to the six recorded in the 1660s. (fn. 117) In the mid 19th century the east service wing was rebuilt and the house was refenestrated. In 1858 a chapel in the attic was dismantled. (fn. 118)
Astrop Manor
In 1086 Roger, presumably Roger d'lvri, held 1 hide in Astrop which had formerly belonged to William FitzOsbern (d. 1071), earl of Hereford. Roger had presumably acquired the estate after William's son Roger rebelled in 1075. (fn. 119) The overlordship apparently descended with that of Brize Norton, (fn. 120) belonging to the honors of St Valery, Wallingford, and Ewelme. (fn. 121) Astrop was reckoned as 1/5 knight's fee in the late 12th century, (fn. 122) and as ¼ fee in the late 13th and 14th centuries. (fn. 123) It was held for a rent of 15s. in the later 13th century, which remained payable in 1824. (fn. 124) In 1279 the lord of Astrop also paid 4s. 8d., for an unspecified reason, to Richard Chastillon of Clanfield. (fn. 125)
In 1185–6 the estate was held from the overlord probably by Reginald and Robert of Astrop, (fn. 126) who were last mentioned in 1192–3 and 1205 respectively, (fn. 127) Robert having given 2 acres of demesne to Thame abbey c. 1200. (fn. 128) In 1230 Richard son of John impleaded Osbert Giffard for failing to keep an agreement over 2 carucates in Astrop. (fn. 129) By 1242–3 Astrop was apparently held by John of Tew, who is last recorded in 1261. (fn. 130) His successor may have been the Hugh of Tew who held land in Astrop in 1277. (fn. 131) In 1279 the estate belonged to Henry of Wymondley (Herts.), who remained lord in 1285, (fn. 132) but by 1300 it had passed to Henry de Gray who lived until at least 1306. (fn. 133) It was probably held in 1316 and 1327 by Parnel de Gray, (fn. 134) presumably Henry's widow. In 1348 Astrop was held by Fulk of Holcot, of Barcote in Buckland (formerly Berks.), (fn. 135) who with his wife Agnes granted Astrop manor in 1358 to Roger of Nottingham and his wife Matilda for their lives. (fn. 136) Fulk reportedly died in 1372, (fn. 137) and in 1376 Astrop probably belonged to John Wawe, designated 'of Astrop'. (fn. 138) He and his wife Agnes granted Astrop manor and land in Caswell to a chaplain in 1384, (fn. 139) probably in trust in connection with a lawsuit. (fn. 140) Astrop may next have been granted with other lands to Wawe's cousin John Wawe of London, (fn. 141) who flourished until 1413, (fn. 142) and may then have passed to the latter's son John, who reportedly granted his estates to Thomas Beckingham (d. 1431). (fn. 143) It possibly passed then to Thomas's son William (d. 1477), who in 1460 was head witness to a grant of land in Astrop, (fn. 144) and to William's son Edward. (fn. 145)
By 1520 Astrop belonged to Richard Wenman of Caswell (in Witney parish), who placed it in trust in 1521. (fn. 146) It descended with Caswell in Witney until 1933, when Thomas Joslin sold Astrop to Christ Church. (fn. 147) The college retained it in 2004. (fn. 148) In 1824 the estate's extent (as Astrop farm) was 302 acres. (fn. 149) It remained of similar size into the late 20th century, (fn. 150) and in 1973 was extended with land previously belonging to Manor farm. (fn. 151) In 2003, following sale of land for housing in 1998, the combined estate was 618 acres. (fn. 152)
Manorial and Farm Buildings (Astrop Farm) No manor house was recorded until 1682, (fn. 153) but an earlier one is suggested by the inclusion of Henry and Parnel de Gray in early 14th-century tax assessments, and by John Wawe's stated association with Astrop in 1376 and 1384. (fn. 154) A 17th-century house, presumably the one mentioned in 1682, survives as the north-east wing of Astrop Farm. It has one and a half storeys, and originally contained two rooms in line on the ground floor. In the early 18th century a smart five-bay range was added to the south, creating a reversed L-plan building. The addition has two storeys and an attic lit by dormers. The earlier house became a service range (its north end was later used as a dairy), and a detached outbuilding was erected for brewing and baking. In the early 19th century 16-pane sashes were inserted in the south front and it was probably cement-rendered at the same time.
Caswell Freehold (Caswell Farm)
In 1279 Caswell in Brize Norton parish was possibly a freehold of 3 yardlands held of Astrop manor by John le Brun. (fn. 155) A holding of similar size in Caswell, still associated with Astrop, belonged in 1384 to John Wawe, (fn. 156) and for the next 150 years or so may have descended with Astrop. (fn. 157) By the 1530s land in Caswell was part of the endowment of the chantry of St John the Baptist (founded 1481) in Chipping Norton church, which may have received it from a Wenman as Thomas Wenman was a trustee. (fn. 158) Before 1534 Thomas Unton (of Wadley, Berks.) apparently obtained an interest in the estate and leased it, as Caswell farm, to Robert Cooke (d. 1551); (fn. 159) Unton was followed by his son Alexander (d. 1547). (fn. 160) In 1552 the Crown granted the lands of the dissolved chantry to Sir Francis Jobson, who was to hold Caswell as 100th part of a knight's fee. (fn. 161) Jobson granted Caswell farm in 1554 to Richard Wenman, (fn. 162) and it descended with Caswell (in Witney parish) into the 21st century. (fn. 163)
Houses The holdings recorded in 1279 and 1384 included a house, (fn. 164) which was probably the predecessor of the farmhouse tenanted by Robert Cooke in the 1530s–40s. (fn. 165) It possibly stood within the Black Moat, which was regarded as part of Brize Norton in the early 19th century but was within Witney parish in 1880, (fn. 166) and which contains unexcavated foundations. (fn. 167) Another possible site is the irregular, 3-sided moat further north between Black Moat and Caswell House; a labourer's cottage stood at its east (open) end until the mid 20th century. (fn. 168) In 1824 Lower Caswell Farm included a substantial 7-bedroom house of unknown date immediately west of Black Moat, which was apparently demolished in the early 20th century, leaving a few outbuildings to the north. (fn. 169)
Marsh Haddon Freehold
An estate of 1½ hides was created before the mid 14th century by the association of four tenements recorded as separate freeholds in 1279. (fn. 170) In 1356 they were sold by Nicholas Blundel of Oxford to the lords of the Brun manor, William and Isabel Golafre. (fn. 171) The estate was later held from the Brun manor (and later from the combined Brize Norton manor) for a rent of 16s. 2d., recorded in 1481 and 1712–14. (fn. 172)
The next known holder, Thomas Lewis, died in 1481 and was succeeded by William Brill, a minor. (fn. 173) By 1518 the estate, now called a manor, had passed to Simon Seymour (d. 1523) of Black Bourton through his marriage to Cecily Brill, (fn. 174) presumably William's relative. That year it was placed in trust for their son Alexander, his wife Isabel, and Alexander's heirs. (fn. 175) Alexander, a deaf mute, succeeded and sold the manor in 1540 to Alexander Haydock, who died in 1543, leaving his son Thomas, a minor, as heir. (fn. 176) In 1541, however, Alexander Seymour and his son Simon had made a second sale to Sir Michael Dormer (d. 1545). (fn. 177) He presumably achieved possession, because his widow Katherine allegedly received rents until she was forcibly dispossessed in the mid 1550s. (fn. 178) In 1567 the manor apparently belonged to Thomas Wenman. (fn. 179)
In 1628 Marsh Haddon may have been among lands placed in trust by William Carter of Brize Norton before his death that year, (fn. 180) and it probably passed eventually to his son Edward, of Upton Wold in Blockley (Worcs.), who was a minor until 1644 and placed the manor in trust in 1663. (fn. 181) He died in 1667 and was presumably succeeded by his son Edward (d. 1674), of Alvescot, who devised his lands to his brother Goddard, also of Alvescot. (fn. 182) Goddard Carter died in 1725, leaving Marsh Haddon for life to his wife Rebecca (d. 1726). (fn. 183) In 1730 it was apparently held by Sir John Doyley of Chislehampton (d. 1746), husband of Goddard Carter's daughter Rebecca. (fn. 184) It presumably passed next to Carter's granddaughter Dorothy, or to Dorothy's husband Phillips Lyttleton (d. 1763) of Studley Castle (Warwicks.), who owned other property in the parish in 1758. (fn. 185) At inclosure in 1776 Marsh Haddon belonged to their son, also called Phillips Lyttleton (d. 1809). (fn. 186) After inclosure the estate amounted to 447 a., including recently purchased land. (fn. 187) Lyttleton apparently conveyed it c. 1807 to Francis Holyoake (d. 1835) of Tettenhall (Staffs.), husband of his niece Dorothy, who conveyed it in 1833 to his son Francis Lyttleton Holyoake. (fn. 188) In 1842 Holyoake, now known as Sir F.L.H. Goodricke, sold Marsh Haddon to William Morley of Derby and his son William. (fn. 189)
William Morley the younger, who worked the farm, was granted his father's interest in 1855, (fn. 190) and died in 1871. (fn. 191) He was succeeded by his son Edward, who died in 1907, leaving Marsh Haddon to his wife Ann. She died in 1920, leaving her property to trustees. Marsh Haddon Farm was sold to a business partnership in 1927, and in 1928 one of the partners, James Hoskins, became sole owner. He was required to sell 265 a. (of 330 a.) to the Secretary of State for Air in 1937, followed by c. 10 a. in 1951 and c. 54 a. in 1960.
Houses In 1481 the Marsh Haddon estate included two houses, though only a chief house was mentioned in 1567 X 79. (fn. 192) In 1716 it included a parlour, hall, kitchen, and buttery, with four chambers above. Associated with it were a brewhouse, dairy house, and three barns. (fn. 193) In the late 19th century there was a large farmstead which included probably barns and cowsheds. (fn. 194) In the early 20th century the stone house was of two parts: the main part, of two storeys with attics and end stacks, had a plain early 19th-century façade of 3 irregular bays. Attached was a lower range with, on the south side, a mullioned window, a catslide extending from a very steep roof, and a chimneystack between the second and third bays: this part was raised to two storeys in the 1930s, when the south side became a main entrance. To the east lay a long stone range, part of which was a pair of cottages in the 1920s–30s. (fn. 195) The house and cottages were demolished by 1943, and remaining buildings probably c. 1960. (fn. 196)
The Grange (Grange Farm)
In 1086 a hide in Brize Norton was held in chief by the royal servant Theodoric the goldsmith. (fn. 197) Between 1130 and 1137 probably the same land was given to Waverley abbey (Surrey) by William Sifrewast and his father Robert. Waverley conveyed it, probably in 1138, to Otley Abbey (in Oddington parish), (fn. 198) which moved to Thame in 1139. (fn. 199) The estate was augmented by a yardland from Millicent Fritwell and her son Stephen in 1187, by two small gifts made possibly c. 1200, (fn. 200) and presumably by other gifts in the 13th century. In 1279 it consisted of a house and 2 ploughlands. (fn. 201) The house's post-medieval names (the Grange or Grange Farm), (fn. 202) together with the estate's tithe-free status, (fn. 203) imply that in the Middle Ages it was a directly worked grange, with corresponding exemption from tithes. The estate was presumably surrendered to the Crown with Thame abbey in 1539. (fn. 204)
In 1542 the Grange was granted to the newly founded cathedral at Osney and in 1546 it was regranted to its successor, Christ Church. (fn. 205) In 1640 Grange farm comprised 6 yardlands, which were reckoned in 1730 as 200 customary acres. (fn. 206) At inclosure in 1776 c. 222 statute acres of arable were initially allocated, and after exchanges the farm's extent, including the homestead, was 232 acres. (fn. 207) It remained similar in 1915 (242 a.), and was expanded to 384 a. by 1929. (fn. 208) It was worked as a separate farm until 2002. Thereafter most of the land (c. 340 a.) was farmed from Astrop Farm.
Grange Farm The main part of Grange Farmhouse (Fig. 80) is mid to late 16th-century, built of coursed limestone rubble with a stone-slated roof. It has three bays and two main storeys above a cellar of perhaps slightly earlier date. The two-unit plan, which has end stacks, has a two-bayed hall with deep, chamfered intersecting beams and ring-beam, and a kitchen east of it. In the first half of the 17th century a west bay of one and a half storeys was added, perhaps as a parlour, the roof was reconstructed probably to accommodate garret rooms, and a three-storey, gabled stair tower was built. The tower and east wall of the house incorporate salvaged medieval features, apparently from Bampton castle. (fn. 209) A dovecot to the north-east probably also dates from the 17th century. During the 18th century a large eight-bay barn, gig house, and stable were built south-east of the house, and another service building, probably incorporating a brewhouse, was built to the south-west; the barn bears a datestone inscribed 'WC 1706', referring presumably to William Collier of South Leigh, lessee of Grange farm from 1702 to 1709. (fn. 210) The south front of the house was also remodelled (the east gable includes a stone inscribed 'AM 1756'). In the 19th century a cattle yard was added east of the barn, and the house was extended to the north-west, forming an L-plan, and was refenestrated.
Lesser Estates
Godwin's Estate
Godwin, a royal servant, held 2½ yardlands in 1086. (fn. 211) They were probably the lands held in John's reign by Henry de la Wade (d. by 1202), a royal falconer, (fn. 212) who may have received them c. 1194 with his manor of Stanton Wyard (in Stanton Harcourt), to which they later reportedly belonged. (fn. 213) In 1241 Henry's son, also Henry (d. 1287), claimed right in the land from William Amiot, (fn. 214) but afterwards conceded half the estate, including a house. (fn. 215) In 1279 the estate comprised two equal freeholds, each with a house, which were held for rent from Henry de la Wade, who held from the king in serjeanty. (fn. 216) No later references have been found, though members of the Amiot family remained in the parish until at least the early 14th century. (fn. 217)
Ivry Abbey's Estate
A hide which belonged to the abbot of Ivry (Normandy) in the late 13th century may have been granted to the abbey in the late 11th or early 12th century by a member of the d'Ivri family. (fn. 218) In 1279 it was reportedly held 'in chief' from the abbot by Walter of Sarsden, and by two subtenants and four sub-subtenants. Each of the last possessed a yardland and house. (fn. 219) No later record has been found.
Hospitallers' Estate
In 1279 the Hospitallers owned 1½ yardlands and a cottage which were held from them as three tenements. (fn. 220) The holding is not recorded in a Hospitallers' extent of 1338, (fn. 221) and no other references have been found.
Godstow Abbey's Estate
In 1535 Godstow abbey owned a close and 6 a. of arable, (fn. 222) which passed into Crown ownership at the Dissolution in 1539. (fn. 223) In 1545 the lands, then reported to comprise a close and a yardland, were sold to John Doyley and John Scudamore. (fn. 224) No later record has been found.
Rectory Estate (Rectory or Grove Farm)
In the early or mid 12th century Helewise, sometime wife of Fulk Hareng, gave 2 yardlands at Brize Norton to Eynsham abbey, which her son Walkelin Hareng exchanged for two other yardlands between 1170 and 1175. (fn. 225) In 1205 the abbey exchanged them with William le Brun for land elsewhere. (fn. 226) Between 1180 and 1187 Walkelin Hareng also gave the church and tithes of Brize Norton to Eynsham abbey, (fn. 227) presumably excepting two thirds of demesne tithes previously given to St George's chapel in Oxford castle. (fn. 228) Before 1200 the abbey secured an annual pension from Brize Norton church of 4s., (fn. 229) and in 1267 it appropriated the church in return for ceding tithes in Thame. (fn. 230) In 1269 the abbey also possessed a yardland, which in 1279 was reportedly held from the Brun manor of Brize Norton. (fn. 231) Eynsham abbey's estate was valued in 1291 at £10, (fn. 232) which remained its net value in 1535, despite the acquisition of Osney abbey's demesne tithes in 1436. (fn. 233) In 1539 the estate was presumably surrendered to the Crown with Eynsham abbey. (fn. 234)
In 1546 the estate was granted to Christ Church, Oxford, (fn. 235) which at inclosure in 1776 received c. 11 a. for rectorial glebe and c. 302 a. for tithes. (fn. 236) After exchanges the estate was considered a single farm of c. 310 a., (fn. 237) known as Rectory farm or, from at least 1824, as Grove farm. (fn. 238) It was expanded to 345 a. in 1917, and to 373 a. between 1940 and 1951. (fn. 239) In 1983 Christ Church sold the farmhouse, farm buildings, and 166 a., and leased the remainder of the land with Astrop farm. Another 158 a. was sold in 1987. (fn. 240)
The rectory estate also included tithes from detached meadow near the Thames: from 14 a. in Sharney mead and from 28 of 38 lots in Norton mead. The payments were commuted in 1844 for a rent charge of £6 11s. 6d. (fn. 241)
Rectory Buildings and Grove Farm Christ Church obtained buildings for Rectory farm at inclosure by exchanges with two landowners. (fn. 242) The buildings occupied a site in the village, and in 1814 consisted of a house, two cottages, stable, cow house, pigsty, and two barns. There was also a field barn. (fn. 243)
In 1815 the lessee, Revd Bartholomew Middleton of Chichester (Sussex), paid for new buildings near the parish's north-east corner, and had most of the previous buildings dismantled. (fn. 244) Much of Middleton's farmstead survived in 2002 at Grove Farm, which was apparently created around the field barn—presumably the late 18th-century, five-bay barn on the north side of the large farmyard. A new three-bay barn was added to the east end, and a stable to the west end. Also from 1815 are the two-bay, two-storey house and dairy at the south-west corner of the farmyard, and the remains of a long cattle shelter along the east side, which in 2002 it was intended to convert into holiday accommodation. Along the west side are a coach house and additional animal shelters dating from later in the 19th century. A carriage shed and piggeries, which were reported in 1827 but were not extant in 2002, presumably also dated from 1815. (fn. 245)
Osney Abbey Demesne Tithes
Two thirds of the tithes from the demesne of Brize Norton manor were given to the canons of St George's chapel in Oxford castle, presumably by Roger d'Ivri at the college's foundation in 1074. (fn. 246) The canons' possession was confirmed in probably 1127. (fn. 247) In 1149 the tithes were transferred with St George's chapel to Osney priory (an abbey from c. 1154), (fn. 248) whose possession was confirmed in 1167 X 1173 following a dispute. (fn. 249) The tithes were valued at £2 10s. in 1291. (fn. 250) In 1436, following collection difficulties and disputes, Osney granted the tithes to Eynsham abbey, the appropriator of Brize Norton church, in return for the cancellation of annual rents of 30s. from properties in Oxford and an annual payment of 7s., for non-payment of which Brize Norton church could be distrained. (fn. 251) The payment was still received in 1535. (fn. 252) After 1436 Eynsham abbey presumably collected or farmed the tithes with those due from its rectory estate.
Exeter Cathedral Tithe Estate
In 1317 some lands in Marsh Haddon were tithable to Bampton Deanery (or Bampton Exeter) manor, (fn. 253) which since 1069 had belonged to the dean and chapter of Exeter. (fn. 254) Full tithes were payable from 4 yardlands, hay tithes from 2 yardlands, and hay and small tithes from ½ yardland. (fn. 255) In the early 15th century, when the cathedral's bailiff administered the estate, sales of tithe corn from Marsh Haddon raised c. 12s. (fn. 256) In the first decade of the 16th century the bailiff reported that the abbot of Eynsham had illegally removed the Marsh Haddon tithe produce. (fn. 257)
At inclosure in 1776 c. 63 a. was allotted to the dean and chapter in lieu of tithes. They retained the estate (except during the Interregnum) until 1862 when it was vested in the Ecclesiastical Commissioners, (fn. 258) who evidently sold it to the trustees of Frederick Whitaker (d. 1854) in 1866. (fn. 259)
The dean and chapter also possessed, presumably from an early date, tithes from 8 lots of detached meadow in Norton mead near the Thames. Those were commuted in 1844 for a rent charge of 17s. 6d. (fn. 260)