Pages 227-237
A History of the County of Oxford: Volume 15, Bampton Hundred (Part Three). Originally published by Victoria County History, London, 2006.
This free content was digitised by double rekeying. All rights reserved.
ECONOMIC HISTORY
Agriculture
Open Fields and Commons
From at least the 1170s until inclosure in 1776 two open fields were associated with Brize Norton village, one on each side of the Burford—Bampton road, together covering about two thirds of the parish (Fig. 81). (fn. 1) Grove field, so called in 1624 and presumably earlier, contained around 900 a. in the northern part of the parish and probably also between Brize Norton village and Astrop. It was presumably named after the grove in the parish's north-east corner. Ringborough field, also first recorded by name in 1624, included probably most land west of the Burford—Bampton road, about 1,100 acres. (fn. 2) In 1737 each field contained three subdivisions called 'quarters', (fn. 3) and a hitching field adjacent to Ringborough field was mentioned in 1624. (fn. 4) In the first decade of the 16th century Marsh Haddon was said to lie 'in the field of Brize Norton', (fn. 5) though Astrop, which contained over 4 ploughlands in 1279, (fn. 6) possibly had its own open fields before the area was inclosed.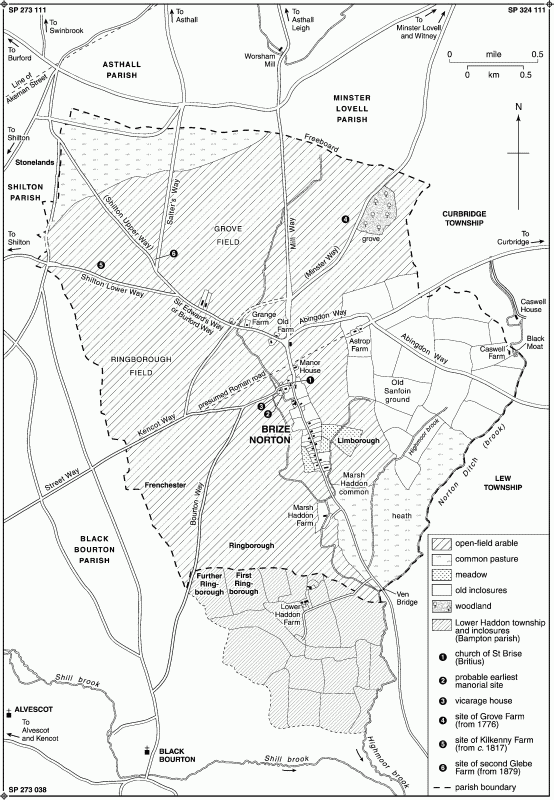 The presence of only minor watercourses and small areas of alluvium limited land suitable for meadow. (fn. 7) In 1086 only 24 a. were recorded, which belonged to the main manor. (fn. 8) Later references suggest that before inclosure in 1776 there were at least five small common meadows associated with the open fields. The main one was probably Limborough meadow, which lay alongside a brook east of the village and was first mentioned in 1464. (fn. 9) In the 16th and 17th centuries it contained at least 14 customary acres. (fn. 10) The Hays and Bull Ham probably lay between Limborough meadow and the village street, and the Leys to the west of the street. Vicar's mead probably lay immediately south of the village centre, and was first recorded in 1685. A meadow known as the Fens, recorded from 1609, presumably lay near Ven bridge in the parish's south-east corner. The meadows were supplemented by brook-side meads in strips, some of which were reportedly allotable, (fn. 11) and by closes adjacent to houses. (fn. 12)
Meadow was also associated with outlying settlements and farms. In 1776 Astrop farm included three meads totalling c. 28 a., while Caswell farm included a mead of c. 7 a. (fn. 13) In 1317 tenants in Marsh Haddon paid hay tithes, (fn. 14) which implies access to meadow, though as tenants in the common fields they probably shared the common meadows. (fn. 15) In 1547 X 1551 land held with Marsh Haddon manor reportedly included 20 a. of meadow. (fn. 16) In 1567 X 1579 the manor's farmer received the crop of grass growing in hades and leys. (fn. 17)
Some landowners or tenants were entitled to grass from detached meadow near the Thames south of Bampton. In 1844 Brize Norton parish included c. 16 (customary) acres in Norton mead and c. 14 a. in Sharney (or Charney) mead. (fn. 18) Norton mead was divided into 38 lots. (fn. 19) Sharney mead was called lot meadow, (fn. 20) implying that it had once been allotable, but since at least 1717 it had been occupied by the lord of Brize Norton manor. (fn. 21) Lammas grazing rights belonged to Weald (in Bampton parish). (fn. 22)
A yardland of 40 a. was recorded in 1187, and in 1715 yardlands were said to contain 40 acres. (fn. 23) A small estate in 1279 consisted of 20-a. yardlands, however, while those belonging to Grange farm were reported in 1730 to contain 30 or 40 acres. (fn. 24) The detached meadow near the Thames was reckoned, before its inclosure in 1851, in customary acres equivalent to about a third of a statute acre (4 customary acres to 1½ statute acres). (fn. 25)
Before Brize Norton's inclosure there was a cow common in the south-eastern part of the parish, (fn. 26) presumably occupying the area mapped in 1824 as 'Marsh Haddon common'. (fn. 27) More extensive pasture was provided by Brize Norton Downs across the northwestern part of the parish, which were commonable before inclosure. (fn. 28) Some areas were known as 'poor down'. (fn. 29) Additional pasture may have been available in an area west of Marsh Haddon Farm, referred to as 'town moors' in 1776, (fn. 30) and presumably after harvest and on the fallow. A bye-law in 1542 stipulated a stint per yardland of 40 sheep and 6 cattle, (fn. 31) while in 1552 the yardland stint for tenants of the Crown manor was 40 sheep and 5 beasts. (fn. 32) The latter numbers were also implied by a terrier in 1685, which added commons for a horse. (fn. 33) Roughly proportional commons belonged to small amounts of land sold or bequeathed between 1661 and 1711. (fn. 34) In the parish's south-east corner a commonable heath, probably the area referred to as the 'main heath' in 1573, (fn. 35) contained furze lots and was replaced at inclosure by a poor's plot for furze-growing. (fn. 36) Astrop in 1086 had its own pasture of 3 by 2 furlongs, (fn. 37) and in 1776 lands belonging to Astrop Farm included heaths (37 a.), a moor (13 a.) and a down (14 a.). (fn. 38)
Woodland In 1086 a grove (graua) measuring 1 furlong by ½ furlong was associated with Brize Norton manor; (fn. 39) it was presumably Norton grove in the parish's north-east corner, which was mentioned as a landmark in 1187 and which probably from the early 13th century descended with the manor belonging to the Fritwells and their successors. (fn. 40) Its extent was reckoned as 4 a. in 1423 and as 3½ a. in 1552, when it contained 100 timber trees. (fn. 41) By 1620 it covered 14 a., and by 1776 23 a.; (fn. 42) it was removed probably in 1816 or 1817. (fn. 43)
The manor apparently contained other small woods. In 1552 the manor farm included 30 timber and 192 other trees in addition to the Grove, and five tenants each had between 12 and 32 timber trees and between 8 and 120 other trees. (fn. 44) The larger manor in 1717 also included Ham and Lyns coppices, (fn. 45) respectively 1 a. and 2 a. in 1776, and in 1776 also contained the 19-a. Little Gaston coppice. (fn. 46) Marsh Haddon included 2 a. of woodland in 1481, which reportedly increased to 20 a. by 1547 X 1551. (fn. 47) Coppices belonging to Marsh Haddon farm were mentioned in 1778, (fn. 48) and in 1884 there were several wooded closes around the farm, (fn. 49) which were presumably cleared when the area was taken into the airfield. (fn. 50) In 1776 Astrop farm included two coppices totalling c. 12 a., and Caswell farm three or four totalling at least 17 acres. (fn. 51) In 1824 each farm had two coppices totalling 11 acres. (fn. 52) Those belonging to Astrop farm (Hucks and Ten Acre copses) remained in 1999. (fn. 53) On Caswell farm there were three coppices of c. 9 a. by 1884, which remained in 1999 together with an additional coppice adjacent to the Black Moat. During the 19th century seven plantations of up to 6 a., including some larch and totalling 14 a., (fn. 54) were established in the parish's north-west area, of which Lodge, Ash, and Foxbury (total 9 a.) remained in 1999. (fn. 55)
Tenants and Holdings to the 14th Century
In 1086 there was said to be land (or utilized land) for 16 ploughs, including 2 at Astrop. Of this c. 37 per cent was in demesne and c. 63 per cent was held by tenants. On the Brize Norton manor the lord had 5 hides of the land of the villani in demesne, while Theodoric's estate consisted of 1 demesne ploughland. The main manor also included 5 ploughs with a knight, and 8 servi and 30 tenants (13 villani and 17 bordarii). No tenants were recorded with the plough belonging to Godwin, while there were 4 servi and 5 tenants (1 villanus and 4 bordarii) at Astrop. Three estates had recently increased in value: the main manor from £9 to £13, Theodoric's estate from 10s. to 20s., and Astrop from 20s. to 30s. The value of Godwin's estate had remained unchanged at 10s. (fn. 56)
In 1279, c. 21½ ploughlands were recorded, (fn. 57) an increase of 5½ ploughlands (34 per cent) since 1086. Of these, expansion of Astrop possibly accounted for 1 ploughland and the emergence of Marsh Haddon for 1½. (fn. 58) The extent of demesne land had increased to 7 ploughlands (though as a percentage it had fallen slightly to 33 per cent), whereas customary land had fallen to c. 5 ploughlands (23 per cent), and c. 9½ ploughlands (44 per cent) were now freehold. The two Brize Norton manors (i.e. the manor of 1086 now subdivided) and Astrop manor each included demesne, customary, and freehold land. There were 2 ploughlands of demesne each on the Brize Norton manors and 1 ploughland at Astrop. Most customary land was held as single or as half yardlands: the Fritwells' manor contained 1 yardland holding and 3 half-yardlands, while there were 7 yardland holdings on the Brun manor and 8 half-yardlands at Astrop (total 19 holdings). The 2-ploughland estate belonging to Thame abbey was regarded as demesne, while William Brun's estate included 2 yardlands held jointly by two tenants as villeins. On the two Brize Norton manors yardlanders paid 3s. a year for rent and owed services valued at 6s. 9d. Customary tenants with holdings of other sizes owed rents and services related proportionally to yardland rates, as did tenants at Astrop and on William Brun's small estate. There were also 15 cottager holdings in the parish, amounting to c. 25 acres; 2 on the Brown manor, 4 at Astrop, 1 held from the Hospitallers, and 8 held from Richard de Houghton. Most cottagers held 1 or 2 acres and paid rents of 1d. to 2s. 8¾d., though two tenants of Richard de Houghton held a cottage and 6 a. each for a rent of 4s. and services valued at 9¼d.
Of the c. 38½ yardlands of freehold land, 17 yardlands (44 per cent) were held from the two main Brize Norton manors, 15½ yardlands (40 per cent) belonged to five small estates and Astrop, and 6 yardlands (16 per cent) constituted Marsh Haddon. The small estates of Henry de la Wade, Ivry abbey, and the Hospitallers consisted only of freeholds. Freehold land was distributed between 35 holdings, of which 33 ranged from ½ to 1½ yardlands. There were only 3 large holdings, each of 3 yardlands, belonging respectively to the Brun manor, John Mauduit, and Astrop (possibly in Caswell). (fn. 59)
The taxed wealth of Brize Norton and Astrop rose from c. £95 in 1306 to c. £109 in 1316, before falling back to c. £90 in 1327. (fn. 60) Figures for the latter two years may include Marsh Haddon, which was not taxed separately. Average personalty at Brize Norton declined from £2 14s. to £2 12s. and then to £2 4s., while at Astrop it rose from £1 14s. to £2 12s. and to £2 18s. In 1306 average personalty of Brize Norton was 58 per cent higher than Astrop's, whereas in 1327 it was 25 per cent lower. The wealthiest person taxed in 1306, on £17, was the abbot of Thame, who presumably paid in respect of Brize Norton grange. The next three were manorial lords: Richard of Fritwell, holder of the Fritwell manor of Brize Norton, Stephen of Abingdon, who had recently held the Brun manor, each of whom paid on £10 10s., and Henry de Gray, lord of Astrop manor, who paid on £10. In 1316 the abbot was not taxed and manorial lords and a relative remained the wealthiest. Parnel de Gray was taxed on £11 12s., and Ralph of Fritwell and Henry Spigurnel (probably the son of the lord, Thomas Spigurnel) were each taxed on £11. By 1327 Parnel, now taxed on £13 5s., was followed by John Brun, taxed on c. £7, who was presumably a member of the Brun family of manorial lords and perhaps a large freeholder. Ralph de Fritwell and Thomas Spigurnel came next, taxed respectively on £6 13s. 4d. and £6.
Economic and Social Change, 14th to 18th Century
In the wake of late-medieval population decline, outlying lands were engrossed and tenements were amalgamated. Land was also inclosed. At Marsh Haddon four tenements recorded in 1279 were under common ownership by 1356, (fn. 61) and by 1518 were regarded as a manor. (fn. 62) The estate was first called a farm in 1567 X 1579, when closes were mentioned. (fn. 63) Astrop was taxed separately in the early 14th century but not in 1377, (fn. 64) presumably because its population had shrunk. In the late 18th century, when Brize Norton's open fields were inclosed, Astrop and Caswell consisted of closes and ancient inclosures. (fn. 65) Both places had presumably been inclosed in the late 14th or 15th century. (fn. 66)
Difficult conditions also caused changes in holdings in the main open fields. Fifteen tenements (including 10 half-yardlands), amounting to 10 yardlands, which in 1279 had belonged to the Fritwell manor, were combined by 1423 with other land into 11 yardland tenements and a ¾-yardland tenement. All were held at the lord's will for money rents, which implies that 7½ yardlands of freehold recorded in 1279 had been 'degraded' to customary land. (fn. 67) Tenant numbers presumably continued to fall, causing further amalgamations. By 1552 the same manor contained 8 customary tenements, totalling c. 11½ yardlands; they comprised two tenements of 4 yardlands and others ranging from ¼ to 1½ yardlands. Most tenancies were now life copyholds, though widows could retain tenements while unmarried. Only three freeholds remained, which yielded 11s. 6d. in rent. (fn. 68) A life copyhold on the other Brize Norton manor was mentioned in 1557. (fn. 69)
Subsidies collected in 1523–4 suggest that, like some nearby parishes, (fn. 70) Brize Norton was poor. At each of two recorded instalments, 14 men paid a total of only 20s. 6d. (fn. 71) The three wealthiest were assessed on goods worth only £5 and paid 2s. 6d., even though one of them, Thomas Archer, held a copyhold of 4 yardlands during the 1520s. (fn. 72) Four inhabitants paid 18d. on goods valued at £3 and 7 paid 12d. on goods of 40s. From the early 16th century until the 1570s the parish's leading inhabitants were probably three to six yeomen. In 1544 the 6 wealthiest taxpayers, who were assessed on goods of £10–£15, (fn. 73) included two copyholders with 4 yardlands each (Henry Ballow, Robert Gardiner), the lessee of the Crown's manorial demesne (Thomas Gardiner), (fn. 74) and the lessee of Marsh Haddon manor (John Greenfield). (fn. 75) The three wealthiest left personalty of respectively about £124 (John Brynde, 1568), £102 (Thomas Gardiner, 1560), and £50 (Henry Ballow, 1558). (fn. 76) In 1549, 4 men and 1 woman were taxed on flocks of 140–240 sheep, implying holdings of between 3½ and 6 yardlands. (fn. 77) A less wealthy taxpayer in 1544, who paid on goods worth £3, held ½ yardland (Robert Leaper). (fn. 78) Three farmers who died during the 1570s left personalty of £51 (Richard Cox), £63 (William Hall), and £140 (Roger Humfrey), (fn. 79) whereas during the 16th century most testators left personalty valued at under £30. (fn. 80) The yeoman section of society was strengthened moderately by sales of land from the manor: in 1586 the yeoman John Ballow bought a house and 3 yardlands from John Yate of Buckland on a 2,000-year lease, and slightly earlier the yeoman John Humfrey had possessed a house and yardland on a similar lease, perhaps also acquired from the Yates' manor. (fn. 81) Most wealthy inhabitants did not establish lasting families: of the 7 wealthiest inhabitants in 1524 only William Ballow and John Cotmore belonged to long-lasting families, which continued in the parish until the early 17th and early 18th century respectively. (fn. 82)
From c. 1577 until the early 19th century the wealthiest inhabitants were mainly gentry. The largest tax payments in 1577 and 1581 were made by Henry Rathbone, (fn. 83) heir to Thomas Rathbone's manor (to which he succeeded by 1594). In 1612 Henry bequeathed £300 to his second son and was later said to have held lands and leases worth £400 a year in addition to his manor. His successor Francis, who allegedly wasted money by 'unthrifty courses', was reported to have sold lands for £2,000. (fn. 84) From c. 1616 until the early 19th century members of the Greenwood family were often resident. As manorial lords they were probably the wealthiest inhabitants, though as Catholics they suffered fines and sequestration. (fn. 85) Thomas Greenwood paid over a third of Brize Norton's tax assessment in 1642 (£6 2s. of £16). (fn. 86) Around 1620 he apparently ran a home farm and in 1642 rented other land. (fn. 87) From the 1580s to c. 1604 William Tempest, a member of a Catholic gentry family, also lived in Brize Norton, (fn. 88) possibly at the farm south-east of Grange Farm later known as Old Farm. (fn. 89) Thomas Hughes alias Calcot, gentleman, lived probably at Grange Farm from c. 1604 until his death in 1618. (fn. 90) His widow Eleanor married Dr Basil Woodd of Oxford (d. 1645), who also lived in Brize Norton and in 1642 made the third largest tax payment. (fn. 91) Eleanor Woodd (d. 1664) was charged on 4 hearths in 1662 and 1665. (fn. 92) Their son Basil retained property at Brize Norton until c. 1684. (fn. 93)
Alongside such gentry there continued during the 17th century to be a few moderately prosperous yeoman farmers. Toby Summers acquired 3 yardlands in 1609, made the seventh largest payment in 1642, and left personalty of c. £272 in 1643. (fn. 94) His lands were bought in 1649 by Christopher Lord of Clay Weald (in Ducklington parish), who granted them to his son Christopher in 1659. (fn. 95) The latter paid tax on 5 hearths in 1662 and 1665 and left personalty worth c. £419 (1694). (fn. 96) Edward Boult paid on the largest number of hearths in 1662 and 1665, and in 1684 left personalty of c. £163. (fn. 97) Most testators left goods valued at £60 or less, (fn. 98) and in 1662 85 per cent of taxed inhabitants (39 out of 46) paid on one or two hearths, and only 15 per cent (7 in all) on three or more. (fn. 99)
Some leaseholds were established by 1464, when the demesnes of the two Brize Norton manors were each apparently held by a farmer, as was the Grange. (fn. 100) In 1543 the manorial site, buildings, and demesne lands were leased by the Crown to a farmer for 21 years, (fn. 101) the period presumably being determined by central policy. After Christ Church acquired the Grange and the rectory estate it leased them for 80 years in 1549 and for 99 years in 1557. From 1649, presumably to comply with the 1576 Corn Rent Act, it granted 21-year leases with rents payable in money and grain. Leases were renewable every 7–8 years and continued to be issued until the 1860s. (fn. 102) From at least 1629 some manorial tenants held by lease rather than copy. (fn. 103) A farm mentioned in 1630 was held on lease for a rack rent of 20s. per annum, (fn. 104) and in 1647, 2 yardlands which had been copyhold land until 1632 were leased for 10 years at £10 per annum. (fn. 105) By 1717, 9 of 18 tenements of ¼ yardland or more belonging to Brize Norton manor were held on short tenure for apparently market rents, without entry fine. Other tenures, however, remained in use. Copyholds were granted in 1680, 1698, and 1717, and leaseholds for three lives or 99 years in 1700. (fn. 106)
By 1717 the Greenwoods' manor (the former two manors combined) contained c. 27½ yardlands of arable with meadow and pasture, and c. 12¾ a. of closes or arable. There were 18 arable holdings reckoned in whole or fractional yardlands (most including a house), of which 8 were of ¼ or ½ yardland, 7 were of 1–2 yardlands, and 3 were larger; 6 small tenancies of arable or closes were specified in acres (the largest being 6¾ a.), and there were 6 cottages and gardens, and 5 cottages on the manorial waste. (fn. 107) There was apparently no home farm.
Farming to the 18th Century
Medieval farming was presumably mixed, though large flocks and herds belonging to individuals were sometimes pastured in the parish. In 1166–7 Brize Norton manor was restocked with 901 sheep, 40 hoggets, and 97 pigs. (fn. 108) In 1464 two men — one of them from Witney — were presented for unjustly keeping flocks of 120, 240, and 300 sheep on pasture belonging to the manorial lord William Browning and his tenants. (fn. 109)
In the 16th and 17th centuries the main crop was barley. (fn. 110) Wheat, oats, and pulses were also grown. (fn. 111) In summer 1643 Toby Summers left 49 a. of barley, 19 a. of wheat and maslin, 18 a. of peas and vetches, and 12½ a. of oats. (fn. 112) Many testators also left malt (fn. 113) and malt mills. (fn. 114) Most farmers kept sheep, (fn. 115) with farmers of large holdings normally possessing flocks commensurate in size with their holdings. (fn. 116) A few, however, kept larger flocks. When Robert Cooke became the lessee of Caswell farm in the 1530s it was stocked with 300 sheep, though its extent was probably only 3 yardlands; (fn. 117) as a holding outside the main field system, it is likely that some of its land had been converted to permanent pasture. In 1694 Christopher Lord, a farmer of 3½ yardlands in the open fields, left 320 sheep, (fn. 118) which suggests that he rented additional pasture. In 1544 Asthall's wealthiest inhabitant, William Sampson, had also pastured sheep in Brize Norton. (fn. 119) Farmers normally kept up to about 11 cattle, (fn. 120) though greater investment apparently occurred in the early 18th century when Nicholas Cook of Marsh Haddon possessed 20 cows, 5 heifers, and 5 yearlings, and John Deane had 14 cows, a bull, 14 heifers, and 11 weaned calves. (fn. 121) Oxen were mentioned until 1620. (fn. 122) Inhabitants kept up to 9 pigs, (fn. 123) with Harry Ballow exceptionally possessing 17 in 1558. (fn. 124) Many inhabitants also kept bees. (fn. 125)
A sainfoin ground was first mentioned in 1711; (fn. 126) it was probably the 32-a. Old Sanfoin ground in Astrop recorded in 1776 and 1824. (fn. 127) A former sainfoin ground of 26 a., south-east of the former grove near the parish boundary, was also recorded in the 19th century; (fn. 128) it presumably occupied a close that had been taken from common-field land before the 1776 inclosure.
Parliamentary Inclosure and Post-Inclosure Farms
During the 18th century developments took place on two estates probably in anticipation of inclosure. Between 1717 and 1776 Brize Norton manor's remaining copyholds and leaseholds except for one copyhold were taken into the lord's hands, (fn. 129) and the owner of Marsh Haddon, who held 7½ yardlands in 1719, (fn. 130) purchased a total of two yardlands in 1758 and 1768. (fn. 131) Preparatory meetings about inclosure were held in Bampton in 1774, and an Act of Parliament was passed in 1775. (fn. 132) By February 1776 allotments had been made and the final award was dated on 26 April. (fn. 133) As a result the parish became dominated by 10 large compact farms totalling c. 2,650 a., which ranged from 167 a. (Caswell farm) to 420 a. (Marsh Haddon farm), (fn. 134) and which were held by tenants under often absent landowners.
The lord of Brize Norton manor, Charles Greenwood (a minor), received c. 1,018 a. (31 per cent of the parish), which was consolidated in the central area, west and east of the village centre, (fn. 135) and afterwards occupied as four farms. (The Manor House initially remained separate but was held with one of the farms from 1798.) (fn. 136) Christ Church received 222 a. for Grange farm, 11 a. for rectorial glebe, and 288 a. for rectorial tithes, mostly in the northern part of the parish. (fn. 137) After exchanges the lands were let as Grange farm and Rectory (Parsonage, or Grove) farm, reckoned as 236 a. and 320 acres. (fn. 138) Lord Wenman received 488 a. in the eastern part of the parish, mostly ancient inclosures which he had previously owned. (fn. 139) His land formed two farms, Astrop and Caswell, (fn. 140) which probably perpetuated pre-inclosure arrangements; in 1824 they amounted to 302 a. and 167 a. respectively. (fn. 141) Phillips Lyttleton was awarded 447 a. in the parish's southern part, including two leasehold tenancies belonging to his estate. (fn. 142) Most of his land afterwards belonged to Marsh Haddon farm, which in 1790 contained 420 acres. (fn. 143) The vicar was allocated 194 a.; 164 a. lay towards the parish's north-west corner and 29 a. in the upper part of the village, including a farmstead acquired by exchange. (fn. 144) Only four other holdings were larger than a statute yardland: 105 a. allocated to Christopher Lord, 62 a. allocated to the dean and chapter of Exeter in lieu of rectorial tithes, 54 a. allocated to William Warman of Pusey (formerly Berks.), and 35 a. allocated to William Roberts. Fifteen other holdings ranged from 1 a. to 18 a., amounting to about 111 a. in all. (fn. 145) The detached meadows near the Thames were inclosed separately in 1851, when owners were allotted c. 11 a. in Norton mead. (fn. 146)
The large farms created at inclosure continued with only minor changes for almost a century. In 1817 one of the manor's farms was divided: some land and the Manor House were sold and, as Manor farm, were probably farmed with Glebe farm; (fn. 147) the remainder continued under new ownership as Kilkenny farm. (fn. 148) In 1825, 44 a. was separated from another farm formerly owned by the manor (and was later known as Wallis's farm). (fn. 149) In 1851, nine substantial farmers occupied 2,824 a. with individual holdings ranging from 215 to 469 acres. (fn. 150) After 1877, Christ Church amalgamated the farms it had bought from John Worley to form the 845-a. Manor farm. (fn. 151) Upper Haddon farm, comprising 176 a., was also created c. 1877. (fn. 152) In 1910 there were eight large farms totalling 2,673 a., which ranged from 161 a. (Lower Astrop or Caswell) to 785 a. (Manor farm). Six remained essentially the units created at inclosure (Kilkenny, Grange, Grove, Astrop, Lower Astrop, Marsh Haddon), and the vicar's glebe was occupied in four lots. (fn. 153) New buildings were erected for Rectory (or Grove) farm c. 1815, (fn. 154) and for Glebe farm in 1879. (fn. 155) From the late 18th century Caswell farm was apparently worked in conjunction with Caswell Manor farm in Witney parish, but it remained a distinct unit until probably the late 1930s. (fn. 156)
From the early 19th century a considerable proportion of the parish became owner-occupied, though owners were sometimes part- or co-owners. Between 1817 and 1877 William Worley and his son and grandson were successive part-owners of Manor farm, the last becoming sole owner and the owner of other farms. (fn. 157) From c. 1817 to 1907 Charles Gillett and his descendants owned and usually worked Kilkenny farm. (fn. 158) William Morley was occupier and co-owner of Marsh Haddon farm from 1842 and sole owner from 1855; (fn. 159) his successors were also owner-occupiers. (fn. 160) In 1851 three farmers were owner-occupiers with a total of 1,070 a., while in 1910 three owner-occupiers had 775 a. (fn. 161) Tenants tended to hold from personal landlords as yearly tenants and from institutional landlords as short-term leaseholders. Although Manor farm was held from its personal owner on a 14-year lease in 1803, (fn. 162) in 1824 the tenants of Astrop and Caswell farms held as yearly tenants, (fn. 163) as did the tenants of two large farms (from Sir Edward Page-Turner) in 1863. (fn. 164) In 1856 land belonging to the dean and chapter of Exeter was re-leased for 21 years, (fn. 165) while in 1877, following its abandonment of beneficial leases, Christ Church leased out Manor farm for 21 years at a market rent. (fn. 166)
From the late 18th to early 20th century many members of the Gillett family were farmers in the parish. They were tenants of Marsh Haddon farm from c. 1785 to the 1830s, (fn. 167) of a manor-owned farm from 1798 (which they owned from 1814 until possibly the 1850s), (fn. 168) and of Astrop farm from c. 1807 to 1883, (fn. 169) and owned Kilkenny farm from c. 1817 to 1907. (fn. 170) The parish's main farmers survived the agricultural depression of the late 19th century, (fn. 171) tenants presumably being assisted by rent reductions: the rent of Manor farm was reduced during the 1880s by at least 38 per cent. (fn. 172) During the 1870s there was a branch of the National Agricultural Labourers' Union (Oxford District) in Brize Norton. (fn. 173) The chairman of the district's executive committee from 1873 to 1875 was Joseph Eggleton, a Brize Norton inhabitant and Primitive Methodist preacher with modest private means. (fn. 174)
Most of Marsh Haddon farm and probably part of Upper Haddon were acquired for the airbase in 1937, (fn. 175) while Lower Astrop was farmed from Caswell in Witney parish probably from the late 1930s. (fn. 176) Otherwise farms remained stable until the later 20th century. From 1973 the land belonging to Manor farm was farmed from Astrop Farm, and in 1983 Grove farm ceased to be a farm and its lands were divided. (fn. 177) Grange farm ceased to be a separate farm in 2002 and most of its land was also farmed from Astrop Farm. In 2004 the parish contained three working farms: Kilkenny farm (c. 350 a.), Foxbury farm (formerly Glebe farm, 400 a. including c. 150 a. in Shilton parish) and Astrop farm (c. 2,500 a. including land in Swinbrook, Minster Lovell, and Bampton parishes). (fn. 178)
Post-Inclosure Farming
From the late 18th to mid 20th century farmers continued to practice arable-based mixed farming, probably perpetuating the bias towards barley. In 1863 two large central farms were described as turnip, barley, and stock farms. (fn. 179) In 1855 crops grown on Grove farm had been barley, wheat, sainfoin, turnips, and vetches. (fn. 180) In 1914 over 70 per cent of cultivated land remained arable, among the highest proportion in Oxfordshire, though the barley-growing area (21–24 per cent) only slightly exceeded the wheat area (18–21 per cent). (fn. 181) In 1941–2 wheat acreages exceeded barley on Kilkenny, Grange, Grove, and possibly other farms. (fn. 182)
Sheep remained the principal livestock and some farmers were successful sheep-breeders. From c. 1838 John Gillett created a flock of the relatively new Oxford Down half-breed; by 1854 it was considered outstanding in Oxfordshire. From his death in 1855 to 1860 it was managed by his son William, who was a successful exhibitor at agricultural shows. In the 1850s Thomas Gillett of Kilkenny farm was a noted breeder of Cotswold rams. In 1906 Oxford Down ewes from Manor farm were sold for notably high prices. (fn. 183) In 1914 the parish contained 50–60 sheep per 100 cultivated acres, one of the highest proportions, and in 1941–2 farms maintained flocks as large as 280 head. Cattle were relatively unimportant. In 1914 less than 30 per cent of the cultivated area was permanent pasture and only 8–12 cattle were kept per 100 cultivated acres, among the lowest proportions in the county. Dairying expanded probably between the wars. Upper Haddon farm was a dairy farm in the 1920s–30s, (fn. 184) and in 1941–2 dairying was a notable activity on Manor and Astrop farms, when the latter included 91 cattle and calves. Grange, Kilkenny, and Grove farms had 31, 45 and 49 cattle respectively. (fn. 185) A poultry farm was noted in 1928–31, and farms maintained large bird flocks in 1941–2, ranging up to 600 birds. (fn. 186)
In the later 20th century the main farms continued to practise arable farming, but by c. 2000 only two (Foxbury and Astrop) kept stock. (fn. 187) Grange farm gave up dairy farming in the late 1960s and sheep in the mid 1980s and thereafter specialized in arable. In the 1950s–60s Grove farm kept 50–60 cattle, 1,000 sheep, and 200 pigs, but only a few cattle after it was sold in 1983; around 2000 the now smaller estate specialised in breeding racehorses. In 2003 Kilkenny farm concentrated on arable. Foxbury farm, after a period as an arable farm, reintroduced sheep from 1993. On Astrop farm dairying was developed from the 1970s and in 2003 there were about 500 cows. In 2003 farmers used differing four-course rotations: on Foxbury farm, wheat, peas, grass (1 or 2 years), barley; on Astrop farm, grass, wheat, break crop, grass.
Trade and Industry
Agricultural Trades
In the late 17th century commercial malting expanded. From then until the early 19th century there were usually two to four maltsters active in the parish. Lawrence Armstrong (d. 1688) and Daniel Beckinsale (d. 1699) were described as maltsters, the latter leaving barley and malt worth £80, (fn. 188) while the yeoman Edward Boult (d. 1684) and small farmer John Fletcher (d. 1709) possessed malthouses and were presumably commercial maltsters. (fn. 189) Three later members of the Armstrong family were also maltsters: William (d. 1718), John (d. 1721) and Lawrence's heir Richard (d. 1722). (fn. 190) Daniel Beckinsale's son John owned majority shares in two malthouses in 1733, (fn. 191) and his son Daniel (d. c. 1780) was described as a maltster. (fn. 192) One malthouse was converted into the Crown public house probably between 1767 and 1772, (fn. 193) while the other was sold in 1781 to William Herbert (d. 1798). (fn. 194) In 1748 Benjamin Dossett was identified as a maltster. (fn. 195)
In the late 18th and early 19th century three malthouses were recorded. William Herbert's malthouse passed to his son Watkin (d. c. 1824), and was owned from 1826 to 1830 by the farmer Richard Lord. (fn. 196) The second was owned from 1776 or earlier until at least 1830 by members of the Gilbert family, and was rented from 1785 to 1830 by the maltster Edward James. (fn. 197) The third malthouse was bought by George Cooper in 1797, rebuilt by him in 1826, and retained by his family until 1880. (fn. 198) It was inherited c. 1830 by his son George (d. 1856) who worked as a maltster and farmer. (fn. 199) Thereafter there was usually a single maltster in Brize Norton until c. 1899, (fn. 200) presumably renting the same malthouse. In 2004 substantial sections of two malthouses survived by the Burford Road as parts of adjacent houses called 'The Malthouse' and 'Karimar'.
Between the mid 19th and mid 20th century some inhabitants engaged in specialized agricultural, or agriculture-related, occupations, sometimes as secondary activities. Members of one of the Akers families were market gardeners from at least 1853 to 1881 (possibly from 1826). (fn. 201) From the 1850s to 1880s there were several shepherds or shepherd-labourers, some presumably tending the specially bred sheep flocks. (fn. 202) Two shepherds and seven shepherd-labourers were recorded in 1851, and five shepherds and an under-shepherd in 1881. (fn. 203) A cowman was also noted in 1881. (fn. 204) In the 1850s and 1860s several men traded agricultural and related products. The farmer Thomas Gillett (of Kilkenny farm) was a corn dealer and seedsman, while the small farmer Charles Akers (with 27 a.) and market gardener Joseph Akers were also seedsmen. Other dealers included a cattle dealer, a timber dealer, (fn. 205) and from the mid 1890s to the 1920s a pig dealer. (fn. 206) From the 1850s to 1880s four carpenters and wheelwrights were sometimes recorded as makers of agricultural machines and implements. (fn. 207) From 1864 to 1877 there was a manufacturer of artificial manure, (fn. 208) and in 1939 a manufacturer of cattle food. (fn. 209)
Craftsmen, Shopkeepers, and Small Businesses
The by-names Tiler and Mercer were recorded in 1231 and 1261 respectively. (fn. 210) By-names listed in the early 14th century included Carpenter, Tiler, Slater, Baker, Butcher, Cook, Taylor, and Mercer. (fn. 211) Non-agricultural occupations were not recorded again until the 17th century, when two blacksmiths, a carpenter (fn. 212) and three tailors were mentioned. (fn. 213) In the 18th and early 19th centuries craftworkers included a blacksmith, a carpenter-wheeler, (fn. 214) three slaters, (fn. 215) two bakers, (fn. 216) four weavers (members of the Harris family), (fn. 217) and three shoemakers. (fn. 218) There were also four shopkeepers. (fn. 219) In 1831, 29 of 130 families were chiefly engaged in trade, manufacture and handicrafts. (fn. 220) Trades listed in the 1841 census were similar to those recorded in the previous 140 years: a blacksmith, two carpenters, a slater, four bakers, four shoemakers, a weaver, tailor and carrier (though no designated shopkeeper). (fn. 221)
During the mid 19th century the number and range of victuallers increased notably: by 1851, in addition to bakers and publicans, there were three confectioners and two butchers, and by 1861 also four grocers, producing a tally of three baker-grocers, four grocers (two with other occupations), two confectioners, and two butchers. (fn. 222) The railway (opened in 1873) also generated employment and business. In 1881 three men were railway labourers and a fourth was a station porter, (fn. 223) while from c. 1891 until at least 1939 there were one or two coal merchants, one based at the railway station. The range of non-agricultural activities remained stable until the Second World War, although the number of enterprises probably fell. (fn. 224) Bootmaking ended after 1920, though repair work continued, and a fishmonger and insurance agent had appeared by 1939. (fn. 225) Around 1930 many women stitched gloves brought from Leafield. (fn. 226)
In the late 20th century shops and businesses closed. By 1976 only three shops remained; (fn. 227) the last one closed in 1997. (fn. 228) New small businesses nonetheless developed. From 1953 Arthur Timms (d. 1983), formerly a dairyman and small farmer, resold surplus wood from Brize Norton and other USAF airbases. (fn. 229) By the 1960s his business, based at the north-west end of the village, had developed into a builders' merchant (A. Timms). It was moved in the mid 1960s to the village's southern end, where 9 people were initially employed, and was reconstituted as A. K. Timms and Sons Ltd in the 1970s. In 2002 the business employed 22 full-time and 2 part-time staff, and delivered goods within a 20-mile radius. In 1969 a business producing jewellery, gift items, and fine furniture was started by Ray Griffiths, (fn. 230) and from c. 1980 the site of the former railway station was developed as a small industrial estate called Viscount Court. In 2001 it contained seven businesses, including R. Griffiths Woodwear Ltd, which occupied several buildings.
Quarries and Stoneworking
The existence of quarrying in the later 12th century may be indicated by the name crundel, which was mentioned in association with Grove field in 1187 and probably refers to a quarry. (fn. 231) In the late Middle Ages quarries may have been worked on a larger scale. Brize Norton has been identified as the source of stone used for altarpieces at Somerton and Bampton dating from the early 14th and early 15th century, and proposed as the 'Norton' which supplied tiles for a barn at Swalcliffe in 1404. (fn. 232) Quarries adjoining land in the open fields were mentioned in the 17th and 18th centuries, (fn. 233) and in the 19th century Brize Norton supplied building stone to Bampton. (fn. 234) In 1880 the parish contained nine quarries, including five near the section of the Burford road between Grange Farm and Shilton Way. (fn. 235)
Two masons belonging to the Akers family were mentioned in 1670 and 1768. (fn. 236) In the 19th century stoneworking was dominated by the Timms family, who had lived in the parish from 1773. (fn. 237) Seven of eight stonemasons listed in 1841 were family members, as were all six masons in 1881. (fn. 238) Numbers thereafter declined, but one business survived and was run in 2003 by Patrick Timms, who undertook Cotswold stone walling and other building work. (fn. 239)