Pages 237-245
A History of the County of Oxford: Volume 15, Bampton Hundred (Part Three). Originally published by Victoria County History, London, 2006.
This free content was digitised by double rekeying. All rights reserved.
RELIGIOUS HISTORY
In the Anglo-Saxon period Brize Norton presumably fell within the jurisdiction of Bampton's minster church. A separate church was established probably by 1074, and was given to Eynsham abbey in the late 12th century. Eynsham presented clergy to the benefice (a vicarage from the late 13th century) until the early 16th century. Christ Church, Oxford, was patron from the mid 16th century.
From the 16th to early 19th century the parish was connected with or involved in recusancy. The Catholic Yate family of nearby Buckland (formerly Berks.) owned one manor in the late 16th and early 17th century, and their successors, the Greenwood family, included many recusants. For much of the 18th century the Manor House was a centre of Catholic worship, and in the 1760s there was a small Catholic community in Brize Norton. Quakers and several other Dissenters were briefly active in the late 17th century, but Protestant Nonconformity was then rare until the early 19th century.
Nonconformity developed strongly from about 1840, when there were Congregationalists and Baptists. Congregationalists built a chapel in 1853, which was also used by other groups, notably Primitive Methodists who bought the chapel in 1909. After a long period of non-resident incumbents, the Church of England also reasserted itself from the mid 19th century. The parish church was restored in the 1860s, and the number of services was increased in the 1870s–80s. The Church remained a considerable force in village life until the Second World War. The vicarage house was sold in 1961, and from 1963 the parish was served from neighbouring parishes. Church activities remained lively until the mid 1980s, when participation declined. Active members responded in the early 21st century with new services and by obtaining a pastoral reorganization. Meanwhile the number attending the Methodist chapel declined and it was closed in 2003.
The Parish Church
Origins and Status
A building probably existed by 1074 when demesne tithes from Brize Norton, which presumably supported a local church, were diverted elsewhere. (fn. 1) The earliest fabric dates from the 12th century, (fn. 2) by which time the church enjoyed baptismal rights (the font is 12th-century) and probably had burial rights, because the churchyard is part of the village's central bloc of land. Probably from its foundation until at least the mid 16th century the church was dedicated to St Peter. (fn. 3) The modern dedication, in the form St Brise, was apparently devised c. 1740 by the antiquary Browne Willis, who probably inferred the name from the parish name. (fn. 4) The Latin version was adopted in the late 19th century. (fn. 5) The benefice was a vicarage from probably 1267. (fn. 6)
In 1963 the northern part of Black Bourton parish (Carterton and the western section of the airbase) was transferred to Brize Norton ecclesiastical parish, the enlarged parish forming the benefice of Brize Norton and Carterton; it was served from the latter. (fn. 7) In 1977, under an Order of 1976, Brize Norton and Carterton were made separate parishes, each including half of the airbase. (fn. 8) Brize Norton benefice was recreated in 1980 and merged with Minster Lovell, from which it was served from 1981. (fn. 9) In 2003 it was separated again and became part of the benefice of Brize Norton and Carterton, served from Carterton.
Advowson
Between 1180 and probably 1187 Brize Norton church was given by Walkelin Hareng to Eynsham abbey, (fn. 10) which from the late 12th century until presumably 1267 (when the vicarage was ordained) drew an annual pension of 4s. (fn. 11) The abbey retained the advowson until the Dissolution (1538), though in 1530 it granted two presentations to a layman. (fn. 12) The Crown presumably possessed the advowson in 1538–42 and 1545–6, and Osney cathedral in 1542–5. (fn. 13) In 1546 Henry VIII granted it to the dean and chapter of Christ Church, (fn. 14) who retained the patronage after the reorganization of 1963, (fn. 15) and in 1980 were granted alternate presentation with the former patron of Minster Lovell, Eton College (formerly Bucks.). (fn. 16) They remained patrons in 2004.
Endowment and Vicarage
In 1254 the church was valued at £6 13s. 4d. (fn. 17) A vicarage was instituted presumably when Eynsham abbey appropriated the rectory in 1267, in return for ceding tithes in Thame to the prebend of Thame at Lincoln cathedral. (fn. 18) In 1291 the vicar's income was £4 13s. 4d. and Eynsham received £10. (fn. 19) By the early 16th century the vicarage's value had risen to £10. (fn. 20) In 1704 it was declared to be 'much under' £30, though it was certified in 1707 as £41 (£22 from glebe, £19 from tithes). (fn. 21)
The vicarage was augmented from 1716 with £10 per year under the will of Dr Robert South of Christ Church; (fn. 22) it was valued in 1718 at c. £50. (fn. 23) By 1723 it was discharged from first fruits and tenths, and its value was recorded as £42. (fn. 24) The living's value rose to £135 in 1778, (fn. 25) presumably helped by inclosure, and to £175 by 1833, (fn. 26) but fell slightly to £165 in 1854. (fn. 27) From 1855 it was augmented by £40 paid by the lessee of Grove farm. (fn. 28) From c. 1860 to c. 1877 its value was about £300 gross, (fn. 29) but within three years the agricultural depression reduced rental income, making it difficult for the incumbent to service mortgages for the recently rebuilt vicarage and glebe farm. (fn. 30) Christ Church responded in 1882 with a special grant and augmentation of £50 per year from the South fund. (fn. 31) Despite this assistance the living was worth only £200 during the 1880s, (fn. 32) rising slightly to £221 by 1893, when £100 came from glebe, £12 from Queen Anne's Bounty, and c. £106 from Christ Church (or its local lessee). (fn. 33) By 1899 income had risen to £268, with glebe contributing c. £138, (fn. 34) and between 1928 and 1935 it increased from £280 to £338. (fn. 35) In the late 1930s, under a scheme to raise incomes adopted by Christ Church in 1931, it was increased to £400, with the college and diocese both contributing an extra £13 10s. (fn. 36)
The vicarage was reportedly endowed at its institution with glebe land and buildings. (fn. 37) In 1685 the land comprised c. 80 a. of arable, c. 8 a. of meadow, and two furze plots, together with common rights. (fn. 38) It was apparently farmed in the early 17th century from the vicarage homestead, which included buildings for wool, sheep, and cows. (fn. 39) At inclosure in 1776 the vicar was allotted 86 a. for glebe land and 88 a. for tithes, and after exchanges received 194 a. (fn. 40) (sometimes reckoned as 200 a.), (fn. 41) most as a consolidated holding. The farm was sold by the incumbent and Church Commissioners in 1950. (fn. 42)
Glebe Buildings A farmstead in the northern part of the village was acquired at inclosure by exchange. Called 'Butlers', it included a barn and stable. (fn. 43) Afterwards a field barn and carthouse were built in the centre of the main area (in the north-west of the parish, towards Stonelands). (fn. 44)
In 1879 the farmstead's buildings, except for part of the house, were demolished. A new farmstead, designed by Field and Castle of Oxford, was built on the main glebe land near the Burford road, for use with the field buildings. It consisted of a 2-storeyed, 4-room cottage with rear office, and buildings north of the office arranged round three sides of a yard; namely, a stable, piggery and hen house on the south side, open shed on the west side, and dressing barn and waggon shed on the north side. (fn. 45) They were built of hard, rock-faced limestone with clay pantiles except on the cottage. In 2002 the buildings (then called Foxbury Farm) retained their compact layout, though the stable had been incorporated into the house by a modern connecting building, and the former open shed had been enclosed with weatherboarding, probably for use as a milking parlour.
Parson's Court and Vicarage House A court belonging to the parson was mentioned in the early 13th century; (fn. 46) it presumably occupied the vicarage site recorded later, on the west edge of the village centre. (fn. 47) The site's bounds were described in 1860 as a road (on the north), a farmyard (east), and ditches (west and south). (fn. 48) The ditches may previously have contained water channelled from nearby streams. (fn. 49) In 1621 the vicar's house comprised a hall, five chambers, and four other rooms, as well as farm buildings; (fn. 50) but by 1800 the house was said to be ruinous. (fn. 51) It was rebuilt in 1806, when a two-horse stable was also erected, the works costing £355. (fn. 52) In 1878 the house had an L-plan, with drawing room, staircase hall and dining room in the south range, north-east service rooms, and three bedrooms on each of the first and attic floors. (fn. 53) In 1860 the vicar, George Fereman, deemed the house to be 'poor, mean and insufficient'. (fn. 54) In 1878 Robert Castle of Oxford prepared plans for William Ivens (Fereman's successor). The outbuildings were to be demolished and the house rebuilt to a similar though enlarged plan, with a new approach from the east. It was designed in Gothic style, and retained a small section of the service area from the previous house. (fn. 55) The house was sold in 1961, (fn. 56) and later incumbents lived at Carterton or Minster Lovell. (fn. 57)
Pastoral Care and Church Life
Most clergy before the late 15th century are obscure. William of Pembroke, parson in the early 13th century, may have been a graduate, (fn. 58) and the benefice was held for long periods by Roger of Oundle (vicar 1298–1320), (fn. 59) Philip Cusson (1402–35), (fn. 60) and William Thomas (1435– 60). (fn. 61) In the later 15th and early 16th century two vicars were graduates and pluralists, (fn. 62) probably living elsewhere, and two others were graduates. (fn. 63) The long-serving John Symonds (vicar c. 1526–57) was probably resident. (fn. 64)
Between the mid 16th and early 18th century many incumbents probably resided, including three longserving vicars. Thomas Astill, who conformed to the Elizabethan settlement, served for 26 years (1558–84), (fn. 65) though he was alleged to have behaved immorally. (fn. 66) He left goods valued at c. £82. (fn. 67) Ralph Middlehurst, vicar for almost 33 years (1588–1621), left goods worth c. £317, including a pair of virginals. (fn. 68) John Eckley served for 54 years (1669–1723). (fn. 69) At least seven of the period's nine incumbents were graduates, five of whom were connected with Christ Church. (fn. 70) The latter group included Middlehurst, (fn. 71) Martin Heton (vicar 1584–8) who was later bishop of Ely, (fn. 72) and Barton Holiday (1623–1661), who was archdeacon of Oxford, royal chaplain, and translator. (fn. 73) Heton and Holiday were probably non-resident.
Between 1723 and 1858 the living was held by three Christ Church graduates who were non-resident for considerable periods. John Kipling (vicar 1723–69) was master of Lord Williams's School, Thame, from 1729. (fn. 74) Samuel Goodenough (1769–1805) lived initially at Broughton Poggs, ran a school at Ealing (formerly Middx) from 1772 to 1798, and helped to found the Linnean Society in 1787. (He was later bishop of Carlisle, 1808–1827.) (fn. 75) John Penson (vicar 1805–58) was already rector of St Peter-le-Bailey, Oxford, and lived in Oxford until c. 1808 and from c. 1815 to 1833. (fn. 76) Some of their curates served for long periods from residences outside the parish. Henry Powell, curate in the 1750s–1760s, was usher at Witney Grammar School and vicar of Minster Lovell from 1762. (fn. 77) Samuel Goodenough intermittently employed his brother Edmund who was based at Broughton Poggs. (fn. 78) His other curates included the philanthropist Samuel Wilson Warneford (c. 1793–1802), also of Broughton, (fn. 79) who endowed the Radcliffe Asylum near Oxford in 1843 (later renamed the Warneford Hospital). (fn. 80)
In 1738 there were two Sunday services, including a sermon at morning service, and morning prayers were read on holy days. Communion was administered four times a year to 30 or 40 people, though attendance was smaller at Michaelmas. Children were catechized on Sunday afternoons. (fn. 81) By 1768 communicants had fallen to 15 or 20, (fn. 82) and from c. 1771 only one Sunday service was held, alternating between morning and afternoon. (fn. 83) From 1793 X 1802 there was a weekly morning service and also an afternoon service in the summer half of the year, (fn. 84) a pattern which continued apparently until the 1820s. (fn. 85) Communicants in 1802 reportedly numbered about 50, (fn. 86) though the figure soon fell to 30–40. (fn. 87) In 1831 a Sunday service was held in alternate weeks at 10.30 a.m. and 2.30 p.m. and in summer there was also evening prayer in alternate weeks at 5.30 p.m. The average congregation was then c. 120, about a quarter of the parish's population. (fn. 88) By 1854 there were two Sunday services, at 11 a.m. and 3 p.m., both including sermons, and a Sunday school had been started, (fn. 89) which in 1866 had an attendance of 50. (fn. 90) By 1866 communion was administered six times a year. (fn. 91)
Between 1858 and 1961 all vicars resided and were graduates, though only George Fereman, under whom the church was restored, was from Christ Church. (fn. 92) He served from 1858 until granted leave for illness in 1876. (fn. 93) Incumbencies ranged from 3 to 18 years, with five of the nine vicars serving for over 10 years. (fn. 94) Observances developed notably under William Ivens (1878–85). (fn. 95) He reinstituted early morning Easter communion in 1879, (fn. 96) and probably started monthly communion, (fn. 97) which became twice-monthly by 1881 and weekly by 1884. (fn. 98) Communicants rose to 87 by 1884 and 108 by 1887. (fn. 99) By 1881 Ivens held morning and evening prayer on weekdays, and preached on Wednesday and Friday evenings. He also started a Bible class for young men by 1881, (fn. 100) which continued into the early 20th century, (fn. 101) and by 1884 held communicants' classes, which continued until 1890. (fn. 102) The Sunday School had 9 teachers in 1887, (fn. 103) and flourished into the 1920s, (fn. 104) but by 1933 the vicar's wife was the only teacher. (fn. 105) A choir existed in the 1890s. (fn. 106)
In the 1920s–30s the church remained an important centre of village life, supported financially by many of the parish's farmers. The choir and PCC members enjoyed an annual coach outing, and a choir supper was held in the Victory Hut (the village hall) in winter time. (fn. 107) The choir comprised around 20 men and boys. Frederick Butler (vicar 1924–39), an author of theological works, was considered a good preacher. (fn. 108) His successor, Philip Seymour (1940–3), changed the main service and introduced incense and the reserved sacrament, causing some of the congregation to leave. (fn. 109) The choir continued until the 1960s, when it was combined with the choir of Black Bourton and then of St John's, Carterton. It apparently dwindled in the early 1970s. (fn. 110)
Many aspects of church life remained lively into the later 20th century, though difficulties were encountered. (fn. 111) In the 1970s and early 1980s membership of the electoral roll fluctuated between 50 and 71, while attendance at the main Sunday morning service ranged in 1983 from 30 to 60. There were often large congregations at Christmas and on Remembrance Day. A new choir was founded in 1979, which soon included women and girls, and compline was held on Fridays in Lent during the incumbency of Derek Frost (1981–8). (fn. 112) The church also organized an annual fête, harvest supper, and other social events. Involvement declined in the mid 1980s: roll membership fell from 63 in 1982 to 37 in 1987, and remained in the 30s.
In the early 1990s choir membership dwindled, and the Sunday school ceased in 1994. Average attendance on Sunday morning in 1998 was 26. The main services in 2003 were holy communion on Sunday mornings, evensong on alternate Sundays, and communion on Wednesday evenings. (fn. 113) The church continued to hold a harvest supper and Christmas carol service, and to participate in other village events. In 2001 a family service was also started, held in alternate months. It was hoped in 2003, following a difficult period, that the pastoral reorganization would reinvigorate church life and that the choir would be revived.
Church Architecture
The church (Figs 82–3) dates mainly from the 13th century, but retains 12th-century fabric in the south walls of the nave and chancel (including two doorways) and has a 12th-century font. The nave's south doorway has three orders of chevron, a chequered tympanum with foliage motif, and cushion capitals with birds; the font has blind arcading. In the early 13th century the unbuttressed west tower, south porch, north aisle, and north-east chapel were added. The aisle has a plain, four-bay arcade, which was constructed within the width of the 12th-century nave, and plain lancets.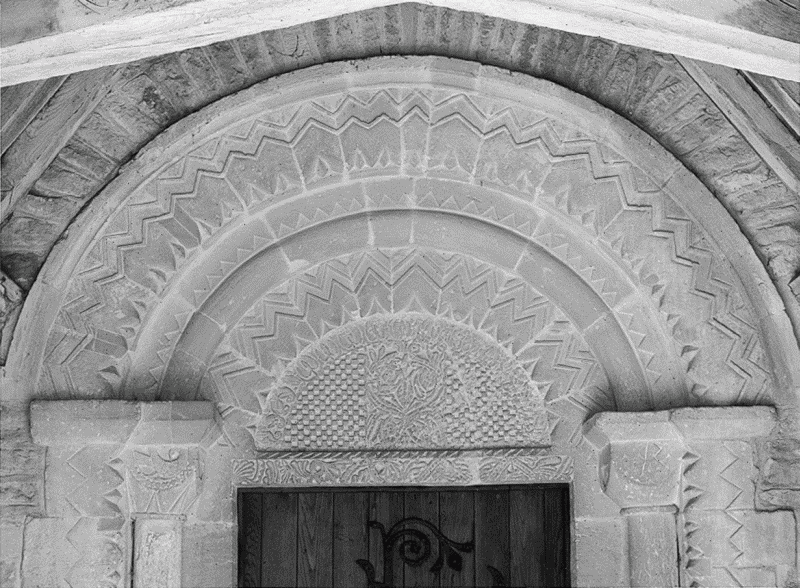 Decoration of the early 13th century is Transitional in character: the tower has a figurative corbel table, and in the chancel is a pair of arches ornamented with dogtooth. (The arches are of unknown origin and have shutter fittings. They were later converted into an opening to the north-east chapel.) The north aisle may have been dedicated in the Middle Ages to the Virgin. (fn. 114) In the 18th and 19th centuries the aisle (and more particularly the north-east chapel) was associated with the owners of Astrop and Caswell, who were responsible for its repair. (fn. 115)
Considerable modifications were made to the church in the last quarter of the 13th century. The tower and chancel arches were enlarged; a fine window, doublearched internally, was inserted in the south wall of the nave; and the east end was remodelled: a Bampton-type window, incorporating a stepped sedilia and piscina, was inserted on the south side of the chancel, and a similar window on the north-east side (now mostly 19th-century) may be contemporary. In the 14th century some windows in the north aisle were replaced, and a three-light window probably with reticulated tracery was placed in the east wall of the chancel. (fn. 116) A rood screen and sanctus bellcote on the gable above were provided in the 15th century. In the mid 16th century furnishings included a high altar, St Nicholas altar, rood light, and probably a Trinity light or altar. (fn. 117) A lamp in the church had been endowed with land worth 4d. per annum. (fn. 118)
Between the late 16th and mid 19th century alterations mainly involved changes in fittings and decoration. In 1606 John Yate gave an annual rent charge of 5s. from two houses for the church's use, (fn. 119) and in 1621, 20s. was bequeathed for paving the middle part of the church. (fn. 120) In the 17th or 18th century the south-west chancel window was replaced by a long rectangular one, and box pews were fitted. (fn. 121) In 1756 it was ordered that the Ten Commandments and scriptural sentences should be written on a wall. (fn. 122) At unknown times two large, square pews and a western gallery were apparently intruded; the latter, in 1860, featured bright blue panels. (fn. 123) It was reported in 1801 that the church was undergoing substantial repair, and the nave was repaved in 1815–16. (fn. 124) Yet in 1819 an author considered the church to be in a lamentable state, especially the north aisle where the lower parts of the walls were covered with green slime. (fn. 125) The churchwardens however declared in 1820 that the building was in good repair. (fn. 126) A stove was installed by 1849 and piping was also mentioned in 1853. (fn. 127) The stove was replaced in the early 1890s. (fn. 128)
Church Restoration By 1860 the church was certainly dilapidated. The chancel roof had sunk into a dangerous position and walls were cracked. (fn. 129) The vicar, George Fereman, also considered the interior to be 'mean, cold and desolate'. (fn. 130) Restoration plans were prepared by 'Mr Buckler' (presumably J.C. Buckler) in 1860, but were lost during 1861–2 at Christ Church. (fn. 131) The chancel was 'entirely rebuilt' in 1866, (fn. 132) and the remainder (except the tower) was extensively restored in 1869 by Mr Grove of Milton to plans by G.E. Street. (fn. 133) Most of the walls were rebuilt, the roofs were replaced, and the north-east chapel was opened to the chancel to create an organ chamber. The east window and west window on the south nave wall were replaced. Floors were lowered and new pews were provided. The church was re-opened in September 1869. (fn. 134) A harmonium was introduced by 1870, (fn. 135) and an organ (probably replacing the harmonium) in 1881. (fn. 136) The chancel was painted in the early 1880s, (fn. 137) and in 1893 C.E.G. Gray of Cambridge added the Annunciation, St Frideswide, and St Britius. (fn. 138) (The side walls were partially painted over in the late 20th century.) Thereafter only minor alterations were made to the fabric. The aumbry's oak doors were replaced with an iron door in 1940 and a sanctuary light was provided. Electric lighting was installed in 1944, electric heating in 1948. (fn. 139)
Monuments A recess in the north-east chapel contains a monument to Sir John d'Aubigny (d. 1346). His effigy is carved in relief as if emerging from each end of a coverlet decorated with shields. The monument was moved there in 1886 from the north aisle, (fn. 140) where there had once been other gravestones. (fn. 141) On the chapel's north wall is a mural brass, with a verse in English, to Ann Summers (d. 1631). A stone memorial on the south wall, featuring a shield and three men with clubs, commemorates Eleanor Woodd and her daughter-in-law Esther (both d. 1664). Three marble slabs in the chancel commemorate members of the Greenwood family: principally Thomas (d. 1679), John (d. 1712), and Charles (d. 1721).
Plate, Bells, and Churchyard Most church plate dates from the 19th century, including a medieval-style chalice and paten (1892). Other items include a silver pyx of 1931. (fn. 142) The predecessor of one of the bells was cast in Wokingham (Berks.) c. 1350. (fn. 143) Bells were mentioned in the mid 16th century and a peal in the mid 18th century. (fn. 144) It possibly consisted of four bells, two of which were recast in 1844–5, and one of which was reported cracked in 1855–6. (fn. 145) In 1860 a service bell was also installed in the tower, (fn. 146) which remained in 2003. In 1873, following the church restoration, a new frame with fittings for five bells was installed in the tower. A tenor bell of 1679 was retained, one bell was recast, two new bells were acquired, and in 1881 the 14th-century bell was recast. A treble bell was added in 1884, (fn. 147) making a ring of six, and a donated sanctus bell was placed in the roof turret in 1893. (fn. 148)
The churchyard contains two bale tombs, and formerly contained a cross. (fn. 149) It was closed for burials at the end of 1866. (fn. 150) The churchyard wall was substantially repaired and rebuilt in 1878. (fn. 151) In 1955 the churchyard was reduced on its northern and eastern sides to provide land for road-widening. (fn. 152) A new burial ground, southeast of the church across the main road, was consecrated in October 1866. (fn. 153) It was extended in 1928, taking in land donated by Christ Church. (fn. 154) The road-widening scheme of 1955 included the moving of sixteen 19th-century graves from the churchyard to the cemetery. Registers date from 1538, though events are not recorded regularly until the 1560s. (fn. 155)
Nonconformity
Roman Catholicism
The Yate family of Buckland (formerly Berks.), who owned 'Yates manor' from 1557 to 1606 or later, were Catholics. (fn. 156) The earliest known resident recusants were William and Elizabeth Tempest, who were reported from 1586 to 1603–4; (fn. 157) two yeomen were also listed in the latter year. (fn. 158) In 1605–6 only two women who had recently lived in Brize Norton were recorded as recusants. (fn. 159) By then the Tempests had probably moved elsewhere, though they retained a farm in the parish. (fn. 160) In 1608 only one recusant was noted, Bridget Rathbone, who was newly married to Francis Rathbone. (fn. 161) Thomas Greenwood, who acquired Yates manor by 1616, (fn. 162) was a Catholic (and married to a great-granddaughter of Sir Thomas More), (fn. 163) as were many of his descendants. (fn. 164) Otherwise only one or two Catholics were usually noted at any one time until 1712. (fn. 165)
Between 1716 and 1722 nine persons were presented as recusants, including three members of the Greenwood family. (fn. 166) Nevertheless there were reportedly no Catholics in 1738 and 1759 apart from the Greenwoods' reputed priest. (fn. 167) By 1767 a community of 25 Catholics had formed, comprising Charles Greenwood's family and their priest, two labourers' families, and three other women. (fn. 168) It was short-lived: after the Greenwood family's departure to France, probably in 1768, the community declined. In 1771 there was only one Catholic; (fn. 169) in 1780 just one family of papists and two individuals; (fn. 170) between 1793 and 1805 only 1–3 Catholics; (fn. 171) and in 1808 none. (fn. 172)
A place of worship in the Greenwoods' manor house was mentioned in 1759, (fn. 173) and was presumably much older. The house may have had two chapels: one adjacent to the house was said in 1818 to have been recently demolished, while an attic chapel was reported to have been dismantled in 1858, when its altar rails were moved to the parish church. (fn. 174) Between 1702 and 1769 a Benedictine priest was usually based at the Manor House and served as domestic chaplain and missionary. The priests included Dom Gregory Greenwood (d. 1744), at Brize Norton from 1702 to 1726. (fn. 175) In 1738 the house was a place of worship for people from outside the village. (fn. 176)
Quakers (Friends)
Quakers were active by 1660 when a meeting was broken up and men were taken to Oxford prison. Brize Norton's leading Quaker was Francis Dring, (fn. 177) the son of an Anglican clergyman of the same name who lived in Brize Norton (where he was probably a curate), and who died in 1663. (fn. 178) Dring was excommunicated from the Church of England in 1663, and in 1669 he held a monthly conventicle at his house, reportedly attended by about 100 people, (fn. 179) though only 7 Protestant Dissenters were listed in Brize Norton in 1676. (fn. 180) Dring remained active until c. 1689, (fn. 181) but Quakers were not recorded thereafter.
Baptists, Presbyterians, Congregationalists
Other forms of Protestant Dissent were also present intermittently. In the 1660s Brize Norton was one of the places in which the ejected rector of Great Rissington (Glos.), Abraham Drye, preached. (fn. 182) A Baptist was reported in 1685; (fn. 183) his son-in-law licensed a house for Dissenting worship in 1718, (fn. 184) and was perhaps also a Baptist. Between then and 1768 small numbers of Presbyterians and Baptists were recorded, including two Presbyterian families in 1738 and one Presbyterian and two Baptists in 1768. (fn. 185) In 1771 and 1774 there was one Baptist. (fn. 186)
Dissent revived in the early 19th century, initially on a small scale. A house was registered for Protestant worship in 1806 and another in 1824; (fn. 187) a Dissenting family was reported in 1817. (fn. 188) From 1840 Congregationalists and Baptists worshipped in a barn, possibly the building registered in 1841. (fn. 189) At the religious census of 1851 it was returned as a Congregational chapel, managed by Robert Maitland Tozer of Curbridge (son of Robert Tozer, Congregationalist minister of Witney) and apparently served by lay preachers; attendance at evening service on Census Sunday was 140. (fn. 190)
In 1853 a chapel was erected. It was built on donated land and cost £130, which was raised by R. M. Tozer and included a donation of £100 from his sister. (fn. 191) It stands on the village's northern edge, on a rise, and is a small, rectangular, single-storey building of regular-cut limestone and slates with two large windows in each side wall. The gable-end walls are blank. R.M. Tozer, who controlled the chapel, held fortnightly Sunday services in 1853, alternating with Primitive Methodists. (fn. 192) After his departure from the district in 1862 the chapel was vested in trustees (three Congregationalists, three Baptists). Though it was regarded as an out-station of Witney Congregational chapel, (fn. 193) Congregational use possibly diminished. Baptist worship took place from 1859 until ended in 1886 by John Brantom, a Congregational minister in Witney, who then worked the chapel himself. He left Witney in 1897, taking the chapel's deeds which were not recovered until 1907. In 1909 the chapel was vested in the deacons of Witney Congregational chapel who sold it to the Primitive Methodists. (fn. 194)
Primitive and United Methodists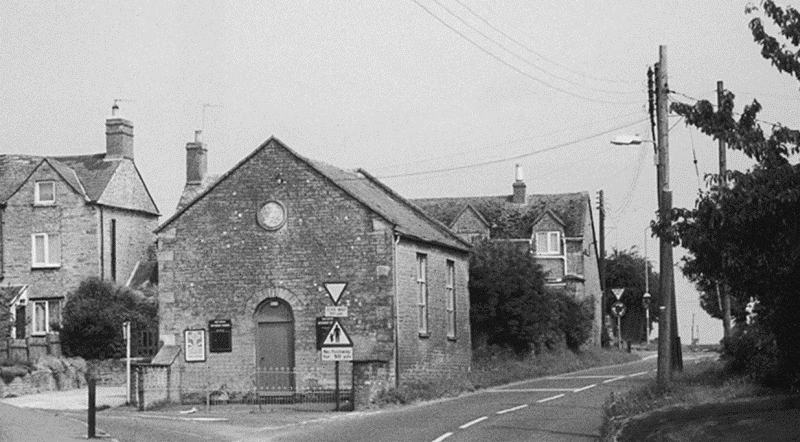 Meetings were presumably being held by Primitive Methodists in 1836, when money was collected in Brize Norton; (fn. 195) preaching briefly took place in 1844. (fn. 196) Regular services began apparently in 1851 and in 1853 were held in the new Congregationalist chapel. (fn. 197) During the 1850s and 1860s tea, camp, and revival meetings were also held regularly. (fn. 198) In 1892 services were held on Sundays at 2.30 and 6 p.m. and on Wednesdays at 6.30 p.m. (fn. 199) The Methodists expressed interest in buying the Congregationalist chapel in 1880 and 1893–4, (fn. 200) and in 1907 they designated its purchase as an objective of the Witney circuit's Centenary Fund. (fn. 201) They bought the chapel in 1909, (fn. 202) and marked the event with a special service (fn. 203) and by placing a plaque above the main entrance. In the 1920s and 1930s Sunday services were held at 3 p.m. and 6 p.m., and two camp meetings were held in a field in late spring. (fn. 204) In 1951 five of the circuit's lay preachers lived in the parish. (fn. 205) By 1974 only one weekly service was held, on Sundays at 3 p.m. (fn. 206)
Chapel attendance was reckoned as 107 in 1900 and 100 in 1909, but only 50 from 1915 to 1924. It increased slightly to 60 from 1925 to 1931. (fn. 207) Membership was 27–31 from 1900 to 1913 and 18 in 1974. (fn. 208) A Sunday school was started in 1864, attracting 53–80 pupils between 1864 and 1875, who were taught by 10–14 teachers. (fn. 209) There were 48–68 pupils from 1900 to 1913, 33–41 from 1914 to 1922, 22–28 from 1923 to 1928, and 34–36 from 1929 to 1931, (fn. 210) but only 12 in 1963. (fn. 211) In the 1920s and 1930s the chapel organized outings, sometimes by railway to seaside resorts. (fn. 212) A band of hope had 40–70 members from 1900 to 1931; an adult temperance society had 40–59 members between 1902 and 1923, and a young people's society had 24–30 regular and 20–22 associated members between 1924 and 1931. (fn. 213) The chapel was renovated c. 1967, when the floor was remade, and new chairs, communion rails and a new pulpit were installed. (fn. 214) Attendance continued to decline, however, and the chapel was closed on 26 January 2003. (fn. 215)