Pages 37-48
A History of the County of Oxford: Volume 15, Bampton Hundred (Part Three). Originally published by Victoria County History, London, 2006.
This free content was digitised by double rekeying. All rights reserved.
ASTHALL
Asthall, a secluded rural parish which formerly adjoined the southern edge of Wychwood Forest, lies c. 4½ miles (7 km) west of Witney and 2½ miles (4 km) east of Burford. (fn. 1) In 1881 the civil parish, long and irregular in shape, comprised 2,223 a. (900 ha.) and contained the villages of Asthall and Asthall Leigh, the hamlets of Field Assarts, Worsham, and Stonelands, and part of Fordwells (Fig. 18). (fn. 2) During the inclosure of Swinbrook and Asthall in 1813–14, c. 13 a. of meadow physically within Asthall parish (part of Odney meadow) was transferred from Swinbrook to Asthall, and c. 31 a. of arable on the north-west side of the parish was added to Swinbrook, leaving Asthall with a net loss of c. 18 acres. (fn. 3) In 1886 another 2 a. of meadow within Asthall parish was transferred from Swinbrook, and c. 34 a. north-west and north of Asthall Leigh and two houses in Fordwells were transferred from Fulbrook, increasing Asthall parish to 2,259 acres. (fn. 4) In 1932, 49 a. around Stonelands was transferred to Brize Norton and 88 a. north and north-west of Fordwells was joined to Leafield, while Asthall gained Stockley copse and adjacent land (174 a.) from Swinbrook, leaving it with 2,295 acres. (fn. 5) The addition of 12 a. in 1985 brought the remainder of Fordwells within Asthall parish. (fn. 6)
Parish Boundaries and Landscape
The ancient parish boundary (Fig. 18) followed the river Windrush and a valley in the south-east, and field boundaries on the south and west. (fn. 7) In the south-west corner it made a detour to the south to include Stonelands, part of Asthall manor by the 17th century and tithable to Asthall certainly by the 19th, though jurisdiction over a small area at Stonelands' north-west corner was ambiguous until probably c. 1861. (fn. 8) Southwest of Asthall village the parish boundary corresponded approximately to the Roman Akeman Street, while west of the village it crossed a hill, dividing Asthall from Swinbrook parish. North of the village and adjacent meadow, the boundary ran across open-field arable until realigned (along a new road) by the land transfer of 1813–14. (fn. 9) In the extreme north-west the parish included part of Leigh Hale Plain, which was common pasture until inclosure in 1862; (fn. 10) further east the boundary made a substantial detour to exclude Stockley copse and adjacent closes, presumably representing a wooded area which had been royal demesne in the mid 11th century. (fn. 11) In the extreme north a similar detour northwards brought the area of Lowbarrow copse within Asthall parish by 1298, following boundaries which divided it from royal woodland in Wychwood Forest. (fn. 12) In the north-east, before inclosure in 1862, (fn. 13) the parish boundary separated an area of open pasture and assarts from neighbouring parishes. Here it followed field boundaries, paths, and the edge of Minster Lovell woods, where two short sections ran close to Akeman Street.
In 1300 Asthall manor was said to have been taken into Wychwood Forest after 1154. (fn. 14) It was presumably disafforested in 1327, (fn. 15) though Leigh Hale Plain, the pasture and assarts in the north-east, and woodland except for Standridge copse (fn. 16) remained Forest purlieus, supervised by the ranger of Wychwood, until the disafforestation of Wychwood in 1857. (fn. 17) In the early 17th century the manors of Asthall and Asthall Leigh made annual payments to the ranger. (fn. 18)
The parish's southern parts lie across the Windrush valley, its sides rising from the broad valley floor at c. 95 m. to c. 120 m. south of Asthall village and c. 145 m. to its north. Asthall Leigh occupies a plateau at c. 125 m., and the previously wooded area beyond that rises to c. 150 m. in the north. Most land adjacent to the Windrush is alluvium, exceptions being river gravel (First Flood Plain terrace) west of Kitesbridge farm, and limestones between Kitesbridge and Worsham mill. (fn. 19) The alluvium provided expanses of meadow east of Asthall bridge (south and west of the Windrush) and north-east of Worsham mill. Alluvium and gravel also surround the hill west of Asthall village, and are thought to represent an earlier course of the Windrush. (fn. 20) Limestones predominate between the valley floor and the highest areas, with the east end of Asthall village overlying Clypeus Grit limestone and White limestone extending from Worsham to beyond Asthall Leigh. The four highest parts of the ancient parish, Asthall barrow, the north-west, Asthall Leigh, and Field Assarts, lie on areas of mainly Forest Marble Clays, most containing limestone. Within the area in the north-west (south-west of Stockley copse) is a patch of Kellaways Clay and Cornbrash, while north of Asthall Leigh, around College Farm, is a patch of glacial sand and gravel. Soils are stonebrash, as is common in the Windrush valley. (fn. 21) In the 19th century the soil in the main arable areas of Asthall was noted as being thin, light, and liable to drought. (fn. 22)
Akeman Street
From the mid 1st century Akeman Street traversed the later parish from north-east to south-west, remaining in use until at least the 4th century. (fn. 24) It crossed the valley and stream at Pool's Bottom via an upstream diversion, descending and ascending the valley sides on specially constructed banks. An early paved ford was probably replaced by a wooden bridge, with the side banks being raised accordingly. (fn. 25) No remains of a crossing of the Windrush have been found on the road's direct line. (fn. 26) It probably diverted, via a zigzag route, (fn. 27) to a point c. 120 m. north-west (south-east of Kitesbridge Farm), where in 1979 there were traces of a ford. (fn. 28)
Post-Roman Roads
By the mid Saxon period Akeman Street had been superseded as a primary route probably by north-south routes. They included the route south from Leigh Hale Plain to Asthall village, which continued southwards across the Windrush valley to the 7th-century Asthall barrow and descended into the Thames valley, where it was later recorded as Salter's Way. (fn. 29) The section of this route between Leigh Hale Plain and the Windrush was called, in 1627 and later, Cow Path Way or Cow Path, (fn. 30) and in 1814 Cowpath Road, (fn. 31) presumably reflecting its use as a local droveway. (fn. 32) The section immediately north of the Windrush, across meadowland, was called a high way in 1627 (fn. 33) and was probably the causeway for which money was bequeathed in 1596 and 1605. (fn. 34) The road crossed the Windrush by bridge probably by 1559, when money was left for 'Kitebridge'. (fn. 35) The bridge was also known, from at least the later 16th century, as 'Asthall bridge' or 'Asthall mill bridge'. (fn. 36) It was almost ruinous in 1714, (fn. 37) and in 1834 was replaced by a four-arched stone bridge built by James Lord of North Leigh, (fn. 38) which remained in 2004. The road south of the bridge, which in 1814 also led to Great Linnet Meadow, (fn. 39) may have been the Linnet Way for which money was bequeathed in 1588 and 1605. (fn. 40)
A route also diverged from the Cow Path on the north side of the Windrush valley and led to Worsham. It probably existed in 1279, when there was a bridge below Worsham mill, (fn. 41) and was probably the Long Hedge Way mentioned in 1627. (fn. 42) This route also continued southwards into the Thames valley. (fn. 43) North-west of Asthall Leigh, Salter's Lane, mentioned in 1627, (fn. 44) may also have been part of an early route, providing a branch to Minster Lovell from the salt-distribution network between Droitwich (Worcs.) and west Oxfordshire. (fn. 45)
Probably from the 11th century the east—west route along the south ridge of the Windrush valley became important as part of a long-distance route to Gloucester. (fn. 46) From the late 12th or early 13th century it also connected the 'new towns' of Witney and Burford. (fn. 47) In 1602 it was called the 'London highway' and in 1705 'Oxford Road'. (fn. 48)
Turnpike and Inclosure Roads
The main east—west road was turnpiked in 1751, (fn. 49) followed in 1777 by the road south from Shilton Cross in the south-west corner of Asthall parish, leading to Brize Norton, Bampton, and Buckland (then Berks.). (fn. 50) By 1780 the Asthall—Buckland road was considered much improved. (fn. 51) At inclosure in 1814 much of the east—west road between Asthall Leigh and Swinbrook was straightened, and Cow Path Way was realigned along a more direct course. Long Hedge Way was also straightened. (fn. 52) Shilton Cross Way, mentioned in 1602, (fn. 53) which ran south-west from Asthall village roughly along Akeman Street to the Witney—Burford road, was retained as a footpath as far as its junction with Swinbrook parish; also retained were a pre-existing road south of Asthall village, which ran west to Swinbrook, and the road south from Asthall barrow into Brize Norton parish. (fn. 54)
Under the Wychwood Inclosure Act of 1857 routes from Fordwells to Field Assarts, and across Dodds Plain and Dicks Heath, were formally designated as public highways, (fn. 55) though the latter two were realigned in 1862 during the inclosure of the north-east of Asthall parish. (fn. 56) Routes through the woodland from Pool's Bottom to Dodds Plain were probably suppressed at the same time. (fn. 57) The road to the north-east of Asthall Leigh was retained, but a route around the north of Field Assarts had apparently been suppressed by 1884, (fn. 58) its course remaining visible as a double hedge in 2004. (fn. 59) The Witney—Burford and Asthall—Buckland roads were disturnpiked in 1870 and 1874 respectively. (fn. 60) Around 1977 the main route from Witney was transferred to a new dual carriageway to the south which rejoined the old road west of Asthall barrow.
Carriers and Post
A carrier or 'far carter' of Field Assarts in Asthall parish was mentioned in the mid 1590s, (fn. 61) but no later references to carriers have been found. By 1831 Asthall's post town was Burford, letters for Asthall Leigh being routed through Witney by 1868. (fn. 62)
Settlement and Population
Prehistoric and Roman Settlement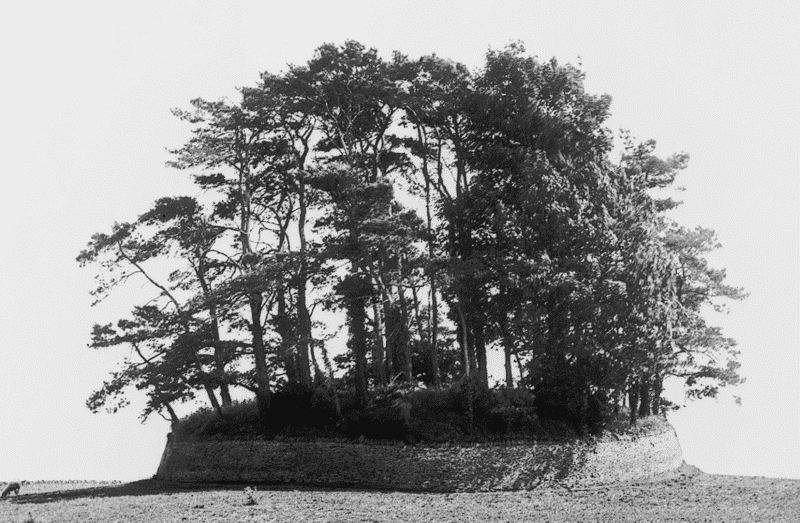 Several later-Mesolithic (fn. 63) and numerous Neolithic artefacts (fn. 64) have been found in Asthall parish, some within areas which were woodland until 1862. (fn. 65) Two adjacent round barrows on Leigh Hale Plain may date from the Bronze Age. (fn. 66) A small Roman military camp c. 500 m. south-west of the later Asthall village, aligned on Akeman Street and known from cropmarks, was probably early and short-lived. (fn. 67) A later and more important unwalled Roman settlement south-west of the Windrush extended at least 500 m. along the Street (Figs 13 and 18), with at least four roughly parallel side roads to the south-east and five to the north-west. (fn. 68) Finds suggest occupation from the mid 1st to the 4th century, with the first stone-founded houses dating from the mid 2nd century, (fn. 69) though the occupied area may have shrunk in the later 4th century. (fn. 70) Iron-working (smithing) occurred to the south mainly in the 2nd century. (fn. 71) The settlement's layout, building density, and building forms indicate a small town, probably serving as a staging post between Alchester (near Bicester) and Cirencester (Glos.), and as a market centre for nearby villas and other rural settlements. (fn. 72) Market functions may have continued until the end of the 4th century. (fn. 73) Finds of coins and tesserae suggest that other Roman remains may survive south of Asthall church. (fn. 74)
A Roman building of probably the 2nd century, about ½ mile north-east of the later Worsham mill, may originally have been a bath of three to six rooms standing by an earlier course of the Windrush. It was later extended, and then apparently converted into a small villa which was occupied until the 4th century. (fn. 75) Extensive cropmarks have been seen around the building, and possibly the line of a road connecting the site to Akeman Street. (fn. 76)
Asthall Barrow
The round barrow known as Asthall barrow (Fig. 12) stands on the ridge by the Witney—Burford road. It occupies a prominent site which formerly commanded views across the Thames and Windrush valleys. Excavation revealed a cremation-burial of probably the earlier 7th century, (fn. 77) which included such high-status items as fragments of a Merovingian pottery bottle and a Late Antique silver bowl or cup. The latter is comparable with finds from Sutton Hoo (Suffolk). The burial may be that of a pagan Anglian or of an independent local king or member of the Wessex dynasty. (fn. 78)
Population from 1086 In 1086 there were 35 tenants and 5 servi on Roger d'Ivri's holding of Asthall, (fn. 79) some of them probably at Asthall Leigh. (fn. 80) In 1279 there were apparently 36 tenants, most of them probably resident, of whom 24 held land at Asthall and the rest at Asthall Leigh. (fn. 81) In 1306 at least 28 taxpayers were listed, probably for the parish, (fn. 82) and 34 in 1316 and 1327, of whom 18 and 17 respectively were associated with Asthall. (fn. 83) In 1377 poll tax was paid by 71 men and women over 14 in Asthall and Asthall Leigh together. (fn. 84)
Population apparently fell considerably by the early 16th century when only 14–15 taxpayers were listed for both Asthall and Asthall Leigh, (fn. 85) rising to 31 by 1544. (fn. 86) In 1642, 151 adults of both sexes were listed in the Protestation returns, (fn. 87) and in 1662 a total of 65 householders were assessed for hearth tax, of whom 41 were in Asthall. (fn. 88) During the 18th century baptisms usually outnumbered burials, (fn. 89) though vicars or curates normally estimated that there were only 50–60 houses in the parish, (fn. 90) perhaps implying some emigration. In 1801 there were 59 houses inhabited by 304 people. Population fell to 291 by 1811, rising to 365 by 1821. In 1841 there were 389 people, of whom 198 lived in Asthall. Population reached 424 by 1861, thereafter falling steadily to 319 by 1911 and to 209 by 1971, before rising to 234 in 1981 and to 276 (118 households) in 1991. (fn. 91)
Asthall Village
The name Asthall, meaning 'at the east nooks', corresponds to Westhall (in Fulbrook) c. 4 km to the north-west. Both names refer probably to small areas of land (the 'nooks') enclosed by channels of the Windrush. (fn. 92) Asthall was apparently mentioned in the early 11th century by Aelfric (d. c. 1010), abbot of Eynsham, as the home of a patron. (fn. 93) The part of Asthall village at the north-west end of the main street, near the parish church (founded probably by 1071), (fn. 94) is notable for its concentration of former lordly centres: Asthall Manor, west of the church, probably occupies the site of the medieval curia, (fn. 95) while the former vicarage house, to the south-east, occupies probably a former walled rectory enclosure mentioned in 1457, (fn. 96) which contained a barn in 1525. (fn. 97) The village street, which connected that area to a manorial mill apparently recorded in 1086, (fn. 98) probably existed in the Middle Ages, but the locations of early tenements are unknown. Some may have been opposite the rectory enclosure, on what was open ground in the early 19th century; (fn. 99) others presumably lay at the south-east end of the village street by its triangular junction with the north—south road, where there were stone-built cottages and houses by the late 17th century. (fn. 100) An outlying farmhouse, north-east of the village, was built in the late 16th century, (fn. 101) and Kitesbridge House north-east of Asthall bridge (predecessor of Kitesbridge Farm) was first mentioned in 1616. (fn. 102)
Asthall Leigh
The name Asthall Leigh, formerly 'Astallingeleye' (1279), means 'woodland (or cleared woodland) of the people (inge) of Asthall', (fn. 103) implying woodland used by Asthall people, and an assarted settlement. It may have been the area of 2 hides and a yardland (at an unspecified location) recorded in association with Asthall in 1086. (fn. 104) It was first mentioned independently by name in 1162–3. (fn. 105) A settlement, called a 'hamlet', was recorded from 1272, (fn. 106) but presumably existed much earlier, and in the early 13th century Asthall Leigh had its own fields. (fn. 107) By the late 13th century the hamlet may have included the lordly residence known in the 15th century as Knightplace or Knightscourt. (fn. 108) In 1279, 12 tenants held land at Asthall Leigh, (fn. 109) and 16 taxpayers were associated with it in 1316 and 17 in 1327. (fn. 110) After contracting in the late Middle Ages population had probably increased by 1642, (fn. 111) and 24 householders were assessed for hearth tax in 1662. (fn. 112) In 1841 there were 141 inhabitants. (fn. 113)
In the mid 18th century and later, buildings lay alongside several roads. (fn. 114) The building of St John's chapel at a crossroads in 1861 provided a focal point, and a Memorial Hall was built c. 1922. (fn. 115) Infilling at Asthall Leigh in the 1950s to 1970s created a more nucleated settlement. (fn. 116)
Field Assarts
An area of c. 57 a. in the north-east of the parish, known as Field Assarts, was probably assarted (i.e. cleared for cultivation) during the Middle Ages. (fn. 117) It was referred to as 'the Field in Asthall' in 1596, and as Field Assarts in 1693, (fn. 118) and included two cottages in 1609 (fn. 119) and possibly much earlier. In 1814 there were at least four cottages and homesteads in the area's western part and one in its eastern part, facing respectively north and west onto Field Assarts green; a house north-west of the green lay within Leafield. (fn. 120) By 1861 the part of Field Assarts within Asthall parish included 15 households, with a population of 63, which fell to 11 households and 38 inhabitants by 1881. (fn. 121)
Worsham
Meaning 'Wulfmaer's ham or hamm', Worsham was the site of a corn mill probably by 1086, which was replaced c. 1830 by a blanket and mop manufactory. (fn. 122) A row of cottages was built to the north-east soon afterwards, (fn. 123) forming a small industrial hamlet which in 1841 contained five households (28 people), all including textile workers. Six households (at least 21 people) were recorded in 1861, but only two (11 people) in 1881, when four dwellings were uninhabited. (fn. 124) The houses, unoccupied in 1913, mostly remained in 2004. (fn. 125)
Fordwells
The hamlet of Fordwells, north of Asthall Leigh, developed in the 1860s on newly inclosed land, straddling the boundary between Wychwood (later Leafield) and Asthall parishes with a few buildings in a detached part of Fulbrook parish. (fn. 126) The hamlet was named from the spring and pool by the south-west corner of Lowbarrow copse, (fn. 127) which were called Sewkeford (i.e. 'Seofeca's ford') in 1300 and Fordwell Pool or Duckpool by 1641. (fn. 128) The first buildings were erected probably in Wychwood parish, on roadside plots created by the Minster Lovell Allotments Inclosure Award of 1861: (fn. 129) construction probably began almost immediately, as a Primitive Methodist chapel was being planned in summer 1862. (fn. 130) Building in Asthall parish probably followed soon after Asthall's inclosure award later that year, (fn. 131) and in 1864 Fordwells was called a hamlet of Asthall parish. (fn. 132)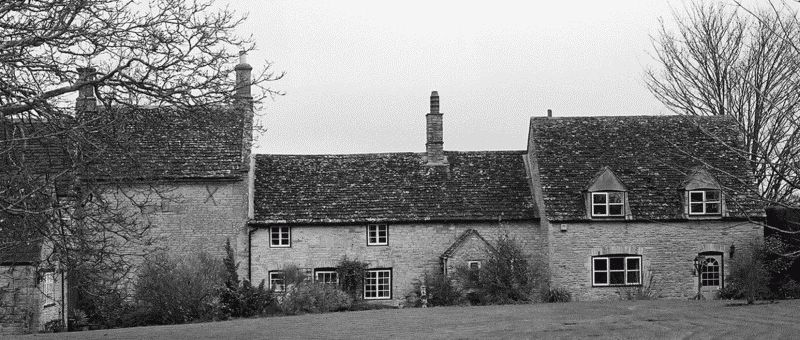 By 1871 Fordwells contained probably 7 households (29 people) in Asthall, 3 households (12 people) in Fulbrook, and 10 households (44 people) in Wychwood. (fn. 133) Corresponding numbers of households in 1881 were 7,2, and 15, mostly agricultural labourers and their families. (fn. 134)
Stonelands
The southward protruding parish-area known as Stonelands was part of Asthall manor until 1687. (fn. 135) In 1673 it comprised a house and close called 'Sworne Lands'. (fn. 136) The name, meaning 'forsworn lands', refers probably to the area's location at the margin of three parishes; (fn. 137) the form Stonelands, recorded in 1777, (fn. 138) presumably reflected changing local usage perhaps influenced by quarrying. (fn. 139) A second, one-storeyed house was built in the late 17th century at Stonelands' north-west corner, extending north—south across the later parish boundary. (fn. 140) It was considered extraparochial by 1718 when it was known as 'the Bastard School', (fn. 141) reflecting its use by unmarried mothers as a birth-place; possibly it was the so-called 'Greenaway House' in which a bastard child died in 1685, and was subsequently buried at Asthall. (fn. 142) Other burials of illegitimate children from Stonelands were recorded at Asthall, Burford, and Brize Norton between 1719 and 1760, (fn. 143) and in 1778 it was reported that 'many unmarried ladies' resorted to Stonelands. (fn. 144) Births may have increased considerably from the late 1790s, since illegitimate children from Stonelands were frequently baptised at Asthall from 1798 to 1819, and at Swinbrook from 1819 to 1836. (fn. 145)
The extra-parochial building was said to have consisted c. 1830 of a public house and two or three cottages. (fn. 146) By 1861 its southern part was officially within Shilton parish, (fn. 147) when it may have contained two of five households recorded at Stonelands (mainly agricultural labourers). (fn. 148) The house, greatly extended in the late 20th century, still straddled the parish boundary in 1999, by which time it formed two dwellings, The Cottage and No. 1 Stonelands. The earlier house at Stonelands (i.e. that noted from 1673) was said to be ruinous in 1905, (fn. 149) and was demolished around 1940, (fn. 150) leaving a mid 18th-century barn to the south-east; the barn was later converted into a house called Stonelands Barn. (fn. 151)
Domestic Buildings
Most domestic buildings in the parish are of coursed limestone rubble with stone-slated roofs, though many were originally thatched. Brick was used in the 19th century for the dressings on cottages at Fordwells and for two house façades near Asthall Leigh. The earliest surviving house is probably Toque House (formerly Asthall Farmhouse) north-east of Asthall village, a twostoreyed house of five irregular bays (Fig. 15). Two bays date from the late 16th century and have a chimney stack at their west end. (fn. 152) The west bay and north-west staircase projection were added in the 17th century, and the eastern two bays were rebuilt c. 1700 when the front was apparently changed from north to south: the south elevation was remodelled with timber cross-windows, of which two survived in 1998, and was plastered with fictive quoins and naively Baroque non-figurative panels. A large north-east extension was built in the 20th century. Asthall Manor and the Old Farmhouse at College Farm (in Asthall Leigh), both of the early 17th century, are described below. (fn. 153)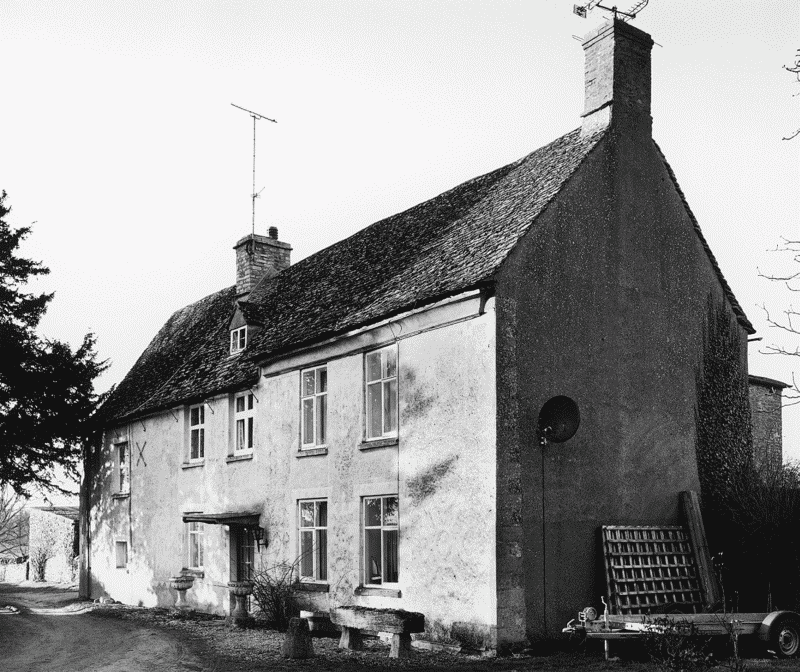 Several two- and three-bayed houses of the late 17th century cluster round the main road-junction in Asthall village. Originally of one and a half storeys, they include Downham Cottage, No. 1 Cottage and May Tree Cottage, and Round Cottage. Of similar period is Old Cottage at the north-east corner of Asthall Leigh, which was probably originally of one and a half storeys and three bays. At Stonelands, the late 17th-century 'Bastard School' included at least the north five bays of a long, probably part-agricultural building now known as The Cottage (facing west) and No. 1 Stonelands (facing east). (fn. 154) Most of the range was made irregularly twostoreyed later, two centre bays being raised first in the mid 18th century, and given a polite east façade in dressed stone.
Several two-storeyed 18th-century houses stand behind the earlier houses in Asthall village and to the north-west of the main junction. The latter include Cooks Cottage, with a datestone of 1738, and Old School Cottage, built probably by 1743 and described below. (fn. 155) Lime Tree House at the village's north-east corner is a larger house probably of the earlier 18th century; its north-east wing includes a late 18th-century door hood, and a datestone with WM 1 [7?] 88. Asthall Farm (formerly Tocques Farm), north-east of Asthall village and south-east of Toque House, has a twostoreyed, four-bay west range built probably for Richard Fletcher (d. 1773), (fn. 156) possibly incorporating an older house; the north-east range is 19th-century. Aligned with the west front is a five-bayed threshing barn and an adjacent two-bayed cowhouse, behind which are a farmyard with a stable, cart house, and shelter shed; all are probably 18th- and early 19th-century, and a beam in the shelter shed is inscribed 1806.
At the west end of Asthall Leigh, three two-storeyed, two-bayed houses (Old Crown Cottage, The Paddocks, and The Olde Farm) (fn. 157) date from the later 18th century, while converted farm buildings south of Pinnocks farm are of the 18th and 19th centuries. The 18th-century Wychwood Farmhouse at Field Assarts is three-bayed and two-storeyed. The large Stonelands Barn at Stonelands, built as a barn in the mid 18th century perhaps for John Packer (d. 1772), (fn. 158) was converted into a house c. 1967 and modernized in 1998, obliterating the internal structure. Its gabled east porch and large west opening have finely dressed segmental arches with projecting keystones, similar in character to the mid 18th-century part of the east façade of No. 1 Stonelands.
Cottages of the 19th century in Asthall village include Carter's Cottage, east of the church, and two at the village's south-east end, one attached to Round Cottage and the other behind Downham Cottage. The schoolroom of 1873 and vicarage house of 1873–4 are described below. (fn. 159) Kitesbridge Farm was rebuilt in 1814, (fn. 160) with six wide bays and two storeys with segmentalheaded windows; another bay was added later and the house divided into two dwellings. Behind the house, flanking the farmyard, are an early 19th-century six-bayed barn and stable, while to the north-east a five-bayed implement shed with an arcaded front dated 1881 remains from a former group of buildings. Church View, south-east of the crossroads in Asthall Leigh, dates from the earlier 19th century, and to its south are two pairs of cottages probably close in date to Pinnocks Farm opposite, which was built c. 1870. (fn. 161) College Farm at Asthall Leigh was also built in stages in the 19th century. (fn. 162) Cottages at Fordwells and on the south side of Field Assarts are mostly late 19th-century, those at Fordwells being of rock-faced stone with segmental headed openings, as are a detached villa and the chapel. (fn. 163) Two 19th-century sets of farm buildings at Field Assarts were converted into housing in the later 20th century. The 19th-century mill at Worsham is described below. (fn. 164)
An L-shaped group of motor-house and stable was built at the north-west end of Asthall village street probably c. 1920 for Lord Redesdale, and Walker's Row (four council houses in traditional Cotswold style) was built c. 1947 south of the village. (fn. 165) Further development in Asthall village was deterred by planning constraints and protective landownership, though in 1999 it was intended to convert the motor-house and stable into housing. At Asthall Leigh around ten houses, mainly bungalows, were built between c. 1950 and the 1970s, most of them near the church and the Memorial Hall, and two houses were built on the north side of Field Assarts in the 1960s. Mains electricity was available in Asthall village by 1963, and mains water later that year. (fn. 166)
Political and Social Life
The area's strategic importance during the Civil War affected Asthall as it did some other local villages. Troops, presumably Royalists, were quartered in the parish from 1643, (fn. 167) and were probably replaced by Parliamentarians after their capture of Gaunt House (in Standlake) in May 1645. (fn. 168) Jane Jones of Asthall, widow of Rice Jones the younger, (fn. 169) was subsequently required to pay for ten months towards the maintenance of Gaunt House's new garrison. (fn. 170) Contingents continued to be quartered on Queen's College's farm at Asthall Leigh until April 1646. (fn. 171) Sir Henry Jones, lord of Asthall manor by 1654, fought for Oliver Cromwell in the late 1650s and was later a leading commander in Charles II's army, dying at the siege of Maastricht in 1673. (fn. 172)
Many eminent people have been associated with Asthall. Notable natives included probably Robert of Asthall (d. by 1275), an agent of Richard earl of Cornwall and archdeacon of Worcester; (fn. 173) perhaps Thomas Asthall, chamberlain of North Wales in the early 14th century; (fn. 174) and John Bancroft (d. 1640), master of University College and bishop of Oxford. (fn. 175) Eustace Rokayle, putative father of the poet William Langland, paid tax in Asthall Leigh in 1327, and held land there in 1361. (fn. 176)
From 1919 to 1926 Asthall Manor was the home of Lord and Lady Redesdale and their seven children, including Diana, Unity, and Jessica Mitford, who were later active in politics; Nancy Mitford the writer, whose local experience was reflected in The Pursuit of Love (1945); and Deborah, future duchess of Devonshire. (fn. 177) Asthall village was also the birthplace and long the home of the actor Bob Arnold (d. 1998), famous as Tom Forrest in the BBC radio series 'The Archers'. (fn. 178) In 1997 Patricia Jane Scotland, a resident of Asthall village, was created a life peer with the title Baroness Scotland of Asthal, and in 1999 was the first black woman to be appointed to the British government. (fn. 179)
Inns and Public Buildings
A victualler in Asthall village was mentioned in 1726 (fn. 180) and one at Stonelands in 1748. (fn. 181) Around 6–8 victuallers in the parish were licensed annually from 1753 to 1768, (fn. 182) including probably the keeper of the White Horse at Stonelands mentioned in 1760. (fn. 183) Thereafter one or two were usually licensed, including one at Stonelands recorded intermittently until 1795. (fn. 184) The Three Horseshoes in Asthall village, recorded from probably 1772, (fn. 185) remained in 2004, having been renamed the Maytime Inn in 1975. The Rose and Crown in Asthall Leigh, recorded from 1779 to 1811, (fn. 186) apparently occupied a house at the north end of the village. (fn. 187) The Crown at the west end of Asthall Leigh opened probably by 1841 (fn. 188) and closed in 1965. (fn. 189) The Ostrich and the Masons Arms, noted in 1774 and 1777 respectively, (fn. 190) are unidentified.
A Memorial Hall built at Asthall Leigh c. 1922 provided the hamlet with a secular social venue, (fn. 191) and in 1924 a recently founded social club met fortnightly in the hall during winter months. (fn. 192) From c. 1998 a 'village pub', called the Astally Arms, was provided in the hall one evening a month. (fn. 193)
Charities and Poor Relief
Between the mid 17th and mid 18th century several charities were established which supplemented the assistance available from statutory parish poor relief. Most were founded by members of the Fettiplace family, which possessed lordship and land in Asthall parish and the neighbouring parish of Swinbrook. (fn. 194) One charity included provision for apprenticing and bread doles, but the majority were apparently distributed in monetary doles totalling at most some £8 a year.
The earliest recorded was that of Lady (Frances) Fettiplace, widow of Rice Jones the elder of Asthall, (fn. 195) who in the mid 17th century gave £2 a year to the poor of Asthall, to be paid from her estate at Poulton (Glos.). (fn. 196) The charity, managed by the vicar and churchwardens, (fn. 197) was applied in the early 1820s, (fn. 198) though in 1852 arrears for 13 years had to be recovered. (fn. 199) During the 1850s and 1860s occasional distributions of funds were made, mainly to heads of households. (fn. 200) Charles Fettiplace (d. 1674) of Lambourn (Berks.) gave land in Swinbrook and Fulbrook, (fn. 201) apparently by a lifetime gift, to support three almsmen and women in Swinbrook and Asthall. (fn. 202) In 1685 Asthall's annual share was one mark which was paid to a poor person in Asthall Leigh. (fn. 203) In 1824 the land was let for £18, of which a third was allotted to widows in Asthall and Asthall Leigh, most recently in nine 12s. doles. (fn. 204)
Sir George Fettiplace, by will proved 1743, left over £6,000 of Bank and East India Company stock to finance several charities including a school, apprenticeships, and bread doles. (fn. 205) Probably £5 a year was specified for apprenticing poor boys of Asthall and Asthall Leigh, who were to be recommended by the vicar and churchwardens and approved by Sir George's executor and heirs. (fn. 206) Payments due from Sir George's heir ceased in 1768 for several years (fn. 207) and little money was applied in the early 19th century, though six boys and one girl were apprenticed between 1807 and 1824. (fn. 208) Two apprenticeships were recorded in the 1850s and 1860s, when annual income remained £5, and in 1872 the charity was transferred to Asthall school. (fn. 209) The bread charity received £13 a year, though payment ceased in 1772 for some years. (fn. 210) In the early 19th century weekly bread doles were distributed at Swinbrook church to 10 poor people including 4 from Asthall and Asthall Leigh who attended according to a rota. Sir George's original stock was replaced in 1818 with 3½ per cent annuities which were converted into 3 per cent consols probably in 1854.
Before 1759 Robert Pain left £20, the interest (£1 in 1787) to be distributed yearly to the poor of the parish. (fn. 211) From the 1830s to the 1870s the charity was regularly applied. (fn. 212)
Expenditure on parish poor relief increased considerably during the Napoleonic wars and remained high afterwards. In 1775–6, £68 had been spent, and an average of £83 per year in 1782–5. (fn. 213) But in 1802–3 expenditure was £174, over 11s. per head of population. (fn. 214) It reached 21s. per head in 1819–20, (fn. 215) falling to 19s. by 1833–4. (fn. 216) In 1802–3, 8 persons excluding children received permanent out-relief, 10 were in a workhouse, and 2 received occasional relief; the corresponding figures for 1814–15 were 10, 8, and 4. (fn. 217) Charitable resources were augmented marginally during this period by rental income from 21 allotments, which were created by 1824 with land allocated in lieu of furze-cutting rights at inclosure in 1814. (fn. 218) The income, 6d. or 1s. per plot, was distributed with other charity money at Christmas. (fn. 219) From 1834 the newly established Witney poor-law union was responsible for organising statutory poor relief. (fn. 220)
In the late 19th century charitable funds were vested in national trustees. The capital (in consols) of George Fettiplace's charities was transferred to the Official Trustee of Charitable Funds in 1873, (fn. 221) and in 1888 Pain's gift was transferred to the Charity Commissioners and vested in consols. Another £50 transferred to the Commissioners the same year may have represented Lady Fettiplace's charity. (fn. 222) The only subsequent new provision was a bequest of £100 to benefit the poor made by Mary Ann Howes Whiting (by will proved 1921). (fn. 223) In 1973 the Charles and George Fettiplace charities, Pain's gift, and Whiting's charity were merged as the Asthall, Swinbrook, and Widford Relief-in-Need Charity. (fn. 224) Its assets included £1,900 of the Fettiplace capital. The allotments remained separate. (fn. 225)
Education
Village Schools to 1873 Only incidental references to education occur before the mid 18th century. In 1612–13 it was reported that a tenement given for the benefit of the parish had been used partly as a schoolhouse. (fn. 226) In 1738 the vicar was paying for a few children to be taught to read. (fn. 227) In 1743 Sir George Fettiplace left £6 a year for a schoolmistress to teach reading and needlework to 12 girls, including six from Asthall and Asthall Leigh. (fn. 228) He also provided a two-bayed, two-storeyed house in Asthall village on the south side of the main street, (fn. 229) called The Old School Cottage in 1999, to serve as the schoolhouse and mistress's residence. (fn. 230) His executors failed to maintain it, and by 1820 part had fallen down and the remainder was uninhabitable, though still used for teaching. (fn. 231) The mistress closed the school in 1773, perhaps for several years, because her salary was unpaid. (fn. 232) From 1784 the churchwardens presented the mistress for not teaching by the rules; from 1787 to 1791 no children were sent to the school, (fn. 233) though in 1790 there were two Sunday schools of recent origin in which almost 50 boys and girls were taught to read. (fn. 234) By 1808 the Sunday schools had ceased, and in 1819 educational provision in the parish was considered insufficient. (fn. 235) By 1831 boys as well as girls were taught in the Fettiplace school under the endowment, and in 1835 another 4 boys and 6 girls were paid for by their parents. (fn. 236)
In 1842 Miss E.F. Webb, apparently heir to Sir George Fettiplace, transferred the school to trustees. They included the vicar and churchwardens, who became managers ex officio. (fn. 237) At the same time the building was enlarged and made habitable. (fn. 238) Its façade, with segmented-headed windows and pointed doorway, and the rear lean-to probably date from that time. By 1854 the endowment was supplemented by subscriptions from the parish (still levied in 1890), (fn. 239) and a weekly fee of 2d. per child was noted in 1867. The school was then attended by 19 girls and 11 boys, all labourers' children, who were taught by a certificated teacher. (fn. 240) In 1871 the school could accommodate 27 children, and 21 attended on inspection day. (fn. 241)
The Village School, 1873–1924 A new school with accommodation for 60 was built south of the old schoolhouse in 1873, (fn. 242) with financial support from the Diocesan Education Society (fn. 243) and to a design by John Collier of London. (fn. 244) Built of stone with tiled roofs, it comprised in 1963 a single-storeyed rectangular schoolroom, two entrance porches, and a rear closet. (fn. 245) The school came under government inspection in 1884, when there were 28 children on the roll, rising to 38 by 1894, during which time reports were mainly good. (fn. 246) From 1872 an apprenticing charity supported the school (fn. 247) and in 1898 and 1899 the school received grants from the Diocesan Association, after which it was 'in excellent order'. In 1902 the roll was 58. (fn. 248) In 1914 the vicar reported that most Nonconformist parents were happy with the religious education given in the school. (fn. 249)
In 1923 the school was reorganized as a junior school, senior children attending either Swinbrook or Minster Lovell schools. Only 13 children remained at Asthall school, (fn. 250) which was closed in 1924. (fn. 251) The schoolroom became a parish hall, (fn. 252) briefly reopening as a school during the Second World War when 34 evacuees and 9 local children were taught. (fn. 253) In 1956 the schoolroom, schoolhouse, and land were vested in the Diocesan Board of Finance which sold them in 1963, (fn. 254) and the schoolroom was later converted into a private dwelling.
Other Educational Activities In 1866 the vicar held an evening school, (fn. 255) and evening classes were provided intermittently for boys and adults until at least 1896 (usually during winter). (fn. 256) By 1899 only a Bible class was held. (fn. 257) There was also a dame school at Asthall Leigh, apparently by 1861, (fn. 258) which in 1877 and 1883 catered for infants. (fn. 259)