Pages 48-55
A History of the County of Oxford: Volume 15, Bampton Hundred (Part Three). Originally published by Victoria County History, London, 2006.
This free content was digitised by double rekeying. All rights reserved.
MANORS AND OTHER ESTATES
In the late 11th century Asthall belonged to one estate (Asthall manor). During the Middle Ages two more were created, both based on Asthall Leigh and each having a chief house. One was formed in the 13th century from land granted from Asthall manor; it was called a manor from 1343 (Asthall Leigh manor). The other, a large freehold, was created in the late 15th century by the accumulation of smaller holdings (Asthall Leigh freehold). The late medieval pattern continued until the late 17th century when parts of Asthall manor were sold, including the manor house and some land which formed a separate estate (Asthall Manor House freehold).
The pattern changed in the early 19th century. Asthall Leigh manor was divided into two farms in 1801, and in 1810 the Asthall Manor House freehold was joined to a collection of freeholds. After inclosure (1814), the commuted rectory (tithe) estate was the largest, followed by the Manor House freehold (sometimes called Manor farm), Asthall manor (or Kitesbridge farm), and the Asthall Leigh freehold estate (or College farm).
From the 1920s, following land sales, there were three major estates: Asthall manor (the Manor House and Kitesbridge farm); Manor (or Asthall) farm, based on two farms at Asthall previously owned by the manor and expanded in 1956 with rectory land; and College farm, also including former rectory land. Asthall Manor House and its grounds were separated from the estate in 1997.
Asthall Manor
In 1086 an 11-hide estate at Asthall belonged to Roger d'Ivri, who held it in chief (with 2 hides and a yardland at an unspecified location, probably Asthall Leigh) as 3 manors. (fn. 1) Roger died probably in the mid 1090s, (fn. 2) and his widow Adeline in 1110. They left a daughter, Adelize, who died c. 1133, (fn. 3) apparently childless, and the d'Ivri estates probably escheated to the Crown.
In 1163 Asthall manor was held as part of the honor of St Valery by Reynold of St Valery, who may have received the d'Ivri estates soon after Adelize d'Ivri's death. (fn. 4) He was succeeded later that year by his son Bernard (d. 1191). (fn. 5) The honor descended to the latter's son Thomas (d. 1219), whose lands were seized several times by King John for disloyalty. (fn. 6) By the early 13th century c. 11 yardlands (fn. 7) had been granted as a separate estate to Bernard's brother Guy or to the latter's son Reynold, who regranted them in parcels. (fn. 8) Meanwhile the honor and presumably Asthall manor passed in 1219 to Robert of Dreux, eldest son of Count Robert II of Dreux, who had married Thomas d'Ivri's daughter Annora. Robert's lands were forfeited in 1226 after he supported the king of France. (fn. 9)
In 1227 Henry III granted Asthall, as part of the honor of St Valery, to his brother Richard, earl of Cornwall and later king of the Romans. (fn. 10) At his death in 1272 Richard held the 'hamlet' of Asthall as ½ knight's fee, (fn. 11) but had probably subinfeudated most of the manor (including land in Asthall Leigh) to his illegitimate son Sir Richard of Cornwall. (fn. 12) In 1279 Edmund, earl of Cornwall, apparently held the overlordship, (fn. 13) which thereafter descended with the honors of St Valery and later of Wallingford. (fn. 14) From 1300 the mesne manor of Asthall was usually reckoned as 1/5 knight's fee. (fn. 15)
Sir Richard of Cornwall (d. 1299 X 1300) and his wife Joan acquired additional tenements and ½ ploughland from Sir John de Sapey (fn. 16) and a tenement from William son of William Galard. (fn. 17) Sir Richard's son Sir Edmund (d. 1354) held the manor by 1300, (fn. 18) when it was apparently seized briefly by the king after Earl Edmund's widow Margaret claimed dower. (fn. 19) Sir Edmund Cornwall's widow Elizabeth held the manor until 1355 or later; (fn. 20) it then passed probably by 1361 (fn. 21) to their son and heir Sir Edmund, (fn. 22) between 1370 and 1375 (fn. 23) to that Edmund's brother Sir Brian (d. 1391), (fn. 24) and to Brian's son Sir John (d. 1414), (fn. 25) whose heir was his daughter Elizabeth. (fn. 26)
Apparently in 1453 the manor passed to Sir Humphrey Blount of Kinlet (Salop.) (d. 1477), whose right derived from his grandmother Isabel Cornwall, Sir Brian's daughter. (fn. 27) Sir Humphrey's son Sir Thomas appears to have sold the manor after 1494 to Sir Richard Haddon (d. 1516 X 1517), (fn. 28) mercer and sometime mayor of London. (fn. 29) He was succeeded by his widow Dame Katherine (d. 1524 X 1525) (fn. 30) and grandson Thomas, who in 1562 sold Asthall manor to John Andrews (d. 1589). (fn. 31) He was succeeded by his son William, (fn. 32) who with his brother Simon and son and heir John sold the manor in 1609 to John Lenthall. (fn. 33)
In 1612 Lenthall sold the manor to Rice Jones (d. 1615) (fn. 34) and his son Rice, a minor. (fn. 35) The younger Rice presumably came into possession in 1627 on achieving his majority and died probably by 1644. (fn. 36) His son Henry was lord in 1654, when he made a conveyance probably in trust. (fn. 37) He died in 1673 leaving a daughter, Frances, a minor, (fn. 38) who in 1685 married Richard Lumley, Lord Lumley and from 1690 earl of Scarbrough. (fn. 39) In 1687 they granted the manor apparently in trust, (fn. 40) and in 1687–8 sold several parcels including Stonelands (fn. 41) and probably the manor house and some land. (fn. 42) In 1688 they sold the manor, including land and quitrents, to Sir Edmund Fettiplace of Swinbrook, followed by more land in 1689. (fn. 43)
Sir Edmund died in 1707 and was succeeded in turn by his brothers Sir Charles (d. s.p. 1707), Lorenzo (d. 1725), and Sir George (d. s.p. 1743). A nephew, Thomas Bushell (d. 1767), succeeded and took the name Fettiplace, and was succeeded by his son Robert (d. 1799), his younger son Charles (d. 1805), and by Charles's nephew Richard Gorges. (fn. 44) He took the name Fettiplace and died in 1806, leaving his estates to his five sisters as tenants in common. The estates were divided in 1810 (fn. 45) with land in Asthall being allotted to Thynne Howe Gwynne (widower of Mary Gorges), Arabella Gorges, and Diana Gorges. (fn. 46) Before 1812 John Freeman-Mitford (d. 1830), Lord Redesdale, bought c. 262 a. and probably the lordship from Gwynne, (fn. 47) and in 1813 c. 76 a. from Arabella. (fn. 48) After inclosure in 1814 his estate, then known as Kitesbridge farm, (fn. 49) totalled some 282 a. (fn. 50)
During the inclosure of Swinbrook (in 1813) and Asthall Lord Redesdale conveyed most of his Asthall land to the chancellor of Salisbury Cathedral in exchange for land belonging to the Swinbrook rectory estate, of which Redesdale was lessee. (fn. 51) Redesdale became lessee of the Asthall land, (fn. 52) the lease continuing until 1857 when his son John Freeman-Mitford (d. 1886), earl Redesdale from 1877, acquired the freehold from the Ecclesiastical Commissioners (as the chancellor's successor). (fn. 53) Redesdale's lands, including Asthall, passed to his cousin Algernon Bertram Mitford, who took the name Freeman-Mitford and in 1902 was created Baron Redesdale. He died in 1916 and was succeeded by his son David Freeman-Mitford, 2nd Lord Redesdale, (fn. 54) who in 1919 purchased Asthall Manor (the former manor house) (fn. 55) and apparently Manor and Tocques farms and other properties. (fn. 56) He sold Asthall Manor, Kitesbridge, and presumably the lordship in 1926 to Thomas Augustus Hardcastle (d. 1941), and the other farms in 1927–8 to Samuel Walker. (fn. 57) In 1927 Hardcastle conveyed most of his land to his wife Katherine (d. 1967) but retained the lordship and house. Both house and land were later placed in trust and some 90 a. around Holywell barn was sold in 1948. In 1967 Hardcastle's son Anthony Bruce Hardcastle (d. 1997) became principal beneficiary but never claimed the lordship. (fn. 58) In 1997 and 1998 David Davies purchased the estate in two parcels and sold the house separately in 1997. (fn. 59) He died in 2000.
Asthall Manor House Freehold
The main estate sold in 1687 or 1688, probably the manor house and 5 yardlands, was acquired by Henry Peacock (d. 1711) of Cumnor (formerly Berks.), (fn. 60) who was succeeded by his widow Judith (d. 1725) and by their son Henry Heylyn Peacock. (fn. 61) In 1734 the estate, then heavily mortgaged, was bought by Samuel Walter apparently on behalf of John FitzGerald (or Villiers) (d. 1766), earl Grandison. (fn. 62) Villiers was succeeded probably by his daughter Elizabeth Villiers (d. 1782), (fn. 63) created viscountess Villiers and countess Grandison in 1767; (fn. 64) by Elizabeth's son George Villiers (d. 1800), earl Grandison; (fn. 65) and by George's daughter Amelia Gertrude Villiers, who in 1802 married Lord Henry Stuart. (fn. 66) They sold the estate probably in 1805 to their tenant William Bateman (d. 1810). (fn. 67) Bateman devised it to his brother Robert (d. 1826), who had recently acquired freeholds in Asthall totalling c. 200 a. (fn. 68) and who soon afterwards added another 85 a., (fn. 69) creating an estate which comprised over 350 a. after inclosure in 1814. (fn. 70) Robert devised most to his sons Charles (d. 1873) and Henry Bateman (d. 1881), (fn. 71) who were succeeded probably by Henry's son Arthur (d. 1889), (fn. 72) and by Arthur's son Arthur Charles Bateman. In 1912–15 A.C. Bateman owned 541 a., (fn. 73) including half of the Asthall Leigh manor acquired by Henry Bateman in 1862, and Tocques farm (92 a.) which had probably been acquired recently. (fn. 74) The house and probably most of the estate were bought in 1919 by Lord Redesdale, thus reuniting the house with Asthall manor. (fn. 75)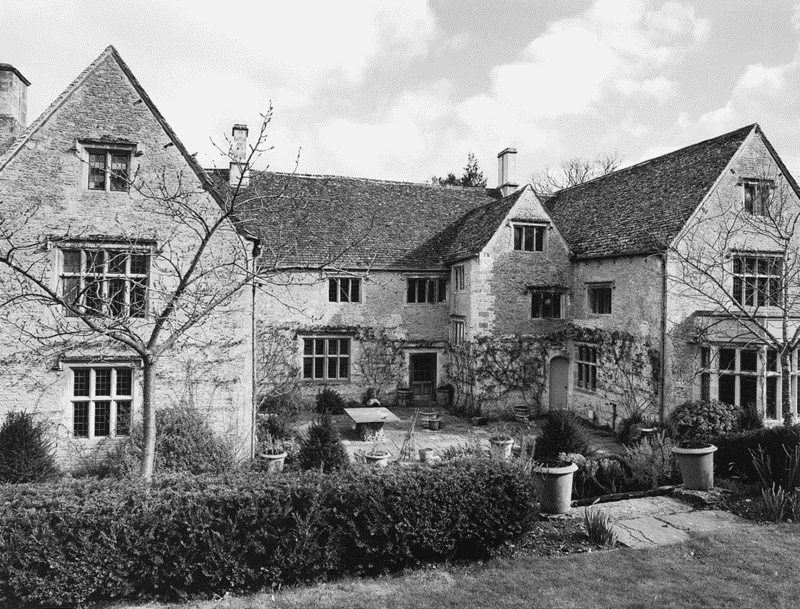 Asthall Manor House
Asthall Manor house dates from the early 17th century, but probably occupies a medieval site: in 1272 Richard, earl of Cornwall, possessed a house and garden worth 12d., (fn. 76) and in 1304 a curia, garden and fishpond worth 10s. were recorded, (fn. 77) perhaps implying some rebuilding. Lady Joan Cornwall and her son Sir Edmund Cornwall were possibly both resident in 1306 and 1316–17. (fn. 78) A house remained in the late 16th century, as lords from 1589 onwards were said in 1633 to have resided in the 'mansion house' of the manor; (fn. 79) the 'site' of the manor and buildings belonging to it were noted in 1591. (fn. 80) The new house was built probably for Rice Jones the elder, (fn. 81) who apparently died in an upper chamber in 1615. (fn. 82) Rice Jones the younger included the manor house in a marriage settlement of 1630. (fn. 83) It seems to have been improved in the mid 17th century for Rice Jones the younger or his son Henry, and in 1662 was taxed on 14 hearths, which suggests that the house had by then attained its later size. (fn. 84) It was occupied by the Jones family until the 1670s or 1680s, later by Henry and Judith Peacock, (fn. 85) and afterwards perhaps by Henry Heylyn Peacock, though in 1733 he had recently been in prison. (fn. 86) Members of the Bateman family occupied the house for much of the 19th century, (fn. 87) and had perhaps done so since the late 1740s, when Thomas Bateman (d. 1772) was a prominent inhabitant. (fn. 88) The Manor was occupied around 1915 by Alfred Herbert of the Ministry of Munitions (knighted 1917), (fn. 89) and was a military convalescent home in 1916. (fn. 90) Subsequent owners were resident. (fn. 91)
The regular appearance, in 2003, of the gabled stone house (Figs 17 and 20) is mainly due to alterations made for Arthur or A.C. Bateman in the later 19th century, by C.E. Bateman of Birmingham for Lord Redesdale c. 1920, (fn. 92) and by Robert Franklin Architects of Oxford for Mrs R. Taylor in 1998–9. Modernisation in 1898–9 included the introduction of an electricity supply, generated by a water-turbine and dynamo installed alongside a small channel fed by the Windrush. (fn. 93)
The house has an H-plan with a gabled hall range of two bays and gabled north and south cross-wings projecting further west than east. A stair tower lies in the south-west re-entrant angle and an apparently contemporary gabled block of one by two bays projects north of the north wing. The hall range had a south crosspassage, represented by a blocked east doorway and by a west doorway into the stair tower. In the mid 17th century the north, parlour wing seems to have been improved by the addition of an east bay window with ovolo-moulded mullions and transoms, and of a well-staircase with turned balusters which originally continued to the attic floor. By 1870 the hall had been divided into two sitting rooms, and there was a central east entrance and a room with a pillar in the centre described as lying south of the hall. (fn. 94) The upper floors, and probably the north staircase, had also been altered. By 1881 the south wing, which was apparently smaller than the north one and had a chimneystack with three shafts, had been replaced with a building belonging to the farmyard. (fn. 95) Between 1889 and 1899 that farmyard range was reconstructed as a south wing matching the north one, and battlemented service extensions were attached north-west and south-west of it; a battlemented east porch was also built. (fn. 96) After 1919 the entrance was moved to the west front, where a north porch was attached to the stair tower, from which the staircase had been removed to form a lobby. The hall was restored to its 17th-century size, and fitted with a miscellany of 17th-century panelling and a 17th-century-style chimneypiece. (fn. 97) Between 1926 and 1941 the interior was redecorated, and until 1998–9 retained its mid-20th century character. In 1998–9 the west front was cleared of the single-storeyed extension to the south wing, and a bay window added to light a newly-created kitchen. The east porch, which had been replaced by a smaller one in 1935, (fn. 98) was reinstated and fitted with the stair tower's 17th-century door.
The farm buildings lay south of the house in 1814 and comprised a barn, a large building to its east, (fn. 99) and a smaller one north of that. (fn. 100) By 1881 farm buildings seem to have replaced the south wing of the house and to have extended along the west side and most of the east side of the farmyard. Most of the west range had been demolished by 1898, and by 1919 all except the barn had gone. In 1898 the only drive was to the west side of the house, but by 1919 an additional entrance had been made in the south-east corner of the grounds, an avenue of trees had been planted along the road leading south-east from it, and a drive had been laid along the east side of the house. (fn. 101) The south-east entrance became disused after 1919, when an arched gateway was made to the main west drive, but was reinstated in 1998–9, with rebuilt gate piers to which abstract sculptures were added in 2000. (fn. 102) A south service court was added to the house after 1919, and the barn was converted into a ballroom-cum-library, with a plaster barrel-vault in Jacobean style and a south-east bay window, and a flat above it. Barn and house were linked by a covered walkway, slightly modified in 1998–9. (fn. 103)
Asthall Leigh Manor
An estate at Asthall Leigh, a reputed manor from the 14th century, (fn. 104) originated in grants to Biddlesden abbey (Bucks.) of lands held by Reynold of St Valery in the early 13th century. (fn. 105) Reynold granted parcels totalling over six yardlands probably before 1219; (fn. 106) a yardland given by Reynold to Ralph Hareng was given to the abbey by the latter's son Ralph before 1236, (fn. 107) and two yardlands granted to Philip Clerk and later to Richard, earl of Cornwall, were given before 1272. (fn. 108) Thomas of St Valery gave Worsham mill and extensive pasture rights, (fn. 109) and in 1272 the abbey held the 'hamlet' of Asthall Leigh. (fn. 110) The overlordship passed before 1279 to Sir Richard of Cornwall with the main Asthall manor, with which it subsequently descended. (fn. 111)
In 1272 the abbey sold its Asthall lands to Robert of Asthall, his nephew Master Robert of Westwell, and to John and Thomas, sons of Walter of Asthall. (fn. 112) Some of the holding was presumably the c. 6 yardlands of freehold at Asthall Leigh owned by John, Thomas, and Walter of Asthall in 1279, held of Sir Richard of Cornwall and some of them sublet. (fn. 113) Before 1316 John and Thomas of Asthall were succeeded by their brother Robert, (fn. 114) and in 1331 Master Robert of Stratfordupon-Avon, apparently Robert's son, conveyed lands in Asthall parish to Thomas of Asthall, clerk, with remainder to Thomas de la More. (fn. 115) More held the lands by 1343, when they were first called a 'manor'. (fn. 116) The manor descended with Northmoor and Lower Haddon (in Bampton) until the early 17th century. (fn. 117)
In 1609 John More sold Asthall Leigh manor to John Hawkins and Bartholomew Peisley of Bampton; (fn. 118) they evidently conveyed it to William and Anne Stratford, who in 1626 sold it to John Stratford and Giles Newland. (fn. 119) In 1628 William and Anne sold the manor back to John More, who sold it in 1636 to Charles Fettiplace (d. 1674) of Swinbrook and Lambourn (Berks.). (fn. 120) He held it until 1674, when it was conveyed probably in trust to John Hippisley, John Collins, and another party. (fn. 121) The manor passed possibly to Fettiplace's grandson Charles Fettiplace (d. 1720), and to the latter's sister Elizabeth, wife of Lawrence Horne: (fn. 122) in 1775 Samuel Horne and John Gilmour were said to be lords of the manor, (fn. 123) and Horne alone was lord in 1785. (fn. 124) In 1790 Edward Horne, presumably Samuel's successor, sold the manor in trust for John Leake and Charles Saunders, both of Witney. The estate was partitioned in 1801, (fn. 125) and in 1814, after inclosure, Leake's half comprised 75 acres. (fn. 126) In 1862 it was held by Edward Timms, (fn. 127) who may have acquired it by 1841. (fn. 128) He was succeeded probably by George Timms (d. 1907), (fn. 129) whose executors apparently owned the estate in 1913. (fn. 130) The other half was devised by Saunders in trust for Edward and Frances Towerzey before 1808, (fn. 131) and was bought from Frances Towerzey in 1861 or 1862 (fn. 132) by Henry Bateman, with whose Asthall estate it thereafter descended. (fn. 133)
Manorial Site
In the early 17th century the manor included a chief house called 'More's Farm', (fn. 134) containing a hall, at least five rooms, and farm buildings. (fn. 135) Possibly it occupied the site of Leake's farmhouse or of the Towerzeys' farmhouse, recorded in 1814. John Leake's estate then included buildings west of Salter's Lane, (fn. 136) which in 2003 were known as 'The Olde Farm' and included a twostoreyed, two-bayed house of the later 18th century. The farm belonging to the Towerzeys' estate in 1814 lay south-west of the crossroads, (fn. 137) and probably included the 18th-century converted farm buildings which survived in 1999. A new farmhouse built c. 1870 in Tudor style, probably commissioned by Henry Bateman, (fn. 138) was called Pinnocks farm in 1999, presumably after the tenant Joseph Pinnock who farmed at Asthall Leigh in the 1850s and 1860s. (fn. 139)
Asthall Leigh Freehold (College Farm)
A freehold, called Asthall Leigh manor in 1493, (fn. 140) was accumulated apparently by Sir Richard Harcourt of Wytham (formerly Berks.), who at his death in 1486 held 14 yardlands reportedly of the earl of Warwick. (fn. 141) The estate included Knightsplace or Knightscourt, (fn. 142) which was first mentioned in the late 13th century, (fn. 143) was released by Sir John Cornwall to Alice Huggenett in 1410, (fn. 144) and passed later to John Golafre (d. 1442) of Fyfield (formerly Berks.), probably with Standridge copse. (fn. 145) Harcourt also acquired a house and yardland called Penihards formerly held by Alice and Golafre, (fn. 146) and probably part of the freehold of 5½ yardlands held by William Galard in 1279, (fn. 147) which was later sold to Sir Richard and Joan Cornwall. (fn. 148)
Though Sir Richard Harcourt's heir was said to be his grandson Miles (d. c. 1514), (fn. 149) his trustees declared in 1493 that under his will the estate was to revert, after a life grant outside the family, to Richard Harcourt, one of Miles's brothers. (fn. 150) It passed presumably to Richard (d. 1513) or to one of his successors at Stanton Harcourt. (fn. 151) In 1587 it was held by Sir Walter Harcourt, who that year sold it to Elizabeth Silvester of Burford. (fn. 152) She died in 1594 or 1595, (fn. 153) the estate passing to her son Thomas who, in 1596–7, sold it to the Queen's College, Oxford. (fn. 154) In 1627 it included 6 yardlands of common-field arable, 47 a. of closes, 20 a. of meadow, and Standridge copse (40 a.). (fn. 155) After inclosure in 1814 the estate, excepting Standridge copse, contained c. 167 acres. (fn. 156) The Queen's College made small additions in 1882 (fn. 157) and 1918, (fn. 158) and sold the estate (by then called College farm) in 1919–20. (fn. 159)
Old Farmhouse and College Farm
In the mid 14th century the holdings later acquired by Sir Richard Harcourt probably included several houses, (fn. 160) but in 1587 only two were listed. (fn. 161) When the Queen's College leased the estate in 1599 only a chief house was mentioned. (fn. 162) This suggests that the estate's farmhouse, which dates from c. 1600, had been built by Elizabeth or Thomas Silvester. (fn. 163) Called the Old Farmhouse in 1999, it is a substantial L-plan building of coursed limestone. Its long range is orientated north-west to south-east; the short range protrudes from the north-west end to the north-east. The entrance is from the north-east angle into a lobby against the stack, and the north-east wing retains its original heavy joists and beams on the ground floor. The whole building seems to have been raised to a full two storeys with attics in the later 17th or early 18th century, and a cross-window on the upper floor has been blocked externally on the north front. Probably in the 19th century the north end of the house was used as a cottage and the south two bays for agricultural purposes; in 1919 the latter contained a store on the ground floor and a granary above. By 1929 the house had become two cottages. (fn. 164) In 1973 it was detached from College farm as a separate property, and converted into a single house in early 17th-century style. Modifications included the insertion of a new south-west stack and a south window to light the large room which replaced the granary.
In 1882 the Queen's College acquired the farmhouse to the north-west, (fn. 165) which by 1919 was considered the estate's chief house (fn. 166) and remained the centre of College farm in 1999. The house has two parallel 19th-century ranges, each of two storeys and three bays. The taller south-east range and the former service or dairy wing to the south-west were apparently built c. 1808 for Robert Bateman, replacing an earlier house; the south-east range has a plain classical façade with rusticated quoins, and an open pediment on brackets above the door. (fn. 167) The north-west range was there by 1881, (fn. 168) and the farm buildings include a 19th-century barn. In the early 17th century the college estate also included a 5-bay barn, 3-bay oxhouse, and 7-bay sheephouse. (fn. 169)
Lesser Estates
Burford Priory Estate
In the early 13th century Henry of St Valery granted to Godstow abbey a yardland and its tenant in Asthall Leigh, (fn. 170) bought from Reynold of St Valery. (fn. 171) The abbey held the land freely in 1279 for 1d. rent to St Frideswide's priory, Oxford, and sublet it for 12s. a year. (fn. 172) In 1318–19 the abbey granted the land to the prior of the hospital of St John the Evangelist at Burford (Burford priory) for 12s. rent. (fn. 173) Joan Cornwall apparently also had an interest in the land, for in 1320 she included it in her endowment of 5 messuages, 4 tofts, 2 yardlands, and rent for a chantry chapel in Asthall church, which she vested in the prior. (fn. 174) Godstow abbey still received the 12s. rent in 1535, (fn. 175) and the hospital retained the land until the Dissolution. (fn. 176)
In 1543 the Crown sold the hospital's properties to the king's master-barber Edmund Harman, (fn. 177) who sold the Asthall lands to Edmund Silvester in 1546. (fn. 178) They passed in 1578 to Edmund's son Edmund, (fn. 179) but in 1590 belonged to Henry Cockerell, who had acquired them from Edward Silvester. (fn. 180) In 1602 Cockerell devised his 'priory land' to his brother Thomas, (fn. 181) who died in 1623 and was succeeded by his son William. (fn. 182) The land was probably among lands devised in trust in 1769 by the Revd Knightly Adams of Preston Capes (Northants.), (fn. 183) who had been a landowner in Asthall Leigh since 1738 or earlier. (fn. 184) They were presumably sold to Charles Fettiplace in 1804 with the Adams estate, which was devised to Richard Gorges and John Kenn of Alvescot the same year, and bought from Kenn by Robert Bateman in 1807. (fn. 185)
Rectory Estate
The tithes of Asthall parish were given to St Mary's abbey at Ivry, Normandy, probably by Roger d'Ivri when he founded the abbey in 1071. (fn. 186) St Mary's retained them probably until the Crown's confiscation of alien priories' possessions in 1414, (fn. 187) though a portion was reserved in the early 13th century for a vicarage, (fn. 188) and from the late 13th century the rest was periodically seized by the Crown. (fn. 189) By 1457 the rectory estate had been granted, presumably by Henry VI, to Eton College (formerly Bucks.), (fn. 190) and by 1504 it was combined with the tithes of Fulbrook. (fn. 191) The estate also contained glebe in Asthall, specified as 4 a. in 1602 (fn. 192) and 3 a. in 1799, (fn. 193) the latter probably statute measurement. By 1686 the estate also included 'Parsonage Mead', 8 a. of meadow given in lieu of tithes from 58 a. in Asthall Leigh meadows. (fn. 194)
In 1800 Eton separated the Fulbrook and Asthall tithes and let the latter in two unequal parcels. (fn. 195) At inclosure in 1814 the college received 2 a. for glebe and c. 360 a. for tithes, while landholders who were unable to surrender land compounded. (fn. 196) Around 218 a., called the 'rectory of Asthall Leigh', (fn. 197) were divided with an additional allotment in 1821 into two farms of c. 114 a., (fn. 198) which were sold in 1919 to William Tombs of Asthall Leigh (fn. 199) and joined to the former Queen's College estate. The glebe and c. 142 a., known as the 'rectory of Asthall', (fn. 200) were sold in 1956 to Rupert Walker of Asthall, and a quarry (on the corner of Worsham Road) was sold in 1965 to H. Jefferies. (fn. 201)
From 1457 to 1501 Eton leased the rectory estate to vicars of Asthall. (fn. 202) Thereafter lessees were laymen, (fn. 203) holding from 1525 on 20- or 21-year leases, (fn. 204) and from 1702 until the late 19th century on ten-year leases renewable every four years. (fn. 205) From 1556 part of the rent was payable in wheat, and from 1585 in wheat and malt. (fn. 206) Lessees were required to maintain the chancel and the rectory barn, (fn. 207) the latter, first mentioned in 1525, (fn. 208) standing about 55 feet south of the village street. Ranged west—east, it measured about 48 by 19 feet, (fn. 209) and was said in 1826 to be of four bays. (fn. 210) It was demolished c. 1872. (fn. 211)