Pages 73-80
A History of the County of Oxford: Volume 15, Bampton Hundred (Part Three). Originally published by Victoria County History, London, 2006.
This free content was digitised by double rekeying. All rights reserved.
BLACK BOURTON
The small village of Black Bourton lies 14 miles (22.5 km) west of Oxford and 5 miles (8 km) south-west of Witney, on gently rising ground some three miles north of the river Thames. (fn. 1) Though the village retains a markedly rural character, during the 20th century the parish's northern part was transformed by the creation and expansion of Brize Norton military airbase and by the associated growth of the new town of Carterton, which began as a colony of smallholders in farmland north of Black Bourton village about 1900. Carterton remained part of Black Bourton parish until reorganization in 1985, long after it had acquired a fully urban character. The following account treats the village and the ancient parish; a separate account of the growth of Carterton is given below.
In 1881 the ancient parish covered 2,379 a., including 27 a. (formerly 39 a.) of detached meadow by the Thames; the parish's main part was long and narrow, cutting across varied landscapes and farmland. The detached meadow was transferred to Bampton in 1886, and 16 a. west of Black Bourton village was transferred to Alvescot in 1954. In 1971 the transfer of 180 a. from Brize Norton parish brought the area to 2,515 a. (1,018 ha.), and the civil parish was renamed Carterton and Black Bourton; in 1985 Carterton became a separate civil parish of 1,106 a. (448 ha.) following a further transfer from Brize Norton, leaving Black Bourton with 1,450 a. (587 ha.). (fn. 2) From the 1950s the ancient parish was effectively cut in two by the extension of Brize Norton airfield across its middle. (fn. 3)
Parish Boundaries and Landscape
In the late Anglo-Saxon period Black Bourton formed part of the neighbouring royal manor of Bampton, and as late as 1318 was claimed to lie within a large preConquest parochia formerly centred on Bampton minster. (fn. 4) Nevertheless its independent boundaries were established in outline probably by the 11th or 12th centuries, (fn. 5) and in the 19th century followed Shill brook on part of the west, a probably ancient route called Calcroft Lane on part of the south, and field boundaries elsewhere (Fig. 28). (fn. 6) Parts of the eastern boundary, abutting medieval inclosures in Lower Haddon (in Bampton), were presumably also long-established. (fn. 7) The boundary south-east of Mill Farm may have been adjusted in the late 12th century when a meadow there, later part of Black Bourton, was transferred from an Alvescot to a Black Bourton manor: certainly abutting inclosures in Bampton seem to have been established after that date. (fn. 8) The boundary in the extreme south-east may similarly have been adjusted or defined after the early 13th century, when Nippenham or Ippenham pasture, later in Black Bourton, was said sometimes to lie 'at Clanfield'. (fn. 9) Straight sections in the south-west may reflect division of Black Bourton's and Alvescot's adjoining common pasture at or before inclosure in 1770. (fn. 10) The boundaries of Black Bourton's detached meadow were redrawn at its inclosure in 1851, (fn. 11) and the parish's north-eastern boundary was altered in 1971 and again in 1985, when the main runway of Brize Norton airfield became the boundary between Black Bourton and Carterton. (fn. 12)
The parish's northern part lies chiefly on cornbrash and, in the extreme north, on Forest Marble; its southern part lies on gravels of the Flood Plain and Summertown— Radley terraces, overlain with loam. (fn. 13) All the soils provided arable of varying quality, the cornbrash proving especially suited in the 18th and 19th century to turnips and sainfoin as well as wheat and barley. (fn. 14) The church stands on a small gravel island of third (Wolvercote) terrace deposits, and other parts of the village on a narrow band of Kellaways Sand and Oxford Clay. Alluvial deposits mark the courses of Shill brook, which divides the parish from west to east, and the northern part of Black Bourton brook, which flows southwards from Shill brook towards the Thames, (fn. 15) and which was artificially straightened during the 19th century. (fn. 16) In the 19th century the parish was 'well-watered', and occasional flooding continued until the 20th century. (fn. 17) The land rises gently from 71 m. on the southern boundary to 105 m. in the north, with no prominent hills; the furlong-name Waterslade, recorded from the 13th century, denoted the gentle rise of the valley side north of Shill brook near the western boundary. (fn. 18)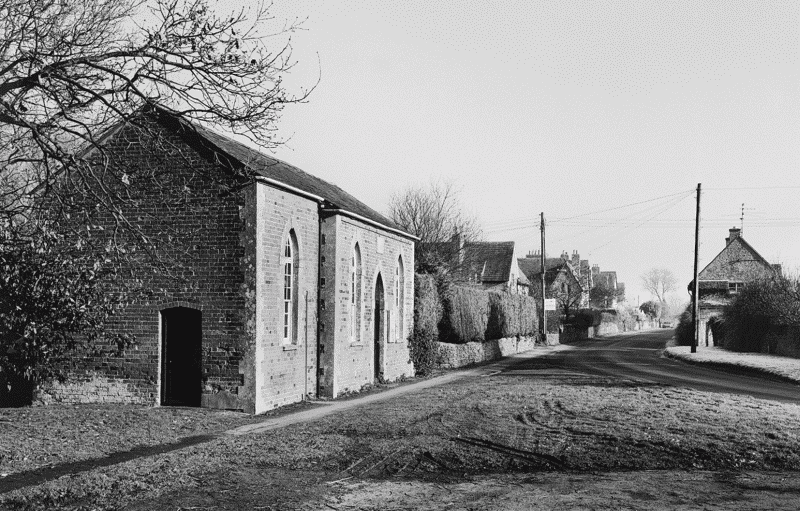 Communications
The east—west road which now passes through Carterton formed part of an ancient route running roughly parallel to Akeman Street, leading north-eastwards to an early crossing of the river Windrush at Witney, and continuing through Cogges to Eynsham. (fn. 19) The Black Bourton stretch was called Street way in the 16th century, (fn. 20) implying that it was metalled in the Roman period, and in the 18th century the road formed part of the route from Witney to Lechlade (Glos.). (fn. 21) An undated cropmark north of Mill Farm suggests an early trackway running on a similar alignment towards Lew in Bampton parish. (fn. 22) The Bampton—Alvescot road, along which the southern part of the modern village stands, was called the 'royal way' in the 13th and 15th centuries, (fn. 23) and in the 18th formed part of the route from Bampton to Lechlade. (fn. 24) Roads northwards to Burford and Swinbrook, mentioned in the 16th and 17th centuries, were presumably medieval or earlier, and in 1753 a 'middle' way seems to have run northwards between them; a branch road to Brize Norton and Witney left the main north road just south of the later railway line. (fn. 25) The road southwards through Clanfield to Faringdon (formerly Berks.) crosses the Thames at Radcot, where there was a bridge by the 13th century. (fn. 26) The road's northern end, just south of Black Bourton village, was evidently the 'causeway' mentioned in the 17th and 18th centuries, (fn. 27) and in the mid 18th it was unusually straight and artificial-looking. (fn. 28) In 1997 it was still lined by deep ditches.
At inclosure in 1770 the Bampton—Alvescot, Witney— Lechlade, and Black Bourton—Faringdon roads were confirmed. The Burford and Swinbrook roads were replaced by a single road following, in part, an ancient way called Keates Lane, and branching to Burford and Swinbrook near the parish's northern edge. The Brize Norton and Witney road was replaced by a new branch road further north, which connected with the earlier route outside the parish. All those roads were 60-foot carriageways, as was Calcroft Lane along the parish's southern boundary, leading westwards through Alvescot towards Fairford (Glos.). Bridle paths and footways included Mill Lane, leading westwards to Alvescot past a later-demolished mill on Shill brook, and a continuation of the same lane eastwards past later-demolished houses. (fn. 29) In 1771 the Burford—Faringdon road was turnpiked, with a toll house at the north end of the village and a side gate by the Alvescot turn. (fn. 30) In 1779 it was 'fit for all manner of carriages', and in 1871 it was said to have been 'much improved' during the previous forty years. (fn. 31) It was disturnpiked in 1878. (fn. 32) The Brize Norton road was suppressed c. 1935 for the building of Brize Norton airfield, and the Burford road in 1951 when the main runway was extended across the middle of Black Bourton parish; thereafter access to Black Bourton village was from the west, south or east only. (fn. 33)
The proximity of the river Thames for water transport was alluded to in 1767. (fn. 34) A Black Bourton carrier visited Witney, Burford, and Cirencester (Glos.) once a week in the late 1840s, and a carrier's porter was mentioned in 1861, but no carriers were noted later. (fn. 35) The East Gloucestershire Railway, from Fairford (Glos.) to Witney, was opened in 1873, with a small red-brick station (called Alvescot Station) by the Alvescot road near the parish's western boundary; its promoters included the leading Black Bourton farmer Henry Akers. The line, merged with the GWR in 1890, closed in 1962, and the station was demolished. (fn. 36) A post office was established apparently in the early 1860s, at first in Mill Farm Cottage near the church on Burford road. It moved before 1881 to a cottage on Alvescot road and closed between 1939 and 1972. (fn. 37)
Settlement and Population
Early Settlement
Extensive cropmarks of unknown date, suggesting prehistoric or later settlement, have been noted southwest of the village near the Alvescot boundary, in the south-east straddling the Bampton boundary, and north of Mill Farm, and there are isolated cropmarks elsewhere on the gravel terraces in the parish's southern half. (fn. 38) Isolated Bronze- and Iron-Age finds have been reported further north in Carterton. (fn. 39) The name Frenchester, for a furlong adjoining Street way, was recorded in the 16th century, (fn. 40) perhaps indicating a Roman or earlier fortification, (fn. 41) while an early 4th-century Roman coin and extensive Roman brick and tile scatters have been found near Street way further west, on the edge of modern Carterton. (fn. 42) A few Roman coins have been found south of Black Bourton village near the Clanfield road, and a few Roman pottery sherds near the church. (fn. 43)
Mid and late Anglo-Saxon settlement may have remained scattered: the furlong-names Cadworth (in the north-west) and Whitworth (south of the modern village) perhaps indicate isolated homesteads predating the open fields, (fn. 44) and undated Anglo-Saxon pottery has been reported west of Mill Farm and south of Black Bourton church, the latter find associated with a single unaccompanied burial. (fn. 45) An undated tumulus in the south of the parish, partly ploughed out by 1907, survived in 1997 as a low but prominent mound, and though variously interpreted may be a Bronze-Age or Anglo-Saxon round barrow. (fn. 46) The place name Bourton, probably tūn by or within a burh, referred perhaps to an unidentified prehistoric or later earthwork near the Anglo-Saxon settlement, (fn. 47) or to the nearby royal and ecclesiastical centre at Bampton; if the latter it would have formed, with Brize Norton and Aston, one of three local satellite names associated with Bampton. (fn. 48) Alternatively it has been suggested that the name incorporates Old English gebur, implying a low-status settlement on the fringe of the Bampton royal estate. (fn. 49) The prefix 'Black', recorded consistently from the late 16th century but not earlier, (fn. 50) referred possibly to dark loams in the parish's southern half, but more likely to the Black (Augustinian) canons of Osney abbey, owners of Abbots Bourton manor; the name Abbots Bourton seems sometimes to have been applied to the whole parish, and was revived in the 19th century. (fn. 51) During the Middle Ages the parish was distinguished as Bourton by Bampton. (fn. 52)
Population from 1086
In 1086 a total of 33 tenants including 5 slaves were reported on the three Black Bourton manors, and on one manor there may have been some unlisted villani or bordars. (fn. 53) Fifty-four tenants were noted in 1279, including eight freeholders of whom most probably resided; since some cottagers and possibly freeholders seem to have been omitted, in all there may have been up to 60 households. (fn. 54) Fifty-five landholders were taxed in 1306 and 1316, and 68 in 1327, implying that Black Bourton was one of the largest rural settlements in the area if not the wealthiest. (fn. 55)
A vicar died perhaps from plague in 1349, and in 1377 only 81 adult inhabitants paid poll tax, suggesting marked depopulation. (fn. 56) Certainly by the early 16th century the population had fallen markedly: 21 people including labourers were taxed in 1523–4, and only 12 were named in the muster rolls of 1542. (fn. 57) From the 1560s, however, baptisms consistently outnumbered burials; average numbers of baptisms rose until the 1630s, fell slightly in the late 17th and early 18th century, and rose again thereafter, (fn. 58) and in the later 17th century the adult population was probably around 130, accommodated (in 1662) in some 40 houses. (fn. 59) Forty houses were reported in 1759, 45 in 1774, and 41 divided into 53 tenements in 1778, (fn. 60) and in 1801 there were 39 houses (2 of them unoccupied) accommodating 51 families, a total of 273 inhabitants, of whom most were agricultural labourers. The population rose to 352 in 66 houses by 1831, falling, though inconsistently, to 260 in 1861 and to 197 in 1901, presumably through emigration. Its rapid increase during the 20th century was due almost entirely to the growth of Carterton, and in 1981, the first year for which separate figures are available, Black Bourton village's population was 243. In 1991 it was 232, comprising 94 households. (fn. 61)
Village Topography
The modern village stands chiefly along the Alvescot— Bampton road, parallel to Shill brook, and rather less densely along the southern part of the intersecting Burford road (Fig. 28). A back lane, now called School Lane, connects the two roads across Shill brook. Late medieval evidence suggests a similar pattern: a predecessor of Manor Farm apparently occupied the modern site on Bampton Road by 1266, with at least two houses to its west, while a 13th-century house whose curtilage extended from the 'royal way' to 'the water' stood probably north of Alvescot road backing onto Shill brook. (fn. 62) Copyhold tenements belonging to Abbots Bourton manor, presumably occupying medieval plots, fronted Alvescot road and School Lane in the 19th century, intermixed with holdings belonging to other manors. (fn. 63) The church's location just west of the Burford road was possibly influenced by the location of its co-founders' manor houses, which in the mid 13th century and probably earlier stood north-west of the modern village by Shill brook, roughly equidistant from the church. (fn. 64) The 13th and 14th-century surnames 'of the churchyard' and 'at churcheye' suggest medieval houses nearby, perhaps fronting the Burford road, (fn. 65) and houses half a mile north of the crossroads may similarly occupy medieval sites. Later-demolished houses a little way east of Burford road opposite Mill Lane, along the southern edge of a small common, existed by the mid 18th century, and since some were copyhold probably also occupied medieval plots. (fn. 66) Thirteenth-century references to house plots adjoining each other suggest density of settlement, though some other houses had crofts or 'land' alongside, and in the mid 15th century a vacant toft lay west of Manor Farm. (fn. 67)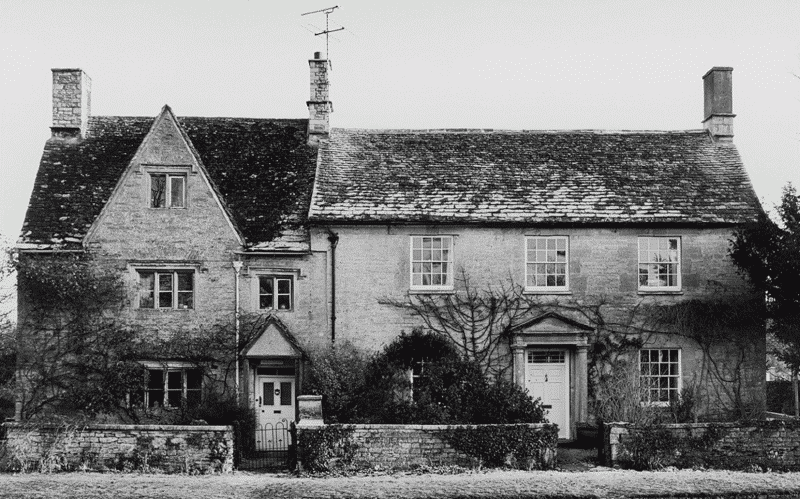 The 13th-century surname 'at green' referred presumably to Spout green, a large triangular space at the intersection of the Alvescot and Clanfield roads bounded on the west by Black Bourton brook. The surname 'at bridge' referred possibly to the crossing of Shill brook by the Burford road, where a bridge of 'considerable antiquity' was replaced in the late 19th century, (fn. 68) while the surnames 'at cross' and 'in angulo' (fn. 69) perhaps both referred to the intersection of the Alvescot and Burford roads, apparently called 'the old cross' in the late 19th century before the erection of a small war-memorial cross there in 1921. (fn. 70) The medieval surnames 'at marsh' and 'of the barrow' may indicate outlying settlement in the south of the parish, (fn. 71) and in the 17th century an isolated herdsman's cottage stood on the common near Clanfield. (fn. 72) Moat Cottage, north-west of the village near Shill brook, existed by 1767, but apart from mills by Shill brook no other outlying sites are known before inclosure. (fn. 73)
Domestic Buildings and Village Development
Buildings to the Late 18th Century
Most older buildings in Black Bourton are of coursed limestone rubble with thatched or stone-slated roofs. (fn. 74) Manor Farm, described below, incorporates a late 15th-century open hall, (fn. 75) but most houses are 17th-century or later and few are of any pretension, reflecting Black Bourton's status as a community of small farmers and copyholders with some moderately wealthy yeomen.
The former Horse and Groom public house near the church, in origin a 17th-century house of three rooms, retains a three-light stone-mullioned window, a chamfered spine beam, and a winder stair against the east stack. A datestone inscribed ITM 1655 was reset under the eaves probably during the late 18th or early 19th century when the roof was heightened, and perhaps then outshuts were added, timber-lintelled casements inserted, and a new south-east doorway made. A stone panel from the demolished manor house, with a finely carved military trophy incorporating the arms of the Hungerford family (a garb between two sickles), was set over the doorway about that time. (fn. 76) Church Cottage, further south on Burford road, is of similar date and size, and Mill Farm Cottages, in origin a slightly larger house of two storeys and attics extended in the 18th century, is dated 1694. (fn. 77) Both houses were subdivided for labourers in the 19th century. (fn. 78)
Rather grander is High House or Fiveways (Fig. 24) facing Spout green, which bears a datestone ITS 1679 for John and Sarah Turfrey. (fn. 79) It seems to have been curtailed on the west in the 1820s when the adjoining Bridge House was built. (fn. 80) The main front has a central bay with a steep, coped gable above stone-mullioned windows with hoodmoulds, graduating from four lights on the ground floor to two in the attic. The interior is well preserved, now with one room on each floor served by a winder staircase against the east stack. The Old Farmhouse, on the west side of Burford Road north of Mill Lane, is a large, later 17th-century house of two storeys and attics, built apparently for one of the larger leasehold farms and temporarily divided into three cottages during the 19th century. (fn. 81) The house, though externally dating chiefly from after 1914, has a three-room plan, with evidence of a lobby entry. An 18th-century extension on the south-west incorporates a projecting oven.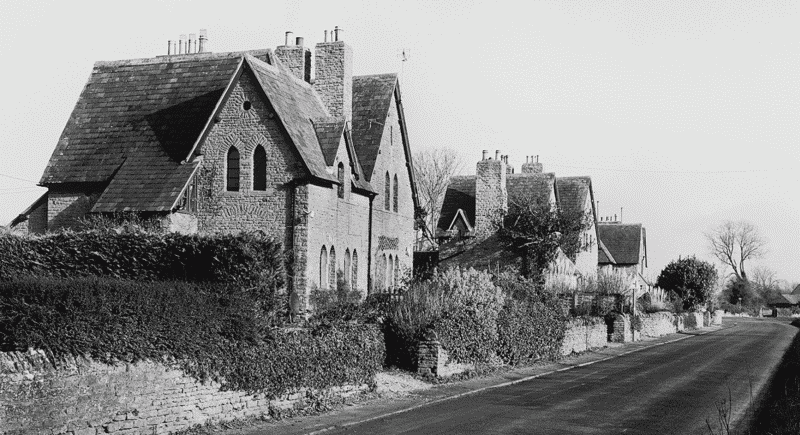 Buildings c. 1770–1900
The outlying Leaze (later Lower or Mill) and Rock Farms were built at inclosure in 1770, the latter (Fig. 34a), named probably from nearby quarries, in former open fields. Most farms continued to be run from existing homesteads, however. (fn. 82) Bridge House (Fig. 24), a small, plain, but fashionable classical villa facing Spout green, was built in the earlier 1820s by the farmer John Cox, replacing part of the abutting High House: it originally had two ground-floor rooms flanking a central entrance hall, with an outshut at the rear. A two-roomed extension at the rear of High House may also be Cox's work. (fn. 83)
In 1836 the vicar claimed that the 'aspect' of both land and village was 'quite changed . . . for the better', (fn. 84) but during the 1840s and 1850s the duke of Marlborough, as principal landowner, was accused of allowing many buildings to decay, in particular copyhold cottages and farmhouses held by lease under Christ Church, Oxford. In 1847 the mill and public house were dilapidated, and in 1859 several cottages on Alvescot road and School Lane were unfit for habitation, while some buildings had burnt down and not been replaced. (fn. 85) Derelict cottages on Christ Church's estate were replaced c. 1863 by 3 pairs of model cottages and a larger lodging block, designed in rustic Gothic style by W.C.C. Bramwell of Oxford, and built of squared and coursed limestone (Fig. 25). Each contained sitting room, kitchen, wash-house, and three bedrooms, and the lodging block, converted into two cottages before 1903, originally accommodated 8 single men and a superintendent. (fn. 86) On the duke's estate, Elmwood House Farm was built as a model farmhouse in 1858 on a vacant site by the Burford road, (fn. 87) and new cottages were built near Rock Farm about 1857, one substantial pair, of stone and Broseley tile, designed by William Wilkinson (Fig. 29). (fn. 88) In 1894 there were good slated or thatched cottages, some of them converted farmhouses, on most of the duke's farms, those in the Old Farmhouse backing onto a paved yard with coalhouses, a pump and sink, and a garden, (fn. 89) and both Elmwood and Rock Farms had pumped water from Shill brook or from wells. (fn. 90)
New institutional buildings were the vicarage house, rebuilt in 1842–3, the Primitive Methodist chapel at Spout green (Fig. 23), built in 1861–2, and the National school on the corner of School Lane and Burford road (Fig. 26), built in 1865. (fn. 91) The chapel is of red brick from Aston (in Bampton), (fn. 92) and brick was used in some other buildings during the later 19th century and earlier 20th.
The 20th Century
From 1900 the growth of Carterton transformed the parish's northern part around Rock Farm, though Black Bourton village itself saw little 20th-century expansion. Moat House was built south of Moat Cottage before 1921, (fn. 93) but most other 20th-century building, in a variety of styles and materials, was confined to infill along the north side of School Lane and the west side of Burford road. Church Close, a small group of houses east of Burford road, was laid out before 1972, (fn. 94) and a few isolated houses were built along Alvescot road west of Spout green; nevertheless, several of the plots cleared of derelict cottages in the 19th century remained vacant in the late 20th. Agricultural buildings at Manor Farm were converted into houses around 1987. Electricity was available by 1934 and mains water by 1939, though some houses were still supplied from wells about 1958, when there was no mains drainage. (fn. 95) An electricity sub-station was built south of the village before 1976, and a sewage works to its north-west. (fn. 96)
Social Life
Customs, Clubs, and Inns
Social activities in Black Bourton are ill recorded. In the 1580s the churchwardens admitted that parishioners sometimes played bowls in the churchyard, particularly during Whitsun week, but denied accusations that there was dancing there. (fn. 97) The parish feast was celebrated in the early 19th century on the Sunday after the Translation of the Virgin (15 August); revellers were joined by people from neighbouring villages, and visiting gypsies and pedlars set up booths, but in the mid 19th century the vicar suppressed the festivities as a 'nuisance'. (fn. 98) A cottagers' club, supported by subscriptions from landowners, was mentioned in 1879, (fn. 99) and a hockey club in 1907 and 1911. (fn. 100)
An alehouse keeper mentioned in 1738 was probably tenant of the Horse and Jockey east of the church, later called the Horse and Groom. A second inn or alehouse, recorded in 1753–4, had closed by 1755. (fn. 101) The Horse and Groom adjoined the Burford—Faringdon turnpike road and evidently offered accommodation, though in the 1840s the stables' dereliction was said to be losing it most of its trade. (fn. 102) By the 1890s it was let to William Clinch and Co. of Witney, which bought it in 1894; (fn. 103) it moved to a new building a little to the north about 1938, (fn. 104) and remained open in the 1990s.
Poor Relief
In the late 15th century and early 16th, lessees of Osney abbey's Black Bourton manor were required by their lease to distribute grain, malt, and other victuals to the poor annually. (fn. 105) The custom was not recorded later, and ended probably at the Dissolution. No endowed charities for the poor are known, and later poor relief was supported almost entirely from parish rates, supplemented, as elsewhere, by distribution of offertory money. (fn. 106) Parish expenditure on the poor in the later 18th century was usually £80 or less, but in line with national trends rose to £266 between 1791 and 1803, when 38 adults and 57 children received permanent out-relief, and 11 others, including 3 outsiders, received occasional relief. (fn. 107) Four 'almshouses' (presumably cottages), provided by Christ Church, Oxford, as principle landowner, were maintained by the parish, and were occupied in the 1770s and 1780s by poor widows or others. (fn. 108) A separate workhouse with accommodation for 30, rented from a Christ Church lessee, was mentioned in 1776 and 1798, when it was a 'good sized farmhouse' with a newly thatched barn, used for storing fuel and for inmates to work in. The workhouse had closed by 1802–3 when £26 was spent on outwork, probably carding and spinning wool. (fn. 109) Overseers regularly paid paupers' medical bills, and provided clothing. (fn. 110)
The parish's total expenditure on the poor rose by 1813 to £502, over 35s. per head of population, though only 33 people were then receiving permanent outrelief. Over the next 20 years expenditure per head fluctuated markedly, falling to 17s. in 1815, reaching 29s. in 1819, and falling back to 13s. in 1822, before increasing to 23s. in 1834. (fn. 111) Thereafter responsibility for the parish's poor passed to the newly formed Witney poor-law union, (fn. 112) though the parish presumably continued to oversee rating, and in the 1850s still appointed an overseer. Labourers' allotments were laid out by the vicar in the 1840s. (fn. 113)
Education
A late 16th-century curate left bequests to eight pupils, (fn. 114) and a vicar in the early 17th century kept boarders in the vicarage house, near which he built a schoolhouse which was later burnt down. (fn. 115) Neither initiative, however, is known to have achieved any permanence. A Sunday school established around 1787 taught reading in the early 19th century, and in 1808 two short-lived dame schools taught up to 80 children reading, sewing, and knitting; (fn. 116) two equally short-lived dame schools in 1835 taught around 20 pupils, and some other children attended Bampton National school. (fn. 117) A night school held in the 1860s and early 1870s had four pupils about 1867, (fn. 118) and there was evidently another small private school in the early 20th century, which a child from Carterton recalled attending at 1s. 6d. a week. (fn. 119)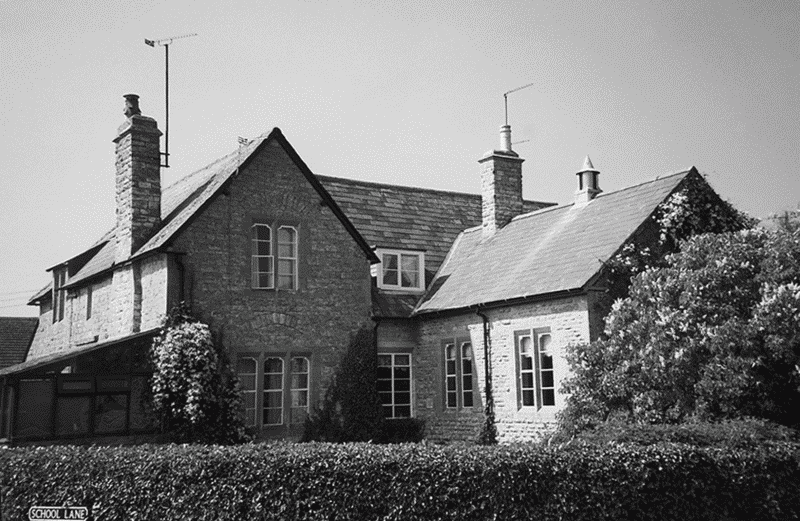 Repeated attempts by the vicar to establish a parish school (fn. 120) foundered until around 1865, when a National school of stone and slate, incorporating a mistress's house and with accommodation for 45, was built opposite the vicarage house on land given by the duke of Marlborough, much of the cost being met by the vicar James Lupton. The architect was Sir George Gilbert Scott and the builder Job Pettifer of Bampton. (fn. 121) The school comprised a single room until around 1905, when additional accommodation was added. (fn. 122) Its income, £73 in 1876, was chiefly from subscriptions supplemented by government grant and parental contributions, and in 1868 the school was 'efficient'; attendance between 1870 and 1906 fluctuated from around 25 to 40. (fn. 123) In 1928 it became a junior school, the older children going to Bampton, and in 1945 it closed, remaining pupils being transferred to Alvescot school. (fn. 124) Both school and house were sold in 1959 and converted to domestic use. (fn. 125)
The Civil War
Anthony Hungerford (d. 1657), resident lord of two Black Bourton manors, was a Royalist heavily fined for delinquency, and his son and successor Col. Anthony Hungerford (d. 1703) was allegedly a Royalist spy in 1655. (fn. 126) Royalist troops were quartered in and around Black Bourton in May 1643, (fn. 127) and contributions towards maintenance of Royalist cavalry were levied in Black Bourton in December 1644. (fn. 128)