Pages 80-85
A History of the County of Oxford: Volume 15, Bampton Hundred (Part Three). Originally published by Victoria County History, London, 2006.
This free content was digitised by double rekeying. All rights reserved.
MANORS AND OTHER ESTATES
In the late Anglo-Saxon period Black Bourton belonged presumably to the large royal manor of Bampton, though if so it was alienated piecemeal before 1066. (fn. 1) Thereafter the parish was divided among three manors, of which one passed in the 16th century to Christ Church, Oxford. The others were bought in the 18th century by the duke of Marlborough, whose successors also rented Christ Church's estate, and thus became effective lords of the whole parish. The estates were broken up piecemeal in the late 19th and 20th centuries. (fn. 2)
Bourton Winslow Manor
An estate of 3 hides, later called Bourton Winslow manor from its 15th-century owners, was held in 1086 by Pain, who also owned the neighbouring manor of Clanfield; he held of Roger d'Ivri, who held of William FitzOsbern, earl of Hereford. (fn. 3) FitzOsbern's right was not mentioned later, and the overlordship descended with d'Ivri's lands presumably to Reynold of St Valery (d. 1163), passing thereafter with the honor of St Valery and later with that of Ewelme. Lords of the latter honor probably still held views for the manor in the 19th century. (fn. 4)
Before the late 12th century the manor was subinfeudated as 1 knight's fee to the resident Burton or Bourton family. (fn. 5) Pain's mesne tenancy descended with his Clanfield manor to the Harengs, Chastillons, and Gernons, but seems to have lapsed in the 15th century. (fn. 6) From Hugh of Bourton (fl. c. 1180) the manor passed to his son Robert (fl. 1200), to Ralph of Bourton (fl. 1230), to another Robert (fl. 1250), and to Robert's son Geoffrey (fl. 1258–79) and grandson Simon of Bourton (fl. 1306). (fn. 7) Simon was succeeded before 1316 by William Poure of Charlton-on-Otmoor (d. 1316 X 1317), and all or part of the manor descended with Charlton and Wendlebury to Richard (d. by 1338), William (fl. 1338), and Sir Thomas Poure (d. by 1398), the last a royal justice said to be 'of Bourton'. (fn. 8) Some lands and rents were held in the early 14th century by John Evermond of Alvescot, who in 1328 impleaded Richard Poure to keep to an earlier agreement, (fn. 9) and until 1385 another part seems to have been claimed by the Buckland and Worth or Wroth families, though on what basis is unclear. (fn. 10) Thomas Poure's son Thomas, a minor and king's ward, died in 1407, and the manor passed to his sister Agnes, who married William Winslow (d. 1414) and Robert Andrew (d. 1437) and who was living in 1441. (fn. 11) Her son Thomas Winslow settled part in 1458 on his daughter Elizabeth and her husband John Terumbere or Towker, reserving rents to himself and his wife, and on his death c. 1463 the manor passed to Elizabeth and her second husband Humphrey Seymour (fl. 1479 X 1501), and to their son Simon Seymour (d. 1523), the lord in 1520. (fn. 12)
In 1541 Seymour's son Alexander sold the manor to Sir Michael Dormer, a London alderman, whose widow Katherine and son John sold it in 1548 to Alexander's son Alexander Seymour the younger. He sold it in 1551 to a London merchant, Simon Lowe, who in 1557 sold it to Sir Anthony Hungerford (d. 1559) of Down Ampney (Glos.); (fn. 13) Hungerford already had interests in the parish, and bought a second Black Bourton manor the same year. (fn. 14) Both manors passed to Sir Anthony's son Sir John Hungerford (d. 1582), to John's widow Dame Eleanor (d. 1591), and to their grandson Sir Anthony Hungerford (d. 1627), succeeded by his younger son Anthony (d. 1657). (fn. 15) William Dalby, who left both manors to his son John in 1593, (fn. 16) was presumably a lessee, and the family was not mentioned later. Under a settlement of 1652 the manors passed to the younger Anthony's son Col. Anthony Hungerford, who seems for a time to have held jointly with his elder brother Sir Edward (d. 1711), the manor house and farm being settled on their mother Rachel (d. 1680). (fn. 17) He was succeeded in 1703 by his nephew Edward Hungerford (d. 1748), Sir Edward's son. (fn. 18)
In 1737 Edward settled the manor on his heir Mary (d. 1775) and her husband Paul Elers (d. 1781), a lawyer. (fn. 19) Elers, long in financial difficulty, sold all but the manor house and some 50 a. in 1768 to the duke of Marlborough, who bought other small parcels, and whose successor, in 1812, acquired the remaining land from Elers's grandson George (d. 1842). (fn. 20) Manorial rights seem to have lapsed before 1894 when the 9th duke sold part of the combined estate, then around 1,667 a., in lots, chiefly to tenants. The remaining farms were sold about 1923. (fn. 21)
Bourton Winslow Manor House (Bourton Place)
A manor house was mentioned in 1279 and 1407. (fn. 22) In the latter year it was said to be worth nothing and was presumably in disrepair, though Thomas Poure (d. by 1398) seems to have sometimes lived in Black Bourton, and his heir was allegedly abducted from there in the early 15th century. (fn. 23) A later manor house, called Bourton Place by the 18th century, (fn. 24) stood near Shill brook at the west end of Mill Lane, presumably the site of its medieval predecessor (Fig. 28); (fn. 25) it was occupied by successive members of the Seymour, Hungerford, and Elers families until 1777 (fn. 26) when Paul Elers may have let it, (fn. 27) and was demolished in 1784. (fn. 28) Quitrent of 5s. owed to another Black Bourton manor for the house from the early 16th century seems to have been for two abandoned medieval freeholds absorbed into the demesne farm by the mid 15th century. (fn. 29)
The house's date of building is unknown, but Alexander Seymour the elder was alleged in the mid 16th century to have allowed buildings to decay, (fn. 30) and it seems likely that the Hungerfords undertook some rebuilding during the 16th or 17th centuries: a carved stone fragment from the house, including the Hungerford crest, survives reset in the former Horse and Groom inn. (fn. 31) In 1665 the house was taxed on 14 hearths, the highest assessment in the parish, (fn. 32) and in 1680 it included a hall, a great and little parlour, and at least 9 chambers, besides a garret, a cellar, and outbuildings. (fn. 33) In the 1760s it was 'excellent but antiquated', with a large hall, wainscotted principal rooms, and stonemullioned casement windows; it was said then to be quadrangular, with Mrs Hungerford's suite of four upper rooms occupying most of one side, (fn. 34) though a plan of 1772 showed a large square central block with wings projecting eastwards. (fn. 35) Materials sold following the house's demolition included a marble chimney piece, timber, doors, and freestone. (fn. 36) Grounds in 1772 included formal gardens east and south of the house and an avenue of trees leading from the main east front to an irregular courtyard beyond, surrounded by agricultural buildings; (fn. 37) sections of garden wall survived in the early 20th century. (fn. 38)
The novelist Maria Edgeworth, Paul Elers's granddaughter, was born at Black Bourton in 1768, presumably at Bourton Place, and spent much of her early childhood there. (fn. 39)
Bourton Inge Manor
Five hides held freely by Turgot in 1066 passed before 1086 to Wimund, who held of Ernulf de Hesdin (d. before 1096). (fn. 40) Overlordship of the manor, later called Bourton Inge from 15th-century owners, passed to Ernulf's son-in-law Patrick de Chaworth, descending with the Chaworths' reputed barony of Kempsford (Glos.) to Henry (d. 1345), earl of Lancaster, and to Henry's son Henry, duke of Lancaster. (fn. 41) The overlordship was still recorded in 1346, but in 1382 the manor was said to be held of Osney abbey's manor of Abbots Bourton for service of a rose, and in 1486 of the lord of Bampton for 40d. rent. (fn. 42)
Wimund's tenancy, later assessed usually as ½ knight's fee, (fn. 43) passed before 1180 to the royal justice Ralph Murdac (d. c. 1198), husband of Eve de Grey but evidently lord in his own right. (fn. 44) The Crown seized the manor with his other lands in 1194 but restored it about 1197, (fn. 45) and on his death it passed to his daughter Beatrice, who married Robert Mauduit (fl. 1212). Eve held it with Beatrice in 1242–3, perhaps as dower. (fn. 46) On Beatrice's death after 1250 the manor passed to Robert Mauduit (d. 1288), probably her grandson, who held it of his elder brother Sir John (d. 1302); (fn. 47) from John it passed with Somerford (Wilts.) to Robert's son Sir John (d. 1347), who with his wife Agnes confirmed it in 1332 to Sir John Inge (d. 1349), the lord in 1346. (fn. 48) Though Agnes (d. 1369) and her second husband Thomas de Bradeston (d. 1360) apparently obtained a life interest (fn. 49) the manor passed reportedly to John (Inge) son of Alice Bassett and before 1376 to his daughter Joan, who married Roger Dore and died in possession in 1382. (fn. 50) Her heir was her cousin John Inge, perhaps father of the John Inge who was lord in 1428. (fn. 51)
The manor passed before the later 15th century, with other Inge lands, to John Storke (d. 1486) and his brother Tristram, (fn. 52) and in the early 16th century, apparently through marriage, to Richard Fitch of Lindsell (Essex) and his son Tristram. Tristram settled it on Richard for life, and in 1550 sold the reversion to Richard Tate of London. (fn. 53) Before 1557 it was acquired by Isabel Seymour, a Storke relative and probably widow of Alexander Seymour the elder, who that year sold it to Sir Anthony Hungerford. (fn. 54) Thereafter it descended with Bourton Winslow manor, with which it was sold in 1768 to the duke of Marlborough. (fn. 55)
Bourton Inge Manor House
Robert Mauduit's 'court' was mentioned in 1258, when he enclosed a croft between it and the church. (fn. 56) Probably it stood some 200 m. west of the church near Shill brook, where rectilinear earthworks and possible house platforms have been noted. (fn. 57) Though the house was mentioned in 1279 later lords were apparently nonresident, and no house was recorded afterwards. (fn. 58) The site was absorbed into demesne closes attached to Bourton Winslow manor house to the north perhaps by the earlier 16th century, when an owner of Bourton Winslow held Murdock's (i.e. Murdac's?) close, and certainly from 1557 when the two manors were combined. (fn. 59) A 2-a. pond west of Shill brook, called the Swan pool in 1772 when it was attached to Bourton Winslow manor house, was perhaps associated originally with the Mauduits' house, and in the 18th century had a large central island and was fed and drained by two branches of Shill brook. It was drained before the later 19th century, and remained visible in the 1980s as earthwork banks within canalized water courses. (fn. 60)
Abbots Bourton Manor
An estate of 2 hides, later called Abbots Bourton, was held in 1086 of William FitzOsbern by Anketil de Grey. (fn. 61) The overlordship descended probably with the Isle of Wight to the Rivers family, earls of Devon, and was last noted in 1368 when the overlord was said, probably in error, to be Robert de Lisle of Rougemont. (fn. 62) Before the mid 12th century the manor was subinfeudated to the Tew family of Duns Tew, and about 1145 Hugh of Tew granted it, still as 2 hides, to Osney abbey, to be held of the Greys as ½ knight's fee. (fn. 63) The abbey made small additions during the 13th century, and retained the manor until the Dissolution. (fn. 64) The Greys' mesne lordship was last recorded in 1368. (fn. 65) Confirmations of Hugh of Tew's grant by Robert d'Oilly during the 12th century were made presumably in Robert's capacity as Hugh's overlord at Forest Hill, which was included in Hugh's grant; (fn. 66) the origin of 1/5 knight fee said in 1346 to be held of Hugh de Plessis by the abbey with the heirs of Robert of Fernhill is not known. (fn. 67)
The Crown granted the manor in 1542 to the new cathedral of Christ and St Mary at Osney, and in 1546 to its successor, Christ Church, (fn. 68) which in the later 16th century and again from 1766 let it with the manorial rights. Lessees included members of the local Dring family from 1552 to c. 1609, and from 1768 to 1862 successive dukes of Marlborough, (fn. 69) with whom small exchanges were made c. 1859 and from whom another 45 a. were bought in 1861. (fn. 70) Christ Church sold most of its land in the 1980s and 1990s, and in 1997 retained only 15 a. and a cottage. (fn. 71)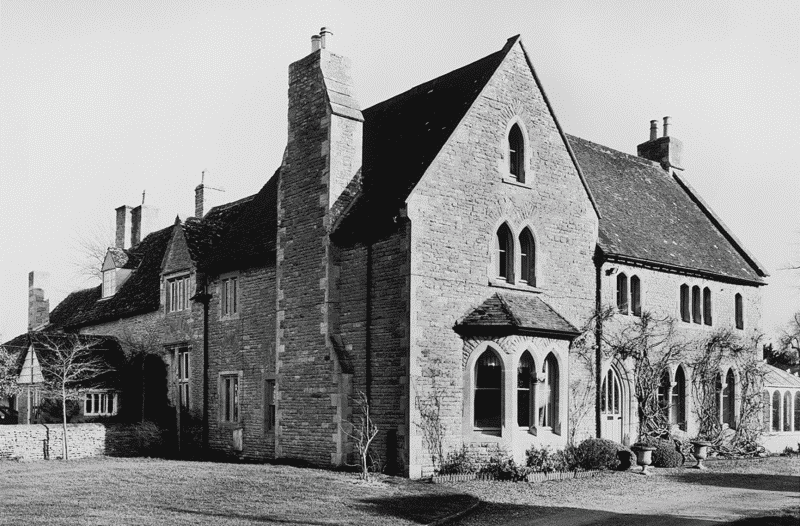 Abbots Bourton Manor House (Manor Farm)
A homestead for Osney abbey's demesne farm existed by 1266, evidently on the site of the modern Manor Farm north of the Bampton road. (fn. 72) Its curtilage may have been extended westwards in the later 13th century, when Geoffrey of Bourton granted the abbey a house between its court or curia and another house lying further west, then let to an abbey tenant. (fn. 73) The buildings were occupied throughout the Middle Ages first by abbey bailiffs and later by lessees of the manor, (fn. 74) and from the 16th century to the late 18th most of Christ Church's lessees, chiefly farming and minor gentry families, seem also to have lived there. (fn. 75) In the 15th century and still in the 18th the lessees were required to accommodate abbey or college officials on manorial business. (fn. 76) Dukes of Marlborough sublet the premises to tenant farmers, (fn. 77) and the house, called College Farm in 1847 and Manor Farm by 1864, (fn. 78) remained a farmhouse until the 20th century.
In 1354 there was a hall, chamber, and dairy. (fn. 79) A Buckinghamshire slater repaired some roofs during the 14th century, (fn. 80) and in the later 15th century and early 16th lessees were to accommodate carpenters, lathlayers, and tilers as required, and to provide 1,000 tiles for repairs at their own cost. (fn. 81) A lessee in the early 16th century claimed to have made 'much new building', (fn. 82) and premises in the mid 17th century were taxed on 8 hearths, (fn. 83) presumably including outbuildings. The surviving house, (fn. 84) two-storeyed with attics, incorporates part of a late medieval range aligned north-south, a large 19th-century block containing the principal rooms, which abuts to the south, and a small single-storeyed north addition (Fig. 27). The 4-bayed medieval part, of the late 15th century or early 16th, has rubble walls and a stone-slated roof with raised-cruck principals, similar to some Bampton examples; the two southern bays were formerly an open hall with, until renovation c. 1987, heavily sooted roof timbers. (fn. 85) The two northern bays, comprising a wide cross passage and probably service rooms, were built apparently as two storeys, though most of the surviving roof timbers are 19th-century. The splays of the western doorway are perhaps original, but nothing remains of the opposing doorway. A floor was inserted into the hall before 1617, when there was a chamber above it; other rooms then included a parlour, buttery, pantry, and kitchen (all with rooms above), a study, and a brewhouse, dairy, and cheese house, perhaps freestanding. (fn. 86) A stack was built into the cross passage presumably when the hall was divided, and new stonemullioned windows were inserted. A tall mullioned and transomed west window suggests a remodelling c. 1700.
In 1859 the house needed 'considerable repairs', (fn. 87) and about 1861–3 it was extensively refurbished by W.C.C. Bramwell of Oxford: (fn. 88) chimney shafts and some walling were rebuilt, windows were replaced, repaired, or moved, internal staircases were resited, and the west entrance porch was rebuilt to its old design with a new weather-boarded gable. Perhaps then the eastern doorway and other openings in the east wall were blocked. At the same time a new main south block was added, comprising a large gabled range of two storeys and attics with a ground-floor bay window, and a two-storeyed eastern range. Its Ruskinian Gothic style, combining finely carved naturalistic ornament, innovative casement and shutter designs, and high-quality plaster and joinery details, recalls the University Museum in Oxford, where Bramwell was clerk of works. (fn. 89) In 1987–8 the house was internally divided roughly between the old and new blocks. (fn. 90)
A 'great' and 'little' barn were mentioned in the 14th century, together with a 'little house' containing agricultural produce, and in the late 15th century there seems to have been a barn along the curtilage's western edge. (fn. 91) In 1753 there were four barns and two stables besides a brewhouse, dairy, and offices, most of them probably north and west of the house as later. (fn. 92) A large dovehouse needed repair in 1798, though a stable and loft had been recently rebuilt, and several farm buildings were repaired or replaced c. 1861. (fn. 93) Surviving agricultural buildings, of the mid 18th-century and later, were converted into houses c. 1987–8. (fn. 94) Straight drainage channels in a former orchard to the east are presumably remains of a fishpond mentioned in 1774, perhaps of medieval origin. (fn. 95)
Rectory Estate
Two thirds of the demesne tithes of Roger d'Ivri's manor, (fn. 96) granted in 1074 to the newly founded chapel of St George in Oxford castle, passed with the chapel in 1149 to Osney abbey, (fn. 97) to which the rectory estate was appropriated in two halves in the late 12th century and early 13th. (fn. 98) The abbey retained the estate, comprising great tithes and apparently 1 yardland, (fn. 99) until the Dissolution, when it was granted with the abbey's other Black Bourton land to the cathedral of Christ and St Mary and, in 1546, to Christ Church. (fn. 100) In 1433 the abbey exchanged tithes in Bampton for tithes in Black Bourton and for a 15s. pension from the vicars of Bampton, still paid in the 18th century. (fn. 101) Both the abbey and Christ Church let the rectory estate with Abbots Bourton demesne farm, with which the glebe became merged; (fn. 102) the tithes, also let, were valued at £60 in 1753. (fn. 103) At inclosure in 1770 the tithe of all except 45 a. of old inclosure around Bourton Winslow manor house was commuted, Christ Church and its lessee receiving 177 a. in lieu. (fn. 104) Remaining rectorial tithes, received only from 10 a. of arable, were commuted in 1845 for a rent charge of £3, (fn. 105) which was given to the vicar in 1864. (fn. 106)