Pages 196-230
A History of the County of Oxford: Volume 16. Originally published by Boydell & Brewer for the Institute of Historical Research, Woodbridge, Suffolk, 2011.
This free content was digitised by double rekeying and sponsored by Victoria County History Oxfordshire. All rights reserved.
RURAL PARISHES
Bix
Bix is a Rural parish characterized by a typical Chilterns landscape of woodland and steep valleys, small common- and road-side hamlets, and isolated farms. (fn. 1) Despite its proximity to Henley, the presence of a major through road, and some 20th-century development, much of the parish remains inaccessible and remote. In the Middle Ages the area comprised two main manors, Bix Brand and Bix Gibwyn, each with its own church and parish; a smaller estate called Bromsden (Brun's Hill) lay in the south-west. The manors were absorbed into the Stonor estate in the 14th century, and the parishes united in the 15th. By the 18th century settlement was focused in the south-east, near Bix Common and in the Assendon valley, and in the 19th century the hamlet by the common became generally known as Bix 'village'. (fn. 2) The medieval settlement pattern seems to have been more complex and dispersed. (fn. 3) For most of its history the parish supported a farming population, but from the end of the 19th century there was a gradual increase in wealthier residents in non-agricultural employment.
Parish Boundaries
In 1878 the ancient parish measured 3,078 a., much the same as its estimated acreage in 1840. (fn. 4) The parish was much larger and more elongated than its modern counterpart: its northern arm, which formed the tip of Binfield hundred, stretched up into the hills as far as Redpits on the edge of the Chiltern ridge, near Park Corner in Swyncombe. (fn. 5) Its middle part was almost severed in two by a large incursion from neighbouring Nettlebed, which left only a thin tongue of land within the parish north of Bix Bottom. The boundaries were complex, following a particularly convoluted course in the north-west, where even in the 19th century several sections were marked as undefined. (fn. 6) Estate maps of 1725 and 1788 suggest that the 18th-century parish boundaries were similar, at least in those areas shown. (fn. 7)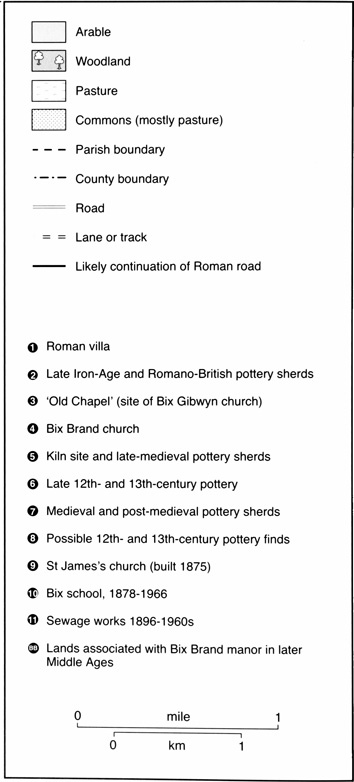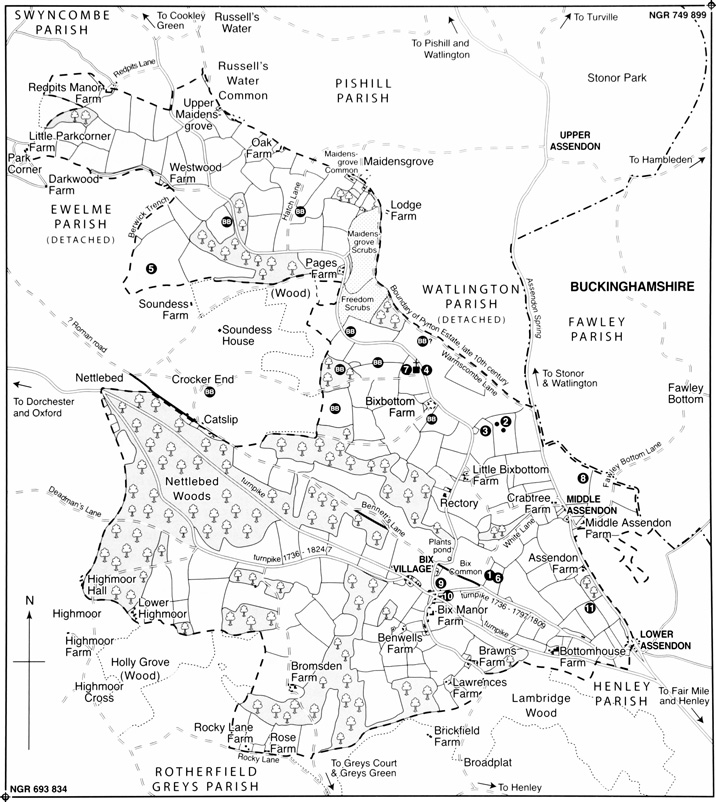 The 18th- and 19th-century parish comprised two amalgamated medieval parishes, whose boundaries, in turn, were almost certainly derived from those of two late Anglo-Saxon estates at Bix recorded in 1086. Some sections of the 19th-century parish bounds were certainly of considerable antiquity. A short stretch of the eastern boundary coincided with that of the shire, (fn. 8) while the western boundary with Swyncombe, Nettlebed and a detached portion of Ewelme followed that of Binfield hundred, established almost certainly before the Norman Conquest. On the same side a short stretch at Catslip, near Nettlebed village, followed part of the former Roman road from Dorchester. (fn. 9) The remainder of the parish's eastern boundary, adjoining Pishill and Warmscombe, probably divided the large Bensington estate (to which Bix belonged) from the neighbouring estate of 'Readanora' by the mid Anglo-Saxon period, and in the 10th century the Warmscombe Lane section formed part of the bounds of the Pyrton estate. (fn. 10) Much of the southern parish boundary followed Grim's Ditch, which separated Bix from the neighbouring estate of Rotherfield Greys probably by 1086. (fn. 11)
The internal boundaries of the medieval parishes and manors cannot be precisely reconstructed. Nonetheless, it seems that Bix Brand lay north of Bix Gibwyn, as early county maps suggest, (fn. 12) and in the 12th century a lord of Bix Brand was once said to be of 'Bixest', suggesting that he lived in the (north-) eastern part of Bix. (fn. 13) Fields and woods associated with Bix Brand manor in the later Middle Ages appear to have been mainly in Bix Bottom (where the now ruined medieval church of Bix Brand is located), and in the northern arm of the parish, while Bix Gibwyn manor included land in Bix Bottom and further south and south-east (Fig. 50). (fn. 14) This distribution of land may explain the odd shape of the ancient parish, with the lands of Bix Brand stretching up the dip slope from the centre east, and those of the more southerly Bix Gibwyn extending up into the Nettlebed Woods in the west.
The boundaries of the ancient parish were greatly altered in the 20th century. Bix acquired 124 a. from Ewelme in 1931–2, extending its area to 3,203 acres. In 1952 it lost 149 a. to Highmoor, 349 a. to Nettlebed and 868 a. to Swyncombe, acquiring 661 a. from Badgemore. These changes reduced the overall area to 2,498 acres. Nettlebed Woods and the whole northern arm from Freedom Wood northwards were removed from the parish, and an area in the south-east was added, including Henley Park. This shift in focus resulted in the parish being renamed Bix and Assendon in 1986. A further small reduction left it with 987 ha. (c. 2,438 a.) in 1991. (fn. 15)
Landscape
Bix lies on the dip slope of the Chiltern hills, with the dry Bix Bottom and Assendon valleys cutting down through the eastern part of the parish towards Henley (Plates 1–2). (fn. 16) The relief is very uneven, particularly in the north. The highest point is around 190 m. (near Redpits), and the lowest 53 m. (at the bottom of the Assendon valley). The geology is complex, and includes exposed chalk in parts of the north and centre of the parish and Coombe deposits on the narrow valley floors. There are large areas of clay-with-flints in the west, gravel deposits north-east of Bromsden and around Bix 'village', Reading Beds in the south, and a smaller area of sandy clays in the south-west. (fn. 17) Soils are varied, but mainly stony, light and acidic. (fn. 18)
As across most of the upland Chilterns, there are no surface rivers or streams, and water has historically been in short supply. Until the 20th century, domestic and farm water was largely provided by ponds, tanks and deep wells, (fn. 19) and there was at least one common pond in the Middle Ages. (fn. 20) The Assendon valley is periodically flooded by the 'Assendon Spring', which rises near Stonor, but this probably never provided a regular stream. (fn. 21)
The modern parish is well wooded, particularly on the clay soils of the west. (fn. 22) Although woodland has probably always been extensive, its area fluctuated over the centuries, with considerable medieval and later clearance in the south-west and in the north. (fn. 23) By 1840 woodland covered a quarter of the parish, and in the late 19th century it was increased by plantation on former farmland north of Pages Farm (close to a former rifle range much used during the Second World War). (fn. 24) In the 1960s 300 a. around Freedom Wood was clear-felled, but was later partially replanted. (fn. 25)
Despite the substantial woodland, the landscape was at least partly open by the Roman and Anglo-Saxon periods. (fn. 26) In the Middle Ages some farmland was probably organized in small common fields, but private closes predominated by the 15th century. (fn. 27) In most periods permanent pasture and open common were fairly limited, and meadow in particular seems always to have been in short supply due to lack of streams, with only 3 a. belonging to each main manor in 1086. (fn. 28)
Communications
The chief roads through the modern parish are the Henley–Oxford road (now the A4130), which cuts east–west through Bix 'village', and the more minor south–north road running from the Fair Mile up the Assendon valley to Stonor, through Lower and Middle Assendon. (fn. 29) Both of these roads (despite some re-routing) are of considerable antiquity and importance, although until the 19th century the road pattern was both denser and more complex, reflecting the parish's dispersed settlement and scattered agricultural resources. The main east-west route is almost certainly of Roman or earlier origin, (fn. 30) though its modern course is the result of late 18th- and 19th-century improvements. The Roman road ran north of the present road, up Bix Hill, across the later Bix Common, and on past Catslip to Nettlebed along the line of Bennett's Lane (now a bridleway). That this route was still important in the Anglo-Saxon period is suggested by the fact that the stretch near Nettlebed formed part of the parish boundary; much later, Bennett's Lane was called a 'king's highway' when repaired in the mid 18th century. (fn. 31)
From the Middle Ages, however, the main east-west route seems to have taken a more southerly course from Bix Common along the line of a surviving bridleway, which followed valley contours to Highmoor Trench and then northwards to Nettlebed through Nettlebed Woods. In the 17th century this road was called the 'upper highway from Nettlebed to Henley' and the 'London road'. (fn. 32) This was the route turnpiked in 1736, confirming its status as one of the chief roads from London to Gloucester and beyond. (fn. 33) A toll gate was set up in Bix 'village' in 1772 and the toll house survives as a private house. (fn. 34)
The road was diverted to its modern course in two stages: firstly from the Fair Mile to Bix 'village', where a more southerly 'new road' replaced the ancient Bix Hill route between 1797 and 1809, (fn. 35) and secondly between Bix 'village' and Nettlebed, where a more direct route uphill was constructed between 1824 and 1827, when permission was given to block up Bennett's Lane. (fn. 36) Although the turnpike trust was abolished in 1873, the continuing importance of this road was underlined in 1937 when the section up the steep hill between the Fair Mile and Bix 'village' became a dual carriageway. (fn. 37) This involved the demolition of several buildings, including the original Fox pub. (fn. 38)
The south-north road up the Assendon valley was apparently also of early importance as a route to Oxford and beyond. (fn. 39) The stretch from the Fair Mile to the Assendons was called the 'Assendon Way' in the 15th and 16th centuries, (fn. 40) and the 'lower highway' in 1602. (fn. 41) In the early 19th century, a turnpike gate at the end of the Fair Mile levied tolls on the road through the Assendons. (fn. 42)
A second south-north route through Bix Bottom, now a minor road stopping near Pages Farm, (fn. 43) appears to have once been more significant. In 1392 and 1480 it was a 'royal highway', (fn. 44) and in the 18th and early 19th century it continued to Cookley Green, (fn. 45) linking with roads to Ewelme, Watlington and Nettlebed, and more locally to Crocker End, Soundess, Maidensgrove, Westwood and Redpits. The fact that it ran past the site of both of Bix's medieval churches, presumably focal points of settlement, also suggests its early importance. (fn. 46) It remained the chief access to the one surviving church until the later 19th century, but its significance as a through route towards Oxford was apparently declining by the later Middle Ages when vegetation encroached on the stretch beyond, both reflecting and reinforcing shifts in settlement. (fn. 47)
A similar fate befell the road running south from Bix Common into Greys (past Bix Manor Farm) and thence to Henley, which it has been suggested formed part of an ancient route to Henley from the Chilterns ridgeway at Park Corner (Swyncombe). (fn. 48) Though still of some importance in the 19th century, thereafter it declined to a minor access road.
Transport and Post Office
From c. 1887–95 a carrier to Henley operated on Thursdays; by 1915 a daily service had been established, although it was not mentioned later. (fn. 49) Earlier Bix may have been served by carriers from neighbouring parishes such as Nettlebed and Pishill. (fn. 50) For public transport, Bix 'village' benefited considerably from its position on the main Oxford–Henley road. Numerous stage coaches running through Henley by the late 18th century must have stopped at the Bix turnpike, (fn. 51) and by 1924 the Oxford–Henley bus passed through four days a week. Four years later this service was operating daily, and a daily Cheltenham–London bus also passed through. During the Second World War the increase in local population and movement put considerable strain on transport, and in 1940 a more frequent bus service was 'an absolute necessity'. (fn. 52) By the early 1950s various bus companies ran fairly regular services. (fn. 53)
Mail was delivered from Henley in the 19th century. (fn. 54) By the later 1870s there was a sub-post office in Bix 'village' (for many years in the old toll house), and a post box in Middle Assendon. (fn. 55) In 1931 the post office was also a telephone office, but closed by the early 1970s. (fn. 56) From the early 20th century until the early 1960s there was also a sub-post office in Lower Assendon; (fn. 57) this was replaced by one at 3 Fawley Bottom Lane in Middle Assendon, which closed after 1988. (fn. 58)
Population
Seventeen peasant households were recorded in Bix in 1086, 11 (including one slave) on the later Bix Brand estate, and six at what became Bix Gibwyn; there were also two (and possibly three) manorial centres, and perhaps some unrecorded free tenants. (fn. 59) The figures imply a total population of around 85–100. (fn. 60) The inhabitants presumably lived, as later, in dispersed settlements, although there was probably a greater concentration of population in Bix Bottom than in subsequent periods. (fn. 61)
Evidence for the 12th and 13th century is scanty, but signs of assarting in the more wooded west suggest that Bix experienced the population growth which occurred in the Chilterns as in the rest of England. However, any such growth seems to have stalled before the 1340s, by which time a substantial amount of land had gone out of cultivation in Bix Brand. (fn. 62) After the Black Death, the population was perhaps about the same as in the late 11th century: the 1377 poll tax was levied on 45 individuals over 14 years of age, suggesting a total population of around 80–100. (fn. 63)
Population was slow to recover and may have fallen further in the late 14th and early 15th centuries. From 1390 to 1414 the Bix Brand tithing comprised between six and eight men, (fn. 64) and in 1428 there were said to be fewer than ten households in Bix Brand. (fn. 65) There seems to have been modest growth by the later 17th century, when the 1665 hearth tax listed 14 households in Bix Gibwyn and eight in Minigrove (apparently including Bix Brand), while the Compton Census of 1676 suggests an adult population of around 126. (fn. 66) In the early 18th century there were c. 50 houses, perhaps rising to 60 or 70 later in the century. (fn. 67) By then most houses were in the south of the parish, reflecting a shift in population which apparently began in the later Middle Ages. (fn. 68)
The census enumerated 303 individuals in 1801. The population had increased substantially to 427 in 1841, but 10 years later had dropped to 367, apparently because several large families had moved to Henley and elsewhere. Numbers rose once again into the early 1870s (426), but declined in the 1880s and 1890s, falling to 360 in 1901, an effect, no doubt, of agricultural recession. There was some increase by 1911, and then very rapid growth between 1931 and 1951, when the population almost doubled from 439 to 812, probably partly due to war-time immigration. (fn. 69) Boundary changes in 1952 left the reduced parish with a population of 487, rising to 529 ten years later, and to 696 by 1971. By 2001, however, the number of residents had dropped to 531, presumably because rapidly rising house prices tended to increase the proportion of wealthier older people living in small households. (fn. 70)
Settlement
Modern settlement is focused on Bix 'village' and on the peripheral hamlets of Lower and Middle Assendon (both strung along the road to Stonor in the Assendon valley), with numerous isolated farmhouses and cottages of which many lie near the parish boundaries. Earlier settlement was apparently characterized by a larger number of small centres, although evidence is fragmentary until the 18th century, the date of the earliest surviving estate maps. The location of both of Bix's medieval churches in Bix Bottom, near the narrow neck of the parish, suggests an additional likely focus of early settlement, apparently largely abandoned by the 17th or 18th century; the medieval estate at Bromsden implies another. (fn. 71) Much of the later growth of Bix 'village' and Lower Assendon seems to have resulted from the increasing volume of traffic along the Henley–Nettlebed road from the 18th century.
Settlement to the 11th Century
A number of Palaeolithic and Mesolithic finds have been made on the peripheries of the parish, notably near Nettlebed and Russell's Water. (fn. 72) The first signs of permanent habitation come from the Iron Age and Roman periods. In a steep field in Bix Bottom called Giles's Hill, the laying of a gas pipeline led to the discovery of ditches and pits containing charcoal, burnt flints and late Iron-Age and Roman pottery fragments. (fn. 73) Further Roman pottery of the mid 3rd to 4th century has been found in two cottage gardens in the valley bottom, together with part of a stone building probably of similar date. These finds suggest settlement over a long period, but of unknown and possibly varied character. (fn. 74) Half a mile south, a small 3rd- and 4th-century corridor villa (26 m. long and 13 m. wide), perhaps built on top of an earlier building, was located to the east of Bix Common, close to the Roman road. (fn. 75)
Evidence for Anglo-Saxon settlement is thin, but 10th-century charter bounds suggest that the local landscape was closely organized and, presumably, occupied. (fn. 76) At present the only archaeological finds from within the parish come from the Roman villa site: a post-Roman flint platform (with no associated artefacts), and two later Anglo-Saxon shallow burials. (fn. 77)
The establishment of the Bix Brand, Bix Gibwyn and (probably) Bromsden estates before the mid 11th century presumably involved the creation of separate estate centres. (fn. 78) Bromsden may have had a centre somewhere near Bromsden Farm, and though the locations of the Brand and Gibwyn manor houses are unknown, (fn. 79) probably they lay near the associated medieval churches, which were almost certainly established by late Anglo-Saxon or Norman lords of the respective estates. Bix Brand church survives as a ruin in Bix Bottom, a mile north of the present 'village', while the demolished church of Bix Gibwyn stood c. 700 m. to the south-east, at what was probably the northern end of its parish. Archaeological investigation has confirmed its location in an oval-shaped former glebe field labelled 'Old Chapel' on a map of 1725, where Roman remains were also discovered. (fn. 80)
Medieval and Later Settlement
The medieval settlement pattern was presumably one of small dispersed hamlets and isolated farmsteads. How late the putative settlement or estate centres in Bix Bottom continued is unclear. Small amounts of medieval pottery have been found at the sites of Bix Brand and Bix Gibwyn churches, and reportedly further south. (fn. 81) But the manor houses apparently fell into decay in the late Middle Ages (in 1388 there were no buildings at all at Bix Brand), (fn. 82) and the surviving medieval church was probably isolated by the 16th or 17th century.
The smaller estate at Bromsden may have included several resident households in the Middle Ages, despite apparently having no tenants in 1086. (fn. 83) Two landholders in Bromsden besides the Brands were mentioned in the early 13th century, at least one with a resident tenant, (fn. 84) and a harvest overseer, bailiff and estate servants were mentioned in 1336–7. (fn. 85) By the 16th century, however, Bromsden seems to have become a single farm, as part of a wider reorganization and amalgamation of holdings across the parish during the 14th to 16th centuries, which must have affected settlement. (fn. 86)
The hamlet near the present Bix 'village', south-west of Bix Common and close to the Henley road, was well established by the 17th century, (fn. 87) and was probably of medieval origin. A dense scatter of late 12th- and early 13th- century pottery found in a field off the old Bix Hill road, (fn. 88) close to the Roman villa site, may mark the site of an abandoned farmstead near this hamlet. On the eastern fringe of the parish, Nether Assendon was mentioned in 1409, (fn. 89) distinguishing it from Upper Assendon (later Stonor), and by the 17th and 18th centuries Middle and Lower Assendon had distinct identities. The latter, often called Assendon Cross from the 17th to 19th centuries, (fn. 90) straddled the parish boundary with Henley, while Middle Assendon was almost wholly in Bix. (fn. 91)
Other areas of settlement by the 16th and 17th centuries, possibly also medieval in origin, included a small group of cottages at Minigrove (later Maidensgrove) in the north, partly in Pishill, (fn. 92) and part of the hamlet of Highmoor in the south-west, which was mainly in Rotherfield Greys. (fn. 93) By the 16th century there were peripheral farmhouses at Redpits, Pages and Rocky Lane, and by the 17th century two in Bix Bottom (Valley Farm and Little Bix Bottom) and another on Rocky Lane (Rose Farm). (fn. 94)
Development from the 18th Century
In the 18th and early 19th century much of Bix 'village' was strung along the lane towards Greys. (fn. 95) Buildings here included Bix Manor, Benwells Farm and Lawrences Farm, all 17th-century farmhouses, and Brawns, an early 18th-century gentleman's residence. (fn. 96) Further north, on the main road, were a handful of cottages, the Fox pub (probably set up after the road was turnpiked), and, from the later 18th century, a toll house. (fn. 97) There was also a cottage on the north-western edge of the Bix Common. (fn. 98) By 1841, 33 of the parish's 85 households (almost 40 per cent) were living in this loose collection of farms and cottages. (fn. 99)
In the 1870s the pre-eminence of the 'village' was accentuated by the building of a church on the western edge of Bix Common and a school and teacher's house nearby. (fn. 100) For a time at the end of the 19th century two cottages close to the main road were used as beer houses. (fn. 101) A handful of large houses were built close to Bix Common before 1914, (fn. 102) followed by eight council houses in 1927 and ten more in 1947–8. (fn. 103) When the Fox was demolished in 1936 Brakspear's Brewery built a large new Fox pub over the road, designed to attract motorists and families as well as drinkers. (fn. 104) In the 1960s, a number of other private houses were built around the west and north of Bix Common and on the upper part of the old Bix Hill road. (fn. 105)
In the early 18th century the Assendon hamlets each comprised little more than a handful of farms and cottages. In Middle Assendon, buildings included Middle Assendon Farm (15th- or 16th-century), Webbs Farm (perhaps c. 1600), and the early 18th-century Crabtree Farm. (fn. 106) Further south was the later 17th-century Assendon Farm (now Home Farm). At the top of the Fair Mile, Assendon Cross comprised a little group of 17th-century farmhouses, including the Golden Ball (later an alehouse). In the 18th and early 19th centuries several labourers' cottages were added around a small patch of waste near the Golden Ball, belonging to Benson manor. (fn. 107)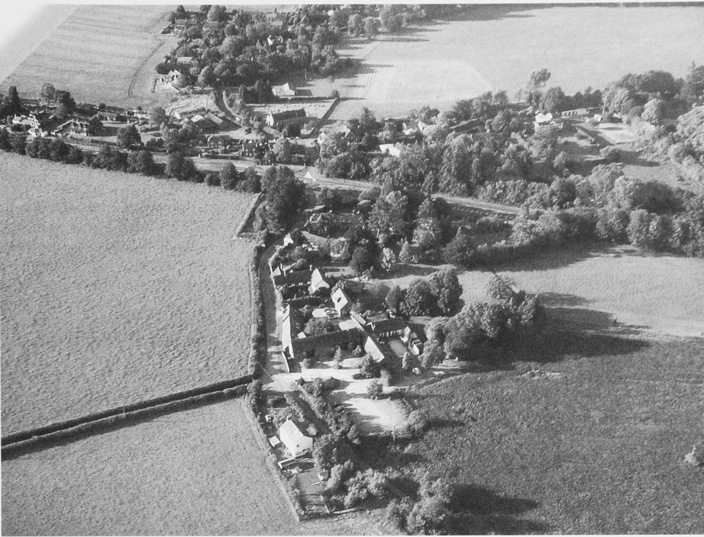 These little hamlets came to be amply provided with alehouses. A tenement called The Royal Oak in Middle Assendon was mentioned in 1702; possibly it was an earlier incarnation of The Rainbow, a beer house in operation by the mid 19th century. (fn. 108) By the 1730s, the Golden Ball in Lower Assendon was servicing traffic along the turnpike road. (fn. 109) The Rainbow and Golden Ball were still trading in 2010. Two other pubs, the Assendon (or Red) Cross and the Travellers' Rest, were in the part of Lower Assendon formerly included in Henley. (fn. 110)
Both hamlets remained very small in 1841, with 12 households in Lower Assendon (including the lower part of Bix Hill) and only eight in Middle Assendon. There was slight growth in the later 19th century, when a saw mill was established in Middle Assendon, and Bix Hill House and a few more cottages were built up the Bix Hill road, (fn. 111) but they were still small settlements in the earlier 20th century. (fn. 112) Development could hardly have been encouraged by the presence of a sewage works between Middle and Lower Assendon, which Henley Corporation established in 1896, and which remained in use until the early 1960s. (fn. 113)
The 20th century saw more substantial growth, particularly in Middle Assendon. Several large houses were built in the inter-war period; in the late 1940s or early 1950s eight council houses were put up at 'Valley Cottages'; and in the early 1960s twelve bungalows were built at 'The Green'. By the mid 1960s half a dozen houses had been built on White Lane, (fn. 114) and in 1967–8, after the closure of the saw mill, 16 new homes were built around two existing houses in Mill Close. (fn. 115) One or two other outlying areas also saw some development in the 19th and 20th centuries. At Catslip, partly in Nettlebed, a small collection of houses and cottages was built on the Bix side of the parish boundary in the 19th and earlier 20th centuries, including six council houses in the mid 1920s. (fn. 116) By 1971 the parish as a whole contained 230 separate dwellings, a number which remained fairly stable thereafter. (fn. 117)
The Built Character
The buildings in Bix are varied, creating no strong overall impression. (fn. 118) Middle Assendon and parts of Bix 'village' have an increasingly suburban feel thanks to 20th-century development, while outlying areas are characterized by isolated and secluded farmhouses and cottages. Buildings vary in size and date: mainly 17th-and 18th-century farms and cottages are interspersed with nondescript 19th- and 20th-century houses, including some council houses and a handful of grander residences. A few of the modern houses appeared in the first two decades of the 20th century, (fn. 119) but most date from the 1920s to the late 1960s. (fn. 120) The later 20th century also saw the conversion of farm buildings to domestic use.
Most of the older buildings were originally fairly modest. (fn. 121) Bix has only three pre-20th-century houses which might be thought of as 'gentlemen's residences' rather than farmhouses: the former rectory house (later Bix Hall), (fn. 122) Brawns, and Assendon Lodge. Even these had attached or nearby farmyards in earlier periods. Brawns is a red brick, early 18th-century, architect-designed gentleman's residence. (fn. 123) It was offered for lease or sale in 1761 and 1776, having been occupied by a Captain Brawne (or Braund), who had gone abroad with the East India Company. (fn. 124) The brick-and-flint Assendon Lodge was apparently built by the Stonors on part of the Middle Assendon farm site. Constructed in the mid 19th century, it may originally have been plainer, and has later alterations. (fn. 125)
In addition to these residences, two surviving farmhouses stand out as being larger and better built than the others. Rocky Lane Farm, on the parish's southern boundary, is a well-constructed, symmetrically-fronted, late 16th- or early 17th-century flint and brick building, with a cellar. (fn. 126) It seems to have been held as a freehold property before being acquired by the Greys Court estate after 1840. (fn. 127) Redpits 'manor and farm' was recorded in the 16th century, and the core of the present building (Fig. 54) appears to be the timber-framed house shown on a map of 1694–9. (fn. 128) It was then the seat of a gentleman farmer's freehold estate, and comprised a two- or three-storey, timber-framed house, with dormers and a gabled cross-wing, an adjacent walled garden, and a very large farmyard.
The rest of the farmhouses were originally small, most probably with only three hearths. (fn. 129) The two earliest are late timber-framed hall-houses: Middle Assendon Farm, probably 15th- or early 16th-century, and Pages Farm (Bix Bottom), perhaps early to mid 16th-century. (fn. 130) The majority date from the 17th century, which seems to have marked the earlier part of a period of relative agrarian prosperity. (fn. 131) A few are 18th-century, including Bromsden (presumably replacing an earlier building) (fn. 132) and Westwood; (fn. 133) and one or two others are 19th-century.
Many farmhouses have been subject to substantial piecemeal extension. With some this occurred fairly early on: additions were made in the 16th and 17th century at Middle Assendon Farm, (fn. 134) and in the 18th and 19th century at Little Bix Bottom Farm and Home Farm, Middle Assendon, reflecting the fruits of successful farming operations. The Stonors added large new wings at Bromsden and Bix Manor in the 19th century, in the former case perhaps as part of a short-lived scheme to provide domestic accommodation for Lord Camoys's butler, and in the latter possibly to help attract a better tenant. (fn. 135) But in many instances substantial extensions came only with the conversion of farmhouses to purely domestic buildings in the later 20th century, as at Pages Farm, Brawns, Redpits, and Rocky Lane. (fn. 136) Work on the last two was particularly lavish, including the conversion of Redpits' farmyard into a garden and the construction of a set of replica 'Cotswold' barns at Rocky Lane.
A number of other 17th- and 18th- century houses also survive, mainly around Bix 'village' and the Assendons. Some of these may have originated as farmhouses, but were apparently later detached from their farms or smallholdings and used as labourers' accommodation or for other purposes. Seventeenth-century examples include the timber-framed Pilgrim Cottage (re-converted from two cottages in the early 20th century), Handy Water Cottage, and the Golden Ball in Lower Assendon. (fn. 137) Other slightly later buildings, typically brick or brick and flint, seem to have been designed to house the growing number of farm labourers, like Vine Cottage in Middle Assendon, the well-built mid- to late-18th-century flint row at the top of Fawley Bottom Lane in Middle Assendon, (fn. 138) several cottages near the Golden Ball, and examples by Bix Manor, south of the main road. Many of these buildings were extended in the 19th and 20th centuries.
A handful of rather grander residences were added around the turn of the 20th century: the very large Orchard Dene, Lower Assendon (converted into flats in the earlier 20th century); (fn. 139) Cross Leys (1904) on the old Bix Hill road (demolished and replaced in the late 20th century); (fn. 140) and the new rectory house (1912), north of Bix Common. (fn. 141) A few of the inter-war and mid to later 20th-century houses are also substantial, including one or two in the Assendons and north of the common. (fn. 142) The lavishly-built new Fox pub (1936) was a grand 'roadhouse' with three bars, built in the 'Chilterns vernacular' style favoured by Brakspears' in the 1930s. (fn. 143) Many of the farmhouses were renovated and extended in the second half of the 20th century, a reflection (like the smattering of swimming pools which appeared by the 1980s) of spreading 'gentrification'. (fn. 144)
MANORS AND OTHER ESTATES
Bix seems to have been one of the places separated from the extensive royal estate of Bensington in the late Anglo-Saxon period. (fn. 145) At first it may have formed a single 5-hide holding, but if so it was divided into two estates of 2½ hides before 1066. (fn. 146) Both manors continued for much of the Middle Ages, and by the 13th century were distinguished by the family names of their holders, Gibwyn and Brand. (fn. 147) A third and smaller medieval estate was that of Bromsden in the south-west. (fn. 148)
The expansion of the Stonor estate in the later Middle Ages greatly altered the pattern of landholding in Bix. (fn. 149) The Stonors, based at nearby Stonor in Pyrton parish, had land in Bix from at least the 13th century, and from the late 14th, despite some grants to Dorchester abbey, they held both the main manors, together with Bromsden. In the 18th and 19th century they owned around half the land in the parish, comprising c. 1,500 a. south of Freedom Wood; (fn. 150) some of their land in the south was sold in the 17th century to the Benwells, and some former Bix Brand land in the north before 1725. (fn. 151) A major sale in 1894 finally ended their landholding dominance. (fn. 152) Much of the rest of the parish belonged at various dates to neighbouring estates. (fn. 153)
Some of the earlier lords seem to have been resident, including members of the Bix, Brand and Abingdon families. (fn. 154) Both manorial sites were apparently in decay by the late 14th century, however, (fn. 155) and the Stonors and most other later landowners were based in adjacent parishes rather than Bix itself until the 20th century.
Bix Gibwyn Manor
In 1086 the estate later known as Bix Gibwyn was held by Hugh Bolbec, who held of Walter Giffard (d. 1102). (fn. 156) Giffard's overlordship continued until 1245 when it fell to the Crown, having passed first to Giffard's son Walter (d. 1164) and subsequently, with his other possessions, to the FitzHerberts and Marshalls, earls of Pembroke. (fn. 157) The mesne lordship remained with the Bolbecs until c. 1175, passing through marriage to the de Veres, earls of Oxford. (fn. 158)
The Bolbecs granted the manor to tenants before 1166, when Ralph Gibwyn, with Gilbert Brekespere, held two knights' fees of Walter Bolbec. (fn. 159) Ralph was alive in 1184, but before 1213 was succeeded by his son Geoffrey, a judge under Henry III, and probably a graduate in holy orders. (fn. 160) Two senior Exchequer officials, said to be holding the fees in the 1220s and again in 1242–3, were probably trustees for Geoffrey, who seems to have become insane towards the end of his life. (fn. 161) Geoffrey died in possession in 1235, having spent his last years at Osney abbey; (fn. 162) his heirs were Robert Lisle and Robert Brian, probably relatives through marriage. (fn. 163)
By 1242–3 Giles Lisle (Robert Lisle's heir) and Robert Brian held the nearby Gibwyn manor of Marsh Gibbon (Bucks.), (fn. 164) and by 1254–5 Bix Gibwyn also, by then valued at only one knight's fee. (fn. 165) Both families sold their portions of the manor in 1314, the Lisles to Richard Damory, (fn. 166) and the Brians to John (later Sir John) Stonor (d. 1354); (fn. 167) by then the Lisle share was sublet to two men. (fn. 168) Thereafter the manor descended in two parts until the mid 14th century, when it was reunited by the Stonors and became absorbed into their other local holdings. (fn. 169)
Bix Brand Manor
In 1086 the estate which came to be known as Bix Brand was held of the king by a royal servant called Hervey, who also held an estate at Ibstone (partly in Bucks.) to the north, and had appropriated the profits of half a hide of waste in 'Verneveld', an area associated with the royal manor of Bensington. (fn. 170) By the 13th century Bix Brand was held as half a knight's fee of the honor of Wallingford; (fn. 171) possibly it became attached to the honor along with other nearby lands following Robert d'Oilly's death c. 1092. (fn. 172)
Nothing further is known until 1166, when the estate appears to have been the half fee held by one Hugh son of Osbert. (fn. 173) Hugh seems to have been the Hugh of 'Bixest' (presumably East Bix) who gave land in South Stoke to Eynsham abbey before 1196. (fn. 174) Peter of Bix, Hugh's son, was lord in 1196–1212, (fn. 175) but dead by c. 1220. (fn. 176) His successor, another Hugh, was dead by 1223, (fn. 177) leaving a daughter, Emma, who soon afterwards married Robert Brand. (fn. 178) Robert died between 1258 and 1261, when his daughter Christiana quitclaimed two thirds of Bix and other manors to Maurice Berkeley, in return for his help in recovering possession of them. (fn. 179) Christiana may have been in dispute with her brother John, who was already married but still a minor. (fn. 180) John was probably in effective possession, and Christiana's efforts evidently came to nothing since John held the half fee in Bix as well as Robert's lands at Bensington in 1275–6. (fn. 181) In 1300 Bix was held by Maud Brand, almost certainly John's widow. (fn. 182)
In 1316 Bix Brand seems to have been held by Margaret, wife of Nicholas of Abingdon, the largest taxpayer in Bix in 1306; (fn. 183) possibly she was John and Maud's heir. By 1340 the manor had passed to John Thedemersh (d. after 1346) and his wife Maud (of Abingdon), apparently Nicholas and Margaret's heir. (fn. 184) Maud died before 1362, having granted the manor from after her death to Thomas of St Omer, one of the Black Prince's retainers. The manor was initially taken into the Black Prince's hands (as overlord), but two thirds was released to Thomas's widow and daughter (Alice Hoo) in 1365. (fn. 185)
Before 1373 the manor was apparently acquired by Thomas Waryn, who that year confirmed it to Walter Huwet. (fn. 186) The property conveyed included lands and rents in Bix, Goring and Bensington, (fn. 187) among them a chief house and two ploughlands (presumably demesne), and 78 a. of wood. (fn. 188) Huwet's widow Ameta seems to have granted the manor in 1377 to Edward III's notorious mistress Alice Perrers (d. 1400). (fn. 189) Alice forfeited her properties the same year, but in 1380 Bix and other estates were confirmed to her husband William Windsor, Bix to be held by him during the lives of Ameta Huwet and others. (fn. 190) William died in 1384, (fn. 191) and before 1390 the manor was acquired by the Stonors, (fn. 192) already owners of Bix Gibwyn, Bromsden and other lands; it remained part of the Stonors' combined Bix estate thereafter. (fn. 193)
Bromsden Manor
Bromsden manor or farm lay in the parish's south-west corner, its lands partly in Rotherfield Greys. (fn. 194) Bromsden was probably the hide of land held from the king's soke of Bensington in 1086 by a royal servant called William. (fn. 195) It was apparently acquired before 1236 by the lords of Bix Brand, who still held it in 1279; (fn. 196) the Stonors also had lands there by 1224–5, however, when Richard of Bromsden, in a dispute over half a yardland, claimed that Richard Stonor (d. 1225) was his lord. (fn. 197) In 1314 John Stonor (d. 1354) acquired free warren over demesne lands in Bromsden as well as in Bix Gibwyn and Bix Brand, (fn. 198) and the estate was certainly in Stonor hands by 1334, when (as on some later occasions) it was called a 'manor'. (fn. 199) In 1388 it was described as a ploughland held of Bix Gibwyn manor, (fn. 200) although in 1394 and 1415 it was associated with Bix Brand, and was held of the honor of Wallingford. (fn. 201) In the 16th century the Stonors leased the manor to the Rowse family, who sublet it. (fn. 202) By the 17th century it was usually called a farm, and remained part of the Stonors' estate thereafter, leased to various tenants. (fn. 203)
The Combined Stonor Estate
Following the acquisition of Bix Gibwyn and Bix Brand the combined Stonor estates in Bix, including Bromsden and other pieces of land acquired earlier, (fn. 204) were administered as part of the family's general holdings in the area. (fn. 205) Some land was sold before 1725, (fn. 206) but the majority of the Bix estate descended with the family's other property through the main line until the late 19th century. (fn. 207)
In 1894 the Stonors sold much of the outlying part of their estate, including some 780 a. in Bix. (fn. 208) The main properties involved were Bromsden and Merrimoles farms (598 a., partly in Rotherfield Greys), carrying with them manorial and sporting rights in Bix; Bix Manor farm (143 a.); and Benwells farm (28 a.). The major purchaser of the Bix land was H. H. Gardiner, who, as part of his purchase of the Stonors' Nettlebed estate, acquired the manorial rights along with Bromsden and Merrimoles.
In 1903 the Nettlebed estate was bought by Scottish financier Robert Fleming (d. 1933), who became lord of the manors of Bix, Bromsden and Nettlebed. (fn. 209) Fleming sold part of the estate, but the Bix lands passed briefly to his son and then to his grandson (Robert) Peter Fleming (d. 1971). Peter Fleming bought further land in the south of the parish, including Bix Manor farm in the late 1950s, (fn. 210) and in 2009 his estate remained in the possession of his daughters Kate Grimond and Lucy Williams, who both lived locally.
Further Stonor lands and woods were sold in the earlier 20th century, including Bix Bottom farm (215 a.). (fn. 211) In 1931 the main Stonor properties in Bix were Crabtree farm (108 a.), Middle Assendon farm (53 a.), and Little Bixbottom farm (71 a.), the latter (re-) acquired in the later 19th century. (fn. 212) Middle Assendon and Little Bixbottom farms were sold before 1952, and Crabtree farm shortly afterwards. (fn. 213)
Other Estates
In the late 13th and early 14th century Dorchester abbey built up a sizeable estate in Bix. In 1275 it received permission to appropriate the small rectory estate of Bix Brand, and in 1285 seems to have won a case against Maud Brand over her dower share in this, comprising a third of a house and of 7 acres. (fn. 214) Probably the rectory estate was the abbey's only land in Bix in 1291, when its possessions there were worth just 1s. 8d.; (fn. 215) in 1316–17, however, it acquired over 200 a. and several houses in and around Bix by exchange with John Stonor and others. (fn. 216) The abbey seems to have alienated its Bix lands before the Dissolution, although part of its estate may have been added to the glebe. (fn. 217) That remained with the church until the late 19th and early 20th centuries, when it was sold and broken up. (fn. 218)
A significant remaining acreage belonged at various dates to neighbouring estates. The lords of Rotherfield Greys, Fawley (Bucks.) and Phyllis Court owned land in the south of the parish in the Middle Ages, although its extent in that period cannot be determined. (fn. 219) The Greys' land, amounting to c. 195 a. in the 19th century, was sold in 1922 along with Lawrences farm (acquired in 1901) and Rocky Lane farm, both of which were partly in Rotherfield Greys parish. (fn. 220)
Much of the northern arm of the parish, including Redpits farm (partly in Swyncombe), woodland around Westwood Manor Farm, and land in Minigrove, belonged until 1627 to Ewelme manor. (fn. 221) In the 16th century Redpits itself was occasionally called a 'manor' (fn. 222) (centred presumably on Redpits Manor), and afterwards it formed a freehold estate of c. 293 a., including 119 a. in Bix. (fn. 223) By the early 18th century Redpits, along with other land in the north and west, had become part of the reputed manor of Soundess, centred on Soundess House in Nettlebed, which included land in Bix in the early 17th century. (fn. 224) Most of the Soundess estate was subsequently bought by Sambrooke Freeman (d. 1782) of Fawley Court, (fn. 225) and the MacKenzies (as the Freemans' successors) owned 882 a. in the parish in 1903. (fn. 226) Redpits, however, was retained by trustees of the Taverner Wallis estate until sold to George Grote in 1785. After Grote's death in 1830 his son sold the farm to the tenant, Thomas Cottrell. (fn. 227) Other land in the north was associated with the reputed manor of Minigrove, which was established by the 16th century and possibly included Berrick Trench near Westwood Farm. (fn. 228) The estate apparently included woodland which had belonged to the prior of Canterbury's manor of Newington in the Middle Ages. (fn. 229) In the 18th century its lord claimed ownership of land in the north of Bix against the Freemans, who claimed it as part of Soundess; (fn. 230) in the 19th century the estate included c. 90 a. around Maidensgrove Scrubs and Freedom Wood. (fn. 231)
In the mid 1920s A. A. Dale acquired an 844-a. estate in Bix through purchase of land from the Mackenzies. In 1931 he owned the 215-a. Bix Bottom farm, 60 a. of Manor farm, 54 a. formerly part of Soundess farm, and 515 a. of woodland. (fn. 232) This land, all north of the Oxford road, was sold soon after, much of it to F.M. Bond in the mid 1930s to create the Halfridge estate. That in turn was sold in the late 1960s and early 1970s, partly to the new Warburg nature reserve, which acquired 253 a. north of Pages Farm in 1967–8, (fn. 233) and partly to Maj. Gen. Lord Alvingham, who bought land in Bix Bottom and west of Bix Common in 1968–9. Alvingham's purchases included Bix Hall (the former rectory house), where he lived in 2010. (fn. 234)
ECONOMIC HISTORY
Until the 20th century, the economy of the parish was overwhelmingly based on mixed farming and woodland exploitation, with limited local industry, craft production and retailing. Much of the land was fairly poor, but farming problems were partly counterbalanced by good access to markets, including Henley. (fn. 235) Agricultural employment declined from c. 1880, thanks to farming depression, dairying and mechanization. Towards the end of the 19th century a significant number of jobs were provided by the saw mill established in Middle Assendon, but the period from the mid 20th century was one of economic stagnation: local businesses shut down as Bix increasingly became a dormitory area.
Medieval Agriculture
The Structure of Farming
In 1066 and 1086 the two Bix manors were valued at £3 each, and in 1086 both were said to have land for seven ploughs. (fn. 236) Bix Brand was apparently more intensively exploited in 1086, with six ploughs in operation compared to four in Bix Gibwyn. The majority of farmland was then in tenant hands: only one of the six ploughs at Bix Brand was in demesne (run by a slave), while the other five were held by eight villani and two lower-status bordars. At Bix Gibwyn two ploughs were in demesne, and two used by six villani. On the small Domesday estate probably identifiable with Bromsden there was a ploughland and 4 a. meadow, although apparently no tenants on a holding which had declined in value from 20s. before the Conquest to 12s. 6d. in 1086. (fn. 237)
Little further evidence is available until the 14th century, when much of Bix had become part of the Stonor estate. (fn. 238) In 1388 the Stonor demesne in Bix comprised 60 a. of arable in Bix Gibwyn (two thirds of which lay fallow), and 100 a. in Bix Brand (including 40 a. fallow). A ploughland at Bromsden was leased to Thomas Egham for 4 marks a year. (fn. 239) The Stonors continued some limited direct farming at Stonor in the 15th century, but seem to have leased out most or all of their outlying lands in Bix. (fn. 240)
Stonor tenants held differing amounts of land by various tenures. In the late 14th and early 15th century some in Bix Brand occupied cottages, crofts, or quarter, half and whole yardlands. Some held freely by charter, while other tenancies were customary or at will. Customary tenants owed suit of court and paid small entry fines, but there is no evidence of labour services, and the demesne seems to have relied on hired workers. (fn. 241)
How farmland was physically organized is uncertain, but as in neighbouring parishes there were probably some small open fields in the valleys and on flatter ground. (fn. 242) Communal organization is implied by mention of yardlands, and some sort of common field system seems to have survived on Bix Common in the late 17th century. (fn. 243) Nonetheless, private closes predominated by the late Middle Ages. (fn. 244) Some had doubtless been cleared from woodland, like 'Stokelpaths' croft mentioned in 1314, (fn. 245) or the area called 'Manymolds' (the modern Merrimoles) in the west. (fn. 246) But other inclosures were probably created from former areas of open field in the later 14th and 15th century, when economic problems and the leasing of demesne apparently led to a substantial reorganization.
The first clear sign of later medieval economic change is a low tax-assessment for Bix Brand in 1341, justified by a claim that the larger part of the parish was uncultivated because of the poverty of the parishioners. (fn. 247) The obstruction of stretches of road north of Bix Bottom by trees and undergrowth in the late 14th and early 15th centuries suggests reduced population and activity, (fn. 248) while rent arrears and reductions, unlet holdings, and vacant tenements also point to difficulties. (fn. 249) Bromsden was leased for only £1 in 1417–18, 33s. 4d. less than in 1388, although over the same period assized rents from Bix Brand apparently rose slightly from £2 19s. 4d. to £3 11s. 3d. (fn. 250) As late as 1476 Bromsden was still being leased for only 38s. (fn. 251)
Such circumstances apparently encouraged the consolidation of holdings by remaining tenants and incomers. (fn. 252) Stonor court rolls show individuals acquiring multiple holdings, the dereliction and dismantling of unwanted houses, and the conversion of homes into barns or pigsties. (fn. 253) The larger units so created probably represented the first stages in the formation of some of the farms shown on an estate map of 1725, including 'William Benwell's Farm', 'Bix Farm', and 'John Rowles's Farm' (Middle Assendon). (fn. 254) Court rolls from neighbouring Fawley (Bucks.) suggest that similar processes were taking place on other estates with lands in Bix, (fn. 255) and it is probably significant that Bix's earliest surviving farmhouses date from the late 15th or early 16th centuries. (fn. 256)
Land Use
Mixed farming was no doubt practised from the earliest periods, supplemented by woodland exploitation. Domesday Book indicates substantial arable cultivation in Bix in the later 11th century, and indications of assarting suggest that arable probably expanded in the 12th and 13th century, though by how much is impossible to determine. Since two thirds of Bix Gibwyn's demesne arable was fallow in 1388 there was presumably a three-course crop rotation, which may have operated on demesne and tenant lands across the parish. (fn. 257)
Demesne arable in both manors, likely to contain some of the best land in the parish, was valued at 4d. per acre in 1388. This was a fairly modest sum, but still double the valuation of the demesne at Stonor. (fn. 258) Crops included wheat, barley, oats, and pulses, (fn. 259) and mixed corn (probably wheat and rye) was grown at Bromsden. (fn. 260) In 1336–7 Stonor demesne produce seems to have been entirely used for the household and to feed farm servants, (fn. 261) but in 1381–2 the estate sold 42 qrs and 5 bu. of barley and malted barley, some of it to Alice Cooper of Henley, presumably a brewster. (fn. 262) Tenants must have sold some of their harvest to pay their rent, with Henley and perhaps Watlington the main markets.
The 14th century provides the first evidence of animal husbandry. In 1336–7 the Stonors kept sheep in Bix and sheep and cattle at Bromsden. (fn. 263) The number of animals is unknown, but Stonor flocks elsewhere were not especially large, and there is little to suggest that either Sir John Stonor I (d. 1354) or Sir John II (d. 1361) were involved in large-scale wool production. (fn. 264) The grazing provided by permanent pasture was probably supplemented by the large area of fallow or disused arable. (fn. 265) Given the scarcity of meadowland, (fn. 266) winter hay was possibly brought in from Henley or elsewhere.
In 1383 Thomas d'Oilly, lord of Pishill Napper, (fn. 267) was grazing 200 sheep on the Stonor estate, and in the same year a dozen tenants paid a total of £1 7s. for use of pastures and woods in Bix Brand and Bromsden. (fn. 268) Between them these men kept a total of 415 sheep (and smaller numbers of cows, pigs and horses), but their individual flocks were fairly modest – 20 to 60 sheep rather than the flocks of 100 or more animals which were kept by some tenant farmers in the southern Chilterns at this time. (fn. 269)
Little is known about farming in the parish in the 15th and early 16th century, but probably arable cultivation continued to be combined with sheep rearing and wood production. (fn. 270) Whether sheep flocks grew as much in this period as in neighbouring Pyrton is uncertain; two or three more substantial yeomen may have kept larger flocks by 1500, but most tenants were poor and the Stonors themselves do not seem to have kept large numbers of sheep on their estates. (fn. 271)
The 16th to 18th Centuries
The Structure of Farming
In this period farmland was divided amongst a fairly large number of farms, many only partly in Bix. The 16th and 17th centuries probably saw the continuation of the gradual consolidation of holdings which began in the late Middle Ages, though the organization of farming before the late 17th century is poorly documented. By the 1790s there were some 19 farms with land in the parish. (fn. 272) Thirteen were occupied by 'yeomen' or 'spinsters', and six by 'labourers'. The yeomen and women were no doubt all tenant farmers; some of the labourers seem to have been tenants of small farms, like those at Lawrences and Benwells, but one or two others were more likely servants on larger farms kept in hand, like those at Westwood and Middle Assendon. (fn. 273) At that time around a third of the farms were probably 200 a. or more, a similar proportion under 100 acres, and the rest somewhere in between; (fn. 274) smaller units had probably been more common earlier.
A number of houses and pieces of land were still held on long leases for several lives until the 1740s, the tenants paying nominal rents and substantial entry fines. (fn. 275) But the larger tenant farms on the Stonor estate in Bix were held on fairly short-term commercial leases before 1700. (fn. 276) Bromsden (320 a., including 116 a. in Rotherfield Greys) was leased to Robert Higley for £86 4s. a year in 1705; Bix farm (264 a.) was leased for £58 7s. 6d. a year in 1698; and in 1708 the farm in Middle Assendon that would soon be called John Rowles's farm (186 a.) was leased for £50 a year to Thomas Garter. (fn. 277) These were low rents: at about 5s. per acre they were half the contemporary south Midlands average. (fn. 278) This presumably reflected the limited productivity of the land as well as the large size of the farms.
Nevertheless, this period was one of agricultural growth in the parish, as elsewhere in the area. (fn. 279) The area of farmland was increased through woodland clearance, notably around Bromsden in the south of the parish. (fn. 280) This, together with the adoption of improved farming techniques, resulted in a substantial increase in crop production, reflected in the rector's enlarged tithe income and an increase in rents during the 18th century. (fn. 281)
Leading tenants with large farms were fairly comfortably off, (fn. 282) their incomes in some cases augmented by involvement in exploitation of the large areas of local woodland. (fn. 283) Some of their disposable cash was spent on the building or rebuilding of their homes in the 17th century and on the construction of bigger barns in the 18th. (fn. 284) But individuals' and families' fortunes fluctuated and farm tenancies sometimes changed hands frequently: several farmers went bankrupt in the late 18th century. (fn. 285)
Land Use
Farmers continued to practice mixed husbandry. Henry Benwell's inventory of September 1697 shows £68-worth of corn on his 205-a. farm in the south of the parish, of which c. 90 a. was leased from the Stonors and c. 115 a. was freehold; his £100 ready money and £50 debts owing probably reflected recent harvest sales. His sheep were worth £21 (representing perhaps 90 animals), his hay £11, and he had six cows worth £18, pigs worth £5, and £40 of billets. (fn. 286) Most of Benwell's farmland seems to have been used for cereals, so that he, like other farmers, presumably grazed his sheep and other animals on the fallow fields and commons. Fodder crops such as clover and turnips were not widely used until the 18th century.
Late 18th-century insurance documents show that the great majority of barns were used for either wheat or barley. (fn. 287) Most farmers probably also produced oats (important for horse feed) and rye, but few had dedicated barns for these crops. Oat growing was probably concentrated on the poorer, hillier ground in parts of the north-west and south-west, notably at Redpits and Bromsden. (fn. 288) At John Bowler's farm of Redpits in April 1613 there were 110 a. of crops, including 39 a. of oats, 26 a. of barley, 25 a. of wheat, 14 a. of rye and 6 a. of peas and vetches, together worth £154. (fn. 289) His wheat crop was worth about £2 an acre, barley £1 10s., rye £1 8s., and oats, vetches and peas £1.
The size of sheep flocks varied. In the 1590s John Mosden had some 237 sheep at Redpits, worth £59 5s., (fn. 290) and in the same decade at least one local was employed full-time as a shepherd. (fn. 291) In the 17th century some farmers had flocks of 100 or more, (fn. 292) and John Bowler had 257. (fn. 293) But flocks of 20 or 30 were more common, with smaller farmers and some labourers keeping only a handful. (fn. 294) These animals continued to provide wool (fn. 295) and meat, as well as being a source of fertilizer. (fn. 296) Most farmers also kept a few cows, pigs and poultry.
Surveys of the glebe in 1602 and later provide the first documentary evidence for the area called Bix Common, which seems by then to have been divided by banks and boundary trees into plots owned by the main landowners, rather than being common waste of the manor. (fn. 297) In 1697 it was referred to as 'the common field called Bix Common', (fn. 298) and the terriers suggest that the land was arable. It may be that in this period, as later, this poor land was cultivated for three years and then used as pasture for seven. (fn. 299)
The 19th and 20th Centuries
The Structure of Farming
Throughout the 19th and early 20th centuries most farms in the parish (of which there were now c. 13–15) continued to be let to tenants. However, the proportion of farms kept in hand by non-resident landowners and run by stewards seems to have been somewhat higher by the 1850s than earlier. In 1841 only two of the 13 farms listed were in hand, compared with five 10 years later; overall, around a third of farms seem to have been kept in hand between 1851 and 1901. (fn. 300) Rents had increased substantially since c. 1700, though they remained modest: in the 1840s Fawley Court leased Middle Assendon farm (87 a.) for £60 a year on a 21-year lease and Bottomhouse farm (107 a.) for £100 a year for 14 years, (fn. 301) while in the 1850s the Stonors leased Bromsden farm (287 a.) for £214 a year, Bix Bottom farm (247 a.) for £197 a year, and Bix farm (176 a.) for £143. (fn. 302)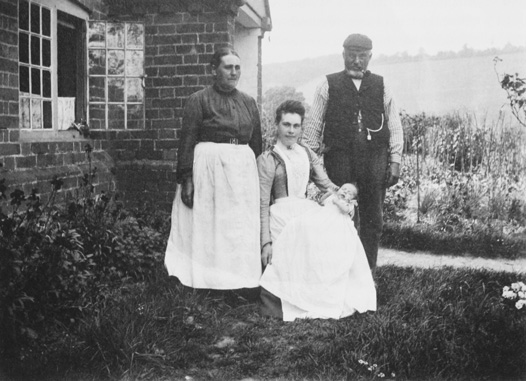 The agricultural depression of the late 19th and early 20th century had severe effects in the parish. By the 1890s some farm rents on the Stonor estate had been drastically reduced: Bromsden (291 a. plus woodland) was let for £90 a year, and Bix Manor farm (143 a.) for £50 a year, though Benwells (28 a.) and Merrimoles (77 a. plus woodland) still commanded £40 and £56 a year respectively, presumably reflecting greater demand for small farms. (fn. 303) Despite low rents tenants seem to have been difficult to find, and some went bankrupt. (fn. 304) In 1896 several farms were unoccupied, (fn. 305) and by the early 20th century some were run by part-time farmers, the smaller ones being described as 'hobby' farms. (fn. 306) In 1901 Rocky Lane Farm was occupied by an auctioneer and estate agent, and Manor Farm by a blacksmith. (fn. 307) In the late 1920s the Fawley Court estate manager, in response to complaints from the rector about late payment of tithe money, claimed 'terrible recession on all agricultural estates', with rents low and irregularly paid. (fn. 308)
As a consequence, many landowners seem to have focused more on game-rearing than farming, perhaps taking advantage of the 'gentrification' of the area. (fn. 309) Pages Farm, for instance, was used to house game keepers, (fn. 310) and a pheasant breeding farm was set up at Bix Underwood, associated with Bix Manor Farm. (fn. 311) There was considerable reduction in agricultural employment as a result. Between 1841 and 1871 around 60 per cent of heads of households worked in farming, and in 1881 around 54 per cent; by 1891 the proportion was 40 per cent, and in 1901 only 30 per cent. (fn. 312) This trend continued and no doubt accelerated after 1945, so that by the later 20th century only a tiny proportion of the local population worked on the land.
The large brick-lined water-tank near Bix Manor Farm, at the top of the hill from Henley, represents one of the few substantial investments in agriculture in the period. It was constructed between 1897 and 1912, presumably by the Flemings after they acquired the Nettlebed estate in 1903. (fn. 313) The tank was probably mainly intended to provide water for the steam-ploughs, traction engines and threshing machines which had been used in the parish since the 1880s. (fn. 314)
An enquiry in 1941 produced a mixed verdict on farming in the parish. (fn. 315) Some farms were singled out for praise, among them F. M. Bond's Valley farm (498 a.), where good corn crops were grown and a good dairy herd maintained; the Stonor's Middle Assendon farm (152 a.), where the tenant was efficiently producing milk and had good winter crops; and Lawrences farm (49 a.), an arable farm run on sound lines by the Frouds. Others required liming, or suffered from lack of capital or over-attention to sporting interests. Redpits and Westwood were run by agricultural engineers who were only part-time farmers. Most of the land in the parish was 'fair', with much of the 'bad' land concentrated in Middle Assendon. (fn. 316) Low agricultural rents presumably reflected environmental limitations as well as the state of farming. (fn. 317)
By the mid to later 20th century many farmhouses had been sold off, and, despite the persistence of some smaller holdings, most agricultural land was managed by landowners or their tenants from a few farm and estate depots. (fn. 318) The bulk of the farmland in the south of the parish was managed by the Nettlebed Estate, and from the early 1990s most of Bix Bottom was leased from Lord Alvingham by the Hunts, substantial tenant farmers based at Upper Assendon Farm in Stonor, with a further holding at Lewknor. (fn. 319)
Land Use
In 1840 around 70 per cent of land in the parish was arable, 26 per cent wood and only 2 per cent permanent grass. (fn. 320) Figures for 1878 were similar, with most permanent grassland confined to orchards and small closes. (fn. 321) In the 1850s Stonor tenants were obliged not to sow more than a quarter of their land with wheat, or to use individual fields for wheat more than one year in four. White straw crops could be grown for no more than two years in succession, and specified amounts of land had to be under grass, clover, turnips or fallow. (fn. 322) Around 1,500 sheep were kept in the 1860s and 1870s, along with modest numbers of cattle and pigs. (fn. 323)
In the late 19th century Bix farmers followed the trend towards larger dairy herds, (fn. 324) responding to increased urban demand for milk and depressed corn prices. (fn. 325) The area under arable was greatly reduced and fewer sheep were kept. (fn. 326) By the 1890s there were c. 700 a. of permanent grassland and a further 200 a. of temporary grasses. (fn. 327) In 1930 there was 856 a. permanent grass, (fn. 328) and the only large areas of arable were in the eastern part of Bix Bottom, north-west of the common, and south of the main road. (fn. 329) The main crops in the later 19th and earlier 20th century were wheat, barley, oats, and turnips, the latter three grown mostly for fodder. Oats had displaced wheat as the main cereal crop by the 1880s. (fn. 330)
In the early 20th century local dairy herds were producing substantial amounts of milk: Cousins's herd at Manor farm provided c. 275–290 gallons a week in the 1920s and early 1930s. Much of the milk was sold locally, (fn. 331) but quantities from the larger producers were bought by dairies in Reading. (fn. 332) Cows and calves were regularly sold at Henley market. (fn. 333) In 1941 there were 132 cows on Bond's Valley Farm, almost 100 on Nettlebed Estate lands around Bromsden, and 61 at Cousins's Manor farm (including Benwells). (fn. 334) On other farms herds were more modest, between 20 and 50 animals. Sheep rearing had virtually ceased in the 1920s, (fn. 335) but by 1941 significant numbers of sheep (and pigs) were kept at Valley farm and Bromsden. (fn. 336) A few smaller farms apparently specialized in poultry, (fn. 337) and one or two had market gardening sidelines, selling fruit and vegetables in Bix and Henley. (fn. 338)
Mixed farming continued to predominate in the mid 20th century and after. In the 1960s barley was the favourite cereal crop because of government subsidies, its suitability (alongside oats) as animal feed, and to a lesser extent because some could be sold to local breweries. At that time most farmers kept a variety of animals, including beef and dairy cattle, sheep, pigs, and poultry. (fn. 339) By the 1980s the most important crop was wheat, followed by barley and other fodder crops for cattle and sheep. In 1988 61 per cent of available land was used for crops rather than permanent grass, compared to 46 per cent in 1941. (fn. 340) Dairy production ceased in the late 20th century, except on the Nettlebed Estate: there 120 cows were kept for milking in 2006, despite the abandonment of an ambitious mechanized dairy unit established in the late 1960s. (fn. 341)
Woodland Exploitation
Extensive areas of woodland in the parish were long used for wood-gathering, grazing and pig pannaging. (fn. 342) In the Middle Ages and later many woods were inclosed as coppices-with-standards, to produce wood for fuel and a variety of other purposes. Coppices, which included oak and ash as well as beech, were mainly owned by landlords, who generally leased them out, but a few belonged to local farmers. From c. 1800 changing market conditions led to the replacement of coppice with high beech forest producing timber. (fn. 343) In all periods there were sizeable 'common woods' where tenants could find fuel and limited forage for their animals, though here as elsewhere landowners reserved the timber to themselves. (fn. 344)
Domesday Book mentioned only 12 a. of woodland (silvae) on each Bix manor; (fn. 345) since there was almost certainly far more woodland at that time, (fn. 346) this presumably represented some nominal estimate of the area of managed wood. A survey of 1388 suggests that the main woodland products were firewood and other small wood (like the 'crop' of Bix Brand wood), but large areas of wood seem not to have been very systematically managed in this period. (fn. 347) By the 15th century there is evidence of fairly regular wood sales from the Stonor estate, with wood from Bix often worth £5–7 or more. (fn. 348) Sixteenth-century and later documents show detailed arrangements over the leasing of areas of wood for coppicing, with cycles of seven years or longer. (fn. 349) Charcoal burners were recorded from the early 17th century. (fn. 350)
Wood produced in Bix was used both locally and further afield. Local demand was bolstered by the requirements of the Nettlebed pottery and tile-making industry, and firewood was also taken to Oxford and places in the south Oxfordshire clay vale. (fn. 351) But from the later Middle Ages until the 18th century the largest demand came from London, and great quantities of wood were shipped down the Thames via Henley wharf. (fn. 352) In the late 17th and early 18th century the Stonors and some other owners of woodland made frequent and large sales of water-wood billets, oak billets, bastard billets and bavins. (fn. 353)
In the Middle Ages larger pieces of timber were perhaps mainly used for demesne and tenant building requirements, which may be why Robert Newmer was paid 5s. for carting timber from Bromsden to Bix in 1424–5. (fn. 354) Whole trees were occasionally sold, as in the later 15th century when 100 great beeches were sold 'by Bromsden hedge', along with 40 other trees at Bromsden and 20 from elsewhere; the buyers included locals and men from Henley. (fn. 355) In the late 16th and 17th century timber from woods in the far north-west belonging to the royal manor of Ewelme was much used for the navy, and was sold for making houses, barrels and boards. (fn. 356) A timber dealer lived in Lower Assendon in 1751, part of whose stock had been purchased from the Fawley Court estate. (fn. 357)
In the 19th and early 20th centuries income came mainly from 40- to 70-year-old beech trees (or 'poles') cut according to a selection system, (fn. 358) and several timber merchants lived in the parish in the later 19th century. (fn. 359) Some timber was used locally for fuel and fencing, and at the Frouds' saw mill in Middle Assendon, established in the 1860s: in the early 1910s the mill consumed many hundreds of trees each year from the Fawley Court estate, mostly from woods in Bix. (fn. 360) Another source of demand was the furniture-making industry of High Wycombe, Stokenchurch and Chinnor. From the late 19th century the furniture factories relied increasingly on cheap foreign imports, but in the early 20th they continued to buy some timber from Bix and elsewhere in the Chilterns. (fn. 361)
In the inter-war years the timber market probably shrank in size and became more local in character. (fn. 362) By the later 1940s the saw mill in the Nettlebed Estate woods, which employed 14 men, sold planks, posts, bean rods and faggots to householders from Bix, Rotherfield Greys, Henley, and elsewhere. A good deal of timber had been compulsorily felled in the Second World War, and forestry operations were run down, (fn. 363) but the mill still operated in 2009. The Frouds' saw mill remained open until the 1960s, though the scale of its operations declined considerably earlier. (fn. 364)
Non-Agricultural Pursuits
Rural Industry
The only significant local industry before the mid 19th century was brick, tile and pottery making. Nettlebed was a major production centre from the 14th century, and there were lesser sites around the peripheries of Bix, including near Russell's Water. (fn. 365) At least one kiln seems to have been located in Bix parish (north-east of Nettlebed) by the 15th century. (fn. 366) One John le Tiler was resident in Bix Brand in 1341, (fn. 367) Nicholas Tiler held a house, ½ yardland and 6 a. there in 1390, (fn. 368) and in the early 15th century Thomas Tiler was involved in cutting wood, perhaps to fuel a kiln. (fn. 369) In 1720 Edward Deane of Minigrove in Bix described himself as 'brickmaker'. (fn. 370) Nonetheless Bix was on the periphery of this local industry, which provided only limited employment in the parish (mainly for bricklayers) before its decline in the early 20th century. (fn. 371)
In the 1860s James Froud took over the wheelwright's and carpentry shop in Middle Assendon where he had served his apprenticeship, giving rise to a considerable local business. (fn. 372) By the later 1860s he had set up a saw mill for cutting brush backs and veneers, probably mainly for the London market, (fn. 373) and made vent pegs and bungs for beer barrels. He also undertook building work and wheelwrighting, and acquired a portable threshing plant with which he visited surrounding farms; later he used traction engines for agricultural work and timber hauling, and a chalk pit was opened opposite Assendon Farm (later Home Farm) with kilns for making lime. (fn. 374) After Froud's death in 1891 the business was continued by his sons until the early 1930s, when the saw mill was taken over by Richard Ovey, the chalk pit sold, and the agricultural, wheelwright and carpentry business given up. In the late 1870s the Frouds employed around 30 men and boys, rising to over 60 by 1894, and 80 by 1916; workers came from Bix and surrounding areas, including Henley and Stonor. (fn. 375) In the late 1950s the saw mill still employed around 18 men, but closed in 1966.
Crafts
Robert le Smith of Bix was involved in a debt case in Henley in 1332–3. (fn. 376) In 1704 a blacksmith's shop in Middle Assendon was leased by the Stonors to Thomas Coles, (fn. 377) whose family were long associated both with the business and with the adjacent Rainbow pub; the smithy was still operating in 1928. (fn. 378) The wheelwright's shop acquired by James Froud in Middle Assendon was established by the 18th century, and in the mid 19th century a farmer and the publican at the Golden Ball were part-time wheelwrights. (fn. 379) In 1701 a wheelwright was accused of having built a workshop on the common without authorization. (fn. 380)
A range of other crafts was recorded in the parish from the late 18th to early 20th centuries, and although such employment remained small-scale it seems to have expanded somewhat after the early 19th century. The more common crafts included shoe-making, tailoring, glove-making, carpentry, and bricklaying (the latter especially around Minigrove), and to a lesser extent chair turning. Women were involved in many such activities, as well as in domestic service and, later, char-work. (fn. 381)
Retailing and Other Businesses
Ale was produced on a small scale in the later Middle Ages. (fn. 382) Some was presumably sold, but it seems unlikely that anything other than basic commodities were then available in the parish. The Stonors seem to have purchased food and other necessaries mainly at Henley, Watlington and Reading, and shipped luxuries upriver from London to Henley wharf. (fn. 383) In 1668 a recently deceased gentleman farmer, Robert Farmer, owed £5 to a shopkeeper in Reading, £2 10s. to another Reading man, and £2 for wares from the Henley mercer Ambrose Freeman; another £8 was owed to Margaret Dean of Bix, perhaps for goods. (fn. 384)
In the 19th and early 20th centuries a few men retailed beer, dairy produce and groceries, although often only part-time. (fn. 385) There was a grocer's shop and bakery on the Oxford road in Bix 'village' from the mid 19th century, associated with the sub-post office, which closed in the early 1970s; (fn. 386) a shop in Lower Assendon was mentioned in the mid 19th century. (fn. 387) A shop set up in Mill Close in Middle Assendon in the late 1960s soon shut through lack of business. (fn. 388) By 1980 the only local food retail was provided by the weekly visits of a greengrocer and of a Grimsby fishmonger, who stopped at the Golden Ball and the Rainbow on his way back from London. (fn. 389) Bix Manor became a conference and events venue in the late 1980s, and was still functioning in 2009. (fn. 390) Sundials and sculptures were then being made to order in two workshops, (fn. 391) and a plant nursery operated in Lower Assendon.
SOCIAL HISTORY
The pattern of small hamlets and isolated farmsteads scattered among steep valleys and woods created a rather loose-knit society within Bix. The settlements in Bix Bottom, Lower and Middle Assendon, and what became known as Bix 'village' have long formed separate little communities, and many of the peripheral farmhouses and cottages are more closely linked with hamlets in neighbouring parishes. The church does not seem to have provided a particularly strong focus, and from the 14th to early 20th centuries major landowners were generally non-resident. (fn. 392) High illegitimacy rates in the mid 18th century may indicate a lack of strong social cohesion and supervision. (fn. 393) In the 20th century, the transformation of what was previously a farming area into a dormitory parish for commuters and rich retired people did little to weave social threads more tightly.
The leading figures within the parish were for a long time the more substantial tenant farmers and the rectors. The farmers were the major employers and probably exercised some influence through office-holding in local manorial and parish government. (fn. 394) The rectors were resident for long periods and, despite generally poor church-attendance, several of them seem to have been prominent in local society. Landowners living in neighbouring parishes exercised a secondary level of influence, notably the Stonors (in Pyrton), until the 20th century when a number of new landowners came to live within the parish. (fn. 395) In the late 19th to earlier 20th century, the Frouds became the major local employers, and this large family in its various branches owned or occupied a number of houses, farms and local businesses. (fn. 396)
Social Structure before 1800
For most of the parish's history the population consisted almost entirely of those working the land, but social stratification was evident from an early period. In the Middle Ages this was reflected partly through the distinction between free and customary tenure, although probably more important were gradations in size of holding and wealth: in the 14th century the peasant population ranged from those holding whole or part yardlands through to labourers and farm servants. (fn. 397) The population was small and poor, but tax records show a range of individual wealth which was fairly typical for the area before the Black Death. In 1306 Nicholas Abingdon (probably a manorial lord) paid 4s. 8d. tax on his moveable possessions, while two others paid 2s. 1d. each. Bix's other taxpayers (another 14 people) paid between 7d. and 18d., (fn. 398) and below them was probably a group too poor to be assessed.
From the later 14th century the gap between a small group of better-off tenant farmers running larger farms and the rest of the population seems to have widened. (fn. 399) In 1524 William Tanner was taxed on goods worth £25, Richard Alnatt on £20, and William Mosden on £15, whereas most of the other 19 taxpayers in the two Bix parishes were assessed on between £1 and £4. (fn. 400) Half of the taxpayers were assessed on wages and were presumably labourers working on the holdings of their wealthier neighbours. In 1550 Nicholas Walwen, a major Stonor tenant, was taxed on goods worth as much as £50. (fn. 401) In 1713, six relatively substantial members of the Bix Gibwyn tithing group employed a labourer or two and were distinguished from 17 'poor'; (fn. 402) none of the Bix Brand tithingmen seem to have had labourers at that time. (fn. 403)
In the 16th and 17th centuries the handful of leading farmers lived in fairly substantial houses, owning several feather-beds and fairly numerous items of furniture and linen, and keeping live-in servants. (fn. 404) The household and farming goods of such families were worth some £200 to £400 in the 17th century. (fn. 405) The dozen or so yeomen and husbandmen with smaller holdings lived in more modest homes – small farmhouses or even cottages – and possessed fewer and simpler furnishings, more often sleeping on flock-rather than feather-beds. (fn. 406) Their goods might be worth only £50 to £150. (fn. 407)
Nonetheless, it would be wrong to draw too sharp a divide between these groups. Most enjoyed only modest income and social standing on anything other than a parochial scale, with much of their wealth tied up in crops, animals and farming equipment; many were interrelated and shared the same social milieu, often witnessing each others' wills. Most were primarily manorial tenants rather than freeholders, only a few (like the Benwells) acquiring sizeable freeholds, (fn. 408) and in the 1660s none lived in houses with more than four hearths. (fn. 409)
Some of the more substantial families like the Hardings, Houses, and Turners were resident over long periods during the 16th to 18th centuries, and included members of yeoman and occasionally gentleman status. (fn. 410) The more long-standing local families provided the majority of churchwardens in the 18th century, (fn. 411) as well as foremen, jurors and petty constables for honor of Ewelme courts. (fn. 412) But other tenant farmers came and went within a few years or decades.
Below the tenant farmers and perhaps one or two farm bailiffs, a larger and increasing proportion of the population comprised farm labourers or those employed in allied rural occupations and crafts, (fn. 413) perhaps some 40 or so families in the 18th century. (fn. 414) Most lived in small cottages, possibly badly-built and certainly sparsely furnished, some with small plots of land attached. (fn. 415) As at the higher social levels, most were tenants rather than freeholders. Some of the craftsmen and publicans may have had slightly more disposable income and lived in better houses: in 1713, for instance, the blacksmith Thomas Coles had goods worth over £80 including £40 owing on his books, (fn. 416) and his family provided more than one churchwarden in the 18th century. Many others had only meagre possessions worth less than £20, sometimes including a few livestock. (fn. 417) Poverty seems to have been commonplace, and with it a fairly regular turnover of population. (fn. 418)
The rectors and curates made up a final and very distinctive social class. Some were long-serving, like William Chessall, rector for 65 years between 1576 and his death in 1641. (fn. 419) The integration with their parishioners of men like Chessall, Gavin Granger (1545–65) and Thomas Newlin (1641–81) is suggested by their acting as witnesses or overseers to local wills. (fn. 420) Some 18th-century curates also stayed for long periods, among them Samuel Nicholl (1770–85), who was buried near seven of his children on the north side of the church in 1799. (fn. 421)
Compared with most of their parishioners, the rectors and even curates lived in some material comfort. (fn. 422) Sebastian Marsh (1681–1729) kept two servants, (fn. 423) while John Cooper (1785–1801) seems to have had four servants and furniture worth around £300 (partly owned by the patron). (fn. 424) Curates received fairly modest salaries of around £40–£50 a year in the 18th century, but at least one of them, James Neale, who also worked as a schoolmaster in Henley, seems to have kept a servant. (fn. 425)
Social Structure in the 19th Century
For much of the 19th century the patterns laid down in the preceding three or four centuries remained fairly stable. A group of tenant farmers of varying substance headed up a larger number of agricultural labourers and a few craftsmen. (fn. 426) The better-off farmers had a few servants, usually between one and four, although a few (like the Cottrells, owners of Redpits and tenants at Westwood) had more. (fn. 427) The resident rectors were mainly men from well-heeled backgrounds, with a range of genteel social contacts. (fn. 428) They lived in relative luxury in the rectory, none more so than Horace Pechell (1822–72), his titled wife Lady Caroline (Kerr), and their large family, who in 1851 had ten servants including a footman and a page. (fn. 429) For many inhabitants, however, poverty and poor living conditions remained facts of life into the early 20th century. (fn. 430)
In 1851 38 per cent of inhabitants had been born in the parish. By 1881 this had fallen to 26 per cent and in 1901 21 per cent. (fn. 431) Incomers came mainly from surrounding parishes, but a substantial minority were from further afield. A number of families were resident in Bix (or nearby) for long periods in the second half of the 19th century, but many others stayed for only a few years. Unsurprisingly, tenant farmers and farm bailiffs seems to have come and gone particularly frequently, and these were often men from outside the county. (fn. 432)
The 20th Century: Gentrification and Suburban Growth
By the early 20th century Bix and surrounding rural areas, with their proximity to Henley and London, were starting to become attractive to wealthy residents unconnected with agriculture, seeking clean air and country pursuits. The agents in charge of the 1894 sale of the Stonor estate emphasized the availability of fine building-plots with 'grand views' and 'sporting potential'. (fn. 433) A handful of retired military men and other better-off residents arrived from the 1890s, (fn. 434) and a few expensive new houses were built at the end of the 19th and the beginning of the 20th century. (fn. 435) But at first, as elsewhere in the less accessible parts of the Chilterns, this was a 'thinly scattered invasion'. (fn. 436) The isolation of most parts of the parish ensured that there was a limited market for building-land, (fn. 437) and an attempt to sell off an area to the south of Bix Manor Farm in 1906 for an estate of 56 houses 'retaining a rural character' came to nothing. (fn. 438)
Nevertheless, by the 1920s and 1930s there seems to have been a perception that the social character of the parish was changing and that the population was turning over more rapidly. (fn. 439) Something of the new atmosphere was described by Cecil Roberts, a popular author who lived part-time at Pilgrim Cottage in Lower Assendon (1930–53). Locals seem to have been aware of a fading country world: Londoners and others were moving in and displacing the paternalistic old gentry, while tenants allegedly faced eviction by ruthless new owners, who wanted to modernize and extend old cottages to make country homes. (fn. 440) Many poorer locals moved into new council houses built in the 1920s and late 1940s. (fn. 441) The result, to some, was a creeping suburbanization: in 1940 Massingham could describe the still wild upper reaches of the Bix Bottom valley as 'shelter [for] any outlaw from twentieth-century urbanism, except that none escape it'. (fn. 442)
Many of the new richer residents were commuters. William Pannell, a solicitor who travelled to London via Henley, moved into Bix Manor Farm with his family at the beginning of the 20th century. (fn. 443) He was succeeded after the First World War by Col. Arthur Cousins (d. 1949), a newspaper chairman, who divided his time between Bix and London. (fn. 444) F. M. Bond, who had apparently made his money from Trinidad Lake Asphalt, (fn. 445) bought land in Bix in the 1930s and lived part-time at a new house at Halfridge in the Nettlebed Woods. (fn. 446) Peter Fleming, whose grandfather, a financier, had bought the Nettlebed estate in 1903, and who was himself a journalist and travel-writer, moved his family into the house he built at Merrimoles (near Highmoor) in 1938–9. (fn. 447) Fleming's friend Rupert Hart-Davis, a publisher and writer, moved into Bromsden Farm around the same time. (fn. 448)
The twin processes of 'gentrification' and suburbanization intensified after the Second World War. From the 1960s, many farmhouses and barns were turned into expensive private residences. (fn. 449) Middle-class commuters and retired people started to arrive in numbers, moving into the new houses and bungalows built in Middle Assendon and around Bix Common. Property prices rose sharply as a result, (fn. 450) as did the price of land in the area. (fn. 451) By 1980 there was concern that the parish was becoming a dormitory area, the school and a number of local businesses having closed in the previous twenty years, and longer-standing residents having died or moved away. (fn. 452) In the late 1970s one of the dwindling band of resident farmers, at Middle Assendon farm, was still calling in her sheep from the hills in the evening in what seemed like a timeless scene, (fn. 453) but at the beginning of the 1980s the dilapidated farmhouse was converted into a £250,000 'dream home'. (fn. 454) By 2001 only five per cent of residents were renting from the local authority. (fn. 455)
Community Activities
In the 18th century, and perhaps earlier, alehouses in Bix 'village', the Assendons and Maidensgrove seem to have provided much of the social focus within individual settlements, particularly for men. (fn. 456) For landowners, for rectors like John Cooper and for some of the better-off farmers, shooting was probably a major pastime by the 18th century. (fn. 457) In the late 19th and early 20th century, the small élite of rich incomers and longer-established local worthies mixed at a variety of social events, including dinners, dances and garden parties. (fn. 458) The Cousinses and Major Riches and his family (of Bottomhouse Farm) were members of the South Oxfordshire Farmers' Drag Hunt, and in 1931 the hounds had their kennels in the parish. (fn. 459) Shooting also remained popular, (fn. 460) and before the Second World War some enormous bags of pheasants were taken, including around Bromsden farm. (fn. 461) The organization of this activity, which became a significant business for landowners, occasionally caused social tension: in 1895 a public meeting was held on Bix Common to protest at the blocking by pheasant pens of Bennett's Lane, a short cut from Bix Common to Crocker End. (fn. 462) Shoots continued to be organized on the Nettlebed and Bond (subsequently Alvingham) estates into the early 21st century. (fn. 463)
In the late 19th and earlier 20th centuries, local grandees seem to have provided leadership in other community activities. Although an absentee, the earl of Macclesfield paid for the construction of the new church of St James on Bix Common in 1875, and the church became a focus for social life in this part of the parish. (fn. 464) The Flemings were instrumental in the reorganization of the wooded commons in the west, with the stated intention that they should remain 'open spaces for recreation and enjoyment of the public'. (fn. 465) Col. Cousins, meanwhile, was particularly active in the community, setting up a Boys' Brigade, chairing the War Agriculture Executive Committee, and commanding the local Home Guard company. (fn. 466) His daughter was the honorary secretary of the Bix and Assendon Women's Institute, founded in 1927, with Mrs Watson of Cross Leys the first president. (fn. 467)
The rectors continued to have a strong influence in the community, presiding over the foundation and running of the board (later council) school (fn. 468) and officiating at local events, such as the Frouds' saw mill works dinner in 1894, and a performance by the Bix singing class in the school in 1895. (fn. 469) The rectory was sometimes visited by local councillors on official business. (fn. 470) Rectors Charles Formby and George Whitaker both chaired the parish council in the earlier 20th century, (fn. 471) and Formby's wife led the Bix branch of the Mothers' Union for over 25 years. (fn. 472)
Bix Common seems to have been much used as a space for community leisure activities. A parish room (later called the village hall) was set up there in 1913 on land given by the Church; (fn. 473) it was improved between the wars, and again in 1981 at a cost of £30,000, a quarter of which came from local fundraising. (fn. 474) The hall was used for local meetings (including those of the Women's Institute), for whist drives, and as the pavilion for the cricket club, whose pitch was laid out on the common. (fn. 475) In August 1890 athletics and horse and donkey racing were held on a field next to the common, (fn. 476) and fêtes and other events were subsequently held on the common itself. (fn. 477) In the 1920s and 1930s there were recurring disputes between Formby and other locals over use of the common, with concerns about horse-riding, illicit grazing, and football-playing near the church. (fn. 478)
Twentieth-century shifts in the character of the population inevitably affected community life. As early as 1937 the outgoing rector, Charles Formby, appealed to the younger men to keep the 'social side' of the village going. (fn. 479) The church, the pubs and the WI remained points of contact, (fn. 480) but by the late 1960s the local police officer (based in a house in Bix 'village') was gone. (fn. 481) In the early 1980s the rector moved to Nettlebed, (fn. 482) and twenty years later the Fox pub closed and the cricket club folded. (fn. 483) The Warburg nature reserve, set up in Bix Bottom in 1967–8, provided a new attraction for locals and visitors to the area, but not a focus for social life. (fn. 484)
Education
In the 18th century there was only small-scale, ad hoc schooling for a few children at the rector's expense, plus catechism. (fn. 485) By the early 19th century there was a day school with c. 20 pupils, which in 1866 was still chiefly supported by voluntary contributions from the rector and from parents; (fn. 486) by 1872 (and probably earlier) it was based in one of the rector's cottages. (fn. 487) The curriculum focused on reading and sewing. Sunday schooling was also provided, but there was no infant school, and a night school was discontinued. Educational provision over all was inadequate, especially for the poor, (fn. 488) and literacy rates remained low: only a quarter of the jurymen for a Minigrove manor court held in 1806 were able to sign their names, the rest making their mark. (fn. 489) The majority of the jury for Soundess manor could not write in 1822. (fn. 490)
Schooling was still considered inadequate in 1875, when a Board School was imposed to provide for 40 children, 20 others being schooled in neighbouring parishes. (fn. 491) The newly built school by Bix Common was opened on 11 March 1878, with 37 'very backward' pupils. (fn. 492) By May 1880 average attendance was 62, and in 1881 the school was enlarged to accommodate 80 children. (fn. 493) However, numbers seem to have dropped thereafter and poor teaching was reported; in 1898 the government grant was almost withdrawn. By 1907 the roll had risen to 69, but in the 1920s reports on the teaching were mixed and poor attendance a continuing problem. (fn. 494) The school was reorganized in 1928 as a junior school for children aged up to 11; 20 were transferred to Nettlebed, leaving 41 on the roll in 1930. Six years later only 25 remained. A small village library set up in the early 1930s created a 'taste for reading' among the children, but seems to have been short-lived. (fn. 495)
Pupil numbers were bolstered by evacuees at the beginning of the Second World World, but by 1943 most had returned home and there were only 22 pupils. In 1946 the managers responded to proposals by the council education committee to close the school, pointing out that children came from surrounding areas and would have to walk some distance to be collected by bus, and that Henley Rural District Council was building new council houses at Bix and Middle Assendon. Numbers did not increase very much, however, and in 1957 the school was once again reorganized, this time as an infant and lower junior school with 21 pupils. Children living in the Assendons could catch the Nettlebed school bus in the morning, but had to find their own way home. Numbers continued to decline and the school closed in July 1966.
In 1849 a small school was established in a new chapel of ease built in Lower Assendon, just over the parish boundary. Supported by J. W. Newell Birch of Henley Park, it catered for around 20 children of the local poor before being closed down and converted into a private house in the 1880s, shortly after the Board School opened at Bix Common. (fn. 496) A private school connected with the National Society was said in 1871 to be attended by 14 girls, but was not mentioned again. (fn. 497)
Poor Relief
A number of 16th- and 17th-century wills made small bequests to poor householders, (fn. 498) and in 1799 it was said that the offertory had not been collected 'within the memory of man' because of the 'general poverty of the communicants'. (fn. 499) In 1710 an overseer paid 6d. rent to Thomas Stonor for 'Bishop's House', (fn. 500) perhaps one of two parish houses next to the pound which 'Bix parish' rented from the Stonors for 1s. in 1725. (fn. 501) At least one of these houses, just south of Bix Common, seems to have been used to accommodate three paupers in 1841. (fn. 502) Large numbers of paupers were mentioned in burial lists in the later 1780s, (fn. 503) and in 1783–5 an average of nearly £199 a year from parish rates was spent on the poor. (fn. 504)
In the years of high bread prices in the early 19th century, a higher proportion of people received permanent and (more especially) occasional relief than in any neighbouring parish except Harpsden. (fn. 505) In 1803 as many as 37 adults and their 62 children received permanent relief, and 60 people temporary relief, representing over half the 1801 population; in 1815, 103 people received occasional relief, (fn. 506) and in 1834 140 out of 180 seats in the church were allotted for the poor. (fn. 507) In 1851 (by which time primary responsibility had passed to Henley Poor Law Union) there were several paupers, mainly agricultural labourers or bricklayers and their wives or widows. (fn. 508) The only endowed charity was a bequest of £500 made in 1894 by a son of the former rector Horace Pechell (1822–72), which in 1907 produced £13 a year. (fn. 509)
RELIGIOUS HISTORY
In the Middle Ages Bix comprised two separate parishes, Bix Brand and Bix Gibwyn, each with its own church. The parishes were amalgamated in the late Middle Ages, only the church of Bix Brand remaining in use by c. 1550. From the 16th century to the early 18th (and possibly before) many rectors seem to have been resident, and in general scattered settlement appears to have promoted religious apathy rather than strong Nonconformity. Two long-serving 18th-century incumbents were absentees, and thereafter a series of resident rectors had an uneven impact. Substantial improvements in attendance and frequency of services were made in the late 19th century when a new church was built on Bix Common, but the congregation declined in the 20th century.
Parochial Organization
The Parishes of Bix Brand and Bix Gibwyn
In the Anglo-Saxon period Bix was perhaps ecclesiastically dependent on a mother church at Benson, but there is no evidence of a link after the Conquest. (fn. 510) By the early 13th century two parishes had developed, named after the manors with which they were associated. Both probably took shape considerably earlier, following the building of local churches by the lords of those two estates, though whether either church was established before the Conquest is unknown. The earliest surviving church in the parish, the now-ruined church of Bix Brand in Bix Bottom, dates probably from the early 12th century. The other medieval church, also in Bix Bottom, has left no standing remains, but was perhaps roughly contemporary. (fn. 511)
The two parishes continued through most of the Middle Ages, before being united in the later 15th century. (fn. 512) Both churches apparently remained in use in 1526, (fn. 513) and both were still standing in 1553; (fn. 514) the glebe included two churchyards in 1602, (fn. 515) and Saxton's map of Oxfordshire in 1607 still showed two churches. The sale of one of two chalices belonging to the churches in 1552 may indicate that only one church remained in active use, however. Certainly from the late 16th century only a single church of Bix (or sometimes Bix Brand) was mentioned, (fn. 516) and from the late 17th century maps showed only 'Bix Brand' church. By 1754 the other church had been 'demolished'. (fn. 517)
The churches' dedications are not recorded before the 16th century. In the 1540s Bix Brand seems to have been the church of St Michael and Bix Gibwyn that of St James, (fn. 518) although 18th-century and later sources give the dedications the other way round. (fn. 519) Possibly 16th-century testators were already confused over the names 'Brand' and 'Gibwyn', some 150 years after the manors were united and a couple of generations after the parishes were joined. More likely, the dedications became confused at a later date. (fn. 520)
Nineteenth- and 20th-Century Reorganization
The ecclesiastical parish was reorganized several times in the late 19th and 20th centuries. In 1875 the medieval church in Bix Bottom was abandoned and replaced by a new church on Bix Common, dedicated to St James. (fn. 521) This was a rather belated response to the shift in population away from the valley. (fn. 522) The period was also punctuated by ecclesiastical boundary changes and benefice amalgamation. In 1860 parts of the south-west of the parish were assigned to the new ecclesiastical parish of St Paul, Highmoor. (fn. 523) In 1953 the Catslip area and part of Nettlebed Woods were transferred from Bix to Nettlebed, and land south-east of Middle Assendon and around Henley cemetery was moved from Henley to Bix. (fn. 524) In 1973 Bix was united with part of Pishill ecclesiastical parish to create a new parish of Bix-with-Pishill. (fn. 525) In 1981 the benefices of Bix-with-Pishill, Nettlebed and Highmoor were united, the parishes remaining distinct but with a joint parochial church council. (fn. 526) In 1985 the area of the ecclesiastical parish was substantially reduced, with the whole north-western arm being transferred to Swyncombe, and a small area south of Berrick Trench going to Nettlebed. (fn. 527) In 2003 Rotherfield Greys was added to the united benefices. (fn. 528)
Advowsons
In the early 13th century both churches were in the patronage of the lords of the respective manors. In 1237 Isabel, countess of Oxford, presented Thomas de Belesham as rector to the church of Bix Gibwyn, while in 1248 Robert Brand presented his kinsman Robert Brand to Bix Brand, after the resignation of the previous incumbent. (fn. 529) From the mid 13th century there is evidence that the two churches were sometimes held by a single incumbent in plurality, presented presumably by agreement. (fn. 530)
The advowson of Bix Gibwyn continued to be exercised by the lords of the manor throughout the Middle Ages, (fn. 531) but between 1263 and 1275 that of Bix Brand was given to Dorchester abbey, which in 1275 received permission to appropriate the rectory estate. (fn. 532) The abbey's right was unsuccessfully challenged in 1285 by Maud Brand, then lady of part of Bix Brand manor, who claimed a third of the advowson as part of her dower. (fn. 533) In 1278 the abbey evidently also laid claim to the advowson of Bix Gibwyn, but was defeated by the lord, Robert Brian. (fn. 534) The abbey obtained the right to serve Bix Brand through chaplains or its own canons, but by the late Middle Ages, when the parishes were effectively combined, seems to have made alternate presentations of a single rector with the lord of Bix Gibwyn. (fn. 535)
From the Dissolution, with the unification of the parishes and apparent abandonment of the second church, the abbey's right evidently lapsed, and later presentations to Bix church were all by the Stonors or their representatives as lords of the combined manor. (fn. 536) George Mantel, who presented in 1565, (fn. 537) was presumably acting on their behalf at a time when their Catholic beliefs debarred them from presenting directly. William Marsh, an Oxford tailor, presented his son Sebastian in 1682 by grant of Thomas Stonor, (fn. 538) while in 1698 Thomas Toovey of Howe (Watlington) purchased the next presentation from the Stonors for £105 10s. (fn. 539)
In 1720 Thomas Parker, earl of Macclesfield (of Shirburn castle), bought the advowson from Thomas Stonor for £1,000, buying out Toovey's interest for £305 two years later. (fn. 540) The earls presented all of Bix's subsequent rectors until the late 20th century, except for Henry Heathcote in 1802, presented by Francis Lord Heathfield and Sir William Heathcote Bt, of Hursley Park (Hants.). (fn. 541) Following late 20th-century reorganizations, patronage of the united benefices was shared by the earl and by patrons of the other churches. (fn. 542)
Endowment
Individually the medieval churches were poor: in the 13th and 14th centuries Bix Brand was worth only 10 marks (£6 13s. 4d.) a year, and Bix Gibwyn a mere £2. (fn. 543) The higher value of Bix Brand church may be partly explained by the inclusion of tithes from Bromsden. (fn. 544) In the Middle Ages, as later, only a small proportion of income seems to have come from glebe. (fn. 545) In 1240 the rector of Bix Gibwyn unsuccessfully claimed the tithes from half a hide of land in Watlington, presumably the detached part of the parish adjacent to Bix over Warmscombe Lane. (fn. 546)
Dorchester abbey's appropriation of Bix Brand's endowments in 1275 was on condition that a vicarage should be set up, though only with the abbey's consent and 'when it seems desirable'. (fn. 547) Evidently nothing was done, and in 1302 the bishop agreed that because of the benefice's poverty, Bix, like Nettlebed and Pishill, could be served by chaplains rather than vicars. (fn. 548) In 1489 the combined annual value of the two livings was said not to be more than 10 marks, (fn. 549) although in 1535 the joint living was valued at £10 5s. 6d. gross. (fn. 550) The two churches' endowments were presumably combined after the Dissolution.
In the earlier 17th century the living was valued at £60, (fn. 551) in 1685 at £110, (fn. 552) and in 1729 it was described as 'a very good one'. (fn. 553) By 1790 the gross annual value was £338 5s., (fn. 554) of which over £300 came from tithes; £21 came from the lease of 33 a. of glebe and £10 from 10 a. of glebe in hand (the rest of the glebe being attached to the rectory house), with £2 10s. from commons, £1 10s. from tithe of underwood, and £3 from wood sales. The net value was just over £311. Fifty years later the tithes were commuted for £635 2s. 6d. (fn. 555) However, the full sum seems never to have been collected, and the real value of the tithe-rent charge into the earlier 20th century was £350-£500 per annum, (fn. 556) with payment often slow and begrudging. (fn. 557) In the 17th century the glebe comprised c. 50 a., spread around the parsonage and Bix Common. (fn. 558) It was measured at 67 a. in 1840, (fn. 559) but much was apparently sold off in the later 19th century. (fn. 560) In 1911 the remaining 22 a. was included in the sale of the rectory house, except for 3 a. of woodland exchanged with the Mackenzies for the site of a new rectory. (fn. 561)
Rectory Houses
In the late 13th century both parishes evidently had rectory buildings, since in 1278 the rector Walter Cardun's houses in Bix Brand and Bix Gibwyn were burgled. (fn. 562) By the late 16th century there seems to have been only one rectory house. (fn. 563) Known later as Bix Hall, it stood near the road northwards from Bix Common to the Bix Bottom valley, (fn. 564) and remained the rectory until the early 20th century. In 1602 it had five bays, with two barns, stabling, and 7 a. of garden, orchard and closes surrounding it; in 1665 there were at least four fireplaces. (fn. 565)
Sebastian Marsh (rector 1681–1729) was credited with rebuilding the house and making a handsome garden, (fn. 566) but considerable enlargement may already have been carried out by 1676, when the house comprised eight small bays. (fn. 567) The building fell into decay under two non-resident rectors in the 18th century, but was rebuilt in the 1790s by John Cooper (rector 1785–1801), who borrowed £480 for the purpose. (fn. 568)
The house was sold in 1911, when it was thought to be over-large and too isolated from church and village, half a mile down a steep hill. (fn. 569) A new rectory house was built on land north of Bix Common, acquired by exchange with W. D. Mackenzie; (fn. 570) that was sold after the amalgamation of benefices in 1981, becoming a private house.
Pastoral Care and Religious Life
The Middle Ages
In the early 13th century (and possibly from the 11th), Bix Brand and Bix Gibwyn churches had separate rectors who may both have resided. Presumably they served the tenants of the respective manors, from churches sited only a few hundred metres from each other. The survival of an early font from the ruined church of Bix Brand suggests that both churches probably had baptismal rights, (fn. 571) and both certainly had burial grounds.
Nevertheless, for much of the Middle Ages Bix may actually have been served by just one incumbent. Walter Cardun, appointed to Bix Brand in 1263 and to Bix Gibwyn the following year, apparently held both livings in plurality, and since he replaced an incumbent called Thomas at both churches he was probably not the first to do so. (fn. 572) After 1275 Dorchester abbey was expected to supply chaplains or canons for Bix Brand, but whether it did so is uncertain, since no formal appointments are recorded. (fn. 573) Reference in 1403 to a 'parson of Bix' may imply responsibility for both parishes, (fn. 574) and in the late 15th and early 16th century Dorchester abbey and the lords of Bix Gibwyn seem to have alternately presented rectors who served both churches: thus on the death of John Getour, presented to Bix Gibwyn church in 1475 by William Stonor (d. 1494), the abbey presented Thomas Day (1484–1501) as rector of Bix Brand. (fn. 575) In 1489 Day was expressly described as rector of the 'united parish churches of Bix Brand and Bix Gibwyn', (fn. 576) and only individual rectors were recorded thereafter.
Evidence of the religious life of the two churches is limited. By the 16th century land had been given to Bix Gibwyn church to keep a light burning before the rood, (fn. 577) and in 1544 the rector John Dorman requested burial in the chancel there. (fn. 578) In 1543 and 1545 two Bix men requested burial in Bix Brand churchyard, one bequeathing two sheep to the church and 12d. to the 'blessed sacrament of the altar', the other 2d. to the 'blessed sacrament'. (fn. 579) Bix Brand church retains two sockets above the chancel arch containing the ends of substantial timbers, perhaps the remains of supports for a rood loft erected most likely in the 15th century. (fn. 580) The arch itself is flanked by two niches (Plate 11c), of which the larger (northern) one was presumably for a nave altar; stylistically it appears to be 13th-century, an early date for such a small church. The narrower southern niche was possibly for an image, its depressed-arched head and brickwork suggesting a 15th or early 16th-century date. (fn. 581) Its narrowness might be explained by the presence of a stair or ladder giving access to the rood loft above. (fn. 582)
A number of 13th- and early 14th-century rectors were instituted in only minor orders, suggesting that they were at an early stage in their careers. (fn. 583) Some of the rectors of Bix Gibwyn died in post after fairly lengthy tenures in the 14th and 15th centuries, (fn. 584) but more held the benefice for only a few years before moving on. (fn. 585) By then they were a mixture of graduates (fn. 586) and non-graduates, (fn. 587) mostly in full orders; from the early 16th century almost all rectors were graduates. Length of tenure seems to have increased from the later 15th century, perhaps because the unification of the benefices made the position more attractive. (fn. 588) How far rectors were resident is difficult to determine, but one or two were mentioned in a local context. (fn. 589) Robert Brand (presented 1248) was related to the lord of Bix Brand manor, while William Vigorous, rector in 1409, is perhaps to be identified with a namesake living in Bix in 1383. (fn. 590) In the earlier 15th century several acquired substantial tenancies in Bix from the Stonors. (fn. 591) By the early 16th century some had curates. (fn. 592)
The Reformation to 1785
Most 16th- and early 17th-century rectors seem to have resided, among them Gavin Granger (1545–54), John Barker (1565–76), and William Chessall (1576–1641); (fn. 593) as earlier, some had curates to help them. (fn. 594) Dorman, Barker and Chessall were all buried in the parish, and Dorman bequeathed 'the Standes Cupe', which was 'to remain...within the parsonage to make the parishioners to drink withall', while Barker made small bequests to the poor. (fn. 595) Chessall, the longest-serving of all Bix's rectors, was originally from Worcestershire; (fn. 596) John Chessall, probably a relative, was curate of Rotherfield Greys or Peppard in 1573, (fn. 597) and several of the family settled at Bix and Highmoor. (fn. 598) A silver chalice dated 1611 was presumably purchased during William Chessall's incumbency. (fn. 599)
Rectors' attitudes to the changes of the Reformation are not entirely clear. Gavin Granger, appointed in 1545, resigned in 1554 soon after the re-introduction of Catholicism, although he may simply have moved to another benefice. (fn. 600) During Elizabeth's reign the Stonors were the chief recusants in south Oxfordshire, but whether this influenced their presentations in Bix is uncertain. (fn. 601) David Morles, appointed in 1554, survived the return to Protestantism, but was deprived in 1565; the reason for his deprivation is unrecorded. (fn. 602)
The effects of the Reformation on everyday religious life were profound, as elsewhere. Land used to pay for a light before the rood in Bix Gibwyn church was confiscated, and the rood (with other images) presumably removed. (fn. 603) A silver chalice was forcibly sold in 1552, the money used to purchase a Bible, Erasmus's Paraphrases on the New Testament, and the Book of Common Prayer, as well as for repairs to the churches and their paving; soon after the fine vestments, copes and altar cloths seem also to have been removed. (fn. 604) In Bix Brand church the wooden plugs above the chancel arch perhaps secured new boards painted with the Creed and Commandments, replacing the rood after the Reformation. (fn. 605)
The area's dispersed settlement no doubt affected church attendance in this period, as later. Inhabitants of the parish's remoter corners may have attended infrequently, or used other churches: the Mosdens of Redpits seem to have frequented Swyncombe church in the later 16th century, for example. (fn. 606) Conversely, in the 1620s inhabitants of neighbouring parishes sometimes attended church in Bix, not only for convenience but because of poor provision in their own churches. (fn. 607) Use of neighbouring churches by far-flung inhabitants continued in the 1780s, when Bix's parish register recorded baptism of several children from Pyrton parish, and of a few from Pishill and Watlington. (fn. 608)
During the Civil War Bix's rector Thomas Newlin, appointed in 1641, was allegedly 'often plundered', and was imprisoned at Henley for corresponding with his brother Robert Newlin (President of Corpus Christi College, Oxford) and 'other malignants' (i.e. Royalist sympathizers). (fn. 609) Nonetheless, he remained rector until his death in 1681. (fn. 610) Memorials to two of his sons were in the old church of Bix Brand, and he himself was buried there. (fn. 611) According to the antiquary Thomas Hearne, Newlin's successor Sebastian Marsh (rector 1682–1729), (fn. 612) though resident, (fn. 613) was infamous 'for his rattling way of living, as his wife was also, who was no better than a whore, and their children were bred accordingly'. (fn. 614) In 1724 Marsh nevertheless had a curate to assist him. (fn. 615)
For much of the rest of the 18th century, Bix was held by two non-resident rectors: Thomas Hunt (rector 1729–74) and the elderly Thomas Bray (1774–85), who both spent most of their time in Oxford. Hunt was professor of Arabic at Oxford University from 1738, and regius professor of Hebrew and canon of Christ Church cathedral from 1747. He had been appointed chaplain of the earl of Macclesfield and tutor to his grandsons in 1728, and presumably it was this connection which secured him the benefices of Bix and Shirburn (1731–48). (fn. 616) Bray was a fellow and, from 1771, rector of Exeter College, Oxford, canon of Windsor (1774), and dean of Raphoe in Ireland (1776). (fn. 617) A colourful and controversial figure, he seems to have obtained the Bix living as belated reward for his vigorous support for the Macclesfields and the Whig cause in the notorious Oxfordshire election of 1754. (fn. 618)
Both visited Bix at varying intervals, and the main duties were carried out by a succession of curates, among them Matthew Dutton, a graduate of Hart Hall, James Neale, a Cambridge graduate and classical scholar who was master of Henley Grammar School (1747–62), and John Bree, a fellow of Balliol College, Oxford. (fn. 619) Most seem to have been young men only recently ordained, and served relatively briefly, although Samuel Nicholl was curate for fifteen years (1770–85), and was buried in Bix, (fn. 620) while Dutton served for at least eight years (1734–42).
Church attendance seems to have been poor throughout the 18th century. Low numbers were blamed on laziness and ignorance, especially among the poor, and on the distance many had to come. (fn. 621) Between 1759 and 1768 the second Sunday service was dropped in winter because of low attendance, (fn. 622) and in 1771 the curate could only 'hope and suppose' that non-attenders frequented another church which was nearer. (fn. 623) Although the typical number of communicants at the thrice yearly communion services had apparently risen from about 15 in the early part of the century to more than 30 in the late 1750s, it fell to about 10 thereafter. Many of those who did attend church seem to have done so in a perfunctory manner. In 1759 those present 'practically disregarded religion', (fn. 624) and the church was evidently neglected: a visitation that year ordered repairs and provision of a new Bible, pulpit cushion, and cloth and napkin to cover the elements, while the rector and churchwardens were ordered to keep the surplice and table linen cleaner. (fn. 625) The churchwardens were apparently among the least frequent communicants and, as Nicholl commented in 1774, looked upon their annual reports as 'a mere matter of form', fearing 'to incur the imputation of ill-nature by presenting their neighbours for what [they] themselves are equally presentable...and an omnia bene is returned, when too frequently omnia sunt pessime'. (fn. 626)
In this climate of religious apathy, Nonconformity too seems to have been limited. There is little evidence of Catholicism despite the Stonors' recusancy, (fn. 627) and in the late 17th and early 18th century Protestant Dissent was small-scale, with just a handful of Independents and, for a short time, a couple of Quakers, probably associated with Henley. (fn. 628) In 1759 the curate James Neale was, according to the visitation return, 'reputed a Methodist', (fn. 629) although then and for the rest of the century the only Protestant Dissenters were a few Independents attending the Henley meeting. (fn. 630) No Protestant Dissenters were reported in the 1780s or 1790s. (fn. 631)
The Late 18th to Late 19th Centuries
The appointment of John Cooper (1785–1801) (fn. 632) marked the start of a long period during which rectors were resident for most or all of their incumbencies. Many were long-serving and closely involved with the life of the community. (fn. 633) Cooper, who held Purley (Surr.) in plurality from 1788–1800, (fn. 634) was buried in Bix church. (fn. 635) His successor Henry Heathcote (rector 1802–22), a fellow of Wadham College, Oxford, lived initially at a living in Lancashire but later at Bix, (fn. 636) and was probably responsible for the purchase of two pieces of early 16th-century Flemish stained-glass installed in the church (and later transferred to the new church). (fn. 637) Horace Pechell (1822–72), a fellow of All Souls and chancellor of the collegiate church of Brecon (dissolved in 1841), served the parish for fifty years, (fn. 638) and in 1884 was commemorated with a stained glass window in the new church. (fn. 639) These three rectors occasionally had curates to assist them, though in the later years of his term Pechell was resident only part of the time. (fn. 640)
Cooper seems to have improved church attendance as well as increasing the sacrament to four times a year, and although absenteeism remained a problem the parish was said to be 'much improved' under his care. (fn. 641) Under Heathcote there seems to have been some corresponding increase in the number of regular communicants, from around 15 to 25. (fn. 642) However, the improvements were not sustained. An average congregation of 100 in 1834 was reduced to 70–85 in 1851 and to only 20–60 in 1860, varying according to the weather, (fn. 643) and both Heathcote and Pechell voiced continued concerns about attendance. (fn. 644) Pechell abandoned the summertime Sunday afternoon service early on, and although in 1857 he was reluctantly persuaded by Bishop Wilberforce to provide double duty between Easter and Michaelmas, in 1866 the afternoon services remained poorly attended. (fn. 645) In Pechell's later years the number of regular communicants also seems to have fallen, although the sacrament was by then administered five times a year. As earlier, the church's isolation no doubt contributed to these problems. (fn. 646) Attempted solutions included services by Henley clergy in a chapel-cum-school established in Lower Assendon in 1849, (fn. 647) and the creation of the new parish of Highmoor in 1860. (fn. 648)
The scale of Nonconformity in Bix during this period is difficult to assess. A few Catholics were reported among the poor in the early 19th century, including three families from Minigrove who in the first decade of the century attended Stonor chapel. (fn. 649) A family of Anabaptists was reported in 1817 but not in 1823, (fn. 650) and in the latter year a licence was granted for a Wesleyan meeting in Maidensgrove. A Wesleyan Methodist chapel was built at Russell's Water (Pishill) in 1836, (fn. 651) and an apparently short-lived attempt was made to set up a meeting house at Lawrences Farm in Bix in 1847. (fn. 652) Despite these developments, in the 1850s and earlier 1860s Pechell claimed that there were hardly any Dissenters in Bix and no Dissenting places of worship; (fn. 653) in 1869, however, he complained that part of the reason for declining church attendance was that most farms were occupied by Dissenters, and that preachers sometimes 'held forth' on Bix Common, while all the farmers except the churchwarden refused to pay church rates. (fn. 654) Pechell made no similar complaints at the next visitation, though in 1881 his successor reported that the occupants of two farms, a farmer and a farm bailiff with their families, were Dissenters. (fn. 655) If there was an efflorescence of Nonconformity it was likely short-lived, since turnover of farm tenancies during the period was rapid. (fn. 656)
Church Life from 1875
In September 1875 a new church with 135 sittings was opened on Bix Common. The old church was abandoned as too small and isolated. (fn. 657) The new building was paid for by the patron, the 6th earl of Macclesfield, whose son the Hon. Algernon Robert Parker became rector in 1877; (fn. 658) the cost was around £2,400. Parker (rector to 1897) increased the number of services and reported good attendance, though occupants of twelve cottages did not attend because of distance, apparently attending Pishill church instead. (fn. 659) By 1891 half the sittings, all of them free in 1887, had been appropriated. (fn. 660) In 1896 a slightly reduced attendance was ascribed to some farms being unoccupied, and to many labourers preferring to spend Sunday mornings in bed. (fn. 661)
Later rectors included James Griffiths (1897–1911), a graduate of St David's College, Lampeter, (fn. 662) and Charles Formby (1911–37), a graduate of Keble College, Oxford, who experimented with providing a daily evensong service in the 1920s. (fn. 663) Thereafter few rectors stayed more than ten years. (fn. 664) The congregation seems to have been permanently reduced by the early 1920s, when three of the pews were no longer needed. (fn. 665) A further decline occurred from the mid 20th century, and in 2006 the congregation numbered around 20–30, of whom half came from the Assendons, a few from Bix 'village', and the rest from Henley. (fn. 666)
Considerable improvements were made to the church in the 20th century, mainly paid for by local subscription. A new organ was provided in 1906, (fn. 667) and in the late 1920s a new vestry was built and the Flemish glass reset. Electric light and heating were installed in 1947, and general repairs were carried out in the 1950s and 1960s. Much of the church interior was reorganized in 1969, when the altar was relocated to a central position in the chancel, the pulpit moved, and the choir turned to face the congregation. (fn. 668) In 1978 the altar rails were refurbished, and in 1991 glass-panelled entrance doors were paid for by private donation. (fn. 669) Church Architecture
The Medieval Church of Bix Brand
The now-ruined church of Bix Brand is a two-cell Romanesque structure with late medieval alterations and later rebuilding. (fn. 670) Descriptions, drawings and photographs pre-dating its abandonment in 1875 reveal a small, plain church, consisting of chancel, nave and porch, with a wooden bell-turret on the west gable (Fig. 56). (fn. 671) The main structure is made from unknapped flints, with stone dressings and areas of brick and plaster. The aisleless nave looks as if it may have been extended. The date of initial construction is difficult to determine, but the character of the masonry and other features make the early 12th century seem most likely. (fn. 672)
Little attempt has been made to preserve the building, long overrun by vegetation. (fn. 673) By 2006 it was in very poor repair: the west wall of the nave had long collapsed and the chancel arch lacked its keystone. Traces of former wall painting had almost all rubbed away, and the piscina was missing from its niche. Only two grave slabs were left in the churchyard, which had formerly been used as an animal pen. (fn. 674)
St James's Church, Bix Common
The attractive little church on Bix Common was erected in 1875, apparently by Butler's of Crocker End, (fn. 675) and to designs by the London architect John Gibson. (fn. 676) Built in Gothic-revival style, it is of knapped flint with stone dressings and has a tiled roof, and consists of nave, north aisle, and chancel. A bell from the old church was exchanged for two 'stock' bells from the Whitechapel foundry, which hang in a bellcote on the apex of the west gable. (fn. 677) The lancet windows in the north and south walls are separated by buttresses. The east wall has a decorated three-light window, and the west wall a similar two-light window.
LOCAL GOVERNMENT
Manor Courts
In the 13th century tenants of the two main manors probably attended separate manor courts. Annual views of frankpledge for Bix Brand manor were mentioned in the 1270s, (fn. 678) and were held alongside the manor court c. 1390–1414, (fn. 679) though at other times the Bix Brand tithing reported to the honor of Wallingford view. (fn. 680) Bix Gibwyn manor had no leet jurisdiction, but its manor court was documented in 1388, when pleas and perquisites were worth nothing after the steward's fee; those at Bix Brand were worth 12d. a year. (fn. 681) By the mid 15th century the functions of both Bix manor courts were apparently subsumed into the Stonor court. (fn. 682)
The court baron at Stonor continued in the 17th and early 18th century, when business relating to Bix included customary tenancy transfers, missing hedges, unauthorized inclosures, and encroachments on waste land. (fn. 683) Rights to manor and leet courts included in the 1894 sale of Stonor land in Bix and other parishes were presumably by then purely nominal, however. (fn. 684)
By the 18th century a court baron and leet was held for Minigrove manor and a court baron for Soundess manor, though neither estate is known to have enjoyed manorial rights in the Middle Ages. (fn. 685) Much of the business of these courts involved the regulation of grazing and wood-gathering on common land, and fines for encroachments on the waste. In the early 19th century the Minigrove court appointed a constable, a tithingman, and a hayward; the manorial pound was reported to be out of repair, and it was suggested that stocks should be provided at the lord's expense. (fn. 686) Neither court is known to have continued later.
Parish Government
Parish government in Bix is ill recorded, but presumably there was some form of parish assembly or vestry by the 1530s, when there were two churchwardens. (fn. 687) A parish overseer was mentioned in 1710, (fn. 688) and parish taxes in support of highways, the church, and the poor were mentioned in 1744. (fn. 689) Other taxes were in support of the constable, who, although still closely involved in manorial jurisdiction, (fn. 690) was perhaps jointly appointed by the vestry, and presumably fulfilled parochial duties as well. A parish clerk mentioned from the 1790s was appointed by the rector and supported from a small stipend and fees. (fn. 691)
By the early 19th century there were two overseers of the poor, (fn. 692) and still two churchwardens, of whom one (as was usual) was appointed by the rector, and the other by the parish. (fn. 693) At least one of the parish houses mentioned in 1725 seems to have been retained in 1840, along with a parish pound. (fn. 694) Vestry minutes covering the period 1814 to 1926 were noted in the mid 20th century, but have since disappeared. (fn. 695)
In 1894 the parish became part of the newly formed Henley Rural District, and a new parish council was formed. (fn. 696) Thenceforth the district and parish councils took over civil functions; (fn. 697) the churchwardens were restricted to church affairs, principally repairs and alterations. (fn. 698)