Pages 231-265
A History of the County of Oxford: Volume 16. Originally published by Boydell & Brewer for the Institute of Historical Research, Woodbridge, Suffolk, 2011.
This free content was digitised by double rekeying and sponsored by Victoria County History Oxfordshire. All rights reserved.
HARPSDEN
Harpsden is a Rural parish just south of Henley, stretching from the Thames in the east to higher wooded ground 3¾ miles (6 km) west, and including the largely deserted settlement of Bolney. (fn. 1) The 20th century saw a limited amount of development in the south-east close to Shiplake, but most of the parish remains sparsely populated, with isolated farms and houses spread along the Harpsden valley and on the plateaux above. A former manor house called Harpsden Court, the church, the old school and a village hall are all located in the valley, but there is no village of Harpsden as such. The parish's dispersed settlement pattern and location seem to have discouraged a strong sense of community in most periods, with many locals developing important external ties with people in Henley and neighbouring parishes. Until the end of the 19th century Harpsden supported a farming population, but it has subsequently been subject to ongoing gentrification.
Parish Boundaries
In 1879 the ancient parish measured 2,021 a., similar to its estimated acreage in 1842. (fn. 2) The parish's (and county's) eastern boundary followed the midstream of the river Thames for just under a mile, bringing in several small islands, while the long northern boundary with Rotherfield Peppard ran through fields and then along field boundaries as far as Flowercroft wood. In the west and south-west, the boundary with Rotherfield Peppard and Shiplake was largely undefined, including where it approached and crossed the northern part of Crowsley park and land to the east. (fn. 3) The remainder of the southern boundary with Shiplake followed the edge of High Wood before cutting across fields and following short stretches of field and woodland boundaries to the Thames. (fn. 4) An estate map of 1586 (Plate 12) and the record of a procession in 1672 suggest similar boundaries. (fn. 5)
In the Middle Ages the area comprised the two separate parishes of Harpsden and Bolney, which were amalgamated in the 15th century. (fn. 6) Almost certainly their boundaries derived from those of two late Anglo-Saxon estates recorded in 1086: the Harpsden estate lay to the north, and Bolney to the south, both apparently extending from the Thames to the higher ground in the west. The internal division between them presumably followed the southern boundary of the Harpsden estate as mapped in the late 16th century. (fn. 7) It has been speculated that both estates (with Lashbrook) may once, like neighbouring land units, have stretched further west to the hundred boundary on the Chiltern ridge-line; (fn. 8) there is insufficient evidence to substantiate this, although Harpsden men probably had common rights in Wyfold on the Checkendon–Rotherfield Peppard boundary. (fn. 9)
The historic parish was subject to only minor boundary changes in the 20th century. In 1932 Harpsden lost 1 a. to Henley-on-Thames and gained 4 a. from Rotherfield Peppard. In 1952, 152 a. around Highlands Farm in the north were incorporated from Peppard and 6 a. lost to Shiplake in the south. (fn. 10)
Landscape
Harpsden is located at the foot of the Chiltern dip slope, where the dry Harpsden valley meets the terraces of the middle Thames. The place name refers to the valley or dene, the first element (hearp) possibly describing its curved shape. (fn. 11) The terrain slopes down gently from west to east: the highest point, in Crosscroft Wood, is around 90 m., the lowest, on the flat Thames floodplain, less than 35 m. The chalk geology is exposed on the valley sides, but elsewhere is covered by drift deposits, mainly gravel. On the spur of high ground partly occupied by Harpsden Wood there is clayey gravel, and there are patches of alluvium near the river. (fn. 12) The eastern part of the parish contains several small streams fed by springs emerging near Harpsden Court, and the grassland near the Thames is liable to flooding. (fn. 13)
Most of the parish comprises arable and pasture closes, generally larger in the east and smaller in the west (where some were probably created by assarting). (fn. 14) Woodland, covering 15 per cent of the parish in the 1840s, (fn. 15) is concentrated on steeper valley sides and on poorer soils on plateau tops, mainly in the south and west. Some of the most productive soils are located on the gravels in the east of the parish and on areas of well-drained higher ground, while parts of the valley have rather thin, stony soil, shaded by wooded slopes. (fn. 16)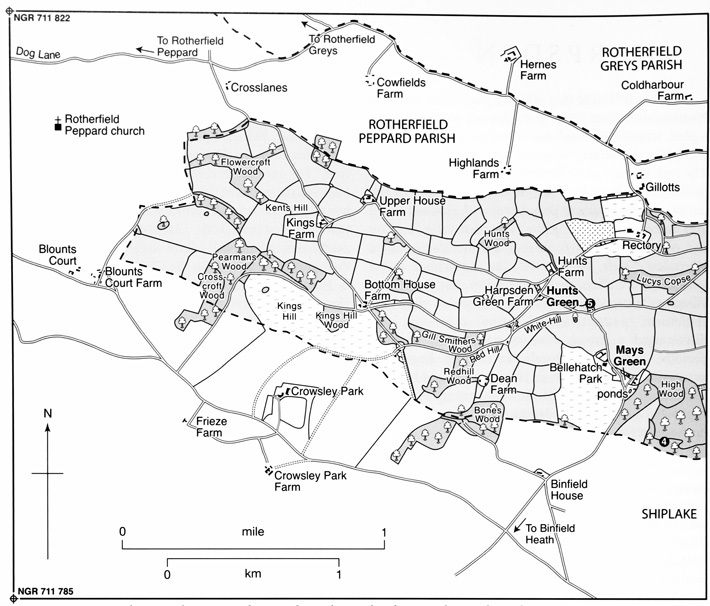 Communications
The main west-east route through the parish is the road running through the Harpsden valley from Rotherfield Peppard in the west to a point just east of Harpsden church, where it veers north towards Henley. This road and a smaller lane continuing east towards Sheephouse Farm both join the main Henley–Reading road, which passes north-south through the parish's eastern end. (fn. 17) Various small lanes and tracks lead to isolated farms and neighbouring parishes.
The basic road pattern was similar in the 16th century, (fn. 18) and probably much earlier. The Harpsden valley in particular is likely to have been a very early communication route. In the Roman period it would have formed a natural way for inhabitants of sites at Harpsden Wood and High Wood to travel to and from the main Silchester–St Albans (Verulamium) road east of the river, either via a crossing at Henley or perhaps one closer to hand. (fn. 19) Certainly by the Anglo-Saxon period there was a landing place on the river at Bolney ('bullocks' hythe'), probably located at or near Beggar's Hole opposite the mouth of the Hennerton Backwater. The valley would also have linked Rotherfield (meaning 'cattle pasture') to the Thames, and may have formed part of a longer-distance route to Oxford and beyond along Knightsbridge Lane. (fn. 20) In this context an early north-south road to Henley also seems likely, and such a road almost certainly pre-dated the development of the town itself. (fn. 21)
The early landing place at Bolney probably declined in importance in the Middle Ages, especially as Henley grew into a major market and trans-shipment point from the 13th century. Nonetheless, there remained a rope-ferry across the river at Beggar's Hole in 1775, where the towpath switched from the Oxfordshire to the Berkshire bank. A house built for the ferryman in the late 1830s replaced an earlier shelter, but was in disrepair by 1868 and has since disappeared. A ferry boat operated into the 20th century. (fn. 22)
Changes were made to some branch routes in fairly recent periods. In the west of the parish Kings Farm Lane, which degenerates into an unmetalled track, was until the 19th century apparently a more significant alternative route to Rotherfield Peppard (via Dog Lane). (fn. 23) Further east, a road going south past the cemetery through Harpsden Wood to Shiplake was constructed at the beginning of the 20th century, as part of the Bolney Syndicate's building development plans. (fn. 24) Earlier tracks through the wood passed in a south-westerly and southerly direction. (fn. 25)
A daily carrier service to Henley and Reading mentioned in 1887 was still running in 1939 (except on Wednesdays), and by the 1920s the Reading-Henley bus service passed through the east of the parish. (fn. 26) A bus service through the village itself was started in 1935, but was subsequently discontinued because of under-use. (fn. 27) Letters were delivered from Henley in the 19th century, (fn. 28) and a sub-post office was established in a cottage next to the school c. 1900; it closed during the First World War but re-opened in 1933, continuing in a new location until after the Second World War. (fn. 29) Post-boxes were scattered around the parish. (fn. 30)
The inclusion of a small railway station on the Henley branch line at nearby Shiplake provided an important new transport link in 1857. The presence of the station had a strong impact on subsequent development in the south-east of the parish. (fn. 31)
Population
In 1086 14 tenants and four slaves were recorded on the Harpsden estate and 13 tenants and three slaves at Bolney. (fn. 32) The figures suggest a population of at least c. 160–80, (fn. 33) one of the highest in the area, although this is difficult to reconcile with what is known of the population in subsequent periods. As later, habitation was probably spread across the parish in scattered farmsteads and hamlets, but there must have been a larger population on the Bolney estate than later. (fn. 34)
Growth in the 12th and 13th centuries seems to have been very limited, and particularly in Bolney population may actually have declined. In 1306 there were only 11 taxpayers in Harpsden vill, and as few as eight in 1316 and 1327. (fn. 35) On Bolney manor a mere six tenants were recorded in 1322, and three taxpayers in 1327. (fn. 36) After the Black Death the poll tax of 1377 was levied on 41 individuals over 14 years of age, suggesting a total population of c. 75–90, perhaps less than half that of the late 11th century; only nine of them were assessed in Bolney, compared with 32 in Harpsden. (fn. 37) Even allowing for a heavy death toll from successive bouts of plague, these figures suggest little or no expansion after 1086. Perhaps the settlements here, like some others by the Thames, had already reached their full potential by the late 11th century, (fn. 38) and certainly further agrarian development seems to have been limited, despite the proximity of Henley. (fn. 39)
Population remained low, and probably fell further in the 15th century: in 1428 Harpsden was apparently one of three parishes in Henley deanery with fewer than 10 households. (fn. 40) Thirty-two adult males were listed in 1642, and 22 houses were assessed for hearth tax in 1662. (fn. 41) In 1676 there appear to have been about 80 adult inhabitants. (fn. 42) The birth rate generally exceeded the death rate in the late 16th and 17th centuries, particularly in the first half of the 17th century, but overall growth seems to have been slow, with only small numbers of baptisms and burials and, presumably, considerable emigration. (fn. 43) Rectors reported around 30 families in the 18th century. (fn. 44)
The number of baptisms increased from the 1770s, (fn. 45) but the population was still only 173 in 1801. It reached 238 by 1831, but further growth was limited and uneven: numbers fell slightly by 1851 (to 215), rose sharply to 261 ten years later, but then dropped, perhaps because of agricultural changes, from 260 in 1871 to only 226 in 1881. Levels of immigration and emigration seem to have been fairly high after 1841, and probably earlier. By 1901 there had been a small increase, with 256 people living in 51 houses, and rather more substantial growth followed in the early 20th century: by 1921 the population rose to 431 (104 households), reflecting house building on land sold for development by the Bolney Syndicate. Later growth was limited by lack of further substantial house-building, and in 2001 there was a population of 512 (191 households). (fn. 46)
Settlement
Modern settlement in Harpsden is located mainly in the far south-east near Shiplake, and along the road through Harpsden Bottom; in other parts of the parish there are only a few isolated farms and houses. (fn. 47) The overall pattern was apparently similar from the 16th to 19th centuries and probably in the late Middle Ages, with the important exception of the south-east: there, Bolney Court was virtually the only house before riverside villas and suburban homes began to appear in the 1900s. (fn. 48) Early medieval settlement may have been rather different, however, with a greater focus on the Bolney area than in any subsequent period before 1900.
Early Settlement
Neighbouring areas show signs of considerable Palaeolithic, Mesolithic, Neolithic, and Bronze-Age activity, and a number of Mesolithic flints have been found in Harpsden High Wood. (fn. 49) By the Iron Age (c. 700 BC to 50 AD) there is evidence of permanent settlement in the east, close to the river. On the parish boundary at the northern end of the floodplain, crop marks near Sheephouse Farm show a rectangular ditched enclosure, and possibly another enclosure to the north. (fn. 50) Excavations just over half a mile south near Lower Bolney Farm suggest a second settlement which was in use c. 400–100 BC, and which was perhaps abandoned because of flooding and alluvial deposition. (fn. 51) The Sheephouse Farm site may have been of similar date. Further south-west a hoard of 17 Gallo-Belgic coins (mostly minted c. 60 BC) were found in Harpsden Wood. (fn. 52)
Romano-British finds have been concentrated on the higher ground in and to the south of Harpsden Wood. A 90 m. x 60 m. site on the southern edge of High Wood appears to include the remains of a building (not certainly a villa) which shows evidence of occupation into the 4th century. (fn. 53) Half a mile north-east was a large winged corridor villa (60 m. long and 12 m. wide) near Harpsden Wood House, apparently occupied in the 3rd to earlier 4th centuries. This complex has not been fully excavated, but included a bath house; only low-status pottery was found, and no tessellated paving. (fn. 54) The antiquary Robert Plot reported that Roman coins were found near a small 'circumvallation' (rampart) in a wood south-west of Harpsden church, (fn. 55) but what connection (if any) this feature had with either site is unclear. Romano-British pottery and other materials have also been found near Mays Green, in the Harpsden valley, and close to Lower Bolney Farm. (fn. 56)
There is as yet no archaeological evidence for early Anglo-Saxon settlement in the parish, though there have been finds in Shiplake and other places nearby. (fn. 57) Given its fairly substantial Domesday population, Harpsden must have shared in the widespread intensification of farming (and presumably growth of settlement) in the 9th to 11th centuries. (fn. 58) The hythe at Bolney may have provided an early focus for settlement, and the establishment of the Harpsden and Bolney estates before the mid 11th century must have involved the creation of two separate estate centres, almost certainly on the sites occupied by the later manor houses at Harpsden Court and Bolney Court. (fn. 59)
Medieval and Later Settlement
Little is known about early medieval settlement in the parish, but Domesday population figures for both Harpsden and Bolney suggest that it was rather denser than later. (fn. 60) Bolney, with only two or three isolated farms after the Middle Ages, was apparently a more fully populated estate in the late 11th century, with only slightly fewer tenants than Harpsden; it had its own church (by Bolney Court near the river) until the mid 15th century. Given the location of the two manor houses and churches and the possible presence of common fields in the east of the parish, (fn. 61) it seems likely that a substantial amount of settlement was concentrated on the river gravels below the spring line, with scattered settlement in the Harpsden valley and elsewhere. (fn. 62) The probable economic and demographic decline of the Bolney estate suggests a reduction in settlement in the east and south of the parish during the Middle Ages, perhaps leaving a pattern similar to that in the more heavily wooded west.
By the late Middle Ages, settlement must have been everywhere very thinly spread. (fn. 63) The pattern of settlement in the parish's northern half was presumably similar to that shown on an estate map of 1586 (Plate 12): isolated farms at Upper House and Bottom House in the west; three more at Hunts Green in the Harpsden valley (the only area which might be called a hamlet); the rectory house; a farm at Lucys with a smallholding on the other side of the road; and Harpsden Court with its attendant farm. (fn. 64) Less is known about settlement in the southern (Bolney) part of the parish, but it seems likely that in the 16th century, as later, there were only a handful of scattered farmsteads: one at Bellehatch, one further east at Upper Bolney, and Bolney Court and its farm by the river.
Succeeding centuries brought only limited growth. A few cottages were built on strips of roadside waste in the late 16th and early 17th centuries, (fn. 65) including the surviving Perseverance Cottage at the junction north of Mays Green. (fn. 66) In the second half of the 17th century new farmhouses appeared at Sheephouse in the north-east of the parish, (fn. 67) and (probably) at Kings Farm in the north-west. (fn. 68) A number of labourers' cottages were erected in the 18th and earlier 19th centuries, (fn. 69) but even in the 1830s there were only 42 dwellings in the parish, some of them sub-divisions of single cottages. (fn. 70) In the second half of the 19th century a few new brick cottages and houses were built, mainly clustered around the school in the Harpsden valley; some other areas of settlement actually contracted, however, amongst them Hunts Green further west, which dwindled to a single farm. (fn. 71)
Twentieth-Century Development
The first decade and a half of the 20th century saw small-scale development by a group of businessmen, the Bolney Syndicate, who sold off building plots on land formerly belonging to the Bolney and Harpsden estate. (fn. 72) Around 20 mainly large new houses were built in three areas: in and to the south-east of Harpsden Wood, where the Syndicate constructed a new road; further east by the river south of Bolney Court; and in the Harpsden valley, mostly in a group north-west of Lucys Farm. (fn. 73) In most of the parish there was very little subsequent development. The exception was the far south-east, where new suburban houses continued to spill over from Shiplake along Northfield Avenue before the Second World War, (fn. 74) and later onto former nursery land to the east and across the railway line behind Bolney Road. (fn. 75)
The Built Environment
Harpsden, like neighbouring parishes, contains a variety of buildings of many periods, sizes and styles. (fn. 76) Sixteenth- to 19th-century farmhouses and country residences are thinly scattered throughout the parish. A few cottages and smaller houses of similar date are located mainly in a handful of loose groups in the Harpsden valley and at Mays Green near Bellehatch. Large modern houses in substantial gardens and more modest suburban homes are overwhelmingly concentrated around Harpsden Wood and the extreme east and south-east of the parish, close to Shiplake and the river. (fn. 77) The only surviving medieval buildings are the parish church, Harpsden Court and Hunts Farm, although some other farms and houses perhaps replaced medieval predecessors. (fn. 78)
The bulk of the present housing stock dates from the 20th century. A spurt of building before the First World War increased the number of houses from 55 in 1901 to 102 in 1921, and subsequent construction took the figure to 214 in 2001. (fn. 79) This growth was, however, very modest compared with that in neighbouring Greys and Peppard, and was brought about solely by speculative builders and private individuals. No council houses were built in Harpsden.
Country Residences and Farmhouses
The parish contains three surviving pre-20th-century gentlemen's residences: Harpsden Court, Bellehatch, and the former rectory (now the Old Rectory). (fn. 80) Otherwise the more substantial buildings erected before 1900 are all farmhouses. The earliest surviving is Hunts Farm (Fig. 58), the last remaining of three farmsteads shown at Hunts Green in Harpsden Bottom on a map of 1586 (Plate 12). The only extant cruck-framed house in the parish, it was built as a two-bay building probably in the 15th or early 16th century, and was enlarged with a two-bay box-framed eastern extension around the end of the 16th century, when it was held with 78 acres. The brick and flint frontage was presumably built when the house was altered to provide two separate labourers' dwellings in the later 19th century. (fn. 81)
Two other farmhouses, Bottom House and Upper House, date from the 16th century. Both are boxframed, perhaps replacing earlier cruck-framed houses similar to Hunts Farm. Bottom House (later called Old Place) was probably originally a two-bay hall house; an unusually fine roll-moulded spine beam in the hall reflects the resources of the tenant farmer, whose 133-a. farm was the largest on the Harpsden estate in 1586. (fn. 82) The house was much improved and extended in the 17th and perhaps early 18th centuries by the Pearman family, who ran a large holding which also included Upper House farm. Bottom House was extended in mock-Tudor style in the 20th century, while Upper House was encased and extended in brick in the 19th century, so that the original two-bay building and its three-bay early 17th-century timber-framed extension are all but invisible from the outside. (fn. 83) Other farmhouses are mainly 18th-century and later, although, apart from the late 17th-century Sheephouse and Kings and the late 20th-century bungalow at Perseverance Farm, they all replaced earlier buildings.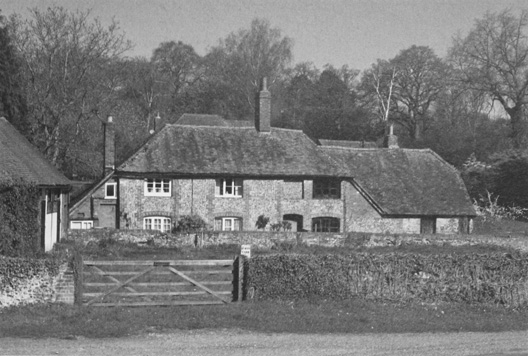 In the 17th and 18th centuries the expansion of crop production led to the construction, replacement and extension of many barns and other farm outbuildings. (fn. 84) The surviving 17th-century barns are mainly three-bay timber-framed structures on brick and flint plinths, including examples at Hunts Green, Upper House Farm, and Harpsden Court. Further barns, many of them larger five-bay buildings, were built in the following century at Lucys, Sheephouse, Upper Bolney, Hunts Farm, Kings, and Lower Bolney (where one of the two barns is date-marked 1750). A small granary on staddle stones at Upper House Farm also appears to date from this period. Later work on farm buildings was mainly confined to the extension and alteration of barns and outbuildings to provide facilities for cows and horses in the late 19th and early 20th centuries, although a granary was built at Bottom House in the earlier 19th century. (fn. 85)
Cottages
The earliest surviving cottage, on the crossroads at Perseverance Hill, is a timber-framed house of the early-to-mid 17th century, extended over the following 200 years. (fn. 86) Other cottages, mainly brick-built and dating from the 18th and 19th centuries, are located in Harpsden Bottom and in a group of six around Mays Green. One of the earliest is Old Rectory Cottage, built perhaps in the early 18th century on a narrow strip of land over the road from the rectory. Several of these cottages were apparently occupied by families involved at least part-time in craftwork, and Perseverance Cottage was used as a beer house in the late 19th century. (fn. 87)
Twentieth-Century Housing
Modern houses in Harpsden can be divided into three main types: grand detached residences in large grounds, suburban houses, and converted barns and outbuildings. Many of the larger houses were built before the First World War, including Harpsden Wood House (1908), Penbryn (1908–9), and Cray (before 1913). (fn. 88) These houses were handsomely equipped, and many included servants' quarters. A number were provided with separate lodges, of which some have been converted to substantial houses in their own right. One such is Harpsden Wood Lodge, formerly attached to Harpsden Wood House.
Probably the largest house of this period is Thames-Side Court, around which, in the late 20th century, Swiss financier Urs Schwarzenbach carried out extensive landscaping, including a model railway and an ornamental lake east of Lower Bolney Farm. (fn. 89) But perhaps the most interesting is the White House (1908), created by interior designer and architect George Walton for one of his major patrons, George Davison, head of European sales for Kodak. An innovative and unconventional house built on land formerly belonging to Bolney Court, this house-boat-style building with unusual curving balconies provided the wealthy Davisons with an ideal riverside summer residence at which to entertain the glamorous Henley set. (fn. 90)
Among the more unusual later residences was a long, low courtyard house called Cray Clearing, designed by Francis Pollen for his parents in 1963, but much altered after Pollen's death in 1987; it was eventually demolished in 1995. (fn. 91) Alongside the building of new houses and the often costly improvement and updating of existing ones, (fn. 92) the later part of the 20th century also saw the widespread conversion of barns and other farm outbuildings to domestic use, a development encouraged throughout the Chilterns by stringent planning regulations limiting new building. (fn. 93)
MANORS AND OTHER ESTATES
Eleventh-century Harpsden was divided between two estates: Bolney, an 8-hide holding stretching across the parish's southern part, and Harpsden, a 5-hide unit more typical of the area. (fn. 94) The larger number of hides accorded to Bolney is difficult to account for, since both estates were regarded as single knight's fees by the 12th century, and Harpsden manor comprised c. 1,020 a. in 1586 and probably in the Middle Ages; (fn. 95) of that, around 831 a. lay in Harpsden parish, 158 a. in Rotherfield Peppard, and 31 a. in Rotherfield Greys. (fn. 96) The two estates remained in separate hands until the mid 17th century, when Bolney manor (excluding Bolney Court and a small residual estate) was bought by the Hall family, owners of Harpsden. In the 1850s the reverse occurred when the Harpsden estate was bought by the Hodges family of Bolney Court. The combined estate was sold and broken up at the turn of the 20th century.
Harpsden Manor to 1650
In 1086 Harpsden, along with Eaton (Berks.) and a share of Harlington (Middx.), was held by an Anglo-Saxon called Alfred, who held from Miles Crispin. (fn. 97) Miles had apparently acquired these estates as part of his share of the lands of Wigod of Wallingford, the important king's thegn whose holdings formed the basis of the later honor of Wallingford. (fn. 98) Alfred was dead before c. 1106–8, when his son Roger granted tithes from Eaton to Abingdon abbey; (fn. 99) Roger died between the early 1140s and 1166. (fn. 100) A Roger son of Alfred who served on a jury as a knight of the honor in 1184 may have been a relative, (fn. 101) but by 1196 all three estates were held by Ralph of Harpsden. (fn. 102) The overlordship remained with the lords of Wallingford honor in 1501, (fn. 103) but was acquired by the Stonors before 1618, when Harpsden manor was held from their manor of Rotherfield Peppard in free socage for a £4 annual quitrent. (fn. 104)
The Harpsden family retained Harpsden, apparently their main residence, (fn. 105) until the mid 15th century, (fn. 106) despite forfeitures and legal challenges in the 1390s and early 1400s. (fn. 107) After the death of Sir John de Harpsden in 1438 (fn. 108) his widow Elizabeth married Sir Richard Lestrange, (fn. 109) and in 1444 the couple sold the manor to Humphrey Forster or Foster (d. 1488), later MP for Oxfordshire, for 500 marks (£333 6s. 8d.). (fn. 110)
From the early 16th century the Forsters lived mainly at Aldermaston (Berks.), where Humphrey's grandson Sir George (d. 1533) had acquired a substantial estate through marriage to Elizabeth de la Mare. (fn. 111) Rebuilding at Harpsden Court in the later 16th century suggests a plan to reside there more regularly, (fn. 112) but in the 1640s the Royalist Sir Humphrey Forster (c. 1595–1663) sold his Harpsden estate, apparently to repay debts on building work at Aldermaston and to provide for his younger children. Part was conveyed to Henry Gooding (or Goodwin) of Harpsden in 1642, and four years later Forster sold the manor and demesne lands to Sir Bartholomew Hall (d. 1677) for £5,000. In 1648 Hall bought Gooding's share for £1,750. (fn. 113)
Bolney Manor to 1650
In 1086 Bolney was held at farm from the king by Gilbert de Breteuil, having been held freely by three thegns before the Conquest. (fn. 114) Domesday Book, which lists the manor under Lewknor hundred, states that it formerly belonged to the fee of William FitzOsbern, earl of Hereford (d. 1071), whose son Roger forfeited his lands through rebellion in 1075. Gilbert, who was sheriff of Berkshire in the 1090s, has traditionally been identified as a follower of Earl William with origins in the FitzOsbern honor of Breteuil, (fn. 115) but he could in fact have come from any of the numerous Brettevilles in Normandy. (fn. 116)
Overlordship of Bolney may subsequently have been granted to Walter Giffard, 1st earl of Buckingham (d. 1102), who held land along the Thames from Caversham to Henley, and whose descendant and heir William Marshall was overlord in 1220. (fn. 117) After the division of the Marshall inheritance in 1245, the overlordship passed by marriage to William de Valence. (fn. 118) By the late 14th and early 15th century the overlordship was associated with the manor of Cassington (Oxon.), held by the Montagu earls of Salisbury. (fn. 119) The Columber family obtained a mesne lordship before 1242–3. (fn. 120)
The manor seems to have been held by William of Suleham in 1104, when he granted tithes in Bolney to Abingdon abbey. (fn. 121) William, who perhaps held Bolney through marriage, seems ultimately to have been succeeded by two daughters, possibly following the death without issue of his wife's sons by a previous marriage. (fn. 122) One daughter apparently married Robert son of Alan, who held three fees of the honor of Wallingford in 1166, (fn. 123) and who was succeeded by Ranulf son of Alan (or Ranulf Aleyn) in the early 13th century. (fn. 124) The other presumably married Maenfel of Bolney, (fn. 125) who was succeeded by his son Nicholas. Nicholas was dead by 1217, (fn. 126) when his share was divided between his daughters Alice and Margery, who respectively married Reginald of Whitchurch and Alan of Farnham. (fn. 127)
Reginald held a knight's fee in Bolney in 1235–6, and in 1237 he and Alice acquired Margery and Alan's rights in Bolney and Harpsden. (fn. 128) In 1242 they seem to have acquired most of the rest, when Ranulf Aleyn's son Walter of Bolney confirmed 3½ hides in Bolney and half the advowson to them and to Alan and Margery, retaining only half a hide. (fn. 129) By 1255, however, the re-united manor seems to have passed back to Margery and Alan, (fn. 130) presumably because Alice and Reginald had died without direct heirs.
The manor passed subsequently to Margery's daughter Juliana, who married John Elsfield, (fn. 131) and by 1312 Bolney was held by his son, Sir Gilbert Elsfield. (fn. 132) The Elsfields retained land in Bolney until at least 1401–2, (fn. 133) but the manor was acquired by Sir Hugh Segrave between 1363 and 1381. (fn. 134) In 1382 Sir Hugh sold it to Sir William Drayton, (fn. 135) whose son Richard sold it in 1460 to the Henley merchant John Elmes the elder. (fn. 136) Elmes, who died the same year, also acquired lands nearby, including in Lashbrook (Shiplake). (fn. 137)
Elizabeth Elmes of Henley, widow (presumably John's relict), held the manor in 1471, (fn. 138) and in 1508 it was in the hands of Anne Elmes, widow. (fn. 139) After her death Bolney remained with the Elmses until the mid 17th century, apparently passing to a branch of the family originally from Great Lilford (Northants.). (fn. 140) From the 1640s Humphrey Elmes (a gentleman of the privy chamber) and his son sold the manor piecemeal, (fn. 141) partly because of heavy delinquency fines imposed for supporting the king during the Civil War. (fn. 142)
The Combined Estate, c. 1650–1855
The Elmes family's sale involved a complex series of transactions beginning in 1641 and involving James Vickers, a London merchant tailor, Richard Andrews and Richard Lloyd, London girdlers, and, by 1663, Francis Warner and Henry Hall (1637–1700). (fn. 143) Through these arrangements Hall, whose father Sir Bartholomew already owned the Harpsden estate, obtained the manorial rights and the larger part of the Bolney estate (Upper Bolney), comprising c. 400 a.; the acquisition cost him £3,150. (fn. 144) On his father's death in 1677 he obtained Harpsden manor as well, giving him ownership of most of the parish. (fn. 145)
On Henry's death without children in 1700 his estate passed to his younger brother Bartholomew Hall of Barkham (c. 1639–1717). Bartholomew was succeeded by his son and heir Henry (of Stepney), who died in 1742 less than a month before his only surviving child Henry Warner Hall; the estate then passed to Henry's younger brother Bartholomew (d. 1747), and to Bartholomew's son Thomas (1720–93). Thomas's son Thomas died in 1824, and in 1855 his heirs sold the 1,456-a. estate (including manorial rights and 1,208 acres in Harpsden) to John Fowden Hodges of Bolney Court. (fn. 146)
The Bolney Court Estate c. 1650–1855
The Hall family's mid 17th-century acquisitions from the Elmeses excluded Bolney Court and c. 175 a. surrounding it. This residual Bolney estate, including parkland around the house and Lower Bolney farm, was bought by Richard Lloyd (d. 1659), whose cousin and executor Francis Warner bought out Lloyd's heirs. (fn. 147) The Warner family (which became related to the Halls by marriage in the early 18th century) leased and then sold the estate to Anthony Hodges (d. 1757), who owned slave plantations in the West Indies, and who purchased a considerable amount of property around Henley. (fn. 148) Hodges, who was resident by 1746, was succeeded by his son Anthony, high sheriff of Oxfordshire in 1759, who moved to St Kitts (in the West Indies) two years before his death in 1781. (fn. 149) Anthony's son, another Anthony, was mainly absent, and gained notoriety for allegedly prostituting his wife Anna Sophia (née Aston), whom he later divorced, to the prince of Wales and others. (fn. 150)
In 1799 Anthony died without (acknowledged) male children, and the entailed estate was inherited by his uncle Jeremiah Hodges (d. 1804). He sold the family's plantation on St Kitts to raise the mortgage which the first Anthony Hodges had taken out on their Oxfordshire and Berkshire property, which was worth c. £1,500 a year. (fn. 151) In 1813, after the early death of Jeremiah's son William, high sheriff of Oxfordshire in 1807, (fn. 152) the estate passed to William's brother-in-law, trustee and creditor Charles Green. It was recovered by William's younger brother Frederick Hodges of Henley in 1827, but remained heavily mortgaged. (fn. 153) After Frederick's death in 1843 the estate went to his nephew John Fowden Hodson (born 1815), eldest surviving son of Frederick's sister Sarah and her husband James Hodson, MP, of Holland Grove (Lancs.). On inheriting his uncle's estate John changed his name to Hodges. (fn. 154)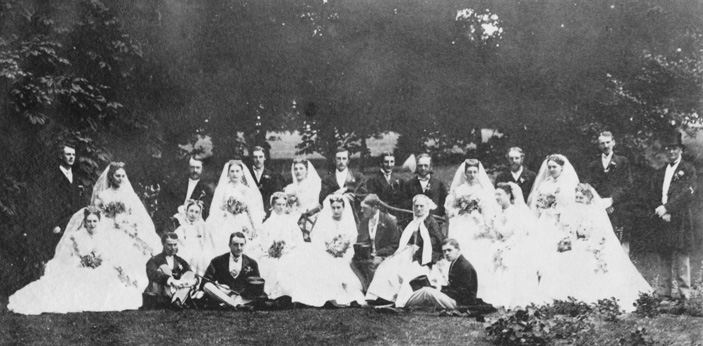 Manors from 1855
John Fowden Hodges's inheritance of his uncle's Bolney lands and subsequent purchase of the Harpsden estate in 1855 made him the major landowner in the parish. (fn. 155) He sold part of Bottom House farm to the Baskervilles of Crowsley Park in 1856, and Upper House, Hunts and other land in the west to Edward Mackenzie of Fawley Court in 1864, (fn. 156) but retained 1,465 a. in 1873. (fn. 157) The Hodges' new-found landed dominance was relatively short-lived, however, since John's sons Henry (d. 1907) and John (d. 1924) sold the estate piecemeal a few years after their father's death in 1894. (fn. 158)
The major purchasers from the Hodges' combined Harpsden and Bolney estates were James Rawlins and Emil Theodor, two London property developers, who acquired the manorial lordship along with Bolney Court, Upper and Lower Bolney farms and Harpsden Wood. (fn. 159) In 1906 they formed a syndicate called Bolney Estates Ltd with four local businessmen, and sold 75 a. for the construction of the Henley Golf Course. (fn. 160) The syndicate sold off the rest of its land in the parish piecemeal, retaining 575 a. in 1910 and disposing of the last of it only in the 1920s. (fn. 161)
Manor Houses
Harpsden Court
Harpsden Court, next to Harpsden church, was the residence of the lords of Harpsden manor from the Middle Ages to the mid 19th century. Now a private home, which lost its remaining farmland in 1975, (fn. 162) this small- to medium-sized country house represents the vestiges of a much larger complex, and incorporates elements from many periods. (fn. 163) Embedded in the middle of what is now the main range are remains of a thick-walled, tower-like medieval structure, which probably included a first-floor solar, and may have been fortified; architectural details suggest a late 12th- or 13th-century date. Possibly it was attached to a hall, of which no trace now remains. In the early 16th century the house was a 'large manor place with double courts', implying a collection of medieval buildings around upper and lower courtyards. (fn. 164) Traces of that arrangement survived in 1586.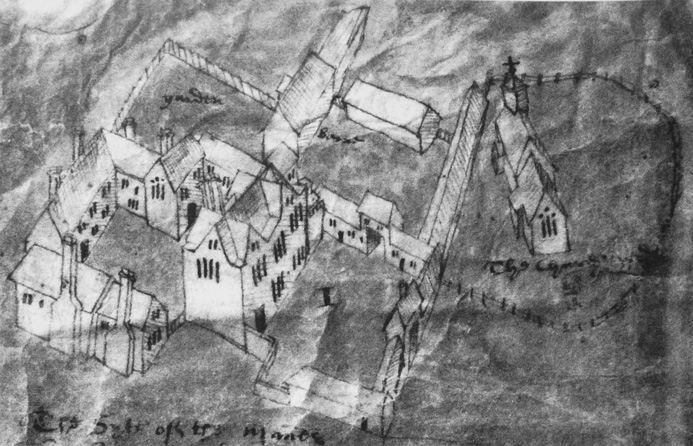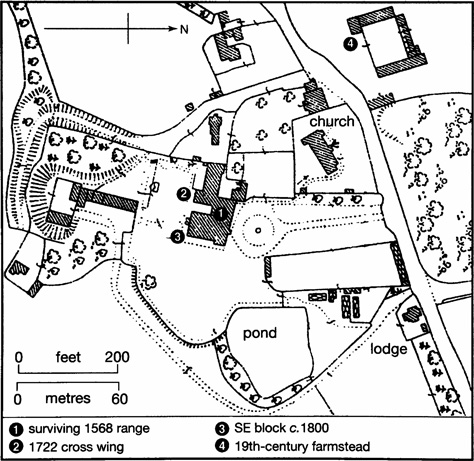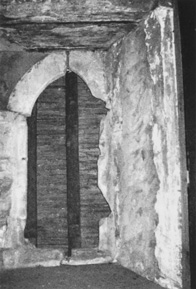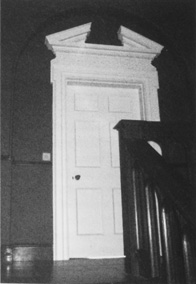 Some rebuilding took place c. 1568, (fn. 165) when the tower-like building was incorporated into a two-storeyed, multi-gabled domestic range, very similar in size and appearance to that built at nearby Greys Court in the 1570s (Plate 15). A drawing of 1586 (Fig. 60) shows it with a substantial set of earlier buildings around a rear (south) courtyard; a smaller front courtyard had a gatehouse (set further back from the main road than the present gateway), and a farmyard was attached on the west. A detached dovecot stood over the road to the north. (fn. 166)
Harpsden Court was much altered by the Hall family thereafter. (fn. 167) Fourteen hearths were taxed in 1665, (fn. 168) and the 1568 range was extended in 1722 (fn. 169) when a gabled cross wing containing a new kitchen was added on the west. Further changes were made from the 1740s, including the construction of a walled kitchen garden to the north-east in 1744, (fn. 170) and the addition of a stuccoed Gothic frontage to the main domestic range, perhaps by Thomas Hall (1720–93) after 1747 (Plate 13). (fn. 171) Around 1800 two sides of a remaining courtyard (probably that at the rear) were demolished, (fn. 172) and a south-east block was added to the main range to provide up-to-date living accommodation. The importance of this extension was reflected in the (temporary) removal of the main entrance to the south of the house by the 1840s. A low service wing projecting westwards from the 1722 cross wing was added before 1842. (fn. 173)
After the Halls sold the estate in 1855 the farmyard and most of the agricultural buildings were replaced by a new home farm and barns over the road, (fn. 174) though the location of a now converted barn west of the church (date-marked 1689) suggests earlier changes to the farmyard shown in 1586. (fn. 175) Further additions and alterations were made in the later 19th and 20th centuries, mainly inside and at the rear of the house. (fn. 176) The two-storey front porch replaced a smaller predecessor, and is roughly contemporary with the stone entrance gateway and front wall at the end of the drive, erected by Leonard Noble in 1907. (fn. 177)
The house's interior contains a mixture of surviving early decorative work and eclectic Arts-and-Crafts additions. Much original late 16th-century panelling apparently remains in place, though in the hall and elsewhere on the ground floor many panels and other decorative features seem to be re-used pieces, resulting from early 20th-century work. The shallow-domed plaster ceiling of the highly decorated mid 18th-century music room (on the first floor) may have been designed by Thomas Hall's close friend, the Henley Congregationalist minister and engineer Humphrey Gainsborough (1718–1776). (fn. 178) Other features include an Edwardian servants' bell system and a 20th-century lift.
Bolney Court
The medieval manor house of Bolney was situated on an area of gravel by the Thames, its large site apparently surrounded by an artificial moat to prevent flooding. (fn. 179) The house had presumably been largely rebuilt or replaced before 1786, when the 'mansion house' at Bolney was described as brick, tiled and stuccoed, except for a small part of the eastern front which was lath and plaster. (fn. 180) This house, perhaps constructed by the Warners or by Anthony Hodges (d. 1757) and latterly known as Bolney Court, was largely uninhabited after 1813, and its ruin was demolished and replaced with a new mansion by John Fowden Hodges in 1852. (fn. 181)
This costly replacement house (Fig. 61) was a free-stone structure standing on arches, with a surrounding terrace and classical entrance portico. Its two floors included a library, smoking room, double staircase and 17 bedrooms. The house and accompanying walled kitchen gardens, stable-block and boathouse were approached by a tree-lined drive through a surrounding 70-a. park. (fn. 182) This in turn was replaced by a large Arts-and-Crafts house of brick and mock timber-framing (Plate 14), built for the merchant banker J. B. Gray between 1908 and 1911 to designs by the Scottish architect William Flockhart. (fn. 183) The house was modernized and reroofed in the 1990s, and in 2004 was sold with two lodges and 11 a. of garden for £7.5 million. (fn. 184) Part of the old stable block and other apparently 18th-century buildings to the north of the house survive as a separate residence called The Garden House. (fn. 185) Other Estates
A freehold called Bellehatch, in the south, was bought by the Towers family before 1567. (fn. 186) It had perhaps been separated from Bolney manor in the later Middle Ages, and may be identifiable with a half fee at 'Bolehicch' held by Joan, one of the two female heirs of William Elsfield (d. 1398), in 1401–2. (fn. 187) In the late 16th century the Towerses mortgaged the land to the Elmes family, and apparently sold it before 1663. (fn. 188) In the late 18th and early 19th century it was owned by resident families including the Alloways and Hanscombs, and c. 1831 it was acquired by Vincent Vaughan (d. c. 1840), apparently through his wife Mary; in 1842 it comprised 122 a. (fn. 189) Trustees of the Vaughan family retained it until c. 1915, when it was bought by Cecil Norton, a Liberal politician who became Lord Rathcreedan in 1916. (fn. 190) The estate was sold by his son in 1976 and split up. (fn. 191)
Part of the main house on the estate, Bellehatch Park, appears to be an early 19th-century country residence, with a Doric-style glazed central porch on the five-bay south-west front. The house's northern part, however, is considerably older, incorporating remains of a two-storeyed, probably late 16th- or early 17th-century farmhouse belonging to the Towers family (Fig. 62). (fn. 192) The brick coach house to the north was converted into a private residence called Bellehatch Farm in the late 1970s.
Several estates in neighbouring parishes incorporated lands in the west of Harpden from an early date. The lords of Crowsley (Shiplake) bought woodland and crofts from the Harpsdens, Elsfields and others as early as the 14th century. (fn. 193) The Crowsley Park estate sold 55 a. in Harpsden (Kings farm) to Thomas Piercy in 1802, and in 1842 retained 118 a. in the parish. (fn. 194) In the mid 1850s Henry Baskerville added part of Bottom House farm to the estate and recovered Kings and another 8 a. from the Piercys. (fn. 195) When part of the estate was sold in 1927, its Harpsden component comprised a 272-a. block west of Hunts Green, split into several lots. (fn. 196) The manor of Blount's Court in Rotherfield Peppard included land in the far west of the parish in the 17th century, of which 41 a. was sold by the Stonors to Henry Benwell the elder and Thomas Rolls in the 1680s. (fn. 197) The estate still included 81 a. in Harpsden in 1842, of which most was later sold to the Baskervilles. (fn. 198)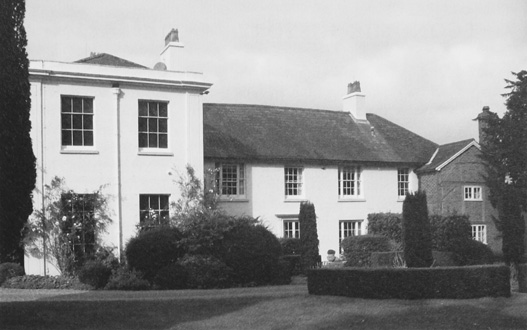 The rectory estate comprised 102 a. in 1842 and probably by the 16th century, (fn. 199) concentrated around the rectory house and on a hill to the south. In 1857 c. 40 a. furthest from the house (the former Bolney glebe) was exchanged with J. F. Hodges for 35 a. closer by. (fn. 200) Some 63 a. was sold to Hodges in 1877, and a further small area to K. R. Mackenzie in 1907; the remaining 34 a. was sold with the rectory house in 1922. (fn. 201)
Some substantial but short-lived estates were created in the 19th and early 20th centuries. In the later 19th century Edward Mackenzie of Fawley bought 360 a. in the west including Hunts and Upper House farms, mainly from the Hodges family. (fn. 202) In 1919 K. R. Mackenzie sold these lands to George Shorland, (fn. 203) a local farmer and land speculator, who made further acquisitions from the Bolney Syndicate and the Crowsley estate, including Lower Bolney, Upper Bolney, Sheephouse, Upper House, and Kings farms. The resulting 600-a. estate was sold piecemeal after Shorland's death in 1938. (fn. 204)
A smaller holding was created in the 20th century when the Phillimores of Coppid Hall, Binfield Heath (Shiplake), bought High Wood, part of Harpsden Wood, and farmland in the west of the parish. In the 1990s local financial support and a bequest helped the Woodland Trust to acquire the bulk of Harpsden Wood. (fn. 205)
ECONOMIC HISTORY
The varied geology and topography of the parish encouraged human exploitation from an early period. Iron-Age settlers on the floodplain were apparently engaged in grazing, woodland management and flax processing, (fn. 206) and the place-name Bolney suggests a continuing association with cattle in this part of the parish in the Anglo-Saxon period. The higher land around Harpsden Wood and High Wood seem to have supported at least one villa farm in the Roman period. (fn. 207)
From the late Anglo-Saxon period to the 20th century Harpsden's economy was dominated by mixed farming, with some diversification into wood production and fishing. Henley provided a nearby outlet for the marketing of cereals and other produce from the 13th century, but the town's presence does not seem to have encouraged significant agrarian development until the 16th century or later. (fn. 208) Craft activities and retailing were of very limited importance, presumably because of Henley's proximity. Agricultural and other employment declined in the mid to later 20th century as Harpsden became a wealthy dormitory community. (fn. 209)
Medieval Agriculture
The Structure of Farming
In 1086 the Bolney estate was said to have land for seven ploughs and was valued at £8; the Harpsden estate, with land for six ploughs, was worth only £5. (fn. 210) The disparity in value between the two estates had widened since the Conquest, when Harpsden had been worth £6. The reason is unknown, but did not straightforwardly relate to the amount of land being tilled or the availability of manpower: in 1086 both estates had six ploughs in operation, and Harpsden had 18 men compared to Bolney's 16. The organization of farming on the two estates seems to have been very similar, with the majority of land in tenant hands. Both manors had two demesne ploughs run by slaves (four at Harpsden and three at Bolney), and four other ploughs in the hands of tenants (12 villani and two lower-status bordars at Harpsden, and 11 villani and two bordars at Bolney).
The Domesday figures suggest that Bolney and Harpsden were among the more valuable manors in the immediate area, though this is difficult to reconcile with later medieval evidence. Neither estate appears to have developed very substantially, and Bolney manor in particular seems to have declined. Population levels, which were relatively high in the 11th century, seem to have increased little in Harpsden, and in Bolney may even have fallen. (fn. 211) In the 1250s the churches of Harpsden and Bolney were amongst the poorest in Henley deanery, suggesting that limited farming profits in these small parishes produced low tithe income. (fn. 212)
Harpsden manor seems to have emerged as the more valuable estate by the 14th century and probably earlier. In 1322 the Bolney estate was worth only £5 3s. 4d., (fn. 213) whereas in 1438 Harpsden was given a fairly high estimated value of £20 a year. (fn. 214) In part this was probably because Harpsden manor had grown in size while the Bolney estate had contracted. (fn. 215) But more fundamentally, the area which formed the core of the Harpsden estate seems to have had higher agricultural potential: in 1334, for instance, the inhabitants of Harpsden vill paid over one and a half times more tax than those of Bolney. (fn. 216) This contrast became even more marked after the Black Death, when the more numerous inhabitants of Harpsden paid three times as much tax as those of Bolney. (fn. 217)
In 1322 Bolney manor included 200 a. of demesne arable, presumably in poor condition since it was valued at only 2d. per acre. The manor house, located by the river, had what was probably a fairly large garden (worth 10s.), as well as 14 a. of meadow worth 2s. per acre, and inclosed pasture worth 4s. Presumably the Harpsden demesne was of similar size or larger. Bolney manor had just six tenants (four free and two unfree), paying rents totalling 18s. 8d. for an unspecified amount of land; the labour services of the unfree were worth a further 2s. 8d. (fn. 218) The probably more numerous tenants of Harpsden manor presumably also held by a mixture of free and customary tenancies. (fn. 219)
There is no direct evidence for how farmland was organized, but as elsewhere in the area it was probably divided between open fields and closes. The presence of open fields is suggested by the mention of yardlands as well as crofts: (fn. 220) possibly they were located mainly on the flatter land in the centre and east of the parish, though some of the large post-medieval fields there may already have been inclosed demesne fields by 1300. (fn. 221) Further west, many of the smaller, irregularly-shaped and thickly-hedged fields probably had their origins in closes created by woodland clearance, which apparently began before the 14th century and continued after the Middle Ages. (fn. 222)
The 14th and 15th centuries were a period of economic reorientation in Harpsden, as elsewhere. A tax inquest of 1341 reported economic problems, (fn. 223) and the population seems to have been at a low ebb in the 15th century. (fn. 224) By 1488 the value of Harpsden manor had apparently fallen to 10 marks (£6 6s. 8d.), considerably less than 50 years earlier. (fn. 225) These circumstances may well have encouraged the amalgamation of holdings by landowners and the more successful among the reduced number of tenants, creating larger units which formed the basis of many of the farms known from the 16th century. It seems likely, for example, that John Irland of Bolney, 'farmer', mentioned in 1433, was a demesne lessee, holding a large block of land. (fn. 226) Similarly, by the 16th century two thirds of the glebe comprised a single 60-a. holding worth £3 a year, which the rector converted to pasture in 1515. (fn. 227)
Land Use
Domesday indicates substantial arable cultivation in the later 11th century, while 28 a. of meadow provided hay for animals. (fn. 228) Meadow and grassland were presumably concentrated by the river as later. (fn. 229) There were probably large (unrecorded) areas of rough pasture and woodland, including Harpsden Wood and woods in the west and south, while the Thames must have provided fish and fowl. (fn. 230)
There is little evidence for land use in the 12th or 13th centuries, but arable farming certainly continued, and possibly expanded slightly through assarting, for instance around Hunts Green. (fn. 231) In 1326–7 corn from Gilbert Elsfield's lands at Elsfield and Bolney was valued at £20. (fn. 232) The contraction in population after the Black Death probably led to some reduction of arable and an increase in grazing, perhaps particularly on the demesne and glebe. (fn. 233)
The 16th to 18th Centuries
The Structure of Farming
By the 16th century farmland was held in inclosed fields divided into separate farms, most but not all of which included coppiced woodland as well. In 1586 Harpsden manor comprised c. 520 a. of demesne and woods, and a further 498 a. let to tenants. (fn. 234) The demesne, in the hands of a lessee, (fn. 235) formed a large block around the manor house, stretching from Harpsden Wood and Drawback Hill to the river, and including some land in Rotherfield Peppard and Rotherfield Greys to the north. The tenant land, in and around the valley to the west, was divided between seven farmers: William Wynch (136 a.); William Pearman (116 a.); Richard Symons (98 a.); John Wydmere (78 a.); Richard Nutkyn (32 a.); John Payse (31 a.); and Humphrey Symons (8 a.). Tenants' lands were generally arranged in compact blocks, and despite subsequent alterations in size and boundaries are recognizable as the cores of later farms: Wynch's as Bottom House farm, Pearman's as Upper House (then called Searles), Richard Symons' as Lucys, Wydmere and Payse's as Hunts, and Nutkyn's as the southern part of Harpsden Green farm. (fn. 236)
At Bolney the Elmes family seem to have also kept a sizeable block of land in hand in the 16th century, much of it probably around the manor house. Possibly it comprised up to half their estate, the rest of which seems to have been leased to one or two farmers: the Rockolds, for instance, held a large and valuable farm probably from the Elmeses. (fn. 237) The substantial rectory estate was similarly mainly let to a tenant. (fn. 238)
In the early to mid 17th century the part of Harpsden manor previously kept in hand was divided up and leased out, gradually coalescing into units known later as Harpsden farm, Sheephouse farm (partly in Rotherfield Peppard), and Greys farm (in Rotherfield Greys). (fn. 239) By the later 17th century the Bolney estate farmland in the south of the parish seems also to have been permanently divided into the large Upper Bolney farm and the smaller Lower Bolney farm. (fn. 240) As a result of these changes, many farmers in the later 17th and early 18th centuries leased holdings of over 100 a., among them the Pearmans, who held both Upper House and Bottom House farms. (fn. 241) Farm sizes seem to have increased further by the later 18th century, partly through continued assarting, but also because several tenants now leased more than one farm. (fn. 242) By 1788 there were 17 farms in Harpsden, including Blount's Court and Crowsley farms based in adjacent parishes. Edward Green held Upper Bolney farm (287 a.), the largest single farm in the parish; Thomas Piercy rented Harpsden Green, Sheephouse, Lower Bolney and the glebe farms (284 a. in all), while Daniel Piercy held Harpsden and Lucys farms (223 a.). James Hussey held Upper House farm (110 a.) and Blunster Grounds (31 a.), and John Butler Bottom House farm (110 a.), with a further 11 a. of his own. There were also one or two owner-occupiers, including Edward Allaway at Bellehatch farm (122 a.) and Matthew Chipps at Harpsden Green (33 a.). (fn. 243)
The 17th and 18th centuries were a time of prosperity both for the Halls of Harpsden Court (the main landowners) and the major tenants. (fn. 244) By the beginning of the 18th century the Harpsden estate was worth the sizeable sum of £950 a year, (fn. 245) and some of the more successful farmers were able to invest in improvements and extensions to their homes. (fn. 246) This growth was underpinned mainly by increasing productivity in cereal farming, especially in the second half of the 18th century. (fn. 247) Tenants also benefited from security of tenure and moderate rents: in the 17th and 18th centuries some farms were held by short commercial leases, but copyholds and long leaseholds for lives remained more common, for which tenants paid entry fines, heriots and nominal rents. (fn. 248)
The only vestige of communal organization was the management of grazing on greens and verges, and of grassland by the Thames. (fn. 249) Most meadow was still common in the late 16th century, except for one or two small inclosed pieces such as 'Winche meade' (5 a.), held by the lords of Harpsden. (fn. 250) In 1617 each 30-a. yardland in Bolney was allegedly entitled to 1½ a. in Shiplake meadow. (fn. 251) Sizeable areas of common meadow in 1788 included Harpsden meadow (16 a.) and Shiplake meadow, in which land was allotted in strips to the tenants of particular farms. (fn. 252)
Land Use
Sixteenth- and 17th-century tenant farming seems to have been based around sheep-corn husbandry, often supplemented by woodland exploitation. (fn. 253) Grain and sheep were the two most frequent bequests in wills, although little is known about the size of sheep flocks before the mid 17th century. Barley and barley malt were typically the most valuable single items, but farmers also grew wheat, rye, oats, hemp, peas, and vetches. Pigs were kept in higher than average numbers for a Chiltern parish, and most farmers also had some cattle for meat, cheese and milk, but there are no signs of large-scale dairying or cattle-breeding. (fn. 254) Farming on the two demesnes was probably similar, although given the large amount of grass in the east of the parish it seems likely that grazing was carried out on a larger scale than on the tenant farms. (fn. 255)
The later 17th and 18th centuries saw a considerable increase in cereal production, reflected by the building of new and bigger barns and separate granaries. (fn. 256) Larger crop yields seem to have been achieved through the expansion of arable by woodland clearance and cultivation of 'newly-broken ground', (fn. 257) while improved farming techniques included the introduction of new fodder crops and grasses. The number of sheep kept by tenants probably increased in the second half of the 17th century, with flocks of c. 50–220 animals. (fn. 258)
A survey of 1788 suggests that almost 80 per cent of the parish was under arable (including fallow and fodder crops), with only small areas of permanent pasture (66 a.) and meadow (73 a.); woodland covered an estimated 228 a. (13 per cent). (fn. 259) The main crop was wheat (just under 300 a.), followed by barley (over 270 a.), turnips (over 160 a.), oats (over 120 a.), and clover (over 100 a.), with lesser areas of grass, rye grass, peas, and vetches. Around 165 a. were planted with seeds (mainly grass), and 75 a. was fallow. The fodder, meadows and pastures supported around 1,070 sheep, many of them on Lucys, Sheephouse, Lower Bolney and Upper Bolney farms. Cattle herds, pastured in Bolney park and elsewhere, were apparently much smaller, and there were only 20 cows in milk. (fn. 260)
The 19th and 20th Centuries
The Structure of Farming
In the early 19th century the Halls of Harpsden Court appear to have considerably (and sometimes dramatically) increased rents, and more regularly adopted shorter leases, no doubt in response to increased profits from arable production on tenant farms during the Napoleonic wars. (fn. 261) Sheephouse farm, on gravelly loam close to Henley, provides an extreme example: here rent increased slightly from £140 a year in 1795 to £180 in 1801, but in 1811 the new tenant agreed to pay £500 a year for the same 153-a. farm, with vastly increased fines for bringing new land into cultivation. (fn. 262) This represented rent of 65s. an acre, at a time when the Oxfordshire average was estimated at 22s. 10d. (fn. 263)
The more substantial tenants seem to have prospered nonetheless, apparently weathering the post-Napoleonic depression: in 1825, for instance, rent for Upper Bolney farm (c. 300 a.) was increased from 22s. to 28s. an acre. (fn. 264) By the mid 1830s rents on the Harpsden Court estate seem to have fallen, (fn. 265) but in 1851 the estate was nonetheless described as 'very superior sound turnip and barley land', with long-standing tenants from among 'the higher class of agriculturalists, except on one or two smallholdings'. (fn. 266)
In 1842 most farmland was held from the Harpsden Court estate by a small group of farmers, of whom many held more than one farm. (fn. 267) William Workman leased a very large holding comprising Upper Bolney farm (301 a.) and Sheephouse farm (122 a.), (fn. 268) while Charles Sarney held Harpsden farm (109 a.) and Lucys (98 a.), Thomas Frewin Upper House (96 a.) and Bottom House (106 a.), and William Andrews Harpsden Green (52 a.) and Hunts (99 a.). Other sizeable farms included Lower Bolney (or Bolney Court) farm (174 a.), held by Charles Bullock, and the glebe farm, partly let to John Sedgwick. As earlier some farms were based in other parishes, and a handful of smaller holdings included the arable part of the Bellehatch estate, divided between James Beard (36 a. run from Dean Farm) and Richard Bullock (32 a.).
The pattern of tenure changed dramatically in the later 19th century. By 1861 John Fowden Hodges had taken over most of the farms on the Harpsden estate (acquired in 1855), and in 1881 he ran 1,150 a. directly, employing two bailiffs, 32 men and nine boys. (fn. 269) The motivation for his takeover is uncertain, but its timing, during a period of agricultural boom and high farming, suggests an interest in profits rather than difficulty in finding tenants. In 1873 the gross estimated rental value of his land was £2,195. (fn. 270)
The sale of the Hodges' estate in the very different circumstances of the late 1890s and early 1900s led to the break-up of this huge farm, though George Shorland rented large parts of it soon after, creating, for a time, a large farming concern of his own. From c. 1907 until the early 1920s he ran (and latterly owned much of) a holding which came to incorporate Upper and Lower Bolney, Upper House, Kings, Hunts and Sheephouse farms, comprising 848 a. in 1912. (fn. 271) The more typical farming units, however, both then and for the rest of the 20th century, were a group of c. 14–18 small and medium-sized holdings, most of them under 150 a. and a good number under 50 a., run by a mixture of tenants and owner-occupiers. (fn. 272)
By the early 1940s the quality of farming in Harpsden was mixed. Bellehatch park (87 a.) had a good dairy herd and was run by a capable foreman, but many other farms had for some time suffered from lack of capital or poor management by inexperienced, elderly or part-time farmers. (fn. 273) Several farms (including Bellehatch and Lower Bolney) ceased to function in the later 20th century, and by 1988 eight of the fourteen remaining holdings were run by part-time farmers, many apparently small producers. (fn. 274) In 2007 Lucys farm, run by a couple nearing retirement, was the only (small) dairy farm in the parish, while a beef unit run in sheds at Perseverance Farm was struggling to make ends meet. (fn. 275)
Land Use
From the 1830s to 1870s between 1,200 and 1,400 a. of land in Harpsden (c. 65–75 per cent of the parish) was arable. (fn. 276) In the 1860s wheat, barley and oats were grown in roughly equal proportions, with smaller areas of peas and beans; a substantial acreage was also used for turnips, swedes, sainfoin and clover. (fn. 277) Around 250–350 a. (13–17 per cent of the parish) was permanent grass for hay and grazing. Much of this was located in parkland, fields and 'capital meadows' close to the river, with a further 63 a. in Crowsley park in the west. Fodder crops and grassland supported large numbers of sheep (1,593 in 1866 and 2,034 in 1869), (fn. 278) and several men and boys were employed as shepherds. (fn. 279) Pig-keeping was also important, but cattle herds were small.
The late 19th and early 20th centuries saw a major shift towards dairy farming. (fn. 280) In 1869 108 cows were kept in the parish (58 of them producing milk), but by 1896 there were 336 including 205 in milk. (fn. 281) The change was at first even more pronounced than in most neighbouring parishes, and led to considerable investment in dairies, and alteration of barns and outbuildings to include troughs, cow-stalls and drainage passages. (fn. 282) By the 1920s one or two farms seem to have specialized in poultry-keeping, notably Kings Farm. (fn. 283)
The increasing emphasis on dairying was accompanied by a reduction in arable and sheep numbers (to only 537 animals in 1896), and by a big expansion of the area under permanent grass: from 409 a. in 1885 to 1,021 a. in 1907. (fn. 284) Most farms remained largely under permanent grass into the mid 20th century. (fn. 285) In 1906–8 a 105–a. golf course was created in the middle of the parish, mainly on land belonging to Upper Bolney farm; it was initially still used for sheep grazing (to crop the fairways), and 20 a. was ploughed up during the First World War. Thereafter it largely went out of agricultural use, apart from a period as a cattle pasture during the Second World War. (fn. 286)
In the later 20th century the proportion of arable was increased as elsewhere across lowland England, especially for barley and fodder crops. The total area of farmland was declining, however, and in 1967 only 950 a. in the parish remained in active use, compared with 1,434 a. in 1896 and 1,133 a. in 1957. Beef cattle became more important than dairy cows, and other livestock continued to be kept, but from the 1920s there were few if any sheep. (fn. 287)
Woodland Exploitation
Timber was a valuable resource for building work and farm repairs, used both within the parish and in nearby Henley; (fn. 288) c. 1700 that on the Harpsden Court estate was worth around £400–£500. (fn. 289) The town was also a major market and trans-shipment point for fuel wood, (fn. 290) and a sizeable area of woodland in the parish (including over 100 a. on the Harpsden estate in 1586) was managed as coppice in the 16th century and probably earlier. (fn. 291)
From the 16th to 18th centuries landowners apparently managed some coppices directly and leased out others. The tenants were mainly local farmers, (fn. 292) but larger areas were sometimes let to specialist craftsmen, like the Shiplake hoop-maker who took on Highwood and Windmillfield coppices (36 a.) in 1665. (fn. 293) Leases were for variable periods, often 21 years, with cutting-cycles of seven to nine years. (fn. 294) At the beginning of the 18th century the Harpsden Court estate included the large Harpsden and Bolney coppice, worth £70 a year, and five other smaller coppices were let to tenants, bringing in a further £29; four of the tenants had paid entry fines of between 19s. and £12. (fn. 295) In the late 18th century the wood cut from an acre had an average sale value of c. £8. (fn. 296)
The extent of coppiced woodland apparently decreased during the 18th century, partly through woodland clearance, (fn. 297) but also in response to reduced demand for firewood. (fn. 298) By the 1790s there was reckoned to be only c. 30 a. of coppice woodland under 20 years of age on the Hall estate and the glebe, (fn. 299) and the 42 a. of coppice in 1842 represented only 14 per cent of the total wooded area. (fn. 300)
Thereafter woodland remained valuable for beech and oak timber (which was occasionally sold), (fn. 301) for game-keeping, and for its aesthetic appeal to potential purchasers of country estates and houses. (fn. 302) But there is no evidence in Harpsden of systematic management of timber to supply the furniture trade, or of local bodgers working in the woods.
Non-Agricultural Activities
Fishing
The Thames presumably provided fish from the earliest times, and in 1322 Bolney manor had a private fishery worth 6s. 8d. a year. (fn. 303) The continued importance of fishing is suggested by the presence of a weir in the Bolney backwaters in 1585 and by later leases of fishing rights; (fn. 304) in the 17th and 18th centuries a few men were apparently occupied as fishermen on a full-time basis. (fn. 305) The river probably also provided a licit or illicit source of wildfowl. (fn. 306)
Rural crafts and industry
In the 19th century and probably earlier, involvement in crafts and industries seems to have been much more limited in Harpsden than in other rural parishes in Binfield hundred. (fn. 307) There is little medieval evidence, although some people (mainly women) brewed and sold ale. (fn. 308) A basket-maker and a bricklayer were mentioned in the 1610s, (fn. 309) and in the 18th century and perhaps earlier craft activities were carried out in a few cottages in the Harpsden valley. (fn. 310) The name Kilnpits Wood may indicate a former kiln site or a pit for digging materials in the far south-east of the parish. (fn. 311) A blacksmith was operating in 1785, (fn. 312) and for a time in the mid 19th century there were smithies at Dean Farm and Lucys Farm, the latter briefly re-established in the early 20th century. (fn. 313) In the 19th and early 20th century a handful of people were involved in carpentry, dress-making and shoe-making, (fn. 314) and as late as the 1980s an inhabitant made traditional besom-brooms in a small workshop. (fn. 315)
Retailing and other businesses
Locals seem to have done most of their shopping in Henley, (fn. 316) though a beer house in Perseverance Cottage from c. 1860 to the late 1880s evidently sold a few items. (fn. 317) A small shop was run from the sub-post office in the early 20th century, and a short-lived village store opened in the 1960s. (fn. 318) A plant nursery was established on the Reading road in the early 20th century, (fn. 319) and in the 1920s several other small businesses included a boat-hire and boat-building firm at the Bolney Boat House, where a wireless dealer also set up shop. There were also several small building and decorating firms. (fn. 320) In the later 20th century the nursery was succeeded by a Wyvale garden centre, and a handful of other small businesses were established elsewhere in the parish. (fn. 321)
SOCIAL HISTORY
Before the 20th century the population was overwhelmingly agricultural. Dispersed settlement based around isolated farmsteads probably discouraged a close sense of community, and many locals were apparently drawn towards the life of settlements outside the parish, especially Henley and Shiplake. In the Middle Ages religious loyalties were divided between two separate parishes, while in the post-medieval period the single remaining church was distant from those living outside the Harpsden valley. Mainly resident landlords probably exerted some social influence, but the Hall family's Nonconformity limited the integration of church and manor. (fn. 322) In the early 20th century the area near the school became more of a centre for social life; by then, however, the character of the population was already starting to be transformed by suburban growth and an influx of wealthy commuters and retired people.
Social Structure before 1800
Resident Gentry and Clergy
For most of the Middle Ages the lords of Harpsden manor seem to have lived in the parish, while the lords of Bolney were likewise either resident or frequent visitors. (fn. 323) The Harpsdens, Elsfields and Forsters were all wealthy gentry families, who were often involved in local government and enjoyed close links with neighbours such as the Stonors, to whom the Forsters became related by marriage in the early 15th century. (fn. 324) The mercantile Elmes family who acquired Bolney manor in the mid 15th century were of rather more modest social standing, but they too had ties with the Stonors and others. (fn. 325)
For most of the 16th and earlier 17th century the Elmes family were the only resident gentry. (fn. 326) In 1525 Humphrey Elmes was the joint-fourth highest taxpayer in Binfield and Langtree hundreds, and with Sir Walter Stonor of Blount's Court one of only two resident gentlemen. (fn. 327) By the later 16th century, however, the Elmeses seem to have been in financial difficulties, (fn. 328) and after they sold their Bolney estate in the mid 17th century the Hall family assumed their position as the main resident landowners. Bartholomew Hall (d. 1677) was a senior Middle Temple lawyer and a friend of Bulstrode Whitelocke of Fawley and Phyllis Courts. His son and heir Henry (1637–1700), who continued the family's legal tradition, became high sheriff of Oxfordshire in 1671, and later family members lived in some style at Harpsden Court as country gentlemen. (fn. 329)
From the 1660s to 1740s Bolney was the residence of the London alderman Francis Warner and his descendants. (fn. 330) The Hodges family, who followed them, seem to have kept slaves from the family's West Indies plantation as servants at the house. (fn. 331) The notorious Anthony Hodges (d. 1799), who succeeded his father in 1781, lived mainly elsewhere, and from 1787 Bolney Court was leased to various well-to-do tenants, including Dame Elizabeth Taylor and Josias Jackson, both formerly resident in London. (fn. 332)
From the amalgamation of the Harpsden and Bolney benefices in the mid 15th century most rectors, too, seem to have been resident, living in some comfort at the rectory in the Harpsden valley. The combined living was a good one with a large glebe, and by the later 17th century a number of rectors seem to have been from wealthy and well-connected backgrounds. Hugh Boham (rector 1662–87) bequeathed the huge sum of £6,000 to his two daughters, (fn. 333) of whom one married Thomas Lamplugh (a son of the bishop of Exeter) in Harpsden church in 1686. (fn. 334) Miles Stapleton (1690–1731), who was perhaps responsible for rebuilding the rectory, was described by the antiquary Thomas Hearne as 'very rich', and amassed an impressive book collection. (fn. 335) Thomas Leigh (1731–64) was a younger son of a well-established family and married well, (fn. 336) while Edward Ernle (rector 1764–87) inherited his brother's baronetcy in 1771. (fn. 337)
The Farming Community
The great majority of the population were tenant farmers and labourers. During the Middle Ages there were already some social distinctions among them, reflected in free and unfree tenure and above all in the size of their holdings. William of Harpsden, the lord of Harpsden manor, paid 8s. 8d. tax on his moveable possessions in 1306, while two other men paid 3s. and 2s. 11d. respectively. Another eight people in Harpsden vill paid between 4d. and 16d., (fn. 338) with others probably too poor to be assessed. By the 16th century the gap between a few better-off tenants and the rest of the population may have increased. In 1524 John and William Rockold paid £26 13s. 4d. and £18 respectively, while four others paid between £6 and £10, and another six between £1 and £3 6s. 8d. Eight of these men were assessed on goods and four (presumably labourers) on wages. (fn. 339) Mid and later 16th-century assessments imply a possibly narrower range of wealth, but a clearly discernible one nonetheless. (fn. 340)
Seventeenth-century probate records suggest a group of around half a dozen yeoman farmers living in modest prosperity. (fn. 341) Most left moveable goods (chiefly crops, animals and farming equipment) worth between £150 and £300, (fn. 342) which was fairly typical for the area. One or two were very comfortably off, notably Henry Champion, whose possessions were valued at over £623 in 1684 (mostly in farming stock). (fn. 343) Absentee farm tenants included the Henley maltster Solomon Sewen (d. 1631), (fn. 344) but most farmers lived in the parish, (fn. 345) and the more successful seem to have rebuilt, extended or improved their houses in the 17th and 18th centuries, (fn. 346) while some, like Champion, kept one or two domestic servants. In 1785 three members of the Piercy family occupied holdings which together accounted for 54 per cent of the parish's total land tax assessment. (fn. 347)
Below the leading yeoman families were a small number of husbandmen of more modest means, who left goods worth between £10 and £100. (fn. 348) A handful of fishermen and small-scale craftsmen fell into a similar category. (fn. 349) At the bottom of the social scale were those labourers and others too poor to make wills, the kind of people who received handouts at Anthony Elmes's funeral in 1574, and whom Richard Lucy had in mind when he left a £10 charitable bequest in the 1670s. (fn. 350) Their numbers probably increased with the intensification of farming in the 18th century. Many labouring families apparently had no holdings of their own, and were perhaps fairly short-term residents.
Social Structure in the 19th Century
In the early 19th century local society was headed by the Halls of Harpsden Court and (briefly) by the Hodges family, who lived at Bolney Court c. 1800–12. (fn. 351) By the 1840s the Halls seem to have lived relatively modestly, however, with five domestic servants in 1841 and only three in 1851. (fn. 352) At the beginning of the century the only other well-off genteel households were those of the rector, the Hon. Daniel Finch (1801–40), a younger son of the earl of Aylesford, (fn. 353) and of the owners of Bellehatch, including John Hanscomb (d. 1823) and Vincent Vaughan. (fn. 354) Vaughan's widow Mary continued to live there after his death, from 1842 with her new husband James Butler, 13th Baron Dunboyne, until her own death in 1846. (fn. 355)
In the second half of the 19th century John Fowden Hodges (d. 1894) succeeded the Halls as leading resident landowner, moving into a rebuilt Bolney Court in 1854 and for many years acting as churchwarden. (fn. 356) He and his family derived considerable income from the Wigan coalfields and lived in some luxury, with as many as 11 servants in 1871. (fn. 357)
From 1854 Harpsden Court was leased to various well-heeled families, including the Jacksons, the Gordons, the Wellses (who kept nine servants in 1871), and latterly the Raikeses. (fn. 358) After Lady Dunboyne's death in 1846, Bellehatch was also leased to tenants, including the Vansittarts, the Revd. Peter Piercy, the Sutcliffes, the Prescotts, the Whitelocks, and the Brakspears. (fn. 359) Many of the male heads of these Harpsden Court and Bellehatch households acted as JPs and became churchwardens or attended vestry meetings. Robert Raikes, a solicitor and London property investor whose parents established a centre of Tractarian worship at Treberfydd (Breconshire), was also a member of the Henley board of guardians. (fn. 360)
Below this thin layer of polite society were the farmers, agricultural labourers, domestic servants, gamekeepers and others who made up the majority of the population. But this was a far from homogeneous group, with large variations in wealth and social standing, ranging from well-established and prosperous local farming families to the labouring poor and servants who often came from outside the area, and stayed only for a short period. (fn. 361) The most substantial tenant farmers were themselves major local employers, and some lived a fairly genteel lifestyle. In 1851 Charles Sarney of Harpsden Court Farm, for instance, employed a governess and three domestic servants, as well as 14 labourers and two carters. (fn. 362)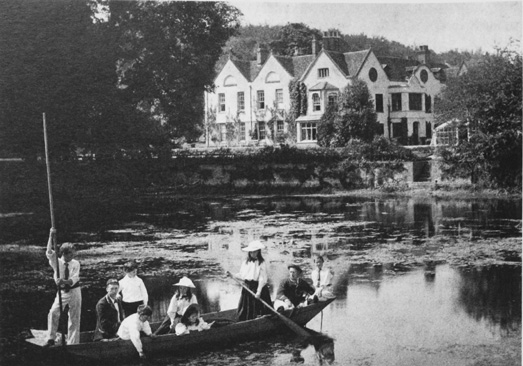 In the second half of the century all but a couple of these substantial farmers were replaced by farm stewards, as John Fowden Hodges took his farms in hand. (fn. 363) The rest of the population comprised agricultural labourers and their dependants, people of very limited means who were often exposed to serious poverty. (fn. 364) In 1871 23 per cent of inhabitants had been born in the parish, falling by 1901 to just 16 per cent; many incomers came from Berkshire, Hampshire, and Wiltshire. (fn. 365)
The 20th Century: Gentrification and Suburban Growth
The early 20th century saw an increase in the number of resident tenant farmers, (fn. 366) but above all an influx of wealthy and middle-class residents, attracted by country homes within commuting range of London and close to the social life of Henley. (fn. 367) The three private residents of 1899 had grown to 13 in 1911 and 24 in 1924. (fn. 368) This new breed of richer inhabitants were mainly professionals, businessmen and retired soldiers, (fn. 369) many of them occupying the large detached houses built in Harpsden Wood and along the Woodlands and Bolney roads in the south-east of the parish, close to Shiplake station. (fn. 370) A number of these residents lived lavish lifestyles, symbolized by chauffer-driven cars. (fn. 371) Most had no connection with agriculture, but a few became hobby farmers: Leonard Noble (whose family bought Park Place with money made from paint and varnish manufacture) (fn. 372) acquired Harpsden Court and its 100-a. farm in 1899, (fn. 373) while the Rathcreedans bought Bellehatch and its farm. (fn. 374)
In the mid to late 20th century the area's continuing popularity with affluent people looking for a country home led to a steep rise in property prices. (fn. 375) Tight planning restrictions limited house building, but a number of new homes were created through conversion of barns and other farm buildings for domestic use. (fn. 376) The proliferation of swimming pools and tennis courts attached to the larger houses was an obvious sign of affluence, and in the later 20th century lavish facilities were provided at some larger houses, including the Old Rectory. (fn. 377) Some of the wealthiest late 20th- and early 21st-century home-owners were resident, amongst them the Swiss financier Urs Schwarzenbach of Thames-Side Court; others were foreigners or ex-patriots who visited only occasionally, like the owners of Bellehatch and Old Place. (fn. 378)
Social Life and Community Activities
From an early period the social lives of local people were very much determined by class. In the Middle Ages and later local landowners were brought together by shared interests and lifestyles, and generally had wide regional or national connections. (fn. 379) In the 18th century resident gentry and rectors formed part of a local polite society, whose members mixed at dinners and events in Henley, Fawley, Shiplake, Greys, Harpsden and elsewhere. (fn. 380) Thomas Hall's remodelling of Harpsden Court after 1747 provided an elegant ambience for entertaining, including new music and supper rooms. (fn. 381) In 1777 a temporary theatre was erected in Anthony Hodges' barn and coach house at Bolney Court, where plays were performed in front of an audience of 300 as part of Viscount Villiers of Phyllis Court's Gala Week; (fn. 382) the well-known theatrical impresario Anthony Le Texier was among the performers. (fn. 383)
Similar social events continued in the 19th and early 20th century, (fn. 384) with hunting, shooting and the river providing the major sources of outdoor recreation. (fn. 385) Henley Golf Club, opened in Harpsden in 1907–8, attracted some members from Harpsden (notably the Rathcreedans), but most came from a wider circle of well-off business and professional people living in the town and district. (fn. 386) For many wealthy residents the primary focus was probably the social, religious and civic scene of Henley itself, to which Harpsden had become a satellite. John Fowden Hodges, who was high sheriff of Oxfordshire in 1860, 'identified himself with many public movements in Henley', acting as president of the Henley Savings Bank, chair of the regatta management committee and of the Henley board of guardians, and a trustee of the grammar school; he also purchased a ground for Henley cricket club, (fn. 387) and was reportedly a generous benefactor to needy locals. After his death an elderly Shiplake resident affectionately remembered him as 'Squire Hodges'. (fn. 388) Brewery owner Archibald Brakspear, meanwhile, though resident at Bellehatch towards the end of his life (1893–1909) and for many years a churchwarden, remained proud of being 'a Henley man'. (fn. 389)
The social lives of tenants and working people were much more circumscribed, (fn. 390) though many had family, social, or business contacts in Henley and surrounding parishes. Some landlords like Anthony Hodges (d. 1781) held annual tenants' feasts, (fn. 391) but the Halls' religious beliefs seem to have prevented the opening of any early beer houses in Harpsden. (fn. 392) Nonetheless the establishment of a permanent school and some additional house-building probably created more of a social focus in the Harpsden valley in the later 19th century. (fn. 393) Organized cricket was played from the late 1880s, (fn. 394) and by 1899 there was organized boys' football, with a men's team following in the early 1920s. (fn. 395) A village shop opened around the turn of the century was soon joined by a village hall, where free craft lessons and swimming facilities were provided. (fn. 396) In 1937 Leonard Noble and members of the parish meeting organized festivities for the coronation of George VI, including a public relay of the radio broadcast from Westminster Abbey. (fn. 397)
However, by the later 20th century there were fewer community social activities and less of a sense of community. The area had become increasingly populated by well-paid commuters working long hours, and soaring house prices and a lack of local employment reduced continuity of residence. Few young adults could afford to stay in the area, and by 1981 none of the parents of the pupils at the primary school had attended the school themselves. (fn. 398) The head teacher set up a parent-teacher association in the late 1970s to foster a sense of 'village community', but twenty years later the school had closed due to lack of attendance. (fn. 399) The cricket and golf clubs remained popular in the early 21st century; football was played; and there was a large summer fête and annual fun-run. (fn. 400) But most people taking part in these activities, like the majority of the church congregation, came from outside the parish. (fn. 401) Some private leisure activities even served to divide local residents: in the 1990s Urs Schwarzenbach's large polo complex at Lower Bolney Farm generated considerable local concern about increased traffic, flood risk and helicopter noise. (fn. 402)
Education
In earlier periods education was provided solely by private initiative, as in the 1660s when the widow of a tenant farmer arranged for her sons to be taught to read and write. (fn. 403) Not surprisingly, in 1771 few children or servants could read or say their catechism. The rector had tried to start a small school some years before, but had given up because he could find no suitable teacher and parents did not ensure regular attendance. (fn. 404) A school was finally established before 1793, and in 1833 taught 20 girls and seven boys. (fn. 405) Initially it was funded by voluntary subscriptions, but by 1854 the rector was supporting the school himself, as well as running a Sunday school and evening classes for boys and adults. (fn. 406)
In 1857 the Hall family paid for a permanent school to be built on land provided by John Fowden Hodges of Bolney Court, who had recently bought their estate. (fn. 407) The school, which opened the following February, (fn. 408) was intended for poor children of the parish, and was to be managed and controlled by the rector, churchwarden and lord of the manor. (fn. 409) The buildings initially comprised only one classroom and a small teacher's residence, but Hodges provided for a second classroom to be built in 1892. (fn. 410) In 1875–6 there was room for 51 children and an average attendance of 28; some funding came from government grants, but over half from voluntary contributions. (fn. 411) By 1906 the school could accommodate 75 pupils and the average attendance was 40. (fn. 412)
The school received some excellent reports in the early 20th century, including for the provisions made for swimming and outdoor activities. (fn. 413) Reports were more mixed from the 1920s, and in 1937 the school was reorganized as a junior school for children under 11. (fn. 414) Average attendance was reduced to 29 as a result, with older children walking to school in Henley. In 1954 there were only 22 pupils, and the school had controlled status. Pupil numbers increased to 62 by 1970 but fell to 37 by 1981, (fn. 415) and when the school closed in 1996 it had only eight pupils. (fn. 416) A playgroup for toddlers organized by several local women in 1982 later became a more formal pre-school, still operating in the village hall in 2008. (fn. 417)
Poor Relief
The extent of local poverty before the 19th century is hard to gauge. From the 16th century several inhabitants made small bequests to the poor, (fn. 418) and in 1783–5 an average of £166 a year was raised for poor relief, despite the small size of the population. (fn. 419) In the period of high bread prices in the early 19th century the poor seem to have suffered more serious distress in Harpsden than anywhere else in Binfield hundred; this probably reflected a deep divide between fairly substantial tenant farmers and poor labourers, with few smallholders in between. (fn. 420) In 1803, 59 adults and 68 children were on permanent relief, representing 73 per cent of the 1801 population; (fn. 421) in 1815 20 adults received permanent relief and a further 119 occasional relief. (fn. 422) In 1834 there were no generally unemployed labourers, but c. 41 people received relief in one particular week. The twelve families of non-parishioners mentioned the same year were perhaps itinerant labourers. (fn. 423) As late as 1892 there seem to have been many poor people, and clothing and coal clubs continued into the 20th century. (fn. 424)
The only early charity was a sum of £10 bequeathed by the local yeoman farmer Richard Lucy in 1673. (fn. 425) The money was given to the churchwarden and produced enough interest to distribute £1-worth of bread every other Easter. (fn. 426) The payment was forgotten by 1810 when the overseers' book was handed over without any balance in hand, but revived in 1819, when it was determined to double the bread dole until the arrears were paid off. (fn. 427) The charity was still in operation in the early 1940s, when it was used to distribute a few shillings a year to needy parishioners. (fn. 428)
In the early 20th century, after the sale of the Hodges' estate in Harpsden, John Hodges (1849–1924) devoted himself to philanthropic work, living simply at a house in St Mark's Road, Henley. (fn. 429) In 1904–6 he set up two corrugated-iron buildings opposite the school as class and work rooms for the villagers (where training in carpentry and craftwork was provided), laid on two swimming pools (later abandoned), and bought land to secure a permanent cricket ground, for which he provided a pavilion. (fn. 430) In 1909 he set up the Harpsden Hall Trust 'for the social and intellectual needs of the poor of Harpsden'. (fn. 431) He also gave more informal financial assistance to the church, school and needy locals, including funding for young men wishing to emigrate, and frequently visited local people in their homes. (fn. 432) After his death, the Trust paid for the erection of a permanent brick-built village hall in the early 1930s, and this remained fairly well used in the early 21st century. (fn. 433)
RELIGIOUS HISTORY
In the Middle Ages Harpsden comprised two separate parishes, Harpsden and Bolney, each with its own church. The parishes were amalgamated in the 15th century, and only Harpsden church remained in use. The chief landowners from the mid 17th to the mid 19th century, the Halls, were Nonconformists, and this had an impact on local religious life. However, active and assertive Nonconformist activity in the late 17th century seems to have given way to general (though fairly apathetic) Conformity by the second quarter of the 18th century. From the 1840s rectors made significant improvements in frequency of services and for a time in size of congregation, but increased attendance was not fully sustained in the later 19th century. The congregation grew in the 1970s, though latterly it was mainly composed of non-parishioners.
Parochial Organization
The Parishes of Harpsden and Bolney
Until the late Anglo-Saxon period Harpsden may have been subject to Benson church as part of the royal manor of Bensington, but no ecclesiastical link is evident after the Conquest. (fn. 434) By the early 13th century two parishes had developed. Both had probably been established a considerable time before, after the building of local churches by the lords of the two manors, although whether either church was established before the Conquest is unknown. Harpsden church, in front of Harpsden Court, appears on architectural grounds to date from the 12th century; (fn. 435) Bolney church has left no standing remains but may have been built before 1104, when the lord of the manor apparently granted the tithes of Bolney vill to Abingdon abbey. (fn. 436) According to a description of 1720 it was located in the middle of its churchyard, within the moat which surrounded the lord of Bolney's riverside manor house. (fn. 437) By that time the building itself had been converted into a house, which was still standing in 1738. (fn. 438) Human bones and the remains of stone coffins were dug up in the garden of Bolney Court in the mid 18th and early 19th centuries. (fn. 439)
The two parishes continued through most of the Middle Ages, before being united in 1454. (fn. 440) The fixtures and fittings of Bolney church were transferred to Harpsden, and the parishioners of the newly united parish were enjoined to maintain the enclosure of Bolney churchyard. Bolney church may have been used as a chapel until the early 16th century, but any such use seems to have ceased before the 1550s. (fn. 441) In the Middle Ages Harpsden church was dedicated to St Peter, but this was changed to St Margaret sometime between 1559 and the 1754, perhaps on the initiative of All Souls College, Oxford, patrons after 1639. (fn. 442) The dedication of Bolney church is unknown.
Twentieth-Century Reorganization
In 1953 the ecclesiastical parish was enlarged by the incorporation of part of the ecclesiastical parish of Holy Trinity, Rotherfield Greys, comprising a long strip stretching from Gillotts through Harpsden Heights to the river. (fn. 443) A further boundary change accompanied the unification of the parishes of Shiplake and Dunsden in 1977. (fn. 444) After the retirement of Canon A. J. Watts as rector in the same year, the benefice was served by a priest-in-charge until being amalgamated with the benefice of Shiplake and Dunsden in 2003. (fn. 445)
Advowsons
In the early 13th century both churches were in the patronage of the lords of the respective manors. In 1219 Robert of Harpsden presented William Banastre as rector of Harpsden, after the death of an unnamed incumbent whom he had also nominated. (fn. 446) In 1235–6 Reginald of Whitchurch presented Ralph of Sempringham (d. 1280) to Bolney church, although in this case no previous incumbent was mentioned. (fn. 447) The lords of both manors faced challenges to their patronage. The Harpsden family's right of sole presentation to Harpsden church was unsuccessfully contested by the lords of Bolney, first by Reginald of Whitchurch in 1219 and later by Alan of Farnham. (fn. 448) Both claimed half the advowson in right of their wives by virtue of an earlier grant by Robert of Harpsden. Reginald himself apparently only secured full rights of presentation to Bolney church in 1242, when Walter of Bolney conceded his claim to half the advowson along with part of the manor. (fn. 449)
The advowsons remained with the respective lords until the parishes' unification in 1454, although formal presentations were apparently not always made. (fn. 450) From 1454 until the early 17th century the lords of Harpsden and Bolney (or their proxies) made alternate presentations to the united benefice. (fn. 451) In 1639 Humphrey Elmes and Sir Humphrey Forster sold the advowson to All Souls College, Oxford, for £300 5s. (fn. 452) Elmes, who had presented earlier that year, received all but the 5s., suggesting that Forster retained only nominal rights by this time. The college presented all of Harpsden's subsequent incumbents until the 2003 unification with Shiplake and Dunsden, after which the patronage was shared with the patrons of the other churches. (fn. 453)
Endowment
The two medieval churches were very poor. In 1254 Harpsden church was valued at only 5 marks (£3 6s. 8d.), and Bolney at a mere £1. These were amongst the lowest individual valuations in Henley deanery. (fn. 454) Both churches were said to be worth slightly more in the late 13th and early 14th century: Harpsden £5 6s. 8d., and Bolney £3 or 5 marks (£3 6s. 8d.). (fn. 455) In 1341 agrarian problems led a local jury to claim that the glebe and tithes of Harpsden were worth only £2, and the Bolney glebe and its hay 13s. 4d. (fn. 456) By 1535, however, the value of the united benefice had risen to around £13 gross, (fn. 457) and the rectory, with its large glebe, (fn. 458) became increasingly valuable as local agriculture expanded. In 1788 the rectory's annual value was over £356, including £100 from the glebe; ten years later it was reckoned at £447. (fn. 459) The real income was doubtless lower since tithes were rarely paid in full, but this made Harpsden a rich living, at a time when almost half the benefices in Oxfordshire were worth less than £50. (fn. 460) In 1841 the tithes were commuted for £623 7s., (fn. 461) although the actual value of the tithe-rent charge in the early 20th century was around £400. (fn. 462) In the early 1870s the glebe was given an estimated rental value of £226 6s., (fn. 463) but by the end of the decade most of it had been sold. (fn. 464) In 1920 the benefice was worth £664 gross and £411 net. (fn. 465)
Rectory Houses
In the Middle Ages both parishes presumably had rectory buildings. Those for the rector of Bolney, perhaps at the south-west corner of the Bolney glebe, (fn. 466) were apparently abandoned after the parishes were united in the mid 15th century. Those for Harpsden were probably on the site of the 'Old Rectory' in the Harpsden valley, where the single remaining rectory house was located from the 16th century. (fn. 467)
This house was rebuilt in 1617 to create a well-appointed three-storey building, comprising 14 rooms, a cellar, and two closets, with a five-bay barn, stable, outbuildings and orchard. (fn. 468) Further extension and improvement followed later in the century, when additional farm buildings were erected. (fn. 469) In the 18th century the house was enlarged and given a red brick façade. (fn. 470) Later alterations included the addition of a two-storey wing to the west of the house in the mid to later 19th century. (fn. 471) The house was sold in the early 1920s when the rector moved to a new-built home on Harpsden Way in Rotherfield Peppard, north of the church. (fn. 472)
Pastoral Care and Religious Life
The Middle Ages
Harpsden and Bolney churches apparently had separate rectors throughout the 13th and 14th centuries. There are some gaps in the records of formal institutions, most notably for Bolney between 1280 (the death of Ralph of Sempringham) and 1312, but in several cases references to previous rectors suggest that appointments had in fact been made. Only a few rectors are known to have held other livings, (fn. 473) and it seems likely that many resided. A number apparently came from the surrounding area; (fn. 474) several were mentioned in a local context; (fn. 475) and two were relatives of the lords of Harpsden or Bolney. (fn. 476) These men presumably served the tenants of the respective manors: the survival of a 12th-century font in Harpsden church suggests that both churches had baptismal rights, (fn. 477) and both certainly had burial grounds.
In the 13th and earlier 14th centuries several rectors of Harpsden died in post after lengthy tenures, (fn. 478) but resignations, exchanges of benefices and more frequent turnover became common from the later 14th century. The same was true at Bolney from at least the early 14th century. Several 13th- and early 14th-century rectors were instituted in only minor orders, suggesting that they were at an early stage in their careers; (fn. 479) later incumbents were mainly in full orders. Throughout the Middle Ages non-graduates seem to have been much more common than graduates.
By the early 15th century the low value of the livings, perhaps exacerbated by deepening agrarian problems, apparently made it increasingly difficult to find incumbents, and this seems to have been the main motivation behind the unification of the two parishes. In 1454 the two patrons, Humphrey Forster of Harpsden and Richard Drayton of Bolney, stated that the churches' poverty made it impossible to find a chaplain for either, and that both had been vacant for years. (fn. 480) The most recent known institution at Harpsden was in 1416, (fn. 481) while at Bolney there had been a very rapid turnover of rectors in the 1430s, with the church apparently vacant for some time before the appointment of an incumbent in 1443. (fn. 482) Length of tenure seems to have increased after the unification, presumably because the larger combined income made the position more attractive. (fn. 483)
Material remains suggest that the religious life of Harpsden church was dominated, unsurprisingly, by the manorial lords and rectors. One of the Harpsdens was commemorated by a rather crude effigy carved probably in the early 14th century, and now located in a recess in the south wall of the chancel. (fn. 484) A window in the north aisle contains medieval glass with the arms of the Forsters and of Forster impaling Stonor, the latter presumably commemorating the marriage of Humphrey Forster and Alice Stonor in the earlier 15th century. (fn. 485) Three members of the Forster family (a widow and a knight and lady) are commemorated by brasses of c. 1460 and c. 1480, (fn. 486) and another brass commemorates the rector Walter Elmes (1508–11). Less is known about Bolney church, but the presence of stone coffins in the former churchyard suggests high-status burials, presumably of the lords and their relatives, dating perhaps from the 12th or 13th centuries.
Robert de Harpsden gave a small amount of land in the parish to Stratfield Saye priory (south of Reading) for establishing a chantry, a grant which William de Harpsden confirmed in the mid 14th century. (fn. 487) The intended location may have been the priory rather than Harpsden, but decorated floor tiles given to the British Museum in 1852 were supposedly from 'the site of a ruined chantry in Harpsden church'. (fn. 488) A drawing of 1586 (Fig. 60) shows a shallow projection on the south side of the chancel, which possibly housed an altar or small chapel, although no trace now remains.
Otherwise neither church seems to have benefited from large-scale investment from the lords of the respective manors, perhaps partly because these families carried out some of their devotions elsewhere. In 1366 William de Harpsden was granted the right to have a portable altar and to have mass celebrated privately, including in places under an interdict. (fn. 489) In 1453 Humphrey Forster and his wife were likewise granted the right to a portable altar, presumably for use at home at a time when Harpsden church was vacant. (fn. 490) It seems likely that members of the Elmes family were normally buried in their chapel of St Leonard in Henley church. (fn. 491)
In the 16th century Harpsden church had no rich plate or decorations, (fn. 492) and recorded bequests were small-scale and of common type. In 1547 John Brightwelton, for instance, gave a sheep to the high altar of Harpsden church 'for forgotten tithes', as well as five sheep for perpetual prayers to be said for him. (fn. 493)
The Reformation to Early 19th Century
From the early 16th to the early 17th century the church was held by a series of long-serving rectors: Gregory Charlett (1511–46), Ralph Medley (1546–73), Robert Blythman (1573–1614), (fn. 494) and John Webb (1614–39). Charlett was a non-resident pluralist and, latterly, a canon of the college of St Mary of the Castle in Leicester (dissolved in 1547), who paid curates to serve at Harpsden. (fn. 495) Medley, apparently the last non-graduate incumbent, seems to have been resident near the beginning of his term at least. (fn. 496) Blythman, appointed vicar of Wargrave (Berks.) in 1576, employed curates through most of his incumbency, and was probably non-resident. (fn. 497) Henry Michell, the curate acting from c. 1610, continued to serve for a time under John Webb, (fn. 498) but Webb himself resided from at least 1617 when he rebuilt the rectory house. (fn. 499) He later installed a brass in the chancel to commemorate his first wife and two of his children. (fn. 500) In the early 18th century it was claimed that he was ruined by a false allegation of fathering a bastard child to one of his servants. (fn. 501)
Rectors' attitudes to the religious changes of the 16th century are difficult to assess. Gregory Charlett remained in post through the changes of the 1530s before resigning in 1546. His motives are unknown, and he seems to have retained his other living in Warwickshire. (fn. 502) Ralph Medley's tenure through Edward VI's, Mary's and the early part of Elizabeth's reigns suggests the flexibility displayed by many ordinary parish clergy. But as elsewhere the effects of the Reformation on everyday religious life were profound. By the mid 1550s, besides changes to the form of service, the church's few vestments and plate had been removed, and so too, probably, had a stone altar and rood. (fn. 503)
Little is known about later 16th- or 17th-century religious life, but it seems likely that as in later periods dispersed settlement affected church attendance. (fn. 504) This is reflected in the ties which some parishioners developed with neighbouring churches. Thomas Gibbons requested burial in Shiplake church in 1551, (fn. 505) while in the early 17th century Henry Keene, a yeoman farmer, bequeathed 5s. for repairs to Sonning church, and left £2 to the poor of Sonning and Harpsden. (fn. 506) Conversely, Harpsden church was apparently used by some non-parishioners: in the 17th century (as later) a few couples from Henley and elsewhere were married in the church. (fn. 507)
From 1639 the rector was Henry Croft, a well-connected former Jesuit, who soon gained several other preferments and appears to have been an absentee. (fn. 508) Croft was deprived in 1644 and restored to the living only in 1660, (fn. 509) vacating it two years later when appointed bishop of Hereford. Two intruded ministers were appointed during the Civil War, presumably with the support of Bartholomew Hall of Harpsden Court, whose close friends included Bulstrode Whitelocke and probably others with Puritan leanings. (fn. 510) The first of them, Henry Owen (d. 1649), was commemorated by an inscription in the church; possibly he secured the living through the influence of his son, the Presbyterian divine John Owen (1616–83), who described his father as 'a non-conformist all his days'. (fn. 511) The second, John Hartcliffe, married Owen's widow. (fn. 512) These men apparently had a considerable influence, both on the Halls (John Owen preached at least once in Harpsden Court, in 1648), (fn. 513) and probably also on other parishioners, as subsequent Nonconformist activity suggests. (fn. 514)
Croft's successors, all current or former scholars or fellows of All Souls College, Oxford, were mainly resident (fn. 515) and often long-serving, notably Miles Stapleton (1690–1731), Thomas Leigh (1731–64) and the Hon. Daniel Finch (1801–40). They were generally from well-heeled backgrounds, and family money, the value of the living and, often, other preferments allowed them to live in well-to-do comfort. (fn. 516) Finch devoted some of his time to watercolour painting and caricatures. (fn. 517)
Church attendance seems to have been low throughout the 18th and early 19th century. Poor turnout was blamed on the distance of most houses from the church and the dirty roads, and sometime in the mid 18th century the second Sunday service was dropped in winter for lack of a congregation. In 1768 it was said that four or five families, 'all the lower sort of people', were regular absenters, but this was apparently an improvement on the earlier situation. Only about 15 people received the sacrament, administered four times a year. (fn. 518) The churchwardens made small regular payments for maintaining the church and churchyard, (fn. 519) but in 1759 the building seems to have been in an indifferent state: the walls needed mending, the windows cleaning, and the porch paving re-laying. At the same time an order was given to write the Ten Commandments and other text on the wall inside. (fn. 520) The number of communicants apparently rose somewhat in the early 19th century (to c. 20–30), but there had seemingly been few other improvements: there was still only one Sunday service in the winter in the early 1840s, and in 1851 the congregation was estimated at only 40. The church itself was small and cramped, with too few free sittings. (fn. 521)
Nonconformity
Proximity to Henley and the presence of sympathetic landowners seems to have made Harpsden an early focus for Protestant Nonconformity. In 1663, after the Restoration, two men were excommunicated for not attending church. (fn. 522) From the mid to later 1670s the Henley Independent minister John Gyles (d. 1683) is said to have preached regularly in Harpsden Wood. (fn. 523) His activities presumably had the consent of Bartholomew Hall (d. 1677) and his son Henry (d. 1700), whose younger brother and heir Bartholomew (d. 1717) married John Owen's niece Mary (d. 1727) in Harpsden church in 1674. (fn. 524) The Halls seem not to have been among the handful of Nonconformists reported in the 1670s or early 1680s by the rector Hugh Boham (who apparently took a harsh view of Dissenters), (fn. 525) though they may have allowed barns on their tenant farms to be used as meeting houses. A surviving barn next to Harpsden Court is dated 1689, the year of the Toleration Act, while a demolished barn traditionally identified with Henley's first Congregationalist meeting house was owned by the family in the early 19th century. (fn. 526)
In the same year a group of around seven local tenant farmers carried out what looks like a ongoing campaign against Boham's successor, Edward Winford (1687–90), allegedly stealing his animals and throwing away the tithe grass. (fn. 527) This conflict was presumably motivated by Winford's Catholic leanings and probable intolerance towards Nonconformists: he was deprived in 1690 for failing to swear the Oath of Supremacy. (fn. 528) From 1695–1706 four or five families, some of them involved in the actions against Winford, avoided having their children baptized by the rector Miles Stapleton (1690–1731), and at least two children were named by 'the preacher at the barn in Henley'. (fn. 529) Such Nonconformist baptisms continued in the 1720s. (fn. 530)
Henry Hall (d. 1742) and his nephew Thomas (1720–1793) were both members of the Henley Congregationalist meeting. Many of their children were baptized in the meeting house on the town's southern edge, and Thomas, his wife, their daughter Elizabeth and her husband Samuel Allnutt (a Henley wine merchant) were buried there. (fn. 531) However, the Halls seem never to have cut themselves off completely from the life of the parish church, if only for appearances' sake. Some of them attended services there, and the church remained their main burial place. Various family memorials include a window installed in 1732. (fn. 532)
The early enthusiasm for Nonconformity within the wider Harpsden community does not seem to have been sustained in the 18th century. By the late 1730s the number of Nonconformists had apparently 'lessened', and in the later 18th century the rectors and curates claimed that there were no 'Presbyterians' apart from the Halls. (fn. 533) In reality, a low level of Nonconformity may have continued into the early 19th century. Thomas Hall (d. 1824) was described as an Independent, but usually attended the parish church. (fn. 534) Only a handful of Independents were mentioned in 1814 and 1823, but in the latter year they included the two principal farmers. (fn. 535) There may have been a slight increase in numbers thereafter, or perhaps simply better recording, since 15 Dissenters were mentioned in 1854. (fn. 536) Other forms of Protestant Nonconformity were exceptional, though an 'abusive' Methodist and his wife were mentioned in 1805. (fn. 537) Catholicism seems to have found no footing at all. (fn. 538)
Church Life from 1841
The incumbency of Francis Leighton (1841–59) marked a high point in Harpsden's church life. Leighton, who went on to become warden of All Souls College (1858–81), was rural dean and a friend of Bishop Wilberforce, and seems to have taken his parish duties very seriously. (fn. 539) In the 1840s and early 1850s he had the church greatly enlarged and almost totally rebuilt, increasing the total seating from 86 to 171, and free seating from 36 to 96. (fn. 540) Funds for the rebuilding were raised mainly by local subscription, but also by a loan raised on the parish rates and a small grant from the Church Patronage Trust. (fn. 541) The benefits seem to have been quickly felt: by 1854 the size of the congregation had more than doubled to 100–150, with 30–40 regular communicants. Leighton and his curate provided two Sunday services throughout the year with a sermon at each, and additional services at the major festivals, in Lent and in Passion Week. (fn. 542)
Leighton's successor Frederick Bagot (1859–1892) tried to continue his work, but with mixed success. Supported by his wife Charlotte and later by a curate, Bagot supervised (and perhaps instituted) a surpliced church choir, and provided daily evensong. (fn. 543) His work on the church included installation of an organ in 1875 and restoration of the chancel in 1879, as a memorial to his late father, a former bishop of Oxford. (fn. 544) Bagot's services seem to have attracted a reasonable-sized congregation, although the number of communicants apparently dropped to around a dozen, while evensong was generally attended by c. 10–20 people, including children. (fn. 545) His wife seems to have converted to Catholicism, and Bagot's own High Church style evidently grated with J. F. Hodges of Bolney Court. In 1868, following an altercation with Hodges, there was a 'stormy vestry', and at the 1873 vestry meeting Hodges's 'Protestant mania' was (according to Bagot) 'strong upon him'. (fn. 546) From then on Hodges rarely attended vestry until after Bagot's death. (fn. 547)
Earlier 20th-century rectors apparently presided over modest congregations, but like Bagot remained closely involved with the school and parish charitable work. (fn. 548) For a time they maintained a chapel close to the rectory house. (fn. 549) Local donations and fundraising provided for several additions and improvements to the church from the mid 1890s into the late 20th century, (fn. 550) and a new cemetery established on ground donated by the Bolney Syndicate was consecrated in front of a large crowd in 1908. (fn. 551) The church choir continued as a very sociable institution and attracted some Henley boys, (fn. 552) although in 1925 concerns about attendance at Sunday School prompted a successful request for Henley Golf Club to stop using Sunday caddies aged under 14. (fn. 553)
A group of wealthy residents took a leading role in church life into the second half of the 20th century, their outlook apparently characterized by a middle-of-the-road conservatism. In 1950, for example, the parochial church council wished to replace the retiring rector with a man who was neither 'a high church man' nor 'one who was too low', preferably married, with a car, but 'not too young'. (fn. 554) In 1975 growing church attendance helped motivate the building of a new parish room (St Peter's Vestry), (fn. 555) but in the decades that followed social changes started to reduce local involvement with the church and other aspects of community life. From 2003 Harpsden was part of a team ministry based in Shiplake, (fn. 556) and although the church attracted a congregation of c. 70–90, only around a third of them lived in the parish. The majority came from Henley and elsewhere, at least partly attracted by Harpsden's 'rural setting'. (fn. 557)
Church Architecture
Harpsden church is a medieval structure substantially rebuilt in the mid 19th century. The oldest elements appear to date from the 12th century, including a round-arched doorway in the south wall of the nave, and parts of the chancel (the altar-stone, piscina recess, and the top of an arch low down in the north wall). (fn. 558) Further work was carried out in the 14th century, possibly including the construction of a now lost chantry on the south side of the building, (fn. 559) and the fine timber roof may be late medieval. There is, however, no evidence to substantiate a suggestion that the chancel was rebuilt in this period to replace a Norman apse. (fn. 560)
Little work was carried out in succeeding centuries, and early 19th-century drawings (like that of 1586) show a small plain building whose chancel and (higher) nave were of almost equal lengths, with a small wooden belfry on the west gable. On the south was a wood and tile porch with studded door. A projection south of the chancel, possibly associated with the chantry, was demolished after 1586, and replaced before the 19th century by an odd decorated pier midway along the church's south side, composed apparently of medieval masonry. The pier was presumably destroyed during mid 19th-century restoration work. (fn. 561)
Extensive alterations in the 1840s and early 1850s amounted to almost total reconstruction (Fig. 64). The first stages saw the building of a north vestry (1844) and the rebuilding of the chancel and addition of an organ chamber (1848). This was followed by more extensive work in 1852, to designs by Benjamin Ferrey of Henley, involving the addition of an aisle, tower and porch on the north side, the lengthening of the nave by 13 feet, the replacement of box pews and removal of a western gallery, and the blocking up of the south door. (fn. 562) The old south porch was moved to the south-east corner of the churchyard, and subsequently converted into a side entrance to Harpsden Court by Leonard Noble in 1912. (fn. 563)
Later work included a highly colourful redecoration of the chancel by the architect Henry Woodyer in 1879, (fn. 564) although this work, including a 'frightful' reredos, was removed in 1953, despite some earlier local opposition. (fn. 565) A new vestry-cum-meeting room (called 'St Peter's Vestry') was added to the south side of the nave in 1975, accessed by unblocking the old south door. (fn. 566) In 1993 the porch-cum-gate at the back of the churchyard was converted to an oratory. (fn. 567)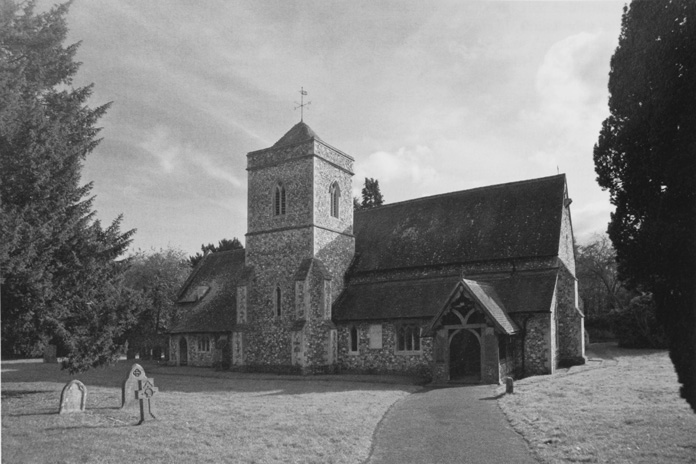 LOCAL GOVERNMENT
Manor Courts
In the Middle Ages the lords of Harpsden and Bolney probably held regular manor courts, although no court rolls from this period survive. Both manors had courts baron in the post-medieval period, and some records of the Harpsden court survive from 1562–1756, and of the Bolney court from 1596–1629. From 1624 the Bolney court was combined with that of the neighbouring manor of Lashbrook (Shiplake), also held by the Elmes family of Bolney. (fn. 568) These courts, presided over by the lords' stewards, were perhaps held in the respective manor houses: certainly rent payments were sometimes made in the hall of Harpsden Court. (fn. 569) In the 16th and 17th centuries they dealt with a range of matters including maintenance of roads, fences and ditches, common grazing, and wood theft, but in the 18th century the Harpsden court dealt exclusively with customary tenancy transfers. The Harpsden court baron, which produced a profit of £9 14s. 7d. in 1575, was still operating in 1756, but rights to courts mentioned in an 1851 estate sale were by then presumably nominal. (fn. 570)
Harpsden manor belonged to the honor of Wallingford, and the tenants owed suit at the honor court until the 1840s. (fn. 571) The vill of Bolney was said to owe suit at the hundred court in 1254–5, but appears to have actually been exempt as a fee of the honor of Giffard. (fn. 572) View of frankpledge was held in Bolney itself, presumably in the manor court; in the 1250s it was exercised by William de Valence as overlord, but passed to William Waleys (perhaps as mesne lord) by the 1270s, and was later held by the Elmes family as manorial lords. In the 16th and 17th centuries the view (held with the court baron) elected a tithingman and a constable. Many of the tithing group seem to have been residents of Lashbrook. (fn. 573)
Parish Government
The united parish of Harpsden and Bolney was treated as a single unit for parish government from the 16th century, even though the two places were still sometimes taxed separately. (fn. 574) Two churchwardens were recorded in 1530, (fn. 575) but by the later 17th century a single churchwarden was appointed jointly by the rector and parishioners; (fn. 576) before 1770 he was appointed for a two-year term, reduced to one thereafter. (fn. 577) Two overseers of the poor were appointed in the 17th century. (fn. 578) Churchwardens' and overseers' responsibilities included distribution of charitable funds. (fn. 579) The Harpsden constable, though still closely involved in honorial jurisdiction, presumably also performed parochial duties by this period. (fn. 580) Lesser officials included a sidesman assisting the churchwardens, and a parish clerk. (fn. 581)
Before the 19th century the churchwardens, constables and overseers were generally drawn from local yeoman families, and a number of men from the parish were nominated and sometimes elected as chief constables of the north division of Binfield hundred. (fn. 582) The lesser parish officers were men of much more modest means. In 1738 the parish clerk, one of the poorest parishioners, was supported in part by the collection money, but later received a small stipend plus fees. (fn. 583) This office was held for several generations by members of the Doney family. (fn. 584) From the mid to later 19th century local landowners and well-heeled non-farming tenants were frequently elected as churchwardens and sometimes appointed to other positions. (fn. 585)
Vestry minutes surviving from 1853 show that this body, usually convened in the church, was responsible for setting the poor rate and electing a churchwarden, poor overseers, surveyors of the highways (until 1864), and, later, a waywarden. (fn. 586) Only once, in 1863, did the vestry make a nomination to the office of parish constable, although two years previously it had resolved that this officer was to be given 20s. a year. In 1872 the two overseers of the poor were allowed a paid assistant, who received £10 wages. In 1894 most of the vestry's civil functions, including maintenance of roads and support of the poor, passed to Henley Rural District Council and the newly-created Harpsden parish meeting. (fn. 587) The vestry (or from 1920 parochial church council) continued to be responsible for church repairs, and organized Sunday School outings, charitable donations and, for a time, coal and clothing clubs. (fn. 588) From 1915 the single churchwarden was replaced by a rector's warden and a people's warden. (fn. 589)
The parish meeting established in 1894 appointed overseers and dealt with business relating to roads and footpaths, local charities, (fn. 590) and minor civil matters. Its meetings, held in the school and later the village hall, were chaired by the rector until 1929, when a succession of more substantial local property owners took over, including (from the later 1930s) Lady Rathcreedan of Bellehatch. (fn. 591) The parish meeting was largely superseded by a parish council formed in 1938, (fn. 592) and in 1947 no parishioners other than members of the parish council attended the annual parish meeting. (fn. 593) In 2006 Harpsden parish council joined a successful campaign to stop the inclusion of the far south of Oxfordshire in the 'South-East Plan', as part of the Western Corridor and Blackwater Valley development area. (fn. 594)