Pages 295-309
A History of the County of Oxford: Volume 5, Bullingdon Hundred. Originally published by Victoria County History, London, 1957.
This free content was digitised by double rekeying. All rights reserved.
WATERPERRY
The ancient parish of Waterperry (fn. 1) lies on the Buckinghamshire border with the River Thame for its southern boundary, and the Holton Brook for its western. (fn. 2) It consists of the civil parishes of Waterperry and Thomley. Part of Thomley hamlet has always lain in the parish of Worminghall (Bucks.) and has thus been completely divorced administratively from the rest of the hamlet, which is now an independent civil parish. Since 1881, when their acreages were first reliably assessed, Waterperry has covered 1,936 acres and Thomley 564 acres. (fn. 3) The ground is low-lying, generally round about 200 ft. above sealevel, and is liable to flooding by the Holton Brook, but rises slightly to 234 ft. in the north. The soil is mostly a rich loam with a subsoil of gravel and clay, and provides excellent meadow land and pasture, with grassland that has been described as some of the best in the county. (fn. 4)
Waterperry Wood (233 a.) in the north-west of the parish is all that is left of earlier extensive woodlands. (fn. 5)
Waterperry is approached from the main OxfordLondon road by a branch road from Wheatley, which crosses the parish diagonally to Worminghall (Bucks.). Before the present London road was made in the 18th century this road was a continuation of the old London road which crossed Shotover. (fn. 6) Two gated roads branch off it: one going north to Waterperry Common to join the Stanton St. John road, and the other going east to Waterperry and thence to Waterstock, as a private road which is said to have been built by Joseph Henley. (fn. 7) It crosses the Thame at Bowbridge, an 18th-century bridge, with a single brick arch, with solid outcurving parapets with a stone coping. (fn. 8)
Tiddington, 1¾ mile distant the other side of the river, is the nearest station, and Thame, 5½ miles away, the nearest market-town. There is a bus service twice a week to Oxford and Thame. The village of Waterperry lies among water meadows in a loop of the River Thame. It was named after its pear trees (O.E. pirige), and was probably given the prefix 'water' to distinguish it from Woodperry. (fn. 9) It has one street with some new council houses, and a few ancient cottages and a shop which are mostly of 17th- and 18th-century date. They are built of coursed rubble or brick and some are timberframed; their roofs are of thatch or slate. Manor Farm, an 18th-century house of coursed rubble with ashlar quoins, looks towards the church and manor-house at the south end of the village, and occupies the site of an older house. The Vicarage is a later 18th-century house, built of rubble near the site of an earlier vicarage house. It has wide eaves and two dormer windows; early-19th-century railings of wrought iron separate the garden front from the road.
The present manor-house was begun by Sir John Curson in about 1713. (fn. 10) It is possibly on the site of a medieval house, the only trace of which is a 14thcentury arched doorway of stone. The present east wing represents the 17th-century house which was returned in 1665 as having nine hearths; (fn. 11) it has a hipped roof covered with tiles, dormer windows, and leaded windows, mullioned and transomed. The timber-framed cottage at the entrance to the drive is also of 17th-century date. Sir John Curson's mansion is a three-storied stuccoed building with stone quoins, cornice, and balustraded parapet, and a slate roof. (fn. 12) The west front has seven bays, and the north front six, of which the centre ones project slightly. The south-east corner of the house forms an apse, which contained the domestic chapel, which seems to have been redecorated in the Gothic style about 1764. (fn. 13) An engraving of the house before alterations were made shows an ornamental lake in the foreground. (fn. 14) Probably in the mid-18th century a Venetian window was inserted in the west front above the main entrance. The Henleys, who acquired the house about 1813, altered the original windows, and added a central portico of three bays to the west front. (fn. 15) The cast-iron rainwater heads bearing the Henley crest help to date these alterations. The interior decoration of the house is mostly Victorian. The Henleys dismantled the chapel, and probably moved the 16th- and 17th-century painted glass to the window of the main staircase, when they rebuilt it. Some of the original 18th-century panelling remains in a ground-floor room in the north-east corner of the house, and the cornice and panelling in the room in the north-west corner probably dates from the middle of that century. The back staircase has a 17th-century balustrade perhaps removed from the earlier manor-house. The portraits above the main staircase are of the Curson family, and are painted in the manner of Michael Dahl. (fn. 16) The latest of them date from about 1727 and probably represent Sir Francis and his two wives.
Apart from the village and Waterperry House, there are a number of scattered farm-houses of some antiquity. They include Thomley Hall, largely rebuilt in the 19th century, which is almost all that is left of the ancient hamlet of Thomley; the 17thcentury Parson's Farm, a picturesque house of timber and red bricks, which was probably built on Parson's close in the former hamlet of Ledhale; (fn. 17) Park Farm in the north of the parish, which may be the new farm-house built by Catherine Curson in the late 18th century, (fn. 18) and which was enlarged and modernized by Joseph Henley who lived there on his marriage in 1817; (fn. 19) and Waterperry Common Farm, built partly of vitreous brick and partly of timber in the 17th and 18th centuries.
William Fitzellis, the 12th-century lord of the manor, who retired to Newburgh Priory (Yorks.), is the reputed author of the chronicle commonly known as William of Newburgh's. The chronicler was writing between 1190 and 1198, and shows a special knowledge of Oxfordshire, particularly of the Thame district. (fn. 20) The only other worthy connected with the parish is the astrologer and almanacmaker, John Gadbury. (fn. 21) His mother Frances was a daughter of Sir John Curson (d. 1655) and was said to have eloped with a 'servant of the family' named Gadbury. (fn. 22) John Gadbury became reconciled with his grandfather and, some say, presented him with the first of a long series of his 'Ephemerides'. In 1679, when he was accused of taking part in the Popish Plots, and of being a Roman Catholic, he used his friendship with his uncle Sir Thomas Curson as a defence. Sir Thomas and his wife, he wrote, were his very great friends, with whom on his visits to Waterperry he 'joined prayers morning and evening, as they most religiously and commendably use in their families always'. (fn. 23)
Manors.
In 1086 WATERPERRY belonged to Robert d'Oilly. (fn. 24) The property was later held as 2 knights' fees and the overlordship descended with that of the other d'Oilly estates to the earls of Warwick in the 13th century, to Thomas Chaucer, and then to his daughter Alice, Duchess of Suffolk, in the 15th. (fn. 25) After her death in 1475 it lapsed.
The tenant in 1086 was an unidentified Robert, probably the Robert son of Walter who held Oakley of Robert d'Oilly. (fn. 26) The next known tenant was Lovel de Brai, holding in about 1130; he was also lord of Oakley and Worminghall (Bucks.). He was succeeded by his son Fulk, and then by Emma de Peri, daughter and heiress of Fulk, who probably in about 1154 married William Fitzellis. (fn. 27) He and his wife were generous benefactors of Oseney Abbey and St. Frideswide's, to whom they granted Worminghall church. (fn. 28) In about 1180, William Fitzellis became a canon in Newburgh Priory (Yorks.). (fn. 29)
Emma Fitzellis began by being a tenant of the whole manor, which included the hamlet of Ledhale (Ledall); (fn. 30) but she granted half a hide in Ledhale to Oseney, (fn. 31) when her son Henry became a canon there, and between 1180 and 1188 lost a third of the remainder of the whole manor to Richard de Beaufeu as a result of a lawsuit. (fn. 32) Consequently she asked Oseney to return her gift of 2 virgates in Ledhale; 'sympathising with her grief', they compromised by returning 1 virgate. (fn. 33) The arrangement with Richard de Beaufeu was that he would hold the whole estate of the d'Oillys, and Emma Fitzellis would hold two-thirds of him. (fn. 34) No explanation of this transaction has been found, but it looks as if the families had intermarried and that the Beaufeus' claim to a third of the manor may have been a claim to dower. Their overlordship of the Fitzellis manor continued. Until the 16th century there were 2 fees, Beaufeus' and Fitzellises'. The latter was said to be held of the Beaufeus as late as 1375. (fn. 35)
During the 13th century there were mesne tenants between the earls of Warwick and the Beaufeus. In 1242–3 the manor was held by a Reynold son of Herbert, (fn. 36) and in 1255 (fn. 37) and 1279 by Reynold son of Peter, (fn. 38) who appears to have been the son of Peter FitzHerbert, the lord marcher of Blaenllyfni. (fn. 39)
Richard Beaufeu had two sons, Henry and Richard. (fn. 40) It is possible that Henry inherited Waterperry but forfeited it owing to his opposition to King John. In any case in 1205 Richard de Beaufeu recovered 100 solidates of land in Waterperry which his brother Henry had given him, and of which Richard had been disseised because of Henry's withdrawal from the king's service. (fn. 41) In 1246 Richard died, holding a third of Waterperry and Ledhale in demesne and the overlordship of the other two-thirds. (fn. 42) His son Henry may have remained in Normandy, for in 1254 John FitzNiel, lord of Boarstall, and the father-in-law of William Fitzellis's son Thomas, seems to have held the Beaufeu manor, (fn. 43) and it is recorded that 10 librates of Henry Beaufeu's land in Waterperry were forfeit in 1258–9 (fn. 44) but Henry appears to have been in possession of Waterperry in 1262, (fn. 45) and to have died in or before 1273, when his widow Agnes (d. 1275–6) and his son Richard were at law with Oseney. (fn. 46) In 1279 Richard Beaufeu held the Beaufeu fee in Waterperry, and also the wardship of Robert Fitzellis, his undertenant. (fn. 47) Roger Beaufeu, who had the wardship of the young Robert Fitzellis in 1291–2, (fn. 48) and was assaulted at Waterperry in 1298, (fn. 49) belonged to the same family, but does not seem to have been in the direct line of descent. (fn. 50)
By 1316 another Richard Beaufeu, perhaps his son, held the fee. (fn. 51) He was dead by 1349–50, when his heirs were holding Waterperry. (fn. 52) With him the direct male line of the Beaufeus seems to have died. No relationship with Thomas Beaufeu, collector of the subsidy in Oxfordshire in 1352, has been traced, (fn. 53) and it looks as if the Beaufeu manor descended to a daughter, the Isabel Beaufeu whose brass is in Waterperry church. (fn. 54) She married Richard Rusholm and had died before 1375, (fn. 55) when Richard Foster was granted the keeping of the fee. Her daughters Cecily and Joan, of whom Margaret Fitzellis was said to hold in 1375, (fn. 56) must have been minors. Cecily or Celia Rusholm, who was dead by 1382, had married Lambert Foster; (fn. 57) her sister also seems to have been dead, (fn. 58) and the Beaufeu fee descended through the Foster family. In 1428 the heirs of Lambert Foster, son of Lambert Foster, held one fee in Waterperry and Ledhale, (fn. 59) and in 1517 Walter Curson had 200 acres in Waterperry which he leased from Sir Edmund Foster of Southampton. (fn. 60) He probably later bought this land, evidently the original Beaufeu fee of 9½ virgates, from the Fosters. (fn. 61) His grandson Vincent acquired the rest of the original manor of Waterperry, which was thus united again as one property.
Emma de Peri, who held the two-thirds of Waterperry which comprised the Fitzellis fee, was still alive in 1194, when she made good her claim to her inheritance in Oakley (Bucks.). (fn. 62) She was succeeded by her son William (II), whose wife was Rose de la Rokele, at one time lady of Tiddington. (fn. 63) On his death in 1227, (fn. 64) William (III) Fitzellis, who had a wife, Margery, and children, (fn. 65) succeeded. He must have died between 1263 (fn. 66) and 1279, (fn. 67) when Waterperry was held by a child, Robert, son of Thomas Fitzellis and his wife Joan, daughter of John FitzNiel, (fn. 68) lord of Boarstall. Thomas was probably the son of William (III) Fitzellis and his wife Margery. After 1277, when Thomas Fitzellis was dead, (fn. 69) the descent of the Fitzellis family is confused. (fn. 70)
Robert Fitzellis, still a minor in 1292, (fn. 71) was dead by 1300 (fn. 72) and was succeeded by another Robert, probably his son, who was a minor in 1302. (fn. 73) He was holding the Fitzellis fee in 1316 (fn. 74) and land in Buckinghamshire and Wiltshire. With his death in or before 1346, (fn. 75) the direct male line of Fitzellis came to an end. His widow Margaret, the daughter and coheir of William Pippard, who married as her second husband Warin de Lisle, (fn. 76) held the Fitzellis fee until her death in 1375. (fn. 77)
The Waterperry estate and her husband's other lands then descended to John Duyn, Robert Fitzellis's great-nephew. (fn. 78) When he came of age in 1382, (fn. 79) he probably changed his name to Fitzellis and so is the same as the John Fitzellis who died in 1395 in possession of Waterperry. (fn. 80) Besides the Fitzellis lands, he held a third of the manor of Yattendon (Berks.) through his grandmother Isabel de la Beche, the sister of John de la Beche. (fn. 81) In 1393 he was outlawed for debt. His financial difficulties probably account for the granting away for life of much of the family's property at the end of the 14th and in the early 15th century. He granted his Waterperry property for life to Sir William Lisle the younger, who in 1400 is spoken of as 'of Waterperry'. (fn. 82) Oakley was held for a period by John Fitzellis's daughter Maud and her husband Robert James. (fn. 83) When John Fitzellis died in 1395 his son John was a minor; (fn. 84) he was alive in 1433, when he was listed among the gentry of Oxford, (fn. 85) but had probably been succeeded by a son Robert by 1438. (fn. 86)
It is this Robert Fitzellis, a Yorkist, (fn. 87) and his wife Margaret, who are depicted in the glass of Waterperry church. (fn. 88) It is not clear when he died, but his wife, the daughter of William Fawkener, (fn. 89) was a widow at her death in 1469. (fn. 90) Her heiress was her granddaughter Sibyl, who was six years old and already married to George Ingleton. (fn. 91) The Ingletons were a prominent Yorkist family and lived at Thornton (Bucks.). (fn. 92) George Ingleton died in 1494; (fn. 93) the date of Sibyl's death is uncertain.
The heir to the Fitzellis property in Waterperry, Oakley, (fn. 94) Thornton, (fn. 95) and Worminghall (fn. 96) was their son Robert, who married Anne, the daughter of Sir Richard Empson. (fn. 97) He died in 1503, leaving a nine-month-old daughter Jane. (fn. 98) Anne, who married as her second husband John Hugford, kept some interest in Waterperry, (fn. 99) perhaps only the third which she and her husband conveyed in 1515 to the Bishop of Norwich and others. (fn. 100) Anne's daughter Jane had by 1517 married Humphrey Tyrrell of Ockendon (Essex), (fn. 101) and a year after his death in 1549 (fn. 102) she sold all her estates to her son George Tyrrell. (fn. 103) He is said to have 'impaired the family estate very much and squandered away several manors'. (fn. 104) He sold his Waterperry property in 1562 to Thomas Tipping of Shabbington (Bucks.), (fn. 105) who resold almost at once to Vincent Curson, (fn. 106) who already held the rest of the original manor, which had comprised the Beaufeu fee.
The Cursons, (fn. 107) who came from an old Derbyshire family, were to hold the manor for 200 years and to make it one of the centres of Roman Catholicism in Oxfordshire. (fn. 108) Walter Curson or. Curzon, the third son of John Curzon of Kedleston (Derb.), was acquiring land in Oxfordshire and Buckinghamshire early in the 16th century. In 1523 he leased the Beaufeu manor in Waterperry (fn. 109) and in 1526 bought half of Carbonel manor in Addington (Bucks.). (fn. 110) He died in 1527, (fn. 111) and he and his wife Isabel, the daughter of Edward Sanders of Harrington (Northants.), (fn. 112) were buried in the church of the Austin Friars in Oxford, of which he was a benefactor. Their fine brass was 'piously removed' at the Dissolution to the church of Waterperry, of which they were also benefactors and where they were already commemorated in a window. (fn. 113) Their son Richard added to the family's property by buying Addington manor in 1532. (fn. 114) He died in 1549, (fn. 115) and it may be his mutilated brass that is now in the lord's aisle in Waterperry church. The Cursons, who were evidently now living at Waterperry, seem to have encroached on the Tyrrells' rights there for Richard's son Vincent, who only came of age in 1552, (fn. 116) and his mother Agnes were about this time at law with Jane Tyrrell over Waterperry. (fn. 117) Vincent Curson lived until 1580. (fn. 118) He was succeeded by his son Sir Francis, (fn. 119) who died in 1610, (fn. 120) and then by his grandson, Sir John. (fn. 121) Sir John later seems to have been in financial difficulties, probably because of fines for recusancy, (fn. 122) for in 1628 he sold the Addington estate. (fn. 123) He was a royalist, and was early involved in preparations for the Civil War; he was arrested while fleeing from Watlington, where he had been trying to seize the magazine, (fn. 124) and was sent to the Tower by Hampden in August 1642. A few weeks later he petitioned for his release on account of age and because his estate was suffering 'much from his absence'. (fn. 125)
Sir John was succeeded in 1655 by his third son Thomas, the two elder being already dead. (fn. 126) He was made a baronet in 1661, (fn. 127) and died in 1682, being followed by his son, Sir John Curson. (fn. 128) He married successively two Roman Catholics, Penelope, daughter and coheir of William Child of Worcestershire, and Anne, sister and coheir of Rowland, Baron Dormer (d. 1712), and widow of Edmund Powell of Sandford. (fn. 129) According to Anthony Wood, he became a Roman Catholic soon after his first marriage, (fn. 130) and Hearne described him as 'a man that was a Roman Catholic, but of great goodness'. (fn. 131) It was he who rebuilt the manor-house. (fn. 132) He died in 1727 and the estate passed to his son, Sir Francis, who was said to have been apprenticed to a London merchant in 1693, at that time probably being a younger son. (fn. 133) He died childless in 1750, his only son having died at the age of fourteen. (fn. 134) In his will he made elaborate provisions for the descent of the property; (fn. 135) he was succeeded in the title by his brother, Sir Peter, a Jesuit priest, the last of the Curson male line, (fn. 136) but his property was held by his wife Winifred, the daughter and coheir of John Powell of Sandford, until her death in 1764. (fn. 137) It then went to Sir Francis's niece, Catherine Brinkhurst, who took the name of Curson and died unmarried in 1776, and then to John Barnwall, the son of her sister, Frances Cussack, by a first marriage. He took the name of Curson, and also died unmarried in 1787. (fn. 138) By this time all the legatees mentioned in Sir John Curson's will were dead, and John Barnwall Curson left it by will to his halfcousin once removed, Francis Henry Roper. (fn. 139) Roper had no Curson blood, but he took the name and arms of Curson in compliance with the terms of his inheritance. (fn. 140) In 1824 he succeeded to the peerage as 14th Baron Teynham. (fn. 141) He was a confirmed gambler and his losses obliged him to alienate all the Curson estates. (fn. 142) In 1815 he sold Waterperry for £100,000 to Joseph Henley, (fn. 143) a successful London merchant, whose grandfather Francis Henley is said to have come to London from County Cork and become a Thames waterman.
Joseph Henley lived until 1832, and his son, Joseph Warner Henley, who came to live in Waterperry soon after his marriage in 1817 to Georgina Fane, daughter of John Fane, M.P., (fn. 144) of Wormsley, was prominent in national and local affairs. (fn. 145) His son Joseph John Henley, who succeeded him in 1884, was also a prominent public servant. Dying in 1910, he was succeeded by his grandson Captain J. C. W. Henley, R.N., who sold the Waterperry estate to Magdalen College in 1925. (fn. 146) Waterperry House was bought in 1949 by the tenant, (fn. 147) Miss B. Havergall, the principal, with Miss A. J Sanders, of a residential horticultural college for women.
An estate in THOMLEY assessed at 4½ hides, was held in 1086 by Hervey of the Bishop of Bayeux, (fn. 148) and later became part of the honor of Pontefract. Another estate there, assessed at half a hide, was held by Roger of Miles Crispin. (fn. 149) By the end of the 12th century the lords of Thomley were living in the Oxfordshire village from which they had taken their name; they were a prominent local family and were benefactors to several of the religious houses in the county. (fn. 150) The first known member of the family, Godfrey, had two sons, Jordan and Rualdus. (fn. 151) Jordan, the elder, whose wife was probably Basile, (fn. 152) gave a hide of land to the abbey of Stratford Langthorn (Essex), and was dead by about 1180–90, when his son Henry confirmed the grant. (fn. 153) Henry had two wives, the second of whom was Adeliza Ghernon, (fn. 154) and was dead by about 1213. He was succeeded by his son Robert de Thomley, (fn. 155) who also had two wives, Denise (fn. 156) and Aufricia, (fn. 157) and who granted or sold land to Oseney, St. Frideswide's, and the Sandford preceptory of the Templars. He was holding Thomley in 1242–3, (fn. 158) but by 1254 had been succeeded by his son Ellis, (fn. 159) whose wife was named Joan, (fn. 160) and who was alive in 1265. (fn. 161) By 1279 Robert de Thomley, probably the son of Ellis, was lord of Thomley, but by that time the family's land had diminished to a single virgate. (fn. 162) Robert was succeeded by John de Thomley, who, with the abbots of Oseney and Dorchester, was lord of Thomley in 1316. (fn. 163) He had been a juror as early as about 1300, (fn. 164) and was dead by 1334, when another John de Thomley, a minor, was holding Thomley. He came of age in 1344, but by that time the family seems to have left the manor, for he is called quondam dominus de Thomley. (fn. 165) After this, track is lost of the family.
The lands of the manor had been so much dispersed, that it is likely that no clear-cut manorial rights remained. After the Reformation the various properties were again united under one ownership and followed the descent of Worminghall manor. (fn. 166) In 1911 Thomley, still called a manor, was sold on the break-up of the Worminghall estate, (fn. 167) and is now owned by Exeter College.
Economic and Social History.
At the time of Domesday Waterperry was remarkably prosperous. There were 18 villeins and 4 bordars, in addition to 2 serfs in demesne. There were 11 plough-teams, 3 of them in demesne, working on 10 plough-lands. The value of the estate was £8, compared with £7 immediately after the Conquest and £5 in the Confessor's time. There were 40 acres of meadow, and a wood of three by five furlongs. (fn. 168)
The township of Thomley, which was partly in Buckinghamshire, seems to have fared less well. The Bishop of Bayeux's estate there was said to have land for 4 ploughs and actually had 4 plough-teams working, 2 on the demesne and 2 shared by the hamlet's 5 villeins and 6 bordars. There were also 20 acres of meadow and a wood of 7 by 3 furlongs. The value of the whole had dropped from 60s. to 40s. (fn. 169) Details for Miles Crispin's half hide are lacking. (fn. 170)
By the 13th century both settlements had extended their area of cultivation. At Waterperry so much land had been cleared in the north of the parish that a hamlet with its own fields had developed—the hamlet of Ledhale (Ledall). The Waterperry fields surrounded the village: West Field, probably between Holton Brook and 'the way to Ledhale'; Mill Field, perhaps south of the Wheatley-Worminghall road; and perhaps a third Field of unknown name, to the north-east between the village and Worminghall Brook. There were certainly arable acres in all these places; but the precise boundaries of the fields and their ancient names are uncertain. Ledhale Field, belonging to Ledhale hamlet, was also almost certainly divided into three and lay north-east of the 'way to Ledhale'. The apparent existence of separate field systems for the two hamlets is confirmed by later evidence. An account roll of 1329–30, for instance, shows Oseney sowing three crops at Waterperry, and three at Ledhale. (fn. 171) The common grazing ground was in the extreme north, and is represented by the present Waterperry Common. The meadow land lay by the banks of the Thame in the south and near the Holton Brook. (fn. 172)
There had been similar developments at Thomley. The lords of Thomley had taken into cultivation some of the forest of Bernwood, which lay between Thomley Field and Worminghall and once ran south as far as the Thame. The grove (grava), which Robert de Thomley sold to Oseney before 1212, was an assart of 11½ acres when it was perambulated on the feast of St. Gregory. By about 1220, if not earlier, it seems to have been already plough-land and not pasture. It was granted with 5½ acres of adjoining arable (fn. 173) to which another two, which Robert's grandmother had held, were added some years later. The canons at once made arrangements to surround both the grove and the adjoining acres with a ditch, (fn. 174) and in all later references to the grove it is clear that it was inclosed arable land (cultura). (fn. 175)
The name of another piece of land in the south of Thomley called the Breach, lying next to the Grove, also points to land reclamation. This too was clearly plough-land; when Robert of Thomley gave it to the canons, (fn. 176) he gave them leave to open an old ditch between it and Thomley Field so as to drain off the water of the 'Harse' (Worminghall Brook), and it was expressly stated that they might plough and cultivate their Breach up to the ditch. In a later charter, moreover, it was described as ploughed land (cultura). (fn. 177) Early information about the field system is more precise than at Waterperry and Ledhale. Three fields are mentioned in about 1220: (fn. 178) one in the west towards Ledhale, one in the east towards Oakley, and another towards the meadow in the south. Many of the names of the culture and their furlongs are known, some of them indicating the nature of the soil, the vegetation, and the crops grown—Gorstilonde, Hokstuble, Blakehul, Sourehul, Benlond, Waterilonde, Homefurlong, Havegoldsacre, Tunestowe, Chyveles Well, and so on. (fn. 179)
The normal arrangements about pasture rights in the common fields prevailed. An agreement in 1236 between Richard de Beaufeu and the Abbot of Oseney shows that the abbot had the right to pasture his beasts in all grazing land, paths, and ways throughout the whole field of Waterperry. If his beasts were impounded for damage, he might recover them on giving a pledge to make amends for the damage through the view of loyal men. This right of common pasture was a part of his free tenement in Waterperry. (fn. 180) In 1262 it was recognized that William Fitzellis, through his reeve and Henry de Beaufeu, had unjustly tried to disseise the abbot of his pasture rights in their manors. (fn. 181)
In another agreement the canons' right of common on the demesne lands of Fitzellis and Beaufeu are mentioned, showing that after the carting of the corn and the hay the fields were thrown open for grazing. When the two lords inclosed their meadows at certain times of the year, the abbot was to do likewise. He was to cut and carry twice when they did, and pasture his beasts in common with them in the meadows. It was agreed that the two lords might put temporary inclosures after Hokeday round that part of their uninclosed demesne, which for lack of pasture they did not leave fallow. The abbot's animals might not have common of pasture at such times. (fn. 182)
In about 1260 when Ellis de Thomley gave another piece of land adjoining Oseney's Breach, he repeated his father's licence to inclose this 'gore' and Oseney's Breach with a hedge, ditch or wall and put it in defensum at any time of the year. (fn. 183)
A three-course rotation of crops was practised, as the roughly equal distribution of acres between the three fields in a charter of c. 1220 shows; the 11½ acres granted are divided roughly into 3-acre, 3½-acre, and 4½-acre groups. (fn. 184) By the 14th century a four-course rotation seems to have been practised, for the Oseney account rolls show that in 1329–30 wheat, beans and peas, dredge, and oats were sown at Ledhale and Thomley. (fn. 185) Large quantities of foodstuffs seem normally to have been taken to Oseney, as in 1329–30 when 200 eggs, 110 birds, 22 large pigs, 4 sucking pigs, and 3 calves were sent to the abbey. This no doubt accounts for the fact that expenses each year were about £2 higher than receipts. (fn. 186) These rolls also show that the abbey considered beef and the production of corn more important than milk—in 1329–30 there were 13 bullocks but only 3 cows. Pigs, large and small, numbered 82, while the flock of sheep consisted of 172 ewes and 88 lambs.
By the 13th century, when there were three manors in the parish, and a large freeholding belonging to Oseney Abbey, (fn. 187) the system of land ownership had grown more complicated. The survey of 1279 (fn. 188) shows that the Beaufeus had 2 carucates in demesne and 19 customary tenants. Of these, 3 villeins, each with a half virgate of land, worked or paid rent at the lord's will; they had their messuages in Waterperry hamlet, along with 5 cottagers, who had a cottage and curtilage apiece. Five more villeins, with a virgate of land each, and 6 cottagers lived in Ledhale. The Fitzellis family had 4 carucates in demesne and 29 customary tenants, of whom 5 villein half-virgaters and 9 cottagers lived in Waterperry and 6 villein half-virgaters and 9 cottagers in Ledhale. All worked at the will of the lord. A messuage and 3 cottages in Waterperry village were held by customary tenants of the Abbot of Oseney.
In addition there was now a small group of free tenants. The Prioress of Goring held of Robert Fitzellis, and John de Ledhale farmed her virgate and 10 acres. He also held another virgate directly of the Fitzellises. William de Holford, with a messuage and 2 acres of land, for which he paid 2s. rent, was another of Robert Fitzellis's free tenants. William Priest (or Prost) and John the Miller of Stanton, each holding a messuage and a half virgate, and Isoult Page, a tenant of 2 acres, were the Abbot of Oseney's free tenants. Finally, St. Bartholomew's Hospital in Oxford possessed 2 acres in the meadow by the Thame, granted to it in about 1220. (fn. 189)
Thomley village was also a thriving community in the first half of the 13th century. The lords of Thomley had a manor-house (curia) there with a gatehouse (porta) and a garden attached. (fn. 190) In about 1220 the widow of Henry de Thomley, sometime lord, was also living there in a house (curia) provided for her at the gates of her step-son's manor-house, (fn. 191) and the monks of St. Frideswide's had a grange. (fn. 192) In 1279 there were 10 customary tenants and 8 cottagers. (fn. 193) Of these Robert de Thomley, the lord of the manor, had 4 cottagers paying 4s. 4d. a year; 8 were villeins of the Abbot of Dorchester; 2 villeins, and 3 cottagers paying 5s. 9d., were Oseney's tenants; 1 cottager held of St. Frideswide's, and 4 of Robert Toluse.
The number of free tenants in Thomley was striking. Religious houses had profited from the financial needs, as well as the piety, of the lords of Thomley. Jordan and Rualdus of Thomley, the sons of Godfrey, for example, gave a hide of land to the abbey of Stratford Langthorn (Essex) some time after its foundation in 1134 or 1135, which was later given to St. Frideswide's. Robert de Thomley granted St. Frideswide's another 13½ acres of arable (fn. 194) in a field called 'Sortelande' (fn. 195) and the whole of his wood, near Ledhale wood. (fn. 196) Goring Priory bought half a hide in about 1200; (fn. 197) the Prioress of Studley held a half virgate; and Dorchester Abbey over 4 virgates. (fn. 198)
There were also eleven lay tenants. The family of Reynold Kute, who held 3¾ virgates of Dorchester Abbey, had been established in Thomley since 1220, (fn. 199) and William Kute, perhaps Reynold's son, witnessed an Oseney charter c. 1255. (fn. 200) The Franks, who held a virgate, may have been descended from John the Franklin, who c. 1220 had a messuage near the lord's gate. (fn. 201) Robert Toluse, who had 4 cottages and 1 virgate under the Templars of Cowley, was from a Worminghall family who had been benefactors of St. Frideswide's. (fn. 202)
The largest single freeholding belonged to Oseney Abbey and consisted of land in all three hamlets. The largest part was in Thomley, where they had 88 acres of arable and 21s. 8d. of rents; they had 33 acres in Ledhale and 10s. 10d. of rent, and 24 acres and 6s. 11d. in Waterperry. (fn. 203) This property had been accumulated gradually from different sources. The land in Thomley came mainly from the Thomley family. In addition to the Grove and the Breach, (fn. 204) Oseney got another half acre lying to the west of their Grove, along the ditch they had made, so as to give them free access and to facilitate the repair of the ditch. Later, in about 1220, Robert de Thomley granted them 'Smalmede', a part of his demesne, (fn. 205) which lay next to the Grove and to arable land they already held, i.e. furlongs called 'Benland' and 'Fifacre'. He also allowed them to widen the Breach at the expense of his own land, and make a thorn hedge with wood from Thomley wood. (fn. 206)
Oseney also had land in Ledhale, namely 2 virgates there with appurtenant meadow, given by William Fitzellis and Emma his wife. (fn. 207) Two houses (mansure) were also attached to the land with their crofts, and are described as lying between the houses of Gilbert and Sawaker. (fn. 208) The land was leased about 1180 to Sired de Draycote, the 'man' of the canons, for 15s. a year. Another benefactor, Richard de Beaufeu, gave the meadow of 'Stokesham' c. 1236, (fn. 209) and there were also other small bequests. (fn. 210)
This holding, much of which the abbey farmed directly in the 13th and 14th centuries, was all leased by the early 16th century, the total annual value being £7 0s. 10d. Walter Curson paid £6 13s. 4d. for the capital messuage and rectory and the rents of some small tenants, which he had taken over. In addition, two free tenants rented a messuage and a half virgate for 3s. 9d. each. (fn. 211)
In 1279 (fn. 212) there were approximately 70 tenants in the three hamlets. Thirty people, or less than half, were taxed in 1327. (fn. 213) Twenty paid on goods worth between 2s. and 4s. Five had goods worth 5s. and more, among them Robert Fitzellis and Richard Beaufeu, the lords of the manor, and William the shepherd. In the poll tax assessment of 1377 (fn. 214) 45 people over fourteen are returned for Waterperry, 34 for Ledhale, and 31 for Thomley.
After the Reformation, all the land in the parish came under the ownership of two people: the Cursons owned Waterperry and Ledhale (c. 1,600 a.), and Thomley land (300 a.) at least by the end of the 18th century and probably before, was owned by the holders of the manor of Worminghall (Bucks.). (fn. 215) Consequently, in the middle of the century, apart from the vicar, there were no 40-shilling freeholders in the parish. (fn. 216)
There are few materials for the economic history of Thomley, but it was probably similar to that of Waterperry, which can be traced from the Curson deeds. The history of the parish was shaped by its early inclosure for pasture.
By the early 16th century large-scale sheep-farming seems to have been well under way. In 1515 there were 200 acres of pasture in the Beaufeu fee, (fn. 217) and in 1517 it was alleged that 200 acres of arable had been converted to pasture on the Fitzellis fee, and twelve people deprived of their living in consequence. (fn. 218) This last inclosure was the work of Walter Curson, who was leasing the land. His family came from the sheep-farming county of Derbyshire, and had no roots in Oxfordshire or in Buckinghamshire where they also held land. They seem to have concentrated exclusively on sheep-farming and were enterprising inclosers with little consideration for their new tenants. Thus, Richard Curson could leave his wife 440 sheep pasturing on his land, and a survey of the Waterperry lands directly farmed by the Cursons in 1630 shows that by far the greater part of the land was devoted to grazing, and arable had practically disappeared. (fn. 219)
Walter Curson was also inclosing on his Ilmer property (fn. 220) (Bucks.). Sir John Brome, another incloser, (fn. 221) who brought an action against Walter and Richard Curson over this matter, complained of the decay of houses, and of the damage done to the parsons of Waterperry. (fn. 222)
Inclosure was also going on in about 1530 in Thomley township. The people of Worminghall complained that Sir John Brome had inclosed and ditched in Thomley, and had thus excluded them from common of pasture. Some of them, it was alleged, though poor labouring men working for 1½d. a day to keep themselves, a wife and four or five children, had been compelled to pay 20d. on one day to get impounded cattle restored. (fn. 223)
Another case in about 1550 gives further details of these inclosures: Ledhale pasture, apart from Ledhale Park pasture, was said to amount to about 240 acres, and Thomley pasture to about 200 acres. (fn. 224) Vincent Curson actively continued the family policy: in 1577 the inhabitants of Horton, Studley, Stanton, Worminghall, Brill, and Oakley complained of his inclosures in 'certain woddye and waste' grounds called the Quarters and Stonehurste, and their consequent loss of pasture rights. A commission was appointed to investigate these complaints. (fn. 225)
The survey of 1630 (fn. 226) shows that the greater part of the land of the parish was farmed by the lord of the manor himself. Out of a total of 1,592 acres belonging to the manor, he farmed over 1,353 acres, including 328½ of wood. The survey divides the 1,024 acres of his inclosed farm-land into two sections: meadow land amounting to over 195 acres and nearly 830 acres of other land.
The meadow land consisted of two large fields— Great Meade (c. 53 a.) and the Patte Meade (c. 50 a.), and of smaller fields ranging in size from 3½ to 30 acres. The rest of the land (c. 830 a.) consisted of three large fields, three medium-sized ones, and a number of smaller closes. There were the Home Ground (c. 152 a.), the Field Ground (c. 140 a.), and Ledwell ('Leidall's') Ground (c. 135 a.). Mill Field, once one of the open fields of the parish, was divided into two parts of 63 and 89 acres. Long Breach, near Worminghall Brook, probably once the medieval Breach belonging to Oseney Abbey, and still called by the same name today, measured 72 acres. Some smaller closes are called after former owners, e.g. Parkin's Ground (22 a.), Marmion's Ground (c. 42 a.), and Webb's close (c. 7 a.).
The survey does not state whether this land was used for arable or pasture, but the surmise that the Cursons used it for sheep-farming is confirmed by later evidence. In 1682, (fn. 227) for instance, Ledwell Ground is described as pasture land, and so are Long Breach, Colliers, the Park, and Pokin's Ground. In 1691 (fn. 228) Windmill Field and Farmer's Field are also described as inclosed pasture.
Under the heading 'land in common belonging to the tenants', the survey of 1630 notes the following fields: Cheyre Meade (29 a.), Cheyre arable (c. 52 a.), Cow Pasture (97 a.), and the common from the woodman's gate to the Cow Pasture—amounting to over 187 acres. Eight tenants are named, and their various holdings given. They all held 'homestalls' and all but two held small closes in addition. Six had a share in the common mead. Mr. Woodward's is described as three lots of 9 poles and 1 acre; others had one or two lots each of the same amount. Five of them had holdings in the common fields varying from 4¾ to 19¾ acres in size. Mr. Woodward and John Jacob had the largest share of closes—12½ and 16½ acres respectively. The tenants had in all over 48 acres of 'severalles' or inclosed land between them, and strangely enough 'the land in common belonging to the tenants' is also described as 'severalls' when the total acreage is given. This perhaps means that although they held land in the open fields, their holdings were all consolidated. One of the tenants had a hemp plot.
These inclosures, as the court cases and other evidence show, led to suffering and depopulation, which may have started before the 16th century. The subsidy return of 1524 (fn. 229) gives the names of 20 people. Of these Walter Curson was taxed on £140 of goods; no one else had more than 50s. worth, and fourteen had wages or a free tenement worth £1 a year. In this subsidy there is no mention of Ledhale, and so it may reasonably be deduced that inclosure had wiped out this once flourishing village, impoverished the more substantial tenants of the whole parish, and led to a great concentration of wealth in the hands of the Cursons. (fn. 230)
Some inclosure continued as late as the 18th century, when the Cursons were trying to inclose the common on which they had granted grazing rights, (fn. 231) and were involved in bitter controversy with the vicar. (fn. 232).
In the 17th century some pasture land was returned to arable, and the largest fields were divided into smaller ones. In 1676, for example, the Home Ground (152 a.) near the manor-house had been lately ploughed up and converted into tillage. (fn. 233) It had also been divided into three, like some of the other large fields. Evidence of 1700 (fn. 234) shows that Great Mead (c. 53 a.) and Farmer's Field had been divided into four, and were being used as arable. This new, or perhaps only fairly new, arrangement was still in force in 1739, (fn. 235) when the Home Ground and Great Meadow are again said to have been 'lately' divided. Part of the new arable was let out, and a very small amount of arable, 100 acres, was directly farmed by the Cursons. It probably lay mostly in Great Coxe's Ground, as it did in 1789. (fn. 236)
During the 17th century more of the land was let out to tenant farmers. Surveys of the estate in the early 18th century give the names of all tenants and the rents they paid. (fn. 237) There were fifteen tenants paying yearly rents of from £5 to £105, of whom nine paid between £30 and £70. The majority were tenants at will, but the two largest tenants, Paul Smith and Edward Nichalls, were leaseholders with rents of about £100 each, and their land had probably been formerly part of the Cursons' demesne. Included in Edward Nichalls's land, for example, were part of the Home Ground and the Upper Great Meadow. In addition, there were three little cottages in the village and six on the common which brought in only 'a couple of pulletts'.
The impression of a small and humble labouring community with few substantial yeomen is confirmed by later evidence. The hearth tax returns of 1665 (fn. 238) indicate that apart from the parson with a house of three hearths, there were only nine persons liable to the tax. Sir Thomas Curson had a mansion of nineteen hearths, and of the eight tenants only three had houses of any size, i.e. with five or four hearths. One returned three hearths and of the four men who had two or one hearth, two were discharged on account of poverty. Later in the century, there were again only eight people well off enough to contribute to the poor-rate, though with 72 conforming Anglicans in the parish, the population must have been well over 100. (fn. 239)
Early-18th-century overseers' accounts show that there was some poverty in the parish; the rate averaged between £10 and £20, but naturally rose as the result of war. In 1711 it reached £38, in 1714 £51, (fn. 240) and in 1803 it soared to £174. (fn. 241)
Population rose during the 18th and early 19th centuries. In 1801 there were 195 inhabitants, and in 1841, 270. (fn. 242) Thereafter it declined until in 1931 there were 125 inhabitants in Waterperry and 11 in Thomley. By 1951 there had been a rise to 234.
The 18th and early 19th centuries saw a consolidation of farms. In 1787, besides John Curson and the farmer of Thomley, there were seven people liable for land tax, (fn. 243) but by 1832 only four. Another survey of the manor in 1815 (fn. 244) also shows how extensive the amalgamation had been. The estate then consisted of four farms: Homestead farm of 373 acres, let at a rent of £948; Edmund Miller's New farm (259 a.); Martha Clarke's farm (249 a.); and John Catell's and Martha Clarke's farm (c. 227 a.). The entire land of the parish was thus in the hands of the tenants of these four farms and of Thomley farm (c. 270 a.). The rest of the villagers were agricultural labourers possessing their cottage gardens and no other land. This pattern of landholding continued until 1939, when Magdalen College began to sell their land. (fn. 245) By 1950 they had disposed of all their Waterperry property.
By the early 19th century, the amount of arable farming had increased, perhaps as a result of the Napoleonic war and the introduction of root crops. One farm, for instance, had 134 acres of arable out of 227 in all. (fn. 246) Arthur Young described the rotation of crops at Thomley farm: fallow, wheat, beans, and wheat. (fn. 247) But when it was sold in 1911 there were 200 acres of pasture and only 65 acres of arable. (fn. 248)
When Parsons and Townsend farms were sold in 1949, they consisted of 400 acres, more than half of which was arable. (fn. 249) But sheep-raising has also continued to be important and some of the best grassland in the district is at Waterperry, 'where clay is considerably modified by deposits of sand and gravel'. (fn. 250)
There have been few occupations other than farming in the parish. In the 12th century there was a smith, Walter, whose daughter Juliana, gave an acre of land in Worminghall to St. Frideswide's, (fn. 251) and another smith is mentioned in the 16th century. (fn. 252) The only record of a fisherman comes in the 14th century when William Bate, fisherman, is noted, but the fishing in the Thame must always have been valuable. (fn. 253) Fitzellis's manorial fishing rights are recorded in 1279. (fn. 254) Early-19th-century parish registers mention a cabinet-maker and a carpenter, and the village then had a shop. (fn. 255)
The parish's woods must always have provided occupation. At Waterperry, Domesday Book noted a wood of 5 by 3 furlongs. (fn. 256) The two medieval manors each possessed a valuable wood: in 1279 there is a record of the Beaufeus' wood near 'Stoniford' in Bernwood Forest, (fn. 257) probably stretching between the fields of Thomley and Worminghall, (fn. 258) and of the Fitzellises' wood called Ledhale. Timber was used from this in the 13th century for the royal lodge at Brill. In 1515 it was estimated at 40 acres. (fn. 259) There was even more extensive wood in Thomley at the time of Domesday Book (fn. 260) (7 by 3 furlongs), but part of this had been cleared by the 12th century, and more was cleared in the 13th century. (fn. 261) As late as 1849 there were 341 acres of woodland in the parish, but the wars of the 20th century have reduced them considerably. (fn. 262)
There was no water-mill in Waterperry, the medieval mill-pond on its boundary belonging to Waterstock. (fn. 263) In the 13th and 16th (fn. 264) centuries a windmill is mentioned, which stood next to Green Hill just beyond Ledhale, (fn. 265) and Mill Field probably derived its name from a windmill.
Church.
Between 1175 and 1178, William Fitzellis and his wife Emma granted the church at Waterperry to Oseney Abbey. (fn. 266) The abbey's rights were only definitely established in 1189, after the death of Roger, the last rector, when Emma and her son William confirmed the grant. (fn. 267) In 1236 William (III) Fitzellis unsuccessfully contested Oseney's title to half the advowson on grounds unknown. (fn. 268)
Oseney retained the church until its dissolution in 1539. In 1542 the advowson and rectory were granted to Richard Andrewes and Leonard Chamberlain of Woodstock, (fn. 269) who sold them in 1544 to Richard Curson, (fn. 270) in whose family they remained until the 19th century. In the 17th century the Cursons presented to the vicarage. Sir Thomas Curson did so in 1669, and his son John in 1682, but as the family became Roman Catholic, they ceased to do so in the 18th century and their right was exercised by others. Among those who presented were Thomas Tipping in 1709, Thomas Rowney in 1716, the king in 1739, and Sir W. H. Ashhurst in 1790. (fn. 271) It was not until 1815, when Joseph Henley purchased the living with the manor, that the church had a permanent patron. In about 1925 Miss C. A. Ashhurst became patron of the living. (fn. 272) In 1953 her executors were patrons. (fn. 273)
At or soon after its foundation Robert d'Oilly gave two-thirds of the demesne tithes of Waterperry to form part of the endowment of St. George's Church in Oxford castle. (fn. 274) His grant was confirmed by Henry I before 1133. These tithes were transferred to Oseney Abbey with the rest of the possessions of St. George's in 1149, (fn. 275) so that when the church at Waterperry was granted to Oseney, all the tithes were united. In addition, the original estate of the church seems to have consisted of 1 virgate of land. (fn. 276) In about 1225, William, son of William Fitzellis, confirmed this virgate to the abbey along with the greater and lesser tithes. (fn. 277) After his death in 1227, a dispute arose between the abbey and his widow Rose de Rokele, over the payment of scutage and access to the land. In 1229 she quitclaimed her rights for 40s. (fn. 278) and the settlement was confirmed in 1236 by her son William. (fn. 279) The rectory estate was enlarged by Richard de Beaufeu's grant in 1236 of a 4-acre meadow on the island of 'Stokeshamme', and rights of pasture in the common fields of Waterstock. (fn. 280) His descendant, Henry de Beaufeu, and his overlord, William Fitzellis, attempted to reverse this grant, but in 1262 the abbot successfully brought an action of novel disseisin against him. (fn. 281) Next year, at a love-day held at Forest Hill, the parties came to an agreement. (fn. 282)
In 1542 the rectory estate was said to comprise a chief messuage, 'the demesne lands' in Thomley, tithes in Waterperry and Thomley, a messuage in Draycott, and lands leased to Sir John Brome in Ledhale. (fn. 283) Later still, on the death of Francis Curson in 1610, it consisted of 32 acres of land, including 26 acres and one rood in Waterperry field, 41 poles of meadow land, the meadow called 'Parsonage Hamme' (Stokeham) near Waterstock mill, a 2-acre close at Waterperry and another at Ledhale, and a water-mill. (fn. 284) Later evidence as to the extent of the rectory is lacking, since it became merged with the manor in the early 18th century. Its memory survives in the existing Parsons farm.
In 1254 the rectory was assessed at 12 marks (fn. 285) and in 1291 at £6 13s. 4d.: in addition Oseney was receiving £1 18s. in rents. (fn. 286) In 1341 it was said to be worth £7, with glebe land worth 10s. (fn. 287) Its later value cannot be estimated, as it was farmed with the other lands belonging to Oseney. In the early 16th century Walter Curson was farming the estate and tithes for £6 13s. 4d., (fn. 288) as was Sir John Brome in 1535. The net value of these to Oseney was £4 9s. in 1535, as the Prioress of Goring received 10s. for land in Thomley, the vicar £1 6s. 8d. for tithes, and the archdeacon 7s. 7d. (fn. 289)
The complicated post-Reformation history of the tithes before the tithe award of 1849 will be dealt with later. (fn. 290) In 1849 all land in the parish was adjudged liable to tithe except 140 acres on Thomley Hill common belonging to Viscount Clifden; this was probably the land once held by Goring Priory. The tithes were commuted for a rent-charge of £112 payable by Viscount Clifden and £600 payable by Henley. (fn. 291) A modus of £30 7s. 6d. was to be paid to the vicar by Henley, and £5 6s. 8d. by Viscount Clifden. (fn. 292)
Although Waterperry was among the churches which Urban III between 1185 and 1187 allowed Oseney to serve with three or four canons, (fn. 293) it did not do so. (fn. 294) In 1189 the vicarage was established, and the first vicar, William de Bosco, was granted half of the great and small tithes, a house, or site for a house (mansura), and a croft, between the two roads by the river, in return for an annual payment of a pound of wax. The abbey undertook to pay the synodals and all other burdens of the church. (fn. 295) William, in about 1195, testified to this in pleno sinodo at Oxford. (fn. 296) During his episcopate Hugh de Welles made an ordinance regularizing the status of Oseney's vicarages, Waterperry among them; it was laid down that the vicar was to receive 2 marks a year for his vestments, and an income to the value of sixpence. Any profit from the church in excess of this was to be divided between him and the canons. (fn. 297) In about 1250 William Fitzellis and his wife Margery granted Oseney a messuage in Waterperry on which to build a house for the use of the vicar, (fn. 298) but this may only have been a confirmation of the vicar's right to the croft he had been granted earlier.
About the vicars presented by Oseney almost nothing is known. They were rarely university graduates; one 13th-century vicar, Gilbert, became a Cistercian; (fn. 299) an early-16th-century one, Robert Draycote, was deprived by the bishop for illiteracy; (fn. 300) his successor, Master John Hewes, must have been non-resident, for the Vicarage had been reported 'ruinous' in 1520 and he paid £5 6s. 8d. to a curate out of his income of £7. (fn. 301) In 1535 the vicarage was worth £8 1s. 4d. (fn. 302)
Since the Reformation the vicars usually, it seems, have resided. Two of them had strikingly long incumbencies. Thomas Thackwell, an Oxford graduate, was vicar from 1608 to 1668. (fn. 303) When he became vicar, the Vicarage was in such 'great ruins and decaye' that Philip Hall, a carpenter of St. Giles's, Oxford, reported that it could not be repaired for less than £30. (fn. 304) The hearth tax returns show that it was a fair-sized house of three hearths. During the 18th century Robert Twycross, vicar 1739–89, (fn. 305) had rather a stormy time in Waterperry. In 1742 he was imprisoned in Aylesbury gaol for a debt to another clergyman, (fn. 306) and in the 1770's he began to agitate for legal action against the Cursons. He had two causes for dissatisfaction: the fact that the Cursons were Roman Catholics, and the poverty of the living.
The value of the vicarage, a comparatively rich one at the Reformation, failed to rise with rising prices. Although according to the original ordination the vicar was supposed to have half the tithes, before the Reformation he was receiving a modus of £1 6s. 8d. (fn. 307) in place it seems of part of the Thomley tithes. It seems probable that he collected the rest himself in kind.
From about 1600 the Cursons were considered to be entitled to all the tithes, (fn. 308) except for those from Thomley, which belonged to the holders of Thomley manor; (fn. 309) yet the vicar seems to have collected part. (fn. 310) In 1728 the Cursons owed him £22 10s. per annum and in 1808 £35. (fn. 311) It may be that he was entitled to tithes on Waterperry Common, and that as it was inclosed during the 18th century he lost his rights there. In 1776 the farm on Waterperry Common was advertised as tithe-free, and in 1778 John Barnwall Curson was said to have taken the great tithe in corn there for the first time. (fn. 312)
In the visitation return of 1771 Twycross complained that the Curson household contained '26 papists and a priest, and a provision made for such ever since the poor have been deprived of their right of common and the rector of tithes from time immemorial'. (fn. 313) In 1780 he wrote to John Bacon, author of the Liber Regis, stating that the Cursons had inclosed the waste lands without licence and without making an allotment to the poor or the vicar, who was thereby losing £20 a year; and that the vicar was entitled to tithes on the basis of Hugh de Welles's endowment in the 13th century. (fn. 314) Bacon replied that no case could be made for the latter, but that as regards the former, a bill might be taken out in the Exchequer. It was his view that the vicarage by this time should be worth £100. But the system continued, and with it the vicars' grievance. In 1814 one wrote that the 'pretended modus, which impoverishes the rectory of Waterperry, is, in fact, an arbitrary imposition of a recent date.' (fn. 315)
The vicarage, which was worth £35 at the beginning of the 18th century, (fn. 316) was still worth the same in 1808. (fn. 317) The Cursons were evidently aware that the vicar was underpaid, for when the estate was advertised for sale in 1813, it was said that 'the composition paid the vicar in lieu of tithes was so small as to render the estate nearly tithe free'. (fn. 318)
In spite of Twycross's bitterness, in 1777 John Curson pulled down the old Vicarage, which was said to be in an unhealthy position and unfit for habitation, and built a new one at his own expense on Maisey's Home Close. (fn. 319) By 1787 Twycross was 'much disordered', and serving Waterperry with a curate. (fn. 320) His successor, Henry Gabell, a master at Winchester College, was non-resident, and hired non-resident curates. (fn. 321)
While Twycross was vicar services were held twice every Sunday, and there were from twenty to thirty communicants. (fn. 322) Since the population of the village was small, and partly Roman Catholic, (fn. 323) this was a comparatively large number. According to the visitation returns of 1811, services were held only once on Sundays, and the number of communicants had fallen to between ten and twelve. However, the only unfavourable comment made in the returns was that marriages were sometimes irregularly celebrated at Oxford. (fn. 324)
In the 19th century reforms were set on foot by the curate, T. H. Ashhurst. In 1814 services were again being held twice on Sundays; (fn. 325) and proceedings for non-residence were started against Gabell, who resigned. (fn. 326) In 1854 F. G. Henley, the vicar, kept a list of communicants, and for the year the average was 40. (fn. 327) In 1872 they were reported to be as many as 90 to 100, with only three or four habitual absentees. In addition, a bible-class was well attended. (fn. 328)
After Joseph Henley acquired the manor and rectory, the value of the vicarage was increased by help from Queen Anne's Bounty. (fn. 329) By 1854 it was worth £65; (fn. 330) in 1884 (fn. 331) it was again augmented and in 1901 was worth £106. (fn. 332) But it remained a comparatively poor living, and in 1867 the house was 'in a sad state' and, even when in repair, 'quite inadequate' for the vicar's family. (fn. 333)
From 1923 the living was held with Waterstock, and the vicarage house was sold. The benefice of Waterperry was valued at £39 in 1953, and that of Waterstock at £512. (fn. 334)
The church of ST. MARY (fn. 335) comprises a nave of three bays, chancel, south aisle, and south porch, built of coursed rubble stone. The west tower with its weather-boarded bellcote is of wood, supported on oak pillars within the church.
Indications of an earlier church are seen in the round-headed arch, (fn. 336) under which is a 14th-century chancel arch, in traces of an apse, and in footings of its west end now under the floor of the present nave. (fn. 337) From the evidence of a scalloped capital, the nave seems to have been rebuilt in the last quarter of the 12th century, and the south aisle was added at the same time. The chancel, built about 1200, has three lancet windows on the north and south and a blocked north doorway.
A considerable amount of work was done in the 14th century, but there is nothing to explain the rededication of the church in 1273 to St. Mary. Forty days' relaxation of penance was given to those visiting it. (fn. 338) The south aisle was widened; the twolight south-west window, now partly blocked, the east window, now restored, and the south doorway were inserted. The present chancel arch was built and the two windows with excellent early-14thcentury tracery were inserted in the north wall. On the inner responds of the chancel arch are two early14th-century carved corbel heads; reset in the north wall of the chancel are two carved heads (c. 1350), one of a bishop and the other of a woman. The blocked north doorway of the nave is of the same period.
The upper and lower doorways of the rood-loft remain in the north-east corner of the nave, and the grooves cut in the stone for the support of the loft are seen at the springing on the west face of the chancel arch. The stone newel stair leading to the loft is built within a projecting buttress on the north-east corner of the nave. The west window is of 15th-century date. The roof of the chancel was reported as 'ruinous' (fn. 339) in 1520. Walter Curson (d. 1527) left a legacy for reroofing the church, (fn. 340) which was carried out by his widow.
Repairs to the fabric were undertaken in about 1756 (fn. 341) and again in 1840–4. (fn. 342) A west gallery may have been erected, as there is a small round-headed window of late date above the south-west window of the south aisle which probably served to light it or its stairway. In 1777 alterations were made in the boundaries of the churchyard and the walls projecting north and south of the west end of the church were built up. (fn. 343)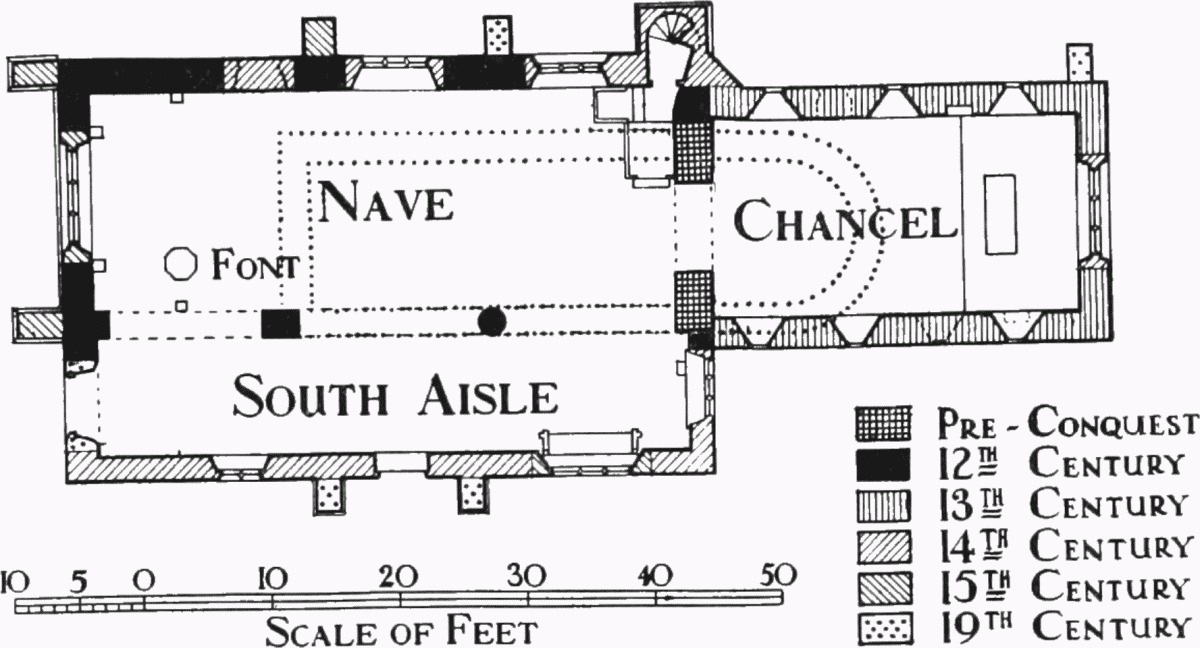 The church contains some notable painted glass. In the north lancets in the chancel there remain 13th-century grisaille quarries, and in the east window is a (? female) head of about 1400 and a Nativity of the 16th century or later. The northeast window of the nave contains repaired figure glass of the Yorkist period of Robert Fitzellis and of his wife Margaret (d. 1469) and her daughter Margery; (fn. 344) above in the tracery is a repaired shield of Fitzellis impaling Fawkener (his wife's family) and in the spandrels are the initials 'r.f.' In the north-west window there is early-14th-century glass; in the tracery is a Christ in Majesty and in the east and west lights below are male and female kneeling figures of donors on a background of contemporary quarries with foliage and acorns, which also fills the centre light. In the three-light southeast window of the south aisle are the kneeling figures, in heraldic tabard and mantle, of Walter Curson (d. 1527) and his wife, Isabel Saunders, who gave the window, (fn. 345) together with eight sons and six daughters, with an inscription and three partly restored shields of arms below; in the centre light is a restored figure intended to represent the Virgin and Child. In the head of this window are earlier fragments of glass including two made-up shields of Montagu. (fn. 346) In the west window of the nave are fragments of 15th-century glass including white and yellow foliage, a feathered angel, '[Mar]garete' in black-letter and the Sun of York.
Reset against the south wall of the aisle is a good canopied tomb with ogee head and crocketed pinnacles of 14th-century date: it contains an effigy of a knight in plate armour of a date between 1330 and 1350. In the chancel, on the south wall, is a monument to Sir Francis Curson (d. 1610) and his wife, with epitaph and shields of arms. (fn. 347)
There is a 17th-century monument to Magdalen Dormer, with a shield above bearing the arms of Curson impaling Dormer, and a 19th-century one by Chantrey (1821) to Anna Maria Rooke Greaves, wife of George Greaves (d. 1819) and only daughter of Joseph Henley. There are ledger stones to (1) Elizabeth (Knollys), wife of Francis Curson, (d. 1723), (2) Elizabeth, daughter of Sir Thomas Curson, (d. 1668) with the arms of Curson, (3) Vincent Curson (buried 1580), great-grandfather to Sir Thomas Curson (buried 1682/3), with the arms of Curson impaling those of the Borough of Leicester.
There is a brass to Walter Curson (d. 1527) and Isabel his wife, with their eight sons, but the group of daughters and the foot inscription are lost. The palimpsest effigies are about 1440. (fn. 348) Nearby in the nave to the west, is the mutilated brass figure of Isabel Beaufeu (c. 1370); and in the aisle is the mutilated brass of a man in armour of about 1530 with the matrixes of wife and two shields and inscription.
The font has a plain 15th-century octagonal bowl which has been placed on the remains of an earlier (possibly 12th-century) font. In the nave are some high-backed pews on which the candlesticks remain and with the original hinges on the doors; a 'threedecker' pulpit, the reading-desk of which bears the date 1632, and the sounding-board the date 1677 with the initials 'g.m.' (probably for George Measey, churchwarden). At the west end of the aisle is an interior porch and vestry constructed of late-18th-century panelling of Gothic design brought from the dismantled chapel of the manor-house. In the south aisle there is an achievement of the royal arms dated 1757.
In the wooden bellcote are two bells, one of which has a (possibly early-13th-century) inscription: Ave Maria Gracia Plena Dominus Tecum, and the other 'Thomas Rippington, Church Warden. E. Hemins, fecit, 1732'. (fn. 349)
In the churchyard is a mutilated medieval stone cross with a modern terminal cross on a stepped base, which appears to have been reset in its present position.
The Edwardian inventory records that the church owned 'a chalice of parcell gilt, 2 sute of vestmentes, and a cope of satene', as well as the usual altar furniture. (fn. 350) The modern plate includes a silver chalice of 1785 and a silver paten of 1699, the gifts of Joseph Warner Henley. There is another paten of 1671, which is decorated with the Curson shield. (fn. 351)
The register dates from 1538. There are churchwardens' accounts for 1747–91, and overseers' accounts for 1698–1750. (fn. 352)
Roman Catholicism.
Owing to the sympathies of the Cursons, Waterperry during the 17th and 18th centuries was one of the most important Roman Catholic centres in Oxfordshire. It is not clear whether the Cursons always remained Roman Catholics or whether they returned to the Roman Church at the end of the 16th century. After that their adherence was intermittent, though they frequently married into prominent Roman Catholic families. The parish registers contain entries of their births in the 16th century; they almost cease at the beginning of the 17th century, and do not begin again until 1789. (fn. 353) Their deaths are regularly entered, (fn. 354) however, and whatever their religion, they were buried in the parish church.
The earliest known Curson to be a recusant was Walter, son of Richard Curson of Addington, who was fined in London in 1577. (fn. 355) Another was Sir Francis's wife Ann, fined in 1592–3, 1603, 1604, and 1611. (fn. 356) Her two daughters became nuns. (fn. 357) Other recusants in the village in the early 17th century were the families of Spencer and Coxe which included a tailor, a husbandman, and a yeoman. (fn. 358)
When England was made a province by the Jesuits, Waterperry became one of the six Oxfordshire centres. (fn. 359) Ann Curson was probably largely responsible for the choice of Waterperry. She was inspired by the well-known Jesuit, John Gerard, whom she had entertained during his stay in England (1589–1606) and under whose direction she had placed herself; this was in despite of her husband who although a Catholic was considered 'overmuch devoted to worldly pursuits'. He was not returned as a recusant and so presumably preferred to conform rather than be fined. Ann Curson established a chapel in her house and provided a residence for a priest: the first to be sent by Gerard was Edward Walpole. (fn. 360) After the death of Ann Curson in 1631, (fn. 361) the mission may have become less active for no papists were returned in 1676. (fn. 362) During the middle of the 17th century the Cursons were Protestants: they presented to the vicarage and Sir Thomas (d. 1682) and his wife were considered model Protestants by their nephew, John Gadbury. (fn. 363) Later, however, Sir John Curson (d. 1727) was converted to Roman Catholicism by his first wife Penelope Child. (fn. 364) His second wife Anne Dormer, the widow of Edmund Powell of Sandford and a cousin of the Dacres who were in Spanish pay, (fn. 365) was also a Catholic and she and her husband were returned as recusants in 1695. (fn. 366) In 1700 Sir John was summoned to appear before a commission investigating the lands of recusants. He was accused of owing the Jesuits at Douai £6,000 and of having mortgaged a part of his Waterperry estates for £450 a year: an unlikely figure since his annual income was said to be £500 a year. (fn. 367) Both Sir John and his son Francis registered their estates as papists in the early 18th century; (fn. 368) another son Peter became a Jesuit. (fn. 369)
Throughout the 18th century until 1802 there was a Roman Catholic chapel in the Curson house, (fn. 370) and after the revolution of 1688 the priest who served Oxford probably lived there. (fn. 371) The registers run from 1700 to 1793, (fn. 372) and show that services were held regularly. The priests were Jesuits, Benedictines, or Franciscans, and changed fairly frequently. (fn. 373)
In 1706 the Roman Catholic community consisted of the Cursons and their household of 10 servants; (fn. 374) by 1767 (fn. 375) it had increased to 32 people, all humble except for the priest and Catherine Curson, but by 1780 (fn. 376) it only numbered 15, and in 1790, (fn. 377) when Father Charles Leslie, S.J., was appointed to Waterperry, he found no more than six. When he moved to Oxford in 1792–3, (fn. 378) the numbers at Waterperry declined still further. Henry Roper Curson, who left the village in 1814, and later supported the Catholic Emancipation Bill, (fn. 379) was probably the last Roman Catholic; none is recorded in 1814. (fn. 380)
Protestant Nonconformity.
There is no record of any Protestant dissenters living in the parish during the 18th century. In 1836 (fn. 381) a dissenting meeting-place was licensed at Thomley, but had ceased to exist by 1851.
Schools.
In about 1812 the Revd. T. H. Ashhurst, the curate, started two schools, one in the village and the other on Waterperry Common, as the condition of the roads often made it impossible for the children from the common to attend the village school. Two schoolmistresses taught 24 children between the ages of 6 and 9, at a wage of 4s. a week. The curate taught in both schools on Sunday. The parents paid 1d. a week towards the upkeep of the school, while the rest of the income (£20 a year) was raised from the farmers by a voluntary rate. (fn. 382) In 1814 Ashhurst appealed to Joseph Henley (fn. 383) for assistance, since subscriptions had fallen off, and Henley undertook to supply all the books and to give £5 annually. (fn. 384) By 1818, 30 children were being educated at Waterperry, but the school on the common had come to an end. (fn. 385) The cost was met partly from private subscriptions and partly from payments by the parents. (fn. 386) In 1877 the school, which was held in the schoolmistress's cottage, (fn. 387) was given regular status as a Church school. (fn. 388) Attendance in the later 19th century averaged 25–30 children. (fn. 389) In 1927 the older children were transferred to Wheatley. (fn. 390) In 1938 the school was closed and the six remaining children also transferred there. (fn. 391)
A night school was started in the middle of the 19th century. In 1857 it was attended by 10–15 people and by 1860 it was said to be very popular with the young men of the village. (fn. 392)
Charities.
In 1738 the incumbent reported the existence of two charities. Anne Thackwell had left £5 to be distributed in bread to the poor on New Year's Eve, and Sir John Curson £100 to apprentice children. The latter charity was at that time administered by Sir Francis Curson. (fn. 393) No charities are recorded in the episcopal returns of 1759 and 1768, and in 1771 the vicar stated that they had been 'lost'. (fn. 394) However, the Charity Commissioners found in 1824 that Anne Thackwell's charity had been last distributed in 1786. (fn. 395)