Pages 309-317
A History of the County of Oxford: Volume 5, Bullingdon Hundred. Originally published by Victoria County History, London, 1957.
This free content was digitised by double rekeying. All rights reserved.
WOOD EATON
Wood Eaton is a small rural parish, lying five miles north-east of Oxford. The area is 788 acres; (fn. 1) it includes Forest farm, which was said in 1871 to have formerly been extra-parochial. (fn. 2) The parish lies between the 200-ft. and 300-ft. contour lines, (fn. 3) and slopes gently down to the flat water-meadows along the River Cherwell and its arm, called wifeles lacu (beetle's watercourse) in the 10th century, which divide it from Water Eaton as they did in Saxon times. (fn. 4) Stowood on the east, its other natural boundary, is also an ancient one.
The parish lies in the area of the Oxford Clay; its subsoil of clay and sand is suitable for mixed farming. (fn. 5) The scenery is varied by several coppices, a wood (34 a.), and many fine elms, oaks, and ashes in the hedges.
Only one country road traverses the parish, the ancient highway from Wood Eaton to Oxford, for the repair of which a leading parishioner left 6s. 8d. in 1530. (fn. 6) To reach Oxford the road now has to cross the modern by-pass road from Witney eastwards, which skirts the southern edge of the parish. The road from Islip to Wheatley forms the parish's eastern boundary. There is no railway or bus service.
The village, (fn. 7) whose original name of 'Eatun' or the 'tun' by the river was changed to Wood Eaton in the 12th century, perhaps to distinguish it from Water Eaton, (fn. 8) lies compactly north and south of its medieval church. The latter stands in a walled churchyard, planted with ancient yews and raised above the level of the road. To the south is the Rectory, with its old orchard and large walled garden. It was rebuilt in the 19th century, though part of the 18thcentury house remains, (fn. 9) together with the stables. (fn. 10) To the north lies a small triangular green of nearly half an acre with a spreading elm tree, pond, and a cross, of which only the stepped base and the Early English shaft remain. (fn. 11) The pound was also on the green, and the village well which gave its name to a 14th-century family (e.g. Matilda ad fontem), still remains. (fn. 12) Most of the cottages date from the 18th century and are built of rubble. They are simple dwellings of one story with an attic and thatched roof, or of two stories with a tiled roof. Upper and Lower Farms are in the village street. The former is an early-18th-century building of two stories on a T-shaped plan. It is built of rubble and has a roof of stone tiles, casement windows, and a panelled door with a flat moulded hood of wood. Its outbuildings, notably a five-bay barn of stone with a half-hipped roof of thatch, are of the same date. Lower Wood Eaton Farm is also an 18th-century house, but is L-shaped. It is built of rubble with squared quoins, and has a roof of stone tiles, an 18th-century four-panelled door under a stone hood, and windows with three-light leaded casements. Its barn of seven bays is probably of the same date. It is the home of the Brown family, a branch of a widespread Oxfordshire family of farmers which came to Piddington at the end of the 18th century. Tom Brown, the father of the present tenant, has been described by the poet John Drinkwater, who often visited his kinsman's farm as a boy. (fn. 13) Peg Top Farm, a 17th-century house, lay up on the hillside to the north of Drun's Hill, south-east of the village, and was presumably built after much of the land had been inclosed. Its long range of irregular buildings of rubble and thatch, near the site of the Roman iron-smelting works, are now derelict. (fn. 14)
There is no trace of Eynsham Abbey's medieval grange and court house with its garden and dovecote, recorded in 1366; (fn. 15) nor of Richard Taverner's manor-house, thought to have been built in the 1550's, (fn. 16) which was 'very commodious', though not very large. This house was repaired and perhaps enlarged by John Nourse in 1676, (fn. 17) three years after he had inherited the property. His stonemason was Richard Varney of Islip, who also worked at Cuddesdon and built the chancel of Islip church. (fn. 18) Some hundred years later this house was pulled down by the banker John Weyland, who erected a large new mansion on a slightly higher site. The Manor House stands in its own grounds and with its home farm, well away from the road. It was built in 1775 on rising ground so as to command a wide view over the low-lying meadows with Elsfield ridge in the distance. It is a three storied building of grey ashlar stone with a mansard roof of stone tiles. The south front has a wooden cornice and balustraded wooden parapet, with three dormer windows in the attic story. It is given character by a half-octagonal central bay with three windows, which is carried up the whole height of the house and flanked by three windows on either side. The first-floor windows open on to elegant iron balconies. The north front has five widely spaced bays; the central one comprises a group of three windows of which the centre one is three panes wide, the side ones two panes wide; the second and fourth bays on the ground floor have arched windows. There is a central double door under an arched radiating fanlight and flanked by windows. It is approached by stone steps and an Ionic porch, comprising four pilasters and four slender columns which support an entablature with a frieze of ox heads, swags, and a dental cornice. The porch is dated and signed 'Coade, London, 1791', (fn. 19) and was designed by Sir John Soane, who also added the kitchen wing of two stories on the east side.
Sir John Soane was also responsible for the fine hall, which has a decorated marble chimney-piece of white-and green-veined marble, and for much of the decoration of the principal rooms. (fn. 20) There are six reception rooms and the entrance hall has a fine staircase with oak treads and a mahogany hand-rail with a scroll balustrade of wrought iron. The chief rooms have double doors of mahogany inlaid with ebony and other woods, with caps ornamented with rams' heads, swags, and acanthus leaves; they have fine marble chimney-pieces with friezes ornamented with baskets of flowers, swags, birds, musical instruments, and so forth. The room with the bay windows opposite the entrance door (originally the library) has its long French windows separated by glass mirrors framed in gold and standing on rounded shelves which are each supported by finely carved brackets.
The plan of this imposing house was reproduced by Arthur Young, and particularly recommended as one well suited to the requirements of a gentleman farmer (fn. 21) who was prepared to spend about £20,000. There was stabling for sixteen horses. The fine walled garden is a survival from an earlier house. The old stone wall which now surrounds the grounds and the Home Farm, running from the village street right round to the Islip road, with a double line of trees inside it, is the remains of the drive built by the Weylands. The broken-down stone gate-posts on the Islip road still mark the north-west entrance. The present field in front of the house, according to the map made for John Weyland by Balley Bird of Norwich in 1786, was then an extensive lawn. (fn. 22)
The first Saxons who settled round its spring gave the village its name, but the neighbourhood was inhabited earlier by the Celts. About half a mile north of the village on a low detached hill considerable traces of a Celtic settlement have been found. (fn. 23) The Romans in turn occupied the site as long as they remained in England, and recent excavations have brought to light a temple here, which was in use for nearly 400 years both as a pagan and later as a Christian shrine. (fn. 24)
Richard Taverner, the 16th-century religious reformer and writer, retired to the village in about 1550 or earlier after an active career as a civil servant. (fn. 25) He amassed considerable wealth and purchased monastic property in many counties, including Wood Eaton (fn. 26) among other Oxfordshire estates. (fn. 27) He took as his second wife Mary, daughter of Sir John Harcourt of Stanton Harcourt. (fn. 28) As a result of this marriage he became the great-grandfather of Anthony Wood, the 17th-century historian of Oxford, who relates how Taverner, when preaching, wore a 'velvet bonnet or round cap, a damask gown and a gold chain'. (fn. 29) He was buried in 1575 with great pomp in the chancel of Wood Eaton church, near the grave of his first wife Margaret, daughter of Walter Lambert, a rich goldsmith. His body was carried by two heralds, who set up on the north wall of the church his helmet, standard, and pennon. (fn. 30)
Manor.
In 1086 WOOD EATON belonged to Roger d'Ivry, (fn. 31) and later with the rest of his estates successively formed part of the honors of St. Valery, Wallingford, and Ewelme. (fn. 32)
Roger d'Ivry's tenant in 1086 was Fulk, who also held Brize Norton (Oxon.), (fn. 33) and Radclive and another unidentified manor in Buckinghamshire. (fn. 34) Possibly he was the father or grandfather of the Fulk Hareng who witnessed a charter to Thame Abbey c. 1138. (fn. 35) In about 1160 Helewis, daughter of Walchelin Waard, who was probably the Domesday tenant of Barford Cheney and Thrupp, (fn. 36) gave a virgate of land at Wood Eaton to Eynsham Abbey. (fn. 37) She did this with the consent of her husband William Avenel and of Walchelin Hareng (fn. 38) her son, presumably by an earlier marriage. Her first husband was possibly the Fulk Hareng of 1138 or related to him. Helewis's son Walchelin Hareng was probably lord by 1168. (fn. 39)
Walchelin Hareng, before his death about 1191, (fn. 40) gave Wood Eaton to Eynsham with the provision that his widow Ida should retain a life-interest. (fn. 41) She was the daughter and heiress of William. FitzGerard of Fonthill Bishop (Wilts.), which she granted to Eynsham. (fn. 42) After their death, although the grant of Wood Eaton was confirmed by the overlord Thomas of St. Valery, (fn. 43) Eynsham was involved in litigation with the heirs of Walchelin Hareng. In 1196 there were three of these: Ralph FitzGeoffrey, Miles of Fritwell, and William le Brun. (fn. 44) Their relationship to Walchelin is not clear. Ralph FitzGeoffrey was the husband of Maud, daughter of Gerard de Lucy; she was a niece of Walchelin. (fn. 45) In 1192 she and her husband quitclaimed their rights in Wood Eaton to Eynsham for a fine of 20 marks. (fn. 46) The second coheir, Miles of Fritwell, was the husband of Millicent, (fn. 47) daughter of Eustace de Frescheville. Her mother was Denise, another sister of Walchelin Hareng. (fn. 48) In 1199 Miles and Millicent of Fritwell quitclaimed to Eynsham ¼ fee in Wood Eaton in exchange for a hide in Fritwell, (fn. 49) which they had lost by about 1210. (fn. 50) Their son Stephen revived his rights to land in Wood Eaton, and in 1219 made a complicated arrangement with Eynsham. (fn. 51) In 1225 it was agreed that Eynsham was to hold the land of Stephen and his heirs for ¼ knight's fee, (fn. 52) and in 1279 Richard of Fritwell was recorded as one of the mesne tenants at Wood Eaton. (fn. 53) There is no further information about his connexion with the manor. The third coheir, William le Brun, also based his claim on the right of his wife, Isabel. She may have been the daughter of a third sister of Walchelin Hareng, or possibly the sister of Maud de Lucy. William and Isabel in 1205 quitclaimed their right to half a carucate in Wood Eaton to Eynsham in exchange for half a hide in Brize Norton. (fn. 54) William le Brun, who died about 1218, was succeeded by a son John, (fn. 55) and in 1279 another John le Brun was one of the two mesne tenants at Wood Eaton. (fn. 56) This family succeeded to Brize Norton and gave their name to the village. (fn. 57) Walchelin also had a nephew, Hugh 'the Dispenser', who held of him a virgate in Wood Eaton for a rent of 6s. His son Thomas between 1213 and 1228 granted this land to Eynsham on becoming a monk there, and received 14s. from the abbey with which to buy a palfrey. (fn. 58)
After 1279 no mesne tenancy is recorded, and Eynsham held the manor in its own hands until its dissolution in 1538. (fn. 59) In the next year the manor and advowson were granted with much other Eynsham property (fn. 60) to Sir George Darcy, a speculator in monastic lands; in 1543 he sold them to another speculator, Sir Edward North, (fn. 61) Treasurer of the Court of Augmentations, (fn. 62) who in the following year sold to Richard Taverner. (fn. 63) Taverner died in 1575 leaving estates valued by Anthony Wood at £1,500 a year. (fn. 64) His widow Mary was left a lifeinterest in Wood Eaton. She died in 1587. (fn. 65) Richard Taverner's eldest son Richard, who inherited Wood Eaton, seems to have been on bad terms with his father. Though a lawyer, he alone of his father's sons was not made an executor of his will, which he unsuccessfully attempted to have set aside on the grounds of insanity. He also apparently lacked his father's financial gifts. In 1588 he was obliged to sell Norbiton Hall (Surr.), a part of his patrimony, (fn. 66) and he and his wife Eleanor, daughter of John Heyton of Kingston and Copped Hall, Greenwich, (fn. 67) who were then living at Wood Eaton, made several conveyances of his property, perhaps by way of mortgage. (fn. 68) Finally in 1604 he sold it to Henry Fleetwood, and then, or soon after, left the village. (fn. 69)
In 1606 Henry Fleetwood transferred Wood Eaton to Sir George and Sir Thomas Fleetwood, sons of Thomas Fleetwood, Master of the Mint. (fn. 70) They sold it next year to Sir Henry Barker, (fn. 71) probably one of the Barkers of Hurst. (fn. 72) He conveyed the manor, possibly in mortgage, in 1620 to Lawrence Caldwell, (fn. 73) and in 1623 to Sir Anthony Barker and Thomas Tyrrell. (fn. 74) The deed of sale to the Nourses, who were to own Wood Eaton for the next 150 years, has not been found, but they were evidently there by 1625, when Richard Nourse's son Henry was baptized in the church. (fn. 75) They may have acquired the manor through the Tyrrells, for John Nourse's second wife Philippa was the daughter of Sir Edward Tyrrell of Thornton (Bucks.). (fn. 76)
The Nourses came from Middleton Keynes (Bucks.), and John Nourse was a prosperous lawyer. He died in 1633 and was succeeded at Wood Eaton by his eldest son Richard, who seems to have lived at Wood Eaton, where he was buried in 1673. It is not clear what side he took during the Civil War. He had married Martha, the daughter of Ralph Smith, a prominent Puritan and a fellow of Magdalen, whom Richard's father John Nourse had presented to Middleton Keynes. (fn. 77) On the other hand, Richard Nourse's half-brother John, also a fellow of Magdalen, fought with the royalists and was killed at Edgehill in 1642, and his eldest son John was ejected from Magdalen by the parliamentary visitors in 1648. John Nourse, a barrister, succeeded to Wood Eaton in 1673. He and his wife Anne, daughter and coheir of William and Anne Sedley of Digswell and Northaw (Herts.), lived in London and later in Oxford, where Anne died in 1669. (fn. 78) His second wife was his first cousin Martha Smith, granddaughter of Ralph Smith; (fn. 79) two of her brothers, John, (fn. 80) who became rector of Wood Eaton, (fn. 81) and Francis, (fn. 82) were fellows of Magdalen, and his friends. He lived at Wood Eaton until his death at 80 in 1708. His two sons were already dead, and Wood Eaton descended to his nephew Francis, son of his brother Francis. Francis Nourse, also a lawyer, was Sheriff of Oxfordshire in 1719, and lived partly in London, where he died in 1732. His son John married an Oxfordshire woman, Judith, daughter and heiress of Paul Jodrell of Lewknor, was sheriff in 1741, and died in 1774. He was the last in the male line of the Nourses, for only two daughters from a family of seven or eight survived him. (fn. 83)
His eldest daughter, Elizabeth Johanna, brought Wood Eaton into the Weyland family. Her husband was John Weyland, of Woodrising (Norf.), grandson of Mark Weyland, a wealthy city man and a director of the Bank of England. John Weyland was prominent in local affairs and was sheriff in 1777; he was a noted farmer and built the present manorhouse. (fn. 84) He was succeeded in 1825 by his son John, Tory M.P. for Hindon (Wilts.), in 1830. (fn. 85) He lived at Woodrising, and his brother Major Richard Weyland lived at Wood Eaton and managed the estate; the latter was sheriff in 1830 and M.P. for the county in 1831–7; he inherited Wood Eaton and Woodrising on his brother's death in 1854, and died himself in 1864, leaving a son John, who married Lady Catherine de Burgh, daughter of the Marquess of Clanricarde. Their son, Captain Mark Ulick Weyland, succeeded in 1902, and in 1912 sold the manor-house and some of the land to Walter Parrott. (fn. 86) The Potato Board rented it in 1939–40, and the British Broadcasting Company bought it in 1940 and sold it in 1948 to the Oxfordshire County Council. Since 1950 it has been used as a county residential school for backward children. (fn. 87)
Most of the land, comprising Upper and Lower Farms, had been mortgaged to Lord Verulam, director of the Gorhambury Estates Company. He foreclosed on the death of Miss B. H. Weyland in 1939, and in 1940 sold the property to Christ Church, who are the present owners. (fn. 88)
Economic and Social History.
Wood Eaton has never had a large population. The Domesday account is unusual for this part of the country in recording thirteen bordars and no villeins. There were also two serfs. (fn. 89) In spite of the Black Death, which killed or drove away all but about two of the tenants, (fn. 90) there were 27 tenants by 1366; (fn. 91) six or more cottages were vacant so the population had probably not reached its pre-1349 level. The 1377 poll tax return gives 51 inhabitants over 14, (fn. 92) almost the same figure as the 1548 number of 52 for 'howsling people'. (fn. 93) By the end of the 17th century the Compton census recorded 72 conformists. (fn. 94) This enumeration normally excluded children under sixteen. The figure indicates a slight rise and a greater population than in 1801, when there were 73 in all. But it must be remembered that this census had a local reputation for inaccuracy. In 1831 the figure was 86; it fell to 62 in 1841, and reached 89 in 1851. (fn. 95) In 1951 it was 120. (fn. 96)
By 1279 the tenants, except for the tenant of the fishery, (fn. 97) all held in villeinage from Eynsham Abbey, doing service at the will of the abbot. (fn. 98) All were men of small means according to the evidence of the late-13th- and early-14th-century taxation returns; in 1316, for example, of the eighteen people liable to taxation, four were taxed on goods worth between 4s. and 5s. 6d., and the majority on goods worth between 2s. and 4s. (fn. 99)
Before the Black Death tenants could hold in one of two ways. The holder of a virgate could pay no rent and work five days a week from Michaelmas to Martinmas, four days a week from Martinmas to Midsummer; do carrying service on Sundays, as far as Eynsham if necessary; and pay pannage and toll for brewing facilities. In return he was given some produce—a certain proportion of barley, oats, beans, and so on. On the other hand, he could pay 5s. rent and pannage; give a cock and eggs at Easter, and do some work for the abbey: i.e. one ploughing service, harrow for a day, hoe for a day with one man, carry hay for a day, and do four harvest services in the autumn with three men. On some of these days he was fed by the abbey. Both sorts of tenants had to do one day's nutting and bring two loads of wood for Christmas to the monastery at Eynsham (ad curiam).
After the Black Death there were scarcely two tenants left, and these refused to remain on the old terms, on which the abbey also found it impossible to get new tenants. The abbot therefore made a new agreement: tenants were still to do suit of court, to pay a fine on starting a tenancy, to give a heriot of their best animal, and not to marry a daughter nor sell an ox or male foal without licence. They were to pay an increased rent and perform fewer services. (fn. 100) The abbey's rent roll then amounted to £9 14s. 3d. (fn. 101)
At the time of Domesday Book, Wood Eaton, assessed at 3 hides, had land for 4 ploughs, of which 2 were in demesne. (fn. 102) If the Domesday virgate was the same size as it was in the 14th century (i.e. 18 acres of arable and 2 of meadow), (fn. 103) there must have been about 320 acres (i.e. 16 virgates) under cultivation. In addition 18 acres of meadow and 26 of rough grazing are mentioned. By 1279 the cultivated land had increased to about 370 acres—360 acres of arable (6 virgates in demesne and 12 outside) and 14 acres of meadow of which 10 were in demesne. (fn. 104)
An extent of the manor in 1366 gives a picture of the land and tenants. (fn. 105) All the land outside the demesne was still held in villeinage except for the fisherman's land and 1 acre of meadow in Almesmoor (Alvesmoor), which Walchelin Hareng (fn. 106) had given the nuns of Littlemore. (fn. 107) Besides the tenant of the fishery, (fn. 108) there were 26 or 27 tenants— virgaters, half-virgaters, or cottagers—holding for both rent and services. Of the nine virgaters, John Osyat, who lived in the house by the spring, was the only copyholder; he did no service and paid 16s. rent, although formerly the rent for this property had been 26s. The rest paid 13s. 4d. rent; and did twelve days' mowing, three ploughing services at the two annual sowings, and four harvest services with two men. They also did a day's nutting and brought two loads of wood to the abbey at Christmas.
Four of the five half-virgaters paid 6s. 8d. rent, and did the same services as the holders of virgates; the fifth, Agnes Basse, for a reason unknown to the homage, owed no service. The remaining eleven tenants held a cottage and garden (curtilagium), and some a small amount of land as well, at rents varying from 12d. to 2s. These cottagers had to make hay, do four harvest services with one man, and give a cock and three hens for church scot. Several of them were craftsmen. There were a cooper, a miller, and, judging from their names, a tailor and a mason. Some of the tenants were women and could not marry without the permission of the abbey. If any tenant were bailiff or wood-warden he was to be free of rent and service.
The value of the manor was estimated at about £20, nearly four times its value in 1269; (fn. 109) half (£9 13s. 4d.) came from rent. More land had come under the plough since 1279 for the demesne now consisted of about 190 acres, and approximately 240 acres were held by the tenants. Of the demesne 20 acres were pasture, worth 2d. an acre or 3s. 4d. altogether. The arable was worth 44s. 11d., and the meadow 75s. 11d.
There were two fields, Upper, or in the 15th century North, Field and Lower Field. (fn. 110) These lay to the north and north-west of the manor-house, stretching from the river to the road, and south and south-west of it. In the 14th century each field respectively contained 77 and 57 demesne acres worth between 2d. and 3d. an acre. Some of these acres were sown every other year as would be expected in a two-field system, but in the extent of 1366 some of the furlongs, containing about 12½ acres of demesne land, were said to be twice sown. (fn. 111) It seems therefore that a three-course rotation had been introduced. Among the names of the furlongs were Hemland, Hennele, Fleyngland, Culvercroft, Catesbrayn (a type of soil), and Nettlebed.
The meadow, over 33½ acres in all, lay mostly in the south-west corner of the parish. 'Alvesmoor' (c. 11 a.)—the modern Almesmoor and still 11 acres —lay at the extreme west tip, completely surrounded by the Cherwell and a backwater. It was inclosed all the year, was twice mown, and was very good meadow, being valued at 3s. an acre. The other meadows were inclosed until Michaelmas and were then thrown open; some but not all were twice mown; their value ranged from 2s. 6d. to 1s. 6d. an acre. Their names—Akerman Mede, Le Hurst, Wolgesham, Noreham—have disappeared from the map, (fn. 112) but Smalmede or Mokedon (over 12 a.) may perhaps be identified with the modern First Meadow (c. 12 a.) and its extension Little Meadow. The virgate of one tenant in 1366 comprised 18 acres of arable and 2 of meadow, and it seems to have been normal for each tenant to have this amount of meadow attached to his arable holding. (fn. 113) The lot meadow of the medieval villagers is probably represented by the modern Town Meadow. It lies next to Almesmoor meadow.
The inclosed pasture amounted to nearly 23 acres and lay in four fields: Calvecroft (c. 4 a.), Longe breche (7 a.), Muchelhay (c. 7 a.), and Lutlehay (c. 3 a.). They all remained inclosed until the grass was carted; and they were worth 2d. an acre. Possibly these pastures lay along the southern edge of the manor on the site of the modern fields called the Breach (c. 16 a.) and Calves Close (c. 9 a.). Much of the land east of the village street probably provided rough pasture as in the 19th century. Three of the modern fields are significantly called Woodmoor (c. 33 a.). The field called The Common (17 a.) south of Lower Farm and bordering the village street no doubt marks the site of the ancient common land.
In 1390 the abbey had recently changed their method of management; they were farming the demesne of Wood Eaton to William Ottele for 25s. The small sum must be accounted for by payments in kind. Produce not required by the abbey was apparently sold, for he paid £2 13s. 9d. for the sale of corn in the same year. (fn. 114)
Thirty-nine of the abbey's court rolls of between 1441 and 1462 survive. (fn. 115) They show that the court was held two or three times a year; there were about fifteen suitors; and the profits were usually rather more than 10s. (fn. 116) Unusual events were recorded in 1443, when the abbey's neighbour, the Abbot of Westminster, lord of Islip manor, cut down the hedge called 'Erleshedge' between Wood Eaton and Islip and kept all the wood, instead of allowing half to Eynsham; (fn. 117) in 1446, when tenants were forbidden to get the help of Oxford students against each other, thus causing 'perturbationes, lites et discordie'; (fn. 118) and in 1453 when an inquest was summoned to decide whether two men were freemen or niefs. The verdict was that they were freemen as their grandfather had come from Wales and had married a Wood Eaton girl. (fn. 119)
The demesne was farmed at this date to John Uffington, probably for about £5 a year. But he proved an unsatisfactory tenant, and as he was in arrears with his rent and had allowed houses on the demesne to decay, his chattels were distrained in 1442. (fn. 120) Rents had not changed since 1366, and the usual holdings remained a virgate, a half virgate, or a cottage. A fine for entering a half virgate was 6s. 8d. and two capons, and for a cottage two capons.
Inclosure had begun. In 1448 it was agreed that the lord and each tenant should have his own close and hedge it at his own expense. The abbey was to inclose Calcroft and a breach called 'Shartebreche' annexed to it in exchange for common pasture. Each tenant was to pay a fee to the church and the lord according to the size of his close. There were twelve closes, and the fee varied from 16d. to 6s. 8d.; the total was 34s. (fn. 121) Before this Iseult Basse, who was later described as a great 'disturber of the tenants' and was expelled from her house and virgate, (fn. 122) was fined for inclosing to the harm of all her neighbours. (fn. 123)
An ordinance of the court, made in 1446, which lays down that no tenant is to have any sheep within the manor except his own, shows that there was need to prevent surcharging of the pasture. There is earlier evidence of the keeping of sheep, for in 1268 the abbey made a contract with Roger Hareng, merchant of Witney, granting him in payment of a debt all their wool from Wood Eaton and other abbey manors. (fn. 124)
By the early 16th century there seems to have been greater diversity of wealth. Robert Bolte, a benefactor of the church, (fn. 125) probably the farmer of the demesne, and perhaps a descendant of the John Botte who held a virgate in 1366 (fn. 126) and of John Bolte, a neif who died in Oxford in 1452 leaving no goods, (fn. 127) was much the richest man in the village. In 1524 he was collector of the subsidy and had £51 in goods, while the next richest contributor had only £10. Another had taxable goods valued at £8, and two £4, while the remaining eighteen had about £1 each either in wages, gains, or goods. (fn. 128)
The fishery in the Cherwell was an important part of the medieval manor. In 1222 a quarrel over it between Oseney and Eynsham was composed by papal delegates: Oseney was granted a part of the water, from Islip boundary, where they already had river rights, to the site of the old weir, for a rent of 2s. They were also granted the river bank along their stretch of water to a depth of two yards and were allowed to build a weir so long as they did not flood Eynsham's meadow land. (fn. 129)
The rest of the fishery, which extended along the Cherwell for the whole length of the manor and had attached to it in 1279 2 acres of land and an acre of meadow, (fn. 130) was a free tenement. The earliest known tenant was William Hulc, who had held it before about 1264, when Thomas, son of William Unfrey de la Oke, obtained a charter granting the fishery with its appurtenances to him in fee for 5 marks. He was to do the same service, i.e. pay 6s. 8d. a year and perform suit of court every three weeks. (fn. 131) The tenant in 1366 was John de Hardwick, who also held a house and owed suit of court, relief, heriot and so on. (fn. 132) Like his predecessors he was a free tenant and sometimes acted as a feoffee and witness for the abbey. (fn. 133) A John Hardwick, son and heir of John Hardwick of Mollington, quitclaimed rights to lands and waters in Wood Eaton and Water Eaton in 1421. (fn. 134)
There is no record of the process of consolidation of open-field strips, or of inclosure. Some inclosure, as has been seen, took place in the 15th century, and more probably in the 16th. At all events at the end of the 18th century much, if not all, of Weyland's demesne land was inclosed, and as there were only two tenant-farmers in the parish all the remaining open-field strips must have been largely consolidated. Arthur Young reported the existence of open fields, but makes it clear in his account that there had been considerable inclosure. (fn. 135)
The rise and fall of some of the village families may be traced from subsidy returns. By 1565 the Bolt family had declined in wealth; and after the lord of the manor, taxed on £40 worth of lands, the richest man in the village was the new-comer William Collins, with £14 worth of goods. (fn. 136) By the early 17th century this family had also apparently declined in wealth, (fn. 137) although it maintained a respectable position in the village until the mid-18th century. Two members of the family, one a yeoman, were among those liable for the upkeep of the church mounds in 1686, and even in the 19th century the cottages which stood opposite the church were known by the family's name. (fn. 138)
Other substantial families were the Otleys, probably descended from Robert Otley, churchwarden in 1552; (fn. 139) the Hollys, descended from William Holly, a subsidy man in 1524; (fn. 140) and the Speeds of Water Eaton, first found in the subsidy returns of 1624. (fn. 141)
The Kemp family may be quoted as an example of the husbandman class. William Kemp (d. 1558), the father of six children, left goods valued at over £16; (fn. 142) John Kemp (d. 1599) left goods worth over £105. (fn. 143) Besides substantial legacies to his five children, one of whom had married into the Otley family, mentioned above, he left 4d. each to every 'poore body' of the village. Another William Kemp died in 1605 worth over £43. (fn. 144)
By 1785 the land of these families had become concentrated in the hands of John Weyland and two tenant-farmers. He was one of the most progressive farmers in the county and was often commended by Arthur Young. He had a five-course rotation of crops: turnips for sheep, barley or oats, clover, wheat, and beans, vetches, or pease, while in the remaining open fields a first-year fallow was followed by wheat, then beans, and then barley. (fn. 145) He ploughed 'a middling depth' on his stone brash soil, about four inches for wheat; (fn. 146) for oats he ploughed twice, except on stiff land, sowing at the end of March five bushels of seed an acre. (fn. 147) He sowed 14–16 lb. of clover seed per acre, mowed it twice for hay, and got a ton per acre. (fn. 148) He kept a large flock of sheep— a cross of half-Leicester and half-Berkshire—and penned them all the year round. In 1812 he had as many as a hundred ewes, and got rather more than a lamb to every ewe. (fn. 149) He kept short-horn cows, large and delicate, 'which give more milk than any', and had them in a fine meadow on the Water Eaton boundary, (fn. 150) which he improved by constant manuring.
In 1912 the land of the manor, 874 acres with a yearly rental of £1,030, and extending beyond the boundaries of the parish, was broken up and sold. (fn. 151) In addition to the park of the manor-house, there was the home farm (142 a.), and three others: Peg Top on the hillside (58 a.), and two large dairy ones, Upper and Lower Wood Eaton farms of 278 and 314 acres. The last two are now owned by Christ Church, and Peg Top farm has been amalgamated with Upper Wood Eaton farm.
Church.
The church is not mentioned in Hareng's gift of Wood Eaton to Eynsham Abbey, (fn. 152) but evidently was included with part of its demesne tithes. These, unlike those of other Ivry lands, were not granted to the church of St. George in Oxford castle. (fn. 153) The first actual reference to the church comes in 1228, when Eynsham Abbey presented to the rectory. (fn. 154)
Eynsham held the advowson until its dissolution, but did not appropriate, or even receive, a pension from the church. After the Reformation the advowson followed the descent of the manor until 1911, when it passed to Lord Verulam, brother-in-law of John Weyland. (fn. 155) Since 1947 it has been held by the Bishop of Oxford. (fn. 156)
The rectory was of average value during the Middle Ages; it was assessed at 53s. 4d. in 1254 (fn. 157) and at £5 in 1291. (fn. 158) By the 16th century the rector was receiving £10, (fn. 159) and its net value in 1535 was £10 0s. 9d. (fn. 160) By 1715 the value of the rectory had risen to £64 (fn. 161) and by 1808 to £113, of which £100 came from tithes, and £13 from glebe. (fn. 162) In 1837 the tithes were commuted for £152. (fn. 163) The net annual value of the benefice in 1953 was £211. (fn. 164)
A small rectorial estate was first granted to the church between 1140 and 1160 by Helewis, daughter of Walchelin Waard. (fn. 165) It appears in 1279 as a virgate of glebe, (fn. 166) which was worth £2 in 1341. (fn. 167) In addition the rector had a house, called 'Prestushouse', (fn. 168) opposite the graveyard, for which he paid 6d. rent, and owed suit of court and heriot. In 1685 the rectory consisted of a 2-acre orchard and close, and 5½ acres of glebe in the common fields. (fn. 169) There are now 10 acres of glebe. Since 1949 the rectory house has been let. (fn. 170)
Robert of Winchelsey, who was presented to Wood Eaton in 1272, and later became Archbishop of Canterbury, was the parish's best-known rector. He left a vestment to the church in his will. (fn. 171) But about the men presented by Eynsham we know little. There is John Whitton, a benefactor of Merton College, who died about 1420, and whose beautiful brass is in the chapel. (fn. 172) He probably held an office in the college. By the 15th century the rector was frequently or always non-resident. In 1444, for instance, the manorial court presented that his house was in a ruinous state; he refused to inhabit it, and another tenant had to be found. (fn. 173) Then, in 1460, Master John Aleyn received papal permission to hold other benefices (fn. 174) and he leased the church for £4 a year to Robert Heth, yeoman, who was to see that the church was served. About 30 years later, when Aleyn was dean of St. Patrick's, Dublin, he was suing for £34 owing to him under this lease. (fn. 175) Again, in 1526 there was only a curate with a stipend of £4 a year. (fn. 176)
Post-Reformation rectors have included some distinguished men, usually with Puritan sympathies, since they were presented by the Taverners and the Nourses. One was John Taverner, the third son of Richard Taverner, and a former student of the Inner Temple. He became rector in 1575 a month before his father's death, and inherited his Greek and Latin books. He died in 1577, a victim of gaol fever contracted at the Black Assizes in Oxford. (fn. 177) Another rector, Francis Bradshaw (1605–35), was Fellow and Vice-President of Magdalen. He may have spent the last years of his life at Wood Eaton, where he is buried. (fn. 178) In his will he specified that if he died at Magdalen, his body was to be carried up the river to Kings Mill and 'thence by my loving neighbours of Wood Eaton into Wood Eaton church, there to be buried in the chancell'. (fn. 179) His two successors, Thomas Jones and Richard Cobden, were also buried there. (fn. 180) At the end of the century three more fellows of Magdalen, all active opponents of James II and deprived by him of their fellowships, were presented. (fn. 181) John Smith (1680–90), cousin and brother-in-law of John Nourse was the first, and it may have been to celebrate his institution that John Nourse gave the peal of five bells in 1680. (fn. 182) The second was William Craddock (1690–2), who had been Addison's tutor at Magdalen and who eloped with a daughter of John Nourse. (fn. 183) He exchanged Wood Eaton for Slimbridge (Glos.) in 1692 with Thomas Goodwin, another fellow of Magdalen 'an excellent man and a very good scholar'. (fn. 184)
Family influence continued to play its part in the choice of rectors in the 18th century, sometimes with indifferent results. Ralph Frank, Fellow of Merton and nephew of Mrs. Martha Nourse, was instituted in 1701. Obliged to resign in 1702, he was reinstated in 1705, (fn. 185) but was again in trouble in 1721 when he was imprisoned in Oxford castle for debts incurred over the South Sea Bubble. (fn. 186) As well as Wood Eaton he held the 'fine cure' of Gamlingay (Cambs.), a Merton College living. He was buried at Wood Eaton in 1731. (fn. 187) Between 1702 and 1705 he had been replaced by Thomas Milles, Vice-President of St. Edmund Hall, a distinguished High Churchman and Tory, who later became Bishop of Waterford. (fn. 188) Like most of his successors during the next hundred years, he must have been non-resident for at least part of the year. Among his successors were Edmund Whorwood (1731–5) and Thomas Finch (1735–51), who were also rectors of Holton; Chardin Musgrave (1751–67), Provost of Oriel; and John Cooke (1767–1823), President of Corpus Christi. This last, who also held the living of Begbroke, (fn. 189) served Wood Eaton with a curate, residing in Oxford. (fn. 190) As the rectory house and its stable was rebuilt in 1756, it is probable that the rectors resided more often than appears at first sight. (fn. 191)
In the 19th century, John Ballard, the son-in-law of the squire John Weyland, had a long ministry (1823–51), and kept up an establishment of seven servants at the Rectory. (fn. 192) He was also vicar of Cropredy, (fn. 193) and was the last pluralist until 1949, when the livings of Wood Eaton and Charlton-onOtmoor were combined, and the parish once again lost a resident rector.
The church of the HOLY ROOD comprises nave, chancel, south porch, and tower. (fn. 194) The main fabric of the nave and chancel were probably built in the third quarter of the 13th century. The chancel arch, the priest's door on the south wall of the chancel, and the lancet windows in the north and south walls of nave and chancel are of the same date. During the 15th century the two-storied tower was added; it was built inside the existing church, one of its walls being the original west wall of the church, and the other three sides resting on 15th-century arches protruding into the nave. It has been suggested that this plan was adopted because if the tower had been built outside in the usual way it would have touched the churchyard wall and prevented processions around the church. At about the same time two large square-headed windows were inserted in the south and east walls of the chancel, no doubt replacing earlier lancet ones.
Probably early in the 18th century the gallery and south porch were added, the walls of the chancel were raised and the roof lowered, and the church was beautified with panelling. (fn. 195)
The chancel contains a 13th-century trefoiled piscina and stone sedilia. The plain cylindrical font is also contemporary with the church, and probably also the niche for baptismal oil east of the north door of the nave. The wall-painting on the north wall representing St. Christopher, uncovered and restored by Professor Tristram in 1930, dates from the 14th century. The rare French inscription reads, 'Ki cest image verra le jur de mal mort ne murra'. (fn. 196) There are also traces of wall-painting over the south door.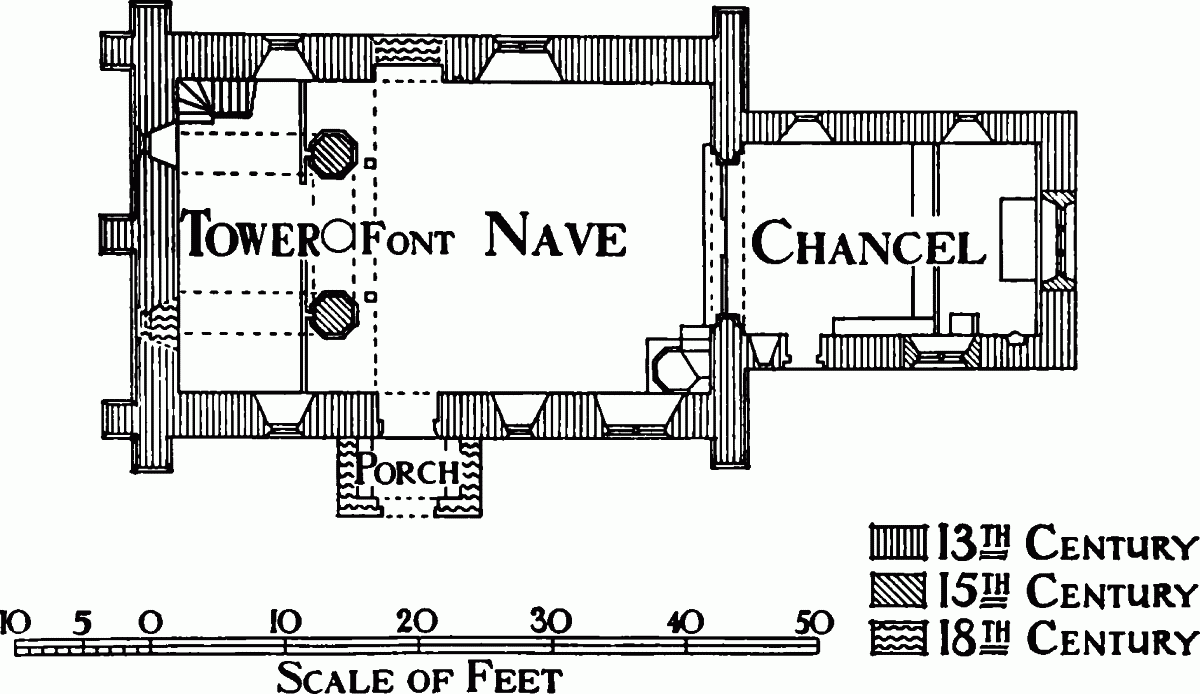 The wooden rood screen and the wooden benches with carved heads in the chancel are probably of 15th-century date. The benches in the nave were turned into pews in the 18th century.
The Elizabethan chalice and paten-cover are dated 1575. They may have been given by Richard Taverner when his son was presented to the living in that year. There is also an unusual round-bellied Elizabethan pewter flagon, a small silver paten of 1719, a large silver paten (hall-marked 1679), and a silver tankard flagon of 1702 presented by Martha Nourse. (fn. 197) The treasures of the church at the Reformation included a silver cross, 3 vestments of velvet and satin, and 3 small bells. At that time there was a lamp in the church, supported by 6d. worth of lands. (fn. 198) Provision for two altar cloths for the two altars in the body of the church had been left under Robert Bolt's will in 1530. (fn. 199)
Five of the six bells were given by John Nourse about 1680 and were described by Rawlinson as 'so sweet and tunable that they are called the Wood Eaton Flagalets'. (fn. 200) The sanctus bell is dated 1674.
The Nourses removed a monument to Richard Taverner, but left many of their own memorials. (fn. 201) In the north wall is a tablet to Anne, first wife of John Nourse (d. 1669), and to her husband (d. 1708). Beneath is a tablet to his second wife Martha. In the chancel there are memorials to Richard Nourse (d. 1673), his wife Martha (d. 1673), their sons Richard (d. 1679) and Francis (d. 1687) with his wife Margaret (d. 1689); to Margaret Pitt (d. 1690), daughter of Dr. Robert Pitt and granddaughter of John Nourse; to four rectors, Thomas Jones (d. 1673/4) and his wife Anne, Richard Cobden (d. 1679), John Smith, D.D. (d. 1690), and Ralph Frank (d. 1731). Hatchments of the Weyland family hang in the church, (fn. 202) but their vault is in the churchyard.
The parish registers date from 1679, but they contain extracts from earlier ones seen by Wood, of which the baptisms date from about 1589, the marriages from before 1567, and the burials from about 1562. (fn. 203)
Nonconformity.
A farmer's family were reported as recusants in 1738 (fn. 204) and again in 1767. (fn. 205)
School.
None. In the 19th century the children went to school in Noke. (fn. 206) In 1950 a county residential school for backward children was opened in Wood Eaton House. In 1952 50 children were in residence. (fn. 207)
Charities.
Martha Pitt, daughter of John Nourse (d. 1708), who married Dr. Robert Pitt, intended to endow an almshouse; but in 1759 the incumbent reported that the legacy of £500 had not been paid as the testatrix had left insufficient assets. (fn. 208) A small benefaction left by a lord of the manor, probably long before this date, was distributed in bread every Good Friday. Rawlinson refers to this and speaks of the lord of the manor giving away the bread. (fn. 209) In 1771 the incumbent reported that the ceremony took place in church, (fn. 210) but by 1786 (fn. 211) this charity had lapsed. In 1835 Henry Bennett left £10 for clothing the poor. (fn. 212) Other gifts of money to the parish are mentioned above. (fn. 213)