Pages 147-151
A History of the County of Shropshire: Volume 10, Munslow Hundred (Part), the Liberty and Borough of Wenlock. Originally published by Victoria County History, London, 1998.
This free content was digitised by double rekeying. All rights reserved.
BOULDON
Until 1884 Bouldon, c. 11 km. north of Ludlow, was a detached township of Holdgate parish and had c. 417 a. (c. 169 ha.). (fn. 1) Until the late 11th century (fn. 2) it had probably been part of Diddlebury parish; ½ virgate was in that parish until the 15th century, (fn. 3) and 12/3 a. of Bouldon village was in Diddlebury parish before 1884. (fn. 4) In that year the rest of Bouldon was transferred to Diddlebury civil parish. (fn. 5)
Bouldon township lies about c. 4.5 km. south of Holdgate village in a fold of the Clee plateau whence Pye (or Clee) brook drains west towards the river Corve. The township is roughly triangular, its apex to the south-east, with a narrow southward extension. The northern boundary followed a stream that descends to Pye brook at Peaton. The eastern and the higher part of the western boundary may have been drawn when the margins were still intercommoned, for there are some long unbroken lengths. On the Clee plateau the land rises to 235 m. in the east, and on Pye brook in the west falls to 130 m. (fn. 6) The higher parts of the township lie on the Ditton Series of the Lower Old Red Sandstone and the lower on the Ledbury Group of the Downton Series; where the series meet are two narrow layers of 'Psammosteus' Limestones. (fn. 7) The soils are mostly red-brown silt loams, with alluvial soils on the west. (fn. 8)
There was a recorded population of 4 in 1086. (fn. 9) Bouldon village, strung out along Pye brook, seems to have changed little in extent since the 17th century; no outlying houses are known. Eight houses paid hearth tax in 1672, four having more than one hearth. (fn. 10) From the 1820s to the 1880s the population varied little from a median of 59. (fn. 11) In 1842 the houses extended c. 500 m. through the valley from Bank Farm in the east to the later Tally-Ho public house. (fn. 12) The houses and cottages are almost all 16th- or 17th-century plain structures of coursed stone rubble or of some mixture of stone, timber framing, and brick, with tiled roofs. (fn. 13) Farm buildings of similar period and materials survive at Bank Farm, (fn. 14) Bouldon Farm, (fn. 15) and Bouldon House. (fn. 16)
Several routes radiated from the village. (fn. 17) That on which most of the houses stood followed Pye brook west through Peaton and thence ran to Ludlow. It was turnpiked from Bouldon westwards in 1794, (fn. 18) disturnpiked in 1873, (fn. 19) and ceased to be a main road in 1879. (fn. 20) From the village lanes ran via Broncroft and Tugford to Holdgate, via the Heath to Bridgnorth (fn. 21) and to Cockshutford, and to Clee St. Margaret (via Peckledy) and Cold Weston. The lane to Clee and Cold Weston was no longer open to public wheeled traffic in 1989.
The Tally-Ho was licensed in 1844. (fn. 22)
MANOR.
In 1066 Siward (Seward) and Almund (Elmund) held BOULDON as two manors. Helgot held it of Earl Roger by 1086, (fn. 23) and the chief lordship seems to have descended thereafter with that of Holdgate. (fn. 24)
By 1135 Bouldon had been subinfeudated. The tenant in 1166 was William of Bouldon, (fn. 25) and in 1199 Robert of Bouldon; (fn. 26) Robert was probably the tenant of that name recorded in 1205. (fn. 27) The tenant bore the same name c. 1242 (fn. 28) and in 1255. (fn. 29) Hugh of Bouldon (perhaps fl. 1327) (fn. 30) was tenant by 1285 (fn. 31) and in 1294, (fn. 32) and Giles Carles by 1348.
John Talbot, Lord Furnivalle, later earl of Shrewsbury (d. 1453), held Bouldon by 1428 and in 1431. (fn. 33) The manor later descended, through Sir Humphrey Talbot (d. 1493), (fn. 34) to John Grey, Viscount Lisle (d. 1504), (fn. 35) and thereafter followed the descent of Aston (in Munslow) until 1963, (fn. 36) except that Sir John Smith's widow Agnes (d. 1562) did not hold Bouldon. (fn. 37) G. M. G. Hamilton-Russell, Viscount Boyne, bought the manorial estate from the Church Commissioners in 1964 (fn. 38) but retained only a part in 1992. (fn. 39)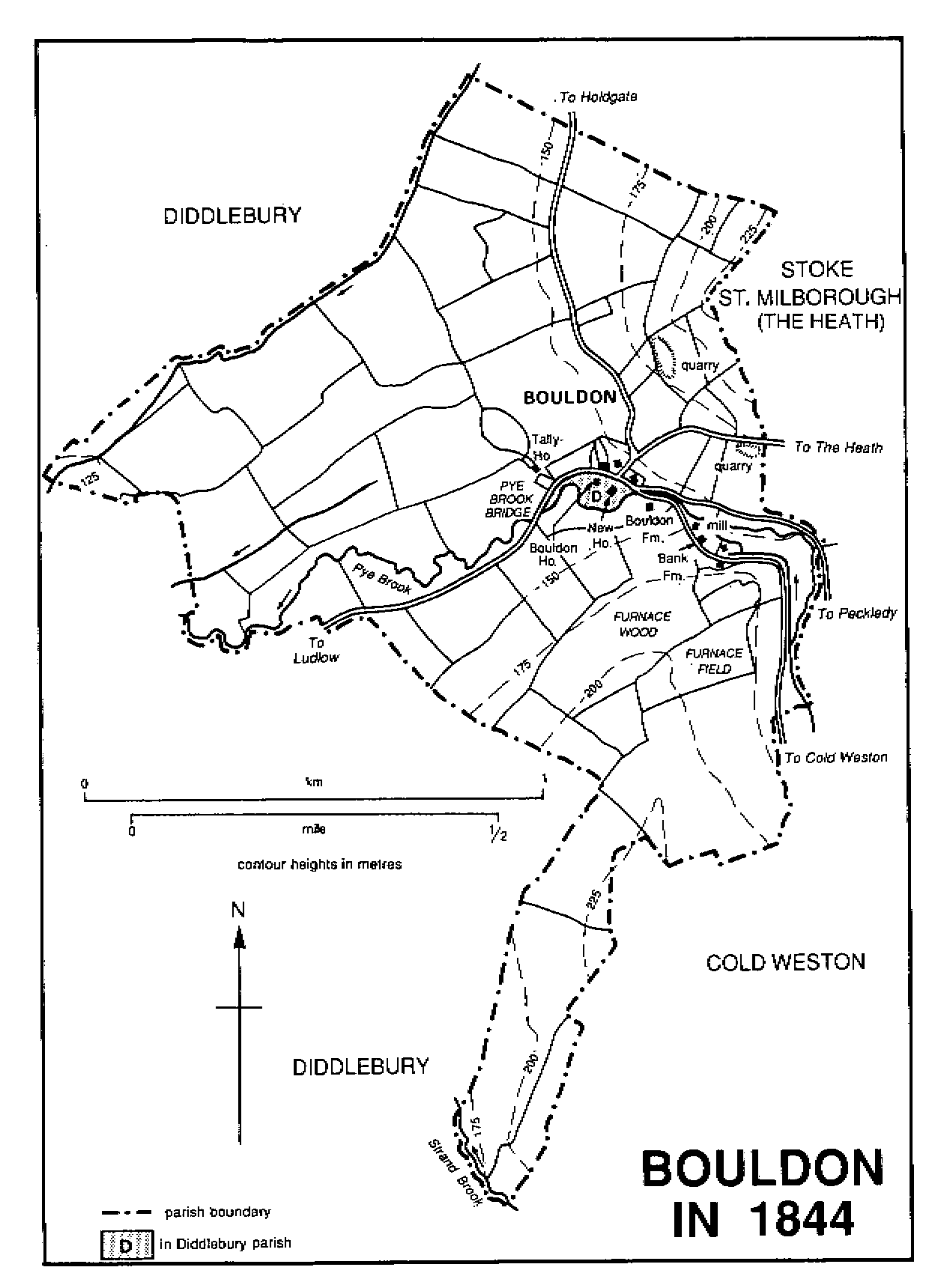 The chief house in 1670 (fn. 40) was called the Farm House in 1733, (fn. 41) and later Bouldon Farm. (fn. 42) Mainly of coursed rubble, with some timber framing, it contains a 16th-century hall of one bay, formerly open with a louvre in the roof and with a contemporary or near-contemporary cross wing at the east end, which had a smoke bay at the southern end. In the 17th century a 2½ storeyed cross wing was added to the west end, and the hall was probably converted to two storeys. (fn. 43)
A freehold belonging to Thomas Hawlyn in 1486 (fn. 44) passed before 1530 to Richard Brecknock. (fn. 45) The farm, with 21 a. of arable, was called HAWLYN'S HOUSE in 1532. (fn. 46) Randle Brecknock sold it in 1578 to Maurice Ludlow (d. 1595) (fn. 47) who left it to his nephew William Baldwyn (d. c. 1614). (fn. 48) It descended from father to son (fn. 49) to Charles (fn. 50) (d. 1675), Sir Samuel (fn. 51) (d. 1683), Charles (fn. 52) (d. 1706), and Acton (d. 1727), from whom it passed to his brother Charles (fn. 53) (d. 1751). It was added to the manorial estate before 1842. (fn. 54)
ECONOMIC HISTORY.
In 1086 Bouldon, with 2 hides and 3 ploughlands, and 2 ploughteams on the demesne, was worth 15s., having earlier been found 'waste'; the demesne's four oxmen were the only recorded inhabitants. (fn. 55) The estate was valued at £4 6s. a year in 1295 (fn. 56) and at £3 in 1431. (fn. 57) There was some woodland in the late 13th century. (fn. 58)
In the early 16th century the open fields were Cross, Flotmere, and Rye fields. (fn. 59) Some recent inclosure of arable, resulting in the loss of two farms, was reported in 1517. (fn. 60) Corn and barley were harvested on Charles Baldwyn's land in August 1618. (fn. 61) By 1733 only fragments of open-field land remained, as Crow pit and Withy pit fields, and Upper and Lower Rye fields. The manorial estate then comprised only two farms and the furnace. Bouldon farm (224 a.) had absorbed most of the other holdings, and their houses were occupied by the farmer's 'undertenants', (fn. 62) probably labourers.
By 1842, after the manorial estate had acquired that of the Baldwyns, Bouldon farm (288 a.) included Bouldon House and New House, both of which had substantial old farm buildings in 1989. (fn. 63) Each of the two farms of 1842 had twice as much grass as arable. The whole township was inclosed and only 3 a. were woodland. (fn. 64) By 1942 Bouldon farm had been reduced to 186 a. and Bank farm to two holdings of 41 a. and 33 a. But for recent wartime ploughing, their proportion of grass to arable would have been far greater than in 1842. (fn. 65)
A water mill on the manorial estate, mentioned in 1611, (fn. 66) was described as a muncorn mill in 1733. (fn. 67) It was presumably the mill that, by the late 18th century, stood at the east end of the village on a leat from Pye brook. (fn. 68) It was rebuilt in stone in the later 18th century (fn. 69) and ceased working in 1934. (fn. 70) Another water mill, on the Brecknock estate, was mentioned in 1570 (fn. 71) and was presumably that called 'Mr. Legas's mill' in 1712 (fn. 72) to distinguish it from the manorial mill held by the Crumpe family. (fn. 73) It had gone by 1842; the site was probably west of the village, near Old Mill meadow, where Pye and Strand brooks met at the boundary with Peaton township. (fn. 74)
An iron furnace at Bouldon was said to have been established by one of the Smiths, lords of the manor; (fn. 75) it was on the manorial estate by 1670. (fn. 76) In 1647 Sir William Blount had it, (fn. 77) presumably as tenant. William Hall was the lord's lessee from 1696 until 1702 or later, and Thomas Read from 1718. By 1721 Sir Edward Blount (d. 1758) was tenant, by 1761 Sir Edward Blount (d. 1765), (fn. 78) and by 1793 Sir Walter Blount. (fn. 79)
In 1643 Francis Walker, 'clerk of the furnace' until 1661 or later, a kinsman of Richard Cressett of Upton (fn. 80) (d. 1677) and lessee of the Bringewood ironworks (Herefs.), (fn. 81) was paid for making 63 tons of ordnance for the king, delivered from Bouldon to Bridgnorth and Shrewsbury. In 1644 he made a similar quantity, including a gun for the defence of Ludlow. (fn. 82) Presumably he worked the furnace under licence from the Blounts. It was supplied with cordwood from Ditton Priors and elsewhere, with ironstone from Brown Clee, and with Bouldon limestone. (fn. 83)
By the early 18th century the furnace produced mainly pig iron. Annual output was estimated at 400 tons in 1717. (fn. 84) Pig was supplied to forges as far away as Pool Quay (in Guilsfield, Mont.), Ffridd Mathrafal, Park Mathrafal (both in Llangynyw, Mont.), (fn. 85) and probably to the Blounts' forges at Cleobury Mortimer. (fn. 86) The furnace was alleged in 1737 and 1795 to produce the finest pig iron in England. In 1795 the lord offered it to let as a going concern, (fn. 87) and cordwood was being supplied in 1798, (fn. 88) but no later reference is known. The works was presumably on Pye brook and probably on a leat upstream of the village; (fn. 89) masonry and a large slag heap have been recorded next to the mill. (fn. 90)
The ironworks is believed to have become the paper mill, (fn. 91) near to Furnace field and Furnace wood in 1842. (fn. 92) Peter Medlicott was making paper at Bouldon by 1803, when his partnership with Henry Proctor, Thomas Green, and Thomas Lawley was dissolved, and still in 1816. By 1832 the paper mill was run by Simon Cox, (fn. 93) who still held it in 1842 as part of the later Bank farm; it was attached to the farmhouse on a leat from Pye brook. (fn. 94) By 1841 the paper makers were William Cox and William Baker. (fn. 95) Production had ceased by 1851. (fn. 96)
Of several quarries, (fn. 97) one in the earlier 19th century was north of the former furnace, (fn. 98) which it had probably supplied with limestone. (fn. 99) In 1774 Bouldon supplied stone for building Downton Castle (Herefs.) (fn. 100) and in the early 19th century was one of the best local sources of sandstone flags. (fn. 101) John Smallman of Bouldon Rock was a builder in 1811. (fn. 102) Bouldon was still producing 'considerable quantities' of building stone c. 1850. (fn. 103) Three masons lived there in 1841 (fn. 104) but none in 1851. (fn. 105)
Richard Amies, who operated the furnace in the 1720s, (fn. 106) was also a timber dealer. (fn. 107) In 1841 there were a shoemaker, a sawyer, a blacksmith, and a wheelwright. (fn. 108)
LOCAL GOVERNMENT.
By 1422 Bouldon was subject to the court of Holdgate barony. (fn. 109) In 1863 Holdgate manor court still appointed the Bouldon constable. (fn. 110)
As part of Diddlebury C.P. from 1884 Bouldon remained in the same poor-law union and highway, rural sanitary, and rural districts as Holdgate C.P. (fn. 111) and after 1967 in the same rural district and district as Tugford C.P. (1967–87) and Abdon C.P. thereafter. (fn. 112)
Chapel Of Ease.
Bouldon was said in 1737 formerly to have had a chapel, (fn. 113) which was believed c. 1840 to have been at Bouldon Farm where burials had been found c. 1800 under the house and in the garden. (fn. 114) The inhabitants attended neighbouring churches (fn. 115) until an iron chapel of ALL SAINTS, by Croggon & Co., opened in 1873. (fn. 116) It was built at the rector of Holdgate's expense (fn. 117) on land provided by E. C. Wright. (fn. 118) In 1900 there was one service weekly. (fn. 119) The chapel was served from Holdgate until 1926 when Bouldon was transferred to the new ecclesiastical parish of Diddlebury with Bouldon, (fn. 120) and it remained in use in 1989.
NONCONFORMITY.
The Smiths and the Wrights, lords of Bouldon, were Roman Catholics, (fn. 121) as were the Blounts, tenants of the furnace. (fn. 122) There were three Roman Catholic households in 1604, including those of Lewis Brecknock and Adam Crumpe, (fn. 123) and the Crumpe and Latchard families were papists in the late 17th century. (fn. 124) Later James and Isabella Blount were papists; they moved to Cleobury forge c. 1766, (fn. 125) and no papist was reported in 1767. (fn. 126)
The Hopton Bank Primitive Methodist circuit had preaching at Bouldon from 1828, (fn. 127) when John Jones's house was licensed; (fn. 128) the society had 21 members in 1831. (fn. 129) Bouldon was served by the Brookhampton mission of 1850– 1 (fn. 130) and the class had 20 members in 1863. (fn. 131) Primitive Methodists were still represented at Bouldon in 1909. (fn. 132)
EDUCATION.
No evidence.
CHARITIES FOR THE POOR.
Bouldon shared in Holdgate's charities. (fn. 133)