Pages 22-44
A History of the County of Shropshire: Volume 10, Munslow Hundred (Part), the Liberty and Borough of Wenlock. Originally published by Victoria County History, London, 1998.
This free content was digitised by double rekeying. All rights reserved.
CARDINGTON
About 1831 Cardington parish comprised the townships of Broome, Cardington, Chatwall and parts of Frodesley and Langley, Comley and part of Botvyle, Enchmarsh, part of Gretton, Lydley Hayes, Plaish, Holt Preen, and Willstone. (fn. 1) Part of Botvyle (a township in Lydley and Cardington manor) lay in Church Stretton parish by the 18th century, (fn. 2) and Gretton township lay partly in Cardington but mainly in Rushbury parish. (fn. 3) In 1883 the parish bounds, unchanged since the 1830s, contained 6,685 a. (2,705 ha.). (fn. 4)
The parish so defined was probably formed in the later 12th century when the manors of Lydley (including 'Botley', Botvyle, and Comley) and Cardington (including Chatwall, Enchmarsh, and Willstone) were united in the Templars' hands with a pension from Cardington church. The Templars combined the manors (fn. 5) and may also have acquired an overlordship of Plaish. (fn. 6) Lydley's early connexions were with Condover hundred (fn. 7) and so probably with Lichfield diocese, (fn. 8) as were Plaish's, which, in the later 10th century (when it included Broome and Chatwall), belonged to the territory of the Wreocensaete (fn. 9) and not to that of the people to the south for whom Hereford diocese had been created c. 690. (fn. 10) Thus the early Hereford–Lichfield diocesan boundary, probably marked at one point by the prominent escarpment at the south-western end of Hoar Edge, may have cut across what became the medieval parish of Cardington, approximating, from north of Caer Caradoc as far as the Gretton– Chatwall road east of Leyhill Farm, to its principal watershed until it joined the headwaters of Hughley brook, following that until it ran up to Wenlock Edge somewhere between Lushcott and Hughley. (fn. 11) Holt Preen did not form part of the parish until the late 16th century, (fn. 12) and the parts of the parish in Frodesley and Langley manors in the 19th century may have been incorporated later still. (fn. 13)
Small adjustments of Cardington parish bounds (especially on the north and west) were made between the 13th and the early 19th centuries. Pingleys Heys, north of Chatwall, seems to have been an area where the boundaries of Cardington, Acton Burnell, and Frodesley parishes were uncertain in the early 17th century. (fn. 14) Henry Leighton sold most of it to the lord of Langley (in Acton Burnell parish) in 1615 when the area already lay outside Cardington, (fn. 15) though part of it was regained for the parish between 1794 and 1841. Adjoining the southern part of Pingleys Heys to the north-west was another area which was lost to the parish, apparently because it was part of Frodesley manor; it too was regained between 1794 and 1841. (fn. 16) The inclosure of Caer Caradoc redefined the boundary with Church Stretton parish in 1822. (fn. 17)
The parish bounds of c. 1841 were not altered (fn. 18) until, in 1934, the part of the civil parish north-west of Hoar Edge was transferred to Longnor C.P. (fn. 19) In 1967 the north-western part of that area, including Penkridge Hall and Lydley Hayes, was transferred to Leebotwood C.P. Also in 1967 part of Gretton and land at Hill End was transferred from Rushbury to Cardington C.P. (fn. 20) The area treated here is that of the parish in the 1830s, though Gretton is treated with Rushbury parish, where most of it then lay.
For almost 1½ km. the north-western boundary of the parish followed Watling Street (West) through the Church Stretton valley. Parallel to, and ½ km. from, that road the ground rises sharply from less than 183 m. to Little Caradoc (the lower part of Caer Caradoc hill) and the Lawley (377 m.). (fn. 21) South-east of the Lawley are the high parallel ridges of Hoar Edge (312 m.) and Yell Bank (321 m.), (fn. 22) while south-east of Caradoc rise Willstone hill, the parish's highest point (403 m.), and Cardington hill. Eastwards thence the land falls to c. 122 m. at the Hughley boundary.
Caradoc and the Lawley are formed by PreCambrian tuffs, felstones, and greenstones, some of the oldest rock in the county, while around Hoar Edge and Comley are Cambrian grits and limestones, sources of building stone. (fn. 23) Robert Townson (1762–1827), geologist and traveller, lived at Lydley Hayes intermittently from 1788 with his brother-in-law John Witts, vicar of Cardington. (fn. 24) Comley quarry's geological interest led to its designation as a site of special scientific interest in 1953, and a small adjoining area became a nature reserve in 1976. (fn. 25) Over most of the eastern half of the parish the subsoil is boulder clay. The parish is drained by four systems: Comley, Lydley Hayes, and the northeastern part of Chatwall drain north-west, eventually into Cound brook and so into the Severn at Cound; the central part of Chatwall drains north to Bullhill brook which empties into Cound brook at Cound; Broome, the south-eastern part of Chatwall, part of Plaish, and Holt Preen drain by Plaish (or Hughley) brook into the Severn near Sheinton; Cardington, Enchmarsh, Willstone, and part of Plaish drain south into Lakehouse (or Eaton) brook and so down Ape Dale into the Onny near Wistanstow.
Apart from Watling Street (West) there are few distinctive features marking the parish boundary, although it does follow watercourses here and there. The easternmost part of the parish lies in an angle formed by Hughley brook (known in 1331 and 1640 as Plaish river or brook) (fn. 26) and a tributary. Elsewhere short stretches of the boundary follow Dudley brook (so called in 1757), (fn. 27) Cardington brook, and streams flowing off Cardington hill and from between Hope Bowdler and Willstone hills; the last mentioned stream was known as Stank Stone gutter or brook in 1757 and later. (fn. 28)
The Roman road from Wroxeter to Caerleon, bounding the parish and known since c. 1700 as Watling Street, was called Botte Street in the Middle Ages. (fn. 29) The track that included the causeway which gave its name to Causeway wood (in Frodesley) has also been supposed, though with little good reason, to be Roman; (fn. 30) in the Middle Ages it was called Mershall's way. (fn. 31)
Generally it seems likely that the medieval road system was that in use in the 1980s. Known ancient roads named are Church Lane, in Plaish (1553); (fn. 32) Church Way, in Chatwall (1751); (fn. 33) the Lane Head, being the road west from Willstone up to the Cwms (1611); (fn. 34) Lea Lane, running north from Gretton to Leahills (1648); (fn. 35) and the way from Holt Preen to Shrewsbury across Bowman hill (1541). (fn. 36) The 'cross' at Enchmarsh in 1697 was presumably the crossroads there. (fn. 37) In the 1790s the roads of the parish were bad; none had been turnpiked. (fn. 38) The only known alteration occurred in the 1860s when a new road was made between Comley and Cardington to replace the old road slightly to the south. (fn. 39)
Since 1663 when Dugdale visited Caer Caradoc, named after and linked with the British chief Caratacus, the area's prehistoric remains have interested antiquaries. (fn. 40) Much flint work of Mesolithic to Bronze Age date has been found on Cardington hill, and there are other probable occupation sites, including a circular doubleditched enclosure perhaps of the Iron Age. (fn. 41) A cross dyke on the Lawley hints at prehistoric exploitation of the uplands. (fn. 42) North-east of the Lawley is a possible round barrow, while on the hill itself are two enclosures of probably later prehistoric date and military function. (fn. 43) No definite Roman occupation site is known in the parish, (fn. 44) but a hoard of Roman coins was found at the Holt c. 1802, probably near the 'Roman well', so called in 1898. (fn. 45) The 19th-century supposition that Battlestones (so called by 1623) (fn. 46) on Willstone hill was the site of an engagement between Romans and Britons in A.D. 51 (fn. 47) can be dismissed.
Cardington and Willstone, each with the tun element, were presumably so named in the late Saxon period. Plaish too was a distinct estate by then. (fn. 48) The settlement at Lydley existed by 1066 as, probably, did those at 'Botley' and Botvyle, Chatwall, Comley, and Enchmarsh, (fn. 49) some of whose names point to their having been settled in woodland clearances. In Domesday Book those places were subsumed under others, principally Cardington which had a recorded population of 16. Plaish and Lydley had recorded populations of two each. (fn. 50)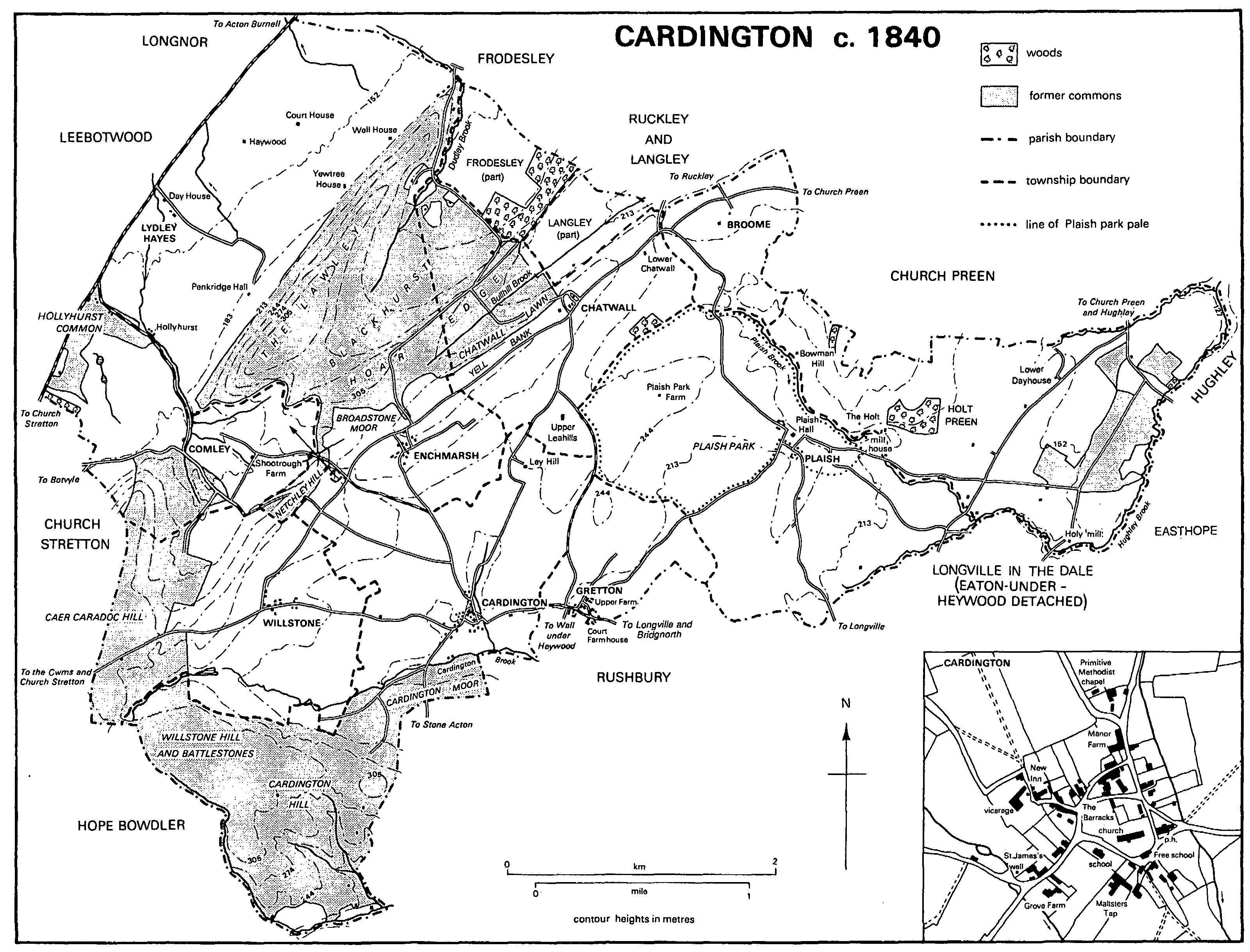 In 1185 the Templars, who had an estate in the parish administered from a preceptory at Lydley, (fn. 51) had 36 tenants at Cardington, 10 at Enchmarsh, 8 at Chatwall, 5 at 'Botelegee', and 2 at Lydley. (fn. 52) How many brethren then lived at the preceptory is unkonwn; a century later three, with perhaps a couple of retired ones, seems to have been usual. It was presumably also at Lydley that the preceptory's farm servants lived; in 1308 there were 16 of them. (fn. 53)
In 1327 there were eight taxpayers in Cardington and whatever other places were taxed with it, five at Lydley, four each at Chatwall and Plaish, and three at Enchmarsh (fn. 54) which in 1256 had had a tavern. (fn. 55) Perhaps already the local population was falling. (fn. 56)
The earliest surviving secular buildings in the parish are the Barracks in Cardington village and Shootrough Farm, both of which have late medieval ranges. The Barracks, apparently a substantial residence, had a timber framed open hall with a crown-post roof and cusped laterals. Shootrough hall (1422) was cruck framed. (fn. 57) Two other cruck-built halls partly survive: Comley Cottage (fn. 58) and the Dayhouse at Lydley Hayes. (fn. 59) Both are probably late 15th- or early 16th-century but nothing is known of the holdings attached to them when built.
The medieval landscape was typical of upland wood-pasture. At least seven settlements in the parish had some sort of open-field system, and all had easy access to extensive common woods and pastures, especially those covering the western and northern hills. (fn. 60) In 1559–60 there were dwellings on the Lawley, (fn. 61) presumably those of the squatters or cottagers who often appeared in court in the following century charged with woodland clearances on the commons. (fn. 62) There were squatters elsewhere too: in 1640, for instance, there were five or six cottages in Holt Preen wood, (fn. 63) and by the early 19th century there was squatting on Cardington hill. (fn. 64)
In 1622 nine tenements at Lydley Hayes were listed and one at Nether Lydley. (fn. 65) Hearth tax was paid in 1672 on 18 houses in Cardington, 12 in Comley and Botvyle, 12 in Chatwall and Enchmarsh, 11 in Lydley Hayes, 9 in Holt Preen, and 6 in Willstone. Broome was taxed with Ruckley and Langley and some of the 18 houses taxed there were also presumably in the parish. (fn. 66) In 1676 there were 243 adults in the parish. (fn. 67)
Plaish Hall was built in brick c. 1580 for William Leighton, (fn. 68) but the great majority of buildings in the parish in the late 16th and early 17th century were timber framed. In Cardington village surviving examples include Chapel House, the Maltster's Tap, the Royal Oak, cross wings at the Barracks and at Manor Farm, and a barn adjoining Rose Cottage; (fn. 69) elsewhere they include Penkridge Hall, (fn. 70) Broome Hall Farm, a cross wing and barn at Shootrough Farm, (fn. 71) three bays of the Dayhouse at Lydley Hayes, (fn. 72) the east range of Chatwall Hall, (fn. 73) the core of Chatwall Home Farm, (fn. 74) and a barn at Dayhouse Farm in Holt Preen. (fn. 75) The demolished Court House at Lydley Hayes was another example and is well documented. (fn. 76) The larger farms, mostly late 16th- to 18th-century, exhibit a wide variety of plans and added wings. In the early 17th century, as can be seen in the Barracks, (fn. 77) stone chimneys began to be added to existing houses and open halls had upper floors inserted.
Soon afterwards local stone (available on Hoar Edge) began to be used more widely in the parish, at least in chief houses. One of the first such buildings, probably built by the Leightons of Plaish, was Holt Farm, also original for the adoption of the E plan and the reception hall. Other 17th-century stone buildings include the hall and west range of Chatwall Hall (probably 1659); Chatwall Home Farm and Bowman Hill Farm (both mid to late 17th-century); (fn. 78) Enchmarsh Lower Farm (1677); Grove Farm, Cardington (1683); Broome Farm and its buildings (c. 1700); (fn. 79) Chatwall Home Farm (c. 1700); and the hall range of Manor Farm, Cardington (c. 1700). Notable later examples include Willstone Lower Farm (1738); (fn. 80) Cardington vicarage (c. 1819); and the schoolmaster's house in Cardington (mid 18th-century). (fn. 81) By the later 18th century the parish had many substantial farmhouses; the residents of some aspired to gentility, and between 1681 and 1775 (fn. 82) there were at least 12 families (fn. 83) of parish gentlemen. 'Very many of the county gentlemen of small fortunes', it was noted in 1793, 'lived in sufficient houses of their own within this parish till of late years, the sons of whom are removed to towns for the benefit of trade or have run through their property.' (fn. 84) Between 1750 and 1841 (fn. 85) Chatwall shrank from four substantial houses to the two surviving in the late 1980s. (fn. 86)
In 1801 the parish's population was 623. It peaked at 768 in 1861 and then fell steadily to 352 in 1981. (fn. 87)
By the later 18th century even cottages and minor agricultural buildings were built in stone. Brick was rarely used until the later 20th century. Of the few new houses built then, most were single dwellings, and Manor Paddock, a group of five detached houses built on the northern edge of Cardington village c. 1986–7, was exceptional. Cardington, containing perhaps a third (c. 250) of the parish's inhabitants in 1841, remained the only populous village in what was otherwise a landscape of hamlets, farms, and squatter cottages. A picturesque stone-built village, loosely grouped around the church, Cardington was designated a conservation area in 1977, (fn. 88) and in the late 1980s many of its residents commuted elsewhere to work or were retired.
In the mid 18th century the Caractusian Society was founded to celebrate the legendary virtues of the British chief Caratacus. The society, meeting annually by 1755 (perhaps mainly in August), (fn. 89) may have been founded by William Russell of Lydley Hayes, later curate of Overton (Flints.). His kinsman John Russell (d. 1814) of Enchmarsh, (fn. 90) high constable of Munslow hundred, had earlier entertained ten petty constables to a meal on top of Caer Caradoc. At first the society enjoyed a cold collation on the hill, sometimes accompanied by orations lauding Caratacus and composed by members such as F. W. Read, rector of Munslow. By c. 1756 the party still ascended the hill but ate afterwards at the Bowling Green in Longnor. From 1757 a poem composed specially by Dr. Sneyd Davies was read annually at the dinner, to which 77 sat down in 1770. In the 1760s and 1770s Caractusians seem to have been drawn from good county society. They probably last met in 1777.
About 1740 Cardington wake was held on the Sunday after St. James's day (25 July). (fn. 91) In the 1760s and 1770s Chatwall wake was held on the morrow of Cardington wake. (fn. 92)
In the early 17th century there were alesellers at Cardington, Lydley Hayes, Plaish, and Willstone. (fn. 93) From the mid 18th century only Cardington had alesellers or beer houses. The New Inn, next to Cardington vicarage, was open between c. 1800 and the 1930s, (fn. 94) while the Royal Oak, also licensed c. 1800, still flourished in the 1980s. (fn. 95) A branch of the Shropshire Provident Society was formed in 1867 and by the 1890s there were also friendly and other societies for girls and women. (fn. 96)
A parish institute was founded in 1914 by Capt. S. H. Christy of Plaish. Killed in action later that year, he left £500 (to which his mother added £200) to Cardington District Nursing Association, which was connected with the institute. Thomas Cooke further endowed the association in 1932. By the 1970s Christy's and Cooke's endowments comprised a reading room, caretaker's cottage, and nurse's house and funds for their maintenance and for the relief of sick people (fn. 97) in Cardington and neighbouring parishes. (fn. 98)
The county library opened a 'book centre' in Cardington in 1926. (fn. 99)
MANORS AND OTHER ESTATES.
Two men called Austin held Cardington as two manors in 1066. (fn. 100)
In 1086 Roger of Montgomery, earl of Shrewsbury, held Cardington in chief, a lordship which Earl Robert's forfeiture ended in 1102. The sheriff Reynold of Bailleul held Cardington of the earl in 1086, and it presumably passed, probably by 1114, with most of the rest of Reynold's estates to Alan son of Flaald, ancestor of the FitzAlans. (fn. 101) Cardington manor probably comprised Cardington, Chatwall, Enchmarsh, and Willstone townships in 1086. In the later 1150s William FitzAlan granted Cardington and Enchmarsh townships, half of Chatwall, and pensions of 3 marks from Cardington church and 5s. from Cardington mill, to the Knights Templar. (fn. 102) The property, apparently held of the FitzAlans, (fn. 103) thus became part of the endowment of the preceptory then being established at Lydley, (fn. 104) and Cardington then descended with Lydley.
In 1066 Lydley, later Lydley Hayes, belonged to Auti who, in 1086, held it of Earl Roger, the tenant in chief. In 1086, besides Lydley, the manor probably included 'Botley', Botvyle, and Comley. Auti's estates, including Lydley, were probably forfeited soon after 1086, and if so may then have been held in chief and in demesne by the earl. The earl's tenancy in chief was forfeited in 1102. (fn. 105)
It seems likely that Henry I later granted Lydley to the lord of Pulverbatch for in the later 1150s Reynold of Pulverbatch's daughter Emme and her husband Herbert of Castle Holdgate ('de castello') granted 1 carucate at Lydley and 2 virgates in 'Botley' or Botvyle, part of Emme's inheritance, to the Templars; (fn. 106) it seems possible that 'Botley' and Botvyle are names representing the tenanted and demesne portions respectively (fn. 107) of the 2 virgates (½ hide) given by Herbert and Emme. (fn. 108) Their gift formed the basis of Lydley preceptory's endowment. (fn. 109)
By 1314, after the Templars' suppression, Lydley and Cardington were in the hands of Edmund FitzAlan, earl of Arundel, who, as heir of one of the preceptory's earliest benefactors, had a claim on them; the Hospitallers confirmed Arundel's title in 1324 (fn. 110) and Lydley and Cardington then descended with Stretton-en-le-Dale manor until 1560. (fn. 111)
In 1559–60 Lydley and Cardington was among the manors sold by Henry, earl of Arundel, to Rowland Hayward (kt. 1570). (fn. 112) After Hayward's death in 1593 (fn. 113) it was held by his widow Catherine who married Sir John Scott c. 1599 and was still alive in 1617. In 1623 her son Sir John Hayward sold Lydley and Cardington to Edward Corbett (d. 1653) of Longnor. (fn. 114) Lydley and Cardington then descended with Longnor, (fn. 115) and when Capt. R. W. Corbett died in 1987 the manor was part of his residuary estate. (fn. 116)
The preceptory demesne included a new dovecot in 1308–9 and was later known as Lydley Hayes farm. (fn. 117) A house c. 200 m. southeast of Watling Street, was perhaps early 17th-century; it was a 'handsome mansion' with a fishpond when demolished after 1817. (fn. 118)
Rowland Whitbrooke, a Bridgnorth wool merchant whose family came from Lydley Hayes, was Rowland Hayward's bailiff at Lydley Hayes in 1569. In 1586 Whitbrooke took a 21-year lease (renegotiated in 1592) of the demesnes at Lydley Hayes, and apparently c. 1590 he built Penkridge Hall at the foot of the Lawley, perhaps as a hunting box. It was presumably so called because Whitbrooke's wife Elizabeth (née Careswell) came from Penkridge (Staffs.). (fn. 119) In 1910 the Corbetts' Penkridge estate comprised 244 a. In 1971 the Hall was bought by Lt.-Col. N. C. Faithfull. (fn. 120)
Built on earlier masonry (now a basement) the timber framed Penkridge Hall, jettied and elaborately decorated, had a large and a small room on each of its two main floors, the lower ones probably being service rooms. A staircase connected the floors, but the first-floor reception room had its own grand entrance from outside. Later 17th-century alterations, including truncation of the main upper room, made Penkridge a more typical country residence. (fn. 121)
Fulk Watkies had land at Comley in 1497. (fn. 122) William Watkies was succeeded in his tenement there by his son John in 1687. John Watkies the younger (fl. 1737), of Comley, was perhaps the latter's son. It was presumably his son, also John Watkies, who was dead by 1772 when his son William, gentleman, (fn. 123) held the Shootrough estate at Comley. In 1779 William passed it to his son William who added land bought from Robert Hawkins in 1812. Watkies (d. 1826) was succeeded by Thomas Galliers who, in 1852, sold Shootrough to Panton Corbett, lord of Lydley and Cardington. (fn. 124) It remained part of the Corbett estate in 1910. (fn. 125)
Shootrough Farm has a two bayed hall of c. 1422 framed by three full crucks. About 1609 a central stack and first floor were inserted in the hall, and a cross wing was added, perhaps on the site of a solar. The cross-wing parlour contains original wall paintings, and the hall has early or mid 16th-century panelling. (fn. 126)
Willstone, probably part of the Domesday manor of Cardington, (fn. 127) was later subinfeudated, and Miles of Hope's son Adam of Minton held Willstone as ¼ or ½ knight's fee of John FitzAlan (II) in 1242–3 and c. 1260. (fn. 128) Adam's brother Peter of Minton apparently succeeded him at Willstone. (fn. 129) John Willstone and Richard Cotes held ¼ knight's fee there of the earl of Arundel in 1431. (fn. 130)
In 1483 John Leighton of Church Stretton acquired property in the parish, (fn. 131) perhaps some of the land which his son Thomas had in Willstone by 1497 (fn. 132) and in Lydley Hayes by 1501. Thomas acquired more in Willstone in 1498, and in 1501 he gave Stephen Kemsey four Willstone tenements in part exchange for the manor of Alberbury, but a few days later Kemsey returned the Willstone property to Leighton in exchange for land in Lydley Hayes. Leighton (kt. 1513) (fn. 133) died in 1519, (fn. 134) and his son John (d. 1532), cousin of the lord of Plaish, (fn. 135) owned 'three houses' in Willstone, which passed to his son Edward, not the only landowner in Willstone in 1583 as there was at least one other, Thomas Pinches. Edward Leighton (kt. 1591) (fn. 136) sold the 'three houses' in 1586 to Thomas More of Millichope, who later sold at least two, one to Thomas Churchman of Shipton in 1598, another to Richard Palmer in 1602. (fn. 137)
Farms in Willstone seem to have been owned separately in the 17th century and for most of the 18th, but in the later 18th century the Bakers were aggregating properties through marriage and purchase. (fn. 138) Probably the largest property, later known as Willstone farm, was owned by the Ruckleys in 1603. Francis Ruckley and his son Edward sold parts of their lands in Willstone to William Pigge of Plaish in 1603 and 1605. In 1662 that property was settled on Pigge's granddaughter Elizabeth on her marriage to Thomas Russell (d. 1687) of Willstone and Hollyhurst. Their great-grandson, the Revd. William Russell, sold it to John Baker in 1766. (fn. 139) About then Baker also acquired Uppingtons tenement and its tithes from the Russells. (fn. 140) Thomas Baker, gentleman, was probably John's brother and heir. (fn. 141)
Sarah, a daughter of Richard Roberts (d. 1745), (fn. 142) brought Willstone property to Thomas Baker when they married in 1758. (fn. 143) Both Thomas and his son Richard added to their Willstone property, and by 1794 Richard Baker and John Sheppard owned much of Willstone, where their properties were intermixed. Richard Baker died in 1811, and in 1822 the devisees of his son Richard (d. 1821) exchanged much land with the Ven. Joseph Corbett, by then the owner of John Sheppard's property (fn. 144) and probably of other land which he had bought since succeeding to the family estates in 1804. (fn. 145) The exchange produced two large consolidated farms. Lower farm, south of the road from Church Stretton to Cardington, passed to Elizabeth, sister of Richard Baker (d. 1821) and wife of Thomas Boulton (d. 1861). Upper farm, north of the road, belonged to the Corbetts. In 1910 virtually the whole township belonged to W. B. Boulton (320 a.) and Edward Corbett (400 a.), but the Boulton property was sold in 1922. (fn. 146)
Lower Farm, five bays and 2½ storeys over a basement, was built in 1738 for John (d. 1765) and Elizabeth (née Ambler; d. 1779) Sheppard following their marriage. It is a stylish building (fn. 147) of dressed grey sandstone, with a central doorway approached by five steps and surmounted by a cartouche containing a (damaged) version of the Ambler arms. The plan is four-square, and the south-west quarter has back stairs to the attics, apparently for servants or labourers. The front windows have moulded stone sills and fluted keystones, the gable ends coping stones and kneelers. (fn. 148) Outbuildings include a barn with cruck-derived principal rafters, perhaps 17thcentury.
Enchmarsh was part of Lydley and Cardington manor, and most of the township was owned by the Templars and their successors in the Middle Ages and by the Corbetts of Longnor later. (fn. 149)
Sir Edward Leighton (d. 1593) of Wattlesborough and his son Thomas (d. 1600) had property at Enchmarsh. (fn. 150)
In the 17th and 18th centuries various Russells, parish gentry, held tenements in Enchmarsh, where they lived; (fn. 151) their holdings probably included Lower House Farm, which Richard Evason perhaps owned and occupied in the 1830s. (fn. 152) It was later owned by William Wall (d. 1881) and his son-in-law Thomas Woodcock (d. 1911) who also owned Enchmarsh Villa. Woodcock's son S. W. Woodcock probably sold Enchmarsh Villa in 1918 but kept Lower House farm until 1936. (fn. 153) In 1966 J. B. Dale sold Lower House to Col. K. M. Stuckey, the owner in 1986. (fn. 154)
Lower House Farm was probably extended c. 1677 to form a sandstone H plan house. The central ground-floor room has a large fireplace with flanking cupboards; a cupboard marked '16: W:R:E:77' probably refers to William (d. 1686) and Elizabeth (d. 1713) Russell. One of the cross wings was partly demolished c. 1810, when the eaves of the rest of the house were raised. (fn. 155)
Chatwall, perhaps part of the Plaish estate in 963, (fn. 156) was probably part of Cardington manor in 1086. The half of Chatwall given by William FitzAlan to Lydley preceptory in the later 1150s probably reverted in or after 1308 to Edmund FitzAlan, earl of Arundel, (fn. 157) and the FitzAlans' overlordship of Chatwall remained in 1363. (fn. 158)
In 1255 their tenant of the other moiety was Gilbert de Buckenhull. (fn. 159) That mesne lordship had disappeared by 1363. (fn. 160)
Gilbert's tenant in 1255 was William, son of Alan of Drayton. (fn. 161) William's mesne lordship of the moiety seems to have descended with his portion of Berrington manor until 1315 or later, (fn. 162) but had disappeared by 1363. (fn. 163)
The terre tenant of that moiety by 1281 was Robert Burnell, bishop of Bath and Wells. (fn. 164) Thereafter, until at least 1587, that half of Chatwall descended with Acton Burnell manor. (fn. 165) Its later descent has not been traced.
The Corfields lived at Chatwall by the later 16th century, and in the later 17th century they built up a considerable estate there. (fn. 166) Thomas Corfield (d. 1657), a Wenlock bailiff and borough magistrate, is said to have enlarged Chatwall Hall. (fn. 167) His son Richard (d. 1680), of Chatwall, bought the adjoining Leahills property in 1648 and was described in 1656, like his successors in the estate down to the late 18th century, (fn. 168) as a gentleman. (fn. 169) In 1659 he remodelled his house, perhaps known as Chatwall Hall thereafter, and in 1676 he bought the Chatwall rectorial tithes; he may also have made a park. (fn. 170) In 1696 his son and namesake bought three messuages in Chatwall, formerly Henry Leighton's property, from Deborah, Lady Hopton, relict of Isaac Jones (d. 1652) of Ham (Surr.). (fn. 171) Corfield died in 1710 and his Chatwall estate went to his son and heir Thomas, except for what he had bought from Lady Hopton, which went to two other sons Walthall (d. 1727) and William. William (d. 1759) inherited Walthall's share and lived many years at Gretton. (fn. 172)
Thomas Corfield (d. 1732) greatly reduced the family estates (fn. 173) and in 1710 sold part of his interest in Chatwall to his brother Richard. (fn. 174) Richard Corfield settled his copyhold property in 1745 on his daughter Ann and her husband Robert Rawlins, (fn. 175) and in 1753 he left them his freehold in trust for their son R. C. Rawlins, a minor, who had come into possession by 1773. Ann conveyed the copyhold property to him in 1783, (fn. 176) just before he died (fn. 177) leaving all his estate to his son Thomas. (fn. 178) The chief house and its lands, which Thomas Corfield had settled on his son Edward in 1728, seem to have come to Thomas Rawlins after 1783. (fn. 179)
Rawlins, a Liverpool merchant, was bankrupt by 1798 and next year emigrated to America after the Chatwall estate (386 a.) was sold to Cornelius Bourne (d. 1804), another Liverpool merchant. Bourne's son Peter, also of Liverpool, died c. 1843 and his widow Margaret died in 1865. (fn. 180) In 1872 their son, the Revd. G. Drinkwater Bourne, sold his Chatwall estate (247 a.) to Richard Butcher, (fn. 181) whose family had an estate by 1808. (fn. 182)
In 1895 Butcher sold his Chatwall estate (388 a.) to Joseph Edge and E. B. Potts who, in 1899, sold it to Col. F. C. Corfield (fn. 183) (d. 1904), descendant of the earlier owners of much of the the estate. His widow (d. 1941) left it to their grandson F. V. Corfield, who sold the 540-a. estate in 1951. (fn. 184)
Chatwall Hall is said to have been enlarged by Thomas Corfield in 1613. He may have been responsible for the timber framed east (probably parlour) range, which once extended further south. That house was supposedly fortified by Thomas's son Richard and attacked by Parliamentarians in the Civil War. (fn. 185) Richard probably built the present hall range and west range in 1659, of two storeys and an attic in dressed Hoar Edge grit sandstone. The hall was entered by a central doorway and had a corner fireplace. The house was taxed on four hearths in 1672. (fn. 186) Later additions include two late 19th-century gabled rear wings, and c. 1920 the original door to the hall was blocked and a new porch made. (fn. 187)
The nuns of Brewood (White Ladies) had a small property in Chatwall in 1535. (fn. 188)
In 1583 William Leighton held 4 a. of waste newly inclosed from the manorial demesne and Edward Leighton held three customary messuages in Chatwall (fn. 189) which later passed to William (d. 1607) and William's son Henry. (fn. 190) Pingleys Heys, c. 220 a. of wood and waste north of Chatwall, also passed from William to Henry. In 1615, when the property evidently formed part of Langley manor, (fn. 191) Henry sold Pingleys Heys to Humphrey Lee of Langley, (fn. 192) and it formed part of the Acton Burnell estate in 1910. (fn. 193) Henry's three customary messuages were bought by Richard Corfield in 1696. (fn. 194)
In the early 17th century the Briggses of Haughton (in Shifnal) had an estate at Lower Chatwall. (fn. 195) By 1751 Lower Chatwall (60 a.) belonged to the Corfields. (fn. 196) In 1751 the main house stood 200 m. north-east of the property that later bore that name, then only a cottage. (fn. 197)
Leahills, later Upper Leahills, farm was sold in 1648 by the regicide Robert Wallop to Richard Corfield (d. 1680) of Chatwall, who had acquired the tenancy of the property from his father Thomas (d. 1657). (fn. 198) Leahills then descended, with the rectorial tithes of Chatwall and part of Frodesley, in the Corfield family until 1748 when John Corfield's mortgagee Thomas Lee, of Wroxeter, obtained both. On Lee's death the properties passed in moieties to his daughters. One had married the Shrewsbury draper Edward Blakeway and on his bankruptcy in 1760 her half was bought by her sister who, in 1763, married Blakeway's associate John Wilkinson, the ironmaster. In 1807 Wilkinson sold the property, mortgaged since 1765, to Elizabeth Clayton of Wroxeter. (fn. 199) The Revd. Roger Clayton sold the tithes, with some land, to John and Richard Stanier in 1832, and in 1841 John and Edward Stanier conveyed them to John Butcher, already the owner of an estate in Chatwall. In 1840 Clayton's trustees sold Upper Leahills to Samuel Jones and in 1897 it was acquired by Col. F. C. Corfield and soon united with the Chatwall estate and tithes which he bought in 1899 from the Butchers' successors. (fn. 200) Upper Leahills Farm, a 1½ storeyed stone house, has on it the dates 1647, with the initials of Richard and Sarah Corfield, (fn. 201) and 1897 with those of Frederick and Augusta Corfield.
In 963 King Edgar gave his thegn Wulfric an estate at Plaish whose bounds suggest that it was mainly conterminous with the 19th-century manor, though in the north it extended into the valley beneath Hoar Edge and so included Chatwall and Broome. (fn. 202) Godwine held it in 1066. (fn. 203)
Earl Roger held the manor in chief in 1086. The tenancy in chief was presumably forfeited in 1102 by Robert of Bellême. (fn. 204) Roger de Lacy had held Plaish of Earl Roger in 1086, and c. 1175 the Lacys' interest (presumably then a tenancy in chief) passed to the FitzAlans. Richard FitzAlan was tenant in chief c. 1284. (fn. 205)
In 1086 Berner held Plaish of Roger de Lacy. In the 12th century the Higford family, possibly Berner's descendants, held Plaish of the Lacys, and c. 1284 William of Higford held it of Richard FitzAlan as ¼ knight's fee. (fn. 206)
Peter of Greete, of Greete (in Burford), held Plaish of the Higfords in 1255 as did Geoffrey of Greete, probably his son, c. 1284. The Greetes in turn subinfeudated the manor, and c. 1284 Roger de Lee appeared as their tenant there. (fn. 207)
The Hospitallers, having perhaps succeeded in the early 14th century to some interest of the Templars, were said to be the terre tenant's overlords in 1533. (fn. 208)
From the 13th century the actual terre tenants, with four levels of feudal lordship between them and the Crown c. 1284, appear to have been the Sprenchose family: (fn. 209) Richard in 1255 and 1272; Walter c. 1284 and in 1297; Richard in 1316–17; William in 1361; and Fulk and his wife Margaret from 1376. (fn. 210) In 1410–11 Edward Sprenchose was sheriff, as was Sir Fulk Sprenchose of Plaish in 1447. (fn. 211)
Sir Fulk's daughter and coheir Margery took Plaish to her husband Sir William Leighton (d. 1520). (fn. 212) Their son William (d. 1533) held the manor (fn. 213) and his widow Dorothy apparently held it during the minority of their son William. (fn. 214) From the 1560s that William (d. 1607) was active in county and regional government. (fn. 215) His son and successor William (fl. 1614), author of a verse eulogy of the king, Vertue Triumphant (1603), was imprisoned for debt c. 1610. His son and heir Harcourt Leighton held a commission for Parliament at Naseby (1645) and was an active county magistrate. (fn. 216) He died childless in 1658 leaving the manor, heavily mortgaged, to his brother-in-law Henry Goodricke of Ely (Cambs.). In 1670 Goodricke sold Plaish, still encumbered, to Rowland Hunt of Boreatton. (fn. 217)
Hunt, sheriff in 1672, died in 1699 and the manor then descended from father to son for six generations: Thomas (sheriff 1718, d. 1753), (fn. 218) Thomas (d. 1777), (fn. 219) Rowland (d. 1811), Rowland (sheriff 1830, d. 1835), and Rowland (d. 1878). (fn. 220) In 1884 Rowland's widow and son, Rowland, sold the Plaish estate to Edward Sayer (d. 1897), of Finchley (Mdx.), whose trustees still owned it in 1899. (fn. 221)
By 1903 James Dun-Waters owned Plaish. He sold it in 1911 to Capt. S. H. Christy (d. 1914) who left it in trust for W. E. B. Porter (d. unmarried 1934). (fn. 222) The Holt was sold in 1921, (fn. 223) and in 1934 the Plaish Hall estate (almost 950 a.), including the manor of Plaish, was put up for sale. Plaish Park farm (330 a.) was bought by the Joneses, who farmed it; (fn. 224) some of the rest, including the manor and the Hall, went to G. S. M. Warlow. Maj. M. S. Vaughan owned the Hall and Lower Home farm in the 1940s and bought the Holt and other nearby farms, keeping them after he sold the Hall to Capt. Walter Horridge (fn. 225) in 1953. Vaughan (d. 1967) sold the remaining estate (520 a., mainly four farms) in 1962. Probably c. 1966 the Hall was bought by D. F. Vosper, Lord Runcorn, on whose death in 1968 only 43 a. went with it. (fn. 226)
Parts of an earlier stone house were incorporated in Plaish Hall when it was rebuilt imposingly in brick. (fn. 227) Rebuilding may have happened c. 1580, when the earliest evidence for its surrounding park is found. (fn. 228) As rebuilt Plaish is an H shaped building of 2½ storeys, facing south-east (for descriptive purposes taken as east) to a courtyard. It was taxed on 22 hearths in 1672. (fn. 229) The great open hall, entered from outside by a south-east door, had an elaborate screen surmounted by a gallery at its south end and a fireplace in the west wall. Its roof, while apparently supported by hammer beams decorated with Anglo-Flemish ornament, in fact had an arch-braced tie beam carrying queen struts. At either end of the hall's west wall newel stairs rose in external octagonal stair turrets to the upper floors of the north and south ranges. The northern, residential, range had two main ground-floor rooms above a cellar: to the east a room (called the great parlour in 1670) (fn. 230) with a decorated plaster ceiling, and to the west the star parlour where the elaborately painted decoration of the wainscot included gold stars. On the great parlour's north wall a newel stair rose to the upper chamber. The ground floor of the south range comprised kitchen, larder, and butteries. Both ranges had garderobe towers. Externally the main stylistic elements were the symmetry of the east front, its diaper-patterned brickwork, and the tall brick chimneys resembling those of Compton Wynyates (Warws.) and Hampton Court.
Between the 1670s and 1884, when Edward Sayer bought it, Plaish Hall was usually let, in the later 18th and 19th centuries as a farmhouse. (fn. 231) In 1780 it was thought unsuited to that purpose and demolition was suggested. (fn. 232) Under Sayer's son C. E. Sayer, an architect, (fn. 233) the dilapidated building was extensively restored. (fn. 234) The octagonal stair turrets were rebuilt from first-floor level, to which they had been reduced at some time. On the west side a new single storeyed range containing scullery, larder, and gun room linked the two ranges. Inside a new screen was made for the hall, the original one having been moved since 1868 into the star, or oak, parlour for use as wainscot around the fireplace. (fn. 235) At the same time panelling was moved from the north-west bedroom to the hall. Perhaps then, perhaps later, the ceiling of the south-east ground-floor room was painted in an early 16th-century style incorporating the monogram 'HR'. About 1905 a new entrance was made on the centre of the south side and the ground floor of that range was re-ordered. The western extension was perhaps also altered then; (fn. 236) as it certainly was during ruthless alterations made in the later 1930s, which involved the insertion of a floor across the central hall and demolition of the octagonal stair turrets. At the same time many of the hall's original roof timbers, including the so-called hammer posts, were removed and used in a new staircase. (fn. 237)
Broome, perhaps part of the Plaish estate in 963, (fn. 238) later became a separate manor, held in 1066 by Thorsten (Turstin) and Austin and in 1086 by Earl Roger. In 1086 the earl held ¾ of the manor in demesne, Reynold the sheriff the rest.
The later medieval owners of Broome are unknown, (fn. 239) but c. 1630 Francis Wilkes held land there of Harcourt Leighton 'as of his manor of Plaish' (fn. 240) and the Leightons' interest in Broome passed with Plaish to the Hunts. Rowland Hunt was said to be lord of Broome c. 1840, (fn. 241) but in 1844 he owned no land in the township, which then consisted of two farms, Broome farm (131 a.) occupied by its owner Richard Woodcock, and Broome Hall farm (57 a.) owned by Joseph Gitton. By 1910 Woodcock's property belonged to Mrs. Corfield's Chatwall estate. Broome Hall farm then belonged mostly to James Preen (d. 1911), farmer and builder, though some of it had been absorbed into Bowman Hill farm on the Sparrows' Holt Preen estate (fn. 242) and James Preen's part seems later to have been acquired by the Chatwall estate. (fn. 243) Broome farm, bought by Maj. M. S. Vaughan probably in 1951 and sold by him in 1962, was acquired by R. H. Barbour, and the Fildes family bought it, with the Holt, in 1987. (fn. 244)
The Lees of Langley owned land in Broome in the 16th and 17th centuries. (fn. 245)
In 1086 1 hide at Preen, assumed to be what became the manor of Holt Preen, was held, like the rest of Preen, by Helgot, who held it of Earl Roger, the tenant in chief. The hide was held of Helgot by Godebold, (fn. 246) Earl Roger's clerk and probably a chaplain in St. Michael's chapel in the earl's castle in Shrewsbury. (fn. 247) Earl Roger's overlordship was presumably forfeited by his son Earl Robert in 1102, (fn. 248) but Holt Preen probably continued, like Church Preen, to form part of the barony of Castle Holdgate, though perhaps not for as long. (fn. 249)
By 1194 Holt Preen belonged to Robert de Girros. Robert divided 'Preen Girros' by subinfeudating part of it, and c. 1220 he sold that part to Haughmond abbey with the obligation, perhaps imposed by Godebold, to pay 5s. a year to St. Michael's chapel in Shrewsbury castle. (fn. 250) The canons of Haughmond acknowledged their liability to pay the 5s. a year in 1462 (fn. 251) and retained their interest in Holt Preen, probably never amounting to much more than a rent of 17s. a year in lieu of all services, (fn. 252) until the abbey's surrender in 1539. (fn. 253)
The 17s. rent acquired by Haughmond c. 1220 was that which had been due from Adam de Girros for the part of Holt Preen in which Robert de Girros had enfeoffed him. Adam's successor by 1255 was Henry de Girros (fl. 1247) who held two thirds of 'Little Preen'. About 1260 Henry sold his Holt Preen property to Roger Sprenchose, (fn. 254) and in 1377 it belonged to Fulk Sprenchose, lord of Plaish. (fn. 255) Nothing more is known of the Sprenchose estate in Holt Preen.
Evidently before c. 1220 Adam de Girros had alienated part of his portion of Holt Preen, charged with the 17s. a year due since Adam's own enfeoffment. In 1234 Peter the mason and his wife Maud sold 1 carucate (which seems to have included at least 20 a. of wood in 1255) in Holt Preen to the Templars of Lydley, (fn. 256) who then became responsible for the 17s. a year due to Haughmond. After the Templars' suppression their Holt Preen property passed to the Hospitallers of Dinmore who retained it until the dissolution of their order in England and Wales in 1540. (fn. 257)
In 1552 the Crown sold the former Hospitaller manor to Lord Clinton and Say and Henry Herdson. (fn. 258) By 1557 it belonged to Thomas Lodge, a London alderman, and his wife Anne, who then sold it to William Leighton (fn. 259) of Plaish. It descended with Plaish until 1655 or later. (fn. 260)
The Savery (or Sabery) family seems to have had an interest in Holt Preen by 1707 (fn. 261) but was hard up, (fn. 262) and Samuel Edwards, a London merchant, was interested in the property as early as 1718 and bought the manor in 1729 from Charles Savery and his son Charles. (fn. 263) Edwards, of West Coppice (in Buildwas), died in 1738, (fn. 264) and the manor was presumably sold to pay his debts. (fn. 265)
By 1767 the manor belonged to Elizabeth Cressett (d. 1792) of Cound. (fn. 266) She was succeeded by her cousin Henry Cressett Pelham (d. 1803), (fn. 267) followed by his widow Jane (fn. 268) who had 424 a. in 1803. (fn. 269) By 1820 the estate, to which by 1843 was added Dayhouse, later Lower Dayhouse, farm (owned in 1803 by Thomas Corfield and in 1823 and 1830 by Thomas Jones, a Shrewsbury grocer), (fn. 270) belonged to their daughter Frances Thursby (d. 1852). (fn. 271) By 1879 it had passed to Arthur Sparrow (fn. 272) of Church Preen (d. 1898), whose son Cecil B. Sparrow (d. 1905) succeeded. His son Arthur (of age 1913, d.s.p. 1921) was said to be lord of Holt Preen manor in 1918, but the title has not been traced thereafter. Arthur Sparrow sold most of his Holt Preen and Church Preen estates in 1918, though the land around Church Preen Manor was retained, including 46 a. in Holt Preen, and in 1934 Arthur's uncle, A. B. H. Hanbury-Sparrow (d. 1936), was described as a principal landowner in the parish. (fn. 273)
It seems likely that the manor's chief house was The Holt. If so, it was separately owned by the mid 18th century for it belonged to Thomas Norris (d. 1753) (fn. 274) and remained in his family in the 1830s; (fn. 275) it was reckoned 131 a. in 1803. (fn. 276) Rowland Hunt added it to the Plaish estate before 1855. (fn. 277) The description of Hunt as lord of Holt Preen manor in 1851 (fn. 278) presumably derives from a belief that the Holt had been its chief house. In 1921 Jesse Jones bought the Holt from Capt. S. H. Christy's trustees, (fn. 279) and it later passed through the Vaughan (of Plaish), Barbour, and Fildes families. (fn. 280)
The Holt (later Holt Farm) is a small stone house of the mid 17th century built on an E plan; the full-height gabled porch is the central feature of the south front which, though only c. 15 m. long, is impressive by its symmetry. There are two storeys and an attic. It has perhaps the earliest example in the county of a fully developed reception hall; the hall, with a central stack at the north end, may also have served, as in the 19th century, as a kitchen. The projecting bays are less than 2 m. wide internally; behind the western one were two service rooms, behind the eastern one an unheated parlour. It was probably c. 1800 that the parlour was given a fireplace and stairs and that other rooms were altered and refurbished. (fn. 281)
Between c. 1220 and 1255 the rest of Preen Girros, about a third of the manor, passed to Preen priory (fn. 282) (in Church Preen). Its later descent has not been traced.
In 1542 the Crown leased a farm and a close called Bowmans Hill, said to have belonged to Haughmond abbey, to Richard Lee for 17s. a year. (fn. 283) In the 20th century Bowman Hill farm formed part of the Holt Preen estate and later of the Plaish estate. (fn. 284) The house, north-west of the Holt, is an L plan, baffle-entry sandstone building, perhaps mid to late 17th-century but extensively remodelled c. 1800. (fn. 285)
The appropriated Rectory, worth £13 6s. 8d. in 1291 and £20 in 1338, (fn. 286) belonged to the Templars of Lydley, later to the Hospitallers of Dinmore, and passed to the Crown (fn. 287) presumably in 1540. (fn. 288) Some, if not all, of the rectorial tithes were probably acquired by Giles Covert, the purchaser (in 1534) of Preen priory, or his son, also Giles (d. 1557), (fn. 289) for in 1560 the younger Giles's brother and sister-in-law Richard and Catherine Covert sold the tithes of Cardington, Broome, and Plaish, with their Church Preen estate, to Humphrey Dickens. (fn. 290)
The rectorial tithes were acquired by the Leightons of Plaish (purchasers of the advowson and Holt Preen manor in 1556–7) who owned them by 1591. (fn. 291) In 1670 the Leightons' successor Henry Goodricke sold what was described as the Cardington rectorial estate, i.e. the tithes of Cardington, Broome, and Plaish, to Rowland Hunt with Plaish manor. (fn. 292) Hunt kept the Plaish tithes, which descended with the Plaish estate until they were merged with it in 1841, (fn. 293) but he evidently soon sold the others. (fn. 294)
In the 1840s, when the parish's impropriate rectorial tithes were variously owned, some were merged in the freeholds and the rest were commuted to £231 9s. 9d. (fn. 295)
ECONOMIC HISTORY.
In 1086 there were 11½ ploughteams in the four manors that lay wholly or mainly in the medieval parish. In Cardington there were 5 servi and 1 team on the demesne, and 15 villani and a radman held 7 more teams. In Lydley two radmen had 2 teams. In Plaish there was 1 team on the demesne, and a villanus and a servus had ½ team. There was no team at Broome, (fn. 296) and most, if not all, of the arable in the Domesday manor of Preen lay in what was to become Church Preen. (fn. 297) There was enough land for 10 more teams: 8 at Cardington, already by 1086 the most extensive and valuable (40s.) of the four manors, and 2 at Broome. (fn. 298)
In 1086 Cardington had 2 leagues of wood, Lydley had wood for 30 swine, (fn. 299) and most of Preen's wood for 100 swine was probably in Holt Preen, eventually part of Cardington parish. (fn. 300) No wood was recorded at Broome or Plaish, (fn. 301) though it is uncertain whether the 'common lea' on the border of Plaish and Preen a century earlier (fn. 302) was open or wooded pasture. (fn. 303) Nevertheless most land north and east of the parish's principal watershed (just above the road from Church Stretton to Church Preen as far as Yell Bank) was probably then wooded, while most of the Domesday ploughteams worked south of that road. The parish's ample medieval woodland was probably extensively intercommoned, (fn. 304) and by the late 14th century there may have been inclosed coppices for growing underwood. (fn. 305) Along with many other surrounding townships Botvyle, Cardington, Chatwall, Enchmarsh, Willstone, Plaish, and Preen seem to have intercommoned Haywood (in Eaton-under-Heywood and Rushbury) as an addition to the valuable commoning which they enjoyed in their own manorial woods. (fn. 306)
After Auti's forfeiture of Lydley and Botwood manors c. 1090, Botwood forest extended across Botte (later Watling) Street into the area north of Comley and west of the Lawley. (fn. 307) Just north of that area the Templars established a preceptory, settling, as so often, in a country requiring clearance and offering opportunities for agricultural exploitation. (fn. 308) Before 1200 they had assarted 40 a. in Botwood (fn. 309) and they evidently strengthened their claim to at least a part of the wood in the following half century. (fn. 310) Haughmond abbey had also gained rights in Botwood since the 1160s, and in 1273 the abbey and the Templars agreed to intercommon there outside the pannage month. (fn. 311) Botwood was mentioned in court records as late as 1462, but whether then still as a wood or just as open common is unknown. (fn. 312) Further north the wood of Lydley was divided in 1222 between the Templars, who received just over two thirds, and the lord of Longnor. (fn. 313) The name Lydley Hayes suggests that East Hay and West Hay woods were there. (fn. 314) There was assarting in East Hay in the early 14th century, and later only the Hay or Haywood were mentioned. (fn. 315) In the 1790s Haywood Farm stood c. 800 m. north-east of Lydley Hayes Farm. (fn. 316)
The hillside woods of Caradoc ('Cordok'), Blackhurst, and the Lawley ('la lyth', 'Lalleigh', or 'Lalleth') belonged to Lydley and Cardington manor. References to Cardington's wood in the 14th and 15th centuries may have been to a wood on Cardington Hill. Willstone too had its own wood in the Middle Ages. (fn. 317)
The Templars attempted to claim 100 a. of wood in Chatwall, which in 1276 was adjudged to the lord of that part of Chatwall which was not the Templars'. (fn. 318) Some woodland in Chatwall, however, was in Langley manor. (fn. 319)
Plaish had its own wood or woods; in 1235 its Small wood had a few oaks, (fn. 320) and pigs were pannaged in the lord's wood in 1506–7. (fn. 321)
Holt Preen presumably comprised the largest part of Preen's wood for 100 swine in 1086. (fn. 322) In 1235 that wood, then called the wood of Preen Girros, was reported to be reasonably well stocked with oak and underwood, although it had formerly been much felled. The wood had few animals except those passing through. (fn. 323) Within the next 20 years the Templars felled 20 a., (fn. 324) and by 1338 the Hospitallers had 100 a. of arable there. (fn. 325)
At least seven settlements had one or more open fields, mostly south of the road from Church Stretton to Church Preen in a stretch of country 5½ km. by 1½ km. between Comley and Plaish. (fn. 326) Fields included 'le Woluefeld' in Comley; (fn. 327) the field of Enchmarsh, (fn. 328) possibly known as Butt field; (fn. 329) Clayhill, Crosshill, and the Thornes (near Netchley) in Cardington; and Washfurlong in Chatwall. (fn. 330) North of Plaish traces of ridge and furrow indicate former openfield land on the east-facing slopes of the Plaish brook valley, and there was probably more lying west of the hamlet and later taken into the park. (fn. 331) Most evidence, however, is from the late 16th and early 17th century, when much of the open arable land was inclosed. (fn. 332) Cardington village then had three fields, probably called Standill field, Wythibutt Stile, and Crow Hill field; (fn. 333) the last named (fn. 334) is possibly to be identified with the earlier Crosshill field and the contemporary 'field towards Willstone', while one of the others may be the contemporary 'field towards Gretton'. (fn. 335) Willstone probably had three open fields, the Lower field or field towards Cardington, Sheppards or Shipholders field, and the field towards Enchmarsh. There were also arable lands at the Heald and in 'le cross', possibly subdivisions of the other fields. (fn. 336) That other places then had single areas of open-field land is suggested by references to Enchmarsh field, (fn. 337) probably south-east of the hamlet; (fn. 338) to the common field of Broome; and to the common field of Chatwall, (fn. 339) south of Chatwall and Lower Chatwall. (fn. 340)
In 1185 the Templars' tenants held 17¾ virgates: between them the 33 half-virgaters and 5 quarter-virgaters also held 173½ a. of assarts. There were 10 virgates in Cardington, 3½ in Enchmarsh, 2¼ in Chatwall, and 2 in 'Botley'. The rental value of the virgate holdings varied widely from place to place. Each ½ virgate was worth 60d. in 'Botley', 48d. in Enchmarsh, 27½d. in Chatwall, and either 40d., 36d., or 24d. in Cardington. (fn. 341)
The Templars' demesne was at Lydley, and in the late 12th and earlier 13th century its upland economy may have been complemented by the knights' cereal-growing estates in Corve Dale. Nevertheless marl was dug there in the early 13th century (fn. 342) and by the early 14th century oats, and to a lesser extent wheat, were grown, together with some peas, vetches, and rye. (fn. 343) In 1302, the year following the area's disafforestation, the Templars were granted free warren on their Lydley demesnes. (fn. 344) The surrounding woods and commons enabled them to keep a large flock whose wool provided an important cash crop; it comprised 376 sheep and lambs in 1308.
In 1308 the Lydley demesne also had c. 50 pigs, and its draught animals were 26 oxen and 12 horses. (fn. 345) About 1324 the demesne lands were let with 240 sheep, 22 oxen, and 22 cows. (fn. 346) The balance of the estate was probably typical of the area, with sheep and pigs well represented in a mixed farming regime. (fn. 347) Sheep remained particularly important throughout the parish and beyond the Middle Ages (fn. 348) and the Washing brook mentioned in 1541 (fn. 349) was perhaps Plaish brook.
The parish may have suffered considerably in the agricultural setbacks of the early 14th century: the value of Cardington tithes was alleged to have fallen from £17 6s. 8d. in 1291 and £20 (the appropriated rectory) in 1338 to £5 in 1341, owing largely to the destruction of corn, to sheep murrain, and to the departure of 20 tenants. (fn. 350)
As the number of tenants fell in the later Middle Ages holdings were concentrated in fewer hands. By 1583, of the 22 customary messuages in Lydley and Cardington, the same number of virgate-based holdings as were listed under Cardington in 1185, one man held seven, one held three, and three others two. There were also four 'customary cottages'. Each customary tenant paid a small sum, usually about ten per cent of his rent, for the commutation of labour services. (fn. 351) Elsewhere in the parish the picture was similar. In 1635 the largest holding was 104 a., and there were others of 82 a. and 73 a.; three holdings were c. 50 a., nine were c. 20–c. 30 a., and there were ten of c. 12 a.; there were also a few cottagers. (fn. 352)
Besides entry fines, fare fees were recorded occasionally for customary holdings in Lydley and Cardington manor between the 15th and 18th centuries. (fn. 353) In the late 18th century copyholders' heriots were generally commuted to ½ or 2/3 their value. Estates were then mostly copyhold, descending according to the usual rules of inheritance, with no widow's freebench; entry fines amounted to a year's chief rent. (fn. 354) At the abolition of the tenure in 1926 (fn. 355) there were still 25 copyhold tenants, and the last compensation for extinguishment of manorial incidents was paid to the lord in 1937. (fn. 356)
Chattel leases (99 years) for lives were granted on the Plaish estate by the mid 16th century. (fn. 357) In Lydley and Cardington manor 21-year leases were perhaps usual in the 1570s and 1580s, (fn. 358) chattel leases (80 years) for three lives in the late 1580s, (fn. 359) and freehold leases for three lives in the early 17th century. (fn. 360) Chattel leases (99 years) for three lives were introduced c. 1618, (fn. 361) and that remained the usual tenure in the manor at the end of the 17th century. (fn. 362) In Plaish in the late 17th and early 18th century leases for one and seven years were granted. (fn. 363) In the 1730s several chattel leases (99 years) for three lives were granted, heavy entry fines (fn. 364) probably indicating the lord's need of capital. There were several tenancies at will from 1777. (fn. 365)
Most recorded inclosure of open fields in the parish occurred piecemeal in the 17th century, and there are glimpses of the social tensions involved in the operation of the old open-field system at that time. In 1612, for instance, three men were fined 6d. each for breaching Enchmarsh's ringfield hedge while 15 men were fined 12d. each for tearing up Cardington's ringfield hedge. (fn. 366) Chatwall's open-field land had been completely inclosed by 1751, probably by Richard Corfield (d. 1680) or his son Richard (d. 1710), both of whom had enlarged and improved their Chatwall estate. (fn. 367) Nevertheless individual strips did survive around Cardington, Enchmarsh, and Willstone until the late 18th or early 19th century. (fn. 368)
Common woods and wastes were progressively reduced between the late Middle Ages and the early 19th century, partly to create parks. In 1445 Lee park belonged to the lord of Plaish; it was close to the Plaish–Gretton manorial boundary, probably near the later Ley Hill Farm. (fn. 369) About 1577 an enlarged park was created for the newly rebuilt Plaish Hall (fn. 370) which stood in its south-east corner; the park had a central lodge and included deer among its stock. (fn. 371) In 1671 it was used as horse pasture: 52 owners kept 119 animals there, over 100 being yearlings or 2year-olds. (fn. 372) The park was split into farms in 1675–6, (fn. 373) when extensive felling took place and carpenters worked in the park squaring the timber and producing shingles and sawn 'panels and bottoms'. (fn. 374) In the later 1670s 'the park', presumably Park farm, was used to pasture sheep and cattle. (fn. 375) There may also have been a short-lived park at Chatwall in the later 17th and early 18th century, (fn. 376) and several 'park' field names adjoined Yewtree House in Lydley Hayes in the 18th century. (fn. 377)
It was probably in the 17th century that, as in neighbouring parishes like Longnor and Woolstaston, (fn. 378) much of the remaining woodland was cleared. Certainly it was believed in the early 19th century that it was in Charles I's reign that the trees on Caer Caradoc 'fell victim to the axe of the peasantry'. (fn. 379) In 1635, however, 300 a. of the Lydley and Cardington commons were well planted with oak, ash, and elm, and some tenants were setting saplings in plantations of 33 a., 23 a. (two plantations, of which at least one was of oak), and 4 a. (fn. 380) Much common pasture long survived the felling of the trees on it. Belonging to the manor of Lydley and Cardington in the early 17th century (fn. 381) were the commons, woods, and coppices of Caradoc and Lawley hills, Earls wood (probably near Comley and Botvyle), (fn. 382) Blackhurst (or Black Meres) (fn. 383), Hoar Edge (on which in 1757 lay Causeway wood), (fn. 384) Comley moor, Willstone green, Chatwall lawn, Cardington hills, Cardington wood, Cardington moor, the Netchleys, Broadstones moor, the Battlestones, Evenwood, the Pikes (on Cardington hill), (fn. 385) and Swynneyhurst. The lord and, under the bailiff's supervision, his tenants enjoyed all estovers and had unlimited common pasture 'for all manner of cattle' over at least 2,000 a. (fn. 386)
Although the Corbetts were considering inclosure and improvement as early as 1628, (fn. 387) extensive commons and wastes survived in Lydley and Cardington manor until 1822, when 1,879 a. (including c. 300 a. in Church Stretton parish) were inclosed and allotted. The main awards were 940 a. to the Ven. Joseph Corbett, which included 167 a. in respect of his rights as lord of the manor; 385 a. to the vicar, of which 33 a. were for his glebe and 352 a. in lieu of his tithes from the manor; 104 a. to Richard Barker's testamentary trustees; 68 a. to Samuel Wilding of All Stretton; and 62 a. to Peter Bourne. There were 28 other allotments all under 50 a., and many exchanges were made. (fn. 388)
Before 1615 wood and waste near Chatwall lay in Langley manor. It was called 'Harlithe' or 'Pynleshai', (fn. 389) later Pingleys Heys. In 1615 Humphrey Lee, lord of Langley, bought most of it (c. 220 a.) from Henry Leighton, who was allowed to cut and coal the timber and underwood there for 12 years. Intercommoning of the area by Chatwall and Langley ended, but some properties in Broome had common rights there until 1799 when they were bought up by Lee's successor Sir Edward Smythe. (fn. 390)
In the 1560s Holt Preen wood, said to comprise 500 a., probably extended over most of the parish east of the Holt. It abutted the common woods of Hughley and Kenley, and the three woods seem to have been intercommoned. About then, soon after his purchase of the manor and perhaps when inclosure was beginning in Hughley and Kenley, William Leighton inclosed, subdivided, and let out c. 100 a. from Holt Preen wood. About 1610 Hughley men, instigated by Francis Wolryche who had recently bought Hughley manor, broke Leighton's inclosures claiming that the wood had formerly been commoned by Hughley. (fn. 391) In 1639 Harcourt Leighton renewed the attack on Holt Preen wood when he inclosed, with the Holt Preen commoners' consent, 55 of the remaining 272 a. The wood then seems to have been typical wood–pasture, with widely spaced oak and ash standards among grassland and holly and gorse scrub. Leighton felled the timber in his inclosure, c. 100 oaks and ashes 90 years old. He apparently intended to make a coppice, wood for charcoal having already been sold from Holt Preen to Kenley forge in the 1620s. Hughley men soon broke the inclosure, but a subsequent lawsuit established Leighton's rights. (fn. 392) Samuel Edwards, lord of Holt Preen 1729–38, inclosed all or most of the remaining common. (fn. 393) Common east of the road to Kenley in 1762 (fn. 394) had been inclosed by 1843. (fn. 395)
Pastoral farming prevailed in the parish in the early 17th century, and some holdings seem to have been entirely pastoral. (fn. 396) In 1621 people from Comley were presented for washing sheep skins in Long pool, presumably the pool north of Battlestones. (fn. 397) As earlier, the extensive commons facilitated the keeping of sheep, goats, pigs, cattle, and horses, not only by providing open grazing land but also because browse, especially holly, could be cut in winter. (fn. 398) The local economy had a pastoral bias, cattle being particularly important. (fn. 399) Such a bias gave rise to small rural trades based on leather and wool: there were glovers among the Blackhurst cottagers (fn. 400) and in the 1660s at least one weaver and one dyer in Cardington; the dyer perhaps built a fulling mill at Harley. (fn. 401)
Of arable crops, hemp and flax were widely grown in the parish by the early 17th century: 17 people were presented for watering hemp and flax in Moor brook in 1610, and 14 in 1612. A watering pit near the brook was mentioned in 1630. (fn. 402) Flax and hemp were probably processed locally although the two spinning wheels owned by Edward Griffiths of Enchmarsh in 1693 might have been used to work wool. (fn. 403) Flax and hemp were probably still grown, although perhaps less widely, in the 18th and 19th centuries; (fn. 404) in 1814 the vicar claimed tithe of 1d. an acre on flax and 5s. an acre on hemp. (fn. 405)
On the Plaish estate great improvements were made in 1828 by Thomas Eaton, the new tenant of Hall and Plaish farms. Rowland Hunt's agent William Story contrasted the local farmers ('oafs') with Eaton. Sheaves farm was 'nearly in the state Adam would have found it', whereas Eaton had introduced barley and turnips, milked 20 cows, bred horses, and had so many cattle and sheep that he had to rent extra pasture. Moreover he had better equipment than Story had seen since leaving Holderness (Yorks. E.R.). (fn. 406)
By 1843 in most of the parish a four-course rotation was followed and turnips were grown where suitable, 200–300 a. of them in the later 19th century. (fn. 407) Sheep had long been the commonest livestock, (fn. 408) and c. 1840 both the Lawley and Caer Caradoc were described as high sheep pastures. (fn. 409) When sheep were sold at East Wall (in Rushbury) in 1853 the auctioneer made special mention of their having been bred on Cardington and Willstone hills. (fn. 410) In 1891 there were over 7,700 sheep in the parish. (fn. 411) Cows were the other main livestock, kept for milk and rearing. (fn. 412) In the early and mid 19th century c. 1,000 a. of the lower land were usually under the plough, (fn. 413) but the amount of arable fell markedly in the late 19th and early 20th century. In fact after 1700 the parish's economy remained predominantly pastoral. Cattle increased in importance in the 20th century, and barley had become the chief arable crop by the 1960s. (fn. 414)
Table II Cardington: Land use, livestock, and crops
1867
1891
1938
1965
Percentage of grassland
69
76
87
82
                     arable
31
24
13
18
Percentage of cattle
16
10
43
28
                     sheep
77
85
52
61
                     pigs
7
5
5
11
Percentage of wheat
41
30
27
30
                     barley
32
36
11
58
                     oats
27
34
60
8
                     mixed corn & rye
0
0
2
3
Percentage of agricultural
land growing roots and
vegetables
9
8
3
2
Sources: P.R.O., MAF 68/143, no. 15; /1340, no. 6; /3880, Salop. no. 222; /4945, no. 222.
There was a mill at Cardington by the 1150s, (fn. 415) and in the late 14th and early 15th century there were two. (fn. 416) The Upper mill stood south-east of Cardington village in 1757. (fn. 417) Later usually known simply as Cardington mill, it probably closed in the mid 19th century. (fn. 418)
The Templars' demesne mill at Lydley in the late 12th century (fn. 419) was mentioned c. 1346 (fn. 420) and perhaps in 1529. (fn. 421) It presumably stood on the stream at Lydley Hayes, (fn. 422) on which also stood Hollyhurst, or Comley, mill, mentioned in 1529. Milling at the Templars' mill probably ceased in the early 19th century. (fn. 423) A mill place and mill pool were noted at Nether Comley in 1583. (fn. 424) The Templars built a new mill at Botvyle c. 1190, (fn. 425) but its exact location is unknown.
There was a water mill at Plaish in the 16th century. (fn. 426) Mentioned in the 17th century (fn. 427) and repaired in the early 18th, (fn. 428) the mill, which stood 200 m. south-east of the Holt, had been demolished by 1843. (fn. 429)
Holy mill, recorded in 1516, stood on Hughley brook in Holt Preen. It was probably the mill said in 1803 to have an overshot wheel which occasionally drove two pairs of stones. Milling ended in the later 19th century. (fn. 430)
Stone from Hoar Edge, Causeway wood, and Chatwall may have been used at Viroconium, (fn. 431) and a quarry apparently marked the 10th-century bounds of Plaish. (fn. 432) Stone was quarried in Lydley in the 14th century (fn. 433) and on Blackhurst in the 17th, (fn. 434) and by the 19th century many quarries were worked in the parish. (fn. 435)
Bricks were made near Penkridge Hall before 1628 and perhaps later. (fn. 436)
There was a clay pit in Plaish in the 15th century. (fn. 437) Steatite (soapstone) and quartz from the parish were used by the pottery industries, locally and in Staffordshire, in the 18th and 19th centuries. (fn. 438)
There was some prospecting for minerals in the parish in the mid 18th century. Several people were 'trying for coal' on Cardington moor in 1757, (fn. 439) and in 1764 the ironmaster John Wilkinson took a 21-year lease from Sir Richard Corbett to prospect for copper, lead, and tin on Lydley and Cardington commons. (fn. 440) In the earlier 19th century copper was mined on Cardington hill. (fn. 441)
In the 1850s Cardington village had two shops and several tradesmen: two stonemasons, two carpenters, a blacksmith, a wheelwright, a tailor, a shoemaker, and a butcher. In addition Comley had a wheelwright and Enchmarsh a blacksmith. (fn. 442) During the First World War the number of tradesmen declined, and thereafter none resided outside Cardington village. (fn. 443)
LOCAL GOVERNMENT.
Rolls of the court known after the earlier 16th century as the court of Lydley and Cardington survive for various years from the 14th to the 18th century, (fn. 444) and there is an unbroken series of court books 1681– 1937, (fn. 445) besides other, less formal, court papers and records. (fn. 446)
Some medieval court records distinguish between great and little courts, showing that the great court was held twice yearly in March, April, or May and in September, October, or November. (fn. 447) The little court may have been held monthly, bi-monthly, or even less regularly. In 1338 the pleas and perquisites of court were worth £1; (fn. 448) then, as later, much of the business concerned regulation of the manor's extensive woods and commons, and the manor had a woodward as well as a bailiff. (fn. 449) In 1481, besides offences against the commons and open fields, there were cases of pound breach, malting, and bloodshed; two merchet fines of 2s. were paid. (fn. 450)
In the early 17th century most business at the twice yearly great court concerned the agricultural round or transfer of copyholds, although there were occasional presentments of cottage building, the sale of bad meat, and breaches of the assize of ale (1600); of assault, eavesdropping, and keeping inmates (1609); of barratry and keeping a hound (1610); and of drunkenness (1612). In terms of the numbers of presentments the court was most active in the mid 17th century, and in the 1650s there were complaints against an oppressive manorial bailiff, Richard Flavell, who on one occasion had a man's ears cropped for his having cropped the 'wash oak' at Comley. By the early 18th century the court did little but regulate cottage building and encroachments and transfer copyholds; the last surviving estreat roll dates from 1794. (fn. 451) In the 1930s the court dealt with the lord's compensation for the abolition of copyhold tenure.
Between the 1760s and the 1790s the court met at John Russell's house, west of the Lawley, gaining it the name Court House; (fn. 452) in 1815 the Ven. Joseph Corbett claimed to have fitted it up for the purpose. (fn. 453)
There was a pound at the west end of Cardington village and one at Comley. (fn. 454)
Rolls of Plaish manor court survive from 1376 to the earlier 17th century, with some concentrations in the mid 15th and early 16th centuries. Some estreats survive from 1620–37. Where distinguished, courts were usually described as courts baron, though in 1420–1, 1509, and 1517 so-called great courts were held. (fn. 455) Occasionally in the late 16th and early 17th century tenants of the Leightons in Broome and Chatwall were separately presented. (fn. 456)
In 1421–2 Broome presented at the great court of the baron of Castle Holdgate. (fn. 457)
Richard, earl of Cornwall and king of the Romans (d. 1272), withdrew the suit of Holt Preen from Condover hundred to his liberty of Castle Holdgate. (fn. 458) Records of Holt Preen manor court survive from the 1540s and 1550s, 1598, the 1620s and 1630s, and 1708. Courts were mainly concerned with offences in Preen wood. (fn. 459) In 1557 and c. 1740 it was claimed that Holt Preen had a court leet as well as court baron. (fn. 460)
There were four parish constables in 1848 and usually six in the 1850s and 1860s, though in 1856 nine were appointed. In the years before the general abolition of parish constables in 1895 Cardington usually had two, (fn. 461) though the parish had been allocated one of the county constabulary's first police officers in 1840. (fn. 462)
The parish had two overseers in the later 17th century (fn. 463) and later. In the 1740s and 1750s the parish subscribed to Cleobury Mortimer workhouse, where it seems usually to have had two or three paupers. (fn. 464) Poor-rate expenditure rose from £58 15s. in 1756 to £143 8s. 11d. in 1783 and £160 10s. 8d. in 1791. In the later 18th century poor children were apprenticed, and the parish farmed its poor to neighbouring parishes, though in the end that 'did not answer'. In the 1790s the parish built a poor-house, the £40 debt on which was repaid in 1799; (fn. 465) it probably stood south-west of the village. (fn. 466) There were five inmates in 1802–3, three of them aged over 60 and disabled. About 1818 some 28 adults received permanent out-relief and c. 30 occasional relief. (fn. 467) Expenditure on the poor in the post-war depression probably peaked in 1816 at £494 6s. In the 1820s expenditure was usually c. £350, and in the early 1830s c. £300 or less. (fn. 468) About 1830 those receiving out-relief were considered eligible also to receive gifts of coal at Christmas from a parish charity. The cottages owned by parish charities (fn. 469) may also have allowed the parish to house paupers at low rents. A salaried assistant overseer, perhaps the first such, was appointed in 1857. (fn. 470)
The vestry formed a burial board in 1876 and next year a garden adjoining the churchyard was bought as a new burial ground. (fn. 471)
The parish was in Church Stretton poor-law union 1836–1930, (fn. 472) Church Stretton highway district 1863–95, (fn. 473) Church Stretton rural sanitary district 1872–94, Church Stretton rural district 1894–1934, Atcham R.D. 1934–74, and Shrewsbury and Atcham borough from 1974. (fn. 474)
CHURCH.
Parts of the church may be 12thcentury. (fn. 475)
In 1185 Cardington was evidently a rectory in the patronage of the Templars, though the parson, Arnulf, rendered 3 marks a year to them for the church and 12d. pro fraternitate. (fn. 476) Bishop Vere (1186–98) appropriated the church (fn. 477) to the Templars of Lydley who evidently became patrons of the vicarage. When a vicarage was ordained is unknown, but there was one by 1291 (fn. 478) and Ralph de Turneye, instituted 1334, is the first vicar known by name. (fn. 479) The king presented to the living in 1308 following the Templars' suppression that year. (fn. 480) When, in 1324, the Hospitallers confirmed the earl of Arundel as owner of the former Templar estate in Lydley and Cardington, they reserved the church and all its rights, with the priest's house. (fn. 481) Thereafter, until their suppression in 1536, the Hospitallers presented to the living. (fn. 482)
In 1553 the Crown sold the advowson to George Cotton and Thomas Reve, London speculators, (fn. 483) and in 1556 Thomas Lodge, a London alderman, and his wife sold it to William Leighton of Plaish, (fn. 484) who presented to the living in 1566. (fn. 485) In 1624 and 1633, when Harcourt Leighton was outlawed for debt, the Crown presented. (fn. 486) By the 1630s the Leightons were exercising the patronage again. (fn. 487) In 1670 Rowland Hunt bought the advowson and Plaish, (fn. 488) which then descended together until 1934. (fn. 489) On at least one occasion before 1819 a turn was sold. (fn. 490) In 1934, when the Plaish estate was sold, the advowson was bought by R. G. Barker, a Shrewsbury timber merchant, but it was reunited with the estate and manor of Plaish (in the Warlows' hands) 1937–9. In 1939 it passed to Frederick V. Corfield (kt. 1972), soon to become owner of the Chatwall estate. (fn. 491) From 1969 the benefice was left vacant and the patronage suspended, the rector of Hope Bowdler with Eaton-under-Heywood and Rushbury being appointed priest in charge in 1971. From 1980 Cardington was held in plurality with those benefices, with residence at Hope Bowdler Rectory; their patrons, including Sir Frederick Corfield for Cardington, were to present jointly. (fn. 492)
In 1291 the vicarage was worth £4, (fn. 493) but when Philip Halghton resigned it in 1418 he was given a pension of £4 6s. 8d., 3 a. of glebe with meadow, and the hay tithe of 'Wysmedewe'. (fn. 494) In 1535 the vicarage was worth £6 2s. 4d. net. (fn. 495) There were 30 a. of glebe in 1589, and 52½ a. in 1607, comprising c. 14 pieces of land, mainly grassland, scattered around the parish. (fn. 496) Then or earlier there was a tithe barn. (fn. 497)
In 1793 the vicar collected a quarter of his tithes and let the rest. (fn. 498) In Lydley and Cardington manor c. 1814 he tithed a wide range of produce in kind: wool and lambs, the agistment of unprofitable cattle, pigs and geese, orchards, roots, clover and grass seeds, coppice wood, and honey; two eggs were due on a hen, three on a cock. Moduses were 1d. a cow, 6d. a calf, 1d. a colt, the statutory 5s. an acre on hemp and flax, and a hay modus from each farm. The vicar also claimed smoke penny, garden penny, and 4d. from each tradesman. (fn. 499) In the townships outside that manor, to judge from statements c. 1842, the vicar had similar tithe claims. (fn. 500) At least 35 a. of his 51-a. glebe were let in 1814, (fn. 501) and in 1817 the living was worth £200. (fn. 502) The vicar's tithes in Lydley and Cardington manor were extinguished in 1822 when its commons were inclosed: he was allotted 33½ a. in respect of his glebe and 352 a. on Cardington and Caradoc hills in lieu of all his tithes from Botvyle, Cardington, Chatwall, Comley, Enchmarsh, Lydley Hayes, and Willstone townships. (fn. 503) During the earlier 1840s his tithes in the other manors, including Frodesley and Langley, were commuted to a total of £47 a year; in Frodesley and Langley the rent charges in lieu of the vicar's tithe (principally of hay) were apportioned to the land then meadow, pasture, or wood while the impropriate (principally grain) tithes were apportioned to the arable land. (fn. 504) In the mid 19th century the living was worth c. £290 but by 1900 only £210. (fn. 505) The greater part of the glebe, 376 a. in the late 19th century, comprised Middle Hill, North Hill, and the Gutter farms on Cardington Hill. Most of it was sold in 1920, only 29 a. remaining in 1929. (fn. 506)
In 1716 the vicarage house, probably near the church, (fn. 507) was in good repair. (fn. 508) By the late 18th century it was considered small, badly situated, and 'infirm from its antiquity', and John Witts, vicar 1777–1816, lived in the mansion at Lydley Hayes. (fn. 509) Early in W. J. Hughes's long incumbency (1819–65) he and his father built a new vicarage: (fn. 510) of coursed grey sandstone rubble, the south-west or garden front is of five bays, the central three projecting slightly and surmounted by a triangular pediment. A coach house and stable block stand north-east. (fn. 511)
In 1185 Arnulf, the parson, may have employed Inard, a married priest, as curate. (fn. 512) There was a 'literate' deacon c. 1300, (fn. 513) but no pre-Reformation vicar is known to have graduated. In 1524 a Cambridge student, Richard Farley, was instituted; he resigned c. 1526 and William Hall became vicar. (fn. 514) Hall (d. 1560) was employing a stipendiary priest in 1542. (fn. 515) Before the Reformation there was a light in the church endowed with lands at Botvyle. (fn. 516)
In 1542 there was a chapel at Plaish dedicated to St. Margaret; (fn. 517) it probably stood in Chapel Yard just south-west of the Hall, (fn. 518) and its ruins survived until the early 19th century. (fn. 519) Allusion was made about then to a former chapel at Penkridge (fn. 520) not otherwise known.
William Leighton (d. 1607) of Plaish left land to endow church repairs and £50 for the making of his tomb in the chancel. (fn. 521) Roger Maunsell (d. 1651) also endowed church adornments and repair. (fn. 522)
The first known graduate vicar was Adam Griffiths (1610–? 1612), who probably came straight from university. (fn. 523) His successor Edward Wotton, also a graduate, employed a curate in 1623 but in 1624 was deprived for adultery. (fn. 524) John Cuffyn was 'put in by the ruling powers' in 1657–8 but soon replaced by Daniel Bee (d. 1705), vicar for 47 years; (fn. 525) in 1668 Bee preached twice each Sunday. (fn. 526) Thomas Corfield, member of a prominent local family, was vicar 1705–7. (fn. 527) His successor William Painter (1708–? 24) conducted two Sunday services and communion was celebrated four times a year. (fn. 528) During the last years of their long incumbencies Francis Southern (1730–77), who left money for an annual New Year's day sermon, and John Witts (1777– 1816) employed curates; (fn. 529) from 1809 Witts was also Archdeacon Corbett's curate at Church Preen. (fn. 530) In 1793 there were two Sunday services (one with a sermon), monthly communion, and a service each holy day. On average c. 200 attended church, the farmers being better attenders than the poor. There were 44 pews in the nave, 8 in the gallery, and 3 in the chancel; men and women sat on different sides of the church 'and different families have sittings in the same and different pews'. There were then usually c. 40 communicants, whereas c. 200 communicated at Easter; the communion offertory, c. £3 a year, was given to the poor at Christmas and Easter. (fn. 531) Curates served the cure 1816–19 as the vicar, George Hunt, the patron's brother, was nonresident. (fn. 532)
On Census Sunday 1851 morning service was attended by 69 adults and 26 children, the afternoon one by 8 adults and 18 children. None of the 170 seats was free, (fn. 533) but by 1867 all 212 seats were free. (fn. 534) Soon after the restoration of 1867–8 the psalm singers and band were replaced by a choir and harmonium. (fn. 535) In the late 19th and early 20th century there were usually two Sunday services and c. 80 Easter communicants. (fn. 536) In 1889 a lay reader led mission services at Comley, and in 1910–11 the vicar conducted weekly and occasional services around the parish. (fn. 537)
The church of ST. JAMES, so dedicated by 1542, (fn. 538) has a chancel, nave, west tower, and south porch and is mostly built of coursed rubble. (fn. 539) The eastern part of the nave is probably early 12th-century and one window and a blocked doorway survive in each side wall. The south doorway may have been enlarged in the later 12th century. Late in the 12th century the nave was extended west and new north and south doorways were made in the extension; the north doorway re-uses what is probably an older tympanum reversed. A Norman tub font with arcaded decoration was perhaps turned out in the 1820s. (fn. 540) In the 13th century a west tower and a long chancel, both externally as wide as the nave, were added. The chancel has plain singleand two-light windows in the side walls and a much restored triple lancet in the east wall. In the 14th century three two-light windows were inserted in the nave, one on the north side, two on the south. In the 15th or early 16th century an upper stage and battlements were added to the tower. Of similar date are the nave and chancel roofs.
The present porch and south door are of 1639 and 1648. (fn. 541) In 1685 the pulpit and 'reading pew' on the north side were said to be poorly lit. (fn. 542) In 1703 Maunsell's charity (fn. 543) was spent on a new window in the south wall of the nave west of the porch. (fn. 544) A west gallery was inserted in 1741–2. (fn. 545) There was a dormer window on the south side of the east end of the nave in the late 18th century. (fn. 546)
The chancel was modestly restored in 1863, (fn. 547) and the porch received attention c. 1865. (fn. 548) In 1867–8 the church was restored to a scheme by Henry Curzon of London. Little structural work was necessary, but the church was refitted and reseated throughout and generally made good, some windows being renewed. Individuals' and townships' names and initials carved on the old pews were incorporated in the new benches. The west gallery was probably removed then, as was a stone wall or screen between nave and chancel; the screen, said in 1857 to be 'almost of recent erection', had had a tall round-headed central arch and smaller side openings. (fn. 549) The tower was restored in 1882, (fn. 550) a reredos with Minton tiles introduced in 1885, a new clock fitted in 1889, and a new tower arch screen introduced in 1894. (fn. 551)
In 1553 the church had three bells and a silver chalice and paten. (fn. 552) New bells were cast in 1626, 1630 or 1639, and 1740; the oldest one survives with another of 1752 and two of 1887. (fn. 553) A silver chalice and cover paten were acquired c. 1700. (fn. 554)
The registers are mainly complete from 1598. (fn. 555)
NONCONFORMITY.
There were three protestant dissenters in 1676, apparently all members of one 'Anabaptist' family. (fn. 556) In 1716 there were said to be a papist at Chatwall and an Independent at Broome. (fn. 557)
Meeting houses were licensed at Cardington in 1817 and 1828 and at Enchmarsh in 1831, but there was said to be none in the parish in 1851. (fn. 558) Between the later 1830s and the 1860s the Enchmarsh society, with a membership of 12 in 1860 which doubled in the later 1860s, was the largest of the parish's Primitive Methodist societies; a meeting place was registered in 1861. Meetings, camps, and revivals were also held at Blackhurst, Cardington, and Dayhouse. (fn. 559) A short-lived (1862–6) society at Cardington ceased when turned out of its meeting place, but in 1869 the Enchmarsh society opened a brick chapel at the north end of Cardington village and became known as the Cardington society. It had 24 members in 1872, (fn. 560) the year the chapel was registered for marriages (fn. 561) and probably the zenith of Methodism in the parish. (fn. 562) The Blackhurst society ceased in 1906. In 1912 the Cardington society had 12 members, and there were then perhaps three or four nonconformist families in the parish. (fn. 563) The chapel was sold in 1951. (fn. 564)
EDUCATION.
William Pool kept school in 1676, (fn. 565) George Lowe and John Ketley in 1694, Thomas Langford in 1701, and Francis Southern in 1716, 1719, and 1734. (fn. 566)
Under the will (proved in 1721) of Serjeant William Hall, of London, trustees built and endowed a free school, opened in 1723 for pupils aged 4–14 years. The two storeyed school, three bays of brick with sandstone details, stood at the churchyard edge. Each pupil paid 1s. admission fee and a yearly 'coal shilling'. The master, paid £12 a year in 1793, supervised his pupils in church and taught the catechism, reading, writing, and arithmetic. (fn. 567) In 1819 there were 25–30 pupils, only those who could read the psalter being admitted. (fn. 568)
From c. 1783 children of the Corbetts' tenants could attend Longnor charity school, (fn. 569) and by 1793 a Sunday school was held in church in warm weather. (fn. 570) In 1814 John Russell left £5 a year towards the Sunday school, (fn. 571) which had c. 30 pupils in 1819. (fn. 572) He also left £10 a year for a schoolmistress to teach 12 poor girls to read, knit, and sew; (fn. 573) the endowments were later transferred to the free school. (fn. 574)
In the early 1830s there were probably 50–60 pupils at the free school, 12 girls at Russell's school, and 35 fee-paying pupils at three other day schools, one of which was perhaps in Holt Preen near Hughley brook. The free school and Russell's school sent pupils to the Sunday school and they made up the 32 children usually at morning service c. 1851. (fn. 575)
The free school building was condemned in 1871 (fn. 576) and in 1876 Cardington C.E. Free school was built opposite; schoolroom and classroom accommodated 120 pupils, later reduced to 100. (fn. 577) Government grant was earned by 1877. (fn. 578) Inadequate staffing periodically limited the school's efficiency, (fn. 579) but in the 1890s retention of pupils in the upper standards was commended. (fn. 580) Attendance, however, was often poor, (fn. 581) the classroom was small, (fn. 582) and the cold stuffy building was improved only gradually. (fn. 583) Gardening was taught from 1915 and senior pupils attended Church Stretton wood work or domestic science centres from 1936. (fn. 584) Liverpool evacuees were accommodated 1939–42. (fn. 585) When senior pupils left for Church Stretton Modern school in 1948 the school became a C.E. primary school, (fn. 586) aided from 1955. (fn. 587) The roll was 58 in 1922, 37 in 1975, and 18 in 1981, when 16 pupils transferred to Rushbury C.E. (Controlled) Primary school, thus in effect closing the school. (fn. 588)
County-council classes in stock management (1898–1902) and poultry keeping (1899–1901) were well attended. (fn. 589)
CHARITIES FOR THE POOR.
By will proved 1608 William Leighton of Plaish left pieces of land called Church Land which he had bought c. 1595 from William Tipper and Robert Dawe, speculators in concealed lands; the income was to be divided equally between the poor and church repairs. (fn. 590) Those pieces were evidently the Church Estate (fn. 591) scattered in relics of the open fields of Enchmarsh and Willstone: in 1817, during the inclosure of Lydley and Cardington, the parish exchanged them with the Ven. Joseph Corbett for c. 15 a. lying together along the way from Cardington to Cardington Hill (fn. 592) and eventually known as the Moor farm. (fn. 593) From the 17th century the rent (£28 a year by 1838) was divided between the church and the poor; (fn. 594) in 1830 the poor received money and coal at Christmas, and the estate also included cottages, mainly occupied by paupers. The charity, half for the poor and half for church purposes, was combined with Roger Maunsell's charity in 1895.
Roger Maunsell (d. 1651) (fn. 595) left 26s. 8d. a year charged on land in Stanton Long: for the first three years of each septennium it was to provide bread for six people on Sunday, men one week and women the next, for the next three years sacramental bread and wine, and in the seventh year an adornment of the church. The charity was used thus in 1830. In 1895 it was combined with the Chapel Lands charity, 3/7 of Maunsell's legacy to be used for the poor, 4/7 for church purposes. In 1975 the combined charities' income was £221.
About 1700 Dinah Roberts left £1 6s. a year charged on a farm at Willstone for weekly bread doles in the parishes of Cardington and St. Julian's, Shrewsbury, (fn. 596) in alternate years. In 1975 income was £1 a year.
Cardington had an interest in the charity of Sir Richard Corbett (d. 1774) for clothing children, still given in the 1860s. (fn. 597)
Francis Southern (d. 1777), vicar, left the interest on £32 10s. for bread to be given to widows or old men when they attended divine worship. In 1814 the legacy was used to buy a cottage at the east end of the village; the parish put paupers in it and the churchwardens then spent £1 6s. a year on the Sunday bread doles. The charity had two cottages in 1929,5 and in 1975 its income was £104.
In 1786 interest on a stock of £45 was paid to the poor, but in 1799 the parish used the stock (apart from £5 lost) to repay £40 borrowed to build a poorhouse. (fn. 599)
Anne Tipton (d. 1788) (fn. 600) left £1 10s. a year charged on the Lower Day House property to be given weekly in bread to twelve poor. In 1975 income was £2.
John Russell (d. 1814), (fn. 601) of Enchmarsh, left the interest on £570 for educational and church purposes and for bread on four feast days and woollen gowns at Christmas for six widows and six girls. By 1905 gowns were no longer given. That year part of the stock was assigned to a separate educational charity; (fn. 602) the income from Russell's eleemosynary legacy was £6 in 1975.
Capt. S. H. Christy (d. 1914), of Plaish, left £2,500, the interest to be divided between four widows of Cardington and neighbouring parishes. (fn. 603) In 1975 income was £118.