Pages 44-52
A History of the County of Shropshire: Volume 10, Munslow Hundred (Part), the Liberty and Borough of Wenlock. Originally published by Victoria County History, London, 1998.
This free content was digitised by double rekeying. All rights reserved.
HOPE BOWDLER
Comprising the manors and townships of Hope Bowdler, Chelmick, and Ragdon, Hope Bowdler parish (1,730 a., 700 ha.) (fn. 1) lies 3 km. east-south-east of Little Stretton, mainly on the south-facing slopes of the south-western end of Ape Dale. On the west and north the boundary, defined by c. 1600, runs along the foot of Ragleth hill (in Little Stretton), over the crest of Hazler hill, along the foot of Helmeth hill, and around the back of Hope Bowdler hill. It was marked across Hazler by a ditch, and in the Cwms below Hope Bowdler hill by Cowbatch (perhaps a corruption of Cwmbatch) cross, gone before 1622. (fn. 2) Elsewhere the boundary follows field edges and streams. Its course up the east side of Chelmick valley and north of Soudley (in Eatonunder-Heywood) may have been defined in the earlier 13th century. (fn. 3)
The civil parish was slightly enlarged in 1967, when Dryhill Farm and c. 24 a. (c. 10 ha.) were transferred from Church Stretton urban district and C.P., (fn. 4) and again in 1987 when Stone House farm and adjoining fields at Soudley were transferred from Eaton-under-Heywood C.P. (fn. 5)
Hazler and Hope Bowdler hills (the latter an upland mass rising to three distinct crowns) are among the Uriconian volcanic outcrops which are a prominent feature of Shropshire's central uplands and variously consist of tuffs, basalt, andesites, and dacites. The rest of the parish lies upon Ordovician flags, siltstones, and sandstones. (fn. 6) Small streams rising in the parish drain south or south-east, some down short steep valleys or 'batches'. Notable are Rag batch south of Ragdon, the Chelmick valley, and Hope batch (presumably the How batch of 1616) which gave access from east of Hope Bowdler village to Hope Bowdler hill. (fn. 7)
The principal road through the parish is that from Church Stretton, via Hope gate (mentioned 1601) (fn. 8) on the western parish boundary and Hope Bowdler village, to Wall under Heywood (in Rushbury) and Much Wenlock; it was turnpiked in 1765 with a toll gate at Hope gate (fn. 9) and disturnpiked in 1875. (fn. 10) From it, in Hope Bowdler village, a road branches south to Ticklerton. Some ancient routes survived in the 20th century as footpaths, notably that from Chelmick to Acton Scott, mentioned in 1616. (fn. 11) The road running north-east from Hope gate, called the Cwms lane in 1622, (fn. 12) was probably that called Bentley lane in 1769. (fn. 13)
A circular enclosure (fn. 14) and traces of fields above the modern limit of cultivation, (fn. 15) all on Hope Bowdler hill, are probably prehistoric.
'Hope' describes the small upland valley enclosed between Hope Bowdler and Hazler hills to the north and west and the highest parts of Haywood common (in Eaton-under-Heywood) to the south-east. There are many such hopes in south Shropshire and before 1066 the vill was distinguished (presumably by the name of an otherwise unrecorded Saxon) as Fordritishope. Probably during the 12th century it was renamed Hope Bollers or Buthlers from the family name (Boullers) of the lords of the honor of Montgomery. (fn. 16)
Chelmick, 'Ceolmund's dairy farm', (fn. 17) was a separate manor in the 11th century; it had a berewick (fn. 18) whose whereabouts are unknown. Ragdon's status is less certain, but it was prob ably subsumed under Hope Bowdler in 1086. (fn. 19) It shares the first element of its name (perhaps ME. ragge, 'mass of coarse stone') with Ragleth hill to the north-west (fn. 20) but the hill is in Church Stretton (fn. 21) and there is no evidence that Ragdon commoned it. (fn. 22)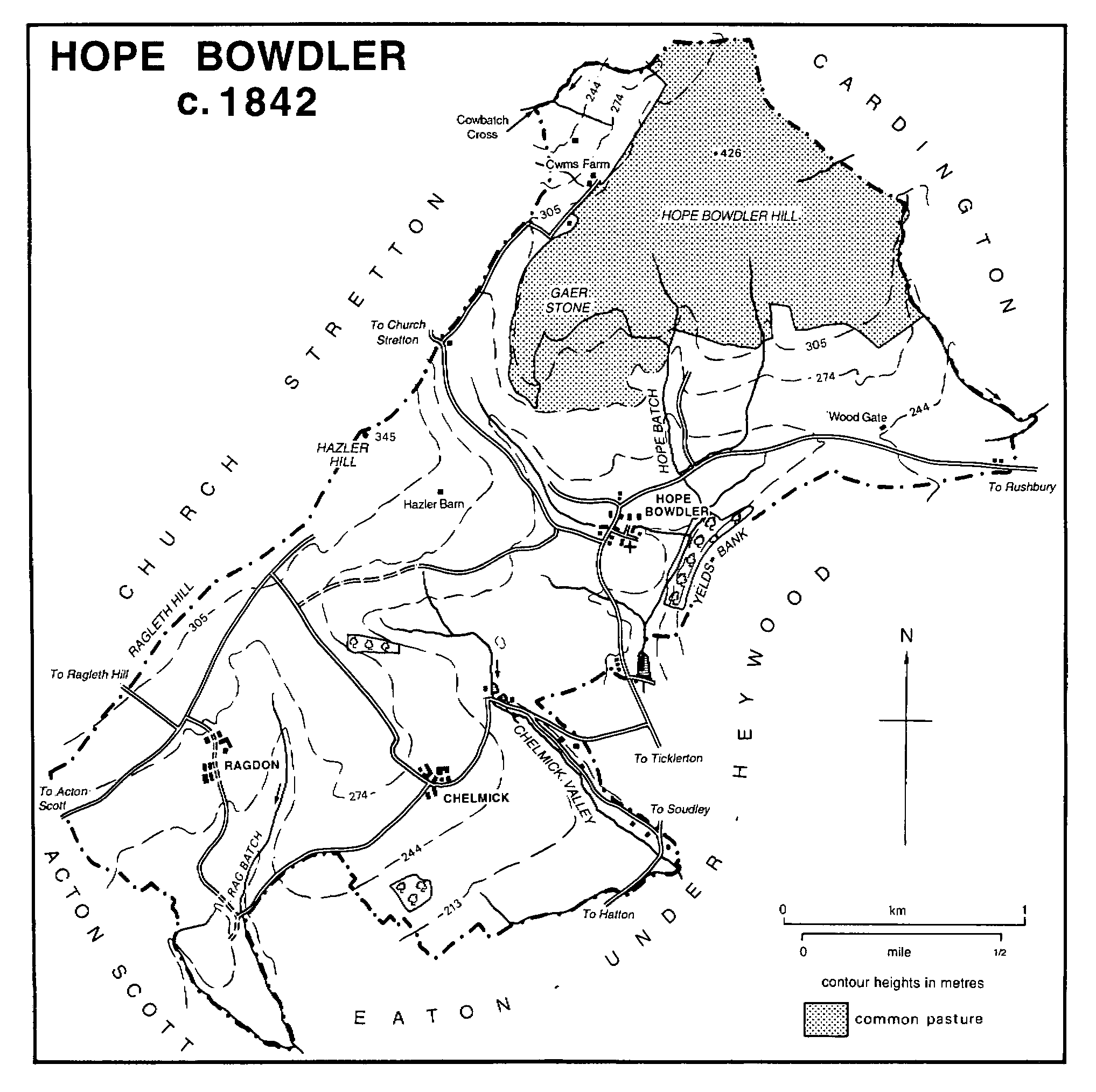 In 1086 there were 2 villani, 4 servi, and 2 bondwomen in Hope Bowdler manor, and 9 villani at Chelmick. (fn. 23) Nine people paid subsidy in 1327. (fn. 24) In 1672 hearth tax was paid on 12 houses in Hope Bowdler and 11 in Chelmick and Ragdon, (fn. 25) and in 1676 there were 80 adults in the parish. (fn. 26) By 1811 the villages had grown little, if at all: Hope Bowdler township had 101 people in 17 houses, and Chelmick and Ragdon 71 in 15. (fn. 27) The population, however, had started to rise, from 130 in 1801 to a peak of 202 in 1831. Thereafter it fell, reaching its lowest point, 121, in 1921. (fn. 28) In 1991 the population was 181, the highest figure for over 100 years. (fn. 29)
Few details of the medieval settlement pattern are known. Hope Bowdler town end was mentioned in 1285 (fn. 30) and 1616. (fn. 31) Each of the three villages, the only known medieval settlements, had its own open fields, and there were extensive upland commons, probably still largely wooded. (fn. 32)
The few survivals suggest that the principal medieval farmhouses were timber framed. (fn. 33) In 1672 the only substantial building, Ragdon manor house, was taxed on eight hearths. Two houses were taxed on four hearths, 3 on three, 3 on two, and 14 on one. (fn. 34) By the 18th century at the latest new buildings, with the possible exception of some cottages, were almost wholly of stone. (fn. 35) In 1832 (fn. 36) house walls were mainly stone, with a little timber framing. Some agricultural buildings were weather-boarded. A wheelwright's cottage, brick with a tiled roof, was unusual, the only other notable use of brick before the 20th century being the refronting of Hope Bowdler Hall. (fn. 37) The wheelwright also occupied a carpenter's shop built by the rector on waste in the village centre in 1821. (fn. 38) Some buildings were covered with clay tiles or stone slates, and the rectory (1809) was probably roofed in blue slate; (fn. 39) thatch, however, was still common in 1832, especially on cottages and agricultural buildings.
Squatters' cottages, some perhaps as late as the 19th century, (fn. 40) were built mainly down the north-east side of the Chelmick valley, where there were eight cottages in the mid 19th century, and at the north end of Soudley where there were three, just inside the parish. Some survived, much modernized, in 1991; the sites of others were occupied by 20th-century houses and bungalows. (fn. 41) In the 19th century Cwms Farm (in existence by 1804) (fn. 42) and a cottage stood on the west side of Hope Bowdler hill, and two cottages at Woodgate (where people were living by 1724) (fn. 43) on the south side. (fn. 44)
In the late 19th and the 20th century many new houses were built on the sites of derelict ones, (fn. 45) a significant exception being the council housing north-east of Hope Bowdler village: four houses built in the 1930s, two during the Second World War, and six in the 1950s. In 1984-5 three houses were formed by barn conversions at Manor Farm, Hope Bowdler. (fn. 46)
In the 1730s Hope Bowdler wake was kept on the Sunday after midsummer day. (fn. 47) There seem to have been very few alesellers in the parish during the 17th and 18th centuries, often none; (fn. 48) in 1793 there had been no alehouse within memory. (fn. 49) An inn opened in Hope Bowdler village in the early 19th century but had little custom in 1832 and probably closed soon after. (fn. 50) Between at least 1899 and 1901 there was a reading room in the village, (fn. 51) and in 1908 R. B. Benson provided a church room there (fn. 52) which was used for social functions.
MANORS AND OTHER ESTATES.
In 1066 Edric the wild held FORDRITISHOPE, later HOPE BOWDLER. Presumably after his rebellion in 1069-70 the manor passed to Roger of Montgomery, earl of Shrewsbury, tenant in chief in 1086. (fn. 53) The earl's chief lordship was presumably forfeited in 1102 by his son Robert of Bellême. (fn. 54) By 1201 the manor (with two others which had been held by the same Domesday undertenant) formed part of Robert de Boullers's honor of Montgomery (fn. 55) and successive lords of that honor remained overlords until 1425 or later. (fn. 56) In 1465 and 1466 the manor was held of Thomas Preston. (fn. 57)
Hugh fitz Turgis held the manor of Earl Roger in 1086. (fn. 58) Yvette of Wilderley claimed the vill of Hope in 1195. (fn. 59) In 1201 Roger de Say was superseded as tenant in fee by Richard of Wilderley. (fn. 60) Probably from that time until the late 13th century or later Hope Bowdler and Wilderley (in Church Pulverbatch) together were reckoned, as the 'fee of Hope Bowdler', to comprise 1 knight's fee, 4/5 of that service being due from Hope Bowdler. (fn. 61) Richard of Wilderley's son, Stephen of Hope, (fn. 62) was lord in 1240. Before 1255 the manor passed to Otes of Hodnet, seneschal of Montgomery. (fn. 63) Before his death in 1284 Otes apparently enfeoffed Robert Burnell, bishop of Bath and Wells, in the manor, for by 1285 Burnell was said to hold the manor of Otes's heir William of Hodnet. (fn. 64) The Hodnets' interest is not recorded later. Thenceforward until the attainder of Francis, Lord Lovel, in 1485 Hope Bowdler descended with Acton Burnell, (fn. 65) although held in dower by Edward Burnell's widow Aline 1315-63. (fn. 66)
In 1486 Henry VII granted the manor to Sir John Savage of Clifton (Ches.). (fn. 67) It descended in that family until 1600 (fn. 68) when Sir John Savage sold it to Edward and John Lutwyche. (fn. 69) The manor then descended with Lutwyche (in Rushbury) until the partial dispersal of the Lutwyche estate in 1785 (fn. 70) when Hope Bowdler manor and c. 244 a. were bought by William Cheney Hart, a barrister. (fn. 71) After Hart's death in 1819 the manor and c. 1,000 a. were put up for sale, being bought by Ralph Benson's trustees in 1828. (fn. 72) The lordship and estate descended with the Bensons' Lutwyche property until 1921 when the 1,370-a. Hope Bowdler estate was put up for sale. Manorial rights were not mentioned in the particulars of 1921, (fn. 73) and no later reference to the lordship has been noticed.
There was a manor house in 1294, (fn. 74) but in 1315 there were said to be no buildings. (fn. 75) William Cheney Hart was probably the first resident lord since Stephen of Hope in the mid 13th century; Hart lived in the village in a large stone farmhouse which he was probably responsible for enlarging and refronting in brick. By 1819 it was known as Hope Bowdler Hall. Outbuildings include an early 19th-century pigeon house. The farm was bought in 1921 by George Preece, whose family owned it until 1972 when the house was sold with 22 a. (fn. 76)
Buildwas abbey was given ½ virgate in Hope Bowdler in the later 1240s by William, son of William of Chelmick (also called William Erdulf). (fn. 77) If the abbey retained that land until its suppression in 1536, it was subsumed under Ragdon. (fn. 78)
LOWER HOUSE farm was probably part of the property owned in the late 16th and early 17th century by William Preen, who was succeeded by his son William. Then, as later, it was known as Stile, or Church Stile, House. (fn. 79) Sir Edward Lutwyche, lord of the manor, owned it by 1692, (fn. 80) and it descended with the manor until 1921 when George Preece bought it. His family had the farm, 216 a. and grazing rights, until 1972. The stone and timber framed house, reckoned inferior in 1838, was extensively remodelled in the later 19th century. (fn. 81)
UPPER HOUSE farm, reputedly owned or occupied by Edwin Phipps (fl. 1485), (fn. 82) may have been the Phillipses' home in the later 16th century. (fn. 83) In 1674 the Baxters of Earnstrey Park (in Diddlebury) owned it. (fn. 84) Part of the Lutwyche estate in 1785, (fn. 85) it descended with Hope Bowdler manorial estate (fn. 86) until George Preece bought it in 1921. The belief that Edwin Phipps built the house in 1485 (fn. 87) may refer to the hall range, whose rear wall is close studded. The house was largely remodelled in stone early in the 19th century
Edric the wild owned CHELMICK, including an unnamed berewick, in 1066. (fn. 88) From 1086 the overlordship (fn. 89) and the mesne lordship (the latter last recorded in 1541) (fn. 90) seem to have descended with those of Hope Bowdler. (fn. 91)
In 1255 Baldwin of Montgomery, provost of Montgomery, was Otes of Hodnet's tenant at Chelmick. (fn. 92) His son William probably sold Chelmick to Hugh of Wotherton (fl. 1272-85). Hugh's daughter and coheir Eve predeceased her husband Richard Hord, who died in 1325 seised of the hamlet and court of Chelmick for life in right of his wife. (fn. 93) The next lord was perhaps Roger Hord; his son John died in possession in 1398, when his heirs were Fulk Sprenchose and John Gotmond. (fn. 94)
Sir Thomas Leighton, whose family had links with the Hords and the Sprenchoses, (fn. 95) was evidently lord in 1497. (fn. 96) In 1500 the manor was among property he exchanged with Stephen Kemsey. (fn. 97) On Kemsey's death in 1540 the manor passed to his son Robert, (fn. 98) who in 1559 sold it to Thomas Phillips. (fn. 99) Francis Phillips of Chelmick (d. 1657) (fn. 100) was perhaps the father of Philip Phillips, (fn. 101) who in 1666 sold the manor to Thomas Russell. Russell was succeeded by his son William (d. 1727), who in 1721 settled the manor on his son and daughter-in-law Thomas (d. 1746) and Elizabeth (d. 1753). On Elizabeth's death, or perhaps earlier, Chelmick passed to their son William, a Worcester surgeon, (fn. 102) who is said to have sold the manor to Thomas More of Millichope. (fn. 103)
Thomas More died in 1767, (fn. 104) and Chelmick passed to his son-in-law Dudley Ackland. (fn. 105) In 1782 Ackland sold the lordship to Edward Lloyd (d. 1790) of Shrewsbury, who left it to his kinsman, the Revd. William Calcott. (fn. 106) Calcott (d. 1820) was probably succeeded by Charles Morrall (d. 1822), whose son William owned it in 1825. The Hon. M. W. B. Nugent, evidently in right of his wife, William's niece (d. 1856), owned 146 a. in the parish in 1843. (fn. 107) In 1874 the Revd. Cyrus Morrall and the Revd. John Morrall sold the manor and Manor farm to Job Taylor (d. c. 1886). Taylor's trustees conveyed Chelmick to Thomas Berks Turner, on whose death the manor and farm were sold in 1907 to Miss Lilian Holland Buddicom. (fn. 108) She sold them in 1918 to George Davies (d. 1932), whose son Fred sold them in 1963 to John Davies, (fn. 109) the owner in 1991.
Chelmick Manor Farm, described in 1793 as 'an old mansion now a farmhouse', is a mid 17th-century hall and cross wing. The 1½ storeyed stone and timber framed hall range may be slightly later than a substantial two storeyed stone range built end-on to the road and with mullioned and transomed windows and star shaped brick stacks. (fn. 110)
Wenlock priory may have had land in Chelmick in the earlier 13th century. (fn. 111)
In 1635 Henry Smith's trustees bought four properties in Chelmick from Thomas and Frances Chelmick for the poor of Shrewsbury. Soon after 1906 the premises, then Upper Farm (139 a.), were sold to William Davies, who sold them in 1942 to Ellis Jones. (fn. 112) His son David Jones was owner in 1991. (fn. 113) Upper Farm was rebuilt in stone with brick details, probably soon after 1805. The buildings, of good quality, form a three-sided courtyard open to the road, with the house, probably retained from the pre-1805 arrangement, as part of the long back range. (fn. 114)
Between the later 11th and the 13th century RAGDON was probably reckoned a member of Hope Bowdler manor, and in 1255 Otes of Hodnet did suit for it to county and hundred. (fn. 115)
In the 1220s the terre tenant was Robert de Lee. Between 1245 and 1255 his son Robert Acton, a clerk and in 1236-7 deputy undersheriff, gave all his Ragdon land to Buildwas abbey (which already owned land in the parish) subject to the service, due from a portion of the estate, of providing a foot soldier to do ward at Montgomery castle for 15 days a year. (fn. 116)
Buildwas retained its land in Ragdon until the abbey was dissolved in 1536. (fn. 117) In 1537 Ragdon, like most of the former abbey lands, was sold to Edward, Lord Grey of Powis. (fn. 118) In 1598 Grey's natural son Edward Grey sold Ragdon, then termed a manor, to Thomas Chelmick, (fn. 119) who remained in possession in 1623. (fn. 120) John Chelmick had succeeded by 1644. By 1671 the manor belonged to Thomas Davies, (d. 1679), (fn. 121) and by 1694 to Richard Davies (fn. 122) (d. 1708) of Hope Bowdler. Richard was succeeded by his son-inlaw, the Revd. Thomas Adney (d. 1735), Adney by his son Richard (d. 1739), and Richard in turn by his son Richard. (fn. 123) In 1761 Richard Adney sold the manor to John Stanier. (fn. 124) Stanier (d. 1782) (fn. 125) was succeeded by his son Charles (d. 1789), (fn. 126) and Charles by his son Charles Price Stanier, lord in 1807. (fn. 127) C. P. Stanier's cousin (fn. 128) John Stanier owned it by 1839. He died in 1867, leaving it to his widow Eleonora (d. 1868); their son J. P. Stanier sold Ragdon Manor farm (154 a.) in 1920, no mention then being made of manorial rights. (fn. 129) The farm changed hands several times in the next 70 years, the house being separated from its land in 1987. (fn. 130)
Ragdon Manor Farm is a three bayed, two storeyed early 19th-century stone building, stuccoed. (fn. 131) A new farmhouse was being built in 1991. (fn. 132)
The other farm in Ragdon township in the 19th century, 165 a. in 1843, was Lower, or Ragdon, farm. (fn. 133) Thomas Smith owned it c. 1793. (fn. 134) It remained in his family until the earlier 20th century. (fn. 135) In 1947 it was bought by Jack Wilding whose family had been tenants since the late 18th century. (fn. 136) Wilding's son Richard was owner in 1991. Ragdon Farm is basically T shaped. The hall range, originally of base-cruck construction, had a ceiling and first floor inserted in the 17th century. Part of one cruck blade survived in 1992, in the parlour. The hall range, externally of stone, was of 1½ storey; in 1900 brick was used to give two full storeys and to extend the house north. A stone cross wing is probably mid 19th-century and presumably replaced an earlier range.
ECONOMIC HISTORY.
In the 19th and 20th centuries the upper limit of enclosed fields around Hope Bowdler hill was at c. 300 m. Above that, up to c. 350 m., are the scarped and banked remains of fields; (fn. 137) older than inclosure ditches probably of the 18th century, (fn. 138) they are likely to be prehistoric or early medieval.
In 1086 it was reckoned that Hope Bowdler and Chelmick each had land enough for six ploughteams. At Hope Bowdler there were two teams in demesne and one worked by villani and at Chelmick three worked by villani. (fn. 139) In 1239 a tenant held a nook and 3 a. at Hope Bowdler for 2s. a year and two days' harvesting. (fn. 140) There were 67 a. of demesne in the late 13th century. (fn. 141) By 1292 Philip Burnell had been granted a market and fair, (fn. 142) not heard of later.
In 1341 the mountainous terrain, tenants' poverty, and sheep murrain were among reasons given for a fall in the value of tithes. (fn. 143) Holdings probably began to be engrossed in the following decades. At Chelmick c. 1480 there were two virgate holdings and nine ½-virgate holdings, some held for rent and others for rent and unspecified services; there were also c. 48 a. of assarts. All were held for various rents and unspecified services by four men with roughly equal holdings. (fn. 144)
Each township had its own open fields, partly inclosed by the early 17th century. (fn. 145) Chelmick's were perhaps the most extensive: Lower field lay south of the village, Cross field north of it, and Ditch Cop field beyond that; the Feggy field lay east of Ditch Cop field.
There were extensive grazing lands in the parish, not only on Hope Bowdler hill: in the Middle Ages and later the three vills intercommoned Hay wood (in Eaton-under-Heywood and Rushbury), and Chelmick men had rights on Soudley common (in Eaton-under-Heywood), (fn. 146) although disputes over inclosures there are recorded as early as 1226. (fn. 147) In the early Middle Ages much woodland remained. Hope Bowdler had 2 leagues of woodland in 1086, (fn. 148) a high figure (fn. 149) which suggests that all the hills forming the western and northern third of the vill were wooded. In 1235 oak and hazel in Hope wood were said to be well warded, but underwood was not increasing. (fn. 150) In 1286 Hope Bowdler was among the places in the Long forest where Bishop Burnell was to be allowed to take timber for Acton Burnell castle. (fn. 151) Hope Bowdler, Chelmick, and Ragdon were disafforested in 1301. (fn. 152)
In the mid 16th century Ragdon men were being excluded from the lord's wood at Hope; pigs were still feeding there, and the vert included holly. Wood gate, 1 mile east of Hope Bowdler village, was probably the main way in to the wood. In 1623 the lord's wood was called 'the coomes', and presumably stood on the western side of Hope Bowdler hill in the area of the later Cwms farm and perhaps along the northern flank of the hill too. The central and southern parts of the hill were probably cleared of trees by that time since furze and gorse were collected. In the early 17th century Hope Bowdler commoners also had rights in Helmeth wood (in Church Stretton), and encroachments and inclosures in the wood were presented at Hope Bowdler manor court. (fn. 153)
In 1736 the commons in the parish were said to be Hope Bowdler hill and part of Hazler hill. (fn. 154) The latter lay mostly in Church Stretton parish, (fn. 155) and probably the parts in both parishes were inclosed in 1790. (fn. 156) Cottagers profited from the remaining commons, and in 1793 the poor were said to be relatively well off: most had pigs, some a cow, and some a few sheep. (fn. 157) As late as 1829, however, landowners were suppressing inclosures on the waste in Chelmick. (fn. 158)
At an unknown date, but probably in the later 18th century, Hope Bowdler hill was divided up by banks and ditches. (fn. 159) By 1828, it seems, those divisions had broken down, and a re-apportionment of common rights was talked of, (fn. 160) while in 1832 a valuation of the Hope Bowdler estate recommended division of the hill, then reckoned a good dry sheepwalk, into allotments. (fn. 161) By then Cwms wood was probably long gone, and in 1843 there were only 20 a. of woodland in the parish. (fn. 162)
In the early 20th century six farms had sheep stints on Hope Bowdler hill, in all for 810 animals, regulated by the Church Stretton Commoners' Association. The common rights had lapsed by the early 1970s. In 1991 the hill was owned by G. F. W. Preece whose grandfather George Preece had bought it from G. R. Benson in 1921. (fn. 163)
At his death in 1673 Henry Preen of Hope Bowdler had corn growing and in store worth £9 os. 8d.; stock included a yoke of oxen, 21 other cattle, 4 horses, 5 pigs, and 250 sheep, presumably run on Hope Bowdler hill. Richard Eaton (d. 1674), also of Hope Bowdler, farmed with a similar balance, though his cereals were worth £60: he had 6 oxen, 28 other cattle, horses worth £5 (thrice the value of Preen's), 5 pigs, and 120 sheep; in store was hay worth £10. Mary Richards (d. 1668) of Chelmick, a widow, farmed in a small way with 4 cows and 2 horses and had corn worth £3. She also spun and wove and owned linen yarn (10s.), hemp and flax (£1 10s.), and woollen cloth and yarn (10s.). (fn. 164) Flax and hemp had been grown in the parish in 1567, (fn. 165) and cottagers wove in the 18th century. (fn. 166)
Potatoes were grown at Ragdon in the 1750s. (fn. 167) Some attempts were made c. 1800 to improve farming methods. In 1793 (fn. 168) the four-course Norfolk rotation may have been in use in the parish, and the amount of arable was perhaps close to that in 1843, (fn. 169) 57 per cent of agricultural land (excluding Hope Bowdler hill). Agricultural prosperity in the war years around 1800 encouraged landlords to invest in farm buildings. At the Cwms the landlord built outhouses in 1804 (fn. 170) and probably the farmhouse too; a fold yard and barn c. 200 m. north-west of the farm are probably also of that date. (fn. 171) At Chelmick Shrewsbury corporation remodelled the buildings of Upper farm soon after 1805, the work probably financed by the sale of newly inclosed common. (fn. 172) Hazler Barn (demolished c. 1980), a field barn with cottage for Lower House farm, was probably built 1817 X 1828. (fn. 173) Nevertheless in 1832 several farms on the Hope Bowdler estate were reported to be ill drained and poorly or over cropped. (fn. 174)
After the mid 19th century (fn. 175) grassland increased, to 92 per cent in 1938. Over three quarters of Hope Bowdler remained pasture in 1965. Sheep continued the main stock in what was essentially an upland parish, although the number of cattle increased substantially after the Second World War.
A water mill stood at the north end of the Chelmick valley by the early 17th century, (fn. 176) and the name Walkers close next to a pool at Soudley may indicate the site of a fulling mill. (fn. 177)
Table III Hope Bowdler Land Use Livestock And Crops
1867
1891
1938
1965
Percentage of grassland
70
74
92
79
                      arable
30
26
8
21
Percentage of cattle
10
10
14
15
                      sheep
86
86
81
83
                      pigs
4
4
5
2
Percentage of wheat
51
27
31
23
                      barley
38
48
3
60
                      oats
11
25
66
17
                      mixed corn & rye
0
0
0
0
Percentage of agricultural land growing roots and vegetables
9
9
2
4
Sources: P.R.O., MAF 68/143, no. 20; /1340, no. 6; /3880, Salop. no. 271; /4945, no. 271.
Some of the pools at Soudley and Chelmick, used in the 19th and 20th centuries as fishponds, probably began as quarries. Many local buildings are of Soudley sandstone including Hope Bowdler church (1862-3). (fn. 178) Stone was also got elsewhere in the parish. (fn. 179) Bricks were made west of Woodgate Farm. (fn. 180) Copper was mined at the north end of Hazler hill before the mid 19th century. (fn. 181)
In the late 19th and early 20th century Hope Bowdler enjoyed a little of the prosperity brought to the area by visitors to Church Stretton. Between 1902 and 1905 tenants ran the Rectory as Hope Bowdler Pension, and paying guests were also accommodated there during the incumbency of A. P. Matthews, 1905-50. (fn. 182) Local attractions included Chelmick pools and the nearby cottage tea rooms. (fn. 183)
LOCAL GOVERNMENT.
Two dozen court rolls for Hope Bowdler survive for years between 1497 and 1662. (fn. 184) Chelmick had a court by 1326 (fn. 185) and rolls survive for 1479 and 1482. (fn. 186)
In the late 18th century there was one constable for Hope Bowdler and one for Chelmick and Ragdon. (fn. 187) Then, as in the 19th century, Chelmick and Ragdon were usually reckoned one township. (fn. 188)
The poor rate amounted to c. £3 a year c. 1750. In 1792 it was c. £58, mostly to relieve old men and an increasing number of bastard children. (fn. 189) In the early 19th century expenditure several times exceeded £90, and in 1832 reached £119 16s. There seems never to have been a poorhouse. Nine adults and four children received permanent relief in 1802-3 and 12 people occasional relief, probably typical early 19thcentury figures for the parish. (fn. 190) Children were apprenticed to farmers. (fn. 191)
The parish was in Church Stretton union 1836-1930, (fn. 192) Church Stretton highway district 1863-95, (fn. 193) Church Stretton rural sanitary district 1872-94, Church Stretton rural district 1894- 1934, Ludlow R.D. 1934-74, and South Shropshire district from 1974. (fn. 194) The civil parish had a joint council with Eaton-under-Heywood C.P. from c. 1967. (fn. 195)
CHURCH.
A church was probably built in the 12th century. The living was a rectory by c. 1231, when Stephen of Hope, probably by then lord of the manor, was patron. (fn. 196) Until 1466 or later the overlords of Hope Bowdler were patrons and usually presented. (fn. 197) Nevertheless the Burnells, lords of the manor, may have claimed an interest: in 1296 the king presented as guardian of Philip Burnell's heir, (fn. 198) and later the advowson was said to be held by Hugh, Lord Burnell (d. 1420). (fn. 199)
In 1564 and 1569 Simon Kemsey had the advowson; (fn. 200) the Kemseys had been lords of Chelmick until Simon's brother Robert sold the manor in 1559. (fn. 201) By 1621 William Chelmick of Chelmick was patron. (fn. 202) Sampson Lure exercised a turn in 1640. (fn. 203) Between the 1690s and the earlier 19th century the advowson descended with the manor of Ragdon; (fn. 204) a turn was apparently bought c. 1699. (fn. 205)
Some time after 1806 (fn. 206) the Staniers, lords of Ragdon, disposed of the advowson to William Cheney Hart, lord of Hope Bowdler, with whose property Ralph Benson's trustees bought it in 1828. (fn. 207) The Bensons kept it until 1950 when Maj. G. R. Benson gave it to the Hereford diocesan patronage board. (fn. 208) It was held in plurality with Acton Scott 1951-c. 1966. (fn. 209) In 1966 the united benefice of Hope Bowdler with Eaton-under-Heywood was created; from later that year it was held in plurality with Rushbury. In 1970 the newly built rectory at Hope Bowdler became the benefice house (fn. 210) and in 1971 the incumbent became also priest in charge of Cardington. From 1980 the three benefices were held in plurality. (fn. 211)
In 1291 the rectory was worth £4 13s. 4d., out of which the rector of Rushbury had a portion of 2s. (fn. 212) In 1341 glebe, hay tithes, small tithes and offerings were valued at £2 13s. 4d. (fn. 213) In the 14th century the rectory was reckoned to be worth £8 13s. 4d.; the rector of Rushbury still had a portion. (fn. 214) In 1535 the living was worth £6 12s. 10d. net. (fn. 215) The glebe was c. 60 a. in 1616, mainly scattered parcels and strips. (fn. 216)
The living's value rose to £44c. 1708, (fn. 217) to £50 or £60c. 1730, (fn. 218) and to £300 by 1823. (fn. 219) In 1832 the house and 45 a. were reckoned to be worth £55 a year and the tithes £255 10s.; the total net value was £280 10s. (fn. 220) In 1843 the tithes, mainly collected in kind, were commuted to £237 17s. 6d. (fn. 221) The living was worth £240 in 1885. (fn. 222) By 1887 there were only 20a. of glebe, the same amount as in 1989. (fn. 223)
In 1616 the parsonage was of four bays and had a four bayed barn. (fn. 224) G.W. Marsh built a new stone rectory in 1809. (fn. 225) In 1862 a second floor was added and the house was modernized and enlarged to plans by F. P. Cockerell. (fn. 226) A new rectory was built on a new site in 1970. (fn. 227)
Two rectors were licensed to study in the 14th century. (fn. 228) John Pryce, the first known graduate rector (1567-c. 1569), lived at Pontesbury, where he was a portioner. (fn. 229) Eighteenth- and 19th-century rectors often emplyed curates. (fn. 230) Several rectors, notably Henry Newnam (1699-1743), Richard Adney (1748-68), John Stanier (1771- 1806), and R. G. Benson (1860-96), were presented by kinsmen. (fn. 231) G. W. Marsh was imprisoned for debt and so by c. 1828 had been absent several years. (fn. 232)
In 1716 communion was celebrated five times a year. (fn. 233) In 1805 violin, cello, and oboe were played in church. (fn. 234) In 1851 the church had 90 seats, all owned or rented; 35-40 people usually attended morning service and 15 the afternoon service. (fn. 235)
The old church of ST. ANDREW, so dedicated by c. 1740, (fn. 236) comprised chancel, nave with south porch, and west tower. (fn. 237) An 'image' of St. John the Baptist from Hope Bowdler was burnt in Much Wenlock market place in 1547. (fn. 238) A west gallery was installed in 1777. (fn. 239)
In 1862-3 a new church, of Soudley stone with Grinshill stone dressings, was built to a design by S. Pountney Smith, (fn. 240) the cost being met by subscriptions, sales of work, and a mortgage of the church rate. It comprises chancel with south vestry, nave with south porch, and west tower. Several windows have late 19th- and early 20th-century glass by C. E. Kempe. (fn. 241) The east window, c. 1870, is by Done & Davies of Shrewsbury. (fn. 242)
Only the pulpit, of 1639 but probably rebuilt, survives from the old furnishings. The plate includes an Elizabethan chalice and a cover paten of 1572. (fn. 243) One bell is medieval, another is by Thomas Roberts, 1681; one of two others is dated 1887, and two more were added when the bells were rehung in 1929. (fn. 244)
The registers survive from 1564 but with gaps in the later 18th century. (fn. 245)
The churchyard was extended in 1923. (fn. 246)
NONCONFORMITY.
None known.
EDUCATION.
Hope Bowdler children could attend Cardington free school established in 1723. (fn. 247)
In 1819 three private schools had 20 pupils in all; none existed by 1833. (fn. 248) A National school opened with 40 places in 1857; (fn. 249) it and the adjacent teacher's house were built of stone. (fn. 250) Besides weekly fees pupils paid for books and coal. The mistress was certificated and the school was probably soon under inspection and earning government grant. (fn. 251) Attendance averaged 30 1885-1913. (fn. 252) In 1927 a few pupils from the closed Eaton-under-Heywood C.E. school were admitted. (fn. 253) From 1936 seniors attended Church Stretton domestic science (fn. 254) and woodwork centres. (fn. 255) At the managers' request the school closed in 1948, pupils going to Church Stretton Modern and C.E. Primary schools. (fn. 256)
CHARITIES FOR THE POOR.
Members of the Adney, Russell, and Phillips families each left £2 to the poor. In the late 18th century the stock produced an income of 6s., distributed on St. Thomas's day. (fn. 257) By the early 19th century 12s. worth of bread was distributed yearly in addition to the cash doles on St. Thomas's day. G. W. Marsh, rector, then added £4 to the £18 stock, and the St. Thomas's day doles were thereby increased to 10s. a year by c. 1830. (fn. 258) Those charities were afterwards lost. (fn. 259)