Pages 52-72
A History of the County of Shropshire: Volume 10, Munslow Hundred (Part), the Liberty and Borough of Wenlock. Originally published by Victoria County History, London, 1998.
This free content was digitised by double rekeying. All rights reserved.
RUSHBURY
Until 1883 Rushbury parish comprised 4,808 a. (1,946 ha.). (fn. 1) It contained the townships of Rushbury, Stone Acton, Wall under Heywood, and Wilderhope and Stanway (including Lutwyche). It also included part of East Wall (the rest being in a detached part of Eaton-under-Heywood parish), and most (647 a., 262 ha.) of Gretton township, the remainder (161 a., 65 ha.) being in Cardington parish. The Rushbury part of Gretton included 176 a. in detached portions, once commons, at the Gilberries and west of Wall under Heywood. (fn. 2)
If suggestions made about the late definition of Cardington parish (fn. 3) are correct, the parish centred on Rushbury in Anglo-Saxon times (fn. 4) may have been larger than it was later in the Middle Ages: if Rushbury did lose territory, at least some of the loss was probably in the north, where Gretton township lay across the medieval boundary between Cardington and Rushbury parishes. (fn. 5) Whenever it was that Rushbury parish bounds were defined, in woodland areas there may have been no precise boundary for centuries. On the east, where a wooded ridge divides Lutwyche, Wilderhope, and Stanway from Shipton parish, the boundary was probably defined in the earlier 16th century, (fn. 6) though it is there that an Iron Age hill fort, (fn. 7) above Lutwyche on one of several knolls along the limestone ridge, stands athwart the parish boundary; ¾ km. to the south-west the boundary touches another prehistoric, or Roman, enclosure. (fn. 8)
In 1883 the civil parish was enlarged by the transfer to it of the detached part of Eaton-under-Heywood parish: Longville and Lushcott townships and part of East Wall. (fn. 9) In 1967 the greater part of Gretton township in Rushbury C.P. and land at Hill End were transferred to Cardington C.P. At the same time boundary adjustments added small areas, anciently parts of Eaton-under-Heywood and Munslow parishes, to Rushbury C.P. (fn. 10) This article deals with the parish as it was in the 1830s and with the whole of Gretton township.
The settlements at Gretton and Stone Acton stand on high land flanking the hills of Cardington parish. Rushbury, Wall under Heywood, and East Wall all lie near the top of Ape Dale, which drains south-west across the parish; Rushbury forms an 'island' of higher ground in the Dale, and all the settlements north-west of Wenlock Edge except East Wall stand on prominences. East Wall is in the valley of Lakehouse brook. The Dale's south-eastern edge is formed by the limestone scarp of Wenlock Edge, which rises steeply to c. 270 m. at the top of Roman Bank and to the north-east marks the boundary between Rushbury parish and the detachment of Eaton-under-Heywood. The dip slope of Wenlock Edge falls into the shallow Hope Dale containing Wilderhope and Stanway. On the far side of Hope Dale the ground rises to a further ridge, of Aymestry limestone, mostly wooded towards the top and up to the parish boundary; it forms the north-western edge of Corve Dale. Lutwyche is at the head of the valley known in the 18th century as Knaves Dale, also contained by Wenlock Edge and the parallel Aymestry limestone ridge but descending north-east into Easthope. (fn. 11) High ground also dominates the north-western part of Rushbury parish, Stone Acton lying towards the eastern end of the group of hills including Cardington, Willstone, and Hope Bowdler hills. There the geological picture is complex, but prominent are Uriconian Andesites as well as igneous Quartz-porphyry at Stone Acton hamlet. (fn. 12)
The parish's main watercourse, running down Ape Dale, was known in the later Middle Ages as Strebrook (fn. 13) or Stradbrook (fn. 14) but in the 20th century as Lakehouse brook above Rushbury, Eaton brook lower down. (fn. 15) Heath brook and Coley brook, so known by 1833, drain south into it after the deflection of their courses around opposite ends of the prominence on which Rushbury village stands; (fn. 16) the former was perhaps known as Hordersleys brook in 1594. (fn. 17) Streams flow down Hope Dale past Wilderhope and the Stanways, uniting as Stanway brook (fn. 18) to flow south into Corve Dale. Another, probably the 14th-century Long brook, (fn. 19) rises south of Lutwyche Hall and flows north-east into Easthope parish.
Two of the parish place names include the tun element: Gretton, the gravelly settlement, and Stone Acton, the oak settlement called stony. (fn. 20) No early fortification is known in Rushbury township, and its name may mean the rush manor. Wall under Heywood and East Wall may derive from OE. waella (spring). Stanway is stone way and Wilderhope probably Wilthryth's valley. Lutwyche, the most problematical name, may refer to a nearby salt spring in Church Preen. (fn. 21)
Most of the roads may be assumed to be medieval, and a few are documented. The principal route was the 'great road' from Church Stretton to Bridgnorth, which ran through Wall under Heywood and crossed Hope Dale between Wilderhope and Lutwyche. (fn. 22) In the later 18th century, when Lutwyche was inclosed, it was straightened there; called Pilgrim Lane c. 1833, it ceased to be a public road in the 20th century. (fn. 23) The green way from Lutwyche to Larden, recorded in 1245, (fn. 24) was presumably the first part of the Larden-Plaish road mentioned in 1338. (fn. 25) The road from Stone Acton to Cardington was recorded in 1317. (fn. 26) The road south-east from Rushbury village over Wenlock Edge was known in 1580 as Rowman Lane. (fn. 27) There is no reason to think it Roman, nor need the road past Stanway or the packhorse bridge over Eaton brook on the way from Rushbury to Eaton be so considered. (fn. 28)
In 1765, as part of the Much Wenlock turnpike improvements, the road from Much Wenlock to Church Stretton via Wall under Heywood and the road south from Wall under Heywood via Rushbury to Blackwood limeworks were turnpiked. (fn. 29) As part of the latter work the bridge across Eaton brook was rebuilt in 1766. (fn. 30) A tollgate stood just north of the bridge. (fn. 31) Both roads were disturnpiked in 1875. (fn. 32) The road from Marshbrook via Ticklerton to Wall Bank was turnpiked under an Act of 1822 (fn. 33) and disturnpiked in 1878. (fn. 34) New roads were laid out in 1806 when Gretton common and Wall's Bank were inclosed. (fn. 35)
The Wenlock Railway Co.'s line from Buildwas to Craven Arms, opened in 1867, ran across the parish beneath the scarp of Wenlock Edge. Rushbury station, south of the village, was open 1867-1951. (fn. 36)
Local prehistoric activity is attested by various Neolithic and later finds, (fn. 37) occupation sites, (fn. 38) and perhaps a barrow. (fn. 39) The possible barrow lay near the most impressive monument in the parish, an Iron Age hill fort overlooking Hope Dale called the Ditches or Larden Ditches. (fn. 40)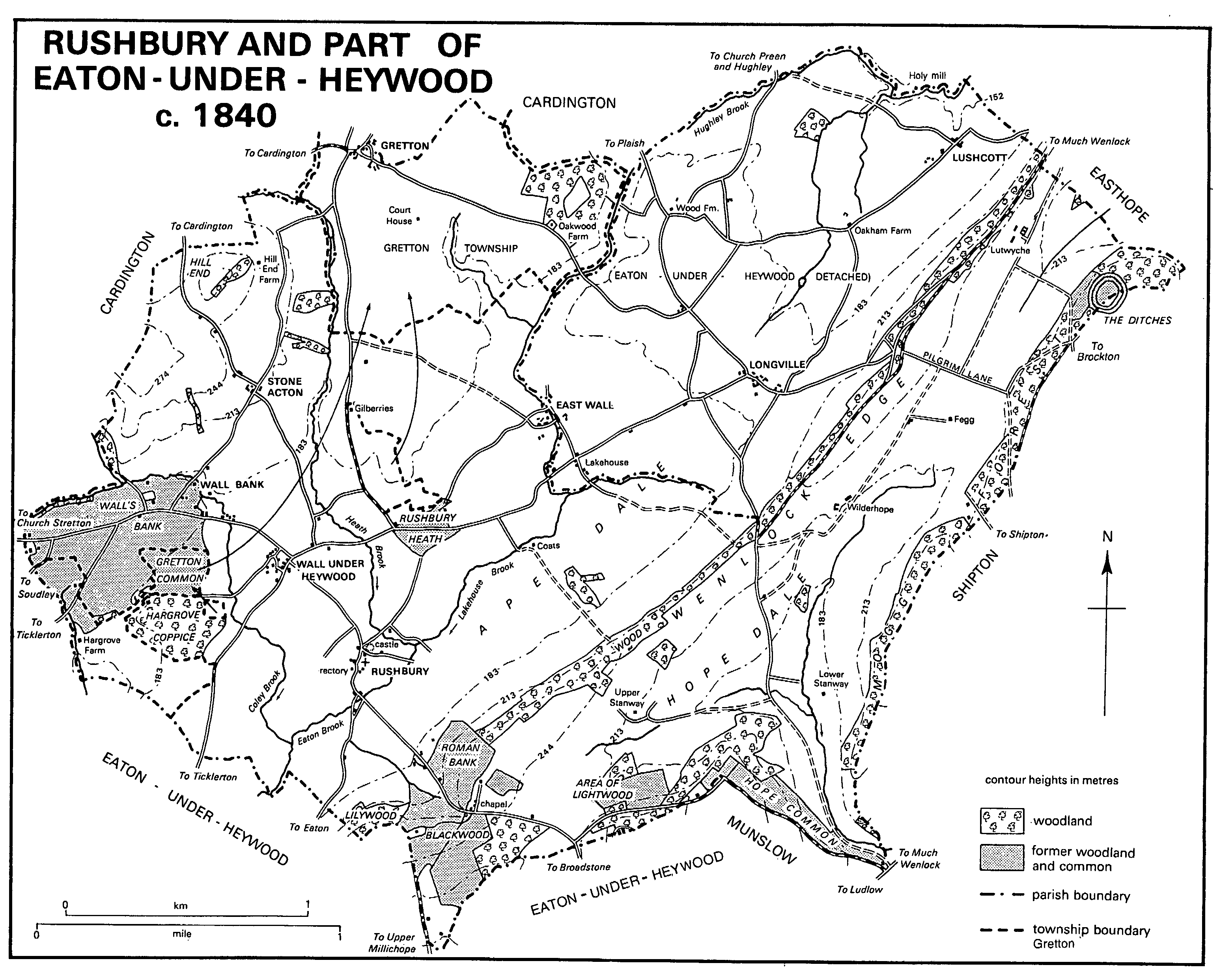 Identification of Rushbury as the Antonine Itinerary's Branogenium may be discounted, (fn. 41) but evidence of Roman occupation has been found near the church. (fn. 42) A low motte, presumably Norman, stands at the north end of Rushbury village. (fn. 43)
The two larger Domesday manors and their recorded populations, Rushbury 10 and Stanway 8, evidently subsumed more than one settlement. Gretton's recorded population was 5, Lutwyche's 4. (fn. 44) Twenty-three paid to the 1327 subsidy from Rushbury parish, including four from Gretton township. (fn. 45) Thirty-five men from Rushbury were mustered in 1542 and six from Stone Acton. (fn. 46) In 1608, apart from the chief house, there were probably four houses in Coats manor, which was between Rushbury and East Wall. (fn. 47) They were apparently included c. 1644 in 12 properties returned under the heading Rushbury; the same list gives 12 for Gretton, c. 9 for Wall under Heywood, 9 for Stone Acton, 9 for East Wall, and 5 for Stanway. (fn. 48) In 1672 hearth tax was paid on 11 houses in Rushbury, 16 in Gretton, 11 in Wall under Heywood, 8 in Stone Acton, 3 in East Wall, and 6 in Stanway and Wilderhope. (fn. 49) In 1676 there were 177 adults in the parish. (fn. 50)
The parish population rose from 356 in 1801 to 507 in 1831. It remained at about that level until the civil parish was enlarged in 1883; thereafter the C.P.'s population was c. 550. Although in 1951 it fell to 466, it rose again to 589 by 1961. (fn. 51) After the C.P. was reduced in area in 1967 (fn. 52) its population averaged c. 470. (fn. 53)
By the late 17th century cottages were beginning to encroach on the commons. The Benthalls (later Hargrove farm) was established in the western part of Hargrove by 1590. (fn. 54) A cottage had been built in Roman wood before 1602, (fn. 55) while c. 1650 there were seven cottages in or near Musegreave. (fn. 56) During the 17th, 18th, and earlier 19th centuries numerous cottages were built on Gretton common, Wall's Bank, Rushbury heath, Roman Bank, and Blackwood. (fn. 57)
Both cottages and farmhouses were timber framed in the 16th and 17th centuries, with rubble stone chimneys. Among larger examples of timber framed houses are the Coats (fn. 58) and Hall Farm, Wall under Heywood, both 15th-century. Hall Farm is a small H plan house of two storeys, with a cruck framed hall and box framed cross wings; originally timber framed on stone, the house was largely cased in brick in the mid 18th century. Seventeenth-century wall paintings, comprising geometric designs and inscriptions, were recorded during building works of the 1970s. (fn. 59) Rushbury Manor is late 16th- or early 17th-century, (fn. 60) and Church Farm, Rushbury, (fn. 61) and the L plan Malt House Farm, Wall under Heywood, (fn. 62) are early 17th-century. The last mentioned, unusually, is partly cased in stone. Of the two greater houses built in the late 16th century, Lutwyche Hall is of brick, Wilderhope Manor of coursed stone. (fn. 63) Before it became common (in the railway age) brick was also used in the Wilderhope Manor stables, perhaps 17thcentury, at Wall under Heywood to refront Hall Farm and for Lutwyche House (the former Lutwyche Arms public house) in the mid 18th century, for Stanway Manor Farm in the late 18th or early 19th century, and for the new Manor Farm north-east of Rushbury in the early 19th century. (fn. 64) Stone, however, was also used. The early 18th-century Upper Farm, Gretton, is of stone, (fn. 65) and at Wall under Heywood Stone House, c. 1800, is of coursed and squared stone (fn. 66) and Wall House, about the same date, (fn. 67) is stuccoed stone. Of the later brick buildings the most notable is Stanway Manor, built in 1863 for William Horton, a retired colliery owner and architect, of Darlaston (Staffs.). (fn. 68)
Rushbury village, in 1840 a small settlement away from major roads, did not grow in the next century and a half. The dozen or so dwellings around the castle mound and the church display a variety of timber framing, stone, and brick, and the village was made a conservation area in 1986. (fn. 69)
After 1945 Wall under Heywood, on a more important road than Rushbury, slowly grew from a hamlet into a small village, albeit one without amenities beyond a garage (a former traction engine depot), (fn. 70) sub-post office, and public house. A wooden parish hall at Wall under Heywood had opened c. 1930. (fn. 71) Ten council houses were built there c. 1950 (fn. 72) and later a number of private houses.
Rushbury wake was held on the Sunday after the feast of St. Peter and St. Paul; it may latterly have been held at Wall under Heywood, where there was a wake until c. 1920. (fn. 73) Alesellers were licensed in the 17th and 18th centuries at Rushbury and Wall under Heywood. (fn. 74) There was only one alehouse in the parish in 1793, (fn. 75) but soon after that two public houses were opened at Wall under Heywood: the New Inn (so known in the 1830s and 1840s) had become the Lutwyche Arms by 1851 and closed in the 1920s; the Plough remained open. (fn. 76) Stoolball was played in the early 17th century (fn. 77) and there is said once to have been a cockpit at Upper Stanway. (fn. 78)
About 1892 the former almshouses in Rushbury were converted to a reading and recreation room. It was used by local clubs and contained a library (fn. 79) but had closed by 1956. (fn. 80)
Rushbury and Eaton-under-Heywood had an Association for the Prosecution of Felons in 1827, subscriptions being based on the poor rate. (fn. 81)
The novelist Stella Benson (1892-1933) was born at Lutwyche Hall. (fn. 82)
MANORS AND OTHER ESTATES.
Alwine (Aelwin), a free man, held RUSHBURY in 1066. In 1086 Roger of Montgomery, earl of Shrewsbury, held Rushbury in chief and Roger de Lacy held it of him. (fn. 83) Earl Roger's son Robert of Bellême forfeited the lordship in 1102, (fn. 84) and the Lacys' estate became a tenancy in chief that descended to their coheirs (fn. 85) the Verduns, overlords until at least 1335, (fn. 86) and the Mortimers. By 1348, however, Roger de Mortimer (restored as earl of March 1354) (fn. 87) held the whole of Rushbury, (fn. 88) and the overlordship remained with the earldom of March at least until 1425, when the last Mortimer earl died leaving Richard, duke of York, as his heir. (fn. 89) In 1455 the manor was said to be held of the heir of Edward Russell (fn. 90) and in 1465 and 1467 of Edmund Russell, (fn. 91) possibly under a trust created by an earlier duke of York. (fn. 92)
In 1086 Otes of Bernières (fl. 1121) held 5 hides in Rushbury under Roger de Lacy. (fn. 93) In 1200 Otes's great-grandson Herbert of Rushbury was lord. He died without issue 1209 × 1221 (fn. 94) and by 1242 the manor, held as 1 knight's fee, was divided between his sister Parnel, wife of Warner of Willey (d. by 1231), (fn. 95) and Stephen of Bitterley (alias de Scotot or Esketot), grandson of his other sister. (fn. 96) In the royal inquiry of 1255 the jurors returned verdicts on Wall under Heywood and West Wall distinct from that on Rushbury. Nevertheless West Wall seems to have been identical with Wall under Heywood and was then part of Rushbury manor. (fn. 97) In 1255 Stephen of Bitterley held half of the manor and Parnel's grandson Andrew of Willey the other half, though part of Andrew's inheritance was held in dower by his mother Burga and the rest, by reason of his minority, was in the hands of Margery de Lacy, who had inherited a moiety of the overlordship and carried it to her husband John de Verdun. (fn. 98)
Parnel of Willey's moiety descended with Willey: in 1302 Richard of Harley and his wife Burga of Willey held it, and by 1318 Burga held it in her widowhood. The two moieties, each ½ knight's fee, were probably reunited c. 1340 to be held as 1 knight's fee by the Burnells' heirs. (fn. 99)
Stephen of Bitterley was lord of the other moiety until 1274 or later, and in 1283 Roger of Bitterley sold it to Hugh Burnell (d. 1286), (fn. 100) whose son Philip died in 1294. During part of the minority of Philip's son Edward custody of his moiety was given to Guncelin of Badlesmere (d. 1301). (fn. 101) Edward Burnell had livery of his lands in 1307 (fn. 102) and his moiety then, and the whole manor from c. 1340, descended with Acton Burnell until 1485. (fn. 103)
On the attainder of Francis, Viscount Lovel, in 1485 the manor was forfeited to the Crown. (fn. 104) In 1488 Henry VII granted it in tail male to his uncle and councillor John, Viscount Welles (d.s.p. 1499), (fn. 105) but by 1497 it seems to have belonged to Henry, duke of York, (fn. 106) who as Henry VIII in 1514 granted Rushbury in tail male to Thomas Howard, newly created duke of Norfolk (d. 1524). 79 In 1533 Norfolk's son and heir Thomas (fn. 107) exchanged Rushbury and other manors for estates in Surrey and Sussex with Sir John Dudley, (fn. 108) later Lord Lisle and earl of Warwick. (fn. 109) In 1549 Warwick exchanged Rushbury with Nicholas Heath, bishop of Worcester, in right of his see, (fn. 110) and the freehold and inheritance of the manorial rights then descended with those of Holdgate until 1861. (fn. 111)
In 1548 Warwick had leased Rushbury and other properties to Bishop Heath's brother William for 200 years. Heath assigned his lease in 1552 to Henry Cressett (d. 1563), who left his interest to his nephew Richard Cressett (d. 1601) of Upton Cressett. Richard in turn left the property to Edward, grandson of Thomas Cressett of the Coates (in Holdgate), and thereafter, until 1861, the lease descended with Cound manor. In 1861 the lessee, the Revd. Henry Thursby-Pelham, bought the freehold from the Ecclesiastical Commissioners. (fn. 112)
Thursby-Pelham sold the manor, probably to the Staffordshire ironmaster W. H. Sparrow (d. 1867), whose son Arthur, of Church Preen, owned it in 1868. (fn. 113) On Arthur's death in 1898 the manor passed to his youngest son A. B. H. Sparrow (from 1899 Hanbury-Sparrow) who died in 1936 leaving it to his son Lt.-Col. A. A. H. Hanbury-Sparrow (fl. 1952). (fn. 114) By 1949 C. E. Edwards owned the major portion of the Sparrows' former Rushbury estate, which he was then, and in 1951, offering for sale. (fn. 115)
Rushbury castle, represented by remains of the motte and its surrounding ditch, (fn. 116) was presumably the manor house in the early Middle Ages. The adjacent Rushbury Manor is a late 16th- or early 17th- century timber framed house of two storeys and an attic, with three front and two rear gables. The building and its yards were occupied with Church Yard farm in the mid 19th century; apparently divided into three about then, it was restored as one house c. 1966. (fn. 117)
After the reunion of the moieties of Rushbury manor c. 1340 some interest in Wall under Heywood was apparently retained by the Harleys' heirs, for in 1540 land there was held of Richard Lacon by the Gowers of Stone Acton. (fn. 118) In 1613 WALL UNDER HEYWOOD was one of several manors or reputed manors mortgaged by Sir Francis Lacon, and in 1616 property there was among that which, with his son Rowland, he sold to Isaac Jones and Richard Newell. Jones's brother Edward sold what was probably all his property in Wall under Heywood in 1636. It belonged to the Baldwins of All Stretton 1636-1722 and in 1770 was bought by Elizabeth Cressett, lady of Rushbury. (fn. 119)
In 1495-6 Wenlock priory kitchen received 8s. from the tithes of Wall under Heywood, (fn. 120) but nothing more is known of the property.
The duke of Norfolk may have retained land in Rushbury after 1533 for in 1574 (after his grandson's forfeiture) the Crown granted a 21year lease of lands in Rushbury and Chatwall (in Cardington), lately the executed duke's, to Henry Myddelmore, a courtier. (fn. 121) The later history of the property has not been traced.
By 1587 the Lees of Langley had land in Rushbury. (fn. 122) The property descended with Acton Burnell manor (fn. 123) until 1824 when Sir Edward Joseph Smythe sold RUSHBURY FARM (later Manor farm) to Barnard Dickinson (d. 1852), manager of the Coalbrookdale Co.'s works. (fn. 124) By 1868, with CHURCH YARD FARM (evidently acquired from the ThursbyPelhams with the manor), it was part of Arthur Sparrow's 438-a. estate in Rushbury. (fn. 125) The estate belonged to the Sparrows until 1948 and then changed hands more than once before Richard Minton bought it in 1953. (fn. 126) The 17thcentury Church (formerly Church Yard) Farm, north-east of the church, (fn. 127) is a T plan building of two storeys, timber framed with stone gable ends. (fn. 128)
Francis Leigh (d. 1710), of Puttenham (Surr.), owned property in Rushbury by 1683, and it passed to his daughter and son-in-law Frances and Jasper Jones. (fn. 129)
The Leightons of Plaish had property in Wall under Heywood and East Wall in the earlier 17th century. (fn. 130)
Rushbury manor included land in EAST WALL that was subinfeudated in the mid 12th century to Basile (or Sibyl), possibly a relative of Otes of Bernières, the Domesday lord of Rushbury. Basile (d. before 1165) was succeeded by her daughter Eve, who married first Robert of Brimpton, alias of Longford (d. by 1185), and secondly Walter de Witefeld (fl. 1200). The estate passed to Eve's son Adam of Brimpton (d. c. 1235), who was succeeded by another Adam. (fn. 131) The Brimptons' mesne lordship may have lapsed in the next century, for by 1436 Sir John Radcliffe (d. 1441) was lord, presumably in right of his wife Catherine (d. 1452), lady of Rushbury manor. (fn. 132)
By 1255 East Wall had been further subinfeudated to the Sprenchoses of Longnor, (fn. 133) and the following Sprenchoses held it: Roger, who held 1 hide there in 1255; (fn. 134) Roger, fl. c. 1316, (fn. 135) and Sir John, fl. 1348-1350. (fn. 136) The family apparently retained some interest in East Wall in 1483 when John and Maud Sprenchose sold property there to John de Betenhull, clerk. (fn. 137)
Lawrence Ludlow held courts for East Wall in 1505 and 1507, (fn. 138) and thenceforward the manor descended with the Moorhouse (in Shipton), being sold in 1721 with a share of the Moorhouse by kinsmen of the Ludlows to Samuel Edwards (d. 1738) of West Coppice, described as lord of East Wall in 1733. (fn. 139) About 1745 Edwards's trustees sold East Wall manor and 227 a. there to William Beresford. (fn. 140) In 1748 Beresford sold it to Godfrey Kneller (d. 1781), of Donhead Hall (Wilts.). (fn. 141) By 1775 Charles Maverley (d. by 1795), of Gray's Inn, was lord. (fn. 142)
In 1808 Sarah Wildman, of Turnham Green (Mdx.), sold the manor and 242 a. to Thomas Gibbons of Eudon Burnell, (fn. 143) who in 1840 had 248 a. in the Rushbury portion of East Wall. (fn. 144) John Gibbons farmed at East Wall in 1856. (fn. 145) Abraham Haworth, a cotton merchant who owned 731 a. in all at East Wall, had the farm in 1910. (fn. 146) Sold with the rest of Haworth's estate in 1925, the farm changed hands several times before being bought in 1947 by the Taylors, owners in 1990. (fn. 147)
Manor Farm, presumably the house at East Wall taxed on four hearths in 1672, (fn. 148) has a 17th-century core. Refurbished and cased in brick in the mid 18th century, it was modernized again in the mid 19th. Later in the 19th century it was rebuilt in slightly flamboyant gothic as a 1½ storeyed building.
Sir Thomas Lacon (d. 1536) had an estate in Rushbury including property at East Wall which passed to his son Richard (d. 1543). (fn. 149) Richard's son Rowland (d. 1608) greatly reduced the family's estate in the parish by the sale in 1581 of Lily wood, south of Rushbury, to Richard Leighton of Coats. (fn. 150) In 1616 Rowland's son Sir Francis Lacon sold property, including East Wall 'manor', to Isaac Jones and Richard Newell; the claim to manorial status, like those the Lacons advanced in respect of their properties in Wall under Heywood, Wilderhope, (fn. 151) and elsewhere, (fn. 152) seems to have been baseless.
From 1616 the Lacons' East Wall property probably descended with Gretton in the Jones family. Like Gretton, a property (38 a.) at East Wall was offered for sale by Sir Thomas John Tyrwhitt Jones (d. 1839) in 1824. (fn. 153) It may have failed to sell, for his widow Eliza (d. 1865) had 54 a. at East Wall in 1840. (fn. 154) It was worked from a cottage south-west of East Wall, which had been demolished by 1901. (fn. 155)
In 1568 Nicholas Crosthwaite, lord of Easthope, sold a messuage and lands in East Wall to John Adys of Frampton on Severn (Glos.), who in 1578 sold it to Edward Lutwyche of Lutwyche. In 1614, when Lutwyche died, the property was held partly of East Wall manor and partly of Rushbury manor. (fn. 156) The Lutwyche family evidently continued to own property in East Wall until 1785 when East Wall farm (77 a.) was offered for sale. (fn. 157) It was probably withdrawn from sale and then descended with Wilderhope. (fn. 158) In 1907 R. B. Benson of Lutwyche sold a farm at East Wall to Rowland Tench, (fn. 159) who had apparently sold it to Abraham Haworth by 1910. (fn. 160) The farm was disposed of with the rest of Haworth's estate in 1925. (fn. 161) Brook House Farm, as it was then called, is a small 1½ storeyed timber framed house of the 17th century, later extended.
COATS may early have been part of Rushbury manor. (fn. 162) Walter de Witefeld held a freehold there and at Wall in 1200; it included 20 a. of pasture and 40 a. of wood, once his mother-inlaw Basile's marriage portion, the status of which was disputed with Herbert, lord of Rushbury. A jury found that Walter held that land in demesne and not of Herbert. (fn. 163)
By 1255 Coats, like East Wall, was held in fee by the Sprenchose family. They had subinfeudated Coats to tenants who took their name from it. In 1255 John of Gatacre held Coats as ½ hide as guardian of the heir of John of Coats. That heir, John of Coats (fl. 1263), was apparently succeeded by William of Coats (fl. 1272-92). (fn. 164) He or a namesake occurred in 1318. (fn. 165) Richard Smallman (fl. 1379) was lord in 1374. (fn. 166)
Coats was later held by a branch of the Leightons of Church Stretton. (fn. 167) Edward Leighton was perhaps succeeded by a son John (fl. 1487-97), (fn. 168) he by his son Ralph (coroner in 1533), and he, by 1557, (fn. 169) by his son Richard, perhaps undersheriff 1587-8. (fn. 170) Richard (d. 1605) left his second son Nicholas as his heir. Dealings of the eldest son Richard (b. 1562, d.v.p.) led to litigation over the estate between Nicholas and his younger brother William, but Nicholas established his title and in 1610 sold Coats and two mills in Rushbury to Humphrey Lee of Langley. (fn. 171)
By 1678 Sir Francis Edwardes (d. 1690), of Meole Brace, owned Coats (fn. 172) and his son and namesake was lord in 1721. (fn. 173) By 1734 Coats (325 a. in 1785) was part of the Lutwyche estate (fn. 174) and it then appears to have descended with Wilderhope. (fn. 175) R. B. Benson of Lutwyche sold Coats Hall farm (323 a.) to Abraham Haworth c. 1910 (fn. 176) and it changed hands several times in the 20th century. (fn. 177)
The chief house originally stood within a rectangular moat. The box framed hall of c. 1486, originally c. 30 × 24 ft., was later truncated and a floor was inserted in it; it retains an arch-braced central truss and a spere truss. The screens passage is entered through a 16th-century timber framed porch. A parlour wing incorporates a kitchen, originally detached. In the 17th century that wing was much altered and the hall divided. The whole is now partly cased in brick. The outbuildings include a fine late 16th-century barn. (fn. 178)
The early manorial connexions of WILDERHOPE are uncertain. (fn. 179) The tenancy in chief, like that of Rushbury, was evidently divided between Walter de Lacy's granddaughters and coheirs Margery de Verdun and Maud de Geneville, but the shares of their Wilderhope lordship were not reunited (as those of their Rushbury lordship were) in the Mortimers' hands. (fn. 180)
Margery's grandson Tibbald de Verdun (d. 1316) had ½ knight's fee in Wilderhope, (fn. 181) at least part of which had passed by 1335 to one of his daughters and coheirs Isabel (d. 1349), wife of Henry, Lord Ferrers (d. 1343). (fn. 182) Their son William, Lord Ferrers, had all the ½ knight's fee at his death in 1371. (fn. 183) The same estate passed to his son Henry, Lord Ferrers of Groby (d. 1388) and to Henry's son William, Lord Ferrers of Groby. (fn. 184)
Maud de Geneville's granddaughter Joan, widow of Roger de Mortimer, earl of March (d. 1330), held lands at Wilderhope in chief at her death in 1356. (fn. 185) The descent of the shares of the overlordship of Wilderhope after the 14th century has not been traced, but in 1639 Wilderhope was said to be held in socage of the heirs of Richard Harnage. (fn. 186)
Before 1225 the terre tenancy of Wilderhope manor had belonged to Parnel, sister and heir of Herbert of Rushbury, and her husband Warner of Willey. (fn. 187) Their son Andrew of Willey (d. 1265) succeeded to Wilderhope (fn. 188) and Andrew's daughter and heir Burga of Harley held it in 1283. (fn. 189) Burga had married Richard of Harley, and Wilderhope manor descended thereafter with Harley until 1583, (fn. 190) when Rowland Lacon sold Wilderhope to Thomas Smalman, (fn. 191) a law yer (fn. 192) whose family probably originated in the Rushbury area. In 1583 Smalman also bought a small farm in Wilderhope from Richard Parramore, a London merchant. (fn. 193) The estate then descended from father to son in the Smalmans, from Thomas (d. 1590) successively to Stephen (d. 1635), (fn. 194) Francis (d. 1639), Thomas (d. 1693) who compounded for the sequestrated estate in 1649, Henry (d. by 1706), and Thomas. (fn. 195)
Thomas Smalman sold Wilderhope to Thomas Lutwyche in 1734 (fn. 196) and Wilderhope descended with Lutwyche (fn. 197) until 1785, when it was the subject of a Chancery suit by William Lutwyche, illegitimate son of William Lutwyche (d. 1773) and beneficiary under the wills of two of his father's three sisters. (fn. 198) Three estates seem to have been created in the Lutwyche family's landed property and shares in them passed to various members of the family. (fn. 199) With the sale of Lutwyche in 1785 (fn. 200) the estate centred on Wilderhope. A share went to Mrs. Sarah Winford, the elder William Lutwyche's youngest sister and possibly his heir at law; (fn. 201) she sold it to Joseph Harris of Bewdley (Worcs.). (fn. 202) Other shares went to the younger William Lutwyche and to his sisters Mrs. Eleanor Mayhew (d. 1832) and Mrs. Clementina Handasyd (d. 1838), both latterly of Walcot (Wilts.). Presumably after their brother's death without issue in 1823 they added the surname Lutwyche and set up trusts (fn. 203) under which 1,328 a. (fn. 204) eventually came to Capt. W. W. T. Bayntun, son of Sir Henry William Bayntun (d. 1840) and Mrs. Mayhew Lutwyche's daughter Sophia (d. 1830). (fn. 205) Sir H. W. Bayntun had also acquired Sarah Winford's share in the estate by devise of Joseph Harris in 1833. Capt. Bayntun (d. unm. 1842) was succeeded by his sister Mrs. C. E. M. Boodé. In 1851 some of Mrs. Boodé's land passed to M. G. Benson of Lutwyche, perhaps by exchange. Mrs. Boodé, widowed in 1870, married, probably in 1872, the Baron de Villefranche and died in 1888 (fn. 206) when Wilderhope passed to her daughter Mrs. C. E. L. Hippisley of Ston Easton (Som.), the owner in 1903. (fn. 207)
By 1907 Wilderhope belonged to R. B. Benson of Lutwyche, who sold it that year to T. C. Williams. (fn. 208) In 1916 Mary Ann Williams, presumably his widow, sold the estate to William Connell. (fn. 209) Wilderhope Manor was bought from Connell's widow Emma Lizzie for the National Trust in 1936 by the Cadbury Trust, which in 1971 also bought the adjacent 216-a. farm from T. C. P. Connell as an endowment for the Manor and thereby reunited the estate. (fn. 210)
Francis Smalman built Wilderhope Manor between 1584 (when his brother Thomas granted him a 40-year lease of land bought in 1583 from Richard Parramore) or 1591 (when Thomas's will required all his Wilderhope lands to be leased to Francis) and perhaps 1593 when Francis's wife died. (fn. 211)
The house, of six bays and 2½ storeys, faces south-east (assumed south in the following description) across a shallow valley. (fn. 212) It is of limestone rubble with quoins, mullions, and pediments of Hoar Edge grit. The upper parts of the chimneys and the shafts are of brick, the former diapered. The roof is of Harnage stone slates. It was taxed on seven hearths in 1672. (fn. 213) The hall, presumably with great chamber over, has a screens passage at its west end entered through a projecting porch bay. The hall has a lateral north fireplace and a south-facing oriel at its west end. Like the porch, the oriel rises the full height of the house and is gabled. The south front is generously provided with mullioned and transomed windows. On the north is a projecting semicircular staircase turret, and the great chamber did not therefore have to function also as a first-floor passage room. A secondary newel stair rises in the angle between porch, screens, and service bay. The parlour range at the east end of the house has an east chimney stack and a projecting north garderobe chute. The service range at the west end of the house extends back north of the hall, and its large west chimney stack suggests that originally its ground floor was mainly taken up with kitchen rather than pantries.
The parlour and hall are among several rooms retaining their original moulded plaster ceilings; devices include Francis and Ellen Smalman's initials and formerly included the family's arms and motto. (fn. 214) Some original fireplaces survive. Perhaps in the 17th century the parlour and great chamber were subdivided; otherwise alterations have been few. After 1734 the house probably declined, and it was ruinous and uninhabited by 1936 when renovation began, to make it into a youth hostel.
North-east of the Manor is a smaller brick building of two storeys with projecting gabled end bays, probably built in the 17th century, perhaps as stables. South-west of the Manor is Wilderhope Farm, rebuilt in 1936. (fn. 215)
FEGG, a house and 182 a., was owned with Wilderhope in 1785 (fn. 216) and until 1851 when M. G. Benson acquired it. (fn. 217) In the late 1930s G. R. Benson sold it to Mrs. William Connell, whose family owned it in 1990. (fn. 218) Fegg Farm is a small 17th-century timber framed building with a brick range of c. 1800.
If, as has been suggested, STONE ACTON was part of the Domesday manor of Stanway, (fn. 219) the connexion may have been recent in 1086. To the west and north the estates in Cardington and Gretton presumed to have belonged to Warin the bald (d. c. 1085) almost surrounded Stone Acton: (fn. 220) Warin may therefore have owned that too, adding it to his manor of Stanway, on the opposite side of Rushbury, to compensate for Stanway's loss of most of Broadstone which Warin had given to Shrewsbury abbey. (fn. 221)
In the earlier 13th century Philip of Broseley held Stone Acton. His immediate overlord was Madoc of Sutton, lord of Stanway c. 1240 when Philip gave Stone Acton (½ hide) to the Templars of Lydley. (fn. 222) Following the Templars' suppression in 1308 (fn. 223) Stone Acton passed to the Hospitallers of Dinmore (Herefs.) and from them, in 1540, to the Crown. (fn. 224) In 1554, Stone Acton rents formerly the Hospitallers' were granted in fee to Sir Edmund Peckham, Thomas Holmes, and Gilbert Langton. (fn. 225)
In 1570 George, son of Roger Smythe of Morville, sold the reputed manor of Stone Acton to Robert Acton of Aldenham. (fn. 226) The next lord was Robert's son Walter. (fn. 227) Edward Lutwyche (d. 1614) bought the manor from William Tipper and Robert Dawe in 1601. (fn. 228) His son Edward (d. 1639) left a 40-year interest in the property to his daughters Elizabeth and Sarah, with remainder to his younger son John. (fn. 229) In 1668 John, of Stone Acton, sold the manor to his nephew Edward Lutwyche (kt. 1684, d. 1709). (fn. 230) The manor then descended with Lutwyche at least until 1785, when it was among the parts of the Lutwyche estate offered for sale. The Lutwyches' estate in Stone Acton then comprised Stone Acton farm (273 a.), to which was attached a sheep walk of 185 a., probably on Cardington Hill. (fn. 231)
Richard Jones, gentleman, lived at Stone Acton in 1800; whether as owner or lessee is unknown, (fn. 232) but in 1802 William Jones was lord of the manor. (fn. 233) By will of 1868 William Jones, presumably his son or grandson, left his property in Stone Acton, including the manor, to John Farmer of Cound, (fn. 234) whose family had it until 1909. The farm then changed hands several times before being bought in 1952 by W. S. Turner, owner in 1990. (fn. 235)
The hall of Stone Acton, sold with the manor in 1668, (fn. 236) was probably the house of three hearths occupied in 1672 by John Lutwyche. (fn. 237) Stone Acton Farm is a mid 19th-century building of brick with stone details and some gothic elements.
Before they bought Stone Acton manor the Lutwyches had begun to buy land there. In 1579 Edward Lutwyche bought three messuages there and at Wall under Heywood from John Hallywell, (fn. 238) one of those properties having been bought by Hallywell or his father (also John) from Joan and Richard Lee in 1546. (fn. 239) Joan was William Gower's granddaughter and heir. (fn. 240)
The Actons evidently retained some interest in Stone Acton after 1601 for in 1741 property there was bought by William Lutwyche from Sir Richard Acton of Aldenham. (fn. 241) It probably included the Horse Pool House tenement, which had belonged to George Smythe of Morville in 1568 (fn. 242) and to the Actons by 1691, (fn. 243) and the farm later known as HILL END, partly in Cardington parish. The property was presumably sold in Chancery c. 1785. (fn. 244) Hill End was owned by Daniel Lowe in 1840, (fn. 245) Thomas Corfield in 1880, (fn. 246) and R. H. Danily in 1910. (fn. 247) In 1691 Horse Pool House was described as a mansion. (fn. 248) Probably 17th-century, Hill End Farm is a two bayed timber framed house cased in stone.
Aelfric (Aluric), a free man, held STANWAY in 1066. In 1086 the sheriff Reynold of Bailleul held it of Earl Roger, the tenant in chief. (fn. 249) Soon after 1102, when the earl's son forfeited his English lands, the lordship presumably passed with the rest of Reynold's estates to Alan son of Flaald, (fn. 250) whose descendants the FitzAlans, later earls of Arundel, were overlords as late as 1524. (fn. 251) By 1567 Rowland Hayward (kt. 1570) (fn. 252) was overlord. (fn. 253)
In 1086 Stanway was one of the manors of Otes of Bernières, (fn. 254) who died some time after 1121. (fn. 255) Otes's great-grandson Herbert of Rushbury (fl. 1200-9) (fn. 256) made a grant, confirmed in 1227, of 'all the land of the two Stanways with all their appurtenances on Wenlock Edge' to Henry of Audley. (fn. 257) Before 1240 Audley exchanged Stanway with Madoc of Sutton for a share of Weston under Redcastle; (fn. 258) in 1255 Madoc was John FitzAlan's tenant in the two Stanways. (fn. 259) In 1348 Giles Carles held Stanway as ½ knight's fee, (fn. 260) as did Sir John Winsbury in 1428 and 1431. (fn. 261) Elizabeth Winsbury, perhaps Sir John's widow, (fn. 262) claimed it c. 1460. (fn. 263) By a settlement of 1481 the manor of Over and Nether Stanway was held for life by Sir John Winsbury's daughter Margaret (d. c. 1499), (fn. 264) widow of Fulk Sprenchose, with remainder to her daughter Margery, wife of Richard Lee of Langley (fn. 265) (d. 1498) (fn. 266) and secondly of William Leighton. (fn. 267)
Margaret Sprenchose's manor may have been divided. The 'townships' of Over and Nether Stanway were later said to have been held (of the earl of Arundel) by Sir Peter Newton (d. 1524) whose heir was his son Arthur. (fn. 268) By 1529 Over and Nether Stanway had passed to Sir John Smith, (fn. 269) and his son Thomas seems to have sold them, as the 'manor' of Over Stanway and Nether Stanway, to Adam Lutley in 1560. (fn. 270) William Powlett, who had married Anne, daughter and heir of Sir John Smith's son Edmund, may have retained some interest in the manor until 1579 or later. (fn. 271)
Meanwhile, however, part of the manor of Over and Nether Stanway was said to belong by 1543 to Edward More of Larden; he then settled it on his son Thomas (d. 1567), who held of Rowland Hayward. Thomas's heir was his son Jasper. (fn. 272) Jasper's title was disputed in 1569 by William Leighton of Plaish, who claimed a quarter of the manor of Stanway, (fn. 273) presumably by descent from Margery Leighton, one of Fulk Sprenchose's coheirs. Margery's coparcenery, however, was not in Stanway manor (her mother's inheritance) but in premises in Over and Nether Stanway that descended with Plaish manor (her father's). (fn. 274) Leighton relinquished his claim in 1581 (fn. 275) and Jasper More then sold his own part of Stanway manor to Adam Lutley (d. 1590). (fn. 276)
The whole manor, sometimes called Over Stanway (because Nether Stanway's chief house descended separately), (fn. 277) thereafter descended in the Lutleys from father to son, the following being owners: (fn. 278) Adam's son John (d. 1645), (fn. 279) Adam (d. c. 1678), (fn. 280) Bartholomew (d. 1716), (fn. 281) Philip (d. 1731), (fn. 282) and Jenkes (d. unmarried 1746). (fn. 283) Three of Jenkes's nephews, John, Richard, and Thomas Barneby, sold the manor in 1797 to William Wainwright (d. 1800). (fn. 284) Richard Wainwright owned Upper Stanway in 1840 but later sold it, (fn. 285) and William Horton may have been the owner by 1863. (fn. 286) It belonged c. 1910 to T. C. Williams. (fn. 287) The manor was offered for sale in 1933 (fn. 288) but has not been traced further.
Upper Stanway is an 18th-century brick building, originally of three storeys but later two. A detached timber framed block was demolished in the 20th century. (fn. 289) In 1863 William Horton built Stanway Manor on the property as a gentleman's residence. (fn. 290) From the early 1890s it was occupied by the railway engineer and 'autocratic ruler' of Crewe, F. W. Webb (d. 1906). (fn. 291)
Robert of Beaumais (d. by 1265) held 2 carucates at Stanway in fee, presumably as tenant of Madoc of Sutton or his successors. The estate had passed by 1270 to Robert's son Hugh, who was said in 1271 to hold the manor of NETHER STANWAY. He conveyed it before 1292 to John of Beaumais, lord of Donington, after whose death (1305 × 1315) John's younger son John quitclaimed his rights in Stanway to the elder son Hugh. (fn. 292) The further descent of Hugh's Stanway estate has not been traced.
The Lees evidently retained or acquired a freehold in Nether Stanway after Richard Lee's death in 1498, for in 1586 Richard Lee of Langley settled the chief house at Nether Stanway on his sister Jane More for life. (fn. 293) Thomas Smalman of Wilderhope (d. 1590) bought it, (fn. 294) and it descended with Wilderhope until 1734 when Wilderhope was sold to Thomas Lutwyche; Lutwyche's son William bought Nether Stanway c. 1739. (fn. 295) Among the Lutwyches' property offered for sale in 1785 was Stanway farm, 206 a. and woods, (fn. 296) but it was probably withdrawn, for Sarah Winford (née Lutwyche) later sold her share of it to Joseph Harris. (fn. 297) By 1840 Lower Stanway was part of Sir H. W. Bayntun's Rushbury estate. (fn. 298) In 1909 the 293-a. property was owned by the Websters, formerly tenant farmers there. (fn. 299) It later passed by marriage to Thomas Marsden, whose family had it until 1973 when the farm was sold to the Radcliffes, owners in 1990. (fn. 300) Lower Stanway is a large 19th-century brick house.
In the 13th century Walter de Kenigford and his wife Margaret had an estate in Nether Stanway. It passed from Margaret to their daughter Alice on her marriage to John Aberd (or Abel). By 1272 John and Alice were divorced but John unlawfully retained 1½ virgate, (fn. 301) perhaps including the virgate for which John's daughters sued Herbert Aberd (or Herbert of Stanway) in 1292 and the half virgate of which they had allegedly disseised him. (fn. 302) It is possible that Alice Aberd married secondly a Henry son of John; in 1261 he and his wife Alice sold a half virgate in Nether Stanway, in her right, to Robert of Beaumais. (fn. 303)
In 1066 Alric and Ottar (Otro), free thegns, held GRETTON as two separate estates. (fn. 304) In 1086 Earl Roger held the two manors of the king, and that lordship was forfeited in 1102. (fn. 305) The sheriff Reynold of Bailleul and one Robert, as mesne lords, held one each of the manors under Earl Roger in 1086; both had the same tenant. (fn. 306) Reynold's overlordship descended to the FitzAlans. Nothing is known of Robert but his name, and his interest may have lapsed or been forfeited to the Crown, possibly to be granted in the earlier 12th century to Richard of Beaumais. (fn. 307)
The two manors that Otes of Bernières held of the two mesne lords in 1086 evidently became one, and it descended until 1616 with Kenley. (fn. 308) In 1613 Sir Francis Lacon mortgaged it to Edward Jones and Richard Newell who probably foreclosed in 1616, the manor passing to Jones's brother Isaac. It probably soon passed to the family of Isaac's brother Edward, and thereafter it descended with Wigmore (in Westbury), at least until 1824, when both were offered for sale. (fn. 309) Still in the 1830s, however, Gretton belonged to Sir T. J. Tyrwhitt Jones (d. 1839), whose widow Eliza (d. 1865) later owned it. (fn. 310) From 1875 or earlier until 1935 or later Gretton descended with Plaish. (fn. 311)
The court of Gretton, mentioned in 1529, (fn. 312) presumably stood within the moat that is part of the extensive earthworks south-east of Gretton village. (fn. 313) The farmhouse was largely demolished in the mid 19th century, (fn. 314) and only a pair of mid or late 16th-century cottages remained, half derelict, in 1986. (fn. 315)
William Leighton (d. 1607) of Plaish owned two farms in Gretton in 1602. They passed to his son Henry, of Habberley, who sold them in 1614. (fn. 316)
In 1318-19 William, lord of Coats, sold land in THE GILBERRIES to Burga of Harley, lady of Gretton, and her son Philip. (fn. 317) It descended with Gretton manor until 1887 or later, but by 1910 belonged to William Robinson. In 1824 the farm comprised 59 a. (fn. 318) By 1565 there was a house at the Gilberries occupied by Thomas Ridley, gentleman; (fn. 319) it was of three bays in 1621 and there was a 2½ bayed barn. (fn. 320)
BENTHALLS, mentioned in 1590, (fn. 321) occupied most of Gretton's other large detachment and descended with Gretton until 1824 or later. (fn. 322) George and Joseph Chune owned it by 1844 (fn. 323) when it may already, as later, have been known as Hargrove farm. (fn. 324) William Hutton of Birmingham owned it in 1910. (fn. 325) In 1621 there was a house of three bays with 62 a. (fn. 326) Hargrove Farm, the present house, is 19th-century.
Godwine held LUTWYCHE in 1066. In 1086 Earl Roger held it in chief, but his son forfeited the lordship in 1102. In 1086 the sheriff Reynold of Bailleul held Lutwyche of the earl and Richard held it of Reynold. Richard also held Brockton (in Shipton and Stanton Long) under Reynold, (fn. 327) and probably in the 12th century Richard or one of his successors subinfeudated Lutwyche, for as late as 1639 the lords of Brockton were mesne lords of Lutwyche. (fn. 328)
Lutwyche was held by a family which took its name from the place. William of Lutwyche was lord in 1203. Herbert was probably the next lord and was succeeded by his son William (fl. 1240- c. 1265). Thomas may have been next lord. (fn. 329) The manor was held by men called William 1302-30 (fn. 330) and in 1366. (fn. 331) Hugh may have been lord before another William (fl. 1404-18), after whom Thomas, Richard, Richard, and Richard were successive lords. (fn. 332) By 1586 the last named had been succeeded by his son Edward (d. 1614), (fn. 333) a Chancery cursitor pardoned of treason in 1605. His son Edward (d. 1639) left a 40-year estate to his daughters Elizabeth and Sarah with remainder to his grandson and heir Edward Lutwyche (fn. 334) (kt. 1684), justice of Common Pleas 1685 and chief justice of Chester 1686 (d. 1709). (fn. 335) The next lord was Sir Edward's son Thomas. In 1734 Thomas was succeeded by his son William (fn. 336) (sheriff 1750) who died, probably unmarried and certainly indebted, in 1773, leaving illegitimate issue by Catherine Lane who had predeceased him. (fn. 337)
William's estate was divided between his three sisters. Some part, perhaps most or even all, of the shares of two of them, Elizabeth (d. unmarried 1776) and Anne, Mrs. Fazakerley (d. 1776), passed to William's illegitimate son William Lane (from 1776 Lutwyche). (fn. 338) He engaged in a long (c. 1778-1785) Chancery suit over his father's will with his father's third sister Sarah Winford (d. 1793), owner of a third of the estate. As a consequence the Lutwyches' estate was partly dispersed by sale in 1785. (fn. 339) Lutwyche was sold in 1785, passing to Bartlet Goodrich, owner in 1792, (fn. 340) who in turn sold it in 1794 to Thomas Langton (d. 1805) of Easthope. (fn. 341) Langton's trustees sold Lutwyche in 1807 to the trustees of Moses Benson (d. 1806), a Liverpool West India merchant. (fn. 342) Lutwyche then passed from father to son in the Benson family, successively from Moses' son Capt. Ralph (d. 1845) to Moses George (d. 1871), Ralph Augustus (d. 1886), and Ralph Beaumont (d. 1911). (fn. 343)
In 1910 the Bensons' Lutwyche estate comprised c. 1,306 a., mainly in Lutwyche and Lushcott. (fn. 344) In 1938 c. 1,277 a. were put up for sale, (fn. 345) and in 1947 R. B. Benson's son Maj. G. R. Benson (d. 1961) sold his interest in what remained of the Lutwyche estate to Accumulated Investments Ltd. of Leicester. (fn. 346) The manorial rights were perhaps not conveyed with the estate and so might have passed to G. R. Benson's son Capt. Ralph Benson (b. 1919). (fn. 347)
The lord's house was mentioned in the 14th century. (fn. 348) Lutwyche Hall is of two storeys with attics. It has main elevations of red brick with black diapering where the original work (allegedly of 1587) survives; the back elevation is of stone. (fn. 349) The plan was similar to Shipton Hall's: a short central hall range with symmetrical gabled cross wings and tower-like features in the re-entrants. The eastern tower was above a porch which gave access to a screens passage behind which there was a stair turret. In 1672 the Hall was taxed on 14 hearths. (fn. 350) In the early or mid 18th century a brick block of two storeys, containing at its west end a high quality staircase, was added behind the hall. At the same time the principal rooms of the old house were remodelled. The hall lost its screens passage and was decorated with rococo plasterwork, the north-east room was panelled to full height, and the southern rooms in both wings were refitted. (fn. 351) Later in the century, before 1792, (fn. 352) a long two storeyed service wing was added against the north-east corner of the house. In 1851 the 18th-century back block (now gone) was extended and the front was remodelled in a Jacobean style to a design by S. Pountney Smith. (fn. 353) He added two storeyed bay windows to the wings and filled the space between the re-entrant towers with a three storeyed porch with first-floor oriel. Between 1878 and 1886 the front was further raised and remodelled to a design by Mrs. R. A. Benson's brother F. P. Cockerell. (fn. 354)
Lutwyche Hall, separated from the estate in or after 1952, (fn. 355) housed schools during the Second World War and until 1966. (fn. 356) In increasing disrepair the Hall then passed through a succession of owners before being bought c. 1981 by Research and Preservation (Historical) Ltd., of Douglas (I.O.M.), (fn. 357) and restored under the direction of Dr. Roger Pearson, of Washington, D.C. (fn. 358) In 1989 a fire gutted the east wing and destroyed seven years' restoration work. (fn. 359)
North-east of the house there is an earlier 18th-century stable block of red brick with a central carriage arch beneath a large pediment. A stone temple stood south-west of the house. (fn. 360)
In 1493 an estate in Lutwyche was bought, with Easthope, by Henry and Nicholas Warley. Nicholas (d. 1524) was succeeded by his son Bartholomew (d. 1554), whose property, held of Brockton manor, was described as a moiety of a capital messuage called Lutwyche. His heir was his sister Frances, wife of Nicholas Crosthwaite. In 1566 Nicholas Crosthwaite and Ralph Warley sold Lutwyche farm, probably c. 200 a. in Lutwyche and Easthope, to Edward Lutwyche. Thereafter the property presumably descended with Lutwyche. (fn. 361)
ECONOMIC HISTORY.
Of the four Domesday manors wholly or mainly in the medieval parish, Rushbury had the most arable land. In 1086 it had two ploughteams in demesne worked by 4 servi, while 1 villanus, 2 bordars, and 3 radmen worked five more. The Stanway demesne also had two teams worked by 4 servi, while 3 villani and 1 bordar worked two more. At Lutwyche 2 oxmen worked a demesne team, and 1 villanus and 1 bordar had a half team. Gretton apparently had no demesne land, but 5 villani had 2 teams. Lutwyche was worth 8s. in 1066 and 1086, but the other three manors saw a considerable fall in value and were waste when received by their Norman lords. There was room for three more teams at Stanway, and two more each at Rushbury and Gretton. (fn. 362)
Expansion of farming throughout the parish in the 12th century is probably indicated by the existence of old assarts at Rushbury, Coats, and Gretton in the mid 13th century. (fn. 363) In Lutwyche assarting was probably still in progress in the early 13th century, (fn. 364) and in 1250 Parnel of Kenley was fined for an assart into the forest at Wilderhope. (fn. 365) By 1341 there had been a drastic fall in agricultural production; among the causes were said to be storm damage to crops, sheep murrain, and the poverty and departure of tenants. (fn. 366)
Lutwyche had the best recorded open-field system in the parish, (fn. 367) probably occupying much of the lower land in the centre of the manor. Some lay towards Easthope, (fn. 368) and the field towards Wilderhope was mentioned in the 13th century (fn. 369) and Stowefield, evidently north of Fegg and so in the same part of the manor, in the 14th. (fn. 370) Wilderhope too probably had open fields, (fn. 371) and at Stanway the Beaumais family had 2 carucates in demesne c. 1270. (fn. 372)
On the north-west side of Wenlock Edge the medieval open fields are poorly documented. At Rushbury, where the lord had 3 carucates in demesne in 1283, (fn. 373) open fields were mentioned in the 16th century, perhaps near the end of their existence. (fn. 374) Piecemeal inclosure was then in progress at East Wall and at Stone Acton (fn. 375) where Nether field was mentioned in 1541 (fn. 376) In 1517 Thomas Lacon was accused of inclosing 20 a. in Gretton, (fn. 377) much of which township north of the Cardington-Longville road was open-field land. Gretton's Upper field probably lay north-west of the Gretton-Plaish road (and so in Cardington parish), (fn. 378) and the Lower field south-east of it. (fn. 379) A third field, 'next Cardington', cannot be more precisely located. Gretton's Eastern field and Shirefield, mentioned in 1621, (fn. 380) may represent fields known earlier by other names. What remained of the open fields must have been inclosed during the 17th and 18th centuries. Parts of Gretton's Lower field remained common in 1716 (fn. 381) but were no longer so c. 1770. (fn. 382) The most systematic inclosure, that of Lutwyche, was probably the last: a date shortly before 1792 seems likely. (fn. 383)
The parish, especially its higher parts, was well wooded throughout the Middle Ages. Rushbury manor's Domesday woodland was enough to fatten 40 swine and there was a falcon's eyrie. Woods belonging in the 13th century to Gretton, Lutwyche, and Stanway, however, went unrecorded in 1086. (fn. 384)
The parish was in the Long forest and its larger woods were surveyed in 1235. Mullesgreve and Oakwood, both south of Gretton, and Stanway wood, were all said to have been stripped of timber and underwood c. 1225. In 1286 Rushbury was among forest parishes from which the Crown granted timber for Acton Burnell castle. The parish was disafforested in 1301, and in 1302 and 1318 the Harleys, lords of Gretton, Wilderhope, and a moiety of Rushbury, were granted free warren in their demesnes there evidently in amplification of a grant of 1283. (fn. 385)
About 1250 one pig in ten was due to the lord of Lutwyche for pannage, probably a payment typical of the area. (fn. 386) About 1300 the basic stint for ½-virgate holdings in Rushbury was perhaps seven pigs. (fn. 387) Very large tracts of common adjoined many of the townships in the Middle Ages. Gretton, for example, intercommoned a large tract of land to the east and north centred on Oakwood, curving 4 miles round from Plaish to Lushcott, Longville, East Wall, and Mullesgreve (fn. 388) and so extending into Cardington and Eaton-under-Heywood parishes. Hay wood, west of Rushbury village, lay mainly in Eatonunder-Heywood but part of it extended into the parish; in 1235 the lord of Rushbury's share was well kept, with oaks and underwood. (fn. 389) Rushbury, East Wall, Wall under Heywood, and Gretton all claimed common there, but later part of Hay wood became a detached part of Gretton township. (fn. 390) Soon after 1500 c. 100 a. called Hargreaves was inclosed by a tenant of Thomas Lacon, lord of Gretton. Commoners resisted and continued to put cattle into Hargreaves. Nevertheless, although the tenant said that his inclosure was only for seven years to allow the spring to regrow, it was never common again. Mainly a coppice wood in the 18th and 19th centuries, Hargrove wood survived in the 1980s. (fn. 391) The rest of Hay wood in Rushbury parish was known in the 19th century as Gretton common and Wall's Bank, after the principal commoning manors. (fn. 392) By then it was largely open common, probably owing to over-grazing by cattle, sheep, and horses. (fn. 393) Gretton common and Wall's Bank, in all c. 150 a., were inclosed in 1806. (fn. 394) The names of fields west of Rushbury village called Wall's moor in the 19th century suggest another former common. (fn. 395)
Mullesgreve and Oakwood, perhaps once contiguous, were connected in 1610 by a track ('out rake'). It was probably mainly Gretton that commoned them, although part of Mullesgreve, known as the High or Rough wood, belonged to East Wall. About 1610, prompted by other local woodland inclosures, Gretton's commoners petitioned Sir Francis Lacon to allow the woods' inclosure. He agreed, and commoners received a dole in each wood. Not all were immediately inclosed. About 1659 Francis Ruckley greatly increased his share of Mullesgreve by exchange, although his inclosures were soon broken by associates of George Wilcox, possibly the Gretton manorial bailiff. (fn. 396) Mullesgreve was perhaps already open waste when inclosed, but Oakwood, albeit shrunken, remained wooded in the 1980s. (fn. 397)
The Gilberries probably originated as detached woodland belonging to Gretton, though perhaps cleared and inclosed by the end of the Middle Ages. (fn. 398) Immediately south, and seemingly once part of it, was Rushbury heath, almost 10 a. of which survived in 1840, though much encroached upon. Into it ran roads from Gretton, Wall under Heywood, East Wall, and Rushbury, all of which may once have had right of common there, as had the rector in 1580. (fn. 399) It had been inclosed by 1882. (fn. 400)
In Stone Acton the lord's wood and the common wood (perhaps one and the same) still stood in the mid 16th century; goats were kept there and there was a cockshoot. (fn. 401) That woodland was probably cleared in the following century. In the 17th century Stone Acton had waste called the Moor and the Warren, presumably on the hills north and west of the hamlet: (fn. 402) in 1750 'Stone Acton hills' were common. (fn. 403) In 1775 Manor farm at Stone Acton had a sheep walk of 184 a. on the adjoining hills. (fn. 404)
In the Middle Ages, Edge wood ran the whole length of Wenlock Edge, and most townships within a mile of the scarp foot, and some more distant ones, had common in it. By the late Middle Ages each township had a distinct length of woodland, and often those stretches themselves were subdivided. South of Rushbury village lay Blackwood, Lilywood, Short wood, and Roman wood. (fn. 405) People from Gretton were depasturing and cutting wood in Blackwood in 1465, (fn. 406) and Wilderhope, Fegg, and Stanway were said to have common there in 1785. (fn. 407) Rushbury men had common in Roman wood, later Roman bank, in the 17th century and later. Roman bank, 37½ a. of open waste in 1840 but inclosed by 1882, adjoined a stretch of Edge wood known in the 19th century as Crab wood. (fn. 408) North-east was Coats wood, and beyond again what was probably once East Wall's share. (fn. 409)
Stanway, Wilderhope, and Lutwyche each had woods on the south-east side of Hope Dale. Stanway's wood, mentioned in the 13th century, (fn. 410) probably lay in Hope Dale and perhaps included Hope common, although in the early 13th century the two Stanways included appurtenances on Wenlock Edge. (fn. 411) Lightwood, one of the Stanways' woods in the early 17th century, lay south of Upper Stanway, adjoining Blackwood. (fn. 412) Lower Stanway lay towards the south-western corner of a large block of woodland known since the 16th century as Mogg forest. (fn. 413) By 1530 recognized bounds divided Mogg forest between the intercommoning vills, (fn. 414) Stanway, Wilderhope, and Lutwyche. The woods were partly waste and partly coppiced in the 1580s, Edward Lutwyche having inclosed his coppice woods within living memory. (fn. 415) In the 19th and 20th centuries the slopes of Wenlock Edge and Hope Dale remained as commercial woodland, in the later 20th century under a mixture of conifers (European and Japanese larch, Norway and Sitka spruce, Grandis and Douglas firs) and deciduous trees (oak, ash, poplar, and cherry). (fn. 416)
In the 16th century the usual lease in Gretton was probably for 60 years or two or three lives, (fn. 417) lengthening in the 17th century (fn. 418) to 99-year chattel leases for three lives. (fn. 419) Chattel (99-year) leases were granted in Rushbury manor in the 17th century. (fn. 420) Mid 18th-century chattel (99-year) leases of Gretton farms for three lives still exacted hen rents and heriots. (fn. 421) By the 1770s leases in Gretton were getting shorter, and by 1793 most farms in the parish were probably racked. (fn. 422) Farms in Gretton were generally of c. 45 a. in 1621, (fn. 423) c. 80 a. in the 1760s; (fn. 424) by 1824 all had been thrown into two farms, of 335 a. and 222 a. (fn. 425)
In 1793 the neighbourhood was said to be wet and dirty, with much waste land still uninclosed. (fn. 426) Cattle rearing was popular and there was some feeding land. Wheat and oats were the main crops grown, with a little barley and turnips. (fn. 427) Labourers received 8d. a day with meat and drink, and their condition had evidently worsened in living memory. More than 80 per cent of the parish's population barely subsisted on a diet of bread and potatoes. Few kept pigs; none saved: old labourers who had savings used them to eke out their wages. Some may still have had the hemp plots enjoyed by previous generations. (fn. 428)
Cropping patterns were little changed by 1839. (fn. 429) Between the mid 19th century and 1938 the proportion of grassland rose, falling back to the mid 19th-century level by 1965. Sheep had long been the main livestock, 5,800 head in 1965. Only after 1938 did cereal growing begin on any appreciable scale. Much of the increase was in barley to feed increasing numbers of dairy cattle. (fn. 430) Notable among the farm buildings is the model farm with railway built c. 1891 at Upper Stanway for F. W. Webb. (fn. 431)
In the late 19th and earlier 20th century the Woolridges of East Wall were steam threshing contractors. (fn. 432)
In 1086 the only mill recorded was at Rushbury. (fn. 433) There were two water mills, perhaps under one roof, in 1717 but only one in 1737 and 1741; (fn. 434) it stood south of the village but had gone by 1841. (fn. 435)
Table IV Rushbury: Land use, livestock, and crops
1867
1891
1938
1965
Percentage of grassland
70
78
89
70
                      arable
30
22
11
30
Percentage of cattle
20
24
23
25
                      sheep
70
70
74
63
                      pigs
10
6
3
12
Percentage of wheat
50
31
39
31
                      barley
28
32
8
54
                      oats
22
37
53
12
                      mixed corn & rye
0
0
0
3
Percentage of agricultural land growing roots and vegetables
7
7
3
4
Sources: P.R.O., MAF 68/143, no. 15; /1340, no. 6; /3880, Salop. no. 225; /4945, no. 225.
There were two water mills at Coats, also perhaps under one roof, in 1608; (fn. 436) they probably stood west of Coats. (fn. 437)
There was probably a water mill at Gretton from 1236 or earlier. In the 19th century it stood on Heath brook south of the village, and it ceased work in 1948. (fn. 438) Another mill, of unknown date, stood southeast of Court House. (fn. 439)
Gilberry pool, part of East Wall manor, was said c. 1730 to be c. 4 a. and to have held fish worth £100 when last drained. (fn. 440) It disappeared probably in the early 19th century. (fn. 441)
In 1271 Hugh of Beaumais, lord of Nether Stanway, was granted a Thursday market and a fair on the eve and feast of St. Denis (8-9 Oct.). (fn. 442) In 1283 the lord of Rushbury was similarly granted a Thursday market and a three-day fair on the eve, feast, and morrow of St. Margaret the Virgin (19-21 July). (fn. 443) There is no evidence that either market or fair was ever held.
A tanner lived at Roman Bank in 1602. (fn. 444) An early 18th-century tannery was perhaps nearby, in the Lilywood area. (fn. 445)
Bricks were made perhaps by 1607, (fn. 446) and there was a brickworks east of Hargrove Farm in the late 19th century. (fn. 447) Lime kilns were noted from 1703. (fn. 448) In 1785 'a particular sort of stone' found in Stone Acton was said to be useful in porcelain manufacture, though it is not certain that any was got in the township. (fn. 449) At Hill End there was prospecting for coal in 1914. (fn. 450) Road stone got there 1939-45 proved unsatisfactory. (fn. 451)
John Moore, an early 19th-century licensee of the New Inn, Wall under Heywood, made clocks. (fn. 452)
LOCAL GOVERNMENT.
Rushbury and 'Wall' presented at the court leet of Castle Holdgate barony in 1537 (fn. 453) but they did suit to Munslow hundred by 1781. (fn. 454)
Records of Gretton court survive from 1419, 1421, 1436-7, 1441, 1465, 1538, and 1559, and from the later 18th century to 1817. In 1441 a great court was held but the business, as usual, was local and primarily agricultural. A case of lairwite (fornication) was presented in 1436. The record of a single 'view of frankpledge', i.e. great or leet court, that survives for 1538 is insufficient to assess its character. (fn. 455)
Court records survive from other manors in the parish: Wilderhope (1441), (fn. 456) East Wall (1502, 1505, 1507), (fn. 457) Stone Acton (1540s and 1550s), (fn. 458) Lutwyche (1588-9), (fn. 459) and Rushbury (1509 and early 19th century). (fn. 460) The courts' principal concerns were the transfer of copyholds and regulation of woods and other commons.
In the 1740s Rushbury contributed to the joint workhouse at Cleobury Mortimer. (fn. 461) By c. 1784 Thomas Parker was farming the poor; his salary, unrelated to the number of poor or their needs, rose from £50 to £80 by 1793. He kept a workhouse, and some carding and spinning was done. More children were apprenticed in 1793 than before. (fn. 462) In 1802-3 only out-relief was given, at a cost of £242; 23 adults and 9 children received permanent relief, and 10 people occa sional relief. (fn. 463) Ten years later expenditure and the number of recipients were c. 10 per cent higher. (fn. 464) In the 1830s there were 4 cottages for the poor at Wall Bank. (fn. 465)
Rushbury was in Church Stretton poor-law union 1836-1930, (fn. 466) highway district 1863-95, (fn. 467) rural sanitary district 1872-94, and rural district 1894-1934, and in Ludlow R.D. 1934-74 and South Shropshire district from 1974. (fn. 468)
CHURCH.
The church contains apparently Saxon fabric (fn. 469) and before the Conquest it may have served an area larger than the later, medieval, parish. (fn. 470)
The living was a rectory c. 1260 (fn. 471) and has remained so. The patronage belonged to the lord of Rushbury manor, (fn. 472) being leased with the manor 1548-1792. (fn. 473) A grant of the advowson to Buildwas abbey, proposed in 1406 as the prelude to appropriation, (fn. 474) was evidently frustrated. In 1425 a turn was exercised by William Burley, a feoffee for settling the estates of the late lord of the manor, Lord Burnell (d. 1420). (fn. 475) Others exercised turns in 1673 and 1684. (fn. 476) In 1792 the patronage reverted to the bishop of Worcester as owner of the freehold of the manor, (fn. 477) and after the manor had passed to the Ecclesiastical Commissioners the advowson remained with the bishop of Worcester until transferred to the bishop of Birmingham on the creation of that see in 1904. (fn. 478) From 1967 Rushbury was held in plurality with the united living of Hope Bowdler with Eaton-under-Heywood, the incumbent to reside temporarily at Rushbury; the patron of Rushbury had the third turn. (fn. 479) In 1971 the incumbent became priest in charge of Cardington and the three benefices were held in plurality from 1980, the patrons presenting jointly. (fn. 480)
The rectory was worth £14 in 1291, a portion of which, 13s. 4d., was due to St. Guthlac's priory, Hereford; (fn. 481) the portion represented the share of the rectorial tithes which the Lacys, overlords of Rushbury, had given to the priory c. 1100. (fn. 482) It was no longer paid in 1535 when the rectory's net annual value was £19 15s. 4d. (fn. 483)
On the eve of tithe commutation moduses were paid in lieu of hay and various small tithes; smoke and garden penny were due, as was an Easter offering of 6d. from each house. In the whole parish except Gretton township those payments, along with all the tithes, were commuted to £346 a year in 1842. (fn. 484) Gretton's tithes were commuted in 1846: the rector of Rushbury received £40 a year in respect of half of the corn and grain tithes in the whole of the main part of Gretton township (Judge Thomas D'Arcy and his wife Elizabeth received £20 10s. in respect of those in the other half) and in respect of all the corn and grain tithes in the whole of the Gilberries and Wall under Heywood detachments of the township and all other tithes in the Rushbury part of the whole township. (fn. 485) The living was then worth c. £449. (fn. 486) The rectory was well endowed with glebe, c. 54 a. with rights of common in 1580, (fn. 487) 50 a. in 1841, (fn. 488) and 70 a. in 1856 and later. (fn. 489) About 1920 c. 55 a. were sold. (fn. 490)
In 1589 the rectory included farm buildings and a pigeon house. (fn. 491) The house, just south-west of the church, was described in 1793 as very handsome. (fn. 492) Soon after he became rector in 1818 M. Y. Starkie spent much on the house and grounds, but the archdeacon thought he had destroyed the house's 'respectability' by whitewashing good brickwork. (fn. 493) In 1852 the house, parts of which may be c. 1700, was remodelled and extended in the Elizabethan style to designs by W. J. Donthorn. (fn. 494) It presents a symmetrical facade with a projecting central entrance bay and flanking canted bays rising through two storeys. The farm buildings were also remodelled. In 1968 the parsonage was sold with 4 a. Later a dairy wing was demolished. (fn. 495)
In the 13th and 14th centuries two rectors, one a pluralist and both probably kinsmen of lords of the manor, were licensed to be absent fosrtudy. (fn. 496) Many medieval rectors' names suggest that they were Shropshire men. (fn. 497) John Redhode (1461-c. 1465) may have studied at Oxford. (fn. 498) Adam Littleton, instituted in 1578, (fn. 499) and most of his successors were university men. (fn. 500) At times in the earlier 17th century the rectory seems to have been held in plurality with Easthope. (fn. 501) In the later 17th and earlier 18th century the Cressetts sometimes presented kinsmen or family connexions, some of whom held other family livings in plurality. (fn. 502) Edward Cressett, rector in the 1720s (when he succeeded to his brother's estates), was bishop of Llandaff 1749-55. Some rectors employed curates, one of whom, Henry Tilley, succeeded to the rectory in 1690. (fn. 503)
Before the Reformation a light in the church was endowed from property in Hope Bowdler. (fn. 504) In 1716 there were two Sunday services, one with a sermon, and communion six times a year. (fn. 505) In the mid 18th century offerings at the sacrament (called charity money from c. 1745) were given to the poor. (fn. 506)
The longest-serving rector was William Pemberton, 1761-1813. (fn. 507) He resided but occasionally employed a curate. By 1793 he was 'decayed' in mind and irregular in doing his duty, but he enjoyed lucid periods and was later described as pious, the owner of a 1,000-volume library, and one who delighted in showing his church to visitors. (fn. 508)
Pemberton's successors to 1851 were pluralists and employed curates. The rector 1814-c. 1818 probably lived in Hereford. (fn. 509) M. Y. Starkie, 1818- 51, was also perpetual curate of Over Darwen (Lancs.) 1815-51. (fn. 510) Although in 1820 he had recently refurbished the parsonage and presumably resided, by 1851 he lived in Church Stretton. (fn. 511) He tried to improve services and their frequency: in 1836 the singers were paid (an experiment lasting only a year), and by 1849 communion was celebrated about eight times a year; (fn. 512) the congregation was then 150 in summer but could fall to 25 in winter because of bad weather and poor roads. (fn. 513) F. H. Hotham, rector 1851-87, restored both rectory and church in the 1850s. (fn. 514)
The church of ST. PETER, so known by c. 1740, (fn. 515) is of rubble with freestone dressings. It comprises an undivided chancel and nave, south porch, south vestry, and west tower. The oldest fabric, herring-bone work, possibly Saxon, occurs in the lowest courses of the western ends of the north and south nave walls. Inserted through that fabric in the north wall is a tall narrow doorway, probably 12thcentury, with a plain tympanum. About 1200 a new chancel, as long as the nave, was added and a tower of almost the same width; a south doorway was inserted. The chancel is defined by an external chamfer and a sill-level string course which appears both internally and externally. It was entered by a central south door, later blocked, and was lit by a triple lancet east window. There were probably once four lancets to both north and south.
Evidence remains of alterations between the 13th century and the 19th. In the chancel the string course is broken internally twice on both the north and south walls; the western break may have been for a chancel screen, the eastern for a wooden screen or partition defining a small sacristy or processional path. (fn. 516) Alternatively they may mark the ends of facing pews. A 'Lady chancel' mentioned in 1676 (fn. 517) may have been a part of the nave once occupied by a guild altar. In 1789 a two-light window, probably late medieval, lit the west end of the south side of the chancel. (fn. 518) It probably replaced a lancet. The tower was crenellated, perhaps in the 15th century; pinnacles at the four corners were eroded by 1789. (fn. 519) Also 15th-century was the south porch, later much restored. Nave and chancel roofs are late medieval but were embellished in 17th-century style during the 19th century.
In 1793 the church contained some 'modern' windows, all considered by the archdeacon 'unsuitable in form and some whimsical': (fn. 520) two such, east and west of the south door, were tall, round-headed, and of two lights. (fn. 521) Seats in 1793 (fn. 522) comprised 29 'irregular' pews in the nave, and two in the chancel. (fn. 523) Under the belfry a table on a raised platform and surrounded by benches served as a sort of gallery.
The church was restored in 1855-6, (fn. 524) the cost being met by subscriptions, a rate, and a grant from the Hereford Diocesan Church Building Society. The rector's plans were executed by William Hill of Smethcott, also responsible for carving and installing all the new woodwork. The main work comprised building a south vestry (accessible through the unblocked priest's door) and a new south porch, replacing all windows later than c. 1200 with ones in 13thcentury style, reopening the north doorway, rebuilding the top stage of the tower, adding seven large buttresses, and lowering the ground around the church. Internally the roof was restored, new benches (incorporating 17th- and 18th-century panelling, some carved with pew owners' names or initials) (fn. 525) installed, and new altar rails, pulpit, reading desk, oak chancel arch, and reredos introduced. The church was retiled, with Minton tiles in the chancel. New stained glass in the east window was by Horwood Bros. of Mells (Som.). In 1890 glass by John Hardman & Co. was put in two windows. (fn. 526)
Later changes were minor. A screen was introduced into the tower arch in 1912, and in 1932 the chancel was refloored in marble and the pulpit, altar rails, and choir stalls were slightly altered. (fn. 527)
The tub font is Norman, its elaborate cover 19th-century. The 17th-century chest was bought in 1950. Painted heraldic shields attached to the chancel roof were made in 1985, being copies of ones there in 1840 but lost by 1955. (fn. 528)
The plate includes a chalice of 1619 with contemporary cover, a paten of 1717, flagon of 1810, and chalice and paten of 1869. (fn. 529) There were three bells in 1549. A new bell frame was installed in 1621, and in the 18th century five bells by the Rudhalls were hung. A new frame was installed in 1978-9 and a sixth bell added in 1980. (fn. 530)
The registers begin in 1538, but there are several gaps in the 16th and 17th centuries. (fn. 531)
NONCONFORMITY.
At Wilderhope a possible hiding place and motifs in the plastered ceilings suggest that at least one of the Smalman family may have been a Catholic recusant in the late 16th century. (fn. 532) No dissent was noted in 1716, (fn. 533) but in 1724 Jeremiah Jordan's house at the Gilberries was licensed for Baptists. The religious verses of his wife Judith were published posthumously. (fn. 534)
In 1836 Wesleyans built a chapel on the east side of Roman Bank common. (fn. 535) In the 1840s there were 20 or more members of the society, but numbers fell in the 1850s and in the 1860s there were only about seven. (fn. 536) The small stone chapel, seating 100, (fn. 537) closed in 1928. (fn. 538)
Primitive Methodists met at East Wall in the 1830s and were served by a chapel built at Lakehouse (in Eaton-under-Heywood) in 1857-8. (fn. 539)
EDUCATION.
There was a schoolmaster in Rushbury in 1756. (fn. 540)
By will proved 1820 Dr. Benjamin Wainwright, son of Richard Wainwright of Upper Stanway, left capital to build a parochial school and teacher's house and endowed a master, a sewing mistress, and a Sunday school master. The master was to teach nine poor children from Rushbury parish and three from Eaton-underHeywood parish, and the Sunday school master was to teach children from Rushbury and adjoining parishes. In 1821 there was a teacher's house and schoolroom on a piece of rented glebe; a sewing mistress was paid £5 a year, a Sunday school teacher £5, and the master had £20 for teaching day and Sunday schools; (fn. 541) he also took private pupils. (fn. 542) In 1869-70 the school had 76 pupils, 12 (fn. 543) of whom were taught free. Its endowment then yielded £15 8s. 9d. and the school was also supported by £5 a year from Betton's charity, voluntary contributions, and fees that varied according to parents' means. The rector met deficits. (fn. 544) The school trustees' funds were increased by legacies of William Jones (d. 1870) and F. H. Hotham (d. 1887), rector. (fn. 545)
In 1873 the school was enlarged to accommodate 113, later reduced to 92. The building was again improved in 1889 (fn. 546) and 1911 but had no separate infant room before 1930. (fn. 547) In the 1890s and perhaps later F. W. Webb, of Upper Stanway, gave annual treats; the rector gave prizes and provided clothes and boots for poor pupils. (fn. 548) In 1908 and 1912-13 teachers organized train excursions to places as far away as Liverpool and Llandudno. (fn. 549) Even for a rural school attendance was exceptionally irregular until the 1920s, averaging 55 in 1885, 75 in 1905, and 93 in 1913; (fn. 550) overcrowding caused children under five to be excluded in 1913. (fn. 551) In 1915 almost all pupils over 12 had left for work. (fn. 552)
The county council rented the school (designated C.E. by 1904) from the Wainwright Trust (which continued to make annual grants to it) and by 1956 also the parish reading room. (fn. 553) Pupils from the closed Eaton-under-Heywood C.E. school were admitted in 1927; the roll was 60 in 1925 but 96 in 1929. (fn. 554) Gardening was taught from 1918 and seniors attended Church Stretton domestic science and woodwork centres from 1936. (fn. 555) The school became controlled in 1947, (fn. 556) and seniors went to Church Stretton Modern school in 1948. (fn. 557) The roll was 53 in 1950, 57 in 1973, and 29 in 1981. (fn. 558) A demountable classroom, with 30 places, was erected in 1968, and 16 pupils from the closed Cardington C.E. (Aided) Primary school were admitted in 1982. (fn. 559) Closure, scheduled for 1983, (fn. 560) was averted and the roll was 46 in 1989. (fn. 561)
County council evening classes in horticulture, stock management, ambulance work, and hygiene, between 1892 and 1902, and in dressmaking in 1912-13, were well attended. (fn. 562)
Lutwyche Hall housed a convent boarding school (evacuated from Brighton) during the Second World War and Wenlock Edge Boys' Boarding school 1948-66, with c. 120 boys (including day boys) in 1959. (fn. 563)
CHARITIES FOR THE POOR.
In 1601 Edward Lutwyche gave a 40s. rent charge for weekly bread and annual Good Friday cash doles to six parishioners nominated for life. (fn. 564)
Thomas Smalman (d. 1693) left 40s. to the poor of the parish, (fn. 565) and several small sums of money were employed c. 1710, along with c. £60 left by a Mr. Leighton and others, to buy land. (fn. 566) That was presumably the parish land noted in 1743, which then produced £2 2s. a year. (fn. 567) In 1830 the c. 8 a. of poor's land at Wall Bank was mostly let, the rent providing coals, but paupers occupied two pairs of cottages there rent-free. (fn. 568) After the formation of the poor-law union in 1836 the cottages were not so used. (fn. 569) About 1920 the land was sold and the proceeds invested. (fn. 570)
Anne Tipton (d. 1788) left a rent charge of £1 10s. for weekly bread doles. (fn. 571)
About 1800 Martha Baker left the interest on £20 for bread doles; soon after her death the capital was used to repair a house (used as a poorhouse) on the poor's land and by 1830 £1 a year from the poor rate was spent on the bread doles. (fn. 572) Payment seems to have ceased by 1900. (fn. 573)
By will proved 1820 Dr. Wainwright, besides his bequest for a school, (fn. 574) left money to build and endow almshouses for two widows on the same plot as the school. In the 19th century the widows each received £2 and coals. (fn. 575) The tworoomed almshouses were last occupied c. 1875. (fn. 576) Under a Scheme of 1893 (fn. 577) the rector rented them as a parish reading room for 5s. a year. (fn. 578) By 1942 the eleemosynary part of Wainwright's charity yielded £9 9s. 8d. including the reading room rent; it was given partly to two widows and partly in money gifts to 18 other recipients. (fn. 579)
By the 1890s the annual income of the surviving charities, Lutwyche's, Tipton's, and Wainwright's, and probably of the poor's land, amounted to £34 and was spent on bread, coals, and clothing. (fn. 580) In 1975 those four charities were united as the Rushbury charity, (fn. 581) with an annual income of £54. (fn. 582)
The parish shared in Capt. S. H. Christy's charity for widows. (fn. 583)