Pages 198-204
A History of the County of Shropshire: Volume 11, Telford. Originally published by Victoria County History, London, 1985.
This free content was digitised by double rekeying. All rights reserved.
COMMUNICATIONS.
The Roman Watling Street crossed the parish (fn. 1) and bounded several townships. (fn. 2) In 1301 it crossed 'Clerkenebrugge' near the parish's western edge. (fn. 3) From Oakengates Parts of C.P.s beyond the Wellington C.P. boundary of 1884-94 are not shown. (in Wombridge) a south-easterly branch via Shifnal existed by 1335, when two men were granted tolls on the Wellington-Shifnal road for making a causeway on it, (fn. 4) and that was the usual Wellington-London route in 1695. (fn. 5) Watling Street and its Shifnal branch were turnpiked in 1726 (fn. 6) and from the late 18th century the former also carried much traffic to the Staffordshire & Worcestershire Canal at Gailey (Staffs.). (fn. 7)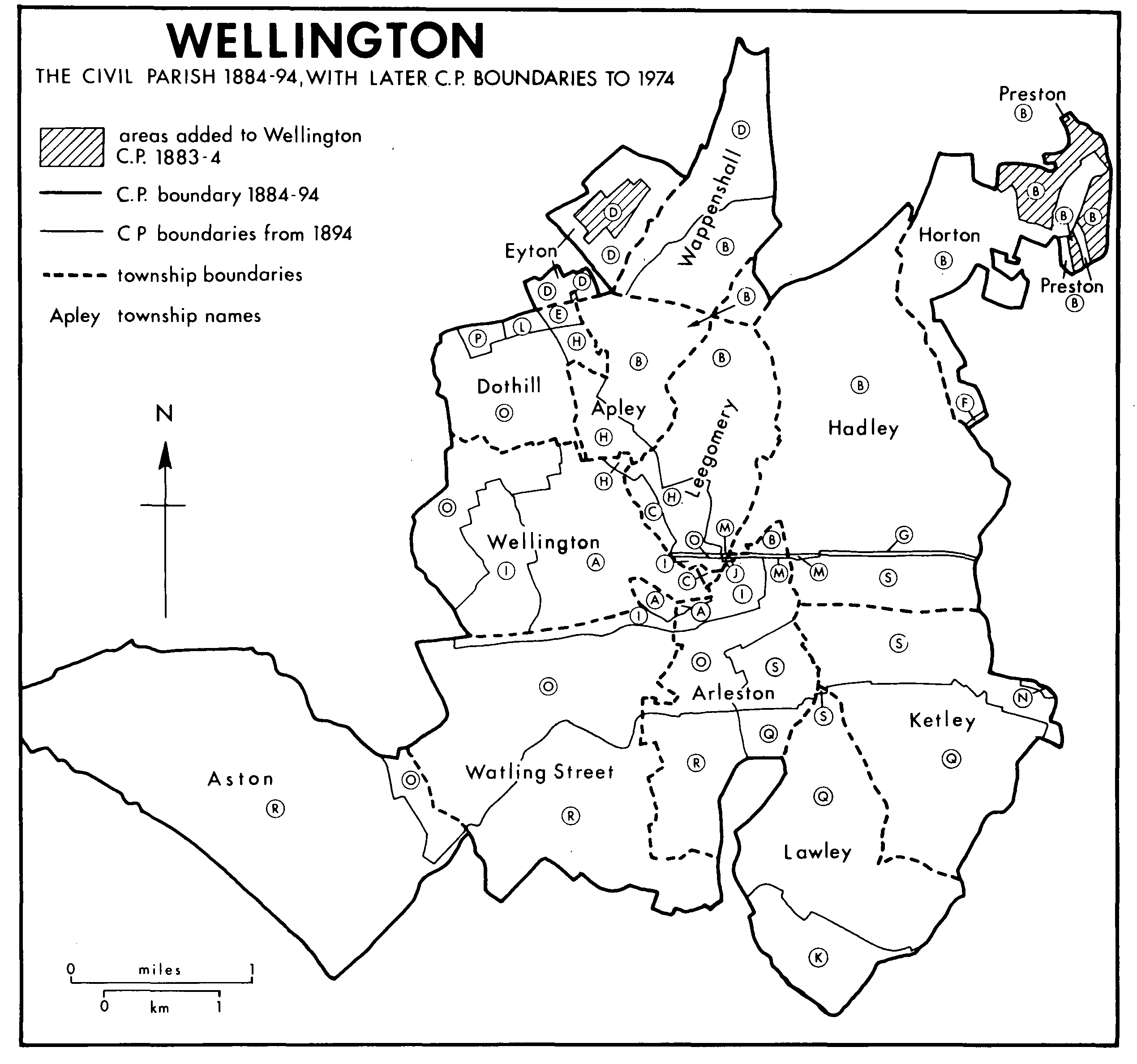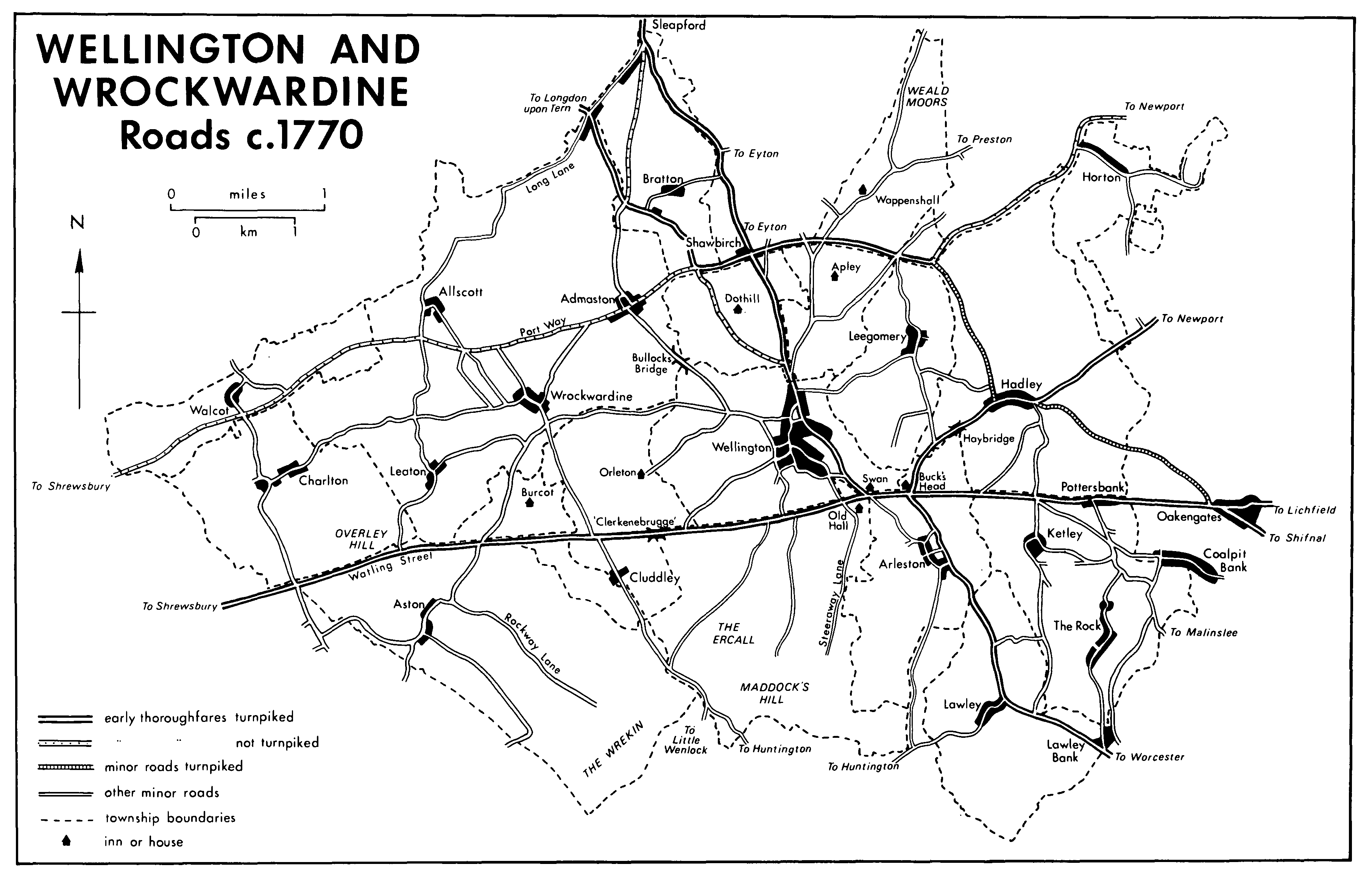 After the union of the Irish and British parliaments (1801) the route along Watling Street and through Shifnal was improved as part of the Holyhead-London road. Local traffic to Wolverhampton and Birmingham benefited. (fn. 8) From c. 1817 a new road from Pottersbank via Snedshill to Shifnal bypassed Oakengates to the south-west. (fn. 9) Detours on Watling Street were opened c. 1822 at Ketleybrook (fn. 10) and in 1835 at Overley Hill. (fn. 11) Watling Street west of Pottersbank and the Pottersbank-Shifnal road were disturnpiked in Wellington parish in 1866. (fn. 12) In 1879 that route was designated a main road (fn. 13) and remained so throughout Wellington parish until 1975, when it was bypassed by the first part of the M 54. (fn. 14) In 1981 it was still a main road between Ketleybrook and Beveley roundabouts, but only as part of Telford's internal road system. (fn. 15)
A westward continuation of the medieval Trench Way (fn. 16) entered the parish from the northeast, reached Hadley, and continued via Haybridge (fn. 17) to the Buck's Head on Watling Street (in Arleston township). (fn. 18) Turnpiked to Newport in 1763, (fn. 19) it was disturnpiked in 1867 (fn. 20) and designated a main road in 1879. (fn. 21) In 1983 the Haybridge-Ketleybrook part of Telford's 'north-west district road' was under construction and was intended to supersede the section of the old road from Haybridge to the Buck's Head.
Opposite the Buck's Head a road running south-eastwards via Dawley Bank (fn. 22) was in the 18th century the main road from Wellington to Worcester, Gloucester, Bath, and Bristol. (fn. 23) Bridgnorth was reached that way via the Shifnal- Bridgnorth road. (fn. 24) In 1764 the road was turnpiked from the Buck's Head to Sutton Maddock and thence towards Dudley as far as the New Inn, (fn. 25) Rudge Heath. (fn. 26) In Wellington parish its line was superseded by a new road, authorized in 1827, south-eastwards from the new Wellington-Coalbrookdale turnpike road at Lawley to Ball's Hill in Dawley. (fn. 27) The new length and its continuation to the New Inn were disturnpiked in 1867 (fn. 28) and in 1879 were designated a main road only as far as Sutton Maddock, (fn. 29) whence the main road from Shifnal took Wellington traffic to Bridgnorth. The Wellington-Bridgnorth route remained a main road in 1983.
An early road crossed the parish in the north, bounding several townships. (fn. 30) Presumably a westward continuation of the medieval 'Lubbesty', (fn. 31) it was mapped c. 1580 as the way from Lilleshall to Wrockwardine (fn. 32) and in 1626 as the Newport- Shrewsbury highway. (fn. 33)
Those early thoroughfares were not aligned on Wellington, though Watling Street and its branches were accessible from the town via Shrewsbury Way (fn. 34) (later Haygate Road) (fn. 35) and Mill Bank. Early roads to the north and north-west, however, left the town centre directly.
In the 16th century the usual northward route from Wellington crossed Dothill township and the Newport-Shrewsbury road, which there delimited Dothill and Wrockwardine parish. Northbound travellers then skirted Bratton village and turned into a road from Admaston to Sleapford (near Crudgington, in Ercall Magna); those travelling north-west, went on to Longdon upon Tern. (fn. 36)
By 1726 the route across Dothill township had lost its importance. Travellers north and northwest from Wellington then used an old road that bounded Apley and Dothill townships (fn. 37) and crossed the Newport-Shrewsbury road at Shawbirch. Thence northbound traffic went on to Sleapford (fn. 38) and travellers to the north-west went west along the Newport-Shrewsbury road to pick up the old route to Longdon. The Wellington-Shawbirch- Crudgington road, with a continuation south via Back Lane and Mill Bank to the Swan on Watling Street, was turnpiked in 1726, (fn. 39) disturnpiked in 1866, (fn. 40) and designated a main road in 1879, (fn. 41) which it remained in 1983. Between Watling Street and Shawbirch it was expected to be superseded by Telford's 'north-west district road', then under construction. The route from Wellington via Shawbirch to Longdon and Cotwall (in Ercall Magna) was also turnpiked in 1726; east and south-east of Shawbirch it continued via the Newport-Shrewsbury road and the lane (later called Hadley Park Road) to Hadley, and thence by Hadley Lane (later Hadley Road) to Oakengates. (fn. 42) Coalbrookdale castings for Liverpool went in 1816 to the Ellesmere Canal at Edstaston (in Wem), (fn. 43) probably through Cotwall. The Cotwall-Oakengates route was disturnpiked in 1865. (fn. 44) Its Cotwall-Shawbirch section was designated a main road in 1879 (fn. 45) and ranked as a secondary road by 1983; by then the rest consisted only of minor roads.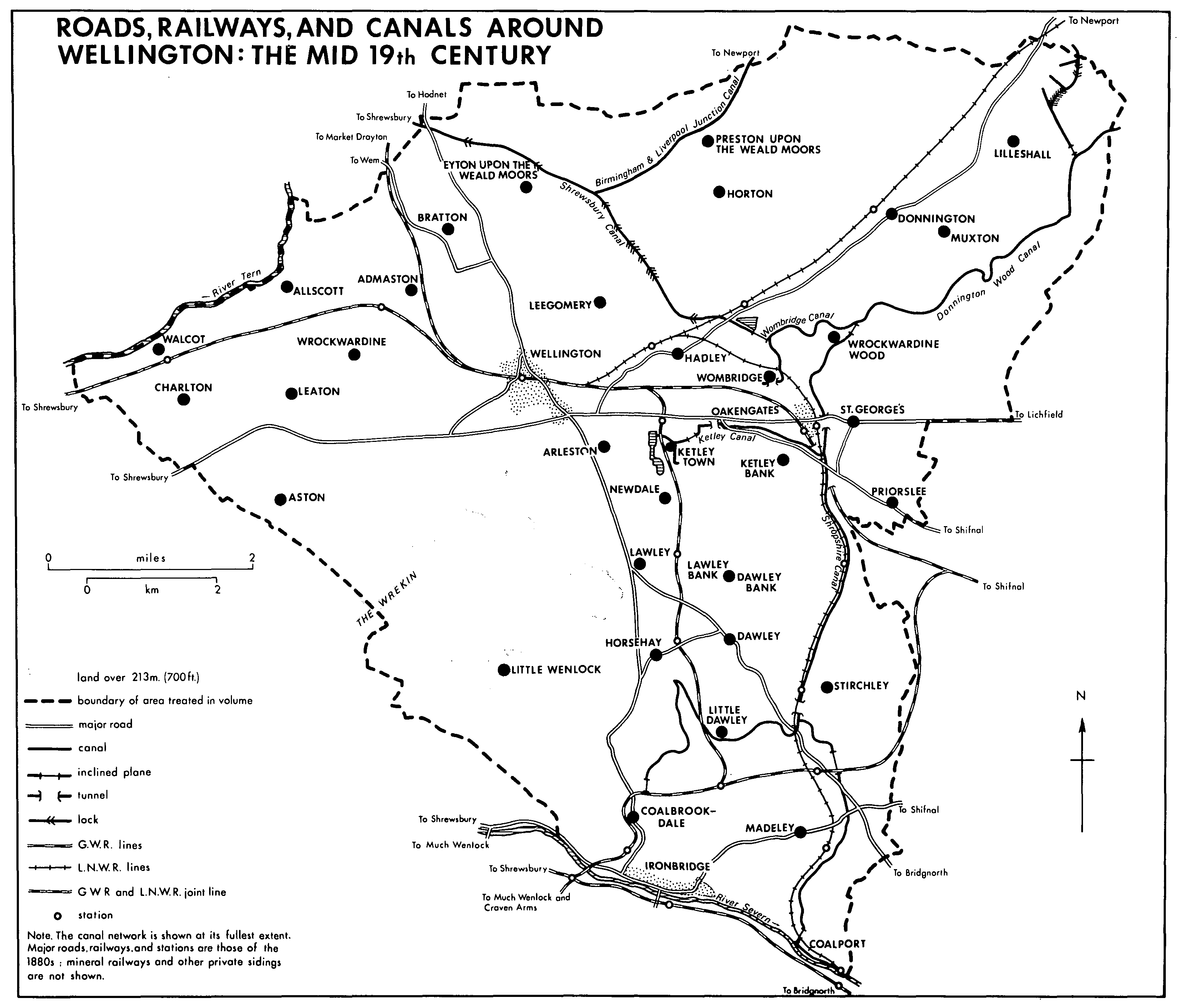 In 1817 a new turnpike road was authorized, to be built southwards from the Swan, on Watling Street, to Coalbrookdale; (fn. 46) south of Horsehay it followed an existing route. (fn. 47) Disturnpiked in 1875, (fn. 48) it became a main road in 1878 (fn. 49) and so remained in 1983.
Early minor roads led to outlying resources. One ran north from Wappenshall to the Weald Moors. (fn. 50) Steeraway Lane (fn. 51) (later Limekiln Lane) ascended from Watling Street Hall (later the Old Hall) to the woods and limestone quarries. Rockway Lane (fn. 52) led to the Wrekin woods and pastures from Aston. In Walcot a hollow-way (fn. 53) descended from the Newport-Shrewsbury road to the mill, where in 1782 subscribers built an elegant stone bridge over the Tern, designed by William Hayward. (fn. 54)
Other minor roads linked Wellington with nearby settlements. (fn. 55) Wrockwardine Way (fn. 56) (later Wrockwardine Road), described in 1691 as the king's highway, (fn. 57) led west from the north end of Church Street, with a northward branch across Bullocks bridge (fn. 58) called Admaston Way (later Admaston Road) and a southward called Orleton Way (fn. 59) (later Orleton Lane). Branches from the Wellington-Shawbirch road served Leegomery, Apley, Wappenshall, and Eyton. (fn. 60)
The main roads were much improved from the 1970s under Telford development corporation, with broad new internal roads to link them. The principal linking road in Wellington parish was the 'north-west district road' from Watling Street (at Ketleybrook), which passed east of Wellington to Shawbirch; it was under construction in 1983. It continued a new road built south from Ketleybrook to the M 54 motorway. (fn. 61) The motorway's first completed part (opened 1975) (fn. 62) created a southern bypass for Wellington. Work to extend that short length to the M 6 at Essington (Staffs.) was completed in 1983. One purpose of the new roads was to keep through traffic away from Wellington town.
The Shrewsbury Canal, from Wombridge, opened as far as Long Lane (in Wrockwardine) in 1794, having crossed Wappenshall township, and it reached Shrewsbury in 1797. (fn. 63) In 1835 it was joined at Wappenshall by the Newport branch of the Birmingham & Liverpool Junction Canal, which thus connected the coalfield canals to the national system. (fn. 64) Until the arrival of railways most coalfield companies used Wappenshall as the national outlet for their coal and iron. Rather than negotiate the coalfield canals, however, the producer normally carried goods to Wappenshall by road, there to load them on his own narrowboats. Likewise a wide variety of incoming goods was unloaded at Wappenshall for road distribution in the coalfield. (fn. 65) A large warehouse was built there. (fn. 66) A major import was fluxing limestone from north Wales; in the 1830s and 1840s thousands of tons reached the coalfield annually through Wappenshall. (fn. 67)
From 1849 railways superseded the Wappenhall route except for some local traffic. (fn. 68) The Trench-Wappenshall section of the Shrewsbury Canal was disused from 1921. Goods towards Shrewsbury, mostly coal from the Newport branch, used the junction until the Second World War but did not go beyond Longdon upon Tern after 1936. The canals through Wappenshall were formally abandoned in 1944. (fn. 69)
In 1849 the Shrewsbury-Wellington line was opened jointly by the Shrewsbury & Birmingham Railway Co. (later G.W.R.) and the Shropshire Union Railways & Canal Co. (later L.N.W.R.), with a station at Wellington, whence in the same year the S.B.R.C. opened a line to Wolverhampton and the S.U.R.C.C. one to Stafford. (fn. 70) The latter closed to passengers in 1964 (fn. 71) but was open to goods as far as Stafford until 1966; thereafter it ran only to private sidings at Donnington. (fn. 72)
By 1867 branch lines in the coalfield townships afforded direct rail services to Coalbrookdale, Coalport, Craven Arms, and Much Wenlock. (fn. 73)
In Wellington township the Wellington & Drayton Railway Co. (later G.W.R.) opened a branch in 1867 from the Shrewsbury-Wellington line to Market Drayton. (fn. 74) It closed to passengers in 1963 (fn. 75) and to all traffic in 1967. (fn. 76)