Pages 204-211
A History of the County of Shropshire: Volume 11, Telford. Originally published by Victoria County History, London, 1985.
This free content was digitised by double rekeying. All rights reserved.
GROWTH OF SETTLEMENT.
No archaeological evidence has been found for continuity of settlement sites between the Romano-British and Anglo-Saxon periods, but the possibility of administrative continuity within Wrockwardine hundred has been argued. (fn. 1) The name Walcot may have denoted a settlement of Celtic people who remained beyond c. 700, (fn. 2) and outside the coalfield there are few names with leah to suggest that the Anglo-Saxons found unoccupied land to reclaim. (fn. 3)
Wellington, from which the parish took its name, may have been the chief settlement well before 1066. It then had five dependent berewicks. (fn. 4) The name may be derived from an unattested personal name Weola or possibly from weoleah ('sacred grove with a heathen temple'). (fn. 5) If there was a pre-Christian religious site it may have been where the parish church was built, on a slight knoll.
There is reason to believe that the church, rather than any defensive site or conjunction of early routes, was Wellington's original focus. The only early highways into the town, those from the north and north-west that united on its outskirts, (fn. 6) were aligned on and terminated in the Green, a triangular space of c. 1/8 ha., whose south side adjoined the medieval churchyard. (fn. 7) That the Green was the original, probably Anglo-Saxon, market place, situated where visitors to the church naturally congregated, is suggested not only by its shape and site (fn. 8) but also by its use for cattle fairs in more recent times. (fn. 9) Wellington's earliest dwellings were presumably built on its east and west sides. The town seems to have had originally no major road through it, and travellers who did not wish to enter the Green probably bypassed it along Back Lane (later King Street). (fn. 10)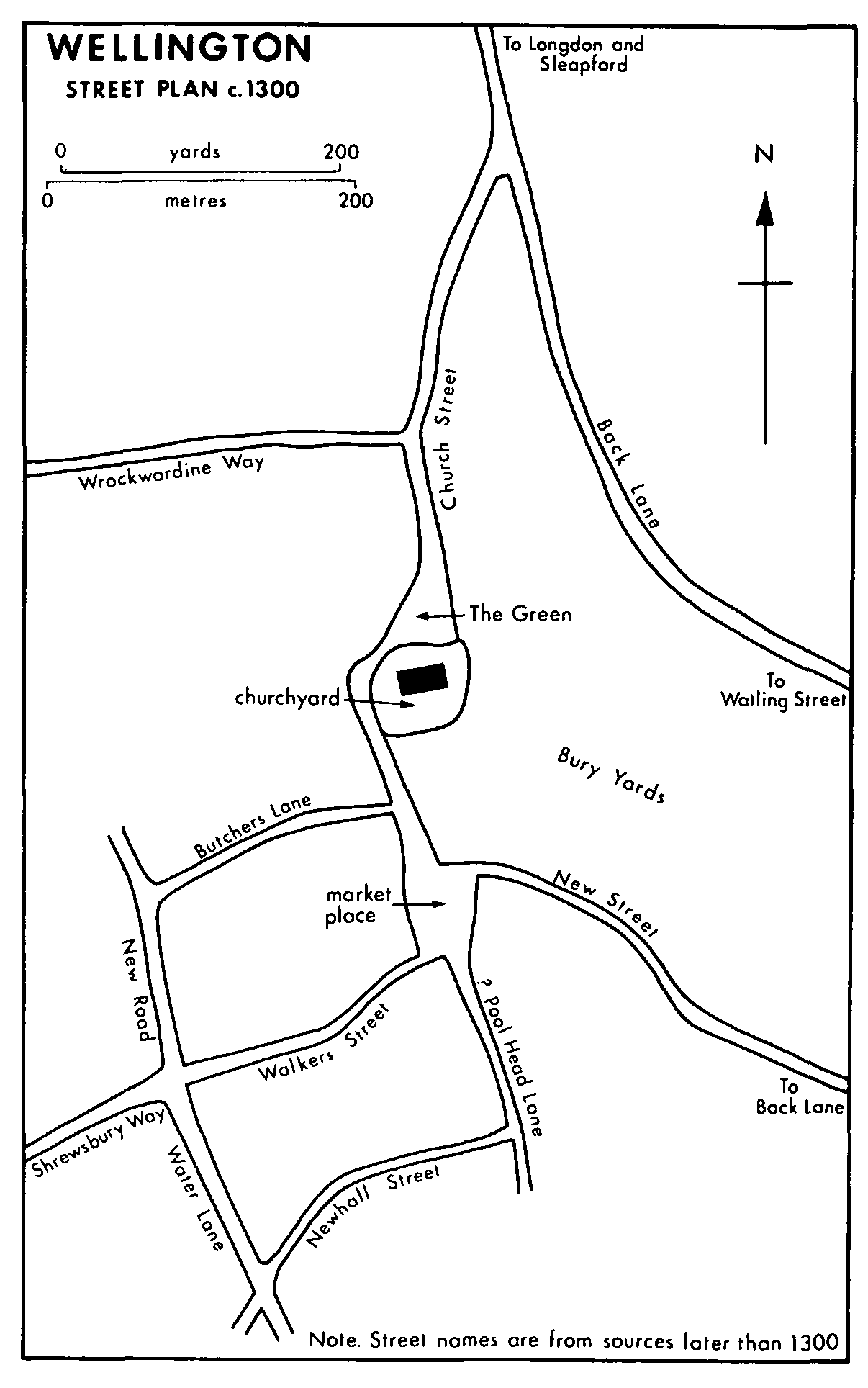 In 1086 the inhabitants of the emergent town were few. The recorded population of the whole manor, including the berewicks, was only 33 including a priest. (fn. 11) Nevertheless the town probably grew considerably in the 12th and 13th centuries. (fn. 12) Before 1309, probably when the market was granted in 1244, (fn. 13) Wellington seems to have been deliberately enlarged on lower ground south of the churchyard, about a new square market place of c. ¼ ha. that was joined to the Green by a southern continuation of Church Street. (fn. 14) New Street (fn. 15) was laid out southeastwards from the new market place and joined it to Back Lane and thus to Watling Street and the south-east. (fn. 16) West of the new market place, not necessarily at the same period, a grid of streets seems to have been laid out, eventually known as Butchers Lane (later Market Street), (fn. 17) Walkers (later Walker) Street, (fn. 18) and Newhall Street (later Foundry Road), (fn. 19) linked by Tan Bank, (fn. 20) Water Lane, and New Road. (fn. 21) Walker Street, which led directly from the new market place, had a westward continuation to Watling Street at Haygate and thus to Shrewsbury. (fn. 22)
In 1327 Wellington, with Apley, Arleston, Aston, and Dothill, had 29 taxpayers, (fn. 23) far fewer than Shrewsbury, Bridgnorth, or Ludlow, and was comparable in size to Market Drayton, Newport, Much Wenlock, and Whitchurch. (fn. 24) In 1563 the parish had 219 households, (fn. 25) of which Wellington town, with Apley, Arleston, and Dothill, probably had c. 130. (fn. 26) The total population apparently doubled in the next hundred years. In 1676 the parish returned 1,544 adults at the Compton census. (fn. 27) The town probably accounted for c. 725 of them. (fn. 28) Nevertheless Wellington's relative size among Shropshire towns was similar to what it had been in the 14th century. (fn. 29) In the 18th century, however, its population grew threefold and in 1801, (fn. 30) with c. 4,000 inhabitants, (fn. 31) the town was, with Bridgnorth, second only to Shrewsbury. (fn. 32)
Expansion before the 19th century hardly transgressed the medieval street plan. The part of New Street nearest the new market place had burgage plots by 1309. (fn. 33) Behind them, on the north, (fn. 34) lay inclosures called the Bury Yards. (fn. 35) By 1800 the street was built up as far as the junction with Back Lane. Other medieval burgage plots apparently fronted the Green (east and west sides), Church Street, the new market place (east side), and Walker Street. No evidence of medieval burgages occurred in other parts of the western grid c. 1800, and occupation of the grid had perhaps never been completed; by 1800 only Walker Street and Tan Bank were fully built up. (fn. 36) Some marketing probably took place at an early period at the south end of Church Street, where it entered the new market place. (fn. 37) By c. 1600 (fn. 38) the market place was occupied by two parallel north-south rows of permanent shops, which divided it into Dun Cow Lane (later Duke Street), (fn. 39) Crown Street, (fn. 40) and Pig Market (later Bell) Street, (fn. 41) and the south end of Church Street became the market place. (fn. 42) Most buildings in Wellington earlier than the 18th century were timber-framed, but in the early 19th many were rebuilt or cased in brick.
On the fringes of the town there were small separate settlements by the late 17th century on Back Lane (fn. 43) (the central part) (fn. 44) and Street Lane (fn. 45) (i.e. the Watling Street from Haygate to Wrekin Road). (fn. 46) By the 1750s another settlement, called Watling Street, (fn. 47) lay at the junction of Mill Bank and the Watling Street. (fn. 48) A small settlement called the New Town, on the way from Wellington to Haygate, had been formed by 1739 (fn. 49) but was never more than a few cottages. (fn. 50)
By the early 19th century the most handsome streets were Church Street (with the Green and the Market Place) and Walker Street. New Street, with Nailors Row and Chapel Lane leading off, (fn. 51) was the most populous and had many small tradesmen (fn. 52) but was poorly built except near the Market Place. Wellington's best houses were detached brick mansions built west and north of the town in the 18th and early 19th century. On the Haygate road was the Mount and on the Wrockwardine road (called Mansion House Lane) where it entered the town (fn. 53) lay the Vineyard (built c. 1721) (fn. 54) and Parville House. Other detached houses lay at the town's northern extremity near the edge of the Apley demesne. (fn. 55)
The town's population continued to grow vigorously in the earlier 19th century, especially in the 1820s and 1830s, and reached 6,084 in 1841. (fn. 56) The undeveloped parts of the western grid began to fill, especially with commercial and industrial premises. (fn. 57) Walker Street, having the workhouse and parish offices, became the town's administrative focus, in which other offices opened later in the century and in the next. (fn. 58) The greatest early 19th-century growth, however, consisted of workmen's housing on the south-east side of the town. New Street was already built up and between 1800 and 1840 more rows were built off it: for example Burnett's Yard, Jackson's Yard, Brown's Yard, and Corbett's Yard; (fn. 59) at the same time Nailors Row and Chapel Lane were extended. In Jarratt's Lane (later Glebe Street), a south-east continuation of Tan Bank, a small group of cottages (fn. 60) expanded northwards as Parton (later New) Square and southwards (fn. 61) as Bladen's Court. (fn. 62)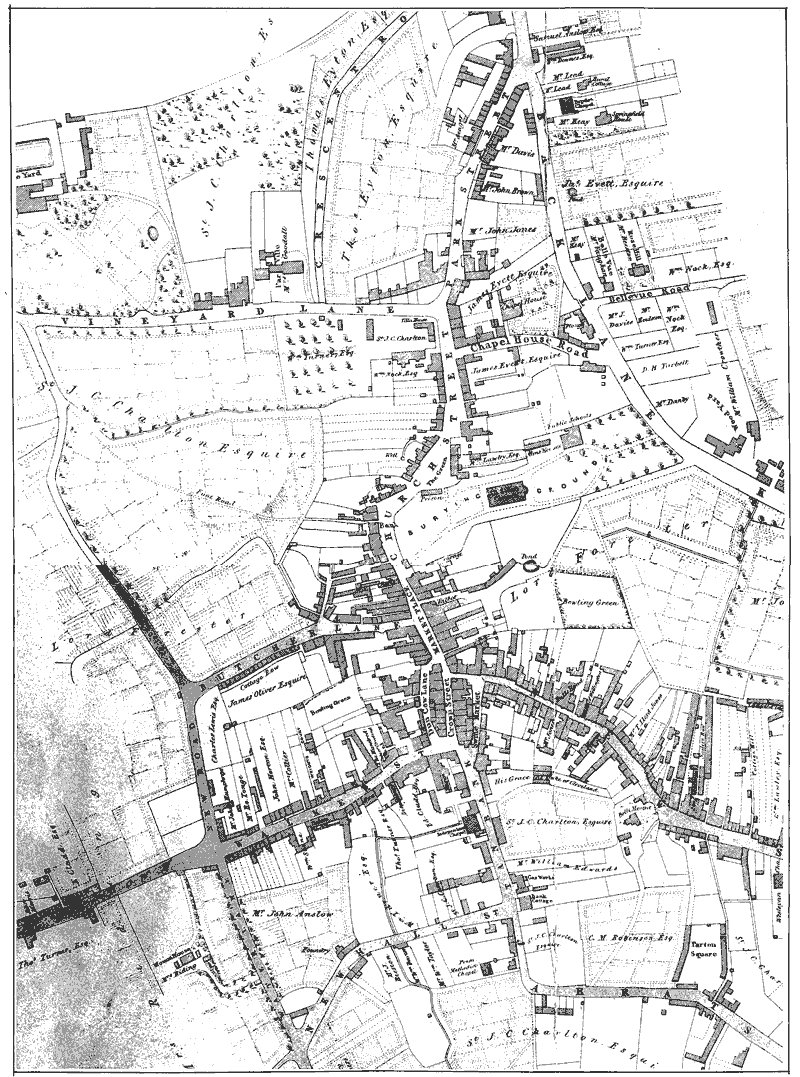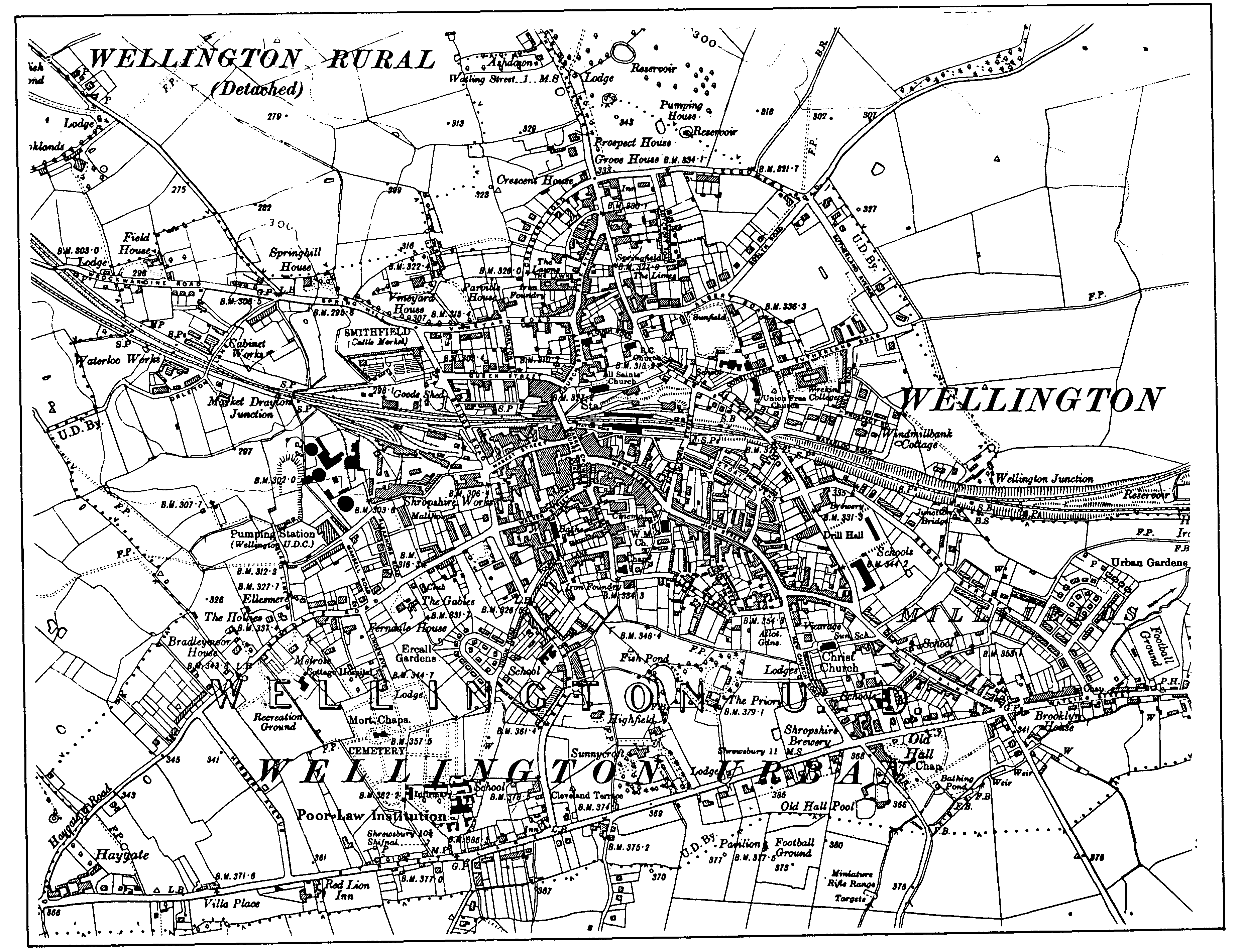 Wellington's population growth slowed in the mid and late 19th century, with only a short-lived acceleration after the introduction of railways in 1849. (fn. 63) In the 1880s the population of the urban sanitary district was falling (fn. 64) and in 1898 a local society existed to assist emigrants. (fn. 65) The town nevertheless spread markedly from the 1840s, (fn. 66) with both new detached middle-class houses at its edges and working-class dwellings of improved design indicating dissatisfaction with the density of occupation that had prevailed until then. In 1897 Lord Forester projected a spacious estate of middle- and working-class houses extending for two miles along the south side of Watling Street, (fn. 67) though it was never built.
In the 1890s many of the 18th- and early 19th-century cottages, especially in and around New Street, were fit only for demolition. (fn. 68) Replacement became urgent, but speculative developers had little interest in providing the cheap housing needed by people displaced from premises condemned by the urban district council, such as the 40 houses demolished in Nailors Row in 1897. (fn. 69) In 1900 the urban district's population was increasing again (fn. 70) and the Wellington Workmen's Dwellings Society petitioned the U.D.C. to provide council houses. (fn. 71) The council estimated that at least fifty were urgently needed (fn. 72) but it decided to build by instalments. (fn. 73) The first sixteen, Urban Terrace, designed by T. H. Fleeming, were completed in 1902 (fn. 74) in Regent Street. No more were built until the period 1920–5, when another 96 were completed nearby. (fn. 75) On the west side of the town the council completed Ercall Gardens (40 houses) off Union Road in 1924; (fn. 76) 12 were for sale. (fn. 77) Notable increases of population in the 1930s and 1940s, when that of the U.D. (including the area added in 1934) rose by a third, and in the 1950s and 1960s, when it rose by a half, (fn. 78) were paralleled by those of the council's housing stock.
The U.D.C. built 213 houses near Orleton Lane in the period 1928–35, (fn. 79) including 68 to complement slum clearance. (fn. 80) It then turned to land south of Watling Street, mostly in Arleston township. The first 70 council houses there were finished in 1939 (fn. 81) and a further 578 dwellings (including 36 flats) were built 1947–54. (fn. 82) Thereafter the council concentrated on sites on the north-west side of the town and on cleared sites near the centre. Its Park Walls estate (310 houses, 6 of them for sale) was completed 1955–7 (fn. 83) and the first phase (296 flats, maisonettes, and houses) of the Dothill estate in 1963. (fn. 84) The first town-centre council housing, 27 flats (School Court) off King Street, was completed in 1959. (fn. 85) By 1963, when the 2,000th council dwelling was opened, (fn. 86) the U.D.'s need for council housing had virtually been met (fn. 87) and by 1972 only 95 such dwellings had been added. (fn. 88) The council's building land was in any case almost exhausted, for further expansion at Dothill was impossible before the Rushmoor sewage works opened (fn. 89) in 1975. (fn. 90)
From the 1920s private developers provided houses for sale. At first the south and south-west sides of the town were especially favoured, (fn. 91) but in 1958 planning consent was given for the largest single private development to date, the Brooklands estate (376 houses) on the north-west. (fn. 92) Private development was also encouraged by the U.D.C. at Dothill. (fn. 93)
By the mid 20th century Wellington's commercial centre was badly congested. In 1946 the U.D.C. commissioned a redevelopment plan from G. A. Jellicoe (fn. 94) but it was not executed. (fn. 95) In 1963 the council, in collaboration with property developers, (fn. 96) prepared an ambitious plan for a large pedestrian shopping centre, with offices and an inner ring road. (fn. 97) It was postponed in 1965 when proposals to extend Dawley new town were mooted, (fn. 98) and then lapsed. In 1969, after Telford new town had been designated and planned, a more conservative scheme was substituted, to preserve and improve existing streets and to pedestrianize them by building the ring road. (fn. 99) The road was completed in 1979. (fn. 100)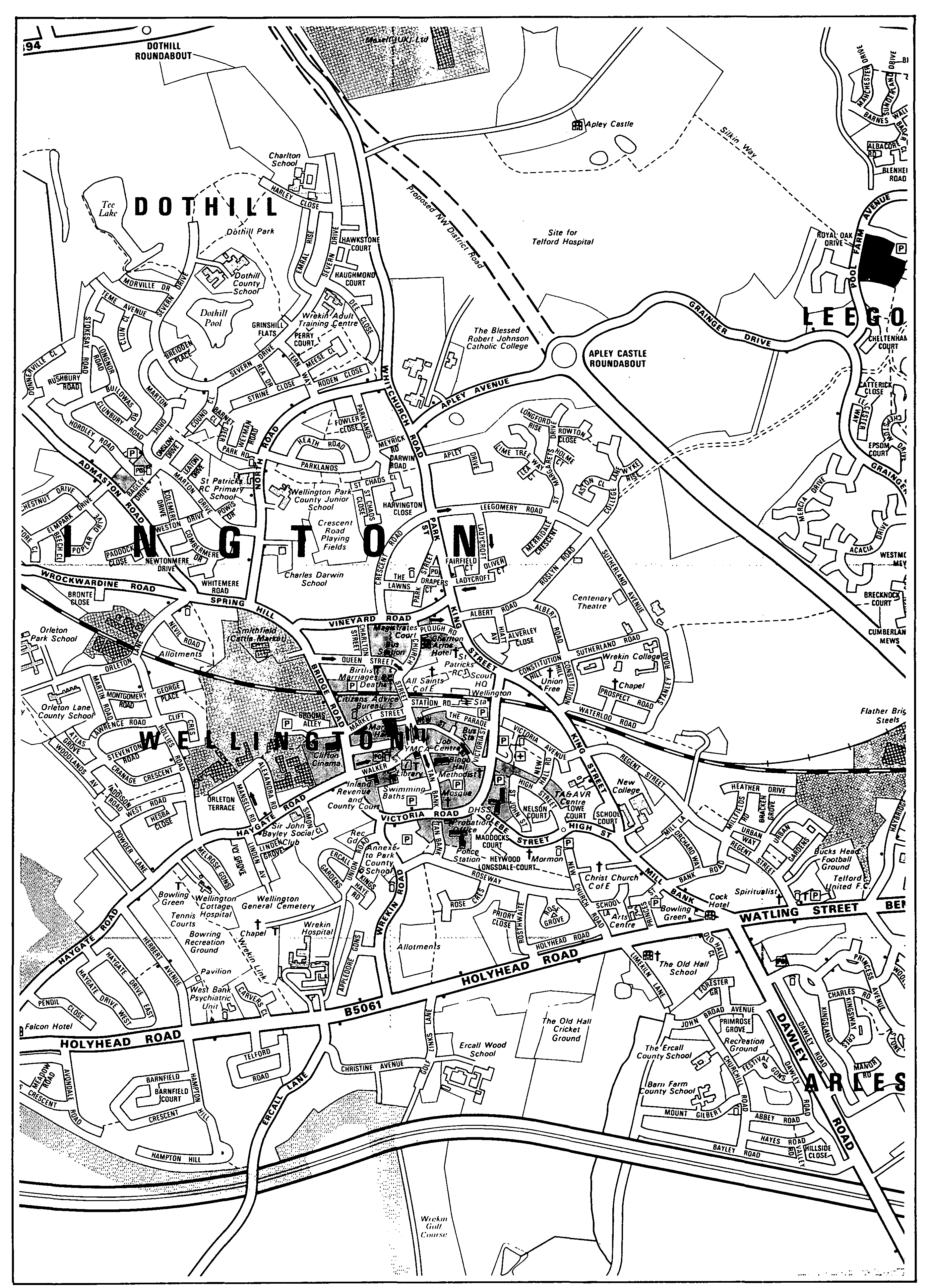 Telford's designation in 1968 did not result in a rapid extension of housing near Wellington. In fact the U.D.'s population fell by nearly a tenth in the 1970s; town-centre redevelopment and a decline of manufacturing may have been causes. In 1981 the former U.D. had 15,691 inhabitants. (fn. 101) The development corporation's Leegomery scheme, an extension of Hadley, did not reach completion of its first phase until 1978. (fn. 102) Only in 1982 did the corporation complete the first phase (178 dwellings in Eyton C.P.) of its Shawbirch scheme, (fn. 103) part of which was planned to be in Dothill township. (fn. 104) By then the corporation had a surplus of houses to rent (fn. 105) and regarded Shawbirch as its last scheme. (fn. 106) There was, however, a demand for private houses. (fn. 107) The Shawbirch scheme included private estates, (fn. 108) and 128 houses (fn. 109) were also provided c. 1980 (fn. 110) on the north-east side of the town, partly in Apley township. (fn. 111)
By the 11th century there were a number of settlements outside Wellington itself but in the later Middle Ages most of them shrank and some virtually disappeared. Apley, Arleston, Aston, Dothill, and Walcot were presumably Wellington manor's five Domesday berewicks. At Apley 12 tenants were named in 1384 (fn. 112) but the settlement afterwards shrank. No record of its open fields is known and in 1672 only the big house paid hearth tax. (fn. 113) At Dothill there was some 13th-century occupation east of the capital messuage (fn. 114) and the presence of open fields in the later Middle Ages (fn. 115) suggests that there was more than one household. By 1626, however, only the big house remained. (fn. 116) Aston and Walcot each had several households in 1672 and each was a small group of farms and cottages in 1983; (fn. 117) there had been no significant growth or contraction since the 17th century.
Arleston was said in 1284 to have had 24 hearths in 1212. (fn. 118) In 1672 thirteen households paid hearth tax. (fn. 119) In 1841, after growth presumably stimulated by mining, (fn. 120) there were c. 25 houses, mostly on the inner west side of the northern square of a two-squared grid of lanes bounded east by Arleston Lane, with Arleston House in the southern square. The unoccupied parts of the grid may have been abandoned medieval house sites. By then the township also had workmen's cottages at New Works (partly in Little Wenlock) (fn. 121) and on Watling Street from the Swan eastwards to Ketleysands. (fn. 122) Wellington's district under the Improvement Act of 1854 included the settlement round the Swan; in 1903 the U.D. absorbed Bennetts Bank farther east, and in 1934 the rest of Arleston's Watling Street houses. (fn. 123) Between 1939 and 1954 the area between Watling Street and Arleston village was filled with council housing and thus absorbed by Wellington town. (fn. 124)
Leegomery was caput of an extensive manor in 1086. (fn. 125) By 1723 it was a nucleated hamlet of four large houses and a few cottages. A field then called the Old Town c. 400 metres SSE. of Leegomery House, may have been the site of houses abandoned in the later Middle Ages. (fn. 126) Three farms were amalgamated in 1734 (fn. 127) and by 1842 there remained only Leegomery House and some cottages. (fn. 128) By 1901 Wellington town was beginning to impinge on the township's south-western edge, (fn. 129) which was added to the U.D. in 1903. (fn. 130) In the late 1970s Telford development corporation's Leegomery housing estate began to cover the township's eastern side, absorbing the old hamlet. (fn. 131)
Wappenshall (mentioned 1228) (fn. 132) consisted by 1723 of Wappenshall Farm and c. 3 cottages, (fn. 133) as in 1983. At the canal junction, opened 1835, (fn. 134) there was a public house in 1841 and a house by the wharf. (fn. 135) A few cottages were added near the junction before the 1880s (fn. 136) but by 1870 the public house was closed (fn. 137) and there was no further growth.