Pages 176-178
A History of the County of Somerset: Volume 3. Originally published by Victoria County History, London, 1974.
This free content was digitised by double rekeying. All rights reserved.
THE HUNDRED OF TINTINHULL
Tintinhull hundred lies in the south of the county, partly in the alluvial plain of the Yeo, partly in the irregular landscape of the Yeovil sands. Ilchester, the Roman cantonal capital and the county town of Somerset from the 12th century, was the most important settlement. Several hamlets of manorial origin in the south and one village in the plain, Sock Dennis, had disappeared by the early 17th century. Conversion from arable to grassland began in parishes near the Yeo in the 16th century, but arable remained predominant further south until the nineteenth.
Tintinhull hundred is not mentioned in the geld rolls. Its lands were included under Yeovil hundred. It has been thought that nevertheless it existed by 1084 and that its exclusion was due to the wish to group the count of Mortain's manors, of which Tintinhull was one, into a larger unit. The dubious charters whereby the count granted his Tintinhull and Montacute lands to his newly-founded priory at Montacute refer to Tintinhull hundred and also, under names thought to be interchangeable, to Montacute and Bishopstone hundreds. All three names were used at least until 1184. (fn. 1)
Clearly Montacute and Tintinhull were early members of the hundred. In 1187 the lord of Kingstone acknowledged that he and his men owed suit thrice yearly, i.e. on the octaves of Michaelmas, Epiphany, and Hockday. (fn. 2) Stoke, Kingstone, and possibly Athelney were included in the hundred by 1212. (fn. 3) By 1284–5 the hundred was said to consist of Tintinhull, Stoke, Stokett (East Stoke), Kingstone, and the two detached areas of Hescombe (in West Coker) and Draycott (in Ashington). (fn. 4) Montacute, which had been called a 'free manor' in 1275–6, (fn. 5) is not expressly mentioned, but recurs in 1316. (fn. 6) Hescombe had been part of the hundred since 1265. (fn. 7)
The hundred remained thus constituted until at least 1327. (fn. 8) By 1416 Ilchester and Sock Dennis were included in it for taxation. (fn. 9) Northover, a 'free manor' in the Middle Ages (fn. 10) and deemed part of Stone hundred in 1539, (fn. 11) was, with Ilchester and Sock, embraced in Tintinhull hundred by 1569. (fn. 12) So the hundred remained until the 19th century, though it was disputed whether for ship money assessments Northover was an appendage of Ilchester or a separate township in Tintinhull hundred, and whether Sock and Draycott lay within it at all. (fn. 13) Further doubts concerned Thorne. The estate, later called Thorn Prior, owed suit to Stone hundred in the 14th century, (fn. 14) but by 1539 was part of Bishopstone tithing in Montacute; it therefore owed suit to Tintinhull hundred. (fn. 15) The other part of Thorne parish remained within Stone hundred, though by 1841 it was tabulated under Tintinhull. (fn. 16)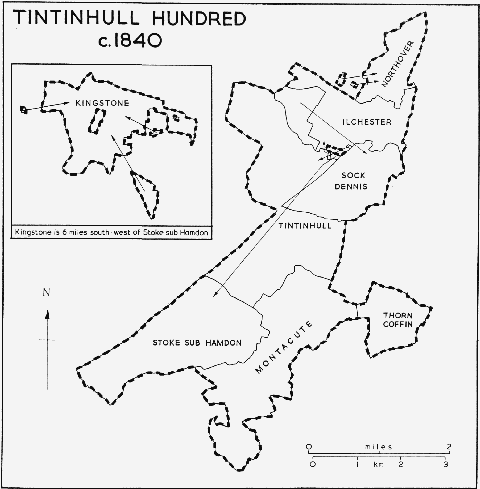 The hundred was held with Tintinhull manor from the 11th century until its jurisdiction lapsed. (fn. 17) It was administered with the manor in a court leet and view of frankpledge for both, (fn. 18) which met twice a year at Tintinhull until the late 17th century and afterwards once yearly. (fn. 19) A hundred constable was elected at the spring court, and in the early 17th century the tithings of Allowenshay (in Kingstone), Stokett, Draycott, and Tintinhull were regularly represented. (fn. 20) Attendance was commonly released after 1662, and the last joint court was apparently held in 1702. (fn. 21) In 1703 but never again a 'leet of hundred or lawday court' sat. (fn. 22) Draycott tithing was represented at the manor court from 1790 onwards, and there is some evidence for the re-establishment of the hundredal organization. (fn. 23) A constable for the 'out hundred' was appointed in 1801, a title suggesting bogus antiquarianism, and Northover and Draycott were represented by their tithingmen in 1805. Tithingmen for Lufton and Sock were appointed in 1818, and by 1827 there was both a hundred bailiff and a constable, and five tithingmen. About 1837 the out-hundred of Tintinhull was said to comprise Tintinhull, Stoke, part of Montacute, Lufton, part of Thorne, Northover, Draycott, Sock Dennis, and Kingstone. (fn. 24) Tithingmen were last appointed in 1843, but the hundred constable was elected each year until 1869. (fn. 25)