Pages 81-94
A History of the County of Somerset: Volume 3. Originally published by Victoria County History, London, 1974.
This free content was digitised by double rekeying. All rights reserved.
CHARLTON ADAM
The ancient parish of Charlton Adam, often known as East Charlton, had an area estimated at 1,458 a. in 1810 (fn. 1) and at 1,476 a. in 1861, (fn. 2) but no accurate assessment of its area survives. The many detached portions of the parish lying dispersed in Charlton Mackrell, some at Wellham on its western boundary, may represent tenements originally granted to Bruton priory, together with their holdings in the common fields, which were subsequently administered from Charlton Adam. (fn. 3) Two irregularly shaped areas, totalling 132 a., lay detached in Copley wood, about 2 miles north-west of the parish. (fn. 4) When the civil parishes of Charlton Adam and Charlton Mackrell were amalgamated under the name of Charlton Mackrell in 1885, the western portion was transferred to Compton Dundon and the eastern to Kingweston. (fn. 5)
The parish is situated 3 miles east of Somerton, extending 1½ mile from north to south and nearly 2 miles from east to west, excluding the detached areas. It abuts north-east on Kingweston and Keinton Mandeville, east on Babcary, and south and west on Charlton Mackrell.
The soil of the parish is clay over limestone and lias. (fn. 6) The land rises above the 150 ft. contour at Bulland in the north-west, and above 125 ft. by the Foss Way in the north-east, and falls away gradually to the river Cary in the south-west. South and west of Manor Farm the ground rises steeply above 100 ft. and 150 ft. respectively. The area is poorly watered; a single small stream, known as Matford brook ('Modford broke' in 1327), (fn. 7) runs immediately east of Withybed Lane under the new course of the Foss Way at Sticklebridge, passes south-east of the old road and west of Midney, and flows into the parish of Keinton Mandeville in the north-east. A small stream which formerly served Peck Mill, south of Manor Farm, is dry for much of the year.
The road pattern is irregular. The Foss Way (A 37) runs north-east through the south-western end of the parish, with a diversion to the north at Sticklebridge. It seems evident that this is not original and that its course was formerly straight. It has been suggested (fn. 8) that this alteration was to avoid an area of low-lying marshy ground, and the change of route may have been permanently effected when the common pasture there was inclosed in 1634. (fn. 9) Part of the former road survives as a lane south-west of Sticklebridge, indicating that a less abrupt diversion was once used, possibly until the Foss was adopted by the Ilchester turnpike trust in 1753. (fn. 10) 'The way which is called Fos' occurs in a Charlton Adam charter of c. 1258. (fn. 11) From the Foss at Sticklebridge a lane, probably once known as Eastwell Lane (fn. 12) but now as Broadway, runs west to the north end of the village. A bend in the lane and the position of two fields named Cornish Way (fn. 13) suggest that its course once lay further south to meet the Foss at its shorter diversion, presumably crossing the stream there by means of Matford. (fn. 14) The village itself is formed by a rectangle of four lanes: Broad Street runs south from the western end of Broadway to meet first Station Road, sometimes known as Court Lane, and then George Street, both on the west. The rectangle, known as the Penning or Square in 1832, (fn. 15) is completed by Church Lane which links Station Road and George Street. Apart from Church Lane which occurs in 1836, (fn. 16) none of these names is mentioned before the late 19th century. Front Street and Quay Lane, which occur in the early 19th century, (fn. 17) can probably be identified with George Street and Broad Street respectively. Broad Street continues north and then north-east as Combe Lane to Keinton Mandeville, and an irregular track known as Balls Lane, probably from a 16th-century family of that name, (fn. 18) proceeds eastwards from George Street and subsequently north to Broadway, evidently to provide access to fields along its course. Station Road runs west and then north-west to that part of Charlton Mackrell around Charlton House, and subsequently to Kingweston. A lane, originally known as Chessells Lane from the adjoining field, goes south from George Street to the south-western limit of the parish at Tout. Thence three roads run north-west to Charlton Mackrell, and south and south-west to the Foss in Charlton Mackrell. Ten Acre Lane runs north from Station Road just west of its junction with Church Street, then east across Combe Lane and north-east, originally for access to the open fields in that part of the parish. Two lanes run north-west from the Foss Way at Sticklebridge: Withybed Lane runs into Combe Lane at the northern limit of the parish, for the latter part of its course forming the parish boundary, and Common Lane links Sticklebridge with Keinton Mandeville. In the east of the parish a lane runs south-east from the Foss, across the Cary at Steart bridge to Steart in Babcary.
The Great Western rail link between Castle Cary and Charlton Mackrell, running through the northwest of the parish, was opened in 1905, and from Charlton Mackrell to Somerton in the following year. (fn. 19) Charlton Mackrell station, which lay just within the western boundary of Charlton Adam, was closed to all traffic in 1962. (fn. 20)
The early inclosure of the common fields makes it difficult to trace their extent with certainty. Of the two medieval arable fields, (fn. 21) North field appears to have stretched from Bulland on the north-western boundary to Red Holes ('Revedol Furlong' c. 1258), (fn. 22) possibly bordering Withybed Lane in the north and east, and crossing the Broadway in the south at Withyhays ('Witheheye' c. 1258). (fn. 23) It is not certain whether North field included Walkmoor lying across Combe Lane in the north of the parish. South field lay south of Balls Lane, adjoining the parish boundary on the south, Chessels Lane on the west, and possibly including most of the area known as the Slades between Balls Lane and the Foss. (fn. 24) The four-field system, formed by c. 1564–6, (fn. 25) was created by the subdivision of North field and South field. North-east field, sometimes inexplicably called West field, occupied the area south-west of Withybed Lane between Walkmoor and Red Holes. South-east or East field lay between Balls Lane and the Foss, south of Matford, possibly including lands further west. The medieval common pasture and meadows are represented by sixteen field names, (fn. 26) but of these only one can be located: 'Middelnyemed', occurring in 1340. (fn. 27) This can be identified with Midney in the south-east corner of the parish. It seems likely that most of the early pasture and meadows lay in this area on the land beyond the Foss dropping down towards the river Cary. The common pastures inclosed in 1634 lay further north. Matford extended south of Broadway, between Balls Lane and the Foss. The Lains ('Laynes and Brokes' in c. 1564–6, 'Mackerise Layne' in 1634) occupied the extreme eastern corner of the parish in the area of the Foss diversion, with Hale ('Hayle' in c. 1564–6, 'Heale' in 1634) and Heaples to the south, and Turdhills to the north-west. (fn. 28)
Archaeological evidence for Romano-British settlement in Charlton Adam includes potsherds, coins, slab graves, and traces of building found in Perrin's Quarry at Bulland in the north-west of the parish, which suggest occupation and possible quarrying activity during the 3rd or 4th century. (fn. 29) The field name Chessels (Cheshull in c. 1238), (fn. 30) which is found south of the village, may indicate another site of Roman settlement, as has been shown to be the case elsewhere. (fn. 31) The parish church and 'the Abbey', formerly the lay rectory, lie in the southeast corner of Station Road and Church Lane. Settlement in the village appears originally to have been restricted to both sides of Broad Street and the south side of George Street, established round lands held with 'the Abbey'. The earliest buildings in this area date from the 16th century, although most are lias houses and cottages of the 18th and 19th centuries. Four cottages were erected on the waste in Eastwell Lane between 1595 and 1611. (fn. 32) A row of houses on the north side of Broadway is dated 1842 and modern houses have been built to the south, towards its western end. In the 19th century the school and former Methodist chapel were erected on the south-west corner of Station Road and Broad Street. Just south of the school lies the Temperance Hall, first mentioned in 1902 (fn. 33) and used in 1970 as a youth club. The principal village shops stand on the east side of Broad Street at this junction. The farm-houses lie generally within the village itself. East Farm is sited on the east side of Broad Street with its farm buildings opposite. Just north of the junction of Broadway and Combe Lane stands the Barton, formerly known as Walters' Barton from the family which owned it in the early 19th century. (fn. 34) On the north side of the lane leading west from George Street stood the farm-house held in turn by the Willes and Thring families, probably to be identified with a dwellinghouse now called 'the Laurels', east of which cottage development has taken place. 'Pleasant Spot', lying north of Broadway, and Sticklebridge, on the south side of the Foss Way diversion, were small farms, both erected in the middle or late 19th century. (fn. 35) Priory Farm and Manor Farm both lie in a detached part of the parish in Charlton Mackrell, on the east side of Peck Mill Lane, running north from the hill on which Charlton Mackrell church stands.
A public house called the New Inn occurs between 1745 (fn. 36) and 1764, (fn. 37) and in 1765 appears to have changed its name to the Old Inn. (fn. 38) It is not mentioned thereafter and its site has not been traced. The Blue Boy inn is recorded in 1769. (fn. 39) During the 19th century the parish appears to have been served by beer shops, one of which, the George, gave its name to George Street. (fn. 40) The former Fox and Hounds, on the south side of Broadway, was converted to an inn in the 19th century, possibly when the north wing was added in 1866. (fn. 41) There was no public house in the parish in 1970.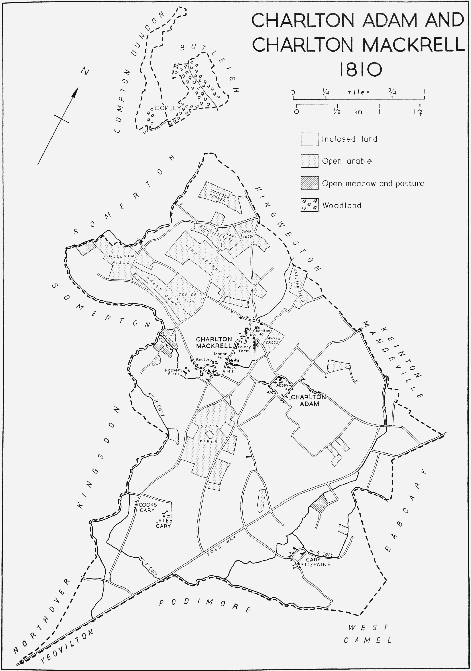 Most of the buildings in the village date from the early and mid 19th century. They are of the local blue lias stone, probably quarried in Charlton Adam or Charlton Mackrell, with thatched or tiled roofs; one or two have classical porches of Ham stone. On the west side of Broad Street, just north of East Farm buildings, is a plain lias house of two storeys, standing at right angles to the road and probably built c. 1700. In the south wall are four Ham stone mullioned windows with hood moulds, the moulding on the ground floor being continuous. 'Cedar Lodge' at the south end of Broad Street is a larger L-shaped house of lias with thatched stables and a coach-house, bordering the lower east end of the street. It is probably of 18th-century origin. The range abutting on the road was formerly thatched but was gutted by fire and largely rebuilt with a tiled roof in the 20th century. The history of the house is poorly documented, but in 1810 it was occupied by the Revd. Anthony Pyne, (fn. 42) a member of the family formerly resident at Charlton House in Charlton Mackrell. (fn. 43) 'Court Hay' in George Street, with a Ham stone porch, was also owned by the Pyne family in 1810. (fn. 44)
The population of the parish was given as 210 in 1791. (fn. 45) In 1801 it had risen to 254, but fell slightly to 251 in 1811. Thereafter it rose to 550 in 1851. Subsequently a steady decline set in: 530 in 1861, 416 in 1881, and an abrupt drop to 295 in 1891, due no doubt to the general agricultural depression. The last available total, indicating a slight recovery, is 322 in 1901, after which Charlton Adam was included with Charlton Mackrell for census purposes. The cumulative totals show a small rise in 1911, dropping again after the First World War, with a gradual increase thereafter. (fn. 46)
Manors and Other Estates.
In 1066 the manor was held by three thegns and one clerk 'in parage', but by 1086 had passed to Robert, count of Mortain. (fn. 47) Robert was probably succeeded in 1090 by his son William, until William forfeited his estates in 1106. (fn. 48) The Mortain overlordship appears subsequently to have been retained by the Crown.
In 1086 Reynold de Vautort held under the count, (fn. 49) but by 1160–1 John son of Hamon, whose family had been Domesday tenants of the count at Buckhorn Weston (Dors.), was holding the church and manor. (fn. 50) John had been succeeded before 1166 by his son William, who appears to have died without issue by 1211. (fn. 51) The manor then passed to John son of Richard, grandson of John son of Hamon, who was succeeded by his brother Henry son of Richard in 1226. (fn. 52) He was stated to hold two fees in Charlton of the Crown in 1242–3. (fn. 53) On his death in c. 1243 his lands were divided between five coheirs, Thomas le Breton, Matthew Wake, Walter de Esselegh, William son of Walter, and Henry Walleram. (fn. 54) Nothing further is known of Walleram's share. William son of Walter sold his interest to Thomas le Breton, who conveyed the resultant two shares or moiety to Geoffrey de Mandeville. (fn. 55) In 1249 Mandeville's holding was itself described as two fees in Charlton; the mesne lordship of one of these he sold to Bruton priory. (fn. 56) By 1268–9 Geoffrey had been succeeded by his son John de Mandeville, (fn. 57) who in 1286 occurs as lord of the latter fee and another, of which ¾ was held by John de Perham and ¼ by Humphrey de Kail. (fn. 58) The Mandevilles were lords of East Coker manor until 1305–6, (fn. 59) and in 1321 the prior of Bruton was stated to hold Charlton Adam of the lord of East Coker. (fn. 60) The tenure is again recorded in 1431–2, (fn. 61) but has not been noted thereafter.
Matthew Wake gave his share in marriage with his daughter Joan to Philip Lucyen, who quitclaimed lands in Charlton held by Thomas de Perham to Berengar de Welles and Richard de Wyggeber and their wives, the other two daughters of Matthew Wake. (fn. 62) Walter de Esselegh's share passed to Geoffrey of the marsh, who gave it in marriage with his niece to Emery de Gardino. (fn. 63) No further reference to their lordship has been traced. By 1305 the Mortimer earls of March were claiming the lordship of lands in Charlton including the fee held by Bruton priory. (fn. 64) They continued to claim it until 1399, (fn. 65) but by what right is not known.
In the early 13th century William son of Adam held one fee in Charlton Adam, (fn. 66) but by 1249 he had been succeeded by his son William. (fn. 67) In 1258 William FitzAdam sold his manor of CHARLTON ADAM to Bruton priory for 120 marks and a life interest in Brewham manor, held by the priory. (fn. 68) The priory (later an abbey) retained the manor until the Dissolution. (fn. 69) It received many small grants of lands in the parish during the 13th and 14th centuries. (fn. 70) These lands were probably united with the manor of Charlton Adam held by the priory, and other plots initially located in Charlton Mackrell may be represented by detached lands there later belonging to Charlton Adam parish. In 1560 the manor was granted to Francis Walsingham who sold it in that year to Sir William Petre (d. 1572). (fn. 71) He was succeeded by his son John, Lord Petre (d. 1613), who settled the manor on his third son Thomas Petre of Cranham (Essex). (fn. 72) Thomas entailed the manor upon his sons John (d. 1623) and Francis successively, and died in 1625. (fn. 73) Francis Petre (d. c. 1660) appears to have sold it during the Interregnum to Nathaniel Wright, a London merchant, who compounded for it in 1648 on Petre's recusancy, and held court in 1649. (fn. 74) By 1662 Francis's son, Sir Francis, Bt. (d. between 1670 and 1679), had recovered the manor. (fn. 75) He was succeeded by Anthony Petre, claimant to the baronetcy, (fn. 76) who in 1682 sold the manor to Edmund Gregory of Thorne in Castle Cary. (fn. 77) Gregory left it by will proved in 1697 to his nephew Edmund Seaman. (fn. 78) Seaman sold it to his niece's husband, Thomas Gapper of Sutton in Wincanton in 1705, (fn. 79) who left it to his son Edmund Gapper of Baltonsborough. (fn. 80) The last was succeeded by his son the Revd. Edmund Gapper (d. 1773), and by his grandson the Revd. Edmund Gapper (d. 1809). (fn. 81) The second was followed by his widow Mary, and son William Southby Gapper, who in 1819 subdivided and sold it. (fn. 82) In 1832 the lordship was claimed by Edward Richards Adams of Elmer Lodge, Beckenham (Kent), (fn. 83) who appears to have acquired lands on Walkmoor from Mary Gapper c. 1829. (fn. 84) Adams was still holding these lands in 1856. (fn. 85) The lordship was claimed in 1861 by Francis Henry Dickinson, (fn. 86) and subsequently by his son William, and by his grandson William Francis Dickinson. (fn. 87) However, the Dickinson claim may rest on the ownership of Manor farm, which formed a separate estate. (fn. 88)
The second fee in Charlton Adam, held under Henry son of Richard, was by 1286 divided between John de Perham, who held ¾ of a fee, and Humphrey de Kail, who held the remaining ¼ fee. (fn. 89) In the early 13th century Thomas de Perham received lands in Charlton Adam from William son of Adam and his sons totalling 120 a. of arable and 15 a. of meadow. (fn. 90) In 1249 Isabel, widow of William son of Adam, claimed dower in 3 virgates there held by Thomas de Perham, (fn. 91) and in the same year Thomas is shown holding lands in Charlton from the heirs of the Mandevilles. (fn. 92) In 1254 Thomas exchanged a carucate in Charlton Adam for a carucate in Charlton Mackrell with Thomas son of John de Perham, possibly his nephew. (fn. 93) By 1286 he had been succeeded by John de Perham (I), who granted 4s. rent from 3 virgates in the manor to Bruton priory. (fn. 94) He was also stated to hold 2 virgates from Robert son and heir of Robert de Netherton, who held from the priory. (fn. 95) John de Perham (I) appears to have died by 1302, for in that year his widow Joan brought an action for dower against the Staunton family. (fn. 96) His successor appears to have been John de Perham (II), probably his son, (fn. 97) who died in 1327, in which year Robert de Netherton assigned to the priory his claim to overlordship of the Perham property, and the priory granted dower in the lands to John's widow, Joan de Perham. (fn. 98) John held 160 a. of arable and 24 a. of meadow in Charlton Adam from Bruton priory, and other lands in Charlton Mackrell from John de Lorty. (fn. 99) The origin of this lordship is also unknown, but it was illegally seized on John's death by Roger Mortimer, earl of March, whose claims were subsequently disallowed. (fn. 100) John de Perham's son and heir John (III) was dead by 1332, his heir being his sister Thomasia, wife of William Paulet. (fn. 101) William died between 1349 and 1353 and was succeeded by his son Nicholas Paulet, then a minor. (fn. 102) The custody of his son's lands had been granted by William Paulet to Thomas and Nicholas de Panes who conveyed it to Bruton priory in 1358. (fn. 103) In the same year the priory granted the wardship to Sir John FitzPayn and Peter de Wenyete. (fn. 104) Nicholas Paulet was still living in 1412, (fn. 105) but these lands appear to have been united with those held by the Kail and Paulet families treated below.
The ¼ fee held in 1286 by Humphrey de Kail under John de Mandeville was held by the former with 1/10 fee in Charlton Mackrell from Robert FitzPayn. (fn. 106) As Kail also held the advowson of the chantry of the Holy Ghost, founded by Henry son of Richard in c. 1238 and adjacent to the latter's manor-house, (fn. 107) this ¼ fee probably represents the capital messuage and demesne lands of the whole fee retained by Henry son of Richard. (fn. 108) In 1346 Humphrey de Kail and William Paulet jointly held ¼ fee in Charlton Adam, (fn. 109) and the latter twice presented to the chantry in 1349. (fn. 110) Humphrey de Kail appears to have been succeeded by William Kail (d. 1348). (fn. 111) During the minority of William's son his lands were held by Thomas de Panes, and in 1360 and 1399 the overlordship was claimed by the Mortimers. (fn. 112) William was succeeded by his son John Kail (d. c. 1383–4), and grandson Thomas Kail (d. c. 1394–5). (fn. 113) Thomas Kail was followed by his sister Idony, wife of John Paulet, who had issue two sons, John and Thomas Paulet. Both of them died in 1413, the premises reverting to a feoffee, John Kaynes. (fn. 114) Idony Paulet evidently held the advowson of the chantry of the Holy Ghost until her death in c. 1401–2, (fn. 115) which thereafter passed to Nicholas Paulet. The lands appear to have descended with the patronage of the chantry, which was held in 1423 and 1448 by John Lymington. (fn. 116) He was succeeded by William Brytte, patron between 1452 and 1486, in right of his wife Elizabeth. (fn. 117) In 1476 Brytte settled his lands on Hugh Larder on his marriage with his daughter Alice, (fn. 118) and by 1509 John Larder, probably their son, was presenting to the chantry. (fn. 119) John Larder and Ursula his daughter and heir, wife of Thomas Baskett, both died in 1556, leaving Ursula's two daughters as coheirs. (fn. 120) Thomas Baskett (d. 1592) occurs in 1564–6 as holding 140 a. of freehold land from the Petre manor of Charlton Adam, (fn. 121) and this passed to his daughter Mary (d. 1628–9), wife of Thomas Hussey of Shapwick (Dors.), and to her son Hubert Hussey (d. 1659). (fn. 122) Thereafter the latter's lands were divided between his daughters and coheiresses. (fn. 123)
The bulk of the lands held by the Larder family, lying both in Charlton Adam and Charlton Mackrell, descended to Baskett's second daughter Mabel, wife of John Bonham. (fn. 124) These lands appear to have formed the nucleus of a manor known subsequently either as that of CHARLTON ADAM or CHARLTON ADAM WITH CHARLTON MACKRELL, the owners of which enjoyed the right of burial in the south chapel of Charlton Adam church, and lived at what is now known as Manor Farm. John Bonham's daughter and heir, Anne, married Thomas Strangways of Winterborne Muston in Winterborne Kingston (Dors.). (fn. 125) An interest in the manor of Charlton Adam with Charlton Mackrell, held in 1609 by Mabel wife of Andrew Walton of Low Ham, (fn. 126) who was possibly related to the Baskett or Bonham family, was conveyed in 1635 and 1649 to Thomas and Anne Strangways. (fn. 127) The manor then descended from father to son in the Strangways family, Thomas (d. 1648), Giles (d. 1677), Bonham (d. 1719), Giles (d. 1744), Giles (d. 1777), and Thomas Littleton Strangways. (fn. 128) In 1796 the last sold the manorial lands, then comprising Manor farm, Peck Mill, and 421 a. of land, to John White Parsons of West Camel, (fn. 129) and the lordship separately to an unknown purchaser. (fn. 130) In 1798 the manorial lands were sold by Parsons to James King of Cranborne (Dors.), later of Stowey, who conveyed them to William Dickinson of Kingweston in 1805, (fn. 131) after which they formed part of the Dickinson estate. The farm-house, now known as Manor Farm, with the lands immediately adjacent to it, were sold to Major Charles Jackson by William Francis Dickinson in 1930, (fn. 132) and the house was held by his widow in 1970.
Manor Farm is a long low lias building of two storeys with tiled roof. (fn. 133) The walls contain traces of timber-framing and the plan, originally one room deep and consisting of parlour, hall, screens-passage, and kitchen, suggests that the house may have had a medieval or 16th-century origin. Among its older features are the two gable-end chimneys, that at the west, or parlour, end having a newel stair beside it. The house was altered early in the 18th century when a square dining room was formed out of part of the hall. The room is handsomely fitted with bolection-moulded panelling, the upper panels being painted with real and imaginary landscapes. One portrays Glastonbury Tor and another the second Eddystone lighthouse. The inclusion of the latter, built in 1709 and destroyed in 1755, suggests an approximate date for the work. The dining room chimney on the south front may be contemporary, but, if so, the four-centred arches to the Ham stone fireplaces on both floors are somewhat archaic in design. (fn. 134) A narrow addition along the north side of the house may date from the early 19th century. It contains the principal staircase and is housed under a low-pitched extension of the main roof. All the windows, both casements and sashes, appear to belong to this or later periods. In the 20th century a new entrance hall was formed at the north-west corner of the house when the front door was moved there from the screens-passage site on the south side.
In the early 13th century Bruton priory granted to Henry son of Richard the right to have a free chapel in 'his court of Charlton', to be served by chaplains from the priory. (fn. 135) They were to receive all oblations except those due from the free serjeant of the manor, when resident, and from the lord's household. (fn. 136) In return Henry granted 6 a. of arable and 1 a. of meadow from his demesne to the priory. (fn. 137) The grant was confirmed in 1238. (fn. 138) The chapel was dedicated to the Holy Ghost and in 1548 was stated to adjoin the house of John Larder, probably Manor Farm. (fn. 139) The earliest reference to the patronage of the chapel is in 1302 when Joan, widow of John de Perham, sued William de Staunton and his family for her dower, which included the advowson of the chapel. (fn. 140) It appears to have descended with the fee formerly held by Henry son of Richard, which by 1286 had been divided between the Perham and Kail families. (fn. 141) In 1348 Humphrey de Kail presented, (fn. 142) and in the following year William de Paulet. (fn. 143) The patronage continued in the hands of the Paulet family until 1412, (fn. 144) Nicholas Panes presenting as guardian of Nicholas Paulet in 1353, (fn. 145) and Sir John Beauchamp of Lillesdon in 1362. (fn. 146) The Crown presented in 1401 and 1403 during the minority of the heir of Idony, wife of John Paulet. (fn. 147) John Chicheley held the advowson in 1415, (fn. 148) and was succeeded by John Lymington, who presented in 1423 and 1448. (fn. 149) Thereafter the presentation descended through the Brytte and Larder families until the chantry was dissolved in 1548. (fn. 150) It was stated at that time that no mass had been celebrated there for the past 20 or 30 years, Robert Bysse (chaplain 1509–44) having been VicarGeneral of the diocese and a notorious pluralist. (fn. 151) In 1545 the penultimate incumbent, Thomas Russell (chaplain 1544–7), leased the chantry and its lands to the patron, John Larder, at a rent of 26s. 8d. (fn. 152) There were no ornaments nor plate in 1548 and no incumbent, although a chaplain had been presented in the previous year. (fn. 153) In 1548 the chantry was granted to Sir Thomas Bell of Gloucester and Richard Duke of London, (fn. 154) but its subsequent descent has not been traced. No description of its lands survives and no vestiges of the building remain in the vicinity of Manor Farm, its probable site.
The manor of East Lydford included lands in Charlton Adam which in the late 14th century, before the tripartite division of East Lydford manor in c. 1394, are occasionally referred to as the manor of CHARLTON. (fn. 155) It was probably this holding that led William de Reigny, lord of East Lydford manor, to quit-claim his rights in the manor of Charlton Adam to Bruton priory in 1320. (fn. 156) When one third of East Lydford manor was partitioned in 1775, 105 a. of land were found to lie in Charlton Adam. (fn. 157) The major part of this property comprised a farm and 86 a. of land which were sold to Samuel Pitt (d. 1790) in 1777. (fn. 158) The lands subsequently passed to his son Charles Pitt, and then to his granddaughter Eliza Jane, wife of George Augustus Hennesy of Northover, who sold the farm to William Dickinson in 1825. (fn. 159) It subsequently formed the nucleus of East farm, the largest agricultural unit in the parish in 1939. (fn. 160)
The rectory estate was included in a grant of the church to Bruton priory by John son of Hamon between 1142 and 1166, and was retained by the priory (later an abbey) until the Dissolution. (fn. 161) The rectory was valued at £6 in 1291, (fn. 162) and in 1334 the tithes were worth 18s. 4d., oblations and obventions £4 1s. 4d., and the lands £1 0s. 4d. (fn. 163) In 1535 these lands comprised closes adjoining the rectory house totalling 10 a., with a dovehouse and barn. The total income from the estate was then still £6, although by that date the lands were subject to a customary payment of £2 13s. 4d. to the vicar, (fn. 164) a sum still paid in 1809 when the tithes were commuted. (fn. 165) The rectory estate was leased to Thomas Tucker in 1527 for 40 years, (fn. 166) and both were granted to John Bellowe and John Broxolme in 1546. (fn. 167) William Hodges of Middle Chinnock was given money to purchase the rectory for his father, but secured a grant to himself in 1546 and forged a conveyance to his father to satisfy him. (fn. 168) The subterfuge came to light on the son's death in 1553, when he was succeeded by his son Bartholomew. (fn. 169) William Hodges, the father, conveyed his interest in the property to Giles Hodges of Curry Rivel in 1566, (fn. 170) when it was valued at £10 a year or under. (fn. 171) Giles had evidently occupied the rectory house by 1576, in which year he is described as of Charlton Adam. (fn. 172) He died in 1591 and was succeeded by his eldest son William. (fn. 173) In 1626 John Hodges died holding the rectory and was followed by his son, also John. (fn. 174) In 1635 Stephen Hodges was farmer of the rectory, (fn. 175) and in the following year John, Stephen, and Theophilus Hodges, with others, conveyed it to William Strode. (fn. 176)
The Strodes still held the rectory in 1695 (fn. 177) but sold it c. 1700 to John Bond of Combe St. Nicholas. (fn. 178) The latter's son, also John, conveyed the rectory to Edmund Gapper of Baltonsborough in 1716, (fn. 179) after which it descended with the Gapper manor of Charlton Adam. (fn. 180) The Bonds augmented the rectory lands by purchasing 141 a., of which 14½ a. lay in Charlton Mackrell. (fn. 181) By the time of the 1809 inclosure this had been reduced to 82 a., the Charlton Mackrell and other lands having been sold off by the Gappers. (fn. 182) The rectorial tithes were converted into corn rents assessed on the average price of wheat over the previous 14 years and yielded about £116. (fn. 183) Mary, widow of Edmund Gapper (d. 1809), sold further rectory lands (fn. 184) and in 1823 leased the rectory house to John Hopkins Bradney (vicar 1825–40). (fn. 185) The house was sold to J. G. D. Thring of Alford House (d. 1874) for £7,500 in 1831. (fn. 186) Thring was succeeded by his son Theodore (d. 1891) and by his grandson John Huntley Thring. (fn. 187) The Thrings extended the estate attached to the house, which amounted to 151 a. in 1876. (fn. 188) The property was leased to Claude Neville of Butleigh Court (d. 1944) for 21 years in 1902, and he purchased it with 48 a. of land in 1905. (fn. 189) It was held in 1970 by his son Cdr. Edward Neville.
The large rectory house, lying immediately northeast of the church and known as the Abbey or Abbey Farm by 1849, (fn. 190) is described as a 'mansion' in 1549. (fn. 191) Although the present house has several pre-Reformation features, including external buttresses, it has been so much altered that the original plan is obscure. (fn. 192) Major changes were probably the work of the Hodges family in the late 16th century. The building is mainly two-storeyed, of lias stone with tiled roofs. Projecting from the west end, now the entrance front, is a small buttressed wing of three storeys with a two-light mullioned window, apparently of late medieval date, on the ground floor and traces of a relieving arch on the floor above. The wing contains an Elizabethan oak staircase and a coved ceiling to the top room. The ceiling was renewed after an extensive fire in 1960. (fn. 193) Behind the wing and stretching across the house from north to south is the main Elizabethan structure, housed under its own roof. It may represent an earlier solar wing. The south room on the ground floor is the parlour or drawing-room which has contemporary oak panelling, an enriched frieze, and a carved chimney-piece. Above was a lofty 'great chamber' which probably occupied the whole upper floor with a tall mullioned and transomed window at each end. The northern half was later divided horizontally and only the south room retains its original coved ceiling. In the eastern part of the house some of the medieval fabric may have survived. There is a stone doorway with a two-centred head in the north wall of the present kitchen, traces of an early stair, and a pointed oak doorway in one of the attics. The east end of the building has been much altered and extended, notably in the early 20th century when Claude Neville built extra service rooms at the northeast corner. Another 20th-century addition is an entrance lobby with a new front door on the west front.
The holding now known as Priory farm was an ancient freehold held of the lord of Somerton hundred by payment of a fine. It appears to have been held by the heirs of John Maunsell in 1543, (fn. 194) probably father of John Maunsell, who was in possession in 1565, (fn. 195) and grandfather of Richard Maunsell, who owned the property in 1617 and 1619. (fn. 196) By 1634 it had been conveyed to John Wroth of North Petherton, who died in that year, when the premises passed to Sir Thomas Wroth. (fn. 197) The property continued in the Wroth family until the death of another Sir Thomas Wroth in 1721. (fn. 198) His daughter Cecily married Sir Hugh Acland of Columbjohn (Devon), (fn. 199) and the latter sold the property, then described as 'the remaining parts of the manors of Charlton Adam and Charlton Mackrell', to John Bryan of Charlton Adam in 1732. (fn. 200) He was succeeded by his son John and his grandson John Bryan of Redland, Bristol. (fn. 201) The daughter of the last, Mary Anne, married W. N. Tonge (d. 1844) of Alveston (Glos.) in 1804. (fn. 202) They were succeeded in turn by their sons A. H. Tonge (d. 1867) and L. C. H. Tonge (d. 1895). (fn. 203) On the latter's death, or soon after, the property appears to have been purchased by Frank Percy Pitman, who held it in 1902 and whose family still owned and occupied the farm in 1970. (fn. 204)
The farm-house originally lay south of the present outbuildings, but was described as being in ruins in 1902 and was demolished when the railway was built. (fn. 205) The present house, to the north-east of the farm buildings, was built in the 19th century and in 1886 evidently formed part of a holding known as Folly farm. (fn. 206) It has served as the farm-house for Priory farm since at least 1904. (fn. 207)
The estate of 196 a. held by J. G. D. Thring in 1810, (fn. 208) and dispersed after the sale in 1905 of the Thring lands in Charlton Adam, (fn. 209) had its origin in the amalgamation of two properties by the Willes family. As a result of his marriage with Frances daughter of Thomas Freke, a Bristol merchant, John Willes of Astrop (Northants.) received lands in Charlton Adam and Charlton Mackrell purchased by Freke in 1730 from Bridget, widow of Henry Dampier and only child of Richard Kellaway, and held during the late 17th century by John Wilcox. (fn. 210) To these Willes added lands in Charlton Adam acquired from the heirs of Dr. William Logan of Bristol in 1771, which the latter had purchased from Robert Houlton in 1732 and which had formerly been held by Richard Eggerdon of Whatley. (fn. 211) John Willes was succeeded by his son John Freke Willes, who left his lands to his cousin William Shippen Willes of Cirencester (Glos.). (fn. 212) The latter sold the property to Richard Selfe of Cirencester in 1805, who conveyed it to John Thring of Warminster (Wilts.) in 1807. (fn. 213) On the latter's death in 1830 he was succeeded by his son J. G. D. Thring. (fn. 214) The farm-house, an 18th-century lias building, was in 1970 a dwelling-house called 'the Laurels'.
Economic History.
In 1086 Charlton Adam was assessed at 5 hides; there was land for 6 ploughs, although only 4½ are recorded. Two hides were held in demesne by Reynold de Vautort under the count of Mortain, and 2½ were worked by 5 villeins, 6 bordars, and 2 cottars with 1½ plough. The additional ½ hide is not accounted for in the Exeter Domesday. There were 50 a. of meadow, 60 a. of pasture, and 20 a. of underwood. Stock included 1 pack-horse, 5 beasts, 30 swine, and 60 sheep. The manor was then valued at £6, the same figure as before the Conquest. (fn. 215)
Early grants from the demesne indicate the presence of a number of substantial freeholders: Robert Fraunceis, who gave 18 a. of arable and 3 a. of meadow to Bruton priory in 1257–8; (fn. 216) William de la Lade under whom Thomas de Reigny held a ½ virgate of land and 2½ a. of meadow, which he gave to the priory c. 1273; (fn. 217) Ralph de la Purie, who married Isabel, widow of William son of Adam, and his son Robert, all three of whom granted lands and rents to the priory at the end of the 13th century. (fn. 218) The largest grants from the demesne, however, were those made by William son of Adam and his sons, William and Adam, to Thomas de Perham in the early 13th century, totalling 120 a. of arable and 15 a. of meadow, with common of pasture for 14 oxen and 40 sheep. (fn. 219) Grants to the priory by Henry son of Richard from his demesne at about the same period comprised 4 a. and 9 selions on Chessels, 1 a. of meadow below 'Childebereg', and 2 a. near Hurcot, (fn. 220) the latter presumably represented by parts of Charlton Adam lying detached in Charlton Mackrell. By the Dissolution the demesne lands, totalling 237 a., had been leased to four tenants for lives, and were subsequently treated as copyhold. (fn. 221)
The 13th- and 14th-century charters of Bruton priory show that a two-field system, based on North field and South field, had already developed and that the meadows were generally stinted. (fn. 222) By the mid 16th century a four-field system had emerged, North-east field or West field having been divided from North field, and East or South-east field from South field. (fn. 223) Strips of arable farmed by tenants of the Petre manor in c. 1564–6 comprised 102 a. in North field, 38 a. in South field, 91 a. in East field, and 106 a. in North-east field. These figures probably indicate the areal relationship of the open fields at that time. (fn. 224) The manor then comprised 295 a. held by four freeholders and 540 a. by customary tenants, paying a total rent of £11 10s. 2d. (fn. 225) Of the customary lands 337 a. were arable in the common fields. (fn. 226)
These totals do not include a further 200 a. of common pasture. The Lains and Brooks comprised 120 a., stated to be dry ground, Hale and Matford 50 a., adjudged better ground, and 30 a. at Midney hill devoted to cattle, being the best pasture. (fn. 227) Over these commons 18 customary tenants claimed stinted grazing rights for 113 beasts and 780 sheep. (fn. 228) The manor court carefully regulated grazing, particularly in the arable fields after harvest. (fn. 229) In 1616 it was ordered that no pigs were to be allowed in the common fields before the feast of St. Simon and St. Jude (28 Oct.); from 1617 no horse was allowed loose in the fields or on the highways; and in 1618 those tenants holding grazing rights on Midney hill and Matford were permitted to pasture one beast for every 2 a. they held in the common meadows, a rother beast for every 2 a. in the stubble fields, and a horse beast for every 4 a. there. (fn. 230) From 1627 the tenants were allowed to pasture one sheep for each acre they held, and two for each acre on Lains Common. These customs were later altered in detail. (fn. 231) Severe fines for the breach of grazing rights were imposed, assessed on a basis of the number of days each animal had been illegally pastured. Thus in 1627 one tenant was amerced 33s. 4d. for wrongly depasturing a cow on Midney hill and Matford for 5 months. (fn. 232) Fences, gates, and ditches around the common fields were repaired jointly by tenants claiming common rights. (fn. 233) All customary estates were subject to widows' estate and heriots and were described as 'metely fineable'. (fn. 234)
Until the late 16th century copyhold for 1, 2, or 3 lives was the invariable tenure. (fn. 235) Conversion to leases for 99 years or 3 lives began in 1599 (fn. 236) and proceeded slowly during the 17th century. When the manor was conveyed to Edmund Gregory in 1682 there was only one copyhold estate excepted from the grant, and seven leasehold tenements were mentioned. (fn. 237) Seven of the 18 customary tenants in c. 1564–6 farmed 90 per cent of the total customary lands within the manor, the sizes of their holdings ranging from 110 a. to 48 a. (fn. 238) By c. 1612 the erection of five cottages on the waste and the subdivision of some of the larger holdings had increased the number of customary tenants to 22. (fn. 239) By the early 18th century, owing principally to enfranchisements executed by the Petres, there were only twelve customary holdings, all in reversion, of which half were cottagers. (fn. 240)
By 1535 the value of the manor had risen to £12 19s. 6d., based on a rental of £11 5s. (fn. 241) By 1559 the total had fallen slightly to £10 6s. 8d., but only because perquisites were low and no fines had been levied that year. (fn. 242) The rental rose to £11 14s. 11d. by c. 1612, owing partly to rents from cottages recently erected on the waste. (fn. 243) In 1625 the manor was stated to be worth only £7, although annual receipts from lands in Charlton Adam of £11 12s. 9d. suggest that this was an underestimate. (fn. 244) In the early 18th century the total rents from the manor, which had undergone considerable enfranchisement, were £11 15s. 11d. and the value of the manor for sale was put at £1,941. (fn. 245)
Surviving charters of the 13th and early 14th century make virtually no reference to inclosed lands in Charlton Adam, (fn. 246) and even by c. 1564–6 such lands were generally limited to curtilages and orchards adjoining dwelling-houses. (fn. 247) In 1565 it was stated that the inclosure of lands within the manor, 'being already begun, shall further proceed the next year'. (fn. 248) A tentative move to inclose common meadow and pasture was made in 1614, (fn. 249) and in 1634, by agreement with the lord, 132½ a. of pasture in Midney hill, Mead Ditch, Hale, Little Turdhill, and Mackerise Lain, were inclosed and allotted to 13 customary tenants; a further 53½ a. at Matford, Heaples, and Turdhill were allotted to two freeholders. (fn. 250) Inclosure of the arable lands seems to have taken place gradually during the earlier 18th century by private agreement, (fn. 251) and by 1781 the estate of Edmund Gapper, including both the manor and the rectory, lay entirely in closes. (fn. 252) By award of 1810 112 a. in Charlton Adam were inclosed, but most of this comprised land belonging to the parish lying dispersed in Charlton Mackrell common fields. (fn. 253) Barely 12 a. lay in Charlton Adam itself.
At the time of the inclosure the largest estate in the parish was that of William Dickinson, then containing 370 a.; (fn. 254) 224 a. of this were land attached to Manor farm, acquired in 1805. (fn. 255) Edmund Gapper held 317 a., of which 82 a. represented the lands of the lay rectory, and the remainder the remnants of Charlton Adam manor. (fn. 256) J. G. D. Thring possessed a further 196 a., the former estate of the Willes family, (fn. 257) purchased from Richard Selfe in 1807, (fn. 258) and Charles Pitt owned 97 a., (fn. 259) formerly part of East Lydford manor and later known as East farm. (fn. 260) Priory farm, held by Maria Bryan, was 131 a. in extent, but only 74 a. lay in Charlton Adam parish. (fn. 261) Similarly James Sutton held 67 a. in Charlton Adam, but this formed part of his 458 a. estate at Cary Fitzpaine. Some smaller holdings were also farmed from Charlton Mackrell. (fn. 262) Subsequently the Dickinsons increased their estate by purchase, acquiring the Pitt property in 1825, (fn. 263) so that by c. 1835 they owned about 600 a. in the parish. (fn. 264) At that time 171 a. were farmed from East farm (of which 36 a. lay in Charlton Mackrell) and 246 a. were farmed from Manor farm (of which 40 a. lay in Charlton Mackrell). (fn. 265) J. G. D. Thring's purchase of the rectory lands in 1831, and the subdivision and sale of the Gapper estate, (fn. 266) made the Thring family the only other prominent landowners in the parish during the later 19th century. Since the break-up of the Dickinson estate in 1930 most of the lands have been owned by the farmers. (fn. 267) Manor Farm, formerly part of the largest farm in the parish, was sold with only 24½ a. of land in 1930. (fn. 268) Dairy farming has continued to predominate within the parish.
The quarrying of blue lias stone for building purposes appears to have been carried on in the Charltons at least since Roman times, (fn. 269) but never on a very large scale. In c. 1564–6 the manor included a lias quarry of 'small value'. (fn. 270) The field name Quarry Close occurs in 1810 on the east side of the lane running south from the village to Tout, (fn. 271) and may indicate the site of much earlier workings. Stonemasons are mentioned regularly during the 19th century; (fn. 272) by 1897 there were two quarries in operation and by 1906 three. (fn. 273) Since that time the industry has continued to expand and is still an important feature of the economy of the parish. The quarries, several now abandoned, lie generally in the north-west of the parish beyond the railway, north of Broadway near the Barton, and in the south-west in the area of Tout House, which formed the centre of quarrying operations by the Cary family in the late 19th and early 20th centuries. (fn. 274)
There is evidence that gloving as a cottage industry was pursued by the women of the village during the 19th century, the finished products being taken to Glastonbury for sale. (fn. 275) By 1868 the Dickinson estate at Kingweston was providing employment for Charlton men, and the Dickinsons had erected new cottages at Charlton Adam on ¼ a. plots to supplement existing accommodation, which was generally poor. (fn. 276) Allotments, also of ¼ a., were let by the vicar to the parishioners for 7s. 6d. a year, where they grew potatoes and beans for their pigs. (fn. 277) In the later 19th century some new trades were introduced. A few shopkeepers had established themselves by 1861, including a draper and grocer, a butcher, and a basketmaker. (fn. 278) By 1866 a baker, tailor, and coal merchant had settled here, and by 1883 a general store had been opened. (fn. 279) A cycle agent, bootmaker, hairdresser, and motor-car proprietor occur in 1923, a chemist in 1927, a music teacher in 1931, and a dog food manufacturer in 1939. (fn. 280)
A stream running along the southern boundary of Manor Farm garden was described as the 'Mullbroke' in 1257–8. (fn. 281) It evidently supplied the water grist mill known as Peck Mill in 1810. (fn. 282) This may also be the mill called Bydelmyll in 1376, (fn. 283) and was probably one of the two mills in Charlton tithing mentioned between 1392 and 1437, when their millers were presented for taking excessive tolls. (fn. 284) John Larder was presented for the same offence in 1539. (fn. 285) When William Brytte settled his lands in Charlton Adam and Charlton Mackrell on his daughter Alice and her husband Hugh Larder in 1467, two mills formed part of the estate. (fn. 286) They were probably the water-mill and windmill which occur in 1616 as part of the Manor farm lands. (fn. 287) Thereafter Peck Mill appears always to have descended with the latter property. In 1780 the mill was stated to be out of repair and without water, (fn. 288) and in 1785 most of its fixtures, including the ironwork and millstone, were sold by Thomas Littleton Strangways. (fn. 289) It was evidently renovated and in c. 1800 was leased to Farmer Hockey. (fn. 290) When the Manor farm estate was leased to John Knight in 1802 he covenanted to maintain the thatch of the mill-house. (fn. 291) The mill does not appear to have been worked to any great extent during the later 19th century, when grain was regularly taken to West Lydford for grinding. (fn. 292) It was demolished during the first quarter of the 20th century. (fn. 293)
Local Government.
Manor courts appear to have been held only for the manor owned by Bruton priory and later by the Petre family. Court rolls for this manor survive for the years 1612–20, 1623–9, 1632–8, and 1649. (fn. 294) Courts were generally held twice a year in April and October, and were described principally as curie manerii, but occasionally as curie baronis or curie legalis. The use of the last title may imply the vestiges of a former leet jurisdiction. Considerable attention was paid in the courts to the erection and maintenance of fences, scouring ditches, and the observance of grazing customs in the common pastures. Other business included licences to live outside the manor, strays, pound breach, and the repair of houses. A hayward was appointed annually, usually in October. (fn. 295) A single tithingman served for both Charlton Adam and Charlton Mackrell (fn. 296) and in 1756 the cost of his housing a prisoner was equally divided between the two parishes. (fn. 297) The vestry appointed two churchwardens from 1843 to 1911, and two overseers from 1845 to 1885, except between 1871 and 1873, when three were appointed. Four were appointed in 1886. (fn. 298) The vestry also elected one or two waywardens (1843–83) and a hayward (1871, 1873). (fn. 299)
References to a poorhouse occur in 1797 and 1803. (fn. 300) During the 18th century various houses were rented for the accommodation of paupers, (fn. 301) and it is doubtful whether there was ever any permanent building for their reception. The parish became part of the Langport union in 1836. (fn. 302)
Church.
A clerk was holding lands within the manor at the time of the Norman Conquest, (fn. 303) although the church of Charlton Adam is not mentioned until between 1142 and 1166. (fn. 304) During this period the church was granted to Bruton priory by John son of Hamon, (fn. 305) and this grant evidently included lands which later formed the rectory estate. No reference to the ordination of a vicarage has been traced, but this had evidently taken place by 1291. (fn. 306) By 1535 the incumbent was in receipt of a pension from the rectory lands, a pension still being paid in 1809. (fn. 307) The benefices of Charlton Adam and Charlton Mackrell were united in 1921. (fn. 308)
The advowson descended with the rectory and its lands at least until 1626. (fn. 309) By 1635 John Hodges had conveyed the advowson to Robert Hammon, mercer, who in that year presented William Hammon to the vicarage. (fn. 310) The latter succeeded to the patronage and conveyed the next presentation to John Rock, vicar of Butleigh, and Simon Whetcombe, rector of Charlton Mackrell. Whetcombe having died in 1657, Rock presented Robert Hammon in 1664. (fn. 311) The bishop collated by lapse in 1678, although the Hammons appear to have retained the advowson after this date. (fn. 312) The patronage was evidently acquired by Alexander Starke (vicar 1678–1700) as his widow, Maria, presented in 1700. (fn. 313) In 1709 the patron was Thomas Clare, and in 1719 Sarah Cridland of Staplegrove. (fn. 314) The latter presented her son-in-law, Benjamin Kebby (vicar 1719–66), (fn. 315) who subsequently succeeded to the advowson. (fn. 316) By 1766 the patronage had been acquired by William Sealy Strangways, who also presented in 1770. (fn. 317) In 1808 Thomas Strangways presented himself, his executors held the advowson in 1823, (fn. 318) and the family was still enjoying it in 1840. (fn. 319) It was then acquired by John Barney (vicar 1840–61), (fn. 320) but between 1859 and 1861 it passed to Guy Bryan, rector of Woodham Walter (Essex). (fn. 321) Between 1875 and 1883 Bryan was succeeded by the Revd. Henry Guy Bryan, and in 1897 by the Revd. Henry Percival Bryan of Askerswell (Dors.). (fn. 322) Wilmot Lee Bryan of South Godstone (Surr.) held the advowson between 1899 and 1906, (fn. 323) but in 1910 the bishop collated by lapse, (fn. 324) and by 1912 the Diocesan Trustees were patrons. (fn. 325) They continued to present until the union of the benefices of Charlton Adam and Charlton Mackrell in 1921. (fn. 326) The subsequent descent of the advowson is treated under Charlton Mackrell. (fn. 327)
The vicarage was valued at £5 in 1291, (fn. 328) but this figure had fallen to 5 marks by 1445. (fn. 329) In 1535 it was worth £6 14s. 11d., (fn. 330) and in c. 1668 the common reputed value was £30. (fn. 331) In 1793 the living was augmented by lot with £200, (fn. 332) and in 1811 by a further £200 from the Horner trustees. (fn. 333) Thus by 1814 the income had risen to £115, (fn. 334) and by 1831 to £137 net. (fn. 335) In 1851 it stood at £119 19s. 0d. (fn. 336)
The predial tithes and tithes of wool belonging to the vicar were valued at 38s. 2d. in 1535, and oblations and personal tithes at 36s. 5d. (fn. 337) In 1626 the vicar claimed tithe hay from specified meadows at Midney, and from others in detached areas of Charlton Adam at Wildmoors and Southwells situated in Charlton Mackrell. He also held the tithes of calves, kine, white wool, lambs, pigs, geese, eggs, pigeons, colts, honey, fruit, hemp, flax, teazles, and withies. He received the tenth penny of meadow or pasture leased to outdwellers, the left shoulder of each slaughtered calf, ½d. for each weaned calf, 3d. for a cow, 1½d. for a heifer, and the tithe of underwood in Copley wood whenever it was cut. He was also to keep a bull and a boar for the use of his parishioners. (fn. 338) The vicarial tithes, like those paid to the lay rector, were converted into corn rents in 1810, (fn. 339) and were valued at £57 in 1851 (fn. 340) and in 1874. (fn. 341) They had dropped to £41 in 1902, (fn. 342) and in 1920 were converted to a tithe rent-charge fixed at £43 0s. 10d. (fn. 343)
The vicarial glebe was worth 7s. in 1535. (fn. 344) In 1626 it comprised 7 a. of arable land attached to the vicarage house, the herbage of the churchyard and trees there, and a messuage and tenement with 10½ a. of arable land, 1 a. of meadow, two hedge plots, and two beast leazes in Midney and Matford. (fn. 345) These lands probably included the 2 a. of arable and 1 a. of meadow which William son of Adam gave to Bruton priory for the increase of the tenement of Charlton church in the early 13th century, and a further grant of 1 a. of land made by him at about the same time. (fn. 346) In 1810 the glebe lands totalled just over 19 a., (fn. 347) but by 1874 these had been increased to 24 a., and by 1902 to 28 a. (fn. 348) In 1913 certain glebe lands were sold for £845. (fn. 349) There were c. 37 a. of glebe in 1972. (fn. 350)
The old parsonage house lay on the east side of a short lane running south from George Street. (fn. 351) It was 'in decay' in 1557, (fn. 352) but in 1626 was described as 'well builded', with a barn, stable, curtilage, and garden. (fn. 353) In 1734 the vicar, Benjamin Kebby, stated that he had spent £50 in repairing the house, and over £30 some years before. (fn. 354) In 1815 the house was stated to be too small and 'fit only for a labourer', (fn. 355) and by 1827 the vicar was living in 'the Abbey'. (fn. 356) The house was described as being in good repair in 1840, but was not occupied by the vicar nor his curate. (fn. 357) A new vicarage house was built in 1862 to the south of the old building, which was demolished, at a total cost of £555, of which £500 was provided by Queen Anne's Bounty. (fn. 358) It is a two-storeyed structure of three bays, built of blue lias with a tiled roof. A new rectory house was built to the west of the vicarage house in 1955. (fn. 359)
John Donneslegh (vicar by 1405–7), 'broken down by old age and not having judgement of mind', was in 1405 given a curate to assist him, initially appointed for one year only. (fn. 360) Owen Smyth (vicar 1463–5), a canon of St. John's, Carmarthen, obtained papal dispensation to hold the benefice. (fn. 361) In 1511 Thomas Griffith (vicar from 1506 at least until 1535) was ordered to pay 26s. 8d. to John Larder of Manor Farm for having publicly slandered him, and they were ordered 'to live together charitably as good Christian men should do, and as nigh as God shall give them grace'. (fn. 362) William Abbott (vicar 1545–58) was evidently non-resident in 1557. (fn. 363) William Hammon (vicar 1635–64) appears to have survived the Interregnum. (fn. 364) Of the ten vicars between 1678 and 1861, all were graduates except one, (fn. 365) Thomas Strangways (vicar 1808–23), and four occupied other benefices in plurality: Thomas Kemp (vicar 1700–9), Benjamin Kebby (vicar 1719–66), James Minifie (vicar 1766–8), and Samuel Gatehouse (vicar 1770–1808). (fn. 366) Both Gatehouse and Strangways appear to have been non-resident and employed curates to serve the church in their absence. (fn. 367) Percival Wilmot Bryan held the vicarage for 48 years until his death at the age of 92 in 1909. (fn. 368)
In 1554 the churchyard was insufficiently enclosed and the chancel windows needed repair. (fn. 369) Three years later the church wall was stated to be in decay. (fn. 370) The poor state of the churchyard wall was again presented in 1568, and also the lack of a table of the Ten Commandments. (fn. 371) The latter was still wanting in 1606, and the pews were found to be dilapidated. (fn. 372)
In 1827 services were held alternately, morning and evening, each Sunday, (fn. 373) and in 1843 Holy Communion was being celebrated six times a year. (fn. 374) On Census Sunday in 1851 morning service was attended by 36, and the afternoon by 90 persons. (fn. 375) By 1895 the celebration of Holy Communion had been increased to once a week and there were two services every Sunday. (fn. 376)
A church house is mentioned in 1548, when it was stated to have been given for the maintenance of obits in the parish church. (fn. 377) It was then worth £3 and had been let for 12d. (fn. 378) In 1549 it was granted to Thomas Marshe of London and Roger Williams of Usk (Mon.) and was described as adjoining the rectory. (fn. 379) William Hodges claimed it as parcel of the rectory purchased by him in 1546, (fn. 380) and it appears to have been held with that property by the Hodges family in 1591 and 1626, and by the Bond family in 1715. (fn. 381) No reference to it has been traced thereafter.
An annual payment of 2s. 2d. from the manor to the churchwardens, to maintain the church and lights before the high altar there, is mentioned in 1539. (fn. 382)
The church of ST. PETER AND ST. PAUL lies immediately to the north-west of the village, on the east side of Church Lane. It is described as the church of St. Peter the Apostle in the early 13th century (fn. 383) and in 1543, (fn. 384) and it is not known when the double dedication was adopted. The building comprises chancel, nave, south transeptal chapel, south porch, and west tower. It dates from the 13th, 14th, and 15th centuries. The east window in the chancel has Perpendicular panel tracery, two low lancet 13th-century windows in the north wall, and a 15th-century window in the south wall, possibly in an earlier opening. There is a shallow piscina in a niche in the south wall of the sanctuary. The chancel arch is 14th century, as are the nave and south door. The nave has Perpendicular windows, original roof corbels, and against the north wall a rood loft stair turret. There are reset 14th century niches in the east-wall of the porch and over the south door, the latter containing a grotesque figure. The plain west tower is of three stages with diagonal buttresses, a pyramidal roof behind embattled parapets, and a prominent north-east stair turret. There are early Perpendicular windows to the belfry and a large renewed Perpendicular window in the west wall. The south chapel, known as the Strangways aisle, was added in the 16th century. It is separated from the nave by a three-centred arch and has mullioned windows of four segmental-headed lights. An oblique passage with a smaller window and an external door communicates with the chancel. The chapel contains a wall monument to Thomas Baskett (d. 1592) and one across the north-east angle to Giles Strangways (d. 1638). Other inscribed slate tablets commemorate members of the Bonham and Strangways families. Francis Henry Dickinson, as owner of the Manor Farm estate, renounced his right to the chapel in 1889. (fn. 385) The font, with round bowl and shaft, is c. 1200, and the pulpit Jacobean. The chancel was restored c. 1860 and the remainder of the church in 1892. (fn. 386) The barrel roof of the nave probably dates from this time, and the restoration included the removal of a gallery which had accommodated the choir. (fn. 387) In the churchyard to the west of the south porch is the base of a cross, formerly consisting of two octagonal steps with a shallow socket, possibly late 13th century in date. (fn. 388) The third step and shaft are modern.
The plate includes an Elizabethan cup of c. 1573 and a small paten of 1718. (fn. 389) There are five bells: (i) 1714, Edward Bilbie; (ii) 1738, Bilbie; (iii) c. 1480–1500, Bristol foundry; (iv) 1714, Edward Bilbie; (v) 1832, T. Mears of London. (fn. 390) The fourth bell bears the inscription:
'I am not now as wonce I was, Sq: Straingwing was the caus'. (fn. 391)
This presumably refers to Giles Strangways (d. 1744).
The registers are complete from 1704. (fn. 392)
Nonconformity.
John Cappes and eight other members of his family were presented as recusants in 1612, (fn. 393) followed by Jane, widow of John Fitzjames, and her son George at intervals between 1620 and 1626. (fn. 394) Joan wife of Thomas Hodges was cited in 1626, (fn. 395) and William Fawkner and his wife in 1629, (fn. 396) both families being prominent landowners in the Charltons.
The houses of John Lewis and Samuel Cossens were licensed in 1690 for Dissenting meetings, as were those of Elizabeth Strode in 1698, and Richard Kellaway in 1700 and 1709. (fn. 397) John Walter's house was licensed for Independent worship in 1789 on petition from eight inhabitants of the Charltons and a minister of Martock. (fn. 398) It was licensed again in 1809 and John Reynold's house, possibly as a temporary replacement for the former, in 1796. (fn. 399) Licences were also granted for Protestant meetings in the houses of Samuel Grinham in 1815 and of Charles Seymour in 1843, (fn. 400) but their denominations are unknown.
A Bible Christian chapel, erected 'since 1820', with 200 free sittings, had two services each Sunday in 1851. On Census Sunday the congregations numbered 50 in the morning and 45 in the evening. (fn. 401) No subsequent reference to this chapel has been found, and its site has not been traced.
A Wesleyan Methodist chapel was founded in 1841, the license being granted for services to be held in a schoolroom owned by Robert Barrett. (fn. 402) In 1851 the building was still being used as a day school, there were 150 free sittings, two services each Sunday, and a Sunday school with 30 pupils. On Census Sunday there were 15 worshippers in the afternoon and 50 in the evening. (fn. 403) The small stone chapel stands on the west side of Broad Street near its junction with Station Road, and was closed in 1970. (fn. 404)
In 1897 the vicar was concerned lest the management of the school should be taken out of the hands of the Church and 'thrown open to the Dissenters, who in this parish are very numerous'. (fn. 405)
Education.
In 1818 there was a school for small children, and a Sunday school for 30 to 40 pupils; (fn. 406) the latter was attended by 27 boys and 38 girls in 1825. (fn. 407) In 1830 a day-school was begun for about 30 children, supported by subscription and parental payments of 1d. a week. (fn. 408) By 1833 there was another day-school attended by 10 boys and 7 girls, and an evening school for 5 boys and 3 girls, supported wholly by school pence. (fn. 409) There were also two Sunday schools, one run by the Church of England for 19 boys and 17 girls and supported by voluntary contributions, and the other founded in that year and attended by 24 boys and 15 girls, taught gratuitously by dissenters, probably Wesleyans. (fn. 410) In 1841 a schoolroom was licensed for dissenting meetings, (fn. 411) and this was still being used as a day school in 1851. (fn. 412) By 1846–7 there was only a dame school for 10 boys and 12 girls who paid for instruction, taught by one mistress, having one room and a teacher's house. (fn. 413)
In 1864 a parochial schoolroom building fund was started to replace the school 'lost to the parish some years previously', and this led to the foundation of the Charlton Adam Infants School, probably in 1865. (fn. 414) The declared object of the school was to provide education for children of the parish who, at the age of 7 or 8, would be transferred to the Charlton Mackrell school. (fn. 415) A cottage and garden were purchased by public subscription and a small 'gothic' schoolroom erected on the south side of Station Road near its junction with Broad Street. The school was subject to governmental and diocesan inspection. (fn. 416) There was one mistress, generally certificated, assisted by a stipendiary monitress. (fn. 417) In 1903 the school was stated to be 'unusually well taught' and there were 38 children on the books with an average attendance of 25. (fn. 418) It was closed in 1917 and the 15 remaining pupils were transferred to Charlton Mackrell school. (fn. 419) The building is now (1970) used as a storeroom.
Charities for the Poor.
None known.