Pages 81-88
A History of the County of Somerset: Volume 5. Originally published by Victoria County History, London, 1985.
This free content was digitised by double rekeying. All rights reserved.
HUISH CHAMPFLOWER
The ancient parish of Huish Champflower, its name in part signifying a cultivated area and in part its ownership in the 12th century by the Champflower family, (fn. 1) lay in two separate parts on the southern slopes of the Brendons, of which nearly one third was described as hills, woods, and waste in 1839. (fn. 2) The two parts together measured 2,909 a. in 1881, but when the detached area of Chipstable parish which divided them was added to Huish in 1884 the area increased to its present size of 1,349 ha. (3,334 a.). (fn. 3)
The southern portion of the ancient parish, which contains the village of Huish, occupies an irregular area rising to the west of the river Tone, including the valleys of two parallel streams. The southern boundary lies on Heydon Hill (c. 338 m.) above Huish moor, where rough common ground was shared with Chipstable until inclosure in 1845. (fn. 4) To the north the boundary with Clatworthy rises to 309 m. The western boundary follows a small stream.
The northern part of Huish lies on the steep slopes of the Brendons and is divided from the southern by the diamond-shaped portion of Chipstable comprising East Withy and Chitcombe. It is irregular in shape, its north-east and south-west boundaries marked by streams now running into Clatworthy reservoir, one of which, considered to be the headwater of the river Tone, (fn. 5) was disputed in 1231. (fn. 6) To the north-west the parish reaches the plateau of Brendon Hill (375 m.) and a ridge beyond at 396 m. The boundaries of the open ground on Brendon Hill are marked by the Bronze Age monolith known as Dun's Stone (Dinneston in 1187) (fn. 7) and by a stone known in the 12th century as Doleston. (fn. 8) Part of this northern section, an estate known as Middleton, probably became part of Huish parish when its tithes were granted to the chaplain of Huish in 1187. (fn. 9)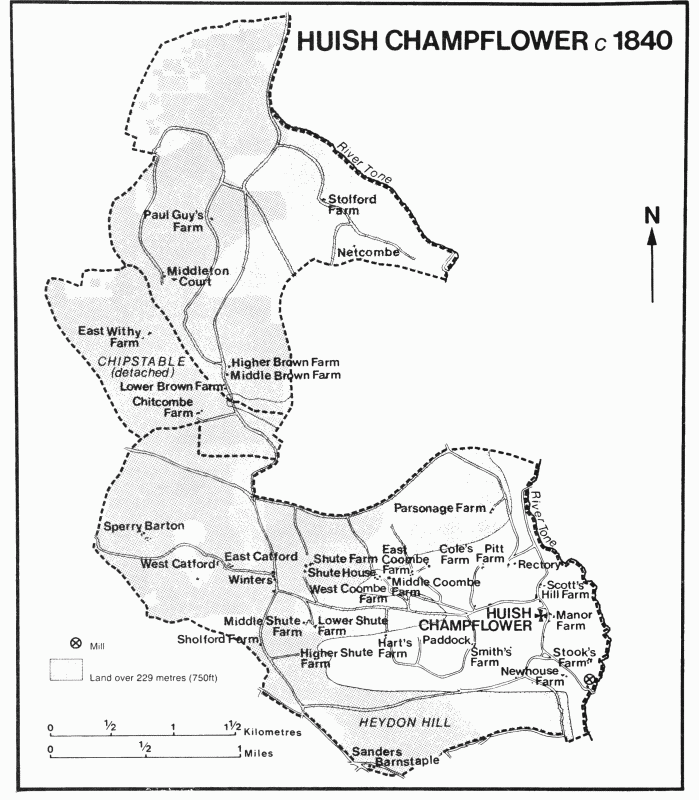 The parish measures nearly 7 km. from Heydon Hill in the south to Brendon Hill in the north. The northern part of the parish lies on slates, siltstones, and sandstones of the various beds of the Upper Devonian Morte Slates. In the south the Morte Slates continue southwards to Huish moor, where Pickwell Down beds are found beneath the ground rising to Heydon Hill. (fn. 10) Small, disused quarries are found throughout the parish. (fn. 11)
Three round barrows lie on or near the boundaries of the parish, one at the northern edge near the Brendon ridgeway, and two on Heydon Hill. (fn. 12) Huish village is a small nucleated settlement including the church on sloping ground above the Tone in the south-east corner of the parish. Scattered farms were established elsewhere in the parish: Middleton (Middledon) is mentioned in 1187, (fn. 13) Stolford (Stoford) also in the late 12th century, and Sperry (Spareheghey) by 1306. (fn. 14) Other farms, probably of similar antiquity, such as Catford, Brown (formerly 'Bruneland'), (fn. 15) Shute, and Coombe, were subsequently divided, forming grouped holdings such as East and West Catford or Lower, Middle, and Higher Brown farms. In the early 19th century there were cottage encroachments on the edge of Huish moor, (fn. 16) at Winters beside the road between Shute and Catford, (fn. 17) and in the extreme south-west at Sanders Barnstaple, a name transferred from a small deserted farmstead in Raddington parish by 1822. (fn. 18) In contrast, farmsteads called Nuttons and Paul's Guys, both in the north part of the parish on the high ground, were merged into neighbouring holdings in the 19th century and lost their identity. (fn. 19)
No trace of open arable cultivation has been found in the parish. Brendon Hill and Huish moor were used as common pasture until inclosure in 1845 under an Act of 1842. (fn. 20) The road pattern which links the scattered farms includes two main northsouth routes. One is above the valley of the Tone, through Huish village and crossing the river by Huish bridge. The other, a continuation of the wide route forming the Chipstable-Raddington boundary, (fn. 21) gives direct access to the Brendon ridge. An east-west route became prominent in the 18th century when the road from Wiveliscombe through Langley Marsh to the Watchet-Bampton road, entering Huish at Washbattle (formerly Maundown) bridge and passing through the village, (fn. 22) was turnpiked in 1786. (fn. 23) A new road across Huish moor was created in 1843 as part of the inclosure. (fn. 24)
Surviving farmhouses reveal building phases in the 16th and 17th centuries and remodelling in the 18th; at least one large house was built in the 19th century. The former West Catford Farm and the neighbouring Catford Farm both have 16th-century origins, the first decorated internally with good plaster work in the 1670s. (fn. 25) The former Middle Brown Farm, in 1981 used as a farm building, and West Coombe Farm were modest buildings of the 17th century, the latter remodelled in the 18th century. (fn. 26) Middleton Court, so called by 1807, (fn. 27) was built probably for Thomas Gordon, formerly of Melton Mowbray (Leics.), (fn. 28) on the site of an earlier farm. It has a symmetrical five-bayed front with a steep pediment, the stone doorcase having an ogee head. Alterations were made in 1855 by Sir Walter Trevelyan, (fn. 29) when stables and farm buildings were probably added. Coombe End is a large, threestoreyed house of the late 19th century, with panelling said to have come from the medieval church at Upton. (fn. 30)
The Castle inn, built as a farmhouse c. 1821, (fn. 31) had become a public house by 1833 and an inn by 1840. (fn. 32)
There were 125 taxpayers in 1667. (fn. 33) The population rose sharply from 321 in 1801 to 454 in the decade before 1841. The high level was maintained until the 1860s, but was followed by a rapid fall to 226 by 1901. Since that date the level has varied little, and in 1971 was 213. (fn. 34)
MANORS.
Ailric held the manor of HUISH, later HUISH CHAMPFLOWER, T.R.E., and Roger Arundel in 1086. (fn. 35) The overlordship of the manor descended, like that of Raddington, (fn. 36) with the barony of Poorstock (Dors.), passing to the Newburgh family. (fn. 37) In 1276 Henry de Newburgh granted land and fees, not specifically including Huish, to Queen Eleanor. (fn. 38) By colour of this grant the queen usurped other lands which had not been involved, including 2 knights' fees in Huish and Holford St. Mary (in Lydeard St. Lawrence). (fn. 39) In 1284–5 Henry's barony was described as held of the queen, (fn. 40) and in 1292 the terre tenants of Huish were said to hold of the king because of the feoffment to Queen Eleanor. (fn. 41) The fees in Huish and Holford St. Mary were declared c. 1305 to have been wrongfully taken by the queen when John de Newburgh claimed them, (fn. 42) but it is doubtful if they were recovered since John's son Robert (d. 1338) (fn. 43) alleged in 1326 that the 2 fees were in the hands of the king as Eleanor's heir. (fn. 44) The manor was said to be held of the king in chief by the terre tenant in 1339, but of Robert de Newburgh in 1333 and retrospectively in 1352, and of Robert's son Thomas in 1362 when it was said to be held of Winfrith Newburgh manor (Dors.). (fn. 45) In 1585 the manor was said to be held of the Crown. (fn. 46)
In 1166 Thomas de Champflower held 3 fees of Gerbert de Percy, lord of the barony of Poorstock, and was therefore probably the terre tenant of Huish. He may have been succeeded by John de Champflower, who held a fee in 1196–7 and 1201–2 which Thomas had also held of the barony of Dunster. (fn. 47) Another Thomas de Champflower held 2 fees in Huish of Robert de Newburgh in 1212 (fn. 48) and died c. 1222 leaving two daughters as heirs. After some dispute Huish was assigned as dower to Thomas's widow Nichole, then married to William Waleys or Walsh. (fn. 49) Nichole was still alive in 1243, (fn. 50) but had died probably by 1252 when Ralph Waleys, son of William, and his wife Joan, elder daughter of Thomas de Champflower, held an estate in Huish of Ralph's father. (fn. 51) Ralph and Joan in 1268 claimed land in Huish of the inheritance of Joan, (fn. 52) to whom alone the lordship of Huish was ascribed in 1274 and 1277. (fn. 53) By 1285 Joan had been succeeded by Nicholas Waleys, (fn. 54) probably her son, who died c. 1292 holding the manor and advowson of Huish jointly with his wife Margery. (fn. 55)
By 1303 (fn. 56) the manor had passed to John Waleys (d. by 1333), whose son and heir Nicholas (fn. 57) had died c. 1339 leaving two infant daughters, Joan and Elizabeth, as heirs. (fn. 58) On the death of both daughters under age on the same day in 1350 the manor was divisible between Nicholas's two surviving sisters and the issue of two dead sisters, (fn. 59) subject to the dower of his mother Rose (d. 1361) and his widow Maud (d. 1359), who married as her second husband Walter Cancy. (fn. 60)
In 1393 Alice, one of the sisters of Nicholas Waleys and one of the heirs of another sister, Edith, (fn. 61) together with her second (fn. 62) husband, Williame Colne, made a settlement of two thirds of the manor. (fn. 63) By 1397 Alice had made a feoffment of those two thirds to Sir Hugh Courtenay (fn. 64) (d. 1425), of Haccombe (Devon). Sir Hugh's widow Maud (d. 1467) in 1428 and 1431 held part of Huish; in 1431 she was apparently living there and her estate was called the manor. Their son, Sir Hugh Courtenay (d. 1471) of Boconnoc (Cornw.), (fn. 65) was succeeded by his own son Edward, who was attainted and lost his estates in 1484 for his support of the duke of Buckingham against the king. (fn. 66) Huish manor was granted by Richard III in 1485 to John Verney. (fn. 67) Later that year Edward was created earl of Devon and regained his estates, but on his death in 1509 the earldom and lands were forfeited because his son and heir, William, had previously been attainted. William, restored to favour and created earl of Devon in 1511, was succeeded in the same year by his son Henry, created marquess of Exeter in 1525 and attainted and executed in 1539. (fn. 68) Some of Henry's lands, including Huish, were granted in 1544 to John de Vere, earl of Oxford, who was immediately licensed to sell Huish to John Lucas. (fn. 69) Lucas was succeeded in 1556 by his son Thomas, (fn. 70) who in 1567 conveyed it to William Edney of London. (fn. 71) In the same year Edney was licensed to sell one third of the manor to Alexander Sydenham of Luxborough and the whole manor and advowson to Thomas Cappes of Jews, in Wiveliscombe. (fn. 72) Sydenham, who was apparently owner of the Brett share of Huish manor as mentioned below, bought from James and Nicholas Cappes in 1576 an estate described as half the manor. (fn. 73)
One part of Nicholas Waleys's estate passed to his sister Maud's son Simon Brett, (fn. 74) who was of age by 1355 (fn. 75) and who unsuccessfully challenged Alice Colne's title to two thirds of Huish manor in 1393 (fn. 76) and Sir Hugh Courtenay's in 1397 and 1404. (fn. 77) Simon's estate had passed by 1423 to William Brett of Brushford, (fn. 78) who was still alive in 1445. (fn. 79) In 1508 Alexander Brett sold c. 300 a. in Huish and the advowson or a share of it to William Nethway, (fn. 80) and John Nethway was licensed in 1548 to sell to John Norman, clerk, an estate which was said to comprise the manor and advowson of Huish Champflower. (fn. 81) Probably by virtue of acquiring that estate Alexander Sydenham presented a rector in 1561. (fn. 82)
Alexander Sydenham died in 1585 leaving an only daughter Elizabeth, wife of John (later Sir John) Poyntz of Iron Acton (Glos.). (fn. 83) Poyntz sold Huish in 1603 to Warwick (later Sir Warwick) Hele of Wembury (Devon). (fn. 84) Sir Warwick died in 1626 leaving as heir a nephew John (later Sir John) Hele still under age. (fn. 85) Sir John died between 1646 (fn. 86) and 1648. (fn. 87) By 1663 the advowson and presumably the manor had passed to Sir John Stawell (fn. 88) of Bovey Tracy (Devon). Sir John died in 1670 (fn. 89) leaving his son William to succeed as a minor. (fn. 90) William and two trustees held the estate in 1687. (fn. 91) By 1720 Samuel Crooke had acquired half the manor, evidently through his wife Elizabeth, and in 1733 he conveyed half to John Cooke. (fn. 92) In the following year Cooke, then of Exeter, shared possession of Middleton farm with Barbara Taylor, also of Exeter. (fn. 93) An estate described as the manor and half the farm was sold by Cooke in 1752 to James Bryant of Withiel Florey. (fn. 94)
In or after 1774 Bryant was succeeded by his daughters, Amelia, wife of Thomas Stowell of Winsford, and Peggy, wife of John Bryant of Luxborough. The daughters in 1780 conveyed the lordship to Sir John Trevelyan of Nettlecombe. Sir John died in 1828, and was succeeded as lord of Huish by his second son, the Revd. Walter Trevelyan, under a settlement of 1788. (fn. 95) By 1831 the lordship comprised a few cottages and small chief rents. (fn. 96) The Trevelyan trustees disposed of the remaining chief rents later in the century, (fn. 97) but no sale of the lordship took place, and it is assumed that it passed on the death of Walter Trevelyan in 1830 successively to his son John (d. 1852), John's son Willoughby (d. 1867), and Willoughby's son Sir Walter John Trevelyan, Bt. (d. 1931). From 1891 (fn. 98) the lordship was held by the successive owners of Nettlecombe manor. (fn. 99)
ECONOMIC HISTORY.
In the mid 11th century Huish gelded for 2¾ hides but had land for 12 ploughteams. The demesne farm had 2 teams and was worked by 5 serfs. Twenty villeins and 6 bordars had 6 teams. The 20 a. of meadow were presumably near the village, beside the Tone and its tributary streams; there were 60 a. of woodland. The pasture, measuring a league by half a league, was perhaps the later common land on Huish moor and Heydon Hill. There was a flock of 100 sheep. (fn. 100)
The land in the northern part of the parish, more easily reached from the Brendon ridge, was being exploited by the late 12th century as independent estates. The Hospitallers acquired a holding there, based on the later Middleton farm, before 1187. (fn. 101) Stolford was also a separate farm by the late 12th century. (fn. 102) In 1306 William of Stolford granted his holding to Richard of Middleton in return for an annuity of 6 marks and an obligation to provide him with 1 bu. of pilcorn or rye every fortnight, 3s. in silver three times a year, 6 ells of russet cloth at Christmas, 4 ells of linen cloth and 5 lb. of wool at Pentecost, and pasture for 2 cows. (fn. 103) By the mid 15th century several other landowners had acquired pasture in the area. (fn. 104)
In the main part of the parish John Waleys's holding in 1333, which included land in Holford St. Mary, comprised a capital messuage, 40 a. of arable, small parcels of meadow and of uncultivated hill ground, the rents of 10 free tenants, 6 customary tenants, and 4 cottagers, works worth 6d., and chevage worth 3d. (fn. 105) William Nethway's share of Huish manor in 1510 included 80 a. of pasture and 40 a. of furze and heath. (fn. 106) By that time the Courtenay demesne holding was let. (fn. 107)
The 10 freeholds of Huish manor recorded in 1333 may represent scattered separate farms, characteristic of the Brendons. (fn. 108) They probably included the ferling holding of Ingeram Brome by 1402 (fn. 109) and the Knollys family's farms of East Coombe and Woodhouse established by 1515. (fn. 110) A farmer at Stolford in 1573 had the right to take timber from the 'out hedges' of his enclosed farm. (fn. 111) By the end of the 16th century both freehold and copyhold farms were often substantial. Shute farm measured 66 a. by 1546, (fn. 112) and by the end of the century farms were recorded with the following extents: Stolford 200 a., Sperry 75 a., Newhouse or Milland 67 a., West Catford 64 a., and Westcombe, perhaps the modern Coombe End, 36 a. (fn. 113) Newhouse and Catford were held for two centuries by the Marsh family, who had acquired the freehold of Catford by 1655. (fn. 114) Westcombe was held on a 99-year lease in 1599; (fn. 115) Coombe Tenement, later East Coombe or Coles's, now Coles's Farm, was apparently enfranchised by 1679. (fn. 116) Enfranchisement continued into the 19th century. (fn. 117)
A farmer at Stolford had rye, wool, heifers, and sheep in the late 16th century, (fn. 118) and at least three farms in the 17th century had a preponderance of sheep. (fn. 119) By the 18th century there was a marked distinction between the hill and the valley farms. The hill farms were usually larger, and were often owned by outside landowners. Brown, for instance, belonged to the Wyndhams, and passed to the Trevelyans in 1706; (fn. 120) Stolford was also Wyndham property, but was divided before the end of the century, and part had passed by 1833 to J. S. Fry, the Bristol chocolate manufacturer. (fn. 121) The Escotts of Carhampton occupied part of the divided Brown holding called Middle Brown by the mid 19th century, (fn. 122) and Sperry was held by the Davie family of Creedy Park (Devon) as part of their estate centred on Bittescombe in Upton. (fn. 123) By c. 1818 the Trevelyans had disposed of Lower Brown, (fn. 124) and by 1839 Higher and Lower Brown together formed a single farm of 226 a. Middleton was then 233 a. (fn. 125)
The southern farms were still small in the early 19th century with the exception of Sperry (215 a.), though holdings at Catford and Shute had been joined to neighbours. (fn. 126) 'Summering' pasture was available for rent at Coombe farm in 1805 (fn. 127) and by the 1820s a dairy had been established at Shute. (fn. 128) The inclosure of Huish moor apportioned some grassland to the southern farms, (fn. 129) though much of the area was wooded, contributing most of the total of 99 a. of woodland for the whole parish. (fn. 130) Two hill farms, Beverton and Tone, were formed on the inclosure of Brendon Hill in 1845. (fn. 131)
In 1839 there were 779 a. of arable, about a quarter of the whole parish. (fn. 132) By 1905 a third of the parish was under plough, and woodland had diminished. (fn. 133) Changes in ownership in the later 19th century included the attachment of Catford to the FergusonDavie holding of Bittescombe (fn. 134) and the creation of the Hancock estate based on Coombe House. (fn. 135) In the 1940s the break-up of the Trevelyan estate marked the end of large holdings in the parish. (fn. 136) By 1976 there were 29 separate farms, nearly all under grass, of which seven measured between 50 ha. and 199 ha. Four were dairy farms and eight were partly or entirely sheep farms. (fn. 137)
A fulling mill mentioned in the early 17th century and a woolcomber in 1705 are isolated evidence of the cloth industry in Huish. (fn. 138) Quarrying was carried on in the late 18th century, (fn. 139) and slates and tiles were produced by 1796. (fn. 140) Pit debris and a powder magazine, associated with the Raleigh's Cross iron workings, were within the northern boundary of Huish. (fn. 141)
There was a mill, presumably for corn, on the manor by 1086. (fn. 142) It remained part of the manorial estate until sold in 1687, (fn. 143) and by 1785 was known as Washbittle, later Washbottle or Washbrittle, (fn. 144) and in 1980 Washbattle. It ceased to grind soon after 1910. (fn. 145) There was another mill, probably at Brown, in 1572. (fn. 146)
LOCAL GOVERNMENT.
By 1274 the lady of the manor took and kept strays, presumably by ancient custom. (fn. 147) The lordship in 1339 and the early 16th century included pleas of court sometimes from one and sometimes from two sessions a year, (fn. 148) but no manorial records have been found earlier than 1831. In that year the manorial rental included payments for a room to hold the court, the charges of the tithingman and the reeve for issuing notices, gifts to five poor men of the jury, and the costs of crying the court twice. Two years later there were payments only for crying the court in church on two Sundays and to the tithingman for his 'attention to the commons'. (fn. 149)
Churchwardens' accounts from 1675 were occasionally signed in the late 17th century by two overseers and two or four sidesmen. (fn. 150) A decision of the parish in 1722 was witnessed by the rector and five parishioners, and a vestry continued to approve the wardens' accounts until at least the 1840s. (fn. 151) Highway surveyors were appointed in 1691 by the tithingman, a warden, and three householders. Wardens served in rotation according to their holdings, (fn. 152) and appointments of both wardens and overseers were recorded in the overseers' accounts dating from 1769. Payments, recorded separately as weekly, bastard, and extraordinary, were made in the parish by the late 18th century, and an agreement was made in 1797 with a Wiveliscombe doctor to attend the poor. (fn. 153) A pay table stood at the west end of the aisle in the parish church. (fn. 154) By 1831 the overseers were renting the former church house as a poorhouse. (fn. 155) One family was assisted to emigrate to Canada in 1830. (fn. 156) The parish became part of the Dulverton poor-law union in 1836. In 1894 the parish formed part of the Dulverton rural district, and in 1974 became part of the West Somerset district. (fn. 157)
CHURCH.
There was a chaplain at Huish Champflower by 1187, (fn. 158) and a church is mentioned in 1226. (fn. 159) Until 1951 the living was a sole rectory. From that date it was held with Clatworthy, and from 1967 also with Chipstable and Raddington, the four becoming a united benefice in 1971. (fn. 160)
On the death of Thomas de Champflower the advowson of the living passed in 1226 to his daughters. (fn. 161) It evidently descended in a junior branch of the family until the death of the widow of Matthew Champflower c. 1297, when the Crown presented during the wardship of the heirs. (fn. 162) The advowson thereafter descended with the manor and, after its division, with that part held by the Courtenays between 1422 and 1525, although a share of the advowson seems to have been included in the Brett estate in 1508 when it passed to William Nethway. (fn. 163) John Nethway was licensed in 1548 to grant his right of presentation to John Norman, clerk. (fn. 164) Alexander Sydenham, later to acquire part of the manor and the advowson which went with it, presented a rector in 1561, but his right to do so was successfully challenged shortly afterwards by Thomas Lucas, then in possession of the main manorial estate. (fn. 165)
Thereafter the advowson descended with the manor until the 1680s, but grants of the next presentation were made by the Heles, under which Philip Atherton of Bradford on Tone presented John Atherton in 1622, and Christopher Pitt, clerk, presented in 1637. The Crown presented in 1636 on Atherton's promotion to a bishopric. (fn. 166) In 1683 the Stawell trustees sold the advowson to Thomas Comens of Wiveliscombe, to hold in trust for the curate William Nichols. Comens, then of Huish, presented Nichols as rector in 1687. Robert, son of Thomas Comens, presented on Nichols's death in 1701, but in the following year, acting as Nichols's trustee, he sold the advowson to John Pym, clerk, of Litton Cheyney (Dors.). Pym presented in 1703, but in the next year he sold the advowson to trustees for the benefit of Samuel Taylor, the rector whom he had already presented. (fn. 167) In 1735 Taylor settled the property on his prospective son-in-law, William Willis of Selworthy, who became rector in 1743 on Taylor's death, at the presentation of Thomas Camplin and Thomas Willis, clerks. (fn. 168) William Willis, then of Luccombe, presented in 1757 and 1761, on the second occasion appointing his son William to the living. (fn. 169) Samuel Willis of Boxwell (Glos.), brother of the last, was patron by 1781, and two years later he sold his rights to Sir John Trevelyan. (fn. 170) The advowson then descended with the Trevelyan estate, and at least four members of the family held the living between 1803 and 1958: George Trevelyan, rector 1803–23, John Thomas Trevelyan, 1833–5, John Woodhouse, 1836–72, and Philip Woodhouse Perceval Hancock, 1915–58. In 1957 the advowson was transferred to the bishop of Bath and Wells. (fn. 171)
The living was valued at £5 6s. 8d. in 1291, (fn. 172) £13 9s. 4½d. net in 1535, (fn. 173) £130 c. 1668, (fn. 174) and £288 net in 1831. (fn. 175) The tithes were worth £11 6s. 8d. in 1535, (fn. 176) and a tithe rent charge of £254 6s. 9d. was agreed in 1841. (fn. 177) The glebe was valued at 51s. in 1535. (fn. 178) There were c. 119 a. of glebe by 1606, (fn. 179) 151½ a. by 1839, (fn. 180) and 200 a. in 1939. (fn. 181)
By 1606 the glebe house had a wainscotted hall and parlour, with six glazed windows. Among the adjoining buildings were a gatehouse, bakehouse, and dovecot. (fn. 182) The house was undergoing 'thorough' repair in 1815, (fn. 183) and further work was done in 1836–8 creating a square, symmetrical house of three bays with shallow pitched roofs arranged around a central well, with older work to the west, the whole standing in ornamental grounds above a lake. (fn. 184) The house, destroyed by fire and rebuilt, with the help of parishioners, c. 1924, (fn. 185) was occupied by successive incumbents until c. 1972, when it was sold. (fn. 186) It had a private chapel in 1401. (fn. 187)
Thomas Paye, rector 1422–61, a lawyer and diocesan penitentiary, was licensed soon after his appointment to spend a year in the service of the patron, Sir Hugh Courtenay. (fn. 188) There was a parish chaplain in 1468. (fn. 189) John Tyler, rector 1525–61, seems to have survived all the Reformation changes, (fn. 190) but a chalice and ornaments could not be recovered in Mary's reign, and the walls of the church were painted with Biblical texts in the Protestant style, probably in Elizabeth's reign. (fn. 191) The present communion cup dates from 1573. (fn. 192) John Atherton, rector 1622–36, was accused of non-residence in 1630, the year when he became prebendary of Christ Church, Dublin. He held the rectory with the chancellorship of Killaloe and also of Dublin, and was promoted to the bishopric of Waterford and Lismore in 1636. (fn. 193) Chancel and parsonage house were then said to be in decay. (fn. 194) William Willis, rector 1743–57, was at the same time resident rector of Selworthy. (fn. 195) William, his son, served Huish in person from 1761 until the 1780s, but thereafter the parish was cared for by curates until the appointment as rector of William Darch in 1823. (fn. 196) George Trevelyan, rector 1803–23, was also rector of Nettlecombe, where he lived, and from 1817 archdeacon of Taunton. (fn. 197) His curate at Huish in 1815 was the resident rector of Clatworthy. Services were then held every Sunday, alternately morning and evening. (fn. 198) William Darch also held the living of Raddington, but by 1827 was taking prayers and preaching at Huish each Sunday, and holding evening services on alternate weeks. (fn. 199) By 1840 services were held twice every Sunday. (fn. 200) In 1851 the congregations on Census Sunday, considered 'about average', totalled 110 in the morning, including 32 from the Sunday school, and 190 in the afternoon, including 37 children. (fn. 201)
A church house, standing on the edge of the churchyard until after 1849, (fn. 202) was a two-storeyed building with a chimney and a tiled roof in the 17th century. It was then owned by the lord of the manor and was let to the churchwardens. (fn. 203) By 1831 it was held by the overseers. (fn. 204)
The church of ST. PETER, so dedicated by 1535, (fn. 205) consists of chancel with north chapel, nave with north aisle and south porch, and west tower. A bequest was made in 1534 towards the new ambulatorium, (fn. 206) probably the aisle. Persistent local tradition maintains that the large six-light east window of the wide chancel chapel, with the remains of early 15th-century glass, evidently once a Jesse window, and probably also the arcade, were brought c. 1537 from the dissolved priory of Barlinch, near Dulverton. (fn. 207) The arcade is not characteristic of local work, and is thought to be an amalgam of 14th- and 15th-century features. (fn. 208) The remainder of the church seems to date from the 15th century, the tower containing a bell by Robert Norton of Exeter (1410–40). (fn. 209) The body of the wooden eagle lectern is also of the 15th century. A medieval screen, probably crossing the north aisle, is said to have been removed to Bicknoller in 1726. (fn. 210) A roodloft survived in 1683, (fn. 211) and a chancel screen was still in position in 1798. (fn. 212) Alterations elsewhere included the construction of the tower arch in 1703, a singing gallery in the aisle in 1713, a canopied, three-decker pulpit in 1717–18, and a singing gallery near the belfry c. 1795. (fn. 213) There were extensive repairs in 1846, (fn. 214) and the church is said to have been restored c. 1875–80, when the chancel arch was replaced. (fn. 215)
The registers date from 1559 and appear to be complete. (fn. 216)
Bequests to the fabric of All Saints made in 1534 and 1535 (fn. 217) may refer to a separate building, possibly a chapel at Middleton founded by 1187. (fn. 218)
NONCONFORMITY.
A family of Presbyterians was living in the parish in 1776. (fn. 219) In 1803 a house at Winters was licensed for worship by an unspecified denomination. (fn. 220)
EDUCATION.
Clatworthy school in 1818 took children from Huish, (fn. 221) but a church school was established at Huish by 1825. (fn. 222) A Sunday school was started in 1832. By 1835 there were two day schools with 37 pupils, whose parents paid fees, and the Sunday school had 79 pupils under one paid teacher. (fn. 223) By 1839 one school was held in a building on the glebe near Huish bridge, (fn. 224) between Huish and Clatworthy, known in 1847 as the Huish Champflower and Clatworthy village school, and in 1851 as Bridge School House. (fn. 225) This same school had 58 children attending by day in 1847, and another 25 attended in the evenings. (fn. 226) The other day school and the Sunday school seem to have closed.
About 1857 the school moved to a new building west of the village on the road to Catford, which the rector, John Woodhouse, had converted from a cottage. (fn. 227) The building was extensively altered in 1870 and again in 1898. (fn. 228) By 1903 the school and school house, held by trustees of Woodhouse's heir, the Revd. Frederick Hancock, were leased to the then rector for school use. (fn. 229) There were 40 children on the books. (fn. 230) It remained a voluntary school, but from 1950 took only children under the age of eleven. In that year there were 77 on the books. (fn. 231) Numbers fell rapidly, and the school was closed in 1963, children from the village travelling thereafter to school in Wiveliscombe. (fn. 232)
CHARITIES FOR THE POOR.
By will dated 1781 Richard Marsh left £10, the interest to be paid at Easter to parishioners not receiving relief. The sum of £5 was also given for the same purpose by John Cruze or Cruwys before 1786. (fn. 233) The charities, their combined income totalling 15s. usually shared between 12 people, were paid until 1807. Thereafter, the capital seems to have been merged into the general parish stock. (fn. 234) A legacy of £1 a month given to the poor by Richard Darch was referred to in 1843, but no money had been received or distributed. (fn. 235)