Pages 96-103
A History of the County of Somerset: Volume 5. Originally published by Victoria County History, London, 1985.
This free content was digitised by double rekeying. All rights reserved.
KILVE
The ancient parish of Kilve, which takes its name from the hill east of the village, (fn. 1) lies across the narrow band of country between the Quantocks and the Bristol Channel coast. From its shore, which attracted Wordsworth during his stay at Alfoxton but repelled Sir Walter Besant, (fn. 2) the ancient parish reached nearly 7 km. inland to the barren heights of the Quantocks, and formed two separate, but almost conjoined, areas covering 1,775 a. (fn. 3) In 1933 the southern part, covering 835 a., was transferred for civil purposes to Holford, and the civil parish of Kilve measured 380 ha. in 1977. (fn. 4)
The northern part of the parish is an irregular area running in a narrow band from Longstone (290 m.) and Pardlestone hills down to a stream at Putsham. There the parish broadens, to 1.75 km. at its widest point, to embrace Kilve Hill (c. 110 m.), and continues north each side of the stream to a creek called Kilve Pill and a narrow shore line. The main boundaries to east and west are marked by wide 'freeboards or deerleaps'. (fn. 5) Most of the coastal area is on Lower Lias, with a band of shale along the stream and pockets of harder valley gravel. Attempts to extract oil from the shale c. 1923 have left standing remains near the beach. (fn. 6) The southern part of the parish, climbing up the wooded combes to the top of the Quantocks, lies on Keuper Marl and Hangman Grit. (fn. 7) Its boundaries are watercourses and, in the south, the line of the prehistoric ridgeway, marked at one point by Halsway Post or Cross. (fn. 8) In the southern area the land rises to c. 320 m. on Black Hill.
The coast road through Putsham forms the parish boundary east of the village. From it two roads run towards the coast, one over Kilve Hill, converge near the former rectory house, and lead past church and former manor house to the sea. Southwards from Putsham, Pardlestone lane to Higher Pardlestone (fn. 9) continues as a network of tracks, including part of the Great Road, across the top of the Quantocks. One of the tracks, known as the Hunting Path, (fn. 10) forms the parish boundary on Longstone Hill, and several converge in the extreme south at Crowcombe Park Gate.
Traces of early human activity include mesolithic flints, Bronze Age barrows on the Quantock ridgeway and on Hare Knap and Longstone hills, and a hoard of 3rd-century Roman coins from Putsham. (fn. 11) By the 11th century there were three areas of occupation: Pardlestone, relatively high on the Quantock slopes; Hill, in the lee of the hill from which it took its name; and Kilve, in the well watered country near the coast. (fn. 12)
It is uncertain whether the settlement by the church and medieval manor house later called Kilve Farm or Kilve Priory was ever the largest, though it lay on an ancient coastal route linking Watchet with Stogursey and perhaps with the Parrett passage at Combwich. (fn. 13) By 1280 the manor house had an adjoining park (fn. 14) which survived until 1441 (fn. 15) and is traceable in fields called Great Lawn and Lawn Meadow west of the farm buildings. (fn. 16) Fishponds north of the house perhaps date from the time when the house itself was occupied by chantry priests in the 14th century. (fn. 17) The abandonment of the ancient coastal route and its replacement by the present road, evident by the 17th century, (fn. 18) encouraged the expansion of settlement at Putsham, the site of one of the Domesday mills, the name occurring by 1406. (fn. 19) By the late 18th century Putsham had certainly attracted most of the population, (fn. 20) and a new manor house, Kilve Court, was built there between 1782 and 1785. (fn. 21) There was some scattered development on the wooded slopes above Pardlestone at the beginning of the 20th century (fn. 22) but most later building was confined to Putsham, and has included some ornate thatched cottages and local authority housing.
No evidence has been found of open-field farming in Kilve. Land use on the Quantocks may be suggested by the 200 oaks cut in Kilve wood c. 1242, (fn. 23) the grant of free warren in Kilve and Holford made in 1296, (fn. 24) and the valuation of heather in Kilve in 1441. (fn. 25) Woodland in 1821 measured 164 a. and was divided between Butterfly, Swinage, Frog, Ladies, Adder, Sturtcombe, and Somerton woods and Kenley quarry. (fn. 26) The name Somerton may recall the royal forest of Quantock other parts of which belonged to the royal manor of Somerton before the end of the 13th century. (fn. 27)
Kilve Pill, a 'creek for small boats', was condemned as dangerous by the port commissioners in 1559. (fn. 28) A limekiln was built at the head of the creek by 1769 to burn stone brought across the Bristol Channel from Wales. (fn. 29) The stony beach was a popular place for glatting or hunting conger eels until after the First World War. (fn. 30)
There was an inn at Kilve in 1689 and another in 1736. (fn. 31) Between 1822 and 1827 it was called the Chough and Anchor, and by 1841 the Hood Arms, its name in 1977. (fn. 32) There was a second inn in 1851. (fn. 33) A friendly society which met at the Hood Arms was disbanded c. 1911. (fn. 34) It was occasionally known as the Putsham club. The village hall, built by the rector in 1885, was later extended. (fn. 35)
There were 20 households in the parish in 1563, (fn. 36) 196 taxpayers in 1667, (fn. 37) and 30 dwellings c. 1790. (fn. 38) Between 1801 and 1821 the population rose from 176 to 263. From 260 in 1871 it fell rapidly, reaching 149 in 1901, but had more than doubled, to 365, by 1931. Within the next twenty years numbers had fallen to 286, but by 1971 had recovered to 317. (fn. 39)
MANORS.
In 1086 the manor of KILVE comprised a main estate held by Roger de Courcelles in succession to Brictric, to which had been added two other manors, Hill and Pardlestone, held T.R.E. by Edwald and Parlo respectively. (fn. 40) Most of Roger's estates passed to the Malet family, and on the death of William Malet c. 1216 were divided between his two daughters, Helewise, wife of Hugh Pointz (d. 1220), and Mabel, wife successively of Nicholas Avenel and Hugh de Vivonia (d. 1249). (fn. 41) In 1221 Kilve was adjudged to Avenel as husband of the elder daughter, and on his death in or before 1223 it passed to William de Forz (d. 1259), son of Hugh de Vivonia, and then to William's fourth daughter Cecily (d. 1320), wife of John de Beauchamp. (fn. 42) In 1284–5 she was said to hold the manor of the abbot of Glastonbury, of whom her main residence at Compton Dundon was held. (fn. 43) The overlordship continued in the Beauchamps and their successors, as trustees or lords of Dundon manor, until 1605. (fn. 44)
Robert son of William, who held Kilve at his death c. 1185–6, may have been the grandson of Robert de Pirou, a tenant under the Malets in Henry I's reign. (fn. 45) Robert son of William left three daughters and coheirs, of whom Joan married Henry Furneaux and inherited Kilve. (fn. 46) Henry died c. 1221 and was succeeded by his son, also Henry, probably a minor, whose possession was challenged by a second Nicholas Avenel, husband of another daughter of Robert son of William. (fn. 47) The dispute was continued by Matthew de Furneaux, probably the elder Henry's grandson, c. 1243, (fn. 48) and was settled when Matthew de Furneaux succeeded William Avenel, apparently heir of Nicholas, in 1253. (fn. 49) Matthew was dead by 1285, (fn. 50) and was succeeded by another Matthew, who settled the manor on his wife Maud in 1314 (fn. 51) and died in 1316; Maud was still in possession in 1327, and probably in 1331. (fn. 52) Simon de Furneaux, the last Matthew's son or grandson, died in 1359, leaving an only daughter, Elizabeth, wife of John Blount. (fn. 53)
Elizabeth Blount, still in possession in 1386, (fn. 54) left an only daughter Alice, wife successively of Sir Richard Stafford and Sir Richard Stury. She held the manor in 1412 but died childless in 1414. (fn. 55) Her heirs were the descendants of the sisters of Simon de Furneaux, but by an arrangement made in 1421 Kilve and lands in Kilton and Holford were assigned as a third share of the estate to Ralph Bush and his wife Eleanor, widow of Sir John Chidiock and greatgranddaughter of Eleanor Furneaux, the eldest sister. (fn. 56) Pending the settlement Ralph and Eleanor sold what was then their quarter share in Kilve in 1419 to John Roger of Bryanston (Dors.), a merchant. (fn. 57)
John Roger or Rogers died in 1441 and was followed by his son, also John. (fn. 58) John the younger died in 1450, having settled Kilve on his wife Anne, later married to John, Lord Audley. (fn. 59) She died in 1498 and was succeeded by her son Henry Rogers (cr. K.B. 1501). (fn. 60) Sir Henry died c. 1506 and was followed by his son John (d. c. 1546) and his grandson, also John (d. 1565). (fn. 61) Richard Rogers, son and heir of the last, (fn. 62) was knighted in 1576 and died in 1605. (fn. 63) Sir John Rogers (d. 1613), son and eventual heir of Richard, (fn. 64) was followed in turn by his own sons Edward (d. 1624) and Richard. Richard was a minor, (fn. 65) and the manor was thus for some years in the hands of Sir Lewis Dyve of Bromham (Beds.), second husband of Howarda, Edward Roger's widow. (fn. 66)
Richard Rogers came of age in 1632, though his mother, after her second marriage known as Margaret Banastre (d. 1663), had jointure in Kilve, and he himself was described later as only tenant for life and as never having had possession of the manor. (fn. 67) He died in 1643 leaving two daughters, Elizabeth and Rogersa, in the guardianship of his mother and of Lancelot Lake. (fn. 68) Elizabeth married first Charles Cavendish, styled Viscount Mansfield (d. 1659), and second Charles Stuart, duke of Richmond and Lennox. She died in 1661, (fn. 69) and her half share was conveyed in 1662 to Sir John Rogers of Langton Long Blandford (Dors.), son of Richard Rogers, a younger brother of Sir John Rogers (d. 1613). (fn. 70) Rogersa, wife of Sir Henry Belasyse, K.B., died without issue. (fn. 71)
In 1664 Sir John Rogers divided his estate: the manor and most of the land was bought by John Cunditt, also of Langton Long Blandford. (fn. 72) Cunditt, then of Edmundsham (Dors.), was dead by 1679 when his executors presented to the living, and was succeeded by another John Cunditt, of Kilve, probably his son, who died in 1690, and by a third of the same name, probably a grandson, who survived until 1771. (fn. 73) The youngest John Cunditt sold his heavily mortgaged property in 1769 to Henry Sweeting, who died in 1785. (fn. 74) Henry's son John died in 1815, and his grandson John Hankey Sweeting of Kilve and Great Houghton (Northants.) in 1841. John Hankey Saumarez Sweeting of Chelmsford (Essex), son of J. H. Sweeting, sold the lordship to Edward Fownes Luttrell (d. 1865), second son of Col. Francis Luttrell. (fn. 75) From Edward Luttrell the lordship passed to his elder brother George, of Dunster, who conveyed it to Daniel Badcock in 1886. Badcock died in 1915 and the lordship has not been traced thereafter. (fn. 76)
A court, stable, and bakehouse were recorded in 1242–3. (fn. 77) The manor house became the residence of the college of priests founded under licence in 1329, (fn. 78) though the college ceased to exist probably in the late 14th century. The house was regarded as the capital messuage of the manor by 1441, though by the late 16th century it was let. (fn. 79) From the mid 17th century it was known as the 'old mansion' or Kilve Farm. (fn. 80) It evidently ceased to be a farmhouse when its land was linked with Parkhouse farm in the late 19th century, and has since been known as the Priory or Kilve Priory. By 1906 it was offered to holidaymakers as apartments. (fn. 81) In 1977 it was divided between Priory and Chantry cottages.
The two cottages comprise the hall range of a substantial medieval house. The two-storeyed eastern cross wing, largely ruined but dating from the late 13th century, is the former solar, having a contemporary first-floor chapel against its east wall. Late medieval additions, post-dating the college, project from the north-eastern corner. (fn. 82)
In 1862 Edward Fownes Luttrell (d. 1865) bought with the lordship of Kilve a house called Kilve Court at Putsham. (fn. 83) The house, where he had lived since the 1820s, (fn. 84) passed with the lordship to his brother George, and then to Daniel Badcock (d. 1915). Badcock's widow Mary sold the house in 1920 to Col. Joseph Cook-Hurle, who was succeeded on his death in 1930 by his widow Norah Lilian (d. 1960), a prominent member of Somerset County Council. Her son, Lt. Col. R. J. Cook-Hurle, sold Kilve Court in 1961 to the county council for use as a residential Youth (now Education) Centre. (fn. 85)
The 'neat new-built dwelling' (fn. 86) was erected by Henry Sweeting between 1782 and his death in 1785. (fn. 87) It has a principal front of five bays and three storeys. The central staircase and main rooms have contemporary decoration. There is a lower service wing in the rear, with modern accommodation for its use as a college.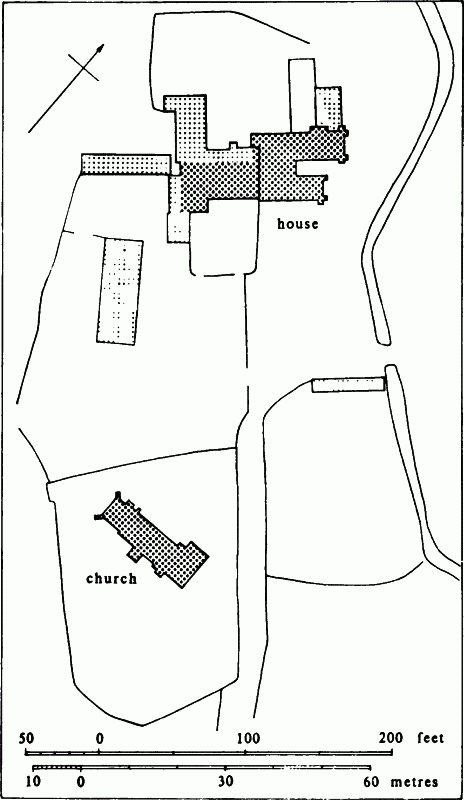 In 1664 Sir John Rogers sold the southern part of his estate to John St. Albyn of Alfoxton. The property was described as the manor of KILVE AND HOLFORD, and included tenements in Putsham and Pardlestone. (fn. 88) During the 18th century, as further lands were acquired, the estate was variously described as the manor of HOLFORD or of ALFOXTON, (fn. 89) and descended in the St. Albyn family from John to his son Lancelot (d. 1708–9), and then to Lancelot's brother George (d. 1750). (fn. 90) The Revd. Lancelot (d. 1791) succeeded his elder brother John (d. 1768), George's heir, (fn. 91) and was himself followed by his great-nephew, born Langley Gravenor, who assumed the name St. Albyn in 1806. (fn. 92) Langley St. Albyn's estate in 1839 amounted to 201 a. in Kilve and included Pardlestone farm and Higher and Middle Hill. (fn. 93) It passed to his son Lancelot, but was sold by the family in the 1890s. (fn. 94)
ECONOMIC HISTORY.
In 1086 the three estates of Kilve, Hill, and Pardlestone amounted to 5 hides. The demesne farm at Kilve dominated that 2½-hide estate, leaving the tenants with only 5 ferlings between them; at Hill the home farm seems to have accounted for three-quarters of the holding, leaving the tenants with half a ploughteam; and at Pardlestone there was 1½ virgate in demesne and ½ virgate held by tenants. In all there were 23 a. of meadow, 38 a. of wood, and two substantial areas of pasture. No stock was recorded at Hill, but the other two demesne estates between them supported, besides 2 riding-horses, 9 beasts (animalia), 7 swine, 53 sheep, and 74 she-goats. (fn. 95)
Hill and Pardlestone, separately named estates until the mid 14th century, (fn. 96) have continued as distinct farms until the present. Common ownership, however, effectively unified the estate, and a verdict of 1223 on the value of the harvest of 200 a. of demesne corn evidently related to the whole property. (fn. 97) By 1441 the demesne farm measured 239 a., rents of free tenants were worth 69s., and of tenants at will 4s. (fn. 98) In 1327 the township was one of the more highly taxed in the district. (fn. 99)
Farming in the 16th and 17th centuries may have been largely arable: in 1535 the tithes of corn and hay produced £4 in comparison with only 24s. from wool and lambs. (fn. 100) An inventory of 1671 shows crops of wheat, barley, oats, beans, and peas, some 47 cattle, 3 mares, 'hogs of all sizes', geese and other poultry, and a threshing mill. (fn. 101) Covenants in a lease of Lower Hill in 1769 limited arable cropping to two years in succession and required lime or dung on all land ploughed for wheat, the lime to be provided from the lord's limekiln. (fn. 102) Similar terms, with a heavier use of lime, were agreed on the same farm in 1806. (fn. 103) The first lease was for 9 years at £24 for 34 a.; the second for 7, 10, or 14 years at £28. Common grazing and turbary were still claimed in respect of holdings in the parish in the 18th century either in general terms, or precisely as two days' cutting of turf. (fn. 104)
By 1664 the main holdings in the parish were Pardlestone, Middle and Lower Hill, Poorhouse, and Kilve farms. (fn. 105) By 1769 Kilve farm was the largest, with c. 275 a., Poorhouse measured 53 a., and Lower Hill 35 a. (fn. 106) By 1839 Kilve farm was slightly smaller at 244 a., Poorhouse had increased to 118 a., and Pardlestone measured 102 a. There were four other holdings of between 40 a. and 70 a., together with 164 a. of woodland and some 617 a. of common. (fn. 107) Kilve farm claimed exclusive common on Black Hill. (fn. 108)
Poorhouse farm, which c. 1860 was renamed Parkhouse farm, then had equipment which included a water-powered threshing machine. (fn. 109) The balance of land use, slightly in favour of arable in 1839, had changed by 1905: there was then more grassland and slightly less wood. (fn. 110) In 1976 there were seven farm holdings in the civil parish, one of which specialized in dairying, another in cattle and sheep. Grassland had increased further in proportion to arable. (fn. 111)
In 1296 Matthew de Furneaux was granted a weekly market on Wednesdays and a fair on the eve, day, and morrow of St. Margaret's day (19–21 July). (fn. 112) No later evidence of either has been found.
Like its neighbours on the coast Kilve was a place for burning seaweed from the late 16th century onwards; in the 19th century the product was used either in bottle manufacture or for manure. (fn. 113) More distinctive was the tradition of clothmaking, certainly carried on from the beginning of the 17th century. (fn. 114) A fulling mill was in operation by 1636, (fn. 115) and in the 1660s there were at least 2 clothiers, 2 weavers, and 1 fuller in the village with business connexions in Melksham and Bradford-on-Avon (Wilts.), (fn. 116) and there were at least 3 fulling mills in the vicinity. (fn. 117) Clothiers and a serge maker occur during the 18th century, (fn. 118) and Richard Shurt the younger, from one of the leading clothing families, leased a fulling mill in 1732 with rights to rack cloth and to wash his own sheep in the washing pond each year. (fn. 119) From 1721 linen houses were built on the waste of the St. Albyn estate, (fn. 120) and a dyehouse on Shurt's tenement survived until after 1839. (fn. 121) There was a wool dealer in the parish in 1851. (fn. 122)
In 1676 a tailor died leaving goods in his shop worth £112. (fn. 123) By 1851 the craftsmen in the village included 4 carpenters, 3 shoemakers, 2 blacksmiths, a tailor, a tanner, and a mason. The village supported a draper's and grocer's shop. (fn. 124)
Mills.
There were two mills in 1086, one attached to Kilve manor, the other to Hill. (fn. 125) Both probably descended with Kilve manor, and by the 17th century they were corn mills, distinguished as Kilve mill, closely associated with Kilve farm and probably, therefore, near the former manor house, and Nether mill at Putsham, so called in relation to a fulling mill a few yards upstream. Kilve mill was occupied by the tenant of the capital messuage in 1665, and occurs in 1697 but not thereafter. (fn. 126) Nether mill first occurs under that name in 1635 (fn. 127) and was for some time held by the Sealy family. (fn. 128) By 1697 it formed part of a 20-a. holding (fn. 129) and by 1706 seems to have been occupied by the Shurt family, substantial clothiers, who renewed their lease in 1732. (fn. 130) It was then described as burnt down, but the property also included a fulling mill at the head of the millpond. The mill was evidently rebuilt, and was in use as a flour mill until c. 1906. (fn. 131)
Higher mill, a few yards upstream, probably originated as one of three fulling mills on the estate in 1664, though one and possibly two were probably in Holford parish. (fn. 132) The Mallet family occupied one by 1636 until after 1664 (fn. 133) and Charles Mitchell, a clothier, held it in 1723. (fn. 134) This may have been the clothing mill belonging to John Wheddon in 1821. (fn. 135)
LOCAL GOVERNMENT.
A court was being held for Kilve manor in 1671, and one for Kilve with Holford in 1684. (fn. 136) Suit to Kilve manor was required in 1684. Leases of land or houses from the St. Albyns in the 18th century required suit to Alfoxton or Holford manor. (fn. 137)
Two wardens, two overseers, and a tithingman occur in 1641, (fn. 138) and two wardens were chosen in the 18th and 19th centuries. (fn. 139) A meeting of the vestry in 1762 comprised the wardens, the curate, and three other inhabitants. (fn. 140)
Poorhouse Farm, recorded in 1664, may have been named after a parish poorhouse. (fn. 141) The parish became part of the Williton poor-law union in 1836, the Williton rural district in 1894, and the West Somerset district in 1974. (fn. 142)
CHURCH.
A rector of Kilve was named between 1265 and 1273. (fn. 143) A single reference to the living as 'Mynsterculve' in 1436 (fn. 144) might suggest an earlier foundation, but probably recalls the college or chantry, licensed in 1329. (fn. 145) Five chantry chaplains, one of whom was styled the minister, (fn. 146) were to celebrate daily in the parish church for the souls of Simon de Furneaux and his heirs. The college was to be supported by land in Kilve and Stringston and the advowsons of both churches. (fn. 147) Appointments to the chantry were made in 1332 and 1350, and the minister was named in 1369, (fn. 148) but the foundation probably ceased to function before the end of the 14th century, and certainly by 1411. (fn. 149) By 1433 the parish church had reverted to its original status, but the link with the chapel of Stringston had been revived by 1532. (fn. 150) The rectory of Kilve with Stringston remained a sole benefice until 1946, when it was linked with East Quantoxhead. In 1947 it was united with Kilton and Lilstock, and in 1977 was joined by West Quantoxhead, Holford, and Dodington to form the benefice of Quantoxhead in 1978. (fn. 151)
The advowson belonged to the lords of the manor until 1329, when Simon de Furneaux granted it to his newly established college of chantry priests. (fn. 152) The priests presented a rector in 1335, (fn. 153) but the patronage had reverted to the lord of the manor by 1411. (fn. 154) Successive lords or their trustees presented until the 16th century, but before 1570 Catherine, widow of John Rogers, gave the advowson to John Foster of Pylle, who devised it to his brother Robert, a clergyman. (fn. 155) In 1587 Sir Richard Rogers conveyed the patronage by lease or sale to John Kaines, but by 1626 it had reverted to the lords. (fn. 156) Margaret Banastre and Lancelot Lake presented in 1662 and Sir John Rogers in 1666, and the advowson passed to John Cunditt, the new lord of the manor, before his death in 1679. (fn. 157) Another John Cunditt, probably his son, sold the advowson to Balliol College, Oxford, in 1688. (fn. 158)
Balliol retained the advowson until 1893, when it was sold to the Revd. Herbert Sweet Escott, son of the then rector. From him it passed in quick succession to Mary Edith Greswell in 1894, and to the Revd. Herbert Price in 1895. Price sold it in 1906 to Frances Caroline James, wife of the then curate of Kilve, and her husband was given the living in 1910. Lord St. Audries bought the patronage in 1931, and from 1947 shared with the bishop of Bath and Wells the right of joint presentation to the united benefice. His niece, Lady Gass, retained his share in 1977. (fn. 159)
The church was worth £10 in 1291, (fn. 160) £9 16s. 6½d. net in 1535, (fn. 161) reputedly £100 c. 1668, (fn. 162) and £642 net in 1831. (fn. 163) The tithes were valued at £7 4s. in 1535, and in 1839 they were commuted to a rent charge of £211 10s. (fn. 164) In 1535 the glebe lands were worth £3 12s., (fn. 165) and presumably included the lands of the former college in Kilve and Stringston. In 1613 there were some 63 a. of glebe in Kilve, 45 a. in Stringston, and 28 a. in Chilton Trinity. (fn. 166) There were nearly 60 a. in Kilve in 1839, (fn. 167) and 121 a. in all until sales in 1926–7 reduced the total to 78 a. for the whole benefice, with just over 13 a. in Kilve. Further sales reduced the total to just under 70 a. in 1948, with nearly 4 a. in Kilve and 45 a. in Stringston, the remainder in Wembdon and Cannington, perhaps the result of exchanges with Chilton. (fn. 168)
The large rectory house, regarded as adequate in the early 19th century, (fn. 169) was given up in favour of the glebe cottage in 1913, and was sold c. 1938. (fn. 170) Known as the Old Rectory, it stands in its own grounds south of the church. The symmetrical north and east fronts and most of the internal fittings appear to be of the early 19th century, but one room at the south-east corner has 18th-century decoration, and other rooms on the south side have thick internal walls, suggesting that an older building is incorporated. The present rectory house is in Putsham.
Disputes over the legal status of the benefice were said in 1433 to have led to the neglect of the parish. (fn. 171) In 1448 a new rector, whose understanding of scripture and letters was said to be 'very mediocre', was ordered to employ a chaplain for two years and to study grammar. 'Hardly any progress' had been made by the end of that period, but in 1451 he was found competent and given a further two years to study. (fn. 172) In 1554 the church lacked books and ornaments because of bad debts. (fn. 173) The rector was in 1577 reported for non-residence. (fn. 174)
At least seven of the rectors appointed by Balliol were members of the college, including Henry Farr Yeatman, D.D., rector 1784–96, and William Greswell, rector 1837–76. (fn. 175) Hay Sweet Escott, rector 1877–1910, came to the parish on retirement from the post of first headmaster of the Somersetshire College at Bath. He died as rector at the age of 94. (fn. 176) There were 10 regular communicants in 1776. (fn. 177) For most of the 19th century only one service was held at Kilve, alternately morning and afternoon or evening, with communion only five or six times a year. (fn. 178) In 1851 the average general congregation was 60 in the morning and 100 in the afternoon or evening, with 50 Sunday-school pupils. (fn. 179)
There was a light in the parish church, supported in 1548 by a rent charge of 6d. on land in the parish. (fn. 180)
The church of ST. MARY, (fn. 181) in local grey stone, comprises a chancel with north vestry, nave with south porch, and western tower. The vestry, added in memory of William Greswell (d. 1876), (fn. 182) occupies the site of an earlier building formerly linked to the chancel by an arcade, now of only 1½ bay, but suggesting that the chancel itself may have been longer, perhaps to provide a choir for the 14th-century college of chantry priests. The porch is also of the 14th century, but the chancel arch, windows, and nave roof indicate a rebuilding of the nave and chancel in the 15th century, when the addition of a screen (fn. 183) involved the creation of a shallow southern projection to house both the roodloft light and a pulpit. The font is probably 12th century, with a plain bowl and cable-moulded base. A plain window at the west end of the nave lit the gallery added c. 1771. (fn. 184) The tower may have been added as late as c. 1636. Before that time the bells, including one of c. 1500 from the Bristol foundry, (fn. 185) were in a separate, thatched building, open to damage by parishioners. The wardens in 1636 were ordered 'to build up some new room . . . adjoining to the west end of the church'. (fn. 186) There is some medieval glass in the chancel, and a wooden panel in the choir stalls is dated 1687.
The registers, with burials from 1539, baptisms from 1591, and marriages from 1632, have gaps from 1648 to 1665 but are thereafter complete. (fn. 187)
NONCONFORMITY.
In 1782 a house at Putsham was licensed for use by Baptists. (fn. 188) A chapel for Independents was built next to the inn at Putsham in 1807 and was licensed in 1810. (fn. 189) It was served 'for many years' from Nether Stowey or Bridgwater, but was closed in 1888 in order not to oppose the 'earnest and godly' rector. (fn. 190) The chapel was sold in 1912. (fn. 191) Wesleyans, preaching at Putsham in the late 18th century, were enquiring about a preaching house in 1846, but the cause was given up in 1848. (fn. 192)
EDUCATION.
By 1835 there was a day school for 20 children, supported equally by the rector and parents. (fn. 193) In 1847 25 boys and 28 girls attended each weekday and on Sundays, and an additional 23 boys and 19 girls on Sundays, and the schools were said to be principally supported by the rector. (fn. 194) From 1876 children from the parish attended the school at East Quantoxhead, on the road between the two villages, until its closure in 1971. (fn. 195)
CHARITIES FOR THE POOR.
By will dated 1643 Alexander Standfast of Kilve gave a rent charge of £1 on land in Lilstock, one third to be given to the unrelieved poor of Kilve. (fn. 196) Until c. 1820 the charge was regularly paid, but for a decade the tenant refused. (fn. 197) Money was still paid in 1871, but after 1879 the churchwardens, as trustees, were unable to prove their title and payments lapsed. (fn. 198)
James Houndrell, by will dated 1711, gave a sum of either £20 or £30 for 'poor old housekeepers'. (fn. 199) The capital was lent out by the churchwardens, income amounting to £1 in 1786–7. (fn. 200) Capital and interest totalling £50 was invested in 1828 in Bridgwater market tolls, but interest was not paid for some years before 1874, when the market became insolvent. The charity received 7s. 6d. in the £, and invested it in stock. The sum of £1 each was paid to five recipients in 1956. (fn. 201) No distribution was made in 1977. (fn. 202)