Pages 47-49
A History of the County of Somerset: Volume 6, Andersfield, Cannington, and North Petherton Hundreds (Bridgwater and Neighbouring Parishes). Originally published by Victoria County History, London, 1992.
This free content was digitised by double rekeying. All rights reserved.
MANORS.
Alfred d'Epaignes held GOATHURST in 1086 (fn. 1) and the overlordship descended with his lordship of Nether Stowey until 1571 or later. (fn. 2) Walter d'Epaignes held the larger part of the manor in 1086 under his brother Alfred and Ansger held the remainder, both in succession to Alwine, the tenant of the whole in 1066. (fn. 3) In 1166 Hugh son of Malger of Goathurst held a knight's fee. (fn. 4) Roger of Goathurst had succeeded by 1198 and died probably c. 1208. (fn. 5) Another Roger of Goathurst, alive in 1276, (fn. 6) was succeeded by William of Goathurst, probably his son, between 1286 and 1292. (fn. 7) William held the fee in 1303 and his son Roger in 1316. (fn. 8) Roger died c. 1325 (fn. 9) and was followed by Walter of Goathurst who had been succeeded by his son Richard by 1360. (fn. 10) Richard's daughter and heir Joan married John Fittelton who in 1378–9 acquired an estate in Goathurst from John Popham. (fn. 11) Richard was apparently dead by 1382 when the manor was settled on John and Joan and their children. (fn. 12) John had died by 1412 when his son John, a minor, was permitted to marry Isabel, daughter of William Paulet of Beere. John later granted the manor to William. (fn. 13) William Paulet held the fee in 1428, having secured a quitclaim from Joan Fittelton's heirs. (fn. 14) He devised Goathurst in trust for his wife Margaret and after her death to his grandson John Fittelton. (fn. 15) In 1431 William was dead and his trustees were holding the manor. (fn. 16) John Fittelton died in 1435 leaving, as heirs to Goathurst, Joan and Agnes Sydenham, descendants of William of Goathurst. (fn. 17) Both Joan and Agnes released their rights in the manor to William Paulet of Melcombe who granted it to his son Sir John (d. 1437). (fn. 18) In 1456 John's son, also John, settled it on his brother William (d. 1483), (fn. 19) from whom it passed in the direct male line to John (d. 1542), (fn. 20) William (d. 1571), (fn. 21) and Edward Paulet (d. 1580). (fn. 22) Edward's widow Alice married Thomas Jenkins and they held Goathurst until it was settled on Edward's daughter Elizabeth for her marriage to her kinsman Sir George Paulet c. 1584. (fn. 23) In 1612 the manor was given to their son Edward but Sir George (d. 1644) and Elizabeth retained part of the capital messuage, which was settled on Sir George's second wife Mary Trowbridge (d. 1647). (fn. 24) Edward died in 1635 leaving five daughters: Alice, Jane, Anne, Mary, and Katharine. (fn. 25)
Alice died unmarried in 1643 (fn. 26) and the manor descended as four shares which were all eventually sold to the Tyntes, owners of the Halswell estate. (fn. 27) Jane Paulet married John Payne, (fn. 28) who outlived her and was succeeded in 1674 by their son Paulet Payne (d. 1707). The Paynes' quarter share descended with Rhode in North Petherton until 1787 when the lordship was probably settled on Thomas Jeane (d. 1791) and his son John (d. 1798). John's heir in 1798 was his sister Elizabeth who married Robert, son of John Buncombe. (fn. 29) Her son Thomas Jeane Buncombe sold his Goathurst estate to Sir Charles KemeysTynte between 1827 and 1831. (fn. 30) Anne Paulet married first William Bragg (d. 1641) (fn. 31) and secondly Henry Trenchard. By 1662 they had been succeeded by her elder son William Bragg. (fn. 32) William (d. 1713) was succeeded by his grandson William Bragg (d. 1726), whose brother John sold his share of Goathurst to Sir Halswell Tynte in 1730. (fn. 33) Mary Paulet married first John Buncombe and second John Glassbrook, and in 1691 succeeded to the share of her sister Katharine. (fn. 34) Mary died in 1706 having outlived her eldest son John Buncombe and was followed, under the terms of a settlement, by her daughter Millicent Buncombe (d. 1708), wife of Richard Stevens, and then by her younger son Edward Buncombe. (fn. 35) In 1712 Edward settled his share on his son John who sold off what remained of the land with his half share of the lordship to Sir Charles Kemeys-Tynte in 1753. (fn. 36)
The capital messuage was recorded in 1612. (fn. 37) It lay east of the church and was occupied by John and Mary Buncombe in the mid 17th century. (fn. 38) After the sale of their estate to Sir Charles Kemeys-Tynte in 1753 it was leased to John Buncombe for three years. (fn. 39) John died c. 1756 and the house, described as the mansion house or the court house, was occupied by the estate steward and his widow until c. 1810. (fn. 40) In 1811 it became the rectory house. (fn. 41) In the later 20th century it was divided into two dwellings known as Dower House and Church Close.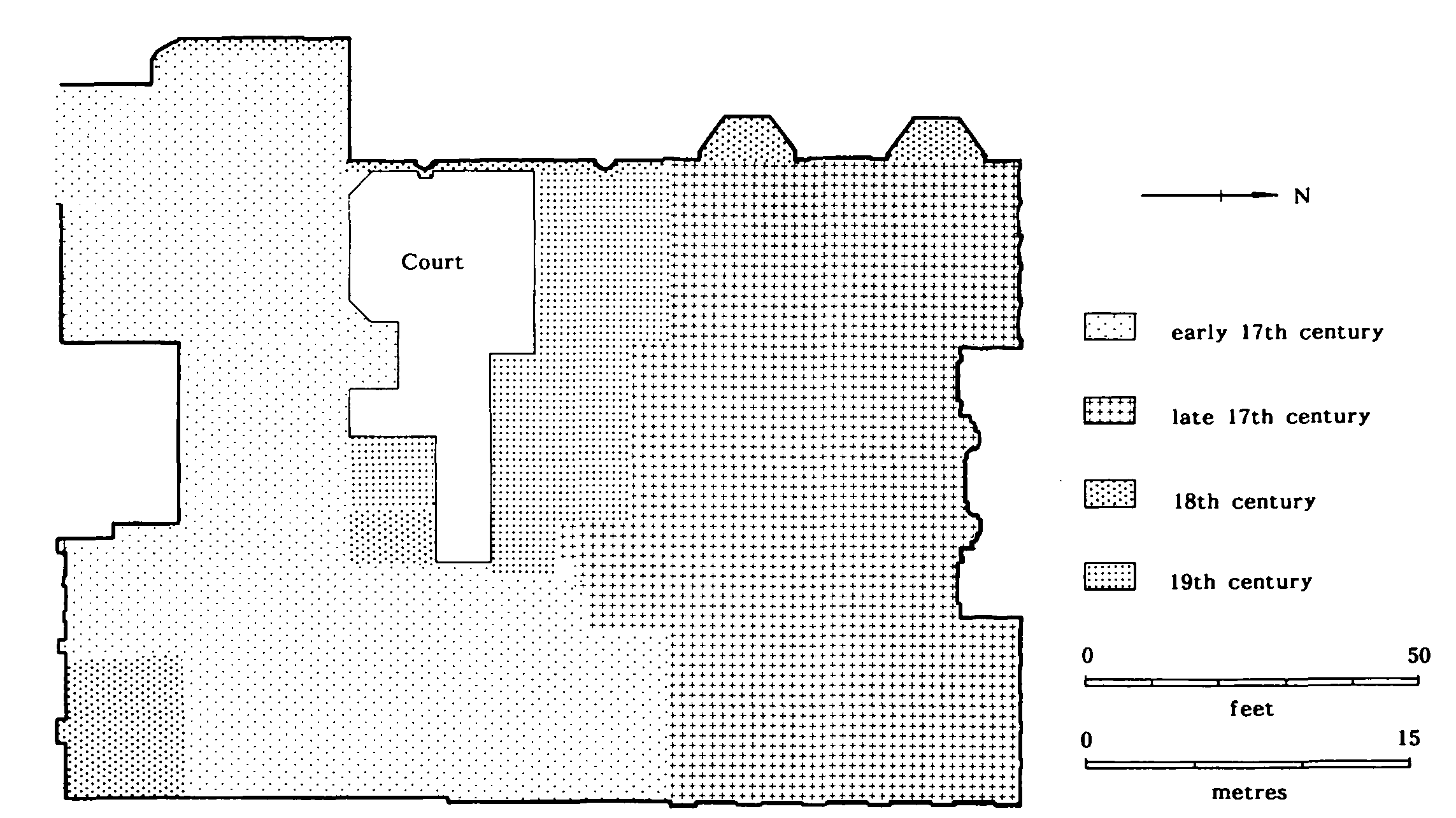 In the 17th century the house appears to have had a central range of one storey with two-storeyed projecting cross wings. The central range has a coved plaster ceiling with a projecting cornice moulding and the elaborate arms of the Paulet family. A two-storeyed block was built between the projections of the cross wings in the 18th century. The northern cross wing was demolished in 1871 when the house was remodelled to designs by C. Knowles of Bridgwater. He left part of the south cross wing and adjacent, possibly 18th-century, service rooms but rebuilt and extended the wing westward to make a new staircase and other rooms. (fn. 42)
Roger Arundel held HALSWELL in 1086 (fn. 43) and the overlordship descended with that of Huish Champflower to Henry de Newburgh. (fn. 44) Henry gave a mesne tenancy to Taunton priory, which was recorded only in 1285. (fn. 45) In 1565 and 1633 the manor was said to be held as of Goathurst. (fn. 46)
Alweard occupied Halswell in 1066, and in 1086 Wido held it of Roger. (fn. 47) Peter of Halswell, who successfully claimed in 1280 to be heir to Ralph son of Robert (d. by 1242–3), in 1285 held Halswell for ¼ knight's fee. (fn. 48) In 1303 William of Halswell held 1/8 knight's fee (fn. 49) and had land in Halswell in 1314 and 1327. (fn. 50) He or a namesake died between 1329 (fn. 51) and 1346, and another William Halswell was recorded in 1394 and may have held the fee in 1428. (fn. 52) Thereafter the descent is obscure but both John and Robert Halswell were recorded in the early 15th century and another Robert later in the century was said to be father of John whose son Nicholas held the manor on his death in 1564. (fn. 53) Nicholas's widow Margery held Halswell until her death in 1573 when she was succeeded by Sir Nicholas, son of her son Robert (d. 1570). (fn. 54) Sir Nicholas (d. 1633) conveyed Halswell to his eldest surviving son Henry in 1628. (fn. 55) Henry died unmarried in 1636 and was followed by his only surviving brother the Revd. Hugh Halswell. (fn. 56) Hugh (d. 1672) appears to have settled Halswell on his daughter Jane (d. 1650), who married John Tynte, and in 1667 the manor was put in trust for her son Halswell Tynte. (fn. 57) Halswell (cr. Bt. 1673) died in 1702 and was succeeded by his eldest surviving son Sir John (d. 1710) (fn. 58) who was followed in turn by his sons Sir Halswell (d. 1730), the Revd. Sir John (d. 1740), and Sir Charles (d. 1785), and by his daughter's child Jane Hassell, wife of John Johnson. Johnson took the name Kemeys-Tynte on his wife's succession. From Jane (d. 1825) the estate passed in the direct male line to Charles Kemeys (d. 1860), Charles John (d. 1882), Charles Kemeys (d. 1891), Halswell Milborne (d. 1899), and Charles T. H. Kemeys-Tynte, in whose favour the barony of Wharton was revived in 1916. Lord Wharton was succeeded in 1934 by his son Charles J. H. Kemeys-Tynte, but he had vested the estate in Hoare's Bank which sold it in 1950 and it was broken up. (fn. 59) Lord Wharton was described as lord of the manor in 1939 but there is no further record of the lordship. (fn. 60)
Halswell Court was mentioned in 1318 when an oratory was licensed there. (fn. 61) Comprising north, east, and south ranges around three sides of a courtyard, it is of rubble, in places rendered, with the north front of ashlar. Probably the central part of the east range was by the mid 17th century the main range of a house which had wings running westwards from both ends and possibly a west range, which is suggested by the cellars beneath the later service court. Building is known to have been undertaken c. 1536 (fn. 62) and lias, freestone, and tile were brought by sea through Bridgwater between 1595 and 1610. (fn. 63) The east, south, and part of the north ranges of the early 17th-century house survive, but the remainder of the north range was replaced in 1689 (fn. 64) by a block containing the principal rooms, possibly designed by William Taylor of London. (fn. 65) The block has a north front of three storeys and seven bays. The three central bays are recessed and the window surrounds and doorcase are in baroque style. The principal staircase has a moulded string and twisted balusters, the secondary stair has heavy turned balusters and ball finials on the newels. Many of the ceilings have coved cornices and ornate plasterwork. (fn. 66)
In the mid 18th century, probably in 1754 to designs by Francis Cartwright of Blandford, (fn. 67) alterations were made to the west front. Canted bays were added to the ground floor of the block of 1689 and a tall screen of rendered brick with ornamental niches was built across the service court. Both court and house were given heavily rusticated doorways. The presumed western range of the earlier house may have been demolished then. During the 18th century a brick-cased staircase was added in the south-east corner of the court and rooms on the first floor of the east wing were panelled and refenestrated. (fn. 68) A servants' hall was built in the court in 1771 (fn. 69) and other minor intrusions were made in the court in the 19th century.
In 1923 the house was severely damaged by fire. The block of 1689 was completely gutted and one outer wall collapsed. (fn. 70) It was rebuilt in 1924–6 under the direction of George and T. S. Vickery of London, (fn. 71) the principal rooms in much the same form as before the fire except that Chinese wallpaper was used in the former chintz room. At about the same time mullioned windows replaced sashes in the older parts of the house. The house was converted into flats in the 1950s; some rooms were divided, but most of them were later reunited.
Extensive 18th-century outbuildings include a symmetrical stable block with gabled cross wings in brick and a castellated central gateway in stone. Facing it is a brick riding school, possibly designed by John Johnson c. 1770, (fn. 72) behind which is a 17th-century circular pigeon house of rubble with a bell-shaped roof. To the north a stepped pyramid was built in the 1740s to cover the main water supply for the house.
The stream ran east of the house, and probably in the later 17th century it was used to create a straight-sided canal beside the house. A formal parterre with terraces, known as the Lawn, was laid out in front of the new north range. Other features of the formal design included a triple gateway leading to a straight wide avenue to the west and other walled enclosures, and two pavilions, one perhaps facing down a walk beside the canal. (fn. 73) The layout, probably put in hand by Sir Halswell (d. 1702) or his son Sir John (d. 1710), was converted to a 'natural' landscape by Sir Charles Kemeys-Tynte who inherited in 1740. By 1756 (fn. 74) the canal had become a gently curving lake bridged towards its southern end and dammed at its northern, the water flowing into a circular pool below the dam. The dam was faced with an arched rustic screen presumably to match the rockwork grotto built at the head of the lake in 1753. The formal terrace was reduced in size in 1769. (fn. 75) The circular pond was filled in before 1842 but the gardens beside the house remained a mixture of formal and informal planting until the mid 20th century.
St. John's hospital, Bridgwater had a holding called Playfield by 1362 and another elsewhere in the parish. (fn. 76)