Pages 5-7
A History of the County of Somerset: Volume 6, Andersfield, Cannington, and North Petherton Hundreds (Bridgwater and Neighbouring Parishes). Originally published by Victoria County History, London, 1992.
This free content was digitised by double rekeying. All rights reserved.
BROOMFIELD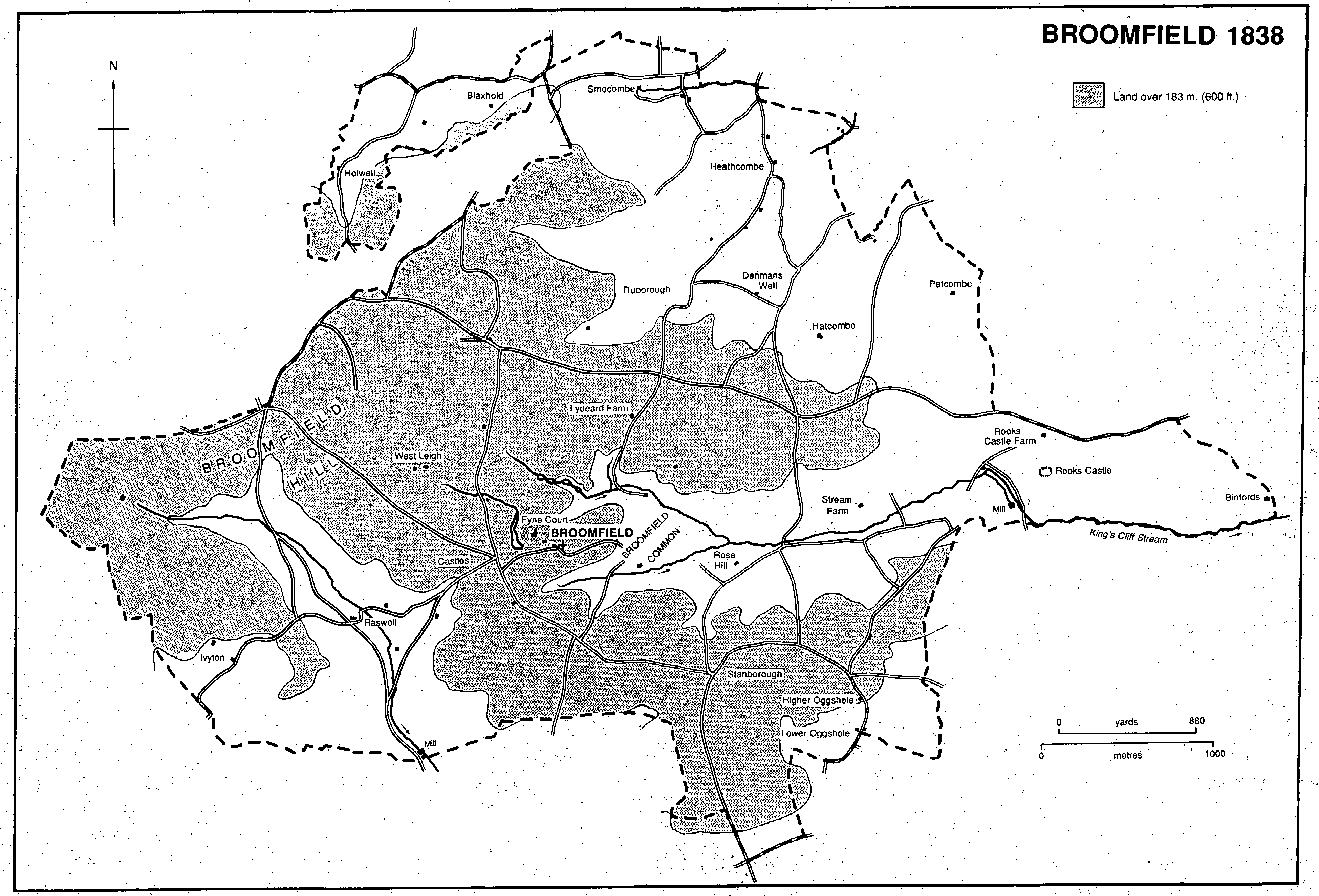 Broomfield parish occupies part of the southeastern end of the Quantocks, where steep-sided, wooded valleys cut deep into the surrounding high ground. Broomfield hamlet, in the southwestern part of the parish, is 7 km. north of Taunton and 6 km. west of North Petherton. The parish is irregularly shaped, the only natural boundary being the King's Cliff stream in the south-east. It measures c. 7.5 km. from east to west at its widest and 5 km. from north to south. In 1838 it was reckoned to be 4,274 a. (fn. 1) In 1881 the almost detached area to the northwest around Holwell and Blaxhold (3 houses and 10 persons) was transferred to Enmore, leaving 4,080 a. (1,651 ha.). (fn. 2) In 1981 minor changes to the boundary with Spaxton, also in the northwest, brought part of Merridge into Broomfield.
Broomfield parish straddles the Quantock ridge where the Devonian Ilfracombe slates lie at 290 m. at Broomfield Hill near its western boundary. South-east of the hill springs feed a stream flowing east, known as the King's Cliff stream at its lower end, forming a long cleft between two spurs which fall gently east and south-east. A similar valley, Nailscombe, runs south from the western end of the parish, and a smaller one, known as Heathcombe, runs from Broomfield Hill. There are narrow strips of valley gravels in Heathcombe and along the King's Cliff stream (fn. 3) and pockets of limestone, notably at Holwell, in the north-west, where a cavern is the only one in Britain to contain anthodites, clusters of aragonite formed where slate and limestone meet. (fn. 4) Limestone and tilestones were quarried at Rooks Castle in the 14th century (fn. 5) and at Nailscombe in the later 16th. In the 17th century there was some illegal quarrying and lime was also sold without leave of the manor court. (fn. 6) There was a limekiln in 1705, possibly near Heathcombe, and others at Holwell by 1838. (fn. 7) Iron and copper ore were mined in the 19th century at Wort wood and near Raswell Farm. (fn. 8)
The parish is rich in prehistoric remains from the Mesolithic period onwards. There are Iron Age hillforts at Ruborough, Rooks Castle, and Castles; (fn. 9) land known as Stanborough, in the south-east of the parish, may indicate a fourth site. (fn. 10) Broomfield parish seems to have been partly or wholly in the pre-Conquest Quantock forest. (fn. 11) The names Kingslands and Kingshill indicate a royal connexion (fn. 12) and still in the 13th century there was a royal piggery (porcheria) at Rooks Castle, (fn. 13) which by the early 16th century had been transformed into the common pound for the county. (fn. 14) The estate at Denesmodeswelle had formed part of the royal manor of Somerton before 1086. (fn. 15) Kingshill paid rent to Somerton until 1204, (fn. 16) Oggshole was a member of Somerton manor in 1212, (fn. 17) Rooks Castle remained a Crown holding until the 17th century, (fn. 18) and Melcombe was in the 16th century part of Creech manor, itself royal demesne in 1086. (fn. 19) Most of these estates lay to the south and east of the parish and adjoining North Petherton, where a royal park continued until the 16th century. (fn. 20)
The medieval settlement pattern was of scattered valley farmsteads, their names often incorporating the elements 'combe' or 'hole', as in Heathcombe, Nailscombe, Holwell, and Oggshole. The parish church, Fyne Court, the former school, and a few cottages constitute the hamlet of Broomfield. Many of the valley farmsteads were built or rebuilt in the 16th and 17th centuries, (fn. 21) and cottages were built on commons and roadside wastes, often illegally. (fn. 22) A house at Patcombe was built in the Palladian style for the bailiff of Halswell in 1771 but in 1861 was used as workers' cottages. (fn. 23) Broomfield Hall, which replaced a substantial house standing in 1664, was built in 1803 and is of five bays and three storeys in brick. (fn. 24) Since the mid 19th century many of the cottages have been abandoned, and the hamlets of Ivyton and Westleigh have shrunk to single farmsteads. (fn. 25)
The roads in the parish mainly follow spurs and ridges, only a few descending into the wider combes. The principal routes, linking Bishop's Lydeard with Bridgwater (fn. 26) and North Petherton, and Taunton with Nether Stowey, the latter only a halter path in 1547, (fn. 27) crossed below Broomfield Hill.
There is no evidence of open-field farming. Several large downland areas were divided into small fields probably at the end of the Middle Ages (fn. 28) and at least two farmstead sites at Binfords and Duckspool have remnants of infields nearby. (fn. 29) Before the 19th century there was common pasture at Broomfield Hill and Buncombe in the west and at Broomfield Common east of the church, and common woodland at Wood Common, and probably also at Broomfield Hill. (fn. 30) Common land had shrunk by 1838 but still covered 303 a. at Broomfield Hill and Broomfield Common. (fn. 31) Some common land remained in 1988, but few inhabitants had common rights.
In 1086 Broomfield and Blaxhold between them had woodland reckoned at a square league and 60 a., (fn. 32) and farm and field names throughout the parish indicate the extent of former woodland. In 1580 there were trees or underwood on Buncombe Hill, Broomfield Common, and Lyeforde, and 'great woods' called East and West Broomfield and West Churchmans woods. Some woodland had been cleared by 1653 (fn. 33) and some more at Patcombe and Rooks Castle in the mid 18th century, (fn. 34) but in the earlier 19th century trees were planted at Kingshill, Priors Down, and elsewhere. In 1838 there were c. 500 a. of woodland, mainly coppice, at Wort wood, near Broomfield church, Ivyton, Binfords, and Rooks Castle. (fn. 35) In 1905 there were 589 a. of woodland in the parish; by that date Priors Down and Kingshill had been cleared but Buncombe Hill and Broomfield Common were well covered. (fn. 36) The parish was extensively wooded in 1988, some woodland being managed by the Forestry Commission. John de la Linde, lord of Broomfield manor, received a grant of free warren in 1259 and there may have been a warren on Ivyton manor. (fn. 37)
There was an inn (hospicium) in 1407 with brewing equipment. (fn. 38) No licensed premises are recorded but a house called the Travellers Rest, later Home Farm, was said to have sold cider and there may have been a public house at Raswell called the Carnarvon Arms. (fn. 39)
The estimated population was 330 in 1791 (fn. 40) and 369 in 1801. Numbers rose by over a third between 1811 and 1821 to 489 and then for forty years remained stable, reaching a peak of 525 in 1861. After 1871 the total fell steadily to 342 in 1901 and then more sharply in the mid 20th century to 199 in 1981. (fn. 41)
Twenty-three men were fined for complicity in the 1497 rebellion, (fn. 42) and five were punished for their involvement in the Monmouth rebellion, three with transportation to the West Indies. (fn. 43) Andrew Crosse (d. 1855) carried out experiments on electro-crystallization in and around Fyne Court. (fn. 44)