Pages 61-64
A History of the County of Somerset: Volume 6, Andersfield, Cannington, and North Petherton Hundreds (Bridgwater and Neighbouring Parishes). Originally published by Victoria County History, London, 1992.
This free content was digitised by double rekeying. All rights reserved.
CHURCH.
Lyng church, standing on the defences of the Saxon burh of East Lyng, (fn. 1) was described as a chapel in 1291, (fn. 2) presumably dependent upon the monastic church of Athelney. A vicarage was ordained by 1348. (fn. 3) The living was held with Burrowbridge between 1852 and 1872 (fn. 4) and with Durston between 1970 and 1977. In 1978 it became part of the united benefice of Stoke St. Gregory with Burrowbridge and Lyng. (fn. 5)
Until the Dissolution the patronage belonged to Athelney abbey. (fn. 6) The Crown presented thereafter until 1579 when Sir Christopher Hatton had a grant of the rectory and advowson. (fn. 7) The patronage descended with the rectory, (fn. 8) and the executors of Richard Meade-King have the right to present on the first turn in every three to the united benefice. (fn. 9)
In 1291 the chapel was valued at £5, (fn. 10) and the vicarage in 1445 at £5 6s. 8d. (fn. 11) The net value was £10 8s. 4d. in 1535 and comprised a pension of £6 from Athelney abbey and the remainder from tithes and offerings. (fn. 12) The reputed value was £40 c. 1668, (fn. 13) but the living was described by the incumbent in 1705 as 'a very poor vicarage worth c. £15'. (fn. 14) A gift of £200 from Sir Thomas Wroth and Mr. G. Gill in 1719 was matched by Queen Anne's Bounty, (fn. 15) giving an additional £16 a year by 1725. (fn. 16) Further augmentations from the patron and Mrs. Horner's trustees in 1808 totalling £150, and from the patron, the vicar, and Mrs. Pincombe's trustees in 1810 of £200, all matched by Queen Anne's Bounty, (fn. 17) gave an average income of £81 c. 1831. (fn. 18) In 1838 the vicar was awarded a rent charge of £41 in lieu of moduses on unmown pastures and of tithes of allotments in North moor in North Petherton parish belonging to tenements in Lyng. (fn. 19) In 1923 the value was increased by £9 a year from the Ecclesiastical Commissioners and the Broadmead Trust. (fn. 20)
A garden and yard formed the glebe in the early 17th century. (fn. 21) By 1838 there were nearly 27 a. of glebe, presumably bought with augmentations, and by 1889 over 31 a., small areas of which were in the parishes of North Petherton and St. Mary's, Taunton. (fn. 22) A small plot opposite the church, possibly the site of the former vicarage house, was sold for a burial ground in 1953. (fn. 23) In 1978 there were 30 a. of glebe. (fn. 24)
In 1638 the vicarage house comprised a hall and a buttery with two rooms above and an adjoining barn and stall. (fn. 25) By 1705 the house had been demolished, (fn. 26) and there was no residence for the incumbent until 1872 when a house was built east of the churchyard. It was exchanged in 1969 for a bungalow called 'Three Ways', in 1985 known as 'Fairburn', at the eastern end of the village. The bungalow was sold in 1978. (fn. 27)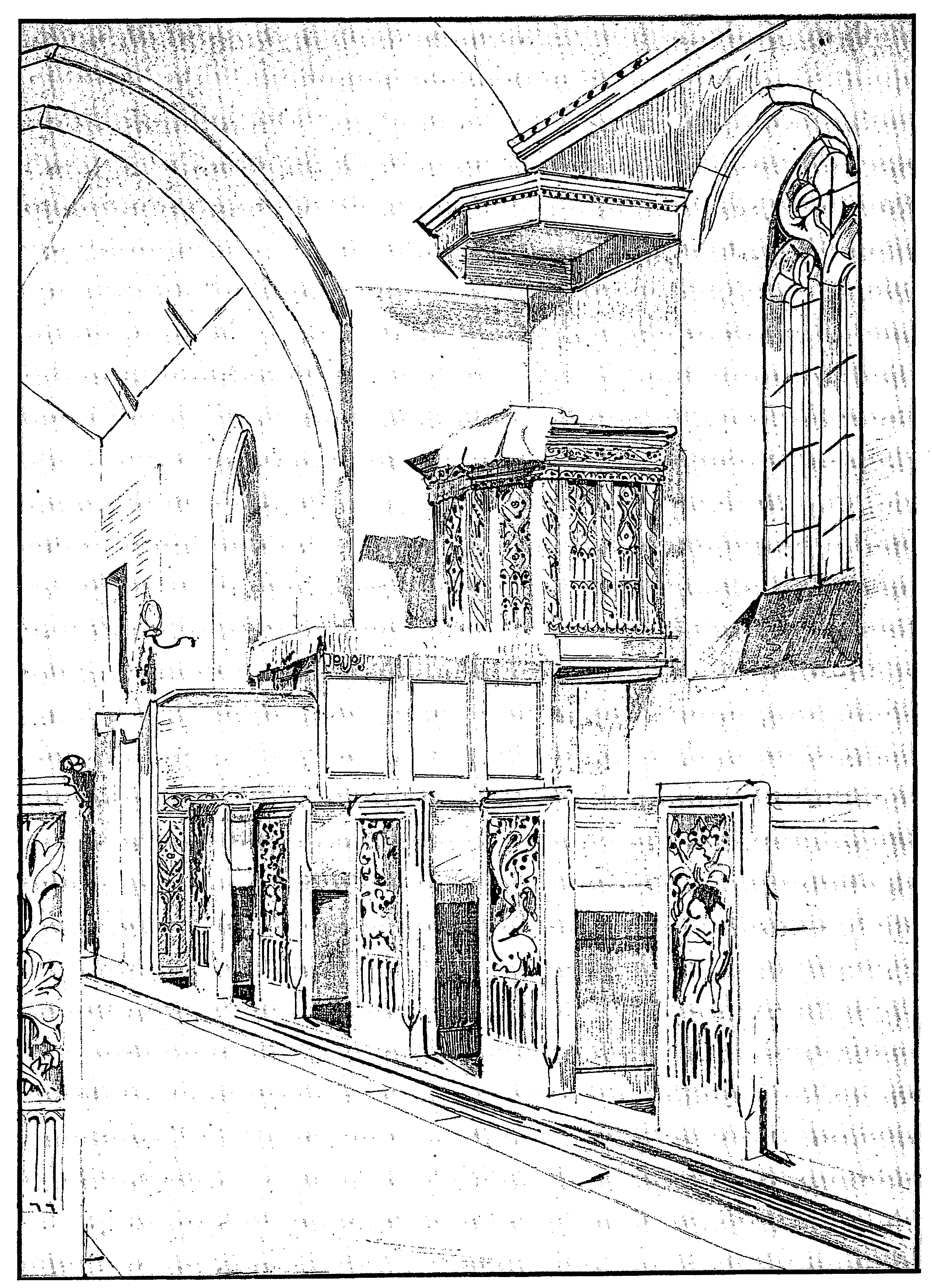 A figure of St. Catherine, a light of St. Bartholomew, and a rood were objects of devotion in the church in the 1530s. (fn. 28) The vicar was deprived in 1554 for being married. (fn. 29) The parish was commonly served by curates in the later 16th century, (fn. 30) and vicars in the early 17th also served either St. Michaelchurch or Durston. (fn. 31) Hatton Balch, vicar from 1621 to 1636 or later, was several times complained of for failure to preach and teach. (fn. 32) Curates were responsible for the parish by the later 17th century, one serving it with St. Michaelchurch from 1689, another with Broomfield from 1763. (fn. 33) During the 18th century communion was celebrated three or four times a year, (fn. 34) and by 1776 there were 12 communicants. (fn. 35) Aaron Foster, vicar 1812-15, (fn. 36) lived at Kingston St. Mary, where he was vicar. His curate held a service at Lyng each Sunday, alternately morning and evening. Several of the curates lived at Creech St. Michael and also served Durston, including George Baring, 1813- 15, (fn. 37) who personally bought food for the poor in 1815, (fn. 38) and William Henry Havergal, 1816-20, who later composed sacred music. (fn. 39) Other curates lived in Thurloxton or West Monkton; (fn. 40) only one resided in Lyng. (fn. 41) The parish was in 1846-7 said to have been in 'a wild and neglected state' because of non-resident clergy. (fn. 42) From 1846 the curate was the resident incumbent of Burrowbridge. (fn. 43) Services were held once each Sunday in 1870, with communion four times a year. (fn. 44) From 1977 the church was in the pastoral care of a non-stipendiary minister living in North Curry. (fn. 45)
By 1684 a church house was being maintained by the parish, retaining that name until 1740 but probably serving by 1725 as a poorhouse. (fn. 46) It stood opposite the church beside the site of the former vicarage house, and was later replaced by the Sunday-school room. (fn. 47)
The church of ST. BARTHOLOMEW, so dedicated by 1531, (fn. 48) comprises a chancel, a nave with north porch and south vestry, and a west tower. The nave windows, the piscina and sedilia in the sanctuary, and the window above them date from the earlier 14th century, together with the chancel arch, its western side left plain perhaps to accommodate a tympanum board. The remaining windows in the chancel were replaced in the 15th century. The ornate tower, added c. 1500, is of lias with Ham stone dressings. A screen and rood loft were introduced in the 15th century, involving the addition of a large stair and the creation of a chapel on the south side of the nave. The plain lower sections of the screen survive. The ornate pulpit also dates from c. 1500. Probably from the early 17th century it formed part of a three-decker arrangement, complete with tester. (fn. 49) The clerk's desk and choir stalls incorporate medieval work. The carved bench ends include a wide variety of medieval and Renaissance motifs; one is dated 1614, but most belong to the early 16th century. (fn. 50) The plain font is of the 12th century, and there is a dug-out chest. There are fragments of medieval glass in the chancel, preserved when glass by Michael O'Connor was inserted in 1870. (fn. 51) A small area of decorated medieval plaster also survives in the chancel. The former south porch seems to have been rebuilt as a vestry c. 1884. (fn. 52)
There are six bells, including one by George Purdue (1612) and two by Thomas Wroth (1721, 1725). Another by George Purdue (1609), was replaced in 1969. (fn. 53) Two bells from Burrow chapel, dated 1607 and 1625, were at Lyng in the later 18th century. (fn. 54) The plate includes a cup and cover of 1691. (fn. 55) The registers date from 1691, the earliest entries transcribed in 1716 from an earlier register, parts of which were 'through negligence obliterated and torn out'. (fn. 56)
St. Michael's chapel on Burrow Mump was described in 1548 as a free chapel but was treated as a chantry. (fn. 57) It was let by the Crown until 1631-2 when it was granted to Christopher Favell and others. (fn. 58) It continued in use for worship, (fn. 59) and was in 1645 regarded as an independent church. Continued use of the church is suggested by rebuilding c. 1663 (fn. 60) and c. 1793 (fn. 61) but it was described as in ruins by 1733 (fn. 62) and was probably never finished. (fn. 63) It was replaced in 1836-7 by a new church at the foot of the hill which became the parish church of Burrowbridge in 1840. (fn. 64)
The living of Burrowbridge, endowed by local subscription, was valued at £60 in 1857, (fn. 65) and was increased in 1859, 1874, and 1875 by grants from the Ecclesiastical Commissioners. Two pieces of land, amounting to just over 4 a., were given in 1874. (fn. 66) A vicarage house, built c. 1840 to designs by Richard Carver, was sold c. 1976. (fn. 67) Between 1960 and 1975 the benefice was held with Northmoor Green and from 1978 formed part of the united benefice of Stoke St. Gregory with Burrowbridge and Lyng. (fn. 68) In 1870 two sermons were preached each Sunday and communion was celebrated every six weeks. (fn. 69)
The chapel of ST. MICHAEL on Burrow Mump, probably so dedicated by the later Middle Ages, (fn. 70) and certainly by 1548, (fn. 71) appears by the 18th century to have comprised a chancel, a central tower with a south transeptal chapel and octagonal stair turret, and a nave. (fn. 72) Excavation of the site suggested the previous existence of a chapel on the north side of the chancel and of a crypt outside the north wall of the nave. (fn. 73) The building seems to have been of the late 15th or the earlier 16th century. It was replaced c. 1793 by a single-cell structure with a porch in the centre of its south wall and a west tower, the remains of which still stand, owned since 1946 by the National Trust. (fn. 74)
The church of ST. MICHAEL in Burrowbridge village, originally comprising a small chancel, a wide nave with a west gallery, and a western porch with vestries and bellcot, was designed in 13th-century style by Richard Carver and built of coursed blue lias with Ham stone dressings. In 1888 a stone chancel arch and two side arches were erected at the east end of the nave to give the effect of a Tractarian chancel with north and south chapels. (fn. 75)
There is one bell. The plate was given in 1838, and the registers begin in the same year.