Pages 76-85
A History of the County of Somerset: Volume 6, Andersfield, Cannington, and North Petherton Hundreds (Bridgwater and Neighbouring Parishes). Originally published by Victoria County History, London, 1992.
This free content was digitised by double rekeying. All rights reserved.
MANORS AND OTHER ESTATES.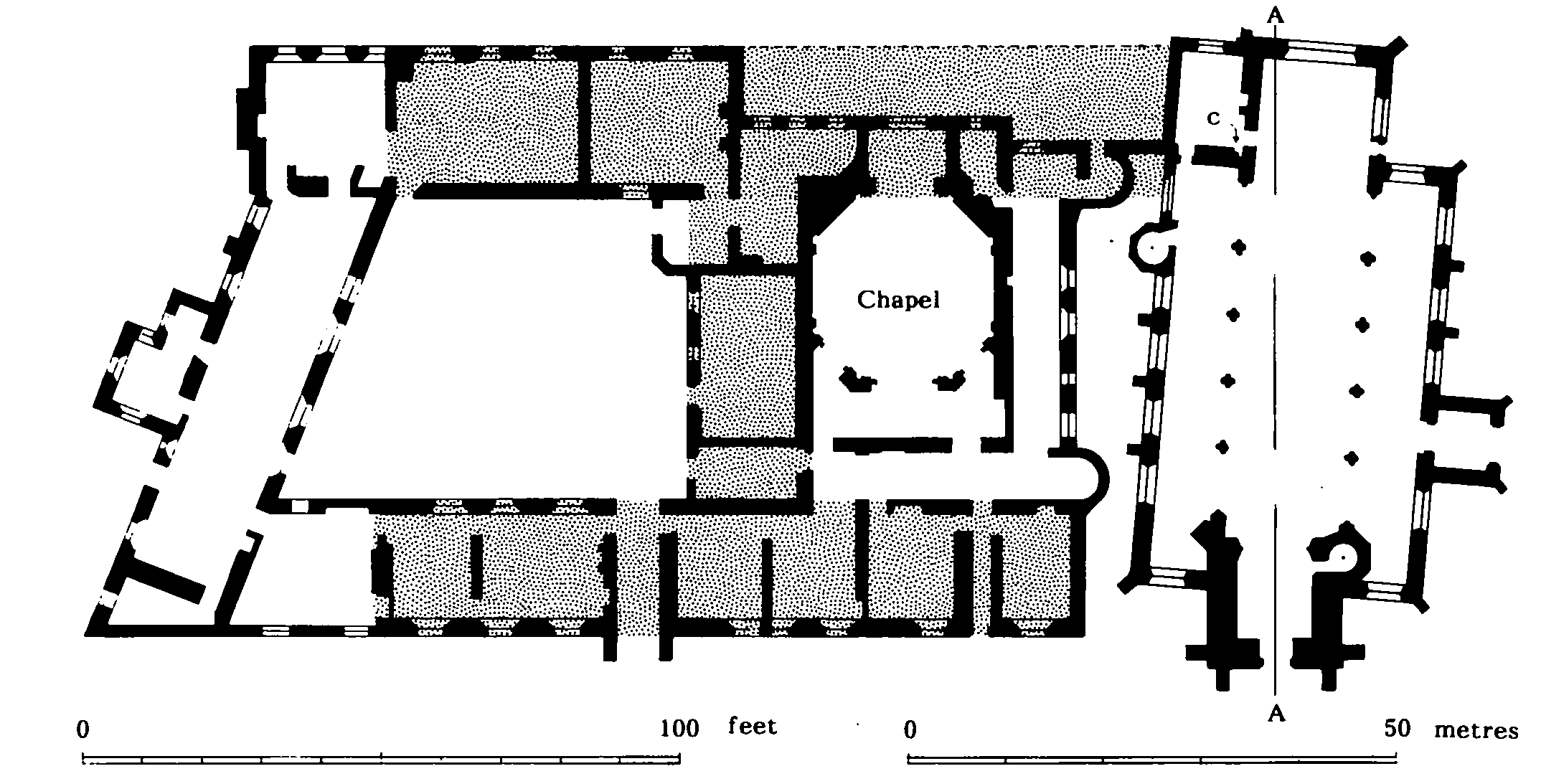 King Alfred (d. 899) devised CANNINGTON to his heir Edward the Elder. (fn. 1) In 1066 it was a royal manor and by 1086 it had been increased in size by land formerly belonging to Otterhampton. (fn. 2) By the 12th century Cannington was held, like Stogursey, by the Curci family, (fn. 3) and c. 1138 Robert de Curci (fn. 4) gave part of his estate to found a house of Benedictine nuns at Cannington. By the early 16th century the nuns' estate included lands round the priory, the manor, (fn. 5) and the rectory and vicarage. (fn. 6) When the priory was dissolved in 1536 some land had been let to (Sir) Edward Rogers for 21 years. (fn. 7) In 1539 the Crown granted the site of the nunnery, the manor, rectory, and advowson and the former priory lands in the parish and elsewhere to Rogers in tail male at fee farm. (fn. 8)
Rogers (d. 1567) was succeeded in the direct male line by Sir George (d. 1582), (fn. 9) Edward (d. 1627), (fn. 10) Sir Francis (d. 1638), and Hugh Rogers (d. 1653). (fn. 11) From Hugh the estate passed under the entail to his uncle Henry Rogers (d. 1672). (fn. 12) Henry left no children and Cannington reverted to the Crown, which had already let the reversion in 1661 and the future rent in 1666, (fn. 13) but a few months before Rogers died the king gave the reversion to Thomas Clifford, Baron Clifford (d. 1673). (fn. 14) Thomas may have been followed by his widow Elizabeth (d. 1709). Their son Hugh died in 1730 and the manor descended to successive Barons Clifford, namely Hugh (d. 1732), Hugh (d. 1783), Hugh (d. 1793), Charles (d. 1831), Hugh (d. 1858), Charles (d. 1880), and Lewis Clifford (d. 1916). William, the 10th baron, leased Cannington Court in 1919 and Court farm in 1920 to Somerset county council for a college of agriculture. Court farm was sold to the council in 1926. Lord Clifford was succeeded in 1943 by his son Charles. (fn. 15) Lordship was retained by the Cliffords with Park farm and probably remains with Thomas Hugh, 14th Baron Clifford.
Cannington Court, formerly Court House, originated in the remains of the priory and has a twelve-bayed, three-storeyed west front of sandstone rubble except for the top storey which is of brick with keyed oval openings. (fn. 16) The buildings of the nunnery lay immediately to the north of the parish church to which they were linked before their post-Dissolution conversion. Whether the 12th-century church abutted the south side of the cloister or was divided from it by an open passage is not now clear but that appears to have been the arrangement after the rebuilding of the church on a new alignment in the later 15th century. The eastern claustral range has been demolished, although the outline of its gable can be seen on the church, but the western and northern ranges survive in a much-altered form. The north range, presumably the refectory, has an arch-braced roof which was formerly open. On the first floor of the west range there is a much restored and reset early 16th-century fireplace with a frieze of quatrefoiled panels enclosing shields and the initials of the Cliffords. The west range continues northwards and with the east and north ranges, which both appear to be of medieval origin, it now encloses a second courtyard. The north range is not aligned with the other buildings and it was not originally joined to the west range.
The conversion into a house for the Rogers family was centred on a first-floor hall in the northern half of the east range. There were service rooms to the north and other principal rooms on the first floor of the central and western ranges. (fn. 17) The northern court was entered by a gateway with a two-storeyed porch in limestone ashlar. Soon after the house passed to them the lords Clifford made further alterations, (fn. 18) extending the west range northwards and adding a second floor to the west range and porch. At its southern end the added floor is only a façade.
The description of the house as 'a ruin' in the 1790s (fn. 19) may relate to the demolition of the southern end of the east range. A chapel in existence by 1776 was rebuilt by John Peniston in 1830. It is now a lecture room known as the Clifford Hall. The room is octagonal, with a domed and coffered ceiling rising to an octagonal lantern, and two large Corinthian columns flank the opening to the former chancel. The octagonal nave was probably constructed within the walls of the earlier chapel. The most prominent addition arising from the conversion of the buildings to school use is a block of singlestoreyed cloakrooms in the north courtyard. (fn. 20)
The monastic precinct was bounded by a buttressed wall which survives as the garden wall adjacent to the road on the east and north. To the south-west later stables incorporate a buttressed wall which is on the presumed boundary of the precinct. The water supply was reputedly by a conduit controlled by a sluice at the mill. (fn. 21)
CANNINGTON RECTORY, which formed part of the endowment of the priory, comprised in the 18th century a tithe barn, 13½ a. of land, and the great tithes. (fn. 22) In 1839 the tithes were commuted for a rent charge of £965. (fn. 23)
Candetone, held by Saemer in 1066 and by Robert of John the usher in 1086, may have been at Cannington. (fn. 24)
Ralph le Power apparently had land in the 12th century at KNAPLOCK, perhaps part of the Curcis' estate. Ralph's sons Robert and William confirmed rent from Knaplock to Stogursey priory c. 1180; Robert was followed by his sons John and Robert. (fn. 25) By 1170 the Powers may have had as tenant William of Knaplock, who was followed by perhaps three namesakes. (fn. 26) About 1280 the wardship of William of Knaplock's son Henry was given to Richard Wason. The land passed to the Wason family. Richard was dead by 1305 leaving a son Philip. (fn. 27) William Wason and his wife Joan probably held the estate in 1329 (fn. 28) and may have been succeeded by another William (d. by 1431). (fn. 29) In 1449 John Assheford did fealty for Knaplock in right of his wife Margaret, William's daughter, who was still alive in 1472. (fn. 30) In 1543 John Appleton appears to have held Knaplock, possibly in succession to a Mr. Mone. (fn. 31) In 1593 the estate was shared between one Perceval, possibly George, and one Bowyer, possibly John, but in 1599 was held by John Pyne. (fn. 32) Lewis Pyne, son and heir of Philip (d. 1600), died in possession in 1608 when his heir was his brother Edward, a minor. (fn. 33) Edward (fl. c. 1640) had been succeeded by 1700 by another Edward, whose son John sold Knaplock to Robert Evered of Farm, Spaxton, in 1736. (fn. 34) Knaplock descended with Farm until c. 1808 when it was acquired by John Evered and was held with his Otterhampton estates. (fn. 35) Knaplock Farm is a rendered L-shaped house with a two-storeyed, three-bayed main range and a lower kitchen wing behind. The rent given to Stogursey priory in the 12th century was still paid to Eton College in 1773. (fn. 36)
The part of Cannington retained by the Curci family after their foundation of the priory was known by the early 13th century as RODWAY or Radway, and later as RODWAY FITZPAYN. (fn. 37) It was held in chief of the Crown in 1284-5 and 1638. (fn. 38) Ownership descended with Stogursey until 1541 when the king granted it for life to Edward Rogers. (fn. 39) The grant was renewed in 1545 in tail male. (fn. 40) Possession was temporarily lost in 1553 because of Rogers's involvement in Sir Thomas Wyatt's rebellion, when the grant in fee tail was ignored, (fn. 41) but had been secured by 1567. (fn. 42) The manor was thereafter held with Cannington manor, and lordship was last recorded in 1858. (fn. 43) Rodway farm formed part of the estate of the Somerset College of Agriculture from 1946. (fn. 44)
The capital messuage was let in 1301 (fn. 45) and in the 15th (fn. 46) and 18th centuries. (fn. 47) Park Farm, formerly Higher Rodway, was described as Rodway Manor House c. 1805. (fn. 48)
BRYMORE manor was held of Rodway for 1/10 fee in the 15th century (fn. 49) and quit rent was paid to Rodway until 1604 or later. (fn. 50) Geoffrey of Brymore was recorded c. 1200 (fn. 51) and ownership is said to have passed to the Pym family either by purchase or through the marraige of Ellis Pym to Maud, Geoffrey of Brymore's daughter. (fn. 52) In 1299 Ellis's eldest son Roger granted Brymore to his father Ellis for life with remainder to himself and his heirs. (fn. 53) Ellis was probably dead by 1318 (fn. 54) and his son Roger (d. c. 1349) was succeeded by his son Henry (fl. 1359). (fn. 55) Brymore then descended in the direct male line to Philip (d. c. 1413), Roger (d. 1431), Philip (d. 1471), (fn. 56) Roger (d. 1486), (fn. 57) Alexander (d. 1504), Reginald (d. 1527), (fn. 58) Erasmus (d. 1579), Alexander (d. 1585), (fn. 59) John, the parliamentarian (d. 1643), and Alexander who died without issue c. 1660. (fn. 60) Alexander's brother, Sir Charles (cr. Bt. 1663, d. 1671), was followed by his children Charles, murdered in 1688, and Mary, wife of Sir Thomas Hales, Bt. (fn. 61)
Mary (d. 1729) was followed by her son Sir Thomas (d. 1762). His son Sir Thomas Pym Hales died without male issue in 1773 and his brother Sir Philip succeeded to Brymore. (fn. 62) Sir Philip died in 1824 leaving a daughter Elizabeth who died in 1836. Brymore then passed to Philip Pleydell Bouverie, great-grandson of Sir Thomas Hales (d. 1762). Philip (d. 1872) was followed by his son Philip (d. 1890) and his grandson Henry (d. 1925). Henry left the estate to his nephew Philip Hales Pleydell Bouverie who sold it in 1928. (fn. 63) Lordship was last recorded in 1814. (fn. 64)
A house was recorded in 1299 (fn. 65) and 1413. (fn. 66) It was described as a capital messuage in 1579 (fn. 67) but during the 17th and 18th centuries was usually let as a farmhouse, (fn. 68) the owners reserving the use of certain rooms and stables. (fn. 69) The great storm of 1703 destroyed the dovecot and damaged the house. (fn. 70) In the later 18th century Sir Philip Hales took up residence at Brymore and probably rebuilt the house, except for the porch. In 1836 the house contained about thirty rooms with cellars and outhouses. (fn. 71) The Bouveries added to the house considerably and in 1892 the two-storeyed, 19th-century end was enlarged, with the addition of a third floor, and was redesigned by Basil Cottam to provide twelve bedrooms, servants' hall, and service rooms. In 1928 the house contained 28 bedrooms, and the grounds included tennis and croquet lawns, two lodges, and 250 feet of heated glasshouses. (fn. 72) Gordon Cecil Hart bought the house but sold it to Richard Penoyzen in 1936. In 1951 Penoyzen sold Brymore House to Somerset county council which opened it as a technical school of agriculture. (fn. 73)
The south front of Brymore House has a porch of c. 1500, much altered; a new entrance arch was inserted in the 19th century and the porch may have been restored in 1896. (fn. 74) To the west are five roughcast bays of the later 18th century, probably built in two stages; to the east are three bays of rubble with brick dressings of the later 19th century. There are extensive walled kitchen gardens, one section dated 1753, a late 18th-century orangery, and a canal which was built with an island between 1775 and 1814. (fn. 75) There is a large late 19th-century stable block.
PUTNELL, was held between the late 15th and the early 17th century of Rodway manor. (fn. 76) Probably half the estate was said to have been divided between the two daughters of John of Eston and his wife Denise, possibly in the 13th century. One apparently died childless and Putnell was divided between the other's daughters, Denise wife of William Furtherede and Isabel wife of Walter Galhampton. The children of Denise's son John died without issue and her share of Putnell passed to her daughter Nichole, who married Walter's brother Robert Galhampton; Robert was followed by John, John's son John, and the latter's son John. Isabel was succeeded by her son John and his son Thomas. Thomas's son John was followed by his son, also John. (fn. 77) One John Galhampton was dead by 1473 leaving a daughter Rose whose share was held in 1486 by Richard Symon. (fn. 78) Possibly held by Robert Brent (d. 1508), (fn. 79) it was owned by Robert Broughton in 1604, perhaps by purchase from James Peppin, and may have descended with Sandford Bickfold in Wembdon. (fn. 80) Another John Galhampton in 1486 held land at Putnell which had passed to David Galhampton by 1604. (fn. 81) By the later 18th century both estates had probably been acquired by Lord Clifford and absorbed into his Rodway estate. (fn. 82)
The other half share of Putnell was probably held by John Ivythorne in 1333, possibly in succession to William son of Walter of Ivythorne. (fn. 83) It had passed to another John Ivythorne by 1382 and to that John's son Richard by 1422. (fn. 84) Richard was succeeded by Elizabeth, probably his daughter, wife of John Marshall (d. 1471) and mother of John Marshall who was holding land at Putnell in 1486. (fn. 85) The estate may have been held by William Edwards (d. 1547) and his son John, by a Mr. Edwards in 1604, (fn. 86) and by Katharine Edwards in 1641. (fn. 87) Putnell farm was held by the Coles family in the later 18th and the 19th century. (fn. 88)
WITHIEL manor was held of Rodway manor in 1486 and 1538. (fn. 89) In the mid 13th century William of Knaplock released his claim to land in Withiel given by his son Hugh to Hugh le Lyf, clerk. (fn. 90) He or a namesake settled estates in Rodway on Walter le Lyf in 1288. (fn. 91) Walter was dead by 1327 when Lucy le Lyf, probably his widow, held estates in Cannington. (fn. 92) They were followed by Godfrey le Lyf and his son Richard (d. by 1401). (fn. 93) Richard's widow Margery retained a life interest in Withiel and Walter Tilley, husband of Richard's daughter Joan, held land there in 1412. (fn. 94) When Joan died in 1426 Withiel passed to her younger son Leonard Tilley (d. by 1486) who was succeeded by his son Thomas (d. 1536). (fn. 95) Thomas's son William (d. 1534) (fn. 96) left a son James (d. 1557), (fn. 97) whose son George (d. 1590) had two daughters Anne wife of William Walton and Elizabeth who married Edward Parham. (fn. 98) In 1602 Elizabeth sold her half to Edmund Bowyer. (fn. 99) Anne sold her share in 1604 to Edward Rogers who later bought the other half from Bowyer. (fn. 100)
The manor descended in the Rogers family to Henry (d. 1672), (fn. 101) who was succeeded by Alexander Popham, son of Helena (d. 1668), daughter of Henry's nephew Hugh Rogers. The manor probably descended with Chadmead in North Petherton until 1720 when it was sold to John Eyre whose son, also John, sold the lordship to Jeremiah Dewdney in 1752. (fn. 102) Lordship was last recorded in 1753 (fn. 103) but the lands had been sold c. 1730 to John Ruscombe. (fn. 104) Ruscombe was dead by 1766 and c. 1775 Lord Clifford held Withiel. (fn. 105) By 1784 it had been acquired by Sir Philip Hales, possibly by exchange, and was absorbed into the Brymore estate. (fn. 106)
The capital messuage of Withiel was let to Hugh Biccombe, son-in-law of Thomas Tilley, in the 1530s. (fn. 107) A cottage, called the Bakehouse, was the only house recorded in 1766. (fn. 108) The capital messuage had probably stood near the barton east of Brymore House, (fn. 109) where a new house, Withiel Farm, was built in the late 19th century as the farmhouse for the Brymore estate. (fn. 110)
FORDE, later ASHFORD, was granted to Adam of Bernakes in 1227 by Henry de la Roche and his wife Basilia and Adam of Tappelegh to be held of Hamelin of Tappelegh and his wife Beatrice and her heirs. (fn. 111) Adam appears to have given it to Walter of Forde, whose niece Aubrey, wife of Dorion of Stogursey, conveyed Forde to Hugh Fichet of Spaxton. (fn. 112) Another of Walter's heirs, Gunilla, with her husband Stephen de la Gulie, sold land there to Hugh Fichet. (fn. 113) Hugh also obtained from Philip de Columbers and Mariot de Bonville, widow of Adam of Bernakes, a release of rent from Forde. (fn. 114) Forde appears to have descended in the Fichet family with Spaxton manor until 1431 or later. (fn. 115)
In 1567 Giles Milburne of Somerton sold Ashford to Robert Halswell, in whose family it descended until 1631 when it was sold to the Revd. Benjamin Vaughan. (fn. 116) By 1709 it belonged to a Mr. Sindercombe, the owner in 1751, but by 1766 to Jonas Coles whose son, also Jonas, owned it in 1784. (fn. 117) James Merryman owned the estate in the 1830s and his widow Catherine in 1861 but it was later absorbed into Brymore. (fn. 118)
Ashford House, which stood on a lane to Oatley, was rebuilt further east c. 1830 with a lodge near the main road. (fn. 119) The house is stuccoed under a slate roof and has a two-bayed, three-storeyed front with central pedimented wooden porch on pilasters.
BLACKMOOR was held by Aelfric in 1066 and by Ansketil of Roger de Courcelles in 1086. (fn. 120) In the late 12th century Geoffrey of Durleigh confirmed a grant by his father Durand of land at Blackmoor to Geoffrey of Brymore as 1/10 fee. (fn. 121) In 1201 Geoffrey recovered it from the Crown after confiscation for indebtedness. (fn. 122) By 1214, however, it seems to have come into the hands of Philip de Burcy. (fn. 123) Thurstan de Burcy was recorded in 1242 (fn. 124) and Robert de Burcy (fl. 1295) was described as of Blackmoor. (fn. 125) By the mid 14th century it belonged to Lucy (d. c. 1370), widow of Richard Malet. She was succeeded by her daughter Margaret, a minor, who married in turn Richard Cressebien, Thomas Hatfield, Nicholas atte More, and John Kenne (d. 1438). (fn. 126) Margaret was dead by 1440 when Blackmoor was held by her son Hugh More. (fn. 127) By his will Hugh gave Blackmoor to his wife Gillian for life, then to the churchwardens of Cannington for a year, with reversion to his half-brother Robert Kenne (d. 1453) and his issue. (fn. 128) Robert's son John sold the manor in 1476 to (Sir) Thomas Tremayle. (fn. 129)
Tremayle (d. 1508) settled Blackmoor on his younger son John and on John's wife Elizabeth. (fn. 130) In 1517 John settled the manor on himself and his second wife Mary, widow of John Halswell, (fn. 131) and died in 1534 leaving a daughter Margery, wife of Nicholas Halswell. (fn. 132) In 1535 Margery gave the manor to Mary who leased it to her son Nicholas Halswell for 20 years. (fn. 133) The manor was settled, probably in 1565, on Robert son of Nicholas and Margery, and it thereafter descended with Halswell. (fn. 134) Lordship was last recorded c. 1832. (fn. 135)
There was a house at Blackmoor in the 14th century (fn. 136) and in 1417 it had an oratory. (fn. 137) In 1534 the chapel had two bells, a holy water bucket, a chalice, two pairs of vestments, books, and other furnishings. (fn. 138) Blackmoor Farm is a late 15thcentury, two-storeyed house, of red sandstone rubble, with a main range of three rooms and entry facing east, a chapel wing to the north-east, and a slightly later kitchen wing to the southwest. Both angles contain stair turrets, that on the west having a garderobe. The hall has a moulded, framed ceiling and the roofs are of jointed crucks, that of the main range being arch-braced and with windbracing. The chapel has been partitioned but retains a framed ceiling, niches, and a piscina. It was probably built by Thomas Tremayle (d. 1508), whose son John may have added the kitchen wing. Apart from the porch and the insertion of a gallery in the chapel c. 1600, the house has hardly been altered structurally since John died in 1534. (fn. 139)
CHILTON, later CHILTON TRIVET, was probably one of Ansketil's two holdings called Chilton held of Roger de Courcelles in the 11th century. (fn. 140) It was held of Stogursey from 1208 to 1301 or later, (fn. 141) and from 1434 until 1564 was said to be held of Rodway. (fn. 142) In 1208 it was one of the fees of William of Eston, (fn. 143) possibly a descendant of Ansketil, (fn. 144) and it had passed by 1285 to his niece Sarah of Eston, wife of William Trivet. (fn. 145) The manor descended with Cock in Stogursey to John Compton (d. 1548). (fn. 146) John's son Richard died in 1564 leaving a son James, who let the manor in 1587 for the benefit of his son Henry and Henry's wife Mary. (fn. 147) In 1599 James, Henry, and Mary sold the manor to Bartholomew Michell and most of the land to Henry Andrews or Fry. (fn. 148) The manor passed on Michell's death in 1616 to his daughters Jane and Frances, but Jane's husband William Hockmore held the whole manor at his death in 1626 and was succeeded by his son Gregory, a minor. (fn. 149) The manor descended with Chilton in Durleigh until the mid 18th century, (fn. 150) after which it descended with Gurney Street. (fn. 151) Lordship was last recorded in 1887. (fn. 152)
The capital messuage, recorded in 1316, (fn. 153) descended with lands of the manor from Henry Fry to Jane, daughter of Edward Fry. In 1655 she married Francis Cridland and settled her estate on her husband and his heirs. (fn. 154) Francis died in 1667 and Jane in 1675 leaving a daughter Mary. (fn. 155) Mary had died without issue by 1703 when Jane's heirs conveyed land in Chilton Trivet to Francis's niece and heir Margaret, wife of John Burland. (fn. 156) Margaret died in 1703 and by 1707 the estate was held by Robert Codrington, who settled it in 1709 on the marriage of his son John to Elizabeth Gorges. (fn. 157) By 1724 it had been acquired by George Dodington and descended with Dodington manor until 1801 when it was sold to Solomon Pain in trust for George Pain. (fn. 158) George died c. 1817 leaving Chilton Trivet in trust for his son Robert for life. In 1830 Charles Knight bought the life interest, but on Robert's death in 1842 the estate reverted to his children Robert, George Tucker, Betty, Christian, and Alfred Pain. (fn. 159) In 1848 the estate was sold to Henry Prince (fn. 160) of the Agapemone, Spaxton. A burial ground was established for the sect at Chilton, and the deceased were said to have been interred in an upright position. In 1948 the Princites sold the estate except for the burial ground. (fn. 161)
The south range of the former manor house, now Chilton Trivet Farm, may be of the 16th century. The western room on the ground floor has a moulded plaster ceiling over intersecting beams, in the room above it the ceiling is richly decorated and has a central pendant and a plaster overmantel with the date 1662 and the initials of Francis and Jane Cridland. The house was remodelled in the later 19th century when it was given a new staircase hall and service rooms.
CLAYHILL was held by Ordgar in 1066 and by Ansketil of Roger de Courcelles in 1086. (fn. 162) Clayhill was held of Stogursey in 1208 (fn. 163) and 1488. (fn. 164) In 1542 Clayhill was said to be held of Chilton Trivet manor. (fn. 165) William Testard was terre tenant in 1285; Robert Testard (d. by 1346) and Richard le Hare were lords in 1303. (fn. 166) Matthew Michell is said to have married Joan, Robert's daughter and heir, and Thomas Michell was possibly married to Richard's daughter Joan. (fn. 167) In 1412 Thomas Michell held the manor but in 1428 it was shared between Michell, William Stapleton, and Isabel Hare. (fn. 168) In 1470 Walter Michell bought one third of the manor from Joan wife of Adam Hamlyn. (fn. 169) In 1474 he settled the whole manor on his wife Agnes (fn. 170) and it descended like East Chilton in Durleigh until 1616 when lordship was last recorded. (fn. 171)
By the 18th century the estate was divided between Clayhill and Little Clayhill. (fn. 172) In 1709 Clayhill was held by William Ruscombe, who by 1733 had been succeeded by Joseph (d. 1763). (fn. 173) Joseph's daughter Elizabeth married John Poole (d. 1792), and by 1826 their son the Revd. John Poole (d. 1857) was in possession. (fn. 174) John's nephew Gabriel Poole sold Clayhill to William Gooding (d. 1902) of Durleigh. (fn. 175) In 1916 Gooding's son William and other members of the family sold it to Harry Nation, who put it up for sale in 1943. (fn. 176) It was bought by the Irish family, owners in 1989.
LITTLE CLAYHILL continued to descend with East Chilton (fn. 177) until 1791 when it was sold in turst for Thomas Symes of Nether Stowey. (fn. 178) In 1792 it was held by James Holloway, in 1794 by Sir Philip Hales, and from 1795 until 1867 or later by successive Lords Clifford with Cannington manor. (fn. 179)
In 1086 Ansketil held of Roger de Courcelles DODESHAM or Dudesham, which had been held by three thegns in 1066. (fn. 180) William of Eston may have been the lord (fn. 181) and was probably followed by his son Robert (fl. 1242) and grandson, also Robert. (fn. 182) No further trace of the estate has been found until 1474 when Walter Michell held it in succession to his father William. (fn. 183) The estate descended like East Chilton manor in Durleigh and was last recorded in 1563. (fn. 184)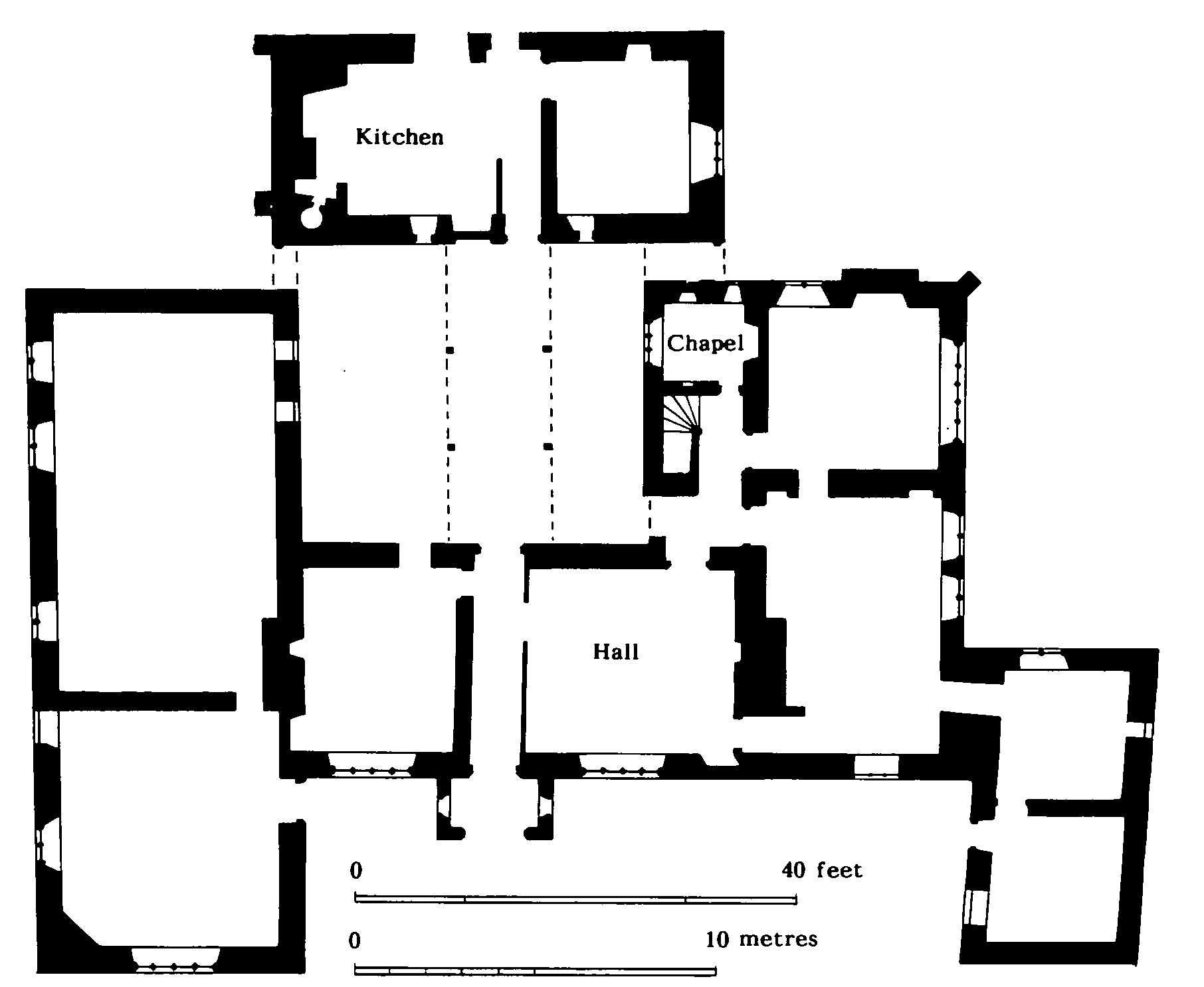 John de Gurney held a fee in Cannington, possibly the later GURNEY STREET estate, in the late 13th century, (fn. 185) perhaps in succession to Richard de Gurney and his son Robert. (fn. 186) John was alive in 1327 (fn. 187) and seems to have been followed by Hugh de Gurney by 1358. (fn. 188) Hugh or a namesake with his wife Beatrice held land in Cannington in 1401 (fn. 189) and Robert de Gurney in 1443, (fn. 190) but no later record of the family has been found in Cannington. Hugh le Lyf (fl. 1292), who appears to have been granted a tenancy in the Gurney fee, had been succeeded by his son Walter by 1311. (fn. 191) Walter was dead by 1327 when his widow Lucy held a considerable estate in Cannington. (fn. 192) She may have been followed by John le Lyf and his son Richard (fl. 1358-68). (fn. 193) The Lyf holding descended with Currypool in Charlinch to Joan, wife of Walter Tilley, and Amice, wife of Baldwin Malet, (fn. 194) and may have passed to the Dodesham family, (fn. 195) which had amassed an estate from the later 14th century. (fn. 196)
William Dodesham the younger died in 1480 when his heirs were John Peryman, grandson of his sister Joan, and Alexander Pym, grandson of his sister Eleanor, but he left a large estate in trust for his niece Agnes Peryman, daughter of his sister Joan and wife of Walter Michell. (fn. 197) John Peryman (d. 1512) lived in Cannington, possibly in the house at Southbrook, and in 1507 part of the Dodeshams' estate was settled on him and his wife Edith who survived him. John was eventually succeeded by his daughters Joan (d. 1561), wife of Bartholomew Coombe, and Dorothy, wife of Philip Courtenay, who partitioned their estate c. 1543, possibly after Edith's death. (fn. 198) Joan had the Cannington land and, being childless, she gave it in reversion to Nicholas Halswell who held it with Blackmoor, except Southbrook which was given to her kinsman Richard Michell. (fn. 199) Southbrook descended with Gurney Street and was last recorded as a separate estate in the 1740s. The name was preserved in 1831, although the land had probably been absorbed into Gurney Street farm much earlier. (fn. 200)
The land at Gurney Street settled on Agnes Peryman, wife of Walter Michell, descended like East Chilton until c. 1714. (fn. 201) Gurney Street and Southbrook were then held by Davidge Gould in right of his wife Honor, daughter of William Hockmore. (fn. 202) By 1751 he had been succeeded by (Sir) Henry Gould whose daughter and coheir Honora Margaretta (d. 1813) married Richard Lambart, earl of Cavan (d. 1837). She was succeeded by her son George, Viscount Kilcoursie (d. 1828), and by his son Frederick, Viscount Kilcoursie, later earl of Cavan (d. 1887). Frederick's son Frederick, the 9th earl was followed in 1900 by his son, also Frederick, (fn. 203) who sold Gurney Street in 1925. The estate has since had several owners and been divided. (fn. 204)
In 1482 a group of buildings and surrounding orchards and lands at Gurney Street, formerly belonging to William Dodesham, included the capital messuage where he had lived, two other houses, one called the Crossed house, a tenement called Gourneys place, a chapel of St. Margaret, and a water mill. (fn. 205) About 1561 and in 1740 a capital messuage or mansion of Southbrook was recorded, apparently on or near the same site. (fn. 206) The present Gurney Street Farm or Gurney Manor, probably but not certainly the home of William Dodesham, was in 1989 under restoration by the Landmark Trust, having been divided since the late 1940s, not for the first time, into separate dwellings.
The house is irregularly disposed around four sides of a courtyard and has to the north an entrance court flanked by short wings. (fn. 207) The plan and some of the walling of the medieval open hall survive in the north range. Its parlour end was to the west and there were presumably service rooms beyond the screens passage to the east. Early in the 16th century a new solar block was added beyond the parlour containing a small chapel, another ground-floor room, and a spiral stair leading to a larger room with an open timber roof on the first floor. Late in the 16th century the block was remodelled, probably by Sir Bartholomew Michell (d. 1616). An attic floor was put in and new windows were inserted in the west wall at all three floors. The east end of the first-floor room was partitioned off to form a lobby at the head of the stairs and the lobby and chapel were given new plaster decoration. The lobby provided access to a bridge leading to the first floor of a new south range which had a kitchen and a storage room on the ground floor and a single chamber, perhaps a gallery, with an open timber roof on the first floor. Two early 16th-century windows to the first floor may have been re-used from the solar block. Early in the 17th century the upper floor and new screens wall were put into the hall which was completely refenestrated and provided with a two-storeyed porch on the north side. The chimney stack, on the wall against the parlour, may have been modified to serve the hall at this time. The parlour, which retained its low medieval ceiling height, seems to have been of little importance by the 17th century but a new block forming the western wing of the entrance court was added then. It provided an additional chamber with a garderobe on the first floor. At the other end of the north range the matching wing formed part of an early 17th-century range on the east side of the main courtyard. Its function is not certain but it may have been in part for storage of produce. A later 16th or early 17th-century timber pentice runs across the courtyard from the south doorway of the screens passage to the kitchen.
The house appears to have been divided into several dwellings in the 1660s. (fn. 208) In the 18th and 19th centuries it was a farmhouse. Additional doorways and windows were put in, rooms were subdivided, and additions were made on the south side of the courtyard to provide more service rooms so that the house could be used as several dwellings. A staircase was built against the north-east corner of the old kitchen block so that the partitioned and ceiled upper floor could be used for farm storage.
Godwin held PERREDEHAM, later Pedredham or Petherhams Marsh, in 1066 and Ansketil held it of Roger de Courcelles in 1086. (fn. 209) Throughout the Middle Ages estates were recorded at Pedredham and at Petherhams Marsh in Cannington, Otterhampton, and Stockland Bristol parishes. (fn. 210) In 1227 land in Pedredham was held by Adam of Bernakes partly of Hamelin of Tappelegh and his wife Beatrice and partly of Robert of Eston for 1/20 fee. (fn. 211) The estate has not been traced later and ownership of Pedredham was very fragmented.
PILLOCK was held by Godric in 1066 and by Ansketil of Roger de Courcelles in 1086. (fn. 212) It may have been held by a family called Pillock from the late 12th to the early 15th centuries. (fn. 213) In 1280 land there was in dispute between William Pillock and Simon Michell and in 1428 Simon Byrt and William Michell and his son Walter went to arbitration over Pillocks place and lands. (fn. 214) In 1446 Walter was in possession (fn. 215) and in the later 15th century Robert Michell, possibly Walter's eldest son, released his claim to the estate to Walter (d. 1487). (fn. 216) Pillock, also called Pillock Nynes and sometimes a manor, (fn. 217) descended with East Chilton manor in Durleigh, but is not recorded after the death of Bartholomew Michell (d. 1616). Most of the land was absorbed into Gurney Street farm. (fn. 218)
Pillocks place, recorded in 1428 and c. 1483, (fn. 219) may have survived in the 16th century. (fn. 220) It may have been on or near the site of the house known in the late 18th and early 19th centuries as Shepherds, (fn. 221) which was replaced in the 1860s by the Grange, probably built for the solicitor James Ruscombe Poole. (fn. 222)
In 1066 Leofwin held one part of COMBWICH, which in 1086 Alfred of Marlborough held of Eustace, count of Boulogne. (fn. 223) It belonged to the honor of Boulogne until the 13th century when Alfred's successors became overlords and it was held under the honor of Ewyas until 1370 or later. (fn. 224) In 1303 it was held of Burnham manor, owned by the lords of Ewyas. (fn. 225)
In 1285 the terre tenant was Eustace of Whitney, and he or a namesake in 1346. (fn. 226) Sir Robert Whitney held the manor in 1370 (fn. 227) and another of the same name held it in 1431. (fn. 228) Robert died in 1441 and was followed in the direct male line by Eustace (d. c. 1481), (fn. 229) Robert (d. c. 1494), James (d. 1500), and Robert. (fn. 230) Sir Robert Whitney was dead by 1568 (fn. 231) and Sir James Whitney died in 1588 leaving his brother Eustace as his heir. (fn. 232) Eustace (d. 1608) left a son Sir Robert (fn. 233) who in 1617 sold the manor to Constance Lucy. (fn. 234) Her son Sir Richard Lucy, Bt., died in 1667 and was succeeded by his son Sir Kingsmill (d. 1678) and by the latter's son Sir Berkeley, who sold Combwich to William Harrison in 1702. (fn. 235) William was succeeded by Ames Harrison (d. 1731) and Ames's son Alexander (d. 1740), who left the lordship to his brother-in-law Richard Cridland in trust for his nieces. Both William and Alexander dismembered the manor. (fn. 236) The lordship was last recorded in 1778 when Richard Cridland and his daughters Sarah and Elizabeth sold lands at Combwich, probably all that remained of the former manor, to John Evered. (fn. 237)
In 1066 Leofwara held the other part of COMBWICH, which in 1086 Walter Arblaster held of Ralph de Limesi. (fn. 238) Overlordship descended with the Cavendish honor to the d'Odingselles family, which held it in 1285. (fn. 239) John Droxford, bishop of Bath and Wells (d. 1329), acquired the lordship of the d'Odingselles family in Combwich, but held it of Stogursey as a mesne tenant. His heir was his brother Philip, (fn. 240) but that lordship was not recorded again and the terre tenants held lands directly of Stogursey until 1491 or later. (fn. 241) The terre tenancy was divided between Walter Romsey and William Trivet and his wife Sarah in 1285. (fn. 242) The Romsey share had been absorbed into their manor of Otterhampton by 1333. The Trivet share descended with Crook in Bawdrip until 1462 when the lordship was last recorded and most of the land was probably absorbed into Otterhampton manor. (fn. 243)
SALTY or Salthay manor, variously said to be held of Lord FitzWaryn in 1412, (fn. 244) of the Crown in chief in 1426, (fn. 245) and possibly of Wick manor in 1486 and 1537, may have originated as land reclaimed from the Parrett estuary, possibly by the Lyf family. (fn. 246) Recorded in 1412 as ½ knight's fee held by Richard Boyton in right of his wife Margery, widow of Richard Lyf, it may have been Boyton's land at Pedredham. (fn. 247) Salty formed part of the share of Richard Lyf's daughter Joan (d. 1426) (fn. 248) from whom it passed to her younger son Leonard Tilley and his son Thomas (d. 1536). (fn. 249) Thomas settled Salty manor on his son William (d. 1534) for his marriage to Joan who survived her husband. (fn. 250) Joan was succeeded by her son James Tilley (d. 1557) and the manor descended with Withiel. The lordship was last recorded in 1753. (fn. 251)
An estate at Pedredham or Petherhams Marsh was held of Salty manor for a fraction of a knight's fee. (fn. 252) It was held by John Steyning who died before 1464 leaving his son Richard under age. (fn. 253) Richard had been succeeded by 1534 by John Steyning who in 1544 sold his estate to his tenants John Lawrence and his wife Maud. In 1550 Lawrence settled the remainder on his younger son Robert. (fn. 254) Both Robert and his parents were dead by 1593 when his son John and his brother John sold STEYNINGS to Simon Venn and Hugh Saffin, probably Robert's sons-in-law. Saffin sold his half share in 1594 to his wife's sons John and George Chilcott (fn. 255) and they sold it to John Burland in 1615. (fn. 256) Simon Venn died before 1614 when his son, also Simon, did homage for his land. (fn. 257) In 1615 Burland purchased it from Simon and his mother Maud. (fn. 258) Burland already held Kitners in Petherhams Marsh which he had inherited with Steyning in Stogursey and which had probably belonged to the Kitnor family between 1339 and 1449. (fn. 259) Burland's estates in Petherhams Marsh descended with Steyning in Stogursey until the later 18th century when they were mostly sold. (fn. 260)
By 1715 land in Cannington Marsh and around Oatley, owned by the Napier family by the mid 17th century, had come to be known as CANNINGTON manor. (fn. 261) Sir Gerard Napier and his wife Margaret held it in 1656. It descended with Woolstone in Stogursey and was held as a manor by Sir Nathaniel Napier in 1715. (fn. 262) It continued in the family until 1765 when it passed to Edward Phelips of Montacute and descended with Montacute until 1874 or later. (fn. 263) The lordship was last recorded in 1795. (fn. 264)
Buckland priory received a pension of 7s. from the tithes of Clayhill by 1334. The charge was not recorded after the Dissolution. (fn. 265)