Pages 164-170
A History of the County of Somerset: Volume 7, Bruton, Horethorne and Norton Ferris Hundreds. Originally published by Victoria County History, London, 1999.
This free content was digitised by double rekeying. All rights reserved.
BRATTON SEYMOUR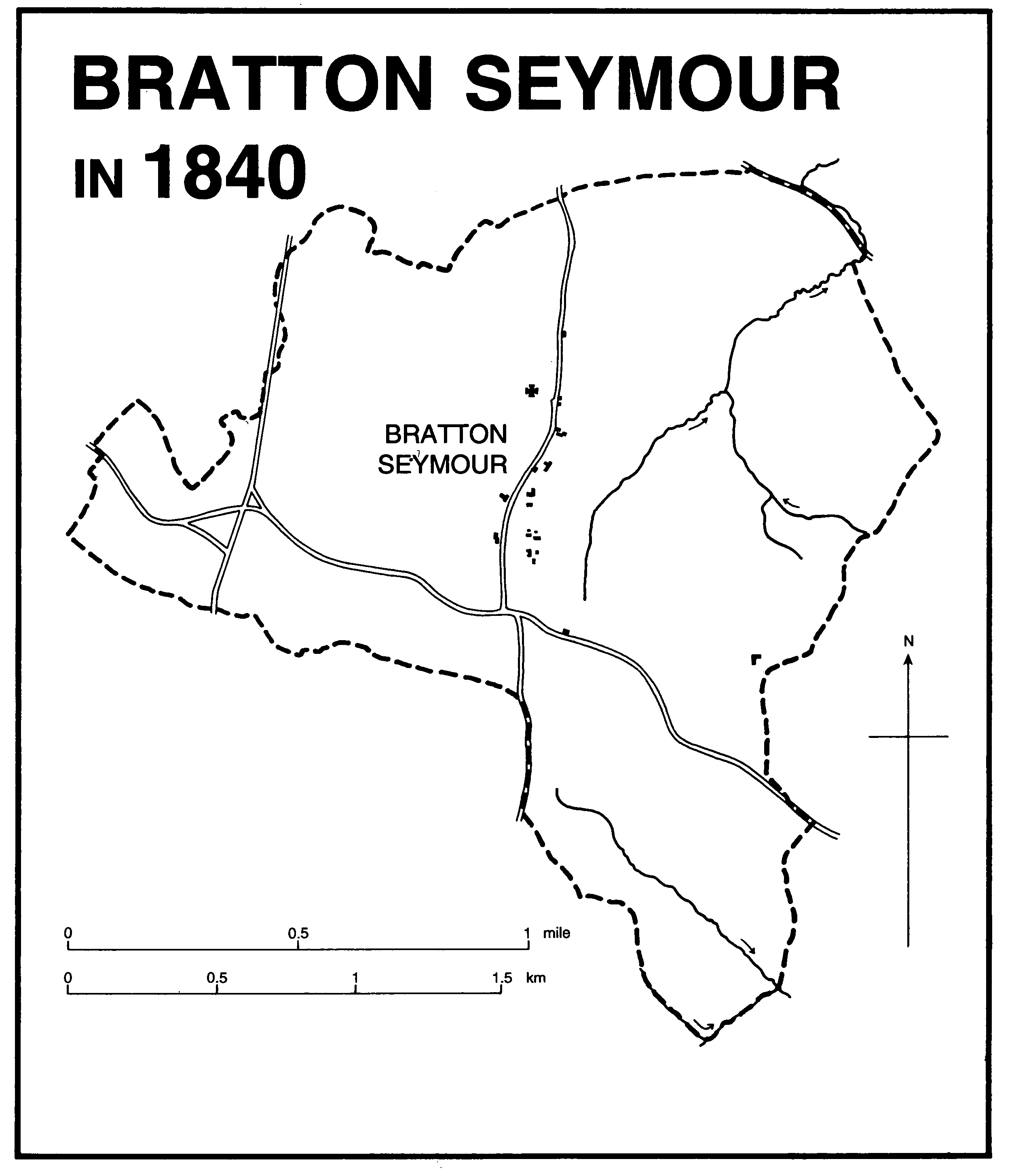 The ancient parish of Bratton Seymour lies on the western side of Wincanton parish. (fn. 1) It is roughly triangular in shape, each side measuring c. 4.5 km. The village, c. 4 km. WNW. of Wincanton church, lies in the centre of the parish on the eastern side of the steep Bratton Hill. There appear to be no natural boundaries except in the north where a stream marks the limit with Shepton Montague, but the extreme south-west corner is marked by a possible prehistoric earthwork (fn. 2) and part of the common boundary with Yarlington south of the village is marked by a bank and double ditch. (fn. 3) In 1839 the parish measured 1,094 a. (fn. 4) In 1886 Holbrook (9 houses, 55 people) was transferred to Bratton from Charlton Musgrove. (fn. 5) In 1981 the area was 601 ha. (1,485 a.) and, after transfer of land to Wincanton in 1982, was in 1991 556 ha. (1,374 a.). (fn. 6)
The parish is dominated by the northern half of an irregular promontory which reaches to 184 m. (603 ft.) on Bratton Hill, its sides falling steeply to the east and more gradually to the west. The land is largely clay, the highest ground formed of Forest Marble which gives way on the lower slopes to Fuller's Earth interspersed on the west with a band of limestone. (fn. 7)
The principal route through the parish by the earlier 18th century ran roughly parallel to the southern boundary south of the village and was described variously as the highway to Sherborne or the road between Castle Cary and Wincanton or between Bristol and Poole. (fn. 8) The western part was adopted by the Sherborne turnpike trust in 1753, the remainder by the Wincanton trust in 1756. The Bruton trust, established in 1756, proposed a road from that town via Shepton Montague and through the village to Jack White's Gibbet, but it was evidently not made until after 1810. A new alignment of the road from Castle Cary caused the abandonment of the earlier course to the foot of Cattle Hill by 1831, but a new route over Cattle Hill through Pitcombe to Bruton was made c. 1830. Both Bruton roads were given up by the trust in 1867. (fn. 9)
Flints and scrapers suggest prehistoric occupation and a possible Bronze Age burial mound stands on the western boundary. In the same area, on the slope of Cattle Hill (Catehill in 1546), (fn. 10) a Roman building found c. 1832 was re-discovered in 1966 and identified as a villafarm site of the 3rd and 4th centuries A.D. (fn. 11) The single-street village of the Middle Ages, with a possible back lane, (fn. 12) lay to the east of Bratton Hill, its church isolated high on the hill at its northern end. At its southern end was a small green, in 1730 the site of the hanging of Jack White and thereafter known as Jack White's Gibbet. (fn. 13)
In the earlier 13th century two open arable fields lay east and west of the village; (fn. 14) a few strips survived in the 1760s. (fn. 15)
In 1086 woodland lay probably in the northwest and the south parts of the parish. (fn. 16) In the later 12th century that in the north-west was called Northonlegh. (fn. 17) Ellscombe wood, in the south of the parish, was named as Aylescoumbes in 1344 and as Brattonsaylescombe in 1485-6. (fn. 18) Lilly wood was mentioned in 1674, (fn. 19) and with Ellscombe wood and several small copses measured 75 a. in 1839. (fn. 20) In 1905 there was 44 a. of woodland. (fn. 21)
Dwellings in the parish were mostly small farmhouses and associated cottages, several built on the waste at the north and south ends of the single street in the 17th and 18th centuries, (fn. 22) although the building later known as Old Manor farmhouse, formerly the home of the Byfleets and demolished in the 1930s, (fn. 23) had nine hearths in 1664-5. (fn. 24) One new cottage built in 1733 comprised a buttery and kitchen on the ground floor and two chambers above. (fn. 25) Following the building of Bratton House by Charles Penruddocke in the late 1860s, (fn. 26) several private villas were erected and at least one farmhouse was replaced before the end of the 19th century. (fn. 27) After the closure of the Hall School the main house was divided and the ancillary buildings, including dormitories, were converted to private dwellings.
In 1801 the population totalled 62; it rose to 80 in the next two decades but fell abruptly to 59 in 1831. In the next ten years it almost doubled to 103 and in 1851 stood at 106. It remained at a slightly lower level for the next two decades but in 1891 reached 111 after the addition of Holbrook. The total fell to 86 in 1901 and thereafter fluctuated: 161 in 1911 and 98 in 1931. In the 1950s the total was over 140 and in 1971 reached 232, but in 1981 the usually resident population had fallen to 95, in consequence of the closure of the Hall School. By 1991 it had risen to 120. (fn. 28)
MANORS.
BRATTON manor was held, like Wincanton, by Alfsi in 1066 and by Walter of Douai in 1086. (fn. 29) From Walter (d. c. 1107) the lordship descended like Wincanton to the Lovel family. Henry Lovel (d. 1194) (fn. 30) held land there in 1187 (fn. 31) which had passed to his son Ralph by 1194. (fn. 32) Another son, Richard Lovel (d. 1254), (fn. 33) held a fee of Mortain there by 1242. (fn. 34) The fee descended like the tenancy of Wincanton until the death of Nicholas Seymour, Baron Seymour, in 1361. Nicholas was succeeded first by his son, also Nicholas, who died in the same year as his father, and then by a younger son, (Sir) Richard. Both were minors on succession and the manor was held by Isabel, the king's eldest daughter. (fn. 35) Richard Seymour, Baron Seymour, died in 1401, (fn. 36) and the manor was held by his widow Ela until her death in 1410 when it passed to her granddaughter Alice, a minor, (fn. 37) in whose person overlordship and tenancy merged.
Gerard, steward of Walter of Douai, was terre tenant in 1086 (fn. 38) and was still alive in 1107. (fn. 39) By 1185 Gerard of Bratton, son of Jordan of Bratton and probably grandson of Gerard, had secured a hide of land partly in Bratton by duel in the king's court (fn. 40) in a suit against Robert of Lovington and Henry Lovel, his overlord. (fn. 41) Gerard was still alive in 1217 (fn. 42) but was dead by 1232 when his daughter Aliva or Aline confirmed some of his grants and gave to Bruton priory her share of her father's lands. (fn. 43) Sarah, one of Gerard's two younger daughters, and her husband Stephen de Pirie or Perres, gave her share of a hide of land to William de Lisle and it seems probable that William also acquired the share of the other daughter Sybil. (fn. 44)
By 1295 probably another William de Lisle was returned as holding a fee of Hugh Lovel at Bratton (fn. 45) and in 1316 Thomas de Lisle and the prior of Bruton were recorded as tenants. (fn. 46) Another Thomas was alive in 1345 but had died by 1349 leaving as his heir his brother Henry, a minor. (fn. 47) The estate was then described as a manor. (fn. 48) In 1393 feoffees granted the land to Nicholas Hamlyn and his wife Elizabeth for their lives with reversion to the overlord, Sir Richard Seymour. (fn. 49) Hamlyn's life interest seems to have ended by 1415 (fn. 50) and tenancy and lordship merged in Alice Seymour.
In 1365 Cecily de la Lynde, wife of John Lovel, settled a small estate in trust and died a week later. The land was held of the heir of Nicholas Seymour. (fn. 51) That estate was known in 1401 as Bratton Lyndes and was then held of Sir Richard Seymour by John Swan for life. (fn. 52) By 1468 it was described as BRATTON LYNDE manor (fn. 53) and had descended to William Zouche, Baron Zouche (d. 1468), from his mother Alice Seymour, wife of William Zouche, Baron Zouche (d. 1462). (fn. 54)
Bratton and Bratton Lynde manors then descended to William's son John, a minor in 1468 and attainted in 1485. (fn. 55) The grant of both to Sir William Willoughby in 1486 (fn. 56) was ineffective and in 1491 Bratton manor, then named BRATTON SEYMOUR manor, was granted to John Moton with all issues from the attainder of Zouche in 1485. (fn. 57) Zouche (d. 1526) had evidently recovered part of his estate by 1523 (fn. 58) and it descended to his son, also John (d. 1550) and to his grandson Richard, Baron Zouche (d. 1552). In 1551 Richard settled his Bratton estates jointly on his two younger sons, Richard and Charles. (fn. 59)
In 1555 Richard Zouche was licensed to grant his half of Bratton manor, actually Bratton Seymour manor, to George Broughton (fn. 60) and in the following year to convey the same to John Dyer. (fn. 61) Dyer died c. 1559 (fn. 62) and in 1572 his son Lawrence settled it on his mother Jane with remainder to John Byfleet, her son by her first husband. (fn. 63) Jane Dyer died c. 1596 and John Byfleet in 1620. (fn. 64) John was succeeded by his son Robert (d. 1641) (fn. 65) and then by his grandson Thomas who was dead by 1652. (fn. 66) In 1674 Thomas's two daughters, Mary, wife of Weston Browne, and Margaret, wife of Anthony Bedingfield, jointly sold their half of Bratton manor to Sir George Grubham Howe, Bt. (d. 1676). (fn. 67)
Sir George was succeeded in 1676 by his son Sir James (d. 1736) and Sir James by his nephew Henry Lee, later Henry Lee Warner (d. 1760). (fn. 68) Henry Lee Warner, son of the last, died unmarried in 1804 (fn. 69) and was succeeded by his cousin Daniel Henry Woodward, a clergyman, who in 1805 assumed the name Lee Warner. (fn. 70) In 1810 Daniel sold his estate to Uriah and George Messiter. (fn. 71) In 1829 the Messiters conveyed their heavily mortgaged estate, described as the manor and advowson, to Sir Manasseh Masseh Lopes, Bt. (d. 1831). (fn. 72) Sir Manasseh was succeeded by his nephew (Sir) Ralph Franco, later Lopes (d. 1854). In 1862 Ralph Ludlow Lopes, second son of the last, sold part of the estate, then called Bratton farm, to Charles Barton of Holbrook and the rest to Charles Penruddocke. (fn. 73) Penruddocke died in 1899 and was succeeded by his son, also Charles. (fn. 74) In 1903 Church farm was sold by the Penruddockes. (fn. 75)
In 1868 the elder Charles Penruddocke began a house on high ground near the parish church which incorporated a kitchen modelled on that at Glastonbury Abbey. The building was left unfinished and unoccupied for some years but was again under construction in 1881 and was finished c. 1888. (fn. 76) Further additions were made c. 1910. (fn. 77) After the closure of the Hall School the house was divided and in 1995 part was known as Seymour Hall.
In 1560 Richard Zouche sold his half of Bratton Lynde or Lynes manor to John Wilkinson. (fn. 78) Wilkinson, a London tailor, died in 1571 and was followed successively by his sons Nicho las (d. 1604) and Paul. (fn. 79) In 1605 Paul conveyed his share to trustees one of whom, William Wollascott, in 1617 became sole trustee. In 1621-2 William was succeeded as sole trustee by his son Edward. In 1629 the share was settled on Mary, Anne, and Frances, daughters of Henry Winchcombe by his wife Mary, daughter of William Wollascott. (fn. 80) In 1650 the surviving trustee released his rights to the three daughters and their husbands. (fn. 81) No further claim to lordship was made until 1733 when William Chilwell the elder, who had acquired land in the parish from 1720 onwards, described himself as lord of Bratton Lynes. (fn. 82) In 1889 and 1935 his successors in possession of the land, John and Richard Hodges, similarly described themselves. (fn. 83)
In 1570 Charles Zouche sold his half of both manors to Jerome Dibben or Debien of Moorhayes in Charlton Musgrove. (fn. 84) In 1586 Jerome seems to have mortgaged part of the estate to his nephew, also Jerome Dibben, and subsequently conveyed to him the fee simple of the whole. (fn. 85) Jerome the younger died intestate c. 1590 and Jerome the elder was exercising lordship in 1593. (fn. 86) In 1601 Peter Blackaller was granting leases in right of his wife, widow of the elder Jerome, (fn. 87) but by 1618 possession had reverted to another Jerome Dibben, also a nephew of Jerome the elder. (fn. 88) Jerome Dibben died in 1623 leaving a daughter Edith, a minor. (fn. 89) By 1633 she had married James Rosse the younger. (fn. 90)
The Rosse family, who granted out parts of the estate on lease in the 1630s, (fn. 91) in 1692 seem to have sold most of their holding, no longer expressed as part of the manor but including half the advowson, to William Dibben. (fn. 92) Dibben died in 1733-4 and his holding, then only a few fields, in 1756 passed from his nephew James Melliar to the earl of Ilchester. (fn. 93)
A house called Lynes Court was referred to in 1639. (fn. 94) By 1760 the site was a close of meadow. (fn. 95)
In the later 12th century Gerard of Bratton gave to Bruton priory 120 a. of land and a wood. (fn. 96) Gerard's daughter Aline also gave some land to the priory. (fn. 97) Two tenements held of Bruton passed to the Crown at the Dissolution and in 1546 the Crown grantees were licensed to sell to John Dyer. (fn. 98) The land was presumably absorbed into the Dyer estate in the parish.
ECONOMIC HISTORY.
In 1086 Bratton gelded for 4 hides and there was land for 8 ploughteams. The demesne farm measured 2 hides and a virgate but had only 2 teams with 6 servi. The tenants had 2 hides less a virgate, shared between 7 villani and 8 bordars with 4 teams. The demesne stock comprised 37 sheep, 33 she-goats, 11 swine, and 10 beasts. The value had been reduced since 1066 from £7 to £4. Woodland measured 6 furlongs square. (fn. 99)
In the later 12th century what remained of the woodland in the north-west of the parish was granted to Bruton priory. (fn. 100) By the 1540s, 14 a. of coppiced woodland was up to 14 years old and the timber on the rest of the former Bruton estate comprised oak, ash, and elm up to 80 years old, usually cropped and shrowded and reserved for repairs. (fn. 101) In the earlier 16th century the rector's income from tithes of hay and grain was nearly four times that of the income from sheep. (fn. 102) By 1571 the rectory glebe comprised just over 26 a. of uninclosed arable and 35 a. in closes, probably under grass, and the change in the names of the open arable fields from east and west to southeast and west indicates that the east field had been reduced in size. (fn. 103) By 1633 half the rector's arable was in closes formed as the result of exchanges. (fn. 104) Exchanges continued, presumably with the purpose of creating consolidated holdings, although fragmented lordship made progress slow. (fn. 105)
Successive members of the Chilwell family, beginning as cattle dealers, seem to have become prominent first as tenants (fn. 106) and later for a short time as owners, (fn. 107) William Chilwell holding a farm of 133 a. in 1749. (fn. 108) There were no resident gentry and the parish was largely owned by absentee landlords, principally the Warner family who held other land at Knowle in Shepton Montague (fn. 109) but lived in Norfolk; the Penruddockes of Wiltshire, owners through William Chilwell's failure to repay a mortgage to Anne Henrietta Wyndham (d. 1805), later wife of Charles Penruddocke (d. 1788); (fn. 110) and near neighbours such as the Rogers family of Yarlington, the Farewells of Holbrook, and the earl of Ilchester. (fn. 111) Chilwell's holding included tenements known as Kings and Abbotts, which later developed into Manor and Church farms. (fn. 112)
In the mid 1780s it was thought that if agriculture were properly attended to the land would produce great crops, for the meadow was good and pasture could be improved by drainage. (fn. 113) In 1801 crops on a total of just over 100 a. were recorded, principally comprising 46 a. of wheat, 33 a. of oats, and 22 a. of barley. The wheat and barley were said to be good but oats and beans 'very indifferent'. (fn. 114) In 1821 only one family in 14 was not engaged in agriculture. (fn. 115)
By 1839 there were four principal farms within the parish, Bratton, Manor, Church, and Higher Holbrook farms, and 290 a. was under arable crop or fallow. (fn. 116) By 1851 Bratton and Higher Holbrook farms had become a single unit of 500 a. owned by the Lopes family and farmed by John Swanton, who employed 24 labourers. Manor farm and glebe combined in a unit of 238 a., and Church farm measured 150 a. The farms required more labour than the village could provide, but residents included a dressmaker, a sempstress, a tailoress, and three turnpike keepers. (fn. 117) Within a decade the female occupations had gone but the farming units were unchanged. (fn. 118) In 1862 the division of the Lopes estate changed the pattern of farms, the largest being Manor farm in the occupation of John Hodges. (fn. 119)
By 1905 nearly 942 a. was under grass and 162 a. was arable. (fn. 120) A typical farm in the 1960s was described for sale as comprising deep feeding pastures and leys. At another farm sale, in 1955, it was suggested that Ellscombe, then called Elliscombe, wood, measuring 34 a., might be reclaimed for cultivation. (fn. 121) In the late 1980s dairying predominated, a small amount of arable providing fodder for cattle. (fn. 122)
LOCAL GOVERNMENT.
Bratton was part of Wincanton tithing until 1664-5 or later. (fn. 123) No court records of either manor have been traced, but a court was held for Bratton Lynde in the early 17th century. (fn. 124) In the same period the parish appointed one warden and one sideman, (fn. 125) and one warden was chosen in the 18th and 19th centuries except for a few years from 1825 when there were two. Members of the Hodges family occupied the office between 1789 and 1824. A vestry had been formed by 1805 and a decision was signed by three members described as the majority. (fn. 126) The parish became part of the Wincanton poor-law union in 1835, the Wincanton rural district in 1894, and the Yeovil, later South Somerset, district in 1974. (fn. 127) In 1919 John Hodges held the offices of overseer, churchwarden, district councillor, and poor-law guardian. (fn. 128)
CHURCH.
In or before 1107 Gerard of Bratton gave the church, a virgate of land, tithes, and customs to Bath priory, a grant confirmed twice in the next half century. (fn. 129) The grant was presumably cancelled. Another Gerard of Bratton, in the later 12th century, gave the advowson to Bruton priory. (fn. 130) The priory claimed the property in 1228 (fn. 131) but it is not known to have presented to the living. The benefice remained a sole rectory until 1938 when it was united with Holton. In 1976 it was joined instead with Pitcombe and Shepton Montague and in 1985 the three parishes became part of the benefice of Bruton and District. (fn. 132)
From the early 14th century the advowson was normally exercised by the lords of Bratton manor or their grantees, (fn. 133) but the Crown presented during a minority in 1389, (fn. 134) John Champflower in 1437-9, (fn. 135) and the bishop by lapse in 1458 and 1522. (fn. 136) After the death of Richard Zouche, Baron Zouche, in 1552 the advowson was divided with the manor; in 1559 the presentation was made by John Ewens by grant of Zouche's widow and her two younger sons. (fn. 137) Presentations were made in 1583 by the owner of one half of the manor and in 1598 probably by the grantees of the owner of the other half. (fn. 138) In 1613 it was made on behalf of the recusant, Robert Byfleet. (fn. 139) James Rosse was patron in 1662 and William King presented in 1689 as lessee of the Rosse estate. (fn. 140) In 1719 the trustees of William Day, who presumably purchased it from the Rosses, sold his half of the rectory and advowson to Sir James Howe, then owner of the other half in succession to the Byfleets. (fn. 141) Howe presented in 1726 (fn. 142) but William Chilwell was patron at the next vacancies in 1769 and 1789. (fn. 143) From that time patronage was exercised by the owner of each half of the manor in turn until 1879 when John Hodges sold his share to Charles Penruddocke. (fn. 144) Penruddocke (d. 1899) left the patronage to his widow and his two daughters but in 1902 it passed to trustees and in 1921 was transferred to the Church of England Temperance Society, patrons until 1938. (fn. 145) From 1938 to 1976 the patrons were the Martyrs Memorial and Church of England Trust and from 1976 until 1985 the Martyrs Memorial Trust and the bishop jointly. The Trust is represented on the patronage board of the Bruton and District benefice. (fn. 146)
The living was taxed at £5 in 1291, (fn. 147) and was exempt from taxation for much of the 15th century. (fn. 148) Its clear value was £5 4s. 7d. in 1535, (fn. 149) the reputed value was £50 c. 1670, (fn. 150) and the net value was £44 4s. 8d. in 1707. (fn. 151) The gross value in 1815 was £80 and the net value £161 in 1829-31. (fn. 152) In 1927 the Church Commissioners and the Diocesan Board of Finance augmented the living by £80. (fn. 153)
Tithes and oblations were assessed at £4 7s. 2d. in 1535 and at £24 9s. 2d. in 1707. (fn. 154) Tithes were commuted for a rent charge of £137 in 1839. (fn. 155) Glebe was worth 25s. in 1535 (fn. 156) and amounted to just over 62 a. in 1571. (fn. 157) It was valued at £20 14s. in 1707. (fn. 158) There was 56 a. in 1839 (fn. 159) and in 1902. (fn. 160) Just over 50 a. was sold in 1920-1 (fn. 161) and by 1978 there was no glebe. (fn. 162)
The parsonage house, said to be in decay in 1568, (fn. 163) was described in 1571 as a mansion dwelling house with barn and dairy. (fn. 164) In 1815 it was 'a mere cottage ... never inhabited by a clergyman'. (fn. 165) In 1829-31 it was said to be unfit but in 1840 it was described as in repair. (fn. 166) There was no residence in 1875 but a house was built between 1883 and 1889. (fn. 167) It was sold in 1938 and is a private dwelling.
In 1311 Robert de Sarr was dispensed from residence while he served the bishop of Exeter. (fn. 168) In 1450 a parochial chaplain was employed, and in 1454 John Combe, the first known graduate rector, was deprived. (fn. 169) The church was reported in decay in 1557 (fn. 170) but rectors were said to have been resident until the late 1560s and there was a resident curate in the early 1570s. (fn. 171) Edward Bennett employed a curate in 1650; his successor Jerome Littlejohn, son of a previous rector, was deprived in 1662. (fn. 172) John Messiter, rector 1789- 1829, served the cure himself until c. 1804 but was living at Woolwich in 1815 and 1827 where he was chaplain to the Royal Artillery. (fn. 173) From 1805 until 1823 the cure was served by John Radford, incumbent of Wincanton. Richard Messiter, curate 1824-8, succeeded as rector in 1829 and remained so until his death in 1885. He also held three livings in Dorset. (fn. 174) For thirty years from 1838 the rector of Holton served the parish. In 1840 two services were held each Sunday. Attendance at the afternoon service on Census Sunday 1851 was 30 adults and 13 children, although the average was higher. (fn. 175) A stipendiary curate was appointed in 1869 but in the following year there was still only one service each Sunday. Celebration of communion, held six times a year, had doubled in number from the beginning of the century. (fn. 176) The curate lived in the parish from 1877. (fn. 177)
In 1228 there were endowed lights in the church. (fn. 178) The churchwardens held cash in stock for a light in 1548. (fn. 179) A parish room, described as an iron mission hall, was opened in 1884. (fn. 180)
The parish church of ST. NICHOLAS, dedicated to St. Giles in 1228, (fn. 181) and to the Holy Trinity in the later 18th century, (fn. 182) comprises a chancel with north vestry, a nave with south porch, and a west tower and stands on a prominent site above the village. The fabric dates from the 12th century and includes a south doorway with zigzag decoration, the outer arch of the porch with reused material perhaps from a previous chancel arch, a plain font, and fragments of 12th-century carving incorporated in the nave walls. The chancel may be of the early 14th century. The blocked west door and the square stair turret of the tower seem to belong to the 17th century, the date of the south-east window of the nave. A large sum was spent on the fabric in 1804 and in 1837 the nave roof was rebuilt at a lower pitch and the north wall of the nave reconstructed to the designs of a Mr. Davis, probably Edward Davis of Bath. The vestry may have been added originally as a private aisle in 1848. (fn. 183)
The oldest of the three bells is dated c. 1450 and is from the Bristol foundry, the next, probably dated 1583, is by George Poole of Yetminster (Dors.), and the last is dated 1824 by Thomas Mears. (fn. 184) The plate is a cup and paten of plated metal. (fn. 185) The registers date from 1754. (fn. 186)
NONCONFORMITY.
Members of the Byfleet family, lords of Bratton manor from c. 1596, were fined or reported for recusancy from 1604 until 1629 and Robert Byfleet suffered confiscation of some land for failure to pay the fines. (fn. 187) A recusant was resident in 1666. (fn. 188) A house was licensed for Methodist worship in 1806, (fn. 189) and open air meetings were held near Jack White's Gibbet in the 1830s. (fn. 190)
EDUCATION.
Jerome Littlejohn was taught in the parish in the 1630s, probably at his father's rectory house. (fn. 191) In 1666 a small school was kept by a recusant to teach reading. (fn. 192) There was no school in the early 19th century (fn. 193) but by 1846 a Sunday school taught 11 children. (fn. 194) There was a parochial school by 1861 until 1883 or later, (fn. 195) but thereafter children attended school in Shepton Montague or other neighbouring parishes.
The Hall School, transferred in 1939 from Weybridge (Surr.), was established in the former Bratton House but closed c. 1985. (fn. 196)
CHARITIES FOR THE POOR.
None known.