Pages 170-177
A History of the County of Somerset: Volume 7, Bruton, Horethorne and Norton Ferris Hundreds. Originally published by Victoria County History, London, 1999.
This free content was digitised by double rekeying. All rights reserved.
CHARLTON MUSGROVE
The ancient parish of Charlton Musgrove, comprising the hamlets of Charlton, Barrow or Barrow Lane, Holbrook, Southmarsh, and part of Shalford is irregular in shape. The main part of the parish, which included the church, Barrow, and Southmarsh, was divided by a detached part of Wincanton parish from Holbrook, and itself lay between two parts of Shepton Montague parish. At various points the parish interlocked with Wincanton parish where, for example, fields belonging to Stavordale priory's grange at Roundhill or at Shalford were shared between the two parishes. (fn. 2) The parish also interlocked with Shepton Montague, evidently where arable and meadow were shared. (fn. 3) Such interlocking suggests that the whole area was originally a single unit, probably part of the royal manor and minster parish of Bruton. (fn. 4) In the 13th century the occupier of Charlton manor held land of Bruton manor tenants. (fn. 5)
The parish church lies roughly in the centre of the parish, c. 3.5 km. ENE. of Holbrook, 2.5 km. SSW. of Barrow, and 3.5 km. almost due S. of Walk Farm on the northern boundary. In 1882 an unspecified area was transferred to Wincanton and in 1884 and 1885 detached parts of Wincanton (13 houses, 67 persons) and Shepton Montague (2 houses, 10 persons) were added to the parish, mostly in the north-west, and the area around Holbrook (9 houses, 55 persons) was transferred to Bratton Seymour. (fn. 6) The parish was said to measure 2,130 a. in 1838, (fn. 7) and 1,520 ha. (3,756 a.) in 1981. After further transfers to Wincanton and from Shepton Montague it was 1,485 ha. (3,669 a.) in 1991. (fn. 8)
The eastern part of the parish, including Barrow, Shalford, and the church, lies in a very broad undulating valley on Oxford Clay, the land rising to the east towards Selwood Forest and to the south-west to a limestone plateau which reaches 114 m. West of Wincanton racecourse, which occupies the plateau, the land falls steeply, but beyond the narrow valley thus formed, around Holbrook, it rises again to c. 130 m. over Forest Marble clays. (fn. 9)
The main routes in the parish in the earlier 19th century linked Bruton with Shaftesbury (Dors.) and Wincanton with Bruton and Castle Cary. Barrow, Southmarsh, Charlton, and Shalford were all on minor routes. (fn. 10) That part of the Shaftesbury road from Barrow southwards was turnpiked by the Wincanton trust in 1818 and from Barrow northwards by the Bruton trust in 1831. The Wincanton trust had already in 1756 adopted the Wincanton-Castle Cary road which ran through Holbrook. A second route from Wincanton north-eastwards, initially to Shepton Montague, was adopted in 1818. The apparently more direct route from Wincanton to Bruton seems not to have been wholly adopted by the Wincanton trust, which instead took over a road, later minor, from Barrow south-westwards through Shalford; ½ mile SW. of Shalford the road turned north along the course of the later B3081 as far as Stoney Stoke. The intervening length to Wincanton was evidently not adopted. All roads under the Wincanton trust were disturnpiked in 1874. (fn. 11)
In 1861 the Dorset Central Railway opened a standard gauge track through the western side of the parish, joining Templecombe with Cole. It was linked to Glastonbury in the following year by the Somerset and Dorset Railway and was double lined in 1887. (fn. 12) The line was closed in 1966. (fn. 13)
Romano-British artefacts and evidence of late Saxon settlement have been found south of Holbrook. (fn. 14) The small eminence on which the parish church stands may also have been an early settlement site. The name Charlton may indicate dependent status, probably in relation to Bruton. (fn. 15) Barrow and Shalford were named in the 13th century, (fn. 16) the former in part outside the parish and associated with Stavordale priory. (fn. 17) Both Charlton and Barrow were outside Selwood Forest at the end of the 13th century (fn. 18) but the western boundary of the forest may earlier have included part of Charlton manor when Robert de Musgrove was licensed to retain some assarted land. (fn. 19) That eastern side of the parish was common land and waste; (fn. 20) licences to build cottages at Barrow and Barrow Marsh, probably the later Southmarsh, were granted in 1614 and 1625. (fn. 21) Between 1782 and 1822 cottage settlement expanded in both areas and Barrow was the site of several small farms in the mid 19th century. (fn. 22) Barrow remained the main centre of population in the late 20th century.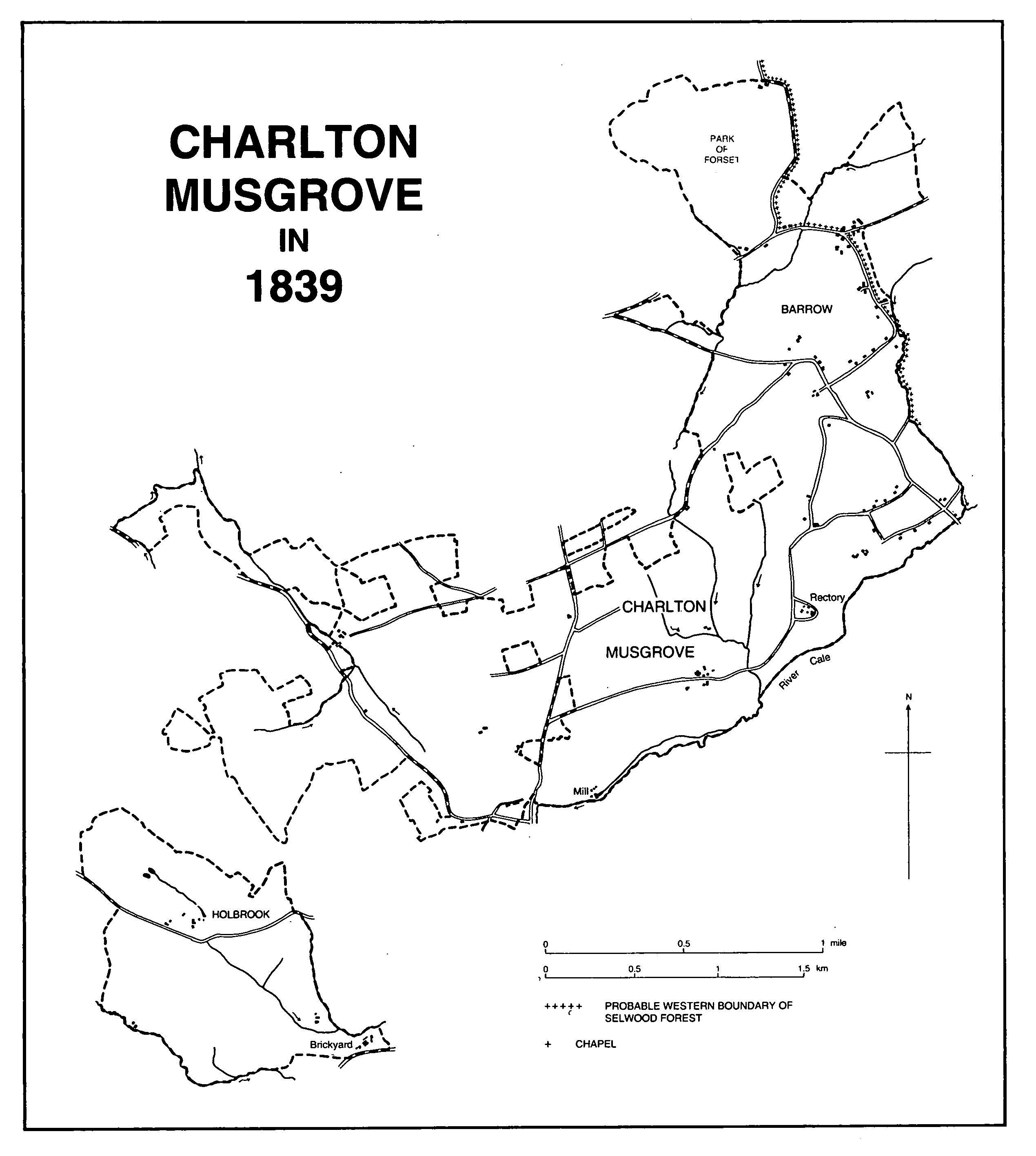 In the mid 17th century there were traces of two open arable fields, known as Charlton and Knowle fields, the latter shared with Knowle in Shepton Montague. (fn. 23) Charlton, Southmarsh, and Barrow commons, together comprising 100 a., were inclosed in 1821 under an Act of 1814. (fn. 24)
In 1086 the parish was well wooded (fn. 25) and by 1281 there were three separate woods, La Vuere, Stibwood, on the south-western boundary, and a third wood unnamed. (fn. 26) In the early 19th century the whole parish seemed to be well wooded and oak was said to thrive luxuriantly. (fn. 27)
A park called Forsett, in the extreme north of the parish, (fn. 28) had been created by 1240 (fn. 29) and by 1281 there was a second, in the centre of the parish north-east of the church. (fn. 30) Both parks survived into the early 17th century. (fn. 31)
Among the houses in the parish are Charlton House, near the parish church, reconstructed c. 1810 behind a Doulting stone ashlar facade possibly around an earlier core with an eastward extension and porch of 1903; Lower Church Farm, also near the church, a brick farmhouse of 1738 with an early 19th-century farm building in the adjoining yard; and Somerlea at Barrow, dating from the 17th century and later.
In 1619 a victualler was licensed to trade in the parish. (fn. 32) There was a beerhouse in 1851, (fn. 33) known as the Red Lion by 1859 and located in Barrow. (fn. 34) It continued under that name until 1966 or later, (fn. 35) but in 1993 was known as the Smithy inn because of the occupation of several earlier licensees. There was a second beer retailer in Barrow in 1866. (fn. 36) In 1857 another Red Lion inn stood on the east side of the B3081 road on the southern parish boundary and was still in business in the earlier 20th century. (fn. 37)
In the 1880s clothing and coal clubs were active in the parish. (fn. 38) Wincanton racecourse, occupying high ground to the west of the Wincanton-Bruton road, has since 1927 provided a steeplechase course of 1¼ mile. Eleven or twelve meetings are held a year. During the 2nd World War the course was under military occupation. (fn. 39)
The population fluctuated between 1801 and 1871, rising from 366 to 415 in the decade after 1831 and from 418 to 484 after 1861. After 1871 it fell to 409 in a decade and, after boundary changes, to 385 in 1891 and to 315 in 1901. Fluctuations continued in the 20th century; in 1971 the total was 353 and in 1981 the usually resident population numbered 426. Following boundary changes, the population in 1991 was 378. (fn. 40)
MANORS AND OTHER ESTATES
In 1086 CHARLTON was held by Robert FitzGerold of the Crown in succession to Godman, the holder in 1066. (fn. 41) Lordship passed from Robert, who was still living in 1096, to his nephew William de Roumare (cr. earl of Lincoln c. 1141), who had died before 1161 and who was succeeded by his grandson, also William de Roumare (d. c. 1198). (fn. 42) In 1254 the lordship was held by John de Burgh, possibly a son of Hubert de Burgh, earl of Kent, who had succeeded to many of the Roumare estates. (fn. 43) Queen Eleanor held the fee in 1281 (fn. 44) and 1284-5 (fn. 45) as of the honor of Queen Camel, the honor of which Dorset lands formerly of Robert FitzGerold were held. (fn. 46) Edmund Plantagenet, earl of Kent, held the fee at his death in 1330 and his son John in 1352. (fn. 47) The fee passed to John's widow Elizabeth (d. 1411), (fn. 48) to his great-granddaughter Margaret, duchess of Clarence, (fn. 49) and in 1450 to Margaret Beaufort, then wife of John de la Pole, duke of Suffolk. (fn. 50) No further reference to the lordship has been found.
Jocelin, probably Jocelin de Rivers, was terre tenant in 1086. (fn. 51) Probably in the late 12th century Walter, son of John de Rivers, granted to Robert de Musgrove 'the land where the church is', (fn. 52) and thus Robert claimed the advowson in 1214. He was occupier of the manor in 1237, and died holding a fee in 1254. (fn. 53) He was followed in succession by his son Sir John (d. 1275) and his grandson Sir Robert (d. 1280). (fn. 54) Hawise, daughter of the last, married first William de Mortimer (d. 1297), (fn. 55) second Sir John de Ferrers (d. 1312), and third Sir John de Bures (d. 1350). Bures held the manor by curtesy of England until his death and was followed by Sir John de Ferrers, Baron Ferrers of Chartley, grandson of Hawise. (fn. 56) John (d. 1367) was followed by his son Robert (d. 1413), his grandson Edmund (d. 1435), and his great-grandson William (d. 1450). The manor passed to William's widow Elizabeth, who held it for her life. (fn. 57) Elizabeth was succeeded by her daughter Anne (d. 1469), wife of Walter Devereux, Baron Ferrers, who was attainted in 1485. (fn. 58)
The family presumably regained the estate, since in 1521 Walter's grandson, also Walter, Baron Devereux (cr. Vct. Hereford 1550, d. 1558), conveyed it to trustees. (fn. 59) Twenty years later he sold the manor, with Norton Ferris manor and hundred, to William Stourton, Baron Stourton (d. 1548). (fn. 60) William's son Charles, Baron Stourton, was attainted in 1557. (fn. 61) Sir Walter Mildmay (d. 1589) seems to have acquired the manor from the Crown in 1584, having already, perhaps, held a lease in succession to Edmund Downing from 1576. (fn. 62) In 1595 Sir Walter's son Sir Anthony (d. 1617) seems to have mortgaged the manor, half to Robert House, half to Matthew Ewens. (fn. 63) In 1599 the whole manor reverted to (Sir) John Glanville, justice of the Queen's Bench, who had purchased the reversion from the Crown in 1582. (fn. 64) Sir John's son Francis succeeded as a minor in 1600 and died in 1639. (fn. 65) Francis Glanville, son of the last, died in 1658 and the manor passed to his six surviving sisters. In 1661 five of the sisters and their husbands conveyed their shares to trustees and the land was sold, largely to the tenants. The sixth share was sold piecemeal later, one part in 1684 to Thomas Harvey of Suddon in Wincanton. The lordship was not included in the sale and has not been traced further. (fn. 66)
In 1281 the manor house site included a dovecot and two fishponds, (fn. 67) and in 1350 a fruit garden. (fn. 68) There was a dovecot in 1436. (fn. 69) In 1661 the house stood on or near the sites of Church Farm or Charlton House. (fn. 70)
In 1086 Jocelin also held of Robert FitzGerold a hide of land taken from Bruton manor. (fn. 71) That hide was held in 1254 in socage of William de Lisle, (fn. 72) and in 1281 comprised 87 a. of land and wood. (fn. 73) The land seems to have been absorbed into the main holding and ownership has not been traced further.
An estate at HOLBROOK, held of Charlton manor, (fn. 74) was occupied in 1242 by Reynold Huse, (fn. 75) in 1316 by William Huse, (fn. 76) and in Edward III's reign by John Huse. (fn. 77) (Sir) Edmund Huse was in possession in 1360 and was dead in 1362 when he was succeeded by his daughter Joan, wife successively of John Whyton and Sir Thomas Hungerford (d. 1397). (fn. 78) Joan died in 1412 (fn. 79) and her heir was her son Walter, Baron Hungerford (d. 1449). Walter's son Robert (d. 1459) was followed in succession by his own son, also Robert, Baron Hungerford and Moleyns (attainted 1461, d. 1464). Mary (d. 1533), Baroness Botreaux, granddaughter of the last, eventually succeeded after the reversal of her grandfather's attainder in 1485, and married Edward Hastings, Baron Hastings (d. 1506). Her second husband Sir Richard Sacheverell (d. 1534) retained the estate by the curtesy of England (fn. 80) and was followed by Mary's son George Hastings (cr. earl of Huntingdon 1529, d. 1544). (fn. 81) Francis Hastings, son of the last, died in 1560, and Francis's son Henry, earl of Huntingdon, in 1595. Henry was succeeded by his brother George, who still owned the estate c. 1600. (fn. 82)
John Farewell, probably tenant of Holbrook in 1589, (fn. 83) may have been owner by 1611. (fn. 84) He died in 1616 holding the manor and capital messuage there which passed to his son James. James died in 1636 and was succeeded by his brother Thomas. (fn. 85) Thomas, probably son of the last, died in 1679 and was followed by another Thomas, presumably his son, who died c. 1687. (fn. 86) Christopher Farewell, a younger son but eventual heir of the last, died in 1728 and was followed by his brother Nathaniel. (fn. 87) Nathaniel died in 1759 leaving Holbrook to Samuel Hallett, husband of his 'cousin' Elizabeth, on condition that Samuel took the name Farewell. Samuel Farewell, son of the last and vicar of Wincanton, died in 1797 leaving Holbrook to his son Nathaniel, then under age. (fn. 88) In 1823 the surviving children of the second Samuel Farewell sold the mansion house, already let since the departure of the owner to Wincanton in 1786, together with some land, to Robert Page. Part of the land with the farmhouse was retained by Samuel Farewell's widow and the rest was sold. (fn. 89) Robert Page remained in possession of Holbrook House until 1846 when it was sold to Charles Barton. In 1901 Barton sold the house and 340 a. of land, which included that formerly held by Mrs. Farewell, to John Angerstein (d. 1945). (fn. 90) In 1946 the house was converted to a country club and later to an hotel. (fn. 91)
Holbrook House, a two-storeyed building of the second quarter of the 18th century, was 'greatly enlarged' in 1848-9, apparently to the designs of J. P. St. Aubyn, who also added stables and a lodge. It is said to have been 'practically rebuilt' in or after 1901, possibly to the designs of Sir Reginald Blomfield. (fn. 92)
Stavordale priory owned Barrow in 1298 (fn. 93) and by 1535 Taunton priory, by then controlling Stavordale, held courts there. (fn. 94) Some of the property passed, probably in 1544 with Roundhill in Wincanton, to William Stourton, Baron Stourton, (fn. 95) and on his death in 1548 to his son Charles. John Dyer, probably the tenant, acquired Barrow on Charles Stourton's attainder in 1557 (fn. 96) and it descended like Roundhill in the Dyer family, and was described from 1603 as a manor and from 1607 as BARROW LANE manor. (fn. 97)
In 1615, on the death of Francis Dyer, the manor passed to his brother-in-law Henry Baynton. (fn. 98) Henry was still in possession in 1637 but ten years later it was owned by his heir Francis. (fn. 99) Francis, who had probably mortgaged the estate, was party to its conveyance in 1650, again probably on mortgage, to William Strode, (fn. 100) and in 1668 it appears to have been mortgaged by James and Richard Churchey to Thomas Strode. (fn. 101) It was devised by James Churchey (d. 1677) to the guardians of his son James Laurence Churchey (d. 1716) and passed to Nathaniel Webb (d. 1732), nephew and heir of the last. (fn. 102) It then descended like Roundhill in Wincanton, but after 1786 (fn. 103) was no longer referred to as a manor.
The FitzJames family seems to have acquired part of the former park of Forsett by the later 16th century (fn. 104) and it seems to have passed with Redlynch to Sir Robert Gorges. Part was sold by Edward Gorges in 1662 to Edward Bennett and part by Samuel Gorges to John Symes the elder in 1699. (fn. 105) Most of the park, together with land in a detached part of Shepton Montague, belonged in 1818 to Henry Dampier. (fn. 106)
Land called the More Hayes, later MOORHAYES, formerly owned by Margaret, countess of Salisbury, and forfeit in 1539 was bought from the Crown by Richard Dibben in 1543. (fn. 107) It passed to Richard's son Jerome in 1547 and was held as of Shepton Montague manor. (fn. 108) By 1609 it was owned by William Dibben, possibly Jerome's brother, (fn. 109) and between 1616 and 1623 was held by another Jerome Dibben. (fn. 110) By 1664-5 it was owned by James Rosse, possibly a descendant, (fn. 111) and was occupied by his widow in 1686. (fn. 112) The Rosse family still had an interest there in 1713, (fn. 113) but between 1722 and 1731 it was owned by William Day, (fn. 114) by 1737 until 1766 by a Mr. Harbottle, (fn. 115) and by 1770 by Mr. Medlycott. (fn. 116) It was still held by the Medlycott trustees in 1838. (fn. 117)
A house had been built on the estate by 1592. (fn. 118) It is of stone with ashlar dressings, its north elevation of six bays and comprising two storeys and attics. At its north-east corner is a circular turret. An extension to the south-west dates from the late 18th century.
In 1661 Thomas Leir, rector 1660-1713, and his brother William each acquired land in the parish, formerly part of the manorial estate. Thomas's holding included 11 cottages, some in Charlton and some in Shepton Montague. (fn. 119) Probably both holdings passed to Thomas's younger son William, rector 1713-43, and on William's death to his nephew Thomas, who also succeeded as rector. (fn. 120) Thomas Leir settled those lands not part of the glebe in trust for two younger and insane sons, and the survivor, Paul Methuen Leir, occupied a house at Shalford at his death in 1840. (fn. 121) By 1838 the estate included the 164-a. holding later known as Rectory farm. (fn. 122)
In 1840 the estate passed to William Leir, nephew of Paul, and on his death in 1863 to his son Charles Marriott Leir, then rector (d. 1864). Charles's son Charles Paul succeeded as a minor and died unmarried in 1877 when his estate reverted to his mother Frances Anne (d. 1910). The estate, which already included land in Wincanton as well as in Charlton, was more than doubled by purchases from the earl of Ilchester, the Hoare family, and others between 1892 and 1912 by her fourth son, Lewis Randolph Marriott Leir, rector from 1886 until his death in 1914. (fn. 123) The holding, comprising over 950 a. in Charlton and Wincanton, was sold by Robert Marriott Leir in 1920. (fn. 124)
ECONOMIC HISTORY
In 1086 there were 12 ploughlands on the main holding and 3 on the hide of the former royal estate of Bruton. Three ploughteams worked the demesne of 2 hides with 7 servi; there were 8 teams on the remainder of the land with 4 villani, 15 bordars, and 3 cottars. Pasture measured 2 furlongs by 3 furlongs, there was 50 a. of meadow, and woodland measuring ½ league by ½ league. The value of both estates had decreased since 1066. (fn. 125)
In 1239 Robert de Musgrove was granted free warren in his demesne (fn. 126) and in the following year was permitted to increase the size of his park called Forsett by including a croft he had then recently bought from the prior of Bruton. (fn. 127)
In 1281 demesne arable land measured 384 a., one third worth 2d. an acre, the rest 3d. Besides 43 a. of meadow there was 'foreign' pasture, not expressed by measure but worth 13s., about a third of the rate of meadow land. There were two parks and three blocks of woodland of which the most valuable was named La Vuere and a second, on the south-western boundary, Stibwood. Free tenants paid 53s. 10d. rent, cottars 7s., and villeins 2s. 9¾d. Villeins' works were worth 100s. 10d. and they paid chursett, and 6 bushels of maslin to the lord. (fn. 128)
The wood called La Vuere measured 100 a. in 1329 and 1350. (fn. 129) Demesne arable land by the second date had been reduced to 200 a., half of which was under crop, but rents were stable at 63s. 4d. No pasture was recorded and no hay was taken from the parks, but the small area of meadow survived. (fn. 130) By 1436 demesne arable had been reduced to 100 a., but there were 200 a., of pasture, 200 a. of woodland, and parks totalling 70 a. Assessed rents amounted to £26 and the tenants' dwellings, listed after the manor house, were described as 20 messuages and 9 cottages. (fn. 131) Rent from the Holbrook estate remained virtually stable between 1429 and c. 1600. (fn. 132)
In 1535 most of the tithe income was from arable crops, (fn. 133) but in 1601 there was no arable land on the glebe, which comprised 35 a. of pasture, 6 a. of meadow, and 5 a. of woodland. (fn. 134) Inclosure of the former arable lands on the Stavordale priory grange of Roundhill before 1534 included land in the parish, (fn. 135) and by the mid 16th century Forsett park was considered part of South Brewham manor when 42 a. was sold by Richard Radberd to Richard Newman. (fn. 136) Some of that park was inclosed by the end of the 16th century, in part for arable and in part meadow. (fn. 137) By 1618 one part was divided between five tenants and its name used as an area of rate collection. (fn. 138) By that time butter and cheese produced in the parish were collected for the poor. (fn. 139)
In 1660 Charlton manor, which included land in both Wincanton and Shepton Montague parishes, was divided between 53 tenants including 15 cottagers. Fifteen tenants held farms of between 80 a. and 32 a., and all held for lives, paying a total rent of nearly £39. The capital messuage and former demesne farm was valued at £80, the remaining farms between £40 and £15. (fn. 140) When the manor was dismembered in 1661 the principal tenants were the purchasers. Some increased their holdings, creating consolidated units. The former demesne farm was an exception, comprising 75 a. lying together, to which was added 30 a. formerly arable lands 'in town and fields', then inclosed, and 16 a. of meadow, also inclosed, in Knowle moor in Shepton Montague. In total there was at least 35 a. of woodland. There were 38 separate holdings after the 1661 sale. (fn. 141)
From the mid 17th century Holbrook was the largest holding in the parish, followed by the former capital messuage, later known as Charlton farm. By the mid 18th century Hook and Stibwood farms had been created on the Holbrook estate and the Leir family holding had increased significantly. (fn. 142) Other land in the parish was held at least from 1661 with neighbouring farms, including Roundhill, Suddon, and Shalford, locally in Wincanton, and holdings of the Warner and Dampier families in Shepton Montague. (fn. 143)
In the 1730s one farmer, involved in a dispute over tithes with the rector, was said to have a dairy of 14 cows and heifers, 20 barreners, and 200 sheep, and land amounting to 60 a. of which a third was meadow and the rest planted with wheat, barley, oats, and peas. (fn. 144) By 1838 there were seven farms of over 100 a., Hook and the estate later known as Rectory farm the two largest with over 160 a. each. There were two smaller farms at Barrow and 37 a. of woodland. (fn. 145) Individual holdings were essentially similar in size in 1988: seven farms measuring over 50 ha. and eight more over 20 ha. Nine of the holdings were specialist dairy farms. (fn. 146)
Two linen weavers and a roper worked in the parish in the later 17th century. (fn. 147) Brick and tile were manufactured at Lawrence Hill, near Holbrook, by 1793. (fn. 148) The 15 families engaged in trade recorded in 1831 were probably employed there, (fn. 149) and there were 14 employees in 1851 and 9 in 1871. (fn. 150) Business continued in 1875 but had been abandoned by 1883. (fn. 151)
There was a mill in 1086. (fn. 152) It was mentioned in 1436, (fn. 153) and by 1661 was known as Burton's mill. (fn. 154) It had gone out of use as a mill by 1871. (fn. 155)
LOCAL GOVERNMENT
The tithing of Charlton, mentioned in 1225, (fn. 156) remained the sole unit of administration until the beginning of the 17th century when the parish was divided for rating purposes between Charlton and Barrow Lane tithings and Forsett park. (fn. 157) The park was still a separate unit in 1616. (fn. 158) Barrow Lane or Barrow continued as a separate rating unit until the 1850s. (fn. 159) In 1633 the tithingman was generally responsible for parish roads and gates and made an agreement with a cutler to maintain the parish armour. A constable, appointed by 1618, accounted in the 1630s for the repair of bridges. (fn. 160)
Records of the twice-yearly Charlton court baron survive for 1639-48 and presentments of the homage concerned maintenance of houses, fences, and ditches. A hayward was the only named official. (fn. 161) Courts were held for Taunton priory's land at Barrow in 1535. (fn. 162)
The parish was administered in 1621 by the rector and ten ratepayers; the vestry by the early 19th century comprised about the same number. (fn. 163) Handcuffs and a staff were purchased for the parish constable in 1843-4. (fn. 164)
In 1596 a collection of butter, cheese, and salt was made for the poor, and in 1599-1601 two wardens and four overseers collected cash, bound an apprentice, and provided stock to give the poor work. In 1600-1 it was agreed that if the parish could provide no work collectively, individual parishioners should do so. (fn. 165) From the 1620s two collectors, later overseers, paid for clothing, food, nursing, medicine, repairs, and rent for the poor, and from 1802 retained a doctor. (fn. 166) In the 1880s clothing and coal clubs were active in the parish. (fn. 167)
In 1665 the collectors occupied a parish house and also paid for repairs to a new house. A single poorhouse was in use by 1796; in 1839 it comprised a row of cottages in Barrow Lane, later known as Paradise Cottages. In 1993 the site was occupied by a dwelling called The Lodge. (fn. 168) In 1835 the parish became part of Wincanton poorlaw union, in 1894 Wincanton rural district, and in 1974 Yeovil, later South Somerset, district. (fn. 169)
CHURCH
In the later 12th century John de Rivers granted the church to Bruton priory, but in 1214 Robert de Musgrove successfully claimed the advowson against the canons. (fn. 170) The living was a sole rectory until 1980 when it was united with Stoke Trister and Cucklington. (fn. 171)
The advowson descended with Charlton manor until the death of Charles Stourton, Baron Stourton, in 1557. It had passed by 1562 to Edward Baynton and his wife Agnes, and in 1574 Thomas Ivey presented by their grant. (fn. 172) Matthew Ewens and Robert House presented in 1595, Francis Glanville, lord of the manor, in 1617, and George Taylor, a member of the rector's family, in 1660. (fn. 173) In 1661 Thomas Leir, then rector, acquired five sixths of the advowson from the Glanville family trustees and in 1667 the remaining sixth share directly from the Glanville heirs. (fn. 174) John Hall and Gerard Martin presented in 1713 (fn. 175) but thereafter successive members of the Leir family either presented themselves or were presented by close relatives or trustees (fn. 176) until the death of R. B. M. Leir in 1976 when the advowson passed to the bishop. (fn. 177)
The living was valued at £4 3s. in 1291, at £4 in 1445, and at £13 9s. 10d. net in 1535. (fn. 178) Its reputed value c. 1670 was £70 (fn. 179) and the average net income c. 1830 was £434. (fn. 180) Tithes and offerings were worth £12 4s. in 1535 (fn. 181) and tithes alone £66 13s. 4d. in 1660. (fn. 182) They were commuted for £463 in 1838. (fn. 183) Glebe was worth £3 16s. in 1535. (fn. 184) In 1606 there were 46 a. (fn. 185) About 2 a. were added by exchange in 1819 (fn. 186) and in 1838 there were 52 a. (fn. 187)
In 1418 the rectory house had a chapel dedicated to St. Stephen. (fn. 188) In 1606 the house was described as decent. (fn. 189) In 1805 it was said to be old and in a poor state of repair, and was then replaced by a new building, designed by C. H. Masters, slightly nearer the church, erected at the expense of the rector. (fn. 190) Only the coach house, dated 1806, survived a fire in 1939 and is a private dwelling. Rectors have since lived in a house at Barrow, dated 1822. (fn. 191)
John Morton, D.D., rector 1450-64, was also a prebendary of Wells, rector of Axbridge, and a member of Bishop Bekynton's household. (fn. 192) An endowed light established in the 1540s had not been restored by 1557. (fn. 193) The parish was served by a resident curate in the 1570s in the absence of the rector. (fn. 194) Parish ales were held regularly until c. 1606; communion was celebrated seven times a year until the early 1620s and singers were mentioned in 1625 (fn. 195) and in the 18th century. (fn. 196) Members of the Leir family held the living continuously from 1617 until 1914. (fn. 197)
In 1815 there were prayers and sermon each Sunday, alternately morning and afternoon, and the rector also served Holton. (fn. 198) By 1827 he was serving Shepton Montague as well as Charlton but the pattern of services was the same. (fn. 199) By 1840 there were two services each Sunday and both a rector and assistant curate were resident. (fn. 200) In 1851 the average congregation numbered 50 adults and 24 children in the morning and 150 adults and 24 children in the afternoon. (fn. 201) By 1870 there were four celebrations of communion a year. (fn. 202)
In 1877 a chapel of ease at Barrow Lane, dedicated to St. John the Baptist, was given by Mrs. E. F. Davies (née Leir), the widow of a former rector. It is of stone in a 13th-century style, designed by C. E. Davis of Bath, and comprises an apsidal chancel and a nave with a southern bell tower. (fn. 203)
The church of ST. STEPHEN, so dedicated by 1544, (fn. 204) comprises a chancel with north vestry, a nave with south porch, and a west tower. The plan suggests a 12th-century origin with refenestration of the chancel in the 14th century and remodelling of the nave in the 15th or the early 16th century. The late-medieval tower is decorated with pinnacles and gargoyles. Restoration in 1884 under the direction of the rector, Charles Edward Leir, replaced pews, pulpit, and reading desk of 1725-6 and a west gallery of 1762-3. Windows in the north wall were made uniform. (fn. 205)
The plate includes a cover dated 1573, a saucer of 1633, and a cup of 1819. (fn. 206) The three bells comprise the first and third of the 15th century, one from Dorset and the other from the Salisbury foundry. The second bell, replacing one made by Richard Purdy of Warminster (Wilts.), was made in 1718 by Edward Lott, also of Warminster. (fn. 207) The registers begin in 1534. (fn. 208)
NONCONFORMITY
William Ridout of Charlton Musgrove was an elder of the Presbyterian classis of Wells and Bruton. (fn. 209) There may have been a Baptist church in 1689. (fn. 210) Licences for meetings were issued in 1817 and 1825 for the same house (fn. 211) and a Baptist chapel was opened at Barrow Lane in 1830. (fn. 212) In 1851 the congregation generally numbered 33 and met on Sunday afternoons. It was then under the care of a pastor from Wincanton. (fn. 213) The chapel was closed in 1958 and sold in 1960, (fn. 214) and in 1993 was a private dwelling known as The Chantry Cottage.
In 1838 there was a Methodist chapel in Barrow Lane at the junction with the lane to Higher Stavordale Farm. (fn. 215) Two cottages described as 'late chapel' were rated from 1863 and were uninhabited in 1871. (fn. 216) The site is part of the garden of Dale Cottage. Primitive Methodists met in the parish between 1862 and 1868. (fn. 217)
EDUCATION
In 1818 there were both day and Sunday schools, supported by voluntary contributions, with an average attendance of 25 children. (fn. 218) In 1825-6 numbers seem to have fallen, but a new Sunday school was founded in 1829 and by 1835 a day and a Sunday school for 20 children was supported both by parents and by voluntary contributions. (fn. 219) The school may have been held in the former poorhouse, which the churchwardens repaired in 1839-40. After a fire in 1853 a new school was built and the old evidently rebuilt and occupied as a dwelling. (fn. 220) In 1876-7 the school was taken over from the rector, wardens, and overseers by a school board, and by 1903 there were 46 children on the books. (fn. 221) The school, which had 26 pupils aged between 5 and 11 in a single class in 1959, closed in 1960. (fn. 222)
CHARITIES FOR THE POOR
In 1693 Thomas Edwards of Bristol, who married a daughter of Christopher Farewell of Holbrook, gave the interest on £10 for two householders not already receiving alms, to be paid on St. John's day each year. The income was paid by Christopher Farewell in 1720 but had been lost by 1786. (fn. 222)