Pages 3-5
A History of the County of Somerset: Volume 7, Bruton, Horethorne and Norton Ferris Hundreds. Originally published by Victoria County History, London, 1999.
This free content was digitised by double rekeying. All rights reserved.
BRUTON HUNDRED
In the Geld Inquest of 1084 Bruton hundred was assessed for nearly 233 hides. (fn. 1) The total seems to have included two areas of land subsequently separated from it, the first named in two contemporary Exeter lists as Wincanton and subsequently Norton Ferris hundred; and the second, called Blachethorna, possibly the later Catsash hundred. (fn. 2) By 1212 the hundred comprised the Tancarville fee of Bruton, Honeywick (in Pitcombe), Milton (Clevedon), Pitcombe with Cole, Redlynch, Witham, and Yarlington. (fn. 3) In 1225 Discove, Woolston (in North Cadbury), and the vill of West Bruton were named in addition. (fn. 4) Witham was evidently still part of the hundred in 1280 (fn. 5) but by 1284-5 it had been omitted and the hundred comprised Brewham, Bruton, Honeywick, Knowle (in Shepton Montague), Milton (Clevedon), Pitcombe, Redlynch, Upton (Noble), Wyke (Champflower), and Yarlington. (fn. 6) In 1316 Eastrip and the prebendal estate at Wanstrow were also included and Discove was named again. (fn. 7) In 1327 Honeywick was joined with Pitcombe and Cole with Wyke but Discove, Eastrip, and Upton were omitted. (fn. 8)
In 1569 there were eight tithings in the hundred: Brewham, Bruton, Hadspen with Honeywick, Milton, Redlynch, Upton with Wanstrow, Wyke with Pitcombe and Cole, and Yarlington. (fn. 9) By 1641 Brewham had been divided between North and South Brewham for the purposes of taxation. (fn. 10) A century later there were thirteen separate units of which two, Woolston and Clapton, were tithings of parishes in Catsash hundred and the prebendal estate at Weston Town in Wanstrow was considered for the purposes of land tax collection to be part of Upton Noble tithing although assessed separately. (fn. 11)
Bruton hundred was presumably a Crown possession as part of the royal estate of Bruton in 1066 and 1086. (fn. 12) Before 1133 it had passed as part of a fee either to William de Tancarville (I) (d. 1129) or to his son Rabel (d. 1140), hereditary chamberlains of England and Normandy. (fn. 13) William de Tancarville (II) succeeded his father Rable as lord in Bruton and was still alive in 1177. (fn. 14) William was followed by his son Ralph, (fn. 15) but thereafter the family ceased to have an interest.
Between 1135 and 1154 Alexander de Cauntelo, a principal tenant on the Tancarville fee, granted the hundred, with the market and other land, to the new priory at Bruton in return for a fee farm of 2 marks. (fn. 16) The fee farm was transferred to the Crown on the forfeiture of the Cauntelo interest between 1199 and 1208. (fn. 17)
The canons of Bruton continued to hold the hundred until their house was dissolved in 1539 when it passed to the Crown. (fn. 18) In 1545 the hundred was let with fairs and markets to (Sir) Maurice Berkeley, (fn. 19) and in the following year was sold to him with the lordship of the manor, (fn. 20) and descended like Bruton manor. (fn. 21) It was last mentioned in 1821. (fn. 22)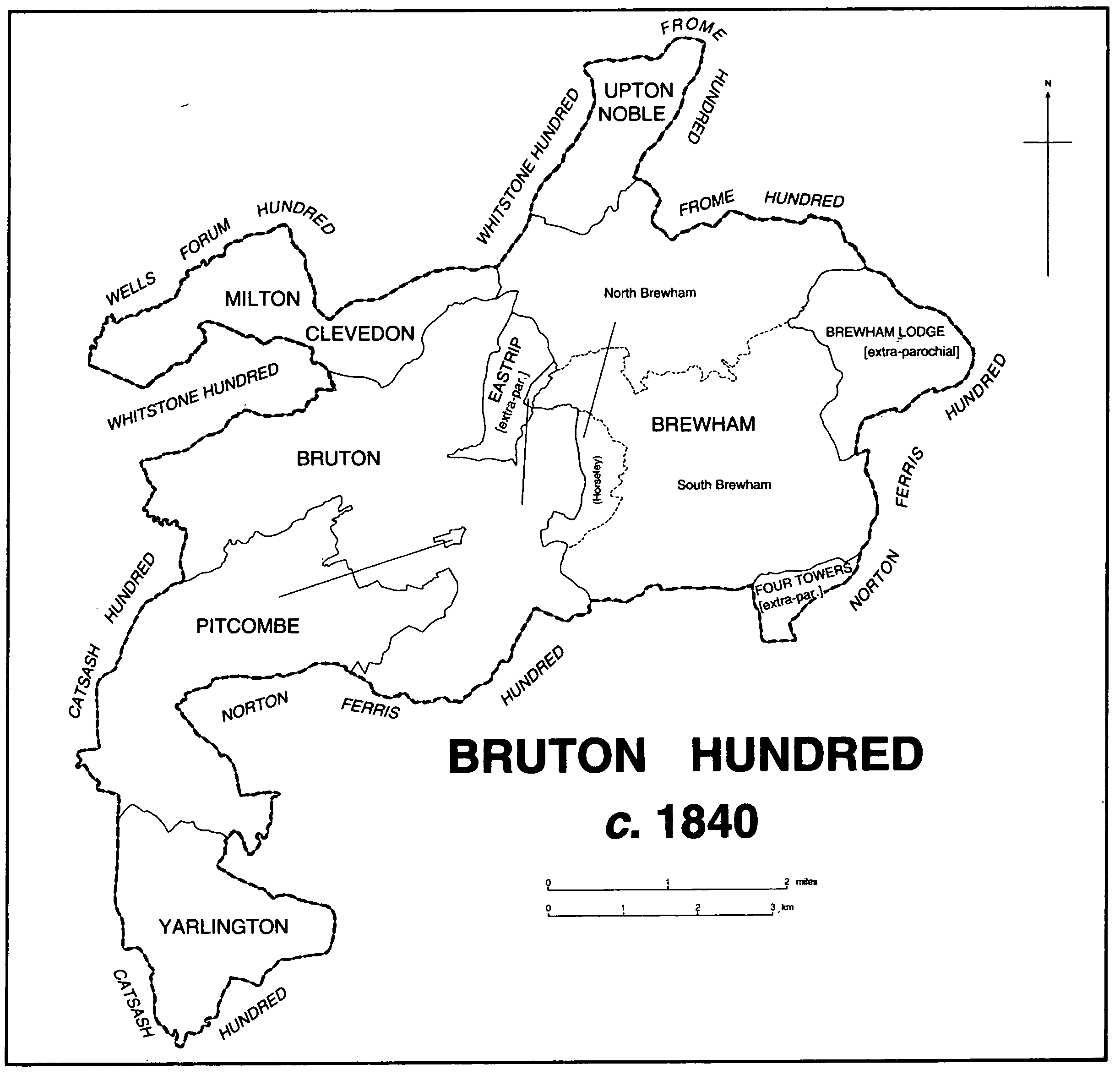 In 1274 the prior and convent of Bruton were ordered not to demand from the lord of Castle Cary more than four suits to their court each year. (fn. 23) In 1539-40 the hundred bailiff accounted for perquisites of the hundred and for two courts leet, together with a sum which included fines of free suitors and money from brewers. (fn. 24) In 1632 lawdays were held at Bruton and tourns at 'Cats Ashes'. (fn. 25) In 1652 tourns for Bruton, Norton Ferris, and Catsash hundreds were said to have been formerly kept at Easter and Michaelmas in Bruton field where tithingmen and posts reported public nuisances. (fn. 26) In the earlier 18th century the tourn was said to be 'commonly held' at Catsash, 'an ash tree growing in the corner of a field by three crossways near Bruton'. (fn. 27) In the 1750s the lord of Redlynch sent men to attend both the Catsash court and the court and tourn of Bruton. (fn. 28) Later in the century it had become the practice for the ten tithingmen of Bruton hundred to meet on 3 May each year at a gate near Pinkwood beside Batts Farm in North Brewham. (fn. 29)
Records of courts leet and views of frankpledge for the hundred survive for the period 1781-1821. (fn. 30) Until 1801 or later the court met at the Sun inn in Bruton in May and October or November. At the May court a jury of townsmen appointed tithingmen for the east and west tithings of the town who served in rotation and a 'county' or 'country' jury chose a constable and tithingmen for South Brewham, for Redlynch and Discove, and for Wyke, Cole, and Pitcombe. In the autumn court the town jury nominated a constable and the county jury appointed tithingmen for Upton Noble, North Brewham, and Milton Clevedon. Yarlington provided a constable in 1820.
Edward Cheeke was described as steward of the hundred when he proclaimed James II king in 1684. (fn. 31) The Cheeke family leased the hundred courts with the Bruton markets and fairs in the earlier 18th century. (fn. 32) John Sims, bailiff for 36 years until 1800, was succeeded by his son. (fn. 33)
In the 17th and the earlier 18th centuries the hundred constables were concerned with bridge repairs, the clearance of roads blocked by snow, the employment of a bellman and the watch, and notably in 1688-9 with billeting and directing troops supporting the Prince of Orange. (fn. 34) In 1688 the constables paid for the removal of the stocks from the river at Patwell, in the next year for a new cucking stool, and in 1698-9 for mending the pillory. A new pillory was built in 1715-16 and pillory and stocks were referred to in 1737-8. The cucking stool was evidently kept in a close behind a tenement on the south side of High Street and the pillory stood near the shambles in the same street. (fn. 35)
The annual meeting of the hundred involved a ceremony with a rod called a doating or doting staff kept by the constables. Attached to the rod were ten rings through which each tithingman had to place his own rod of office. (fn. 36) A new staff was provided by the constables in 1708-9 and the overseers bought new gilded poles for the constables in 1759-60. (fn. 37)