Pages 6-15
A History of the County of Somerset: Volume 7, Bruton, Horethorne and Norton Ferris Hundreds. Originally published by Victoria County History, London, 1999.
This free content was digitised by double rekeying. All rights reserved.
BREWHAM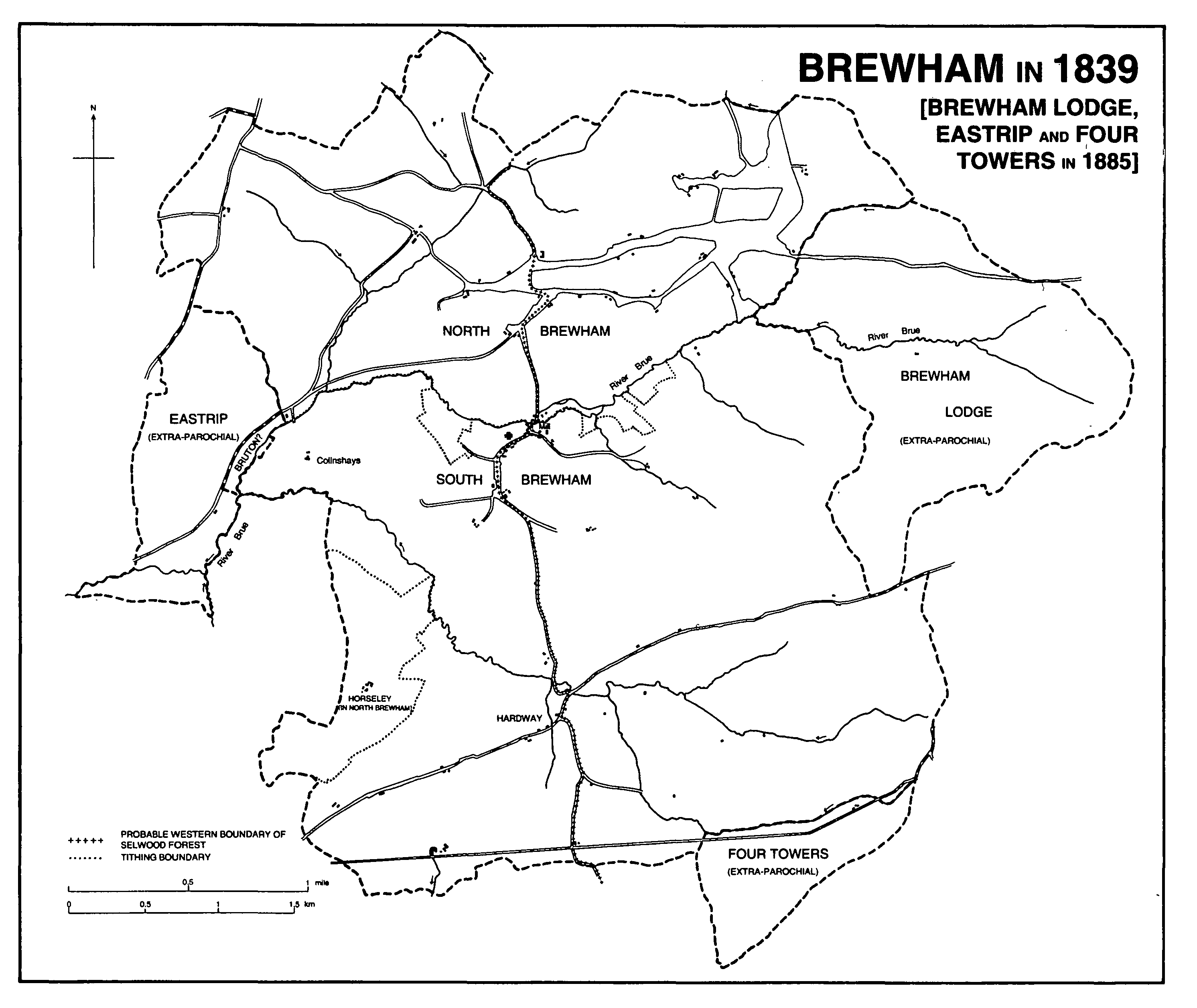 The parish of Brewham, comprising the tithings, manors, and villages of North and South Brewham, (fn. 1) the farmstead of Horseley, and the settlements of Hardway and Border, was a chapelry of Bruton and thus possibly originated as part of a minster parish. (fn. 2) It lies on the eastern side of Bruton parish and stretches between it and the crown of the Selwood ridge. It was partly in the former Selwood forest. The parish is roughly square in shape, measuring 5 km. in each direction. Much of the eastern boundary follows the ridge, one point there formerly having been marked by a medieval cross. (fn. 3) The river Brue is the boundary between the manors and tithings except where the common meadow was shared; the boundary runs south of the river around Horseley, which was held of North Brewham manor. (fn. 4) In the mid 19th century the parish measured c. 4,700 a. (fn. 5) Between 1791 or earlier and 1933 the tithings were regarded as separate civil parishes. (fn. 6) In 1885 the extra-parochial areas of Brewham Lodge (797 a.) (fn. 7) and Four Towers (184 a.) (fn. 8) were added for civil purposes, the former presumably to North and the latter to South Brewham. In 1966 they also became part of the ecclesiastical parish. (fn. 9) In 1981 the civil parish covered 2,316 ha. (5,722 a.). (fn. 10)
From east to west the land falls from 240 m. (787 ft.) near Druley Hill on the Selwood ridge in the north-east of the parish and from 260 m. (853 ft.) near Alfred's Tower (fn. 11) in the south-east, steeply and then more gradually over bands of Greensand, silty clay, and Oxford Clay, reaching 90 m. (295 ft.) at the river Brue near South Brewham village in the centre of the parish. From that point there is a gradual rise over Cornbrash limestone and Forest Marble clay to 150 m. (492 ft.) in the south-west and 200 m. (656 ft.) at Seat Hill on the north-western boundary. (fn. 12)
The road pattern similarly reflects the presence of the former forest. The principal north-south road, known variously along its course as Poors Lane, Brewham Street, Charcroft Hill, and Blackers Lane, links North Brewham manorial homestead with South Brewham village. It crosses the Brue by a bridge recorded in the 13th century. In the north the spine road joins a route between Bruton and Frome and in the south crosses two routes, the first called Hardway, which enters the parish at Alfred's Tower and runs south-west down Kingsettle Hill towards Shepton Montague, with a fork at Horseley for Bruton. A little further south it crosses the Coach Road, a private roadway from Blackslough to Redlynch House built in 1745-6. (fn. 13) The Hardway was turnpiked in 1756 by the Bruton trust (fn. 14) but the by-road to Bruton was closed in 1790. (fn. 15) There were at least three routes through the forest apart from Hardway. Probably the most important, and turnpiked by the Bruton trust in 1793, was that from Druley Hill in Brewham Lodge and involving a new route alongside the Brue into Bruton. (fn. 16) The valley route was chosen for the railway from Frome to Bruton which was opened by the Great Western Railway in 1856 and which since 1906 has formed part of the main line between London and the south-west of England. (fn. 17)
The pattern of settlement has been clearly influenced by the narrow band of Cornbrash limestone which runs north and south in the centre of the parish and which marked the western boundary of Selwood forest. (fn. 18) A chert scraper from the north and a stone axe from the south point to neolithic activity along that band (fn. 19) and the later settlements at Batts Farm, the demesne homestead of North Brewham manor, at South Brewham village, at Horseley, named in the 12th century, (fn. 20) and at Hardway, recorded in 1612, (fn. 21) all lie on limestone. Later settlement, governed by the gradual inclosure and clearance of the forest, comprised scattered farmsteads, of which Cook's and Shave farms are the earliest survivals, (fn. 22) and cottages on roadside waste on Kingsettle Hill from the later 17th century, (fn. 23) at Border in the early 18th century, (fn. 24) and throughout North Brewham tithing. The modern settlement of North Brewham is the result of inclosures in the 19th century. (fn. 25) South Brewham, by contrast, is a nucleated settlement around church, bridge, and washing place.
About half the parish lay within Selwood forest, the course of its boundary marked by the names Hardway Gate, Hookgate, Lipgate, Wayland Gate, and Forest Gate. The last still retained a gate in the mid 18th century. (fn. 26) The 22 a. of woodland recorded in 1086 must be regarded as a serious underestimate or refer to woodland outside the forest. (fn. 27) A separate wood called Pinkwood was mentioned in the earlier 12th century. (fn. 28) Pinkwood, mainly of oak, (fn. 29) survives and the Selwood ridge remains well wooded. In the late 12th century there was a deer park within the forest belonging to the lord of South Brewham. (fn. 30) It lay on the south side of the road at Kingsettle. (fn. 31)
There were groups of common arable fields in the extreme south of the parish and also probably in the north-west, each giving the name to farms called Brewham Fields. (fn. 32)
Alfred's Tower, which dominates the eastern boundary of the parish from the Selwood ridge, was designed in 1765 by Henry Flitcroft for Henry Hoare but was not completed until 1772. (fn. 33) Built to commemorate Alfred's victory over the Danes in 879, it is triangular in plan and stands 40 m. (131 ft.) high. It is of brick with Chilmark stone dressings and is topped by a parapet with turrets and carries a statue of Alfred under a canopy with an inscription. It was damaged in 1944 when an American aircraft crashed into it, killing the crew. The tower has recently been restored. (fn. 34)
There was a friendly society at South Brewham in 1811 and the club day was held early in June in the 1870s. (fn. 35) A similar society was formed in North Brewham in 1828 and met at the Bull inn, Hardway. The annual feast was on the Monday after Midsummer day. (fn. 36)
There was an inn in the parish in 1620 (fn. 37) and 1686 (fn. 38) and there were two licensed premises in 1731. (fn. 39) The White Horse, on the north side of Kingsettle Hill, was recorded in 1720 but had been demolished by 1723. (fn. 40) The Bull or Old Bull at Hardway in South Brewham was recorded by name in 1734. It may have been moved from a site further east in the later 18th century (fn. 41) and remained in business in 1994. The Plough, formerly known as the Plough and Horses, in South Brewham village was probably open by 1775 (fn. 42) and was also in business in 1994. The Bell, also in South Brewham, was open in 1787 but had closed by 1790. (fn. 43) The Red Lion was a beerhouse at Bachelor's Farm, North Brewham, c. 1851. (fn. 44) It was largely rebuilt in 1936 (fn. 45) and was open in 1994. The Cross Keys, also at North Brewham and standing opposite the South Brewham turning, was a beerhouse in 1871; (fn. 46) it closed between 1906 and 1910. (fn. 47)
In 1650 there were said to be 120 families in Brewham. (fn. 48) The population of North Brewham rose from 274 in 1801 to 395 in 1831 but declined thereafter to 319 in 1871 and 227 in 1881. The population of South Brewham rose from 396 in 1801 to a peak of 600 in 1821 before falling, at first steadily and later sharply, to 465 in 1871 and 350 in 1881. By 1901 the total for the two tithings or parishes together was 454 and declined further to 378 in 1931. Thereafter there was a rise to 434 in 1971 and to 448 in 1981, but only 413 people were normally resident in 1991. (fn. 49)
In 1497 31 people were fined for their part in the rebellion against Henry VII. (fn. 50)
MANORS AND OTHER ESTATES
In 1066 Brewham was held by Robert son of Wimarc and in 1086 by William de Mohun (I) with the addition of land formerly held by Almar. (fn. 51) It continued to be held of the Mohuns and their successors the Luttrells of the honor of Dunster until 1746 or later, (fn. 52) although South Brewham was said in 1254 to have been held in chief. (fn. 53)
William de Mohun (I) died after 1090 and was followed by his son William (II) (d. c. 1155). William (III) (d. 1176), son of the last, gave all his land in the parish north of the river Brue to the canons of Bruton. (fn. 54) That estate, later known as NORTH BREWHAM manor, remained in the possession of the canons until the Dissolution, and in 1539 passed to the Crown. (fn. 55) In 1546 it was sold to (Sir) Maurice Berkeley, (fn. 56) and descended in that family like Bruton manor (fn. 57) until Sir Charles Berkeley in 1635 sold it to trustees (fn. 58) for Thomas Fownes (d. 1638). Thomas was succeeded by his grandson Thomas (d. c. 1666-70), (fn. 59) and the last by his younger son Richard Fownes (d. c. 1715). (fn. 60) Richard's son, also Richard, died in 1730 leaving a son Thomas who in 1749 sold the manor to Richard Ring and Robert Curtis. (fn. 61)
Ring died in 1755 leaving his half share to his sons John and Richard. Curtis died in 1775 leaving sons Robert and Henry. In 1784 the four lords agreed to divide the land, but lordship was to be held in common. (fn. 62) Before 1832 the Ring share passed to Joseph Bird (d. c. 1845). (fn. 63) In 1786 Henry Curtis left his quarter share of the estate to his brother Robert (d. 1812), and Robert left most of his estate in trust for his illegitimate son Robert Curtis Philips. (fn. 64) In 1813 the Curtis estate was sold. (fn. 65) The lordship, without any land, was sold by Robert Curtis Philips to John Jenkyns in 1843 (fn. 66) and was not thereafter recorded.
In 1615 the demesne farm was sold by Sir Maurice Berkeley (d. 1617) to Edward Barnard, son of the tenant of the same name. Berkeley retained the fish ponds. (fn. 67) The farm, known as North Court or Batts, was held by Thomas Mompesson (d. before 1693) and by his widow Florence (d. 1698). Their elder daughter, also Florence (d. c. 1709), married Nicholas Carwithen and sold part of the land to Abraham Gapper, the tenant. About 1711 the younger daughter Eleanor, wife of Francis Holles Newman, sold her share to William Whittaker. (fn. 68) William died in 1726 and was followed in turn by his sons Henry (d. 1746) and Walter (d. 1769). Walter's heir, his nephew the Revd. William Whittaker (d. 1810), was succeeded by his nephew, also William Whittaker, who in 1813 sold the estate to the Revd. John Dampier. It thereafter descended with Colinshays. (fn. 69)
The hall of the capital messuage was mentioned in 1258 (fn. 70) and in 1441 the prior of Bruton occupied chambers there. (fn. 71) In 1718 the building was described as a mansion, beside which were a double pigeon house, (fn. 72) fish ponds, (fn. 73) and walled orchards. It had probably been demolished by 1778. (fn. 74) A barn, possibly of the 16th century, survives on the site, part of which was cut by the railway in 1857.
William (III) de Mohun (d. 1176) gave an estate at HORSELEY to the canons of Bruton. (fn. 75) In 1541 it was let to (Sir) Maurice Berkeley and in 1546 granted to him in fee simple. (fn. 76) It descended with North Brewham manor until 1617 when another Sir Maurice Berkeley (d. 1617) leased it to his younger sons Henry, Maurice, William, and John. (fn. 77) By 1638 Horseley had been acquired by Thomas Fownes (fn. 78) and descended with North Brewham until it was sold to Edward Berkeley shortly before 1749, (fn. 79) probably in trust for Sir Charles Berkeley (d. 1765). Charles's widow Frances sold it in 1766 to John, Lord Berkeley (d. 1773), from whose heirs it was probably bought by John Dampier (d. 1809), owner in 1784. (fn. 80) He was succeeded by Ludwell Westley Dampier (d. 1850) and Ludwell by his son John (d. 1861). (fn. 81)
The land south of the river Brue, later SOUTH BREWHAM manor, was held in the 1190s by Richard son of John. Richard left a son John, a minor. (fn. 82) John FitzRichard (d. 1226) was succeeded by his son Henry FitzRichard (d. 1243), who appears to have granted it in free socage to Richard de Musgrove. Thereafter the mesne lordship seems to have been extinguished and the Mohuns and their successors the Luttrells claimed rent until 1627 or later. (fn. 83)
Richard de Musgrove was succeeded after 1251 by Robert de Musgrove (d. 1254). (fn. 84) From Robert the manor descended like Charlton Musgrove manor (fn. 85) until after the death of John de Bures in 1350 when it passed, despite counter claims, to John's daughter Catherine and to her husband Giles de Beauchamp (d. 1361). (fn. 86) Sir John Beauchamp, their son, died c. 1389 and his widow Elizabeth held the manor. (fn. 87) In 1411 she was succeeded by her son Sir William (d. c. 1421) and he by his sons Walter (d. by 1429) and Robert (d. by 1442) in succession. Robert was followed by his brother John, created Baron Beauchamp of Powick in 1447, who died in 1475. (fn. 88) The manor seems to have been settled on John's younger son Thomas, who died in 1487 leaving a daughter Joan. Despite a later settlement by John's heir, Richard, Lord Beauchamp (d. 1503), (fn. 89) Joan retained possession and in 1501 the manor was settled on her and her husband John Basket. (fn. 90) Joan was succeeded by her daughter Elizabeth, who married John FitzJames (d. 1533-4) and died without issue in 1550. (fn. 91)
Sir John FitzJames (d. c. 1542), father of John, seems to have held the manor, perhaps during Elizabeth's minority, (fn. 92) and on her death it passed to James FitzJames (d. 1579). James was followed by his brother Richard (d. 1595) and Richard by his son John. (fn. 93) From 1619 John and his son, also John, sold first the demesne farm and later other land. (fn. 94) Cook's farm was sold in 1627 to James Churchey, and another James added further land in 1655. In 1728 the whole estate (c. 190 a.) was bought on behalf of King's School, Bruton, owners until c. 1917. (fn. 95) In 1637 the rest including the lordship was sold to Nathaniel Hawthorne. (fn. 96) In 1652 Nathaniel settled the manor in trust and in 1663 it was sold to Francis Swanton. In 1668 Francis sold the lordship and the rest of the estate to Philip Bennett, (fn. 97) who by his will dated 1725 left it to his grandson, also Philip Bennett. (fn. 98) In 1755 the last with his only son and namesake sold it to Henry Hoare. The lordship descended in the Hoare family and was last mentioned in 1872. (fn. 99)
Before 1623 the capital messuage, a park, and c. 260 a. of land in South Brewham were sold by John FitzJames to Sir John Carew. (fn. 100) His son Thomas (d. 1662) was followed by Thomas's son John (d. 1684) and John by his son Thomas (d. 1691). Thomas Carew, uncle and heir of the last, who also died in 1691, was followed in the direct male line by Thomas (d. 1719) and Thomas (d. 1766). (fn. 101) The estate, known as South Brewham farm, appears to have been sold after Thomas's death, probably to Edmund Morton Pleydell (d. 1794). Edmund, son of the last, appears to have sold it c. 1802 to David Mead. (fn. 102) In 1839 the owners were the Revd. David Mead and his sister Ezit, later wife of John Weston Peters. (fn. 103) Ezit (d. 1875) left her estates to her husband's infant great-nephew John Weston Peters although they were held in trust until c. 1893 (fn. 104) and were put up for sale in the 1920s. (fn. 105)
The capital messuage, known as Brewham Court and later as Card's Farm, after 17th-century tenants, (fn. 106) was built (fn. 107) or substantially altered before 1647 when a new parlour, chamber, and garden were recorded. By 1648 the great hall and court were let, and were last recorded in 1652. (fn. 108) The building is an L-shaped house of three bays with three storeys in local stone.
A large estate in the south part of the parish was let by John FitzJames to the Gorges family before 1638 and appears to have been purchased by them shortly afterwards. It descended with Redlynch and was sold to Sir Stephen Fox in 1673. (fn. 109) By 1839 the estate, then held by Henry Stephen Fox-Strangways, earl of Ilchester (d. 1858), covered over 650 a. (fn. 110) In 1673 it was claimed to be a manor (fn. 111) and was last recorded as SOUTH BREWHAM manor in 1812. (fn. 112)
Before 1240 John le Brun gave an estate in South Brewham to William Camell who granted it c. 1240 to Henry de Gaunt and St. Mark's hospital, Bristol, for 16 years because he could not give Gaunt seisin of an estate in Cornwall. The grant was confirmed by Richard de Musgrove, lord of South Brewham, whose successors also held the estate on lease. (fn. 113) The Cornish estate never came to Gaunt and in 1268 he confirmed the Brewham estate to St. Mark's hospital. (fn. 114) The land remained with the hospital until the Dissolution and was later granted to Bristol Corporation. (fn. 115) The corporation, who described their estate as South Brewham manor, sold it in the 1690s to various tenants. (fn. 116)
The manor house was said to need rebuilding in 1589 but was not recorded again. (fn. 117)
In the mid 12th century William de Mohun (II) gave the tithes of his Brewham estate to the canons of Bruton. (fn. 118) After the Dissolution they passed as part of Bruton rectory estate to the Berkeleys. (fn. 119) In 1615 the tithes of Batts farm and the hay tithes of North Brewham manor were sold with the farm. (fn. 120) In 1772 the remaining tithes were conveyed by Sir John Wodehouse and his wife Sophia to Thomas Whalley Partington but by 1780 they were in the possession of Henry Hoare. (fn. 121) In 1814 Sir Richard Hoare, grandson of Henry, purchased the hay tithes of North Brewham manor from the Revd. John Dampier, excluding the tithes of the Dampier family's estates. (fn. 122) In 1839-40 Hoare's tithes were commuted for a rent charge of £280 and other tithes were merged with the freeholds. (fn. 123)
The COLINSHAYS estate originated in land called Collyns Leyse which Robert Cheeke of Bruton held on lease in 1542. (fn. 124) Before 1724 it was sold by James Albyn to Edward Cox and in that year Edward's son, also Edward Cox, settled it on his marriage. Edward (d. c. 1739) was succeeded by his infant son George who sold the heavily mortgaged estate to his brother William in 1771. William released it in 1772 to Henry Albin Martin, the mortgagee. Martin (d. c. 1797) devised it to Edward Berkeley Napier who in 1799 left it to his son Gerard. In 1816 Gerard Berkeley Napier released the estate to the Revd. John Dampier, incumbent of Brewham. (fn. 125) John died in 1841 and his son Henry in 1848. John's widow Mary died in 1855. (fn. 126) By 1870 it formed part of the estate of Henry Dillon-Trenchard whose successor J. H. L. Dillon-Trenchard divided and sold it in 1934. (fn. 127)
Colinshays House is a large building of local stone with Doulting stone dressings. The original house, built c. 1815, has a 4-bayed front of two storeys and attics with battlemented parapet. In 1825 there was a Gothic-style conservatory on the south front. (fn. 128) In the late 19th century a two-storeyed, two-bayed block was added to the south. The house has a Gothic-style porch, mullioned and transomed windows, and an Elizabethan-style interior with panelling. (fn. 129)
ECONOMIC HISTORY
In 1086 the estate called Brewham, which may have included the later manor of Wyke Champflower in Bruton, (fn. 130) formed from the combination of a large and a small holding in 1066, was taxed for 15½ ploughlands and was worked by 17 teams, of which 4 teams were on the demesne worked by 2 servi. The rest were worked by 22 villani, 28 bordars, and 28 cottars. There was 60 a. of meadow and recorded livestock comprised 3 riding horses, 22 wild mares, 17 cattle, 60 pigs, and 300 sheep. The value of the estate had increased from £12 5s. to £14 17s. since 1066. (fn. 131)
The canons of Bruton, owners of the northern part of the parish from the later 12th century (fn. 132) and of land in South Brewham from the early 13th, (fn. 133) had licence in 1252 to bring into cultivation 25 a. of land which was considered to be outside Selwood forest but within the jurisdiction of the foresters, provided that does with fawns and other beasts were not excluded. Grants to the priory of pannage within the forest and a lease of their manor indicate the importance of pigs, which were evidently driven from Bruton to feed in Brewham. (fn. 134)
By the 1460s most of the income of South Brewham manor came from rents: the demesne was farmed and wood, pasture, and herbage of the park sold. Payments in kind of churchscot corn and 215 poultry were sold for cash. Peas and wheat presumably grown on the manor were delivered to the lord at Alcester (Warws.) and Powick (Worcs.). (fn. 135) In 1530 five men paid for pannage in North Brewham manor and some paid to be relieved carrying duties from South Petherton to Bruton. (fn. 136)
The common fields in the south were inclosed before 1595. (fn. 137) There was common meadow south of the Brue at Southill, shared by both ancient manors and their successors until the mid 18th century or later. (fn. 138) Small greens or commons in South Brewham and larger ones in North Brewham, all apparently former routes into the forest, survived until inclosure in 1757, when Marsh and Shave commons were inclosed, and in 1832 and c. 1844 when the North Brewham commons were allotted. (fn. 139) Charlgrove Common beside the road south of the church remained common in 1839. (fn. 140)
Cattle, important by the early 16th century, (fn. 141) depended on grazing in the forest. (fn. 142) By the end of the century grassland had been created from a former park and the previously arable Brewham fields in the south of the parish. (fn. 143) The park, estimated at between 140 a. and 193 a., was sold before 1623 and divided into fields. (fn. 144) Also by 1623 522 a. of former forest land in North Brewham and 502 a. in South Brewham manors were in cultivation, leaving 1,020 a. described as waste and either still wooded, uncultivated, or common pasture. (fn. 145) In 1629 the whole was disafforested (fn. 146) and by 1637 216 a. of forest ground had been inclosed for the tenants of South Brewham manor in lieu of common pasture. (fn. 147) Common and waste within the former forest covered between 200 a. and 300 a. in the south-east of the parish in 1662. (fn. 148)
In the mid 17th century the South Brewham demesne and park were let and before 1668 the manor was divided to form several small holdings and one farm of 94 a. New houses were built for the tenants; the house for the farm known as Brickhouse or the Prospect stood near the boundary with Brewham Lodge. It had 8 hearths before 1662 (fn. 149) and was demolished between 1778 and 1839. (fn. 150) One of the tenants allowed his landlord summer pasture for a cow, another had to repair his thatch every year and to provide for visits of the landlord and his servants. (fn. 151) A third tenant was allowed 200 faggots and 3 loads of hard wood each year in return for collecting rents and managing the meadows. (fn. 152) The former forest land there and in North Brewham was said to be wet and poor. (fn. 153)
Some forest clearance took place in the 13th century and coppice replaced felled standards over 200 a. c. 1401. (fn. 154) By 1623 the forest land, known within the parish as Brewham forest, comprised inclosures for cultivation, many described as newly-made, and waste which embraced common pastures, woodland, and other uncultivated land. Forest clearance, inclosure, and farm creation proceeded in the 17th and 18th centuries but timber production remained of importance. (fn. 155) About 1720 one small estate in South Brewham probably raised trees commercially, having a nursery and 1,000 saplings and pollards of oak and ash, besides some elm. (fn. 156) A holding in North Brewham had 70 apple and plum trees and 315 oak and ash with a few elm in 1721 and 409 maiden and pollard trees thirty years later. (fn. 157) By 1755 Brewham forest was still subject to well over 100 beast leazes and Henry Hoare, the new owner, exchanged them for small allotments on surviving commons. (fn. 158) By 1784 much land in North Brewham manor was in closes, but some of the fields were later subdivided and the wide roadside commons continued to shrink. In 1813 there was 260 a. of common, but in 1832 over 50 a. was sold for inclosure and c. 1844 only 116 a. remained to be inclosed. (fn. 159) In 1839 there was 458 a. of woodland, largely in the three units of Brewham forest (146 a.), Brewham wood (93 a.), and Pinkwood (84 a.). (fn. 160) By 1885 Brewham forest and half Brewham wood had been cleared. In 1905 there was 457 a. of woodland, comprising the rest of Brewham's woods and the timbered land in Brewham Lodge. (fn. 161)
In 1801 a return of crops on 372 a. recorded nearly half under oats and the rest largely wheat with smaller amounts of barley, potatoes, beans, and peas. (fn. 162) A mainly grassland farm in North Brewham in 1813 grew wheat, oats, barley, and sainfoin as well as clover. (fn. 163) South Brewham manor was mostly under pasture in 1829, (fn. 164) and in 1839-40 the titheable parts of South Brewham comprised 1,316 a. of grassland and 307 a. of arable. In North Brewham there were 993 a. of grassland and 441 a. of arable. (fn. 165) In 1813 the land was described as mainly infertile cold clay, and the farmers were not then making use of the available lime for dressing. (fn. 166) In 1830 rioters threatened to destroy a threshing machine at South Brewham. (fn. 167)
By the early 19th century large farms had been established including one of 267 a. in South Brewham and another of 184 a. in North Brewham. (fn. 168) In 1840 there were 3 farms of over 200 a., 12 more over 100 a., and 15 over 50 a. (fn. 169) Before 1839 Capt. George Scobell, owner of 175 a. in North Brewham, created field gardens which were let at favourable rates, each acre requiring 80 days' work and yielding produce worth £20 beyond the rent. (fn. 170) In the later 19th century several farmsteads were rebuilt and new ones created. (fn. 171) After 1851 the number of farms over 100 a. rose but by 1881 amalgamation resulted in 14 principal farms, the largest in North Brewham, where Batts farm measured 440 a. Between 1851 and 1871 the number of labourers on those North Brewham farms declined from 104 to 48 and there were 15 uninhabited cottages there in 1881, and 10 in 1891. (fn. 172)
Most of the farms concentrated on dairying and by 1905 there was only 215 a. of arable compared with 4,817 a. of grass. (fn. 173) A butter dealer was in business in 1861 (fn. 174) and a 130-a. farm some years later could carry 40 dairy cows, (fn. 175) evidence of the improvement brought about by recent drainage. By contrast, in 1879 Cook's farm was described as poor and undesirable, its buildings dilapidated, with a 'cold, ungrateful soil' fit only for young stock. (fn. 176) In the 1940s a dairy and stock rearing farm had 'a good cheesemaking dairy' and a cheeseroom and the parish was said to be 'splendid cheese-making land'. (fn. 177) In 1994 a dairy was in production at Border.
The remaining woodland was exploited in the later 18th century, producing timber and bark for the Redlynch estate. (fn. 178) Gamekeepers and labourers were employed in 1861 and 1871, in 1861 four basketmakers worked at Border, and in 1871 a hurdle maker and a timber dealer lived in the parish. (fn. 179)
In the 16th and 18th centuries stone was quarried in the south of the parish (fn. 180) and a hellier was recorded at North Brewham in 1635. (fn. 181) Bricks were probably produced in the parish in the later 17th century to build Brickhouse. (fn. 182) In the late 18th century brick was burnt near Kingsettle Hill in the south-east (fn. 183) and in the 19th another brickyard (fn. 184) and four limekilns were in operation, three in North Brewham. (fn. 185) Local businessmen sank a coal mine to a depth of 652 feet near Cook's Farm in 1804 but flooding in 1807 brought the enterprise to an end and the company closed in 1810. (fn. 186)
In the 17th and the early 18th century serge was produced in the parish. (fn. 187) In 1721 a weaver had a new workshop on the waste of South Brewham manor. (fn. 188) In 1821 only nine households were employed in anything other than agriculture. (fn. 189) In 1851 a carters' frockmaker was living in South Brewham (fn. 190) and glovers were recorded in 1871 and 1881. (fn. 191) In 1866 there were shops in North and South Brewham villages and at Hardway. (fn. 192) By 1947 there were a post office and a shop; (fn. 193) in 1994 the shop remained in South Brewham.
Mills
In 1086 there were two mills on the Brewham estate. (fn. 194) In the 12th century one was on North Brewham manor belonging to Bruton priory. (fn. 195) In 1623 it was known as Carey mill after the tenant (fn. 196) and its owners were the lords of North Brewham manor when it and a newlybuilt replacement passed to the Curtis family. (fn. 197) By 1894 the mill, near South Brewham village, was driven both by water and steam. It remained in use until the 1920s. (fn. 198)
A second water grist mill, on the boundary with Bruton parish, had been converted to two cottages by 1840. By 1885 the site was occupied by Colinshays Farm. (fn. 199)
LOCAL GOVERNMENT
Brewham was a single parish and tithing in 1569 and 1670 (fn. 200) but c. 1730 there were tithings of North and South Brewham, corresponding to the two manors. Those tithings were sometimes called parishes by 1791 and were regarded as civil parishes in the 19th century. (fn. 201) They were united under the name Brewham in 1933. (fn. 202)
A court roll for 1530 survives for North Brewham manor. The court was concerned with tenancies, defective buildings and ditches, pannage of pigs, and strays. The last were the responsibility of a hayward. (fn. 203) Suit of court was demanded from tenants of North Brewham manor until 1786 or later. (fn. 204) In the 1460s South Brewham manor court met twice a year and its officers were a bailiff who also acted as woodward, a rent collector, a forester, and haywards. (fn. 205) Court books and presentments for the manor survive from 1789 to 1821, when annual courts baron dealt mainly with tenancies and repairs and one hayward was appointed. (fn. 206) There was a pound near the Bull inn at Hardway. (fn. 207) Bristol Corporation held courts for its estate in the 16th and 17th centuries. Court records survive for several years between 1549 and 1603, business almost exclusively concerned with tenancies. (fn. 208) Tenants of Sir Stephen Fox's estate in South Brewham owed suit to Redlynch and in 1674 some tenants owed harvest days, eggs, and pullets at Easter. (fn. 209)
By 1670 there were separate churchwardens, one each for North and South Brewham, (fn. 210) a practice which continued into the 19th century. (fn. 211) In 1657 the parish officers were allowed to build a cottage for a parishioner at North Brewham. (fn. 212) In 1752 the churchwardens and overseers of Brewham leased from South Brewham manor a house said to have been used as a poorhouse for many years. (fn. 213) It was probably the house held of South Brewham manor and out of repair in 1821. (fn. 214) The overseers also held the Old Bull in the late 18th century but it was in need of repair c. 1790. (fn. 215) By 1839 the parish used a house west of the church, later known as the Barracks. (fn. 216)
In 1835 North and South Brewham became part of Wincanton poor-law union which in 1894 formed part of Wincanton rural district and which was absorbed into Yeovil, later South Somerset, district in 1974. (fn. 217)
CHURCH
By the mid 13th century there was a chapel at Brewham dependent on Bruton priory church. (fn. 218) Until 1985 the living was a curacy, held between 1856 and 1949 with Redlynch, from 1951 with Batcombe and Upton Noble, and from 1982 also with Bruton. In 1985 it became part of the team ministry of Bruton and District. (fn. 219)
Chaplains or curates were presumably appointed by the canons of Bruton until the Dissolution (fn. 220) and thereafter by the owners of Bruton rectory (fn. 221) until 1959 when the advowson passed from the Hoare trustees to the Bishop. Since 1985 the right of patronage has been vested in the Patronage Board of the team ministry. (fn. 222)
In 1575 the curate received a stipend of £6 a year. (fn. 223) In 1648 the payment was raised to £30 although in 1650 it was claimed that the curate received only £20. (fn. 224) The stipend was £25 in 1705 (fn. 225) but only £4 in 1754. (fn. 226) The living was endowed with a rent charge on land at Sutton in Ditcheat after an augmentation in 1784 from Queen Anne's Bounty. It was further increased through Parliamentary grants of £1,200 in 1813 and £200 in 1826 (fn. 227) to give an average income of £85 in 1829-31 (fn. 228) and £100 in 1851. (fn. 229)
A house for the curate was said to have been bought c. 1640 by the parishioners but by 1705 they refused to maintain it. (fn. 230) There was no house in 1815 (fn. 231) but in 1839 the curate had a cottage near the church, possibly the building called the Parsonage in 1861 and then divided into two dwellings. (fn. 232) In the later 19th century curates lived at Hardway House, known as the Vicarage, (fn. 233) which by 1923 was part of the glebe. (fn. 234)
In the 1240s there were services at Brewham on Sundays, feast days, and on four weekdays, taken with the help of the chaplain of Redlynch. (fn. 235) In the 1540s there was a parish brotherhood and an endowed rood light. (fn. 236) A church house, belonging to South Brewham manor, was sold before 1668. (fn. 237) A clerk's ale was held in the 1750s. (fn. 238) At Christmas 1782 singers from the parish visited Redlynch. (fn. 239)
In 1784 there was one Sunday service and in 1815 John Dampier, curate 1813-41, with an assistant held a single service alternately morning and evening while also serving four other parishes and Bruton hospital. (fn. 240) In 1840 there were two Sunday services with sermons and by 1843 communion was administered six times. (fn. 241) In 1851 the morning service on Census Sunday was attended by 125 people including 31 children, the afternoon by 92 adults and 77 children, all figures said to be above average. (fn. 242) By the 1870s monthly communions were held. (fn. 243)
The church of ST. JOHN THE BAPTIST, so dedicated by 1496, (fn. 244) comprises a chancel, a nave with north and south aisles, and a south porch surmounted by a low tower. The church was extensively restored in the 19th century when all the windows were renewed. Those in the chancel are of late 13th-century character. The south doorway is an assemblage of 12thand 13th-century material, perhaps installed at the restoration. (fn. 245) The arcades are of four bays on the north and three bays on the south to allow for the tower at the west end. The former is of the 15th century and the aisles have windows of 15th-century character which stop short of the western end of the nave. The south aisle was built in 1826-7. (fn. 246) There was a singing gallery in the later 18th century (fn. 247) and probably until the 1870s. (fn. 248)
The two fonts are of the 14th century and the 19th, the former said to have come from Bruton to replace a wooden one. (fn. 249) The altar rails are of the early 18th century and some glass in the south aisle came from Clandown parish church. (fn. 250)
The plate includes a cup of 1573 by 'I.P.' and a paten of 1726 by Gabriel Sleath. (fn. 251) There are two bells, of 1730 and 1775; three, including the third of 1617 by John Wallis of Salisbury and the fourth of 1654 by John Lott of Warminster (Wilts.), were sold in 1969. (fn. 252) The registers date from 1683 but are incomplete. (fn. 253)
There is a 14th-century octagonal cross shaft and base in the churchyard. (fn. 254)
NONCONFORMITY
There were several families of recusants in the parish between 1591 and 1675. (fn. 255)
In 1672 the South Brewham house of Edward Bennett was licensed for Presbyterian meetings. (fn. 256) In 1702 a meeting house was licensed in North Brewham (fn. 257) and further licences for unspecified congregations were issued in 1814, 1817, 1824, and 1826, the last three in South Brewham. (fn. 258)
In 1806 part of a house in North Brewham was licensed for use by Methodists. (fn. 259) Preaching was abandoned in 1838 but restored in 1840 and a chapel was built in the following year. (fn. 260) In 1851 there were three services on Sundays with a total attendance on Census Sunday, including children, of 38 in the morning, 21 in the afternoon, and 45 in the evening. (fn. 261) In the later 19th and the early 20th century two services were held on Sundays and one on a weekday but by the 1930s there was only one Sunday service. The chapel closed in 1961 and was sold. (fn. 262) A second Methodist chapel, known as the Wesleyan Free Church, was part of a house at Hardway in 1850. In 1851 27 people attended the afternoon service and 63 in the evening. (fn. 263) The chapel was recorded in 1889 but had been closed by 1896. (fn. 264)
In 1824 a house was registered for Independents, (fn. 265) probably at Hardway where a chapel was part of a house in 1836. It was last recorded in 1851 when 40 people attended evening service. (fn. 266)
The Baptist chapel at South Brewham was first recorded in 1870. (fn. 267) It stands immediately south of the river Brue and in 1994 one service was held each Sunday.
EDUCATION
There was a school in 1634 and in 1664. (fn. 268) In 1818 there was a Sunday school with 146 children but no day school. (fn. 269) The Sunday school continued until after 1851 and in 1847 had 90 pupils. (fn. 270) In 1827 a day school was begun supported by subscriptions and payment by parents. In 1833 it had 90 pupils. It may have occupied the schoolhouse recorded in 1829 and 1836 (fn. 271) south of the churchyard, which the parish rented and maintained until 1859. (fn. 272) In 1833 a second day school taught 26 girls and 54 boys at their parents' expense. (fn. 273) In 1847 there was only one day school with 80 pupils. A further 48 attended Sunday school only. (fn. 274) Another day school appears to have been kept at Hardway between 1841 and 1861. (fn. 275)
A National school with two classrooms and teacher's house was built south-west of the church c. 1858-63 (fn. 276) and average attendance was 42 in 1870 and 104 in 1890. (fn. 277) There were 79 children on the books in 1903 but absenteeism was a serious problem throughout the early 1900s. (fn. 278) From 1934 the school took only pupils under 11 and in 1948 adopted voluntary controlled status. Numbers declined to 27 in 1964 and in 1965 the school closed and the children transferred to Upton Noble. (fn. 279) In 1994 the building was a private house and village hall.
A private school was kept in 1870. (fn. 280)
CHARITIES FOR THE POOR
None known.