Pages 59-63
A History of the County of Somerset: Volume 7, Bruton, Horethorne and Norton Ferris Hundreds. Originally published by Victoria County History, London, 1999.
This free content was digitised by double rekeying. All rights reserved.
UPTON NOBLE
The parish of Upton Noble, (fn. 1) also known as Upton Caboche in the 14th century, (fn. 2) may derive its prefix from its position on the hill above Batcombe of which it was a chapelry. (fn. 3) Upton lies c. 6 km. NE. of Bruton. It is rectangular in shape, measuring 2.5 km. from north to south and 1 km. from east to west. There are no natural boundaries apart from a stream through Studley Bottom to the north; part of the western boundary follows the Bruton-Frome road, probably an old route. (fn. 4) The parish measures 274 ha. (677 a.). (fn. 5)
The parish lies on the eastern slopes of Seat Hill, between 190 m. and 140 m (623-459 ft.), (fn. 6) largely on Forest Marble clay except for a small area east of Upton village, which is on the Cornbrash limestone. (fn. 7)
The Bruton-Frome road, probably on the route of the early medieval Old Way, (fn. 8) was turnpiked by the Bruton trust in 1810 when improvements were made to the route. (fn. 9) East of it the village lies around a grid of lanes with High Street and Gunnings Lane to the south, Top Hill to the north, and Church Street to the west. Several houses date from the late 17th or the early 18th century including Gunnings Farmhouse, west of the village, which is dated 1711.
The north-eastern half of the parish has regular field patterns and furlong names suggesting open arable. Further north and in the south-west it was formerly wooded. (fn. 10)
Ale was sold in the parish in 1634 (fn. 11) and there were one or two licensed premises during the mid 18th century but none in 1788. (fn. 12) By 1859 a butcher kept a beerhouse, (fn. 13) probably named the Lamb inn by 1885, which remained open until 1995. (fn. 14)
In 1563 the parish had 16 households (fn. 15) and by 1791 there were said to be 36 houses. (fn. 16) The population was 223 in 1801 and 285 in 1821. Thereafter, with fluctuations, there was a steady decline to 178 in 1901 and to 158 in 1911. After falling further to 112 in 1961 there was a slight rise to 125 in 1991. (fn. 17) Some new houses have been built in the village in the later 20th century.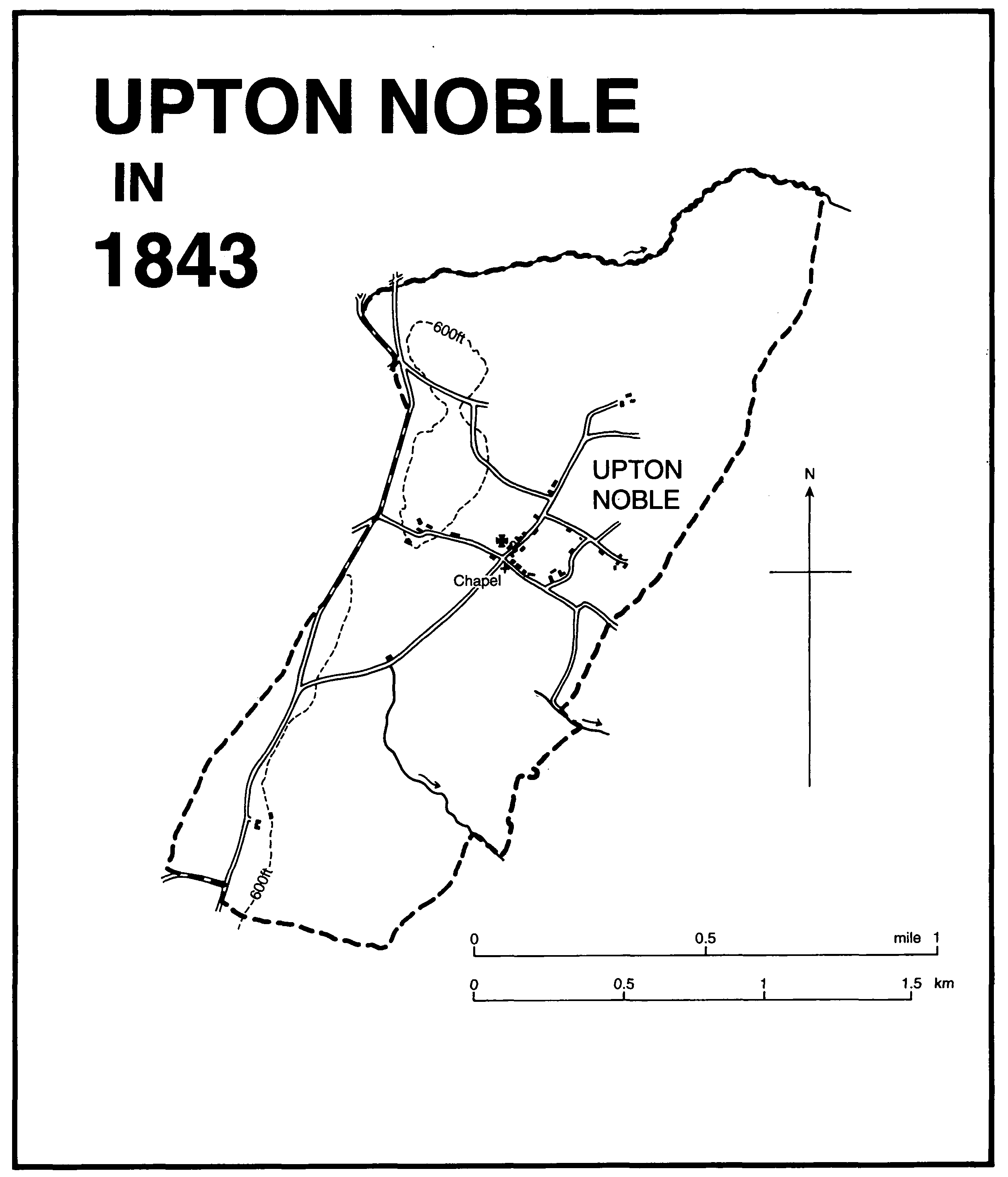 The Upton choir was recorded in 1787. (fn. 18)
MANOR AND OTHER ESTATES
Before 1066 Upton was held by Leofmer (fn. 19) and in 1086 by Ralph Rufus of Geoffrey, bishop of Coutances. (fn. 20) In 1285 it was held of the earl of Gloucester but in 1294 it was claimed for the heirs of Giles de Flori. (fn. 21) Nevertheless, Gilbert de Clare, earl of Gloucester, held the overlordship when he died in 1314 and was succeeded by his eldest sister Eleanor (d. 1337), wife of Hugh le Despenser and by her son Hugh le Despenser (d. 1349). (fn. 22) Hugh's nephew and heir Edward le Despenser (d. 1375) was succeeded by his widow Elizabeth and on her death by his granddaughter Isabel. (fn. 23) In 1408 Upton Noble was said to be held of the abbot of Glastonbury, probably by a mistake. (fn. 24)
In 1571 the manor was said to be held of the Crown. (fn. 25)
The terre tenancy was disputed between William son of Richard and Richard son of Ralph in 1201. (fn. 26) In the mid 13th century (Sir) John le Noble possibly held it. (fn. 27) Augustine de Plessetis held the manor in 1279, probably in right of his wife Sarah, widow of John Lovel. (fn. 28) In 1291 Robert Burnell, bishop of Bath (d. 1292), acquired it from Augustine and Sarah. (fn. 29) The bishop's nephew and heir Philip Burnell (d. 1294) was succeeded in turn by his children Edward (d. 1315 s.p.) and Maud. (fn. 30) Maud (d. 1341) married successively John Lovel (d. 1314) and Sir John Haudlo (d. 1346). Haudlo held by the curtesy after his wife's death. (fn. 31) Maud's son John Lovel (d. 1347) succeeded and the manor descended with North Cheriton (fn. 32) until Sir John Rogers and his son Richard sold it in 1548 to James Bisse (d. 1569) and his brother John. (fn. 33) John (d. 1571) was succeeded by his son James (d. 1606), (fn. 34) his grandson James (d. 1646), (fn. 35) and by James (d. 1652) and Edward Bisse (d. 1670), grandsons of the last. (fn. 36) Edward's son James (d. 1713) was succeeded by his son James who sold a third of the manor in 1725 to Paul Daranda, possibly in trust. (fn. 37) In 1738 Edward Halliday and his wife sold the manor to Benjamin Beach. (fn. 38) In 1777 Hester, wife of John Maskelyn, Elizabeth Lawrence, and Margaret Beach, probably sisters and coheirs, sold the manor to Edward Baker apparently in trust for his brother John. (fn. 39) John (d. 1789) left his estates to his three children Susannah (d. 1790), William (d. 1809), and Thomas (d. 1833). In 1796 the brothers divided the estate between them, Thomas taking the lordship. (fn. 40) They died without legitimate issue and in 1835 Thomas's widow Mary Ann and her second husband Charles Harwood obtained a settlement of the manor under Thomas's will. (fn. 41) After Mary Ann's death in 1835 the will was found to have been a forgery and in 1842 Charles and his second wife released the manor to Thomas's cousins and next heirs, Maria and Sarah Baker (d. 1846). (fn. 42) The sisters conveyed half to George Baker, who had instigated the proceedings concerning the forged will. (fn. 43) In 1853 Maria and George assigned the manor and two farms in trust for Dr. Michael Reynolds. (fn. 44) Reynolds died in 1858 and was succeeded by his daughter Thomasine (d. 1876), wife of Thomas Harries, and her children Warenne Harries and Mary Henrietta, wife of Howel Gwynne. (fn. 45) Lordship was not recorded again. The estate appears to have been divided and sold. (fn. 46)
A court, garden, and dovecot were mentioned in 1294 but there is no record of a manor house in 1441. (fn. 47) Upper Farm was described as the capital messuage in 1795 (fn. 48) and was known as Manor Farm by 1835. (fn. 49) The building known as Manor Farmhouse dates from c. 1700 and is an L-shaped building of two storeys and attics with a five-bayed front with mullioned and transomed windows.
A house and land, formerly belonging to Longleat (Wilts.) priory, were granted in 1541 to Edward Seymour, earl of Hertford, who in the same year conveyed them to John Thynne. (fn. 50) In 1549 Thynne sold them to James Bisse and John Bisse the younger and they were absorbed into the manor. (fn. 51)
The rectory estate, part of the rectory manor of Batcombe by the early 18th century, (fn. 52) in 1842 comprised two houses and 21 a. (fn. 53) One of the houses, known as Ivy House in the 19th century (fn. 54) and in 1995 as Upton Noble Manor, is a substantial early 17th-century house of two storeys with large attic gables. (fn. 55) The plan is irregular and provides service rooms alongside the hall whose main fireplace is in an end wall. The north-west, kitchen, end was rebuilt in the 19th century. The interior has a staircase and several fireplaces of the early 17th century.
ECONOMIC HISTORY
In 1086 there were 3 ploughlands and 4 teams of which 1 was in demesne, worked by 2 servi; 5 villani, 4 bordars, and 2 cottars farmed the remainder. There was 5 a. of meadow and recorded livestock comprised 4 cattle, 21 pigs, 11 goats, and 30 sheep. The value of the estate was £3. (fn. 56)
In 1086 woodland ½ league long by 4 furlongs wide was recorded. (fn. 57) In 1294 the demesne estate included 40 a. of underwood, (fn. 58) but in 1441 the 80 a. of recorded wood was unprofitable. (fn. 59) In 1842 there was 39 a., half at Upton wood in the north of the parish. (fn. 60) There was a small reduction to 31 a. in 1905 (fn. 61) but Upton wood survives. A wood called Redley, whose site is unknown, was recorded c. 1142 and was cut down in the 16th century. (fn. 62)
In the 13th century tenants in Batcombe had common pasture in Upton. (fn. 63) In 1294 the demesne estate included 150 a. of arable and 7 a. of meadow, the whole worth c. 34s.; the rents of villein tenants produced 40s. (fn. 64) In 1441 the 105 a. of arable was of low value, and there were 14 a. of meadow and 8 a. of pasture. (fn. 65) Tenant farmers probably depended on common grazing (fn. 66) and rights for grazing cattle and pigs on the waste still survived in the 18th century when most of the land was in closes. (fn. 67) Farming was then said to be indifferent and the land needed draining. There were four farms and labourers were paid 1s. a day and drink. (fn. 68)
In 1836 the land was said to be not very fertile and only 36 out of 57 families were employed in agriculture, a decline since 1821. (fn. 69) By 1841 several families, numbering c. 45 persons, had migrated to neighbouring parishes. (fn. 70) Of the nine holdings over 10 a. in 1842 only three were over 100 a. and a further two between 50 a. and 100 a. (fn. 71) In 1851 three of the six recorded farms were under 100 a. and 27 labourers were employed. There were many pauper families and people described as unemployed or former farmers. (fn. 72) In 1861 there were two farms with over 300 a. and four small holdings but by 1871 there was only one large farm, Manor farm, with 360 a. (fn. 73)
In 1841 a tithe valuation recorded 110 cows with calves and 110 pigs. Each cow could produce 3 cwt. of cheese. There was 5½ a. of orchard producing 2 hogsheads per acre. Of 200 a. of arable 50 a. was under wheat, 40 a. under oats, 16 a. under barley, 46 a. under clover, half fed and half mown, 8 a. under potatoes producing 50 sacks per acre, and 40 a. was fallow. The 183 a. of meadow could produce 16 cwt. of hay per acre. There was 12 a. of garden valued at £6 an acre. (fn. 74)
One family made and sold cheese in the later 19th century. (fn. 75) By 1905 there was only 25 a. of arable and 597 a. was under permanent grass. (fn. 76) In the 1940s the land was noted for cheesemaking and two farms put up for sale in 1947 had cheese rooms. Manor farm, reduced to 108 a. but with additional dairying land bought in 1932, was a dairy farm. (fn. 77)
Clothmaking had been established in the parish by 1451 (fn. 78) and a local woman left a dyehouse to her daughters in 1578. (fn. 79) In the late 18th century the poor were employed in spinning and knitting. (fn. 80) Three shopkeepers were recorded in 1859 and in 1861 there was a tobacco dealer. (fn. 81) Other occupations included a carpenter with a sawing engine in 1861 and a coach builder in 1871. The railway provided employment for some labourers by 1861. (fn. 82) There were limekilns beside the Bruton-Frome road in the west in the late 19th century. (fn. 83) One shop and a post office remained in the parish in 1947 but the shop had closed by 1981 leaving only the post office in business. (fn. 84)
LOCAL GOVERNMENT
Upton was a tithing in Bruton hundred in 1284-5, was omitted in 1327, and formed part of a tithing with Wanstrow in the 16th and 17th centuries. (fn. 85) No records for Upton manor have been found but there was a hayward in the 1280s. (fn. 86) Court papers for Batcombe rectory manor survive for 1724-69. (fn. 87) The pound was recorded in 1842 and adjoined the churchyard. (fn. 88)
In 1835 the parish became part of Shepton Mallet poor-law union and in 1894 of Shepton Mallet rural district. From 1974 it formed part of Mendip district. (fn. 89)
CHURCH
The church probably dates from the late 12th century. It appears to have been a chapelry of Batcombe and c. 1985 both became part of the Bruton and District team ministry. (fn. 90)
The patronage of Batcombe, held by Glastonbury Abbey until the Dissolution, descended through the Bisse and Brydges families, lords of Batcombe manor, apart from 1742 and 1790 when grantees presented, until the early 19th century when it passed to the Brown family. (fn. 91) John Brown (d. 1878) presented himself in 1841 and remained patron, probably until his death, (fn. 92) although the advowson was put up for sale in 1876. By 1878 it had been acquired by the Revd. Walter Baker, whose mortgage trustees sold it in 1905 to Admiral Sir George Morant. In 1947 the Revd. George Morant sold it to the Guild of All Souls who are represented on the patronage board of the team ministry. (fn. 93)
The chapel was served by curates from Batcombe. (fn. 94) In 1649 the income was said to be £13 6s. 8d. but the chaplain received £30 paid by the rector of Batcombe. (fn. 95) In 1842 the tithes were commuted for a rent charge of £132 7s. (fn. 96)
In 1623 the curate was unlicensed. (fn. 97) Em manuel Harford, curate at the age of 20, was ejected in 1662. (fn. 98) In the early 18th century one service was held a month (fn. 99) and in the 1780s and 1815 every three weeks. (fn. 100) By 1843 there was a weekly evening service and communion was celebrated four times a year. (fn. 101) Average attendance in 1851 was said to be 50-60. (fn. 102) There was a weekly afternoon service in 1870. (fn. 103)
The church of ST. MARY MAGDALENE, so dedicated by 1865, had earlier been dedicated to St. Margaret. (fn. 104) It is built of coursed rubble with ashlar dressings and has a chancel with north vestry and south chapel, a nave with a short aisle in continuation of the chapel, and a south porch over which there is a saddleback tower. Except for the tower and part of the south chapel it was rebuilt in 1878-80 by R. J. Withers of London. (fn. 105) The south chapel was restored externally and the arch to the chancel was retained but the chancel and nave were lengthened and the late-medieval fenestration was reproduced.
The old church is said to have been blown down c. 1600 (fn. 106) and to have been in poor condition in the late 18th century, (fn. 107) but it was in good repair in 1840. (fn. 108) Its surviving south doorway is of the late 12th century, probably the date of the exceptionally small nave and square chancel. The porch and tower were added in the late 13th century and the chapel and aisle in the 15th. An early medieval roundel of the crucifixion, now set in the east wall of the chapel, may be the head of a cross which was in the churchyard in 1791. (fn. 109) The font is of the 13th century.
There are two bells without inscription. (fn. 110) The plate includes a cup of 1647 given in the 18th century and a silver flagon of 1876 given in 1880. (fn. 111) The registers date from 1677 but are evidently incomplete; some Upton entries are to be found in the Batcombe registers. (fn. 112)
NONCONFORMITY
In 1705, 1791, and 1798 houses were licensed for worship. (fn. 113) A Wesleyan chapel was built west of High Street c. 1818 (fn. 114) and in 1837 there were 17 members. (fn. 115) In 1851 29 adults and 32 Sunday schoolchildren attended morning service on Census Sunday and 52 adults in the evening. (fn. 116) In 1861 there were three resident Methodist preachers. (fn. 117) The chapel was closed in 1995.
EDUCATION
In 1818 a Dissenting school taught 20 children. (fn. 118) A Sunday school for 40 children supported by the curate started in 1822. In 1833 the parents of 13 children paid for them to go to a day school. (fn. 119) By 1847 a National school had been established, shared with Batcombe and attended by 103 children. (fn. 120) A school board was formed compulsorily in 1881 and the school was transferred to it. In 1882 a new school was built to designs by R. J. Withers (fn. 121) on a site given under the will of Michael Reynolds (d. 1858). (fn. 122) There were 50 children on the books in 1898 but only 39 in 1906. (fn. 123) Numbers continued to fall and, following the transfer of senior pupils to Bruton in 1932, there were only 18 children on the register. (fn. 124) A large number of evacuees attended in the 1940s but from 1945 there were fewer than 20 children on the register (fn. 125) and the school closed in 1958, the children transferring to Bruton. (fn. 126)
In 1962 plans were drawn up for a new mixed primary school at Upton Noble to serve surrounding villages and in 1965 the school, of voluntary controlled status, had 150 children on the register. There were 137 children in 1992. (fn. 127)
CHARITIES FOR THE POOR
By will of 1790 Susannah Baker gave the residue of £1,000 stock during the life of her brothers to poor women of the parish and of Wilton (Wilts.). In 1825 one woman from each parish received 1s. 6d. per week. (fn. 128) The capital in 1841 was £278 (fn. 129) but the last brother had died in 1833 and by 1873 the charity had lapsed. (fn. 130)