Pages 64-71
A History of the County of Somerset: Volume 7, Bruton, Horethorne and Norton Ferris Hundreds. Originally published by Victoria County History, London, 1999.
This free content was digitised by double rekeying. All rights reserved.
YARLINGTON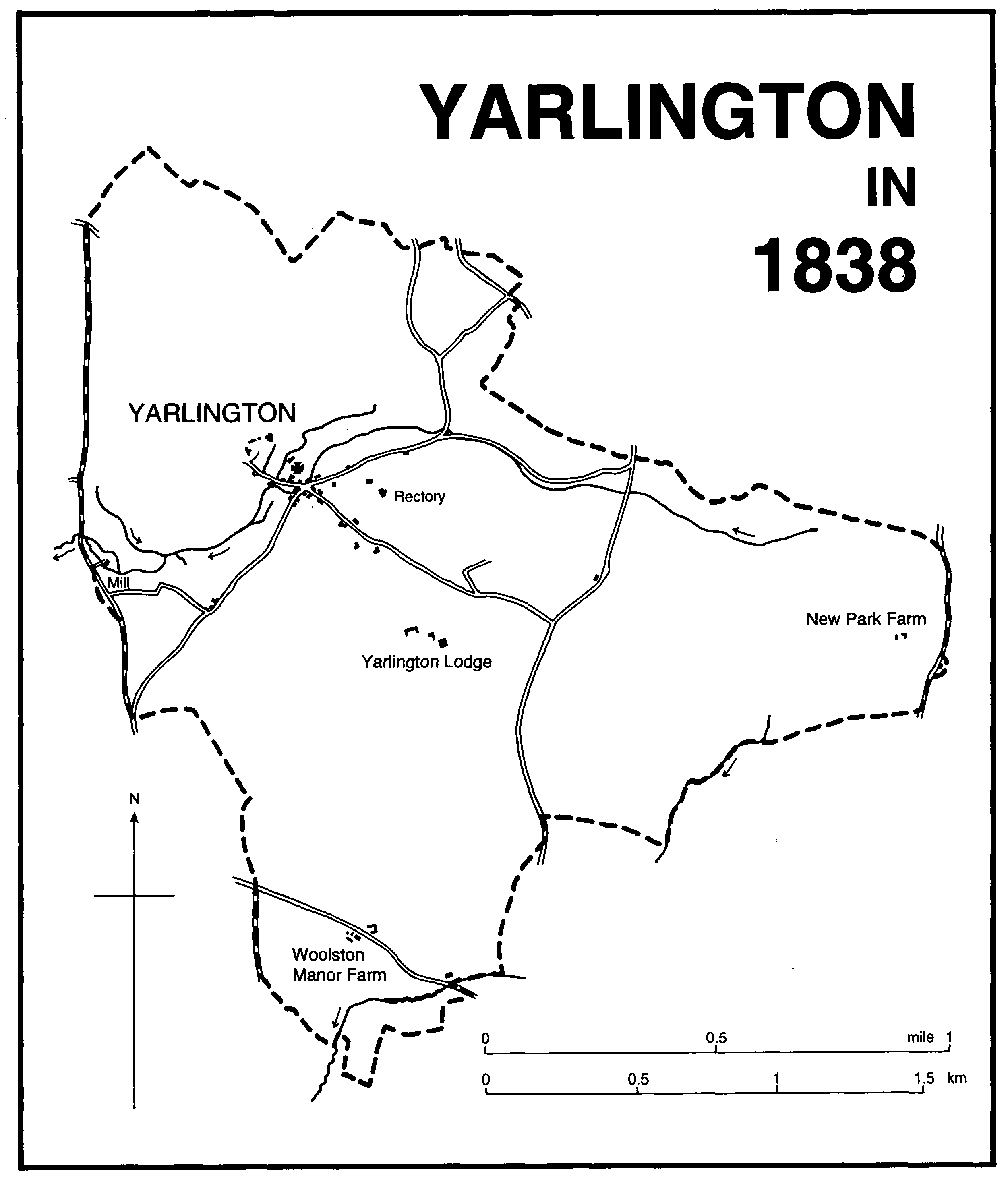 The parish of Yarlington, the derivation of whose name is uncertain, (fn. 1) lies 6 km. south of Bruton. It is roughly triangular in shape, measuring 2.5 km. from north to south at its widest and 3 km. from east to west. The only natural boundary is a feeder of the river Cam in the south-east; parts of the eastern and western boundaries are marked by roads. (fn. 2) The boundaries of the manor, which by the 18th century were conterminous with the parish boundaries except in the south, were perambulated regularly. (fn. 3) The area measures 487 ha. (1,203 a.). (fn. 4)
The parish lies on the western side of hills forming the watershed between the streams feeding the Cale and those feeding the Cam. A tributary of the Cam cuts a steep-sided valley from east to west between God's Hill (107 m. (352 ft.)) and Yarlington Sleights (127 m. (452 ft.)) to the north, and a large plateau to the south, before crossing the western boundary at 70 m. (230 ft.). In the east a small hill at Seamark (fn. 5) wood (143 m. (468 ft.)) separates the plateau from a second valley which marks parts of the eastern and southern boundaries and falls from 120 m. (394 ft.) to 80 m. (262 ft.). Most of the lower ground is composed of Midford Sands and the higher land of Inferior Oolite limestone, but in the east there are thin north-south bands of Fuller's Earth and Fuller's Earth rock. (fn. 6) There were said to be light and dark blue marls at Woolston. (fn. 7)
The turnpike road from Ansford to Sherborne passed through the north and east of the parish, following an earlier route from Bruton to Sherborne recorded in 1719. It was turnpiked by the Sherborne and Shaftesbury trust in 1753 (fn. 8) and field boundaries in the south-east and in Blackford parish suggest that the southern part of the route was new. The original road to Sherborne may have passed through Yarlington village and Woolston to Blackford. (fn. 9) Milestones appear to have been provided in 1785. (fn. 10) The road along the eastern boundary from Bratton to Holton was turnpiked by the Vale of Blackmore trust in 1765 and taken over by the Wincanton trust in 1818. (fn. 11)
There are traces of prehistoric and Roman activity in the parish but what was formerly believed to be a British camp on God's Hill is part of a series of medieval lynchets. Those have been damaged but traces remain both there and on the opposite side of the valley, and also on the west-facing slopes in the west of the parish. (fn. 12) Settlement consists of Yarlington village, Woolston Manor farm in the valley on the southern boundary, and a scatter of farms and cottages near the principal roads in the east of the parish. Yarlington village lies around the junction of four lanes: Pound Road to the west, West Street to the south-west, South Street, now Lodge Hill, which links the village to the Sherborne road on the south-east, and Crockers Hill running northeast. (fn. 13) There was formerly a green south of the medieval manor house and church. (fn. 14) Most houses date from the 18th and 19th centuries and are of stone with tiled roofs. A small 16thcentury house, converted to agricultural use, stood on the north-west corner of the churchyard until the 1950s but has since been demolished. (fn. 15) Woolston Manor farm was formerly on the edge of the village of Lower Woolston but the latter has shrunk to a few houses in North Cadbury. The shape of the boundary here may indicate a field shared between the two parishes. (fn. 16) In the late 18th century there were several cottages along West Street and Stoke Lane in the far west of the parish. Houses have been built at the southern end of West Street in the 20th century. (fn. 17)
A park was laid out to the south and east of Yarlington House and several plantations created to shelter it. (fn. 18)
A private 9-hole golf course was created by the owners of Yarlington House at Seamark wood c. 1900 (fn. 19) but by 1912 (fn. 20) a club appears to have been established. The club took a lease of the course and a clubhouse in 1938. The course, known as the East Somerset, remained in use until 1959. (fn. 21)
There were two licensed victuallers in the parish in 1731 and four in 1743. (fn. 22) In 1753 the only alehouse was presented as a public nuisance and presumably closed. (fn. 23) Thereafter there was no licensed house until the Stag's Head opened in the 1850s in a cottage on the village green. (fn. 24) Between 1871 and 1899 a shop and later a dairy were attached and a room opened for a men's club. (fn. 25) The Stag's Head remained in business in 1995.
Yarlington Mill is a variety of cider apple raised by the miller in the late 19th century. (fn. 26) The Yarlington wassail possibly dates from the 17th century, (fn. 27) and the Yarlington choristers visited Redlynch House in 1782. (fn. 28) Horse races were held in 1795. (fn. 29)
In 1641 168 persons were taxed. (fn. 30) The population rose from 252 in 1801 to a peak of 301 in 1821 and then fell sharply from 297 in 1841 to 234 in 1851 and more gradually to 159 in 1911. Numbers remained stable until the late 20th century when they declined again to 125 normally resident in 1991. (fn. 31)
Thirteen people were fined for their involvement in the 1497 rebellion. (fn. 32) King John probably visited Yarlington in 1209, (fn. 33) as Edward III probably did in 1333. (fn. 34) George III is said to have passed through on his way to Weymouth and remarked upon the new Yarlington Lodge. (fn. 35)
MANORS
The 10 hides at Gyrdlingatone given to Glastonbury abbey in the mid 10th century have been interpreted as at Yarlington. (fn. 36) 'Gerlintune' was held by Alnod in 1066 and by Robert, count of Mortain, in 1086. (fn. 37) The fee probably passed to Robert's son William who forfeited his estates in 1106. (fn. 38) By 1166 it was held by Drew the younger (fn. 39) and descended like the manor of Shepton Montague until both reverted to the Crown in 1539. (fn. 40) In 1541 YARLINGTON was granted to Queen Catherine Howard (d. 1542) and in 1544 to Queen Catherine Parr for life. (fn. 41) In 1547 the reversion was granted to the Queen's brother William Parr, marquess of Northampton, who in the same year sold it to (Sir) Thomas Smith. (fn. 42) The Queen died in 1548 and in 1556 Sir Thomas sold the manor to William Rosewell and his son William. (fn. 43) The younger William died c. 1566 and the elder in 1570, having settled the manor on the younger William's sons Parry and William and on William Dale and his brother George, probably stepgrandsons of William Rosewell the elder. Parry appears to have died under age before his grandfather, leaving his brother William as heir. (fn. 44) In 1591 William Rosewell (d. 1593) sold Yarlington to Sir Henry Berkeley of Bruton. (fn. 45)
Sir Henry (d. 1601) left Yarlington to his second son (Sir) Henry (d. 1667). (fn. 46) Henry settled the manor on himself and his wife Elizabeth Neville and in 1613 purchased the fee farm rent from Henry Hastings, earl of Huntingdon, to whom it had been granted in 1554. (fn. 47) Sir Henry compounded for his estates and was not finally discharged until 1650. (fn. 48) By his will of 1667 he left his estates to his only surviving son Maurice with remainders to his daughters Dorothy, Frances, and Jael. Yarlington passed to Dorothy, wife of Sir Francis Godolphin, (fn. 49) but when Maurice died unmarried and intestate in 1674 it was discovered that the terms of Sir Henry's will were in conflict with those of the earlier settlements which eventually prevailed and the three daughters or their heirs were declared coheirs. The manor was then held by Sir William Godolphin, son of Dorothy, by Peter Roynon, son of Frances, and by Jael Berkeley. Peter Roynon died a minor and was succeeded by his brother Henry. (fn. 50)
In 1685 Henry Roynon settled his third share on himself and his heirs, but following a series of mortgages it was assigned in 1698 to Sir William Godolphin. (fn. 51) In 1693 Jael Berkeley (d. 1705) settled her share on herself for life with remainder to Sir William, in return for an annuity and sole use of two thirds of the house. (fn. 52) Sir William died in 1710 leaving his nephew Francis Godolphin as his heir. Francis, later earl of Godolphin, settled Yarlington on his wife Henrietta Churchill, duchess of Marlborough (d. 1733) and their children. He died in 1766 and was succeeded by his only surviving child Henrietta, duchess of Newcastle (d. 1776 s.p.), and by her nephew Francis Osborne, marquess of Carmarthen, son of Mary, duchess of Leeds (d. 1764 v.p.). (fn. 53) Francis succeeded to his aunt's share under her will but encumbered the manor with mortgages and in 1782 sold it to John Rogers (d. 1821). (fn. 54)
Rogers had cleared the debts by 1808 and settled the manor in tail male on his elder son Francis. (fn. 55) Francis (d. 1863) was succeeded by his son Thomas who, having only unmarried daughters, settled the manor in 1902 on a fellow barrister Herbert Wright (d. 1922), husband of his niece Ellen. Thomas died in 1912 and in 1914 Herbert took the name Rogers. Herbert was succeeded by his only surviving son Roger (d. 1961 s.p.), who divided up the estate for sale in the 1940s. Lordship was not mentioned. (fn. 56) The proceeds of the sales were used to endow scholarships and prizes at Oxford and Cambridge universities under the power of appointment of Herbert's widow Ellen exercised in her will of 1947. (fn. 57)
In 1313 Simon de Montagu obtained a licence to crenellate his house at Yarlington. (fn. 58) In 1540 the site included hall, chapel, and gatehouse, (fn. 59) and later a fishpond possibly created from a moat mentioned in 1485. (fn. 60) A house called Yarlington House was said to have been built by Sir Henry Berkeley (d. 1601) (fn. 61) and in 1705 comprised parlour, hall, dining room, kitchen, buttery, cellar, and 13 chambers including the old, new, long, and gallery chambers. (fn. 62) When the house was sold in 1782 it was described as 'picturesque but damp' and was demolished soon afterwards. (fn. 63) Yarlington farmhouse was said to have been constructed out of the stables but was rebuilt in 1875. (fn. 64)
By 1785 John Rogers had completed a new capital messuage, known as Yarlington Lodge and later as Yarlington House. It stands on former common on a hill south of the village and is said to have incorporated materials from the demolished manor house. (fn. 65) It is a red brick house of two storeys and attics under a slate roof. The 3-bayed east front has a central doorway under a flat hood and a gabled pediment. The 9-bayed south front includes a 4-bayed extension of 1912 by W. H. Boney of Highgate. (fn. 66) The fittings include 18th-century fireplaces, some introduced later, and oak panelling and a staircase of 1912. The courtyard wall incorporates a late 18th-century gatehouse decorated with cherubs and baskets of fruit. The house was let to the Ministry of Health in the 1940s. (fn. 67)
The manor of WOOLSTON GYAN may have originated in the estate, called Ufetone, held by Drew de Montagu of Robert, count of Mortain, in 1086. Three thegns had held it in parage in 1066. (fn. 68) The terre tenancy seems to have passed like Shepton Montague to Richard de Montagu in the 12th century (fn. 69) and by 1166 it was held of Drew the younger by Jordan Gwihaine. (fn. 70) It probably passed to Sir Adam Gwyene or Gyan (fl. 1238-42) (fn. 71) who died before 1272 leaving his son Nigel (fn. 72) a minor. (fn. 73) In 1320 Nicholas Gyan held a third of a fee at Woolston (fn. 74) and in 1327 Christine Gyan, possibly his mother, was assessed for twice his holding. (fn. 75) Nicholas was holding the whole manor in 1344 and may have been succeeded by Thomas Gyan. Thomas's daughter and heir Ellen married John Cammell who held Woolston in her right in 1397. (fn. 76) John Cammell (d. 1451), probably son of Ellen, was followed by his son Robert (d. 1488) and by his grandson William Cammell. (fn. 77) William (d. 1506) settled Woolston in 1505 in trust for (Sir) Richard Weston (d. 1541). (fn. 78) In 1538 Sir Richard settled the manor on his wife Anne with remainder to his infant grandson Henry Weston. (fn. 79) In 1556 Henry and his wife Dorothy granted the manor for 31 years to Richard FitzJames who was living at Woolston in the 1560s. (fn. 80) In 1565 Sir Henry sold it to Sir James FitzJames, Richard's brother, who in 1568 sold it to Thomas Chafyn. (fn. 81)
Thomas Chafyn (d. 1593) was succeeded by an infant son Bampfylde (d. 1644) (fn. 82) who was followed in the direct male line by Thomas (d. by 1657), Thomas (d. 1691), and George Chafyn (d. 1766). (fn. 83) In 1746 trustees conveyed Woolston to James Harding. (fn. 84) By his will dated 1772 James left the manor to his nephew William Beach (d. c. 1790) for life with remainder to William's son William Withers Beach (d. 1829), an imbecile. William (d. c. 1790) left a daughter Henrietta, wife of Michael Hicks. They assumed the additional name Beach. (fn. 85) In 1815 Michael and Henrietta sold their interest to Stephen Harding (d. c. 1828). (fn. 86) In 1830 Woolston was put up for sale as a single farm (fn. 87) and it was sold in 1835 to Joseph Goodenough. (fn. 88) In 1858 Goodenough sold it to Thomas Rogers and the manor descended with Yarlington. It was not included in the sales of the 1940s and in 1962 Virginia, widow of Roger Wright Rogers, sold the farm to Robert and Gerald Amor. Lordship was not included. (fn. 89)
In 1725 the manor house appears to have had an asymmetrical four-bayed front of two storeys and attics. (fn. 90) Between 1835 and 1838 the house was rebuilt further back from the road by Joseph Goodenough. (fn. 91) Woolston Manor Farmhouse is a square three-bayed house of two storeys built of local stone under a slate roof. North of the house is a wall with circle and acanthus decoration.
ECONOMIC HISTORY
In 1086 Yarlington was assessed at 7 hides and had land for 7 ploughteams, but only 3 teams were recorded of which one was in demesne worked by 6 servi and two were worked by 8 villani and 6 bordars. The demesne livestock comprised 6 cattle, 3 pigs, and 60 sheep. Woolston was assessed at over 3 hides and had 2½ ploughlands of which one was in demesne and one was worked by a villanus and 5 bordars. There were also 8 cottars. The demesne had 10 a. of meadow and a flock of 66 sheep. The value of both estates had been reduced from £9 10s. in 1066 to £7 in 1086. (fn. 92)
In 1320-1, when Yarlington manor was in Crown hands during a minority, the demesne farm was almost entirely producing grain. Apart from some inclosed pasture it comprised 488 a. of arable of varying quality. (fn. 93) In the spring of 1321 106 a. was sown with wheat, 42 a. with oats, 35 a. with barley, and c. 50 a. with rye, beans, peas, and vetches, a total of about half the entire arable on the manor. The seed amounted to about a third of the grain produced in the previous year; another third, mainly of wheat, was delivered to the sheriff, and most of the rest was sold. (fn. 94) In 1344 the arable had reduced slightly to 410 a. of which half was to be planted; already 144 a. had been sown in the previous winter. At that date there was nearly 50 a. of meadow but most of the pasture was in the two parks or in Aylescombe wood, where the underwood had recently been cleared but standard trees remained and grazing was thus poor. Labour services, valued at 51s., comprised 140 owed every Friday except feast days between Michaelmas (29 Sept.) and Lammas (1 Aug.), 200 owed on unspecified days between Lammas and the beginning of September, and 112 mowing works owed between 24 June and Lammas. (fn. 95) By 1485 assessed rents produced £10 11s. 10d., new rents at least 13s. 10d., and the farm of the demesne £18. Renders of pepper, geese, hens, and pigs and rents for pasture in the woods and the former moat at the manor house had been abandoned. (fn. 96) By 1489 some rents had decreased (fn. 97) but by the early 16th century rents and farms brought in twice as much as the assessed rents although in 1540-1 assessed rents had increased to £19 9s. and the demesne was farmed for just over £14. (fn. 98)
Aylescombe wood appears to have been shared by Yarlington and Bratton manors and probably included Seamark wood in Yarlington and Elliscombe, formerly Brattonsaylescombe, in Bratton parish. (fn. 99) Muchelwode appears to have adjoined Aylescombe and was inclosed in 1320 but converted to a park by 1344 and called the New park in 1472. (fn. 100) It lay in the extreme east of the parish and was bounded on the north and south by a deer leap, part of which survives. (fn. 101) By 1694 it appears to have been divided and by 1780 it had been converted into a farm, known as Park Hill or New Park. (fn. 102) The inclosure of a park mentioned in 1320 (fn. 103) may have been that of Home park, recorded in 1344. (fn. 104) It lay east of Yarlington manor house alongside the stream bounded by lanes on the south and east. It may have covered over 100 a., extending as far as the parish boundary where the lord claimed a deer leap in the 18th century. (fn. 105) It was known as the Old park in 1540 (fn. 106) and thereafter was divided into large fields. (fn. 107) Nevertheless, in a lease of an adjoining cottage in 1714, the lord reserved the right to stand outside the park pale to watch deer killed. (fn. 108) The park bank survives on the boundary with Pitcombe.
There were two open arable fields; the west field extended from Lodge Hill to the lands of Woolston manor and probably included the later grounds of Yarlington House. (fn. 109) In the mid 17th century the rector had shared pasture for sheep in the common fields. (fn. 110) A lease of 1694 included closes lately inclosed out of the common fields with 17 a. uninclosed. Land in the east field was let in 1711 and in the west and east fields in 1719. (fn. 111) In 1746 tenants were allowed to stock up to 3 sheep per acre on the common field and two sheep tellers were appointed. (fn. 112) Small areas remained common because of their fragmented ownership until 1786 and 1802 when they were bought by John Rogers. (fn. 113)
In 1540 the demesnes were in closes (fn. 114) and by the early 18th century had come to form Yarlington farm of over 300 a. (fn. 115) By the 1780s about half the land was arable and crops included flax (fn. 116) but the land was not marled. (fn. 117) Yarlington manor comprised four farms all let at rack rents producing £599 out of the total rental of over £651 and measuring between 120 a. and 313 a. (fn. 118)
Woolston manor was in closes by 1725 and a large area of sheep pasture was also divided. (fn. 119) In 1765 Woolston farm comprised the entire former manor, over 250 a., including land outside the parish. The tenant was required to keep 'sufficient' sheep on the farm and to maintain the old barley barn. (fn. 120) In 1794 the farm was to be improved by converting some arable to pasture. (fn. 121)
In 1801 404 a. of arable in the whole parish produced mainly wheat, barley, and oats but also potatoes, peas, beans, and rape. (fn. 122) In 1836 the parish was said to be largely pasture for sheep and cows (fn. 123) but there was 397 a. of arable in 1838 compared with 633 a. of grass. A further 40 a. was under orchard. In 1838 the Rogers family had c. 940 a. and after the purchase of Woolston in 1858 owned the whole parish of 1,210 a. (fn. 124) In 1838 there were four farms of over 100 a. including Yarlington farm (319 a.), Woolston farm (231 a.), Middle farm (119 a.) and the Yarlington House estate (431 a.) run by a bailiff living at New Park Farm; one farm was between 25 a. and 50 a. and two between 10 a. and 25 a. (fn. 125) In 1861 the pattern of farms was similar with over 40 labourers employed (fn. 126) but by 1881 there were only four farms, all over 150 a., (fn. 127) a pattern which persisted into the 20th century. (fn. 128) Eastwood farm had been created to replace New Park as a home farm for Yarlington House by the 1880s. (fn. 129) By 1905 arable had shrunk to 256 a. and grassland had increased to 1,009 a. (fn. 130)
In 1851 a dairyman was employed at Woolston farm and in 1858 a double cottage was used as a dairy. (fn. 131) Dairymen were recorded throughout the parish in the later 19th century and in 1891 there was a cheesemaker. (fn. 132) The tenant at Woolston was required to supply straw to the landlord (fn. 133) and in 1905 was forbidden to use barbed wire and was required to maintain the orchard. (fn. 134) A farm sold in 1939 included a dairy with cheesemaking equipment and stalls for 26 cows. (fn. 135)
In the 18th century tenants of the manor had the right to take stone from Cleeve in the east of the parish. (fn. 136) In the later 19th century there were quarries south of the village and on Yarlington Sleights, the latter with a limekiln. (fn. 137) Timber sold from the Yarlington estate between 1911 and 1936 included oak, ash, poplar, wych elm, and lime. Beech, larch, and spruce were planted. In 1936 over 1,690 trees, nearly all oak, were sold to a Glastonbury merchant. (fn. 138)
In 1801 there were 26 families engaged in unspecified manufacture, but in 1831 only five families were not employed in agriculture and only one manufacturer was recorded. (fn. 139) A shopkeeper was mentioned in 1841 (fn. 140) and a grocer in 1861. (fn. 141) There were two or three glovers in 1871 and 1881. (fn. 142) The shop closed in 1942 and the post office in 1955. (fn. 143)
Mill
There was a mill in 1086 (fn. 144) and 1320. (fn. 145) In 1485 the miller had to maintain stones and floodgates (fn. 146) and in 1542-3 was fined for taking excess toll. (fn. 147) The mill was probably replaced between 1561 and 1569 by Richard FitzJames who built on a site adjoining the highway at the pond or pound head probably near Yarlington manor house. That mill was said to have been demolished in the 1780s although it had probably gone out of use earlier, possibly by 1685. (fn. 148) Another mill, recorded in 1592, may have stood near Stoke Lane in the east of the parish. It was probably in use in 1746, (fn. 149) and had a small farm attached in the 19th century. (fn. 150) Yarlington Mill was the name of the farm when milling ceased shortly after 1906. (fn. 151)
A mill recorded at Woolston in 1086 was not recorded again. (fn. 152)
Fair
In 1314 Simon de Montagu was given a weekly Tuesday market and a three-day fair at the Assumption (15 Aug.). (fn. 153) There is no evidence that the market was ever held. The fair was worth 2s. to the lord in 1344. (fn. 154) It was held on the Assumption in 1541 but by 1545 on the Nativity of the Blessed Virgin Mary (8 Sept.). (fn. 155) It was let to the manor bailiff in 1546, and probably earlier, for 2s. 8d. (fn. 156) It was presumably held on Fair Ground west of the village. (fn. 157) In 1648 Sir Henry Berkeley let the profits of the fair for 21 years at 50s. but a new lease in 1670 brought in only 40s. a year. (fn. 158) In the 18th century the fair appears to have reverted to 15 August and after the adjustment to the calendar it was held on 26 August and was known for cattle, sheep, and horses. (fn. 159) It was said to have suffered from competition with 'fortnightly markets' but the licensee of the Stag's Head was required to provide a licensed booth, sheep pens, and hurdles for the fair in 1897 and to use his best endeavours to further the fair. (fn. 160) In 1900, however, the fair was discontinued with the consent of the lord of the manor. (fn. 161)
LOCAL GOVERNMENT
Two manor courts were held annually for Yarlington manor in the later Middle Ages, one incorporating a court leet. (fn. 162) Estreats survive for the 1540s, when the court dealt with assaults and fined the miller for excessive toll. (fn. 163) A court book survives for 1746- 1856 in which sessions, described as courts baron and leet, appointed a tithingman, a hayward, and one or two sheep tellers until 1766. Business included maintenance of buildings, watercourses, stiles, and bridges, suppression of nuisances, control of stock on the commons, and perambulations. Courts leet ceased to be held in 1850 and thereafter courts baron were held only when needed. (fn. 164) The pound, out of repair in the 1780s and again in the 1800s, lay in the corner of the Fair Ground west of the village. (fn. 165) There are no records of a manor court for Woolston. A court leet was held in 1653 (fn. 166) and a tithingman was recorded in 1693. (fn. 167)
The parish had a churchwarden and two sidesmen in 1602. (fn. 168) In 1647 it was said that the parish could not support its poor without assistance. (fn. 169) In the 18th century most relief was in the form of regular cash payments but by 1790 a poorhouse had been acquired and in the early 19th century the overseers paid £4 a year to the lord of the manor as rent. (fn. 170) By 1838 there were two houses on the same site in West Street, outside the village. (fn. 171) They were last recorded in 1841 and had been demolished by 1888. (fn. 172)
In 1835 Yarlington became part of Wincanton poor-law union and in 1894 formed part of Wincanton rural district which was absorbed into Yeovil, later South Somerset, district in 1974. (fn. 173)
CHURCH
There was a church c. 1100 when it belonged to Montacute priory. (fn. 174) Probably by 1175 and certainly by 1189 a pension was payable to Montacute from the living (fn. 175) which remained a sole rectory until 1966. From that year it was joined with North Cadbury and since 1976 it has formed with Blackford, North Cheriton, and others part of the Camelot team ministry. (fn. 176)
The advowson was held with Yarlington manor but in 1573, 1627, and 1634 it was exercised by grantees and in 1655 Oliver Cromwell presented. (fn. 177) By 1876 patronage had been acquired by the incumbent Arthur Rogers, cousin of the lord of the manor, (fn. 178) and was vested in his trustees who in 1921 conveyed it to the trustees of George Grey's marriage settlement who held it in 1939. By 1951 patronage was held by the Bishop. (fn. 179)
In 1291 the living was valued at £7 10s. (fn. 180) In 1535 it was worth £16 11s. 7d. gross. (fn. 181) Its reputed value c. 1670 was £60. (fn. 182) By the 1830s the average income was £460 gross. (fn. 183)
The tithes amounted to £15 4s. 11d. including £1 for personal offerings and £2 6s. 8d. for tithes of wool and lambs. (fn. 184) In 1839 all tithes were commuted for a rent charge of £252. (fn. 185) The glebe lands were worth 6s. 8d. in 1535 (fn. 186) and in 1634 amounted to 60 a. (fn. 187) Only 40 a. remained in 1839 (fn. 188) and, apart from the parsonage house and grounds, the glebe was sold in 1920. (fn. 189)
There was a parsonage house in 1343. (fn. 190) In 1555 it had a parlour and a middle chamber. (fn. 191) In 1629 the kitchen needed repair and in 1634 the buildings were said to be in decay. (fn. 192) In the later 18th century the house was said to be a very good dwelling in a pretty, romantic situation. (fn. 193) By 1815 it was considered unfit for the then rector's large household and a new one was built c. 1827-30, (fn. 194) much larger and sited behind the old. (fn. 195) The new building ceased to be the rectory after 1966. (fn. 196) About 1830 the former rectory house, later known as the Old Parsonage, became the glebe farmhouse. (fn. 197) It was a stone house of two storeys with attics and was rebuilt after 1920. (fn. 198) The second house, renamed Yarlington Lodge after 1966, of Cary ashlar under a slate roof, has a two-storeyed, three-bayed south front with projecting centre. The entrance is on the west under a single-storeyed battlemented porch.
Osbert the priest, chaplain of Richard son of Drew, is said to have held Yarlington church in the late 11th or early 12th century. (fn. 199) Several rectors in the 14th century were acolytes, one of whom was allowed to farm out his church provided he found a fit proxy. (fn. 200) In 1434 the rector was absolved from excommunication for wounding the rector of Bratton. (fn. 201) Thomas Chauntry, rector 1453-7 and 1464-85, was probably a pluralist and employed two chaplains. (fn. 202) John Newman, rector 1485-94, was an acolyte and fellow of All Souls College, Oxford, when appointed, (fn. 203) and Thomas Hobbys, rector 1494- 8, was warden of All Souls and a considerable pluralist. (fn. 204)
By 1548 a light in the church had been endowed with 2 a. in Galhampton in North Cadbury. (fn. 205) In 1568 the rector was accused of not catechizing and the parish was served by a curate who also served Blackford. (fn. 206) In the 1570s rectors were said to be normally resident but employed curates. (fn. 207) William Clifford, rector 1628-34, was also a lecturer at Chewton Mendip and was presented at least twice for his unorthodox views. In 1634 he was in dispute with his patron in the Court of High Commission and was at law with the parish clerk. Clifford resigned his benefice. (fn. 208)
Bernard Banger, rector 1634-73, may have been deprived c. 1649 and compounded as a royalist. He was replaced by John Dorrington, a reputed papist, (fn. 209) and in 1656 perhaps by his son, also Bernard Banger. He was restored in 1660. (fn. 210)
Rectors appear to have been generally resident in the 18th century (fn. 211) and one, Richard Gapper (1754-82), served as rural dean. (fn. 212) Thomas Jackson D.D., rector 1782-97, was also a chaplain to the king and a canon of St. Paul's. (fn. 213) Communion was celebrated four times a year in 1761. (fn. 214) In 1815 the rector was living in a nearby parish but held two services on Sundays. (fn. 215) In 1827 morning and afternoon services were held and by 1840 communion was celebrated at least three times a year. (fn. 216) On Census Sunday 1851 morning service was attended by 83 people and afternoon service by 138, with the addition of about 40 Sunday school children at each service. Average attendance was said to be higher. (fn. 217) In 1870 communion was administered six times a year at midday. (fn. 218) In 1923 it was agreed that communion be celebrated monthly. (fn. 219)
The church of ST. MARY is built of rubble and uncoursed ashlar and has a chancel, a nave with a north vestry and aisle, a south tower, and a south porch. The tower arch is semicircular and has a 12th-century hood mould and a length of thick walling on the north side of the nave which was demolished in 1877 may also have been 12th-century. (fn. 220) The spacious chancel is 14th-century and there is a contemporary cusped tomb recess in its north wall. The tower and the nave to the west of it were probably rebuilt in the 15th century.
The west wall of the nave may have been rebuilt in 1760 (fn. 221) and there was formerly a west gallery from which a panel was returned to the church in 1972. (fn. 222) In the 1780s the roof was said to be arched and ceiled in square compartments and the pulpit and reader's desk were panelled. (fn. 223) The chancel was repaired in the 1820s (fn. 224) and a vestry was added to the north of the nave and a porch in the angle between nave and tower shortly before 1840. (fn. 225)
At the restoration of 1877-8, under Arthur Reeve of London, the nave, vestry, and porch were demolished and replaced by a wider nave, a north aisle, which incorporates a vestry, and a south porch. (fn. 226) The roofs and furnishings are mostly of that date or later. The principal exception is the 15th-century font. There is a medieval stone coffin in the churchyard.
There are three bells, recast c. 1911. (fn. 227) The plate includes a cup and cover of 1573. A very large cup and cover of 1611 given by Arthur Rogers, rector 1876-1908, was sold in 1956. (fn. 228) The registers date from 1655. (fn. 229)
In 1555 there was a stone Palm cross in the churchyard. (fn. 230)
NONCONFORMITY
Several people were presented for not receiving communion in 1600 and 1627. (fn. 231) In 1666 there were no nonconformists. (fn. 232) A house was licensed for worship by an unspecified congregation in 1824. (fn. 233) It was not recorded again. In 1896 the parish was visited by the Congregationalist Somerset Evangelist Society. (fn. 234)
EDUCATION
In 1818 there was a Sunday school attended by 20-30 children. (fn. 235) Probably the same school had 63 pupils in 1825. (fn. 236) In 1833 there were three schools: a day school for girls begun in 1828 which had 12 pupils attending at their parents' expense; a school for 25 children, also paid for by parents; and a Sunday school for 53 children supported by the rector. The last two were probably held in a building near the churchyard described in 1836 as 'newly built' and in 1846 as housing 'a superior village school'. (fn. 237) In 1847 two day schools, both mixed, taught a total of 32 children, the Sunday school 34 children. (fn. 238)
A single school survived in 1903 with 31 pupils. (fn. 239) By 1908 the building was poor but improvements were made on condition that Bratton children no longer attended. (fn. 240) Attendance declined and staff proved difficult to keep. In 1922 there were 10 children on the books, in 1934 only 8. In 1938, when there were 4, the school closed and children transferred to North Cadbury. (fn. 241)
CHARITIES FOR THE POOR
None known.