Pages 184-190
A History of the County of Somerset: Volume 8, the Poldens and the Levels. Originally published by Victoria County History, London, 2004.
This free content was digitised by double rekeying. All rights reserved.
SUTTON MALLET
TOPOGRAPHY
Sutton Mallet, one of five chapelries of Moorlinch, lies on the lowest slopes of the south side of the Polden ridge and on the edge of King's Sedgemoor. (fn. 1) It was known as Sutton Abbatis in the 13th century, (fn. 2) Little Sutton from the 13th to the 15th, (fn. 3) and Veni, Veny, or Venus Sutton in the 16th and 17th. (fn. 4) Sutton Mallet was the usual name by the later 18th century. (fn. 5) The hamlet lies 1½ mile (2.6 km.) west of the mother church of Moorlinch at the end of a shallow valley just below the 15-m. contour and at the east end of a low ridge known as Pit Hill. The chapelry is irregular in shape, measuring c. 3.7 km. from east to west and at its greatest 2 km. from north to south. The boundary between it and Stawell to the north was marked by a landshare which in 1634 was ploughed and sown. (fn. 6) In 1838 the chapelry measured 867 a. (fn. 7) In 1933 the civil parish was united with Stawell to form the civil parish of Stawell. (fn. 8)
Most of the land is Keuper marl, which stretches west in a tongue known as Sutton Hams and east towards Moorlinch, both formerly areas of open-field arable. (fn. 9) The chapelry includes the alluvial Sutton Moor and part of West Moor north of that tongue and a band of alluvium, probably hill wash, on the southern boundary, together with a small amount of sand and gravel. (fn. 10) In the later 18th century there were several quarries of blue and white lias. (fn. 11)
COMMUNICATIONS
The hamlet is served by three narrow roads, from Moorlinch in the east along Tapmoor road, from the north-east along a road from the Polden ridge turnpike which enters the chapelry at Righton's Grave near Crook Hill, the two routes converging near Sutton Farm. The third route, from Chedzoy, was earlier a drove which forms in part the boundary with Stawell. Unmetalled routes lead from the hamlet north, south, and east to the fields and moors.
POPULATION
There were 30 households in the chapelry in 1563 (fn. 12) and c. 20 about 1785. (fn. 13) In 1801 the population was 151. For the next century it fluctuated between 164 in 1821 and 113 in 1881, fell to 110 in 1911 and to 98 in 1921. (fn. 14) After union with Stawell in 1933 (fn. 15) no separate figure has been available.
SETTLEMENT AND BUILDINGS
The small village is clustered around the church at the centre of the chapelry, with Sutton Farm 0.8 km. to the north-east, Gapper's Farm 0.25 km. to the northnorth-west, and Godfrey's Farm on the southern edge. Sutton Farm dates from the 15th or the 16th century, and Nino's Dairy Farmhouse is of the 16th century and later. (fn. 16)
A common field to the east of Sutton hamlet and adjoining Moorlinch was mentioned in 1753, (fn. 17) and by the earlier 19th century there were traces of an open arable field south-west of the hamlet. (fn. 18) Land on the moor in the south was said in 1713 to have been lately inclosed. (fn. 19) The hamlet was awarded an allotment on its southern edge as part of the inclosure of King's Sedgemoor in 1795. (fn. 20)
SOCIAL LIFE
In 1280 six ale sellers were in breach of the assize, in 1311 four; and in 1418 three brewers were similarly accused. (fn. 21)
MANOR AND OTHER ESTATE
SUTTON MANOR
Roger de Courcelles held an estate at Sutton which formed part of the Glastonbury abbey estate of Shapwick. (fn. 22) Sutton was among the fees which in the 14th century formed the so-called manor of Dundon super Polden held under Glastonbury abbey. It had been held in 1166 under Robert Malet by Hubert de Sancta Susanna, from whom it passed to William Malet (d. c. 1216). Lordship descended through William's daughters to Hugh de Vivonia and Robert de Musgrove and to Hugh's son William de Forz, who did homage in 1255 and died in 1259. (fn. 23) Cecily, wife of John Beauchamp (d. 1283), was William's daughter and heir (fn. 24) and the estate continued to be held of the Beauchamp family until 1364 (fn. 25) and as of Compton Dundon manor until 1540 or later. (fn. 26)
Before 1166 Hugh Fichet held an estate which in 1166 was part of the fee his son Baldwin Malet held of William Malet. (fn. 27) After litigation William Malet (d. c. 1216) granted 1½ hide in Sutton to William Malet of Enmore in 1202 (fn. 28) and the estate, variously described as land, a fee, a vill, and from 1405 as Sutton manor, (fn. 29) descended in the Malet family. Sir Baldwin Malet was in possession in 1259, (fn. 30) Raymond Malet in 1264-5 (fn. 31) and by 1279-80 Sir John Malet (d. c. 1288). (fn. 32) John's son Sir Baldwin was still alive in 1337 (fn. 33) but by 1343 had been succeeded by his son John. (fn. 34) John was still in possession in 1361 (fn. 35) but by 1368 was followed by Sir Baldwin who seems to have survived until c. 1416. (fn. 36) Baldwin's son Hugh died in 1465 and Sutton was occupied by Hugh's widow Joan. (fn. 37) Joan died in 1496 when her heir was her son Thomas Malet. (fn. 38)
Thomas Malet (d. 1501) was followed by his son William, at whose death in 1510 the manor passed to William's widow Alice (d. 1524). (fn. 39) Hugh, second son of William and Alice, died in 1540. His heir, Thomas, died soon afterwards under age and the eventual heir was Thomas's brother Richard. (fn. 40) Richard himself died in 1551 leaving a son Thomas under age and the manor settled on his own widow. (fn. 41) Thomas left a son John under age at his death in 1580. (fn. 42) John, later Sir John, died in 1615 and was followed in succession by his son and grandson, both of the same name, who died respectively in 1644 and 1656. Elizabeth, daughter of the last, married John Wilmot, earl of Rochester (d. 1680), and on her death in 1682 (fn. 43) the manor passed to her youngest daughter Malet (d. 1709) and to her husband John Vaughan, Viscount Lisburne (d. 1721). (fn. 44) Lisburne sold the manor in 1720 to Robert Knight, cashier of the South Sea Company. Robert's son, also Robert (cr. Baron Luxborough 1745, earl of Catherlough 1763), bought the manor after the enforced sale of his father's estate c. 1721. (fn. 45) Before 1781 Benjamin Allen sold to Richard Reynolds, the Bristol philanthropist (d. 1816), (fn. 46) under whose will the manor was given jointly to his daughter Hannah Mary (d. 1839), wife of William Rathbone, the Liverpool merchant and philanthropist, and to his son Joseph. (fn. 47) It seems to have been leased to Hannah's son Richard and in 1827 to Richard's brother Theodore, although two farms were in that same year in the hands of a third brother, Benson Rathbone, of Geldeston (Norf.). (fn. 48) Mrs. Rathbone was considered to have been lady of the manor in 1833 when the estate was described as 'lately sold'. (fn. 49) By 1838 the estate was held by William Rogers, one of the chief landowners in 1861 and 1866. (fn. 50) Albert Rogers had succeeded by 1872, and William Rogers's trustees were named as lords by 1889 until 1939. (fn. 51)
A court house, then a cottage, was mentioned in 1713. (fn. 52) A field immediately north of the chapel yard may have been the site of a manorial dovecot, and adjoining are the remains of a pound. There was a second dovecot above Sutton Farm. (fn. 53)
OTHER ESTATE
In 1543 the tithes of the chapelry, with those of the rest of Moorlinch parish formerly belonging to the almoner of Glastonbury abbey, were granted by the Crown to John Berkeley on a 50-year lease as part of Shapwick rectory. (fn. 54) Subsequent leases were granted by the lay rectors. In 1760, for instance, they were let for £31 to Walter Woodroffe. (fn. 55) In the later 19th century they were let to members of the Welch or Welsh family of Wells, but in 1902 had reverted to H. B. Templer Strangways, the lay rector. (fn. 56)
ECONOMIC HISTORY
AGRICULTURE
The estate at Sutton, evidently part of Shapwick, was assessed at 5 hides. (fn. 57) Before the 14th century the few recorded land transactions referred to holdings solely within the chapelry, but thereafter land there was usually held with land in other places. (fn. 58) Occupation names in the later 13th and the earlier 14th century suggest the significance of fowling and cowkeeping. (fn. 59) In 1327 Sutton was taxed at a higher level than all the other chapelries in Moorlinch parish. (fn. 60) The corn tithes were let in 1531-2 for £8 3s. 4d., (fn. 61) and in the later 17th century geese were kept on the moor. (fn. 62) The tithes of the chapelry fell in value from the later 17th century as arable was replaced by grassland. (fn. 63)
In 1641 there appear to have been four principal farmers in the chapelry, one of whom was William Godfrey. (fn. 64) In 1713 Sutton manor, which included land in Bridgwater, Chilton Polden, North Petherton, Catcott, and possibly Moorlinch, comprised 25 holdings, most of them measuring between 18 a. and 30 a., but consolidated in the hands of a few farmers including William Godfrey (86 a.) and members of the Chandler, Mallacke, and Woodroffe families. (fn. 65) The Chandler holdings passed to the Notson or Nolson family in 1720. (fn. 66)
By the 1780s there were four principal farms, the largest known as the Farm, and formerly Little Sutton, the others named after their tenants, Gapper's, Nino's, and Godfrey's. (fn. 67) By 1838 there were 578 a. of meadow and pasture and 279 a. of arable, a balance which had further tilted towards grass by 1905. (fn. 68) In 1838 William Rogers's estate of 582 a. was principally shared between three farms, Godfrey's, Gapper's, and Nino's. Sutton farm was owned by John Atkins. (fn. 69) By 1851 the same four farms, probably taking in land from other parishes, were substantial holdings, and by 1871 Godfrey's measured 320 a. and Sutton 300 a., while Gapper's was 271 a. and Nino's 162 a. Between them they employed 34 men and boys. Small holdings in business a decade earlier had disappeared. By 1871 there were also two dairymen, a dairymaid, and a milkman. (fn. 70) There were still four farms in 1881 employing 31 men and boys but from the later 1880s there seems to have been a gradual division of holdings: six farmers were in business in 1889, eight by 1923, nine by 1927. (fn. 71) There were four farms in the 1980s. (fn. 72)
MILL
The mill was not grinding in 1365 but millers took excessive toll in 1418 and 1535-6. (fn. 73) The mill was not working in 1622. (fn. 74) A windmill, probably a post mill, stood on the southern edge of the parish in 1685. (fn. 75) It was evidently out of use before 1840. (fn. 76)
TRADES AND CRAFTS
In 1851 there were three carpenters, two masons, two dressmakers, and a smith at work in the chapelry. A grocer and a tailoress were working in 1861, an agent for cattle food in 1871, a manure, wine, and spirit merchant in 1872. The shop remained until soon after 1883 but the craftsmen had gone in the later 1870s. (fn. 77)
LOCAL GOVERNMENT
In 1622 it was reported to the Whitley hundred court that the archery butts were in decay. (fn. 78)
Glastonbury abbey claimed strays in the hamlet, probably in right of its estate of Dundon super Polden, but the lord of Sutton took them in 1264-5. (fn. 79) Suit of court was required of tenants of the manor in 1720. (fn. 80)
By the later 17th century there were two churchwardens and one overseer for the poor. (fn. 81) In the 1840s the vestry had no records and kept no minutes. The minister was never present. (fn. 82)
A poorhouse stood on the west side of the chapel yard. (fn. 83)
CHURCH
ORIGINS AND ENDOWMENT
Sutton was probably one of the chapelries attached to Moorlinch in 1291 (fn. 84) but its parochial chaplain was first mentioned in 1450. (fn. 85) It was served, usually with Stawell, by curates appointed by the vicar of Moorlinch (fn. 86) until 1818, from which date the vicars of Moorlinch served, usually in person but occasionally employing a curate. (fn. 87) With Moorlinch it continued to be held as a single cure until 1968. (fn. 88)
About 1780 and in 1796 there were 3 a. of glebe and the vicar of Moorlinch received tithe hay from 18 a. called South closes, and composition from all other ancient meadow within the chapelry. (fn. 89) In 1838 there were 2 a. 2 r. of glebe and the vicar of Moorlinch received moduses for cows and heifers as well as for the meadow as before. (fn. 90)
The curate's house was mentioned in 1575 and reported in decay in 1586. (fn. 91)
CHURCH LIFE
Neglect of the fabric was reported in 1568 and 1618 (fn. 92) and of services in 1575 and 1600. (fn. 93) Services were held once a fortnight in 1815. (fn. 94) By 1839 there was one service and sermon each Sunday and communion at least three times a year. (fn. 95) By 1843 communion was celebrated four times a year and by 1873 monthly. Services in 1873 were held alternately morning and afternoon. (fn. 96) In 1987 the church was transferred to the Redundant Churches Fund (now Churches Conservation Trust). (fn. 97)
A church house, next to the manorial court house, had become a cottage by 1713. (fn. 98)
CHURCH FABRIC
The chapel, with no known dedication, comprises a polygonal chancel, a nave with south porch, all designed by Richard Carver, and an earlier west tower. It replaced a building demolished in 1827 and was opened in 1829. About 1785 the old building had been described as 'very mean' and 'very dirty . . . much fitter for a stable than a place of worship' and appears to have been a simple rectangle although the chancel was then ceiled and the nave open. (fn. 99) Carver added the western buttresses, arch, and parapets to the earlier tower and reused the east window. The present furnishings, apart from the reworked Perpendicular font and 17th-century altar rail, are contemporary with the rebuilding and include a west gallery, a three-decker pulpit, and high box pews. The octagonal base of a stone cross stands opposite the south porch.
There are two bells, of 1607 by R. Purdue and of 1657 by Robert Austen. (fn. 100) The plate includes a cup and cover by 'I. P'. of 1572-3. (fn. 101) The registers of baptisms and burials begin in 1781 and of marriages in 1968. (fn. 102) There are Sutton entries in Moorlinch registers from 1653. (fn. 103)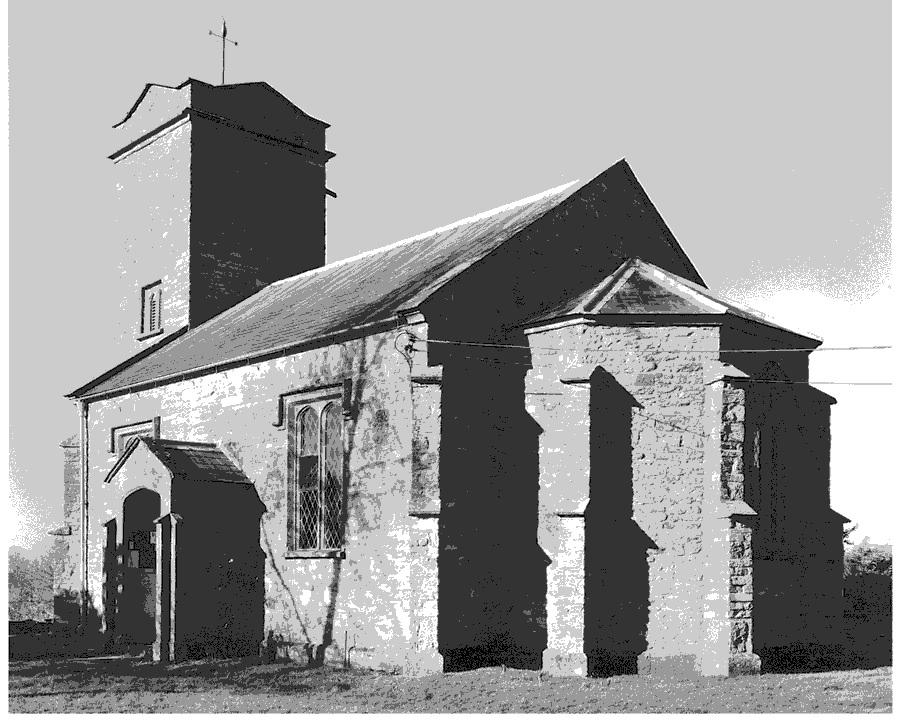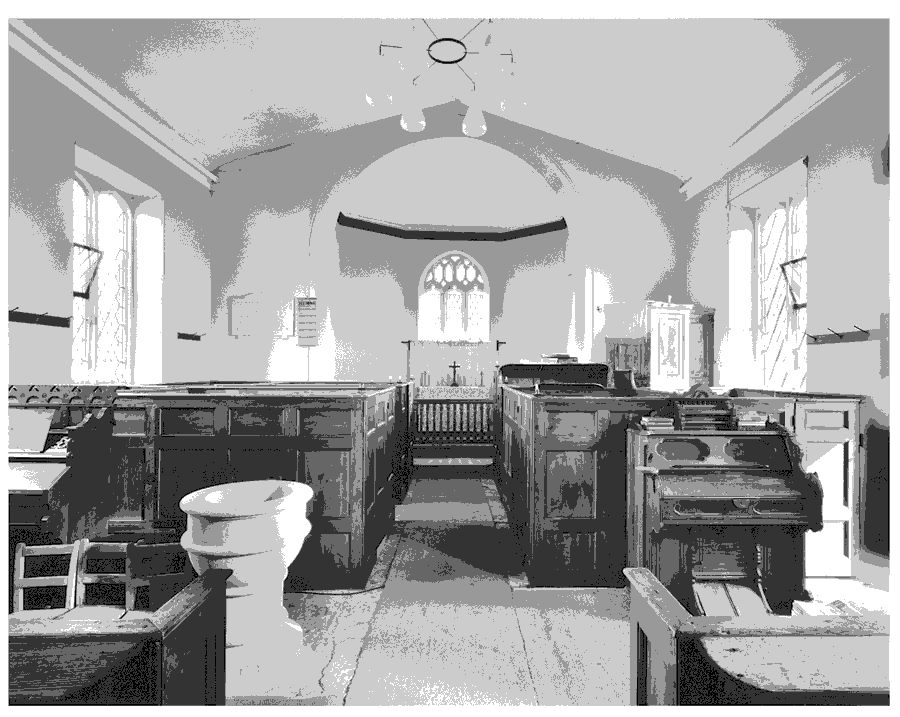 NONCONFORMITY
A Quaker was living in Sutton in 1657, meetings were held there by 1670, and a Quaker conventicle was reported in 1673. A house was licensed for use by Quakers in 1689 and the Polden Hill Meeting was held there a year later. (fn. 104) A house was licensed for worship, denomination unspecified, in 1821. (fn. 105)
EDUCATION
In 1819 a school was maintained by the lord of the manor (fn. 106) and in 1833 the lady of the manor was the 'chief supporter' of a day and Sunday school affiliated to the National Society. There were then 20 children at the day school and 24 at the Sunday school. Children paid school pence and the mistress was allowed money for house rent, 2s. for teaching on Sundays, and 2d. a week for each day pupil. The arrangement was then expected to cease as the village had been sold. (fn. 107) In 1839 there was only a Baptist Sunday school in the parish, (fn. 108) and in 1847 apparently no school, (fn. 109) but by 1861 there was a National day school and a Sunday school. (fn. 110) The day school continued until after 1872, but by 1875 children were going to a day school in Stawell. A Sunday school was mentioned in 1875 and 1883 but not thereafter. (fn. 111)